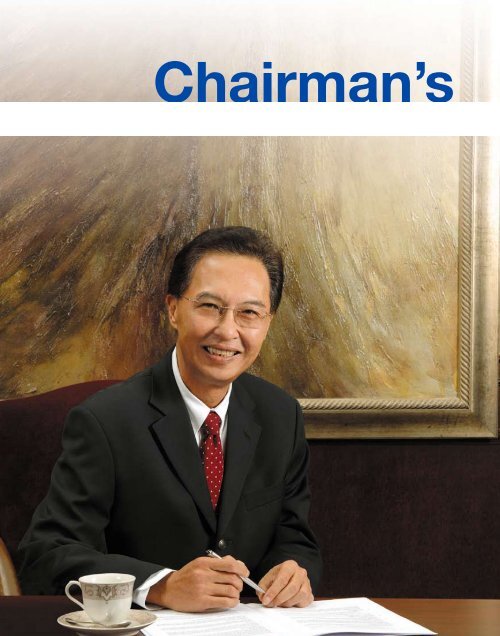 Shell Refining Company (Federation of Malaya) Berhad (3926-U)
Shell Refining Company (Federation of Malaya) Berhad (3926-U)
Shell Refining Company (Federation of Malaya) Berhad (3926-U)
SHOW MORE
SHOW LESS
You also want an ePaper? Increase the reach of your titles
YUMPU automatically turns print PDFs into web optimized ePapers that Google loves.
30

Shell Refining Company (Federation of Malaya) Berhad (3926-U)

Chairman's
---
Dear Shareholders,

In this, my first statement as your new Chairman, I wish to thank all

our stakeholders for your support. I am pleased to report that your

Company continued to maintain profitability in 2006 despite the

challenges of a volatile operating environment. Our ability to weather the

year's setbacks is in no small part owing to the efforts of the dedicated

team that continues to build upon your Company's proud culture

of sustainable progress. I wish to thank the Board of Directors and

Management for their invaluable support and continued commitment

to driving your Company forward. Together, we are putting in place the

plans to secure the future growth of your Company's business.

On behalf of your Board of Directors, I am pleased to present the

Annual Report of Shell Refining Company (Federation of Malaya)

Berhad for the year ended 31st December 2006.

Business environment

In 2006, the world economy continued to expand despite high crude

oil prices and monetary tightening in major economies. Economic

activities in developed countries remained favourable, with the Euro

arena improving on the back of positive consumer and business

sentiments. Among developing economies, there was continued

robust growth in China, India and other Asian nations supported by

increased exports, investment and consumption.

The Malaysian economy too was stronger and more resilient in 2006

with the Central Bank of Malaysia (Bank Negara Malaysia) reporting

that real gross domestic product (GDP) had expanded to 5.9% from

5.2% in 2005. Domestic activity, particularly in the private sector, and

high export demand continued to propel economic expansion, while

the public sector continued to provide a supportive environment to

promote economic activity. Both domestic demand and private

investment strengthened during the year, the latter spurred by significant

capital outlays in the manufacturing, services and oil and gas sectors.

Economic activity was also given a boost following the release of the

much-awaited Ninth Malaysia Plan (9MP) in March 2006.

Shell Refining Company (Federation of Malaya) Berhad (3926-U) 31

Statement

Overall, domestic demand for petroleum products was about the

same in 2006 compared to 2005. Both sales of automotive gasoil

and motor gasoline increased by 2% and 1% respectively in 2006. In

the industrial sector, industrial gasoil sales increased by 2%. Aviation

fuel decreased by 7% following a 7% increase in the previous year.

LPG sales volume also registered a reduction of 1% compared with an

8% reduction in 2005.

Sales of Petroleum Products in Malaysia (million barrels)*

Million barrels

100

80

60

40

20

0

75

84

97

97

98

Retail

Commercial

2002

2003

LPG

* Source: ACNielsen Quarterly Petroleum Sales Report

70

38

42

15

15

38

12

12

14

2004

2005

2006

Refining margins, which are essentially the difference between crude oil

and refined product prices, came under increasing pressure in 2006 in

comparison to the preceding year. Throughout 2006, local crude prices

fluctuated between US$59 to US$82 per barrel (US$40 to US$61 in

2005). The movement of the product prices, measured by Means of

Platts Singapore (MOPS), displayed a similar trend, with MOPS of U97

gasoline fluctuating between US$61 to US$93 per barrel (US$44 to

US$91 per barrel in 2005). As a result of the higher crude oil prices

relative to product prices, the average Singapore complex refining

margin for 2006 was US$2.95 vs US$4.17 in 2005.

58
---
32

Shell Refining Company (Federation of Malaya) Berhad (3926-U)

Chairman's statement

The more sophisticated complex refineries continued to reap rewards

of their earlier investments as complex refining margins remained

materially above margins realised by simple hydro-skimming facilities.

Your Port Dickson refinery with its Long Residue Catalytic Cracker

(or LRCC) configuration and its ability to capitalise on a variety of crude

feeds was able to realise a higher margin than the average Singapore

complex refining margins.

45

Jan

'06

95

85

75

65

85

80

75

70

65

60

55

50

55

Jan

'06

US$/bbl

US$/bbl

Feb

'06

Feb

'06

Mar

'06

Mar

'06

Apr

'06

Apr

'06

May

'06

Jun

'06

Jul

'06

Aug

'06

Sept

'06

Products Prices (MOPS)

May

'06

Tapis / Minas

Jun

'06

Jul

'06

Aug

'06

ULG97

ULG92

Sept

'06

Oct

'06

Oct

'06

Nov

'06

Nov

'06

Tapis

Minas

Dec

'06

Kero

Gasoil

Dec

'06

9

7

5

3

1

-1

-3

-5

Jan

'06

9

7

5

3

1

-1

-3

-5

USD/bbl

2006 Avg = USD2.95/bbl

Feb

'06

USD/bbl

Jan

'06

Mar

'06

singapore refining margin 2006

Apr

'06

2006 Avg = USD4.34/bbl

Feb

'06

Mar

'06

Apr

'06

May

'06

Jun

'06

Jul

'06

srC refining margin 2006

May

'06

Jun

'06

Jul

'06

ProduCtion and sales results

Complex

Simple

Average Complex

In 2006, your Company's Port Dickson refinery achieved a record

utilisation rate of 90.6 %, an increase from 76.2% in the previous year.

There was no major statutory shutdown in 2006 compared to one

undertaken in 2005. These regular and meticulously planned shutdown

activities are aimed at maintaining and enhancing the long-term

reliability and integrity of your Company's core processing assets.

Your Company typically processes between 29.0% to 31.0% Middle

East heavy crudes, 37.0% to 48.0% Far East heavy crudes, and

21.0% to 34.0% Malaysian light crudes. The decision on which crude

we procure depends on the relative economic attractiveness. The

flexibility to vary the crude feedstock and product output is important

for the Company. For the year under review, our crude diet consisted

of 48.0% from the Far East and Africa (excluding Malaysia), 31.0%

from the Middle East and 21.0% from Malaysia. In 2006, refinery intake

appreciated to 39.6 million barrels from 36.4 million barrels in 2005.

Aug

'06

Aug

'06

Sept

'06

Sept

'06

Oct

'06

Oct

'06

Nov

'06

Nov

'06

Dec

'06

Complex

Simple

Average Complex

Dec

'06
---
Middle

East

31%

In total your Company successfully processed 17 types of crude oil

thus further increasing our refinery's ability to take advantage of the

relative economic attractiveness of different crudes – the LRCC

continues to give us this flexibility.

2006 saw a slight reduction in our sales volume to 40.9 million barrels

from 41.5 million barrels in 2005. Nevertheless, sales proceeds

appreciated by 12% to RM10,887 million in 2006 from RM9,695

million in 2005. I am delighted to report that this result, attributable

to markedly higher product prices from March to August 2006, is the

highest annual proceeds level in your Company's history.

Gasoil and motor gasoline continued to be the refinery's major products,

forming 70.0% of our total production. The LRCC unit, in which your

Company invested in the nineties, proved its value by giving us the

opportunity to produce higher margin products – several products

streams, e.g. polypropylene, enjoyed high price levels.

FinanCial PerFormanCe

Malaysia

21%

Far East & Africa (excl. Malaysia)

48%

For the year under review, your Company's performance was dictated

by fluctuating refining margins and the movement in world oil prices.

As a consequence, our after-tax net income in 2006 declined to

RM258 million from RM522 million in 2005. The decline was attributable

mainly to stockholding losses and lower refining margins. The pretax

stockholding gain in 2006 was only RM40 million compared to

RM210 million in 2005 as a result of lower differential in oil prices

compared to 2005. Refining margins were lower in 2006 as product

price increases did not commensurate with crude oil price increases.

Shell Refining Company (Federation of Malaya) Berhad (3926-U) 33

Chairman's statement

Crude and Feedstock Processed - sources of supply (2006) shell refining Company refinery intake and sales (2002 - 2006)

Million bbls

44

42

40

38

36

34

32

40.9

39.6

41.5

42.4

36.3

40.5

42.8

41.2

41.4

39.3

'06 '05 '04 '03 '02

shell refining Company sales Proceeds

12,000

10,000

8,000

6,000

4,000

2,000

ePs and dividends

0

4,458

5,497

7,511

9,695

10,887 '06 '05 '04 '03 '02

As a result of the lower net income, for the year under review, our

earnings per share (EPS) eased downwards to 85 sen from 174 sen

in 2005.

For the year ended 31st December 2006, your Board of Directors has

recommended a final dividend of 38 sen per RM1 unit share for the

year under review. Together with an interim dividend of 12 sen and

two special interim dividends totalling 40 sen, this brings the total

gross dividend payable for the financial year under review to 90 sen

per share. The dividends payable in respect of 2006, represent the

second highest dividend your Company has ever paid to date. Your

Company's Board of Directors hopes that you are pleased that we

continue to deliver on our enhanced dividend strategy as announced

in November 2005.
---
34

Shell Refining Company (Federation of Malaya) Berhad (3926-U)

Chairman's statement

sales turnover (By Product) 2006

Your Board of Directors maintains its firm intention to sustain an annual

dividend level of at least 50 sen per share (interim plus final) for the

foreseeable future, excluding special interim dividends subject to

financial performance and cash availability.

While developments related to your Company's share price for the

year under review were acceptable, rest assured that your Board is

acutely aware that we cannot rest on our laurels. Moving forward,

your Company will work to implement further performance enhancing

initiatives that we envisage will result in attractive profit levels and cash

generation.

shell refining Company Profit Before taxation

800

700

600

500

400

300

200

100

0

325

682

742

250

198

'06 '05 '04 '03 '02

srC share Price vs Bursa malaysia Composite index (normalised)

150

140

130

120

110

100

90

Jan

'06

Feb

'06

Sen

Mar

'06

250

200

150

100

50

0

Apr

'06

May

'06

86.07

Jun

'06

174.04

Jul

'06

223.45

Aug

'06

Sept

'06

60.76

Oct

'06

50.98

'06 '05 '04 '03 '02

Nov

'06

shell refinery Company net earnings per share

shell refinery Company dividends per share

100

80

60

40

20

0

50

38 18 3

25 5

20 35 10

38 12

40 38 12'06

'05 '04 '03 '02

Dec

'06

Interim

Final

Special

Interim
---
Business strategy and imProvement initiatives

Your Company's success to a large extent continues to hinge on

the successful implementation of a three-pronged business strategy

that revolves around the core element of PEOPLE. These three

strategies are:

• Productivity Improvement which aims to decrease the number of

man-hours required to run the refinery in a highly efficient, safe and

structured manner;

• Margin Uplift which involves continuous efforts to enhance margins

and offset the impact of adverse market forces; and

• Cost Leadership which focuses on driving costs down efficiently

without compromising on margins and the integrity and safety of

the plant, our people and contractor staff.

These three strategies and their related activities are part and parcel

of our Business Plan and are firmly embedded in the annual business

planning process.

Over the course of 2006, several Business Improvement (BI) activities

were initiated in line with a global effort within Shell to seek out

opportunities to enhance value capture within Shell's manufacturing

business. The global BI initiatives form a natural adjunct to your

Company's three-pronged business strategy and cover these five

work-stream areas:

• Health, Safety, Security and Environment (HSSE)

• Organisational Effectiveness

• Operational Availability

• Margin & Energy

• Cost

Shell Refining Company (Federation of Malaya) Berhad (3926-U) 35

Chairman's statement

As part of the global BI effort, a Business Improvement Review (BIR)

is to be held every two years to generate new ideas for improving the

work-stream areas. In addition, a quarterly review is to be carried out

to check on the progress of these BI initiatives.

November 2006 saw your Company holding its first BIR with the

assistance of consultants from Shell Global Solutions. 2006's BIR

focused on the three areas of Organisational Effectiveness, Margin

& Energy and Operational Availability to look at how efficiently the

organisation is able to deliver key business objectives and improvement

opportunities for margin enhancement, energy reduction and increased

reliability of plant equipment.
---
36

Shell Refining Company (Federation of Malaya) Berhad (3926-U)

Chairman's statement

in reCognition oF Best PraCtiCes

In 2006, your Company continued to win various awards and

accolades including two prestigious awards at the 2006 National Annual

Corporate Report Awards (NACRA) event. The event saw us successfully

retaining the "Best Annual Report in Environmental Reporting Award"

for the fifth consecutive year and the "Industry Excellence Award"

for the second consecutive year. The latter award is conferred on

companies listed on Bursa Malaysia's Main Board under the Industrial

Products and Technology sector. Your Company also received the

"Best Environmental Reporting in an Annual Report" at the ACCA

Malaysia Environmental and Social Reporting Awards (MESRA) 2005.

These multiple wins demonstrate your Company's commitment and

drive towards ensuring that a complete and informative performance

report, including our environmental performance, is disclosed to

shareholders and society.

2006 also saw your Company securing the "Best Practice Award"

at the National Awards for Management Accounting Best Practice

(NAFMA) for the third year in a row, and the Institut Kimia Malaysia

(IKM) "Laboratory Excellence Award" for the fifth year running. In

addition, your Company was also recognised for its exemplary HSSE

performance by means of various external awards and certifications.

For further information on your Company's achievements, please refer

to subsequent sections of this annual report.

sustainaBle develoPment initiatives

In line with Shell's General Business Principles, that include complying

with the Shell Group's Sustainable Development Management

Framework, your Company subscribes to the principle of sustainable

development that meets the needs of the present generation without

compromising the ability of future generations to meet their own needs.

Our actions are directed by the need to make business decisions that

give credence to our sense of economic, social and environmental

responsibility and by which our stakeholders and society can hold us

accountable.

Your Company is a key member of the Port Dickson community. Our

contributions to the local community do not always take the form of

direct funding and monetary sponsorships. We provide employment

and business opportunities, and we invest in programmes and

initiatives to raise the socio-economic status of Port Dickson and

improve the locality's standard of living and quality of life. In 2006,

we have organised, supported and participated in the following

programmes namely 'Save Our Coral Beach Cleaning Campaign' with

University students and National Service Trainees, English Language

Debate, Drama and Public Speaking competitions with secondary

school students, Community Dialogue with the neighbours, NGOs

and government authorities, Joint Road Safety Campaign with NGOs,

Lions Club, and Police Department, to name a few.

PeoPle develoPment

Your Company deems people to be the most important asset. Indeed,

our employees are our strength and we firmly believe in enabling

employee training that enhances performance. Management thus has

the responsibility for ensuring that our workforce is equipped with the

relevant knowledge, skills and attitude so they can deliver to the best

of their abilities.

Training that develops employee potential and enhances employee

performance is central to the effective conduct of your Company's

business. All employees' training is founded on clear, identified

business needs and objectives based on job requirements. These are

then pitched against performance criteria and conducted in a manner

conducive to achieving organisational goals. In 2006 we spent a total

of RM1.8 million on employees' training. This is an amount well spent

to continuously afford our employees sufficient opportunities to bridge

any technical competency gaps and help foster the forging of a strong

team spirit and better interactions at all levels.

Business outlook

Going forward, global economic expansion is expected to be sustained

at above 4.0% in 2007 with major economies generally moving towards

a moderating trend. While the broader US economy is expected to

sustain its underlying growth despite some sectoral weakness, there

will be more broad-based global growth in line with the recovery of

Japan's economy as well as improved growth prospects in the Euro

arena and sustained growth in the Asian region.
---
Bank Negara Malaysia predicts that the Malaysian economy will

maintain a steady growth path in 2007 with a 6.0% GDP growth rate.

Domestic demand from both private sector and public sector activity is

expected to support the growth momentum of the Malaysian economy.

Solid support for domestic growth is expected to come from sustained

private consumption, continued expansion in investment activity and

the implementation of 9MP projects.

Product demand is therefore expected to be robust and refining

margins are expected to remain positive. However the level of these

margins remain uncertain. Concerns over crude oil availability, volatility

in oil producing areas, and heightened geopolitical tensions, are

expected to linger. If product prices do not move in tandem with crude

oil prices, refining margins will come under pressure.

Shell Refining Company (Federation of Malaya) Berhad (3926-U) 37

going Forward

Chairman's statement

No matter how the market scenario plays out, your Company is

committed to maintaining our competitive edge through aggressive

cost reduction and margin improvement initiatives, which hopefully will

mitigate any weakness in refining margins. We will continue to realign

our business strategies to meet changing market needs and will focus

our resources and energies on meeting our business goals. People,

health, safety, security, environmental issues, and asset integrity will

continue to be major priorities.

in aPPreCiation

On behalf of the Company, my sincere appreciation goes to our

shareholders, the Board of Directors, the Management, our employees,

contractors and all our other stakeholders for your loyalty, perseverance,

dedication and effort in the face of an ever evolving and challenging

business environment. I trust that you will all continue to give us your

support. On our part, rest assured that we remain committed to

pursuing all opportunities with a view to maintaining your Company's

growth and profitability as well as enhancing shareholders' value.

We look forward to your continuing support as we endeavour to take

your Company to new heights of success.

On a final note, I would like to take this opportunity to pay tribute to a

fellow Director who will be leaving your Board. Dato' (Dr) Yahya Ismail,

our Senior Independent Non-executive Director, will be retiring this year

after serving your Company continuously since 19 September 1978.

Dato' (Dr) Yahya's guidance for the last 29 years has been invaluable

to the success of your Company and as the Senior Independent

Non-executive Director, he has been a trusted confidant to all

stakeholders.

Thank you.

saw Choo Boon

Chairman