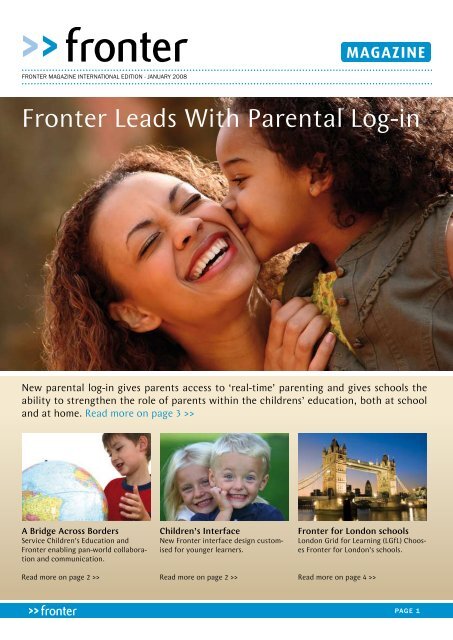 Download PDF Fronter Leads With Parental Log In
Download PDF Fronter Leads With Parental Log In
Download PDF Fronter Leads With Parental Log In
SHOW MORE
SHOW LESS
You also want an ePaper? Increase the reach of your titles
YUMPU automatically turns print PDFs into web optimized ePapers that Google loves.
Fronter magazine International edition - JANUARY 2008

Fronter Leads With Parental Log-in

New parental log-in gives parents access to 'real-time' parenting and gives schools the

ability to strengthen the role of parents within the childrens' education, both at school

and at home. Read more on page 3 >>

A Bridge Across Borders

Service Children's Education and

Fronter enabling pan-world collaboration

and communication.

Read more on page 2 >>

Children's Interface

New Fronter interface design customised

for younger learners.

Read more on page 2 >>

Fronter for London schools

London Grid for Learning (LGfL) Chooses

Fronter for London's schools.

Read more on page 4 >>

PAGE 1
---
Fronter Open Learning Platform

- A Bridge Across Borders

Service Children's Education (SCE)

chose Fronter as their Open Learning

Platform, to enable pan-world

collaboration and facilitate communication

between all schools that

form a part of the SCE community.

Service Children's Education (SCE) is an

Agency of the British Ministry of Defence

(MOD), and was formed in order

to provide for the education of the children

of Service families and MOD personnel,

serving outside of the United

Kingdom.

SCE operates 43 schools, attended by

approximately 10 000 children in total,

ranging across Belize, Belgium, Brunei,

Canada, Cyprus, Falkland Islands, Germany,

Gibraltar, Holland, Italy and Turkey.

The Fronter platform is able to meet the

needs of SCE students and staff. Shared

resource areas and collaboration rooms

allow the Agency's headquarters and

schools to share knowledge, skills, information

and educational practice.

SCE is using Fronter as an intranet and

communication platform by integrating

email facilities and general forums

and communities to encourage the introduction

of a 'one-stop shop' and an

education network. Content has been

uploaded and SCE staff, and some students,

around the world access and

share this via the learning platform.

SCE, with the help of Fronter, is now

able to offer their students the opportunity

to embrace more continuity in

their education as they travel the world

with their parents.

Children's Interface Design in Fronter

The Fronter Open Learning Platform

is on the cutting edge of learning

platform development,providing

a special interface design for its

youngest learners, developed in

close cooperation with primary

school teachers.

This new feature in the Fronter platform,

comes as a part of the standard

platform pack acquired by any school,

but is up to the school's administrator,

whether the 'child-friendly' settings are

to be turned 'on' or 'off.' In this way,

the customer has more options and opportunities

to customise their students'

learning experience, according to the

particular context in which the education

is taking place.

The children's design is less text intensive,

uses larger icons, brighter colours,

and sometimes presents the Fronter

tools in a 'light' version. All these features

ensure that the student is encouraged

to concentrate on efficiently using

the platform to enhance their learning

experience, as opposed to a new young

user being distracted and possibly intimidated

by an unfamiliar tool.

A direct example of the way in which

the children's design simplifies the platform,

can be seen when the standard

'text editor' is customised to operate

in 'Child Mode.' Using this setting, the

number of editing tools and options is

limited to only the essentials needed by

a young beginner. This way, younger

learners may be slowly introduced to

writing and editing on a computer, in

a simple environment, before gradually

being introduced to the full range of

tools and functions available within a

standard text editor.

The Children's design is just one of a

series of developments to create a modern

Children's version of the Fronter

platform.

PAGE 2
---
Fronter Leads With Parental Log-in

New parental log-in gives parents

access to 'real-time' parenting, and

gives schools the ability to strengthen

the role of parents within the

childrens' education, both at school

and at home.

With the Fronter Parental Log-in,

schools now have the ability to assign

parents their own unique username and

password to allow them access to sections

of a student's portfolio, as well as

certain Fronter 'rooms.'

Different information and access is required

for the different age groups, and

access can be customized accordingly

by the individual school's platform administrator.

"Recent research has shown that parental

engagement is a decisive factor

in determining learner achievement.

What really matters is that learners

feel their parents are paying attention,

engaged in the children's learning and

care about their performance" (Becta).

"Recent research has shown

that parental engagement

is a decisive factor in determining

learner achievement"

Real time access to key information

on a student's progress, attendance,

school activities and participation will

ensure that parents and guardians can

play a more active and informed role in

their child's education. Information on

school activities and future plans, policies

and performance, can all be communicated

through the Fronter learning

platform, guaranteeing efficient

and informed communication between

all parties.

"Real-time reporting to parents is a

means of stimulating parent-pupil conversation

about their child's work and

progress in school, by making meaningful

information available to parents

via secure, online access, available

anytime they please" (Becta).

According to Becta guidelines, 'all secondary

schools will be expected to provide

frequent, specified information on

students by 2008, and offer this same

information in real-time by 2010.These

requirements also apply to Primary

schools, but must only be fulfilled by

2010 and 2012 respectively.'

Education is no longer linear and limited,

but must involve all spheres of a

child's life and all relevant participants

that together influence the child's education

and development.

With the new parental log-in, Fronter

continues to be up to date with trends

and developments in education, providing

the tools for the next generation

of learning on the web.

"Real-time reporting to

parents is a means of

stimulating parent-pupil

conversation about their

child's work and progress

in school, by making

meaningful information

available to parents via secure,

online access, available

anytime they please"

(Becta).

PAGE 3
---
Fronter UK

Moving 'Onwards

and Upwards'

With a new Fronter UK Office opening

up in Coventry and expanding

Technical Support and Service teams,

Fronter UK is looking forward to 2008,

growing with its new and existing customers

from strength to strength.

Fronter UK is currently working with

more than 1000 schools and almost a

third of all English Local Authorities,

to facilitate the implementation of a

learning platform, making personalised

learning a reality for all English students.

Since receiving UK Becta accreditation

in 2006 as a certified Learning Platform

Service Supplier, Fronter UK has been

seen moving from strength to strength.

Staff numbers across the management,

educational consultancy and technical

teams have had a dramatic increase,

strengthened and consolidated in order

to meet the new demands of the rapidly

expanding customer base.

UK Managing director Bill Gayler says

"I am delighted to have completed our

move into our new office in Coventry.

Along with our new Operations Centre

in Central London, these new premises

allow us to provide an excellent service

to our existing customers and to dramatically

scale up our presence in the

rest of the UK during 2008."

Combined with the success seen in the

UK, Fronter has established itself as an

international learning solution, recently

endorsed by Austrian education officials

and as platinum sponsor at the

Online Educa Conference in Berlin.

A report published by the American

company, Outsell, included Fronter, Facebook,

You Tube and FireFox as '20 to

watch in 2007.' This report was justified

by Fronter's performance in 2007.

"I am delighted by the quality

and commitment of the

team we now have in place.

We are looking forward to

an exciting 2008."

Bill Gayler

Managing Director

Fronter UK Ltd

Fronter UK Ltd Wins Bid to Provide a London MLE to

the City's 2500 Schools

"Fronter UK Ltd, a Becta tested

and approved supplier,

was the clear choice of the

representative regional panel

for the technology platform."

Brian Durant

Chief Executive Officer

London Grid for Learning Trust

On May 22 2007, it was officially announced

that the Fronter Open Learning

Platform had won the bid to provide

the London schools with a London

Managed Learning Environment (London

MLE).

"In the drive to raise standards of attainment,

personalising learning is a

central priority for education reform in

the UK. Learners are being encouraged

to take responsibility for their own

learning and benefit from a personalised

learning experience," says Brian

Durrant.

The British Educational Communications

and Technology Agency (Becta)

published its Learning Platform Services

Framework after evaluating over

100 platform providers. The Fronter

platform was one of only 10 providers

to receive Becta Accreditation through

this framework, and from these 10, the

LGfL then conducted their own investigation

and testing, before making

Fronter UK their final choice.

Since the decision by LGfL in May,

a total of 37 Local Authorities are

in the process of implementing

the Fronter learning platform into

their schools. A total of 700 schools

in the UK have already implemented

Fronter, and almost 2000

schools are scheduled to begin implementation

during 2008.

Brian Durrant, Roger Larsen (Fronter CEO) and

Bjarne Hadland (Fronter Chairman) signing the

London MLE contract.

PAGE 4
---
UK Education Authorities Visit Oslo:

Building Schools for the Future

Local UK education authorities visit

schools in Oslo (Norway), to exchange

ideas and experiences on

ICT within 21st century education.

A group of UK Local education Authorities

visited Oslo in December, to observe

how their Norwegian colleagues

were adapting to the increased use of

ICT in education, and how it has revolutionised

the learning process for both

students and teachers.

The first school that the Local Authorities

visited was Oslo's number 1 Vocational

school, Elvebakken, which has

undergone a complete transformation,

both outside and inside, over the last

10 years.

"We can use Fronter at

home or anywhere else

on the planet – as long as

we have a computer and

an internet connection".

Robin Svendsen (Student)

Kastellet Primary School

With about 1000 students and 80 teachers,

a new policy of openness and transparency

in all aspects of learning, has

opened up and changed the face of

school life. As the traditional structure

is done away with, "the need for a simple

system to form a foundation is critical,

a necessary platform to allow creativity

to blossom," explains our guide

Mr Knut Halvard Roald.

The second visit was to Kastellet, a primary

school located just outside Oslo

city centre. After a presentation by the

head teacher and ICT staff on how the

school is using Fronter, three of the

school's students gave a short presentation

on their experiences of using the

Fronter learning platform during their

normal school day.

Robin Svendsen explained, "we can

use Fronter at home or anywhere else

on the planet – as long as we have a

computer and an internet connection.

We also think Fronter is great for the

environment – instead of constantly

using lots of paper, you can simply log

onto Fronter and check all your information."

"By using a learning platform such as

Fronter, students are able to increase

levels of communication and interaction

with one another. We also believe

that online learning will allow parents

to positively engage in their children's

everyday life," said Ian Vardy, one of

the visiting education Local Authorities

from Somerset.

The British guests were received at the

British Ambassador's Residence, where

the importance of Norwegian-British

cooperation was acknowledged and reiterated.

The UK visit to Oslo is representative

of the current changes in education

and the awareness that the education

structure must adapt to accommodate

new methods and tools. The visit

was received well on all sides and will

hopefully be the first of many.

"The need for a simple system

to form a foundation is

critical, a necessary platform

to allow creativity to

blossom."

Halvard Roald

Elvebakken Secondary School

PAGE 5
---
A Closer Look:

Ranvilles Infant School Excels

Ranvilles Infant School in Hampshire

has been using the Fronter

Open Learning Platform for two and

a half years, and is at the forefront

of ICT use with younger learners.

The Fronter platform allows the pupils

at Ranvilles to have their own online

e-portfolio of work, share opinions

through book reviews and discussion

forums, set each other online challenges,

work individually or as part of

a group, and learn at their own pace,

wherever and whenever they like.

The school has been widely recognised

for its innovative approach to learning.

Ranvilles recently received the ICT Excellence

Award for Extended Learning

Opportunities in a primary school as

well as many other prestigious awards

including the UNICEF Level 2 'Rights

Respecting School Award', the ICT

Register Mark, as well as the Arts

Council 'Gold' Arts Mark.

Ranvilles uses the Fronter platform

to connect with the whole school

community involving not only the

teachers and children, but parents

too.

Many of the children's parents are

in the Royal Navy, so the platform

enables progress tracking and answering

questions while they are

away onboard ship. This has been

translated into a geography project for

the children, with parents encouraged

to contribute ideas through online message

boards.

How Was It Implemented?

Initially two teachers were chosen as

administrator and lead teacher. Training

was provided by Fronter consultants,

both in school and at other venues

to allow them to get to grips with

the system and tools. The platform was

then first implemented into two year

one classes.

"We used the forums to develop

conversations between

children asking open ended

questions with no right or

wrong answers, for example:

'What is your favourite colour

and why?' We were easily able

to use Fronter to link to offsite

resources, mainly from web

sites," added John Whitmore.

"The school community

found itself in a

new and wonderful

position, supporting

its wider community."

John Whitmore

Deputy Head

During the next year the school developed

rooms for each year group, including

an art room, displaying photos

of art from around the school and links

to art web pages, a book club room,

a maths room for shared resources, a

curriculum resources room, a school

council room, and various topic rooms

as well as a a planning and delivery

storage room.

ICT teacher: "The Fronter platform has

been of great benefit to not only the

children but the staff too. The platform

allows teachers to use a greater

number of icons and pictures, as well

as podcasting to help children learn

and access resources in a variety ways,

which is particularly beneficial to those

who struggle with reading. We as staff

can also use the platform to upload

notes from meetings and share lesson

plans."

Ranvilles Infant School pupil Elizabeth,

who has had firsthand experience

of learning through the platform

commented: "It has lots of fun

games to help us learn. It's like a

learning genius."

Ranvilles wants to continue its extension

into the wider community

and carry on enhancing and enriching

learning. John Whitmore believes

that: "the Fronter learning platform

has enabled us to truly understand the

word 'collaboration', and that the use

of a platform is an exciting tool to develop

this learning attitude."

"The Fronter platform has

been of great benefit to not

only the children but the

staff too."

PAGE 6
---
Now Available:

New E-Learning

Courses

at your Fingertips

With new e-learning training courses,

users will be able to not only

learn but also update their platform

skills, at their convenience.

As of the beginning of October 2007,

all Fronter users are able to access online

multimedia training courses from

directly within their local Fronter platform

or from the Fronter support site.

The new e-learning training courses

cover all the main tools and methods

essential to a new user's introduction

to the learning platform. From 'Getting

Started,' and 'Assignment Hand-in,' to

'Communication' and 'Resource Sharing,'

users are guided by simple and

stimulating, easy to follow visual, and

audio e-learning courses.

This new feature introduces added flexibility

to teacher training and increases

the ease of integration of new users into

the ever-growing Fronter user base.

Now all users will be able to stay up to

date with the platform's functions, as

well as having unlimited access and opportunity

to refresh their knowledge of

the many tools and facilities offered.

As with all work and tests available on

the Fronter platform, training courses

can be imported into your Fronter

building and made available as SCORM

courses. In this way training can be

continually monitored and standardised,

ensuring that all local users are

up-to-date.

MIS Integration

Well on Track

Since September 2007, 235 schools

have successfully integrated Fronter

with their Management Information

System set up, as the Fronter

integration team worked with up to

30 new schools joining every week.

"MIS integration is an automated process,

which Fronter now operates on

an industrial scale." (Fronter Project

Manager Aleksander Pettersen)

Fronter offers integration with Capita

Sims.net, Pearson Phoenix Gold, Research

Machine Integris, Wauton Samuel

PASAPP and Serco Facility CMIS.

Integration with Research Machine G2

and Pearson E1 will be available within

Spring 2008.

According to Aleksander Pettersen,

Fronter project manager, "the schools

are required to setup the export routine

from their local Management Information

System and to make sure

that the data the system is holding is

accurate. Fronter will take care of the

rest."

Throughout Europe, Fronter has extensive

experience with MIS integrations,

and has had a system running since

2000. Since then, support for more than

30 different MIS systems, and integration

with more than 1000 schools has

been set up.

Dedicated integration teams in both

the UK and Fronter headquarters in

Oslo, are working to ensure that the

industrial scale of integration is maintained

and the process continues to run

smoothly.

The local support desk in London, here

represented by team manager Tom, and his

colleagues Ben, Louis and Karl.

The MIS Integration team in Oslo with team

leader Oscar, and his colleagues Tuva, Geir,

Bjørn, Ørjan and Alberth. London Project

Manager Alexander Pettersen to the left.

PAGE 7
---
JANET Training:

Before and After

Online Educa

They Came, They Saw,

They Implemented

JANET (UK) is due to implement their

new online training facility EdLab,

powered by Fronter. The JANET network

is responsible for connecting

all UK universities, FE Colleges, Research

Councils, Specialist Colleges

and Adult and Community Learning

providers.

After meeting and speaking to Fronter

staff at the Online Educa Berlin Conference

in 2006, the group within JANET

(UK), responsible for delivering training

to JANET technical staff, soon began

the process of implementing the

Fronter Open Learning Platform into

the new online training system. EdLab

powered by Fronter, is a state of the

art online training facility, was tested

last year, and plans to go live in early

2008.

JANET Training has designed a system

that will provide four main facilities

for staff from JANET connected organisations:

1. Platform for collective access to

resources, tools, support, and collaboration

between individuals and

organisations in areas relating to

network provision.

Ed

With EdLab, free access to resources

and collaboration tools relating to the

network will be available, including interactive

flash animations, simulations,

audio content, video clips and links to

technical documents.

2. Platform to deliver online courses

and events.

EdLab will be able to administer both

scheduled and unscheduled courses depending

on the delegate's situation and

needs. Using the 'Learning Path' tool,

courses can be structured in a way that

guides the user along a specific path,

through different tasks. These courses

can be set up for a specific time, or left

open so that delegates may complete

the course at their convenience.

3. Platform for support and provision

of the JANET Training system.

Users who are either going to take part

in a training course, are presently enrolled,

or have already completed a

course, will be able to access specific

rooms, forums and resources, relating

to their stage in the training process.

4. Platform for Trainer Support.

EdLab will provide support for the

trainers who are leading the courses offered

by JANET Training. The platform

will enable trainers to be efficiently

linked into a network support system,

from which they can communicate

with fellow trainers, access resources,

and advance their own personal skill

development.

Gill Chester, Training Manager at JAN-

ET Training, explained that, 'one of the

main assumptions of this new online

service is that, the individuals who will

utilise the system are knowledge workers

skilled in the use of online tools to

search and retrieve information. If we

can support and utilise this knowledge

construction, we will create a powerful

tool for personal development. We

believe that this is an exciting opportunity

to build a system based on 'community

of practice' and the emerging

'knowledge and decision support' theories.'

Gill Chester,

Training Manager,JANET Training.

PAGE 8
---
What London Schools Say...

Four Months after Implementation

Fronter has released videos featuring

interviews with primary, secondary

and head teachers using

the Fronter Open Learning Platform.

These interviews provide new

schools and staff with an inside look

into the practical issues involved

in implementing the platform, and

advice on how the system can be

used.

The following is a short preview of the

discussions available on video. Preview

at www.londonmle.net

Denise Stembridge, teacher at

Meadow Vale Primary School says

"Parents can see what is going

on inside the classroom, without

them actually being there."

Getting Started...

"It is really important for any school

that is planning to implement the

Fronter platform, that they consider

its implications within the school's development

plan."

Primary School teacher Denise Stembridge

explains that the platform

shouldn't be seen as an "add on" to

the school and its methods, but must

be seen as something that can "underpin

the teaching and learning at the

school."

Jeff Hawthorn, Assistant Head at

Oaks Park High School says that

"teachers, students and parents

are going to find the Fronter platform

absolutely fantastic!"

After a dynamic start, Assistant Head

Mr Jeff Hawthorn's comment on the

platform is: "Teachers, students and

parents are going to find the London

MLE absolutely fantastic!" Mr Hawthorn

also explains how besides being

very practical and relevant to schools

and their users, the Fronter platform is

able to personalise learning and really

provide a means of supporting students

with special needs.

Advice on Fronter implementation:

Jeff Hawthorn: "The key to implementation

is that everybody is involved

and that you can see it working successfully."

What are the advantages of the

Fronter Platform for members of Senior

Management?

Jeff Hawthorn, points out how with

the "portfolio" and "statistics" tools,

"senior management can get a very

good view of the work that is going on

in the school, and heads of year can

also monitor what is happening across

their year group and see how students

are performing."

What is the benefit of the Fronter

platform for a teacher?

"After an initial outlay of time for

training, the Fronter platform is a

system that can be a great benefit to

teachers, simply in the way it saves

them time." Instead of resources, lesson

plans, paperwork etc. all being in

different places, they can now all be

found on one platform, accessible at

any time of day or night.

How has the platform helped you in

your teaching?

The platform reinforces all work done

in class. Additional content can be

posted on the platform as well as discussion

forums for students who have

questions, or who need extra help.

How would you like to use the

platform with regards to parents

of students?

By providing parents with their own

username and password, parents can

access specified areas of the Fronter

platform, and even take part in discussions

on school issues.

Grahame Smart and Jon Munt at

Forest High Secondary School say

"Anything we do in our physical

classroom is reinforced and

backed up in the virtual classroom."

PAGE 9
---
"Learning platforms are

breathing new life into our

classrooms. There are now innovative,

imaginative and potentially

life changing ways to

learn anytime, anyplace and

anywhere. Welcome to a new

learning style fit for the 21st

century."

Raj Patel

Assistant Head Teacher

Parliament Hill School

Parliament Hill School

Parliament Hill School is an all girls

school based on a beautiful site on

Hampstead Heath in North London.

Now at the forefront of ICT use in

education, the school was one of

only 103 from across the country,

to be selected by the Department

for Children, Schools and Families

to participate in the Leading Edge

Partnership Programme, launched

by the Schools Standards Minister,

David Milliband on July 1st 2007.

In May 2007, the London Grid for

Learning (LGfL), procured a Managed

Learning Environment (MLE), powered

by Fronter, to supply to its 2500 London

schools. The project began with 28

schools taking part in a pilot MLE program

this last summer, in which Parliament

Hill was selected to take part.

To help implement the system effectively,

Parliament Hill selected its most

technology savvy employees for special

training by Fronter and to become the

school's designated MLE support team.

Since then the team has worked tirelessly

to train up more staff, and use its

combined knowledge to educate other

employees, students and parents.

In addition, the school has also employed

two multimedia students from

the University of Westminster to support

teachers in setting up, implementing

and evaluating the impact of the

learning platform on learning. It has

also developed a "Super Nanny" model

to support its colleagues and reduce

the challenges of a new teaching style.

In November 2007, Fronter and Camden

City Learning Centre provided the support

team with some further training

on system updates.

The MLE support team introduced the

maths, history, modern foreign languages,

science and food technology

departments to the learning platform.

The business and food technology departments

are now using Fronter with

students to grade tests and upload

coursework documents online. These

departments have also embraced new

media, giving personalised verbal feedback

on project progress through podcasts.

It is envisaged that all departments

will be using the MLE powered

by Fronter by the end of the academic

year.

"The school sees the

London MLE as a genuine

time saver."

Raj Patel

Assistant Head Teacher

Parliament Hill School

Since implementing the learning platform,

Parliament Hill has noticed the

following benefits:

• Accessibility: Information is available

to students 24-hours a day.

• Independent learning: Students are

given the opportunity to learn outside

the restrictive school hours in a

stimulating and personalised world.

• Communication: Communication

can now take place amongst students,

peers and teachers enabling

discussions on subjects to continue

outside of school hours.

• Cross-cultural communications: Students

can now communicate with

peers in different countries which

encourages cultural awareness.

The use of the learning platform within

Parliament Hill is a long term initiative

and the school is confident the benefits

it is now seeing will continue into the

future. The school sees the London MLE

as a genuine time saver for all teachers

and a collaboration tool for colleagues

across different boroughs and counties.

Fronter is a knowledge platform for students,

teachers and parents and as the

platform quickly becomes the industry

standard, students are using it to aid

their revision, teachers as a homework

assessment tool and parents to monitor

their children's academic progression.

PAGE 10
---
Becta and Beyond

Tips and Tricks

Dec 2006:

Fronter UK awarded Becta Accreditation

May 2007:

LGfL selects Fronter to power new London MLE

Dec 2007:

No. Schools Implemented Fronter - 700

No. MIS Integrations – 300

No. Local Authorities who chose Fronter – 37

Jan 2008:

1000 schools in London to begin Fronter implementation

900 additional UK schools scheduled to begin

Fronter implementation

Renaming Tools

Fronter room owners can rename specific

tools to make their function more intuitive to

the user.

E.g. 'Room' can be changed to the name of

the classroom 'English year 7,' or 'Links' could

be renamed to be more specific, such as '21st

Century Poets Online.'

•

•

•

In the specific room select the drop down

menu in the far right of the screen

Select 'Customize Tool package'

Select the tool you want to rename, and

enter the new name in 'Edit Title'

Click "Save"

•

New Features

in Fronter

The following are a few of the highlights

available in the new Fronter

81 release:

Fronter Bridge

The Fronter Bridge makes it possible to

share content and collaborate in rooms

across Fronter installations. With the

same username and password, a student

from one school may apply to be a

member of a room in a different Fronter

school, provided that the two installations

have previously established a

'trust agreement.' This makes it possible

for schools using the Fronter platform

to collaborate with a wide range

of learners, ideas, and resources.

Portfolio Transfer

It is now also possible for students

transferring schools, to take their Personal

Learning Environment or Portfolio

with them to their next school.

This will enable greater continuity for

students and make it much easier for

teachers to assess the academic level

and stage the new student is at, and be

able to accommodate the new students

accordingly.

Resource Booking

The Fronter calendar tool has been

modified to integrate a Resource Booking

function. More efficient planning

and use of a school's resources is possible

with the option to book or reserve

resources such as classrooms, labs, projectors,

learning materials from within

your calendar tool. It is possible to see

when the resources are available - and

if they are not available, who is currently

using them.

PAGE 11
---
Fronter UK Ltd

The Design Hub

University Technology Park - Puma Way

Coventry - CV1 2TT

0845 241 8090 (General Enquiries)

0845 450 1948 (Technical Support)

uk@fronter.com

fronter.co.uk

International enquiries: Please see fronter.com or email us at info@fronter.com

Fronter at BETT 2008

BETT is the world's largest educational technology

event, with over 20 years of experience showcasing

cutting edge educational technology and developments

within the UK and international education

community.

This year will be Fronter's fifth year as an exhibitor at BETT,

and the Fronter stand can be found in the National Hall

(K56). Each day, visitors to the stand will have the opportunity

to talk to Fronter staff and to listen to Fronter users

explain their experiences and talk you through some of the

techniques and tools they have been using with the learning

platform.

The programme of Fronter presentations will be as follows:

Wednesday 9th January

11.30: Chris Livesey, Nower Hill High School

Using the London MLE at Nower Hill High School

13.00: Clifford French, Camden School for Girls

From Paper to Fronter in 2 hours

14.00: Oyehmi Behgo, Fronter UK

Successful Implementation of the Fronter

Learning Platform

16.00: Chris Livesey, Nower Hill High School

Using the London MLE at Nower Hill High School

Thursday 10th January

11.30: Adrian Metcalf, Blackpool LA

Collaboration in the LA and beyond

13.00: Clifford French, Camden School for Girls

Hints and Tips when using the London MLE

14.00: Lorraine Line and Karen Hayford,

Blackfen School for Girls

Welcome to our Virtual School

16.00: John Whitmore, Fronter UK

Using Fronter with infant children

Friday 11th January

14.00: John Whitmore, Fronter UK

Using Fronter with Infant Children

16.00: Fronter 81:

What to expect in the next Fronter release!

PAGE 12