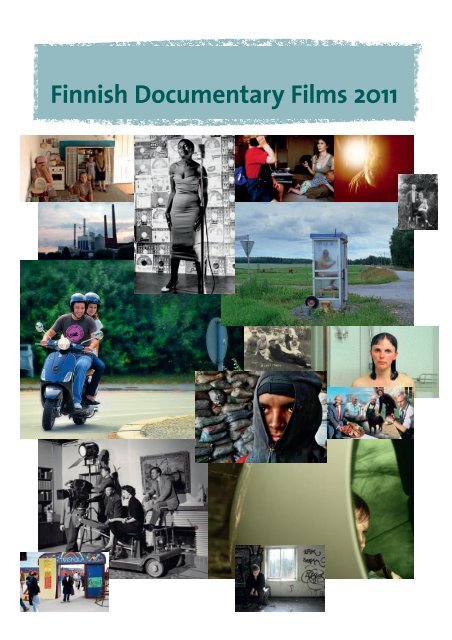 Finnish Documentary Films 2011
Finnish Documentary Films 2011
Finnish Documentary Films 2011
SHOW MORE
SHOW LESS
You also want an ePaper? Increase the reach of your titles
YUMPU automatically turns print PDFs into web optimized ePapers that Google loves.
Finnish Documentary Films 2011
---
Contents

Finns rush to watch documentary films at movie theatres 3

The land between the living and the dead 4

Mika Kaurismäki spends half of his time on documentaries 6

Moments in life when you realise something essential 7

Comedy documentaries about conquering women 8

Feature-length documentary films:

Arctic Desert 11

Canned Dreams 12

Sodankylä Forever/The Century of the Cinema 13

Forever Yours 15

Helsinki Twilight 16

Mama Africa 19

Paavo, a Life in Five Courses 19

Reindeerspotting – Escape from Santaland 20

Rules of Single Life 21

Salla – Selling the Silence 21

Steam of Life 22

The Unknown Woman 23

Vesku from Finland 23

Wireless World 24

Mid-length documentary films:

Albino United 10

Aranda 10

Battle for the City 11

Barzakh 12

Christmas Men 13

A City in Two Parts 14

A Director's Journey to Humanness – The Story of Mikko Niskanen 14

The Good Survivor 15

The Finnish Legion of Murmansk 16

The Hunt 17

Kaskinen 17

Lemmi's Love 18

Look At Me 18

Play God 20

Silence and Severity 22

Virtual War 24

Contact information 25

Finnish Film Festivals 2011 25

This magazine is in two parts. This part is devoted to new Finnish

documentaries. When you turn the magazine upside down, you will find

the part devoted to new short films. There you will also find information

on documentary films that are shorter than 30 minutes.

More facts and figures about Finnish documentary films are available at

our website: www.ses.fi – Statistics

Contacts:

Marja Pallassalo

Head of Promotion, Short and Documentary Films

Tel. +358 9 6220 3021

marja.pallassalo@ses.fi

Otto Suuronen

Assistant, Short and Documentary Film Promotion

Tel. +358 9 6220 3019

otto.suuronen@ses.fi

The Finnish Film Foundation

Kanavakatu 12, FI-00160 Helsinki

www.ses.fi

V

From Murmansk to New York,

from Spitzbergen to South Africa

The many worlds of Finnish documentary films

Finnish films are doing better

than ever in Finland. In 2010,

domestic films had a theatre

audience of over two million. That

means almost 30 percent of all moviegoers

went to see a Finnish film. The

population of Finland is 5.4 million.

Another reason for delight is that,

relatively speaking, Finnish documentary

films have done even better in

domestic theatres. Joonas Neuvonen's

Reindeerspotting, Joonas Berghäll

and Mika Hotakainen's Steam of Life

(Miesten vuoro), and Mika Kaurismäki's

Vesku from Finland (Vesku) were

the biggest box office successes. The

biggest thanks should, of course, be

given to the film makers, but the financial

support given to documentary

films seems to be also bearing fruit. In

three years, the Finnish Film Foundation

has been able to almost double its

support for documentary films. In this

magazine, Liisa Lehmusto will take

a closer look at the reasons behind the

documentaries' success.

The magazine you are holding introduces

Finnish documentary films

that had their premiere in the autumn

of 2010 or that will be finished in the

spring of 2011. The films deal with

the recent history of Finland and Estonia,

cities in the turmoil of change,

oceanography, Spitsbergen, football in

Africa, city rabbits in the streets and

alleys of Helsinki, children in schools

and foster homes, women in World

War II, and Bulgarian men looking for

Finnish women. If you want to know

where the roots of the Finnish band

HIM are, watch Petri Hakkarainen's

Helsinki Twilight 1984. According

to the director, it wasn't until the postpunk

era that Finns and the Finnish

art scene was able to become properly

European and international. If you

want to hear Isabella Rossellini's

funny stories and bubbling laughter,

make a beeline for Hanna Hemilä's

Paavo – A Life in Five Courses. It is the

story of Paavo Turtiainen, a Finnish

country boy, to whom Ingrid Bergman

and Lars Schmidt said at Helsinki

airport in 1970, "Come to Paris."

You will also learn about Miriam

Makeba's artistry and political activism

in Mama Africa, directed by Mika

Kaurismäki. In this magazine, Jussi

Karjalainen talks with Mika Kaurismäki

about the way he makes films

– both documentaries and fiction.

The film historian and director

Peter von Bagh has assembled footage

of unforgettable meetings with

unforgettable directors that have

taken place during the 25 years of the

Midnight Sun Festival in Sodankylä.

The Century of the Cinema is a 90

minute long compilation of these conversations.

An even more thorough

look at the memories and thoughts

of the festival's guests is given in the

three hour long Sodankylä Forever.

Peter von Bagh has also recently finished

his three-part profile of Mikko

Niskanen. Niskanen, who died in

1990, was an outstanding Finnish

film director, although his works are

not well known beyond Finnish borders.

That is a pity, at least when it

comes to his Eight Deadly Shots from

1972. It is unquestionably one of the

most significant films ever made in

Finland. The film's premise, the way

it was made, and the way it turned

out are interesting also from the point

of view of documentary film expression.

Even if one knows nothing about

Mikko Niskanen's films, Peter von

Bagh's series provides an extensive

look at Finland's recent history from

the 1930s onwards. Von Bagh's ability

to comprehend and bridge things is

remarkable, as is known by everyone

who has seen his highly regarded 2008

film, Helsinki, Forever.

Mia Halme, the director of Forever

Yours, says in our interview that

she is most interested in the moments

when one realises something essential,

and in finding a way to depict those

moments on film. Anu Kuivalainen's

Aranda and Mantas Kvedaravicius'

Barzakh seem to be realisations

of Mia Halme's thought. Aranda

tells about an oceanographic research

vessel, and Barzakh about Chechnian

families who are waiting for

their missing loved ones – and about

so much more. The moments in both

films are quiet, and yet overwhelmingly

full of meaning.

I hope that Finnish documentary

films bring joy and new ideas into

your lives.

Marja Pallassalo

The Finnish Film Foundation

www.ses.fi

2 Finnish Documentary Films 2011
---
Finns rush to watch documentaries at movie theatres

Finnish documentaries have been the surprise hit of Finnish movie theatres. But what is this boom all about?

The year 2010 has seen a real

boom for documentary films

at Finnish movie theatres.

Last year, a record number of Finnish

documentaries have been screened

in cinemas in Finland and attendance

figures have surprised professionals

throughout the film industry.

The year 2010 has been an exciting

time for Finnish documentary enthusiasts

and professionals, with up to nine

Finnish documentary films premiering

at cinemas this year. The number of

new titles has grown considerably compared

to earlier years; between 2005

and 2009, cinemas screened from two

to five new Finnish documentaries annually.

The selection this year is a stunning

array of the best new Finnish

documentary production has to offer.

The documentaries that have had their

premiere this year are Auf Wiedersehen

Finnland (distributed in Finland by

Elokuvakontakti ry), a new historical

documentary about German brides by

Virpi Suutari, Freetime Machos (Pirkanmaan

elokuvakeskus ry), which

was shown at IDFA in 2009 and is the

latest work by Mika Ronkainen, the

first Finnish director to have a film

screened at Sundance, Looking for the

Lost Tango (FS-Film), a portrait of

Finnish cult musician Tuomari Nurmio,

Steam of Life (Nordisk Film), a

touching film about sauna, Reindeerspotting

(Nordisk Film), a documentary

depicting the harsh reality of drug addicts

in northern Finland; Rautaa rajan

taa (Finnkino), a music documentary

dealing with the export of Finnish

heavy metal; and Vesku from Finland

(FS-Film), a biopic of Finland's beloved

actor and musician Vesa-Matti

Loiri directed by Mika Kaurismäki.

Pirjo Honkasalo's new film ITO

– A Diary of an Urban Priest (Cinema

Mondo) also premiered in November.

In 2010, the total number of viewers

for the documentaries exceeded the

whopping figure of 160,000. Reindeerspotting

alone has attracted 65,000

moviegoers, a figure that guaranteed

a spot among the ten most-watched

Finnish films last year. This kind of

ranking is unheard-of in Finland for a

documentary film.

These figures, many times higher

than previous records set in the last few

years, are a fantastic achievement for

documentary films in Finland. During

the last six years, few of the documentaries

that reached the box office

drew more than 4,000 viewers. The

rare exceptions were John Webster's

climate-change themed Recipes of Disaster

(2008, Finnkino), with 14,000

viewers, and Jouko Aaltonen's musical

documentary Revolution (2006,

Sandrew Metronome), with 13,000

viewers.

The phenomenon extends beyond

high attendance figures, as documentaries,

buoyed by their success, have

become a more talked-about topic than

ever before in Finland. To top off increased

public interest, two significant

international nominations went to a

documentary film this year: Steam of

Life battled as Finland's candidate for

both the Nordic Council Film Prize

and the Best Foreign Language Film

Oscar.

Trend or statistical spike?

Having exceeded the high threshold

of theatre distribution, each film must

prove its viability at the box office on

its own. When you look at attendance

figures more closely, you will notice

that success has been distributed unevenly

during this year's documentary

boom. Of the nine documentaries, only

three have attendance-wise reached the

same category as Finnish fiction films,

namely Vesku from Finland (currently

37,000 viewers), Steam of Life (49,000)

and Reindeerspotting (65,000).

Even though in view of these numbers

the documentary film boom seems

to shrink to just three hit films, Toni

Lähteinen, programming manager

with Finland's largest cinema chain,

Finnkino, reminds us that the same

kind of situation has been experienced

before. "When Finnish films began

their ascent again in the late 1990s,

there were three movies that were

meeting with success at the box office

at the same time: the war film

Ambush(1999), the crime drama The

Tough Ones (1999) and the young people's

film Tommy and The Wildcat (1998).

These

A good distribution

strategy does not

guarantee success

unless it is backed by

the most essential

thing – the film that

touches and interests

audiences right now.

three movies

were

enough

to create

a massive

boost that

made Finnish

films a

success at

movie theatres

once

again." In a market area the size of

Finland, even a small number of successful

titles can change the situation.

At the turn of the millennium, after

two decades of dwindling audiences,

Finnish feature-length fiction films

unexpectedly bounced back to become

a box-office success story that continues

to this day.

In theatre distribution, success

breeds more success, and documentaries

are no exception to this rule. "A

good question to ask is, what if there

hadn't been two big hit documentaries

in the spring and Vesku from Finland

would have been released at theatres

now? Would it have drawn as many

viewers as it has? What about next

year? Will Finnish documentaries have

an even better chance at success? Most

likely 'yes'," Lähteinen thinks.

National and

international trend

Despite the more moderate attendance

figures of past years, Lähteinen thinks

the roots of the current boom extend

far, as the number of documentaries

being screened at movie theatres has

been growing steadily for ten years.

People are more willing to go to the

movies to watch a documentary because

of a shift in the public's attitude

towards the cinema. "Viewers have

slowly been taught to watch documentaries

at the cinema. The thought of

it is no longer strange and all the hard

work is now producing results."

It is also no coincidence that success

in the distribution field is preceded by

the popularity of the film festival dedicated

to documentaries. For the last

decade or so, documentary films have

been promoted by DocPoint, a documentary

film festival held in Helsinki.

Established in 2002, DocPoint has

become one of Finland's most important

festivals in a short period of time.

The festival has steadily increased its

attendance, attracting almost 30,000

visitors to its selection of documentary

films in January 2010.

The change in viewer climate may

have also slightly opened theatre doors

to international documentaries, which

are becoming more and more frequent

at Finnish cinemas. Among the international

documentaries that have had

a theatre premiere in Finland in 2010

are Wanted and Desired by Roman Polanski,

When You're Strange, a music

documentary about the band The

Doors, and Armadillo, a documentary

about Danish soldiers in Afghanistan.

Even though their viewer figures did

not rise above the normal small-scale

art house releases, distributors have

Steam of Life

Freetime Machos

Finnish Documentary Films 2011 3
---
clearly become bolder at taking risks

across genre boundaries.

Reality is currently a global trend

in television as well, and Finland is no

exception. The localised versions and

Finnish productions of international

reality formats have established realitybased

entertainment as an undisputed

part of daily TV. Reality programmes

have introduced Finns to the allure of

reality-based entertainment and, as

viewer surveys on reality programmes

indicate, the hunt for real emotions.

Undoubtedly some of the viewers are

seeking the same experiences from

documentary films.

Documentaries are sold to

theatres with the same

strategy as fiction

This year's attendance figures can be

explained by cultural reasons, but these

alone do not explain the success of

our three hit documentaries. Nor can

the explanation be found in the film

industry's favourite child, digitalisation.

For years there has been talk of

the distribution of documentaries becoming

easier with the increase in the

number of digital theatres, but so far

there has been no room for marginal

films in digital theatres in Finland. In

small towns and theatre complexes, the

digital screen is usually the largest, and

therefore the films shown there must

offer the greatest audience potential.

And even though the documentary is

considered a megatrend by the media,

it is not necessarily a key factor in cinema

distribution.

According to Toni Lähteinen of

Finnkino, what this year's successful

documentaries have in common is that

their distribution strategy has played

down their 'documentary' classification

and image. "In distribution and

marketing, they were not treated as

documentaries but rather as movies.

Instead of selling a documentary, the

distributors were selling a story or a

concept." For example, in its marketing,

Vesku from Finland was clearly portrayed

as a biopic about a famous singer

and actor, and Reindeerspotting as

a shocking, youthfully exuberant and

topical story about exceptional human

circumstances. The word 'documentary'

was not even mentioned in the

films' posters or marketing materials.

The distribution strategies of documentaries

that premiered in the spring

were presented at a think tank organised

by the Finnish Film Foundation

this summer. According to distributors

and production companies, the

distribution and marketing of the

most successful documentaries followed

the normal launch strategy of

box-office movies. There was plenty of

investment in the production of posters,

advertisements and trailers, the

films' target audiences were identified

and marketing was carefully planned.

Theatre premieres were preceded by

screenings at popular film festivals,

creating a good word-of-mouth base.

The timing of the premieres was also

key, as the premiere weekends took

place after a suitable period from the

hype created by the festival screenings.

But even a good distribution strategy

does not guarantee success unless

it is backed by the most essential thing

– the film that touches and interests

audiences right now. Both distributors

and theatres stress that the key to success

is always in the film itself. A good

film will sell itself first to the distributor,

then audiences – even if it carries

on its shoulders the challenges facing

the documentary film genre.

The most positive thing about the

documentary success stories is that

Finnish cinema audiences have shown

to be open to and thirsty for new experiences.

They still dare to go out and

search for something new and different

at the movie theatre. "People go to the

cinema to seek new ideas", Toni Lähteinen

concludes. "You don't always go

to just have a good time at the movies.

If people hear that a certain work is interesting,

they'll go and watch it even

if it is heavy."

Liisa Lehmusto

The writer has followed documentary films

in her work with the DocPoint festival

team between 2003 and 2010 and currently

works as the communications officer for

Sandrew Metronome Distribution Finland.

The land between the living and the dead

With academic writing you can only reach a limited number of people, but with a film you find a larger audience

How can you portray war, torture or death? What kind of film would be

the most effective at showing the scars of war and violence in Chechnya?

Lithuanian researcher Mantas Kvedaravicius has approached war and violence

by showing people's daily life. His film Barzakh follows a few families

that have one of their relatives missing. The families do not know where

their missing relatives are, or whether they are even alive. Life is about

waiting. Barzakh is Mantas Kvedaravicius's debut film. He had no previous

experience in making films but despite this, he managed to get Sputnik Oy

and Aki Kaurismäki to produce his work.

Mantas Kvedaravicius

With his film, the researcher

wants to reach

a wider audience than

the academic community. Mantas

Kvedaravicius is currently working

on his social anthropology thesis at the

University of Cambridge. He is pondering

on the question of what social

anthropology means to him. "To me,

it's not a social science, but is rather

related to philosophy and critical study

of literature. All the big questions in

life can be studied through literature.

Everyday details are connected, and

they cannot be explained by rationalising

or observing, they must be lived.

A great deal of literature and poetry,

as well as cinema, deals with the big

questions that people face in their everyday

lives", says Mantas.

What is it then that made an academic

researcher go into cinema? "We

understand what goes on around us but

when we try to explain what we have

experienced with words, we no longer

reach the essence of it. If we're lucky,

we can use film to convey something

that speech and words cannot. Films

give more room for feelings in communication

or in any other life phenomenon.

The director says that film can be

used to describe longing or something

that is lost or disappearing.

When I ask whether the issues

concerning Chechnya have interested

him for a long time, Mantas turns my

question around and says that often it

is the subject that finds the filmmaker.

"It is a question of one's own life history

and life experiences. A short while

ago, I had a good conversation with

Yael Navaro-Yashin, who is supervising

my work. She is conducting an

anthropological study in the northern

part of Cyprus. Even though, as

anthropologists, we do not share an

understanding of the importance of field

work, which may be very colonial, we

must have some kind of connection to

the place we are studying. I often speak

of electrified identities, in which certain

aspects connect you to a certain place",

Mantas adds.

"For me, one of the connections is

growing up in a post-Soviet society. I

grew up in Lithuania, where the thought

of resisting the Soviet Union had slowly

gained strength since the 1940s. There

was always the idea of an empire that

had forced itself on our country. How

should we feel about such a power? An

even more personal question is, what

kind of subjectivity do people who have

gone through all of this develop? How

have they remained human after all these

experiences? I think that these experiences

connect me to Chechnya, where

people have gone through the same."

"I haven't read the writings of political

scientists on Chechnya because I

think they're worse than shamanism. I

think Anna Politkovskaya is the only

person who has written anything worthwhile

on Chechnya. My research work

in the Caucasus was not a rational choice

for me."

4 Finnish Documentary Films 2011
---
Mantas Kvedaravicius had spent

over a year in the Caucasus before beginning

his filming. He knew the people,

the place and the events. The film

meanders through the daily chores of

the people it follows – it shows them

cooking, harvesting, building, playing

and celebrating. People, of course,

talk about violence even if it does not

happen every day. Daily life goes on,

although people's awareness of the violence

colours their perception of the

future. The documentary was filmed

in 2007–2009, when there was no

open warfare in Chechnya. "Despite

this, we would see bombings and battles

in one place, and there would be a

wedding taking place a few kilometres

away. Our Chechen friends said that it

was like that also during the war."

Spectacular blindness

"Many people want to believe that

everything is well there now. I call it

spectacular blindness. The reconstruction

of residential areas and roads and

all the verbal assurances hide the fear,

the fragility of life, the uncertainty.

This spectacular blindness doesn't only

affect international delegations visiting

the area, but also the area's own

residents."

The film's name is Barzakh. It is a

theological concept which means the

land between the living and the dead.

The word comes from the Koran and

the concept has been developed by Sufi

philosophers. "Barzakh isn't merely a

metaphor, but rather a paradigm on

which the film is built. The paradigm's

purpose is to find peculiarities and

link them together, so that generally

applicable statements on the world can

be presented", the film's director clarifies.

"What our daily life consists of is

not defined by opposites, instead it is

existence on the edge of where two become

one but do not mix. In the film,

the mother of a missing man says 'I

don't have my son living or dead'. To

me this is barzakh: neither living, nor

dead. It is a vacuum, absence", Mantas

says, explaining the basis for his film.

The film shows us how a man

named Alaudi Sadykov looks after

his garden. He also takes us through

the grim building in which he was

tortured for a long time. Alaudi has

lost one ear and suffered a permanent

injury to his arm. Mantas says that this

man has been between life and death.

Alaudi has been so close to death

that, in a way, he has already died,

but now he is among the living. The

director says that torture can be seen

in the look

" We would see

bombings and battles

in one place, and there

would be a wedding

taking place a few

kilometers away.".

in people's

eyes. Living

among

these looks

and hearing

whispers

of missing

people

has a more

powerful effect on people than open

violence.

The film contains many breathtakingly

beautiful pictures of the underwater

world or snowfall that fills

the landscape. "We are water. It makes

us think what life is about. I am referring

to French philosopher Gaston

Bachelard, who wrote about the

meaning of sleep and water. Bachelard

spoke of man's fate, which is to

Barzakh

disappear into water or become water.

Bachelard moves in the mythical

dimension, describing ships that are

full of dead people's souls and are almost

sinking. I think this image gives

us consolation, that souls will finally

find their own place. It's like a healing

process full of hope", Mantas explains.

The film has been a rich experience

for the first-time director. "Since I had

no knowledge of how to make a movie,

it was great to have Aki Kaurismäki

as my producer. With academic writing

you can only reach a limited

number of people, but with a film you

find a larger audience. When the film

comes out, it will do justice to several

people. Barzakh is dedicated to Natalya

Estemirova, the Russian human

rights activist who was abducted

and killed in Grozny in July 2009.

Marja Pallassalo

Barzakh, page 12

Barzakh

Finnish Documentary Films 2011 5
---
Mika Kaurismäki spends half of his time

on documentaries

"

Kaurismäki has finished Mama Africa, a documentary about Miriam Makeba.

In it and many other music documentaries he has made, the director lets the

camera do the writing. Kaurismäki, however, has not given up on drama films,

which he carefully plans in advance.

In a way, it's strange that a Finnish

director makes a film about

a South African icon. I believe

the producers were looking for a filmmaker

who can approach the subject

from a distance", says Mika Kaurismäki.

"For me, this wasn't a completely

new situation, since I've done films

about Brazilian music and artists in

the past."

Mika Kaurismäki (born 1955) is the

older brother of the famous depicter

of archaic Finland, Aki Kaurismäki.

He has just finished his feature-length

documentary Mama Africa about the

deceased singer Miriam Makeba

(1932–2008), a famous icon of South

Africa and the entire black continent.

The documentaries about Brazil

that Kaurismäki mentions are Moro

no Brasil – Sound Of Brazil (2002) and

Brasileirinho (2005). Brazil was also

featured in Kaurismäki's documentary

about drummer Billy Cobham, Sonic

Mirror (2007). Even the director's

debut into international documentary

productions, Tigrero – A Film That Was

Never Made (1993), had a Brazilian

subject. It told the story of Samuel

Fuller, a cigar-biting film director

with an endless supply of stories, and

his adventure movie in the lands of the

Karajá Indians that was never made.

When he was making Tigrero, Mika

Kaurismäki already spent half the

year in Brazil. Currently he is living in

Salvador in Bahia.

Makeba's portrait became

a memorial film after her death

The idea for the Miriam Makeba portrait

entitled Mama Africa came from

South African producer Don Edkins

and Robert Eisenhauer of Arte, the

French-German TV channel. Arte

has also been involved in Kaurismäki's

documentaries about Brazilian samba

and choro.

"When we decided to make the

film, Miriam Makeba was still alive,

but just before we started filming, she

fell ill on stage in Italy and died", says

Kaurismäki.

"For a moment we even considered

cancelling the project. But then we

decided to continue because Makeba

deserves a film. Of course, her passing

away affected things a lot because I

had to use much more archive material

than planned."

"In addition to South Africa, we

filmed in Guinea and New York,

where she lived during her long exile.

We also filmed in Germany, where she

frequently performed."

Kaurismäki had heard Makeba's

unique voice in Finland through the

radio in the 1960s. He notes that, due

to apartheid, genuine South African

music was

not widely

heard across

the world.

"Miriam

Makeba was

its first and

foremost

ambassador

for decades."

Makeba

was not only a musician but a worldwide

figurehead of the fight against

apartheid.

"Mandela was furthering the same

cause at the same time while he was

imprisoned in South Africa. Miriam

Makeba raised awareness of apartheid

across the world not only in her role as

a singer, but also when she spoke four

times at UN meetings."

"She often said that her songs were

not political, that she only sings the

truth. Her songs became the global

voice of not only oppressed South Africans

but the entire African continent.

That's why they started calling her

Mama Africa."

"Miriam Makeba's rise from the

slums of Johannesburg to becoming

Mika Kaurismäki

" Documentary films

have definitely given

me the confidence to

create fiction without

accurate screenplays

and in the middle of

live situations."

the figurehead of all of Africa was remarkable.

On the other hand, she had

to pay a heavy price for it – being separated

from her family and friends for

more than 30 years."

Makeba's most famous song, Pata

Pata, is one she wrote herself. "She

herself didn't consider the song important

because she thought it was just a

light song without a deeper meaning."

"She also sang Amampondo and

The Click Song along with Pata Pata

at almost every one of her concerts.

The wonderful Malaika has been

covered by younger artists, including

An gelique Kidjo and Thandiswa.

Makeba sang and recorded in several

languages. La Guinee Guine was born

in Guinea. The list of great and important

songs is long... Luta Contitua,

West Wind, Soweto Blues."

"Documentaries have given me

extra energy for everything I do"

Mika Kaurismäki's best-known drama

Mama Africa

films are The Worthless (1982), Rosso

(1985), Amazon (1990) and Zombie and

the Ghost Train (1991). In recent years,

after a long break, he has directed fiction

films in Finland and in Finnish

(Three Wise Men, 2008, The House of the

Branching Love, 2009).

What is surprising, however, is that

in the first decade of the millennium

Kaurismäki has directed as many documentaries

as fiction films.

At the time, Tigrero was "a special

case that had to be made". Kaurismäki

did not ponder whether it was

fiction or a documentary. It was only

with Moro no Brasil that he began to

acknowledge that he is also making

documentary films.

"In the past, I never planned or even

imagined making a documentary, but

now I'm rather happy that I've made a

few", he says.

"They've given me a lot, maybe even

more than fiction. They've also given

me extra energy for everything I do. I

6 Finnish Documentary Films 2011
---
still consider myself primarily a creator

of fiction and I currently have a few

fiction films in the pipeline."

Mika Kaurismäki reminds us that

he had quite a documentary approach

in his fiction films Rosso and Zombie

and the Ghost Train, working "without

accurate screenplays and in the middle

of live situations."

"To me, a documentary approach

is that I write with the camera while

filming. The shot material moves the

film forward and creates the story,

narrative and style. I'm sure this is

evident in the recent Three Wise Men,

which definitely didn't have a screenplay,

only a structure or a vision of

what it could be."

"The same applies to Brothers, a fiction

film I shot in summer 2010 that

continues in the wake of Three Wise

Men. Documentary films have definitely

given me the confidence to create

fiction with this kind of method. I

don't think I would have otherwise had

the guts to get into stuff like that."

"On the other hand, I'm currently

preparing two larger fiction films,

Malandro and Queen Kristina. They're

international productions that will be

made in quite a traditional way, using

large camera crews and accurate

screenplays. And I've got several fiction

stories waiting or gathering dust

in my drawer."

"Making a documentary, at least

for me, is about writing the film

while shooting it. On the other hand,

documentaries are quite rewarding

for a director. You have to study your

subject in depth during the process.

You learn real things about life. With

fiction, the opposite may happen if

you're not careful, if you don't live

your life outside the film."

Kaurismäki, who is enjoying a very

productive period, also directed the

documentary film Vesku from Finland

alongside Mama Africa in 2010. Vesku

from Finland is about Finnish actor

and singer Vesa-Matti Loiri. The

multi-talented Loiri is locally a huge

figure who has successfully interpreted

both crazy rascal comedy and

dark drama, touching audiences in

both styles.

"I'm not preparing, or even planning,

any other music documentaries

at the moment. To be honest, I could

make a living just making music documentaries.

I get so many offers from

around the world."

"But right now I've decided to take a

break from music documentaries. Like

I said, I intend to concentrate on fiction,

at least for the next few films."

Despite his claims, Kaurismäki has,

as a producer, started work on a documentary

about Jari Litmanen, "Finland's

living football legend", which

will be directed by Arto Koskinen.

As a player, Litmanen is associated

with Ajax Amsterdam's reign in international

tournaments during the 1990s.

Mika Kaurismäki entered the world

of cinema in the early 1980s in cooperation

with his brother. Mika directed

the road movie The Worthless based on

Aki's screenplay. However, the first

feature-length theatre film by the two

brothers was a rock documentary! Mika

and Aki jointly directed The Saimaa Gesture

(1981), which recorded a wild tour

by Finnish musicians on a lake boat. It

Vesku from Finland

Mika Kaurismäki and Vesa-Matti Loiri

was also the first full-scale rock movie

made in Finland.

Will the Kaurismäki brothers ever

make a film together again?

"I don't think so. We both make

our own things in our own way," says

Mika Kaurismäki.

Jussi Karjalainen

Mama Africa, page 19

Vesku from Finland, page 23

Moments in life when you realise something essential

Mia Halme is endlessly interested in childhood

Forever Yours(Ikuisesti sinun)

is a film about children and

adults. The children live in

foster families or in a children's home,

away from their biological parents.

The film's adults are biological parents,

foster parents, and staff members

at a reception centre. We see affection,

separations, longing. Moves from foster

homes to parents' homes and back.

The film poses the question, what

sort of an environment enables a per-

son to grow up into someone who has

the courage to trust others and to love

them? Where is that person at home?

Forever Yours is clear and moving, and

avoids pathos and pity. How did the

director find this subject and where

did it take her?

"I became interested in the subject

because it can concern anyone of us,

but it is still treated mostly as a problem

of the socially excluded. Sometimes

the stories of foster children

have rather inconspicuous starts. For

example, they may have single mothers,

who end up as overachievers in

order to make ends meet. This may

result in depression, which in turn may

lead to losing their children. The subject

of foster children, their parents,

and foster families has been topical for

some time, but it was still difficult to

get a handle on it. There is a lot of talk

about the subject, but it is easy to give

in to hopelessness and then to indif-

ference. That sometimes happened to

me as I was planning the film. First I

felt compassion towards the people I

met, they made me cry. Then I became

numb, and perhaps a sense of self-preservation

also began to control the most

overwhelming emotions," Mia Halme

reminisces. "It was wonderful to get an

editor on board, and start to feel something

again."

The film follows two foster families,

a mother that has lost her child,

Mia Halme

Forever Yours

and three foster children. The reception

centre is also featured in the film.

The director says that at some point

she wanted the biological parents to

have a bigger role in the film, but in

the end, the camera tended to focus on

the children. "Adults try to draw attention

to themselves, children just are."

The film maker's responsibility

doesn't end when the film is finished.

Finnish Documentary Films 2011 7
---
"When you've been a part of the

children's lives, it would be wrong to

just disappear. Children have such a

short sense of time that if we don't see

each other for a couple of months, we

have to get used to each other all over

again," Mia Halme explains.

Even though the film is based on

foster children, biological parents,

foster parents, and caregivers, these

are not the only roles the people in

the film have. They are children and

adults in Finland at the end of the first

decade of the third millennium.

How to convey essential

moments to audience?

"Before becoming a film maker, I had

made radio documentaries, and I had

been interested in photos and photography

for the longest time. I felt the

need to make small works – not so

much stories – but excerpts. While in

film school, I felt that making short

fiction was contrived. I'd love to do

things that combine documentary and

fiction, but when I start filming real

people everything about them provides

better narrative than whatever means

of expression I had been planning," director

Halme says.

"I'm not interested in what is perceived

as the story, even pieces of news

are stories. I'm more interested in

the moments in life when you realise

something, or rather experience a feeling.

Often it is only a glimpse of a moment,

but one that nevertheless makes

a lasting impression," she says. "It is

interesting how a moment like that

can be conveyed to the audience. With

challenges like that, documentary

films are closer to literature than to reporting

information. A reporter has to

always know the latest developments".

Mia Halme finds it difficult to put

herself or her works into any documentary

film categories. "I'd like to make

more experimental films, whatever

that means. I am not a "direct cinema"

director. It would be boring to be a

director who always makes, for example,

essayistic films. The form should

be dictated by the subject of interest,"

the director feels. Recently, Halme

saw Into Eternity (2010) by the Danish

director Michael Madsen. The film

begins with the lighting of a match.

The theme of a tiny flash of light and

vast darkness continues throughout

the film. In Halme's opinion, the film

is the perfect marriage of form and

subject. It depicts the several year long

construction project of a final disposal

site, where nuclear waste can be stored

for 100,000 years. The site is in Eurajoki

in Western Finland.

But how does the director create or

find the right form? According to Mia

Halme, the shooting must be planned

Forever Yours

carefully and the editing process

should be given plenty of time.

"The synopsis can be poured out

from your heart or soul. The subject

may lose some of its fluidity when you

write the script, but the editing process

is what counts when you're looking for

the form. And if it's possible to use the

same cinematographer all through the

shooting, it makes all the difference.

It would be great if we had more cinematographers

that are geared towards

documentary films."

Let's get back to Forever Yours. The

director is still interested in childhood.

"I guess I haven't grown up,

even though I have three children of

my own. They provide a link to my

own childhood. I've become more like

the child I was. What fascinates me

in childhood is its dreamlike quality.

It is a time of wisdom, when you are

in touch with everything essential,"

Mia Halme encapsulates. Probably one

of the most significant moments in a

child's life is when they become aware

of their detachment from everything

else and of death. This theme is depicted

wonderfully in Mia Halme's Big

Boy (Iso poika) from 2007. It is a film

about a 7-year-old big brother, who

can already read but wants to know if a

school boy can still sit on his mother's

lap. Mia Halme remembers herself as

a 9-year-old, sitting in her room on a

bright summer's night, drawing the

landscape from her window. "I felt

both detached from and togetherness

with the world. That was amazing."

Marja Pallassalo

Forever Yours, page 15

Comedy documentaries about conquering women

Tonislav Hristov has made his first feature-length documentary film

Tonislav Hristov

Rules of Single Life was directed by

Tonislav Hristov. He has noticed that

people are much more comfortable

with being filmed when the director

is also in front of the camera.

Rules

R

of Single Life is Tonislav

Hristov's (born 1978) first

feature-length documentary

film, which he characterises as a comedy

documentary.

8 Finnish Documentary Films 2011
---
Hristov and his three friends in the

film are suffering from a chronic lack

of female company. The men are in

their thirties, working in Finland in

fields such as information technology.

Three of them are Bulgarian and one

is Macedonian. Two of the men (Tonislav,

Zoran) go through a divorce in

the beginning, one (Kiril) has failed

to persuade his girlfriend to marry

him even after a ten-year relationship,

and one (Hari) is used to getting

dumped within two weeks.

Describing his ideals in documentary

film making, Hristov says:

"Comedy documentaries are really

hard to make. Scandinavians are good

at storytelling, but Eastern Europeans

are better at humour."

The director strives to combine the

styles of his native country, Bulgaria,

with his current home country, Finland.

About his third country of residence,

Germany, he says: "It's kind

of half-way, but over there they make

completely different documentaries."

The guys in Rules of Single Life do

not completely fail in their search for

women, as Kiril ends up becoming a

father and Tonislav meets Andrea,

who lives in Germany. As a result,

the director has spent periods of time

in Germany, screenwriting his next,

similarly inspired documentary. However,

he intends to continue his career

in Finland, saying that "Helsinki is

my home where I've lived my entire

adult life."

Not a story about foreigners,

but about men and women

In the film, we also meet Hristov's

actress ex-wife Nelly, who asked him

to marry her back in the day – this

is how things are done sometimes

in Scandinavia. It was also through

Nelly that Tonislav Hristov got the

impulse to go into the movie business,

as during a night out one of Nelly's

acquaintances, documentary director

Pirjo Honka salo, asked Hristov,

an engineer, to help her with some

problems she had with her cameras.

Hristov offered to become a technical

assistant for The 3 Rooms of Melancholia

(2004), if he could in return borrow a

camera for a few days.

This was followed by studies

in cinema and a large number of

small-scale TV documentaries for

the Basaari and Mundo programmes,

which dealt with the issues of immigrants.

These documentaries gave

Hristov a chance to develop his style.

"The TV clips where I was also in

front of the camera came out better. It

is important for me that I'm not just

behind the camera. People become

more open and are more willing to tell

their deepest secrets. It's like sharing

with them."

Rules of Single Life

His longest work before Rules of

Single Life was the almost hour-long

Family Fortune (2008), which Hristov

filmed in Bulgaria. He was a participant

in that film, too. After Bulgaria

joined the EU, several upheavals took

place in

the country's

economy,

and

Hristov's

father had

to start

looking for

" Scandinavians are

good at storytelling,

but Eastern Europeans

are better at humour."

a new job after 36 years of serving the

same employer.

Rules of Single Life contains many

pertinent observations about Finland

and various summer festivals. For example,

when the Bulgarian men participate

in a game of badminton for

singles, they come face to face with a

situation where the man on one side

of the net works for Nokia and the

woman on the other side works for

Ericsson. The Bulgarians are amused:

"It's so Finland."

Hristov, however, never saw his

cuttingly funny film as a story about

foreigners, but rather a story about

men and women. "I've never felt like a

refugee or an outsider in Finland."

The romantic comedy documentarist

notes that some viewers will

most likely consider a comment

about heavily drinking, non-flirtatious

Finnish women to be sexist.

The comment is heard from Zoran's

mouth during the episode where the

four men are on a beach vacation in

Bulgaria.

"It is only fair to a man who has

had his heart broken to give room for

this kind of talk, too. Men do rational

things to make themselves feel better.

This section was cut out, but I felt that

something was missing. The film was

too nice, there was no masculinity in

it. Now it's more real. This is a guys'

film, after all."

Hristov's next work

makes fun of engineers'

love formulas

The unlucky protagonists of Rules of

Single Life make good-natured attempts

at picking up beautiful and energetic

Finnish women, but does the director

plan on portraying Finnish men, too,

in his films?

The answer is 'yes', as Tonislav

Hristov is currently preparing a documentary

called Love and Engineering. It

takes place in Finland's second largest

city, Tampere, amongst a group of engineers.

Young engineers throughout

the world are notorious for their bad

luck with women.

"My engineer friend has a theory, a

Rules of Single Life

mathematical formula about falling in

love. It worked for him", Hristov says

as a preview of the film.

"The theory is based on what you

should say and do. For example, before

you speak to a woman, you have to

spend ten evenings at the same bar. If

your favourite cake is chocolate cake,

talk about brown, and so on. To me,

my friend's theory is more of a joke. I

always look at even the most serious

things through comedy. An engineer

may say that there is something wrong

with the formula. It's never him that's

the problem. Love and Engineering is a

film about miscommunication, loneliness

and crazy inventions."

"Once again, I will be part of the

events, as well as my grandfather's

story. He was also an engineer. His

first wife escaped out of the window

on their wedding night."

Jussi Karjalainen

Rules of Single Life, page 21

Finnish Documentary Films 2011 9
---
Albino United

Aranda

Albino United

Aranda

Albino United follows a highly unusual

soccer team in Tanzania made up of a

group of albinos and black players in

their first ever season in the national

league.

Over the last few years, more

than 50 albinos, some as young as six

months old, have been murdered in that

part of the world, where witch doctors

peddle the myth that body parts

of albinos can bring people wealth and

good luck. With the price of a full albino

body fetching upwards of $70 000

many albinos have been attacked with

machetes and had their limbs cut off

while alive.

In the wake of these gruesome killings,

many albinos have fled to the capital

city, scared for their lives and seeking

protection. It was from within this

group of displaced and persecuted albinos,

that Albino United was formed: a

soccer team with the only objective of

challenging the beliefs that had led to

the horrific deaths of so many of their

kind.

The film follows the amazing story

of this team as they travel to different

epicentres of albino murders, playing in

front of crowds of stunned onlookers.

Despite all expectations, the team finish

in the top of the league and become

a national phenomenon, proving to the

masses that albinos are not only good

footballers but that they are humans in

their own right.

Juan Reina Marc Hoeferlin Barney

Broomfield

Juan Reina

Iseta – Behind the Roadblock,

Sculpting Life, Light in Shadow

Marc Hoeferlin

Night Commuters – Children of Northern

Uganda, Shooting Ghosts, Still Human, Still

Here, On That Day: Haditha

Barney Broomfield

Welcome to the Real World,

On That Day: Haditha

Directors Juan Reina, Marc Hoeferlin,

Barney Broomfield:

The most memorable moment that springs

to mind is the surreal experience of travelling

over 900 miles in a rented bus packed to the

brim with albinos and camera equipment...

The team was due to play a series of games

right smack in the heart of the most dangerous

areas for albinos (an incredibly brave act

to do), and the only option was to drive.

One of the albinos pointed out to us, almost

as a joke, that in light of the fact that

a whole albino body can fetch upwards of

70 000 USD, the human cargo alone in the

bus would be worth millions of dollars in

the black market. The heavily armed police

escort that had been following us since we

passed the equator made a great deal more

sense then.

Aranda is a film about the curious human

being's thirst for knowledge.

The protagonist is a ship, the marine

research vessel Aranda, which

sails back and forth on a shoreless

ocean, never reaching port.

The three elements in the film are

the ship, the sea and man, the largest

of these being the sea. The sea follows

a different time frame than humans.

It takes about 1 200 years for a sea

current to travel from the North

Atlantic to Antarctica and back – a

human lifetime is not long enough to

register the direction taken by great

changes occurring in the sea.

2011 | HD, DigiBeta | 16:9 | Stereo | 58'

Director: Anu Kuivalainen Script: Anu

Kuivalainen Cinematography: Jarkko T.

Laine Editing: Lasse Summanen Sound

Aranda

design: Janne Laine Music: Sanna Salmenkallio

Producer: Markku Tuurna Production

company: Filmimaa Ltd. Co-production:

Silverosa Film (Sweden) Production support:

The Finnish Film Foundation, AVEK,

Nordisk Film & Tv Fond, SFI, MEDIA Financing

TV company: YLE, ARTE, SVT International

sales: Filmimaa Ltd.

Anu Kuivalainen

Anu Kuivalainen is known for films that

make their viewers think and feel. She

has directed films like Christmas in the

Distance (Orpojen joulu), Black Cat on

the Snow (Musta kissa lumihangella) and

Grandad's Waking Dream (Taatan paha

uni). Her films have won several international

awards and they have been shown

at international festivals, including IDFA

Amsterdam, Nordisk Panorama, Mannheim-Heidelberg

and the Edinburg Filmfestival.

Anu Kuivalainen

England | 2010 | HDCAM, DigiBeta |

Around 12 hours into our journey the

1.78 (16x9 video) | Dolby SR | 65'

smooth Tarmac turned into a cratered

marshland of unnavigable potholes and

Directors: Juan Reina, Marc Hoeferlin, Bar-

nightmarish dust. Closing the windows,

ney Broomfield Script: Juan Reina, Marc

we trapped ourselves into the un-air con-

Hoeferlin, Barney Broomfield Cinemato-

ditioned bus with temperatures outside

graphy: Barney Broomfield, Juan Reina

exceeding 100 degrees Fahrenheit. The bus

Editing: Ash Jenkins Sound design: Scott

was not only filled with malarial ridden

Wilkinson, Fitzrovia Post Music: Salif Keita

mosquitos and the stench of 30 heavily

Producers: Nick Broomfield (Executive Pro-

sweaty men, but to top it all off, we all put

ducer), Marc Hoeferlin, Juan Reina Produc-

up with the nauseating smell of our dinner

tion company: Lafayette Films Production

for the day, dried fish. By that time however,

support: NFTF, SFI Financing TV compa-

we had all become one big family, so more

nies: National Geographic, Channel 4 Inter-

than anything else, we were laughing our

national sales: National Geographic

heads off at the situation.

Aranda

10 Finnish Documentary Films 2011
---
Arctic Desert

Battle for the City

Arctic Desert

Autiomaa

In a place where the last ice age still prevails, a group of geologists is

going to spend a few weeks in the High Arctic of Spitzbergen. In the

sediment layers they are looking for new evidence on the mechanisms

of climate changes during the last 100 000 years, which include several

enormous ice ages on the European continent.

This expedition is their greatest dream. No one can predict what

will happen hundreds of miles away from the nearest habitation. Here

we can understand the basic theme of the film, the eternal passion of a

scientist to look for new pieces of knowledge even risking their health

and sometimes their life. They have to worry about the roaming polar

bears. That is why they have to carry rifles all the time and they have

to know how to shoot – to kill.

In these circumstances a cool scientist has to face his own concept

of life. In the High Arctic you can have a real look into the motifs that

have carried you this far. Are they really true descendants of the old

explorers, who once penetrated into this barren, arctic desert?

2010 | HDCAM, DigiBeta | 16:9 | Stereo | 80'

Director: Petteri Saario Script: Timo Humaloja, Petteri Saario Cinematography:

Petteri Saario, Anton Leppälä Editing: Petteri Saario Music: Stefan

Paavola, Antti Hytti Producer: Timo Humaloja Production company: Kinovid

Productions Production support: The Finnish Film Foundation, AVEK Financing

TV company: YLE TV2 Documentaries International sales: Kinovid Productions

Petteri Saario

Petteri Saario (born 1961) is a documentary filmmaker, who has specialized

in depicting the endangered relationship between man and nature. Besides

directing and producing he is also familiar with underwater and wildlife filming.

Many of his films have been awarded both in Finland and abroad. He

works as a manager and a producer in his own company DocArt.

Main films: The Border 2009, Lapland – The Land of Saami and Salmon

2009, Sergei the Healer 2008, The Finest Rivers of Finland 6 part series 2006,

Sven Quijote 2006, The Sisu Stone 2004, When the Cod Ran Out 2004, Pearls

of Baltic Sea 6 part series 2004, Village of Sleeping Beauty 2001, Wild, Wild

Canary 2000.

Petteri Saario

Battle for the City

Taistelu Turusta

Battle for the City discusses the changing Finnish urban environment, how the old milieu was

keenly destroyed to make way for modernism and modern construction. Another important

question is the environmental policy of today's Finland. To whom does the constructed environment

around us belong, and who makes the decisions?

2011 | DigiBeta | 16:9 | Stereo | 58'

Director: Jouko Aaltonen Script: Jouko Aaltonen, Rauno Lahtinen, Olli Vesala Cinematography: Pekka

Aine Editing: Tuula Mehtonen Sound design: Martti Turunen Music: Markku Kopisto Producer: Jouko

Aaltonen Production company: Illume Oy Production support: The Finnish Film Foundation, AVEK,

Turku 2011 Fund Financing TV company: YLE TV2 Documentaries International sales: Illume Oy

Jouko Aaltonen

Jouko Aaltonen has directed numerous documentaries with subjects ranging from the Siberian Taiga

to the diplomatic circles of Delhi. His feature-length documentary musical Revolution (2006) attracted

record-breaking cinema audiences and won the Finnish Jussi award for the best documentary. Aaltonen

is also a popular lecturer and author of study books on cinema and in 2006 he gained a Doctor

of Arts degree. His latest films include: A Man from the Congo River (2010), Punksters & Youngsters

(2008), Life Saver (2005), Ambassadors (2004), Kusum (2000).

Director Jouko Aaltonen:

I have always been interested in old photographs and postcards that depict cities that I know well.

There is something familiar but also something weird and even ghostly. The captured moment – the

people walking on the street and the vehicles in the photograph have inevitably disappeared. Often

the buildings seen in the pictures seem such a natural part of the milieu that it is hard to imagine the

places without them. When comparing these pictures to the present, one notices how temporary even

the finest buildings may be.

Why has so much old and precious been demolished here in Finland? These questions spring to my

mind as I stand and look at the old photographs at the main market square in Turku, my childhood

hometown.

The oldest photograph of Finland was taken in Turku and it potrays the historically and architecturally

unique House of Nobel in Uudenmaankatu. It too was demolished in the heat of the sixties – the

building is gone, only the photograph remains. There are many stories related to the extinct buildings

in Turku, and I wish to tell these stories to the film's viewer. I would also like to bring the old City of

Turku back to life through cinematic means.

The more I study these stories, the more I am bewildered by the dominating mindset of the time.

New buildings were constructed rapidly in post-War Finland, people craved for something new and

modern. It was a project of a whole generation – the businessmen, the decision-makers, the ordinary

citizens and the architects were all part of it. Apartments and jobs were needed, and people believed

in the continuous economy and growth of the city – everything old was to be disposed. The Turku

Cathedral, the Turku Castle and the Handicrafts Museum were sufficient enough representations of

the old city. It was thought that the city was a machine made for living, constantly in change.

The lifetime of a building would be a few decades – at most. The increasing

number of cars was a positive phenomenon and the ideas for city planning

were copied from Las Vegas and Salt Lake City. One of the goals of my

film is to reason and comprehend – but not to accept.

The film is a story of Turku, but just as well it could take place in any

other city in Finland; Helsinki, Tampere, Oulu or Hämeenlinna for example.

The sorry tale unfolds similarly in many other cities and therefore the theme

is common. This is not just a film for and about the citizens of Turku. Maybe

we can learn something through these stories.

Jouko Aaltonen

Finnish Documentary Films 2011 11
---
Barzakh

Canned Dreams

Canned Dreams is a film about workers and their dreams on the journey of a canned

food product.

In our film, we build a portrait of ordinary workers through their own, personal

stories from multiple cultures. We hear them telling about the most important

moments in their life, and the dreams that would make their own world a better

place. All this happens in a frame of following the route of a tin can which starts

it's journey from the other side of the world and travels all across Europe. In this

film the beauty of humanity is seen through working hands.

2011 | 35mm, HDCAM, DigiBeta | 1:1,85 | Dolby 5.1 | 52' and 80'

Barzakh

In a Chechen city recovering after the war, a man disappears. As daily life goes

on, those in search are drawn into a world where encounters with diviners and legal

advisors, with the torturers and the tortured, with secret prisons and mythical

lakes all become commonplace. When the disappeared do return in dreams, they

are said to come from Barzakh – a land between the living and the dead.

Finland/Lithuania | 2011 | DigiBeta, 35mm | 16:9 | Dolby | 59'

Director: Mantas Kvedaravicius Script: Mantas Kvedaravicius Cinematography: Mantas

Kvedaravicius Additional photography: Ahmed Gisaev, Zarema Mukusheva Editing:

Mantas Kvedaravicius Editing supervisor: Timo Linnasalo Editing assistant: Mindaugas

Galkus Editing consultant: Giedrius Zubavicius Sound design: Tero Malmberg Producer:

Aki Kaurismäki, Mantas Kvedaravicius Production company: Sputnik Oy Co-production:

Extimacy Films Production support: The Finnish Film Foundation Financing TV company:

YLE TV2 Documentaries International sales: The Match Factory GmbH

Mantas Kvedaravicius

Mantas Kvedaravicius was born in Birzai, Lithuania in 1976. He holds

a Master's Degree in cultural anthropology from the University of

Oxford and is currently completing his PhD dissertation and a book

manuscript on the affects of pain at the University of Cambridge.

Kvedaravicius has taught university courses on religion, law, and

political theory in New York, and since 2006 he has been conducting

research on torture and disappearances in the North Caucasus.

Barzakh is his first film. Kvedaravicius is also an underwater

archaeologist. He lives in Lithuania raising his two children.

Mantas Kvedaravicius

Director: Katja Gauriloff Script: Katja Gauriloff, Joonas Berghäll and Jarkko T. Laine Cinematography:

Heikki Färm, Tuomo Hutri Editing: Jukka Nykänen Sound design: Peter Albrechtsen

Music: Karsten Fundal Producer: Joonas Berghäll Production company: Oktober Oy

Production support: The Finnish Film Foundation, AVEK, MEDIA programme, Nordisk Film

& TV Fund Financing TV company: YLE TV2 Documentaries, ARTE, RTP, NRK, TG4, Noga

Communications International sales: Deckert Distribution GmbH | Heino Deckert

Katja Gauriloff

Katja Gauriloff was born in 1972 in Inari. She has studied filmmaking at the Tampere University

of Applied Sciences, School of Art and Media (2000–2004). She has been involved

in filmmaking since 1998. Today she is a film director and part-owner of the Oktober Oy

production company.

Selected filmography:

A Shout into the Wind documentary, 2007

Director Katja Gauriloff:

It was the first time in my life that I worked at a factory. My job was to package sausages

on a conveyor belt. The work was physically demanding and monotonous. Once an hour

we had a seven-minute break. There was just enough time to run to the break room for a

cup of coffee. Those were the best moments at the job, sitting in the break room where

the factory ladies, some of whom had worked there at the same job for 30 years, were

having a quick coffee and a cigarette. I came from Lapland, so I didn't always understand

what they were saying in their old Helsinki slang, but the stories were pretty racy. I kept

quiet, listened and soaked in their life experiences, dreams and wishes.

Now, almost 20 years later, I find myself in the Brazilian Amazonas at one of the largest

open mine areas in the world. I sit there on

the rocks and people around me work really

hard for their lives. I listen to the stories and

dreamsof a woman around my age, who has

worked all her life in the slavery system of

the mines. Even though our worlds are very

different, I am amazed how similar and

universal our dreams are all around the world.

Katja Gauriloff

Canned Dreams

12 Finnish Documentary Films 2011
---
Sodankylä Forever/The Century of the Cinema

Sodankylä Forever

Elokuvan vuosisata | Sodankylä ikuisesti

Christmas Men

The Midnight Sun Film Festival – a strange and celebrated film festival in an unlikely

place, far north in Lapland. The cinema dialogue of all time: the twentieth

century as told by great filmmakers. The birth stories of films reveal histories

lived, stories from childhood and the early years "before I became a filmmaker".

The special strength of the film is the dialogue of the most notable persons of the

East and the West that grows out of the material, an encounter that conveys the

starkly different working conditions, and yet the determination over the necessity

of the shared human themes and challenges. Great movies are born out of innumerable

origins. The complete Sodankylä Forever series consists as well of three

one-hour features with themes of light, time, and the experience of the first films

of our lives.

Featuring, among others: Samuel Fuller, Michael Powell, Jacques Demy,

Claude Sautet, Robert Parrish, Milos Forman, Abbas Kiarostami, Joseph H.

Lewis, Jonathan Demme, Youssef Chahine, Francesco Rosi, Dino Risi, Jafar

Panahi, Francis Ford Coppola, Sergio Sollima, Ivan Passer, Miklós Jancsó, Amos

Gitai, Marlev Hutsiev, Jerzy Kawalerowicz, John Boorman, Ettore Scola, Vittorio

de Seta, Elia Suleiman.

2010 | Digibeta (pal) | DVD (pal) | 4:3 | Stereo | 90'

Director: Peter von Bagh Script: Peter von Bagh Cinematography: Arto Kaivanto Editing:

Petteri Evilampi Sound design: Martti Turunen Producer: Ilkka Mertsola & Mark Lwoff

Production company: Nosferatu Oy Production support: AVEK Financing TV company:

YLE TV1 International sales: Nosferatu Oy

Christmas Men

Joulumiehet

According to a Finnish saying, there are three phases in the life of a Finnish man:

He believes in Santa Claus. He doesn't believe in Santa Claus. He is Santa Claus.

Christmas Men is a documentary film about four ordinary Finnish men who

work as Santas. Each has his reasons to become a Santa. In the film being Santa

is the one thing that ties these men's life stories together. The film shows a cold,

dark country where moments of fragile happiness are scarce, and thus precious.

Absurd humour and melancholy are present. Gradually, the themes of the film are

revealed: remorse, atonement, love.

Peter von Bagh

The Count (feature film, 1973)

Year 1952 (feature length documentary, 1980)

The Last Summer 1944 (feature length documentary, 1992)

The Year 1939 (feature length documentary, 1993)

The Blue Song: The Cultural History of Finland since 1917

(12 parts, 2003–2004)

Helsinki Forever (feature length documentary, 2008)

A Director's Journey to Humanness –

The Story of Mikko Niskanen (3 parts – three hours)

Sodankylä Forever / The Century of the Cinema

(feature length documentary, 2010)

Sodankylä Forever (3 parts – three hours 2010)

Peter von Bagh

2010 | DigiBeta, Blue-Ray | 16:9 | CH 1 & CH2 Stereo | 51'

Director: Miia Raivio Script: Miia Raivio Cinematography: Arttu Peltomaa (Jarkko

Virtanen, Timo "Juice" Huhtala, Kimmo Jaatinen) Editing: Mikko Sippola Sound design:

Elina Hyvärinen Music: Antti Sipilä Producer: Markku Niska Production company: NBB

Navy Blue Bird Oy Production support: The Finnish Film Foundation Financing TV

company: YLE Co-productions, ARTE International sales: NBB Navy Blue Bird Oy

Miia Raivio

Miia Raivio is a Helsinki-based Finnish documentary film director, editor and writer.

Her previous works as a director include: Keijupuisto – Home of the Homeless (2006),

Making of Mental Finland (2009), Nameless | Finland Post Mortem (2009), History of

Afro- Finland (2010). Christmas Men (2010) is part of her MA thesis from Aalto University,

School of Art and Design.

Director Miia Raivio:

The most depressive thing to do, according to an English author, is to try tell a joke to a

Finn. Finnish people do tend to take things seriously, and nothing in Finland is taken more

seriously than Christmas. When I started to do research for the documentary film Christmas

Men I got no help from the official Christmas County of the country: Lapland.

An official told me, no-joke: "What you are trying to tell in your film is that there exists

more than one Santa. We all of course know that there is only one real Santa Claus and he

lives in Rovaniemi." In Finland, and especially in Lapland, Santa is the central figure of tourism

industry.

But he is more than that. In my film, I follow four ordinary Finnish men who work as

Santas during Christmas Eve. In our country Christmas is the most important festivity of

the year, and Santa Claus has a crucial role: he brings the presents to the children. Santa

is often the father (or brother or uncle) of the family, but there are many ordinary Finnish

men who work as Santas and can be booked to pay a visit at Christmas Eve. There's something

in the whole Santa tradition that interests me: once a year grown up men dress up

as fairy tale figures in this cold, northern no-nonsense country. And the men in my film,

well, they don't do it just for fun but for more,

shall we say serious reasons: for money,

for not to get drunk, for love, for forgiveness.

And that creates moments that are both

tragic and comic – the essence of Finnish

Christmas, if you ask me.

Century of the Cinema

Miia Raivio

Finnish Documentary Films 2011 13
---
A City in Two Parts

A City in Two Parts

A City in Two Parts

Jaettu kaupunki

Three years ago Sedu Koskinen, a succesful

nightclub owner from Helsinki

went back to his home town Valkeakoski

(20 000 inhabitants). His childhood

dream was to recreate the legendary

football club FC Haka again and

raise the team back into glory.

Valkeakoski is one of those cities in

which the Finnish welfare state was

born based on the forest industry and

the paper mills. Now the paper mills

have gone to South America and the

people are looking for new ways to earn

their living. Soccer could be one option,

but what are the other ones?

Pekka Lehto's film A City in Two Parts

is crowded by people who have memories,

small businesses, dreams and plans

for the future in this interesting city.

2010 | DigiBeta | 1,66 | Stereo | 52'

Director: Pekka Lehto Script: Pekka Lehto,

Mika Purola Cinematography: Teppo Högman,

Mika Purola, HP Vitikainen Editing:

Jussi Rautaniemi Sound design: Janne

Jankkeri, Laura Kuivalainen Music: Lasse

Enersen Producer: Pauli Pentti Production

company: First Floor Productions Oy Production

support: The Finnish Film Foundation,

AVEK Financing TV company: YLE TV2

Documentaries International sales: First

Floor Productions Oy

Pekka Lehto

Pekka Lehto (born 1948) has directed for

example the documentary films Brothers of

the Forest, The Real McCoy, Boy Hero 001,

The Temple, Alone, Nine Ways to Approach

Helsinki, Swastika and Their Age. His films

have won many prizes, been broadcasted internationally

and some have been released

theatrically. He has also directed the feature

films Game Over,

Tango Cabaret and

The Well, and

together with Pirjo

Honkasalo the films

Da Capo, 250 Grams,

Flame Top and

The First

Co-operative '39.

Pekka Lehto

A Director's Journey to Humanness –

The Story of Mikko Niskanen

Ohjaaja matkalla ihmiseksi – Mikko Niskasen tarina

Peter von Bagh's A Director's Journey To Humanness is a unique, quintessentially

Finnish documentary triptych. With its three one-hour episodes, it paints a

detailed picture of Mikko Niskanen (1929–1990), the director of The Boys,

Eight Deadly Shots and Gotta Run!

Mikko Niskanen was the intuitive seer of Finnish cinema, one of the most subtle

portrayers of the Finnish countryside – perhaps even the last one with such a profound

understanding of this particular area. He was also a masterly portrayer of the

youth and a very colourful character in modern culture: a man who stirred up an

array of emotions – often the most extreme ones. He was a man of genius, one of a

kind: often uneven in his work, always unpredictable and even callous as a person.

The documentary reveals the hidden until now: Niskanen's works, created over

a period of three decades, form a cinematographic autobiography rarely seen in the

Finnish film scene. Almost insidiously, the films cover all the focal points of the

director's personal journey on earth.

There are two main themes in the works of Mikko Niskanen: the countryside

and the youth. The theme of countryside crept into his films quite surreptitiously,

painted with small strokes – and, at first, almost in an ironic light. Another theme,

youth, was a central one right from the beginning (in The Boys). Later on, the

themes of countryside and youth meshed seamlessly with each other.

Episode 1 of the documentary sheds light on Mikko Niskanen's childhood and

adolescence, introducing his films of the 1960s, in which the director fixed his gaze

first on war, then on youth and the sentiments of his contemporaries. Episode 3

of the documentary deals with the works and life of the director in the 1970s and

1980s. In between those two, Episode 2 focuses entirely on Eight Deadly Shots, the

magnum opus of Mikko Niskanen, in which the boundaries between the director's

life and his art faded away. This masterpiece undisputedly epitomises all the feelings

of grief and compassion that can only be reached by the most profound art.

A Director's Journey to Humanness – The Story of Mikko Niskanen

A Director's Journey to Humanness –

The Story of Mikko Niskanen

Peter von Bagh's cinematographic

portrayal grows into an emotional voyage

through the crucial years of Finnish

modern history: a country in transition,

and the tragedy of the dignified

countryside in the process of disapparition.

The film contains unique

material from Mikko Nis kanen's home

archives, deleted scenes from his films,

as well as interviews with his friends,

family and colleagues.

2010 | DigiBeta | 4:3 | Stereo |

Part 1: 59'07", Part 2: 57'20", Part 3: 56'24"

Director: Peter von Bagh Script: Peter von

Bagh Cinematography: Arto Kaivanto

Editing: Petteri Evilampi Sound design:

Martti Turunen Producers: Ilkka Mertsola

& Mark Lwoff Production company: Nosferatu

Oy Production support: The Finnish

Film Foundation Financing TV company:

YLE TV2 Documentaries International

sales: Nosferatu Oy

Peter von Bagh

Selected filmography

The Count (feature film, 1973)

Year 1952 (feature length

documentary, 1980)

The Last Summer 1944 (feature

length documentary, 1992)

The Year 1939 (feature length

documentary, 1993)

The Blue Song: The Cultural History of

Finland since 1917 (12 parts, 2003–2004)

Helsinki Forever (feature length

documentary, 2008)

Sidankylä Forever /The Century of the

Cinema (feature length documentary,

2010)

Sodankylä Forever (3 parts –

three hours, 2010)

Peter von Bagh

14 Finnish Documentary Films 2011
---
Forever Yours

Forever Yours

Ikuisesti sinun

Forever Yours is a documentary film

about love and loss. Children in foster

care yearn for their parents and the

children's parents grieve for the loss of

their children. Foster parents, pressed

to the limits of their own capabilities,

attempt to make up for the lack

of intimacy and the effects caused by

social stress. Day-to-day life moves

the children and adults from one place

to another; they become attached to

each other and then have to part once

again. These children are, in truth, on

loan only. They adapt themselves and

grow up, but will they ever be able to

trust, let alone love, in the future?

Director Mia Halme:

How important is biology and shared history

when we love our children? After following

children who have been taken into

care, I assume that there is not anyone

who could repair the damaged biological

bond between the child and the parent.

Anyway, I have noticed with relief that, if

the child is allowed to show his hate towards

the dominant life conditions and at

the same time becomes accepted by an

adult, it can temper the grief.

This is a story that could have happened

to any of us, as a child or a parent,

if we had faced troubled enough circumstances.

The Good Survivor

(working title)

16 years after the most comprehensive

genocide since the Second World War,

Rwanda is still today is a country with

scars so deep that it's hard to comprehend.

The memory of the massacre in

1994, where one sixth of the country's

population was killed in three months,

still casts a long shadow.

The Good Survivor is a poetic documentary

film about the time after. The

film depicts the life of five characters

during the genocide memorial month

held every April. Burdened and grateful

by being the ones who survived,

everyone of them have their own ways

to get from one day to another. Praying,

grieving, remembering, escaping

into drugs.

The Good Survivor is a song for all

the victims of any kind of violence. It

shows what is left of a human being

after going through the worst imaginable

and asks if it is possible to ever be

whole again.

Finland/Rwanda 2011 | DigiBeta | 16:9 |

Dolby Stereo | 52'

Director: Iris Olsson & Yves Niyongabo

Script: Iris Olsson Cinematography: Iris

Olsson Editing: Oskari Korenius Sound

design: Toni Teivaala & Kimmo Vänttinen

Producer: Iris Olsson, Claes Olsson Production

company: Oy Nordic Film Pool

Ltd Production support: The Finnish Film

Foundation, AVEK Financing TV company:

Yle TV2 Documentaries International

Sales: Oy Nordic Film Pool Ltd

Filmography:

Iris Olsson: Between Dreams 2010,

Summerchild 2007

Yves Niyongabo: Maibobo 2010

2011 | HD master, DigiBeta | 1.85:1 |

Dolby Digital | 70'–80'

Yves Niyongabo and Iris Olsson

Director: Mia Halme Script: Mia Halme

Cinematography: Peter Flinckenberg, Anssi

Leino Editing: Samu Heikkilä Sound design:

Kirka Sainio Music: Timo Hietala Producer:

Sonja Lindén Production company:

Avanton Productions Oy Production support:

The Finnish Film Foundation, AVEK,

The Church Media Foundation KMS, ME-

DIA Programme of the European Union,

The Finnish Cultural Foundation Financing

TV company: YLE Co-productions International

sales: Avanton Productions Oy

Mia Halme

Mia Halme is a director of creative documentaries.

The need for love and finding

a family, either physical or psychological,

have been the themes of her films:

Big Boy (2007), Family of One (2005),

Mother Brave (2002), Carnival Spirit

(2002), Relatively Speaking (2001) and

Erotic Vivica (1999).

Mia Halme

The Good Survivor (working title)

Finnish Documentary Films 2011 15
---
The Finnish Legion of Murmansk Helsinki Twilight 1984

The Finnish Legion of

Murmansk

Muurmannin legioona

After the Finnish Civil War in the

spring 1918, almost 1 200 Finnish

communists, 'Reds', fled hunger and

the fear of revenge from the Whites to

the Viena area in Soviet Union's North

Karelia. The English Major General F.

C. Poole initiated a Red Finnish Legion,

which he placed under command

of the Canadian Officer R. B. Burton,

stationed at the town of Kandalaksha

in Karelia.

The Red Finns joined the Finnish

Legion of Murmansk, which was made

up of people from diverse backgrounds.

Some of them were Reds who had fled

together with their wives and children,

some were lumberjacks, while others

were plain adventurers.

Whatever the background, they all

wore the same uniform and obeyed

the strict command of His Majesty's

discipline. The Red Finns didn't need

to fight against Bolsheviks' troops, but

they had to defend the Murman railway

line against the Finnish Whites

and the possible invasion of German

troops from Finland. Legionaries ended

up in a situation where their loyalty

and ideology was put to test.

2011 | DigiBeta | 16:9 | Stereo | 58'

Director: Seppo Rustanius Script: Seppo

Rustanius, Olli Soinio Cinematography:

Pekka Aine Editing: Timo Linnasalo

Sound design: Martti Turunen Music:

Perttu Kivilaakso Producer: Jouko Aaltonen

Production company: Illume Oy

Production support: The Finnish Film

Foundation, AVEK Financing TV company:

YLE TV2 Documentaries International

sales: Illume Oy

Seppo Rustanius

During the last 30 years Seppo Rustanius

has written and directed several documentary

films about the Finnish Civil War, the

history of Russian Karelia, singers, theatre

and history of Finnish civilization. Some

of his latest documentaries are Victims

1918 (2008), Over the Ice (2005), Karelian

Terror (2002), Accusations Against the

Utopian (2001) and Red Orphans in White

Finland (1999).

Helsinki Twilight 1984

Timanttikoirien vuosi 1984

Helsinki Twilight 1984 takes us back in

time into the fascinating period between

the years 1979–1985, when Helsinki

and the rest of Finland moved

towards an increasingly diverse and

free social climate, pioneering beautiful

boys in makeup and fancy girls.

During this time new street-level

phenomena such as small magazines,

pirate radio and independent fashion

began to blend into Finnish society

– new clubs were set up, new art forms

were born – and finally people felt they

were works of art themselves.

Helsinki was like Berlin between

the wars for a period that lasted for no

longer than a blink. It was full of ideas,

encounters between different groups

of people and 24h partying with the

Cold War and what George Orwell

had described in 1984 hovering on

the background. Dark, deep shades,

ominous music, 'pale boys', vampires

and other creatures of the night represented

a world of a new human being;

new romantics, new gothic – new vision.

Representing the birth of the European,

international, and ultimately

universal citizen. This movement also

paved the way for the internationally

known Finnish goth bands, such as

HIM and The 69 Eyes.

duction support: The Finnish Film Foudation,

The Finnish Performing Music Promotion

Centre ESEK, The Foundation for the

Promotion of Finnish Music LUSES, Heltech

Audiovisual Media Financing TV company:

YLE Teema International sales: Illume Oy

Pete Europa (Petri Hakkarainen)

Pete Europa graduated from the Helsinki

University of Art and Design with a degree

in Film Directing. He works as a director

and scriptwriter. During the last years he

has been writing some major series for

TV. First Halosen harharetket (Yle Teema

2004–2005), a larger social series about

the deep structure of Finnish society, and

then a major TV1 series The New Song of

Väinämöinen (TV1 2010), which is a new

version of the Finnish National epic Kalevala.

Director Pete Europa:

It is very interesting to be able to see children

grow, and the documentary film Helsinki

Twilight 1984 is a sort of a child. It is a

love child, a wanted child, and increasingly

it seems it is also a needed child. Very often

we need a trigger; an event, a person,

an accident to see more or to change the

course of our lives. Somehow I have a feeling

that 'Helsinki Twilight 1984' has some

potential to be that trigger. Maybe it will

give people a feeling of self esteem. Or it

may inspire people to see how we form

a chain of events, a continuation of a European

art form, simply by existing – or

through more conventional art forms.

After finishing the film I started reading

Simon Reynolds' excellent book Rip it Up

and Start Again – Post-punk 1978 – 1984,

and I was amazed of the fact how deeply

the Helsinki scene was rooted in the same,

international wave of the post-punk era.

There is also a quotation on the cover from

Simon Armitage "…reminds us of the reality

and relevance of the MOST EXHILARATING

moment in Britain's pop/rock history".

It is a meaningful sentence, and if it is even

partly true you can consider that the ideas,

It was a barren ground, grey, sad, desolate

territory for souls that were seeking

something more liberating and inspiring.

That is why our significant years from

around 1979–1985 were fully loaded, bursting

with energy, inspiration, in an energetic

and active "collective" from which sprouted

numerous new beginnings.

The value of photography as an art form

rose and it became an accepted art form.

Jorma Uotinen championed Finnish modern

dance that now reached international

standards for the first time in history. In

theatre there was a revolt: new forms of

rebellious and strong physical theatre were

born, and actors also appeared on the club

scene.

The very first independent radio station

was founded in Helsinki, and suddenly

female artists begun shooting to fame.

Men started wearing make up and stylish

costumes which was very radical in 'postsoviet'

Finland. The first video cameras

came to the shops and the first Finnish rock

videos were shot. This colourful whirlwind

of events and new ideas was very much

centred around the new clubs that were

started in Helsinki. Previously there were no

real clubs; indie, new wave, artsy and special

clubs were all born during '79–'85.

It was in 1981 when the first "Futurist"

disco was arranged on an island near central

Helsinki, and soon after were launched

the Einstein A Go Go, a cabaret club, The

Batcave all-night parties and the Bela Lugosi

club, where you had to dress up all in black.

Then a line of new clubs followed: Club 77,

Cha Cha Club, Zebra Club, Club Berlin etc.

– but the most intensive period in Helsinki

was between those years 1979 – 1985.

Was there a call for the film Helsinki

Twilight 1984? Yes, I think that we needed

it very much. But it is still only scratching

the surface as there was more, much more.

However, I firmly believe that some of the

essential issues and the spirit of that time

has definitely been captured in this film.

2010 | DigiBeta, DVD | 16:9 | Stereo | 76'45''

people and themes in the Helsinki Twilight

1984 documentary are equally meaningful

Director: Pete Europa (Petri Hakkarainen)

and true. Possibly even more so in Finland

Script: Pete Europa (Petri Hakkarainen)

than in the UK, because the British art and

Cinematography: Arttu Peltomaa Editing:

street culture has always been very strong,

Kari Elovuori Sound design: Erkka Vepsä

but in Finland it was almost a completely

Music: Pekka Hakala Producer: Jouko Aal-

new beginning to my generation, after the

Seppo Rustanius

tonen Production company: Illume Oy Pro-

explosion of punk.

Pete Europa

16 Finnish Documentary Films 2011
---
The Hunt

Kaskinen

Kaskö

Foundation, Swedish Cultural Foundation

in Finland, Association Konstsamfundet,

MediaCity Financing TV company: YLE

The Hunt

Jahti

The Hunt is instigated by the sudden

friction in the well preserved facade of

modern urban society, caused by – the

city rabbit. It brings out a new element

in the relationship of man and nature,

which has been in crisis for decades.

In the city of Helsinki many people

have taken on to this new phenomena

and become city hunters using bows,

laser weapons, traps, even brutal clubbing

is part of their repertoire. But

this hunt it is also organized by the

society which tries to deal with this

threat caused by sweet rabbits which

used to be pets, but were released outdoors

when their owners lost interest

in them.

The city of Helsinki, different

organizations, real estate companies

and many others suffer from the damages

caused by these rabbits. And the

society starts a counter attack, even

the parish of Helsinki decides to buy

a shotgun to defend the gravestones

from falling down. The city wants to

eliminate this unnatural animal in

the urban environment – and it wants

to make it as a final solution. But it

seems to be weaker than the rabbits.

City rabbits have added a new

chapter in the long story of naturealienated

man and his attempt to create

a lifestyle which is controlled only

by man himself.

Production support: The Finnish Film

Foundation, AVEK Financing TV company:

YLE TV2 International sales: Kinovid

Productions

Jukka Eggert

Jukka Eggert is a documentary filmmaker

who started working as an editor in 1996.

He has a Bachelor's degree in culture and

art and during his studies he spent an

academic year as an exchange student in

Moscow, at the Gerasnimov Institute of

Cinematopography, VGIK. Today he works

as an editor in a production company in

Helsinki and as a documentary filmmaker.

Filmography:

Lauri 1998

Migration Flight 2005 20 min, YLE TV1

The Past Generation 2009 52 min YLE

TV2

After 30 years of faithful duty Lena

receives a gold pin, but by then she

has already been laid off. No one

could foresee that the successful cellulose

factory would be closed, but it

was. Lena and her coworkers, who

were employed straight out of school

when the factory was new, are all

freefalling.

What do you do when you lose

your job and there is no other employment

available? Do you sell your

house, move away, retrain yourself,

change trades, go into early retirement

or simply grab your severance

pay and build a bloody big garage?

Kaskinen is a documentary film

that tells the survival story of Lena,

Kari, Tom, Erkki and Ann-Charlotte

during the two years that follow the

closure of Metsä-Botnia's cellulose

factory situated in Kaskinen, the

smallest city in Finland.

2011 | DigiBeta | 16:9 | Stereo | 58'

Director: Ulrika Bengts Script: Ulrika

Bengts Cinematography: Jan Nyman

Editing: Tuomo Leino Sound design:

Risto Iissalo Music: Peter Hägerstrand

Producer: Mats Långbacka Production

company: Långfilm Productions Finland

Oy Production support: The Finnish Film

FST5, SVT International sales: Ab Interprod

Oy

Ulrika Bengts

Ulrika Bengts (born 1962) has directed

approximately thirty documentaries, short

films, and TV series as well as theatre

productions and radio dramas. She is best

known for her works Riksväg Åtta (1992)

and Nu är du Hamlet!(2002), which won

many awards internationally, and the

dramatisations Fling (2004) and Avsked

(2010). Her first feature film Iris will have

its premiere in the autumn 2011.

Ulrika Bengts

2011 | DigiBeta | 16:9 | Stereo | 65'

Director: Jukka Eggert Script: Jukka

Eggert Cinematography: Jukka Eggert,

Daniel Lindholm Editing: Mikko

Savi nainen Sound design: Heikki Innanen

Producer: Timo Humaloja Production

company: Kinovid Productions

Jukka Eggert

Kaskinen

Finnish Documentary Films 2011 17
---
Lemmi's Love

Look At Me

Omaa luokkaansa

"Look at me is a depiction of steadfast

caring and love that speaks through

actions. Everyday patience and a belief

in human change by the force of good

are given their due in the film."

– Judge's statement,

Church Media Foundation's Award 2010

school shootings. Bullying as well

as extreme forms of violence such as

school shootings are subject matters of

this film.

2010 | HDCAM, Digibeta, Blu-ray | 16:9 |

Dolby Digital stereo & 5.1 |

67' and 58' version

Director: Iiris Härmä Script: Iiris Härmä

Cinematography: Hannu-Pekka Vitikainen

Editing: Tuula Mehtonen Sound design:

Janne Laine Music: Marko Nyberg

Producer: Visa Koiso-Kanttila Production

company: Guerilla Films Ltd Production

support: The Finnish Film Foundation,

AVEK, Church Media Foundation Financing

TV company: YLE TV1 International sales:

Guerilla Films Ltd

Lemmi's Love

Lemmin rakkaus

A young Estonian girl called Lemmi

got married to a Defense League officer

in December 1939, when Soviet

Russia was already preparing to occupy

Estonia for the first time. After the

occupation in summer 1940 Lemmi's

husband was criminalized because of

his former duty in the independent

Estonia.

When Germany attacked the Soviet

Union in summer 1941 the Soviet regime

tried to arrest Lemmi's husband,

who was hiding in the forests with

other patriots. When they could not

find him, the Soviets arrested Lemmi

and sent her to Russian prison camps

in Siberia.

The German occupiers of Estonia

then nominated Lemmi's husband

the chief of the Estonian organization

Omakaitse in the Läänemaa county

to work for "clearing Läänemaa of

communists". When the Soviets came

back in 1944 he escaped by boat to

Sweden as well as thousands of other

Estonians.

In 1959 Lemmi finally got back

from Siberia to the Soviet Estonia. She

was a mother of five fatherless children,

and still regarded as an "enemy

of the people". Lemmi was not permitted

to settle down in her home commune

and she was called "fascist" by

strange people. She died as a respected

mother, worker and enthusiast of culture

in 1990, when free winds were

blowing in Estonia again.

In the film Lemmi's Love contemporary

people tell their memories about

Lemmi and the war, the deportations

and the Soviet era.

2010 | DigiBeta, DV CAM | 16:9 |

Analogical Dolby Stereo | 58'

Director: Ville Mäkelä Script: Ville Mäkelä

Cinematography: Ville Mäkelä Editing:

Elar Järvet, Ville Mäkelä Sound design:

Tuomas Sallinen Producer: Tuomas Sallinen

Production company: Frameworks

Production House Production support:

AVEK Financing TV company: YLE

TV1 International sales: Frameworks

Production House, Ville Mäkelä

Ville Mäkelä

Selected filmography

(fiction films):

Beyond the Law (1986)

Hights Worth Dreaming (1988)

Passions (1990)

Director Ville Mäkelä:

During World War II, Finland succeeded in

keeping the enemies more or less behind

the borders. That kept the war – complicated

in any circumstances – far more simple

for us than it turned out for the Estonians

– for generations. I did not deeply understand

this when I started to interview

people of Läänemaa in Estonia, who were

young when the war began.

I was surprised by how willingly they

were ready to speak to me. I felt like they

had waited all their life for me to come.

Maybe it was partly because of the familiarity

between our nations, which share the

same roots. But certainly it was because of

the big silence that took place in the Western

countries – including Finland – during

the second Soviet occupation of Estonia

since 1944. They were left alone for 50

years. And it is peculiar how little we still

know about their story, after 20 years of

Estonia's new independence.

Starting in spring 2008, I filmed a lot

and slowly began to understand some

lines of the basic picture. Let Lemmi's story

be a sketch for that.

Look At Me is a strong and touching depiction

of today's youth who are at the

risk of becoming socially excluded due

to their different learning skills, and a

teacher who is trying to help a group

of young people to complete their compulsory

education and to support and

guide them so that they can have trust

in themselves and in their future.

The story's main character is Ulla,

the teacher of a special needs class who

has made a career as a drama teacher

for children and young people. In her

final year before retirement Ulla has

taken up the challenge to lead this special

group of eleven pupils.

Look At Me uncovers the everyday

life in school and reveals its dark sides.

School-going is not pleasurable and

inspiring for everyone, but an arduous

journey with experiences of loneliness,

bullying, frustration, insecurity

and feelings of failure. This film challenges

the taken-for-granted practices

of compulsory schooling and shows

an unusual way of being a secondary

school teacher – a teacher who is truly

present and in interaction with her students.

Finnish schools are famous for outstanding

results at the PISA tests (The

Programme for International Student

Assessment), but also widely reported

Iiris Härmä

M.A. Iiris Härmä was born in 1970 in

Finland. Since 1996 she has worked as a

producer, assistant director and director

in several documentary films in her

own Guerilla Films production company

together with her husband and colleague

Visa Koiso-Kanttila. Her latest film was

You Live and Burn, 2007.

Iiris Härmä

Ville Mäkelä

Look at Me

18 Finnish Documentary Films 2011
---
Mama Africa

Mama Africa

Mama Africa

Mama Africa is a documentary about

the recently deceased South African

icon Miriam Makeba. Miriam travelled

with her powerful music around

the world to spread her political message

against racism and poverty and

for equality and peace. Mama Africa

is an homage to this extraordinary and

impressive artist, who incarnates the

voice and the hope of Africa.

Miriam Makeba was an incredible

person. She was the first African musician

to win international stardom,

and her music – that influenced artists

across the globe – was always anchored

in her traditional South African roots,

as was her ceaseless message against

racism and poverty.

Miriam was forced into a life in exile,

after exposing the harsh realities

of apartheid for the first time internationally

through her participation in

the 1959 documentary Come Back Africa.

Singing for John F. Kennedy and

Marlon Brando, performing with Harry

Belafonte, Nina Simone and Dizzie

Gillespie, being married to Hugh

Masekela and then to the ex-Black

Panther leader Stokely Carmichael, her

life was a tumultuous one. A life that

always stood for truth and justice on

behalf of oppressed people everywhere,

most importantly for Africans, as a

global campaigner against apartheid.

Germany/South-Africa/Finland | 2011 |

DCP, HDCAM, 35mm | 16:9 | 1:1.85 | Dolby

Digital, 5.1 | 88' and 52'

Mika Kaurismäki

Paavo, a Life in Five Courses

Director: Mika Kaurismäki Script: Mika

Kaurismäki, Don Edkins Cinematography:

Jacques Cheuiche, Eran Tahor, Martina

Radwan, Frank Lehmann, Wolfgang Held

Editing: Karen Harley Sound design: Uwe

Dresch Music: Miriam Makeba etc. Producer:

Rainer Kölmel Production company:

Starhaus (Germany) Co-production: Marianna

Films (Finland), Millennium Films

(South-Africa) Production support: The

Finnish Film Foundation, NRW Financing

TV company: YLE TV2 Documentaries,

ZDF/ARTE, SWR, ORF, SVT, NPS International

sales: Fortissimo Films

Mika Kaurismäki

Selected filmography

2010 Vesku from Finland

2009 The House of Branching Love

2008 Three Wise Men

2006 Sonic Mirror

2005 Brasileirinho

2003 Honey Baby

2002 Moro no Brasil

1998 Los Angeles Without a Map

1994 Tigrero – A Film That Was

Never Made

1991 Zombie & The Ghost Train

1990 The Amazon

1987 Helsinki Napoli – All Night Long

1985 Rosso

1982 The Worthless

1980 The Liar

Paavo, a Life in Five

Courses

Paavo, fem rätter och ett liv

"I have four dogs, two donkeys and

a wife in Paris and I need help with

the household", theater producer Lars

Schmidt said to young Paavo Turtiainen

at Helsinki airport in 1970. The

wife was the actress Ingrid Bergman.

Finnish farm boy Paavo Turtiainen

is hired into the Parisian household of

Swedish theatre producer Lars Schmidt

and his wife, Ingrid Bergman. The couple

"adopt" and train Paavo to navigate

the rich and famous. Encouraged by

Schmidt, Paavo moves to New York and

becomes an acclaimed chef and event

planner for high society. Along the way,

Paavo learns to stand on his own feet.

In the film Ingrid Bergman's daughters,

Isabella Rossellini and Pia Lindström,

talk about their "brother" and

Lars Schmidt's son Kristian describes

how it was growing up with the ever

present Paavo.

As a contrast to the hectic New

York pace, we spend time in the relaxing

Swedish archipelago, watch Paavo

pick mushrooms in the Finnish forests

and visit the railway station in the tiny

Finnish town of Karis, where Paavo

first encountered Ingrid Bergman – on

a magazine cover.

2010 | Blu-ray, HDCAM | 16:9 |

AB stereo | 71'

Director: Hanna Hemilä Script: Hanna

Hemilä Cinematography: Ilmo Lintonen

Editing: Pentti Kakkori Sound design: Tero

Malmberg Music: Dani Strömbäck Producers:

Hanna Hemilä, Vesa Harju Production

company: Handle Productions Oy Co-production:

Whooper LLC Production support:

AVEK, Swedish Cultural Foundation

in Finland, Föreningen Konstsamfundet,

The Swedish-Finnish Cultural Foundation

Financing TV company: YLE FST5, SVT International

sales: Handle Productions Oy

Hanna Hemilä

First time director Hanna Hemilä has produced

award winning films for nearly

two decades. She is currently working on

Le Havre, a feature film directed by Aki

Kaurismäki. Other films include Bad Family

(Berlinale 2010); Varg, a Swedish-Finnish-Norwegian

film (2008); Pelicanman

(Berlinale 2004); Guarded Secrets (2004);

Gold Fever in Lapland (1999); the animation

series Tootletubs & Jyro (2001) and Urpo &

Turpo (1996); the documentaries Tove and

Tooti in Europe (2004) and Haru, the Island

of the Solitary (1998). Hemilä received the

Finnish State's Art Award in 2001.

Director's notes

I have been intrigued by the impact Bergman

and Schmidt had on the adolescent

Paavo – and vice versa. The time he worked

for the couple has clearly had a tremendous

impact on his personality as well as his career.

In fact, many call Bergman and Schmidt

Paavo's "adoptive" parents.

Another aspect about Paavo's controversial

life is the New York City lifestyle. The

everyday life of the average New Yorker is

far different from the media images. The

extreme competitiveness of the city makes

it a tough environment. My document

serves as a behind-the-scenes journey. In

contrast to the front-of-house glamour, we

see the servant's quarters, the narrow corridors,

waste bags, buildings with impractical

elevators and cramped work spaces. Creating

and delivering seamless and fabulous

arrangements, such as Paavo's, requires a

huge effort.

Although Paavo has access to all areas,

from the 'stage' door to the grand entrance,

he has spent most of his life serving others

and living by their rules. My intention

has been to unveil which personality traits

have led to Paavo's success and what he has

given up to get to where he is. I wanted to

understand why so many powerful people,

even those considered difficult or distant,

continue to have confidence in Paavo.

Hanna Hemilä

Finnish Documentary Films 2011 19
---
Play God

Play God

When a talented group of dedicated filmmakers pour their hearts and souls into

an innovative project, what can possibly go wrong? Well… everything.

Play God is a humorous documentary that neither apologizes nor whines, but

simply recounts, with brutal honesty, the story of a failed splatter film project.

Through the director's eyes we explore the dynamics of failure as he examines,

step by step and without self-pity, how a man's hopes and dreams can crumble before

his very eyes.

2010 | DigiBeta | 16:9 | Stereo | 39'

Director: Teemu Nikki Script: Teemu Nikki Cinematography: Jyrki Arnikari, Teemu Nikki,

Mika Orasmaa Editing: Teemu Nikki Sound design: Sakari Salli Producer: Teemu Nikki

Production company: It's Alive Productions Production support: AVEK

Financing TV company: YLE International sales: It's Alive Productions

Teemu Nikki

2010 Play God, documentary

2009 Mother Doesn't Bowl Anymore, short film

2008 Legacy, short film

2007 A Mate, short film

2006 The Opportunist, short film

Teemu Nikki

Reindeerspotting – Escape from Santaland

Reindeerspotting – Pako Joulumaasta

Jani, 19, has lived his entire life in the city of Rovaniemi in Northern Finland. For

the last five years he's done nothing but drugs. If you can smoke, swallow or shoot

it up, he's done it. His group of friends live within the society, yet isolated from it.

All they know and care about is crime, getting high and messing around.

Living in a small town is getting to Jani, but he hasn't been able to leave, not

even for a holiday. He's certain he can kick the habit as soon as he gets away from

Rovaniemi. If only he could make a break for it, get to Europe, someplace bigger.

And wouldn't you know it – Jani manages to steal a wad of cash and the journey

begins. Stockholm makes his head spin around, as the railway station alone is bigger

than all of Rova niemi. It's the farthest he's ever been from home.

Jani finds a brand new lust for life and starts thinking about the past five years.

Reaching the Mediterranean Sea, he takes his needle and breaks it in half on the

coast of Sicily. But what happens then? Is it truly possible to change your way of

life just like that?

Reindeerspotting is a documentary feature from within the junkie community.

The director has been documenting the life of his friends, where crime and

intravenous drugs are an everyday occurrence.

2010 | 35mm, DigiBeta, DCP | 16:9 (4:3 pillarbox) | Dolby Digital 5.1. – Stereo | 83'

Director: Joonas Neuvonen Script: Joonas Neuvonen,

Sadri Cetinkaya, Venla Varha Cinematography: Joonas Neuvonen

Editing: Sadri Cetinkaya Sound design: Joonas Jyrälä,

Miia Nevalainen, Panu Riikonen Producer: Jesse Fryckman,

Oskari Huttu Production company: Bronson Club Oy

Production support: The Finnish Film Foundation, AVEK

Financing TV company: YLE TV2 Documentaries

International sales: Autlook Filmsales

Joonas Neuvonen

Joonas Neuvonen has no previous filmography.

Joonas Neuvonen

Play God

Reindeerspotting

Reindeerspotting

20 Finnish Documentary Films 2011
---
Rules of Single Life

Salla – Selling the Silence

Salla – Selling the Silence is a creative documentary film. It witnesses the rise and

fall of one family of entrepreneurs, the Kuukkanen family from Salla, Lap land,

side-by-side with the current changes in the values of our society. In combining

private and personal family memories with ongoing changes in the scenery, the

documentary asks: How to avoid irreversible changes in the nature when earning

your living?

Salla – Selling the Silence is a journey to the North, past and present. Sometimes

the journey can be surprising, sometimes sad, sometimes absurd in a black

Finnish way. When the film asks: "What is the price of the wilderness?" it is also

a question of identity: Who you really are? What is your real nature?

2010 | HD, DigiBeta | 16:9 | Stereo | 70'

Rules of Single Life

Sinkkuelämän säännöt

Director: Markku Tuurna Script: Tarja Kylmä & Markku Tuurna Cinematography: Jarkko T.

Laine, Heikki Färm Editing: Kimmo Taavila Sound design: Kyösti Väntänen Music: Kimmo

Pohjonen Producer: Markku Tuurna Production company: Filmimaa Oy Production support:

The Finnish Film Foundation, AVEK, Nordisk Film & TV Fond Financing TV company:

YLE, ARTE, SVT International sales: Filmimaa Oy

A romantic documentary about love in a foreign city. Four Bulgarian emigrants

in Helsinki; disillusioned with love, they decide to give themselves a task. In 12

months, they need to find girlfriends in Helsinki. The men start a well-organized

self-development and women hunting process. Internet dates, sport dates, courses

in dancing etc.

Still, love is always full of surprises. The past – especially ex-wives and ex-girlfriends

– won't leave the men in peace. And the present is also full of surprises especially

while you're on your way to a friend's wedding: Why don't all women put

their photos on the dating sites of the Internet? Is sex a cure for solitude? And can

anyone anywhere really get to know another person in 12 months?

Markku Tuurna

Filmmaker Markku Tuurna is renowned for his documentaries with

a special social point of view (eg. a fox-farmer's story in today's

high-tech Finland: One Hundred Generations 1999). His personal

approach is evident in the feature films and TV series he has produced.

In Salla – Selling the Silence the director takes a leap into a new field:

He opens the family files, and wants to find out the truth about

current changes in Lapland.

Markku Tuurna

Finland/Bulgaria 2010 | DCP, DigiBeta | 16:9 | Stereo | 79' | Bulgarian, English,

Finnish with English subtitles

Director: Tonislav Hristov Script: Tonislav Hristov, Kaarle Aho Cinematography: Peter

Flinckenberg Editing: Joona Louhivuori Sound design: Anne Tolkkinen Music: Petar

Dundakov Producers: Kaarle Aho, Kai Nordberg Production company: Making Movies Oy

Co-production: Agitprop (Bulgaria) Production support: The Finnish Film Foundation,

AVEK, NFTF, Bulgarian Film Centre Financing TV companies: YLE TV1, NRK, Bulgarian

National Television International sales: First Hand Films GmbH

Tonislav Hristov

Tonislav Hristov was born in Vratza, northern Bulgaria, in 1978.

In 1999 he moved to Finland. He has a MSC in computer engineering

(2002) and a MA in filmmaking (2007). He has worked for years as a

freelancer for YLE and has made several TV documentaries. His first

documentary film Family Fortune was released in 2007.

Tonislav Hristov

Salla – Selling the Silence

Salla – Selling the Silence

Finnish Documentary Films 2011 21
---
Silence and severity

Steam of Life

Miesten vuoro

ARTE, SVT, ERR International sales: Films

Transit International Inc.

• PRIX EUROPA, Rundfunk Berlin-Brandenburg,

October 2010, Category television

documentary

Silence and Severity

Hiljaisuus ja ankaruus

This documentary film is a journey into

the Finnish culture of the last decades

through the work and thoughts of

one of its most exact interpreters, the

artist Henry Wuorila-Stenberg.

The documentary film Silence and

Severity is a means to see the process of

creation of Henry Wuorila-Stenberg

and to understand his points of view

and positions in his universal life experience.

The credibility and universality

of the dramatic events of the film are

found in Henry's artistic works.

This is a film for those who love art

in all its forms and also to those who

are curious in general.

Naked Finnish men in saunas speak

straight from the heart and in the

warmth of rusty stoves cleanse themselves

both physically and mentally towards

the film's deeply emotional and

un forgettable finale.

The film travels through Finland

joining men of all walks of life in many

different saunas to let us hear their

touching stories about love, death,

birth and friendship; about life. In all

its simpli city the camera records the

raw and rare beauty of landscapes,

saunas and men in almost magical pictures.

The presence of the characters

and the depth of their emotion reaches

a limit where it is almost intolerable

for the viewer to watch. Steam of Life

reveals the men's naked souls in an exceptionally

intimate and poetic way.

2010 | 35 mm, DigiBeta, HDCAM | 1:1,85

(35mm), 16:9 Anamorphic (DigiBeta) | Dolby

Digital 5.1, Dolby EX (HDCAM) | 84'

Directors: Joonas Berghäll, Mika Hotakainen

Script: Joonas Berghäll, Mika Hotakainen

Cinematography: Heikki Färm, Jani

Kumpulainen Editing: Timo Peltola Sound

design: Christian Christensen Music: Jonas

Bohlin Producer: Joonas Berghäll Production

company: Oktober Oy Co-production:

Röde Orm Film AB Production support:

Joonas Berghäll

Joonas Berghäll (born 1977) has studied

film producing (2000–2005) at the Tampere

University of Applied Sciences, School

of Art and Media. He has been involved in

filmmaking since 1998. Today he is a film

producer and owner of the Oktober production

company. The documentary films

The Smoking Room and A Shout into the

Wind, which were produced by him, were

awarded the State Quality Support for

cinema productions in Finland in 2007 and

2008. Besides of producing, Joonas also

directs films. His latest work as a director

is the documentary film Steam of Life directed

with Mika Hotakainen.

Mika Hotakainen

Mika Hotakainen (born 1977) graduated

as a fiction director in 2004 from Helsinki

University of Applied Sciences, Stadia. Mika

has been working in the television and

film industry since 1998. He has directed

the documentary films Freedom to Serve

and Steam of Life, and the short fiction

film Visitor. He is co-owner of the production

company Oktober.

Nominations:

• Finnish submissions for the Academy

Award for Best Foreign Language Film,

February 2011

• IDA Documentary Awards for Distin-

• Nordic Council Film Prize, October 2010

Awards:

• Tampere Film Festival, Finland, March

2010, National competition, Risto Jarva

Award and Audience Award

• Visions du Réel, Nyon/Switzerland,

April 2010, International competition,

Award of Interreligious Jury

• Doc Aviv Film Festival, Tel Aviv/Israel,

May 2010, Main prize, International

competition

• Planete Doc Review Film Festival,

Warsaw/Poland, May 2010, Millenium

Award

• Silverdocs, Silversprings/Maryland/

USA, June 2010, Special Jury Mention

• Pärnu Int. Documentary Film Festival,

Pärnu/Estonia, July 2010, International

competition Grand Prize

• Dok Leipzig, Leipzig/Germany, October

2010, Silver Dove

• Doclisboa, Lisbon/Portugal, October

2010, Universities Award

2010 | DVCAM | 16:9 | Mono | 52'

The Finnish Film Foundation, AVEK, MEDIA

Programme, NFTF, The Swedish Film In-

guished Feature, December 2010

• European Film Awards, PRIX ARTE,

Director: Ali Lacheb Script: Ali Lacheb

stitute Financing TV companies: YLE TV2,

December 2010

Mika Hotakainen and Joonas Berghäll

Cinematography: Ali Lacheb Editing: Topi

Heinonen Sound design: Ali Lacheb, Eraj

Nasimov ja Topi Heinonen Music: Eraj

Nasimov Producer: Ali Lacheb Production

company: Oran Productions Production

support: Central Art Archives, Church Media

Foundation, AVEK, Arts Council of Finland

International sales: Oran Productions

Ali Lacheb

selected filmography

The Photographer Caj Bremer, 2010 |

Jorma Puranen, 2010 | Kalevala elää, 2009

| Fact and Fiction, 2009 | The destiny of

Anna Ivanovna Pavlova, 2009 | Hommage

to Juhani Kirpilä, 2009 | Tin Hinan – Portrait

of an Artist in Sahara, 2007 |

Ten Thousand Kisses – Portrait of the Artist,

Painter and Writer Hannu Väisänen,

2006 | The Drawer of the Soul – Portrait

of the Artist and Painter Kuutti Lavonen,

2003 | The Painter of the Dreams – Portrait

of the Artist and Painter Risto Suomi,

2001 | The Photographer of the Memory

– Portrait of the

Photographer

Jorma Puranen, 2001 |

The Eye and the Plume

– Portrait of the artist

of Lithography

Erik Bruun, 2001

Ali Lacheb

Steam of Life

22 Finnish Documentary Films 2011
---
The Unknown Woman

Vesku from Finland

The Unknown Woman

Tuntematon emäntä

The Unknown Woman depicts the reality of Finnish agriculture and forestry during the

war years, when the home front relied entirely upon the work and endurance

of the women. All farm work, caring for the children, woodcutting and other

forestry operations were undertaken by the civilians, as the men in their prime

were on the front.

Until now the war effort of the rural women has not been portrayed in a

knowledgeable film with emotional impact. The subject touches all modern-day

Finns whether they live rurally or in towns. This is a matter of Finnish spiritual

and financial inheritance, and familiarity with it is of the greatest importance.

A nation that does not know its history cannot understand its present, let alone

look into the future. Although the war as a topic has been dealt with, the important

part the women played during the war in agriculture and forestry, and through that

as the backbone of Finnish society has not been explored before.

2011 | 35 mm, DCP | 1:75 | Dolby Digital | 78'

Director: Elina Kivihalme Script: Elina Kivihalme Cinematography: Jouko Seppälä Editing:

Tuuli Kuittinen Sound design: Anne Tolkkinen Music: Anne Seppänen, Miro Mantere

Producers: Taru Mäkelä and Jouko Seppälä Production company: Kinosto Oy Production

support: The Central Union of Agricultural Producers and Forest Owners, The Finnish Film

Foundation, AVEK, Swedish Cultural Foundation in Finland, The Foundation of Foresters,

The Church Media Foundation Financing TV company: YLE TV2 Documentaries International

sales: Pirkanmaa Film Centre

Elina Kivihalme

Elina Kivihalme graduated from the Department of Film and Television of the The University

of Industrial Design and Arts Helsinki UIAH in 1992. Since then she has worked as a director,

scriptwriter and editor in several fiction and documentary films as well as TV projects.

She has also worked in film education and as a film commissioner at at The Finnish Film

Foundation from 2007 to 2008.

Selected filmography

fiction films: Voi hyvin, toivoo Saara (40' 1992), Kansainvälistä meininkiä (15' 1992).

Director of the TV series Salatut elämät 1998–2001.

documentary films: Gösta "Göde" Sundqvist (40'), Silkki (30' 1992), Virus – vaarallinen

vieras sopuisa seuralainen (40' 1989), the series Rakkauden tähden (10x30' 2009).

Director / journalist of the YLE TV1 programme Mediakomppania.

Vesku from Finland

Vesku

Vesku from Finland is a film about Vesa-Matti Loiri alias Vesku, probably the most

popular film and TV comedian in Finland. He has created a significant career also

as a singer, performer and as a sportsman. He has recorded several albums from

folk songs and couplets to pop and jazz. Some of his recordings are based on the

lyrics of Eino Leino, the famous Finnish poet. During his unique career he has

played in more than 60 films and recorded 30 albums.

2010 | 35mm, DCP, HDCAM | 1:1.85, 16:9 | Dolby Digital 5.1 | 107'

Director: Mika Kaurismäki Script: Mika Kaurismäki Cinematography: Tahvo Hirvonen,

Jari Mutikainen Editing: Jukka Nykänen Sound design: Joonas Jyrälä Producer: Mika Kaurismäki

Production company: Marianna Films Oy Production support: The Finnish Film

Foundation, AVEK, The Finnish Performing Music Promotion Centre ESEK Financing TV

company: YLE TV2 Documentaries International sales: Marianna Films Oy

Mika Kaurismäki

Selected filmography

2009 The House of Branching Love

2008 Three Wise Men

2006 Sonic Mirror

2005 Brasileirinho

2003 Honey Baby

2002 Moro no Brasil

1998 Los Angeles Without a Map

1994 Tigrero – A Film that Was

Never Made

1991 Zombie & The Ghost Train

1990 The Amazon

1987 Helsinki Napoli – All Night Long

1985 Rosso

1982 The Worthless

1980 The Liar

Mika Kaurismäki

Director Elina Kivihalme:

My grandmother became a widow soon after the war had ended. She had nine children, a

little house and only one cow. I have often wondered how on earth my granny managed

it all? First, her husband was in the war for five years and he returned home as a very sick

man. Thinking about my grandmother's life made me realize that at that time Finland was

full of women in similar situations as hers.

Because my granny and my mother are dead now, I started to look

for other women who could tell me more about that period and about

the underlying mental mechanisms these women had to have to make

it through.

In the film The Unknown Woman I try to discover the survival

mechanisms women had to master and which might be still be affecting

the Finnish society and passed on, at least to my own generation.

Elina Kivihalme

The Unknown Woman

Vesku from Finland

Finnish Documentary Films 2011 23
---
Wireless World (working title)

Virtual War

Sähköinen sota

Virtual War is a story about Zamira. She has escaped from Chechnya to Finland,

and tries to unite her diasporic family living across Europe. The film follows

Zamira in her different roles; as a mother who has lost her son and husband to

war, as a political activist and as an energetic figure in the Chechen community of

Finland.

Mikael Storsjö is a Finnish-Swedish businessman and a human rights activist,

who tries to help Zamira to reunite with her family, even though Storsjö himself

stands accused of organising illegal immigration. Storsjö also provides the equipment

and takes care of the technical planning of the construction of a Virtual

Chechnya in the Second Life service on the Internet.

The film follows Chechen refugees negotiating the construction of a Virtual

Chechnya, with visions and hopes that focus on real-life Chechnya. During the

process, the reality and the contradictory hopes of Chechens who are scattered

around the world, inevitably conflict with each other.

2011 | DigiBeta, HD | 16:9 | Stereo | approx. 60'

Wireless World (working title)

Wireless World (työnimi)

To understand the challenges of the new ways of relating and communicating,

director Sonja Lindén sets out on a subjective journey. She explores her society on

the verge of turning ubiquitous – a wireless society where the laws of time, space

and distance are revolutionizing the concept of liaison. She starts from today's society

but also looks at what the future may have in store for us. During her quest,

Lindén observes people's experiences of freedom and presence. How is our postinformation

society and the technological progress changing our way of life?

2011 | HD Master, DigiBeta | 16:9 | Dolby Digital | 70'–90'

Director: Pekka Niskanen Script: Pekka Niskanen Cinematography: Timo Peltonen, Antti

Seppänen, Heikki Färm Producer: Pertti Veijalainen Production company: Illume Oy Production

support: The Finnish Film Foundation, AVEK Financing TV company: YLE International

sales: Illume Oy

Pekka Niskanen

Pekka Niskanen is a media artist and filmmaker whose works have been exhibited worldwide.

His most important one man show was the film A Girl Bathing in a Kitchen Sink

(2000) at the White Box Gallery in New York in April 2004.

The installation work Stefan Lindfors (1993), the site specific work I Like Him and Her

(1995) and the video installation As a Matter of Fat (1998) are part of the collection of the

Contemporary Art Museum of Helsinki. In 2005 Niskanen realized the set design and costumes

for Verdi's Rigoletto at the Gothenburg Opera in Sweden.

Director: Sonja Lindén Script: Sonja Lindén Cinematography: Peter Flinckenberg Editing:

Samu Heikkilä Sound design: Janne Laine Producer: Sonja Lindén Production company:

Avanton Productions Oy Co-production: Mantaray Film, Sweden Production support: The

Finnish Film Foundation, AVEK, MEDIA Programme of the European Union, Nordisk Film

& TV Fond Financing TV company: YLE Co-productions, SVT Kultur International sales:

Avanton Productions Oy

Sonja Lindén

Sonja Lindén is an independent filmmaker, producer and director, who established Avanton

Productions in 2006. Her own films focus on the experience of inner freedom and its

reflections on our external reality. The dimensions of love and loneliness are additional

important themes in her films: No Man is an Island (2006), Gacaca – Awaiting Justice

(2003), Breathing (2002), Steps on the Yoga Path (2000).

Director Sonja Lindén:

I think it is fantastic to live in these times! We can reach the whole world easily – it is literally

on our hand. I love being efficient and free to move while working or taking care of my

relationships. I, like many others, consider myself dependent on my mobile and laptop and

on the feeling of being 'connected'. The wireless revolution has made me feel powerful, in

control and effective. At the same time I have become deeply interested in the search and

understanding for the consequences of living in a world where technology and the human

being are getting more and more entwined. The effects there are on our consciousness

have awoken a particular interest in me.

I feel it very important to understand what we are doing and going through now. The

change is so fast and escalating exponentially that it is hard to keep up with it. We are

part of the nature; we cannot just conquer it and forget about it. We cannot forget something

where we come from. Is all this change for the better? And if so, what do I need to

understand to be able to be an active part of the future society and still be rooted in myself.

Does technology bring us more freedom or more dependency – or both?

I realize that my deepest interest as a filmmaker lies on the concept and experience of

freedom. Let it be physical or psychological or emotional freedom.

I have had this as an underlying theme also in my previous films –

about a physically ill woman, about yoga and about solitude,

a man living alone on an island. By the end of the day I'm searching

for the experience of freedom and also for my understanding of it.

What does it mean to be free? What kind of person really is free?

That is my principal interest – a need that comes from my soul.

Sonja Lindén

Director Pekka Niskanen:

Zamira and Mikael have made many trips to help the nephew and his family, who live as

refugees outside Finland. All the journeys have been in vain and Zamira finds it very difficult

to believe that there will eventually be a happy ending. However, Mikael tries to convince

her that this is still a possibility. The film follows Zamira and Mikael's recurrent attempts

for her family's reunion, and Mikael's circle of friends as they actively help people

escape the war-torn Chechnya.

In August 2010 Zamira was able to visit Chechnya, where she went to see her mother

and other relatives. Even though the Chechen police confiscated her video recording

equipment, she was able to bring film material across the border. Zamira's family is suffering

from ungrounded arrests and blackmail from the authorities in Chechnya. Their

homes have been destroyed and their last hope lies in fleeing Chechnya and becoming

refugees.

The Second Life project that was started by Zamira has strengthened Chechen refugees'

sense of freedom of speech, even though it has not unified the European Chechen

diaspora. In order to protect vulnerable people's anonymity, the film will depict meetings

with Zamira and others who have escaped from Chechen wars through Second Life, that

can disguise their identities.

In the photo collage of the Russian Internet publication Nordlys

Mikael Storsjö, who has helped Chechenians to Finland, is groundlessly

linked with the terrorist attack to the Moscow underground in March

Pekka Niskanen

24 Finnish Documentary Films 2011
---
Contact information:

Producers and International Sales Companies

Autlook Filmsales GmbH

www.autlookfilms.com

Avanton Productions Oy

Harjuviita 16 A 21

FI-02110 Espoo

+358 50 567 1895

Bronson Club Oy

Hämeentie 11

FI-00530 Helsinki

Tel. +358 40 590 9999

jesse@bronson.fi

www.bronson.fi

Deckert Distribution GmbH

www.deckert-distribution.com

Filmimaa Ltd

Siamintie 14

FI-00560 Helsinki

Tel. +358 50 566 6596

markku.tuurna@sci.fi

www.filmimaa.fi

Films Transit International Inc.

www.filmtransit.com

First Floor Productions Oy

Hietalahdenkatu 8 A 13

FI-00180 Helsinki

Tel. +358 9 6124 9660

firstfloor@firstfloor.fi

First Hand Films GmbH

www.firsthandfilms.com

Fortissimo Films

www.fortissimofilms.com

Frameworks Production House

Lönnrotinkatu 38 B 30

FI-00180 Helsinki

Tel. +358 45 122 1964

tuomas.sallinen@yamifilms.com

www.yamifilms.com

Guerilla Films Oy

Kiuastie 7 B

FI-02770 Espoo

Tel. +358 40 506 2675

info@guerillafilms.fi

www.guerillafilms.fi

Handle Productions Oy

Pohjoisranta 20 b B 41

FI-00170 Helsinki

+358 400 512 205

Illume Oy

Palkkatilankatu 7

FI-00240 Helsinki

Tel./Fax +358 9 148 1489

illume@illume.fi

www.illume.fi

Interprod Ab

www.interprod.fi

It's Alive Productions

Heinäsintie 79

FI-08700 Lohja

Tel. +358 50 526 4304

info@itsalive.fi

www.itsalive.fi

Kinosto Oy

Linnakoskenkatu 23 A 12

FI-00250 Helsinki

Tel. +358 50 3727 136

info@kinosto.fi

www.kinosto.fi

Kinovid Productions

Pursimiehenkatu 23 A 19

FI-00150 Helsinki

Tel. +358 40 580 6626

timo.humaloja@elisanet.fi

Lafayette Films

albinounitedfilm@gmail.com

Tel. +44 1444 484 510

Långfilm Productions Finland Oy

Vislauskuja 13

FI-00520 Helsinki

Tel. +358 10 440 4800

Fax +358 10 4404809

info@langfilm.fi

www.langfilm.fi

Marianna Films

Punavuorenkatu 5 A 2

FI-00120 Helsinki

Tel./Fax +358 9 622 1614

marianna.films@gmx.net

www.mikakaurismaki.com

The Match Factory

www.the-match-factory.com

Nordic Film Pool Oy

Pyhtääntie 10

FI-00600 Helsinki

Tel. +358 520 7600

nordicfilmpool@kolumbus.fi

Nosferatu Oy

Kalevankatu 44 A 2

FI-00180 Helsinki

+358 50 555 1819

Oktober Oy

Uutiskatu 3

FI-00240 Helsinki

Tel. +358 40 709 3331

joonas@oktober.fi

www.oktober.fi

Oran Productions / Ali Lacheb

Susitie 26 E 33

FI-00800 Helsinki

Tel. +358 40 7077 285

oran_productions@yahoo.fr

Pirkanmaa Film Centre

www.elokuvakeskus.com

Sputnik Oy

Museokatu 13 A

FI-00100 Helsinki

Tel. +358 9 6877 100

Fax +358 9 6877 1010

sputnik@sputnik.fi

www.orimattila.fi/kirjasto/

kaurismaki

Festival contacts

for all titles:

The Finnish Film Foundation

Kanavakatu 12

FI-00160 Helsinki

Tel. +358 9 6220 300

Fax +358 9 6220 3050

ses@ses.fi

www.ses.fi

Film festivals in Finland 2011

Published by the Finnish Film Foundation | Editors: Sonja Potenze and Marja Pallassalo |

Translations: Said Dakash, production companies | Layout: Praxis Oy | Printed by: PreMediaHelsinki, 2011

DocPoint –

Helsinki Documentary Film Festival

25.–30.1.2011

Fredrikinkatu 23

FI-00120 Helsinki

Tel. +358 9 672 472

Fax +358 9 673 998

info@docpoint.com

www.docpoint.info

Tampere International Short Film Festival

9.–13.3.2011

Tullikamarinaukio 2

FI-33101 Tampere

Tel. +358 3 223 5681

Fax +358 3 223 0121

office@tff.fi

www.tamperefilmfestival.fi

Sodankylän elokuvajuhlat –

Midnight Sun Film Festival

15–19.6.2011

Kansanopistontie 5

FI-99600 Sodankylä

Fax +358 16 614 522

office@msfilmfestival.fi

www.msfilmfestival.fi

Espoo Ciné International Film Festival

19.–28.8.2011

PO Box 95

FI-02101 Espoo

Tel. +358 9 466 599

Fax +358 9 466 458

office@espoocine.fi

www.espoocine.fi

Helsinki Film Festival – Love & Anarchy

15.–25.9.2011

Mannerheimintie 21–24

Box 889

FI-00101 Helsinki

Tel. +358 9 6843 5230

Fax +358 9 6843 5232

office@hiff.fi

www.hiff.fi

Oulu International Children's Film Festival

21.–27.11.2011

Hallituskatu 7

FI-90100 Oulu

Tel. +358 8 881 1293

Fax +358 8 881 1290

info@oufilmcenter.inet.fi

www.ouka.fi/lef

Finnish Documentary Films 2011 25