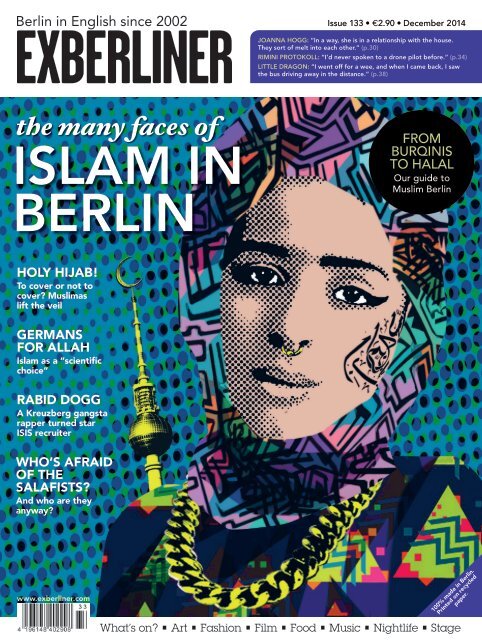 EXBERLINER Issue 133, December 2014
Berlin's monthly culture and reportage magazine. Germany's largest English-language publication. Founded in 2002.
Berlin's monthly culture and reportage magazine. Germany's largest English-language publication. Founded in 2002.
SHOW MORE
SHOW LESS
Create successful ePaper yourself
Turn your PDF publications into a flip-book with our unique Google optimized e-Paper software.
Issue 133 • €2.90 • December 2014

JOANNA HOGG: "In a way, she is in a relationship with the house.

They sort of melt into each other." (p.30)

RIMINI PROTOKOLL: "I'd never spoken to a drone pilot before." (p.34)

LITTLE DRAGON: "I went off for a wee, and when I came back, I saw

the bus driving away in the distance." (p.38)

the many faces of

ISLAM IN

BERLIN

FROM

BURQINIS

TO HALAL

Our guide to

Muslim Berlin

HOLY HIJAB!

To cover or not to

cover? Muslimas

lift the veil

GERMANS

FOR ALLAH

Islam as a "scientific

choice"

RABID DOGG

A Kreuzberg gangsta

rapper turned star

ISIS recruiter

WHO'S AFRAID

OF THE

SALAFISTS?

And who are they

anyway?

www.exberliner.com

What's on? • Art • Fashion • Film • Food • Music • Nightlife • Stage

100% made in Berlin.

Printed on recycled

paper.
---
KINO

for christmas

12 cinemas • 350 films each year

FREE SHIPPING*

order online at

YORCK.DE

also available at

YORCK LOCATIONS

*on orders 20€ and over

MOVIE NIGHT

package

Film +

Drink +

Snack

FOR 2 PEOPLE

cinema

GIFT CARD

from

UNLIMITED

MOVIES

for a year

FOR 6 MONTHS

jahreskarte

Im richtigen Kino

bist Du nie im falschen Film

Mobil reservieren: M.YORCK.DE
---
17 Big brother's not watching you

Making feminists out of Muslim boys

ISSUE 133, DECEMBER 2014

REGULARS

03 Werner's political notebook Hooligans

against Salafists

04 Best of Berlin A Berlin Christmas wish list

46 Berlin bites MJ's Foodshop and a halal

round-up

48 Fashion What's hot and what's not

49 Amok Mama How to be hunted

SPECIAL: ISLAM

6 Editor's note How to talk about Islam in

ISIS times

8 Searching for radicals Who are the

Salafists?

11 Jihadi brides The girls of ISIS

12 Islam in Berlin: Your guide From poetry

slams to radical shisha, eight tips

14 Opting for Allah Four Berliners who

became Muslims – as a logical choice

16 My little brother, the Muslim When

family members convert

ANNA AGLIARDI

18 Veiled truths To cover or not to cover?

Germany's headscarf debate

20 Germany's gangsta jihadist What

happened to Deso Dogg?

22 The Kurdish resistance Germany's

Kurds fight against ISIS

24 Hippy Muslims Berlin's Sufis show

another, groovier side of Islam

54 Spotlight The Islamic cemetery

WHAT'S ON

26 Events calendar

28 Film

34 Stage

37 Music and nightlife

42 Art

50 The Berlin Guide

53 Ask Hans-Torsten

55 Ask Dr. Dot

56 Letters to the editor

I want more

than just an

account.

Experience Berlin with BB MAGIC Gold

and enjoy benefits with our numerous

partners. Now and only here for a year,

free of charge plus €50 opening credit.1

Let's talk about your chances.

Tel.: 030/31 07 61 10

www.berliner-bank.de/mitte

Visit us on Facebook

1 Offer valid while offer lasts at the Berliner Bank

branch An der Spandauer Brücke 10, 10178 Berlin

1
---
Searching for the

perfect flat?

Fast, easy… and in English!

Rooms and flats, all districts, price ranges, and styles

Friendly, reliable service

Register at www.exberlinerflatrentals.com to receive suggestions

for apartments and rooms, tailored especially to you.

Want to sublet

your room or flat?

Direct contact with potential tenants

Free listings, hassle-free!

Furnished or unfurnished, all districts and sizes

Register your flat today at www.exberlinerflatrentals.com

to be paired with your ideal subletter or roommate.
---
To cover or not to

cover? Muslimas

lift the veil

Islam as a "scientific

choice"

A Kreuzberg gangsta

rapper turned star

ISIS recruiter

And who are they

anyway?

www.exberliner.com

Issue 133 • €2.90 • December 2014

JOANNA HOGG: "In a way, she is in a relationship with the house.

They sort of melt into each other." (p.30)

RIMINI PROTOKOLL: "I'd never spoken to a drone pilot before." (p.34)

LITTLE DRAGON: "I went off for a wee, and when I came back, I saw

the bus driving away in the distance." (p.38)

Our guide to

Muslim Berlin

the many faces of

ISLAM IN

BERLIN

HOLY HIJAB!

GERMANS

FOR ALLAH

RABID DOGG

WHO'S AFRAID

OF THE

SALAFISTS?

FROM

BURQINIS

TO HALAL

100% made in Berlin.

Printed on recycled

paper.

What's on? • Art • Fashion • Film • Food • Music • Nightlife • Stage

ISSUE 133

Illustration by

Agata Sasiuk

Printed in Berlin

100% recycled paper

EDITORIAL / DESIGN

EDITOR-IN-CHIEF Nadja Vancauwenberghe

ART DIRECTOR Erica Löfman

COPY/DEPUTY EDITOR Rachel Glassberg

WEB EDITOR Walter Crasshole

OFFICE MANAGER Sara Wilde

FEATURES EDITOR Ruth Schneider

SENIOR/MUSIC D. Strauss

FILM Eve Lucas

STAGE Nathalie Frank

ART Fridey Mickel

FOOD Françoise Poilâne

FASHION Jessica Saltz

GRAPHIC DESIGNER Agata Sasiuk

PHOTOGRAPHER Anna Agliardi

CONTRIBUTORS Emma Anderson, Mary Biekert,

Betti Hunter, Ben Knight, Sadie Martin, Tom

Osmond, Robert Rigney, Caspar Schliephack,

Hanna Westerlund, Mihret Yohannes, Adrian

Duncan (art), Linus Ignatius (stage), Yun-Hua Chen/

Rory O'Connor/Tony Su/Mark Wilshin (film)

AD SALES / MARKETING

Maurice Frank (business manager), Ines Montani

(sales & marketing executive), Lucia Camilloni

(sales), Samantha Clintworth (sales), Bettina

Hajanti (sales), Johanna Warda (sales). To discuss

advertising please contact us:

Tel 030 4737 2966, ads@exberliner.com

PUBLISHERS

Maurice Frank, Nadja Vancauwenberghe,

Ioana Veleanu

IOMAUNA MEDIA GMBH

Max-Beer-Straße 48, 10119 Berlin-Mitte

Tel 030 4737 2960, Fax 030 4737 2963

www.exberliner.com, Issn 1610-9015

■ Werner's political notebook By KONRAD WERNER

Hooligans

against Salafists

The hooligans have discovered populism. On

the back of the massive success of their protest

against Salafists in Cologne in October, Germany's

favourite crusading football fans launched another

campaign called "Hooligans against Train Drivers"

during last month's rail strike. From now on, in an

attempt to rehabilitate their unfortunate image,

hooligans will be marching on the streets against

other unpopular things. The possibilities are

endless: Hooligans against Paedophiles, Hooligans

against Refugees, Hooligans against GEMA,

Hooligans against Litter, Hooligans against Noisy

Children on Trains. Finally,

football fans have

FOOTBALL FANS

HAVE DISCOVERED

WHAT MOST

POLITICAL PARTIES

LEARNED LONG AGO.

discovered what most

political parties learned

long ago – that the

best way to win public

sympathy is to blindly

attack anything that

white middle-class people

are phobic about.

Unfortunately, seeing

as they're not the sharpest tools in the box,

the hooligans in Cologne got a little confused

about what they were supposed to be against, and

started attacking policemen, and ended up injuring

over 40 riot cops and tipping over a van before

someone told them that the police are, if anything,

on their side when it comes to Muslims. Everyone

seemed shocked by this sudden outbreak of farrighted-tainted

violence. The police were by their

own account overwhelmed on the day, seeing as

three times as many nutjobs showed up than they

expected. "I was surprised that so many different

people joined the mob in Cologne," said someone

described as a "conflict researcher at the University

of Bielefeld" by Die Welt newspaper (a blatantly

made-up job). "It was a broad alliance of people

who are scared of Islamisation in their areas of

town." The German Interior Ministry, meanwhile,

also issued a warning about the escalation of such

violence, and a general

increase in "hooligan

incidents" this year.

There was "a serious

risk that individuals or

small groups will commit

severe crimes out of

Islamophobic motives,"

the ministry said in a

statement. Germany's

intelligence agency, the Verfassungsschutz, does not

even keep hooligan groups under surveillance,

since, until now, they were assumed to be interested

mainly in cracking each other's heads.

But it's a bit much for all these various protectors,

experts, and arbiters of German society to act

all surprised that anti-Islamic

violence is on the rise, considering

that they are the ones

who have done so much to stir

the threat posed by Muslims

in Germany. The Verfassungsschutz

never tires of warning of

the threat posed by Salafists

in the country. But while last

year's Verfassungschutz report

estimates that there are 5500

Salafists in Germany altogether (both the violent

and non-violent ones), the police estimate that

there are 13,600 hooligans in Germany who are

"violence-ready and violence-seeking".

Obviously, of all of Germany's religious communities,

the Muslims do have a particular problem

with radicalisation. There are plenty of young

foolish people who feel like the West's inaction

in Syria has left them with no choice other than

to go and get involved in that horrible war. And a

handful, it's true, have ended up joining the brutal

"Islamic State". Some of those may come back to

Germany with the ability to fire a Kalashnikov. But

then again, no one knows more about that than

the Muslim communities themselves. Possibly the

very worst way to neutralise this threat (in fact, the

quickest way to magnify it) is to do what the German

authorities are doing now – that is, demonise

the Muslim population and Islam itself. ■

LPG BioMarkt Kaiserdamm GmbH, Kaiserdamm 12, 14057 Berlin

7x in Berlin

Charlottenburg: Kaiserdamm 12

Friedenau: Hauptstr. 78

Kreuzberg: Mehringdamm 20

Kreuzberg: Reichenberger Str. 37

Prenzlberg: Kollwitzstr. 17

Treptow: Bouchéstr. 12

Now also in Steglitz:

Albrechtstr. 33

NEW

Welcome to bio paradise

LPG

BioMarkt

fair & local since 1994

Honey 1kg from 5,99 € *

Wine 0,75l from 2,29 € *

Kiwis 1 piece from 0,19 € *

Bread 1kg from 2,25 € *

Musli 1kg from 2,89 € *

Potatoes 1kg from 1,49 € *

*Permanently reduced prices for members

Check our new website for special

offers and a lot more information:

www.lpg-biomarkt.de

3
---
BEST OF BERLIN

BY THE EXBERLINER EDITORIAL TEAM.

A Berlin

wish list

Show some hometown pride this

Christmas and give your loved ones

something that just screams Berlin,

from Aldi action figures to club

stench in a bauble.

Black or white

Dizzying monochromatic prints influenced by modern Berlin life characterise

German-Lebanese designer Daniel Arab's micro-label COLORBLIND PATTERNS.

Working in his Wedding studio, Arab screenprints his cotton bags (€36), cushions

(€26) and wall hangings (€24) with patterns that flirt with Arabic tile art and Art

Nouveau. The result? Crisp, hyper-modern designs with just enough minimalism

to plant them squarely on the average Berghain hipster's Christmas list. Colorblind

prints are available in three stores across the city: Berlin Beirut Multiples

(Brunnenstr. 162), The Optimistic Store (Rochstr. 17) in Mitte, and Arab's own

atelier showroom (Antwerpener Str. 46). BH

One crazy Cookie

Having trouble with that one hard-partying friend who always

manages to trump your outlandish clubbing stories? Pop

EDGEWISE: A PICTURE OF COOKIE MUELLER (€22, b_books) into

their stocking this year and shut them up once and for all with

this collection of sleazy, Studio 54-era NYC anecdotes that

makes even the most committed Berlin techno fiend look about

as edgy as Taylor Swift. Tales of drug-fuelled excess are only to

be expected from any profile of Mueller, the famed writer and

actress who starred in John Waters' notorious film Pink Flamingos.

Berlin-based author Chloé Griffin eschews the conventional

biography format in favour of a scrapbook-style compendium,

providing a rare glimpse into Mueller's life with yearbook entries,

original scribbled story drafts, rare Cookie snapshots and details

of her brush with the law during her journey to Berlin in 1981. BH

Edible landmarks

You might have taken holiday visitors to the

Gendarmenmarkt and passed by Fassbender &

Rausch, the largest Schokoladenhaus in the world,

its windows filled with iconic Berlin landmarks

glistening in chocolate glory. While the Reichstag

and the white chocolate-graffitied slice of Berlin

Wall aren't for sale, you'll find that a transportable,

edible, and 60 percent-cacao dark CHOCOLATE

BRANDENBURG GATE, weighing in at 1.8kg and

complete with an 18-karat gold-plated Quadriga

statue on top, can be yours for €120. SM

A beer a day

Grown-up ways to count down the days till Christmas are nothing

new in Germany, but a collection of regional brews in a festive BEER

ADVENT CALENDAR (€42.99) definitely trumps the usual alcoholic

pralines. Sure, you could get the Kindl or Astra at your Späti, but with

ever-changing varieties like the unfiltered Zwickl Kellerbier from Bayreuth

or the mysterious "anti-ageing" beer from Klosterbrauerei Neuzelle,

purveyor of German delicacies gourmeo24.com may have found just what's

needed to quiet the beer snob your recipient has become since moving to

a land of endless pilsners. SM

4 • DECEMBER 2014
---
Sniff, memory

Who knows what one-time Berliner Vladimir Nabokov (Speak,

Memory) would have made of this gift. YINKANA (aka Spanish expat

Malu Lopez), reconstructs your fondest Berlin recollections in

olfactory form and preserves them in glass bulb necklaces (€19-34,

available online or at Reichenberger Str. 116, Kreuzberg). "Berliner

Winter", with pieces of ginger, pine needles and lemon evoking

frigid nights warmed by cups of ginger tea, makes a thoughtful gift

for nostalgic friends, while lovers might appreciate a customised

version (€49) – Lopez even hiked out to the forest on behalf of a

male customer who wanted to give his wife the scent of their first

meeting. Then again, if you two met in a more typical Berlin setting,

consider the questionable "Berliner Club", with scraps of confetti,

glitter and cigarette butts collected off the floor of the Kit Kat Club.

Even when the scent wears off in 3-12 months, they'll still be left

with a pretty necklace to keep those lost memories alive. MB

Portrait in

Playmobil

Give the narcissists in your life what

they've always wanted – themselves,

in a plastic bubble. Provide Israeliborn

Dorit Bialer with €75, a photo

and some details about your recipient,

and within a few days she'll give you a

specially tailored action figure crafted

from Flohmarkt-scavenged Playmobil

toys, displayed with custom-made

accessories in stylish packaging. She'll

even do couples for no extra

charge. If the people you know are

caricatures anyway, check out Bialer's

premade BERLINERS IN A BOX, which

vary from bitingly accurate (the

chronically depressed Aldi cashier

equipped with broken Pfandmaschine)

to slightly off (hipster graphic

designers will find their favourite bar

misspelled) to simply offensive (a

Neukölln child beggar?). HW

C

M

Y

CM

MY

CY

CMY

K

Bites in a box

A hamper of Berlin delicacies? Not your

first choice of gift, right? Berlin-based

TRY FOODS aims to prove you wrong

with a selection of goodies from the

city's newly hip food scene. Inside their

cute box (€27.90) you'll find jarred

blood sausage from Neukölln's Blutwurstmanufaktur,

real Berliner Weisse

from Moabit's Brewbaker, organic grill

sauce, locally produced linden honey

and, for a multikulti touch, lokum (Turkish

delight) from Mitte's fancy Confiserie

Orientale. All this, plus a 112-page

bilingual gourmet guide to the city.

Sure to delight and surprise out-oftown

foodies. JS

5
---
ARTICLE FROM THE TAG EDITOR

How to talk about Islam in ISIS times?

A few 'uncomfortable truths' and how to deal with them.

They can hardly pronounce the name of

the Prophet in Arabic. They've spent

more hours surfing the web for gore

flicks and conspiracy videos than reading

the Quran, which they quote in Twitterlength

140-character bites. They know how to

use a smartphone better than an AK-47. De-radicalisation

experts tell us they mostly stem from

non-religious Muslim backgrounds; a growing

number of them weren't brought up Muslim at

all. ISIS' Western recruits are a greater problem

for the West than we think. Not because of their

numbers or the actual imminent threat they

pose, but because of who they are: the children

not of Islam, but of our societies.

The new recruits

Berlin is not such a hotbed of ISIS jihadists – 65

at most left the city for Syria and Iraq, according

to intelligence reports (most come from

Germany's Ruhr; while Paris produced 350

recruits). Almost nothing is known about their

identity or whereabouts. Unlike in the UK or

France, where first-person testimonies from distraught

parents abound on prime-time TV, very

few stories have leaked into the German media.

What we do know is that the German capital

has bred one of ISIS' highest-profile European

recruits – and its best recruiter: Denis Cuspert,

aka Deso Dogg, aka Abu Talha al-Amani. According

to German-Egyptian politologist Asiem

El Difraoui, nobody cares if Western recruits

can read the Quran or handle a gun. "A couple

of years ago, all that online propaganda was in

Arabic or bad English. Now we have hundreds

of Europeans who are very active in social

media and who can directly address European

audiences not only in European languages, but

with trendy European slang," he says, pointing

to the Berlin ex-rapper's gangsta-cool appeal to

young audiences (see page 20).

Whether hip hop singers converted to warmongering

anasheed (a cappella chanting) or cute

black-veiled princesses posing next to trendylooking

jihadi Prince Charmings (see page 11),

they're the poster children of the 'cool jihad'

propaganda machine. And their numbers are

rising. Although they shouldn't be overstated

(a couple of thousand for the whole of Europe,

only 550 in Germany) everyone seems to agree

that more and more Western youth are falling

for jihad, be they thugs like Deso Dogg or

'naïves' truly eager to help build a 'better world'.

Nicolas Hénin was held hostage by ISIS

together with James Foley, Peter Kassig and all

the other Westerners later executed between

June 2013-April 2014. He says he saw both types:

"Some were sincere guys, they'd come to help."

And there were the brutes, "people who found

with ISIS the perfect vehicle to express a penchant

for violence" – like Mehdi Nemmouche,

a French convert who Hénin described as "singing,

when he was not torturing" – or playing

with his phone.

Either way, religion is the least of their

motivations. "They're very bad Muslims," says

the French former hostage. "Many are recent

converts or born again. They've got a really weak

ideological background. They're brainwashed

with some very basic Islam they're told to repeat

in loop. Exactly the same way as in a sect."

"They don't understand anything about

the fundamentals of Islam!" says El Difraoui.

Berlin's anti-radicalisation specialist Claudia

Dantschke (see page 10) concurs. "Political

Salafisim and jihadism attract young people

from all backgrounds – with and without a

migration background, from Muslim and non-

Muslim families. They're mostly what I'd call

religious illiterates."

Children of the West

For El Difraoui, the case is clear: "They are the

children of Western society, not the children

of Islam." They've developed what he calls an

"anti-culture", not just a subculture, but a total

rejection of the dominant culture they live in,

"mixed with some nihilism and a pathology of

THE FACTS

n There are about 4 million Muslims in

Germany – about 5 percent of the country's

population. 45 percent of them have

German citizenship.

n Most Muslims in Germany are Sunni

(2.64 million).

n There are 249,000 Muslims in Berlin, of

which 73 percent have a Turkish background

and one-third are German citizens. 110,000

are Kurdish.

n There are 550 Germans who have left for

Syria and Iraq with 'Islamist motivations',

including some 65 Berliners. 90 percent of

recruits are under age 30; 61 percent of them

were born in Germany; 10 to 15 percent of

them are women.*

n 60 Germans have been killed fighting for

ISIS; 180 have returned to Germany.*

*Source: Verfassungsschutz

violence." Much ink has been spilled about the

deep malaise in the First World's postmodern

societies – a quest for meaning of new generations

left bereft in a world they don't identify

with. "Western society doesn't reach these

young people anymore," says El Difraoui.

Add to that divorced parents, a lost girlfriend,

psychological or geographical isolation. Recruits

also come from remote, rural places – that's the

beauty of social media. "Twenty years ago they

could have been punks or skinheads, now they

go to new radical forms."

In short: ISIS didn't create these kids'

malaise, it just ruthlessly takes advantage of it.

Hénin calls jihad the ultimate rebellion. "It's the

best, easiest and most spectacular way to say

'fuck off' to the society you live in! Thirty years

ago if you had a clash with your parents, you'd

go and smoke weed in Kathmandu – today you

dress in black and go fight in Kobani." Just look

at those selfies of jihadists raising their index

fingers to the sky (a rallying gesture symbolising

the concept of tawhid, unity between God and

the Muslim community) as spread all over social

media: something between a Facebook 'like' and

giving the finger to the world you left behind.

Young recruits' profile pages are also often

filled with images of dying Palestinian kids, or

women and babies gassed by Assad. This is no

coincidence. We need to face the mistakes we've

made, says Hénin, who points to the West's

culpability in creating ISIS as a result of years

of foreign policy mistakes from Libya to Iraq to

Syria. What he calls the "Islamic State Magic" is

a "unique cross-pollination of frustrations, here

in our societies and there on the ground."

His stance got him accusations of suffering

from Stockholm syndrome. "Strangely, my cap tivity

didn't change my beliefs. I have no vindictive

feelings. I have not converted either. I haven't

become a jihadist!" Hénin believes we have a collective

responsibility and we should face it.

Don't polarise, inform!

So, responsibility lies in our societies, not just in

Islam? That's not what you'd believe from reading

the Western media. Take the Focus magazine

cover in November: a niqab-clad beauty along

with the headline: "The dark side of Islam:

Eight uncomfortable truths about the Muslim

religion." Inside, illustrations show convulsed

faces of preachers giving inflammatory speeches

in fantasised mosques. A more poised yet

populist text spells out the 'truths' about Islam

as obsolete, intolerant and potentially violent,

6 • DECEMBER 2014
---
equating a whole religion of 1.6 billion followers

to a selection of its worst, foulest parts.

"That Focus cover is a real scandal," El Difraoui

storms. "They think they're selling more

papers by playing with people's fears, but in

reality they're creating stigma and polarisation,

ultimately playing ISIS' game. People need to

understand that's what they want!" El Difraoui

adds that after a sabbatical on the topic of jihad

and propaganda, he felt compelled to step back

into the media ring. "When I saw the nonsense

they were coming up with, I felt I didn't have

a choice! That equation 'Islam equals Islamism

equals Salafism equals terrorism' is nonsense."

It's a slippery slope – one that the German

authorities are recklessly sliding down.

Are all of the 570 Berliners labelled as

"Salafisten" by the Verfassungsschutz potentially

dangerous? "You've got to be a lot more careful,"

says El Difraoui. "Salafi is a huge current. You

can't generalise. It's irresponsible." Know the

saying, he says: "Few Salafists are jihadists, but

almost all jihadists are Salafists."

Abdul Adhim Kamouss would readily agree.

He is currently Germany's most famous imam,

thanks to his appearance in September on

Günther Jauch's talk show together with CDU

politician Wolfgang Bosbach, Neukölln mayor

Heinz Buschkowsky and Minister of the Interior

Thomas de Maizière. Kamouss says that he was

invited to the programme to discuss radicalisation.

Little did he know he was meant to be the

"radical" of the show, as the imam who preached

at the 'Salafist' Al-Nur mosque in Neukölln, and

who once had contact with Deso Dogg before

he went underground. "I preach at 12 mosques

in Berlin. But Al-Nur fits their picture. 'Salafist'.

Period. You're branded. Most media sing the

same tune. Zack. Copy, paste. Zack. Can we be

factual? I just want to see one story where you

ask me the questions and I hear or see my words

as I said them," says the man who qualifies the

new zeitgeist as "Islamophobia times 10".

The polarising effect of the show was as obvious

as it was immediate. Whereas ARD viewers

expressed outrage at seeing a 'radical' being

given airtime on a public channel, Muslims and

people who knew Kamouss were taken aback:

why portray a clearly conservative but peaceful,

pious and by no means radical man as a radical

'Salafist'? "I personally saw how angry he got

when he once heard someone say something in

favour of ISIS – he calls them devils," says an

insider familiar with the imam. For Kamouss,

Muslims' duty is to fight the "greater jihad",

one's own inner spiritual struggle – not military

wars against infidels here or in faraway Syria.

Another favourite talk show 'expert' is the

Egyptian-German writer Hamed Abdel-Samad,

author of the controversial bestseller Islamic Fascism.

His uncompromising statements condemning

Islam as an intolerant,

backwards religion that is

prone to extremism by its

very nature only cause further

provocation and don't

help bring sanity into an

already over heated debate.

Back to facts:

Muslims in Berlin

One thing is for sure:

whereas the press from

yellow to mainstream has

been busy painting a onesize-fits-all

picture of scary,

potentially violent beard

and hijab wearers, Muslims

are in reality a wildly

heterogeneous bunch with

as many languages, social

backgrounds and political

creeds as 'Christians'.

A few simple facts would

help: Kreuzberg, Neukölln

and Wedding are not populated

by 'Turks'. Many are

ethnic Kurds (see page 22)

and not happy to be confused

with those countrymen

they see as oppressors.

Falafel is Arabic and döner

kebab Turkish. Wearing a

hijab can be a sign of oppression

– or self-assertion

(see page 18). There are 80

'official' mosques in Berlin

(about 100 total), but few have minarets and

many are nothing more than a simple prayer

room. Mosque-goers are not necessarily radicals,

and 'conservative' doesn't mean violent. A few

more surprising facts? It is disarmingly easy to

convert to Islam and more and more Germans

are doing so – but they're rather the peaceful,

grounded sort (see page 14), light years away

from the emotional raptures of extremism. Or

perhaps they belong to the Sufis, the singing,

dancing hippies amongst the Muslims (see page

24). And, believe it or not, some Muslims are

ready to give their blood in Syria or Iraq to fight

against ISIS, which they call ISID – the Turkish

name for the organisation.

Semantic jihad

How should we in the media refer to Abu Bakr

al-Baghdadi's self-proclaimed "Islamic State",

the Sunni jihadists waging a bloody campaign to

establish a caliphate in Iraq and Syria? Pointing

to the fact that the organisation was neither

Islamic nor a state, some started to put the

contentious 'State' between quotation marks or,

less subtly, to add the prefix "so-called" to it. In

"They think

they're selling

more papers by

playing with

people's fears, but

in reality they're

creating stigma

and polarisation,

ultimately

playing ISIS'

game."

a much-publicised coup,

the French government

officially decided to opt for

the Arabic-derived

pejorative term "Daesh" –

and encouraged all media

to follow suit. Nicolas

Hénin was outraged. "This

is just responding to

propaganda with more

propaganda. It's not the

place of journalists to

decide whether or not an

organisation deserves to be

called by its name."

As for us, we thought

Daesh would sound savvy,

but few readers would ever

understand it. ISIS felt like

a forgivable compromise

(who remembers what acronyms

stand for anyway?),

with "Islamic State" only

acceptable if derived from

an article – making clear it

is the 'proper' name of an

organisation, but not a real

state.

So, a few "uncomfortable

truths", as Focus would call

them…

n More Westerners are joining

ISIS than ever. Yes, it is

an alarming phenomenon,

but still a relatively marginal

one.

n Western recruits are not the children of

Islam, but of our Western societies. Branding

ISIS recruits as the logical consequence of an

intrinsically intolerant, violent religion is as

inept as it is counter-productive and only fuels

Islamophobia.

n Islamophobia and jihadism feed each other –

and need one another to survive. Hénin had the

opportunity to see first-hand that Islamophobia

was fuelling the jihadi engine: "It was a motivation

in their engagement."

n Ultimately, the first victims of radical jihad are

not Westerners, but Muslims. Theirs were the

first heads to roll on the battleground in Syria,

and still more are killed by drones in the name

of the fight against terrorism. But here, in the

Western world, they are the victims of stigmatisation

– by media more prone to fear-mongering

campaigns than informative coverage.

In working on this issue, we tried to avoid alltoo-easy

stigmatisation and polarisation. We

hope we've been able to contribute to a more

factual, rational debate on Islam in Berlin and

Germany. NADJA VANCAUWENBERGHE

ILLUSTRATED PATTERN BY AGATA SASIUK

7
---
INVESTIGATION

Searching for radicals

Germany has banned ISIS, but this doesn't seem to have stopped ever more youth from

joining the jihad in Syria. Who are Berlin's recruits? We went looking for extremists and

found… "Salafists". By Ben Knight

AGATA SASIUK

Behind a huge cigarette factory in south

Neukölln, there is a mosque called

Al-Nur. From the outside, it's like a

run-down, unforgiving secondary school

from the 1970s, all decaying concrete slabs set

functionally on top of each other. If you walk in

on a Saturday morning, that impression is only

reinforced, since the upper floors of the building

are a school where children study the Quran,

learn Arabic, and get after-school help with their

German and maths. Outside the classrooms,

there's a waiting area with sofas where mums and

dads wait to pick up their children.

This mosque has probably the worst reputation

in the whole of Germany. Hardly a single

major German national news outlet has failed

to link the place to what they have gotten used

to indiscriminately calling "radical Islamists"

or Salafists. In 2011, Der Spiegel published an

article that described the mosque as a "refuge

for radicals", where Salafists were indoctrinating

hundreds of children into a particularly

conservative brand of Islam that was alienating

them from mainstream German society.

Since the spread of "Islamic State" in Syria and

northern Iraq, the reporting on the mosque has

become simpler. The Berliner Kurier tabloid, for

one, has taken to calling it "the terror mosque"

at any opportunity because Denis Cuspert, aka

Deso Dogg, the rapper turned ISIS jihadist (see

page 20), once attended Al-Nur. This, as far as

the media is concerned, is the mother lode of

radicalisation in Berlin.

All that seems to have passed by at least one

dad, who is waiting for his daughter to come out

of her Arabic lesson. He looks surprised when I

bring up the mosque's extremist reputation. "I

look at all my daughter's textbooks, and there's

nothing in there," he says, looking slightly worried,

then turns to the dad next to him to ask

if he's heard that. Then, suddenly defensive, he

talks about how terrible the situation in Syria is,

condemns ISIS and expresses his concerns about

how the group is destroying Islam's reputation.

In the mosque itself, you step over dozens of

children's shoes onto a big expanse of carpet,

where, in between prayer times, you're free to

pad around among the chattering kids and the

men sitting on the floor against the walls, checking

their smartphones. If you walk all the way to

the back, you get to a large office filled with more

families and shelves of leather-bound books with

gold Arabic writing. This is where the mosque's

administration sits – in this case a man with

an impressive, beautifully curled beard. Unlike

the dad upstairs, he definitely knows about the

mosque's bad reputation. "It's the press!" he says.

"If we were anything like what they write about

us, the police would have shut us down long ago.

It's libellous." Then he says that the board is considering

taking legal action against the papers.

On the lookout

Part of the reason Al-Nur has attracted such

media attention is that it appears in the annual

reports of Berlin's domestic intelligence agency,

the Verfassungsschutz (Office for the Protection

of the Constitution). Though the latest one

admits that "non-Salafist Muslims" also attend

the mosque, "German-speaking Salafist preachers"

have spoken there. In particular, the report

drew attention to Muhammad al-Arifi, a guest

preacher from Saudi Arabia who has, the report

says, "repeatedly become noticeable for his anti-

Semitic, homophobic and misogynistic views".

8 • DECEMBER 2014
---
Isabelle Kalbitzer, spokeswoman for Berlin's

Verfassungsschutz office, has no doubt what this

means. The agency takes up an upper floor of the

Berlin interior ministry, an imposing 19th-century

Prussian building. To get to talk to Kalbitzer,

you have to give up your ID, pass an airlock-type

of door, and follow her along endless corridors to

her spacious room at the back.

"The numbers have risen. We're now at 570

Salafists in Berlin – of which 290 are violenceoriented,"

she says. By "violence-oriented",

Kalbitzer means "there are indications that

they have at some point expressed themselves

along those lines, or that a 'certain distance from

violence' is not there." The Verfassungsschutz

distinguishes this group from two other groups

of Salafists: those they call "purists", strictly

Islamic but not politically oriented, and the

political Salafists, who want to "change basic

elements of a free democratic state" but are not

ready to resort to violence. The Verfassungsschutz

relies on a number of different indices to make

this definition. "We learn, for example, that they

go to a particular mosque, or can be associated

with a particular preacher, or there is telephone

information, or they are active on the internet,

or they've been to certain demonstrations."

"Of course, you see it from external signs,

too," Kalbitzer adds. "If you suddenly see beards

or shorter trousers on the men, or veils on the

women, and they withdraw further from social

life. It's not like a checklist – 'okay, you look like

this, you're a Salafist' – but a lot of them do look

like that."

Nebulous definitions

One man whom the Verfassungsschutz defines as

a Salafist is Abdul Adhim Kamouss (photo, next

page), an imam who preaches at several Berlin

mosques, including, until recently, Al-Nur. In

September he appeared on the ARD's Günther

Jauch political chat show, where his lively argument

with Neukölln Mayor Heinz Buschkowsky

and Christian Democrat MP Wolfgang Bosbach

caused an intense reaction. Many German

viewers and newspapers were annoyed that this

"extremist" had been offered a "platform". But

Kamouss wasn't happy either. "I thought I had

been invited to talk about radicalisation. Instead,

they just talked about me," he says.

Most Muslims were equally upset about the

way Kamouss had been represented. "I thought,

and all my Muslim friends thought, that they had

chosen Kamouss because he was a Muslim who

spoke out against ISIS," said one student close to

the community. In fact, the imam was cornered

into representing the radicals. That has become

a pattern – normal Muslims are pushed by the

German media under the same umbrella as the

people they themselves are scared of.

"No, I'm not a Salafist. I see myself as a

moderate Muslim. I've never been part of any

current or party or political movement. I see

that as a division of our great nation of Islam,"

says Kamouss, sitting in an Eiscafé in a Wedding

shopping mall.

What is a Salafist, anyway? "That's the

problem. They are slowly taking away all our

Islamic words – they've taken away the word

salaf and dragged it through dirt," says Kamouss.

The word is rooted in an 18th-century doctrine

created by the scholar Muhammad ibn Abd

al-Wahhab – which still determines government

policy in Saudi Arabia – that advocates a

return to the Islam of the salafs, or ancestors, the

generations closest to the prophet Muhammad.

The word "Salafism" was not used until the 20th

century, and it's hard to find any Muslims in Germany

who would self-identify as Salafists. "There

is a movement in the whole world called Salafia,

but not as described by the Verfassungs schutz –

they are people who concentrate on the classic

learning and who try to dedicate themselves to

it," says Kamouss. "They have nothing to do with

jihad – they are completely normal people in the

mosques. There probably

are people in Germany

who would have described

themselves as Salafists, but

they wouldn't do it anymore,

because they know that this

word has a different meaning

in Germany."

Kalbitzer also gets a little

exasperated over wrangling

with the definition.

"I find it tiresome to talk

about – whether you call

them Salafists or whatever,"

she says. "You can call it

something else as far as I'm

concerned, but the ideology is still the same."

So if the definition is unclear, can we at least

agree on the numbers of radical Muslims travelling

to Syria? According to the Verfassungsschutz,

around 550 people are thought to have travelled to

Syria and Iraq from Germany, 65 from Berlin. But

those numbers don't go any further, as Kalbitzer

admits. "They are people who have gone to Syria

– that doesn't mean they all take part in fighting,"

she says. "It also doesn't mean they have automatically

joined ISIS. It includes people who want to

provide logistical support. They're not all fighters,

but we can assume that they are all Salafists, and

that they have gone there for political reasons. Of

course, there are also Islamists who travel there

for humanitarian reasons. Not all of these people

are dangerous."

Salafists against ISIS

So the Al-Nur mosque is not just for Salafists,

Salafist doesn't mean the same thing to everyone,

and the authorities admit that not all of

those travelling to Syria are violent – all ideas

you wouldn't get from reading the German

media. But there is another mosque mentioned

in the Verfassungsschutz reports, that definitely

is "Salafist" by their definition. This is the

As-Sahaba in Wedding, occupying a cramped

ground-floor retail space on Torfstraße.

From outside, it looks a lot more secretive than

Al-Nur – only a few posters in the windows with

Quran quotations reveal what it is at all. And

you don't get invited in if you knock on the door.

When I go there, a German man comes out in

full Salafist attire – straggly beard, white smock,

ankle-length trousers, little cap. He introduces

himself (he doesn't want his name printed) and

A German man

comes out in full

Salafist attire.

"You probably

think we're all

monsters in

here, don't you?"

says he is a "member of the board". His whole

demeanour is wary. "You probably think we're

all monsters in here, don't you?" is almost the

first thing he says. Then he announces that the

board has stopped giving interviews to the press

because of "bad experiences", and adds that he's

noticed much more hostility towards himself in

the past few months "because of my appearance".

Eventually he agrees to answer a few questions

by email. "We are constantly demonised in the

media and presented as the breeding ground of

radicalisation, etc.," he writes a few days later.

"Even though our efforts have always been to explain

religion to Muslims as well as non-Muslims

– old and young, mainly in German."

"We don't promote or support any militant

group in any crisis

regions," he adds. "Since

our position is wellknown

in the Muslim

'community', up until

now no young people

have turned to us to ask

if they could join the civil

war in Syria."

His verdict on ISIS is

clear: "To name yourself

as the head of the entire

Muslim nation and to

demand that Muslims

recognise it isn't some

trivial matter that can be

decided in an Iraqi bunker," he says. "To declare

a state like that in the middle of a civil war zone

without consulting any leading Islamic scholars

is completely illegitimate and therefore void."

That's the opinion from the mosque at the top of

the Verfassungsschutz's watch-list.

Kamouss does know at least one person who

has gone to Syria to join ISIS – Denis Cuspert,

though the last time he had any contact with him

was three years before the ex-rapper travelled

there. "In the last three years, maybe three young

people have come to me and said, 'I want to go

to Syria, what do you think?' And I ask myself:

Is this someone from the Verfassungsschutz, a spy,

or is it really a young man who thinks this? And

then I advise them against it. I say, Allah has

kept you distant from it – stay away, and look

after your family."

Why is he suspicious of spies? "Because anyone

who wants to go wouldn't talk to someone

like me – a public person in the community," he

says. "The ones who are already radicalised say I

am just an apostate and a hypocrite anyway."

Finding recruits

So where does ISIS get its German recruits

from? The mosques themselves don't radicalise

Muslims, but radical Islamic groups can certainly

use mosques to find recruits, especially large,

popular, conservative-influenced ones like Al-

Nur. "Like any company who wants to sell something,

they go where young people are," says one

anonymous source. "So they go to the mosque

and say, 'let's meet in the café to smoke shisha'

– even though that isn't exactly pious." They're

also known to meet in universities. "They invite

students to 'learning groups'."

9
---
ARTICLE INVESTIGATION TAG

ANNA AGLIARDI

But these extremist groups include several

factions with different nationalities, religious

affiliations, political standpoints, and views on

the legitimacy of violence. Not all of them are

considered terrorist, some of them are not even

illegal, many of them are hostile to one another

– and none of them are directly linked to ISIS.

German Interior Minister Thomas de Maizière

made activities of "Islamic State" in Germany

illegal earlier this year, but so far it is effectively

a symbolic gesture, since no one seems to know

if there are any active members in Germany at

all. The federal Verfassungsschutz report published

this year does not even list the "Islamic

State" as one of the Islamist groups in Germany

(al-Qaeda is on the list, as is the vague term

"Salafist movements", but for both of these

there are "no certain numbers" when it comes

to actual members).

One less nebulously defined Islamist group

identified by the Verfassungsschutz is Hizb ut-

Tahrir ("Party of Liberation"), which has been

banned since 2003, and which, according to the

report, "favours violence, but hardly makes any

violent public appearance". The intelligence

agencies say this group has 300 members in

Germany, 35 of whom live in Berlin. And some

of these men are said to frequent the Salam

Café on Nettelbeckplatz in Wedding. "This

café is monitored 24/7," said one source. "When

this Iraqi guy I know was arrested, and they

found this WhatsApp group on his phone, the

entire café went crazy because they were all in

this group, and they thought 'we are all now on

the list.'"

It is within this kind of group that the Islamic

State can hope to find recruits – though not directly.

Instead, they use the internet. "In groups

like Hizb ut-Tahrir, people start to watch videos

from ISIS, start to get in contact via Facebook

and Twitter with people in Syria, and those people

in Syria then tell them, 'You are on the right

track, but beware of Nusra, they are traitors.'

They know the discourse, the clashes between

al-Nusra, al-Qaeda and ISIS."

In Syria and Iraq, of course, all these internecine

rivalries are on a much bloodier scale, and

involve a whole other bewildering dimension of

name-calling. "You have to keep in mind that

the conflict between radical groups is much

older than what we have in Germany," said the

student. "And they label each other – call each

other Salafists, and the regimes label them back.

You have a hardcore militia leader like Hassan

Nasrallah, from Hezbollah, calling those people

fighting in Syria takfiris [infidels]."

There are no clear reasons why this handful

of people go. Kamouss' theory is that there

are three different ways radicalisation happens:

"Some radicalise directly, in banned groups like

Millatu Ibrahim in North Rhine-Westphalia,"

he said. "And some do it indirectly, like these

– I call them 'internet imams', who have no

theological training, who just have a camera and

a Youtube account. And then there is German

politics, which also radicalises – this Islamophobia

among the politicians, and the way the

media reports on Islamic issues. People feel like

they're on the margins, they're hated, they're

not listened to."

There are also moral and emotional forces at

work, he adds: "Why do they go there? For over

three years, the Syrian people have been massacred,

murdered with chemical weapons, butchered

by all kinds of different groups, especially

by Assad. And then the highly civilised European

Western world watches while it happens... You

know how many people have been killed there?

550,000. That's a catastrophe. And the young

people watch and say, 'I have to help.'"

What's being done?

Given the attention that's paid to the dangers of

Islam in Germany, it's a bit bizarre how neglected

all of Germany's prevention programmes are.

The nightmare is that young German Muslims

will become radical enough to travel to Syria or

Iraq, be trained to use a Kalashnikov by a brutal

militia, witness beheadings and then return to

Germany with their heads full of religious frenzy.

But if a parent is worried their child might

be thinking of that, there is only one official

government number in the whole of Germany

they can call: that of the Hayat programme,

run by Claudia Dantschke. With minimal staff,

Hayat has dealt with 31 cases since it was started

in 2011, counselling and helping worried families

to win their sons and daughters back from the

temptations of extremism. "Two-thirds of these

cases concern Syria and especially the jihadist

organisation 'Islamic State'," says Dantschke.

"In four cases we managed to help de-radicalise

the young person – so that there was no longer

a danger they would travel abroad or participate

in armed jihad."

After one exchange with Dantschke, it becomes

clear how different ISIS is from al-Qaeda,

especially in Germany. While the perpetrators

of 9/11 were a hardcore cell who spent several

years in Hamburg training in secret and evading

intelligence agencies, ISIS' presence in Germany

is as a youth subculture that thrives on Youtube

accounts, WhatsApp groups and Twitter feeds.

"For them it's not about the search for spirituality

and religion, but much more profanely about

community, orientation, clarity, acceptance, identity

and the so-called meaning of life," she says.

10 • DECEMBER 2014
---
While the youths she deals with are from all

kinds of social backgrounds, Dantschke says they

have one thing in common: "Not a single one of

them has been socialised in a religious or theological

sense," she says. "At the most, their experience

of religion, whichever one, is more part of a

family culture, even when they did go and pray in

church or mosque. They didn't grow up reflecting

on their religion. They are 'religious illiterates.'"

There are other prevention programmes that

work directly with young people in schools,

places which, by Kalbitzer's own admission, the

Verfassungsschutz does not have the same kind

of access to. One programme, which works

without any government funding from a tiny

office on a ground floor in Neukölln, is called

Ufuq ("Horizon"). Here there are two desks

where Jochen Müller and Sindyan Qasem sit and

plan workshops. Ufuq was founded six years ago

as a project purely about preventing religionmotivated

extremism, but it soon became clear

to them that you can't talk about Islamism or

Salafism without talking about Islamophobia as

well. So now the workshops are simply designed

to get Muslim and non-Muslim teenagers to talk

about everyday issues – headscarves, the role of

men and women.

"There wouldn't be much point in going into a

workshop and saying, 'okay, today we're going to

talk about ISIS', because then their shutters would

just come down," says Qasem. "Because they're

confronted with those stereotypes every day."

"Our concept of prevention is much broader

– we start much earlier," he says. "Prevention at

the moment in Germany is all about 'how can

we stop more people going? What do we do

with the people who come back? How can we

make sure that nothing happens here?' But for

us, political education is prevention. By dealing

with this huge issue of Islam in Germany and

giving young people space to talk about it, we

sensitise young Muslims and non-Muslims to

anti-democratic or anti-human viewpoints."

Ufuq also trains what it calls "multiplicators"

– teachers and social workers – to tell the difference

between religious behaviour and radical

behaviour. "People see that someone starts praying

five times a day and think it's the first stage

of radicalisation. It isn't."

The fact that programmes like Hayat and

Ufuq are chronically overworked and underfunded

shows that the Muslim community does have

a problem with radicalisation. But, as Kamouss

– the "Salafist" imam ridiculed by the German

media – says, the Muslims themselves know that

better than anyone. "Claudia Dantschke isn't

a Muslim," he said. "For non-Muslims to make

projects for us Muslims, and then expect the

Muslims to take part... no! No! And a thousand

times no! It'll never work, especially the way

Muslim issues are reported on in Germany. The

Muslims all look on it with suspicion. Look

at the way I was treated on TV! Do you know

how many thousands of people were hurt and

offended by that? And then they expect those

people to trust the state? Without direct cooperation

with influential people in the Islamic

community they won't get anywhere. My hand is

extended." n

Jihadi brides

Lured into joining ISIS by a promise

of revolution and desert romance,

those girls end up as little more

than "cheerleaders of the jihad".

On an ordinary October morning in 2013,

Sarah O., a 15-year-old German-Algerian

Muslim girl from Konstanz, left for school with

little more than her school bag, never to be

seen again by her parents and friends. Only

a few short days later, she was discovered to

have posted pictures of herself on Instagram

and Facebook, fully veiled and holding an

AK-47, stating that "she was doing well, eating

well and learning to shoot while attending

daily lectures". Her parents' worst fears were

confirmed: she had joined ISIS and was now

living in Syria. A month later, her father received

a call from a male German jihad fighter

asking for his permission to marry Sarah.

Without her father's blessing, the couple went

forth and performed the marriage anyway.

One of her Facebook posts reads: "Jihad. My

life. My love."

Fourteen percent of ISIS recruits are

women – an estimated seven or eight girls left

Berlin for Syria over the past year. They first

make contact via social media, where female

ISIS members depict a romanticised life within

the Caliphate: Arabian desert sunsets, group

photos of fully veiled women looking out

onto the sweeping views together, and – the

key factor – strapping warrior husbands. "Are

the fighters concerned about beauty when

it comes to marriage?" asks one anonymous

user on the Tumblr blog of a woman calling

herself Umm Abaydah. Another has more

practical concerns: "Can you find a good hair

dryer and straightener in Syria?" And there

are pleas. "I am 17 years old and I want to

come to Syria very much. I have done my research,

but the only obstacle I am facing is my

family. I want to come very badly... but how?"

The ISIS blogger's response: "Contact me on

Kik, inshallah. I can help." Through texting

apps such as Kik, girls receive step-by-step

details of how to reach ISIS-controlled territory

upon landing in Istanbul: Buy a Turkcellspecific

SIM card at Atatürk airport. Call us at

this number. Wait at this hotel, and prepare

to make the 3am mad dash across the Syrian

border. Comments like "I can't wait to fight

for the Islamic State" and advances such as

"Hey, sexy beheader, are you married?" on

the now-defunct Twitter feed of James Foley's

killer, it's all a decidedly Western approach

toward what is, in the end, a restricted life of

cooking, cleaning and childcare – and writing

propaganda, if you're educated enough. A

Verfassungsschutz official defined women

in ISIS as "the cheerleaders of the jihad".

Who'd be attracted to that kind of life?

Claudia Dantschke (see article, left) says

that many of the girls at risk for radicalisation

come from authoritarian households, and are

used to their brothers and male cousins being

favoured over them. "Salafism gives them

a chance to prove themselves. They want the

possibility of being recognised as a woman,

even if it is 'only' in classical female roles like

housewife and mother." Running away from

home is also a way to rebel against their

families – while justifying it as a "calling"

from Allah.

At a "Young Muslim" meeting group held at

the Sehitlik Mosque, 80 percent of attendees

are women. "I think that many Islamic women

are feeling alone and have a strong desire

to search for some sort of belonging," says

imam Ender Cetin. The biggest determining

factor as to why these groups are succeeding?

"These extremist groups really know how to

speak the language of the youth. They connect

with them more than any regular mosque

can." While some girls, like Sarah O., are able

to adjust to life as a mujahideen, others like

French 15-year-old Nora el-Bathy, end up

regretting their decision. After getting in touch

with extremists through Facebook, in January

she ran away from home to join the al-Nusra

Front. Soon, how ever, she called her brother

in France, begging him to come get her:

originally promised she would be helping Syrian

orphans, she had instead been forced to

watch fighters' children, and the emir (leader)

in charge of her would not let her leave. She

told him: "I've made the biggest mistake of

my life." MARY BIEKERT

11
---
ARTICLE ROUND-UP TAG

Islam in Berlin:

Your guide

Eight tips for Muslims and

non-Muslims alike.

Maschari Center

ANNA AGLIARDI

All-in-one stop

for the curious

You've probably seen the MASCHARI

CENTER's minarets from the Görlitzer

Bahnhof U-Bahn station. Look for a

white, glass-domed complex with

giant arched windows and shiny facades.

Perhaps you already dug into

a halloumi sandwich at their Manteuffelstraße

Imbiss without knowing

it's halal? The shop's ornate ceilings

hint at what to expect when entering

the 5000sqm commercial and

cultural hub next door. Apart from a

student centre, a women's (all-covered)

fashion store, a bookshop and

a halal butcher in the basement, the

complex houses the Omar Mosque,

one of Germany's biggest, with

space for 800 worshipers. Opened

in 2010 by Kreuzberg's IVWP, an

independent non-profit association

for "charitable projects" with roots

in Lebanon, Maschari is home to an

international Sunni community... but

it's open and friendly enough for a

non-believer's first foray into Berlin's

Muslim world. You can go inside and

take photos, participate in Germanlanguage

Islam classes or sign up for

a guided tour. The women's section

is on the second floor, but as a non-

Muslim woman you're invited into

the main prayer room nevertheless.

Inside the all-white mosque, richly

decorated with Arab patterns, you'll

find flat screens streaming interpretations

of Quran passages, and

the biggest crystal chandelier you

will ever come across. No headscarf

needed, but remember to take

your shoes off. HW Wiener Str. 1-6,

Kreuzberg

Muslim chick lit

The next time you and your friends

start rehashing the old Kopftuch

(headscarf) debate (see page 18),

break out a quote from Tuchgefühl,

a collection of female Muslim voices

on the controversial headwear.

NARRABILA was founded in Berlin in

2011 as the "first German women's

publishing house for Muslims", and

its titles (seven so far, all in German)

go far beyond the headscarf and

associated stereotypes. Founder

and author Claudia Valentin-Mohamed

wants women from different

nationalities (some converts, most

debutants) to tell their stories, with

"no taboos." Katja Meryem Brügel's

Novellen in blau concerns polygamy,

for instance. Next in the publishing

queue: a book by their first male

author (to be fair, it's a biography

of renowned author and convert

Fatima Grimm). HW

Radical shisha

Sooner or later, anyone who goes in

search of radical Muslims in Berlin

ends up at the Salam Café in Wedding

– so our anonymous inside

source in the 'Muslim community'

told us. The rumours that members

of illegal groups relax there to

smoke some apple-flavoured pipes

and take advantage of the free wi-fi

have become so pervasive that even

the German intelligence agencies

know about the place. The decor

is minimal: dark red walls, about 20

identical black fake leather sofas,

and floor-to-ceiling windows that

offer a sweeping view of the famous

Nettelbeckplatz. It all offers space

to concentrate on that cool, candysweet

smoke. The proprietors have

opted to keep the menu simple – an

exclusive range of Bountys, Mars

Bars, Snickers, and Twixes may or

may not be augmented with a sucuk

and cheese toasty handed to you

on a paper napkin. Entertainment is

a choice between FIFA football on

a PlayStation in a back room or real

football, usually the Turkish Süper

Lig, on TV in the front room. If you

are not Turkish or Arab or, presumably,

a man, you may feel slightly

awkward for about 10 minutes, but

then everyone will relax. You might

want to avoid the place if you're

Shia, though – our inside source

tells us that two Iranians were

chased away a few months ago. BK

Nettelbeckplatz, Wedding

Fast track to Mecca

If you're a Muslim, you've got to do

it: the hajj, a five-day trip to Mecca,

Saudi Arabia, during the last month

of the Islamic calendar. Take the work

out of your pilgrimage with MEKKA

REISEN in Neukölln, one of a handful

of agencies that specialise in travel

packages to the holy city. For €4000,

they'll cover flights, accommodation

at three- to four-star hotels, transportation

to and from sacred sites as

well as visa arrangements – everything

but the goat you're supposed

to sacrifice on day three.

Not a Muslim? Just convert (see

page 14). You'll need to prove

your devotion by having a local

Islamic centre or mosque notarise

an "Islamic certificate" that Mekka

Reisen will include with your visa

application. Next, cross your fingers:

since so many people apply

for the hajj each year, Saudi Arabia

limits the number of people who

may go, giving preference to older

applicants. Last October, 3.5 million

people made the trip – including

10,000 Germans. If your visa's approved,

start packing! You'll need a

special outfit made from two sheets

of white, seamless cloth. Other

than that, pack light – fall temperatures

in Mecca can reach over 35

degrees. You can buy the holy accessories

once you're there: seven

stones to throw at pillars representing

the devil, and that sacrificial

goat (these days, most people just

buy a voucher for someone else to

slaughter an animal for them). If the

cost of a hajj package is too high,

take an umrah, a lesser pilgrimage

you can make December through

March, for €800-1300. Converts

might even be able to go for free

thanks to subsidies from wealthy

sponsors in Saudi Arabia! Just act

fast: the Saudi Arabian embassy in

Berlin says the numbers of converts

applying for visas have been growing,

and the next hajj is only nine

months away. EA Sonnenallee 95,

Neukölln

Best reasons

to convert to

the burqini

In need of some new swimwear?

Why not try the modesty-preserving

full-body bathing suit favoured by

conservative Muslim women the

world over?

n You can be lazy! Made of the same

light, synthetic material as any swimsuit,

the burqini covers your legs,

arms, torso, neck and hair. It won't

cling to your body even when wet,

so you'll never have to worry about

your bikini figure again. And think of

all the money you'll save on waxing!

n You'll be safe from the sun! They

were invented in Australia, and what

can keep you safe from radiation on

an Australian beach will keep your

skin cancer-free at the Müggelsee.

n The ultimate privacy policy! With

that snug hood, you're as good

as unrecognisable. You're already

encrypting your emails and taking

the battery out of your cell phone

– isn't it time you started swimming

incognito as well?

n Catch someone's eye! It's not

like swimming naked will get you

any attention in a city that has FKK

anywhere. With a bright-coloured

burqini (they even come in pink!),

you'll be the talk of the lake.

n Travel the Muslim world! Frolic

worry-free with locals at the beach

in Sharjah, United Arab Emirates,

where women aren't allowed to turn

up in regular swimming costumes.

Then bring your burqini back home

– we checked with the Berliner

Wasserbetriebe, and they're allowed

at all public pools here. Just watch

out in France and Holland, where

wearing one is against the law. SW

dressed-to-swim.de, sanimpuls.de

12 • DECEMBER 2014
---
ILLUSTRATED PATTERN BY AGATA SASIUK

i,Slam

ARNE LIST

Parts of the Arab Spring mural

A piece of

Arab Spring art

If you didn't know it was there,

you'd never find it: In Prenzlauer

Berg's Winsviertel, behind a Kaisers,

in a narrow driveway connecting

two parking lots, lies a different

type of Wall: Berlin's own piece of

Egypt's Tahrir Square. The 20m-long

mural was painted in two stages

by Ammar Abo Bakr, Hanaa el

Degham and Ganzeer, all Egyptian

artists who took part in the amazing

explosion of political street art in

Cairo during and after the 2011

Arab Spring revolution. Split into

two sections, the longer stretch of

the mural depicts a large wounded

angel-cat – next to three demonstrating

Egyptian kids. This part was

completed in January of this year,

by famous street artist Ganzeer,

whom Berlin-based Bakr and El

Degham invited to collaborate on

a stretch of wall owned by a friend.

The mural is overlaid with a poem

in Arabic by Palestinian Mahmoud

Darwish, "We love life whenever we

can". A smaller section of the mural

was done by Bakr and Degham

themselves a year earlier. It depicts

a large, colourful Sufi, representing

a more moderate face of Islam

threatened by the rise of the Muslim

Brotherhood. It was early 2012,

street demonstrations had toppled

old dictator Mubarak, but now the

Islamist organisation was set to

'steal' the revolution at the upcoming

democratic elections. "Egypt

is not the Muslim Brothers" reads

a message underneath – already

dreading the upcoming Islamist

election victory. A message soon

made obsolete by the military coup

and the unprecedented, bloody

repression against the Brothers

that ensued. Is this when someone

defaced the writing to "Egypt is

the Muslim Brothers"? Now the

'not' has been penned back, an

apt and sad reminder of Egypt's

enduring political confusion. MB

Booze-free

poetry slam

Full of forbidden spirits, swearing

and sneering at religious references,

poetry slams used to be no-gos for

most Muslims in Berlin, says 25-yearold

poet Youssef Adlah. Until 2011,

when he and Younes Al-Amayra

(both German with Arabic roots)

co-founded the I,SLAM series to

establish a spoken-word scene for

Muslims – complete with its own

charter of 'five pillars' including a

ban on insults (satire is fine, though).

Take away alcohol and the offensive

language from a poetry slam?

What's left, really? Well, media critique,

religiosity and discrimination,

but also – in contrast to mainstream

poetry slams – an abundance of

female participants. "Often it's eight

out of nine," says Adlah. One such

slammer is the Palestinian Faten

El-Dabbas, whose poems often

deal with the occupation of Gaza:

"Hold my fate in your hands, like a

joystick." Non-Muslims are welcome

to watch any performance, or

participate at one of their "i,Slam,

we,Slam" inter-religious events.

They've been touring through eight

German cities, plus Zurich, Vienna

and Tunis. Check i-slam.de for future

events, but make sure to get there

on time – thus far it's practically

always sold out. HW

Quality coverage

This time of year, you don't need to

be a muslima to go scarf shopping.

In Kreuzberg, follow the fashionably

veiled young women to MERYEMCE

ESARP on Kottbusser Damm, where a

colourful range of satiny polyester hijabs

(€10) awaits. On display behind

the counter are silk scarves from €30

(Indian produced) to €250 (an Italian

Valentino). Their decorative 'vintage'

assortment – actually fresh-produced

copies of traditional flower-patterned

Turkish headscarves – will brighten

up the darkest Decem ber (€15). For

a more hardcore veiled experience,

ANNA AGLIARDI

Burqini

ANNA AGLIARDI

from hijabs to niqabs to the elusive

burqini, head two stops south on

the U8 to Hoor al Ayn, an Islamic

boutique located opposite the row

of shisha bars on Flughafenstraße.

Female shoppers, be warned: you

can browse through the stretchy

full-body cloaks and sample the 100

percent halal room scents all you

like, but the sales clerk will ignore

you unless you're properly covered

up. So if you're wondering why the

nigella-seed oil on offer claims to cure

cancer, epilepsy, diabetes and "sexual

weaknesses", you'll have to turn to

the shop's website, where you'll find

out that Muhammad apparently said

these seeds heal all diseases but

death. Inshallah. HW Meryemce Esarp,

Kottbusser Damm 10, Kreuzberg; Hoor Al

Ayn, Flughafenstr. 48, Neukölln

13
---
CONVERTS

Opting for Allah

Conversions to Islam are on the rise in Germany. For these

Berliners, the Quran was the only rational choice.

By Hanna Westerlund

Compared to other religions, converting

to Islam is extremely simple. You

need neither mosque nor imam, and

no particular knowledge. Just have

two Muslim witnesses hear you say the shahada

(declaration of belief in the oneness of God and

acceptance of Muhammad as his prophet) – and

it's done!

There is no central institution registering

Muslims in Germany, and thus no way to keep

track of converts – but by all accounts, the

numbers of Germans saying the oath is on the

rise. The skyrocketing figures you may have read

about (Der Spiegel reported a four-fold rise in

one year), all of which seem to stem from the

Zentralinstitut Islam-Archiv Deutschland in Soest,

are no more than "pure extrapolations" according

to some researchers in the field. However,

one trusted source is the Saudi Arabian embassy

in Berlin, which administrates the hajj visa: the

only time you as a Muslim would have a mosque

write a confirmation of your beliefs is when applying

to that embassy for the Mecca pilgrimage.

And although the embassy won't give exact

numbers, they will say there's been a rise in the

number of convert applicants.

Why are more and more Germans choosing

this stigmatised minority religion? According

to these four Berliners, it was the only one that

made sense...

From David Luther to Dawood Basheer

Between a KFC and an empty kindergarten in

Pankow stands the Khadija mosque, the first

one in former East Germany, which attracted

protesters during its 2008 construction. It's soon

prayer time for 24-year-old David Luther. Until

two years ago, he was in Berlin's deep techno

scene: "It was all about faster, louder and cooler.

And when it didn't get better, then I felt empty.

My purpose was to reach trance through the

music." Now he reaches trance through prayer,

at least five times a day – an app keeps track of

the hours – sometimes asking God to help him

pass his law exams at the Free University. "When

I tell people in my course I go pray, they're like:

'What are you doing?!' They label me as crazy."

Luther was raised Catholic in Munich, which

entailed working as an assistant in the church,

but out of tradition rather than sincere belief.

At the age of 16, he moved in with his grandparents

in Berlin. "Munich was too spießig. I was

a free thinker." Three years ago, a girl he knew

from an online forum introduced Luther to

Islam. With Christianity, there had always been

some things that didn't make sense to him, such

as the Holy Trinity. Islam, on the other hand,

seemed coherent. "There are no logical gaps.

It's more like a great puzzle, put in place piece

by piece. In the Catholic Church they told me

simply to believe, but I had questions. And

that's the beauty of Islam, you can question it.

A good Muslim is critical."

Luther felt "embraced in a very loving way" at

Khadija, which is affiliated with the Ahmadiyya

branch of Sunni Islam

Judaism seemed

too elitist,

Christianity too

old-fashioned.

And, on top of

that: too

misogynist.

(whose believers are seen as

heretics, hence persecuted

in Pakistan). In June 2013,

among 35,000 Ahmadiyya

at the yearly international

Jalsa Salana convention in

Karlsruhe, he took the step

to officially convert, gaining

the new name Dawood

Basheer.

Having his family accept

his decision has been a process.

"My mother reacted

very strongly. She's Hungarian,

and pork is to Hungarians what beer is to

Germans." Adapting to his community's rules on

separation of the sexes, Luther has limited his

contacts with women, avoiding eye contact and

shaking hands. "I wouldn't demand my wife wear

the hijab – although, of course I'd be happy if she

did." And, inshallah, he'll be married soon, Luther

says – to a Pakistani woman he's never met. "It

could have been a German girl, but she happened

to be from Pakistan. We found each other

on an Islamic online dating service. She looked

pretty," he laughs.

Why Alexandra started eating meat

The second floor of the Khadija mosque is the

women's domain. One of them is Alexandra

Baron, a 27-year-old pastry chef with curious eyes

and a thoroughly tied black scarf covering hair

and ears. Her nose and the skin under her lips

bear traces of piercings. Three years ago, Baron

– a "scientifically oriented person" brought up

non-religiously in Marzahn – was a heavy metal

fan. After finishing school, she took on teaching

herself astronomy, history and archaeology,

then religion. She picked up the Bible, but was

turned off by the New Testament: "All these

things against natural laws, how Jesus ascended

to heaven with his physical body, for instance. I

knew astronauts had to wear special suits to be

able to breathe – how, then, could a person possibly

survive on the way up without all of that?"

Having heard that Muslims thought the

Quran was God's words, Baron bought herself

a copy. "I realised no human could have written

it. It describes how a kid develops in the womb,

how humans developed from one cell, and how

early life developed in water. That wasn't known

1400 years ago. It was totally logical, and went

hand in hand with science," she concludes. Additionally,

she saw the end of "a despairing search

for love", with a row of broken relationships and

callous family relations. "I had always thought

there was more to life. So I said, 'Either I do this

wholeheartedly, or not at all.'"

On one morning during Ramadan in July

2012, 24-year-old Alexandra headed to the Omar

Mosque at the Maschari Center by Görlitzer

Bahnhof, buying herself a headscarf on the

way. "I was nervous and afraid to do something

wrong." She was immediately welcomed and

took her vows there, but a little over a year later

decided to move on to the Khadija mosque. "I

had never before felt such a peace and harmony

as I did there – and I liked that it was stricter."

Though Baron's grandmother

supported her

decision (she finds the veiling

proper!), her father got so

upset they ended up cutting

off contact. She still doesn't

know why. "It's such a taboo

theme." She tries to keep up

with her friends. "I dropped

partying, drinking and smoking,

but we still try to hang

out together. We just do other

things – shopping, dinner,

mushroom picking..." Convinced

she couldn't live with a

non-believer, Baron persuaded her boyfriend to

convert and they got married that same day.

Working as a Konditorin for a big catering

chain, she says her conversion didn't bring

much complication in her workplace. "My boss

and colleagues don't mind me wearing long

sleeves and covering my neck and head. My only

problem is that I feel uncomfortable working

alone with men. I try to avoid it." A vegetarian

for 10 years, Baron says she read in the Quran

that "animals were created for us to use. So then

I started to eat meat again." She still hasn't told

her family. "For them, I'm still a vegetarian!"

"I would've ended up in jail"

In Berlin's biggest mosque, the Sehitlik on

Columbia damm, 38-year-old Andy Abbas Schulz

has just explained the meaning of Zakat, the

Islamic tenet of giving to the needy, using a story

about sharing a candy bar as a kid. Despite holding

Islam classes once or twice a month on top

of his regular career of arranging inter-religious

workshops for a violence prevention network, he

shows no signs of falling back on energy. His German

mother and Lebanese father separated when

he was in the fourth grade, after which Schulz

14 • DECEMBER 2014
---
moved with his mother from Charlottenburg to

Neukölln. As a teen, his life centred around partying,

shoplifting, drugs and gang fights. "It was

about taking everything to the limit. I know my

personality, I'm 100 percent sure that if I didn't

become religious, I would have ended up in jail –

or dead." His mother, a converted Muslim herself,

urged him to find religion, but it wasn't until age

18 that he realised he was on a "destructive" path

– yet the idea of studying for a career, building

a family "and then dying and losing everything"

seemed equally unappealing. He decided to "take

a look at the whole religion thing. I started at

zero, that is, denying everything I knew before.

I asked Christians, Jews, Buddhists, my biology

and physics teachers... I tried to have a rational,

scientific approach. Not like: 'I believe'. Because,

Andy Abbas Schulz:

"I tried to have a

rational, scientific

approach. Not like:

'I believe'. Because,

you know, I used to

believe in Santa

Claus, and that

wasn't true."

you know, I used to believe in Santa Claus, and

that wasn't true."

Together with a friend and his girlfriend,

he went to discuss the Quran with intellectual

Muslims in a Kreuzberg living room. A medicine

student at the time, he wanted proofs and found

the book full of them: "For instance, there's a

passage about how 'heaven and Earth are from

one single point expanding', something scientists

have concluded is actually the case for the whole

universe."

It took Schulz more than a year to fully

embrace Islam. Sticking to his questioning approach,

he's been engaged in the German Islamic

lessons at the Sehitlik mosque for the past eight

years. In his nearly two decades as a Muslim, he's

been to Mecca 10 times.

ANNA AGLIARDI

A Muslim in the GDR

One of Schulz' listeners this Wednesday night,

sitting by the back wall, is 71-year-old convert

Djamila Alkonavi. With her headscarf tied farmer-style

in the back of her neck, she stands out a

little. It's out of pragmatism, she says – she used

to work for a public gardener. "Today I would

never have been employed, wearing a headscarf."

"Djamila" is a name she chose herself. Born

Rotraud Scheer in 1943 in Auschwitz – her parents

were political prisoners – she had a communist,

non-religious upbringing in Karlshorst, East

Berlin, encouraged to think scientifically by her

biologist father. When she turned 15, Alkonavi

had her first contact with Islam through a Syrian

student from West Berlin, who was married to

a German woman. "They were educated people

and had a very modern understanding of Islam.

I found out that it was compatible with Darwinism,

for instance. That impressed me!"

As she started to read the Bible and the Quran,

she started to compare the religions she knew:

Judaism seemed too elitist, Christianity too oldfashioned.

"And, on top of that: too misogynist!

The fact that a woman was to blame for the sin

in Eden, and that it was disputed that she had a

soul, that type of patriarchal hierarchy... I found

nothing like that in Islam."

What she did find was a religion that seemed

"modern, universal and logical". Islam encouraged

no blind belief, but education. Overall, it fit

the 15-year-old's communist ideals. "Ethically it

was pretty similar; all people are equal, solidarity

is important and so on... The biggest step was

to realise there was a God. That took something

like two years. I had no epiphany, really – it was

more like an intellectual decision."

For Alkonavi's mother, a Communist Party

member and civil servant, her daughter's conversion

was a catastrophe. Especially since her

Muslim friends were from the West – the enemy.

She tried to forbid Alkonavi from practicing

Islam. "My argument was the communist law. I

showed her: 'look – freedom of religion!' But my

mum decided to send me to a boarding school to

protect me from such undesirable Western influences.

She was hoping I'd forget about Islam."

Boarding school didn't deter her – and neither

did the construction of the Berlin Wall in August

1961. Tipped off by her Muslim friends in the

West, 10 days later, the 18-year-old embarked on a

diplomat's train on Friedrichstraße and got off at

Bahnhof Zoo – finally, she was free to embrace her

new religion! (Her mother reported a "kidnapping",

and almost lost her job at the SED office when it

became clear her daughter left out of her own will.)

Pre-Gastarbeiter-boom, Islam was fairly unknown

in West Berlin: "People would be curious,

asking questions. A policeman once thought

Islam was the name of the religion of the Jews."

Eventually Alkonavi met a Turkish student,

whom she married. He encouraged her to contact

her mother again. "It was not easy, but she

ended up accepting my decision." Berlin's attitude

towards Muslims "has changed a lot," she says, but

not necessarily for the better. "Now, all of a sudden,

we're all terrorists." She doesn't think it's her

responsibility to defend Islam though. "Terrorism

has nothing to do with us." n

15
---
TRUE STORY

My little brother, the Muslim

A Berlin Studentin on how her sibling's

sudden conversion changed their

whole family. By KATHARINA HEROLD

"Do not tell your mother I told you this!" When my father said this to me,

I expected something dramatic, something so scandalous my mother

would not be able to take it. The announcement: "Your brother has

converted to Islam." I don't remember what my response was, but I do

remember thinking, "We'll see how long that'll last." My brother doesn't

have the greatest track record of going through with things. As a matter of

fact, in the 12 months prior to that point he had considered joining the

Bundeswehr, emigrating to Canada to become a shepherd and many other

things that he talked about at length but never actually undertook. So I

naturally didn't expect this particular idea to stick.

That was three years ago. My brother is now a fully

converted Muslim – circumcision and all.

I still don't understand his motivation. He was 17

years old and studying abroad in Canada for a year.

Apparently he had made friends with several people

from a Muslim community who welcomed him with

open arms. When my father and sister went to visit

him, he enthusiastically told them about his new

religion. When my mother was finally clued in, she

chose to act as if everything were completely normal

– easy enough while my brother was still in Canada.

But when he moved back in with our parents in

western Germany, the entire family's patience was

seriously tested.

I was home from university for the summer, and at

first I didn't think things would be that different.

Although my brother chose a new Muslim name and

even changed his email address, his appearance didn't

change drastically – he did grow a beard for a while, but shaved it off

eventually. He didn't change his hobbies, either. He had always enjoyed

hanging out in his room painting, reading or playing video games. But his

opinions and his lifestyle changed all the more severely. First, there was his

diet. You'd think that one person abstaining from pork wouldn't be an

issue. You would be wrong. My parents were not allowed to have pork in

the house at all. And yes, they did obey their then-18-year-old son. During

that summer, his diet became stricter and stricter and, consequently, the

family fridge became more and more restricted to certain foods. He could

only eat halal, so my parents started buying their meat from a mosque.

Next, he insisted on banning all dairy products that might at some point

have been in contact with pigs. And he started nagging us whenever we did

anything forbidden by Islamic law, like serving champagne at my mother's

50th birthday.

It is important to note that at no point did I ever actually mind his

newfound beliefs. I even understood how the strict Catholic school we

were sent to might have produced this in him as an adolescent act of rebellion.

Granted, it was hard to talk to him about anything really – religion

(obviously!), politics, education, Western films or books. But I figured in

the end we still believed in the same god, and both of our faiths advocated

compassion and tolerance... so why not live by these rules and just accept a

person's right to believe whatever they want?

But then his attitude towards me, my sister and even our mother

became more and more patronising. I didn't like being told that I

He started to

bring his prayer

rug everywhere he

went in order to

pray five times a

day, which I have

to admit is quite

an admirable act

of discipline.

shouldn't be drinking wine or attending university, but rather getting

married and having children. When he heard our sister – who is two years

older than him – was planning to study abroad in Hungary, he insisted she

needed "male protection". I couldn't believe he was actually saying these

things, never mind believing them! Fortunately, we could still put our

opinions aside and, as the family geeks, bond over a game of Age of

Empires for an hour or two. And we eventually became too busy to have

any energy left for arguments. He started an apprenticeship as an

electrician (and was thrilled that his boss, a Muslim himself, didn't mind

him praying at the required times), moved out of our parents' home and

started a routine as a believing Muslim – while I, back at uni in Berlin,

continued my wine-drinking, class-attending life.

Christmas that year was a different story. Being a Catholic Christian

family, we usually celebrated Christmas quite traditionally. But this time

around, we had to pass on most of our traditions to

accommodate my brother who, for some reason,

insisted on spending the holidays at the family home.

We did have a tree in the living room, but that was

about it. My father prepared a huge halal Christmas

meal, consulting my brother on every single ingredient.

Unfortunately, though, the mosque couldn't

provide him with the meat he had ordered specially,

and my father had to do with ordinary veal, thinking

that his son would be fine eating the vegetables and

the side dishes. When my brother found out, he was

furious. He exploded: we were not being tolerant and

we didn't support him in his choice. He left the house

in a rage, leaving my mother and my sister crying and

my father and I angry. The holidays were ruined. My

family decided not to celebrate Christmas anymore.

I didn't speak to my brother for several months

after that. But the following May, we went on a trip

with the entire extended family and I had to share a

hotel room with him. I decided not to let him get to me, and it seemed

like he had calmed down as well. I was able to eat pork at dinner and even

wash it down with a glass of wine without being pestered about it. On my

side, I accepted that his alarm clock would go off at dawn and he would

then proceed to pray for what seemed like hours while I tried desperately

to go back to sleep. Everybody – my parents, sister, grandparents, uncles,

aunts and cousins – got used to his prayer rug, which he brought with him

everywhere he went in order to pray five times a day, which I have to

admit is quite an admirable act of discipline.

Over the following months, the tension between us started to dissolve.

It was easier to talk to him, even ask him questions about his beliefs and

his rituals. Some of my uncles were still worried that he might become an

extremist. In fact, I know my brother is extremely critical of ISIS, arguing

that they're misinterpreting the Quran.

At this point, it has become clear to us that this really isn't a fad. My

family is still adjusting – some family members are more accepting than

others, but everybody's trying. As for me, I am happy that he has found

something that is important enough for him to really follow through with.

Now, he's courting a girl in Pakistan he has never met because he wants to

start a family as soon as possible. Here it is: I might become an aunt in the

near future, and I'm ready. I am going be in that child's life for sure!

*Given the sensitivity of the topic, the author used an alias and refrained from using names

or details that would make her family identifiable.

16 • DECEMBER 2014
---
PREVENTION

Big brother's not

watching you

Honour killings as sensationalised by Western media have

portrayed Islam in a sexist, oppressive light. Berlin's HEROES

aim to show a more open, tolerant Muslim man by questioning

boys' relationship to honour… and their sisters! By Mihret Yohannes

Encouraging Muslim teenagers to question

the same honour code he grew up

with, 24-year-old Ali Ahmad won't relent

until gender violence and oppression are

zapped from his community. "I ask, 'Do you all

know what honour is?' Everyone starts nodding.

'Okay, so what is honour?' Suddenly they're all

quiet," As part of the local organisation HE-

ROES, Ahmad leads workshops that challenge

young Muslims to think about what Ehre means

to them. "Every session starts with that same

silence," he says, "But eventually someone speaks

up and says, 'My family is my honour' or 'Not

disobeying my father.' Some say their success

is their honour, or that they don't steal. But for

many, their sister's honour is their honour."

For many religious Muslims, a man is considered

ehrlos (without honour) if his wife, girlfriend

or sister insults him or is harassed by others.

Conversely, a man who shows strength and

confidence when 'defending' (or disciplining) the

female is considered honourable. For a woman,

however, honour takes on a chaste shape: it

demands both virginity until marriage and

faithfulness in marriage. Digressions from this

code can prompt painful, and sometimes fatal,

clashes as men feel pressure to enforce the family's

values or lose face. "When a girl is no longer

a virgin, people in our community will run off at

the mouth about it – and that's what people are

scared of," says Ahmad. "That's really the worst

thing that could happen. You can't generalise,

but reactions can go from Case A, talking peacefully,

to the very worst, Case Z: murder."

This destructive face of 'honour' rears its

head 5000 times annually worldwide, according

to UN estimates, with at least 133 honour

killings taking place in Germany over the last 10

years according to ehrenmord.de. One of those

murders, the 2005 honour killing of 23-year-old

Hatun Sürücü by her 18-year-old brother in

Berlin and the media-led uproar that followed,

spurred Berlin sociologist Dagmar Riedel-Breidenstein

to found HEROES in Neukölln in 2007.

She took her inspiration from an anti-honour

violence programme in Sweden, Sharaf Heroes

(with sharaf meaning 'honour' in Arabic), which

focused on engaging young Muslim men in

conversations about gender equality. Seven years

on, despite detractors' doubts, Germany's first

male-focused project tackling gender violence

in honour-based communities now comprises

35 trained instructors, or 'Heroes', of Arabic,

Albanian, Kurdish and Turkish descent, and has

inspired a new wave of projects across Germany.

Since 2010, Ahmad, a Neukölln-born student

of Lebanese descent with four brothers and four

sisters (including a twin sister), has dedicated

10-15 hours monthly to the project alongside

his studies and hip hop dancing with the Berlin

street dance champions, Lunatix. "Dancing

also isn't seen so positively in my community,"

Ahmad confesses. He recalls his father's reaction

five years ago: "Dancing? Am I supposed to tell

people that my son's a dancer?" Ahmad clicks his

fingers above his head as he reenacts the jig his

father performed while quizzing him: "You have

to imagine a slightly older man, 55, with a little

belly, shaking his hips like that,"

he laughs.

AGATA SASIUK

Today, HEROES is under the stewardship of

Dagmar Riedel-Breidenstein's daughter, gender

researcher Jenny Breidenstein, who says that

the initiative's power lies in the team's mixed

background, and in each member's ability to immediately

connect with their audience through

workshops, notably through role play. In one

scenario, a 'father' berates a 'son' for being too

distracted by PlayStation to keep track of his

sister's where abouts. "Where is the man of

the house when I'm not around?" the 'father',

played by a HEROES leader, asks angrily,

hitting the controller out of his son's hands.

When, later, the 'son' finally finds his sister, he

forcefully drags her home with echoes of 'Are

you not a man?' and 'Do you have no honour?'

ringing in his ears.

The responses from the group are not always

what you'd expect. "I've had girls at workshops

who've said, 'Yes, he behaved like a proper

father! He has to follow through, he has responsibilities,"

Ahmad says. However, it is when HE-

ROES presents an alternative scenario, where

father and brother sit down and talk, that girls

in workshops respond with unanimous envy.

"And why?" Ahmad asks. "Because it's based on

trust rather than lashing out. Then the thought

process starts."

It is not only Muslims who commit honour

killings in Germany – perpetrators include non-

Muslims from Cuba, Greece and Italy among

many other countries, a reminder that sexist

power structures are not necessarily related to

religion. "Sexism isn't just an Arab or Turkish

thing. I've heard the same from German teenagers!"

Meanwhile figures show that overzealous

Muslim men don't have a monopoly on violence

towards women: two-thirds of last year's domestic

violence acts (10,650 out of 15,971) were

committed by German men without a 'migration

background'.

Yet, based on a 2014 Infratest survey, Germans'

perceptions of Islam as intolerant and antiwomen

(68 percent), and aggressive (42 percent)

persist, reminding Ahmad of HEROES' endgame:

"We feel duty bound to act so that not all migrants,

or Muslims, who have the same concept of

honour as us are lumped together with those who

say, 'I'd kill my sister if I saw her out at 8pm.'"

Marginalisation can help entrench misogyny,

he notes. "I've seen in Lebanon how men and

women can be friends; laugh and talk and be

seen together outside," Ahmad reflects. "But

here, because people cling to their values so

strongly out of fear of losing them, we live out

our religion and traditions more strictly than in

our country of origin."

His goal is simply to present other options.

"We go there to get them thinking because

they've always known this one system, and when

another alternative rears its head, the old system

suddenly becomes unstuck," he says.

"In workshops, we often ask, 'What would you

do if you saw your sister out with a boy?' Some

say, 'I'd walk straight up to them and beat them

up.'" Ahmad says he has learned there are alternatives:

"You don't have to react straight away

or turn yourself into a criminal. You can wait, go

home and talk." A step in the right direction. n

17
---
DEBATE

Veiled truths

To cover or not to cover? Germany's decade-long debate

around the Islamic headscarf continues to divide.

By Mihret Yohannes

Assertive and eloquent, stubborn and uncompromising,

25-year-old law school

graduate Betül Ulusoy is far from the

German stereotype of a headscarfwearing

Muslim woman. Yet she's been wearing

one since she was a girl.

"I wear cotton when I do gardening or sports,

silk when I go to work or for a night out. I

like fashion, so everything's often colour-coordinated."

Like 30 percent of Muslim women

in Germany, Ulusoy wears a hijab – a veil that

covers the head, neck and chest. Although her

mother covers up, her parents, both descendants

of Turkish guest workers, were against their

three daughters following suit. "My mum wears

a headscarf to connect her to her old country,

but people were unfriendly to her because of it,

so she didn't want us wearing them. She wanted

to make life easier for us." Ulusoy decided she

wanted to wear one while attending an Islamic

primary school in Kreuzberg; after years of badgering,

her parents gave in. "My dad thought I was

too young and wanted me to make the decision

a bit later and with more awareness. However,

he raised me to have a strong personality, and he

knows that when I get something in my head I

will see it through."

The most fervent opposition came from her

mother's elder sister: "My aunt was completely

against it – she thought it was outdated. She said

to me, 'If you wear the headscarf, I won't be seen

with you in public!' and she stuck by that threat.

She stopped taking me to the cinema, walked

ahead of me when we were out together."

But it wasn't until she began attending high

school at a Gymnasium in Neukölln that Ulusoy

learned what her headscarf meant to most non-

Muslim Germans. At the first lesson of term, Ulusoy's

politics teacher shouted at her and a friend:

"Another two of you headscarf lot!" After Ulusoy

organised a discussion with 2006 Berlin state

election candidates which drew press attention,

the school headmistress approached 16-year-old

Ulusoy to congratulate her, but added: "'Now we

just have to talk about your scheiß Kopftuch."

Later, Ulusoy was offered the possibility of

going to Paris on an exchange trip, but was told

she would have to remove her headscarf during

lessons, like French Muslim girls, since religious

symbols are banned in French public schools.

She rebelled, refused to give in and ended up not

joining the trip, something she bitterly recalls as

discrimination and "being expulsed from a school

exchange". What if it was the other way around?

"If a German girl was asked to wear a headscarf

in any situation, be it just for two hours, I'd

stand 100 percent behind her and say it is wrong

to make her wear one. Freedom means that

everyone can wear whatever he or she wants,

even when others don't like that."

In 2013, to counter a FEMEN protest calling

for the 'liberation' of headscarf wearers, Ulusoy

and five of her friends formed the activist group

MuslimaPride. "What bothered me more than

anything was knowing people would think,

'FEMEN are right! Muslim women are oppressed

and must be freed! I wanted to provide a

counter weight."

Her choice of headwear has turned into a

rebellious statement. "The reason I choose to

cover is constantly evolving. As a child, I loved

stories about the Prophet in the Quran, but I

also wanted to be a grown-up… After 9/11 and

high school, it became an act of defiance; I'll

wear it now precisely because you don't want me

to. Today, I wear it out of spirituality and because

it is part of my Muslim identity."

The Quran does not specifically state that women

must cover their heads or faces. Rather, there

is a passage that reads that women should "draw

their veils over their bosoms" to preserve their

modesty. Various interpretations of this have led

to the hijab, the niqab (which covers all but the

eyes) and the burqa (which covers the eyes with a

screen), among others.

"I don't draw a line," says Ulusoy about more

restrictive forms of covering. "Whether I like it

or not, it's irrelevant – I shouldn't involve myself

in other people's freedom." An imam met at a

Wedding mosque, also stressed that a woman's

free choice should be the criteria: "It is not

Islamic to force women to cover like the Talibans

do. It is Islamic for women to cover the body."

Yet in Westerners' eyes, these garments have

become inextricably tied to female oppression in

countries like Afghanistan and Iran, where it is

illegal to appear in public without a hijab. In the

areas of Syria controlled by ISIS, women must

cover themselves from head to toe.

"You can't compare a Muslim woman in

Germany with the image you have of women

from Saudi Arabia or Iran," says Ulusoy. "But I

understand that non-Muslims have those images

in their head, as long as they only have the information

that the media presents them with."

"The reason I

choose to cover is

constantly

evolving. After 9/11

and high school, it

became an act of

defiance; I'll wear

it now precisely

because you don't

want me to."

Such associations have prompted headscarf

bans across Europe – including Germany. In 2005,

Berlin passed a neutrality law banning all religious

symbols for civil servants – the response to an

almost two-year debate sparked when German-

Afghan teacher Fereshta Ludin filed a federal

lawsuit against Stuttgart school authorities for

denying her a teaching post on the grounds of her

headscarf. Though ruling in Ludin's favour, the

Federal Constitutional Court framed the issue as

a state neutrality problem that could be rectified

if all religious expression was banned for public

servants. "Headscarves have no place on people

in service of the state, including teachers," former

chancellor Gerhard Schröder declared in 2003.

The resulting law allows German pupils to wear

headscarves, but forbids teachers from doing so

during working hours – a compromise between

the 'freedom-first' model of the US, the UK and

Scandinavia and the fully secular model in France

and Belgium where no religious signs are permitted

for teachers or pupils.

Yet 'neutrality' in principle doesn't guarantee

equality in practice. While seven other German

states followed Berlin's lead in banning public

school teachers from wearing headscarves,

five of them – Baden-Württemberg, Saarland,

Hesse, Bavaria, and North Rhine-Westphalia –

still allow Christian and Jewish clothing, such as

kippahs and nun's habits. The so-called neutral-

18 • DECEMBER 2014
---
ity law became referred to, even in Berlin, as

the "Kopftuchverbot".

Seyran Ates, a sceptical, self-described 'liberal

Muslim' and lawyer supports the move to separate

religion and state that Berlin's neutrality law

attempts. "If refraining from wearing a headscarf

is important for my career, I'd rather just not do

it than insist. Wearing a headscarf isn't a religious

imperative like believing in Allah." She describes

the act of wearing a headscarf more as "a symbol

of submission to men than to God."

Ates, who is of Kurdish descent, came to Wedding

from Istanbul as a six-year-old. Now 51, she

has never worn any type of headscarf and recalls

her mother parting with her own hijab soon

after arriving in Berlin: "Back then, most Turkish

women took off their headscarf because they had

come to Germany and wanted to work here."

Her criticisms of rising conservatism among

Germany's Muslim community have earned her

death threats and physical attacks. Her experiences

nonetheless do not steer her toward

oversimplifying: "There is a definite polarisation

in the Islamic world," Ates adds. "It is as plural

as the Christian and the Jewish ones. We have

to be clear about that." Yet, she casts doubt on

the nature of the 'free choice' involved in young

women's decision to cover their heads: "I doubt

they had the type of childhood that enabled

them to develop a free self-image. Can they

really say everything they did was voluntary and

that they live free, self-determined lives?"

Meanwhile, activist and author Emel Zeynelabidin

sees the Neutrality Law as a missed opportunity

to confront uncomfortable issues and

open a much needed public debate on the place

of Islam in the country.

The headscarf debate led Zeynelabidin on a

17- month journey experimenting with different

styles that fulfilled the requirement of covering

hair, ears and neck until she finally decided to

test what would happen if she didn't cover her

head… at all. "It felt stinknormal, as we say in German,"

Zeynelabidin laughs.

Born in Istanbul but living in Germany since

infancy, Zeynelabidin first covered her head on

the day of her first menstrual cycle, as tradition

posits. But in February 2005, after 30 years, the

54-year-old mother of six took off her hijab once

and for all. "My head no longer felt hemmed in.

It was free." Her decision led to social ostracisation

and rejection. A chairwoman of the Islamic

Women's Association for 10 years, Zeynelabidin

was an active member of Berlin's Muslim community

at the time. "You can't hide it, of course,

when someone who usually appears in public

with a headscarf suddenly no longer wears one.

They said to me, 'You're now one of them.' Or

ANNA AGLIARI

'Do you have no shame?' Breaking off contact

and refusing to talk to me was another reaction."

Yet, Zeynelabidin is critical of the neutrality

law as having "watered down the issues": "German

politics is turning away from a real debate, simply

saying 'We neutralise it by banning the symbol.'

But that's no debate! Avoiding confrontation is

widespread in Germany, and that is so dangerous!"

Another criticism is that the law is set to

backfire. Or that's what Gabriele Boos-Niazy,

chairwoman of the Women's Coalition for Action

(AmF), believes. Although allegedly inspired

by gender equality, it might just in fact condone

the same thing that its proponents critique the

custom of covering for: erasing women from

public life. "I mean, if they really think that's

the case, they should be striving to bring these

women into the workplace so that they earn

their own money, throw off their headscarves

with their newfound independence and stand on

their own two feet. But the fact that they aren't

being welcomed with open arms shows that isn't

what it's about at all." A hijab wearer herself who

converted to Islam 30 years ago after marrying

her Muslim husband, Boos-Niazy advises

affected women and the Federal Constitutional

Court on the law's repercussions.

And the law now seems to be seeping into the

private sector, as signalled in the courtroom this

year when four different Berlin judges refused to

hear private Muslim lawyers who covered their

hair. Another case at the Tiergarten Magistrates

Court in March saw a judge order a witness in a

wrongful parking case to remove her hijab because

he said he needed to see her ears to know whether

she was telling the truth. Boos-Niazy sees the

problem as linked to the judicial situation in Berlin,

which legitimises the rejection of the veiled

Muslim woman: "The fact that someone can even

think like that, reflected everywhere in the media

and in politics, gives people the impression that

you can simply and legally say, 'No, actually you

are qualified, but I don't want you because you

wear a headscarf.'" Of 700 companies surveyed by

Freiburg Pedagogy University in 2013, 35.1 percent

said they would not hire a woman who wore any

form of veiling. For her part, Ulusoy says she encounters

"great irritation" at job interviews when

potential employers see her hijab.

Far from resolving questions of sexism in Islam

or the issue of the marginalisation of Muslim

women in society, Germany's so-called 'neutrality

laws' sweep the debate under the carpet instead,

while giving potential employers an opportunity

to discriminate against both females and

Muslims in total legality – a danger in Germany's

current climate of growing anti-Islam sentiment.

So, what now? In March 2012, a young muslim

woman won a lawsuit against a Berlin dentist for

rejecting her application for a training post on

the grounds of her headscarf, and was awarded

three months pay as compensation. Germany's

Anti-Discrimination Authority described the

Berlin Labour Court's ruling as "a verdict which

sends a signal." Should secularism and women's

rights truly be the goal, and for the neutrality law

not to be reduced to that "Kopf tuchverbot" moniker,

reengagement with the debate is essential. n

19
---
PROFILE

Germany's gangsta jihadist

From anti-fascist Kreuzberg street fighter to anti-Touri rapper hungry for recognition,

Denis Cuspert – aka Deso Dogg, Abou Maleeq and Abu Talha al-Almani – has found in

ISIS the best vessel to express his rage... and he's famous, at last. By Robert Rigney

The first time I met Denis Cuspert, the

half-German, half-Ghanaian rapper

then known as Deso Dogg, was in 2010.

No one would have guessed the turn his

life would take over the next four years: radical

jihadist in Syria, fighter and propagandist for

ISIS, and Germany's most famous and most

wanted Islamist.

I was researching a story about the 36 Boys, a

notorious Kreuzberg street gang from the late

1980s and 1990s. They fought turf battles in

and around Kreuzberg 36, rapped, breakdanced,

sprayed graffiti murals and attacked skinheads

and neo-Nazis. Among the group's members

were Killa Hakan, who spent time in jail for the

armed robbery of a jeweller's shop in Kreuzberg

and later went on to become a famous Turkish

rapper; Neco Celik, the intellectual of the gang,

now a successful filmmaker dubbed "the Spike

Lee of Kreuzberg"; and Tim Raue, the only

German in the gang, now a star chef. And then

there was Deso Dogg.

The gang had dissolved by 2005, but in 2007,

some of its former members revived the old

name as a fashion brand for a line of streetwear

sold out of a shop in an alleyway at Kotti. The

shop, which sold cappies and hoodies and letterman

jackets, was the hangout of boxers, actors,

hip-hoppers, breakdancers and graffiti artists.

They called it an "Anlaufstelle": a shelter and a

contact point. When kids had problems, they

went there for advice. If they couldn't make it

any more, they got help there.

It was here that I met Deso Dogg. I was talking

to the owner, Sinan Tosun, about hip hop and

the 36 Boys' early days, when Cuspert spoke up.

"Hip hop is war." He was a 35-year-old man

with neck and arms covered with tattoos, a

prison tear under his right eye, and the body of

someone who spent his days pumping iron and

kickboxing.

Later, I got to know Deso Dogg somewhat

better. We went for tea and simits at a Turkish

cafe across the street, where Cuspert greeted his

Muslim brothers with a broad "salam alaikum",

and told me a bit about his life and trials, growing

up in Kreuzberg around Kottbusser Tor and later

Charlottenburg with a stepfather who was an

American soldier, his first brush with the police

at 11, and then joining the 36 Boys in his teens,

inspired by the LA gangs Crips and Bloods, the

movie Colors and the rap music of Dr. Dre.

As a teen, he used to rabble-rouse with

American GIs. When the Wall fell, he fought

running battles with skinheads in East Berlin.

Every first of May, he and his gang teamed up

with anti-fascists, marched together, threw

"Mollis" and fought the police.

Cuspert then took up rap music, establishing

himself as the "Black Angel" and a hero to

Kreuzberg's immigrant youth. He released three

albums: Schwarzer Engel (2006), Geeni'z in collaboration

with Jasha (2008) and Alle Augen auf

mich (2009). In 2008 he appeared in an episode

of the television series Der Bluff, playing a student

who turns gangster rapper.

When I spoke to Cuspert in 2010 he appeared

to be just another Kreuzberg hoodie, a

Muslim who knew little about religion, amiable

His songs started to

take on a radical hue.

"Armed with bombs

and grenades," he

rapped. "Right in the

centre I press the

button."

enough, but relishing the gangster pose.

"I swear to you, I had a pump gun," said

Cuspert. "I went to sleep with that pump gun

beside my bed. And I always held my 36 high. I

always fought for 36. I bled for 36. I was stabbed

for 36. I had 36 tattooed on my back. For me,

Kreuzberg is a part of my life."

Cuspert's hostility then was reserved for tourists

and hipsters, the new arrivals, who in Cuspert's

opinion didn't know shit, and were trying

to bask in the Kreuzberg myth while pushing up

rents. "The people from the outside, they come

to Kreuzberg and they think, 'Oh, Kreuzberg.

Nice. Multikulti, ah. I'm also a Kreuzberger.' No!

You're a Kreuzberger if you were born here. If

you grew up here. If you fought here."

Soon after this, Cuspert dropped out of sight.

He began to show his face less and less around

Kotti and was rumoured to be taking Quran

classes at the 'Salafist' Al-Nur mosque in Neukölln.

He posted a video of his official conversion

to Islam – although he'd told me he was a

Muslim by birth.

His songs started to take on a radical hue.

"Armed with bombs and grenades," he rapped,

"Right in the centre I press the button."

Ultimately, he turned his back on music.

He grew a beard, started to clothe himself in

Islamic garb, changed his name to Abou Maleeq

and began issuing videos featuring teary and

emotional denunciations of hip hop as haram,

the devil's work, while at the same time issuing

calls for jihad in Germany.

In 2011 I picked up a story about a young Albanian

Muslim who shot two American soldiers

dead at the airport in Frankfurt. It said that the

Albanian, a German citizen born in Kosovo,

had been inspired and radicalised by the music

and video proclamations of Cuspert, who earlier

that year had been charged with illegal possession

of weapons after he appeared in a Youtube

video brandishing arms: 16 nine-millimetre

and .22 cartridges were found at his home. In

August 2011, he was fined €1800.

Cuspert's ex-36 Boys friends were speechless.

"Who knows what happened to him," Sinan

Tosun told me from behind the counter of the

36 Boys shop in May of that year. "He's gone

underground. Stopped rap music. A lot of people

come up to me and they ask me, 'What's up

with Deso? Has he been brainwashed?' I don't

know. And the kids as well, they ask, 'Why has

Deso stopped making rap music?' I'm a Muslim

as well, but I don't believe that music is evil.

It's a good thing. You have to use the talents

that God gave you... Now no one wants to have

anything to do with him. They don't want to

call him up because they know that his phone is

being tapped by the police."

Cuspert became ever more radical, joining

the German Salafist organisation Millatu

Ibrahim, giving talks in mosques in support of

the growing mujahideen forces in Afghanistan,

Iraq, Somalia and Chechnya, and issuing videos

where he called for armed jihad, threatening to

bring the war home to Germany.

"To Merkel, Minster of the Interior and Foreign

Minister," he announced. "You are waging

jihad in our countries, and we will bring jihad

to your countries. You are not safe. You will no

longer be able to live in safety. And that's why

this country, the Federal Republic of Germany,

is a war zone."

COLLAGE OF IMAGES FROM A YOUTUBE VIDEO BY GLOBAL ISLAMIC MEDIA FRONT

20 • DECEMBER 2014
---
One day I caught sight of him on the U8 heading

to Wedding. He had a beard and was dressed

in a Muslim salwar under a camo jacket. I got up

and went after him, but lost him in the crowd.

A year later, I was in Istanbul when I heard

that Cuspert, after the banning of Millatu

Ibrahim in Germany, had made good on his

promise of jihad. He travelled to Tunisia,

Egypt, Libya and thence to Syria, where the

39-year-old, now calling himself Abu Talha

al-Almani ("the German Abu Talha") swore an

oath of allegiance to ISIS. In widely circulated

Youtube videos, he issued vitriolic messages

from the front lines about how Obama and the

US would pay and pay, while glorifying the role

of ISIS and proselytising for young Muslim

youth to come to Syria and fight.

In April 2014, he was reported to have been

killed in a suicide bombing carried out by rival

jihadist group al-Nusra Front. Reports of his

death turned out to be premature. By his own

admission, he was treated in a Turkish hospital

for a coma. Strengthened in his martyr role, in

the following months he was said to have been

found in northern Syria in contact with senior

ideologues and commanders of ISIS.

Germany's domestic security agency issued

warnings about him: As one of the organisation's

top recruiters, they said, "Cuspert has direct access

to the upper echelons of ISIS." And should

Cuspert choose to return to Germany, his threat

to security would be serious.

In November, Cuspert appeared, very much

alive and well, in a two-minute ISIS massexecution

video. Picking up a severed head,

he states that the dead men fought against the

Islamic State and "that's why they received the

death penalty."

What happened to Deso Dogg? "He fell in

with the wrong people," concludes Abubakir

Saadaoui, who does dawa (missionary) work

at Dar Assalam mosque, a moderate Arabic

mosque on Flughafenstraße which pulls in hundreds

of Neukölln Arabic Muslims for prayers

every Friday. Cuspert used to come by the

mosque for prayers, or to participate in Gaza

solidarity rallies, before he went underground.

When I talked to him, Saadaoui questioned

the German authorities' slow response to the

rapper's radicalisation. "He clearly stated that

Germany was jihad territory as early as 2012.

The question is: why wasn't Deso Dogg arrested?

Why was he allowed to fly to Syria? It's

certain that he departed from Tegel or Schönefeld.

In my opinion, Deso Dogg should have

been immediately arrested."

Abdul Adhim Kamouss of Neukölln's Al-Nur

mosque knew Cuspert, and this is something

that the media was quick to hold against him.

In September, when he appeared on Günther

Jauch's prime time talkshow, it was suggested he

had helped to radicalise the former rapper.

Kamouss says Cuspert was just one among

the three or four hundred young people who

came to the mosque to talk about religion. "He

was already considering giving up rap music as

haram. I told him to continue doing it, but with

a good message."

But Kamouss didn't really worry about Cuspert

till a friend called him up drawing attention

to a song he had written in praise of jihad. "I

tried to enlighten him. He was taking verses

from the hadiths out of context, projecting them

incorrectly on our time without knowing the

intention, reducing them to something not so

good. I said, 'Watch out! Islam is about knowledge.

It's not about emotions.'"

Cuspert made light of Kamouss' concerns and

told him not to worry. A month passed, and Cuspert

was at it again. "Again I schooled him. And

after this second call, he changed his number.

And then he started in earnest to radicalise himself.

Where he showed up at the demonstration

in Bonn against caricatures of Muhammad, and

fought and yelled and made videos."

Ultimately, Kamouss says that Cuspert took

the turn he did because of his innate aggression.

"I think it's the result of the nature of the person,

when it all comes down to it. It doesn't have

anything to do with Islam. There are people who

are predisposed to be aggressive... He was a guy

who always wanted new challenges. I said, 'Calm

down. Religion is about learning. And you have

to learn first.' But then he got to know other

people in western Germany, North Rhine-Westphalia

and the like... and when he got to know

these people, he was – peng, gone." n

21
---
ARTICLE REPORT TAG

The Kurdish resistance

Eager to avenge their brethren, Berlin's Kurds are waging their own war against ISIS:

both in the Middle East and at home. By Caspar Schliephack

At a protest in front of the Brandenburg

Gate on October 6, members of Berlin's

Kurdish community chanted: "A

tree, a rope, a Salafi neck!" Referring

to their opponents variously as "Salafists", "Wahabis"

or "agents of the Turkish government",

protesters used slogans such as "Salafists are

fascists" or "Wahabis are no Sunnis". The conflict

between Kurds and Islamist supporters of ISIS

has long spread to diaspora communities around

the world. With its large Kurdish population,

Berlin has not been spared from the tensions.

Through Kurdish satellite channels, Facebook

and Twitter, Kurds in Berlin have followed their

Middle Eastern counterparts' involvement in the

war on ISIS with increasing frustration. Nearly

all consider themselves to be connected to the

conflict in one way or another. With August's

attack on the Kurdish city of Shingal, Iraq

and September's news of the siege of Kobani,

tensions reached a boiling point. "Turkey will

explode if Kobani falls into ISIS hands," seethes

one Kurdish Berliner.

When Germans speak about Kreuzberg,

Neukölln and Wedding, they often refer to "little

Istanbul". But in fact, approximately 110,000

Berliners – nearly half of the so-called "Turkish

community" – belong to this ethnic minority

from eastern Turkey, northern Iraq, Syria and

northwestern Iran. A total of 500,000 Kurds live

in the whole of Germany. Though they share a

common religion, Sunni Islam, with Turks, the

Kurds have been subject to decades of repression

from the Turkish government – and now

find themselves the target of ISIS persecution

in Iraq and Syria. As they've done for years, they

are fighting back.

Since 1978, the Kurds have had their own

army in the form of the PKK (Kurdistan Workers'

Party), a secular, militant communist organisation

originally formed by a group of students

led by Abdullah Öcalan, who is now serving a

life sentence in Turkish prison. Mostly relying

on guerrilla warfare, they and affiliated groups

in Iran, Iraq and Syria engaged in brutal clashes

with Turkish armies, as well as fellow Kurds in

the Islamist organisation Kurdish Hezbollah, resulting

in horrific consequences for the Kurdish

civilian population. An estimated 45,000 people

were killed between the PKK's first battle in

1984 and their agreement to withdraw their

forces in 2013.

Now the PKK has emerged as radical Islam's

staunchest enemy, carrying out rescue operations

in Shingal and Kobani in the face of inaction

from the Turkish government.

As in Turkey, the PKK is considered a terrorist

organisation in Europe, and has been banned

in Germany since 1993 due to violence, illegal

recruiting and fundraising by German members.

Nevertheless, it has stayed active here through

a network of different PKK-affiliated groups.

In 2013, Germany's internal security agency, the

Verfassungsschutz, estimated there were 13,000

core PKK members in Germany, most of them

based in Berlin.

Azad (name changed) is a 23-year-old bricklayer

from Berlin. Although an active member

of a PKK-affiliated youth organisation, he calls

himslef as "a normal citizen who carries the

ideology of the PKK and its leader Öcalan."

Yet, not a "real member" "If I were, I would be

on the mountains in Turkey." According to him,

"Nobody knows the real PKK leaders in Berlin.

Sometimes cadres from Turkey or other places

in Europe come to check whether the Kurdish

organisations follow their rules."

In past years, most of these groups have

concentrated on cultural activities or organised

peaceful protests in order to raise awareness

of Kurdish resistance and press for the annulment

of PKK's status as a terrorist organisation.

However, tensions between PKK members and

young Turkish nationalists, or "Grey Wolves",

have been known to turn violent. The PKK

attacked Turkish consulates, banks and alleged

supporters of right-wing Turkish parties, and at

Kurdish rallies its supporters violently clashed

with opposing Turkish youth. In 2007, Turkish

protesters went so far as to attack the Kurdish

Ibrahim Halil mosque in Kreuzberg, thinking it

to be a PKK support base even though the PKK

is famously leftist and secular.

Recently, though, most Kurdish protests

in Berlin have been held in solidarity for the

besieged Kurdish regions in Iraq and Syria – both

to raise Germans' awareness of the situation, and

to distance themselves from the acts being carried

out in the name of their religion.

22 • DECEMBER 2014
---
PKK-affiliated groups have mobilised tens

of thousands of Kurds for their protests across

Germany, gaining significant media coverage.

They have received increasing organisational

and political support from German leftists.

Speaking in the Bundestag, prominent MPs like

Gregor Gysi of Die Linke and Green leader Cem

Özemir have called for a lift of the ban on the

PKK. There have even been voices in the CDU

and SPD questioning the ban, despite the PKK's

criminal money-raising activities in Germany,

suspected to include drug dealing, prostitution

and the collection of 'protection money' from

shops and restaurants.

Meanwhile, as its profile rises, the PKK has

found more and more Kurds willing to join their

cause in Syria – contrary to the media's obsession

with jihadist recruits, here is a group of

European Muslims making the trip to wage war

against, not with ISIS. Kurdish organisations estimate

the number of Kurdish PKK volunteers

who went from Germany to Syria to be around

50 so far. But due to a well-established underground

network throughout Europe that has

provided the PKK with money and volunteer

fighters for decades, the actual number is likely

to be much higher.

Asked whether the PKK is in fact recruiting

Kurdish youth through Kurdish organisations,

Azad says, "They'd be shut down if they did.

We don't recruit fighters. Our job is to raise our

voices against oppression and to show people

that the PKK is no terror organisation like

'Islamic State'." At the same time, he says, "If

somebody really wants to join, he will get there.

I don't know the exact procedure. Even among

supporters, these structures are secretive."

He himself does what he can to support the

anti-ISIS cause. "A wounded female Kurdish

fighter came to my family in Berlin a few days

ago and we treated her. The moment she was

ready, she returned to the battlefield in Kobani."

In early October, the Syrian conflict played

out on German soil. In the sleepy northern town

of Celle, street fighting between Yazidi Kurds

and Muslim Chechens had to be contained by

riot police. In Hamburg, hundreds of Kurdish

"We, the Kurdish youth,

are ready to defend our

nation in Berlin, whenever

necessary. We are

on constant alert."

PKK supporters protested against ISIS, fought

with Muslim radicals and clashed with the

police. The Ver fassungsschutz warned that these

tensions could escalate further.

"I don't think there will be similar clashes in

Berlin," says Azad. "Yes, there are people who are

traumatised by what's happening to the Kurds in

Shingal and Kobani. But our goal is not fighting

Salafists or Islam. If we wanted to attack

Salafists, we would have. What happened in

Hamburg and Celle was self-defence."

Asked about any possible PKK directive on

how to deal with ISIS supporters in Germany,

he says: "No, there are no orders from PKK in

Turkey. But we find out very quickly if someone

in Germany wants to attack Kurds. And we are

prepared in case it happens. We can defend ourselves.

The Kurdish youth here are not trained to

fight, in contrast to the Kurdish youth in Turkey.

But we are ready to defend our nation in Berlin,

whenever necessary."

A recent incident shows how tense the situation

between PKK-affiliated groups and alleged

ISIS supporters in Berlin actually is and how

serious the Kurds take the issue of self-defence

against possible Islamist aggression. "There was

a dangerous situation on October 10. Kurds

demonstrated in Düsseldorf in solidarity for

Kobani. As their buses returned to Berlin, we

were warned that a group of Salafists were planning

an attack on those buses in Wedding. We

immediately went to the place and monitored

the surroundings. We even went to a nearby

Salafist café, so that they would see us. Only after

we gave our OK did the buses come. We are on

constant alert." n

Berliner Festspiele

Martin-Gropius-

Bau

Ulfberht-Schwert, 10. Jh. n. Chr.

© Staatliche Museen zu Berlin, Museum

für Vor- und Frühgeschichte /

Claudia Plamp

10 September 2014 –

4 January 2015

The Vikings

Organizer: Museum für Vor- und Frühgeschichte –

Staatliche Museen zu Berlin

Mamma Roma, Pier Paolo Pasolini,

1962. © All rights reserved

11 September 2014 –

5 January 2015

Pasolini Roma

5 December 2014 –

6 April 2015

W. Krinski: Experimentell-methodische

Studienarbeit zum Thema

"Farbe und räumliche Komposition",

1921 © Staatliches Schtschussew

Museum für Architektur Moskau

VKhUTEMAS

A Russian

Laboratory of Modernity.

Architecture designs

1920 – 1930

VIDEO SCREENGRABS FROM USER LUKPAU2, YOUTUBE

Niederkirchnerstraße 7, 10963 Berlin

Tel. +49 30 254 86 0

Wed – Mon 10am – 7pm, closed Tue

open on public holidays,

closed on 24.12. and 31.12.2014

online-tickets: www.gropiusbau.de

23
---
ALTERNATIVE ISLAM

Hippy

Muslims

Away from screaming headlines

about jihad and Syria, in private

apartments and hidden-away

mosques, some other German

Muslims are peacefully living

out their faith in Berlin: the

Sufis. By Robert Rigney

ANNA AGLIARDI

They gather at a ground-floor apartment on Wissmannstraße in

Neukölln: Muslims and non-Muslims, Turks and Germans, people

from around the world and all walks of life. The atmosphere is

cosy and intimate as they sit on Oriental rugs and cushions, sip

black tea, talk and listen to their sheikh, speak in parables and allegories

about the spiritual search.

It feels more like one of Berlin's ubiquitous Hare Krishna meet-ups than

a prayer session at a conventional mosque. But this, too, is Islam: Sufism,

the mystical branch that seeks to attain an awareness of God through

emotion rather than strict adherence to outward laws. Sufis bring in an

added aesthetic dimension to their worship – approaching God using music,

chanting (dhikr) and the trance-engendering 'whirling dervish' dance.

The main meeting point for Sufis in Berlin, Neukölln's Sufi Zentrum is

what's known as a dergah: both a mosque and a place of philosophical and

spiritual exchange. One of the things that sets it apart from a traditional

mosque is the relatively free gender intermingling. Men and women

sit together, and there are few headscarves in the gathering. Some are

traditional Muslims who have lapsed and then rediscovered the religion

of their birth, while others are delvers in the esoteric who may know each

other from a Krishna circle elsewhere, or may have been reading up on the

Kaballah before coming.

Abdul Cemal, who declines to give his Christian name for fear of a backlash

from his employer, is a German Muslim and Sufi of 10 years standing.

A self-described ex-"techno punk", he appeared at the dergah for the first

time with bright red hair and piercings, upon the recommendation of his

girlfriend. He was at the end of his tether, so to speak.

"I was fed up with my whole life in Berlin," he recalls. "And then I came

across a flyer from the Sufi Zentrum. 'If you've reached a dead end and you

no longer know how to proceed, then pay us a visit.' That was the message.

My girlfriend said she had been there once before, and that if I went I

would find an answer to all of my questions."

He showed up at the dergah's old address in a private apartment in

Prinzenstraße, Kreuzberg. Back then, it was all Turks. Upon arrival he

caught a glimpse of the sheikh, sitting there with his turban, traditional Sufi

dress and cane. His first thought, he says, was, "Oh shit, I've fell in with the

Muslims and the next thing I know they'll be strapping a bomb to me."

Now, he is Hausmeister at the Neukölln dergah, a position he's held for

four years. Over his past decade as a Sufi, he has seen people come and go

and come and stay and become Muslims.

"Generally speaking, I can say that every person who goes there

comes out a nicer person. I've made a number of very close friendships

with brothers and sisters that developed over the years. Or there are those

who come like comets every two years and then disappear again. But

as a rule, everyone who passes through is changed in a positive way.

Because everyone who has a question laying heavily on his breast finds

an answer to his question."

What the brothers and sisters of the Sufi Zentrum have in common

is that they have come to seek spiritual guidance from Sheikh Esref

Efendi, the presiding spiritual leader of the dergah. Following a sheikh

is one of the hallmarks of Sufism: a student becomes a Sufi by seeking

out one such guru, who has to have received the authorisation to

teach (ijazah) from another grand master (in Efendi's case, the recently

deceased Sheikh Nazim al-Haqqani from Cyprus) in an unbroken succession,

known as the "golden chain".

Members describe the sheikh as a "father", a master, a teacher. "He

has dedicated himself to a life of dignity in order to serve Allah, to help

people," says Medina, a 27-year-old convert who wears the hijab. "Not to

turn them into Muslims. But rather to help them in spiritual problems,

in normal everyday problems, whether that be in married life or with

regards to psychological issues. But of course, in the name of Allah and

with Sufi methods, Islamic methods."

Efendi's devoted circle of followers has been with him for over 10 years,

distinguished both in the dergah and on the streets of Berlin by their distinctive

headgear: a turned around flat cap worn over a Muslim skullcap.

"Because we try to imitate our sheikh, we also copy his fashion,"

says Abdul Cemal. "And this, interestingly, has given rise to a feeling

of belonging to a group, and that lends security, and in the time being

it has become a trademark in Kreuzberg and Neukölln. When you see

someone wearing this cap that way, then you know he is one of us. Many

recognise us. Sometimes complete strangers greet us on the street with

'salam alaikum' and 'give my regards to the sheikh'. People whom I don't

know, but he knows."

Sufis must still adhere to the five pillars of Islam: declaring there is

no god except God and that Muhammad is God's messenger (shahada),

ritual prayer five times a day (salat), giving 2.5 percent of one's savings

to the poor and needy (zakat), fasting and self-control during the holy

month of Ramadan (sawm), and a pilgrimage to Mecca at least once in

a lifetime (hajj). But Sufism's humanistic, non-dogmatic approach and

colourful, often cathartic rituals make it the most accessible form of the

religion for many Westerners.

Tanya is an ex-Catholic German convert and regular at the Sufi

Zentrum, who wears the hijab "80 percent of the time". She says she

identifies herself as a Sufi, rather than as a Muslim per se.

24 • DECEMBER 2014
---
"I never

wanted the

normal ones. I

prayed to God

to send me the

crazy ones, the

abnormal, and

that is what he

has done."

DEUTSCH.

SOWIESO!

"I never introduce myself as a Muslim. Rather, I say that I am a

Sufi. I'm already so often pigeonholed because I wear the hijab. I

don't want to be associated with that which most people understand

by the word 'Muslim'."

The same characteristics that endear Sufism to the West have also

made Sufis the target of hostility and violence from more extremist

Muslim groups. In Iran, Egypt and Pakistan, militant Islamists have

attacked Sufi mosques and shrines, feeling that Sufi practices are

heretical in their adoration of sheikhs and their use of chanting and

music, which they see as bid'ah or impure, and shirk, polytheistic.

Distancing himself from extremist brothers who are entirely

dismissive of Sufism, conservative Berlin imam Abdul Adhim

Kamouss, a one-time teacher at Neukölln's Al-Nur mosque, says,

"I am against people saying, 'Sufism? Ach, get rid of it!'." However:

"There are those who transgress upon the fundamentals of the religion,

making a saint out of their sheikh – they say only through the

sheikh will you achieve paradise, that the sheikh is infallible. And

they go to the graves of the great sheikhs, touching the gravestone

and thinking that they receive blessings from it. That goes in the

direction of Christianity, of what they did with Jesus."

Back at the Sufi Zentrum on Wissmannstraße, while the sheikh talks

with his cohorts, a young German slightly the worse for drink rests

against the open window on the street outside and rambles on drunkenly

and philosophically, half to himself, half to the Sufis within.

Suddenly the sheikh breaks off his musings and invites the kid

in. Surprisingly, he accepts the invitation, kisses the sheikh's hand

and sits down and waxes philosophical about his various twists and

turns of fate, till one of his friends comes in and drags him away.

It's an encounter that would be inconceivable anywhere else, at any

other mosque.

Later the sheikh says, "I never wanted the normal ones. I prayed

to God to send me the crazy ones, the abnormal, and that is what

he has done."

"And that is precisely the point!" says Abdul Cemal. "I was

exactly like that kid. You're not sent away. Although this man was

drunk. Although he was a punk. Spiritually, it says over our door,

'Come, whoever you are'. The quote is from [13th-century Sufi

mystic] Rumi. And this saying is put into practice with us. In the

10 years I have been there, there hasn't been a case of someone

being refused entry." n

goethe.de/berlin

Sprache. Kultur. Deutschland.

25
---
What's on

CALENDAR

December 2014

1

Brittani Sonnenberg

THEATRE MONDAY, DEC 1 With

a reading from her novel Home

Leave, the self-labelled "third

culture kid" addresses the

shapeshifting nature of identity

and the concept of

'home' in a footloose life.

English Theatre Berlin.

Starts 20:00.

Dec 3:

Waffenlounge

at the HAU

Bryan Adams

3

MUSIC WEDNESDAY, DEC 3

Germany is more about '68

than the summer of '69. But

Adams still has his stakes

here. Catch him touring

new album Tracks of My

Years. O2 World. Starts

20:00. (see page 37)

Berlin Music Week

MUSIC WEDNESDAY, SEP 3 Music

is an industry, too. Aside

from the 100 artists drawn

to the city, there'll be a conference

with 2000 industry

suits from 30 countries hanging

around to find the next big

thing. Through Sep 7. Various

venues.

Giselle, Dec 11

4

Berlin Art Film Festival

ART FILM THURSDAY, DEC 4

A brand new film fest focusing

on the edgier side of Berlin-centric

films, with 32 selections

from the poetic to the

pornographic. Through Dec 7.

With English subs. FSK. Starts

19:30. (see page 32)

THEATRE SUNDAY, DEC 7 The

last chance to catch Daniel

Sauermilch's Woody Allenesque

political play, plus readings

from Native American

activist Leonard Peltier. In English.

From Dec 5. Theaterforum

Kreuzberg. Starts 20:00. (see

page 34)

Afghan Love

15

Wir Zöpfe

THEATRE MONDAY, DEC 15

Jews, Christians, Muslims and

just about every identity possible

make for a truly Berlin

Christmas in Marianna Salzmann's

holiday-themed play.

With English surtitles. Maxim

Gorki. Starts 19:30

13 Years Klaus

Wowereit

8

EXHIBITION MONDAY, DEC 8

Lame duck mayor Wowi is officially

leaving us on Dec 11.

He'll have one last moment in

the spotlight at the opening of

the Schwules Museum's Und

das war auch gut so. Through

March 31. Starts 17:30.

Berlin Art Week

ART TUESDAY, SEP 16 Although

alt-fave Preview has dissolved,

Berlin's abuzz with art through

16

three fairs: ABC, Preview successor

Positions and unofficial

affiliate Liste. The city-wide

hobnobbing goes on through

Sep 21. (see page XX)

EXBlicks: Out in East Berlin, Dec 16

Giselle

BALLET THURSDAY, DEC 11

Berlin's prima ballerina, Polina

Semionova, returns to the

11

Staatsballet in the tragically

romantic tale of dancing to

death – and beyond – choreographed

by Patrice Bart. Also

Dec 12. Staatsoper Theatre.

Starts 19:30.

EXBlicks: Out in

East Berlin

FILM TUESDAY, DEC 16 Gay life

behind the iron curtain wasn't

16

always rosy, despite decriminalisation.

Jochen Hick examines

the life of Ossi homosexuals.

With English subs and followed

by a Q&A. Lichtblick Kino.

Starts 20:30. (see page 33)

12

sixth album on tour. United

MIA.

Dec 16-24:

Hannukah at the

Brandenburg

Gate

MUSIC FRIDAY, DEC 12 After

several years of silence, Mieze

Katz and her boys take their

States of Ich&Du adds sounds

from their 1990s punk beginnings

to a fully electronic

dance pit. C-Halle.

Starts 19:00.

17

Morr Music

Christmas Special

MUSIC WEDNESDAY, DEC 17

With Fenster, Slow Steve, Aloa

Input and the Morr Music

DJs, expect a mix of mantra

pop, trippy visuals, and future

sounds from the cult Berlin indie

label. Hans Otto Theater

Potsdam. Starts 20:00.

My perfect Berlin weekend

Thirty-seven-year-old

Moroccan-born ABDUL

ADHIM KAMOUSS (see

page 8) is Berlin's most

high-profile imam, appearing

on TV, Facebook

and Youtube as

the progressive face of

conservative Islam.

FRIDAY 10:00 Drink tea

and read Quran passages

to my infant

son. 12:00 In my best

clothes, I go to Bilal

mosque (Drontheimer

Str. 16, Wedding) and

hold sermon. 14:00

Cosy lunch with my wife.

18:00 Weekly lessons,

climbing "The Steps of

the Striving" with my

pupils. 20:00 Friends

come over for dinner; we

talk long into the night.

SATURDAY 10:00 Breakfast

with the family.

12:00 We explore the

canals of Neu-Venedig

by canoe (Köpenick).

14:00 Picnic, ice cream

and jokes. 18:00 We

meet the Fischer und

seine Frau in the yurt at

Figurentheater Grashüpfer

(Puschkinallee 16a,

Treptow). 20:00 Dinner

at Salsabil Restaurant

(Wörther Str. 16,

Prenzlauer Berg). 22:00

I read Moroccan fairytales

to my children.

SUNDAY 9:00 A round

of jogging in Schillerpark

(Wedding). 12:00 With

the help of books and

Youtube, I immerse myself

in history and travel.

19:00 A young German

has questions

about Islam, so I meet

with him at Zam Zam

Restaurant (Hauptstr.

15, Schöneberg). 22:00

My wife and I ring out

the day with the Hörspiel

"Nathan der Weise".

ANNA AGLIARDI

20

Dance before Christmas

DANCE SATURDAY, DEC 20

Explore every dimension of

contemporary dance in performances

spanning cultures

and generations. Add your own

moves at the nightly jam sessions.

Dec 16-21. Acker Stadt

Palast. 20:00. (see page 36)

27

Situation Rooms

THEATRE SATURDAY, DEC 27

Perk up from your Christmas

comedown with some actionpacked

interactive theatre/cinema,

as you find yourself besieged

by chaos in places like

the White House Situation

Room. Through Jan 11. HAU2.

Starts 17:00. (see page 34)

23

Funk style costumes and emit

Goat

MUSIC TUESDAY, SEP 23 The

psychedelic-experimental-fusion

band from Sweden don P-

eccentric live voodoo vibes

that would make even the likes

of James Brown proud. Postbahnhof.

Starts 20:00.

Aloa Input, Morr Music Christmas, Dec 17

28

The Little Foxes

THEATRE SUNDAY, DEC 28 Catch

the story of Regina, a banker's

wife who longs for independence,

and her moneygrubbing

brothers as they plot

against each other in Thomas

Ostermeier's latest. With

English surtitles. Schaubühne.

Starts 20:00.

ELA GRIESHABER

26 • DECEMBER 2014
---
Flashback, Dec 13

5

13

Flashback

ART SATURDAY, DEC 13 Javier

Ramirex, whose multimedia art

is best in tandem with Berlin

techno, showcases new international

artists in the unused

portion of Pankow's Bürgeramt.

Through Jan 10. Galerie Marzia

Frozen. Starts 14:00.

VKhUTEMAS

5

ART DESIGN FRIDAY, DEC 5 The

"Russian Bauhaus" of

the 1920s gets a survey

through sketches,

paintings and

more. Through April 6.

Martin-Gropius-Bau.

Starts 10:00.

Waiting for Godot

THEATRE SUNDAY, DEC 14 Samuel

Beckett's famously absurdist

play returns to the

14

stage. Nearly 60 years later,

there's still lots to glean

from absolutely nothing. With

English surtitles. Also Dec

21. Deutsches Theater. Starts

19:00.

Dec 6:

Porn This Way

preview night at

Schwules

Museum

6

British Film Night

FILM SATURDAY, DEC 6 The

Around the World in 14 Films

festival (Nov 28-Dec 7)

screens Jonathan Glazer's

Under the Skin and the

German premiere of Joanna

Hogg's Exhibition.

Babylon Mitte. Starts

19:45. (see page 32)

14

December Programme

5.–7.12. / HAU2 DANCE

Kat Válastur

Ah! Oh! – A Contemporary

Ritual / Premiere

11.–14.12. / HAU3 THEATRE /MUSIC

Damian

Rebgetz

The Hooks / Premiere / English

19.+20.12. / HAU3 THEATRE

Showcase Beat

Le Mot

Nazisupermenschen sind

euch allen überlegen

Die lange Nacht der Nazisupermenschen / German

19

Lucia Christmas Market, Dec 22

21

Hungarian Contemporary

Dance Festival

DANCE SUNDAY, DEC 21 With

the theme of border crossing,

the festival transgresses genre

boundaries. The final night sees

Krisztián Gergye's Auction in

which dance, theatre and

art collide. Dock 11.

Starts 16:00.

30

presents a whimsical evening

Friends of Amarillis

MUSIC TUESDAY, DEC 30 The

perfect way to chill out before

Sylvester, a baroque trio

of musical theatre, promising

wordless surprises full of

passion and seduction. Also

Dec 31. Radialsystem V.

Starts 20:00.

Dec 21:

Green

Christmas

Market at

Glashaus!

18

at the Jewish music festival's

Louis Lewandowski

Festival

MUSIC THURSDAY, DEC 18 Boston's

Zamir Chorale performs

pre-opening. This year features

Jewish-German composers

who fled to the US during the

Nazi regime. Through Dec 21.

St. Lukas Kirche. Starts 18:00.

22

and Glashaus) finish on the

Goodbye, Christmas

(markets)

FESTIVAL MONDAY, DEC 22 Two

favourites (at Domäne Dahlem

21st, so calm holiday nerves at

the last day of Scandinavianthemed

Lucia market (Dec

22) or Prinzessinnengarten's

Wintermarkt (Dec 23).

31

2km of celebrations including

New Year's Eve

at Brandenburg Gate

CITY FEST WEDNESDAY, DEC 31

Welcome in the New Year with

party tents, laser shows, music

from the Pet Shop Boys and

Bonnie Tyler, and of course,

fireworks! Brandenburg Gate/

Victory Column. Starts 14:00.

Expatriarch Generations #4, Dec 19

19

Expatriarch

Generations #4

MUSIC FRIDAY, DEC 19 The

fourth and final edition of Expatriarch

sees Gudrun Gut taking

DJ/producer Borusiade under

her wing for a shared gig

celebrating queer creativity.

Schwuz. Starts 23:00.

25

Die Zauberflöte

OPERA THURSDAY, DEC 25

Looking for something classy

on Christmas Day? The

Staatsoper always delivers!

Mozart's Magic Flute leads you

in a battle against the Queen

of the Night. Staatsoper im

Schiller Theater. Starts 15:00

and 19:00.

Die Zauberflöte, Dec 25

31

29.12. / HAU1 CONCERT

To Rococo Rot /

The Pastels

3.12.2014–11.1.2015 /

HAU1, HAU2, HAU3

Waffenlounge /

Weapons Lounge

Performances, installations, films and talks

by and with andcompany&Co., Josh Begley,

Ellen Blumenstein, Christine Cynn, Cie.

Random Scream & Davis Freemann, Harun

Farocki, John Goetz, Derek Gregory, HGB

Leipzig, KW Institute for Contemporary Art,

Rabih Mroué, Herfried Münkler, Volker Pantenburg,

Jon Rafman, schroederlevyrauch,

Franziska Seeberg, Hans-Christian Ströbele,

Daniel Tyradellis, Ulrike Winkelmann and

many more

3.+4.12., 8.–10.12., 13.+14.12.,

16.+17.12., 19.+20.12. / HAU1 THEATRE

Hans-Werner

Kroesinger

Exporting War / Premiere / German

Part of "Waffenlounge / Weapons Lounge"

14.–23.12., 27.–30.12.2014,

2.–11.1.2015 / HAU2 THEATRE / INSTALLATION

Rimini Protokoll

Situation Rooms / English or German

Part of "Waffenlounge / Weapons Lounge"

27

• www.hebbel-am-ufer.de
---
What's on

FILM

STARTS NOV 27

La última película

D: Raya Martin, Mark Persanson

(Mexico, Canada,

Denmark, Philippines

2013) with Alex Ross

Perry, Gabino Rodríguez,

Iazua Larios ◆◆◆ In

an homage to Dennis

Hopper's controversial

Last Movie, Perry's

almost-too-uncomfortably

realistic portrayal of a

pretentious hipster auteur making the 'last' movie, Mayapredicted

apocalypse looming ahead, shows filmmakers

with independent visions still struggling over 40 years

later. The intellectual comedy genuinely celebrates and

satirises experimental cinema with stream-of-consciousness

ramblings, portraits of Mexico shot through nine

different cameras and (purposefully) missing scenes. SM

STARTS NOV 27

The Disappearance of Eleanor Rigby: Them

D: Ned Benson (USA 2014) with James McAvoy, Jessica

Chastain ◆◆◆ After

two films that explored

his and her reactions

to family trauma, part

three of this trilogy shows

a couple (McAvoy and

Chastain) dealing with an

event that's pushed them

radically apart. Having set

up trauma as irrevocably

damaging, Benson has

little choice but to stay ambivalent, but does well to

conceptualise a couple as two people joined at the hip

both by past pleasure and pain – and a present in which

all this must find a place of its own. EL

STARTS NOV 27

The Green Prince

D: Nadav Schirman (Germany, UK, USA, Israel 2014)

documentary with Mosab

Hassan Yousef, Gonen Ben

Yitzhak ◆◆◆ When

Israel's security agency

Shin Bet succeeded in

recruiting Mosab, the son

of Hamas founding member

and religious leader

Sheikh Hassan Yousef,

a long process of trust

building and cooperation

began between the spy and his handler. Schirman's talking

heads documentary explores how the entrenched situation

in the Middle East perverts allegiances. It won the Audience

Award at Sundance for showing how we're forced to

construct truths – and must live with the results. EL

STARTS DEC 4

Wiedersehen mit Brundibár

D: Douglas Wolfsperger

(Germany 2014) with

Greta Klingsberg, Annika

Westphal, Ikra-Fatma

Latif ◆◆◆ Preparing

the children's opera

Brundibár, originally

played in Theresienstadt,

a multicultural cast of

young Berliners confronts

past atrocities. When they

meet Greta, one of the few survivors of the original cast,

they're inspired by her beaming optimism and transform

the play through their own reflections. This documentary

is a serene revisit to the past without being paralysed by

its weight, a story about the redeeming power of music,

as well as an extraordinary encounter between different

generations and cultural backgrounds. YC

28 • DECEMBER 2014

When all the world's

a stage By EVE LUCAS

If, as Marxist theatre philosopher Alain Badiou

has suggested, a film is over once completed

and cannot turn audiences into participants as

theatre can, why are so many filmmakers drawn

to theatre in their work? One reason lies in

precisely that apposition between a finished

object (film) and an ongoing process (theatre). In

French director Olivier Assayas' THE CLOUDS OF

SILS MARIA (photo), Maria (Binoche) is a middleaged

actress. Visiting the legendary Swiss resort

Sils Maria, she's persuaded to take on the role of

an older woman in a play in which she starred,

playing the younger, aggressive part, some two

decades ago. Reading lines with her PA Valentine

(a cool, subtle Stewart), she explores more than

a role. Another set of meetings with her young

nemesis, a highly visible young actress (Moretz),

confronts Maria with the virtual realities of new

social media – a sideline excursion into Assayas'

interest in Debord's theories on life as spectacle.

The film is immensely, rewardingly complex:

scenes showing Valentine and Maria running

lines practically blend reality, theatre and film

before fading theatrically to curtained black.

Binoche plays both herself and her role as Maria

– who, in turn, is developing a stage character

whose lesbian relationship with a younger

woman brims back into her encounters with Val.

Playing to an intimated audience, the dialogues

are naturalist but self-consciously so, and their

cumulative effect indeed suggests growing selfawareness

in the Brechtian sense. But whilst exploring

this explicitly theatrical process, Assayas

also exploits filmic possibilities such as fluid

editing and matching location to plot: in this

case the symbolically ephemeral cloud formation

of the "Maloja snake" (also the name of the play)

that occasionally meanders into the local valley to

underscore the question of what is real and how

the (dramatic) arts can shape perceptions of it.

FILM

editor's

pick

Could sheer persistence explain the jury's preference

for this year's Palme d'or winner WINTER

SLEEP (Kis uykusu) from Turkish director Nuri

Bilge Ceylan over Assayas' film? Former actor and

current hotel owner Aydin (Bilginer) goes through

a similar process of self-awareness to that explored

by Assayas. Holed up for the cold winter months

in the picturesque Cappadocian cave landscape,

Aydin writes a pompous blog but is really in the

process of researching a definitive work on Turkish

theatre. He prides himself on an enlightened,

un-patriarchal attitude to his unhappy wife, his

bored sister and various other dependents, but

as he (and we) comes to realise, not many people

around him buy into his delusions. Again, it's the

theatrical principle of dialogue and self-awareness

that propels this film. Withdrawn in beautifully

rendered cave-rooms full of flickering shadows,

Aydin indulges his self-aggrandisement by talking

down his interlocutors. Like Plato's philosopher,

he discards illusion and delusion for a reality

check only when he's physically outside. But three

hours of dialogue, however cleverly scripted and

thematically telling, is a long time. And ending

with a very filmic off-screen confessional, which

may or may not stand the test of time, Ceylan

seems, as Plato did, to express a distrust of theatrical

procedures. Such a conclusion – validated by

a temporary result but in denial over its methods

– achieves an interesting experimental tension

but remains disappointingly inconclusive. ■

STARTS DEC 11

Winter Sleep ◆◆◆

D: Nuri Bilge Ceylan (Turkey, France, Germany 2014) with Haluk

Bilginer, Melisa Sözen, Demet Akbag (dubbed in German)

STARTS DEC 18

The Clouds of Sils Maria ◆◆◆◆

D: Olivier Assayas (France, Switzerland, Germany 2014) with

Juliette Binoche, Kristen Stewart, Chloë Grace Moretz

ALL MOVIES ARE IN OV WITH GERMAN SUBTITLES UNLESS OTHERWISE STATED
---
STARTS NOV 27

The Zero Theorem

D: Terry Gilliam (USA 2014) with Christoph

Waltz, Mélanie Thierry, David Thewlis

◆ If Brazil was ahead of its

time and still looks avant-garde

nowadays, The Zero Theorem already

feels outdated at the time of

release. Set in a dystopia regulated

by the enigmatic "Management"

and dominated by neon colours,

digital images, memory chips and

fibre optics, a hermitic computer

hacker Qohen Leth (Waltz) strives

to decipher the meaning of human

existence through algorithm.

His only 'interpersonal' contact

consists of a simulated love

interest, a teenage hacker and

a virtual psychiatrist. This time

Gilliam's trademark labyrinthine

narrative thread is more alienating

than thought-provoking, and his

female protagonist is diminished

into a bland, blond sex object. In

Gilliam's attempt to create Leth as

someone who is waiting for some

form of a digitised Godot while

being physically entangled in wires

most of the time, those existential

questions are sketchily raised and

fail to forge any connection with

the film's aesthetics as a whole.

Although Waltz's performance is

professional, he is unfortunately

drowned in a kitschy mise-enscène

and a careless script. It

is a pellmell of everything but at

the same time full of void. As the

film's own tag-line accurately puts

it: "Every thing adds up to nothing,

that's the point." YC

STARTS DEC 4

Im Keller

D: Ulrich Seidl (Austria 2014) documentary

◆◆◆◆ After his recent foray

into feature film territory with his

Paradise trilogy, Seidl is back on

home turf with this mischievous

documentary exposing the dark

underbelly of Austrian basements.

It's in Seidl's familiarly wry and

observational style as laundrywomen

pose for the camera while

washing machines churn disinterestedly

– but it's also startlingly

provocative, as Im Keller dragnets

myriad underground goings-on.

Apart from glimpses of miniature

railway enthusiasts, radio fanatics

and home-bar owners, there's

also a seamier side to cellar life,

as Seidl observes and interviews

masochists, dominatrixes,

cupboard-mothers nursing plastic

dolls and old-schoolers nostalgic

for the Third Reich.

Opening with a long sequence

of a python in a terrarium gearing

up to devour its freshly served

guinea pig lunch, Im Keller explores

these fantasy spaces below

ground – periodically violent, but

always in thrall to man's most

primitive passions. And as men

and women (but mainly men) live

out the private urges they prefer to

hide below stairs, Seidl exposes

Austria's darker side – preoccupied

with sex, immigration and power.

It's no doubt a portrait of just one

stratum of society, skewed and

sordid. But scratching to get under

the skin of Austrian suburbia, it's

a deliciously grotesque portrait all

the same. MW

worth 10 €, 15 €, 25 € or 50 € –

redeemable for all CineStar products

Find this and more vouchers at the box office

and in our online shop at cinestar.de

29
---
What's on

FILM

STARTS DEC 4

Magic in the Moonlight

D: Woody Allen (USA

2014) with Colin Firth,

Emma Stone ◆◆

The annual Allen returns

with a 1920s tale of a

commercially hard-nosed

magician (Firth) lured

to the South of France

to expose a delightful

young American medium

(Stone). Can passion

trump reason? Might there be life after death? Questions

that Allen ventilates (again) in perfect pageantry on

retro-hued 35mm film. Invoking its titular atmospherics,

the film meanders entertainingly between cynicism and

charm but ultimately flounders in the concept of elusive

illusionism that it set out to explore. EL

"The house is the

main character"By YUN-HUA CHEN

With her third feature film Exhibition, acclaimed British director JOANNA

HOGG explores new possibilities of film space.

EXHIBITION

Dec 11

STARTS DEC 4

Third Person

D: Paul Haggis (UK, USA,

Germany, Belgium 2013)

with Liam Neeson, Mila

Kunis, Adrien Brody

◆ Haggis (Crash)

again attempts to join the

dots between apparently

disparate stories. Here,

it's couples dealing with

parent-child dependency.

Travelling through time

and space with a writer (an implausible Neeson) working

on his fourth book in a Parisian hotel, Haggis' script turns

creative turmoil to potluck trauma before resolving itself

in narrative conceit – but not before we've sat through

some indifferent acting, confused editing and the feeling

that our efforts are not matched by those on screen. EL

STARTS DEC 4

The Drop

D: Michaël R. Roskam

(USA 2014) with Tom

Hardy, Noomi Rapace,

James Gandolfini, Matthias

Schoenaerts ◆◆ Two

cousins run a Brooklyn bar

as part of a money laundry/deposit

system that

finds itself under investigation

after a robbery goes

wrong. The script fails to

sustain intrigue but Hardy and Gandolfini fill the contours

of damaged New Yorker 'hood characters, providing the

kind of depth that bears fruit as events unfold in the final

act. Whilst cast and cinematography aren't enough to completely

redeem the film's faults, its old-school storytelling

and gloomily fatalistic tone will find fans. ZS

STARTS DEC 11

Exhibition

D: Joanna Hogg (UK

2014) with Viviane Albertine,

Liam Gillick, Tom

Hiddleston ◆◆◆

Hogg's film about an

artist couple facing

significant life changes

when their house goes on

sale (see interview, right)

not only proceeds via the

development of an art

installation, but is an installation in and of itself: we see

their mysterious alienation and sexual discord, as well as

their physical and metaphysical blending into the house.

As potential buyers examine the house, the most intimate

details in their marriage also come under scrutiny. A subtly

unsettling film with artistic quirkiness and a poignant

look at marriage and human relationships. YC

A surreal drama about a couple trying to sell

their London townhouse, the film (see review,

left) moves towards a less linear narrative

structure to give audiences more freedom of

interpretation.

Your film plays with the concepts of

'exhibition' and 'exhibitionism' as well as

film as an art installation. How did that

develop? The fact that this film was about

this play between exhibition and exhibitionism

became clearer to me when we were editing. Up

until that point, I was focusing on the idea of

the house, which is like a gallery space too – a

container for all the ideas, the dreams and the

memories, the life of this married couple.

You suggest visually that the house in

Exhibition could be a prison. What else

might it be? A prison, but also a haven: a place

to escape to and to feel safe in. I was always

interested in the idea of the house and the main

female character becoming part of the house,

almost like she's becoming part of the architecture.

But yes, she is also trying to leave the confines

of the house. In a way, she is in a relationship

with it. That's an easier relationship for her

than the relationship with her husband. With the

house, they sort of melt into each other. They

become the same thing. I was always interested

in the story about the three characters, or maybe

you could even say one character: the house. The

house is the main character, the main idea, and

everything else exists within that.

In contrast to earlier films, you've used

a lot of dream and recollection imagery,

almost like ghosts intruding into reality.

This was something I was experimenting with

for the first time. I was challenging myself to

work with a less linear structure, but also to

incorporate dreams and memories. It was the

house itself that sort of provided me with the

idea. My earlier films seem more real but actually

this one feels like a more realistic depiction

of my own life: how one is constantly dreaming

and remembering but is also in the present moment

as well.

Does your use of those images change the

film's relationship with the spectator? Yes.

What I discovered is that it is more challenging

for the audience to enter that space and to

understand it, so I often get responses such as,

"I sort of don't get it" or "I am kind of not in

there". But I also get the opposite response.

There doesn't seem to be a mid-way point. I

have to accept that. But because it is less linear

as a story, I think the audience finds that more

difficult to see.

You explore women's sexuality in such

a subtle way – something more female

filmmakers should be allowed to do. It's

important that there should be more female

film makers. But I have to say that I think less

about being a female filmmaker now than when

I was directing television, working with male

crews. Having done that for 12 years, I came out

determined to feel safe in an environment of my

own making. I think about it in a more political

way: in terms of how many women assist men in

making films. I want to encourage more women

to find their own voices. ■

30 • DECEMBER 2014

ALL MOVIES ARE IN OV WITH GERMAN SUBTITLES UNLESS OTHERWISE STATED
---
www.radialsystem.de

SPACE FOR ARTS AN

STARTS DEC 11

Timbuktu

D: Abderrahmane Sissako (France, Mauritania

2014) with Ibrahim Ahmed, Toulou Kiki,

Abel Jafri ◆◆◆ A contender for this

year's Palme d'Or, Sissako's film

about the havoc wrought by Islamic

fundamentalists on his home country

of Mali and in particular the

city of Timbuktu could hardly have

anticipated its contemporaneity.

Beautifully and lovingly crafted with

all the golden warmth and contemplative

grandeur once associated

with the mystique of Timbuktu,

Sissako centres events on a herdsman's

family headed by Kidane

(Ahmed) whose rage at the loss of

a valuable cow leads to a killing for

which Kidane is held to merciless

account by the district's new fundamentalist

rulers. Far from depicting

these as ideologically blinded,

gun-touting fools, Sissako portrays

them as quietly but disastrously

errant: unaccustomed rulers whose

pursuit of the bewildered local

population takes place almost

lightly and with occasional touches

of humour as they chase men who

still play music or football across

dusty streets and mud-baked

roofs, argue with the local imam

or administer a death sentence.

One scene of particular brutality is

rendered almost soundlessly; you

have to look twice to see it as a

fitting metaphor for a new inability

to communicate tolerance and

tradition – and admire Sissako for

choosing a quiet path to lament the

white noise of dogma. EL

Angels' Share

a staged concert in English

NICO AND THE NAVIGATORS

Radialsystem V: 5th | 6th | 7th December, 8 p.m.

STARTS DEC 18

The Homesman

D: Tommy Lee Jones (USA 2014) with

Hillary Swank, Tommy Lee Jones ◆◆◆

Distilling the scattered plotlines

of his promising directorial debut,

Tommy Lee Jones returns to the

big chair with The Homesman:

a streamlined, sombre western

which confirms his abilities with

the megaphone, even if it does

try a bit too hard. Hillary Swank

plays Mary Dee Cuddy, a hardy,

successful farmer in her early

thirties who still hopes, perhaps

in earnest, to wed. Everyone calls

her bossy: it's difficult to disagree.

A cruel winter leaves three of her

community's young women in

various degrees of mental disrepair

and when their utterly useless

husbands decide that enough's

enough, they draw to determine

who will escort them to an asylum

across state. Cuddy ends up with

the job. She finds Tommy Lee

Jones strung up to a tree and

agrees to free him if he'll come

along for the ride.

There's a sense Jones is

fancying himself as quite the

contemporary here, delving into

subjects which classic Hollywood

would have considered quite

taboo, but, regrettably, these

depictions of insanity are rather

crude. Still, like an easy read, The

Homesman is a film worth getting

lost in; both in Rodrigo Prieto's

finely photographed landscapes,

and in the deep contours of that

magnificent, weathered face. ROC

DEUTSCH IN ENGLISH!

MAXIM GORKI THEATRE

WITH ENGLISH SURTITLES

SEE yOU bACK fOR

THE 2014/15 SEASON!

www.gorki.de

31
---
What's on

FILM

STARTS DEC 11

The Loft

D: Erik Van Looy (USA

2014) with Wentworth

Miller, James Marsden,

Rhona Mitra ◆◆

Belgian director and

game-show host Van

Looy directed a Belgian

version of this story in

2008, and the morality

tale of five married men

who share an uptown flat

for extramarital assignations travels well to a sexed-up

noir New York setting. Yet despite a plausible amalgam

of ambition undermined by boredom and arrogance,

slack pace and editing in this classic whodunit leave the

viewer with enough time to work out what's working, what

isn't – and why. EL

Flicks our picks

Special screenings, festivals and retrospectives you shouldn't miss this month

AROUND THE

WORLD IN

14 FILMS

Nov 28 - Dec 7

STARTS DEC 18

Serena

D: Susanne Bier (USA,

France, Czech Republic

2014) with Bradley Cooper,

Jennifer Lawrence

◆ Danish director

Susanne Bier goes all-out

wide-screen epic Hollywood.

The result lacks

focus. As they lustily fell

whole swathes of North

Carolina's forests during

the Depression, young, dashing timber-empire scion

George (Cooper) and glamorous wife Serena (Lawrence)

show scant regard for early conservationism, but with a

mythical tree-man egging on a far-fetched plot and an

overly metaphorical ending involving a surfeit of animal

imagery, Bier hints heavily that nature will seek revenge.

Timberrrr! EL

STARTS DEC 25

Coherence

D: James Ward Byrkit

(USA 2013) with Emily

Baldoni, Nicholas Brendon

◆◆◆ Realities multiply

and collide in this trippy,

geekily funny sci-fi thriller.

The premise is outrageous

as comet-induced chaos

taps into our most basic

existential angst. The

plot gets a bit muddled

and the dialogue overly expository in the mid-section,

occasionally forfeiting a consistent sense of dread. But

things come together at the end as one narrative point

of view successfully asserts itself and brings it all to an

easily identifiable, smartly climatic close. ZS

STARTS DEC 25

The Theory of Everything

D: James Marsh (UK

2014) with Eddie

Redmayne, Felicity Jones

◆◆◆ As we saw in

Shadow Dancer, James

Marsh doesn't shy

away from complexity,

so serious physics get

considerable screenplay

in this thoughtful look at

the relationship between

genial genius Stephen Hawking and his first wife Jane.

They met at Cambridge just before he was diagnosed

with ALS and a vibrant camera captures both the flush

of youth and the hard-won pleasures of marital and

professional maturity. Jones hides her lights behind

Redmayne's bushel, but he really shines. Any Oscars in

those black holes? EL

NOV 28 - DEC 7

Globetrotting with films

AROUND THE WORLD IN 14 FILMS returns to Babylon

for the nineth time to take audiences on another

trip around world cinema. It opens with Andrey

Zvyagintsev's Leviathan, a powerful Russian social

drama (partially sponsored by Russia's Ministry of

Culture) probing the depths of a corrupted society,

accompanied by Philip Glass's mesmerising

soundtrack. Exploring a different form of nepotism,

Myroslav Slaboshpytskiy's The Tribe (Ukraine) follows

a group of deaf mute teenagers in a boarding

school in which hierarchy has been strictly defined

by the in-house mafia. Using diegetic sound only

and sign language without subtitles, the film beautifully

recreates the deaf mute's feeling in a hearing

world. In Tsai Ming-Liang's Stray Dogs (Taiwan),

sound is used sparsely in the context of a deprived

family squatting between collapsing ruins in Taipei

– a tour de force of social inequality and absurdity

of urban space. Amongst work from legendary

auteur filmmakers, Aleksei German's last film Hard

to be a God (Russia/Ukraine) maintains trademark

black-and-white cinematography and digressive

narrative, while effectively creating a mélange of

medieval looking sci-fi; Jean-Luc Godard's Adieu au

Langage (France/Switzerland) is the first 3D film

essay, revolutionising the medium while keeping

the spirit of la nouvelle vague; whilst Lav Diaz's

From What is Before (Philippines) is a stunning

black-and-white tale set in 1972 in a remote Filipino

village – a historical, lyrical and mystical epic

of five and a half hours. For something geographically

closer to home, Franz Müller's Worst Case

Scenario (Germany) is a border-crossing film-in-afilm

comedy in which a director struggles to make

a comedy about the UEFA football championship

in Poland with a continuously diminishing cast and

crew, while his complicated relationship with the

costume designer aka ex-girlfriend is aggravated by

an unexpected pregnancy. From epic to epicurean:

there's something here for everybody. YC AROUND

THE WORLD IN 14 FILMS | Kino Babylon, Rosa-Luxemburg-Str.

30, Mitte, U-Bhf Rosa-Luxemburg-Platz

DEC 4-7

From porn to poetry

… Berlin has it all, and it was only a matter of time

before somebody hit upon the idea of curating a

LEVIATHAN

festival in which it all comes together under one

festival roof. Showing over 30 Berlin-themed films

and all with English subtitles, the BERLIN ART FILM

FESTIVAL opens with Ich will mich nicht künstlich

aufregen (Asta Upset), preempting the film's general

German release by over one month and picking

up on the (non-profit; non-funded; non-sponsored)

festival's own privately resolved funding issues

with a tale of a Berlin art curator who finds herself

scouting for new sources of financial support.

Day two features a live dialogue dubbing of the

infamous 2001 guerrilla porn film Bonking Berlin

Bastards. Thomas Arslan's Der Schöne Tag (A Fine

Day) and a Bruce La Bruce session show on Dec 6

whilst the German premiere of Sabine Lidl's documentary

Nan Goldin – I Remember your Face wraps

things up on Dec 7. A short film programme will

also show. Films are flanked by panel discussions

– in English – with filmmakers, half of whom are

women. Party fans should't miss Südblock on Dec

6. Let's hear it for Berlin and the films that give it

some edge. For details, check berlinartfilmfestival.

de. EL THE BERLIN ART FILM FESTIVAL | FSK am Oranienplatz,

Segitzdamm 2; Südblock, Admiralstr. 1-2; Kreuzberg,

U-Bhf Kottbusser Tor

DEC 4-10

Willkommen, bienvenue…

This year's FRENCH FILM WEEK serves up everything

we (stereotypically) associate with la grande

nation – including concepts for which only the

French have words. An amour fou is at the heart

of 3 coeurs (Benoit Jacquot, 2013), the festival's

celebrity-cast opening film in which a tax inspector

inadvertently inspires the love of a tempestuous

woman (Charlotte Gainsbourg) and her steady

sister (Chiara Mastroianni) under the watchful eye

of gourmand mamam (Deneuve). Slightly uneven

in tone, scenes of grande bouffe provincial feasting

are also a constant in Au fil d'Ariane which

offsets a mythical, dream-like scenario of lost

souls loosely attached to a port café in Marseille

against the bon bourgeois aspirations of a woman

turning 50. Paris – and the rest of France – feature

prominently in the films of festival focus actor Vincent

Macaigne, who's made a specialty of playing

an urbanite lost in the unsophisticated provinces

(Tonnerre, La Fille du 14. Juillet and Le Naufragé).

With 10 premieres (and pre-release screenings of

32 • DECEMBER 2014

ALL MOVIES ARE IN OV WITH GERMAN SUBTITLES UNLESS OTHERWISE STATED
---
FRENCH FILM

WEEK

Dec 4-10

3 COEURS

Olivier Assayas' The Clouds of Sils Maria, see page 28), films

from Canada and Belgium, a remastered version of Resnais'

classic Hiroshima mon Amour and a chance to catch both

this year's German box office leader Qu'est-ce qu'on a fait au

Bon Dieu (Monsieur Claude und seine Töchter) and director

Benoit on opening night, the variety and depth of year's

festival (including four films of particular note presented by

the Institut Francais) looks set to outpace last year's 9000

visitors. Bonne chance, bon courage! EL FRENCH FILM WEEK |

various venues; full programme at www.franzoesische-filmwoche.de

DEC 12-30

Happy feet

It's the season, and if you can't afford tickets for the

Nutcracker at the Staatsoper, there's plenty of foot-tapping

going on at Arsenal as it starts ALL SINGING, ALL DANCING,

a two-month extravaganza of golden era Hollywood musicals.

Tracing their development from screwball plot enlivener to art

form, screenings start in the 1930s with Fred and Ginger in

Top Hat, picking up The Wizard of Oz (Victor Fleming, 1939)

and Vincente Minnelli's 1945 Ziegfield Follies and 1951 An

American in Paris along the way before reaching an apotheosis

in films such as Singin' in the Rain (1952) and Rouben

Mamoulian's remake of Lubitsch's Ninotchka, the 1957

classic Silk Stockings. Get your kicks … EL ALL SINGING, ALL

DANCING. HOLLYWOOD MUSICALS 1933 – 1957 | Arsenal, Potsdamer Str. 2,

Mitte, S+U-Bhf Potsdamer Platz

DEC 16, 20:30

Gay behind the Wall

Say what you will about Ostalgie, but East Germany did do

away with the criminalisation of homosexual acts in 1968,

one year earlier than its Western counterpart. The rosy memories

stop there, however. At this month's EXBlicks, OUT IN

EAST BERLIN, Jochen Hick and Andreas Strohfeldt explore the

lives of homosexuals behind the Wall – from cruising areas

to separated lovers to encounters with malicious "Romeos",

Stasi informants masquerading as lovers to get a handle on

homosexual activism. Beginning with the seemingly common

childhood memories of gays and lesbians, it becomes clear

that the political climate presented a different set of problems

to those experiencing Cold War Berlin. The timespan

of the film takes us all the way to when Coming Out, the first

DEFA film to explore gay themes, well, came out, its release

date practically nullifying its triumph – November 9, 1989. In

cooperation with realeyz.tv, join Exberliner and Jochen Hick

to celebrate the film's release on DVD – followed, as always,

by complimentary wine. EXBLICKS: OUT IN EAST BERLIN | Lichtblick

Kino, Kastanienallee 77, Prenzlauer Berg, U-Bhf Senefelderplatz

17. & 18. 12. 2014, 20 Uhr

A FREAK SHOW FOR S.

A TRIBUTE PERFORMANCE TO

SARAH BAARTMAN BY ANNABEL GUÉRÉDRAT

www.ballhausnaunynstrasse.de

T. (030) 754 537 25 33
---
What's on

STAGE

DEC 5-6, 20:00, DEC 7, 17:00

Ah! Oh! – A Contemporary Ritual

Berlin choreographer Kat

Válastur contrasts the

strength of ancestral rituals

with our achievementoriented

society. Following

GLAND as a part of the

series "The Marginal

Sculptures of Newtopia",

this new performance

features six performers

lost in a post-apocalyptic

society. They seem to be existing only for themselves, but

still they are looking for contact with others, remembering

collective movements, evoking traditional circle dances.

Rites as an orientation tool for the future? HAU2,

Hallesches Ufer 32, Kreuzberg, U-Bhf Möckernbrücke

DEC 5-7, 20:00

Angels' Share

Nico and the Navigators

present an absurd trip

with six musicians, two

performers and a singer,

travelling from the courtly

London world of Henry

Purcell to village pubs in

the Scottish Highlands,

navigating between highclass

and alehouse culture,

between melancholy

inebriation and love of life. The title evokes the part of

the whisky that evaporates during storage, supplying "the

angels". On December 7, the show is preceded at 17:30

by a screening of Mission Impossible?, a documentary

film on Nico and the Navigators, followed by a discussion

with the artists. Radialsystem V, Holzmarktstr. 33,

Friedrichshain, S-Bhf Ostbahnhof

DEC 5-7, 20:00

Afghan Love

Performed by Living

Room Productions,

an English-speaking

theatre group working in

Berlin since 2000, Daniel

Sauermilch's Woody Allenesque

play features an

eager idealist and philanthropists,

fiercely pointing

out their inconsistencies

and making it difficult to

choose whom to identify with. The play will be preceded

by a reading of poetry by the Native American activist

Leonard Peltier, imprisoned on dubious charges for 39

years. Get three tickets for the price of two by booking in

advance. Theaterforum Kreuzberg, Eisenbahnstr. 21,

Kreuzberg, U-Bhf Schlesisches Tor

GERMAN THEATRE

Premieres

■ WIR ZÖPFE, Marianna Salzmann's Christmas comedy

featuring Christians, Jews and Muslims, Dec 13, 19:30, Dec

15, 19, 25, 19:30 with English surtitles, Gorki

■ ARIZONA LADY, Katharine Mehrling as the resolute

rancher with Hungarian roots in Emmerich Kálmán's Western

operetta, Dec 21, 18:00, Komische Oper

With English surtitles

■ THE PAST, choreographer Constanza Macras focuses

on the art of memory, Dec 1, 20:00, Schaubühne

■ VORHAUT, a comedy about a piece of skin, Dec 27-

30, 20:00, Ballhaus Naunynstr.

IOSIFLYKAKIS

NICO AND THE NAVIGATORS

LIVING ROOM PRODUCTIONS

Choose your

weapon

By LINUS IGNATIUS

Daniel Wetzel of performance

group Rimini Protokoll explains

the trio's "multi-player video

piece" SITUATION ROOMS,

coming to Berlin December 14.

Guided by a video playing on an Ipad, you wander

through a film set as you follow the perspectives

of real people whose lives have been shaped

by weapons: a drone pilot, a war photographer,

a shooting champion at a gun range. Chosen

for this year's Theatertreffen but not shown in

Berlin until now, Situation Rooms is the latest

of Rimini Protokoll's site-specific, informative

pieces modeled after current events. The

founders – Wetzel, fellow German Helgard Haug

and Swiss Stefan Kaegi – have received numerous

awards worldwide for their contributions to

theater, including the German Faust prize (2007)

and the Silver Lion at the Venice Biennale (2011).

What inspired you to create a piece on

the arms industry? We were examining the

paradox of producing and selling weapons. We

thought, we want to learn more about why it

is like that. So we started from the German

viewpoint. But you can't just discuss it nationally;

it's actually a European question. And then

we decided to make a model of the whole world

in these 20 rooms. It's about many, very different

viewpoints on the fact that there are weapons

and violence everywhere in the world.

How did you choose your characters? We

wanted to talk to people in the industries. It's

not so easy, the further up you go. You can enter

a shop and talk to the person that sells guns.

But if you talk to lobbyists, they give you half an

hour, they know what they want to say and they

don't listen to you. Talking to manufacturers – no

chance. They're not interested! They say, "Look,

the theatre audience is the liberal left. Why

should I stand there like an idiot and explain why

my product is important? There are regulations.

If you don't like them, change them. Otherwise I

will do my work. There is no reason for dialogue."

How did you continue your research when

you encountered these roadblocks? One

journalist said to us, "If you want to talk about

weapons, you can think about the weapon or the

wound." So we also started research from the

side of those who had been affected by violence.

We spoke with refugees at Oranienplatz

and people from Doctors

Without Borders.

What kinds of people did you encounter?

I'd never spoken to a drone

pilot before, or a lawyer who defends

SITUATION ROOMS

Dec 14 - Jan 11 |

HAU2, Hallesches

Ufer 32, Kreuzberg,

U-Bhf Hallesches Tor

victims of drone strikes in Pakistan. I'd never

spoken to someone responsible for cartel killings

in Mexico, or refugees from Sudan who had to

escape Libya because otherwise they would be

slaughtered by rebels. You know these faces from

TV or media, but it's something else to meet

them and learn what they have to share.

Is there anyone who stands out particularly

strongly? I was very busy with this refugee from

Syria. He sits in front of Facebook watching

every video that pops up in this propaganda battle.

The only thing you can say for sure is yes, yes,

people are dying in a very brutal way – younger

than 10 and older than 80. And he is just watching

this all the time to feed his hate and despair.

What was the intended effect of getting so

close to people, and bringing the audience

into that proximity? In German when two

people have a conflict, and one wants the other

to see it from their point of view, we say "versetz

dich mal in meine Lage", or "put yourself in my

shoes". This is the main thing in Situation Rooms.

You enter their situation. And every seven

minutes and 20 seconds you change situations

and enter the situation of someone else. We're

not claiming that these seven minutes will give

you information in such a concentrated way as a

news article. The information is something else.

It's a more physical and more emotional memory

than facts.

Could you describe the films?

How does the audience experience

the story? We were experimenting

with this format of simultaneous

shooting. Every film was shot

simultaneously within just seven

34 • DECEMBER 2014
---
STAGE

editor's

pick

JORG BAUMANN

Waffenlounge: our picks

This piece is part of a larger series on

weapons, war, and violence at the HAU called

Waffenlounge. The programme's headliner,

EXPORTING WAR, is a new production by Hans-

Werner Kroesinger (Dec 3-20, 20:00, HAU1, in

German) about the weapons market in Germany

and abroad. The showing on Dec 13 will be

followed by a talk with the director and experts

in the field. In WEAPON OF CHOICE – ODER:

GIBT ES HELDEN OHNE WAFFEN?, directed by

Franziska Seeberg, students from Kreuzberg

present their experiences searching for

weapons in their own neighbourhood (Dec 15,

16, 18:00, HAU3). Finally, a discussion will be

held with various international artists and the

members of Rimini Protokoll following Harun

Farocki's film BILDER VON GEWALT (Dec 18,

18:00 [screening], 20:00 [discussion], HAU1).

The theme will be representations of violence,

bringing together many of the programme's difficult

questions in a powerful forum.

I'm not saying any of this is not super tough. But

it's more tactile, and compared to what you hear

in reports and see on BBC or in documentaries,

our stories are relatively modest.

minutes inside the film set. There are 20 films,

but each audience member sees only 10. That

means you jump back in time nine times, starting

at the beginning of those particular seven

minutes. If you want to see the entire thing,

you come twice. But this is not our intention. It

is fractured. If you had made 400 rooms, with

400 stories, it would still be a fragment of the

world. So many others could have shared their

experiences with us.

There's an element of almost childlike

excitement for the audience as they move

through the film set. But there are also

moments in the films that are disturbing

and upsetting – do you want to create a dissonance

between these two feelings? You

are really under tension in this piece, especially

in the beginning. You enter and you learn how

the game works. You realise, I'm not outside

the game. I don't sit in front of the screen, just

playing. I am a factor for others. But it's not so

horrible. There are moments when you get told

really bad things, and you see what happens

when people kill other people. You see choppedup

limbs, yes, and you see fragmented bodies.

What about the genre: film set, documentary

theatre, and you called it a 'game'…

"Multi-player video piece", we're calling it. But

for us it's important to always cross genres –

that's the fun of it. That's the drive, the motive.

What haven't we done, what would be a new

kind of experience? A project should always be

an adventure. For us, theatre is a place where

you can constantly try to reinvent the reasons we

come together, and how we want to share stories.

It's a big laboratory that doesn't work without

the interest of the people that come and see it.

So we always try to take the next step. For us,

and for you. ■

35
---
What's on

STAGE

Dance before Christmas

DEC 11-14, 20:00

Now I Lay Me Down

"What a gently welcoming

darkestness" – so begins

E.E. Cummings' poem

"Now i lay(with everywhere

around)". And so

Kaleidoskop perform their

new piece freely inspired

by the poet – in the

darkness. The ensemble

is constantly reinventing

ways of staging and

listening to music. In this sensitive experience, sounds

become architecture and music becomes environment.

Relieved from visual attractions, the listener, between

sleep and awakening, is part of a musical body that

generates its own dreams. The evening includes pieces

by Johann Sebastian Bach, Samuel Barber and Benjamin

Britten. Haus der Berliner Festspiele, Schaperstr. 24,

Wilmersdorf, U-Bhf Spichernstr.

DEC 15-21

I. Hungarian Contemporary Dance Festival

Presented by Bakelit

Multi Art Center, the

festival aims to represent

outstanding Hungarian

contemporary dance with

a broad variety of works.

Introducing 14 pieces,

the week starts with

Compagnie Pál Frenák's

InTimE, featuring six

performers dealing with

attraction and decision around a red sofa (photo), and

ends with Auction, a performance in the course of which

Krisztián Gergye creates a fine art product, immediately

exhibited afterwards, offered "for sale" and destroyed.

Dock 11, Kastanienallee 79, Prenzlauer Berg, U-Bhf

Eberswalder Str.

DEC 14, 21, 19:00

Waiting for Godot

Great Bulgarian director

Dimiter Gotscheff died

during preliminary work on

this production – his actors

decided to finish the

work and bring it to the

stage as an affectionate

homage, directed by Ivan

Panteleev. Their version

takes place on a titled

stage pierced with a big

hole, emphasising the absurdity of Vladimir and Estragon's

waiting by their going round and round in circles. Andreas

Döhler's performance as Lucky is remarkable, especially

when it comes to his monologue: nonsensical, furious and

sincere. On the 14th with English surtitles. Deutsches

Theater, Schumannstr. 13, Mitte, S+U-Bhf Friedrichstr.

ENGLISH COMEDY

■ BAUM HAUS Comedy showcase and open mic in a

techno club! Hosted by Dharmander Singh. Dec 4, 21:00,

Grießmuehle

■ OFF THE CUFF Tear-inducingly funny format where

comedians improvise from topics they have never seen,

Dec 12, 20:30, T Berlin

■ THE FISH BOWL Berlin's legendary fortnightly comedy

showcase. Dec 18, 20:30, Grießmuehle

■ COMEDY AUF DEUGLISH Stand-up comedy where

some performers perform in English, some in German - all

in Deuglish. Always packed and lively - free food! Dec 20,

20:30, Vétomat

ARNO DECLAIR COMPAGNIE PAL FRENAK LADISLAV ZAJAC

With the second TANZEN VOR WEIHNACHTEN festival, Acker Stadt

Palast invites dancers and the audience to meet.

"Our everyday life movements are so poor!"

states Acker Stadt Palast's artistic director Anete

Colacioppo. "The computer tells you how you have

to behave in front of it, the furniture doesn't allow

much freedom of movement. Some people go

dancing in clubs, but even there, the movements

are quite stipulated – you wouldn't lie on the floor.

I would like to put the brakes on that a bit." The

Brazilian actress and curator has been involved in

theatre since the age of 14. She arrived in Berlin in

2003: "I was surprised by the precise ways theatre

and dance styles are described here. Maybe that's

why I am still so curious about all the possibilities

performing arts has to offer," she adds. This

extensive curiosity is reflected in her festival's

programme, exploring with 12 different pieces how

varied contemporary dance can be, and allowing

audience members to experience some of these

possibilities themselves.

The Viennese duo of Tiina Sööt and Dorothea

Zeyringer present LONELY LONELY, a piece danced

in cardboard boxes. Forced to adapt, "the dancers'

bodies are nearly absent," comments Colacioppo,

glad to demonstrate that "dance doesn't have

to be so focused on the body." REPAIR:MOVE, by

Richter/Meyer/Marx, also questions the place of

the body in a performance, using the repetition of

movements performed within heavy

red costumes that emphasise the

body without really showing it.

On the other side of the dance

scale, Greek dancer Athanasia

Kanellopoulou shows

THE RETURN OF PENELOPE, a

strongly emotional piece based

on powerful physical expression.

"It's almost pathetic – the kind of

work that you see very rarely in

the German scene, where artists

II TANZEN VOR

WEIHNACHTEN –

TRANSMISSIONS

December 16-21,

20:00 | Acker

Stadt Palast,

Ackerstr. 169/170,

Mitte, U-Bhf

Rosenthaler Platz

tend rather to focus on the structural or formal

aspects of the movement." Concentrated on movement's

pure beauty, Berlin-based Korean dancer

Howool Baek's minimalistic piece DID U HEAR

exposes small parts of the body subtly moving:

"Sometimes only the hand or the foot,

which opens a lot of images." The festival also

focuses on the connection between dance and

new music. AUS VIERUNDZWANZIG: SIEBEN, a

short piece by composer Uwe Rasch and dancer

Kiri Haardt, is the result of a common composition;

whereas Gabriel Galindez Cruz created

LA PERFEZIONE DI UNO SPIRITO SOTTILE as a response

to a music piece by Salvatore Siarrino and

performs it as a "choreographic concert" together

with a flautist and a singer.

"For me, it's important to give the audience the

opportunity to experience something," says Colacioppo.

"And I am very interested in the connection

between seeing and doing." That's how the idea of

systematic JAM SESSIONS after the festival performances

came. "It's an attempt to mix the audience

with the artists and see what comes out." Every

evening, following the last show, a 20-minute session

will be opened, inviting audience members to

join the artists on stage. In a relaxed atmosphere,

the dancers will teach the audience an easy way of

working with the body – to play with distance

and proximity, repeat the same movement

several times, vary the speed or try to imitate

someone else's gestures. Small, easy

'tools' that can be freely experienced and

re-used later on, as an impulse to explore

bodily possibilities. Dancers and audience

members are then, every night, invited to

end the evening in a party atmosphere at

the bar. NATHALIE FRANK

For the full programme, see ackerstadtpalast.de

ATHANASIA KANELLOPOULOU

36 • DECEMBER 2014
---
What's on

MUSIC AND NIGHTLIFE

MUSIC

editor's

pick

The past has not passed By D. STRAUSS

You did it: another year has passed and you kept

reading Exberliner, as I kept writing for it. The

Rick Steves Fever Dream of Berlin kept its hold

and while your college friends were all off getting

graduate degrees and having children, you sat in

a cardboard box for 27 hours in that group show

in the back of that café that closed five months

ago. Even if it turns out that you aren't an artist,

and barely a person, Berlin – and the Berlin

sound – abides.

By this, do I mean techno? Not exactly. Outside

of Germany, non-specialists tend to crib the

meaning of the genre to refer to everything from

Kraftwerk to SAM SMITH, the youthful vocalist

launched by Disclosure, now on the trajectory

toward awkwardly over-groomed pop star. But

the Berlin sound, as codified shortly before

the turn of the millennium, is electronic dance

music that isn't necessarily danceable (or even

electronic), with a touch of high-art pedigree. A

techno-pop which nods toward dance, as well as

a certain maturity that, at its best, offers a worldliness

to inner life and, at worst, an enervation.

Although the recent festival mentality has

normalised disparate bookings, it's why MODERAT,

an act, born in the East, that's as Berlin techno as

Berlin techno can get, can sign abstract electronicists

MOUSE ON MARS to its Monkeytown

label and play on the same bill as them and THE

NOTWIST, a non-Berliner indie rock band with a

sound sympathetic to the city's (and on City Slang,

a Berlin label, to boot). And the style's experimental

aspects harken back to the days of krautrock

– we'll one day judge Einstürzende Neubauten as

the joint connecting Faust and Nils Frahm.

GUDRUN GUT was an Ingenious Dilettante in

those early days of Neubauten and has a new

record out with Faust's HANS-JOACHIM IRMLER

– what might have once been a generational, oppositional

pose, now makes sense in the context

of Faust's project of experimental pop. Gut has

been involved with every major Berlin musical

movement of the last three plus decades, including

the founding of Love Parade; following her

career is as good a way to follow the concerns of

what's specific to the Berlin music scene as any.

Another is to look at TO ROCOCO ROT, former

East German visual artists who helped define the

post-rock sound and, along with various spin-offs

(Tarwater, Kreidler et al), Berlin's – it seems that

rarely a week goes by when one of its members

isn't involved in some project here, musical or

otherwise. Evidently, their dance card has been

piling up – they're calling a halt to the consortium.

So naturally the opener for their farewell

concert is THE PASTELS, as Scottish as a meal of

dead dog in pantyhose.

But this most non-Berlin of openers is apt:

What is Berlin's sound now, except for the flailing

of clumsily dressed and underpaid expats

attempting to surf the city's magic? With the

general destruction of physical urban communities

through rough gentrification and the speed

that bad ideas get shared on the Internet, youth

culture is congealing into a steady flow of nonspecific

sludge. And the only pop star who can

save us from this is BRYAN ADAMS (photo), who

bought a factory on the edge of Berlin a year

or two ago and has promised to fill it up with

artists, musicians and artist-musicians, all living

a creative utopia in order to incubate the city's

future. This plan has, so far, failed to come to

pass. At his concert, Adams will be performing

an album he recorded three decades ago, entitled

Reckless. I guess the environment was different

then, and this may again be the case next year. n

Music Editor D. Strauss may be contacted at strauss@exberliner.com

SAM SMITH W/YEARS AND YEARS Mon, Dec 1, 20:00 | Astra, Revaler Str. 99, Friedrichshain, S+U-Bhf Warschauer Str. BRYAN

ADAMS Wed, Dec 3 20:00| O2 World, Mühlenstr. 12-30, Friedrichshain, S+U-Bhf Warschauer Str. MONKEYTOWN FEST W/

MODERAT, THE NOTWIST, MOUSE ON MARS, DARK SKY, SIRIUSMSO Fri, Dec 5, 20:00 | Tempodrom, Möckernstr. 10, Kreuzberg, S-Bhf

Anhalter Bahnhof ELEKTROAKUSTISCHER SALON W/IRMLER & LIEBEZEIT, GUT & IRMLER, TENORS OF KALMA, DJ GUIDO MÖBIUS,

Thu, Dec 18, 20:00 | Berghain, Rüdersdorfer Str. 70, Friedrichshain, S-Bhf Ostbahnhof TO ROCOCO ROT W/THE PASTELS Mon, Dec

29, 19:00 | HAU1, Stresemannstr. 29, Kreuzberg, U-Bhf Hallesches Tor

37
---
What's on

MUSIC AND NIGHTLIFE

CLUB PICKS

SAT, DEC 6, 23:00

3 Jahre Freudentaumel (Let's say, techno)

Those who doubt the

reach of the Freudentaumel

crew, need only

gaze upon the all-stars

and label folks who stud

this, a mere birthday

number three, including

Circus Company's DAVE

AJU (photo), live sets by

faux-Bpitcher ALIEN ALIEN,

RAMPUE, violin virtuoso

ROBERTO SAVVAGIO and JUBEL JETTE, Gigolo's HRDVSION,

FOG PUMA, Øye hip hop head DELFONIC, DWIG, and about

two dozen more, because three is the magic number.

Ritter Butzke, Ritterstr. 26, Kreuzberg, U-Bhf Moritzplatz

SAT, DEC 13, 23:59

10 Jahre Berghain (Should we assume it

shall be techno?)

There were more articles

on the 25th anniversary

of die Wende that mentioned

Berghain (and how

hard it is for American

journalism students to

get into it) than the Berlin

Wall, and The Little Ostgut

That Could celebrates

its first decade with the

usual insouciance –

minus its new kinky sugar

sculptures, the line-up holds no surprises, just the usual

excellence, with dubstep in the main room with a live set

by SHED (photo), neo-disco and UK Funky in Panorama

Bar with JOAKIM and JOY ORBISON, respectively, and Nordic

balearic on Sunday with SKÅTEBARD. Plus BEN KLOCK

and the regulars. Remember: face tattoos hide the ageing

process. Berghain, Rüdersdorfer Str. 70, Friedrichshain,

S-Bhf Ostbahnhof

WED, DEC. 31

Sylvesterave! (As you like it)

Another year has come

and gone and you never

did get around to writing

that piece for the New

York Times Style section

about how your boyfriend

(now-ex) is pioneering

Central European vegan

chilli. Time to dance off

the disappointment.

If the €139 dinner at

Clärchen's Ballhaus doesn't slice your sausage, it's

only €65 at Kitty Cheng (as a bar, maybe it's all finger

food). And there's always that other pole of East German

decadence, Berghain, which mostly features regulars

such as DJ PETE and TAMA SUMO. Gretchen focuses on

its specialty — post-jungle derivatives, with BLACK SUN

EMPIRE (photo) and NEONLIGHT. Ritter Butzke wishes

you all a Hippy New Year, with EINMUSIK, IL CIVETTO and

TIGERSKIN performing live along with a dozen others

DJing, with a similar group — TANITH, MIKE WALL, MITJA

PRINZ, et al — at Suicide Circus. There's more of that

techno you don't wish to avoid with LÜTZENKIRCHEN and

DANIEL BOON at M-BIA, while Humboldthain Club fans

out its Allstars, like STEVEN TANG. No techno for you? The

indie-riffic KARRERA KLUB DJs and their various progeny

bring a Pop Explosion to Magnet. If you prefer a bit more

culture, even Radialsystem V is hosting a DJ: LETIZIA

RENZINI. Grüner Salon pretends to be Bassy, with DJ LO-

BOTOMY, MAN TANZRATTE and friends bringing a night of

Spacy Stardust Sleaze, though on Dec 30 Bassy will also

pretend to be Bassy, with JUNGLE GIULIA and GOLBY

SURROUND. Who will you pretend to be in 2015?

All over the city, check specific websites for information

RUTGER PRINS

Cut-ups By MARISSA MEDAL

Gothenburg, Sweden is better

known for its twee and pensive

singer-songwriters. One wouldn't

expect it to also host the lair of a

LITTLE DRAGON.

But for the better part of a decade, the offkilter

dance-pop consortium, consisting of

singer Yukimi Nagano, bassist Fredrik Källgren,

drummer Erik Boden and keyboardist Håkan

Wirenstrand, have been climbing into public

consciousness, with a boost from Grey's Anatomy,

Outkast's Big Boi and, notably, Damon Albarn,

who anointed them honorary Gorillaz. They

take down the tempo a bit on Nabuma Rubberband

(Because Music), their latest; you'll hear

that slow roar Monday, December 8

at Astra.

You had cut back on touring.

ERIK BODEN: We had a long period

where we didn't do any shows, so you

kind of lose your identity, somehow.

We actually managed to, for the

second time in the history of Little

Dragon, forget somebody at customs. It's not fun.

FREDRIK KÄLLGREN: It's easily done, I guess.

EB: It's easily done but nerve-racking for the

person that's left behind, I suppose.

FK: You're in the bus, and then maybe in the

middle of the night or in the morning everyone

has to go out to show their passports, then

everyone needs to go back to the bus. And that's

when. Maybe you are a bit stressed.

YUKIMI NAGANO: It's like four in the morning,

usually, when we go through customs.

FK: I went off for a wee, and when I went out

from the toilet [laughs], I saw the bus driving

away in the distance. I freaked out – I didn't

have my phone but I had my passport.

When did they notice that you were gone?

YN: Like, two and a half hours later.

FK: Yeah, one and a half, actually. But then it

took 1.5 hours to drive back.

EB: I mean, you still have the Gmail correspondence

with the American Homeland

Security guys...

FK: They were great.

EB: You sent Christmas cards – you got under

their skin eventually, and even became friends a

little bit.

FK: Yeah, there was one lady helping me.

Are you guys happy with how the album

has been received?

FK: Yeah, it feels like we're on the verge of

something.

EB: To be brilliant! [Laughs]

FK: To be brilliant!

YN: No, on the verge of success. We're just on

the verge.

EB: We're constantly not quite there yet.

FK: No...

LITTLE DRAGON

W/NAO Mon, Dec

8, 20:00 | Astra,

Revaler Str. 99,

Friedrichshain, S+U-

Bhf Warschauer Str.

YN: OK. We usually make fun because

someone wrote that in an article.

EB: Is that what you were rephrasing?

YN: No, it does feel good actually,

but, I mean, it's weird. You know, it's

been quite gradual but I feel like it

all depends on who you're compared

to. We want to do this kind of uncompromised

and as solid as we can. I mean, for this record

we wrote all the songs and we produced them

ourselves. But we gave away the stems and had

someone else mix the record. So that's kind of a

mini-step in giving away your baby.

Are any of the lyrics based on a

relationship?

YN: No, certainly. I mean, absolutely, I think it's

both personal but also fictional, and the fictional

stuff is also personal somehow, if you know what

I mean. It's kind of inevitable for it to get in

the mix, so yeah, some things are dreamy and

fantasy and other things are real.

So, are you in a relationship?

YN: Yeah.

And you guys?

EB, FK, HW: We're not. [Dour mumbling]

YN: We're family right here.

What is this other parallel universe that

appears throughout the album?

YN: I think it's a kind of escapism, and if you really

love music, it is a kind of natural high state.

I like to kind of dream myself away and I think

music really enhances that way of seeing life. You

know, like, if you had a soundtrack right now

everything you see would feel a little bit different

and the memory would be different.

FK: Well put.

It's like technology encouraging life. What

are your thoughts on technology?

HAKAN WIRENSTRAND: Well, I like the mix of

electronic sounds, synths and stuff being played

by hand, you know, and sometimes it's not per-

38 • DECEMBER 2014
---
InfoS: (030) 30 10 6 80 88

www.trinitymusic.de

24.02.15 . Columbiahalle 06.03.15 . astra kulturhaus

fectly in time and everything, but I think it sucks

you into becoming interested even though you're

not really knowing why. Sometimes it's kind of

the dirt or all the mistakes and, uh, the human

touch. There's a lot of bands like that. Like Devo:

super-strict machine kind of playing – wait a

minute, there is actually a drummer there, really

trying his best to be as machine as possible.

FK: I was out taking a walk, and there on the

lawn was this grass clipper robot coming towards

me and I stood and watched it. It's funny.

It was a robot?

FK: It was a robot, a grass-cutting robot, and it

was helping the lawn. That was crazy. All of a

sudden there is a little dude, it felt like a little

dude running around by himself or herself. I've

been out on a lawnmower, you know, you sit on it

and steer, and for me that was kind of like, a big

step. Wow. [Laughs] But is it better? I don't know,

because I kind of enjoy cutting the lawn. It's a

dream for a lot of people. It's definitely a dream.

But I'm thinking maybe we're going to get used

to that, having more machines, which is scary.

EB: I think it's funny how a lot of these things,

you can start feeling like they have a personality,

which is kind of scary. They don't actually have a

personality – it's all just programmed – but sometimes

it's like, "Whoa, why are you doing this to

me?" And you get angry at some computer.

FK: A lot of people kind of get angry on the

computer.

YN: Or when you're buying groceries and you

don't pay for your groceries anymore to a person.

You buy them at the machine. Technology is

good. Technology is destroying us. It's very grey.

FK: It's very interesting, though, because we're

probably going to get to that stage where we get

more relationships with computers.

EB: I had a phone with Siri on it. I won't name

the brand or anything, but I started talking to

Siri there for a while, actually. I was like, "Siri,

can you put on the alarm for me?" They just start

talking to you. I'm like. "Please end this conversation,"

and she wants me to talk more and I

noticed I was laying there talking to Siri.

FK: One thing that I've been thinking

about with technology is this

phenomenon of the singularity that

you talk about, because you know the

artificial intelligence that is getting

more intelligent, and they say at one

point it will be more intelligent than humans

and we will become useless. But my question is:

what drives this technology? Because it doesn't

have a body, it doesn't have urges and drives and

loneliness and hungriness, you know? But in a

way we are machines, as well. What is driving us?

Basic needs and complex thoughts! And food.

EB: I think it just wants to be updated! [all laugh]

They're trained to be modelled after us.

FK: It's going to be random and kind of start being

self-contained.

HW: For me, it will be so smart it will kill itself.

There have been thousands of movies

about this subject.

HW: Yeah, let's watch some. ■

Little Dragon in five dates

1996 First-year student Yukimi meets seniors

Fredrik Källgren and Erik Boden while at high

school in Gothenburg, Sweden.

2007 Sign with Peacefrog Records and

release their eponymous debut album,

followed up with sophomore effort Machine

Dreams two years later.

2009 "Twice" gets heavy TV and film

placement, including Grey's Anatomy.

2010 Damon Albarn features Little Dragon on

Gorillaz' Plastic Beach (Virgin), along with De

La Soul, whose Dave will guest on Nabuma

Rubberband. They're taken along on tour.

2011 Title track to third album Ritual Union

(Peacefrog) gets heavy club traction; featured

on songs by SBTRKT and DJ Shadow.

MICHAL ANDRYSIAK

PHOTOS BY MICHAL ANDRYSIAK

24.03.15 . Columbiahalle

Bluegrass JamBoree

07.12.14 . C-Club

deus

09.12.14 . Postbahnhof

The game

09.12.14 . C-Club

CurTis harding

11.12.14 . Bang Bang Club

James YorksTon

13.01.15 . heimathafen neukölln

lamBChoP

Performing nixon

05.02.15 . heimathafen neukölln

rea garveY

09.02.15 . Tempodrom

sTraighT no Chaser

11.02.15 . heimathafen neukölln

NICK MULVEY

special guest: Eaves

Do. 04.12. Einlass 19:00 Maschinenhaus

intro, faze, Radio Eins & KulturNews präsentieren:

LITTLE DRAGON

spec. guest: Nao

Mo. 08.12. Einlass 19:00 Astra Kulturhaus

BRAVO, vevo & Radio Fritz präsentieren:

KATY PERRY

Prismatic World Tour

support: Charli XCX

Fr. 13.03.2015 Einlass 18:00 O2World

SELAH SUE

Sa. 14.03.2015 Einlass 19:00

Astra Kulturhaus

Infos unter www.mct-agentur.com

Online Tickets unter www.tickets.de + www.ticketmaster.de

Ticket Hotline: 030 - 61 10 13 13

07

DEZ

20

FEB

02

DEZ

02

DEZ

05

DEZ

13

DEZ

20

DEZ

08

FEB

02

MÄR

08

MÄR

10

MÄR

STROMAE

COLUMBIAHALLE

THE BLACK KEYS

MAX-SCHMELING-HALLE

PARKWAY DRIVE &

HEAVEN SHALL BURN

COLUMBIAHALLE

SHAMIR

KANTINE AM BERGHAIN

KIASMOS

WATERGATE

»PELAGIC RECORDS LABEL NIGHT«

MONO • EF • UVM.

C-CLUB

AT THE GATES & TRIPTYKON

POSTBAHNHOF

ELLIPHANT

MAGNET CLUB

JOSÉ GONZÁLEZ

HEIMATHAFEN NEUKÖLLN

TIGER LOU

MAGNET CLUB

TINASHE

FRANNZ CLUB

02.06.15 . Zitadelle

Pere uBu

11.02.15 . Quasimodo

mark lanegan Band

17.02.15 . Postbahnhof

The suBwaYs

20.02.15 . huxleys

Paloma faiTh

20.02.15 . Postbahnhof

alex g

23.02.15 . kantine am Berghain

asaf avidan & Band

12.03.15 . kesselhaus

sCoTT Bradlee &

PosTmodern JukeBox

08.03.15 . lido

arChive

24.03.15 . huxleys

39

WWW.LANDSTREICHER-KONZERTE.DE

WWW.FACEBOOK.COM/LANDSTREICHER.KONZERTE
---
What's on

MUSIC AND NIGHTLIFE

CONCERT PICKS

THU, DEC 4, 21:30

Rodion G.A. (Romanian Krautrock)

The latest rediscovery in

the annals of psychedelia,

the Romanian RODION

G.A. was a kosmische

tape-splicer par excellence

and could have

given Klaus Schulze a

run for his money in the

1970s if only anyone

would have accepted his

currency. The low, emphysema-encouraging

ceilings of Mme. Claude should provide

a greater intimacy than next week's gig at Berghain. Backing

up the bill: sehr chic singing cellist DIZZY MOON and

the casually eclectic DJ EMMA TOME. Madame Claude,

Lübbener Str. 19, Kreuzberg, U-Bhf Schlesisches Tor

TUE, DEC 9, 21:00

The Game (Hip Hop)

THE GAME has apparently

still got game – a decade

removed from "Hate It or

Love It", the long brokenaway

50 Cent protégé's

last album topped the US

hip hop charts. Not the

German ones, though,

which puts the rapper in

the liminal state between

relevancy and veneration

that allows him to play a smallish spot like C-Club. No

doubt the show will be crowded by excitable Hamburgers

in confusing baseball caps, so if you're also going to dress

in sporting wear, preference hockey pads. C-Club, Columbiadamm

9-11, Kreuzberg, U-Bhf Platz der Luftbrücke

TUE, DEC 23, 21:00

Camera and Friends (Nü Krautrock)

Former buskers CAMERA

risk a certain consistency

in their approach, which is

why the old krautrockers,

such as Michael Rother

and Möbius, tour with

them. There's enough overlap

between Nü Krauts

and Old Shoegazers that

tonight's melange makes

sense: in addition to the

recently rediscovered GÜNTHER SCHICKERT on guitar, the

band features Brian Jonestown Massacre's ANTON NEW-

COMBE on synth, Spacemen 3's WILL CARRUTHERS on

bass and post-rock revivalist ANIKA on vocals. SCHWUND

opens. If all this sounds a bit 8mm, well, everyone's

favourite barman OSCAR VALENTINE will be DJing. SO36,

Oraninenstr. 190, Kreuzberg, U-Bhf Kottbusser Tor

SUN, DEC 28 - MON, DEC 29, 21:00

Leo Records 35th Anniversary (Free Jazz)

Leo Feigin (photo) has

been documenting the

Russian avant scene as

well as free jazz heroes

elsewhere, though the

impact of his label has

waned since its days as a

Cold War bludgeon. Sunday

privileges the RUS-

SIAN FREE FOLK QUARTET

featuring the cultish Evgeny

Masloboev, ALMUT KÜHNE solo and BASSX3, whose

Gebhard Ullmann also plays sax in Monday's 4 REEDS.

TJ SHREDDER features Necks drummer extraordinaire

Tony Buck. VOCCOLOURS is a German vocal quartet – free

speech to give the NSA something to listen to. B-Flat,

Rosenthaler Str. 13, Mitte, U-Bhf Rosenthaler Platz

Three questions for...

Sherry LeBlanc of Love Inks

By BETTI HUNTER

Austin, Texas minimalist electro-dreamers LOVE INKS – husband-andwife

duo SHERRY LEBLANC (photo, right) and Kevin Dehan, alongside

newly recruited bassist Zach Biggs – have further stripped back their

pared-down sound with new album Exi (Republic of Music). Meet

Sherry's unflinching stare at Lido on Sat, Dec 20.

You like to make prolonged eye contact

with individual members of the audience.

I make a point to try to look everyone that I can

see in the eye, and really, really connect. This

is going to sound trite, maybe, but when I was

a kid I read an interview with Madonna where

she talked about how, before she had made it,

she would just walk around the streets of New

York holding eye contact so that when people

saw her again, they'd be like, "Ooh, I know her

from somewhere." So as a kid, I started making

really direct eye contact after reading that article

and then I think it just gets blown up on stage.

Sometimes, if someone is talking and being really

loud at a bar, the way that I'll draw them in is

just by staring and making very uncomfortable

eye contact that I'm not comfortable with. But

that always works – it almost breaks down that

third wall. I think people sometimes, when they

go see bands, forget that it's not on television. It

makes the experience more of a human experience

between everyone.

Have you ever freaked anyone out by doing

it? There were these guys in Cincinnati that

had just kind of stumbled into the bar we were

playing, and this is the one time that the eye

contact thing went horribly wrong. I was trying

to engage them by looking at them

and then – it's weird: people don't

think musicians can hear what

you're saying while you're on stage,

but we could hear all of the conversations

throughout the bar. And

their response, which was probably

just out of, like, embarrassment and

LOVE INKS W/

Karrera Klub DJs

Sat, Dec 20, 22:00

| Lido, Cuvrystr. 7,

Kreuzberg, U-Bhf

Schlesisches Tor

discomfort, was "Look at this slut. She's going to

suck our dicks later." And then they started being

really aggressive back, and coming up to the

stage and making sexual gestures at me. The guys

ended up having to be thrown out of the bar.

But it just started with this innocent idea that I

could get their attention through eye contact.

You guys don't have a reputation for bellligerence.

Um, we had crazy stuff happen in

Brighton, of all places. It was the night of a

football game, and there was a big upset, so the

streets got kind of rowdy. And then this one guy

came up, this giant, bald-headed man, and he

wanted to fight Kevin – "You, me, we're going

at it!" And Kevin was, like, "No, man, I'm cool.

Sit down and have a beer with us." But the guy

was just belligerently drunk and so I was there

with my friend Bex who is kind of this tiny, very

cute little lady, and I'm like, "Hey, man, it's okay."

But when I touched his shoulder, he somehow

thought that one of the guys in our group had

touched him and he turned around and punched

Bex in the face. He knocked her two bottom

back teeth out. And so at that point everybody

at our table jumped on the guy. Kevin had never

been in a fistfight before, and he ended up

almost not being able to play guitar for the rest

of the dates because he had damaged his

hand so badly. It's just, we're like a really

minimalist wimpy band and we ended up

in this fistfight in Brighton and we were

like, "What the fuck," and everyone was

saying, "Brighton is peaceful, this kind

of thing doesn't happen often." But I

don't know. ■

TARA HEDLUND

40 • DECEMBER 2014
---
Ich will nicht nach Berlin

From Monster Mash to

mashed potatoes By BETTI HUNTER and SADIE MARTIN

"Karaoke is a FREAK magnet," admits Ron

Rineck with a sheepish chuckle. As the

founder of Berlin's notorious karaoke bar

Monster Ronson's, Rineck has encountered

his fair share of divas, drunks and delusional

wannabes in the labyrinth of private singing

booths and on the main karaoke stage,

where braver (or boozier) souls satiate their

need for public admiration.

"They take it so seriously!" he laughs.

"They come to me in distress and say 'Oh

my God, that guy is singing my song!' and

I'm like, 'Oh, really? Did you write it?'"

December 1 marks MONSTER RONSON'S

10-year anniversary, which will be celebrated

in their customary sparkle-heavy style with

a surprise party planned for Rineck by his

employees (oops!).

Sixteen years previous, he was grudgingly

dragged to his first karaoke bar in New

York, where he sang The Stones' "Paint It

Black". Hours later Rineck was alone in the

booth, two microphones in hand, begging

his friends to stay.

Rineck made the move to Berlin in 1998.

Back then, Kim's Karaoke in Mehringdamm

offered only a smattering of English and

German songs. Sonntags in Mauerpark didn't

take over the Bearpit until 2009. Rineck

started spreading the karaoke gospel by KJing

impromptu events from the back of his

car and living in squats while "itching to open

a place" of his own. "I didn't have any money,

and when you're 25 and have a big green mohawk,

nobody wants to rent you a place."

Rineck's hair has since calmed. In 2004,

the original Monster Ronson's Sing Inn

opened its doors in a former brothel on

Lübbener Straße (now occupied by Madame

Claude), unleashing a nightly chorus of

pissed-up partiers onto an otherwise deadend

street. After three years in Kreuzberg, it

was onto the even more dead-end Warschauer

Bridge – in 2008, Matrix was the only

club in the area.

"Everybody said, 'This will never work,'"

he recalls, "and the first year was hell. Every

month my rent was getting paid later and

later." But word-of-mouth spread rapidly.

"It blows my mind," he says proudly, "that

people from all corners of the Earth have

heard of us." The only uphill battle has been

having a 100 percent gay night. "We host

Gayhole parties every Thursday, but even

on a really gay night, it's still only half gay.

That's okay, but I know people who come

in and they're like 'Hey, there's all these

straight people here, let's go.'"

Two years ago, as Berlin's status as a global

party mecca cemented, Rineck abandoned

his city apartment and now lives "in needed

peace and quiet" on his remote farm with

13 chickens, two ducks, three cats and, of

course, a karaoke machine. "When I moved

to Berlin it was a big empty adult playground.

Now the city is too full," he sighs.

So when he's not serenading his menagerie

with "Call Me Maybe", Rineck tends to his

vegetables and delivers weekly supplies to

his employees when he returns to man the

doors on weekends. The farm has increasingly

become his stage – the lure of the neon

lights and disco balls replaced by a satisfaction

in showing city-folk that "there's an

alternative to buying overpriced groceries

that may or may not be good for you."

"I don't want to be in nightlife my whole

life," he says. "I've made a lot of connections

with other farmers in the region, which is exciting.

Having this farm is my practice career

change." But there are some aspects of country

life this city boy hasn't quite adapted to...

"Ugh, gross, my cat just brought a mouse in!"

he exclaims. To the cat: "You're gross!" ■

INTRODUCING

MIT PIMF, RACING GLACIERS, WEVAL

09.12.\LIDO

ZOOT WOMAN

19.01.\LIDO

JUSTIN TOWNES

EARLE

SUPPORT: ANDREW COMBS

26.01.\GRÜNER SALON

TR/ST

29.01.\SCHWUZ

KIESZA

01.02.\KESSELHAUS

JESSIE WARE

06.02.\ASTRA KULTURHAUS

SYLVAN ESSO

21.02.\PRINCE CHARLES

CERTAIN PEOPLE

MIT PANDA BEAR

10.03.\BERGHAIN

THE

UNDERACHIEVERS

AND

FLATBUSH

ZOMBIES

ARE

CLOCKWORK

INDIGO

29.03.\LIDO

SIZARR

17.04.\LIDO

meltbooking.com

facebook.com/wearemeltbooking

41
---
What's on

ART

American Producers –

Playback Room part II

How best to show music?

Wolfgang Tillmans's

Playback Room project

creates sensitive and

specific listening situations

for an audience

to reengage with music

they thought they knew.

The earlier incarnation

of this series, which was

dedicated to the band

Colourbox, is followed here with a specially created listening

room installation that presents the work of a range

of American hip-hop producers – from Kanye to Missy to

Zebra Katz – in an invitational, exciting, and expansive

way. AD Through Jan 17, Between Bridges, Keithstr. 15,

Charlottenburg, U-Bhf Wittenbergplatz, Wed–Sat 12-18

Nairy Baghramian – Off the Rack

Iranian artist Nairy

Baghramian's installation

works are evocative

collections of objects that

come together to create

diverse and colourful

formations; referencing

sculpture, design, and

architecture. Sometimes

domestic items such as

furniture or pillows appear

surrounded by more peculiar and less familiar structures.

There is the sense that some objects are found and

some are fabricated but it is difficult to distinguish the

readymades from the bespoke items. Baghramian's play

with scale and colour thwarts and brings alive the most

mundane of 'everyday' objects. AD Dec 13–Jan 25,

N.B.K., Chausseestr. 128/129, Mitte, U-Bhf Oranienburger

Tor, Tue-Sun 12–18, Thu 12–20

Miklos Gaál – Pieces of the Sky

Finnish photographer

Miklos Gaál captures

everyday motives in an

extraordinary way. One

would swear up and

down that he works in

analogue photography,

but instead he sets a new

mark on the map of the

tradition. Butterflies, snow,

soapsuds on a table: he

puts each object under a magnifying glass, creating new

contexts out of everyday glimpses. Perception becomes

forged in stone, drawing on our personal memories and

the emotions tied into them. FM Through Dec 13, Wagner

+ Partner, Strausberger Platz 8, Friedrichshain, U-Bhf

Strausberger Platz, Tue-Sat 13-18

Gottfried Lindauer – The Maori Portraits

In the quiet halls of the

Altes Museum, it's shocking

but understandable

how this exhibition could

pass you by. The small

but fine portraits by 19thcentury

artist Gottfried

Lindauer, who resettled in

New Zealand in the late

1800s after studying classical

painting at the Art

Academy of Vienna, use a smooth, classical style to wash

over imagery of Maori tribespeople, channeling a finenesse

reminiscent of the frills and thrills of Viennese cafe

society. The formalisaton breathes life into the individuals,

who peek out proudly from the canvases. FM Through

Apr 12, Alte Nationalgalerie, Bodestr. 1-3, Mitte, U-Bhf

Klosterstr., Tue, Wed, Fri, Sat 10-18, Thu 10-20

BETWEEN BRIDGES

"You don't know if it's

the start or the end of

the world" By FRIDEY MICKEL

His diminutive, classically styled paintings of

desert-like landscapes (a little bit Whistler, a

little bit Rothko) are slowly making their way

around the art world. After generating buzz in

New York, Buenos Aires, Sao Paulo, Paris and

London, he has finally made his way to Berlin

with a show at Veneklasen/Werner.

Your paintings are small, but still so powerful…

It's about the relation – because the

paintings can fit in my hand, I can see all the

parts together, sort of move everything around.

With smaller sizes, there's more of a relation,

more intimacy. I try to put complexity in the

small scale, making the painting bigger than the

viewer's physicality – I like the distinction. It's

important for me to paint fresh. It's good for me

when I have the connection to the work I need

to finish. With these small ones, I only need one

or two days.

Do you ever work big? No. I tried many times,

but it wasn't good for me. I was never happy

with the big ones. There's more attention

in the small ones. This year

I found a way to make things a bit

bigger, but they need to be sort of

enclosed – only using two or three

colours or something like that, not

a lot of detail like in the small ones.

When I have a lot of stuff happening,

a lot of details, it's better for me

to work small.

LUCAS ARRUDA –

DESERTO-MODELO

Through Jan 10 |

Veneklasen/Werner,

Rudi-Dutschke-Str.

26, Kreuzberg,

U-Bhf Kochstr.,

Tue-Sat 11-18

ART

editor's

pick

Thirty-one-year-old Brazilian painter LUCAS ARRUDA is about to

make it big – by making it small.

Where does the 'Deserto-Modelo' concept

come from? You've been using this

title again and again for your exhibitions.

'Deserto-Modelo' comes from a Brazilian poet

I really love, João Cabral de Melo Neto. It's the

final line of one of his poems: "We chose to build

an enormous model." This word, translated as

'model', could be understood as a pattern, or

a new system, or an idealistic desert. It makes

sense for me, because it brings attention to the

civilisation, the repetition and development...

The works all deal with the same issue, and

there's a kind of a pattern of which things show.

Why are you so fascinated with the concept

of desert? In a desert you don't know if it's the

start or the end of the world. It's a place man

can't survive, an empty place, not anything, a

metaphysical place, because you have no presence

of time, but an existential quality. For me,

it's the only place where you could have freedom,

an experience of death as an experience of freedom,

and then return home safely.

Let's talk about the slide paintings…

The slides are very small paintings

– I used a magnifying glass and

painted directly on them. I thought

for many months about what order I

should put the slides in. The heart of

the work is how the projector light

goes on and off when changing each

slide. The light 'opens' when each

VENEKLASEN/WERNER

42 • DECEMBER 2014
---
slide is introduced, and then it closes as

the slide fades away. For me, this work is

important, because it sort of examines the

saturation of the landscapes: when you see

one, it dilutes and you forget the painting

that came before it. The importance of

one is replaced by the following one. More

specifically, it's more about the moment,

like when nighttime approaches, the way

the day moves into the night. The night has

a connotation of drama to it – it's dark and

mysterious. But what I am really interested

in is the energy you feel just before night

happens, expecting that moment to arrive –

as the night comes, the day sort of opens up

again. This passage is important to me, the

passage of the Earth in this way, this energy

of passage from one into the other.

How do you identify with the tradition

of classical painting? I'm very aware of

this moment of our history, of gender painting

and landscapes, and there is no pretension

to say that what I'm doing is unrelated

to it. And I have no problem of paying

homage to classical painting. I don't have a

problem being associated with it, or a problem

that someone might think the work is

from that period of time. It's an honour to

be counted among those artists. ■

Tina Sauerländer on...

Caroline Kryzecki

December 5 marks

the opening of

Superposition at

Sexauer Gallery,

featuring Berlin artist

Caroline Kryzecki

and her new cycle

of mystical ballpoint

pen-on-paper creations.

Accompanying

the exhibition is a

monograph catalogue

by Düsseldorf-based

design studios Optik

and Zweizueins,

featuring a text by

curatorial it-girl TINA

SAUERLÄNDER. Like

the other elegant

opening soirees

hosted by Jan-Philipp

Sexauer, this is your

chance to immerse

yourself in the who's

who of the scene. Sauerländer took

Fridey Mickel a bit deeper under the

surface of the art.

What attracted you to Caroline

Kryzecki's work? When I first visited

Caroline in her Neukölln studio some

years ago, I was very impressed by

the power of her drawings combining

line systems and geometrical forms. That

day, she gave me a unique insight into her

photo archive, which she had spread on a

table and allowed me to go through by myself.

There were images of abstract patterns and

ornaments from everyday life: close-ups of

house facades, lattices, supermarket shelves

or stacked sun loungers. This was an 'aha'

experience for me. She was obviously looking

for some kind of structure, order and regularity

within everyday chaos.

What did you write about her drawings? My

text explains the connection between Caroline

Kryzecki's moiré drawings and the idea of

structuring chaos through repeating patterns.

CAROLINE KRYZECKI –

SUPERPOSITION Dec 6-Jan 17

| Sexauer Gallery, Streustr.

90, Pankow, Tue-Sat 13-18

(opening with catalogue

release, Dec 5, 18-21)

SEXAUER​ GALLERY​

For "KSZ 100/70"

the artist preconceived

a construction

method which she

applied to each work

of the series, repeating

it with slightly

changed initial

parametres. This

method resembles

computer-based algorithms,

which are often

inherent to digital

and Internet based

art – but Caroline

carries out her work

manually. This leads

to irregularities that

force her to modify

the initial parameters,

making her series

similar to self-organisational

systems

which adjust their

structure according

to external, environmental

factors. These

ideas of algorithms

and self-organising

structures are linked

to many fields of our

life today – from mathematics

and physics,

to biology and meteorology, to economics and

philosophy – to name just a few.

Why do you think it is important for a catalogue

to have a text? A contemporary catalogue

text could serve as a means of getting

deeper knowledge and background information

about a work, and also contextualising it

with other works or crucial developments of

our time. Artworks are highly individualised

artistic expressions, but also always a reflection

of the artist's surroundings, his or her

world and the world we all live in. A catalog

text tries to merge these approaches and

therefore could be a necessary tool within art

and its communication today. ■

schaubühne

+++With English surtitles+++

The Past

by Constanza Macras | DorkyPark and Oscar

Bianchi | Direction and Choreography:

Constanza Macras

27., 29.+30.11., 1.12. > 8:00 p.m.

NEVER

FOREVER

by Falk Richter and TOTAL BRUTAL

Text and Direction: Falk Richter

7.12. > 5:00 p.m.

The Forbidden

Zone

by Duncan Macmillan | Direction: Katie Mitchell

14., 15.+16.12. > 8:00 p.m.

An Enemy of

the People

by Henrik Ibsen | Direction: Thomas Ostermeier

18.12. > 8:00 p.m.

Tartuffe

by Molière | Direction: Michael Thalheimer

20.12. > 8:00 p.m.

The Little Foxes

by Lillian Hellman

Direction: Thomas Ostermeier

28.12. > 8:00 p.m.

43

Tickets: 030.890023 | www.schaubuehne.de
---
Pablo Picasso, La Tauromaquia o el arte de torear, Sprung mit der Garrocha, 1957, © Succession Picasso/VG BILD-KUNST Bonn 2014

Francisco de Goya, La Tauromaquia, 1816

What's on

ART

Goya/Picasso – La Tauromaquia

T

This is a comprehensive

display of graphic

works from two giants of

Spanish/European A

art,

centered on the contentious

u drama and brutality

of modern bullfighting.

Using r light-dark contrasts

to emphasise the

dynamics O of the struggle,

Goya's are precise, almost

mdocumentary representations, whereas Picasso's appear

from a few loose

GOYA

strokes. Numerous

• PICASSO

lithographs and

colour

A

linos are also on show, in which topics such as

myth, death, and Eros are unearthed by these masters of

the graph. AD Through Feb 22, Schloss Britz, Alt-Britz

q

73, Neukölln, U-Bhf Rudow, Tue–Sun 11–18

u

I

Paul Graham – Does Yellow Run Forever?

New York-based British

photographer Paul

Graham's work in the

early A 1980s revolutionised

the way colour

photography was used

SChlOSS in social documentary, BrITz

18.10.2014 influencing the work - 22.02.2015

of

Alt-Britz Martin 73 • Parr 12359 and Berlin • Richard

Tel.: 030/60 97 92 30 • www.schlossbritz.de

Billingham among many

others emerging from

the British scene at that time. Here, a diverse range of

beautifully arranged, framed colour prints bring the viewer

to everyday scenes from many different locations, rural to

urban, in many parts of the world, all bound by a delicate

and humane sensibility proposed by both subject and

photographer. A must-see show. AD Through Dec 20,

Carlier Gebauer, Markgrafenstr. 67, Kreuzberg, U-Bhf

Kochstr., Tue–Sat 11–18

László Moholy-Nagy – Sensing the Future

The 'brave new world'

forms and experiments

seem almost cute in a

modern-day context. Yet

the artwork itself remains

fundamental: light, colour,

film and form live up to

the Bauhaus style that

flowed out of the art

school once Moholy-

Nagy took the reigns. The

inadvertent questions that emerge examine what many

wonder but few ask: If new media artwork has its roots so

weighted in monarchical excellence, why is it that people

are still so confused about it today? FM Through Jan

2, Bauhaus-Archiv, Klingelhöferstr. 14, Schöneberg, U-Bhf

Nollendorfplatz, Wed-Mon 10-17

Jeremy Shaw – Hot 100s

Alongside an ongoing

video work are four new

large-scale panels of

101 Polaroid photos

each. Listening through

headphones to specific

Billboard Hot 100 chart

music, at certain points

during each song, Shaw

placed his index finger

directly onto unexposed

pieces of Polaroid film situated on the copper plate

surface of a Kirlian camera device, sending an electric

shock through the film and into his finger. The process

captures a photographic image of both Shaw's fingerprint

and the electrical coronal discharge that exists around it,

capturing each song's mediation through his body. FM

Through Dec 20, Johann König, Dessauer Str. 6-7, Kreuzberg,

U-Bhf Mendelssohn-Bartholdy-Park, Tue-Sat 10-18

HARUN FAROCKI

"This pineapple is confronting its

own existence" By ADRIAN DUNCAN

More than just lifestyle photographers, the Kiev trio GORSAD opens a

window onto Ukraine's youth culture.

The raw, often provocative

images of Maria and

Julian Romaniuk and

Viktor Vasiliev come

from the interactions

they have with their

young subjects, who

display a side of Ukraine

not often shown in

the media. Their most

recent photo series

Paradise will be shown

at Erratum as part of

the show STILL LIFE

# SHIT HAPPENS, curated

by Penny Rafferty

(also featuring HR,

Grey Hutton, and Angelo Scamuffo).

What does the word "Gorsad" mean, and

how did you all meet?

GORSAD: Actually, Gorsad is a place in Odessa,

translated as "urban garden". We are old friends.

We studied together at the Institute of Arts, Kiev.

How do you collaborate? It depends. In any

case, the end result is the interaction of our

three attitudes. Each time, when selecting the

right picture, we ask ourselves the question:

How sincere is this emotion, how does it taste,

what is the aftertaste? As soon as the ingredients

are brought to a proper condition, there comes

a feeling of satisfaction. Satisfaction: that's the

energy that we want to share with the audience.

Why do you tend to focus on youth? We don't

do it intentionally. Although, most likely, there is

ERNSTE SPIELE I-IV

Through Jan 18 |

Hamburger Bahnhof,

Invalidenstr. 50-51,

S-Bhf Hauptbahnhof,

Tue-Fri 10-18, Sat-

Sun 11-18

a certain proportion

STILL LIFE # SHIT

of vampirism. We like

HAPPENS Dec 12-

teenagers. They are

Jan 16 | Erratum,

always full of spontaneity,

passion for

Böckhstr. 40,

Kreuzberg, U-Bhf

Schönleinstr., everything new. They

Wed-Sat 14-19 are not spoiled by the

experience and this

allows them not to be

afraid to hide their true desires.

It is a kind of banter.

Penny, where had you seen

Gorsad's work before?

PENNY RAFFERTY: I believe I first

encountered Gorsad from the

unoriginal outburst of a Facebook

feed, which in some ways is also a compliment

as it stood out from the chaos. I think this

is because their work has all the traits of trend/

lifestyle photography, yet while most other images

we see are extensions of the 'heroin chic' style

of the early 1990s, Gorsad have an unassuming

sweetness – perhaps due to the political climate

in Ukraine, and the fact the youth live in a certain

abject poverty and don't feel the need to glorify it.

GORSAD

Can you describe one of the works in this

series? I think it would be apt to talk about

"Pineapple" as it's the flyer image, I would say it

is very simple, but also harrowing. A pineapple

slightly reclined smoking a cigarette has a comic

element naturally, but the world is an increasingly

unthinkable place, of planetary disasters, emerging

pandemics and the looming threat of extinction,

and to me this pineapple is enigmatically

confronting the horizon of its own existence. ■

Serious games

The late HARUN FAROCKI, one of Germany's most

prominent video artists, leaves behind an expansive

oeuvre. His recent work Ernste Spiele I-IV (2009-

10), a fascinating installation of four projected

films that raises questions about 'gaming' and

its uses, shows the types of computer-generated

imagery employed by the US Army to train marines

for combat in Afghanistan or Iraq. Each film piece

overlaps surreal gaming imagery with 'real' footage

of soldiers before and after deployment.

Farocki's intense early work Inextinguishable

Fire (1969), and his unrelenting

Interface (1995) are also shown, adding

further context to Farocki's overall contribution

to contemporary film and video art.

Farocki passed away on July 30 of this

year, halfway through the run of his installation

at Hamburger Bahnhof – don't miss

your chance to see it. AD

44 • DECEMBER 2014
---
The language school directory

Find the perfect school for you to learn German easily in any part of town.

Where it's fun to learn German.

Great German teachers

Join anytime

Exams and certificates

• In the middle of Berlin-Neukölln

4 weeks

Deutsch

188€

die

deutSCHule

Karl-Marx-Straße 107

12043 Berlin-Neukölln

Voice +49 30 6808 5223

www.die-deutschule.de

where

interesting

people meet

gls campus

kastanienallee 82 . p-berg

www.gls-berlin.de

Want to

sublet your

flat?

We'll help you!

• professional service

• entirely free of charge

• direct contact with

potential tenants

SPRACHwerk

die Sprachschule im Fachwerkhof

www.das-akademie.de

ACCESS

ALL

AREAS

Languages...

... your gateway to success

SMALL

groups

DAS

GREAT

Deutsch

English

Español

Türkçe

GREATteachers

DASworks

method

speak

We make you speak

the language you want.

Torstraße 125, 10119 Berlin

direkt Rosenthaler Platz

Tel : +49 30 250 980 68

infoberlin@das-akademie.de

Furnished or unfurnished,

all districts, all sizes, by the

month or longer.

Language School

TestDaF-Zentrum

Please register your flat online:

www.exberlinerflatrentals.com

Tel: 0049 30 47372964,

Max-Beer-Str. 48, 10119 Berlin

Office hours: 10.00 to 14.00

Improve your German!

Competent German teachers

+ small groups + friendly

atmosphere

Now located near

Potsdamer Platz

Potsdamer Str. 98a,

10785 Berlin

030 2300 5570

www.ifs-deutsch.de

To advertise here, contact

ads@exberliner.com

FROM SEPTEMBER 1 st 2014,

ESL PROLOG - BERLIN HAS BECOME

ALPADIA BERLIN

Hauptstrasse 23/24,

10827 Berlin (U7 Kleistpark)

T: 781 10 76

GERMAN COURSES + 16 OTHER LANGUAGES

EXAM CENTRE TELC, TESTDAF, CAMBRIDGE ESOL

TEACHER TRAINING

www.alpadia.com

47
---
BERLIN BITES By FRANÇOISE POILANE

ANNA AGLIARDI

HELLO, HALAL!

Legal since 2002, halal slaughter remains controversial in Germany, with

animal rights activists calling for a ban every few years. In Berlin, though,

Islam-approved food abounds in just about every form imaginable, meeting

the demands of today's multikulti Muslim.

Zam Zam: Currying favour

A poorly photoshopped Muslim crescent and

star on top of a bright green waterfall ornate

the 80-dish menu: Zam Zam is the name of a

spring in Mecca, and the green is actually the

Pakistani flag. A computer scientist who left

Pakistan for Berlin in 1981, business savvy owner

Tanveer Ahmed saw the lack of halal South Asian

restaurants as a gap in market and – ka-ching! –

launched Zam Zam in 2007. Here, Muslims and

others fill up on Indian and Pakistani classics,

at a slightly higher quality than the fast food

atmosphere suggests. Try the Indian Chicken

Madras, a proper garam masala and garlic-rich

curry (€5.90, with halal fillets from the next-door

Turkish supermarket) and veggie Shahi Paneer, a

creamy tomato sauce with cheese, almonds and

sultanas. It's worth the €6, especially with the

fried "balloon bread" Bathura (€1.30). If you're

aiming for something more original, order the

Rasgulla for dessert – two spongy, grainy cottage

cheese balls resembling peeled lychees, soaked

in rose water syrup, neatly arranged with coconut

flakes and almonds. HW Zam Zam, Hauptstr. 15,

Schöneberg, U-Bhf Kleistpark, Mon-Sun 12-24

Salsabil: Falafel goes east

Decent Arabic food joints are a dime a dozen in

the former West, but 20-year-old Lebanese minichain

Salsabil ensures halal eaters in Prenzlauer

Berg and Friedrichshain get their fix as well. Its

cutesy 'oriental' décor, reasonably priced menu

and free, self-service Schwarztee samovar – replaced

by a warming cinnamon tea in the winter

– make this a cosy little hangout. The menu offers

the usual falafel, shawarma, makali and halloumi

sandwiches (€3-3.50), plus more exciting options

such as lamb sujuk. If you're a little more than

peckish, you can sit down to a full plate of assorted

meats and veg (€8.50) which will probably

fill two bellies if you've already had one of their

lentil soup appetisers (€2). How do you know

it's halal? Kais, the friendly Tunisian and devout

Muslim who helps run the Friedrichshain branch,

claims to know the supplier personally. TO

Göhrener Str. 6, Wörther Str. 16, Prenzlauer Berg, U-Bhf

Eberswalder Str., Grünberger Str. 38, Friedrichshain,

S+U-Bhf Warschauer Str., Mon-Sun 12-1

Ruccola Cuccina Mediterane: Halalitaly

An impressive clash of Mediterranean and Middle

Eastern culture greets you on entering the diminutive

pizzeria at Rathaus Neukölln. A cartoonesque

pizzaiolo character grins down from the

sign, "Halal" emblazoned on his hat. Strangely,

the intricate tiled flooring and Arabic scripture

on the crimson walls don't seem out of sync with

the hanging Tricolore and vats of Parmigiano.

Owner Abdulkarim Tarhini favours the traditional

Italian style and pulls it off – his classic thin-crust

Margherita (€5.10) even wins the approval of

Exberliner's resident Italiana. Meat-lovers will be

impressed by the coronary-inducing Mista with

(beef) salami and (turkey) ham (€5.70) or the fiery

Chicken Curry (€7.90 with chicken breast, curry

sauce, and pineapple). Getting a table might also

be hard – their seating arrangements consist of

two red vinyl booths – but their speedy Lieferservice

makes it a favourite with famished couch

potatoes. BH Erkstr. 20, Neukölln, U-Bhf Rathaus

Neukölln, Mon-Sun 13:45-1:30

Toast Haus: Cheese Kurd

Opened this year on Hermannstraße, this all-halal

Turkish sandwich shop is owned by a charming

young couple (he's Kurdish; she's Chinese-Vietnamese)

who get their bread specially made from

a bakery in Zehlendorf owned by the husband's

family. A kind of Milchbrot, it stands up to the

panini press with aplomb, developing a crispy

crust while maintaining a soft interior that melds

perfectly with gooey melted cheese and any number

of other ingredients, from Turkish pastrami to

"Hawaii"-style pineapple to a veggie option with

tomato and peppers (€2.90-3.80). It comes on

a partitioned plate with pickled cabbage, olives,

yoghurt and chilli sauce. If you're craving more,

they also make multiple variations of menemen,

the creamy Turkish scrambled egg dish, and

omelettes. JS Hermannstr. 169, Neukölln, U-Bhf

Hermannstr., Mon-Sat 7-17

Curry1: Beefy Wurst

If you're a devout Muslim or Jew or just not into

pork, but you can't live without the original Berlin

fast food delicacy, this little Imbiss on the border

of Kreuzberg and Neukölln might be for you,

though a beacon on the street food scene it is

not. As at every currywurst stand, the bearded

worker cheerily drenches tangy ketchup on your

paper plate of sliced sausage, piles cardboardy

French fries on top of that, then squirts noncurry

ketchup all over that. Eat at the one small

sit-down table or else standing up in the freezing

cold. The Wurst definitely tastes beefy, with a

slight BBQ tanginess. All in all, neither inferior

nor superior to the pork version. Cleanse your

palate afterwards with a mango Ayran – no booze

sold here! SG Kottbusser Damm 1, Kreuzberg, U-

Bhf Kottbusser Tor, Mon-Thu 10-24, Fri 10-1, Sat 11-1,

Sun 12-24

46 • DECEMBER 2014
---
MJ's Foodshop:

America, fork yeah

Food snobs tend to use the word 'authentic' to

refer to cheap, dingy holes in the wall run by wizened

old women and populated by leather-faced

blue-collar workers, not brand-spanking-new

midpriced expat restaurants putting the stamp

of gentrification on NoSo (north of Sonnenallee).

Yet we dare say: the six-month-old MJ's

Foodshop serves some of the most authentic

American food in Berlin!

It starts with the portions. "The French have

a problem here," our waiter says as, completely

stuffed, we admit defeat and ask to have the

remaining third of our reasonable-sounding

order doggy-bagged. Like the no-frills New York

eateries at which owner and chef Michael Rosenfeld

made his living before moving to Europe

seven years ago, MJ's Foodshop is not a place for

restraint. Or subtlety. Or, thank god, tofu.

Instead, it's a hall of fame of casual-dining

classics made entirely from scratch, including

all the breads and sauces (besides the obligatory

ketchup and Tabasco). There's Caesar salad, a club

sandwich, mac and cheese, beef brisket and fried

chicken, none of it 'artisanal' or 'deconstructed' or

given a pretentious gourmet twist. Rather, it's just

like your American mum made – but better.

Take that mac and cheese (€5), which though

listed as a "Small

Favourite" arrives

in a crock the size

of a Frisbee. Made

with Irish cheddar, it

avoids the dish's usual

(mushy, congealed)

missteps even on

reheat, achieving a

creamy texture with a

nicely browned

crust that shatters

like a crème

MJ'S FOOD-

SHOP Sonnenallee

34,

brûlée when

you dig in. Or

Neukölln, U-Bhf

the Caesar salad Hermannplatz,

(€7), which

Tue-Sun 12-23

unless otherwise

specified comes

absolutely drenched, steakhouse-style, in a tangy

dressing (anchovies included, of course!) with

thick grilled toast in lieu of croutons – the homemade

bread stands out spectacularly here.

Puzzlingly, the menu skips over beef burgers,

opting for a veggie version only (€8). As if to

overcompensate, the grain-and-mushroom patty

is one of the meatiest ones we've tried in Berlin.

Topped with avocado and caramelised onions,

served with cabbage slaw and some pretty darn

addictive sliced pickled chillies, it's anything but

health food – even more so with add-ons (€.50-1)

like cheese, a fried egg

or, yes, bacon. Only

order the fries (€3 with

your choice of flavoured

mayo) if you're ravenous

– they earn points

for leaving the skin on,

but could stand to be

crispier.

MJ's most glaring

weak spot is its

alcoholic drinks. A crisp

local IPA would work

wonders in cutting

through the myriad

swathes of melted

cheese, and weekend

brunchers might crave

a Bloody Mary along

with that towering turkey and bacon club (€9).

Instead, we're left with sweet-ish, mostly Bavarian

brews (around €2.50).

Don't let that deter you. In the constant, oppressive

greyness of a Berlin winter, comfort food

is a must, and that's exactly what you'll find here.

All that's left is for Rosenfeld to make good on

his promise to keep his restaurant open 24 hours

on weekends so you can replace that 4am döner

with something truly unregrettable – and have

enough left over that you won't have to leave the

house for breakfast the next day. JS

ANNA AGLIARDI

INSIDER TIPS

& EXCLUSIVE

UMAMI

GIVEAWAYS

SIGN UP FOR THE

EXBERLINER

NEWSLETTER AT

www.exberliner.com

47
---
FASHION

By JESSICA SALTZ

■ FASHIONISTAS

Leather on

the brain

MARINA HOERMANSEDER's sculptural leather

pieces make the jump from international stages

to the Berlin streets.

Most fashion graduates struggle for years to create

a name for themselves, but Marina Hoermanseder's

success was immediate. Her 2013 ESMOD graduate

collection, inspired by 18th-century orthopaedic

corsets, caught the attention of fashion press in record

time and her pieces have already been worn by Lady

Gaga, Rihanna, rapper Eve and most recently on

stage by FKA Twigs. The celebrity demand is "very

flattering. It's good for the press and to bring attention

to my brand," the designer says, but she modestly

admits that "it is more flattering to see regular women

trying on and enjoying my clothes." The 28-year-old

Vienna native studied fashion in Berlin after completing

a degree in finance at her parents' insistence.

"That was the deal I made with them. And I have now

managed to convince my toughest critics," she smiles.

Hoerman seder's fascination with corsets

began when she was working

at Alexander McQueen

in London. "I wanted to

learn how to make corsets

of the Renaissance," she

says. "But in my research, I

came across the orthopaedic

corsets of the 18th

century and just couldn't

forget the images of the

■ SHOP OF

THE MONTH

Wunderkind

Wolfgang Joop is

busy on TV judging

Germany's Next Top

Model, but he still finds

time to oversee his

brilliant label, now in

a very glamorous new

premises on Ku'damm.

Kurfürstendamm 46,

Charlottenburg, U-Bhf

Uhlandstr., Mon-Sat 10-19

intricate handwork." Leather became her material of

choice and she trained "with an old saddler in Wedding"

to learn the tricks of the trade, as well as experimenting

with new techniques at home in her kitchen. She masterfully

uses leather to create sexy, fitted lacquered bustiers,

elaborate skirts and jackets covered with twisted straps

and buckles. The stand-out piece of the current Autumn/

Winter collection is a white, ruched leather cape, created

by wetting the leather and scrunching it up. "It looks a

bit like a brain and was inspired by a hairless cat." Her

pieces are intricate, sculptural and unique, but she herself

acknowledges that some of the heavier items are incredibly

difficult to move around in, and her label therefore

now includes a lot more wearable pret-a-porter clothing.

"Leather is the signature of the brand, so I will always

include a leather pocket on a coat or a leather buckle on

a sweater." She is expanding her ready-towear

line to include accessories, but

her ongoing fascination with her

trademark fabric shows no sign

of waning: "I am in love with

the material and don't want to

let it go."

Available at Bikini Berlin or

online at www.marinahoermanseder.com.

BERNAHRD MUSIL

GREGOR HOHENBERG

WOOLLY

WINTER

It is around this time each

year that I go on a frenzied

spree in a wool shop,

proudly dust off my knitting

needles, get through

a few rows of "knit one,

purl one", inadvertently

stab myself a few times,

grow bored and hurl my

ragged, hole-ridden effort

behind the sofa. I'll never

extinguish that ember of

a dream that I will one

day create the world's

most beautiful sweater

with my own bare hands,

but thankfully there are

other options available

in the meantime. And I

don't have to look far.

It's impossible to discuss

Berlin fashion without

mentioning knitwear; it is

crocheted into the city's

design DNA. Maiami is a

local label that is doing

us proud. They produce

chunky, snuggly pure

wool sweaters (that are

unisex and made from

natural, untreated wool

– how Berlin!), knitted

dresses and accessories,

all of which are beautifully

made by hand. But don't

let your wool wishes stop

there. If your Christmas

list is looking a little barren,

Maiami also makes

knitted lampshades,

cushions and even vases

for you to deck the halls

– and your apartment –

with. www.maiami.de

48 • DECEMBER 2014
---
AMOK MAMA

By JACINTA NANDI

How to be hunted

"So," says Zara. "Basically,

you've done

everything wrong. And

all you need to do is

change tactics and do

everything right."

"Right," I say. "Okay.

Fine. Great. So. What's

my new tactic?"

Zara is actually meant

to be writing her Master's

Thesis on Some

Really Difficult German

Book, possibly Kleist or

even Kafka or something.

But things get in

the way. Life gets in the

way. And a very thorough, almost scientific,

kinda zealous approach to the ins and outs

and the Dos and Don'ts of Online Dating

gets in the way. I swear, if Zara had spent all

the time she's spent reading Dating-Ratgeber

reading Some Really Difficult German Books

instead, she could've had a PhD by now.

Me, of course, I am an incredibly busy and

stressed-out working single mother, so I don't

have time to read Dating-Ratgeber myself, but

can always manage to find time to meet up

with Zara, drink three and a half bottles of

Bio-Rioja, and get her to tell me what I am

doing wrong.

"You need to make him feel like he has

hunted you. He is a hunter, after all. He is the

hunter and you are the hunted. However, at

the same time, you need to make him feel like

you have selected him. You have chosen him.

You're not just the hunted, you're also the

selector. You have selected him from an ocean

of potential Online Dating partners like a

healthy berry."

"Right," I say. "Okay. Fine. Great. So. How

do I do that then?"

"Well, Jacinta, you should always be honest

about your feelings. Always. But never

mention that you feel fat and hate your body,

feel broody and want to have babies, or feel

lonely and want to get married or possibly

commit suicide."

I stare at Zara blankly, blinking at her

in confusion.

"But, Zara, what other feelings

do people have? I literally

don't have any other feelings

than those."

"Do not tell him any

dreams you might have had

about him, especially not

dreams involving marriage

or babies."

"Oh," I say. "I already

told him about a baby

dream."

"JACINTA!" Zara yells

reproachfully.

"It's fine," I say. "The

baby was deformed.

It had this kind of

sparrow-y penis bone

sticking out of its neck,

kind of like a Tyrannosaurus

Rex's fingernail.

And then it got eaten by

these hungry vampire

Nazis. I think you're allowed

to tell them about

your baby dreams if

they're weird enough."

"Well..." says Zara.

"What?" I say.

"Don't be too weird!"

"No?"

"No," she says. "For every one weird thing

you do, do five normal things. You need to

keep the weird-to-normal ratio at a healthy

1:5." I look at Zara and sigh forlornly. No

wonder birthrates in the Western world are

so despairingly low, I think. God, it must've

been fun in the Olden-y Caveman-y Days,

back when, instead of having to try to fool

men into thinking they were hunters, they

actually just were actual hunters and would

go off for days and come back with a slab of

mammoth flesh and maybe a tooth from a

sabre-toothed tiger, and they would give it to

you and you would grunt appreciatively, thus

signalling that you had in fact selected them,

and then you'd fuck for, like, literally hours

before falling asleep by a giant campfire.

"Also, don't write about him!" Zara says.

"That's not actually in any of the Ratgeber I've

read, I just think it's a bad idea."

"No, it's fine," I say. "He doesn't read

anything unless it's by Susan Sontag or French

philosophy from, like, 1687 and stuff."

"Phew!" says Zara. "So, Jacinta. Just follow

all this simple advice, and everything will be

totally fine."

"Yes," I say. "What could possibly go

wrong now?" ■

MARTA DOMINGUEZ

"AND THEN IT GOT EATEN BY

VAMPIRE NAZIS. I THINK YOU'RE

ALLOWED TO TELL THEM

ABOUT YOUR BABY DREAMS IF

THEY'RE WEIRD ENOUGH."

"

Being a student in

Berlin is extremely

rewarding – there

are so many

inspiring things in

this city!"

MATT BELBIN

BA (HONS) PRACTICAL FILMMAKING

Do you see yourself as the next

award-winning filmmaker?

COME TO OUR OPEN EVENING

30th October, 6pm

Berliner Union-Film

Oberlandstraße 26-35

12099 Berlin

Email to RSVP: berlin@metfilmschool.de

Find out more about our range of courses

in: Filmmaking, Directing, Producing,

Screenwriting & Documentary

CONTACT US FOR MORE INFO:

T: +49 (0)30 8975 8877

E: INFO@METFILMSCHOOL.DE

W: WWW.METFILMSCHOOL.DE

55
---
ADVERTORIAL

The Berlin guide

The new directory to help you find your way around Berlin.

To advertise, contact ads@exberliner.com

mitte

Paper & Tea Discover tea, systematically

organised by oxidation, including

white, green, yellow, oolong,

black, pu-erh scented and blended

teas. Explore other sections of the

store, devoted to authentic tea accessories

and handmade paper products.

Round off your sensuous shopping experience

with teas prepared by knowledgeable

teaists. Alte Schönhauser

Str. 50, U-Bhf Weinmeisterstr., Mon-

Sat 11-20, www.paperandtea.com

Prêt-à-Vélo Carefully handcrafted

bicycles from England, Italy

and Belgium meet high-quality bags,

smart accessories for a day of biking

in the city, chic functional clothing

and office-ready bike shoes. As premium

partners of the brands Brooks

England and Fahrer Berlin, they focus

on sustainably designed products

that are produced in Europe

and that can often only be found in

their store. Fehrbelliner Str. 17, U-

Bhf Rosenthaler Platz, Mon-Fri 12-19,

Sat 10-16, www.pret-a-velo.de

Roland Weiss, Lawyer

Do you have employment law problems?

Roland Weiss (Rechtsanwalt,

German attorney at law) has advised

German and international clients on

labour law for more than ten years.

He speaks German, English, Swedish

and French. Friedrichstr. 210, U-Bhf

Kochstr., Tel 030 3406 0390, www.

weisslegal.de

Icons

Beauty

Coffee

Drinks

Entertainment

Food

Gallery/Art

Health/Wellness

Music

Languages

Services

Shop

Sports/Fitness

Kilkenny Irish Pub Natives

and visitors alike converge to

drink and party at this pub under the

beautiful Hackescher Markt station.

Enjoy homemade Irish and international

pub grub plus a huge vast selection

of beers and spirits. Catch all the

international sports on big screens.

Live concerts two to three nights

a week. Easy 24h access to public

transport. Am Zwirngraben 17-20,

S-Bhf Hackescher Markt, Mon-Sun

from 12, www.kilkenny-pub.de

Dolores Founded 10 years ago

as a street food pioneer in the German

capital, Dolores serves excellent

California-style burritos and quesadillas

– inspired by San Francisco's Mission

district. Recommended by Time

Out, New York Times and Lonely Planet.

Voted #1 value for your money

by Exberliner readers. Rosa-Luxemburg-Str.

7, S+U-Bhf Alexanderplatz,

Tel 030 2809 9597, Mon-Sat 11:30-

22, Sun 13-22, www.dolores-berlin.de

Sauerkraut In a cosy, woodpanelled

room, German and American

cultures (Donald Duck meets

Hansel and Gretel!) clash head-on

with a menu of meaty delights. Seven

kinds of homemade Wurst, interesting

burgers and original tapas.

Daily lunch specials for €7.50.

Wein bergsweg 25, U-Bhf Rosenthaler

Platz, Tel 030 6640 8355, Mon-

Fri 8-1, Sat-Sun 9-1, www.restaurantsauerkraut.de

Tommi's Burger Joint At

this London import, you'll find classic

no-nonsense black Angus beef burgers,

medium grilled, just like Tommi

likes it. Kick-ass veggie burgers for the

non-Fleisch eaters and milkshakes that

taste better than yours. Invalidenstr.

160, U-Bhf Rosenthaler Platz, Mon-

Sun 11:30-22, www.burgerjoint.de

Maya Massage is a relaxed

and friendly service run by Susie

Maya Draper – a fully qualified Swedish

massage therapist from the UK,

offering an accessible and affordable

way for people to experience the

benefits of Swedish massage! Pricing:

30 min for €25, 60 min for €40,

90 min for €55. Generator Hostels,

Oranienburger Str. 65, S-Bhf Oranienburger

Str., Tel 0152 8536 135, www.

facebook.com/mayamassage

Fire Bar After reunification,

Berlin exploded with underground

bars. In Fire Bar you can still feel

the spirit of the Berlin underground.

Chea p drinks, sofas, funky lights.

The fire is always burnin' in this cosy

cellar bar. Krausnickstr. 5, S-Bhf

Oranien burger Str., Mon-Sun from 20,

www.fire-club.de

Kapitel Zwei Conveniently located

in the heart of Berlin, Kapitel

Zwei offers intensive German-language

courses from only €202 per month.

Their experienced teachers and small

class sizes will have you speaking

Deutsch in no time. All levels offered

from beginners to advanced, start

anytime! Karl-Liebknecht-Str. 29,

S+U-Bhf Alexander platz, Tel 030 9562

5321, Mon-Thu 8:30-12:30, 13:30-19,

Fri 8:30-15:30, www.kapitel-zwei.de

moabit

Lei e Lui The lovingly decorated

Lei e Lui is one of the city's few

certified all-organic restaurants. These

trailblazing pioneers of bio food

in Berlin serve up a variety of tasty,

creative Mediterranean-Oriental specialities

such as fresh vegan vegetable

cream soups, curry and couscous,

pasta, risotti and homemade

cakes and desserts. Wilsnacker Str.

61, S+U-Bhf Hauptbahnhof, Tel 030

3020 8890, Wed-Sat 17-24, www.leie-lui.de

prenzlauer berg

Godshot belongs to the top of

the league, with excellent coffee and

super-friendly staff. Above all, they

know their stuff. Take your time, enjoy

the casual, laid-back atmosphere of a

great neighbourhood and one of their

delicious cakes. Immanuelkirchstr. 32,

U-Bhf Senefelderplatz, Mon-Fri 8-18,

Sat 9-18, Sun 13-18, www.godshot.de

LPG Biomarkt Your all-organic

neighbourhood supermarket

supplies fruit and vegetables,

meats, cheeses and even cosmetics.

Fill your basket with freshly baked

bread and treat yourself to a selection

of sweet and savoury goodies.

Kollwitzstr. 17, U-Bhf Senefelderplatz,

Mon-Sat 9-21, bakery from 7,

www.lpg-biomarkt.de

The Green Room is a centre

for holistic, green medicine. Here

you'll find an international team of

complementary health practitioners

who offer consultations in English

and German. Holistic therapies at the

Green Room include homoeopathy,

psychotherapy, coaching, hypnosis

and EMDR, Neurological Integration

System and PSYCH-K, Ayurvedic and

Tibetan massage, classical and pregnancy

massage, past-life regression

and yoga. Hufelandstr. 34, Tel 030

4208 4030, www.thegreenroom.de

No Wódka showcases the

best of today's lively Polish art and

design scene. The concept store features

a range of contemporary Polish

fashion, homeware and furniture and

also hosts exhibitions of work by Polish

artists. Pappelallee 10, U-Bhf

Eberswalder Str., Mon 12-19, Tue-Sat

11-19, www.nowodka.com

Herr Nilsson Godis is a candy

shop which specialises in well-selected

delicious Scandinavian candy.

Really sour sweets, salty liquorice and

smooth chocolate-coated marshmallows

can all be pick 'n' mixed into your

candy bag. Get your sweet fix in one

of the two Berlin stores or make someone

happy and order sweet presents

from the online shop! Stargarder Str.

58, S-Bhf Prenzlauer Allee, Mon-Tue

11-19, Wed-Fri 11-20, Sat 12-18, Sun

13-18, www.herrnilsson.com

Memory It's easy to see why

Kylie Minogue shops here: a haven

for vintage lovers, the small boutique

offers an extensive range of 1950s

to 1970s treasures from handbags

and suitcases to jewellery and evening

dresses… at affordable prices!

Schwedter Str. 2, U-Bhf Senefelderplatz,

Mon-Sat 14-19

Lesendro​The recently opened

Lesendro on Kollwitzplatz is the only

original fish and seafood restaurant

from Montenegro and the Adriatic Sea

in Berlin. They serve traditional dishes

such as variations on octopus, Buzara,

Brodet (bouillabaise), scampi baked in

sea salt and a wide variety of Mediterranean

fish. The warm and cosy atmosphere

with live piano at the weekends

and the friendly, heart-warming service

will make you feel right at home.

Knaackstr. 45, U-Bhf Senefelderplatz,

Tel 030 3810 4136, Mon-Fri 17-23, Sat-

Sun 12-23, www.lesendro.de​

Comptoir du Cidre

Arti sanal ciders, perry, pommeau and

calvados... French Canadian siblings

Leila and Sidney Kristiansen are behind

Comptoir du Cidre, continental

Europe's first bar solely dedicated

to craft ciders. Their tapas menu is a

play on traditional French bistro dishes

with subtle Japanese influences.

Kollwitzstr. 98, U-Bhf Eberswalder

Str., Tue-Fri 17-24, Sat 11-24, www.

facebook.com/comptoirducidre

friedrichshain

Milja & Schäfa serves homemade

pasta made fresh daily, crisp salads

and daily specials in pleasant surroundings,

blending urban style with

woody rustic charm. Every day their

open kitchen gives birth to a new lunch

menu and breakfast variations. Pamper

your sweet tooth with homemade desserts,

cakes and cookies. The coffee is

organic and the fine wines come from a

hand-selected young German vintner.

Sonntag str. 1, S-Bhf Ostkreuz, Tel 0176

6266 8459, Sun-Thu 8-24, Fri-Sat 8-2

50 • DECEMBER 2014
---
Dr. Dot gives the best massage,

erm, on Earth. Based in Kreuzberg

61, across from Viktoriapark, Dot has

the most famous hands in the biz. Either

she or one of her 850+ strong

team of massage therapists (Dotbots)

can massage you pretty much any

time, anywhere. Deep Tissue is their

specialty. www.drdot.com

ILLUSTRATION BY AGATA SASIUK

Blue Living This colour concept

store stocks famous and beautiful

English paint and wallpaper from

Farrow & Ball, as well as furniture

and fabrics from established manufacturers

such as Moooi and Kvadrat

and a range of vintage classics. Discover

new design objects and wonderful

collectibles each time you visit.

Süd stern 6, U-Bhf Südstern, www.

blueliving-farben.de

3 Schwestern Housed in a former

hospital turned art centre, this spacious

restaurant with big windows overlooking

a lovely garden serves fresh,

seasonal German and continental dishes

at reasonable prices. Breakfast on

weekends and holidays. Live music and

parties start after dessert. Mariannenplatz

2 (Bethanien), U-Bhf Kott busser

Tor, Tel 030 600 318 600, Mon-Sun

from 11, www.3schwestern-berlin.de

LPG Biomarkt Your all-organic

neighbourhood supermarket

supplies fruit and vegetables,

meats, cheeses and even cosmetics.

Fill your basket with freshly baked

bread and treat yourself to a selection

of sweet and savoury goodies.

Reichenberger Str. 37, U-Bhf Kottbusser

Tor, Mon-Sat 8-21, bakery

from 7, www.lpg-biomarkt.de

No Hablo Español The best

California-style Mexican street food

joint in Friedrichshain. Delicious

freshly made burritos and quesadillas

served by a collection of fun-loving

international people. Once a week,

challenge the NHE team in a game

of rock-paper-scissors and win a halfprice

meal! Kopernikusstr. 22, S+U-

Bhf Warschauer Str., Mon-Sun from

12, www.nohabloespanol.de

Schillerburger The legacy

continues from Neukölln to Kreuzberg,

Pankow and Friedrichshain.

Voted one of the top 10 burgers in

Berlin with veggie, vegan, classic

& cheeseburgers with all the trimmings.

"The wise man makes provision

for the future." – Friedrich Schiller

Wühlischstr. 41/42, S+U-Bhf Warschauer

Str., Mon-Sun 11:30-1, www.

schillerburger.com

Workout Berlin Personal training

on pilates reformers. This unique

fitness studio combines the flexibility

of a gym with the personal attention

of a trainer. The challenging workouts

focus on core strength, coordination,

flexibility and endurance and

leave you feeling lean, strong and

at ease. Simplonstr. 23, S+U-Bhf

Warschauer Str., Tel 0173 5842 236,

www.workout-berlin.de

Goura Pakora This vedicvegan

restaurant and café serves

wraps, smoothies, freshly squeezed

juices, salads, thalis (big mix plates),

dosas (rice pancakes) and crispy

pakoras. 100% fresh and homemade

with love! Krossener Str. 16,

S+U-Bhf Warschauer Str., Tue-Sat

12-23, Sun 12-22:30, www.gourapakora.de

Monster Ronson's Ichiban

Karaoke is the world's craziest

karaoke club. Make out on

their super-dark dance floor, get

naked in the private karaoke boxes

and sing your favourite songs all

night. Warschauer Str. 34, S+U-Bhf

Warschauer Str., Mon-Sun from 19,

www.karaokemonster.de

Hops & Barley Serving

home-brewed pilsner and dark

beer, this is the place to go to get

that proper brew-pub vibe in Friedrichshain.

Cider and wheat beers

are also on tap. Part brewery,

part bar, the interior is beautifully

decorated with antique tiles.

Wühlischstr. 22-23, S+U-Bhf Warschauer

Str., Mon-Sun 17-2, www.

hopsandbarley-berlin.de

kreuzberg

Santa Maria Eat authentic

Mexican street food right on Oranienstraße,

with a bar offering a full range

of mezcal, tequila and cocktails. Enjoy

favourites like chilaquiles and tacos

de carnitas plus the biggest, tastiest

burritos in town. Oranienstr.

170, U-Bhf Kottbusser Tor, Mon-Sun

from 12, www.santaberlin.com

Bastard From Bastard with love:

whether it's breakfast, lunch or dinner,

this restaurant is not just for those

who were born out of wedlock.

Choose from the changing seasonal

menu created with love for fresh ingredients

and fine food. Our tip: try

the homemade stone-oven bread!

Reichenberger Str. 122, U-Bhf Görlitzer

Bahnhof, Tel 030 5482 1866, Mon-

Sun 9-17, www.bastard-berlin.de

Piri's Inspired by the flavours

of Portugal, and Piri-Piri sauce in

particular, Piri's brings the flavours

of Portuguese chicken in burger

form, with their very own special

recipe salsa, combined with delicious

homemade aioli and soft, seeded

buns. Wiener Str. 31, U-Bhf

Görlitzer Bahnhof, Mon-Sun 12-22,

www.piris-chicken.com

Rosa Caleta You'll find what

is surely Berlin's finest Jamaican food

in a side street a stone's throw from

Görlitzer Bahnhof on the U1 line. Live

music, art exhibitions, catering and

an intimate dining atmosphere offering

creative dishes with a European

touch. Great homemade cake selection.

Muskauer Str. 9, U-Bhf Görlitzer

Bahnhof, Tel 030 6953 7859, Tue-

Sat 18-23:30, Sun 14-1, kitchen until

23:30, www.rosacaleta.com

Tiki Heart Café &

Shop Looking for a weird, wonderful

Hawaiian-Kreuzberg atmosphere?

Then this is the best place to be.

Open for diner-style breakfast, lunch

and cocktails. Kick back amongst punk

rock Schnickschnack, crazy clothing and

footwear. Aloha & rock 'n' roll! Wiener

Str. 20, U-Bhf Gör litzer Bahnhof,

Mon-Sun from 10, www.tikiheart.de

Jivamukti Yoga The official

outpost of NYC's best-known yoga

centre offers the opposite of "fastfood

Western yoga". Sounds too hippy?

Don't worry: yoga is a pleasure

here. Stylish surroundings, classy

equipment, English-speaking staff and

two loft studios add to the relaxing,

luxurious atmosphere. Four English

classes. Oranienstr. 25, U-Bhf Kottbusser

Tor, www.jivamuktiberlin.de

51
---
ADVERTORIAL

Modern Graphics Berlins

best comic shop! Here you can

find the biggest possible selection

of German and English comic books,

graphic novels, illustration/art/street

art/tatoo/design books and magazines

and cool toys. A weekly shipment

with the newest US comics arrives

each Thursday! They have a

second store in Europa Center.

Oranien str. 22, U-Bhf Kottbusser Tor,

www.modern-graphics.de

Café Morgenland On weekends

and holidays you'll find a great

buffet here, complete with gourmet

cheese, fresh fruit and veg, crêpes

and other vegetarian dishes, cold

cuts, shrimp cocktails and more. Set

menus from €5. During Happy Hour

drinks are just €3.50 after 20:00. Reservations

suggested. Skalitzer Str.

35, U-Bhf Görlitzer Bahnhof, Tel 030

6113 291, Mon-Fri 9-1, Sat-Sun from

10, www.morgenland-berlin.de

neukölln

Pazzi X Pizza offers an amazing

selection of pizzas and creative

topping combinations including

seasonal varieties with pumpkin or

porcini. Innovative antipasti plates,

salads, tasty frappés and a charming

atmosphere. Slices from only €2!

Herrfurthstr. 8, U-Bhf Boddinstr.,

Mon-Sun 11:30-24

Pêle Mêle Enjoy homemade

cakes, coffee specialties,

soups and salads, veggie-burgers,

fresh smoothies, shakes and so much

more! An extensive breakfast menu

all day long and brunch buffet every

Sunday. 100% vegan and organic.

Stop by for a beer or a glass of wine

and surf the net for free. Innstr. 26,

Tel 030 3646 7523, Mon-Sat 10-

20, Sun 10-22 (brunch 10-15), www.

pele-mele-berlin.de

Mama Kalo Dig in to the

best of both German and French

cuisine at this cosy gem in Schillerkiez.

Everything is homemade, from

the Flammkuchen and Spätzle to

the quiche, soups, salads and desserts.

Freshly baked Kuchen, anyone?

Herrfurthstr. 23, U-Bhf Boddinstr.,

Tel 030 6796 2701, Mon-Tue, Thu 12-

22, Fri 12-23, Sat 15-23, Sun 15-22

Rollberg Kino With five

screens, Babylon Kreuzberg's bigger

but lesser-known sister boasts one of

the largest original language movie

selections in Berlin. Located on the

U8 near Hermannstraße in the Kindl

Boulevard shopping centre. Rollbergstr.

70, U-Bhf Boddinstr., Tel 030

6270 4645, www.yorck.de

Hepcat's Corner Swing,

swing, swing! This comfy, warm Art

Nouveau café and bistro offers a

daily rotating menu including delicious

breakfast, coffee and homemade

cake- all accompanied by the

best swing tunes around. Live lessons

every Saturday from 19:00.

Schinkestr. 14, U-Bhf Schönleinstr.,

Tue-Sat 10-24, Sun 10-21, www.

hepcatscorner.de

Sala Da Mangiare Authentic,

traditional Italian cuisine. Queens

of the house: cappelletti, ravioli, tagliatelle,

strozzapreti and gnocchi,

handmade fresh every day. Ingredients

are sourced from Emilia Romagna,

organic farms and slow food

suppliers. You'll feel right at home

in the intimate, friendly atmosphere.

Mainzer Str. 23, U-Bhf Boddinstr.,

Tel 0157 7068 3348, Tue-Sat 19-23,

www.saladamangiare.de

Rixbox Espresso & Food

offers top-quality signature espresso

blends, mild and strong, fresh juice,

homemade lemonade, shakes, sorbets,

soups, stews and sandwiches.

Their fresh ingredients come from local

and regional suppliers and their

meals are visually creative, always

homemade, served quickly and of

great value. Richardstr. 2, U-Bhf

Karl-Marx-Str., Mon-Sat 8-21, Sun 10-

18, www.rixbox.de

Prachtwerk One of a

kind in Neukölln, Prachtwerk is a spacious

café, music venue and gallery.

With a wide variety of local and

organic items, Prachtwerk serves

up Five Elephant Coffee, beer from

Neukölln's Rollberg Brauerei, housemade

baked goods, tasty cocktails,

and more. The best part? All profits

benefit social projects. Ganghoferstr.

2, U-Bhf Karl-Marx-Str.,

www.prachtwerkberlin.com

Wilhelm Tell A unique

restaurant offering a weekly rotating

menu prepared by a team of experienced

chefs. A rich culinary selection

from tapas to steak adds nice variety

including fine vegetarian dishes, salads,

homemade bread and desserts.

Join musicians, poetry slammers, singers

and creatives the first Saturday

of every month for the very special

"Tellerrand-Sessions". Herrfurthstr.

7, U-Bhf Boddinstr., Mon-Sun 9-24,

www.wilhelmtellberlin.com

Dr. Pogo Veganladen-

Kollektiv is a vegan-only grocery

store with a tiny café in cosy Rixdorf.

It's a cooperative shop run by 12 dedicated

individuals. Vegans will find

almost anything they need. Non-vegans

are welcome to discover interesting

plant-based alternatives and organic

products amongst 2000 items,

fresh vegetables and lots of bulk ware

for small portions. Karl-Marx-Platz

24, S+U-Bhf Neukölln, Mon-Tue, Thu-

Fri 9-20, Wed 12-20, Sat 9-16, www.

veganladen-kollektiv.net

Schillerbar serves fantastic

breakfast well into the afternoon

and great cocktails at night. Behold

the authentic red paint on the outside

wall intended to threaten the bar

upon opening, left there, and affectionately

responded to with hearts

stating "Schiller loves you anyway" (in

German of course). Herrfurthstr. 7,

U-Bhf Boddinstr., Tel 0172 9824 427,

Mon-Sun 9-2, www.schillerbar.com

wedding

Berlin Glas e.V. Their mission

is to share the skill of making

glass art with the public and provide

a resource to international artists

working with all media. Their underlying

message: working in collaboration

with artists of various cultures

doesn't just broaden someone's

artistic capacity, it actually creates a

culture of peace. Provinzstr. 42a, S-

Bhf Schönholz, www.berlinglas.org

The Castle Pub is a real

pub in the English/Irish sense of the

word serving great Guinness and

other special beers with seasonal,

fresh handmade gastropub food.

Monday night is the prize quiz night

when the place gets packed. This

oasis in Gesundbrunnen gives you

a warm welcome, and a big screen

for special match days and more.

Hochstr. 2, S+U-Bhf Gesundbrunnen,

Mon-Fri from 18, Sat-Sun from

12, www.castlepub.de

schöneberg

Dolores Goes West The

place that revolutionised Berlin fast

food with awesome California-style

burritos ten years ago has a second

store on Wittenbergplatz, across

from KaDeWe. This location serves

their best classics and several great

new spicy combos. Bayreuther Str.

36, U-Bhf Wittenbergplatz, Mon-Sun

11-22, www.dolores-berlin.de

Kumpelnest 3000 The

legendary bar that made the Berlin

nightlife scene what it is today. This

brothel-turned-bar 25 years ago was

Bono's hangout during his visits to

West Berlin. Kumpelnest hasn't lost

any of its authenticity or wild side

over the years. Hipsters beware!

Lützowstr. 23, U-Bhf Kurfürstenstr.,

Mon-Fri 19-5, Sat-Sun from 19,

www.kumpelnest3000.com

Computer Service Julien

Kwan Julien Kwan's elegant

store for Apple computers and

other high-tech goodies is the place

for those who want more than just

a shop-and-go experience. Personalised

service makes browsing the

latest technology a true pleasure.

Vorbergstr. 2, U-Bhf Kleistpark, Tel

030 6170 0510, Mon-Fri 10-19, Sat

12-16, www.deinmac.de

Winterfeld Italian food at

its best: expect expertly made pizzas,

delicious pasta and fresh salads.

The salumeria offers a wide variety of

homemade antipasti and a broad selection

of fine wines. We highly recommend

their breakfast Monday to

Saturday! Winterfeldtstr. 58, U-Bhf

Nollendorfplatz, Tel 030 2607 5547,

Mon-Fri 10-24, Sat 9-24, Sun 9:30-23,

www.winterfeld-berlin.de

charlottenburg

Café im Literaturhaus

Enjoy a coffee in one of Berlin's finest

cafés, known for its courteous

staff and pleasant atmosphere in the

elegant and much-loved Literaturhaus

villa. The perfect stop during a

shopping trip on nearby Ku'damm.

Fasanenstr. 23, U-Bhf Uhlandstr.,

Tel 030 8825 414, Mon-Sun 9:30-24,

www.literaturhaus-berlin.de

The Harp is an Irish haven

just a one-minute stroll off of

Ku'damm. Taste the homemade German

and international food and the

great Irish and German beers. Listen

to live music every Friday and Saturday,

play darts or join in the famous

pub quiz on Thursdays. Smoker's

lounge available. Home of the Berliner

Rugby Club. Giesebrechtstr. 15, U-

Bhf Adenauerplatz, Mon-Fri from 13,

Sat-Sun from 10, www.harp-pub.de

Lalaine Find everything from

tender merino wool and mohair in differing

thicknesses and colours to precious

cashmere and smooth silk lingerie.

Sure to please even the most

demanding of customers. In short, a

lovely boutique for all your knitting

needs at Savignyplatz. Kantstr. 145,

S-Bhf Savignyplatz, Mon-Fri 10-19,

Sat 10-15, www.lalaine.org

Schwarzes Café Since the

1970s, Schwarzes Café on Savignyplatz

has been a cult favourite among

artists, anarchists, foreigners and

Charlottenburgers. They're open 24/7,

have English menus and serve organic

meat. Kantstr. 148, S-Bhf Savignyplatz,

Tel 030 3138 038, Mon-Sun all

day, www.schwarzescafeberlin.de

FIND FULL

GUIDES AT

www.exberliner.com/

directory

52 • DECEMBER 2014
---
ADVICE

KARSTEN KAIE

presents

The New Berlin Comedy Show !

ask

HANS-TORSTEN

Hans-Torsten Richter answers your questions about surviving and

thriving in Berlin. Write to hanstorsten@exberliner.com.

Dear Hans-Torsten: My wife and I were

both born in Berlin and worked in Berlin

for 9-10 years. When we were both 27,

we left Germany to immigrate to the US.

We have German and American citizenship

and have paid in enough to qualify

for pensions from both countries ($3500

in America, €500 in Germany). We are

looking to retire in Germany at age 65,

three years from now. Before we left,

we had been paying into the Berliner

AOK (Allgemeine Ortskrankenkasse). We

would like to know how much it would

cost us per month for basic GKV and

the supplemental disability and nursing

home insurance. – Ralph

Dear Ralph: Health insurance bureaucracy

in Germany doesn't get any simpler

after retirement. Especially for returning

prodigal sons and daughters who left back

in the 1970s. The AOK is the biggest Gesetzliche

Krankenkasse (GKV) or statutory

health insurance provider, but the same

rules apply to all GKVs. Pensioners insured

this way fall into two categories: pflichtversichert

(mandatorily insured) and freiwillig

versichert (voluntarily insured). The

problem is that pensioners can only be

pflichtversichert if they were insured with

a GKV for "at least nine-tenths of the second

half of one's working life". The benefit

of this is that if you have a German state

pension, the pension fund will pay for half

of the health insurance contribution (15.5

percent of your monthly income).

Since you are not eligible for this, you

would have no option but to sign up

for the "voluntary" insurance status. Of

course, health insurance is not voluntary

– you have to have it. Here, too, the

person on the Krankenkasse's hotline will

probably be a total dick and very likely

lie to you (either out of ignorance or as a

deliberate strategy of misinformation to

exclude undesirable pensioners) and say

that you're not eligible since you haven't

worked in Germany in the last five years.

With voluntary status, you have to pay the

entire 15.5 percent of your income (on

pensions, investments, etc.). And even if

you have a lower income, there is a minimum

payment of about €350 per month

including the mandatory Pflegeversicherung

(nursing home insurance). The exact

contribution you would pay is impossible

for me to calculate here, but it would be

at least €700 per month for the two of

you. The other option would be private

insurance. Till not long ago, private insurance

was impossibly expensive for older

people, but thanks to a recent change

in the law, private providers must offer

a "basic" plan with comparable conditions

to the Krankenkassen. One thing is

for sure: don't let anyone tell you aren't

going to get into the gesetzliche Krankenkasse.

As German citizens, they can't

refuse you – just cite the 2007 Krankenversicherungsgesetz,

which will make

them realise they're not dealing with a

clueless amateur.

The application process is bureaucratic

sadism: you'll have to outline how you

were insured in your entire time abroad

and might have to dig up proof that you

were in the AOK when you were living

here in the 1970s. This can take weeks or

months, but once you're in, you're in. Even

if you go bankrupt for whatever reason,

you can go on welfare and the Sozialamt

will pay your insurance premium. Not

an appealing thought, but better than

destitution. Good luck to you, Ralph. P.S.,

AOK has an English hotline: 0049 9131

9242 10 128.

Dear Hans-Torsten: I would like to

found an English-speaking club in

Friedrichshain-Kreuzberg (perhaps called

Friedrichsholt/Crosspile?). You have any

idea how to do that? I would like to

attract native English speakers, not Germans

looking for free English lessons.

– Christoph

Dear Christoph: Don't be a loser, man.

Interesting people don't go to clubs like

that. Desperate, socially stunted people

do. If you set up a weekly Stammtisch for

English speakers, only Germans will show

up. And the name of your club is not gonna

cut it. We Germans are turned on by

gimmicky bilingual puns, but "Crosspile"

sounds more like an orgy for Catholics

than a language tandem meet-up. Instead

of going through the hassles of this club

thing, check the Exberliner online calendar

or Facebook for English-language events:

everything from Alcoholics Anonymous

to death metal whisky tastings, stand-up

comedy to creative writing groups, all already

exist in English here. Find your own

scene and start talking.

etb

Directed by Olivier Giraud

Dec. 19 / Jan. 9 10 16 17 at 8pm

Sternberg - Theater in der Spielbank - Potsdamer Platz

Tickets: 030 47 99 74 74 and at www.karstenkaie.com

100% IN ENGLISH – COMEDY AT ITS BEST

25 JAHRE MAUERFALL OR: HOW I LEARNED TO

STOP WORRYING AND LOVE THE OSSIS/WESSIS

NASTY PEACE

By copy & waste

Plus an All-Star International

Comedy Showcase, the U.S.

Embassy Literature Series and

much, much more!

December 2014

International Performing Arts Center

53

ETBERLIN.DE
---
ARTICLE SPOTLIGHT TAG

Islam after death By Emma Anderson. Photo by Anna Agliardi.

Nestled below the towering white spires of the

Sehitlik Mosque by Tempelhof is the first – and

only – Islamic cemetery in Berlin. About 100

gravestones rubbed bare by more than a century

of wind and rain start to tell the story of this

historic graveyard.

The cemetery was originally founded near

Hasenheide in 1798 for the burial of the Ottoman

Empire's ambassador to Berlin, Ali Aziz

Efendi, who was later joined there by four other

Ottoman nationals. The five graves were moved

to the cemetery's current location off of Columbiadamm

in 1866. A yellow and red obelisk was

built at the center of the cemetery to honor the

five men moved from the original site as well as

to symbolise the strong bond between Prussia

and the Ottoman Empire. Ottoman soldiers

who fought alongside Germans in World War

I were also buried here. Though most in the

graveyard are Turkish, visitors can spot headstones

of people from Afghanistan to Indonesia.

Some of the more famous names include Persian

princess Mehpare Kadjar-Taki (1894-1989),

Kazakh political activist and freedom fighter

Mustafa Shokay (1890-1941) and Egyptian artist

and businessman Mohamed Soliman (1878-

1929), owner of a chain of theatres in Berlin.

Since the Columbiadamm graveyard closed due

to full capacity in 1989, there has been no other

exclusively Muslim cemetery opened in Berlin.

Muslims may now be buried in one of just 5000

designated spaces, either next to the original

Islamic cemetery or in Gatow, Spandau.

Ender Cetin, chairman of the Muslim association

at the Sehitlik mosque, has been lobbying for

a new Muslim cemetery to be opened for years,

but progress has been slow. "This is always a discussion

among politicians: Do we give Muslims

a graveyard, or could churches give them some

space? It is always back and forth – bureaucracy."

The need for exclusively Muslim spaces is

ever more pressing because Germans don't

always comply with Islamic burial requirements,

says undertaker Bahri Deniz. Muslims must be

buried with their hearts pointing toward Mecca,

and Deniz observes that even some of the

graves at the Islamic cemetery were laid incorrectly.

Bodies must be interned as soon after

death as possible, whereas in Berlin, it's illegal to

bury a body before 48 hours have passed. Muslims

are also supposed to remain in their resting

places for eternity, but the Berlin authorities

will move a body unless the burial space lease

is renewed every 20 years (the Columbiadamm

cemetery is exempt from this requirement).

Right now, between 70 and 80 percent of

German Muslims choose to be sent back to

their families' original homelands after death.

According to Deniz, though, second-generation

immigrants are increasingly choosing to remain

in Berlin, both because they identify more

closely with Germany and because they want

their children and friends to visit their graves

more easily. "This is our homeland," he says.

"We should have our own graveyard – one big

cemetery. That is our right." n

54 • DECEMBER 2014
---
SEX

Ask Dr. Dot

q

I am dating a guy 15 years older than

me. I really adore him and he me, but

he is borderline obsessed. He texts me

dozens of times per day when I am working

asking me every detail of my day, keeping tabs

on me, checking up on me, etc. He calls me

constantly and demands proof of where I have

been sometimes. These are the reasons I never

wanted to date a female – they all seem so

clingy and crazy. Their wacky behaviour pretty

much turned me gay at a young age. Here I

am with "clingy and crazy". He and I recently

moved in together and I thought that would

show him I am his, but he has gotten worse;

not better. It's just never enough for him. How

can I prove my love to him and make him relax?

– Butt-hole Surfer

a: Ask him: "What will make you trust me and

relax?" See what he says. Perhaps he wants to be

married and adopt kids. Or perhaps HE is fucking

around behind your back and is therefore jealous

and paranoid (notice thieves are always afraid

someone is stealing from them; cheaters fear

being cheated on... just throwing that out there).

No matter how invested you are, if you feel suffocated,

it won't last. Stop the bleeding and get

out before it is too late. Bunny Boiler alert. Better

a horrific ending than a never-ending horror.

q

My girlfriend has disgusting breath. I

usually fuck her without kissing her, and

she is complaining about it. I have offered

her mints and she does not get the hint. Please

save me! – Dying Dale

a: I feel you, my friend. It is hell having to kiss a

smelly pie hole. She is probably not flossing and

has a slight gum disease now. Google "gingivitis"

for her and call her over to the computer and

ask her to read it. Then, ask her to please go to

the dentist to have it checked out as people can

Send all questions or problems,

whatever they are, to me:

drdot@drdot.com

die from gum disease, for real. Book a dentist

appointment and go with her – you'll come off

as the caring boyfriend and the suffering will

hopefully end. Buy LOTS of dental floss and leave

it around the flat. Start flossing around her and

hand her the box when you're done.

q

My girlfriend is one of the sexiest, prettiest

women in Berlin. She is from Cuba

and I am from Wales. I feel lucky to have

her as I am frankly not Brad Pitt by any means.

But (there is always a "but", innit?) lately I

noticed she seems to be trying to change me.

Wanted me to quit the fags (not gays, I mean

smokes), get more fit (no more kebabs late at

night) and I have done all that and look and

feel better, I do admit. After a wild weekend

together, she mentioned that I am an arsehole

when I drink. Strange, as no one has ever complained

before. So now she wants me to quit

drinking too. Shall I thank her for the makeover

and try? – Welsh Wully

a: It is human nature for people to see how far

they can push their partner until they fucking

snap. She is testing out her pussy power on you.

It is great that she wants you to be healthy, but

you have to draw the line soon or you will just be

a lump of clay she has moulded to her liking. And

once she has pushed, pulled and moulded you

exactly how she wants you, she will put your balls

in her pocket and find a real man who won't be so

easy to pussy whip. You have to stay the man she

fell in love with at all costs. Perhaps cut down on

your vices but tell her nicely as possible that you

prefer her to be your girlfriend, not your Mum.

q

I am fucking tired. Tired of dating. Tired

of supporting myself with no end in sight.

What happened to chivalry? Where are

the men who take care of their women? Who

open doors, give compliments and want a family...

has this species become extinct? Am I the

only one who feels this way? I'm a creep. I'm a

weirdo. What the hell am I doing here? I don't

belong here. Help? – Bitchy in Berlin

a: You're in the wrong country for that. In Ireland

and the UK, for example, men will open a door for

you and insist on paying for your drink and dinner.

Germans seem to prefer equality (open your own

door, pay your own rent even if you live together).

The downside is you do have to go halves on

everything. Upside is you've a lot of freedom. Lets

say you were dating a conservative Muslim man –

he would pay all of the bills and protect you but

you would have no say in anything. You couldn't

go out much on the town with your girlfriends

or accidentally screw a co-worker after too many

drinks and live to tell about it. Meanwhile, Berliner

guys don't want extra work. Gotta make things

easy for them or they're not interested. Too many

other willing women roaming around to choose

from. The single straight man in Berlin has the

upper hand indeed. But if you make sure you can

support yourself, you will have the pleasure of

being able to choose who you stay with rather

than being trapped in a gilded cage. I agree about

the compliments complaint. Sofía Vergara could

walk down Friedrichstraße in just a thong and high

heels and the German men would probably just

glance at her and keep walking (they would wank

over her later at home, but NEVER give her a compliment).

If you want catcalls, go to NYC or Rome.

55 • SEPTEMBER 2014
---
FROM OUR READERS

better system. Audiences should be willing to pay

something for the music they want to listen to

and support the people who make that music. But

human nature is another matter, isn't it… – Bob

As our Snowden issue (#130) showed,

Exberliner stands up for whistleblowers,

no matter what era. So we were delighted

to receive this story from a reader:

The forgotten anti-Nazi whistleblower

Dear Editor: Sixty-eight years before Snowden,

and 28 years before eight American citizens broke

into an FBI office and leaked documents giving

evidence of unlawful surveillance of US citizens

to the press, anti-Nazi whistleblower Fritz Kolbe

used his access to documents at the Auswärtiges

Amt and the Wolfsschanze to smuggle over 2600

Nazi secrets to the Americans, who once were

heroes. As a middle-ranking, nondescript official

in the Berlin Auswärtiges Amt, Fritz Kolbe was

better known for his efficiency than his personality.

But he disliked bullies and in Nazi Germany

they were hard to miss, despite the best efforts of

his colleagues to not want to see or understand

anything. Plagued by doubts over what he could

do, he cast off foolish and risky thoughts of

overt rebellion and used his access to the most

secret documents of the Third Reich to blow the

whistle on life inside Nazi Germany. Not one to

advance his career at the expense of higher values,

Kolbe risked all to bring documents to Allen

Dulles and the Allies only to be met with distrust

and tardiness, his credibility undone by a rat in

the ranks of the Allied intelligence community,

being Kim Philby of MI6. Unlike other resistors

slaughtered on the butchers' hooks of Hitler's

revenge after Stauffenberg's aborted assassination

TO THE EDITOR

plot, Kolbe survived the war only to find that

those on whom he had blown the whistle had

taken up their careers again in post-war Germany.

There was little love lost for Kolbe, just reprisal.

Blocked from the Foreign Office, he died in 1973

as a chainsaw salesman in Switzerland. It was only

in 2004 that German Foreign Minister Joschka

Fischer posthumously recognised Kolbe as a hero

rather than a traitor. – Graham Bassett

Our article about GEMA and live venues in

Berlin (Issue #131, October 2014) continues

to draw responses:

Go, GEMA!

Right off the top I'd like to thank you for making

an effort to write an unbiased and objective

article about GEMA and live music in Berlin.

GEMA has and continues to be over 50 percent

of my yearly income. They are certainly unrelenting.

Personally, despite their shortcomings,

I am grateful for that. I do not perform live anywhere

near as much as I used to. Why? Simply

because it no longer is possible to make a living

at it if you're playing small and middle-sized

clubs and venues. From 1985 to approximately

2001 I made a very good living as a performer

in this city. But these days, young people expect

music for free. It has become a cheap product.

GEMA is an easy and convenient scapegoat.

Instead of complaining and blaming GEMA for

their problems, club owners should be willing

to begin a dialogue with GEMA to work out a

The return of Exberliner sexpert Dr. Dot

in last month's issue (#132, November)

didn't please everyone.

Is Dr. Dot a man?!

Reading Exberliner is like indulging in a long and

freshly cooked meal, only the dessert is mouldy...

YES, I'm talking about the advice column of

so-called 'Dr. Dot.' At best, she insults readers'

intelligence. Worst case, some poor woman might

take Dot's guidance seriously, her favourite lesson

– regardless of the question asked – being that it's

their DUTY to please men. Why is it that antifeminists

are granted full pages in a magazine as

'progressive' as Exberliner in 2014? Dot's ability to

turn every question from a female reader against

them (like the ones from the last issue: Working

too much to have the energy for sex? Hurting

yourself when giving head? Feeling humiliated?

The all-in-one Dr. Dot solution: GIVE HEAD!)

makes me assume she's actually a ghostwriting old

man who thinks he deserves more head. Hugh

Hefner maybe. Am I right? – PC Police

WRITE

AND WIN

TICKETS!

Tell us what you love or hate

about this issue and you

could easily win a Cinestar

"Christmas for 2" gift pack

including 2 movie tickets (for

any 2-D film), plus a voucher

for 2 drinks and a

snack – all in a stylish film tin.

Send your thoughts to editor@

exberliner.com by December

15, 2014 for your chance to win!

For terms and conditions,

see www.exberliner.com/terms.

www.exberliner.com/directory
---
ONE YEAR

(11 ISSUES)

FOR €29*

ONLY!

*For delivery in Germany

Just say 'no' to Vorweihnachtseinkaufsstrapazen*

– buy an Exberliner gift subscription!

WWW.EXBERLINER.COM/SUBSCRIBE

* pre-Christmas shopping stress
---
Waffenlounge*

*Weapons Lounge

Hans-Werner

Kroesinger

Exporting War / Premiere

Rimini Protokoll

(Haug/Kaegi/Wetzel)

Situation Rooms

"Waffenlouge / Weapons Lounge" – Performances, installations, films and talks by

and with andcompany&Co., Josh Begley, Ellen Blumenstein, Christine Cynn, Cie. Random

Scream & Davis Freemann, Harun Farocki, John Goetz, Derek Gregory, HGB Leipzig,

KW Institute for Contemporary Art, Rabih Mroué, Herfried Münkler, Volker Pantenburg,

Jon Rafman, schroederlevyrauch, Franziska Seeberg, Hans-Christian Ströbele, Daniel

Tyradellis, Ulrike Winkelmann and many more

➞ www.hebbel-am-ufer

3.12.2014–11.1.2015