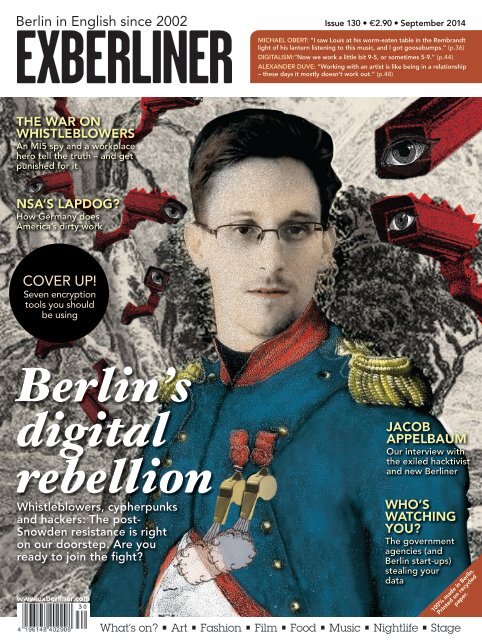 EXBERLINER Issue 130, September 2014
Berlin's monthly culture and reportage magazine. Germany's largest English-language publication. Founded in 2002.
Berlin's monthly culture and reportage magazine. Germany's largest English-language publication. Founded in 2002.
SHOW MORE
SHOW LESS
Create successful ePaper yourself
Turn your PDF publications into a flip-book with our unique Google optimized e-Paper software.
Issue 130 • €2.90 • September 2014

MICHAEL OBERT: "I saw Louis at his worm-eaten table in the Rembrandt

light of his lantern listening to this music, and I got goosebumps." (p.36)

DIGITALISM:"Now we work a little bit 9-5, or sometimes 5-9." (p.44)

ALEXANDER DUVE: "Working with an artist is like being in a relationship

– these days it mostly doesn't work out." (p.48)

THE WAR ON

WHISTLEBLOWERS

An MI5 spy and a workplace

hero tell the truth – and get

punished for it

NSA'S LAPDOG?

How Germany does

America's dirty work

COVER UP!

Seven encryption

tools you should

be using

Berlin's

digital

rebellion

Whistleblowers, cypherpunks

and hackers: The post-

Snowden resistance is right

on our doorstep. Are you

ready to join the fight?

www.exberliner.com

JACOB

APPELBAUM

Our interview with

the exiled hacktivist

and new Berliner

WHO'S

WATCHING

YOU?

The government

agencies (and

Berlin start-ups)

stealing your

data

What's on? • Art • Fashion • Film • Food • Music • Nightlife • Stage

100% made in Berlin.

Printed on recycled

paper.
---
Searching for the

perfect flat?

Fast, easy… and in English!

Rooms and flats, all districts, price ranges, and styles

Friendly, reliable service

Register at www.exberlinerflatrentals.com to receive suggestions

for apartments and rooms, tailored especially to you.

Want to sublet

your room or flat?

Direct contact with potential tenants

Free listings, hassle-free!

Furnished or unfurnished, all districts and sizes

Register your flat today at www.exberlinerflatrentals.com

to be paired with your ideal subletter or roommate.
---
20 From Stasi to NSA… and back?

Stasi expert Hubertus Knabe

22 Big Brother in Berlin How the state

spies on us

ISSUE 130, SEPTEMBER 2014

24 Confessions of an MI5 whistleblower

Annie Machon tells her story

REGULARS

02 Werner's political notebook

How the state and businesses collude

04 Best of Berlin Coexist, Crazy Bastard

Hot Sauce, Dimension Alley, Kallasch&

52 Berlin bites Oui, Madame, Masel Topf,

Vego chocolate

54 Fashion What's hot and what's not

55 Spotlight Teepeeland

59 Amok Mama Don't call me Jacinta!

PAGE 18

CW-DESIGN, PHOTOCASE.DE

26 Germany's should-be heroes Why

workplace whistleblowers get punished

28 You are the product The Berlin

companies collecting your data

30 Encryption for everyone Seven tools

to take back your anonymity

31 The disruptors The Berliners who

play the system

WHAT'S ON

32 Events calendar

SPECIAL: SNOWDEN

AND SURVEILLANCE

06 Intro The new Berlin dissidence

08 Verbatim Jacob Appelbaum

14 Snowden's defender The whistleblower's

EU lawyer, Wolfgang Kaleck

16 Where the spies are A map of Berlin's

surveillance hotspots

34 Film

40 Stage

43 Music and nightlife

48 Art

12 Leaked but locked up Open the

18 America's lapdog The intimate

56 The Berlin Guide

Snowden files!

relationship between the BND and NSA

60 Letters to the editor

DEUTSCH IN ENGLISH!

MAXIM GORKI THEATRE

WITH ENGLISH SURTITLES

SEE yOU bACK fOR

THE 2014/15 SEASON!

www.gorki.de

1
---
An MI5 spy and a workplace

hero tell the truth – and get

punished for it

How Germany does

America's dirty work

Seven encryption

tools you should

be using

www.exberliner.com

Issue 130 • €2.90 • September 2014

MICHAEL OBERT: "I saw Louis at his worm-eaten table in the Rembrandt

light of his lantern listening to this music, and I got goosebumps." (p.36)

DIGITALISM:"Now we work a little bit 9-5, or sometimes 5-9." (p.44)

ALEXANDER DUVE: "Working with an artist is like being in a relationship

– these days it mostly doesn't work out." (p.48)

Our interview with

the exiled hacktivist

and new Berliner

The government

agencies (and

Berlin start-ups)

stealing your

data

THE WAR ON

WHISTLEBLOWERS

NSA'S LAPDOG?

COVER UP!

Berlin's

digital

rebellion

Whistleblowers, cypherpunks

and hackers: The post-

Snowden resistance is right

on our doorstep. Are you

ready to join the fight?

JACOB

APPELBAUM

WHO'S

WATCHING

YOU?

100% made in Berlin.

Printed on recycled

paper.

What's on? • Art • Fashion • Film • Food • Music • Nightlife • Stage

ISSUE 130

Cover art by

Agata Sasiuk

PUBLISHERS:

Maurice

Frank, Nadja

Vancauwenberghe,

Ioana Veleanu

Printed in Berlin

100% recycled paper

EDITOR-IN-CHIEF Nadja Vancauwenberghe

BUSINESS MANAGER Maurice Frank

ART DIRECTOR Erica Löfman

COPY/DEPUTY EDITOR Rachel Glassberg

WEB EDITOR Walter Crasshole

OFFICE MANAGER Sara Wilde

FEATURES EDITOR Ruth Schneider

SENIOR/MUSIC D. Strauss

FILM Eve Lucas

STAGE Nathalie Frank

ART Fridey Mickel

FOOD Françoise Poilâne

FASHION Jessica Saltz

SALES & MARKETING EXECUTIVE Ines

Montani

AD SALES Marissa Medal, Ilektra Simou

DESIGNERS Cristián Recabarren, Agata Sasiuk

PHOTOGRAPHER Michal Andrysiak

CONTRIBUTORS Tatiana Bazzichelli, Mary

Biekert, Dan Borden, Michael Hald, Mike Fleck,

Seymour Gris, Seán Kenehan, Ben Knight, Dominic

Mealy, Camille Moreno (art), Rory O'Connor (film),

Hanna Westerlund, Krystian Woznicki, Document

Leaks: Anonymous

SUBSCRIPTIONS

Annual prices: Germany €29 (includes a restaurant

voucher!), Europe €43, elsewhere €53.

Tel 030 4737 2960, subs@exberliner.com,

Subscribe online: www.exberliner.com

ADS / ANZEIGEN

To discuss advertising please contact us:

Tel 030 4737 2966, ads@exberliner.com

IOMAUNA MEDIA GMBH

Max-Beer-Straße 48, 10119 Berlin-Mitte

Tel 030 4737 2960, Fax 030 4737 2963

www.exberliner.com, Issn 1610-9015

■ Werner's political notebook By KONRAD WERNER

How the state and

businesses collude

in Germany

Bernie Ecclestone says he grew to like Munich in

the last few months, when he was forced to spend

a couple of days there every week. No wonder. It

turns out there are few nicer cities when you're on

trial for corruption. Last month, the head of Formula

One wrapped up his bribery case by bribing

the city's court with €75 million of his €3.6 billion

fortune. Not an out-of-court settlement, because

it was (ahem) with the court, and

not a fine, because Ecclestone

wasn't convicted. It was a straight

payment to the Bavarian judiciary

in exchange for dropping

criminal charges against him. You

might want to try that if you ever

get arrested in Munich.

Speaking after the trial, Bernie

expressed mild unhappiness

about paying up. But then again,

he observed wisely, "It'd be worse

not to have the money. I actually

find this capitalist system good." It definitely

works for him, anyway.

Germany is very proud of its successful businesses,

which is why German businessmen don't

really take it too seriously when one of those many

surveys come out revealing that Germany is in the

same league as Nigeria, Egypt, Kenya, and Namibia

in the world's corruption charts. The disconnect

between perception and reality is striking – in the

2014 Global Fraud Survey carried out by accounting

firm Ernst & Young, we learned that only six

percent of German firms thought fraud was widespread,

but 26 percent reported serious fraud cases

in the last two years. That was not only more than

almost everywhere else in Europe, but also more

than Russia, with 16 percent.

Ernst & Young – being a German company –

downplayed the figures, saying they were just a

sign that German businesses had increased their

IF YOU'RE

TOO CORRUPT

FOR BRAZIL,

YOU KNOW

SOMETHING

IS UP.

"awareness" of the

problem, as if they had

merely started to realise

what corruption was.

Besides, the apologists

argue, the stats show

that German companies

are cracking down

on corruption more

than ever before. One

example consistently held up is that of Siemens, a

company that became legendary for its corruption

scandals in the past decade, but is now presented

as model of corporate compliance. So it's odd that

earlier this year a court in Brazil

excluded Siemens from competing

for government contracts in

the coming years. If you're too

corrupt for Brazil, you know

something is up.

The German government is

mainly happy for German firms

to deal with corruption internally,

and German firms do all they

can to keep cases away from the

public (try getting details on the

cases behind the above surveys –

the firms never publicise anything beyond the raw

data). That might be one reason why Germany

remains one of only a handful of countries in the

world that has signed but not ratified the United

Nations Convention Against Corruption (UN-

CAC) – a select group that includes Sudan, Bhutan

and Syria.

Or it might be that German politicians think of

business as a branch of public life anyway, seeing

as so many of them move so easily from one to

the other. Most recently, Ronald Pofalla, Angela

Merkel's chief-of-staff, moved directly to a top

job at national rail operator Deutsche Bahn, while

minister-of-state Eckart von Klaeden moved to

Daimler. The EU has complained regularly to

Germany about this state of affairs – but cases

like Ecclestone's show that when the state and

big business collude, the government is happy to

simply shrug. ■

2 • FEBRUARY 2013
---
Rediscover your Kiez!

... with the new and improved

Exberliner Online Directory!

www.exberliner.com/directory

Do you own a business? Share your photos, videos, news and events on our website,

and extend your outreach to our international audience! Contact ads@exberliner.com
---
BEST OF BERLIN

BY THE EXBERLINER EDITORIAL TEAM.

Best 1990s flashback

If you're what the internet calls a "Nineties Kid", then stepping

into Friedrichshain clothing store COEXIST, with its

purple plastic blow-up chairs, rainbow shag rugs and a VCR

recording of Clueless playing in the corner, will send you into

full-blown reverie. Crocheted crop tops in candy-necklace

pastel colours, shiny Gwen Stefani-inspired bras and skirts

trimmed with faux fur, itty-bitty backpacks – they're all here.

But Coexist is also a showcase for the designs of hip German

owners Indira Töreki and Anna Heise, who met at the

Schwerin Design School and combined their talents (and their

names) to create the label Indyanna. After a few crucial years

in London, they made their way to Berlin, opening Coexist

in March. Each of their pieces is guaranteed hand-sewn,

mostly made from upcycled materials; a craft that can often

be witnessed live in Töreki and Heise's back-room sewing

studio. Their store also houses other independent designers,

including LuLaLoop (which has clothed the likes of indie-pop

princess Grimes). Even if you're not one to wax nostalgic over

flashy print leotards (€65-70), bomber jackets hand sewn out

of vintage scarves (€126) or punk-y denim vests with a political

twist (€85), the shop is still worth a visit – and those of us

of a certain age will find it hard to resist the infamous tattoo

choker necklace (€2). MB Coexist, Grünberger Str. 88, Friedrichshain,

U-Bhf Samariterstr., Mon-Fri 12-20, Sat 12-18

Best Neukölln bar in Moabit

Okay, sure, KALLASCH& (whose name comes from the red sign

on the back wall, scavenged from a nearby abandoned restaurant

supply store called Kallasch & Jonas) boasts some signifiers

you might recognise from Weserstraße: stripped walls, mismatched

furniture, back-room concerts. But stick around and

you'll notice that a) everyone actually listens when someone's

playing; and b) you might even end up talking to someone you

didn't come in with. This is Moabit, after all, where despite a

recent spate of rent increases, the streets remain quiet and the

populace "down-to-earth", as co-owner and barwoman Luisa

Traumann puts it. Starting with a crumbling Eckkneipe, she and

fellow Moabiter Dominik Borrmann planned and renovated

tirelessly from the bar's inception in October right up to its

official opening in July, and the whole place still buzzes with a

scrappy "can you believe they're letting us get away with this?"

energy. While the weather still allows, sip a Berliner Bären-Bräu

(€2.50) on the outdoor patio while watching the sun set over

the former train station that now houses the ZK/U art centre.

Then head inside for music, probably played by a folky veteran

of Borrmann's three-year-old Musique Maudite concert series,

and one of Berlin's better Mexikaner shots (€1). AJ Kallasch&,

Unionstr. 2, Moabit, U-Bhf Birkenstr., Thu-Sat 19-close

4 • SEPTEMBER 2014
---
Best hot stuff

Chilli fiends and locavores unite: Berlin's

finally got its own artisanal hot

sauce. Irish expat Jonathan O'Reilly

first began the culinary experiments

that would lead to CRAZY BASTARD

SAUCE three years ago. The final

product – a paprika-tomatillo-habanero

concoction with a pleasantly fruity

burn – has been available since January,

and a sweet-hot jalapeño-date version

will be hitting the market soon.

How good is it? A 100ml bottle sent

to the Exberliner office disappeared in

days, emptied out onto sandwiches,

stir-frys, burritos… everything,

basically. Order it online (€5/100ml,

€9/200ml, plus postage) or pick up a

bottle at Neukölln's Cabslam (€6) – a

fitting natural habitat for a hot sauce

created by a "reluctant illustrator/

dedicated barman/sometime musician".

JS Crazy Bastard Hot Sauce, www.

crazybsauce.com

von ensemble mosaik

ERICA LÖFMAN

Best 3D selfie

There's an odd moment – somewhere

between doing a 360 degree full-body swivel

whilst being scanned from head to toe, and

when you witness a miniature version of

yourself being squirted out by a printer –

where you think, "Jesus, is my posture really

that bad?" If such revelations hold no fear

for you, then we've got a café that's right up

your alley… DIMENSION ALLEY, that is. The

future of the selfie is here, nestled unassumingly

in Prenzlauer Berg, and predictably

enough it's 3D. Offering a variety of digital

fabrication workshops that cater to children

(upon request) and adult novices (€40), the

world's third "fab café" goes to great lengths

to walk you through the potentially infinite

applications of 3D printing: organic tissue,

aeronautical engine parts, even entire buildings.

Then, they give you the opportunity to

design… a keychain. Yet the more technically

savvy can rock up with preconceived

designs and bring them to life with the help

of the outfit's affable owners, examples of

which can be seen around the workshop:

the aforementioned mini-me (from €25),

miniaturised landscapes, a Mars Rover and

models of actual bone scans, to name but a

few. Height and width were good while they

lasted, but modern Berliners need something

more: they need depth, and that's exactly

what this techno-caff is serving up, in

viscous thermoplastic form. SK Dimension

Alley, Liselotte-Herrmannstr. 1, Prenzlauer Berg,

S-Bhf Greifswalder Str., Mon-Fri 10-18, Sat 11-18

Filme: Distruktur – Melissa Dullius,

Gustavo Jahn

Künstlerische Leitung: Bettina Junge,

Thomas Fiedler / Kommando Himmelfahrt

Clemens Gadenstätter:

Sad Songs (2012)

Mark Barden:

viscosity (2014)

Mauro Lanza / Andrea Valle:

Regnum vegetabile (2014)

3. & 4. September 2014

20 Uhr im Berghain

Am Wriezener Bahnhof, 10243 Berlin

Eintritt 9 € – Karten an der Abendkasse

Eine Produktion des ensembles mosaik

in Koproduktion mit dem Internationalen

Musikinstitut Darmstadt; gefördert aus

Mitteln des Hauptstadtkulturfonds.

MICHAL ANDRYSIAK

5
---
ARTICLE FROM THE TAG EDITOR

BERLIN'S

DIGITAL

REBELS

ILLUSTRATIONS BY CATHERINE FRANCK

Berlin might well be home to the highest concentration of

"Snowdenistas" in the world – starting with the small circle

of trusted confidants. There's Edward Snowden's first ally, US documentary

filmmaker Laura Poitras, who in January 2013 received a pseudonymous

email, trusted a certain whistleblower's story and met and filmed the

young NSA runaway in his Hong Kong hotel room – resulting in a video that

was to make history. After being on a watchlist, detained and interrogated

countless times, she made Berlin her base. There's Sarah Harrison, the Wikiangel

sent by Julian Assange, who spent 40 nerve-wracking days in Moscow's

Sheremetyevo airport while escorting Snowden to safe haven. Advised by her

lawyers that it wasn't safe to return home to the UK, Harrison decided to

go to Berlin, joining another exile, the US hacktivist Jacob Appelbaum (see

interview, page 8), a close associate of Assange and friend of Poitras. There's

also former MI5 agent Annie Machon (see page 24), herself a former whistleblower

turned outspoken anti-surveillance campaigner.

It is not a coincidence that so many Snowden allies have ended up here.

Berlin has always been a centre of crypto-dissidence – starting with the

founding of the Chaos Computer Club 30 years ago, now represented by

the likes of Andy Müller-Maghun and Constanze Kurz. Add to these Daniel

Domscheit-Berg, WikiLeaks spokesman turned renegade, now a member of

digital transparency champions the Pirate Party. They form the nexus of a

constellation of collectives and organisations from the non-profit Digitale

Gesellschaft to the international NGO Tactical Tech, a collective focused

on technology and activism, to the Courage Foun dation, an international

whistleblower support organisation set up by Harrison last June – not to

forget the benevolent techies who patiently teach Berlin's crypto-illiterates

the art of online privacy at open workshops they misleadingly call cryptoparties

(no music, booze optional). United by a strange mix of digitally

enabled awareness and cyber-utopianism, they meet with whistleblowers,

human rights activists, academics and lawyers at international conferences

the world over. Here, they socialise at a certain weekly Mitte Stammtisch

or at events across Berlin's alternative bars, like Citizen Kino's evenings

of media-subversion. It's an underworld populated with Club Mate

drinkers who don't necessarily live in Neukölln, rarely own Macbooks

and don't exhibit their lives on Facebook. Instead, they send each other

encrypted messages from computers covered in "Tor Project" or "Asylum

for Snowden" stickers. They often carry outdated mobile phones – the

rare smartphone owners take their batteries out, knowing that even a

switched-off phone can easily be turned into a tracking device and a networked

microphone. They want to change the world but fear journalists.

They're distrustful. Realistic, stoic, idealistic. Often bespectacled. Mostly

male, but not entirely.

The only one missing is "Ed", as his supporters affectionately call him.

In the meantime, lamp posts are plastered with stickers emblazoned with

an Obama-campaign-esque replica of his face; even my vet has "Asyl"

postcards in his office among the cute cat photos. In the age of 'normcore',

digital nerds have grown hotter (I heard it: "Snowden is a sexy

man.") Snowden-sploitation?

The Berlin literati are catching up: this year's International Literature

Festival warms up with a Snowden support evening on September 8 (not

sure who's supporting whom here), complete with a panel discussion and

a reading (a collage of Snowden's wisest quotes). They've also initiated a

petition demanding Germany to grant him asylum: we all want him in

Berlin. Except for the German government, that is. Had Snowden been

Chinese, they would have welcomed him with open arms as a political

6 • SEPTEMBER 2014
---
Laura Poitras

Sarah Harrison

Jake Appelbaum

dissident (see our interview with Snowden's lawyer Wolfgang Kaleck,

page 14). The issue is that in many ways, the German political establishment

has remained a lapdog of the US (see page 18) – from Cold War

times, when the NSA had its Berlin roost in Teufelsberg, up till now.

Germany is the NSA's most important base of operations in Europe. The

infamous XKeyscore is ope rated from the Hesse town of Griesheim, as

revealed by one of the many documents in the Snowden cache.

Now we know about the collusion of the NSA and Britain's GCHQ, to

a lesser extent Germany's BND, and half of Silicon Valley in the ambition

to turn the world into what Snowden called a vast "digital panopticon".

Comparisons with 1984 seem as hackneyed as they're apt: Big Brotherhood

has descended upon us. We've entered the most monitored and

spied-on age in human history. Our everyday habits and deeds are recorded,

sorted and analysed by data collection agencies to the profit of online

and offline businesses without our consent or knowledge (see page 28).

The digital economy has turned into a vast milking operation, and we're

the cows. Put that information in the wrong hands – we're dead cows.

Now we know. Does this mean we're more aware? Beyond the stickers

and the outcry, what measures are we taking? Are we using Tor to

browse the internet or encrypting our email? Or reverting to typewriters

to outsmart the spies, as contemplated by the Bundestag's NSA

parliamentary commission: back to analogue? For its part, Exberliner

is embracing digital enlightenment: we're working on an open-source

whistleblower submission system and, from this month on, we'll be

the first Berlin magazine with full digital privacy. As well as enabling

our journalists to communicate securely when they need to, it is also a

symbolic gesture, an act of political rebellion.

In times of impunity from governments, it is up to us, citizens, to

stand up for our rights. Snowden, like Manning, Assange and many others

before them (let's not forget local whistleblower Brigitte Heinisch, whose

legal battle changed the way whistleblowers are treated in Germany, page

26) is a classic example of what Albert Camus called a "rebel" – the man

who says "no" in the face of what he considers to be illegal but also immoral,

who fights against the kind of world he doesn't want to live in.

Citizens of Berlin, join the whistleblowers, cypherpunks and hacktivists

– it's time to rebel. NADJA VANCAUWENBERGHE

7
---
SNOWDEN SPECIAL

MICHAL ANDRYSIAK

"We've entered

revolutionary times"

Jacob Appelbaum: New Berliner, exiled hacktivist, passionate idealist

By Ruth Schneider

8 • SEPTEMBER 2014
---
A

longtime collaborator of Julian Assange, a close friend of Edward

Snowden confidants Laura Poitras and Glenn Greenwald

and now himself a trusted ally of the NSA whistleblower, this is

a man with some serious cred on the Snowden scene.

Jacob Appelbaum is a natural-born dissident with a fighting spirit and

serious oratory skills. Starting off as a campaigner for medical marijuana

in California at age 15, Appelbaum spent more time worrying about

planet Earth (later with Greenpeace and Rain Forest Action Network)

and his computer's ecosystem than his schoolwork. By his early twenties

he was busy helping friends bring technology to Iraq (installing internet

satellites in Kurdistan) or de-constructing Apple's encrypted disk storage

system. His involvement with the Tor Project (from 2004) and Wiki-

Leaks were soon to follow. In 2010, Rolling Stone tagged him the "most

dangerous man in cyberspace", a label that still pisses him off today.

He would hate the idea, but the Snowden affair has boosted his career –

as a freelance writer with access to the NSA files, and as a public speaker

who's been both an expert on and victim of digital surveillance. Appelbaum

was among the few cyber-security brains who engineered the Tor

anonymity software. This and his connection to WikiLeaks earned him

harassment from US intelligence agencies – relentless pressure which

culminated in his girlfriend being spied on in her bedroom. In June of

last year, he decided to bid home and friends farewell and join the likes of

Poitras and WikiLeaks' Sarah Harrison in self-imposed Berlin exile.

Appelbaum – a man with over 76,000 Twitter followers – is coy about

his new celebrity on the digital scene. Yet today it's hard to conceive

of a conference with the words "surveillance" or "Snowden" in the title

without his participation. Like many of his techie peers, he encrypts

his email, and if he does have a smartphone on him, the battery travels

separately in his bag.

"I'm a journalist, a computer security researcher/programmer, as well

as an artist – all three are on my visa," a freelance visa Germany has just

renewed for another two years.

He's also bit of a rabble-rouser – like when this year, after winning

the respected Henri Nannen prize for journalism, Appelbaum publicly

expressed his shame at winning an award named after a one-time Nazi

(the famous Stern founder was a Waffen-SS propaganda man in Italy), and

pledged to melt his award together with those of other winners, creating

a new artwork.

In person, "Jake", as his friends call him, comes across as a rather shy,

aloof type. But get him on topic and this 31-year-old tattooed product

of "generation so-what" metamorphoses into an uncompromising yet

endearing idealist.

Last year, you decided to move to Berlin after

years of harassment by the US government.

Why then? I had enough. For years I had

terrible interactions with the police, with border

control, with the FBI. All sorts of different

encounters that my family had experienced, that

my partner had experienced, who is no longer my

partner now partially due to this stress. Unbelievable

things really.

Can you tell me about one of these unbelievable

things? Sure. A couple of years ago my

mother was arrested in a small town in California.

This is not necessarily out of the ordinary

for her, she is a troubled person. But the police

kicked down the door and arrested her on the

toilet and dragged her out of the apartment

while recording the entire happening on an audio

recorder. I flew to California to try and bail her

out of jail. I thought that this is just what would

happen to any person's mother in these sort of

circumstances. But it became increasingly clear to

me that there was something else happening by

the way that they treated her. She was handcuffed

and tied down; her wrists and ankles and waist

were all chained together. At one point she was

interrogated about my role in WikiLeaks. I had

never told my mother about Julian Assange or

WikiLeaks. She doesn't use the internet.

So they transferred her to a mental hospital

eventually. I met her there and she told me that

they were drugging her against her will. They had

been given an order by the judge to forcibly drug

her. They interrogated her again about my role in

WikiLeaks. She spent 18 months in jail without

a trial. She has been on probation for three years

and because I have left the US, I haven't seen her

in this period of time. It is a very sad situation.

You were also followed, harassed... When

I was in Iceland, I received a panicked message.

My now ex-fiancée had woken up with men wearing

night vision goggles watching her sleep in her

home. When we travelled together, I would go

through customs with her and they would literally

take me away in front of her and deny to her

that I existed. I experienced this for years.

When did it start? It really started in 2009, but

I had been very quiet about it. It really started to

heat up in 2010 and 2011 and got gradually worse.

In May 2013 I had dinner with my aforementioned

ex-girlfriend, and at this dinner we were

physically followed by at least two agents we

think were with the FBI. We negotiated over the

internet to have dinner at a specific restaurant

"I feel safer in East

Berlin as an immigrant

than I ever have as a

citizen in the United

States."

at a specific time and she picked me up and we

drove there. The email was encrypted and we

used all sorts of stuff, but it's clear that both of

our computers were probably compromised and

they knew everything. What is weird is that we

didn't go to the restaurant that we planned on.

At the last second I had a nervous twitch and

I said, let's take a left right here and go to this

restaurant. And not 10 minutes later a guy with

a buzz cut sits down right next to us, puts his

cell on the table, the microphone of his phone

directly pointed at me. Twenty minutes later a

woman comes and sits down next to him. And

she also puts her cell phone on the table. They

pretended to be on a first date but they never

said anything about what they do, why she was

late... At some point my fiancée really broke

down crying from the pressure. The day before,

Laura Poitras had come to visit us in Seattle. So

it's quite clear that this surveillance had been

linked, they wanted to know what had happened

with Laura. And of course that wasn't the topic

of our dinner conversation.

Was it during the Snowden revelations?

No, Laura was just visiting me. Laura and I have

been dear friends for a long time. That kind

of harassment started much before Snowden.

And this led me to realise that when these leaks

started coming out, something big was happening.

When we learned about Edward Snowden

and Glenn Greenwald and Laura Poitras, I was

actually in Munich – on my way to Seattle from a

trip to India. A friend from the Chaos Computer

Club walked up to me while I was having dinner

and he said to me, "Did you hear the source of

the leaks?" I was travelling with Laura's producer

Caity, and we were filming together... I think she

even filmed me loading the page of The Guardian,

learning the name of Edward Snowden and learning

why we couldn't reach Laura all that time.

I put everything together and realised that if I

were to go back now, these years of harassment

about WikiLeaks would be nothing compared to

what was coming next. So I cancelled my return

flight and I never went home again. That was in

early June of 2013.

All those years of harassment – it was because

of your involvement with Wiki Leaks?

The data trail you leave behind tells a story about

you, but not necessarily one that is true. Even if

it's made up of facts. For years the US government

harassed me because they thought Bradley

Manning, now Chelsea Manning, had given me

documents. But that is not true.

How do you know they thought that?

Because they dragged friends of mine into a

grand jury in Virginia and threatened them

with indefinite detention if they did not testify

against me, waive their constitutional liberties

9
---
and talk about me specifically. When I realised

that they had a completely incorrect theory and

that they tried to destroy my life for years, I

thought to myself that there will be no end to

what they do to harass and to destroy. So, I felt I

shouldn't return.

So why Berlin? Berlin has an incredible culture

of resistance. I have been coming to Berlin for

many years because of the Chaos Computer

Club, and I've worked with

Der Spiegel in the context of

WikiLeaks. I have a lot of

close friends here in the art

world and in the computer

hacker world and in the

journalistic world. I exist

at the intersection of those

three worlds, and Berlin

makes me very happy. We

often joke that it's this sort

of last stand for democracy.

Where people are really

having real dialogues. The

people in Chaos Computer

Club, Der Spiegel, taz, Exberliner,

etc. said to me that they were with me, and

so I have been here for a year and have applied

for a temporary residence visa, as everyone does,

and I received it. Frankly, I feel safer in East Berlin

as an immigrant than I ever have as a citizen

in the United States.

You never felt like applying for asylum?

I do not relish the idea of being a refugee. I

hope it never comes to that. I have been offered

political asylum by other countries. I don't want

to say which ones. The US government is out

to get everyone associated with WikiLeaks and

Snowden in any way they can. It is political

persecution. I think that Germany has done a

good job by letting me stay. I want the same for

everyone who needs it.

It is a beautiful irony to be an exile here.

Berlin has a crazy history of surveillance

from the Cold War to the present day. We

know from the Snowden files that Germany

is the NSA's closest ally in Europe.

Even with Berlin's history, even with the intense

irony of East Berlin being a place where we

work on these things now, it is not necessarily an

endorsement that Berlin is perfect. There is an

immense amount of spying here by the German

government and the NSA. We now know how

closely they work together. For example, as far as

we can tell all the American drone assassinations

are relayed through Germany...

You and Laura both worked with Der

Spiegel – how did it happen? Well, Andy

Müller- Maguhn and I had been working with

Spiegel in various capacities over the years and

we both convinced her to come and work with

us. Marcel Rosenbach and Holger Stark are two

of the greatest living journalists; they are goodnatured,

have good ethics and I trust them both.

Were you ever tempted to join Glenn

"The Guardian

is a petty, shitty

newspaper with

an axe to grind

about WikiLeaks

and Julian

Assange."

Greenwald and The Guardian? Well, I was

working with Glenn, and I asked The Guardian

for a letter to be covered under their editorial

secrecy privileges, and they declined. I think it's

because they're a petty, shitty newspaper with

people at the helm like Luke Harding, Alan

Rusbridger and David Leigh who have an axe to

grind about WikiLeaks and Julian Assange, and

they decided that that was more important than

anything else including protecting me. When, in

September 2013, Leigh and

Harding were here at Hundt

Hammer Stein bookstore for

a reading of their book on

WikiLeaks, they lied about

about Julian endlessly. Do

you know that when Julian

first went to the [Ecuadorian]

embassy, The Guardian sent

him a basket with clean socks

and soap in it? That is the attitude

that The Guardian has

towards serious journalists!

Don't you think they

did a good job with the

Snowden leaks? They broke the story despite

considerable pressure... Until you consider

the fact that they said they wouldn't even

touch anything related to Afghanistan or Iraq,

for example. I mean, that's unbelievable... They

have done a good job in some of this reporting,

but to me it is very sad that they view this as a

competition between news organisations or egos

as opposed to understanding the importance

overall. You see this with Harding's book about

the Snowden files. What does he know about

Snowden? He has no contact to Snowden, no

idea about any of this stuff, and he writes this

totally exploitative book to try and present to us

the full history and it is completely preposterous

– this is The Guardian. The fact that they

have all these documents but they are basically

done reporting on them – to me that's another

example of how unbelievably irresponsible they

are as a publication. We don't need organisations

like these who serve the state, we have enough

of those. We need organisations who serve the

public interest, and this is what the press is supposed

to do.

Why didn't you follow Laura and Glenn to

The Intercept? I really like The Intercept, and I

think the people working there are of the highest

calibre. I'm glad Pierre [Omidyar] is financing it,

but you've gotta ask yourself, why? It is purely to

make money. My interest is very much aligned to

increase justice in the world, to try and improve

human rights issues. So I care very much about

the things that Jeremy Scahill writes on The Intercept

about drone strikes. I care what Glenn is doing,

I care what Laura is doing. I have the utmost

respect for publications that get the truth out for

the public interest. But each of these places have

different limits and different goals.

You are being overly diplomatic now. I'm

not! People who work as effective journalists in

the US are harassed, they are bothered... They

are arrested and they live with serious fear of

repercussions even if they won't admit it.

So, would you say that's the reason why The

Intercept withheld the fact that Afghanistan

had been under total NSA surveillance

in their exposure of the so-called Bahamas

story – too much pressure? I think it is quite

clear that organisations like The Intercept are

explicitly under pressure. And The Washington Post

is also explicitly under pressure – they got the

story and actually didn't publish the names of any

of those countries... When you talk to the people

who work at these organisations they all have a

great deal of fear.

But look, Glenn and Laura are two heroes

of fearless journalism. They proved their

integrity many times and now they've gone

on to found a new media platform... you

would expect that organisation to be more

'independent'. So what does that tell you

about what's possible?

It tells me that apparently it's not possible.

That is the answer to the question then. What is

possible for The Intercept, The Washington Post or

The Guardian? There are all different things in

terms of possibilities. Could The Intercept publish

anything they want? Potentially, but there are

consequences that come with it. Political, legal

and maybe even technical consequences. The

reality of the situation is that there is a reason

why WikiLeaks exists. WikiLeaks is a publisher

of the last resort.

So, without WikiLeaks, the Afghan people

wouldn't have been informed... I am happy

that WikiLeaks exists because they serve as a

balancing factor. Right? When publications like

The Intercept fear to publish something like that

or worry that it could be harmful, WikiLeaks

is able to come in and talk about it. It really

behooves governments not to pressure places

like The Intercept or The Washington Post because

that creates a space where it's absolutely clear

that WikiLeaks is a necessity, even now. I think

it's sad that there is an environment where news

publications are not allowed to tell you certain

facts, but it is also the reality of the situation

that we are living in.

What do you think was the most significant

thing about the Snowden files? I think that it

is important to understand that Snowden serves

as an example that it is not only possible to

resist, it is possible to resist and to survive. What

Snowden has done is a brave act of whistleblowing.

He has paid dearly for it, and many people

are working to ensure that he doesn't pay with

his life. Of course the impact of the documents

was important, but the impact of surviving alone

was just as important in some sense for inspiring

other people. I mean, [NSA whistleblower William]

Binney doesn't have legs anymore. He is a

double amputee from the diabetes and the stress

of his life. Thomas Drake's life has been in some

ways completely ruined. Chelsea Manning has

ended up with a 35-year prison sentence.

10 • SEPTEMBER 2014
---
But is being stuck in Russia under Putin's

guardianship really an enviable option?

Well, that's a really loaded statement; how do

you know that Putin has anything to do with

Edward Snowden? Let me just say that it's better

to be alive and stuck in one of the largest

countries in the world than to be imprisoned

or to be dead. But some people deny this and

suggest that he is a pawn or a puppet. They

criticise his choice of asylum. But he applied

for asylum in as many countries as possible, and

nearly every single one refused on a technicality.

Sarah Harrison and Julian Assange saved his life

because WikiLeaks takes source protection seriously.

Just imagine, those three people managed

to embarrass the entire intelligence community.

That is so powerful.

Then there are those who say things like,

"Well, what did we learn from Snowden

that we didn't know before?" There is a

difference between suspecting and absolutely

knowing something like the fact that the Bahamas

are under complete surveillance. There is a

difference between understanding that metadata

programs are being used to help kill people with

drone strikes and speculating about it. There is a

difference between understanding that Chancellor

Merkel is spied on as a head of state in theory

and finding out it is entirely the case. Because of

my experiences, I know something about the difference

between probability and certainty, what

is legal versus what is happening. I, for the rest

of my life, will never lie down in a bed in a house

and not know that my house is monitored. I will

never be able to have a free conversation in my

home for as long as I live...

Stuff like that used to be called paranoia.

So, you're saying it vindicates the paranoid

ones among us? When Julian Assange and I

wrote Cypherpunks, many people said that we

were crazy, paranoid, etc. Well now, thanks to

Snowden, we know it is no longer unreasonable

to think that our phones are being tapped or that

the internet is being monitored. It is a fact. It

might be oppressive in a sense, but it is still a liberating

phase because it is no longer a question.

Every person who doesn't work to change it is

complicit. That's the difference. There is a huge

split between a bunch of cynical people who

say they already knew and don't need to think

further about it, and a number of not-so-cynical

people who say it's what we suspected and what

we feared, now let's change it.

Were you personally shocked by those revelations?

I moved beyond shock. I am horrified and

I want things to change. One way to change these

things is to publicise them so that people know

about them, and another way is to build alternative

solutions to them. And this is what we are doing

with the Tor Project, for example, and many other

people are working on exactly that as well.

So, how do you get people to go to the next

level – from awareness to action? We have to

have a lot more than just individual actions. My

recycling does not save the environment. It is a

useful part of a much bigger picture. We need industrial

action on a planetary scale. For example

we have to re-engineer the way telecommunication

systems work. Why can the NSA wiretap

entire countries? Because the infrastructure is designed

to be wiretapped and they exploit it. And

that needs to be changed. The reality is that most

people trust the defaults of their electronic devices.

Until the architecture is privacy by design,

we will have privacy by policy. Privacy by policy

will always be violated by

people who do not feel that

they are constrained by that

policy. We have to work to

change the way our infrastructure

works. To make it

actually secure.

But many don't feel that

concerned – as internet

users, they just want to

accomplish certain tasks

and are unbothered

about corporate or political

use of their personal

data.... Saying, "Oh I'm

not interesting, no one will want to watch me" as

a way of coping with this stress is understandable.

But I would re-frame it as "intelligence agencies

are normal people". The capabilities necessary to

tap a cell phone costs €1000 or less. The methods

are available to everyone – an ex-lover, a competitive

journalist… So, it's about choice, not whether

or not you have something to hide. There are

businesses that exploit people's lack of knowledge,

and, yes, we should question the centralisation of

businesses like Facebook and Twitter. We have to

deal with corporate surveillance and government

surveillance and the ties between them. It is a big

problem. But it is something we can solve.

You called Facebook Stasibook… Yes,

because of its close collaboration with the state.

They have an entire department that does nothing

but turn over data to police, governments and

other requesting parties. I'm sure that the FBI

went to Facebook for any data that they had on

me. The Department of Justice went to Twitter

and Google for me. I think the big fallacy is to

think that because people use Facebook they

don't care about privacy. But what is the alternative

for most people? The reality is that if you live

in London, when you walk down the street, it's

a privacy-violating channel of information. But

what can you do? You won't stay inside all the

time, which doesn't mean you don't care about

the cameras. So, we must build alternatives so

that people can choose. And we can do it.

You seem unexpectedly confident, even

optimistic. I don't think there is a divide

between the physical and digital world anymore

and history shows us that it is possible to resist

and it is necessary to do so. With the Snowden

files and WikiLeaks we've entered revolutionary

times, big changes are ahead.

Do you think that Snowden sparked a

revolution? Yes. I think Julian Assange, Edward

Snowden, Laura Poitras, Chelsea Manning,

Glenn Greenwald and others have all contributed

a great deal to history. We live in times of

extreme upheaval. I see that we have already

built the beginning of alternative structures that

exist already. Like the Tor network. Millions of

people use it everyday. Whistleblowers, journalists,

doctors... It is not a promise of the future,

it is an optimistic reality. I would say there is a

long struggle, and we are in the middle of this

struggle. We may not

win all these battles and

"There was never a

time in history

where this many

people could be

under surveillance.

This is new, and it

is not okay."

we may not stop mass

surveillance, but there

is an opportunity to do

that, and with those tools

many people are not as

vulnerable to surveillance

as the rest of the planet

is by default right now.

So, it's about empowering

ourselves

as citizens of the

digital age? The point

is whether you want to

support the fundamental tenets of a democratic

society. If you do, then you should use these

types of programs. What is most important is

to think about the big picture in order to restore

balance to a lot of what has been lost. We

fundamentally need to re-architect and re-affirm

things, we need our policies and our technologies

to line up, we need to re-affirm fundamental

principles about human rights. When I first

went to the European Court of Human Rights

in Strasbourg, I cried.

I thought you belonged to "generation

so-what". You're turning out to be such an

idealist! The court in Strasbourg is one of the

most utopian visions. This notion that any person

can lodge a case or a claim, that any person

has the right to have injustices done to them by

states redressed in this manner, and for states

to have to do something about it… well, this to

me is something almost unimaginable. But then

I think of people like Assange, Snowden and

Poitras and I think, of course we need to reaffirm

these values that were hard-won after the

Second World War. We can't solve it in a cynical

way. There was never a time in history where

this many people could be under surveillance.

This is new and it is not okay. And we can stop it

and we should stop it. Things like cryptoparties

are part of a grassroots response to stop that on

an individual level and they are great. We need

people to do this in law, we need companies to

take a strong stance to ensure that these types

of communications are secure, to have opportunities

for anonymity, that there is a possibility

for a data-retention-free society. These kinds of

things are critical. I think there are actually ways

in which we know how to do it now. We can use

some of the existing apparatuses to change the

world. And it is already happening. Every time

you anonymise, every time you encrypt, every

time you assert your rights and refuse submission,

we're winning. n

11
---
SNOWDEN SPECIAL

Leaked but locked up:

Who controls the Snowden files?

Edward Snowden risked his life to leak documents for

the sake of "informing the public". But how much

wiser are we, the public, really? How much has

actually been leaked so far, and who decides what

gets published and on what grounds?

We first heard about the NSA files in June of last year over two successive

scoops by The Guardian (June 5), and The Washington Post (June 6) that

left the world screaming with outrage. Never had a single leak unleashed

such a firestorm; never had a leaker been turned into such an instant hero.

(His confessional video was uploaded to Youtube on June 9; it has since

been viewed by over three million people). By September 2013, Der Spiegel

released the story about Angela Merkel's cell phone being monitored by

the NSA, scandalising the Germans and their Kanzlerin. More documents

have been published since, bringing ever more shocking evidence of the

NSA's total impunity in its ambition of total surveillance. It seems that not

a single country, community or activity escapes America's all-seeing eye.

How many more revelations are still to come?

In other words: how much has been published so far? Does anyone

actually know the exact size of Snowden's NSA

cache? NSA Director Keith Alexander initially

estimated that the former contractor had copied

anywhere from 50,000 to 200,000 NSA documents.

Today US officials claim it was 1.7 million

– Snowden said he took far fewer, but never gave

an actual number. Wild speculations concluded

that at the current publication rate, it would take

another half decade to go through Snowden's

bounty. Who knows?

What we do know is that what has been made

public so far is only a small portion of what

Snowden risked his life to tell the world. What we

also know is that the flow and the content of

At the current

publication rate,

it could take

another half

decade to go

through

Snowden's bounty.

revelations to the public is controlled by those who have access to the

precious archive. "Who's that?" you might ask. There's the original duo

Snowden met in a Hong Kong hotel on June 2, 2013 and entrusted with

the leak – documentary filmmaker Laura Poitras and journalist/blogger

Glenn Greenwald. They, in turn, enrolled the Washington Post and The

Guardian, which was soon to share the spoils with The New York Times. The

circle has grown to include Der Spiegel, since Poitras moved to Berlin with

the files in her luggage to join old companions-in-digital-dissidence,

cypherpunks Jacob Appelbaum and Andy Müller-Maguhn to work with

the German newsweekly. For his part, and while keeping his cooperation

with The Guardian, Greenwald shared his own set of files with outlets in

India and Brazil (he lives in Rio) and the French Le Monde. Ultimately he

left the UK newspaper in October of last year to concentrate on an

ambitious new venture, The Intercept, an 'independent' news site generously

funded by Ebay mogul Pierre Omidyar. The site was launched in

March with Poitras as a co-founder. The presence of both of Snowden's

initial confidentes on the masthead bestowed instant credibility upon the

new online medium. Its mission statement? "To provide a platform to

report on the documents provided by NSA whistleblower Edward

Snowden," pledging fearless, adversarial journalism.

The pressure on media organisations to not publish information is

enormous. It has, for one, driven The Guardian to do away with their own

copy of the Snowden files in a highly publicised case of spy-media drama

– complete with a self-promotional video showing editors laboriously

destroying computer hardware with angle-grinders and drills under the

watchful eyes of two representatives from the GCHQ, the British NSA

equivalent. We also know that The Guardian and The Washington Post

withdrew some information from articles they published – probably after

negotiation with the authorities, mostly for 'security' reasons. But what

about when even the more 'fearless' ones succumb to the pressure? That's

what happened last May, when The Intercept failed to disclose the name of a

country outed by a Snowden document as one of the five targets of total

NSA telecom surveillance. It took WikiLeaks' insider knowledge and

Julian Assange's outrage at what he called "censorship" to reveal that

"country X" was actually Afghanistan. The Intercept's defence, "credible

concerns that it could lead to increased violence", didn't impress everyone.

So, who are we to trust? RUTH SCHNEIDER

AGATA SASIUK

12 • SEPTEMBER 2014
---
OPINION:

"Open the Snowden Files!" By KRYSTIAN WOZNICKI

More than one year after "NSA-Gate", access to

Edward Snowden's documents remains closed.

They have been rendered inaccessible again,

devoid of public control.

A small circle of people decides who can

access, read, analyse, interpret and publish the

Snowden files. Those who belong to this small

circle tend to argue that this has to do with

security reasons – the leaked files have been "secured"

in order to prevent greater harm. There

is also the obvious argument that this method

enables the long-lasting media narrative to

enfold – the "life insurance" of the whistleblower.

But what if, in the very sense that "data is the

oil of the 21st century" – what if the Snowden

files have been privatised by people who try to

exploit them according to their own interests?

Many researchers, activists and technology

experts (not to mention journalists, other than the

"lucky few") have a great interest to work with the

Snowden files. Imagine the historical impact on

sciences, social movements and IT infrastructures

if those files would become public domain and

serve as material to study as well as to learn from.

In July, I confronted The Guardian's Luke

Harding (The Snowden Files) with the issue while

at a Netzwerk Recherche summit in Hamburg

(the big gathering of the investigative community).

Harding seemed unprepared to reflect on

the possibility to open the small circle currently

dealing with the Snowden files.

To paraphrase his response: Yes, it is a

dilemma that only few people can look at the

Snowden files and draw their own conclusions.

However, this limitation is a natural result of

their very precarious nature (files containing

state secrets) and a consequence of the influence

exerted by the government. Nonetheless, "if you

have a special project" you could contact Guardian

editor Alan Rusbridger and probably get him

to provide you with the requested material.

A request for files – such a request is usually

directed towards obscure organisations or

corporations, and it is usually articulated by the

press. The request is usually denied at first, but

as the history of investigative journalism shows,

including many successful court cases, one must

fight for one's right to access information. Now,

you must make these requests to the press itself.

This is absurd. To whom are organisations like

The Guardian, The Washington Post, The New York

Times, Der Spiegel and individuals like Glenn

Greenwald accountable? Are they subject to any

democratic control?

I was also able to ask the investigative reporter

Seymour Hersh what he thought of the fact that

the Snowden files are locked away by people

who actually represent freedom of speech: "I

don't think there is much chance of getting

either Greenwald or anyone at the Times or Post

or Guardian to open up their files. The reporters

and editors will all claim they have done

the public a great service… meanwhile, they all

continue to hoard what they have and share it

with no one. Newspapers turn out to be not very

interested in spreading the wealth."

What I'm trying to suggest: we should work

out a new model for transferring the Snowden

files (and big data leaks in general) into the

public domain – taking into account the obvious

problems of security, government pressure and

Snowden's "life insurance".

All of this should be addressed on an international

level, starting in the countries where the

files are currently being

processed – in the US, in

the UK and in Germany.

Perhaps it should begin

in Berlin, where the

public interest in the

Snowden disclosures

is probably the biggest

worldwide. The main

actors here, including

journalists at Der Spiegel

and key figures from

the hacker scene, are

accumulating what late

French sociologist Pierre

Bourdieu would call

"cultural capital" due to

their exclusive access, while making non-transparent

decisions about what is accessible to the

public and what is not.

Ultimately, "it is the choice of the leaker to

tell the journalist what to do with the material,"

as Stefan Candea, a central figure in the

Offshore Leaks project, reminds us. So we need

to convince people like Snowden to consider

open access to their files. Maybe this is not such

a futile endeavour when you take into account

the fact that Snowden may not be too satisfied

about how his material has been processed so far.

In any case, we are facing a lot of work. We need

to raise awareness among whistleblowers and we

need to craft an adequate concept for platforms

that allow open access to their leaks. In six

points, here is what we need to consider:

1. Any responsible disclosure of leaked source

material should come with information about

the whole body of documents, as long as this

kind of information does not reveal the identity

of the leaker.

2. The public version should be cleared of all

names. Ewan Tarkan, a journalist pursuing (undercover)

research on issues like the surveillance

industry, states: "In the past there have been several

cases in which the names of people who had

just done simple IT services were visible. Their

lives are at stake when documents containing

visible names are published. At the same time,

this can't be brought forth as an argument to

withhold all the files. As the case of WikiLeaks

shows, it is possible to remove names from documents

before publishing them." Yet, who decides

Do we have to

decide between

Snowden's life

insurance and

open access to the

files? Or are there

ways to reconcile

both concerns?

which names should be deleted? Who designs

the interface in a way that is also attractive to a

broad, non-technical audience?

3. The files need to be made accessible in a

manner that allows everybody working with

them a certain degree of anonymity – you don't

want the files on your desktop, but in the cloud,

at a publicly known location that is accessible in

a secure way. But hosted by whom? For instance,

a public institution like a library?

4. The question how to work with the files

is central to the model: Are the respective files

machine-readable? Or do they need to be rendered

that way? There are various tools that will

solve that problem, e.g. DocumentCloud.

5. You need to understand the language in

which the files are written. Solicit the help of

someone who is fluent,

learn it yourself or have

your machine do it for

you. Needless to say, any

publication would have

to provide links to the

sources, openly accessible

to anyone.

6. In Snowden's case,

we need to make sure

that the whistleblower

does not lose his life

insurance and consequently

his life. The

next big step would

be to open access to

the files – at least 50

percent of them. In Julian Assange's case, some

files remained undisclosed in order to back up

his publishing activity. This approach could also

work for Snowden.

Is this all our model needs to consider? Probably

not. But for now, we could start by asking: why is

there only one publicly available counter of the

Snowden files in the world, maintained by John

Young's Cryptome under the project name Tally

Update? Why aren't those in the circle of the

lucky few providing such a service? Or at least

helping Young with fact checking? Why are the

Snowden files not handled in a less restrictive

manner? Aren't there smarter ways to go about

it? And when thinking about public interest: Do

we have to make a decision between Snowden's

life insurance and open access to the files? Or

are there ways to reconcile both concerns?

The discussion entails reflections on the foundations

of our democracy. It is not the worst

moment in history to rethink most of them. n

Krystian Woznicki is a

journalist, cultural critic and

publisher of the Berliner

Gazette, an online

newspaper he founded in

1999. The Gazette will be

holding its annual

conference, this year

entitled "Slow Politics", at

Supermarkt on Nov 13-15.

YASUHIRO YAMAGUCHI

13
---
SNOWDEN SPECIAL

Snowden's defender

Berlin-based lawyer Wolfgang Kaleck is the NSA whistleblower's legal support in Europe

and a dedicated fighter in the struggle against state surveillance. The co-founder of the

European Center for Constitutional and Human Rights regularly takes states and

corporations to court for human rights abuses around the globe from his office on the

fifth floor of a large factory building in Kreuzberg's Zossener Straße. By Ruth Schneider

Edward Snowden has two American lawyers

and a Russian one. You are officially his

European lawyer – what's been your role so

far? We've been exploring the possibility of him

getting to some type of safe haven in Europe. One

country specifically was under discussion over the

last 12 months: Germany. The German parliament

set up an NSA investigation committee,

and part of their discussion

was to invite him to come

to Germany to testify and

give him some type of

state security. It wasn't very

realistic, because obviously

the two governing parties

are not willing to have him

here. People tried to make it

happen, but there were still

some legal issues. There are

other European countries

that want him as an expert

and to hear his opinion on

the issues that he raised,

but it seems that for now he

might stay in Russia...

So countries want him

to testify, yet they don't

want to give him any

guarantee... That is typical

hypocrisy when it comes

to civil liberties and human

rights. My enemy's whistleblower

is my friend and my

own whistleblower is my

enemy. You should expect

a more principled position,

especially from Western

Europea n countries. This

is not only about Edward

Snow den, it is about a fundamental

principle of transparency

and democracy and

enabling us, the national,

European and global public,

to discuss certain things.

If he hadn't come out with

these revelations, we would

have had no chance to participate

in these discussions on a knowledgeable

basis. None of us can deny that even our European

democracies are violating laws. We need to

balance that out, and whistleblowers do this.

Do you see hypocrisy in Germany? Sure! The

rule of law played a bigger role in Germany than

in US policy over the last 15 years, that is for

sure. Germany was much more willing to obey

and advocate for international law. There is a

difference between torturing suspects yourself, as

the US did post-9/11, and some actions somehow

evading German law, which is what we are

talking about now. But still in the issue of secret

services there is much hypocrisy, and if their conclusion

from the NSA scandal is to better equip

German, French and Swiss

secret services, then we are

not on the same page. I'm

fighting for a less superficial

critique of the US and a

more principled discussion.

MICHAL ANDRYSIAK

What about the right

to privacy ? Aren't there

any laws? Privacy laws

do exist, but with a lot of

exceptions. When it comes

to a confrontation between

privacy and national security,

privacy never wins. We as

Western societies allow our

secret services a lot. And it's

not only a problem in the

US or since 9/11. We had

the problems before, and

it is not helpful to use the

scandal to blame others...

This is much more than accusing

the NSA of collecting

too much data. The idea

that America is the bad guy

prevents you from thinking

and from really considering

the big picture.

What about Snowden

being recognised as a

political dissident and

granted political asylum

in Europe? Not possible?

Unless you are a whistleblower

from China or from

Russia – then, it's considered

political persecution.

If you come from those

countries you won't have a

14 • SEPTEMBER 2014
---
problem being acknowledged, but if you come

from a 'friendly' country you will have a problem.

But there can be other exceptions in international

law where you have the guarantee of a safe stay.

So, concretely, what would happen if

Snowden travelled to Berlin? I don't know.

This is a political decision. If he took a plane

from Moscow to Berlin, he would run the obvious

risk of being arrested and extradited to the

US. There would be an extradition procedure

where he would have to defend himself. That is a

very realistic scenario.

He wouldn't have very good chances, would

he? It is not about a good chance. He'll only

enter the country if he has the assurance that he

won't be imprisoned or extradited or somehow

rendered to the US.

Isn't it crazy that in 21stcentury

Europe there isn't

one country that could

guarantee this? Most of European

history was the opposite

of what Europeans think of

themselves. Yes, they claimed

to follow the various paths of

enlightenment and protect

human rights everywhere… but

at the same time, European

history is a history of colonialism

and post-colonial exploitation. On the one

hand they hold speeches for human rights, and

on the other they exploit indigenous populations

all over the world in order to find cheaper natural

resources. It's not enough to only see one side.

Here in Germany, there's a strong pro-

Snowden movement... As far as I can see,

the media and the hype about Edward Snowden

didn't improve his situation regarding getting

asylum in Germany or elsewhere. The government

didn't change its stance much from the

beginning. It was a very self-centred discussion.

It was news about nothing. The whole time, he

was saying, "I don't think I should be in the centre

of this discussion. You shouldn't discuss me,

you should support the cause of anti-surveillance

and protection of whistleblowers." And that

hasn't happened so much. The discussion was

about him, but it wasn't his initiative... and that

is not in his interest.

From early on he decided to show his face.

Was it a smart gesture? It was a catch-22. If he

didn't show his face, people would have accused

him of being a coward. Now that he did, he's

criticised too. I think he has very strong arguments

for the way he did it. It is a good way to

prove that he is a bona fide whistleblower.

Is being recogniseable good legal protection

for him, or just the opposite? It's not only

about the law; it is law, morality and politics. He

obviously gets a lot of moral support because he

showed his face and is willing to answer questions.

Whether this will lead to the right political conclusions,

we will see. It's not the end of the story.

"My enemy's

whistleblower

is my friend

and my own

whistle blower

is my enemy."

Personally, you don't think it makes any difference?

No, no, I'm not saying that. I have my

sympathy for someone who does it that way. It

makes it easier to defend him. The political outcome

of these revelations is not Edward Snowden

versus the NSA or Edward Snowden versus the

US – it is the public, the defenders of human

liberties plus Edward Snowden. It is an ongoing

battle. You can't draw conclusions. It is about

taking up the cause and trying to enforce it.

Hubertus Knabe (see page 20) and others

have filed charges against the NSA… I think

that the litigation so far may not have hit the

right point. There was this interesting piece that

Constanze Kurz [of the Computer Chaos Club]

filed with others in the UK. They went to the

European court in Strasbourg against the UK for

the violation of privacy laws. I think it's a crucial

problem that we don't have

appropriate laws. We have to

reform our laws to deal with the

dangers of massive interception

of information by secret services.

This is the perfect time.

Like working on drafting

laws to protect whistleblowers?

The Council of Europe

wants to propose an additional

protocol for the European Convention

of Human Rights. Many

people are proposing reforms, and we have to see

if the Snowden revelations serve as a long-term

solution for whistleblowers. The national parliaments

have to decide.

Are you hopeful? Is the political will there?

I'm not interested in whether the political will is

there or not. My task is to work on it.

When you see what happened to Chelsea

Manning and people forget that Julian Assange

is stuck in an embassy, what are your

hopes for Snowden – and beyond? Whistleblowers

who get into trouble need strong allies,

people who will take a high personal risk, not

for them, but for the future. It is a long-term

struggle. At this point in time it is more dangerous

for whistleblowers; maybe we will be in a

better situation in three to five years, but only if

other people join this struggle. Let's prepare to

lay the ground for a better situation for Edward

Snowden today or tomorrow, and for other

whistleblowers in the future. Are you ready for

the struggle? Yes or no?

Berlin ended up being a centre of

Snowden support. Do you think that

exiles like Laura Poitras, Sarah Harrison

or Jacob Appelbaum are safer here?

I hope that they are all safe, but there is no

guarantee. The point is that if some prosecutor

in the world decides to issue an international

or European arrest warrant, how do German

authorities deal with that? We can hope that

public opinion here is strong enough and that

the community would back them up, but the

test hasn't come yet. n

Want to

sublet

your flat?

MARIA VAORIN

We'll help you!

• professional

service

• entirely free of

charge

• direct contact with

potential tenants

Furnished or unfurnished,

all districts, all sizes, by

the month or longer.

Please register your flat online:

www.exberlinerflatrentals.com

Tel: 0049 30 47372964

Max-Beer-Str. 48, 10119 Berlin

Office hours: 10.00 to 14.00

15
---
ARTICLE SNOWDEN TAGSPECIAL

WHERE THE SPIES ARE

By Dan Borden

Last year, Edward Snowden's NSA files revealed that America was

listening in on German citizens' phone calls, right up to Chancellor

Angela Merkel. Then in June, two German intelligence workers were

accused of spying for the US, in part to keep an eye on Russia. Berlin

is once again a capital of international espionage and, in an uncanny

mirroring of its Cold War heyday, a proxy battleground between

Washington and Moscow. These revelations have turned a spotlight

on the Hauptstadt's cast of intelligence agents and imbued some

otherwise mundane office buildings with an aura of intrigue…

Bendlerblock

Stauffenbergstr. 13-14, Mitte

Today a group of conspirators planting bombs to overthrow the

government would be labelled a terrorist cell, but when said group

targeted Adolf Hitler, they were rightfully heralded as heroes. Colonel

Claus Schenk Graf von Stauffenberg led the July 20, 1944 plot to

assassinate the Nazi leader from this 1914 neo-classical edifice, then

the Wehrmacht headquarters. Hours after their plot failed, he and

fellow conspirators were executed in the building's inner courtyard.

Today, the Gedenkstätte Deutscher Widerstand, or German Resistance

Memorial Centre, commemorates Von Stauffenberg and other Germans

who actively opposed the Nazi regime out of conscience. But

this memorial to violent subversion shares Bendlerblock with one of

modern Germany's largest bureaucracies, the Federal Ministry

of Defence and, specifically, the office of accused spy Leonid

K. Investigators say the 37-year old bureaucrat passed

secrets to American agents and, on July 9, raided

Leonid's Bendlerblock office and Potsdam home. Der

Spiegel reports that, like Stauffenberg, Leonid K. is of

aristocratic birth, but his motivation for betraying his

country – conscience or money? – is still a mystery.

The American Embassy

Pariser Platz 2, Mitte

When it opened in July 2008, the worst that German

critics could say about the new embassy was

that it was ugly. The building had a tortured birth.

California-based architects Moore Ruble Yudell

got design credit, but their unofficial partner was

Osama bin Laden. The 1998 African embassy

bombings and September 11, 2001 attacks forced

ever-stronger security measures. Even the Holocaust

Memorial across the street was squeezed

to make room for a buffer zone. But the new embassy's

too-public location – a stone's throw from

the Reichstag, Kanzleramt and other embassies

– made it perfect for high-tech eavesdropping.

Last year, amid the uproar over news that the NSA

tapped Angela Merkel's phone, Der Spiegel magazine

outed the building as a secret listening post.

Its windowless penthouse, they contend, hides the

super-sensitive antennae of the Special Collection

Service (SCS), an elite agency run

jointly by the NSA and CIA. These

accusations have made the

American Embassy more

than just ugly – it's

turned into a symbol of

paranoia and distrust.

16 • SEPTEMBER 2014
---
The Bundesnachrichtendienst

Schwartzkopffstr., Mitte

Construction began on the enormous new

home for the Bundesnachrichtendienst

(BND), Germany's version of the CIA or

MI6, way back in 2006. When it opens in

2017 – three years behind schedule and

€1.5 billion over budget – Berlin will become

home to the highest concentration

of German spies, 4000 agents and support

staff. The city can also expect a boom in

private companies and start-ups specialising

in surveillance and high-tech gadgetry.

The anticipated influx of well-paid bureaucrats

is already transforming this quiet

corner of Mitte. Across Chausseestraße

from the BND, a plot of land once divided

by the Berlin Wall is morphing into The

The Russian Embassy

Unter den Linden 63-65, Mitte

Garden, a complex of 214 luxury condos.

Sales prices: €3500-5000 per square metre,

above the city average of €3000.

Why relocate the BND's spies from

Pullach, in suburban Bavaria, to the

Hauptstadt? Berlin needs the money – the

agency's 2014 budget was €550 billion.

And it allows for more secure, non-digital

communication between the BND

and Angela Merkel's

office. Hand-delivered,

typewritten

messages? Or

maybe tin cans

with really long

strings?

Why is the US really spying on Germany? According to some

experts, to keep up with the Russians. Washington suspects the

German intelligence agencies are already riddled with Russian

spies. Ironically, America's BND mole Markus R. was discovered

only because he got greedy and also offered his services to

the Russian Embassy in Berlin. When it opened in 1951, the

then-Soviet Embassy broke a lot of rules: it's set back from Unter

den Linden and taller than its neighbours. Stalin demanded a

symbol of dominance over a conquered enemy and a model for

future development in the capital (see Karl-Marx-Allee). Stalin

fan and ex-KGB agent Vladimir Putin has kept the Cold War-era

Russian-German spy machine at full throttle. A Marburg couple

convicted of espionage in July 2013 had been relaying EU and

NATO secrets to Moscow nonstop since the Reagan era. The US

complains that ex-GDR comrade Merkel has been too soft on

Putin: Markus R. offered his secrets to both the US and Russia.

Both accepted, but only the US was punished – the CIA's Berlin

station chief, posted at the US Embassy, was expelled in July.

WHERE THE

SPIES WERE

n Glienicke Brücke (Wannsee/

Potsdam) First termed the "Bridge of Unity"

because it linked West Berlin with Potsdam

in the East, it earned the sexier title "Bridge

of Spies" after hosting a series of high profile

East-West agent exchanges.

n NSA listening post (Teufelsberg,

Grunewald) The US National Security

Agency picked this man-made hill, West

Berlin's highest point, to eavesdrop on

Soviet military communications (see page

18). Today it's a picturesque ruin.

n Cafe Adler (Friedrichstr. 206, Mitte)

Where East met West. A hub of journalists,

diplomats and spies loved for its ornate glass

ceiling and view to Checkpoint Charlie across

the street. It closed in 2008.

n Former US Embassy to East

Germany (Neustädtische Kirchstr. 4-5,

Mitte) From 1974-1990, this 19th-century

palace two blocks from Unter den Linden

was officially an island of Yankee soil and, no

doubt, a nest of Cold War spies.

n Café Moskau (Karl-Marx-Allee 34,

Mitte) Soviet bloc VIPs flocked to this icon

of 1960s chic for the best Russian food in

town. Across the street was East Berlin's

premier hotel, the Berolina, today a lowly

Bürgeramt.

n Stasi headquarters (Ruschestr. 103,

Lichtenberg) East Germany's dreaded secret

police operated from this not-so-secret

Lichtenberg compound. It's now a museum

run by Stasi survivors.

Bundesamt für Verfassungsschutz

Kasernengelände Am Treptower Park, Treptow

The two Germans caught spying for the US were

uncovered by Germany's domestic intelligence

agency, the Bundesamt für Verfassungsschutz, or

BfV. Its Berlin headquarters sits just west of the

Treptower Park S-Bahn station, a high-tech office

building nestled between 19th-century brick army

barracks. Like the FBI in the US, the BfV keeps

tabs on internal threats to the nation's security.

But critics say the agency's title, literally 'Protection

of the Constitution', smacks of Orwellian

doublespeak as its agents are regularly caught

breaking laws while exercising their duties. The

BfV's dodgy reputation dates back to its founding

in 1950 when the Allies staffed the new agency

with ex-members of the Gestapo, the Nazis'

secret police, but cases of illegal wiretapping and

secret closed trials continue to this day. Critics

allege the agency is preoccupied with left-wing

threats – half the members of Die Linke party in

the Bundestag were found to be under surveillance

– while turning a blind eye to right-wing

extremists. A neo-Nazi group, the National

Socialist Underground (NSU), carried out a terror

campaign against immigrants from 2000 to 2006

undetected because the BfV's agents blamed the

10 murders on organised crime. Whether this was

due to incompetence or complicity, as its critics

accuse, will never be known since a BfV manager

shredded dozens of key documents. Last year,

Cem Özdemir, Chairman of the Green Party, said

the BfV's institutionalised xenophobia makes

it unable to combat right-wing extremism and

called for the agency to be dismantled.

17
---
SNOWDEN SPECIAL

America's lapdog

From the Cold War to reunified Germany, surveillance has a long history in Berlin, which might

be why Berliners have been so touchy about the Snowden affair. But then again, the country's

relations with the NSA have always been intimate – and slightly unhealthy. By Ben Knight

As tour guides go, Bernie is a bit eccentric. Unshaven

and chain-smoking, the ageing Berliner

leads people round the smashed, leaky ruin on

Teufelsberg explaining things in a sarcastic tone

that keeps you constantly unsure whether the

things he says are true. He spent 16 years guarding

the "Devil's Mountain" when it was an Allied

military field station, and his favourite parts of

the tour are when he can hint mysteriously at

the decadence and destruction that used to go

on when the Cold War ended. He stops next to a

pile of warped wheels and cracked metal inside a

lift shaft. "See this? I helped cut the cables once,"

he says, as if telling a that-was-some-party story.

"We did it to block off the lower floors." What

used to happen on the lower floors? "No, not

telling you that. That stays down there." Then he

cackles, puts a finger up to his toothless mouth

and makes a very serious face.

Teufelsberg is a godforsaken place where manmade

plans usually come to nothing – Albert

Speer's military academy, whose foundation

stone was laid here by Hitler, was stopped midconstruction

by the Second World War. David

Lynch's "New Age University" nearby was never

given planning permission. And all that's left of

the luxury apartments planned for the disused

military listening station is some parquet flooring

in the decrepit showroom. Even Bernie's

lift-destroying debauchery was ended by the

authorities.

So now there are only the tours, conducted

by the fascinating, inscrutable people who used

to work here. Out on the roof, with its vista of

the whole of Berlin and what looks like half of

Brandenburg, Bernie is being secretive again.

This time he refuses to tell us what the middle

surveillance dome – the one set higher up than

the other two, on top of a tower – was used

for. "You said that one was for picking up radio

signals, and that one was for monitoring air traffic,

so what else could the middle one be? Maybe

satellites?" Bernie shrugs, narrows his eyes, and

presses his lips together.

"Why is it still a secret?" someone asks.

"There are things about this place that are officially

a secret until 2022," he says.

"Come on, it's not like America still cares.

There's nothing here."

"You're only half right there," says Bernie.

"The Americans still keep an eye on this place."

Some of the tourists can't help but look around,

while Bernie wanders off.

Bernie guarded the Teufelsberg field station

from 1976 to 1992, checking the IDs on the

American and British soldiers as they came into

work every day (via separate entrances). Germans

weren't allowed in. And if they needed a plumber

or a repairman, Bernie says solemnly, they were

blindfolded as they were led through the windowless

corridors inside.

The point of this field station was to eavesdrop

on the communists. There were Russian

specialists for Russian communications and

German linguists to handle the East Germans.

Another tour guide, Chris McLarren, spent two

years – from 1973 to 1975 – as a signals traffic

analyst at Teufelsberg, tracking the East German

army as they marched around the Brandenburg

countryside. "It was our job to know the other

army almost as well as the people serving in it," is

how he remembers it. As far as he is concerned,

intelligence work in the Cold War meant preserving

world peace: "The important thing is that

the Soviets also had a listening post. The biggest

dangers were surprise, panic and military overreaction.

But because we were both listening,

there was no surprise, no panic and no overreaction.

And we're all still here. But the world is

very different now."

Which is why, even though he's an ex-intelligence

agent, McLarren is on Edward Snowden's

The Stasi's files on

the NSA were

handed over to the

Americans, without

any copies being

kept: "The tracks

were successfully

covered."

side. "I admire whistleblowers greatly," he says.

"They are usually people trying to do the right

thing, and they see other people trying to do the

right thing, but not obeying the rules. And the

rules are there for a purpose." Then again, he

admits he might not have felt so righteous back

in the 1970s. Would he have been concerned if

he'd found out that the NSA was spying on West

German citizens? "I would have to be persuaded

now. I don't know if that would have been the

case then, because young people tend to be very

enthusiastic about their work."

As it is though, McLarren insists that his work

at Teufelsberg was exclusively military. "So far as

I know, mine was totally a military institution.

This was the US Army's intelligence agency, and

we provided our information up the military

chain." But then he adds, "I don't know if

there were NSA workers there, and it may have

changed after I left."

Defining the difference between military and

civilian intelligence work is central to the NSA

scandal – some surveillance targets are more 'legitimate'

than others. But drawing the line was tricky

even when enemies were more visible, and since

the end of the Cold War it has become a lot more

difficult. William Binney, the former NSA technical

director who resigned and turned whistleblower

in 2001, believes the agency he worked for was

effectively using the Teufelsberg listening station

from the very beginning. After all, the NSA has a

military component, called the Central Security

Service (CSS), and that is usually headed by a US

army general.

The combination of the end of the Cold War

and 9/11 dramatically ramped up the political

power of the intelligence community in the US.

A couple of months ago, Binney testified to the

German parliament that the NSA had become

a "totalitarian organisation." It was a remark

that was used in plenty of headlines because it

confirmed the Germans' biggest fear: the NSA

equals the Stasi. Quite a few people have drawn

that comparison, including, according to The

New York Times, Angela Merkel during an angry

phone call with Barack Obama (she denied

it). It's an obvious point to make, and it's the

apparent reason why Germans have been more

outraged about the Snowden case than most. But

according to Stasi expert Hubertus Knabe (see

18 • SEPTEMBER 2014
---
page 20), while it might

be valid in terms of methodology,

it's also fraught

with historical inaccuracy.

Klaus Eichner might be

one of the best people

to judge. He had a

33-year career at East

Germany's Ministry

of State Security (MfS,

aka Stasi) and became

an officer specialised in

combating the West's

secret services. Eichner

recently published a

withering book called

Empire Without Mysteries:

What the GDR's Intelligence

Services Already Knew

About the NSA, which

tells the dark stories of

how the Stasi infiltrated

Teufelsberg. He doesn't

think much of the comparison.

"Secret services

are always formed by the

political system from

which they originate and

in which they function,"

he says. "So there can be

no equivalence between

the secret services of the

East and the West."

But, he added, that

doesn't mean you can

simply define the East as

dictatorial and the West

as democratic. "One

argument is as wrong as

the other," he says. In his

book, Eichner even dares

to turn the equivalence

on its head: "I share the

chancellor's view that

the comparison between

the Stasi and the NSA

is unacceptable, though

for a different reason: we

stuck to the laws."

Whatever you think of that claim, the discussion

itself is a little academic, given that the

Stasi doesn't exist anymore. A bit more pertinent

for us is the relationship between the NSA and

reunified Germany's intelligence agency, the

Bundesnachrichtendienst (BND). Another NSA

whistleblower, Thomas Drake, gave the German

press more headlines earlier this year when he

told the German parliamentary committee that

the BND was nothing more than an "appendix"

to the NSA. Though he says that the German

press misinterpreted that – he didn't mean a useless,

subordinate bodily organ, but appendix as

in what you put at the end of a book. "Sort of an

afterthought," as he puts it.

But whichever metaphor you use, the relationship,

says Drake, is intimate and slightly unhealthy.

"It's fair to say it's a subservient relationship...

the NSA is very much the big brother."

The BND's obedience to the NSA stems from

West Germany's former dependence on the

USA. That had dramatic consequences in the

aftermath of reunification, when the Stasi's files

on the NSA were inherited by the new German

government. In Empire Without Mysteries, Eichner

claims that the authority in charge of administering

the Stasi files (headed by the future German

President Joachim Gauck) and the Interior

Ministry under Wolfgang Schäuble, broke German

law to make sure that all the Stasi's files on

the NSA were handed over to the Americans,

without any copies being kept. "The tracks were

successfully covered," Eichner writes. It was now

"impossible to prove black on white how the

Americans spied on the GDR and the Federal

Republic of Germany in the 1970s and 1980s."

Eichner's implication is that if the German

government had followed its own rules, we would

have known a lot more

about the NSA before

Binney, Drake, and

Snowden came along. The

whistleblowers merely

made obvious what the

Stasi already knew. "The

surveillance of German

telecommunications by

the NSA is not the core

of the problem. The problem

is the imperial urge

of the USA superpower

to impose its global ambition

for domination with

the help of the NSA in

the electronic war against

both friend and foe."

A decade after

reunification, the

BND's relationship to

the NSA became even

more obsequious when

Germany's intelligence

agencies caught flak

for failing to catch the

Hamburg cell that took

part in the September 11

attacks in the US. "The

attitude was, 'wait a

minute, there were actual

9/11 terrorists living in

Hamburg and you didn't

stop them?'" says Drake.

After that, "the BND

became eager to provide

as much as it could. The

2002 agreement that I

saw was very broad in

terms of information

sharing and access. The

NSA has always had this

attitude to third parties

[those outside the US,

UK, Canada, Australia

and New Zealand, the

so-called 'Five Eyes']: you

give us whatever we ask

for, and then we'll decide

what we give you."

Then, as the age of Facebook and mass online

data dawned and the NSA's mass surveillance programmes

began to fire up their engines, it became

clear that Germany was in an ideal geographical

position. It was a staging post for data flying in

from the Middle East, North Africa and Afghanistan,

as well as across Europe. That agreement in

2002 marked the sea change. According to Drake,

before 2002, especially during the Cold War,

mass data about citizens wasn't collected and

even targeted data wasn't kept for longer than

was necessary for analysis. Afterwards, he says, "it

didn't matter. The mindset was 'we need all the

data'... and the NSA had particular leverage over

the BND."

All this has left Germany in what you'd call

an awkward position: it is both the NSA's most

obedient lapdog and its bitterest, most outraged

critic. n

CW-DESIGN / PHOTOCASE.COM

19
---
SNOWDEN SPECIAL

From Stasi to NSA… and back?

Head of the Stasi prison memorial Hubertus Knabe knows a thing or two about state

surveillance. He's suing the NSA for spying on Germans. By Sara Wilde

Born in the West in 1959 to GDR exiles,

the historian and human rights

activist Hubertus Knabe campaigned

to release East German dissidents,

attracting the attention of the East German

secret police, the Stasi. In 1992, he was one

of the first to access his personal file, where

he learned that a close friend had reported

him for smuggling "forbidden literature" into

the GDR. As director of the memorial in the

former Stasi Hohenschönhausen prison, he

has fought tirelessly against trivialisation of

the crimes of the former communist state.

He's also drawn ire for his staunch criticism

of the German Left Party (Die Linke) and

uncompromising rejection of Ostalgie in all its

forms. After information about NSA activity

in Germany came to light in the Snowden files

last year, he filed a criminal complaint against

the United States with the German Federal

Prosecutor's office for illegally collecting and

analysing the data of German citizens.

You filed a lawsuit against the NSA. Why?

The media reported that large-scale telephone

and email monitoring had taken place in

Germany. This is forbidden by our constitution,

hence illegal – therefore I believe it is

the duty of the German Federal Prosecutor to

investigate. Much to my regret, they decided to

start investigating only in the case of Chancellor

Merkel's phone and not in the many likely

cases of other affected people. I guess that my

longtime concern with surveillance and the

GDR has made me especially sensitive when it

comes to misuse of governmental power. The

GDR was a surveillance society par excellence

and this should never be allowed to exist again.

Can we compare the NSA with the Stasi?

Did the Americans, thanks to the digital

means at their disposal, achieve what the

East Germans tried with analogue means:

total surveillance of every citizen? I see

one fundamental difference between the Stasi

and the NSA. The Stasi tried to subjugate the

population by creating fear and through the

persecution of differently minded people and

people who would have liked to lead a different

life to the one the government had planned out

for them. The NSA, at least according to its

own claims, tries to protect the population.

What about their methods? The means of

communication have changed a lot, of course.

There were no mobile phones and emails in the

GDR. The Stasi worked mainly with human

surveillance, a huge surveillance network run by

informants. There were over 180,000 informal

members of the Stasi – that is the highest population/informant

ratio in history. But the Stasi's

technological surveillance was actually more

sophisticated than what people think. They completely

monitored the phone exchange between

the GDR and the FRG, for example. But also

within the FRG they were tapping the chancellor's

phone and the phones of all the members

of parliament, the federal president and the

president of the Bundesverfassungsschutz (domestic

security agency). The

idea to listen in on Angela

Merkel's cell phone

isn't that new! Of course

it didn't concern that

many people back then

because only very few

could afford a mobile

phone...

Besides the chancellor's

phone – and

more shocking

somehow – was the

impulse to 'spy' on

normal citizens. Is

"The idea to listen

in on Angela

Merkel's cell phone

isn't that new! The

Stasi was already

tapping the West

German chancellor's

phone…"

that another similarity? Well, in a constitutional

state, surveillance of a citizen can only

take place when he has committed a criminal

act or the strong suspicion of a crime exists. Random

monitoring of people is not allowed. In the

GDR the enormous network of informants was

there to report on people's activities but also on

their thoughts and their plans, even before they

had planned anything objectionable. The good

informant would be able, so to speak, to see into

people's heads. So, yes, somehow, surveillance as

it is used today resembles this kind of precautionary

surveillance. Everyone is being checked

on to filter out who is dangerous.

Many similarities... The philosophy is very

similar. However the aim is different and it is

important to emphasise this. The Stasi worked

most of all with fear and everyone knew that if

he or she would say the wrong thing, they would

quickly end up in prison. We're not subjected

to the same amount of fear anymore, thank

God. In the GDR, everyone knew that the Stasi

was everywhere. If there were more than three

people together, then one of them would

be a spy. Therefore, people would be careful

what they would say in a pub, for example.

We don't have that anymore. We are also not

afraid of the police anymore but feel safer

when an officer is around – very different to

the GDR.

Still, isn't it shocking to know you're

under surveillance even if it is not used

as an instrument of rule by fear? Of

course, the fact that such extensive surveillance

took place in a democratic country

like Germany came as a surprise. Until

Snowden's files, people

would assume that, as

the law says, no one

could be monitored

without a court order.

It's not easy to get a

court order. Can they

just spy on someone?

Can they bully someone

to testify? Can they tap

someone's phone or bug

someone's apartment

when they entertain

a suspicion? I learned

that the possibilities are

very restricted and that

is a fundamental difference to the methods

the Stasi used. It is a very secure system

that keeps the police from randomly doing

as they please. Unfortunately, next to these

strict rules protecting civil liberties, there is

a different kind of surveillance. The danger

is now that the information that is not controlled

in any way could be misused. Who

controls the NSA and what they do with the

information they gather?

Do you believe the government when

they say they were unaware of the NSA

activities – here, in Germany, where

American intelligence has their biggest

presence outside the US? All we can say

is that if the Verfassungsschutz, the BND

and the Militärische Abschirmdienst (Military

Counterintelligence Service) had done their

job, then they would have known about it. If

a foreign country is doing a huge amount of

spying in Germany and the German national

security services are not aware of it, it's a

confession of failure.

20 • SEPTEMBER 2014
---
Or naïveté? It reminds me a bit of the

naïveté of the West Germans during the

Cold War. The national security service

somehow believed – and they told the

public back then – that long-distance calls

(from Hamburg to Munich, for example)

were safe from tapping. After the Wall

came down, it was disclosed that that was

not the case at all and that the GDR had

its monitoring station and recorded everything

that went from southern Germany

to northern Germany and back, as well as

everything between West Germany and

West Berlin. Therefore, there are only two

possibilities: Either the German national

security services are really lousy or they

have tolerated the surveillance because

they probably profited from it.

During the Cold War, the US was West

Germany's trusted ally and protector.

Twenty-five years later, although

now a unified, sovereign country, it

seems that somehow Germany has

remained America's lapdog. Certainly,

the difference between now and then is that

until 1994, Germany was de facto still under

occupation, therefore the Allies had certain

rights. Since 1994, Germany is sovereign.

So, if there is surveillance in Germany it

would have to be done by a German agency,

not by a foreign power. That is the problem.

Do you think Germans might have

lost their trust in the US? Well, it is

politically dangerous. Such impunity on the

part of the US leads to a loss of credibility.

In the long run it feeds a certain anti-

Americanism that has always been present

in Germany. Many feel confirmed in their

belief that the US is not an example of

freedom and democracy. It is very sad

when the most important democracy in the

world finds a projection that reads "United

Stasi of America" on its embassy. That is

how you can damage your own image.

Do you think that Germans are more

sensitive to surveillance issues due

to their recent history? Presumably,

but the outcry has been relatively modest.

Even more so in East Germany. In the

West, critics are louder because people

can't make the comparison. But the East

Germans know it: as much as it might be

working outside of the law, you don't have

to fear the NSA the way we used to fear

the Stasi. n

Hubertus Knabe will be at Lichtblick Kino on

September 25 for a special edition of Exblicks,

featuring a rare screening of internal Stasi videos

and a discussion.

21
---
2014

Big Brother in Berlin

SNOWDEN SPECIAL

Facebook knows your friends and political affinities, your mobile service

provider knows your whereabouts, Instagram knows what you had for

dinner. But who are they telling? As Orwell's dystopian world turns 30,

are Berliners in danger of becoming transparent citizens?

By Hanna Westerlund and Seán Kenehan

On your U-Bahn to work, most likely

under the eye of one of the 3165 cameras

on BVG trains and platforms,

you pull out your phone and start

typing a comment on Facebook. Realising it may

be too polemical (who could tell if your future

boss is snooping around?), you erase it instead of

posting. A common practice, seven out of 10 users

do it. Facebook knows these figures, because

they saved what you just erased. Last year, the

company made a survey analysing data from the

'self-censored' messages of nearly four million

users. (Why? Less generated content equals less

'social value', which may harm their service.)

As you get off the train, 500 metres away

from you a bag is being snatched. The incident

has nothing to do with you, but afterwards the

police may nevertheless find out who you are,

who you called and when, just

because your cell phone was

in the area. They may request

this data from all mobile

network operators and filter

it to find potential suspects.

This practice, called Funkzellenabfrage,

is only supposed

to be used in investigations

of severe crimes. However,

since it was revealed that the

Dresden police used it against

anti-neo-Nazi demonstrators

in 2011, it has been subject to

public debate. Last year, the

Berlin police gathered 50 million

records of phone traffic metadata, more than

ever before. That means, provided you hang out

in areas with average crime rates, your data was

collected 14 times.

The post-Snowden landscape

Known for some of the strictest data protection

laws in the world, Germany has blocked the harmonising

of laws in the European union, afraid

they wouldn't be able to keep their high standards.

Germans have had Google blur their houses

on map street views, and Facebook remove facial

"It's not a

matter of

having

anything to

hide or not,

but a human

rights issue."

recognition. Yet, never before has it been so difficult

to maintain one's anonymity, such that the

average German is in risk of becoming a gläserner

Bürger – a transparent or "glass citizen".

In the words of Edward Snowden himself, in

a June 2013 interview with The Guardian: "Even

if you're not doing anything wrong, you're being

watched and recorded." Since the revelations

concerning mass surveillance through programmes

like the NSA's PRISM and XKeyscore,

it appears our personal information is up for

grabs. Should we assume everything we do online

is being monitored? "In principle, yes," says

Alexander Dix, Berlin's Data Protection and

Freedom of Information Commissioner. "That

is probably the reality, unless one takes certain

steps to prevent that from happening. But if

someone is not a nerd in that sense of the word,

then everything he does online

is under surveillance."

The brunt of this intrusion

stems from the NSA, whose

guiding philosophy has been

referred to as the 'haystack

method': compile as much information

as possible, and sift

through it to find that one useful

'needle'. According to Dix,

Germany's foreign intelligence

agency, the Bundes­nachrichtendienst

(BND) operates under

stricter conditions as the only

German government body

that can secretly screen our

calls: "Under German law, this [haystack method]

is only legal in the very particular case of international

telecommunications, where you can screen

contents of conversations indiscriminately based

on certain keywords." This keyword scanning and

recording method is applied to all international

telephone calls and internet traffic with a link

to Germany. Recorded calls are then crossreferenced

with other databases to determine

whether a communication appears suspicious.

There are restrictions, though. Only one-fifth

of the communication data traffic that has a 'foreign

element' can be

copied and reviewed by

the BND. Also, they're

not supposed to be spying

on German citizens.

But in an online world,

that is largely theoretical.

Email addresses

ending in .de could of

course be erased, but

what about Germans

with Gmail accounts,

Facebook and Skype?

Or Al-Qaida members

with .de accounts?

Victim or

accomplice?

"It is hard to believe

that they didn't

know," says Dix, on

the BND's complicity

with the

US intelligence

agency's surveillance

programmes. "At

least that they didn't

know more than

they admitted later

on." In the wake of

the NSA's tapping

of Angela Merkel's

mobile phone, one

might view the

German government

as a victim of

espionage, rather

than an accomplice.

Yet around

50 of Snowden's

documents detail

Germany's collusion

with the

NSA. According

to Der Spiegel,

the NSA and

AGATA SASIUK

22 • SEPTEMBER 2014
---
BND cooperate at the Bad Aibling listening post

near Munich to monitor possible terrorist activity

in Pakistan and Afghanistan. It's known

that the BND has used XKeyscore intel

– "for testing purposes", they claim –

and through documents leaked to

netzpolitik.org it was revealed

that the Bundes kriminal amt

(Federal Criminal Police) has

acquired FinFisher spyware

which allows "remote intrusion"

of digital devices.

Though this spyware was

recently deemed illegal,

research is already

underway to develop new

software that remains

within the restrictions of

the German constitution.

Says Dix, "Infiltration of computers by

malware only seriously began after 9/11," when

German intelligence agencies were escalating in

surveillance. With two new sets of laws, the Anti-

Terror-Paket I and II, they were allowed to request

customer data from airlines, postal services

and banks. "The detection networks become

more dense, the observation-free zones smaller,"

Heribert Prantl, Süddeutsche Zeitung journalist

and author of Glanz und Elend der Grund rechte

(Splendour and Misery of Fundamental Rights),

said in an interview with Telepolis. "For security

reasons, people are now being tapped and observed,

computers are being searched. People are

being imprisoned, even tortured."

While law enforcement must procure a warrant

to perform surveillance operations such as

Funkzellenabfrage, the BND must justify itself to

the G10 Commission (named after the article

of the German constitution that safeguards

communications privacy) and the Parliamentary

Control Commission. This sounds like reassuring

oversight, yet the process is entirely opaque,

Dix says. "We do have laws regulating surveillance,

but the key issue is to what extent can

they really be enforced, and controlled."

Trouble in Neuland

Although ridiculed for her comment, "The

internet is Neuland for us all," Chancellor Merkel

was correct – in legislative terms, the internet is

nigh-uncharted territory. Posteo.de, a Berlinbased

email provider dedicated to its customers'

privacy, had a rough encounter with this legal

minefield. "Last year, the police came to our

offices with a warrant to claim inventory data

which we didn't have, but they didn't believe our

lawyer," says founder Patrik Löhr. German email

providers that store Bestandsdaten (the names

and phone numbers of clients who may be under

suspicion of illegal activity) are legally obliged

to submit it – but Posteo.de does not retain this

information. "They tried to intimidate us and

were very forceful. In the end, they had to leave

empty-handed."

According to Dix, surveillance laws are so

broad that they cannot cover every situation,

leaving many loopholes: "For example, a new

power is given to investigate a serious crime,

but as society changes the definition of a 'serious

crime' changes... Police legislation always

uses broad language, they need to become more

specific." Malte Spitz, Green Party member and

activist for media and internet policy, speaks of

the system's inadequacies: "How can parliamentarians

oversee something if they don't understand

the concrete process of how intelligence

agencies monitor people, or if they have no

possibility to ask experts on specific cases? The

oversight system in Germany isn't working; the

idea of oversight is there, but it's not a powerful

and controlling oversight."

Metadata is content

If citizens are being subjected to surveillance,

don't they have a right to

know the extent? After

a lengthy battle with the

mobile service provider

Deutsche Telekom, Spitz

finally won back data that

had been recorded over

six months of his life: the

times and locations of his

phone calls, from which

extensive personal information

could be extrapolated.

"I was surprised by

the amount," says Spitz.

"I didn't expect there

would be 35,000 lines...

every few minutes you

could see where I was,

what I was doing." German

phone companies

are obliged to save this

metadata, but they're not allowed to store the

actual calls. From a surveillance perspective,

Spitz says, metadata is easier to analyse anyway:

"If you see that a person is texting someone at

3am, you can assume this person doesn't have a

job for which he needs to wake up at 6am, and

that he has friends who don't either... That's how

metadata works."

Politicians have asserted harvesting times and

locations of phone calls and emails is less invasive

than collecting actual content, and that the

two could be separated. Privacy activists argue

that collecting metadata can in fact be more intrusive

in people's privacy than listening to content

– as Spitz outlined with compelling graphics

in a TED Talk in 2012. The type of information

that can be piled up under the term 'metadata'

now consists of much more than the time and

the person involved in the communication.

You can read out the location, device number,

language setting of the cell phone or computer,

operating system... "The old distinction between

metadata and content is outdated. You can

create content out of metadata," says Jan-Peter

Kleinhans from the data protection initiative

Privacy Project. "And still the law doesn't treat

metadata as content. This is just wrong!"

Hacker's paranoia or human rights issue?

Does heightened awareness of your transparency

make you care? In Berlin, groups like Digitale

Gesellschaft, netzpolitik.org and Chaos Computer

Club have been talking for years about data protection.

"But they were the nerds and the hackers,

who could easily be perceived as 'IT people' or

conspiracy theorists," says Kleinhans. Privacy

Project wants to change the focus of the public

debate from an 'internet topic' to a question of

human rights: "It's not a matter of having anything

to hide or not, but a human rights issue. The right

to privacy, to form your opinion." He thinks the

BND works according to double standards: "The

EU Charter of Human Rights assumes everyone is

equal. At the same time, our intelligence agencies

operate on national terms, where foreigners have

NO rights. Zero protection."

So how to proceed? Once or twice a week,

hordes of Berlin hackers full of confidence about

"taking back what

is already written

"If you see that a

person is texting

someone at 3am, you

can assume he doesn't

have a job for which

he needs to wake up

at 6am, and that he

has friends who don't

either... That's how

metadata works."

into our constitutions"

gather

to teach you all

they know about

anonymous surfing

and encrypting

your email.

Michael Schmidt

spends 10-15 hours

a week organising

these so-called

cryptoparties.

"How would you

feel if you knew

as we're sitting

here that someone

is in your flat, in

your bedroom?

You'd want to go

home and throw him out. Do you have anything

to hide? Not really. You could just live there and

ignore him, but you don't. And that's a healthy

feeling."

Data Protection Commissioner Dix is in favour

of encryption. He wants more state money

to inform the public, and says it should "definitely

be taught in schools." He doesn't encrypt

emails himself, though: "It's too complex."

Interestingly, Germany's domestic intelligence

agency, the Bundesverfassungsschutz (BfV), wrote

in their annual report 2013 that "closed fora and

encryption programs are mostly useful as communication

tools for potentially violent extremists."

Does using encryption services then make

you a target? Potentially. After Angela Merkel,

the second German proven to be spied on by the

NSA is Sebastian Hahn, a 27-year-old computer

science student in Bavaria, for hosting a Tor

server (see page 30).

There is a point in doing it anyway, though.

The more of a default procedure it is and the

more people encrypt, the less suspicious it will

be to spying eyes. The encryption software pioneer

Philip Zimmerman compared it in 1991 with

using envelopes for your correspondence, instead

of writing everything on postcards.

How can we be sure that we will hold on to

our privacy and not become transparent citizens?

In the optimistic words of cryptoparty organiser

Schmidt: "We don't earn money, we just know

it's the right thing. Passion is in the centre of the

movement. Governments have no passion." n

23
---
SNOWDEN SPECIAL

Confessions of an MI5

whistleblower

Former UK spy Annie Machon knows first-hand what happens to people who tell the truth about

intelligence agencies. She blew the whistle in 1997 with fellow agent and then-boy friend David

Shayler, triggering a two-year manhunt that culminated in Shayler's arrest. We met the part-time

Berliner on Potsdamer Platz a few metres away from RT's bureau, where she regularly appears as

a consultant for the 24-hour Russian news channel. She told her story to Ruth Schneider.

"

I didn't want to be a spy. In 1990, I was

21, and I wanted to have a job that would

make a difference. So I sat the Foreign Office

exams. But then I received a mysterious

letter from the Ministry of Defence saying

that "there were other jobs I might find more

interesting" and there's a phone number. I actually

ended up ringing up this number because my

father – he's an investigative journalist – wanted

to see if it was indeed MI5. "Oh go on, just see..."

They said that they wanted a 'new generation'

intelligence officer who would be working against

terrorist targets, that they no longer did the old

"let's investigate political activists" stuff because

the Cold War was over, etc.. But then I started

there and my first post was in the political activism

section, doing precisely what they said they

no longer wanted to do. I could not understand

how they saw these groups as a threat. It was

a shock, and I seriously considered resigning

towards the end of my time there.

That's when my relationship with David

Shayler started. He had been recruited as part

of the same generation as me, and he was also

shocked at the scale of it. But then the two of us

were moved to the Irish section, where it felt like

we could do some good because at that point the

IRA was putting bombs down at will. But even

then we saw so many things going wrong. And

then we went to the Middle Eastern section and

saw even worse things, which is why we resigned

after only six years.

Shut up and follow orders

Throughout the recruitment process you are

grilled about these ethical issues. Things like

internment without trial, torture, shoot to kill...

I was quite outspoken about it then and they

said, "Well you know, we agree with you, we don't

do this sort of thing." So when we found out that

they did, many of us were unhappy. But when we

spoke out, we were told, "Shut up, don't rock the

boat, just follow orders."

There was an intergenerational problem.

The management at that time had been under

the Cold War era, gathering intelligence slowly

and looking at "reds under the bed", and suddenly

they were managing groups who had

been brought in to investigate terrorist targets,

where you have to gather evidence that you can

put people on trial for. It's a very different skill

set and the targets move much more quickly.

So there was a cultural clash, and I think that's

where all this disaffectation came from.

David was the head of the Libya section

between 1994-96 and he was briefed on the case

that made us quit, which was

the Gaddafi assassination

plot. We decided that we

had to do something, but it

took more than just one day.

There were a lot of heartwringing

episodes where we

thought, "Why us?" because

we knew we'd have to leave

the UK, we knew we'd have

to face prosecution and we

knew we'd be unemployable

afterwards… but it just felt

like the right thing to do, I

suppose.

We took the decision to go public in early

1996, and he resigned in autumn. He had already

taken steps to approach the media – he decided

on the Mail on Sunday because the owner of the

Mail group at the time, Viscount Rothermere,

was known to be very anti-intelligence agency.

I wasn't terribly involved in those early stages

because David wanted to protect me. He acted

as a buffer between me and them.

Life in exile

It took 10 months for the story to break. My

understanding is that only three days beforehand

they suddenly said, "This is what's going to

happen this weekend, what do you want to do?

Get out of the country or what?" He said "yes".

They offered him a certain amount of money

to live in exile for up to six months. Of course

the establishment in the UK made great play of

this and said, "Oh yes, he sold documents." We

actually offered to give it back if we could return

"We couldn't even

warn our families.

So the first they

heard of it was on

the front page of

the newspaper

with David's

picture on it…"

to the UK without arrest and give evidence in

parliament. MI5 refused.

We flew out on the morning of August 23,

1997, 12 hours ahead of the newspapers hitting

the streets in the UK. There had already been

certain indications that MI5 were beginning to

get suspicious, so we were pretty strung out with

tension. We felt like we couldn't talk in our flats,

we couldn't even warn our families that we were

going to do it. So the first they heard of it was on

the front page of the newspaper

with David's picture on

it. That was quite dramatic!

First we went to Amsterdam,

then Utrecht.

We moved around all over

the Netherlands for the

first week and fled all the

way down the southwest

of France to Bayonne. We

wanted to get as far away

from where they knew we

were. Then we just moved

around from town to town

in the south of France and

Spain, staying in cheap hotels, fake names, cash

payments, the whole thing.

After a month, I went back to the UK for

a week to pack up our flat. I was picked up at

Gatwick airport and taken off to a counterterrorism

suite in London and grilled for a day.

But they never charged me with anything – I was

just David's girlfriend at that point, I hadn't done

anything, so how could they? When I made it to

our flat, I saw it had been smashed up in a raid;

they had ripped it apart for no reason.

While I was in the UK, David found this little

place to hide in the centre of France in Lachaux,

which is in the middle of nowhere! We were sort

of stuck there with no car, no TV, no nothing.

It was surreal, actually, because on one hand we

were supposed to be on the run but on the other

hand we were living in this strange rural idyll.

It was two kilometres outside the local village.

We had a little van that came round once a week

with food and things and the bread van every

24 • SEPTEMBER 2014
---
MICHAL ANDRYSIAK

"The worst part

of the whole

thing was the

media rape of

our reputations

– that's what it

felt like."

day, it was that primitive. So, from the centre of

London to that was quite a culture shock!

Back then there was no Facebook, there

was no Google, there was nothing. Whereas of

course now if someone did this and you were on

the run, it would make it more difficult … but

then there would be much more media exposure

of what you were saying and what you were doing,

so it's horses for courses I suppose.

David's arrest

At that time, the most serious allegations had

not yet been reported by the UK media because

they were too scared of the Gaddafi plot, they

wanted to try and investigate it themselves. So

the early disclosures were only files on government

ministers and activists, which were bad

enough. The British government took out an

injunction against the whole of the UK media,

and David Shayler personally, to ban any new

revelations in the summer of 1997.

Finally – after a year! – the BBC exposed the

Gaddafi plot, in summer 1998. They had to

submit the story for approval under the terms

of the injunction. This happened on a Friday

afternoon within two hours. We were in Paris at

that point, working with the journalists on the

story, so we were in a hotel. David went out, and

he got arrested coming back in. The first I heard

of it was the knock on the door from the DST

saying, "We've got Mr. Shayler downstairs and

you can't see him." I asked, "Are you arresting

him?" and they said no, and I didn't see him

for two months. They said he was a traitor. But

when the French got the paperwork from the

British government, they realised he was actually

a whistleblower, so then they eased up and let me

see him in prison.

After four months, Dave was actually released

by the French and we had another two years in

Paris, got the stories out, more campaigning,

etc. But then he decided to go back in 2000 to

go on trial. It took two years and he was only

ever charged with a very early disclosure, not the

Gaddafi plot. Of course he was inevitably found

guilty, there was no defence under UK law. Even

the judge said what he had done lay in the public

interest and he hadn't done it for financial reasons.

But if you work for the intelligence agency

and you blow the whistle, you are guilty, that's it.

There's a clear bright line.

He was sentenced to six months – but you can

serve a third of your sentence if you are then

electronically tagged, so he got it down to two

months. It's not that bad when you think he

was facing six years with three charges. But, you

know, to have your liberty taken away for exposing

the crimes of others is difficult. The process

was a very, very high price to pay even then.

Now what whistleblowers are facing is 35 years

in prison, at least in America. So the courage it

takes for people to do that is huge.

The war on whistleblowers

The worst part of the whole thing was the

media rape of reputations – that's what it felt

like. Where each media organisation has its

agenda, doesn't actually listen to the evidence

of the whistleblower but wants to use it for

whatever purposes and how it can be controlled

and spun. The fact that David went to

prison and took "his beating like a man" as the

judge said was actually minor compared the

reputation damage done to him forevermore.

People who blow the whistle have no experience,

they're virgins when it comes to the

media. So what I try to do is explain to potential

whistleblowers the issues they might need

to think about before they go ahead. I think

that seeing what Snowden did has shown that

people do learn from earlier cases and do try

to do it more safely and more effectively because

the key thing is to get the message out.

It's not about narcissism or personal glory.

I have seen so many whistleblowers from

different backgrounds... the whole idea is to

crush them, destroy them. I think particularly

coming out of intelligence you're automatically

criminalised. It's even harder. There's

that polarisation of being a hero and being

a traitor, which is very difficult to live with

over the years, and it took its toll on David.

The last time I saw him was in the summer

of last year, and he seemed happy in his new

life. He seemed at peace. But I don't know

what he's up to. Considering the intensity of

the years we had together it's sad that we've

lost touch. I just hope he stays safe and stays

happy. n

25
---
SNOWDEN SPECIAL

Germany's should-be heroes

While Snowden risked his life to enlighten the world about the NSA, the 'little guys' who

disclose corruption and wrongdoing at their jobs face huge obstacles in Germany, where

whistleblower protection is virtually non-existent.

By Seymour Gris

Working in a home for bed-ridden,

sick elderly patients is a demanding

job by any measure. But to

work in a home which is chronically

understaffed to the point that residents are

lying in their own vomit and urine – that's when

it becomes unbearable. For Brigitte Heinisch

(photo), a carer in a Berlin home belonging to

the state-owned health care company Vivantes,

workplace conditions became so bad she was

compelled to act. She and her colleagues were

so overworked they became sick; staff were expected

to document care that hadn't even been

provided. Her numerous complaints to Vivantes

management went unheeded.

Finally, in 2005, she felt compelled to file a

criminal complaint against Vivantes for failing to

fulfil basic standards of care. "I would have made

myself criminally responsible if I had continued

to work in those conditions – also ethically and

morally," she explains. "There really wasn't much

of a choice. Basically, they wanted to make a

profit, at the cost of dependent, highly vulnerable

people."

Little did she know that her story would

become one of the most important cases of

whistleblowing in Germany to date. Vivantes

reacted to the criminal charges by firing Heinisch

without notice. She received no severance

pay. Meanwhile, the public prosecutor's office

deemed the case unimportant and discontinued

its investigations. For the next six years,

Heinisch went from one German court to the

next – but the judges always ruled that her act

of lodging a criminal complaint against Vivantes

was a "compelling reason" for them to fire her.

Supported by friends and the Verdi trade union,

Heinisch was finally able to get her case heard

by the European Court of Justice in Strasbourg.

In a groundbreaking decision in 2011, the court

blamed Germany and ruled that publicly disclosing

serious problems at one's workplace fell

under freedom of expression and could not be

used as grounds for dismissal. In 2012, Heinisch

took Vivantes back to court and won €90,000

in severance pay. The ruling appears to have

strengthened the position of other whistleblowers

in Germany. "There are been numerous cases

in the labour courts that have referred to my

case," says Heinisch.

A truckful of spoiled meat

But workplace whistleblowers still have trouble

finding their way back into their career. Heinisch

stopped working altogether because of the

immense stress caused by the entire saga. She's

not the only one. Brandenburg trucker Miroslav

Strecker suffered serious consequences after

exposing criminal activity by

one of his employer's clients.

In 2007, he discovered he

was delivering a truckload

of years-old slaughterhouse

remains, the kind of 'meat'

that is only allowed to be

used in pet food, to a sausage

factory in Bavaria. He

reported the factory to the

authorities, who ended up

uncovering the far-reaching

Gammelfleisch (rotten meat)

scandal – including the

discovery of hundreds of

tonnes of old meat and offal in Berlin döner

kebabs. Strecker was later recognised for his

"civil courage" with various awards. Yet he still

faced problems with his employer: squealing on

a customer is a no-no. After the revelations, he

took time off from work due to a shoulder operation.

Once back on the job, Strecker says his

employer deliberately gave him the deliveries involving

the most heavy lifting. He was eventually

fired and had to fight for severance pay in court.

He now works as a bus driver in Brandenburg.

'Nest dirtiers'

In Germany's pro-industry culture, where those

who report criminal activity at their workplace

are still called Nestbeschmutzer or 'nest dirtiers',

whistleblower protection legislation remains

virtually non-existent. The Beamten­status­gesetz

of 2009 protects civil servants who report gross

misconduct and corruption to state prosecutors,

but there is nothing similar for the private sector.

"Lobbyists and

politicians are

scared their

shadowy sources

of side income will

be exposed. It's

corruption, plain

and simple."

As a signatory of the G20's Anti-Corruption

Action Plan, Germany promised to implement

whistleblower protection by the end of 2012.

This obligation and the Heinisch decision in

Strasbourg prompted the SPD (then still in

opposition), the Greens, and Die Linke to attempt

to pass a law protecting Hinweis­geber (a

neologism meaning 'tip givers') in the Bundestag

in June 2013. This was thwarted by Angela

Merkel's government – ironically, just days after

Snowden's revelations on the NSA came to

light – with the justification

that current labour law sufficiently

protects whistleblowers

(and now that the

SPD is in the governing

coalition, they suddenly

agree!).

Heinisch is jaded about

the judicial and political system

in Germany: "It quickly

became clear to me that

state prosecutors were working

for business interests –

by simply dropping cases, or

just not following up. I was

invited for a talk with the Greens and everything

was just wishy-washy. It wasn't about actually

helping the whistleblowers." She is a member

of the non-profit Whistleblower Network, but

finds their tactics too timid: "I'm a little more

radical when it comes to pursuing our demands.

I said we should just get as many whistleblowers

as possible together in a protest camp out in

front of the Reichstag for a week. But a lot of

people didn't want to do that. There's no other

way. Politicians just represent the interests of

business, that's the way it is."

You can't fight the system

Guido Strack, founder of the Whistleblower

Network, who himself lost his job and was subjected

to a Kafkaesque legal nightmare after he

exposed waste and corruption as an EU official,

is equally pessimistic. The affair and associated

stress destroyed his career, destroyed his marriage

and weakened his faith in "the system". In

26 • SEPTEMBER 2014
---
an interview with filmmaker Ian Hawkins,

he summed up his sentiment: "If you do

something that they don't like, then you are

considered to be someone going against the

system. And then the system fights back

with every means it has. I thought it was

a just system and that you could achieve

something if you do the right thing. I don't

think that any more."

Corruption in the courts

To Andrea Fuchs, a former stockbroker

who reported insider trading at DG Bank

in Frankfurt 18 years ago, the situation for

whistleblowers in Germany is "disastrous".

According to her, even countries without the

reputation of being strong democracies, like

Indonesia, have a functioning whistleblower

protection law. Her actions destroyed her

career in banking forever. In a immensely

complicated legal ordeal in eight courts

that continues till this day, Fuchs was officially

fired 19 times from the same job, even

though she says the grounds for her dismissal

were dismissed in court each time. She hasn't

worked in 18 years. Germany's highest court,

the Constitutional Court, refused to hear her

case without even giving a reason. For her,

the German system is riddled with corruption:

for example, she once received an anonymous

letter stating that a labour court judge

who had heard her case had also worked on

the arbitration board of DG Bank.

Like Heinisch, Fuchs is hoping the court

in Strasbourg will serve justice after nearly

two decades – lawyers are currently assessing

the viability of her case. "Europe needs

to give the Germans a slap on the hand!"

Meanwhile Fuchs, also a member of the

Whistleblower Network, is advising three

people who have not yet gone public with

their accounts of corruption in the organisations

they work for.

What is Germany's problem with

whistleblowers? Fuchs believes the "experience

of the Third Reich and the GDR

left people with the [negative] idea of the

'informant', hence the reluctance to protect

people making claims against wrongdoing.

But it's all an excuse for the lobbyists and

the politicians who are scared their shadowy

sources of side income will be exposed.

It's corruption, plain and simple."

For the sakes of those who've sacrificed

their careers and even marriages to expose

uncomfortable truths, let's hope the spirit

of the Age of the Whistleblower ushered

in by Edward Snowden will rub off on Germany

for good. n

MICHAL ANDRYSIAK

27
---
SNOWDEN SPECIAL

You are the product

Behind today's 'free and open' internet lie shadowy firms who have made your data

their business – many of them based in Berlin. By Mary Biekert and Rachel Glassberg

If you didn't look for them, you wouldn't even

know they were there. But install a simple

privacy tool like Ghostery and you'll find them

lurking on nearly every website you visit, like a

swarm of cockroaches underneath spotless floorboards.

Their names are nonsensical: Eyeota,

Nugg.Ad, Quantcast, Zanox. You don't know

them. But they know you.

These are the invisible engines that power the

internet today: data mining companies that determine

which ads you are shown by monitoring

what you do online. As the €27.3 billion industry

continues to expand, these companies are devising

ever-cleverer ways to get at that information

while staying within Europe's strict, yet pliable,

privacy laws. And many of them have their roots

in Berlin's own blossoming start-up scene.

One of those companies is Nugg.ad, once

a start-up, now an international corporation

owned by Deutsche Post specialising in "Predictive

Behavioural Targeting" with eight offices

across Europe. Accepting us into their cheerfully

yellow Friedrichshain headquarters, consulting

director Sema Saglik was all smiles as she explained

the company's business model – and,

of course, their amazing privacy record.

Nugg.ad partners with the publishers

of over 4000 sites (including

those in the Axel Springer group,

such as Bild.de) to log users' pageviews

via the invisible graphics

known as "tracking pixels". They

correlate data about what kind

of content you view – "sports",

"health and beauty", etc. – with

"anonymous survey responses"

about age, gender and other interests

to put together your likely

profile. This profile (minus your IP

address, which is cut off using third-party software)

is relayed via browser cookie to the original

website as well as advertising networks, who

use this information to show you the ads and

content they think you're likely to click on via

an automated process called "real-time bidding".

This all happens in a matter of milliseconds.

Saglik estimates 85 percent of German users

have a Nugg.ad cookie on their computer – so

even if you're not clicking on the ads they've

helped to place, chances are someone is. "Just

one percent is enough," says Jonas*, a tech-savvy

Berliner who used to work at digital marketing

company Neue Digital

(now Razorfish). "A lot of

people won't click on the

ads, but the ones who do

offer enough revenue."

The 'good

ol' shopping

experience

Welcome to the new

digital economy: an

internet where we're

given access to seemingly

unlimited amounts

of information… which we're paying for, largely

unbeknownst to us, with information of our

own. As author and documentarist Astra Taylor

writes in The People's Platform: Taking Back Power

and Culture in the Digital Age, "Web 2.0 is not

about users buying products. Rather, the users

are the product."

Not that the organisations buying and selling

this product will admit to it. Nugg.ad claims

they're benefiting not only advertisers but users,

by showing them only the ads that

are relevant to them. Says Saglik:

"When you're a 25-year-old male, you

don't want to see ads for diapers."

Another such company, TheAdex –

with offices in Berlin, Düsseldorf,

London and Switzerland – justifies

their practices similarly on

their website: "We dream of the

'good ol' days' when you went

to the local butcher or baker

and they knew exactly what you

wanted and why. It seems like a

serious breach of privacy viewed

through a modern prism, but for

some reason we don't feel that way when it's a

small business owner. The intent is the same:

to make a better shopping experience for the

customer."

It sounds innocuous enough. But in the case

of the butcher you know exactly what information

you're giving out and what he's doing with

it. To the average internet user, this isn't quite as

clear when it comes to "predictive behavioural

targeting" and "next generation data management

solutions". And in the case of people

who publish on platforms such as Blogger, the

analogy is closer to the butcher's landlord getting

information about you

behind the butcher's

back.

Companies thus take

advantage of consumers'

ignorance to pull

some seriously sneaky

manoeuvres – conflicting

the programmers

who are working behind

the scenes. "If you want

to work in the start-up

scene now, you've got to

navigate tonnes of dodgy

job offers," says Nicolas*, a programmer from

Finland. Niels*, also from Scandinavia, moved

to Berlin to work in the hyped start-up scene.

He found himself at the "ad attention measuring

technology" company Meetrics, which runs

scripts on over 2000 sites including Spiegel

Online, Germany's most influential news site.

Their technology allows them to see and store

data about how people's mice move about a web

page – "where they click, where they scroll. The

information is sold both to the webpage owners

and advertisers so that they can see which

advertisements are most successful for whom.

We could also pull up specific IP addresses and

replay how a person navigated a specific web

page." According to him, there was also a plug-in

that they developed that would be installed, usually

without awareness of the consequences, by a

user who clicked on a certain ad, survey or offer

to 'win a free Ipad'. "This plug-in had the full

potential to take over that person's web browser,

to take their private information such as bank

account numbers, passwords…"

Hidden terms and conditions

How much of this is legal? Surprisingly, nearly

all of it – even in Germany, the country with

some of the strictest data protection laws in the

world. "Basically, in the US, you can do anything

you want with data as long as you don't infringe

the rights of the person," says Jana Moser, a

lawyer specialising in digital privacy law. "In

Germany, you can only use data to provide the

service specified by the website – that which is

really, strictly mandatory, nothing more." But

there is a catch.

Under current law, there is a difference in

the treatment of personally identifiable data

ILLUSTRATIONS BY AGATA SASIUK

28 • SEPTEMBER 2014
---
(names, addresses, credit card

numbers) and anonymous or

pseudonymous data: numbers

that are not personally

identifiable, but might be in

combination with each other.

The difference between the

two can be as simple as a string

of three digits: in Germany, IP

addresses are considered personally

identifiable information,

yet with cookies and tracking

pixels, logging these numbers

is inevitable. That's why many

companies, including Nugg.

ad, use an outside program or

"third-party anonymiser" to randomise

or truncate users' IPs.

You only need the last three digits to be removed

for the address to be rendered anonymous. Still,

information about the router used or the city of

origin might remain.

While companies can only gather personally

identifiable data with users' explicit consent,

usually obtained when they click "Agree" after

skimming through some nigh-unreadable "Terms

of Service", the collection of pseudonymous data

is done by default, legal so long as the user is

given the option to opt out on the "Privacy

Policy" or Datenschutz section of the website

using the tracker. "The link to opt out is usually

positioned in the last sentence in the terms and

conditions, poorly written and often with white

on white background, so it's impossible to see or

barely visible," says Jonas. Not to mention that

there is no simple way to manually opt out of

every single company's data collection policy at

once – and once you've opted out of a tracker, its

cookie will remain until you delete it.

The more "anonymous data" companies collect,

the easier it is to correlate their 'profile' of

you. "It gets to the point that it's not anonymous

at all," says Jonas. "Companies never technically

break the law because they use exchange binaries

and work together to collect data and pass it

along. They can take your data from several

different sources and correlate it all in a matter

of seconds and come up with a profile linked to

your name." This is possible, he says, through

application process interface (API) technology, a

tool that allows web applications

to share data

from cookies. "It's happening

all the time. The

law in Germany is that you

are not allowed to collect something

like this, but companies

are doing it anyway – if you get

caught, you have to pay a fine,

but usually the company will

just pay it because the chance

of actually getting caught doing

this is pretty small and the risk

is usually worth it."

It's a common tactic for

companies to spread information

around different servers

in different countries, taking

advantage of differing privacy

laws. Or they can move around

within Germany, says Moser:

"All companies have to respect

the same laws, but when

it comes to interpretation of the law,

different autho ri ties in different

federal states have different

opinions. The more they

know about the technical

infrastructure, the faster

they react. So, you'll

hear about the authorities

in Hamburg going

against Facebook… but the

autho rities in Saxony? Never."

Perpetually obsolete regulations

A better, comprehensive data protection policy is

clearly needed to keep up with the times – and in

fact, since 2012 the EU has been putting together

such a policy, a reform of the current laws (which

were passed in 1995). Yet keeping digital privacy

laws vague and open to interpretation might be

the most effective tactic at regulating Big Data,

says Moser. "The more detailed regulation we

have, the more difficult it will be to catch up in

the future. We can't just say, 'We have to regulate

iBeacons', for example, because in one year we

might not have iBeacons anymore."

The data industry is therefore counted on

to regulate itself, through a series of (optional)

privacy programmes like the European Privacy

Seal, a certification awarded to companies that

pass inspection by third-party IT experts, and

the Deutscher Datenschutzrat Online-Werbung

(DDOW), the industry body that came up

with a codex of guidelines for German digital

advertising companies. In the wake of the

Snowden revelations and increasing consumer

uneasiness, Big Data players have also come to

recognise the value of transparency – so long as

they're the ones doing the revealing. The Your

Online Choices program, for instance, displays

a tiny blue icon in the corner of ads; click on it

and you'll be brought to a website, created by

the European Digital Advertising Alliance, that

informs you why and how your data's being used

and includes a "Preference Management" section

in which you can opt out of data collection

by over 80 companies in one fell swoop (theoretically

– it's plagued with "connection problems").

Nugg.ad CEO Stephan Noller is even putting on

a "Data Days" festival this October, complete

with talks on "Data-driven Applications vs. Ethics

and Policies."

"I think self-regulation can be good," says

Moser. "But what should never happen again is

this Safe Harbour concept." That's the agreement,

dating back to 1998, by which US-based

companies like Google and Facebook are

currently allowed to gather data on EU citizens.

They only need to "self-certify" that they are in

compliance with European data protection law,

as enforced, by all accounts ineffectively, by the

US Federal Trade Commission. In August, the

US consumer rights advocacy group Center for

Digital Democracy (CDD), accused 30 American

data companies – including Adobe, AOL and

data brokerage giant Acxiom – of "compiling,

using and sharing EU consumers' personal

information without their awareness and

meaningful consent". The group called for the

suspension of Safe Harbour, which would

prohibit any US-based site from collecting

data in Europe.

Instead of counting on corporations

to conform to bendable,

perpetually obsolete

regulations, the best option

would be for users

to take their data into

their own hands. You

can start small, by blocking

cookies or deleting them after every browsing

session and downloading a browser plug-in like

Disconnect, Scriptpolicy or Ghostery to display

and block all advertising and analytical requests.

If every internet user was as informed as

possible and chose to opt out of everything,

"the entire industry would collapse,"

says one Berlin insider.

You can see the beginnings

of this for yourself.

Block every

single cookie and

tracker and your

personal internet

experience will

fundamentally

change – videos

won't load, for

example. In

the long run,

though, it might

be a small sacrifice to

make yourself a totally free

member of the new digital

economy order. n

*Names changed.

If every internet user

was as informed as

possible and chose to

opt out of everything,

"the entire industry

would collapse".

29
---
Whether you're plotting a revolution or making brunch plans, here are some

simple (and free!) tools to evade unwelcome eavesdroppers. As Edward

Snowden says: "Encryption works – it's one of the things you can rely on."

By Michael Hald

EMAIL

THUNDERBIRD

with Enigmail and PGP

(Windows, OS X, Linux)

WHAT IT IS WHAT IT IS WHAT IT IS WHAT IT IS WHAT IT IS WHAT IT IS WHAT IT IS

An email client (Thunderbird)

with an add-on (Enigmail)

that encrypts your emails

using PGP (Pretty Good Privacy).

To send an encrypted

email, ask the recipient for

their "public key" (a string of

characters; each person has

their own). Once the email is

sent, the recipient then uses

their "private key" to decrypt

your message and vice versa.

Anyone else will just see a

garble of random characters.

CHAT TEXT CALLS THE WEB FILES ALL-IN-ONE

JITSI

(Windows, OS X, Linux)

A program that offers encrypted

instant messaging

over services like Facebook

Chat, Google Talk and

AIM as well as video and

audio calls using the Jabber

protocol. Just give it your

login credentials (this can

be kept secure via a master

password) and chat away

securely. It also offers OTR

(Off-The-Record) messaging,

an independent encrypted

service, for the ultimate protected

chat experience.

TEXTSECURE

(Android, iOS under

development)

An app that automatically

encrypts your texts (and

sexts; it works with pictures

too) – as long as the recipient's

also using the app.

REDPHONE/

SIGNAL

(Android, iOS)

A VoIP (Voice over Internet

Protocol) service that

encrypts the data of your

cell phone calls, preventing

outsiders from listening in.

It will automatically detect if

the person you're trying to

reach also uses RedPhone

or Signal and offer to encrypt

the call.

TOR BROWSER

(Windows, OS X, Linux)

A program that hides your

internet traffic through

multiple layers of encryption

and sends it through

multiple servers in multiple

countries, allowing for

anonymous internet browsing.

It also gives you access

to the hidden Tor network,

aka the "Deep Web".

TRUECRYPT

(Windows, OS X, Linux)

A program that lets you

create a so-called 'encrypted

volume' to protect

your files (with the power

of math!) It's concealed as

a normal document, but

works as a virtual hard drive

which you can easily add or

remove files from.

TAILS

(Portable operating system)

Also called The Amnesic

Incognito Live System, this

OS comes on a handy USB

stick and contains Pidgin

with OTR for chatting,

email through Claws (similar

to Thunderbird), the Tor

Browser and file encryption.

Unless you set it to save files

permanently, everything

is deleted once you shut

down and remove the stick,

leaving no trace on the

computer you used.

USER EXPERIENCE USER EXPERIENCE USER EXPERIENCE USER EXPERIENCE USER EXPERIENCE USER EXPERIENCE USER EXPERIENCE

Once you've installed Thunderbird,

Enigmail and the

GnuPG program, it's actually

pretty hassle-free. Now you

can use your regular email

account to send and receive

encoded messages to and

from fellow encrypters,

should you so choose.

Collecting all of your chat

services in one program is

definitely convenient, but

in order for it to actually

encrypt, the person you're

chatting with also needs to

use the program or another

OTR-enabled chat.

Ridiculously easy. There's

no need to remember any

passwords, and it can easily

replace your standard messaging

app.

Very intuitive – you can just

call people like you normally

would. Because it uses wi-fi

or data to make the encrypted

calls, it will not use

up any of your minutes.

The Tor Browser is preconfigured

for safe use right

out of the pack and works

just like Chrome or Firefox.

However, because of all the

encryption, it will always

be slower than normal

browsing. There are only

early, experimental mobile

versions so far, like Orfox

(with Orbot) for Android or

Onion Browser for iOS.

Making your encrypted

volume can be a bit complicated;

there are different

types of volumes, methods

and file systems to choose

from, and it's not always

clear what's best. But once

you've done it, it works

like any other USB stick or

memory card, except all of it

is digital.

The installation can be a bit

tricky, so it might be a good

idea to have a tech person

on standby. Once it's

installed, it works like any

other OS (it's most similar

to Linux). The best part is

that it can boot from almost

any computer.

LEVEL OF SECURITY LEVEL OF SECURITY LEVEL OF SECURITY LEVEL OF SECURITY LEVEL OF SECURITY LEVEL OF SECURITY LEVEL OF SECURITY

For 23 years now, PGP

encryption has repeatedly

proven itself to be one of the

hardest types of encryption to

crack. That said, if someone

manages to steal your private

key or you lose it you're

screwed, so keep it somewhere

safe. The Thunderbird

add-on TorBirdy can also add

an extra layer of protection by

sending your emails through

the Tor network.

While it does encrypt otherwise

unprotected chat, the

real privacy comes with OTR

chat, which circumvents

companies like Google or

Facebook. Alternatively,

you can also use Pidgin with

OTR, Adium with logging

disabled or ChatSecure (for

your smartphone).

To the extent of public

knowledge no one – not

even the NSA – has been

able to break it yet. Bonus:

it encrypts your texts locally,

so your 3am booty requests

will remain safely locked

away even if you lose your

phone.

Both apps use the so-called

ZRTP protocol to provide

'forward secret' encryption

of the phone calls. Recommended

by Snowden (along

with TextSecure). We hear

it makes it hard for the NSA

to listen!

Stick to the Tor network

for optimal safety, and use

caution when inputting personal

info and passwords,

lest a cookie give away your

identity. Outsiders can still

see you're using Tor – which

could be seen as suspicious

in itself. You might want to

install it on a USB stick to

ensure that it doesn't save

any data to your computer.

The program offers a level

of encryption similar to what

the US uses for 'Top Secret'-

level files. The programming

behind it is all free software,

so anyone can review the

code and find security

holes. Just remember that

the German intelligence service

considers people who

encrypt files as potential

terrorists, even if they're just

locking up cake recipes.

It doesn't get more secure

than this (without, say,

building a grsec-enabled

kernel for your corebootenabled

X60…). Of course,

if you bought the USB stick

online there's still the risk

that a shady figure added

a tattle-tale component

somewhere in transit. If you

fear that might be the case,

you can install Tails on a

read-only DVD instead.

30 • SEPTEMBER 2014
---
SNOWDEN ARTICLE TAGSPECIAL

The disruptors

Hugs", which analyses whether users need a

hug) under the motto "Your Data. Our Future."

This provoked Google to demand them to stop

confusing their consumers and hand over their

google-nest.org domain, offering $100 for the

trouble. But the site had already gone viral,

prompting many a media discussion on whether

Google had overstepped its boundaries.

CHART BY TATIANA BAZZICHELLI

Don't fight the system – disrupt it! Meet the subversive,

satirical, risk-taking Berliners trying to effect change

from within. By Tatiana Bazzichelli

The Snowden revelations have generated

an intense debate in Berlin. But trying

to deal with the topic, it is easy either

to become paralysed by its complexity,

disillusioned by its grand scale, or deterred by

fears of surveillance and repression.

Can we imagine new tools and new answers

that are not merely based on the idea of hiding

if there really is No Place To Hide, as the title of

Glenn Greenwald's book on Snowden suggests?

Perhaps we should start focusing on how to

empower people to act consciously in society,

culture and the media environment.

Some Berlin-based artistic and activist groups

have been trying to do just that. Their tactic?

Disruption.

Here, the idea of disruption means to generate

criticism by "performing the machine" which we

want to fight – oftentimes from within.

This practice is nothing new in Germany.

Take journalist Günter Wallraff, who in the

1960s went undercover to get insight into power

structures and abuses, assuming identities such

as a homeless person, an alcoholic and a worker

in a chemical factory as described in his popular

13 unerwünschte Reportagen (13 Undesired Reports).

His name has even become a verb in Swedish,

meaning "to expose misconduct from the inside

by assuming a role". This approach has a double

effect: from one side it reveals previously hidden

information to the public, and from the other, it

empowers them to adopt this methodology and

keep the ball of exposure rolling.

Today, in the context of increasingly invasive

corporations and government agencies, Berlin

collectives have had to get creative. While their

methods vary wildly, the goal is the same: to

rip away the veil of secrecy around institutions

and media corporations, and to get unexpected

feedback and reactions – whether positive or

negative.

With HEDONIST INTERNATIONAL, whose Fifth

Congress took place last June near Berlin, the

strategy of infiltration meets the practice of disruption.

In their manifesto the members of the

"communication guerrilla collective", as activist

Alexander Müller describes it, introduce "hedonism

as the engine of a society as the chance to

overcome present circumstances". In their view,

"where fun ends, hierarchy begins". Instead of

"playing the system", their playful interventions

liberate or "queer" power structures.

The group's activities go beyond dancing

naked in neo-Nazi hotspots or holding hedonistic

nude flat viewing rallies to oppose Berlin

gentrification. In 2011, when German defence

minister Karl-Theodor Guttenberg was accused

of plagiarism of his doctoral dissertation and

forced to resign, the Hedonists organised a fake

demonstration of solidarity for the minister, attracting

many of his conservative supporters and

consequently making them very confused with

ironic slogans like "Jetzt oder nie – Monarchie!".

The Hedonists also applied the strategy of

disturbance by generating fake Twitter accounts.

In the wake of the Fukushima catastrophe, they

created an account on behalf of the Atom Forum,

the German nuclear lobby, to question their

arguments and point out the consequence of the

meltdown – until the Atom Forum decided to

take legal action against the Hedonists, demonstrating

that the system can always force its truth

on you, even if you play with the truth itself.

Fake-tweeting for the company DigiTask,

manufacturer of the "Staatstrojaner" government

spyware exposed by the Chaos Computer Club

in 2011, again earned the Hedonists a Cease and

Desist letter. To justify its legal action, DigiTask

claimed that the spyware was not used in the

countries the activists were stating, rather in

other countries, including Austria – generating

another boomerang effect and causing a scandal

among Austrian activists.

Meanwhile, the tactic of the German PENG!

COLLECTIVE is to intrude into corporate conferences.

In December 2013 they hijacked the

Science Slam in Berlin, organised by Shell to

promote innovation by inviting young scientists

to present new ideas. The collective showed up

with an "amazing machine" that, when turned

on, flipped open to reveal the message "Slam

Shell" and began gushing oil on the presenters

as they demanded cleaner business practices

in Nigeria and the end of drilling in the Arctic.

They used a similar tactic at the May 2014

re:publica festival, where, inspired by Google's

acquisition of home-device manufacturer Nest,

they posed as Google employees to deliver a

presentation about their new, seemingly utopian

"Google Nest" technology (for example, "Google

Another Berlin-based group that has made

disruption a source of artistic practice is the

TELEKOMMUNISTEN collective, initiated by

Canadian developer and "venture communist"

Dmytri Kleiner (an early critique of the existing

copyright norms but also the Creative Commons

movement, to which he opposed a Copyfarleft

licence system). Active in Berlin for around 10

years, the Telekommunisten have been demonstrating

how it is possible to work from within

the logics of centralised online (and offline)

systems, by imagining a series of "miscommunication

technologies" which "don't work

as expected, or work in an unexpected way".

Their last work, the Numbers Station, responds

directly to the recent debate on surveillance

and the need for data encryption. Addressed

ironically to all spies and whistleblowers, the

system is based on decryption cards, which help

participants decode phrases delivered by radio

communications. By bringing together playfulness

and encryption, and making crypto-tools

accessible as an artwork, Numbers Station shows

that to perform disruption you have to become

aware of the possibilities of your Internet presence,

and you need to explore its strength while

testing its limits.

In this post-Snowden, post-digital era, disruption

tactics have never been more accessible.

What Edward Snowden did, what Chelsea

Manning did and what other whistleblowers

did before them demonstrate that disruption is

ready to be applied by everyone. Holes in the

systems are everywhere, ready to be exploited.

What are you waiting for? n

Tatiana Bazzichelli is a curator

and researcher, author of

the books Networked

Disruption and Disrupting

Business (2013). She was

programme curator at

the transmediale festival

and she is planning a new

series of events under the

name Disruption Network Lab

(upcoming 2015), to bring into

dialogue local and international hackers,

activists, networkers, and critical thinkers

within the framework of art, hacktivism and

network economy.

GISELLA SORRENO

31
---
What's on

CALENDAR

September 2014

CLASSICAL TUESDAY, SEP 2 The

Berlin Philharmonie runs a

marathon in cooperation with

Berliner Festspiele, with 31 instrumental

and vocal performances.

The opening is a tribute

to Johannes Brahms' Piano

Concertos. Through Sep 22.

Starts 19:00. (see page 42)

Musikfest

15 Years Post Theater

THEATRE SUNDAY, SEP 7 Paragon

of both traditional and

contemporary theatre and

dance performances – Post

Theater turns 15. It closes out

with Jobs im Himmel but catch

what you can starting Sep

3. Theaterdiscounter. Starts

20:00.

15

Erotic Crisis

THEATRE MONDAY, SEP 15 The

new piece from Yael Ronen

gives Gorki a more erotic

charge. Exploring sexuality

among a myriad of social

constellations, tonight is the

first staging with English subs.

Maxim Gorki. Starts 19:30.

ULRICH "ULI"

SCHREIBER founded

Berlin's International

Literature Festival

(Sep 10-20, see

page 42) in 2001 and

remains its illustrious

head to this day.

FRIDAY 20:00 A film at

Delphi Filmpalast (Kantstr.

12a, Charlottenburg).

22:00 Drinks and

maybe dinner at Paris

Bar (Kantstr. 152,

Charlottenburg).

SATURDAY 8:00 Coffee

and croissant at Literaturcafé

(Else-Ury-Bogen

599-601, Charlottenburg).

Reading the last

pages of Judith Hermann's

novel Aller Liebe

Anfang. 10:00 Shopping

at the weekly market

(Karl-August Platz,

Charlottenburg). 12:00

Aglio e olio and cold

white wine at Biscotti

(Pestalozzistr. 88, Charlottenburg);

talking with

friends, watching people

passing happily with

beautiful flowers in their

Moderat, Berlin Festival, Sep 5

0

10

the city embraces 11 days of

International Literature

Festival

LITERATURE WEDNESDAY, SEP 10

Bookworms of Berlin rejoice as

literary celebration. Over 180

guests give lectures, workshops

and readings from prose to poetry.

Through Sep 21. Various

venues. (see page 42)

Erotic Crisis, Sep 15

My perfect Berlin weekend

0

arms. 14:00 Sanssouci

bread (my favourite)

at Butter Lindner

(Voßstr. 35, Charlottenburg).

15:00 Listening

to Tom Waits while cooking

and preparing my

flat for an evening party.

16:00 Waiting for wine

delivery from Klemke

(Mommsenstr. 9, Charlottenburg).

20:00 My

first guests arrive. Soon

I won't be a noticeable

host any more, just

part of the crowd.

SUNDAY 12:00 Sit

on my balcony, reading

Dave Eggers' The

Circle. 14:00 Maybe

I will take a walk in

Schlosspark Charlottenburg,

maybe not.

3

Berlin Music Week

MUSIC WEDNESDAY, SEP 3

Music is an industry, too. Aside

from the 100 artists drawn to

the city, there'll be a conference

with 2000 industry suits

from 30 countries hanging

around to find the next

big thing. Through Sep

7. Various venues.

11

Pasolini Roma

ART FILM THURSDAY, SEP 11

Auteur or agitator? Explore

the life and work of one of the

most controversial yet important

directors of all time – Pier

Paolo Pasolini. Through Jan

5. Martin-Gropius-Bau. Starts

10:00. (see page 38)

Berlin Art Week

ART TUESDAY, SEP 16 Although

alt-fave Preview has dissolved,

Berlin's abuzz with art through

16

three fairs: ABC, Preview successor

Positions and unofficial

affiliate Liste. The city-wide

hobnobbing goes on through

Sep 21. (see page 50)

22

Miss Kenichi

MUSIC MONDAY, SEP 22 Back

with new album The Trail, Miss

Kenichi has appeared in these

pages a few times over the

years, both as highlight and as

writer. She hits the stage with

Lonski and Classen as support.

Lido. Starts 20:00.

Azealia Banks

MUSIC FRIDAY, SEP 26 The

shade-throwing hip hop Amazon

brings her trademark

26

breakneck flow and pottymouth

and, hopefully, a taste

of her upcoming album Broke

with Expensive Taste. Huxley's

Neue Welt. Starts 20:00. (see

page 46)

Also Sep 3-4:

Transduction

concert

installation at

Berghain

4

Jewish Culture Days

FESTIVAL THURSDAY, SEP 4

Shalom! For 10 days Berlin

will celebrate everything Jewish

through concerts, children's

workshops, synagogue

tours, exhibitions and

Pasolini Roma, Sep 11

street festivals. Through

Sep 14. Various locations.

Starts 8:00.

0

17

Blonde Redhead

MUSIC WEDNESDAY, SEP 17

Blonde Redhead return just

in time for the release of their

new album Barragán: something

for both new and old

fans of the early-2000s indie

rock dreamers. Frannz Club.

Starts 20:00.

23

Funk style costumes and emit

Goat

MUSIC TUESDAY, SEP 23 The

psychedelic-experimental-fusion

band from Sweden don P-

eccentric live voodoo vibes

that would make even the likes

of James Brown proud. Postbahnhof.

Starts 20:00.

Mary Ocher, Sep 27

0

STEPHAN WHITE ANGELO NOVI, FONDAZIONE

CINETECA DI BOLOGNA

32 • SEPTEMBER 2014
---
Jewish Culture Days, Sep 4

0

12

Colourbox

ART FRIDAY, SEP 12 Wolfgang

Tillman's project space hosts

a retrospective on 4AD electronic

band Colourbox. Aheadof-their-time

in album art, they

beat Einstürzende Neubauten

to the horse penis punch by

six years. Between Bridges.

Starts 19:00.

Der Anständige

FILM THURSDAY, SEP 18 Catch

Vanessa Lapa's documentary

on one of history's greatest vil-

18

lains, Heinrich Himmler. Using

private letters only made public

in February, this is a personal

glimpse into the Nazi's

mind. Volksbühne. Starts

20:00.

24

GusGus

MUSIC WEDNESDAY, SEP 24

Twenty years into a varied career,

Icelandic electronic outfit

GusGus released the techhouse-tinged

Mexico this year.

The show will be Obnoxiously

Sexual. Also Sep 23. Berghain.

Starts 20:00.

27

Mary Ocher

MUSIC SATURDAY, SEP 27 Berlin's

multi-talented songstress

is leaving the Government behind

(just for one show) to entertain

us solo, spiced up with

piano. Lucrecia Dalt supports.

Roter Salon. Starts 21:00.

Also Sep 12-13:

Beer & Beef and

the last Bite Club

Mitte...

5

MUSIC FRIDAY, SEP 5 The fest

moved camp last minute this

year from Tempelhof to Arena

Park for a 48-hour lineup including

Mount Kimbie, Hudson

Mohawke, Moderat, Jessie

Ware and Digitalism (see page

44). Through Sep 7.

Berlin Festival

13

lead guided tours of museums

Day of Open Memorials

TOURS SATURDAY, SEP 13 Over

two days archaeologists, restorers

and conservationists

and concert halls, letting audiences

in on the secret side

of Berlin's listed buildings.

Through Sep 14. Various

locations.

0

Dubl Trubl, Sep 19

25

EXBlicks: Stasi night

FILM THURSDAY, SEP 25

A unique programme from the

Stasi vaults including spy training

and GDR propaganda films,

plus a doc on Cold War espionage

and a discussion with Hubertus

Knabe, head of the Stasi

Museum. Lichtblick Kino. Starts

20:30. (see page 39)

28

of handbikers, power walkers

Berlin Marathon

SPORTS SUNDAY, SEP 28 Clear

the streets! Berlin gets taken

over for a city-wide marathon

and runners. If you wanna strap

on the rollerblades or bring the

kiddies, there's a special race

for them the day before.

Also Sep 13-14:

Folsom Street

Europe

6

Experimentdays

POLITICS & ACTIVISM SATURDAY,

SEP 6 The annual urban development

fest runs from Sep

5-13. Today, catch an exhibition

and discussion with South African

artist Terry Kurgan, whose

work concerns the public versus

private realm. Bootshaus.

Starts 11:00.

25 Jahre Mauerfall

– We Are The Play

STAGE SUNDAY, SEP 14 Part of

English Theatre Berlin's month-

14

long exploration, this site-specific

interactive performance

piece focuses on Germans and

Ausländer during the fall of the

Wall. From Sep 11. Berlin Wall

Memorial. Starts 19:00.

19

brought here to mix and match

DUBL TRUBL>>Ich bin

in Berlin

ART FRIDAY, SEP 19 More than

80 international artists are

skills and disciplines in surprising

ways: from art to film

to music. Opening party on

Sep 18. Through Oct 26. Starts

12:00. (see page 49)

Berlin Marathon, Sep 28

0

29

The Space Lady

MUSIC MONDAY, SEP 29

Spaced-out covers and originals

from a San Francisco

street musician turned rediscovered

cult heroine with a

fascinating life story (see page

46). Marie Antoinette. Starts

20:00.

1.10.–31.12.

Meg Stuart /

Damaged Goods

Phil Collins

Sarah Vanhee

Dries Verhoeven

Ivo Dimchev

Farid Fairuz

Forced

Entertainment

Philippe Quesne

Gob Squad

andcompany&Co.

Kat Válastur

Hans-Werner

Kroesinger

Damian Rebgetz

Rimini Protokoll

Laurent

Chétouane

Isabelle Schad

Mouse On Mars

Jefta van Dinther

Adam Linder

Nicoleta

Esinencu

u.v.m.

33

www.hebbel-am-ufer.de
---
What's on

FILM

STARTS AUG 28

Wolfskinder

D: Rick Ostermann

(Germany 2013) with

Levin Liam, Helena Phil,

Vivien Ciskowski ◆◆◆◆

Ostermann's debut film

and winner of the 2014

"Friedenspreis des

deutschen Films", this

portrait of the odyssey

undertaken by Hans

(Liam) as he struggles

through post-WWII occupational and partisan brutalities

on his way to Lithuania searching for his younger brother

should be seen twice: once to appreciate the artistic

mastery of a largely 'voiceless' screenplay and soberly

stunning cinematography. And again: as a filter for the

millions of children's voices currently undergoing something

similar – in reality. EL

DANIEL MCFADDEN

FILM

editor's

pick

STARTS SEP 4

Hercules

D: Brett Ratner (USA

2014) with Dwayne Johnson,

Ian McShane

◆◆ It's "Lions and

hydras and boars, oh

my!" as the usually

likeable Johnson and the

much maligned Ratner

join a selection of fine

British thesps for this

moderately diverting

retelling of the demi-god's slightly latter years. Taking

place after his widely eulogised trials, we find Hercules

as a myth turned mercenary; trekking the wilderness

with his grumbling comrades until that one last lucrative

job offers an early way out. Credit for choosing to

debunk the hero's mythology: aside from that, we all

know the drill. ROC

STARTS SEP 4

Deliver Us From Evil

D: Scott Derrickson (USA

2014) with Eric Bana, Édgar

Ramírez, Olivia Munn

◆◆ When New York

police officer Ralph Sarchie

(Bana) investigates a

series of inexplicable but

somehow interconnected

crimes, he crosses the

path of an unorthodox

priest. Together they combat

the evil spreading amongst Iraq vets, revealing his

own hidden guilt in the process. Adopting many elements

from the real-life Sarchie's actual cases, this film is a

post-Iraq-war take on exorcism where horror genre meets

action and crime drama – with few surprises. YC

STARTS SEP 11

Song From The Forest

D: Michael Obert (Germany

2013) documentary

with Louis Sarno

◆◆◆◆ Following Sarno,

a musician who lived with

and recorded the music of

pygmy Bayaka tribe in a

Central African rainforest

for over 25 years, on his

journey back to his native

New York with his young

son Samedi, Obert's film (see interview, page 36) is an intelligent

portrait of a hunter-gatherer people losing its way

of life, a man finding his way again and a boy embracing a

globalised future. Reverberating with polyphonies from the

Renaissance and the heart of Africa, this baroque sense

fest captivates heart and soul. MW

34 • SEPTEMBER 2014

The flesh hell of Hollywood

By EVE LUCAS

A scene in David Cronenberg's MAPS TO THE

STARS (photo) shows 'ageing' movie actress Hannah

Segrand (Moore) rushing onto her pool patio

for a little elated gig with chore-whore Agatha

(Wasikowska). A rival's little boy has drowned in

another pool somewhere in Hollywood. Things

are looking up.

States of extreme confusion are Cronenberg's

stock in trade and a Hollywood populated by

emotionally distant and deceptively close stars

and gods is a natural choice of habitat. Not

surprisingly, Bruce Wagner's screenplay is selfconsciously

heavy on the invocation of grand

themes from Greek mythology: brother-sister incest,

emotional infanticide and a bevy of visitors

from the netherworld. All quite apart from the

regular cast of treachery, greed and ambition that

humdingers its way through Segrand's coterie:

her feel-good spin-guru Stafford Weiss (Cusack),

his tormented wife (Williams), recently detoxed

child-star son Benjie (Bird) and the bad daughter

who's back in town. Watching it all through his

rear-view mirror is the hired limo driver Jerome

(Pattinson in a neat inversion of his role in Cosmopolis).

He's working on his own screenplay, so

yeah, "everything is research".

Jerome's role is loosely based on Wagner's own

experiences starting out in Hollywood. His view

of indolent, detached curiosity has been done

before (Altman's The Player to name just one).

What Cronenberg/Wagner bring to this game is

the detachment of meta-textual commentary on

stardom, presenting Hollywood as a firmament

of humans "acting" as celestial bodies. It's a consistently

unpleasant and deliberately unnatural

angle, contextualised by DP Peter Suschitsky,

whose background in still photography imparts

a predatory stasis to Rodeo Drive and Hollywood

Boulevard. Characters move through these

abeyant spaces as people but also as merchandise.

They are human subjects (evidenced by a

constipated Moore straining on the loo), but

see themselves as god-like objects of adulation

and emulation. These are freshly and viciously

observed dualities, albeit slightly overdrawn

and slackly edited. But as the curtain closes on

a last shot of tragedy there's little question that

Cronenberg has again framed some pretty bad

lands. This Hollywood is Medea and she's a titled

logo beaming in the distance: an impervious

signifier of status, watching the slaughter of her

children from her perch in the hills.

The 'Map to the Stars' (as in map of stars' addresses)

also plays a small role in Mike Myers'

SUPERMENSCH: THE LEGEND OF SHEP GORDON as

Gordon recalls how he posted the notice "Alice

doesn't live here anymore" on Alice Cooper's

Hollywood home during the star's stint in rehab.

Originally intent on becoming a probation officer,

Gordon literally stumbled into Hollywood

via the legendary Landmark Motel, where he

tried to separate what he thought was a couple

fighting. It turned out to be Janis Joplin and Jimi

Hendrix. Hendrix suggested Gordon try his hand

at talent management: specifically, Alice Cooper.

Gordon rose to become an impresario extraordinaire:

other clients include Anne Murray and

Luther Vandross. As a producer (Prince of Darkness)

he pioneered US independent film. He's also

friendly with the Dalai Lama. With the exception

of a few quirky graphics, Myers' documentary on

his friend Gordon is straightforward. It's also an

engagingly frank reflection on an anomaly: a generous

man whose "compassionate business" ethic

has kept him afloat and decent in that very same

environment evoked so darkly by Cronenberg. ■

STARTS SEP 11

Maps to the Stars ◆◆◆

Directed by David Cronenberg (Canada, USA, France, Germany

2014) with Julianne Moore, Mia Wasikowska, John Cusack

STARTS SEP 18

Supermensch: the Legend of Shep Gordon ◆◆◆

Directed by Mike Myers (USA 2013) documentary with Shep

Gordon

ALL MOVIES ARE IN OV WITH GERMAN SUBTITLES UNLESS OTHERWISE STATED
---
STARTS AUG 28

Begin Again

(Can A Song Save Your Life?) D: John

Carney (USA 2013) with Mark Ruffalo, Keira

Knightley, Hailee Steinfeld, Adam Levine,

Catherine Keener ◆◆◆ If, as freshly

unemployed music producer/exec

indie label founder Dan (Ruffalo)

says, music has the ability to

"invest banality with meaning", you

won't find a better example of that

maxim than right here, in Carney's

follow-up to the endearing Once.

That's better – as in "between

good and best". Because let's just

say that this story of singer-songwriter

Gretta (Knightley doing her

own vocals) who's about to leave

NY after her rising rock-star

boyfriend (Levine) dumps her, is

discovered by Dan and agrees to

joint venture an album of her

songs street-recorded live in New

York – well, it doesn't re-invent the

plot wheel. It does take the

age-worn tropes of disillusioned

passion and artistic integrity,

fine-tune them via solid performances

from main and subsidiary

stars (with Keener/Steinfeld

notably good as Dan's wife and

daughter) and whoop the whole

thing up with a couple of wellplaced

set-piece performances

(albeit studio synced) against

some classic NY backdrops. Add

CeeLo Green as verse-rapping

sponsor Troublegum, a bit of

trans-Atlantic chemistry and a light

hand behind the camera and the

mic and you got yourself some

nicely observed female empowerment.

Summer ain't over yet. See

it out with this. EL

AHA.

DEUTSCH!

STARTS AUG 28

Guardians of the Galaxy

D: James Gunn (USA 2014) with Chris

Pratt, Zoe Saldana, Dave Bautista, Vin

Diesel, Bradley Cooper, Benicio Del Toro

◆◆◆◆ There was a time when

the little red Marvel logo on a

film poster inspired feelings of

childlike wonder and excitement

in even the average filmgoer. Unfortunately,

as of late, the oncereliable

publishing company has

churned out a spate of sub-par,

kitsch, forgettable blockbusters

that have paled in comparison

with their predecessors. Guardians

of the Galaxy, however, has

completely (and thankfully) put a

stop to this trend. It's an origins

tale of the adventures of Peter

Quill, a human kidnapped from

his home planet Earth and thrust

into a new life of interstellar

thievery. Upon obtaining a mysterious

and coveted orb as part

of a lucrative deal with an alien

jeweller, he is attacked by an

unlikely group of bounty hunters:

a mutant raccoon, a tree-man

and an oddly attractive bright

green spacewoman... and thus,

the Guardians of the Galaxy are

born. It's the breath of fresh air

Marvel needed to recover from its

recent stagnancy and the surprising

amount of belly laughs are

enough to win over even the most

superhero-weary of viewers. MF

goethe.de/berlin

Sprache. Kultur. Deutschland.

35
---
What's on

FILM

STARTS SEP 4

Another Me

(Another Me – Mein

zweites Ich) D: Isabel

Coixet (UK, Spain 2013)

with Sophie Turner,

Jonathan Rhys Meyers,

Gregg Sulkin ◆

Sophie Turner (Game of

Thrones) stars as Fay,

a teen whose grasp on

reality disintegrates after

she gets the lead in her

school's rendition of Macbeth. Add a bit of doppelgänger

psychodrama and you have Isabel Coixet's loose adaptation

of Catherine MacPhail's eponymous teen novel. It

might sound promising on paper but not even the acting

of Turner or Rhys Meyers can save the script's forced

esotericism and, well, plain bad writing. MH

STARTS SEP 18

Concerning Violence

D: Göran Olsson, (Sweden

2014) with Lauryn Hill

◆◆◆◆ With Lauryn Hill

reading excerpts from

Frantz Fanon's incendiary

work on decolonisation

The Wretched Of

The Earth over Swedish

television archive footage

documenting the struggle

for independence for

colonised nations in Africa, Concerning Violence is an

intelligent and even-handed interrogation of the use

of violence both by the colonial powers on oppressed

natives and by freedom fighters wresting the power back.

Its Nine Scenes From The Anti-Imperialistic Self-Defence

are by turns beautiful, funny and disturbing, allowing the

images and people to speak for themselves. MW

STARTS SEP 18

A World Not Ours

D: Mahdi Fleifel (UK, Lebanon,

Denmark, UAE 2012)

documentary ◆◆◆◆

Before the Syrian troubles,

the Palestinian refugee

camp Ain El-Helweh in

Southern Lebanon housed

70,000. Even in 2012,

when Fleifel made this

film, it was crowded.

Watch this film and

imagine double that number trying to give their kids the

kind of cheerful Woody Allen misery invoked by Fleifel to

describe the soccer and semi-automatics that dominated

his childhood – before descending into the desperation

now suffered by his contemporaries. EL

STARTS SEP 18

Gemma Bovery

D: Anne Fontaine, (France

2014) with Gemma

Arterton, Fabrice Luchini,

Jason Flemyng ◆◆◆

Fontaine returns to

France for her adaptation

of Posy Simmonds' novel

of French-speaking Brits

abroad. At its core, it's

a humdrum comedy

about men's fascination

with beautiful women, but blessed with a deliciously

asinine performance from Luchini as the curtain-twitching

neighbour who insists on turning Gemma (Arterton) and

her extramarital relations into Gustave Flaubert's fictional

philanderer Emma Bovary – and turns a small town baker

with an over-baked literary imagination into a hero. Once

again, it seems, "Gemma Bovery, c'est moi." MW

36 • SEPTEMBER 2014

"He's my rainforest"By MARK WILSHIN

In his debut documentary Song from the Forest

(see review, page 34), Obert, a Berlin-based

journalist turned filmmaker, follows Sarno and

his son Samedi as they journey from their home

among the Bayaka tribe to the US.

Adventurer, journalist, writer, filmmaker

– how would you describe yourself ?

Storyteller. Or traveller and storyteller maybe. I

think travelling brought me to writing, and

writing brought me to filmmaking basically. But

it's mainly my interest in stories of human beings.

I like these stories that ask existential questions

basically, and that make me think about my own

life, my own path, my own story, my own

decisions. And that's the way I write my stories.

Song From The Forest is your first film. You

must have faced a lot of challenges… No

electricity, obviously. No running water. Dense

vegetation. It's always dark, incredibly humid.

But the biggest challenge was shooting in the

US, because of Louis' deep culture shock. Very

often I had to leave the camera and just turn

from filmmaker to human being, to friend. To

support him. I think that was a lot harder than

anything we experienced in the jungle.

How does that work? How do you know

when to put the camera down? I don't really

consciously reflect on this. If I feel if this is a

moment to help and act in a human way, then I

just act. I think my filmmaking and my journalistic

work is always happening on a very human

level. At eye-level. So the people I'm dealing

with, they usually trust me. I don't want to

disappoint them when they need my help.

It's a nostalgic film about lost people –

both Louis Sarno and the Bayaka. Do you

SONG FROM

THE FOREST

Sep 11

A song on the radio led American Louis Sarno to the Central African

rainforest. Twenty-five years later, MICHAEL OBERT found him there.

think a documentary film can do more

than just document? Personally, I don't care

about genre definitions. I like to treat the

subject almost as if it was a feature film. I hate

talking head films. I hate the whole biopic thing

as well. For information, you can just go online.

It's definitely not a film about answers. I hate

answers in movies. It's a poetic work, and poetry

is all about space I think. So the movie opens

spaces and you can wander around the spaces as

an audience, and then you come out with your

questions. That's the type of storytelling I'm

interested in.

It's very observational and spontaneous

– do you have a favourite moment? What

really touches me still is whenever the 16thcentury

music comes up. The whole idea to use

William Byrd's Mass for Four Voices as the

backbone of the whole movie, it's an experiment,

but I think it worked out really well.

What's the story behind that music ? That

first night after our encounter, he took me to his

hut and we were talking randomly for hours. At

one point, I was so exhausted I just lay down on

the earth floor, and maybe a couple of hours later

I woke up and I heard this music, the first piece

that we use to open the movie – the Kyrie of the

Mass, sung by the Oxford Camerata. I had the

feeling I was between a dream and reality. And

then I opened my eyes and saw Louis at his

worm-eaten table in the Rembrandt light of his

lantern listening to this music, and I got

goosebumps. I think the music Louis had heard

on the radio lured him into the rainforest, but

this music lured me into his life. It will be five

years ago this autumn, and I'm still there. He's a

major part of my life, I'm a major part of his life.

He's my rainforest, basically. ■

ALL MOVIES ARE IN OV WITH GERMAN SUBTITLES UNLESS OTHERWISE STATED
---
DIGITAL

OFFSET PRINT

STARTS SEP 4

Still Life

(Mr. May und das Flüstern der Ewigkeit) D:

Uberto Pasolini (UK, Italy 2013) with Eddie

Marsan, Joanne Froggatt ◆◆◆◆ The art

of framing a still life demands deference

to detail and atmosphere.

And although he's actually related

to Visconti, Vermeer feels more

genetically relevant to this second

film from Uberto Pasolini (producer

of The Full Monty) as he steps

delicately, frame-by-frame, through

the life of Mr. May (Marsan), a

London council worker tasked with

tracing the relatives of people who

have died alone and, failing that,

to arrange their solitary funerals.

Pasolini's first film Machan

followed a group of Sri Lankans

who successfully applied for exit

visas to Germany by pretending

to be the national handball team.

His eye for the humanely absurd

is clothed here in the poetry of

intimacy. As May, Marsan personifies

a dedication to honouring the

fast-disappearing lives of his case

files, picking over their modest possessions

to get a feeling for their

unsung interests and translating

these pathetic accretions into moving

obituaries. As the potential love

interest Downton Abbey's Froggatt

adds a note of potential salvation.

But it's the directorial effort

that's truly redemptive. Echoing

May's own role as a re-creator of

existence, Pasolini burnishes a life

of unpromising bits and pieces –

turning unravelled existence into a

lustrous epigraph to loneliness. EL

New!

large

format

print

instant service

STARTS SEP 11

A Most Wanted Man

D: Anton Corbijn (UK, Germany 2012)

with Philip Seymour Hoffmann ◆◆◆◆

Following his 2007 debut Control,

Dutch-born photographer turned

director Corbijn returns to form

with a version of Le Carré's

eponymous novel, filmed in Hamburg

and Berlin in just 40 days.

The constraints imposed by this

schedule are evident, but logically

so, in the movie's delineation of

post 9/11 counter-terrorist urgency

as a sequence of grey zones that

start with a thin, dishevelled man

climbing out of Hamburg's port

waters and running to take shelter.

A semi-official anti-terror unit operating

under one Günther Bachmann

(Hoffmann) with the grudging

complicity of Germany's secret

services soon identifies this most

wanted man as a Muslim Chechen

who has evidently come to Hamburg

following the money deposited

there by his deceased father, a

Russian officer. As Bachmann and

his team (staffed by Nina Hoss and

Daniel Brühl) negotiate playing-time

and the support of an idealistic

human-rights lawyer (Rachel Adams),

the greater powers (including

Robin Wright as a CIA operative)

engage in their own cat-and-mouse

games. Undermining morality with

zealous conviction, the ensemble

cast pursues agendas marked by

delusion and righteousness. And

PSH locks it all together: scruffily

benevolent, sharp yet slovenly,

his performance will make you

weep for what is – and what might

have been. EL

cards documentations brochures softcover

manuals hardcover paperbacks photobooks

newsletters presentations

variable data printing whatever you need.

WE ARE FAST!

PRINTPRODUCTION

PRENZLAUER BERG:

Kastanienallee 91 · call 44 02 44 02

Wörther Str. 29 · call 44 03 77 0

visit our website: www.solid-earth.de

´TIL MIDNIGHT

copying

printing

binding

37

anything
---
What's on

FILM

STARTS SEP 18

The Decent One

(Der Anständige) D:

Vanessa Lapa (Israel, Germany

2014) documentary

◆◆◆ Working with

virgin material taken from

the diaries and letters of

Himmler and his family,

Lapa tells the story of

the SS-Reichsführer and

Holocaust architect "in

his own words". Merging

original photos and texts with contemporary found footage,

Lapa deliberately (and sometimes confusingly) blurs

the essentially factual with fictional structures, creating

a portrait of a fond family man utterly unaware of his

vicious inhumanity – whose daughter describes a 1941

(pre-Final Solution) outing to Dachau as a "wonderful

trip to a large enterprise". EL

STARTS SEP 18

Shirley: Visions of Reality

D: Gustav Deutsch (Austria

2013) with Stephanie

Cumming, Christoph Bach

◆◆◆ Found footage

filmmaker Deutsch uses

13 of Edward Hopper's

paintings as tableaux vivants

and starting points

for an exploration of the

troubled realities behind

the artist's serene solipsism.

Re-presenting what

appear to be private reflections as historic moments on

August 28/29 in 1937, 1939, 1940, etc., Deutsch's

trajectory ends with the Civil Rights March in 1963. It

helps to know both of Hopper's reactionary misogyny

and the director's idealist counterpoint (a liberal feminist

agenda). Then, it works. EL

STARTS SEP 25

Walking on Sunshine

D: Max Giwa, Dania

Pasquini (UK 2014)

with Annabel Scholey,

Giulio Berruti, Greg Wise

◆◆ There are a couple

of reasons to watch

this film about two sisters

and their holiday romance

gone serious with the

same man: the 1980s

feel-good vibe of Katrina

et al, and the ice-cutting jaw line of Latin lover Giulio

Berruti. And maybe one or two flash mob dance scenes.

Oh, and maybe Greg Wise's roguish smirk? You'll stay in

your seat for the duration but comparisons afterwards to

Mamma Mia might make you wish you hadn't. EL

STARTS SEP 25

I Origins

D: Mike Cahill (USA,

2014) with Michael

Pitt, Brit Marling, Astrid

Bergès-Frisbey ◆◆

The molecular biologist

Dr. Ian Gray, in the grip

of an obsession with

human eyes, falls in love

with Sofi's eyes at first

sight. As their romance

advances and starts to

intermingle with Ian's research, these eyes eventually lead

Ian to cut all ties with his previous scientific and spiritual

beliefs. This is an ambitious project in terms of its mixture

of genres, international production and alternative

ideology; yet the overall eye-pleasing aesthetics cannot

conceal a flawed script and general imbalance. YC

38 • SEPTEMBER 2014

Flicks our picks

Special screenings, festivals and retrospectives you shouldn't miss this month

DOWN UNDER

BERLIN

Sep 11-14

AUG 27-SEP 7

Fancy fantasy

Opening with The Rover, David Michôd's study of a

lawless Australia post-economic collapse whose

bleak consistency of vision impressed critics at

Cannes, this year's collated mind-games, aka the

hugely popular FANTASY FILMFEST, also presents

(finally) a chance to catch Jonathan Glazer's Under

the Skin, featuring Scarlett Johansson's best

innocuous predatory zombie, before the movie gets

its October DVD release. Best zombie title must go

to the wickedly entertaining All Cheerleaders Must

Die (Mckee/Sivertson, 2014). Aliens are well

represented in insider-acclaimed Coherence,

Texan-noir gets an outing in We Gotta Get out of this

Place (Hawkins Bros, 2013) and mockumentary

suburban Gothic from New Zealand should find an

instant fan base in What we do in the Shadows

(Jemaine Clement, Taika Waititi, 2014). With a

special premiere screening of The November Man

(Roger Donaldson, 2014), plenty of fresh blood in

the Fresh Blood Section and a special performance

of Epstein's 1928 classic The Fall of the House of

Usher vamped up with a DJ set, genres are again

up for grabs. If you don't see things that others do,

you'll have only yourself to blame. Details at www.

fantasyfilmfest.com. EL FANTASY FILMFEST | Cinemaxx

Potsdamer Platz, Kino 7, Potsdamer Str. 5; Cinestar im Sony

Center, Kino 5, Potsdamer Str. 4, Mitte, S+U-Bhf Potsdamer Platz

SEP 2-OCT 17

Pasolini's passions

PIER PAOLO PASOLINI's diverse oeuvre, showing in

a retrospective at Arsenal, is united by his ability

and determination to re-scape tropes of radical

sexuality, heretical religiosity and social ferment

with innovative combinations of sound and image.

Beginning at the relatively old age of 40 after his

move to Rome, Pasolini's debut film Accattone

(1961) takes the lives of petty thieves and pimps

and threads them into themes of biblical sacrifice

echoed by a soundtrack from Bach's St. Matthew's

Passion – a subject that he tackled directly in his

re-telling of St. Matthew's Gospel (Il vangelo

secondo Matteo, 1964). In or out of mythology

(Edipo re in 1967 and Medea, 1969), Pasolini's

fascination with sexuality is always present. Whether

fictively explored in Teorema (1968) or bannered

by explicit questions put to members of the public

in the documentary Comizi d'Amor (1964), the

fusion of relationships and their socio-political

setting merges tenderly with proto-Marxist

heresies. Arsenal complements its choice of films

NIGHT CRIES – A RURAL TRAGEDY

with two filmic diaries made by Pasolini during trips

to India and Palestine, as well as documentaries

made on the director: Pasolini l'enragé (Jean-André

Fieschi, 1966) and A future memoria: Pier Paolo

Pasolini (Micheli, 1985) to name but two. In

association with this retrospective, an exhibition

organised by Berliner Festspiele and dedicated to

Pasolini's very public affair with Rome will run from

mid-September to January 2015 at Martin-Gropius-

Bau, highlighting the director's role as a Friulian

poet, novelist, political essayist, draftsman and

painter – and a dazzling post-war European

intellectual. The exhibition delineates phases of

Pasolini's engagement with the city both as a

panoply of social and sexual inspiration and a

palimpsest of his own engagement with the city's

morality and politics: a love-hate relationship which

ended only with the director's violent death near

Ostia in November 1975. EL/YC RETROSPEKTIVE

PIER PAOLO PASOLINI | Arsenal, Potsdamer Str. 2, Mitte,

S+U-Bhf Potsdamer Platz Pasolini's Roma | Martin-Gropius Bau,

Niederkirchnerstr. 7, Mitte, S+U-Bhf Potsdamer Platz

SEP 10-OCT 12

Secondhand cinema

Last year, DOKU.ARTS reintroduced us to Harry

Dean Stanton, Mark Cousins' Story of Children and

Film and Room 237 in the Overlook Hotel. The

meaty festival returns throughout this month to the

Deutsches Historisches Museum's handsome

Zeughaus Kino (still, somehow, one of the city's

hidden gems) armed with a new batch of documentaries,

each casting a curious eye over the arts.

The festival's big-hitter is undoubtedly Martin

Scorsese's documentary on The New York Review of

Books, A 50 Year Argument, but there are plenty

more treasures to unearth this month on the

Kupfergraben quay. Enjoy a lifetime of quips and

defiance with Gore Vidal: The United States of

Amnesia; find fury and subversion in Belarus' free

theatre movement in the HBO-funded Dangerous

Act and bulk it all up with studies on the ever-fascinating

Susan Sontag, the post-war Hollywood

maverick Sam Fuller, the surprisingly bright

recesses of Michael Haneke and the unsurprisingly

dark recesses of Ingmar Bergman: Regarding Susan

Sontag, A Fuller Life, Michael H. Profession: Director

and Trespassing Bergman respectively. There's

plenty of meat on them bones; be sure to dig in.

For dates and times, check www.doku-arts.de. ROC

DOKU.ARTS| Zeughaus Kino, Deutsches Historisches Museum,

Unter den Linden 2, S-Bhf Hackescher Markt

ALL MOVIES ARE IN OV WITH GERMAN SUBTITLES UNLESS OTHERWISE STATED
---
EXBLICKS

Sep 25

SURVEILLANCE SPECIAL

SEP 11-14

Berlin goes Down Under

Returning to Moviemento for its fourth year, DOWN

UNDER BERLIN AUSTRALIAN FILM FESTIVAL offers four

days of the best that Australian cinema has to offer.

United under the theme "Make it home", the

programme is a varied, cross-genre selection of films

with a special focus on indigenous cinema, exploring

both the history and current issues of the world's

oldest living civilisation; Berlinale regular Warwick

Thornton's Rosalie's Journey tells the story of

Aboriginal activist Rosalie (Ngarla) Kunoth-Monks

whose life took a sharp turn when she was cast to

star in Australia's first color film, Charles Chauvel's

Jedda. Fittingly, artist Tracy Moffatt's Night Cries – A

Rural Tragedy deals with themes similar to Jedda albeit

set in a completely artificial milieu in which subject

matter is subverted to the point of tragedy. The

festival also features upcoming directorial talent, but

most interesting perhaps is the work from Australians

abroad such as Berlin-based Diane Busuttil's Fresh

Fruit, a dialogue-less, experimental exploration of one

woman's imagination, or US-based Sarah Doyle's You

Me & Her, a short about a woman who meets with

selves from 30 parallel universes and discovers that

she is her own worst version. Finally, a new and

welcome innovation this year is the presence of

Xposed International Queer Film Festival, on board to

curate an offering of queer Australian shorts from the

past. MH AUSTRALIAN FILM FESTIVAL | Moviemento Kino,

Kottbusser Damm 22, Kreuzberg, U-Bhf Schönleinstr.

SEP 25, 20:30

Surveying the Stasi

Keeping up with our focus on the pernicious vagaries

of big-brotherdom, this month's special-edition

EXBLICKS at Lichtblick Kino features a unique

programme of films from the Stasi vaults. In addition

to internal surveillance footage, we'll also be showing

training films, commemorative music clips produced

by the Stasi's own film unit as well as short documentaries

about Cold War espionage in Berlin. Presented

by Exberliner in co-operation with Interfilm and the

Federal Commissioner for the Records of the State

Security Service of the Former German Democratic

Republic (BStU), the screenings will be followed by the

customary complimentary wine and a discussion with

Hubertus Knabe (see interview, page 20): Stasi

researcher, human rights activist and director of the

memorial site at the former Stasi prison in Berlin-

Hohenschönhausen. EL/MY EXBLICKS: SURVEILLANCE

SPECIAL | Lichtblick Kino, Kastanienallee 77, Prenzlauer Berg,

U-Bhf Senefelderplatz

Undubbed at CineStar Original

HERCULES 3D

From September 4

Both man and myth, Hercules (Dwayne Johnson)

leads a band of mercenaries to help end a bloody civil

war and return the rightful king to his throne.

A tormented soul from birth, Hercules has the

strength of a God but feels the suffering of a human.

More info and tickets at cinestar.de

39
---
What's on

STAGE

SEP 2-3, 5-6, 20:00, SEP 7, 15:00

Letzte Tage. Ein Vorabend.

One hundred years after

WWI began, how to make

a theatre project on the

nationalism and racism

that cast a shadow

over the last century?

Christoph Marthaler

chose the most subtle

way, letting the victims'

music be played and the

persecutors' words be

quoted. First conceived for the historical Austro-Hungarian

Parliament of Wien, the project aims to link past and

present: music composed by Jewish persecuted musicians

is performed and terrible texts are read. An attempt

to echo contemporary forms of racism and discrimination.

NF Staatsoper im Schillertheater, Bismarckstr. 110,

Charlottenburg, U-Bhf Ernst-Reuter-Platz

SEP 3, 5-7, 20:00

Jobs in Himmel

In this whimsical and

existential piece, multimedia

performance company

"post theater" unpacks

some of the changes

that come along with

technological innovation,

reflecting on two major

visionaries: Apple cofounder

Steve Jobs and

German engineer Robert

Bosch. Featuring a projected set and some audience

participation via smartphones and tablets, this innovative

Berlin premiere is sure to provide new and entertaining

ways of incorporating technology into art. LI Theaterdiscounter,

Klosterstr. 44, Mitte, S+U-Bhf Jannowitzbrücke

SEP 11-14, 18-21, 25–28, 19:00

We Are the Play

"We are the people"

was the chant of the

protestors on the streets

of East Germany, but what

happened when the two

states became one? We

Are the Play by Sisyphos

der Flugelefant uses the

site of the Berlin Wall Memorial

as an interactive

performance playground,

where the audience can examine personal stories of

immigrants and Germans of various descent during the

fall of the Wall. Part of the ETB/IPAC project "25 Jahre

Mauerfall or How I Learned To Stop Worrying and Love

the Ossis/Wessis". SC Gedenkstätte Berliner Mauer,

Bernauer Str. 119, Mitte, U-Bhf Bernauer Str.

GERMAN THEATRE

Premieres:

■ ON MY WAY HOME, a piece on collateral damages

experienced by "suitcase children" – the immigrants'

second generation, Sep 2, 20:00, Ballhaus Naunynstr.

■ NEVER FOREVER, the first collaboration between

Falk Richter and Nir de Wolff's dance company TOTAL

BRUTAL, Sep 9, 20:00, Schaubühne

■ HOUSE FOR SALE, Volksbühne's season opens with a

René Pollesch variation on love, Sep 10, 19:30, Volksbühne

With English surtitles:

■ TALES FROM THE VIENNA WOODS, Sep 14,

19:00, Deutsches Theater

■ LITTLE FOXES, Thomas Ostermeier's remarkable take

on Lillian Hellman's text, with Nina Hoss in the main role,

Sep 18, 20:00, Schaubühne

FRANK KLEINBACH

MICHAEL TIBES

"How can you

get under your

own skin?" By NATHALIE FRANK

Director SEBASTIAN NÜBLING and choreographer

IVES THUWIS come together to create Fallen, the

summer's last open-air show, dealing with the

intrinsic violence of men's bodies.

It is not the first time that Nübling, who's been

collecting invitations to prestigious festivals

since he was named young director of the year by

the magazine Theater heute in 2002, and Thuwis,

whose 2009 piece Noch 5 Minuten was rewarded

with the Faust theatre prize for directing, have

worked together. Last time, they made a stage

out of tonnes of sand and let 14 young people

struggle with it (Sand, Schauspielhaus Zürich,

2011). With their new project, showing with

English surtitles in front of the Gorki Theater,

sand is back, this time hosting 10 actors dealing

with violence.

Did you base this work on real cases of

violence?

SEBASTIAN NÜBLING: We are not quoting one

case in particular, but got intrigued by a few

hard-to-explain phenomena of extreme brutality

that happened in Germany in the past few

years – like that man violently beaten up in the

subway in Munich in 2008 because he asked

two young men to stop smoking. How can you

describe that, or can you explain that? Especially

if you don't interpret it as a single case but as a

social phenomenon.

So you see this phenomenon as

something new?

IVES THUWIS: It is not necessarily about an

increasing number of violent cases, but what we

can observe is indeed a new type of violence,

without grounds: it is not about robbing or

avenging; it is violence for itself.

SN: This is what makes those cases so special: the

motive is not immediately understandable, there

is neither material motivation nor a personal relationship

between the victim and the offender,

just an emotive explosion of aggression. In our

work we don't mean to reproduce those cases

but we reflect the phenomenon of men's violence

with the abstract method of non-verbal dance

and theatre.

Why do you focus on men?

SN: Well, only men participate in this particular

form of violence. I don't know of any case that

would imply a woman. That being said, we focus

on the body's energy and image. This constant

need to upgrade your body is also something

new, it was different when I was young. Now

it seems important to have a muscular, defined

body. It is not just

an ideal of beauty,

it is also about

strength – and

what do you want

to do with this

strength?

STAGE

editor's

pick

How

do you

work

together with

the actors?

SN: First we talked

a lot about violence – what kind of violence did

we experience, how did we react, what did that

arouse or provoke? Now we work a lot with

tasks: we invent some tasks and try to give the

actors enough space to create a situation out of

them with the help of their own ideas, thoughts

and experiences.

What kind of tasks?

SN: We worked for example on the idea of pumping

up the body – and from there we developed

a sequence of movements. It started with a

thought about this whole fitness studio culture

and muscle constructions. We tried out repetitive

processes as solos and observed what happens

when you keep a repetitive movement going,

and when the body starts to be tired. What

kind of energy is contained in the body when it

is alone or interacting with another person or

with a group of 10.

IT: We try out different constellations – how

the men interact together when you place one

person against one group, one group against

one person, two persons against each other, two

against one... or, what is much more abstract:

how can you get under your own skin?

Has anything in particular come out of it?

SN: Of course, all the time. For example, at the

moment, we observe almost self-aggressive

movement patterns. The predisposition to

endure a movement that hurts or is exhausting,

because you have to maintain it for a long

time. It´s like working out: it also creates those

situations where people are alone and literally

torturing themselves. Obviously people want it

somehow, or they wouldn't do it.

40 • SEPTEMBER 2014
---
ESRA ROTTHOFF

IT: And we are interested at how people look

at that.

SN: Yes, we create this 'looking' situation as well.

The stage is covered with sand and people are

sitting all around, it is kind of an arena situation,

so it is a lot about watching and being watched

– everyone sees everything, you see what is happening

in the arena and you see what the others

are looking at.

What made the two of you come back to

sand as a material?

IT: We really felt like working with sand again – it

creates a frictional area that you have to fight

against, it is not easy but that is what makes it interesting.

It opens many possibilities that are not

there with the normal ground. You cannot bury

yourself or just fall or plunk on a normal ground.

SN: It is interesting as a counterproductive material,

it pulls the movement out instead of raising

and helping it as a traditional dance floor would

do. And it is perfect to

deal with violence: it is

a material that resists

by itself and provokes

aggressiveness as well.

Anyone who's played

beach volleyball knows

what I'm talking

about! ■

FALLEN Sep 11-13,

16-17, 19-21, 24-25,

28-29, 20:30 |

open-air stage by the

Maxim Gorki Theater,

Am Festungsgraben

2, Mitte, S+U-Bhf

Friedrichstr.

The truth about Turkish men

Under what seems to be a thousand lights, they

stand in suits and watch us in silence. Rapidly

they start to talk, one after another. The youngest

joined the army and left it. The oldest hasn't seen

his children for years and regrets it. One of them

spent his best years working in Budapest before he

came back to Kreuzberg for the sake of his family.

There is a Kurd who can't speak Kurdish. The last

one's story is heartbreaking: slowly, like a captivating

thriller, he recounts how his father used to beat

him up and how Elvis Presley saved him until his

own experience with crime. The men's memories

create a mosaic of hopes, tries, small successes

and big disappointments, religious issues and

family life;

regularly interrupted

by

the cute attempt

– and

failure – to

sing together

Goethe's

"Der

Erlkönig".

Behind these

SUPERMÄN-

NER there

is a woman:

celebrated

actress Idil

Üner. Her

wish was to

find out, with

the help of theatre, who the Turkish men really are

beyond the stereotypes of violent fathers and lazy

machos. Obviously, she rapidly realised that there

is no 'Turkish man'. And so she decided to bring a

few of her research subjects onstage, not to talk

about identity issues, but to answer the apparently

simple question: "What has been the most

beautiful and the worst part of your life?" Their

answers, full of honesty, humor and self-distance,

make a powerful, sober performance, spiced up

with a glamorous touch – a French pianist and red

roses. And when the younger man talks about how

his grandfather taught him the way to prepare a

dead fish and shows it at the same time, a smell

is added to

this delicate

harmony. A

charming

documentary

cabaret. NF

UTE LANGKAFEL

SUPERMÄNNER Sep

13, 20:00, 14, 19:00,

15-16, 20:00 (with

English surtitles) |

Ballhaus Naunynstr.,

Naunynstr. 27,

Kreuzberg, U-Bhf

Kottbusser Tor

schaubühne

+++With English surtitles+++

Hamlet

by William Shakespeare

Direction: Thomas Ostermeier

14.9. > 7:30 p.m.

The Little Foxes

by Lillian Hellman

Direction: Thomas Ostermeier

18.9. > 8:00 p.m.

41

Tickets: 030.890023 | www.schaubuehne.de
---
What's on

STAGE

SEP 11-13, 20:00

bodieSLANGuage

What is the body's

jargon? Performers coming

from eight different

countries, including

the choreographer duo

matanicola (Nicola

Mascia and Matan Zamir)

and the performer and

sign language interpreter

Gal Naor (the progressive

wave) try out different

body language forms between sign language, contemporary

dance and pop culture gestures. An experiment that

gives the main roles to 16 hands – they are strangers, get

in touch, become friends and drift again from one another

– in a hurly-burly of communicative movement. NF

Ballhaus Ost, Pappelallee 15, Prenzlauer Berg, U-Bhf

Eberswalder Str.

SEP 14-30, TUES-FRI 20:00, SAT-SUN 18:00

CROSSROADS

For its 10th anniversary,

theatre company

Chamäleon teams up with

Circa for a mash-up of

circus, song and dance

in an attempt to dissolve

the boundaries between

body and instrument,

between movement and

music. Singer Iza Mortag

Freund and an acrobatic

ensemble create an original live soundtrack of wooing

punk cabaret, flickering electro sounds and sizzling death

waltzes that summon life itself. It promises to be a night

of grace, delusion and fun. SC Chamäleon Theater, in

den Hackeschen Höfen, Rosenthaler Str. 40/41, Mitte,

U-Bhf Weinmeisterstr.

SEP 24-28

Männer in Garagen

The Sophiensaele takes

over a row of abandoned

garages nestled in the

outskirts of Pankow

for a multi-disciplinary

performance festival. A

group of over a dozen

artists (including – among

others – Cora Frost, copy

& waste and Markus

& Markus) will present

a series of conceptual pieces, bizarre installations

and rigorous discussions intended to examine these

oft-ignored heterosexual, male spaces for work, play and

storage – and provoke new ways of thinking about our

own "Garagenzeilen". LI Gründergaragen, Breite Str.

42a, Pankow, SU-Bhf Pankow

COMEDY IN ENGLISH

■ MAGGIE LOUNGE, a brand-new open mic with a

twist – after the usual open spots, the headliner has to

perform while getting heckled by another comedian. Sep

10, 20:30, Maggie Lounge

■ OFF THE CUFF, tear-inducingly funny format where

comedians improvise from topics they have never seen.

Sep 12, 20:30, T Berlin

■ BAUM HAUS COMEDY OPEN AIR, Berlin's biggest

outdoor comedy showcase in a beautifully dystopian setting.

Sep 25, 20:30, Grießmuehle

■ NIGHT SHOW BERLIN, Madcap 'late show' style

entertainment with guests and games hosted by Daniel

Stern, Sep 26, 20:30, T Berlin

For more listings, visit comedyinenglish.de

IZRA

KATJA RENNER

All booked up

This year's INTERNATIONAL

LITERATURE FESTIVAL includes

15 events in English – here's

what to watch out for.

"Haven't you ever felt like there has to be more?

Like there's more out there somewhere, just

beyond your grasp, if you could only get to it?"

writes two-time Carnegie Medal winner Patrick

Ness in his newest acclaimed young-adult novel

More Than This. His opening speech at 9:30am on

Sep 10 paves the way for the 6pm official opening

of the fest, at which contentious Anglo-Indian

writer Pankaj Mishra, winner of the 2014 Leipzig

Book Prize, will address criticism of his awardwinning

novel From the Ruins of Empire. Concluding

day one of the festival, Pulitzer Prize winner

Jhumpa Lahiri presents her most recent novel The

Lowland which pits the fate of an Indian couple in

the US against the reverberations of early violence

on the subcontinent. In a rich programme of readings,

poetry nights and political panels, one

particular focus is literature from writers with

African backgrounds. On Sep 13, British-Nigerian

novelist-prodigy Helen Oyeyemi presents Boy,

Snow, Bird, her modern adaptation of Snow White

in which an American family's racial background

does some impressive mirror cracking. Sep 15

brings a reading from Caine Prize winner Yvonne

Adhiambo Owuor's Dust, examining post-colonial

Kenyan corruption with stunning linguistic acuity.

On Sep 16, Owuor, Ishmael Beah (Sierra Leone/

USA) and Tope Folarin (Nigeria/USA) will discuss

fundamentalism in the sub-Sahara and on Sep 19,

Kenyan-raised Cornell professor Mukoma Wa

Ngugi presents his novel Nairobi Heat. Other

Three questions for…

Wolfgang Rihm

The 10th edition of MUSIKFEST, the Berliner

Festspiele's annual orchestra extravaganza, has a

special focus on horn – a perfect opportunity for

the German premiere of star composer Wolfgang

Rihm's new Concerto for Horn and Orchestra,

performed on Sun, Sep 14 in advance of Schumann's

Concerto for Four Horns and Orchestra. Other

works by Rihm can be heard on Sep 6, 7, 12 and 17.

What was the starting point for the new

piece? The line, the melody. I have a penchant

for melody, in particular in concert works. I

simply don't like the digital jabbering that by its

length and breadth is considered 'virtuoso'.

Concerts for me are about the horizon of spun,

melodic lines. About tensions and relaxations of

a vocal tone.

What is your relationship with the horn as

an instrument? It took me a long time to find

my way to horn. Its psychology is very complex.

You need time to understand horn. What is its

highlights include Nadeem

Aslam on Sep 11, laying bare

terrorist affiliations in The Blind

Man's Garden, a microcosmic study

of love and family in the Pakistan/Afghanistan

border zone; Oscar Wao Pulitzer winner Junot Diaz

appears twice, talking about ''Trust, Mistrust,

Faithfulness, and Unfaithfulness'' on Sep 13 and

telling "Stories of Lyrical, Brutal Love" on Sep 14;

on Sep 17, young expat US novelist Brittani

Sonnenberg discusses What is Home about

so-called "Third Culture Kids"; also on Sep 17,

larger-than-life environmental activist and novelist

John Burnside examines a cruel variant on

language acquisition in The Dumb House. On Sep

18, the peerless Amy Tan presents her latest novel;

also that day, Chinese transparency advocate and

novelist-filmmaker Xiaolu Guo narrates climate

change with Mirko Bonné from Germany and

Tony Birch from Australia; and on Sep 19,

American up-and-comer Tao Lin (US) presents

the "Kafka of Generation Facebook".

As a special series, "Culture of Trust" invites 15

authors to write essays about "trust" in their

culture and present them in religious places, from

a mosque to a church and a Buddhist parish

house. And don't miss the Graphic Novel Day on

Sep 14, dealing with the reflection of reality in

comics, be it social and political issues, biographies

or autobiographies, ending with a live

drawing performance by artists Stefano Ricci

(Italy) and Ileana Surducan (Romania).

To get a two-day jumpstart on the fest, head to

the Berliner Festspiele on September 8 for a

reading of Edward Snowden interview excerpts,

part of a worldwide initiative. Full programme at

www.literaturfestival.com. NF/EL

place in the orchestra?

Wood? Brass?

Breakout? Line?

Signal? And then: the

position. It can

disappear faraway

– an expression of its

huge presence. And it

can shake our bowel

– before it penetrates

our heart.

In a few concerts

your works are

presented together

with Brahms – do

you think your

music goes well

together? Yes. Very

LITERATURE

FESTIVAL

SEP 10-20

MUSIKFEST Sep 2-22|

Berliner Philharmoniker,

Herbert-von-Karajan-

Str. 1, Mitte, S+U-Bhf

Potsdamer Platz

well. The better the neighbourhood – the better

the man himself. This applies of course only for

concert programmes. Mozart would also be

right... and all the others...

Want more from Rihm? Go to www.exberliner.com for Nathalie

Frank's full interview.

KAI BIENERT

42 • SEPTEMBER 2014
---
tICKEtS: (030) 30 10 6 80 88

www.trinitymusic.de

What's on

MUSIC AND NIGHTLIFE

16.09.14 . max-schmeling-halle 13.10.14 . Postbahnhof

MUSIC

editor's

pick

23.10.14 . tempodrom

the axis

of awesome

04.09.14 . C-Club

watsky

+ the lafontaines

20.09.14 . Bi nuu

Jennie

aBrahamson

21.09.14 . Privatclub

rhodes

21.09.14 . Grüner salon

25.10.14 . Columbiahalle

antemasque

+ le ButCherettes

06.10.14 . Bi nuu

Joanne shaw

taylor

13.10.14 . C-Club

allah-las

15.10.14 . C-Club

fka twiGs

21.10.14 . kesselhaus

Don't call it a comeback By D. STRAUSS

When I'm not vacillating between cheap white

and slightly-less-cheap brown mushrooms at

Lidl, I'm pocketing jumbo shrimp at corporate

trade fairs; in aspic they can last into the next

season. They're not the only shrimp with an

extended shelf life. A couple of months ago, I

crashed an Adidas Fashion Week party after staring

at skewers of asparagus through frosted glass;

the diminutive PHARRELL WILLIAMS (photo) was

the guest-of-honour and, though older than 40,

was as well maintained as any frozen seafood I

have encountered. The same can be said for his

career, which is sort of like what Elvis' would

have been like if his comeback had been bigger

than his initial onslaught of fame. And if Elvis

had possessed the capability of writing a song.

Both appear fond of showgirls, however.

Pharrell got his start with Teddy Riley (whose

verse he penned for "Rump Shaker" – the best

one!). You know who else worked with Riley? Fellow

New Jack Swingsters K-CI & JO-JO, with the

slime of Nickelodeon 1990s nostalgia generated

by their current tour feeling like a Buzzfeed .gif

listicle. Some artists are meant to represent their

era, while others are meant to signify it. Interpretive

artists, such as Snoop Dogg or TONY

BENNETT (and, yes, they have collaborated) have

it easier. If one can manage through a period of

unfashionability, followed by a period as an out

joke, followed by a period as an in-joke, followed

by a period as a kitsch figure, followed by a

period as a self-knowing kitsch figure – one can

claw one's back toward iconic respectability.

Though most acts languish in the Hasselhoffian

shadows of the second-to-last state.

Comebacks are an amorphous thing: partly

the positioning of public relations, partly the

judgement of history and partly the fickleness of

the crowd. Though they can cement one's status

as a legend (U2, Snoop Dogg), and transform an

entertainer into an auteur (Tom Jones, Snoop

Dogg), once the initial comeback fades, it can

seem sadder than the initial dip in fame. The brief

late-period success of some artists, such as Prince

and Duran Duran, actually appeared to tarnish

the polish of their busts as it receded along with

the millennium (those comebacks have since

been forgotten and status has been restored). The

Rolling Stones, certain of their stature, have come

back so often without it sticking that it has become

a tongue-in-cheek part of their legend, with

consequent tour revenues as unaffected as "Doom

& Gloom" was unhummable.

But then, one shouldn't necessarily view a paucity

of resonance as a negative. In rock, macho is

as effective a communicator as melody, no more

so than in metal. HELMET, "the thinking person's

heavy metal band", is touring the 20th anniversary

of their Betty album, recorded during the

dying days of when "angular" was still a compliment.

A bridge between Nirvana and Korn, I

always found them neither a bridge too far nor a

bridge far enough, but their sound does sum up

a type of dying of the grunge dream. Drummer

John Stanier is now the centrepiece of Battles,

math rock's last great hope.

I'm from the math rock generation, but I've

never been very good with numbers. So, during

my youth, I turned to other genres such as industrial

music, which at the time was generally concerned

with totalitarian methods, mind control,

fundamentalism and, um, a little too often, white

power. Now we have Facebook for all of that, so

it's no wonder that Genesis P-Orridge of PSYCHIC

TV has gone retro, embracing cock rock – the last

time I saw them, they played no less than three

Hawkwind covers. Needless to say, if nostalgia is

evidence of a sense of paradise lost, P-Orridge's

life exemplifies it. And, sadly, paradise maintains

too much dignity to make a comeback. n

Music Editor D.Strauss may be contacted at strauss@exberliner.com

HELMET Mon, Sep 15, 20:00 | SO36, Oranienstr. 190, Kreuzberg, U-Bhf Kottbusser Tor PHARRELL WILLIAMS W/FOXES &

CRIS CAB Tue, Sep 16, 20:00 | Max-Schmeling-Halle, Am Falkplatz, Prenzlauer Berg, U-Bhf Eberswalder Str. TONY BENNETT

Thu, Sep 18, 20:00 | Admiralspalast, Friedrichstr. 101, Mitte, S+U-Bhf Friedrichstr. PSYCHIC TV Sat, Sep 20, 19:00 |

Gretchen, Obentrautstr. 19-21, Kreuzberg, U-Bhf Hallesches Tor K-CI & JO-JO Sun, Sep 28, 21:00 | C-Club, Columbiadamm

9-11, Kreuzberg, U-Bhf Platz der Luftbrücke

the fat white family

+ Charlie Boyer & the voyeurs

26.09.14 . Privatclub

azealia Banks

26.09.14 . huxleys

the liBertines

04.10.14 . arena Berlin

the Growlers

07.11.14 . Bi nuu

linkin Park

+ of miCe & men

19.11.14 . o2-world

Bryan ferry

26.11.14 . tempodrom

ELIOT SUMNER

Di. 16.09. Einlass 20:00 Grüner Salon

StarFM & Zitty präsentieren:

LIAM FINN

Do. 18.09. Einlass 19:00 Machinenhaus

FluxFM präsentiert:

JACK GARRATT

Fr. 19.09. Einlass 20:00 Machinenhaus

MELANIE DI BIASIO

Sa. 20.09. Einlass 20:00

F101 Club im Admiralspalast

TINY RUINS

Mo. 29.09. Einlass 20:00 Grüner Salon

Spex, putpat tv, Radio Eins & Mit Vergnügen präsentieren:

LYKKE LI

Mi. 05.11. Einlass 19:00 Admiralspalast

intro, faze, Radio Eins & KulturNews präsentieren:

LITTLE DRAGON

Mo. 08.12. Einlass 19:00 Admiralspalast

BRAVO, vevo & Radio Fritz präsentieren:

KATY PERRY

Prismatic World Tour

Fr. 13.03.2015 Einlass 18:00 O2World

Infos unter www.mct-agentur.com

Online Tickets unter www.tickets.de Ticket Hotline: 030 - 43 6110 1313
---
What's on

MUSIC AND NIGHTLIFE

CLUB PICKS

FRI, SEP 5 - SUN, SEP 9, 23:59

Klangkost Spektakel (Tech-Tech-Techno)

By fall, the winter is finally

far enough behind us that

the line between open air

and lost weekend is all

but eradicated, even if the

rain starts collecting on

your translucent visor. The

society of this Spektakel

includes Mobilee's

TAPESH, Defected's

DAYNE S, Moodmusic's

BENNY GRAUER, Klassik Kater BRITTA ARNOLD, Watergate

reg ROBIN DRIMALSKI, Klangkost's TOM NOWA (photo)

and WONKERS, Stil Vor Talent's HRRSN, and a dozen other

locals playing multiple gigs to pay off the rent on their

tech-houses. Kosmonaut, Wiesenweg 1-4, Friedrichshain,

S+U-Bhf Frankfurter Allee

SAT, SEP 6, 23:59

Morgan Geist (Tech-Tech-House)

Showing a flair for melody

since his late-1990s

collaboration with Darshan

Jesrani in the aptly named

Metro Area (they were

all over NYC at the time),

MORGAN GEIST unexpectedly

broke through last

year when "Look Right

Through," recorded under

his Storm Queen guise,

sauntered to a UK #1, giving a boost to all the aging DJs of

EDM after Danny Tenaglia's public freak-out. He'll be joined

by Freerange's JIMPSTER, Rinse.FM's DEAN DRISCOLL,

H-Productions CARI LEKEBUSCH and the Stattbad regulars.

Stattbad, Gerichtstr. 65, Wedding, S+U-Bhf Wedding

SAT, SEP 13 - SUN, SEP 14, 23:59

5 Years Get Deep (Hou-Tech-House)

Get Deep gets the drill out

on its wood anniversary

with youthful, era-hopping

Stuttgart-ite Danillo

Plessow aka MOTOR

CITY DRUM ENSEMBLE

(photo), who claims hip

hop as his bread and

butter though he tends to

explore every electronic

genre except rap. He's on

Saturday, joined by the even greater eclecticism of Mule

Musiq label leader TOSHIYA KAWASAKI, whose Endless

Flight comps transform yesterday's influences into today's.

Also on the bill: FRANCIS INFERNO ORCHESTRA and

Tartelet's MAX GRAEF, while Sunday brings MCDE and

NANON NANSEN & CHARLIE SMOOTH. About Blank,

Markgrafendamm 24c, Friedrichshain, S-Bhf Ostkreuz

FRI, SEP 26, 23:30

Keep It Unreal!: Mr. Scruff (Scruff Ups)

Exemplifying the edge

between international

downtempo and arty

hip hop that Mo' Wax

and Ninja Tune defined

in the late 1990s, the

latter's longtime keystone

MR. SCRUFF made the

big time on a Moondog

sample and a knack for

the coldcut, though the

creator of "Jazz Potato" probably prefers Del Monte to

Oscar Mayer. For the second time in our highlights, MAX

GRAEF makes up the bottom of the bill, along with the

Gretchen/Oye regulars: the hip-hop happy DELFONIC and

BOX AUS HOLZ SOUNDSYSTEM. Gretchen, Obentrautstr.19-21,

Kreuzberg, U-Bhf Hallesches Tor

Who do you love?

By BETTI HUNTER

Now that they're electro-grandpas celebrating a 10th

anniversary, it's easy to forget that Hamburg's Digitalism

– the duo of Ismail "Isi" Tüfekçi and JENS "JENCE"

MOELLE (photo, left), were once the odd duck of dance

music, merging Francophilic electropogo Justice with

German indie melancholy.

Makes sense, then, that they've ended up on the

fashion-y French Kitsune label for their latest

endeavour, the Lift EP. Spending the last couple

of years generating new material has led to

recent collaborations with The M Machine and

Steve Duda and Youngblood Hawke, with whom

they've taken a marked detour from their signature

grit-heavy electro through the anthemic,

synth-tinged track "Wolves". That's not to say

they've abandoned their homeland and homesound

entirely. Jence and Isi have pencilled in a

one-off DJ-set at Berlin Music Week's cornerstone,

the Berlin Festival (September 5-7), now at

Arena Park and surrounding sprawl.

You're famous for recording in an abandoned

WWII bunker. Why? Err, money.

They're only good for rehearsals or storage, so

it's very cheap and we didn't have any money. But

then it turned out that it was perfect for what

we want to do – we can go in there and be loud

until six in the morning on a weekday, it doesn't

matter. No one cares: the walls are six feet thick.

We had the first bunker in Hamburg, and then

we moved to a different one after a couple of

years. Of course, we needed to treat it a little

bit, because it's concrete, so if you leave it raw it

sounds terrible. It's also, I think, a big influence

on our music, because it's very isolated. There's

no sense of time or space, there are no windows,

so you have to come up with something; otherwise

it's empty!

You can spend days at a time down there

without feeling the pressure of sunlight.

That's how it was when we started but now it's

a little bit more 9-5, or sometimes 5-9. We go

in and get a lot of looping material that we can

work with, which we then roll out and see which

pieces we can post together and want to listen to

for four minutes. The music always comes first

for us because we're not classic songwriters, and

then we sometimes try to write on top, which is

a very long process. If you do both things at the

same time it's usually faster but that's just how

we work. On the last album, we started working

with Oblique Strategies, that setup with a deck

of cards that Brian Eno came up with [with Peter

Schmidt]. You draw one and have

to stick to certain rules with whatever

you choose. If it doesn't fit, just

discard it.

DIGITALISM DJ SET

Berlin Festival, Fri,

Sep 5 - Sun, Sep

7 | Arena Park,

Eichenstr. 4, Treptow,

S-Bhf Treptower Park

Stuck in the bunker, you must be

completely isolated from what's

happening around you in Hamburg.

We've got a lot of great people

coming from Hamburg. One of them

is my neighbor; he's part of the Adana

Twins. They're playing around the world

now. Tensnake, from Hamburg, he's on

Radio 1 all the time. Solomon has gone

massive – I mean, I used to sell him

records at the shop! It used to be big

for house music at the end of the 1990s,

but then house music was dead, no one

knew what to play; there was a bit of a

void and that's how we took over. I'm

not sure how much we influenced the

development but maybe we ignited a

spark in people to think, "Oh, it is possible,

let's go and do it." However I don't

know exactly how that translates to the

club scene because I'm usually not in

Hamburg! I'm always on tour.

Hamburg is known for hip-hop and grad

school indie, not really for its EDM. When

you're from Hamburg, you like being independent.

That's one of the mottos of the city, actually.

Because we are from Hamburg we are not and we

were never part of any scene or clique. We were

quite isolated and we liked that. It's always annoyed

me when people start putting you into certain

categories and tags. It's always a bit draining

but you get used to it. And it's OK in some cases.

I mean, if they put you in the same category as

Daft Punk or The Chemical Brothers, then it's a

compliment. But the tags have changed over the

years and it's always funny because our music has

more-or-less stayed the same.

How do a couple of independent Hamburgers

stick together for a decade? I think

we've stayed on the same wavelength. Maybe

in-between there were times when both of us

went into whatever direction we were going

towards and it went a bit more extreme. Isi is

more positive but I'm the darker guy. If I watch

a movie, I prefer the baddies, so it went more

in that direction. But it's never really too far off

anything we've done for the last 10 years, really.

We're with each other almost every day, so there

hasn't been any time to part and come back with

different things to bring to the table.

Also, I don't think our tastes completely

changed over the years. It's

sometimes hard for us to keep up to

date with the latest developments in

music, but we always get around and

incorporate everything into the core

that forms our sound.

44 • SEPTEMBER 2014
---
PHOTO CREDIT

Which changed with "Wolves." It's gotten

an amazing reception thus far. Yeah, it's

crazy because we came up with this instrumental

track and people started asking about it. I think

that the core of the Digitalism musical universe

would be kind of romantic, melancholic music,

usually riff-heavy, but because we don't really

play guitars we have to program it – soundtrack-y

music that makes you move. But "Wolves" is a

bit of a departure for us. It's a bit gloomy, a bit

nighttime but it's also quite energetic and it just

clicked into place. I came to the conclusion that

if you take our last album, which was very songbased,

a bit further and add some more electronics,

you kind of end up at "Wolves." It just totally

makes sense.

To Berliners, as well? Well, it will be great to

be back in Berlin. We've had a bit of time off, so

that's given us time to come up with new stuff,

and people know already that there's always

a good chance of us drop-testing new tunes.

I'm also curious to see how it goes because the

Festival has moved [from Flughafen Tempelhof],

right? So, I don't know if that's great, yet. I think

the line up is pretty good. Though I'm just a bit

gutted because I really like Jimmy Edgar and I

think he's playing the same time. We're basically

starting up all the engines again to do this and

then go on a US tour.

At long last, the US is finally profitable for

electronic music. Some people have mixed

views about the American electronic scene because

maybe it's a bit more mainstream. But the

fact is that the big acts like David Guetta have

opened the doors over there for acts like us. It's

interesting, because we used to have a fan base in

the US and now there are all these new people,

and they've never heard of us, so it's kind of like

starting from the beginning again. Because we've

been around for awhile, but people there are asking

us, "What, you've got albums out? When did

you start making EDM?" It's a tricky one, but it's

getting there now. ■

Digitalism in

five dates

2000: Jens "Jence"

Moelle and Ismail "Isi"

Tüfekçi meet whilst

working at the

Underground Solution

record store in

Hamburg. They begin

DJing together.

2003-4: Start working in an old WWII bunker.

Remix songs by The Futureheads, Klaxons

and The White Stripes for their DJ sets.

Release their first original track "Idealistic",

which leads to them signing with Kitsune.

2007: Digitalism release their debut album,

Idealism (Virgin) in May.

2011: Release I Love You Dude (PIAS/

Cooperative), the follow-up to their debut.

Collaborate on original material for the first

time with The Strokes' Julian Casablancas.

2014: The duo returns to Kitsune to produce

the Lift EP.

45
---
What's on

MUSIC AND NIGHTLIFE

CONCERT PICKS

TUE, SEP 9, 20:00

Doc Chad (Konstruktivist Kountry Klowning)

Countrified avant-garde

diddler Eugene Chadbourne

has displayed his

paranoiac's virtuosity in a

variety of contexts – from

pure improv to twisted

rockabilly to political

comedy – for almost four

decades. His latest persona

is that of DOC CHAD,

in tandem with the drummer

Schroeder: rumors are there's a lot of banjo as well as

a double electric rake demonstration. Opener Joerg Hiller

aka KONRAD SPENGLER is more of a conceptual-art type,

heavy on the electronic processing. But the same can

be said of Elvis' vocals on his Sun sessions. Ausland,

Lychner Str. 60, Prenzlauer Berg, U-Bhf Eberswalder Str.

MON, SEP 15, 20:00

Roger McGuinn (Byrd Balladeer)

The Byrds were one of the

odder configurations of

the 1960s, long-lasting

yet only briefly hitmakers,

with an ever-shifting

line-up centred around

the chiming ROGER

MCGUINN, who, despite

leading an ensemble that

innovated in a few different

genres, wrote sparingly.

Perhaps it's McGuinn's folk roots that allowed him

to lead by absorbing the cultural fabric that surrounded

him and it's in the guise of folk singer that he shows up at

Passionskirche. Where have all the flowers gone? They're

here. Passionskirche, Marheinekeplatz 1-3, Kreuzberg,

U-Bhf Gneisenaustr.

FRI, SEP 26, 20:00

Azealia Banks (Diva Rap)

It's been almost two

years since Rihanna went

seapunk and AZEALIA

BANKS transformed into

what Spin Magazine

called "a dolphin-lover's

wet dream". Yes, the

bisexual art-school girls

have taken over the

former Thug Life McMansion

and although Banks

was cynically marketed as an underground sensation, the

groundswell for her acid-stabby "212" was real enough.

That said, it's been a couple of years – an eternity this

millennium – since her breakthrough and one wonders if

she's already soured on the game a la Angel Haze. If so,

there's always vaporwave. Huxleys Neue Welt, Hasenheide

107-113, Neukölln, U-Bhf Hermannplatz

SUN, SEP 28, 21:00

Oval/Frank Bretschneider (Glitch 'n' Pitch)

The original ghost in

the machine, Markus

Popp, aka OVAL (photo),

managed a brief period

of indie headiness in the

post-rock 1990s, despite

the insularity of his music,

usually generated from his

own software and sometimes

from the scratches

of CDs. After years of low

profile, we've been privileged with a surprisingly melodic

hard drive dump, as of late. Raster-Norton/Mille Plateaux

mainstay FRANK BRETSCHNEIDER is well paired with Popp.

Bring your soldering iron and join in on the fun. Roter

Salon, Linienstr. 227, Mitte, U-Bhf Rosa-Luxemburg-Platz

A few questions for…

The Space Lady By D. STRAUSS

Those who encountered THE SPACE LADY on the streets of San

Francisco in the 1980s and 1990s rarely forgot her. With her

accordion and Casio, Moondog-esque winged helmet and lo-fi light-up

suit, she'd sing echo-heavy covers of "Major Tom" and futurist-themed

originals written by her first husband, Joel "The Cosmic Man" Dunsany.

Years after relocating to Colorado, TSL

(real name: Susan Dietrich Schneider)

was rediscovered as an antecedent to

Ariel Pink and Julia Holter. The Space

Lady's Greatest Hits (Night School) has

led to her first ever European tour;

she'll be all shook up at Marie-Antoinette

on Mon, Sep 29.

To what extent was The Space

Lady pure theatre and to what extent was

she ideology? Gosh, that's a tough question. I

believe that everything I did was The Space Lady,

pretty much. Joel and I had a close encounter, not

with alien beings in the physical form, but we

certainly felt a strong connection after we were

scanned by that UFO on Mount Shasta, and

probably before that as well, just from our

psychedelic experiences. So, I really felt like all

the things we came up with as The Space Lady

were somehow channelled or inspired from some

cosmic guardian that was protecting us.

Did you feel like the San Francisco street

scene was a creative community? Joel and I

pretty much isolated ourselves. We were still

afraid that that there would be some repercussions

for him, having resisted the draft back in

the day. And not having children registered –

they didn't have birth certificates or go to school.

Maybe that lifestyle lent itself to my being what

people called so original [laughs].

You were less extroverted than your Space

Lady identity. I was pathologically shy! [laughs]

Joel and I were paralysed by fear. Back in Boston,

we put together a band and called ourselves Blind

Juggler, which pretty much describes what we

were doing – feeling our way in the dark. And the

THE SPACE

LADY W/SLOW

STEVE Mon, Sep

29, 21:00 |

Marie-Antoinette,

Holzmarktstr. 15-

18, Mitte, S+U-Bhf

Jannowitzbrücke

one time we really performed, Joel

played with his back to the audience.

He was afraid of being seen.

Didn't Jimmy Carter give amnesty

to the draft-dodgers in the late

1970s? Um, that's the nature of

paranoia. No matter what had

happened in that political world, it

wouldn't have assuaged Joel's fear. You

know, the CIA: "They don't care, they'll bust me

anyway, they don't like what I'm doing as an

artist." But I wasn't afraid of being seen in public

as much as he was, so I was able to go out and

scrounge for a livelihood, selling artworks,

pan-handling, finally playing music… I really

loved being The Space Lady. Yet, it was wrenching

me apart from my family. Once, I was walking

down the subway stairs with all my gear, and a

businessman looked at me and said, "How long

have you been doing this anyway?" I took it that

he meant, "You've been whipping this dead horse

for way too long, girl." And, in fact, I became

discouraged and thought, "Boy, I wasted a lot of

time, to be such a crackpot." I couldn't find a

balance, so I finally hung it up and left.

With other musicians, like Sun Ra, space is

a metaphor for alienation. You said a

mouthful. I never felt like I fit in anywhere, but I

created my own niche and that was very

comfortable. People could approach me and talk

one-on-one. What really scared me was, "Oh my

gosh, I have to talk between songs." You know, I

could play songs for six hours straight, but even

on the street, I didn't really say anything. I guess

I was probably afraid that people would see that

I was really just a human being, and a very

ordinary American girl-next-door. ■

TERRI LOEWENTHAL

46 • SEPTEMBER 2014
---
www.exberliner.com

U1 cover 121.indd 2

Issue 121 • €2.90 • November 2013

François ozon: "It was so boring to film sex, real sex." (p.30)

Felix kubin: "I really like to be dominated; by guys like you,

for example." (p.40)

shermin langhoFF: "You hear such a variety of languages in the

audience. They go even though they don't understand." (p.34)

From Grozny to

Berlin – why do so

many make the

hopeless journey?

what can the

lampedusa refugees

expect now?

An inside look

into an emergency

refugee shelter

monika

herrmann:

legal cannabis in

kreuzberg?

10/23/13 7:08 PM

Ich will nicht nach Berlin

ACUD reloaded By MIKE FLECK

Upon entering the courtyard of ACUD, with

its bright blue façade and multicoloured

picnic tables, it's almost impossible to imagine

that this was once a near-derelict (if

populous) ramshackle, a place of decadence,

substance inhalation and all-night parties.

The current state of Veteranenstraße,

where the multi-purpose building still

resides, doesn't help. It's the picture-perfect

cliché of gentrified Berlin; well-groomed

parents push newborns around in expensive

strollers whilst tourists lounge in the sun

outside fancy bars sipping on the ubiquitous

Aperol Spritz.

It wasn't always like this. For a few years,

Veteranenstraße was at the heart of the

Prenzlauer Berg party scene (and yes, there

was one). Around the turn of the millennium,

bars such as Bergstub'l and the

still-operative FC Magnet hosted sidewalk

crowds that would spill down the hill to

Brunnenstraße. Much to the profit of the

dealers that worked ACUD's basement club,

which often hosted a weirdly synchronous

mix of Africans and goths.

Poet/performer/booker Corbett Santana

was part of the regular lineup in the

early days of the club. "It was a complete

shithole. It was trashed and the toilet was so

disgusting that I had to flush it with my foot

because I didn't want to touch it. But we

didn't care – the air was laced with hashish.

It was groovy and fun!"

Back then, ACUD was run mostly by

a post-Wall art collective, and its rocky

relationship with the drug world helped

contribute to the building's original foreclosure

warning. "That connection was mostly

made by the guy who was running the club,"

explains new co-owner Julie Gayard. "The

people of ACUD rented the two floors to

this guy who was running these drum 'n'

bass/reggae parties. And he actually ran off

with lots of debts and it was those parties

that kind of pissed off the neighbours."

In 2001, the collective managed to

purchased the complex, but following a

series of extensive renovations they filed

for bankruptcy nine years later. "They

were just about to be put on forced auction.

That's when we heard about it and

thought something should be done," says

Gayard. Since early this year the complex

has been co-managed by two groups: the

original art collective, which now runs the

cinema, theatre space and café, and what

the French/German Gayard and her business

partner Johannes Braun call "ACUD

Macht Neu" (literally, ACUD Makes New)

consisting of the gallery, club/bar and studio

spaces. Aren't they worried about stepping

on the toes of the old collective? Not at all,

according to Gayard. "Eventually we want

to have a common website with the old

ACUD people and merge."

The maze-like geography of ACUD's

architecture lets the duo run multiple

events at the same time. They've organised

events ranging from highbrow conferences

discussing the works of Walter Benjamin

and Deleuze & Guattari to the electronic

jazz outfit Spleen, as well as hosting the

Torstraßen Festival's closing party. "The

interesting thing about this house is that

you don't have to conform to the old

stereotypes anymore," adds Braun. ''You

feel free in this house. It's not 100 percent

renovated. We don't want to keep it perfect;

we want it to be a transformative space."

Celebrate ACUD's official re-opening on Saturday,

September 27.

CULTURE. INTERVIEWS. REPORTAGE.

chechens

interview

Looking for

Asylum in Berlin

Germany is Europe's top destination for political refugees.

Meet the people behind the numbers.

o-PlAtz

heim

100% made in Berlin.

Printed on recycled

paper.

What's on? • Art • Fashion • Film • Food • Music • Nightlife • Stage

Subscribe

to Berlin!

ONE YEAR

(11 ISSUES)

FOR €29*

ONLY!

Get EXBERLINER Magazine

delivered to your doorstep

every month and receive a

€15 voucher to a selected

Berlin restaurant.

SIGN UP AT WWW.EXBERLINER.

COM/SUBSCRIBE

*For delivery in Germany

47
---
What's on

ART

Ai Weiwei – Framed

He may be on lockdown

but that hasn't stopped

dissident artist Ai Weiwei

from popping up all over

Berlin in the past several

months. In addition to

the massive exhibition

Evidence at Martin-

Gropius Bau and a piece

in this summer's Berlin

Biennale, the Chinese

sculptor and activist is also appearing at Neugerriemschneider,

a high-end art showroom notorious for

exhibiting exclusive, well-known artists. Since Weiwei

is as creative as he is unpredictable, there's no telling

what surprises are in store. CM Sep 17-Nov 1,

Neugerriemschneider, Linienstr. 155, Mitte, U-Bhf

Rosenthaler Platz, Tue-Sat 11-18

Bruce Nauman – Unlimited

American artist and neon

video genius Bruce Nauman's

work has a touch

of madness and a clean

polish. For fifty years the

multimedia experimentalist

has been reinventing

himself and his voyeuristic

works that illicit both

confusion and agitation.

A longtime friend of Art

Basel, the Indiana-born artist became a household

name in the 1970s and won multiple international

art prizes. His video work will be exhibited at Haubrok

for a mere two weeks, so get in and get out while

there's still time. CM Sep 12-27, Haubrok projects,

Herzbergstr. 40-43, Lichtenberg, U-Bhf Magdalenenstr,

open by appointment

Giuseppe Gonella – Evidence of Time

We're pleased to announce

Gonella's official

debut on the Berlin art

scene! His large-scale

paintings of oil and

acrylic on canvas make

use of different transparent

layers. Gonella

paints fast and furiously,

starting with poeticto-the-cliff-of-troubling

dream sequence subject matter and overlapping it

with an entirely new scenario. Always moving forward

and sometimes literally peeling back layers of paint to

reveal what's underneath, Gonella peeks over the edge

into chaos, making the images swim before your eyes

like your own reflection in water. FM Sep 6-Oct 18,

Egbert Baqué Contemporary Art, Fasanenstr. 37, Wilmersdorf,

U-Bhf Spichernstr., Tue-Fri 14-19, Sat 12-18

Jennifer Oellerich – Liquid Landscapes

Kwadrat Gallery wraps up

its end of summer break

with a brand new space

and a colourful show by

40-year-old Berlin-based

German artist and

UDK graduate Jennifer

Oellerich. Part painter

and illustrator, part

anthropologist, she uses

a variety of media to portray

a remembrance to natural forms and landscapes.

Not afraid to incorporate photography and printing,

Oellerich's painterly touch is never lost, as well as a

repeated reference to water, its movement, and the

correlation to human beings. CM Sep 13-Oct 11,

Kwadrat, Manteuffelstr. 92, Kreuzberg, U-Bhf Görlitzer

Bhf, Wed-Sat 13-19

"Show some

respect to

the people

who brought

you up" By FRIDEY MICKEL

A gallerist with an eye for raw

talent, ALEX DUVE hosts one of

Berlin Art Week's most

anticipated exhibitions.

If the week is to be seen as a reflection of the

state of art in Berlin or even globally, one must

not overlook Chris Succo's painting expo at

DUVE Berlin. Duve first appeared on the Berlin

art landscape in 2007, and his gallery quickly

gained a reputation as the number-one spot to

see emerging artists just a split second before

their meteoric rise to the top.

You started your gallery in 2007 as Duvekleeman

with Birte Kleeman. Then after five

months, she left the project to move to New

York City (where she now heads Michael

Werner Gallery). Was it clear that you would

continue? At that time Birte left, I was like, what

am I going to do? Go on myself? I realised then

that I could decide about aesthetics and concept

all by myself, do what I wanted to do. But then I

realised I had no contacts, none. Nobody had a

fucking clue who I was! When you think about it

economically, I should have stopped. Birte knew

everybody when we did the gallery together, and

when she left, I was really standing there, saying:

should I do it? But everything had just started. We

had put so much effort into the project.

Has your programme become more commercial?

Yeah, I am more commercial now,

doing painting shows more than performance

things, but I have to survive. When we started,

we had lots of conceptual, risky shows, Like Jen

Denike doing nude, dancing performances in

the gallery. Over time, I realised "Fuck, I need to

make money." I didn't want to close the gallery.

If I could, I would also do other shows. Cool

shows, amazing shows, every second show like a

freak-out crazy mega non-commercial show… but

I can't sell them. There are galleries like Chert

that are so hardcore conceptual, but you wonder:

how do they pay their bills?

What's your collecting aesthetic? My

parents collected abstract art for like 40 years.

I like abstract painting. I know that it's commercially

good to sell at the moment, but I also

like it. More than other things. So I am selling

what I like and I can only sell what I like. My

programme was always very Americanised, I was

always looking for interesting American artists.

I just continued with what I always did, and that

suddenly got really in. I showed Sebastian Black,

Paul Cowen, Ed Fornieles, and Markus Amm

(okay, he's German, but he also has an American

market) – all these guys who are now exploding.

And what's it like to work with artists and

build a gallery programme these days?

Working with an artist is like being in a relationship

– you marry somebody because you want

to be with a person for the rest of your life, but

these days it mostly doesn't work out. It's the

same with the new art market. Galleries used to

start working with an artist at a young age and

would continue with them for all their lives. Now,

artists emerge and jump around from one gallery

to another, which I don't necessarily understand.

Exactly the artists who you put so much effort

into and build up – the ones who really could

pay your bills – suddenly leave the gallery. It's

disappointing. Show some dignity and respect to

the people who brought you up. All the effort the

young gallery puts into the artist's work, being

loyal to its artists, in a way making their career

possible. Pushing the Bruce High Quality Foundation

was lots of work, I showed them at Artissima

– people were laughing at me, "what kind of

bullshit is this?". Then, just when they blew up,

they left the gallery to work with Vito Schnabel.

How did you start working with the Bruce

High Quality Foundation? I discovered them

with Birte Kleemann. We saw them in early

2007, in their studio in Brooklyn, and we thought

"Perfect. These guys rock." A big reason they

left the gallery was because it's five guys, selling

artworks that were not really expensive. Just

imagine, selling an artwork for €10,000 is €5000

for the gallerist and €5000 for them, divided by

five, so everybody gets €1000… how do you want

to live from that? Now the funny thing is that

they are big. They no longer show with young,

48 • SEPTEMBER 2014
---
cool galleries. They show with Bruno

Bischofberger, at Ammann Gallery – the

massive, very big Swiss galleries, with

really cool things at Art Basel. The collectors

come back to me and say, "Ugh,

why didn't I listen to you?", but then I

say, there are still some new chances, you

can buy Chris Succo...

ART

editor's

pick

CHRIS SUCCO Sep

12-Oct 31 | DUVE

Berlin, Gitschiner Str.

94, Kreuzberg, U-Bhf

Hallesches Tor, Tue-Fri 11-

18, Sat 12-16

Succo is becoming quite big right

now. Where'd you find him? I found

him at his MFA Diploma Show at Kunstakademie

Düsseldorf. I was like "Hey

man, you wanna have a solo show?"

"YES!" I just liked his work, and then

I showed him at every art fair – that

I did – I really worked my ass off for

him. When he was at the Royal College

in London, we would meet up and go

together to Frieze. People started to

know us together, which was also good.

There are galleries coming who are

really interested in Chris, like now it's

the question: will Chris be so clever and

start working with them, but also stay

with his young gallery?

What would you do if he left? If

Chris left, then I would really have to

second-guess... I don't think I would

close the gallery, but I would have to

build up somebody again, and again and

again... With all the stress, you get a

heart attack. But it's a passion, and I like

it too much. ■

Street art on an (Urban) Spree

For the past 30 years, the art world has had a playful fascination with

street art: Basquiat, Banksy, Fab 5 Freddy. Shepard Fairey's command for

us all to "OBEY" has left us in a trance. These days, the milieu has

reached such a hype that it ensures a sort of 'backdoor pass' to many

self-educated artists who got their cred painting public walls, both urban

and rural. While huge galleries worldwide vie for exhibitions aiming to

somehow recreate the magic one finds in the street, the social and

political commentary and dialogues that underlie the work in its true

element are lost. While this genre has thrived on our cultural radar for

three decades now, it's largely gone without any art historical analysis.

This and the lack of context leaves many art lovers high on the hype

without any true understanding of what is going on, preferring to call the

artwork in the gallery 'art' and on the street

'vandalism'. This month Urban Spree presents

an exposé on the state of urban art through the

eyes of the international street crew DUBL

TRUBL, who have invited more than 80 of their

friends to Berlin to create and collaborate on

works to be presented in Urban Spree's rough

Revaler Straße space. The artists are paired off

in twos, the collaborations

both displaying the presence

of the social aspect in street

art, while examining each

artist's personal style in

tandem. Miss Van and Ciro,

Ghost Patrol and Merde,

Lush and Dscreet, Tizer and

Ebot will all be there. Come

check it out. FM

DUBL TRUBL

Sep 18-Oct 26 |

Urban Spree, Revaler

Str. 99, Friedrichshain,

S+U-Bhf Warschauer

Str., Tue-Sat 12-19

Wed-Mon 10am-7pm, closed Tue

49

Pabst © Walker Blue Evans Ribbon Archive, The Sign, Metropolitan Chicago, Museum Illinois, of Art 1946, Gestaltung: Collection Ta-Trung, of Clark Berlin and Joan Worswick
---
What's on

ART

Katharina Grosse

German abstract painter,

art professor and newly

published author Katharina

Grosse has been developing

her monumental

space-scapes in Berlin for

over a decade. Meanwhile,

Grosse has gained global

recognition and a slew of

international exhibitions

with swooping object

and painting installations that tower over visitors like giant

kaleidoscopes. Her paintings use colour relationships to

maximize the perceived size of a space, making it feel bigger

than it is. Rich and forceful brush strokes convey movement,

characterising her specialised installation style. CM

Sep 20-Nov 7, N.B.K. Showroom, Chausseestr. 128/129,

Mitte, U-Bhf Oranienburger Tor, Tue-Fri 12-18, Thu 12-20

Markus Keibel – Brute Force

Brute force is a hacker's

term for a method of

illegal, fast access

to secured computer

systems to overcome

virtual walls. Markus

Keibel reappropriates

this meaning, drawing a

storyline between his new

cycle of works, in order to

examine and implement

both unthought and individual thoughts into society.

The show's leitmotif works quite interestingly, as it truly

brings the already-living circular drawing to life. Working

with undertones dealing with the element of fire and the

diversity of creative destruction, the show moves from

two-dimensionality into a full-on space installation. FM

Through Oct 4, AJL Gallery, Potsdamer Str. 98A, 2. Courtyard,

Schöneberg, U-Bhf Kurfürstenstr., Tue-Sat 14-18

Rui Calçada Bastos – Passagem de Nível

Lisbon-based curator

Joao Silvério leads

Bastos' epic photography

on a journey of chance

encounters. The images

bear a slightly blurred

indiscipline of gaze, which

betray a personal feeling

in each captured motive,

making them more than

just documentation. His

multiplicity of approaches questions the images as proof

of different occurrences in a yet-to-be-named reality. Interceding

through the space are minimalised sculptures and

"marks" that play three-dimensionally with poetic memory

and the reality that continues beyond the photographic

edge. FM Sep 4-Oct 18, Invaliden1 Galerie, Schönleinstr.

25, Kreuzberg, U-Bhf Schönleinstr., Tue-Sat 11-18

Petrus Wandrey: Digitalism Art

This exhibition takes the

visitor to the birth of new

frontiers of contemporary

art through the works of

digital art pioneer Petrus

Wandrey. Wandrey, who

died in 2005, worked with

a fascination of science

and technology to create

the Digitalist Movement,

which started in 1978 in

New York City. He played a lot with pixels at a time where

most people had no idea that they existed, exploring

media from two-dimensional imagery on monitors all the

way to large-scale sculptures made from computer junk or

individually manufactured hardware. FM Through Sep

28, Zitadelle Spandau, Am Juliusturm 64, Spandau, U-Bhf

Zitadelle, Mon-Sun-10-17

Has the

autumn of art

lost its heart?

It happened quickly and quietly

in summer, arousing minimal

attention. Shortly before initiating

a new auction-style format,

Berlin's self-proclaimed

"emerging" art fair Preview

Berlin was submerged – permanently

– behind the backs

of two of its three organisers in

only a handful of weeks. It's the third

founder, Kristian Jarmuschek, whose

facile shuffling of ideas into new

hands has birthed a brand new art

BERLIN ART

WEEK

SEP 16-21

fair, POSITIONS. The new fair promises, as Preview

used to, a new kind of art fair that sheds the predictable

white cubes, adapting itself to Kaufhaus

Jandorf, a decrepit Berlin-style department store

building – or, as the awkwardly translated English

on the slapped-together homepage boasts, a

"renovated former house of fashion". It seems the

only difference now between Berlin Art Week and

Berlin Fashion Week is the absence of some deep

pockets called Mercedes & Benz. Airport, factory,

or department store, the story is all too familiar,

and not the first or even second time Berlin's

fairs have played musical chairs during the city's

touristy art season.

The art fair biz started in Cologne, of all places,

with the beginnings of Art Cologne in 1967. The

world's first fair of its kind, it prompted a global

audience to descend on Cologne to buy art. After

the German city started attracting buyers formerly

flocking to Paris or New York, artists like Joseph

Beuys and Wolf Vostell channelled the idea of a

contemporary marketplace towards Berlin in the

1990s – thus the four-week Kunstherbst (autumn

of art) was born. Themes like "Art for Everyone"

(2007), "In Union with Art" (2005) and "Art and

the Market" (2004) employed by FU Professor

Klaus Siebenhaar, incorporated the artists' direct

involvement. Since 1996 there was one fair at the

forefront around which the others were scheduled,

Art on the cheap

If you're just as repulsed as we are by the printed

canvases sold in Ikea's "art" section, you'll be

thrilled to hear that a Berlin startup project is

launching SCHAU

FENSTER an affordable

art shop

with unique silkscreen

prints, editions,

catalogues

and other objects.

Many pieces are

priced at €100

or under,

and are

produced

by the local

art crowd,

including

44

Flavours,

SCHAU FENSTER

RAUM FÜR KUNST

Lobeckstr. 30-35,

Kreuzberg, U-Bhf

Moritzplatz

JOHANNA SCHMITZ

and up until 2011 its name was Art Forum, reigning

on Berlin for 15 years.

That is, until organisational efforts with rival ART

BERLIN CONTEMPORARY, a four-year-old independent

fair with roots in spring's Gallery Weekend, fell

through and Art Forum was scuttled. Just one year

later, Berlin Art Week was born, drowning with it the

memory of Art Forum and its sister fair Kunstsalon,

organised by Edmund Piper, which succumbed

to substantial budget cuts in 2012. The entire

concept of a Kunstherbst was gone, and with it its

intentions. Berlin Art Week uttered little mention of

its founding fathers, and ABC ascended into head

position, where it resides today. But now the closest

resemblance to an actual marketplace is BERLINER

LISTE. It has the highest concentration of self-represented

artists and art universities, and is produced

separately from ABC and Positions. The problem

is, as soon as the artists themselves ceased to be

part of the production process, Kunstherbst lost its

edge. CAMILLE MORENO

POSITIONS BERLIN Sep 18-21 | Kaufhaus Jandorf,

Brunnenstr. 19-21, Mitte, U-Bhf Rosenthaler Platz

ART BERLIN CONTEMPORARY Sep 18-21 | Station Berlin,

Luckenwalder Str. 4-6, Mitte, U-Bhf Gleisdreieck

BERLINER LISTE Sep 18-21 | Postbahnhof, Straße der

Pariser Kommune 8, Friedrichshain, S-Bhf Ostbahnhof

Emess, Klub7, Stohead and Various&Gould. The

creators of the shop have been organising the

city's Party Arty since 2003, which has always

incorporated art with music, urban culture and

performance. As part of the opening, 44Flavours,

Klub7 and Stohead

will each offer an

exclusive print only

available from the

shop. In a time

when Berlin flounders

to support the

arts, the accessibility

factor of cheap

art for sale is undeniable.

Celebrate

the launch at the

second edition of

the urban art fair

Conturbanaries,

happening September

18-21. CM

50 • SEPTEMBER 2014
---
The language school directory

Find the perfect school for you to learn German easily in any part of town.

Where it's fun to learn German.

Great German teachers

Join anytime

Exams and certificates

• In the middle of Berlin-Neukölln

Kreuzschlitzschraubendreher

Struggling with

your

GERMAN?

Torstraße 125, 10119 Berlin

Direkt U Rosenthaler Platz

infoberlin@das-akademie.de

Tel: +49 30 250 980 68

small

classes

great

teachers

www.das-akademie.de

DAS method

We

make you

speak.

4 weeks

Deutsch

188€

die

deutSCHule

Karl-Marx-Straße 107

12043 Berlin-Neukölln

Voice +49 30 6808 5223

www.die-deutschule.de

where

interesting

people meet

gls campus

kastanienallee 82 . p-berg

www.gls-berlin.de

SPRACHwerk

die Sprachschule im Fachwerkhof

"Learn German through

English"

• Bilingual Teaching Method

• Comparative Approach

• Individual Lessons

• Intensive Group Course

• Accent Reduction

Solmsstraße 30 10961

Tel: (030) 44 73 1949

www.sprachwerk-berlin.de

Want to sublet

your flat?

Simly register your flat online:

www.exberlinerflatrentals.com

Tel: 0049 30 47372964,

Max-Beer-Str. 48, 10119 Berlin

Office hours: 10.00 to 14.00

Language School

TestDaF-Zentrum

Improve your German!

Competent German teachers

+ small groups + friendly

atmosphere

Now located near

Potsdamer Platz

Potsdamer Str. 98a,

10785 Berlin

030 2300 5570

www.ifs-deutsch.de

✓

✓

✓

ESL PROLOG – Berlin

German courses + 16 other languages

Exam Centre telc, Cambridge ESOL

Teacher Training

Berlin

ESL PROLOG

...die Sprachenschule

seit 1986

www.prolog-berlin.com

Hauptstr. 23/24

10827 Berlin-Schöneberg (U7 Kleistpark)

781 10 76

47
---
BERLIN BITES By FRANÇOISE POILANE

ERICA LÖFMAN

Masel Topf: Un-kosher delights

Since Masel Topf is conveniently located across

the street from the Rykestraße synagogue, passersby

and tourists are expected to get the pun.

It might not amuse believers exiting the temple,

though. Not that they'll eat here anyway – the

only kosher thing on the menu is the excellent

Tishbi 2011 Merlot from Israel. And there's even

pork shashlik, titled "The allure of the forbidden".

Playful touches include a taxi door imprinted

with a faux stamp of kosher certification

hanging over the bar, created by an artist friend

of the restaurateurs.

In other words, don't expect textbook Jewishness

at Masel Topf. Obviously there is no single

Jewish cuisine, and the owners decided to serve

dishes inspired by three places Jews live: Israel,

New York and Eastern Europe. In short: falafel,

burger, borscht. The latter has the strongest

presence – unsurprising, as the owners have

chalked up one success after another with a number

of Russian restaurants across town – with

many dishes "inspired by" Russian grandmas'

recipes. One of the owner's sisters oversees the

all-Russian kitchen staff, throwing her own contemporary,

at times 'fusiony', touch in the mix.

All the usual suspects of Russian cuisine make an

appearance: soljanka soup (the poultry version),

borscht (white bean vegetarian), blinis (veg or

not), vareniki dumplings (filled with potato,

cheese or mushrooms and pan fried), etc... but

don't be surprised if some lime yoghurt or mango

sauce shows up with your food.

The "Tel Aviv" vegetarian starter plate (€9)

feels like something you'd get in a Californian

café, arranged on a white platter: falafel filled

with feta, hummus, fried eggplant, slices of

oven-roasted Hokkaido pumpkin, avocado, and

a veggie aubergine dip. The Berlin appetiser

combo (€17) will feed two hungry souls (or 4-6 if

ordered as a starter) with most of the above cold

'tapas' and many more, including herring tartar

on baked apple (Vorschmack); trout mousse with

delicious Borondinsky bread (the famous Sovietstyle

sweet dark rye with a distinctive coriander

flavour), cured salmon on potato pancakes, a

convincing Russian take on ratatouille, breaded

goat-cheese balls... all-in-all, 14 homemade

delicacies served in charming little glass jars arranged

along a boat-shaped platter. There's even

a sample generous of the home-cured pastrami

with (also homemade) pink berry mustard; the

flavourful, very lean meat can also be ordered in

typical NYC sandwich style on rye bread with

mustard and coleslaw. They also make their own

challah bread, damn good soft white slices.

Though we were already pleasantly stuffed

ourselves, the meal continued with two examples

of Jewish stuffing: the Pulke (€14) and the

gefilte fish (€17). The former – with the exception

of the apple-mango sauce – seems a lot like

a dusted-off granny classic from Ukraine, where

the restaurant's manager hails from: take a

chicken leg, carefully remove the skin, strip the

meat from the bone, chop it and blend it with

chicken liver, then stuff the skin with the mix,

creating a funny boneless drumstick. Served

with three small latke potato pancakes. Delicious,

though perhaps lacking a veggie side.

As for the fish, it is 'gefilte' only in name. It's

more of a vertical roulade, a hefty zander filet

rolled around a mix of cured salmon, spinach

and walnuts. The intended result is a 'volcano' on

your plate, although our horseradish sauce wasn't

bubbling the way it was supposed to (apparently,

on some days, it does!). The plate is prettified

with a dollop of apple chutney, a colourful

carpaccio of red and yellow beetroot and some

caramelised sweet shallots.

A well-executed wintery dish is braised lamb

shank, so perfectly cooked for hours that the meat

slides off the bone sumptuously – served with

mashed potatoes, spicy prunes and Zimmes (slowcooked

carrots with cinnamon). All mains come in

portions that will satisfy the biggest of eaters.

This is a place for long, autumnal nights, when

you're craving elaborate meals, slow-stewed

meats, hearty roasts, braised vegetables and

mashed potatoes. We were served by a friendly

English-speaking waitress who laid the silver

cutlery on the table with a cotton glove. The interior

reassuringly evokes elegant Czarist times:

starched serviettes, Biedermeier-style furniture

and Art Deco touches

as well as the retro wallpaper

and baroque chis-

MASEL TOPF

Rykestr. 2, Prenzlauer

Berg, U-Bhf

eled glass chandeliers.

For those in the know:

Senefelderplatz,

more Pasternak than Mon-Sun 18-1

Gorki. ■

52 • SEPTEMBER 2014
---
Oui, Madame:

French for

Germans

Although dance music producer Jean-Baptiste

Martin was brought up in a part of France

where kids were given plum brandy to sleep

well (Exberliner disclaims responsibility for this

advice), neither he nor his co-founder, Chileborn

former store manager Christian Fonseca

have wine backgrounds. Consequently, their

wine bar Oui, Madame, open since mid-June,

has nothing esoteric to it. Hidden on a cosy

corner behind Rosa-Luxemburg-Platz, it

might feel a little remote. Yet there are already

regulars, many of them French, and the owners

seem to befriend most guests – which is potentially

what makes the service a little slow. Apart

from word-of-mouth, they attract customers

through events like Tuesday boules and pastis

by the Volksbühne (€5, including 2 pastis) and

monthly improv theatre evenings.

The wine blackboard is limited (four whites,

five reds, two rosés and a handful of sparklings,

€4.80-7/glass) but changes at least once a month.

Work your way through them with a generous

cheese plate (€9), normally containing three

cow cheeses, one goat and one sheep, decorated

with strawberries, sliced peaches, dried figs and

a pile of rocket salad and bread. Fruity, unoaked

Cabernet-Grenache blend Le Petit St. Jacques

ERICA LÖFMAN

from Languedoc (€4.80/glass, €18/bottle) is

easy to enjoy with the nutty, savoury and mature

hard cow cheese Salers (from Auvergne) or the

musty, gamey sheep milk Tomme d'Estaing from

the Pyrénée mountains. Both owners favour

Abondance, an aromatic, semi-hard mountain

cheese similar to Comté, which pairs surprisingly

well with crispy Tourain Sauvignon blanc Clos du

Porteau Le Courlis (€5.50/glass; €24/bottle).

As for the buttery, salty blue cheese Bleu

d'Auvergne (think Roquefort, only creamier),

aim for something sweet rather than the dry

reds you're recommended. Our tip: ask for the

honey-coloured Ratafia de Bourgogne, a special

kind of aperitif with complex flavours of dried

fruits and elderflower that will knock you off

your feet. The only disappointment is the bread,

some generic whole-grain

slices that can't match a

nice cripsy baguette. But

they also offer a great

salami plate, and the

French don't need bread

to eat saucisson! HW

OUI, MADAME

Almstadtstr. 43,

Mitte, U-Bhf Rosa-

Luxemburg-Platz,

Mon-Sat 17-24

Vego chocolate:

Nut just for vegans

While most dark chocolate is dairy-free by default, the hunt for creamier versions

is a minefield for strict vegans. Thank Prenzlauer Berg company Vego Good Food

for their new (and massive!) Vegobar, a gianduja-like treat made from Italian chocolate

and hazelnut cream with whole hazelnuts embedded throughout. Though politically correct

(vegan, organic, gluten-free, fair trade), we'd buy it for the rich, nutty taste: think Nutella, turned into a

hard, slightly crumbly bar. Buy your 150g XL chocolate bar at your local organic store for around €3.50. HW

LPG BioMarkt GmbH · Mehringdamm 20–30 · 10961 Berlin

7x in Berlin

Charlottenburg: Kaiserdamm 12

Friedenau: Hauptstr. 78

Kreuzberg: Mehringdamm 20

Kreuzberg: Reichenberger Str. 37

Prenzlberg: Kollwitzstr. 17

Treptow: Bouchéstr. 12

Now also in Steglitz:

Albrechtstr. 33

NEW

Welcome to bio paradise

LPG

BioMarkt

fair & local since 1994

Honey 1kg from 5,99 € *

Wine 0,75l from 2,49 € *

Kiwis 1 piece from 0,19 € *

Bread 1kg from 2,25 € *

Musli 1kg from 2,79 € *

Potatoes 1kg from 1,79 € *

*Permanently reduced prices for members

Check our new website for special

offers and a lot more information:

www.lpg-biomarkt.de

53
---
FASHION By JESSICA SALTZ

■ FASHIONISTAS

"She's done it again!"

BAG IN

BUSINESS

Part of Berlin's growing constellation of young

menswear designers, SISSI GOETZE is well on her

way to a stellar career.

Goetze founded her eponymous label in Berlin in 2011

after completing her master's degree at London's

renowned Central St. Martin's College, and has not

looked back. She won Berlin's Start Your Fashion

Business award in 2012 as the "menswear label

to watch", and many in the local fashion

business and beyond are indeed taking notice;

she is a firm fashion editor favourite and has

been picked up by stores as local as Berlin's Voo

Store and as far away as Japan. "It was

really strange to be in Tokyo and see a

client walk in off the street in my

clothes," Goetze says modestly.

She acknowledges the "focus on

menswear" developing in

fashion at the moment, but

explains that her interest in

men's clothing came from the

challenge of working within

strict parameters: "With

women's clothing everything

has to be new each season," she

explains. "You have to think about

new silhouettes and fabrics. Men's

wear is always consistent; part of the

challenge is doing something new

with the same standard pieces."

Despite the limitations, Goetze is

breathing a new life into wardrobe

■ SHOP OF

THE MONTH

Prag Pop-up

The Prag PR agency

represents some of our

favourite Berlin labels

like Lala Berlin, Lika Mimika

and Michael Sontag.

Their stylish but

diminutive Mitte store

is like a fantasy walk-in

wardrobe. Friedrichstr.

40, Mitte, U-Bhf Kochstr.,

Tue-Fri 11-19, Sat 12-17

staples – her most

recent packed-out

presentation during

July's Mercedes

Benz Berlin

Fashion Week saw

the designer's

ability to mix

fabric, cuts

and – for the first time – a print, whilst staying

within the remit of her purist outlook. As one top

fashion editor sighed at the show: "She's done it

again." Her inspirations may come out of left field

(that show for example was, according to

Goetze, "a mix of American B-boy and

Mediterranean style"), but the clothes

themselves make perfect sense: fitted

blouson jackets, high waists and the stripe

down the side of pants "that makes me

think of the Italian Carabinieri,"

Goetze laughs. She has been much

credited for her signature shoulder cut

– a rounded raglan form "that is is

rounded but accented," the designer

explains. This trademark is consistent in

her collections and makes for a relaxed,

contemporary look that lends itself to shirts

and jackets. A tiered bib front on the front of

a white shirt, or a tactile mélange cotton

fabric – her knack for mix-and-match details is

what makes her one of this city's most

promising young talents. www.sissigoetze.com

ANDREAS MÜHE PRINT

SANDRA RATKOVIC

Whether you are heading

back to the office, school,

or just back to bed this

September, you should

at least look like you

mean business. Suits are

generally regarded with

suspicion in Berlin, but a

job-appropriate accessory

is always a good thing

whether employment is

something you're into or

not. A leather work bag,

such as this one by Deepmello,

will lend its carrier,

male or female, an immediate

sense of gravitas.

Briefcase-y in form, it just

looks like it is full of important

documents, even

if it actually just contains

a half-eaten kebab and a

dog toy. I've ranted about

canvas bags in this column

before, but flimsy cotton

never did a business

leader make, let's face it.

The satchel's time in the

fashion spotlight – and all

the awkward schoolgirl

connotations it brought

with it – is thankfully behind

us and rucksacks are

the preserve of DJs and

backpackers. So for God's

sake get yourself a leather

holdall for autumn and

let your bag do the work

for you.

54 • SEPTEMBER 2014
---
SPOTLIGHT

ARTICLE TAG

Tepees on the Spree By Dominic Mealy. Photo by Veronica Jonsson.

Sandwiched between the overgrown shoreline of

the Spree River and the graffitied husk of the old

ice factory by Jannowitzbrücke is the shambolic

strip of improvised huts and tarpaulin tents

known as Teepee Land. First conceived in 2012

as a proto-native Indian utopia by the Odinworshipping

neo-pagan Flieger Fischer (photo),

the camp has since turned into a more prosaic

squatter settlement – a "public land development",

as longterm resident Olly calls it. Says

the ponytailed Englishman, "We're looking to

improve the land, not just use it."

Approaching from the Schillingbrücke, you

hear a mix of German, English and southern and

eastern European languages coming from an array

of figures: some sweeping, one rolling a shopping

trolley of Pfand bottles, others relaxing with

a beer. There are 13 permanent residents and a

constantly changing cast of up to 30 guests, from

young idealists to grizzled veteran squatters,

from the destitute to the homeless-by-choice.

"I wanted to experience communal living," says

Sara, a New Zealand anthropology graduate. "It's

a great experiment." Meals are communal and a

by-donation café covers tobacco, toothpaste and

a fund for medicines. Decisions are made in a

weekly group meeting that can take hours. Everyone

pitches in, even though it's not mandatory.

Besides a programme of free film screenings,

skill sharing workshops and the obligatory Balkan/reggae/punk

concerts, the group has joined

forces with local residents and businesses to

rejuvenate Spreeuferweg, the currently dilapidated

riverside strip, and protest against city

government plans for the area to be developed

into a wide concrete "promenade". Teepee

Landers clear the path through the camp on a

daily basis and are building vegetable patches to

complement the nearby ID22 urban gardening

project. An alliance has also been fostered

with the site's neighbours, the five-year-old

120-strong cooperative housing project Spreefeld.

"Some members of the cooperative might

prefer if they weren't there," says Spreefeld

resident Manfred, a retired academic. "But that's

a minority opinion. We get along well, the Teepee

people are friendly people." The thing he's most

excited about? "They're talking about raising

chickens! I'd love to buy eggs on my doorstep."

It's not all buttercups and daisies for our erstwhile

Indians. "Sanitation remains a really big

issue," says Sara bluntly. Yet spirits remain high.

"We just have to keep working at it," says Polish

resident Alex enthusiastically. "Look at Christiania,

it has lasted because of the work people

have put in. We could achieve something like

that… without the drug dealing, of course!" n

55
---
ADVERTORIAL

The Berlin guide

The new directory to help you find your way around Berlin.

To advertise, contact ads@exberliner.com

mitte

Prêt-à-Vélo Carefully handcrafted

bicycles from England, Italy

and Belgium meet high-quality bags,

smart accessories for a day of biking

in the city, chic functional clothing

and office-ready bike shoes. As premium

partners of the brands Brooks

England and Fahrer Berlin, they focus

on sustainably designed products

that are produced in Europe

and that can often only be found in

their store. Fehrbelliner Str. 17, U-

Bhf Rosenthaler Platz, Mon-Fri 12-19,

Sat 10-16, www.pret-a-velo.de

Konk This charming boutique

has a huge selection of Berlinbased

designer fashion including labels

Anntian, Boessert Schorn, Hanna

Pordzik, Isabell de Hillerin, Hui Hui,

Kiesel, Mikenke, Naoko Ogawa, Nico

Sutor, Penelope's Sphere and Thone

Negrón. Support your local designers

and look fab! Kleine Hamburger Str.

15, U-Bhf Rosenthaler Platz, Mon-Fri

12-19, Sat 12-18, www.konk-berlin.de

Roland Weiss, Lawyer

Are employment law problems getting

you down? Roland Weiss (German

attorney at law) has advised

German and international clients on

labour law for more than ten years.

He speaks German, English, Swedish

and French. Tucholskystr. 18-20, S-

Bhf Oranienburger Str., Tel 030 3406

0390, www.weisslegal.de

Fire Bar After reunification, Berlin

exploded with underground bars.

In Fire Bar you can still feel the spirit

of the Berlin underground. Che-

Icons

Food

Drinks

Coffee

Shop

Gallery/Art

Entertainment

Music

Languages

Wellness/Fitness

Beauty

Services

ap drinks, sofas, funky lights. The

fire is always burnin' in this cosy cellar

bar. Krausnickstr. 5, S-Bhf Oranienburger

Str., Mon-Sun from 20,

www.fire-club.de

Kilkenny Irish Pub

Natives and visitors alike converge

to drink and party at this pub under

the beautiful Hackescher Markt station.

Enjoy homemade Irish and international

pub grub plus a huge vast

selection of beers and spirits. Catch

all the international sports on big

screens. Live concerts two to three

nights a week. Plus a sun terrace and

easy 24h access to public transport.

Am Zwirngraben 17-20, S-Bhf Hackescher

Markt, Mon-Sun from 10,

www.kilkenny-pub.de

Hinterm Horizont Enjoy

an authentic Berlin story about

Germany's reunification at Potsdamer

Platz, the site where the wall once

stood, and experience a moving love

story between East and West featuring

the greatest hits of Udo Lindenberg.

Relive the most significant

moment of German-German history

up close. An absolute must for every

visit to Berlin! Stage Theater at

Potsdamer Platz, Marlene-Dietrich-

Platz 1, S+U-Bhf Potsdamer Platz,

Tel 03871 2115 530, www.hintermhorizont.com

Blue Man Group New look,

new scenes, new songs and all the

popular classics combine to create

Blue Man Group's best show ever.

Over the past decade, it has developed

into the most successful show

in the German capital. An absolute

must for every Berliner and tourists

from all over the world. Stage

BLUEMAX Theater, Marlene-Dietrich-

Platz 4, S+U-Bhf Potsdamer Platz,

Tel 03871 2115 530, www.bluemangroup.de/international

Dolores Founded 10 years ago

as a street food pioneer in the German

capital, Dolores serves excellent

California-style burritos and quesadillas

– inspired by San Francisco's Mission

district. Recommended by Time

Out, New York Times, Lonely Planet.

Voted #1 value for your money by Exberliner

readers. Rosa-Luxemburg-

Str. 7, S+U-Bhf Alexanderplatz, Tel

030 2809 9597, Mon-Sat 11:30-22,

Sun 13-22, www.dolores-berlin.de

Sauerkraut In a cosy, woodpanelled

room, German and American

cultures (Donald Duck meets

Hansel and Gretel!) clash head-on

with a menu of meaty delights. Seven

kinds of homemade Wurst, interesting

burgers and original tapas.

Daily lunch specials for €7.50.

Weinbergsweg 25, U-Bhf Rosenthaler

Platz, Tel 030 6640 8355, Mon-

Fri 8-1, Sat-Sun 9-1, www.restaurantsauerkraut.de

Tommi's Burger Joint At

this London import, you'll find classic

no-nonsense black Angus beef burgers,

medium grilled, just like Tommi

likes it. Kick-ass veggie burgers for the

non-Fleisch eaters and milkshakes that

taste better than yours. Invalidenstr.

160, U-Bhf Rosenthaler Platz, Mon-

Sun 11:30-22, www.burgerjoint.de

prenzlauer berg

Godshot belongs to the top of

the league, with excellent coffee and

super-friendly staff. Above all, they

know their stuff. Take your time, enjoy

the casual, laid-back atmosphere

of a great neighbourhood and one

of their delicious cakes. Immanuelkirchstr.

32, U-Bhf Senefelderplatz,

Mon-Fri 8-18, Sat 9-18, Sun 13-18,

www.godshot.de

LPG Biomarkt Your all-organic

neighbourhood supermarket

supplies fruit and vegetables,

meats, cheeses and even cosmetics.

Fill your basket with freshly baked

bread and treat yourself to a selection

of sweet and savoury goodies.

Kollwitzstr. 17, U-Bhf Senefelderplatz,

Mon-Sat 9-21, bakery from 7,

www.lpg-biomarkt.de

Engelberg has exactly the thing

to satisfy your South German comfort

food cravings. Besides the rotating

weekly menu, there's Alpine

cheese, sausage from a small southern

butcher, delicatessen breakfast,

cake, bread, wine and Likör galore.

Oderberger Str. 21, U-Bhf Eberswalder

Str., Tel 030 4403 0637, Tue-Sat

10-22, Sun 10-20, www.engelbergberlin.de

The Green Room is a centre

for holistic, green medicine. Here

you'll find an international team of

complementary health practitioners

who offer consultations in English

and German. Holistic therapies at the

Green Room include homoeopathy,

psychotherapy, coaching, hypnosis

and EMDR, Neurological Integration

System and PSYCH-K, Ayurvedic and

Tibetan massage, classical and pregnancy

massage, past-life regression

and yoga. Hufelandstr. 34, Tel 030

4208 4030, www.thegreenroom.de

No Wódka showcases the

best of today's lively Polish art and

design scene. The concept store features

a range of contemporary Polish

fashion, homeware and furniture and

also hosts exhibitions of work by Polish

artists. Pappelallee 10, U-Bhf

Eberswalder Str., Mon 12-19, Tue-Sat

11-19, www.nowodka.com

Nalu They call themselves the

Homeland of the Freefill, but Nalu

is much more: here you'll score USstyle

breakfasts, comfort food and a

great cheeseburger plus tasty lunch

and dinner specials. Finish your meal

with a malted milkshake or root beer

float! Dunckerstr. 80a, S-Bhf Prenzlauer

Allee, Mon 9-16, Tue-Sun 9-22,

www.nalu-diner.com

Memory It's easy to see why

Kylie Minogue shops here: a haven

for vintage lovers, the small boutique

offers an extensive range of 1950s

to 1970s treasures from handbags

and suitcases to jewellery and evening

dresses… at affordable prices!

Schwedter Str. 2, U-Bhf Senefelderplatz,

Mon-Sat 14-19

friedrichshain

Hirsch At first glance you

might be excused for overlooking

this pub, but upon entering you'll be

glad you didn't. This bar combines

intimacy reminiscent of an English

pub with traditional southern German

food, like Spätzle and Maultaschen,

and a huge selection of beer.

Kopernikusstr. 3, S+U-Bhf Warschauer

Str., Mon-Sun from 16, www.

hirsch-friedrichshain.de

iMazing Looking for Apple

products? At iMazing, friendly and

well-trained staff are ready to assist

you with all your equipment needs

and IT services. Whether you're interested

in buying or have a warranty

repair, you'll find quick, efficient

help here. Gürtelstr. 42, U+S-Bhf

Frankfurter Allee, Tel 030 2005 3660,

Mon-Fri 10-13/14-19, Sat 12-16,

www.imazing.de

Monster Ronson's Ichiban

Karaoke is the world's craziest

karaoke club. Make out on

their super-dark dance floor, get

naked in the private karaoke boxes

and sing your favourite songs all

night. Warschauer Str. 34, S+U-Bhf

Warschauer Str., Mon-Sun from 19,

www.karaokemonster.de

No Hablo Espanol Delicious,

freshly made San Franciscostyle

quesadillas and burritos served

by a collection of fun-loving international

folks. Every Wednesday, challenge

the NHE team in a game of

rock paper scissors and win a half-price

meal. Kopernikusstr. 22, S+U-Bhf

Warschauer Str., Mon-Sun from 12,

www.nohabloespanol.de

Hops & Barley Serving

home-brewed pilsner and dark beer,

this is the place to go to get that proper

brew-pub vibe in Friedrichshain.

56 • SEPTEMBER 2014
---
fresh, seasonal German and continental

dishes at reasonable prices. Breakfast

on weekends and holidays. Live

music and parties start after dessert.

Mariannenplatz 2 (Bethanien), U-Bhf

Kottbusser Tor, Tel 030 600 318 600,

Mon-Sun from 11, www.3schwesternberlin.de

LPG Biomarkt Your all-organic

neighbourhood supermarket

supplies fruit and vegetables,

meats, cheeses and even cosmetics.

Fill your basket with freshly baked

bread and treat yourself to a selection

of sweet and savoury goodies.

Reichenberger Str. 37, U-Bhf Kottbusser

Tor, Mon-Sat 8-21, bakery

from 7, www.lpg-biomarkt.de

Café Morgenland On weekends

and holidays you'll find a great

buffet here, complete with gourmet

cheese, fresh fruit and veg, crêpes

and other vegetarian dishes, cold

cuts, shrimp cocktails and more. Set

menus from €5. During Happy Hour

drinks are just €3.50 after 20:00. Reservations

suggested. Skalitzer Str.

35, U-Bhf Görlitzer Bahnhof, Tel 030

6113 291, Mon-Fri 9-1, Sat-Sun from

10, www.morgenland-berlin.de

AGATA SASIUK

Rosa Caleta You'll find what

is surely Berlin's finest Jamaican food

in a side street a stone's throw from

Görlitzer Bahnhof on the U1 line. Live

music, art exhibitions, catering and

an intimate dining atmosphere offering

creative dishes with a European

touch. Great homemade cake selection.

Muskauer Str. 9, U-Bhf Görlitzer

Bahnhof, Tel 030 6953 7859, Tue-

Sat 18-23:30, Sun 14-1, kitchen until

23:30, www.rosacaleta.com

Cider and wheat beers are also on

tap. Part brewery, part bar, the interior

is beautifully decorated with antique

tiles. Wühlischstr. 22-23, S+U-

Bhf Warschauer Str., Mon-Sun 17-2,

www.hopsandbarley-berlin.de

Mexican Street Kitchen

Savour Mexican deliciousness in

Friedrichshain – as colourful as the

Kiez. Salads as green as the Yucatan

jungles and salsas as fiery as Mariachi

music. Don't be afraid of the Luchador

masks! "El Bosque" is ready to

protect, tortilla in hand. Simon-

Dach-Str. 7, S+U-Bhf Warschauer Str.,

www.facebook.com/MSKBerlin

Milja & Schäfa serves homemade

pasta made fresh daily, crisp

salads and daily specials in pleasant

surroundings, blending urban style

with woody rustic charm. Every day

their open kitchen gives birth to a

new lunch menu and breakfast variations.

Pamper your sweet tooth with

homemade desserts, cakes and cookies.

The coffee is organic and the

fine wines come from a hand-selected

young German vintner. Sonntagstr.

1, S-Bhf Ostkreuz, Tel 0176

6266 8459, Sun-Thu 8-24, Fri-Sat 8-2

kreuzberg

Blue Living The colour concept

store Blue Living stocks famous

and beautiful English paint and wallpaper

from Farrow & Ball, as well as

furniture and fabrics from established

manufacturers such as Moooi and

Kvadrat and a range of vintage classics.

Discover new design objects and

wonderful collectibles each time you

visit. Südstern 6, U-Bhf Südstern,

www.blueliving-farben.de

Bastard From Bastard with

love: whether it's breakfast, lunch or

dinner, this restaurant is not just for

those who were born out of wedlock.

Choose from the changing seasonal

menu created with love for fresh ingredients

and fine food. Our tip: try

the homemade stone-oven bread!

Reichenberger Str. 122, U-Bhf Görlitzer

Bahnhof, Tel 030 5482 1866,

Mon-Sun 9-17, www.bastard-berlin.de

Jivamukti Yoga The official

outpost of NYC's best-known yoga

centre offers the opposite of "fastfood

Western yoga". Sounds too hippy?

Don't worry: yoga is a pleasure

here. Stylish surroundings, classy

equipment, English-speaking staff and

two loft studios add to the relaxing,

luxurious atmosphere. Four English

classes. Oranienstr. 25, U-Bhf Kottbusser

Tor, www.jivamuktiberlin.de

Santa Maria Eat authentic

Mexican street food right on Oranienstraße,

with a bar offering a full range

of mezcal, tequila and cocktails. Enjoy

favourites like chilaquiles and tacos

de carnitas plus the biggest, tastiest

burritos in town. Oranienstr.

170, U-Bhf Kottbusser Tor, Mon-Sun

from 12, www.santaberlin.com

3 Schwestern Housed in a former

hospital turned art centre, this

spacious restaurant with big windows

overlooking a lovely garden serves

Tiki Heart Café &

Shop Looking for a weird, wonderful

Hawaiian-Kreuzberg atmosphere?

Then this is the best place

to be. Open for diner-style breakfast,

lunch and cocktails. Kick back

amongst punk rock Schnickschnack,

crazy clothing and footwear. Aloha &

rock 'n' roll! Wiener Str. 20, U-Bhf

Gör litzer Bahnhof, Mon-Sun from 10,

www.tikiheart.de

Piri's Inspired by the flavours

of Portugal, and Piri-Piri sauce in

particular, Piri's brings the flavours

of Portuguese chicken in burger

form, with their very own special

recipe salsa, combined with delicious

homemade aioli and soft, seeded

buns. Wiener Str. 31, U-Bhf

Görlitzer Bahnhof, Mon-Sun 12-22,

www.piris-chicken.com

Le Bon serves up some mean

eggs Benedict, yogi tea, French

toast, house-smoked salmon, croque

madame, pulled pork burgers and

shashuka. All-in-all, a mean breakfast

and some great coffee, just like its

sister café Kaffeebar around the corner

on Graefestraße. Boppstr. 1, U-

Bhf Schönleinstr., Mon 8-15, Wed-Fri

8-15, 18-23, Sat-Sun 9:30-16, 18-23,

www.lebon-berlin.com

57
---
ADVERTORIAL

Dr. Dot gives the best massage,

erm, on Earth. Based in Kreuzberg

61, across from Viktoriapark, Dot has

the most famous hands in the biz. Either

she or one of her 850+ strong

team of massage therapists (Dotbots)

can massage you pretty much any

time, anywhere. Deep Tissue is their

specialty. www.drdot.com

Modern Graphics Berlins

best comic shop! Here you can

find the biggest possible selection

of German and English comic books,

graphic novels, illustration/art/street

art/tatoo/design books and magazines

and cool toys. A weekly shipment

with the newest US comics arrives

each Thursday! They have a second

store in Europa Center. Oranienstr.

22, U-Bhf Kottbusser Tor, www.

modern-graphics.de

wedding

Berlin Glas e.V. Their mission

is to share the skill of making glass

art with the public and provide a resource

to international artists working

with all media. Their underlying message:

working in collaboration with

artists of various cultures doesn't just

broaden someone's artistic capacity,

it actually creates a culture of peace.

Provinzstr. 42a, S-Bhf Schönholz,

www.berlinglas.org

neukölln

Barettino Eat spaghetti with

your hands... oi, oi, oi! Wake up on

a church bench... Hallelujah! Italian

coffee! Or savour the first rays

of the morning sun with Italian delicacies...

Panino with Coppa... Subito!

Reuter str. 59, U-Bhf Hermannplatz,

Mon-Fri 8-19, Sat-Sun 10-19,

www.barettino.com

Mama Kalo Dig in to the

best of both German and French

cuisine at this cosy gem in Schillerkiez.

Everything is homemade, from

the Flammkuchen and Spätzle to

the quiche, soups, salads and desserts.

Freshly baked Kuchen, anyone?

Herrfurthstr. 5, U-Bhf Boddinstr., Tel

030 6796 2701, Mon-Tue,Thu 12-22,

Fri 12-23, Sat 15-23, Sun 15-22

Schillerbar serves fantastic

breakfast well into the afternoon

and great cocktails at night. Behold

the authentic red paint on the outside

wall intended to threaten the

bar upon opening, left there, and affectionately

responded to with hearts

stating "Schiller loves you anyway" (in

German of course). Herrfurthstr. 7,

U-Bhf Boddinstr., Tel 0172 9824 427,

Mon-Sun 9-2, www.schillerbar.com

Pazzi X Pizza offers an amazing

selection of pizzas and creative

topping combinations including

seasonal varieties with pumpkin or

porcini. Innovative antipasti plates,

salads, tasty frappés and a charming

atmosphere. Slices from only €2!

Herrfurthstr. 8, U-Bhf Boddinstr.,

Mon-Sun 11:30-24

Sala Da Mangiare Authentic,

traditional Italian cuisine. Queens

of the house: cappelletti, ravioli, tagliatelle,

strozzapreti and gnocchi,

handmade fresh every day. Ingredients

are sourced from Emilia Romagna,

organic farms and slow food

suppliers. You'll feel right at home

in the intimate, friendly atmosphere.

Mainzer Str. 23, U-Bhf Boddinstr.,

Tel 0157 7068 3348, Tue-Sat 19-23,

www.saladamangiare.de

Rollberg Kino With five

screens, Babylon Kreuzberg's bigger

but lesser-known sister boasts one of

the largest original language movie

selections in Berlin. Located on the

U8 near Hermannstraße in the Kindl

Boulevard shopping centre. Rollbergstr.

70, U-Bhf Boddinstr., Tel 030

6270 4645, www.yorck.de

Hepcat's Corner Swing,

swing, swing! This comfy, warm Art

Nouveau café and bistro offers a

daily rotating menu, breakfast and

homemade cake and coffee with

swing music on the speakers. Live

concerts once a month and swing

lessons every Saturday from 19:00.

Schinkestr. 14, U-Bhf Schönleinstr.,

Tue-Sat 10-24, Sun 10-21, www.

hepcatscorner.de

Rixbox Espresso & Food

offers top-quality signature espresso

blends, mild and strong, fresh juice,

homemade lemonade, shakes, sorbets,

soups, stews and sandwiches.

Their fresh ingredients come from local

and regional suppliers and their

meals are visually creative, always

homemade, served quickly and of

great value. Richardstr. 2, U-Bhf Karl-

Marx-Str., Mon-Sat 8-21, Sun 10-18,

www.rixbox.de

Prachtwerk One of a

kind in Neukölln, Prachtwerk is a spacious

café, music venue and gallery.

With a wide variety of local and

organic items, Prachtwerk serves

up Five Elephant Coffee, beer from

Neukölln's Rollberg Brauerei, housemade

baked goods, tasty cocktails,

and more. The best part? All profits

benefit social projects. Ganghoferstr.

2, U-Bhf Karl-Marx-Str.,

www.prachtwerkberlin.com

La Pecora Nera Experience

the original Venetian aperitif tradition

in this cosy neighbourhood osteria.

Enjoy an Aperol Spritz during daily

happy hour (18-20) and try the appetiser

platter with North Italian cheeses

and cold cuts. For dinner, polenta

and fresh pasta await you! On Tuesdays

they offer special, delicious vegetarian

dishes and on Fridays the

daily menu contains market-fresh fish.

Herrfurthplatz 6, U-Bhf Boddinstr.,

Tel 030 2501 3346, Tue-Sun from 18,

www.pecoraberlin.de

schöneberg

55 Limited Founded in May

2012, 55 limited is an Intaglio printmaking

workshop and gallery specialising

in small, limited editions (no

more than 55 prints), photo-mechanical

processes (in particular, photogravure)

and limited-edition artist's

books. Feurigstr. 62, S-Bhf Julius-Leber-Brücke,

Wed-Sat 14-19,

www.55ltd.net

Belmér Mediterranean food

culture meets creative, beautifully

presented cuisine make with quality

ingredients. Don't miss the brunch

buffet every Sunday from 10-15 with

Mediterranean delights and live piano!

Belziger Str. 34, S-Bhf Julius-Leber-Brücke,

Tel 030 8999 6735, Mon-

Fri 16-24, Sat from 12, Sun from 10,

www.belmer-restaurant.de

Dolores Goes West The place

that revolutionised Berlin fast food

with awesome California-style burritos

ten years ago has a second store

on Wittenbergplatz, across from Ka-

DeWe. This location serves their best

classics and several great new spicy

combos. Bayreuther Str. 36, U-

Bhf Wittenbergplatz, Mon-Sun 11-22,

www.dolores-berlin.de

Kumpelnest 3000 The

legendary bar that made the Berlin

nightlife scene what it is today. This

brothel-turned-bar 25 years ago was

Bono's hangout during his visits to

West Berlin. Kumpelnest hasn't lost

any of its authenticity or wild side

over the years. Hipsters beware!

Lützowstr. 23, U-Bhf Kurfürstenstr.,

Mon-Fri 19-5, Sat-Sun from 19,

www.kumpelnest3000.com

Computer Service Julien

Kwan Julien Kwan's elegant store

for Apple computers and other hightech

goodies is the place for those

who want more than just a shop-andgo

experience. Personalised service

makes browsing the latest technology

a true pleasure. Vorbergstr. 2, U-Bhf

Kleistpark, Tel 030 6170 0510, Mon-

Fri 10-19, Sat 12-16, www.deinmac.de

charlottenburg

Futomania has been supporting

sleepers with traditional tatami

and futon-style beds since 1986.

Natural and organic bedding made to

order in their in-house workshop with

solid birch, cherry and oak wood bases.

New beds, cribs and more. Also

a source for meditation and shiatsu

equipment. Richard-Wagner-Str. 51,

U-Bhf Richard-Wagner-Platz, Mon-Fri

11-19, Sat 11-16, www.futomania.de

Café im Literaturhaus

Enjoy a coffee in one of Berlin's finest

cafés, known for its courteous

staff and pleasant atmosphere in the

elegant and much-loved Literaturhaus

villa. The perfect stop during a

shopping trip on nearby Ku'damm.

Fasanenstr. 23, U-Bhf Uhlandstr.,

Tel 030 8825 414, Mon-Sun 9:30-24,

www.literaturhaus-berlin.de

Lalaine Find everything from

tender Italian merino wool and mohair

in differing thickness and colour

to precious cashmere and smooth silk

lingerie. Sure to please even the most

demanding of customers. In short, a

lovely boutique for all your knitting

needs at Savignyplatz. Kantstr. 145,

S-Bhf Savignyplatz, Mon-Fri 10-19, S

Habitare With over 30 years

experience on Savignyplatz, Habitare

has become a real design institution.

If you're searching for timeless

modern pieces and high-quality furniture

for your home, this is your best

bet among the many design and furniture

shops in the area. Great service

too! Savignyplatz 7-8, S-Bhf

Savignyplatz, Mon-Fri 10-20, Sat 10-

18, www.habitare.de

The Harp is an Irish haven

just a one minute stroll off of

Ku'damm. Taste the homemade German

and international food and the

great Irish and German beers. Listen

to live music every Friday and Saturday,

play darts or join in the famous

pub quiz on Thursdays. A smoker's

lounge and a pleasant sun terrace

await you. Giesebrechtstr. 15,

U-Bhf Adenauerplatz, Mon-Sun from

10, www.harp-pub.de

FIND FULL

GUIDES AT

www.exberliner.com/

directory

58 • SEPTEMBER 2014
---
AMOK MAMA

By JACINTA NANDI

Don't call me Jacinta!

"What do you think

about people calling

their parents by their

first names?" I ask my

British Berlin mummyfriend

Sally. "Like, you

know, Jana's kids do.

Have you noticed? Jana's

kids call her and her

husband Jana and Scott.

At first I thought Scott

was a stepfather or

something, but he isn't,

he's their dad. Bit weird,

huh? Nice. But weird."

"It's totally screwed

up!" is Sally's immediate

reaction.

"It is a bit weird," I say. "But I think it

sounds a little bit nice, too. Sometimes when

I'm 'round at Jana's, I think the kids sound so

grown-up and sensible, I kind of wish Ryan

would call me Jacinta, too."

"Do you?" Sally asks, genuinely shocked.

"I would throw mine out of the house if

they started pulling that Sally shit. I find it

bad enough when they say Mama instead of

Mummy."

I can still remember the first time my son

called me Mummy and not Mama. We were

arguing about whether he was allowed to have

yoghurt BEFORE a sandwich. I wanted him

to eat his sandwich and THEN the yoghurt,

and I was really determined to win this one.

And then he said, suddenly, out of nowhere:

"Please, Mummy." And I literally felt my heart

melt like softened butter in a frying pan. You

know when it gets all gooey and golden.

Fast-forward five years. My son and I are

arguing over whether Mount Everest is the

highest mountain in the world or not. He is

probably right, but I don't care. I don't agree

with his "If you count mountains which start

off in the sea" policy. I think he's being really

pedantic, like when people say Muslims have

small brains and you call them racist and they

say, really proudly: "But Islam isn't a race!"

"But you don't count mountains that start

off in the sea, do you," I say, gently.

"Look, this is what I'm trying to tell you,

Jacinta," he answers.

I stare at him,

aghast. I might have

described myself staring

at Ryan aghast in

previous columns but

until today I never

stared at him THIS

aghast. I stare at him,

flabbergasted and

agape and dumbfounded

and boggled and all those

sorts of things.

"What did you just say?"

He says: "The tallest

mountain in the world is

not Mount Everest. I saw

it on YouTube–"

"No," I say. "Ryan, what

did you just call me?"

"Jacinta!" he says.

"But why did you call

me that?"

"It's your name, isn't it?"

"You do not call me

Jacinta!" I say sternly.

"Why not?" he asks.

"You call me Mama or Mummy," I say.

"And why?" he says.

"Because," I say. "Because, because."

"Do you call me Sonny?" he says.

I blink. "Do you want me to call you

Sonny?" I say.

"You told me once, Mama, about how

people in the 19th century made their kids call

them Sie and they called their kids Du. Well,

it's the same with Mummy and Sonny. Why

are you allowed to call me Ryan but I have to

call you Mummy? It's a Doppelmoral."

I stare at him and my whole body is filled

with horror and shock and dismay and stuff. I

feel the horror and shock and dismay and stuff

slowly seeping into my soul, like heavy, thick,

black oil. It has actually happened. He is actually

cleverer than me now. This is like when

the robots take over the world and human

beings just get farmed for their body parts

in giant concentration camp-style human

resource factories. He has come up with an

argument I never thought of before. And the

argument he has come up with is a TOTALLY

GOOD ONE. Shit.

"If you call me Mummy and not Jacinta, I

will buy you a €25 App Store card next time

we go to Media Markt," I say.

He puts his hand in mine. "Okay, Mum," he

says. "I love you."

I might be the worst mother in the whole of

Christendom, but at least my son doesn't call

me Jacinta. ■

I STARE AT HIM AND MY WHOLE

BODY IS FILLED WITH HORROR AND

SHOCK AND DISMAY AND STUFF.

IT HAS ACTUALLY HAPPENED. HE IS

ACTUALLY CLEVERER THAN ME NOW.

MARTA DOMINGUEZ

SELL

YOUR

SOUL!

And everything else... on Exberliner classifieds

www.exberliner.com/classifieds

59
---
charmingly dilapidated building just

north of Torstraße. A photographer

and musician by trade, he is a

veteran of the underground Mitte

scene (Tacheles, IM Eimer,

Synlabor) and believes that the

struggles he has lived through in the

centre are only a precursor to

city-wide problems: "When capital

is the main interest there is very

little room for culture and art. You

can clearly see what has gone wrong

[in Mitte] but it can also happen in

Kreuzberg, Neukölln, Wedding,

Friedrichshain."

The demise of any subculture or

scene is often predicted almost from

the outset. And Mitte after the Wall

came down has been no different.

Nevertheless, the recent spate of

forced closures and relocations paints

quite a grim picture for the area's

nightlife. Anchored by the garish

erving frothy pils to the thirsty workers moved to Mitte in the early 1990s, living in a

opulence of members' club Soho

of Mitte since 1893, Bierstube Alt Berlin squat on Auguststraße and learning to cook

House at the eastern end of

pulled down its shutters for the last time there in one of the soup kitchens. Explaining

Torstraße, expect more exclusive bars

at the end of April. Old Berlin in name the move, he says: "I'm fighting for a space

to emerge in the Scheunenviertel –

and nature, it sounded like a death rattle for the where I don't get shut down by the neighbours…

I started not feeling so comfortable. I

of local, loud, late-night charm.

steamrolling all but a few tenements

authentic Mitte nightlife of yesteryear. Said to

have been frequented by Bertolt Brecht and just don't think Mitte has a scene anymore."

The German media often refer to

Alfred Döblin, the pub was a legend in its own Aside from the changing atmosphere of the

it as Clubsterben (club death) but

lifetime – a no-frills Raucherlokal where one area, the rocketing rent was ultimately one of

another, less frequently used term,

could well imagine Franz Biberkopf in the the deciding factors. Two years ago when White

Clubkarussel, might be more

corner, quietly serenading his three beers and Trash's contract was up, the owner wanted to

accurate. Many of the old clubs and

Kümmel schnaps.

increase his earnings overnight by 40 percent.

bars – like Baiz and White Trash

As the last traditional place on Münzstraße Potts refused and continued to pay the old

– continue to flourish in their new

– awash in a sea of posh boutiques and flagships amount, around €7000 per month, until he was

locations. For further proof of this

– the small 70sqm thorn in the side of Mitte's finally taken to court and ordered to pay it in

chopping and changing, just keep

gentrification remained, until the very end, as full – a situation he had to stomach until a new

an eye on Kiki Blofeld, a Mitte club

popular as ever. The sadly familiar story being venue was found. Recently his old property was

legend on par with Bar25 until its

that the whole building was sold to an investor put on the market again, this time marked up to four weeks, most of it given as an interest-free

recently the Chelsea Bar. However, it's a corner where the long drinks start at €10.

untimely, Mediaspree-induced closure in 2011.

from afar, Harm Müller-Spreer in Hamburg, who €16,660 per month.

loan. Referring to the changes in Mitte,

just south of Rosenthaler Platz that is most One of the only Mitte success stories in recent This May, it re-opened in Oberschöneweide:

promptly demanded 10 times

Being unable (or unwilling) born-and-bred Berliner Bogisch says: "What I

indicative of the current changes...

years is that of Schokoladen. The writing was on "just a 30-minute tram ride from Friedrichshain,"

as its owner, Gerke Freyschmidt,

the rent as soon as the

to keep pace with the rent is see is that a lot of what makes up Berlin's special

Delicious Doughnuts, a late night (and often the wall for the squat-turned-living project and

contract was up. Which

one thing, but being kicked identity, whether it's certain clubs or bars or

all day too) stalwart of the Mitte scene opened in all-round cultural centre until the philanthropic pleaded in Tage s spiegel. With none other than

would have meant a rent of

out on principle is something alternative culture, is now being pushed out."

1993, launched the careers of bigshot Berlin DJs Edith Maryon Foundation stepped in at the Bryan Adams set to open an artists' complex in

around €800 per month

else. Baiz – everybody's

And it seems to be happening faster these

like Ben Klock and was a trusty reliable for death in 2012 with a loan to buy the entire the desolate neighbourhood, will the far East

jumping up to around €8000

favourite leftie bar on

days. April also saw the end of King Kong Klub

nearly two decades – an unlikely place where you building. Schokoladen hopes that other alternative

and traditional locations will return to Mitte According to Potts from White Trash, "There

pick up where Mitte left off?

– an unfathomable amount

Torstraße – suffered this fate and Naherholung Sternchen. The former an old

might end up should your birthday fall on a

for any small Kneipe.

earlier this year. Although they hand of the Mitte club scene, the other more of

Tuesday with nowhere else open come 6am. (fingers crossed for Bierstube Alt Berlin), is no conspiracy theory. Berlin is becoming what

Although the Alt Berliners

could still afford the rent, a newcomer; nevertheless, both stood out thanks

Inhabited by a colourful assortment of ravers and although even its members when pushed believe it is. The nightlife will find its space and people

are searching for a new

which had doubled in 10 years, to a lovable DIY approach and an eclectic

reprobates, plus a few straggling tourists and the neighbourhood is something of a lost cause. will always be moving to the next free zone." The

location to call home and refit

in the end the new owners programme of readings, concerts, comedy and

birthday kids, it too had to permanently close in "Realistically speaking, it's going to get worse battle for alternative spaces in Mitte has been

with all the original fixtures,

decided that the Baiz motto parties. Naherholung Sternchen even suffered

2012. Reopening in its place last year was Dean in the direction of London or Paris or somewhere,"

says Chris Keller, who moved to Berlin another homogeneous metropolis, the fight for

largely lost, but if Berlin isn't to become just

bar manager Dana Tucker is

of "Kein Bex, kein Latte, kein the indignity of having to cancel their weekendlong

'last hurrah' event because of pressure from

– and another golden-hued, swanky, dancey bar in 1990 and has a Hinterhof studio in the

the rest of city must rage on. n

– part of the proliferating Amano hotel group

still grieving several weeks

Bullshit" simply wasn't for

after the closure. "It used to

Berlin-Mitte in 2014.

the nearby Amt. Cookies, a Mitte nightlife

be a city full of so many

According to the formal head epicentre in the 1990s, will throw its closing

possibilities and such freedom... Now it's getting of the Baiz collective Matthias Bogisch: "They party on July 19. This year would have been its

more and more restricted."

told us that the place didn't match [the character 20th birthday.

This is the case even for a nocturnal institution

and tourist magnet like White Trash Fast After protesting in vain, they resolved to move over in Mitte. It has just mutated into something

of the building], so there was no new contract." That is not to say that the party is completely

Food. After 13 years on and around Torstraße, the and found new digs up in Prenzlauer Berg, a altogether more grownup, more monied and, one

February 23: BAIZ April 19: KING KONG the East Side Gallery; April 25: Closing April 28: Münzstraße Mitte location in 2011,

moves from Torstraße KLUB, one of Mitte's it moves downriver, party for NAHERHOL- pub ALT-BERLIN pours reopens in the wilds of

burger-and-music joint has upped sticks for a stone's throw away from the bourgeois Kollwitzplatz.

"They're not just idiots around here," quips suits armed with clipboards and velvet ropes

might say, more generic. Late cocktail bars where

to Schönhauser Allee; last live music institutions,

forced to shut MAGDALENA. scrappy young club on brates with a surprise July 19: COOKIES

replacing the club UNG STERNCHEN, a its final beer; cele­

Oberschöneweide.

larger and cheaper location down by the Arena

the collective's supporters

form a human down.

April 24: WHITE the Mitte/Friedrichs­

set by Bonaparte. (Friedrichstraße/Unter

complex in Treptow. Owner Wally Potts puts it Bogisch. Baiz belongs to the property-owning marshal the door; nightlife spots that wouldn't

simply: "There's no future in having a club in class too now, having bought their new 150sqm look out of place in London or New York. The

chain to carry its belongings,

one by one, plans squeeze YAAM last night in its Tor­

after pressure from BLOFELD, priced close its doors.

April 21: Mediaspree TRASH FAST FOOD's hain border, cancelled May 25: KIKI

den Linden) set to

Mitte-Prenzlauer Berg." And after all, he should corner spot. Asking around their circle of friends last couple years have thrown up the dress-toimpress

likes of Trust, The Liberate and more

to the new building. out of its location by straße location. the Ordnungsamt. out of its Spree­side

have a good feel for the district, having first and supporters, they raised the funds in a mere

8 • JULY/AUGUST 2014 9

FROM OUR READERS

In response to Seymour Gris' "Sioux Indian

found guilty of Nazi salute" (www.exberliner.com),

members of Native American

sculptor Robert Packard's former artist's

association sent us their side of the story…

The case of the Sioux "Sieg Heil"

Robert A. Packard has been a member of our association

since 1999. Over the years, he has paid

his membership fee only sporadically. The club

accepted that for social reasons, and because he

was a very good sculptor. Working with him was

never easy, since he was an excessive alcoholic

and drug consumer for years, which may be the

reason for his current change in personality…

Last year, he would not speak with us for some

months, didn't say hello, and ignored the management

... Even though he claims differently,

Packard applied a circle sign made of polishing

dust on a sand strip next to our parking space.

Management was not asked for permission. We

are definitely not hindering any member from

practicing his or her religion, but we are of the

opinion that our parking lot is an improper place

to do so. That Packard had rediscovered his Native

American roots was not known by us.

On April 30, a heated argument took place

because the so-called "piece of art" was hit by

water we used to water the lot. On May 2, he

called us Nazis for this reason and screamed

"Nazis raus!" out of an open window.

On May 22, chairwoman Hella Zarski entered

the studio. Packard went on a rampage in the

kitchen. As the chairwoman left the building, he

screamed, "Nazischwein, hau ab!" The chairwoman

called the police, who declined to come because

nobody was hurt. When he saw board members

on the street on May 24, he did the Hitler salute

several times …. Unwilling to accept Packard's

behaviour any

longer, we decided

to exclude him. –

Hella Zarski, Karin

Omoregbee, Ursula

Keil, Arbeitskreis

Spandauer Künstler

Berlin e.V.

just don't think

Mitte has a

Our article on

scene anymore."

Mitte "Club

death and

transfiguration"

(issue #129, July/

August 2014) drew gentrification defenders

out of the woodwork…

What's wrong with Soho?

How on earth is Soho House "garish and

opulent"? It is so discreet there is no advertisement

of its existence at street level. Few

non-members even know it is there… I loved

Berlin when I first came here in 1990. I love it

now. Some things are much, much worse. Some

things are much, much better. But, guess what:

it's a city – it evolves. Friction between generations

is probably a good thing too. However,

you can really like one thing without being

snide and condescending about something else

you don't like. No one has a god-given right to

dictate how Berlin should be and what sort of

people should be moving to the city. Indeed, in

Berlin of all places, it really shouldn't be neces-

TO THE EDITOR

NIGHTLIFE

Club death and

transfiguration

The spring saw a swathe of late-night institutions in Mitte

closing or moving away from the centre. Is the party over

for the formerly happening district and what does it spell

for the rest of Berlin? By Luke Atcheson

S

"I'm fighting for

a space where

I don't get shut

down by the

neighbours… I

sary to point that

out. Your moaning

about change may

be a preoccupation,

a personally rewarding

one even,

but I assure you

that "change" is not

"a cause". I can't

help feeling sorry

A timeline: Clubsterben or Clubkarussel?

for all those people

who pick up your

magazine on their

first visit to Berlin

only to read how absolutely terrible the place is,

how much better it used to be and how they're

to blame. – Barney Smith

MARC BRINKMEIER

WRITE TO US AND WIN

TICKETS TO HERCULES 3D

Did we strike a nerve? Tell us what you

think, hate or love about this issue and get

the chance to win one of 3 pairs of tickets

to HERCULES in 3D, playing in OV at Cinestar

Original Sony Center, Potsdamer Platz

on September 10​. Send your letter to editor@exberliner.com

by noon on Thursday,

September 7 for a chance to win!

For terms and conditions, see www.exberliner.com/terms

60 • FEBRUARY 2014
---
DIE KUNSTSTADT

BERLIN IM ÜBERBLICK

Museen, Galerien, Termine

Ab dem 12. September

bestellen unter

shop.interabo.de/zitty/

oder

(030) 611 05 26 02

Foto: Christian Mentzel

Berlin

2 • SEPTEMBER 2014
---
aka: stILL LIFE

PREMIO ORIZZONTI

BESTE REGIE

EIN FILM VON

ubErtO PasOLINI

NINA Hoss

RoNAld ZeHrfeld

NINA KunZendorf

ab 25. September im Kino

Der neue Film von Christian Petzold

2 • SEPTEMBER 2014