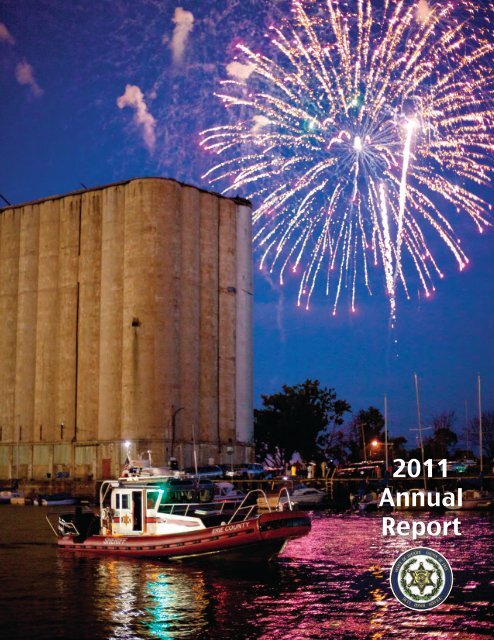 Sheriff's Office Annual Report - Erie County
Sheriff's Office Annual Report - Erie County
Sheriff's Office Annual Report - Erie County
SHOW MORE
SHOW LESS
You also want an ePaper? Increase the reach of your titles
YUMPU automatically turns print PDFs into web optimized ePapers that Google loves.
2011

Annual

Report
---
Message From the Sheriff

Another uphill battle awaited the Erie County

Sheriff's Office for 2011 as we started out with

a 20% reduction in operating costs and a severe

manpower shortage, with the sudden loss of

nearly 1,000 years combined police experience;

nearly 30 road patrol deputies retired in order to

keep their lifetime health insurance benefits. To

help remedy the problem, we had to recruit lateral

entries such as state certified village and parks

police officers who were, through no fault of their

own, getting the budget axe themselves. It would

have been cost prohibitive to screen and hire new

officers and send them through the Erie County

Police Training Academy quickly enough to get

them on the road. Obtaining manpower in this

way allowed us to save the Erie County taxpayers

about one million dollars in training academy

costs. However, some of those savings were eaten

up by overtime costs; when you lose about one

fifth of your police services division with little

advance notice, there are inherent consequences

in the form of increased overtime costs. Still, we

feel this was money well spent, as we were able

to maintain our quick and efficient response time

in all of our districts, including the 16 towns and

five villages we patrol in the county.

We were also dealt a blow when the former

county executive blindsided us by laying off

nearly our entire civilian workforce. For example,

it was difficult to operate an agency without

clerical staff or receptionists to answer the

phones. I had to sacrifice three command

positions in order to make the monies available

to bring back this staff. Again, it was a staggering

blow and to this day, I sometimes wonder how we

do what we do with what little staff is available.

In other matters, Governor Cuomo proposed a

statewide prison cost-cutting plan in order

to save money. One of the facilities that he

proposed be closed was the under-utilized

Buffalo Work Release Facility in Alden, New York,

not far from the penitentiary where we house

sentenced inmates. As soon as I heard the news,

I reiterated what I have been saying for the

past seven years; that I would be interested in

utilizing an already existing jail building, should

it become available, to help ease the overcrowding

at the Erie County Correctional Facility and

Erie County Holding Center, and to avoid the cost

of constructing a new jail at taxpayer's expense.

I am completely open-minded to the use of the

facility, and could envision it housing female inmates

or parole violators, or simply being used as

a transport center for prisoners in outlying areas.

Why build new, when used will do?

We also have been working very hard with City

of Buffalo police officials to eventually turn the

lock-up of their male prisoners back over to them.

Under an agreement with the previous sheriff

and the previous City of Buffalo Mayor, the Erie

County Sheriff's Office took in all of Buffalo police

arrests, sometimes averaging 80- 100 inmates

a day, putting additional strains on an already

overburdened staff and building. This 8-year

arrangement has been viewed by many as a

disaster because of the millions of dollars it has

cost Erie County taxpayers, and again, because of

the extra burden on staff and the facility. In 2003,

this move was characterized as a step toward

regionalism that would save money because

of the Holding Center's lower cost per inmate;

however, it turned out to be a huge money drain

for Erie County.

We were proud to help implement Silver Alert in

Erie County, one of a handful of counties across

the state to have such a local law. With the help

of Erie County Legislator Ed Rath III, this system

provides a standard protocol for law enforcement

agencies and others to follow, particularly in

distributing information to the media if someone

with dementia is reported missing. The system

calls on the Sheriff's Office to issue an alert when

a local law enforcement agency determines that

the disappearance of a county resident with

Alzheimer's disease, dementia, or a related cognitive

disorder poses a credible threat of death or

serious injury to the person, and it is believed

that an emergency alert would help find them.

Another highlight of 2011 was when Deputy Liz

Fildes, BS, MS, and Program Director of Human

Trafficking in our office, was one of a handful of

people named by the Buffalo News as Citizen of

the Year. She was recognized for her tireless

efforts in helping victims of Human Trafficking

and for educating the public on this scourge.

Deputy Fildes was also able to secure a twoyear,

half million dollar federal grant for the Erie

County Sheriff's Office to continue her work in

this ever- evolving field.

Hosting the New York State Sheriff's Association

Summer Conference last year in Buffalo was my

pleasure. I had such a good time, and from the

comments from fellow sheriffs across the state

who attended, they too seemed to have a good

time. I dedicated a page at the end of the annual

report for pictures from the conference. I hope

you enjoy!

And finally, it seems to be a common theme

threaded throughout my message: saving taxpayer

money and doing more with less. I think every

law enforcement agency in the country has been

taxed with doing more work with less funds. It is

a sign of the times and we must learn to be creative

by working within these parameters while

never sacrificing public safety for the citizens we

serve. As always, public safety is a cooperative

effort; we all need to be involved. Remember, if

you see something, say something.
---
Mission

Statement

The mission of the Office of the

Sheriff is to provide the finest

public safety services to all those

within Erie County. Our Office works

together with other law enforcement

and community agencies to

enforce and uphold all laws for

which we are responsible.

Table of Organization

The Office of the Sheriff will

maintain a secure, safe, and orderly

jail and correctional facility that

recognizes the dignity of all inmates

and prisoners while adhering to the

standards and guidelines set forth

by the New York State Commission

of Corrections.

The Office of the Sheriff will serve

by protecting individual rights,

safeguarding public and private

property, assisting in emergency

situations, and performing any other

essential service.

The Office of the Sheriff will

maintain the highest level of

integrity, while working diligently

and professionally to provide a safe

environment for the public and

our staff.

Erie County Sheriff's

2011 Budget

$101,114,972

Command Staff - Top row (l-r) (Chief John Rodriguez, Chief

Scott Patronik, Sheriff Timothy Howard, Undersheriff Mark

Wipperman, Chief Scott Joslyn. Bottom row (l-r) Chief John

Anthony, Deputy Superintendent Mike Reardon, Deputy

Superintendent Thomas Diina, Superintendent Robert Koch;

missing from photo Chief Timothy Love
---
Jail Management Division

Erie County Holding Center, Buffalo, NY

The Jail Management Division accounts for more than half of the Sheriff's

$101,000,000 budget. It is responsible for the care and custody of inmates

confined by Erie County, Village, Town and City Courts, the New York Division

of Parole, and inmates brought in from outside agencies such as the U.S.

Marshals, Immigration, and other counties. Staff provides security, prisoner

transportation, medical care, inmate rehabilitation, record keeping, religious

needs, visitation, and other support activities. The Jail Management Division

consists of two facilities, the downtown jail known as the Erie County

Holding Center, and the Erie County Correctional Facility in the Town

of Alden.

The biggest overhaul at the Correctional Facility in 2011 was the kitchen,

as it underwent a nearly million dollar facelift. The renovations included

replacement of the kitchen floor; better utilization of kitchen space; replacement

of food service equipment, including high capacity kettles; ovens,

dishwasher tray washer; food prep skins; replacement of walk-in freezers

and coolers; replacement of mechanical systems; replacement and

relocation of a grease trap to the exterior of building, and other renovations.

Inmates/ Prisoners are afforded three meals a day at each facility. The total

yearly tab for food for both facilities is pegged at $2,267,880.00.

The Erie County Holding Center is a maximum security facility designed to

house approximately 600 inmates. These inmates, generally speaking, are

either un-sentenced or classified as high risk. The facility is centrally located

in downtown Buffalo in close proximity to the City Court and County Court

system, facilitating due process.

The Erie County Correctional Facility, located in Alden, New York is designed

to hold approximately 900 prisoner/inmates and is a medium security

facility. There are also several annexes that are utilized for securing the

inmates/prisoners assigned here. These inmates/prisoners are generally

classified as low- medium risk inmates. It costs Erie County taxpayers

approximately $163.80 per day to house each inmate at each facility.

However, when the Sheriff's Office houses state prisoners, we are reimbursed

just $100.00 per day per inmate, and that only happens after the prisoners

have been at our facility for ten business days. New York State does

not reimburse the ECSO for parole violators. There are approximately 725

employees between both jails.
---
Jail Records

Erie County Correctional Facility, Alden, NY

Training

In-service training is one of the most important responsibilities any law

enforcement agency has. Training serves four basic objectives: A well trained

staff is better prepared to act decisively and correctly; training results in

greater productivity and effectiveness; training nourishes cooperation and

unity of purpose; and training provides safeguards for being legally accountable

for actions of personnel. Between both facilities, there were 28,507

man hours of in-service training for sworn personnel. Medical staff and

civilian staff are also required to attend in-service training.

This unit is responsible for inmate intake, release, local sentence calculation,

court updates, fugitive extraditions, reporting and scheduling of New York

State Department of Corrections transfers, and recording and reporting of

the daily population count.

Jail records staff at the Holding Center booked 21,101 people on various

charges and processed paper work for 21,096 inmate releases in 2011. More

than 630 state ready inmates and parole violators were processed through

this unit. The average stay for a male inmate at the Erie County Holding

Center (ECHC) is 11 days; the average stay for a male at the Erie County

Correctional Facility (ECCF) is 28 days. The average stay of a female inmate

at the Holding Center is 3 days; at the ECCF, it is 19 days.

Mental Health

It is the policy of the Erie County Department of Mental Health Forensics

(ECDMH) to provide individuals suffering from chronic and acute mental

illness; developmental disabilities; co-occurring disorders of mental illness;

addictions; and severe adjustment issues, with psychiatric treatment, case

management services and counseling as deemed clinically appropriate.

These services are offered at both the Erie County Holding Center and Erie

County Correctional Facility. ECDMH Forensics will also provide competency

evaluations and mental health assessment for the courts, probation and

treatment recommendations.

Inmates are screened for suicides numerous times, including when they are

initially admitted to the Erie County Holding Center; a second time if they

are remanded to the jail after their arraignment; a third time when they are

sentenced; and, if it is deemed necessary, more often by either medical or

forensic mental health.

According to the Erie County Department of Mental Health, nationwide,

the general population (non-incarcerated) that is being provided mental

health services is approximately 20%, or 1 in 5 Americans. In our general

population within our jail, 35% of the population is being treated for mental

illness (nearly double the general population). The average daily number of

inmates classified as "de-toxing" (males and females) at the ECHC is 25. In

2011, there were 3,823 inmates at the Erie County Holding Center that were

referred to Forensic Mental Health (FMH)for evaluation; and 800 inmates at

the Erie County Correctional Facility that were referred to FMH.
---
2011 JMD Inmate Expenses

Medical Services

Medical services are provided by the facility physician or Physician's Assistant

and the medical staff, who are employed by the Erie County Department

of Health. Decisions regarding health care services, treatment, medications,

and hospital referrals are the sole responsibility of the facility physicians.

Dental care is also provided by the facility dentist. $6,058,581was paid in

2011 for all of the expenses related to the Medical Units at both facilities as

administered by the Erie County Health Department, including nursing staff,

physicians, dentists, and medical supplies.

Also, taxpayers paid $1,500,855 for prescription medications for inmates,

and an additional $1,801,490 for their visits to clinics, their inpatient

admissions, and emergency room visits to area hospital(s). $312,634.00

was paid for inmates' x-rays, MRI's, labor and delivery, and ambulance trips

to hospitals.

Educational Services

Educational services are provided by the City of Buffalo School District at

the Erie County Holding Center, and by the Alden Central School District at

the Erie County Correctional Facility. A total of six teachers teach programs

that include G.E.D. preparation, life skills, computer literacy, and parenting

classes. Approximately 90-100 inmates per year earn their G.E.D.

while incarcerated.

DESCRIPTION

AMOUNT

Clothing 52,486

Pants, shirts, underwear, bras, socks, shower shoes

Bath and Bedding 42,852

Shower curtains, bath mats, towels, wathcloths, sheets,

pillow cases, pillows, mattresses,

Food 2,267,880

Prescription Medication 1,500,855

Includes Disposal of Prescription Medication

Medical Services 312,634

Doctor, x-rays, MRI's, labor and delivery, ambulance,

interpreter

ECMCC 1,801,490

Inpatient, clinics, ER visits

Haircuts (ECHC only) 34,628

Toilet Paper 57,059

Laundry Services 164,226

Outside Laundry Service

Laundry Supplies 21,689

Laundry Soap, Bags, and Supplies

Hygiene Supplies 35,442

Bar soap, razors, shaving cream, sanitary pads, tampons,

toothbrushes, toothpaste

ID Health Services 6,058,581

All expenses related to the medical units at the

Holding Center and Correctional Facility as administered

by the Health Department including nursing staff,

physicians, dentists & medical supplies

ID Library Services 291,348

TOTAL $12,641,170

Other courses offered include: First time/Last time, which provides counseling

and crisis intervention for youth between the ages of 16 and 21 booked

into the Holding Center for the first time who want to make it their last

time; Forensic Counseling Program, which is available to any inmate and

provides counseling on a professional level to help them effectively cope

with emotional and/or personal problems which might affect mental health;

and Alcoholics Anonymous and Narcotics Anonymous, which are free counseling

programs offered by volunteers from the community who come in to

talk about addiction and how to deal with it.
---
Library Services

Currently, a total of five K9s are

assigned to the Erie County Holding

Center and Correctional Facility.

They are either German shepards or

short-haired pointers. They undergo

substantial training with their

handlers and have been obtained

through seized assets. These

canines are able to detect

marijuana, heroin, cocaine, and

methamphetamines. They are

also being trained in the detection

of controlled narcotics such

as Loritabs, oxycontin, and other

controlled substances.

A library has been established by the Buffalo and Erie County Public Library

System for inmates/prisoners in the Holding Center/Correctional Facility.

Within this is a law library, to which incarcerated individuals have access.

The law library contains current legal materials and references as mandated,

such as NYS Correctional Law; NYS Penal Law Annotated; NYS Criminal

Procedure Law Annotated; Title 9NYSCRR Subtitle A (Minimum Standards);

a legal dictionary; form books for use in conjunction with NYS Criminal

Procedure Law; and New York State Civil Practice Laws and Rules, etc..

Deputy Randy Ratajczak and his K-9 Cer.

Inmate Visitation

Inmate visitation units at both the

Erie County Holding Center and

Alden Correctional Facility

coordinated over 560 visits in 2011.

Approximately 61,182 individuals

were screened to enter the

visitation lobbies of the facilities

in 2011.
---
Trusty Program

Inmates wanting to participate in the Trusty Program at both facilities are

required to undergo a four-part screening process that includes medical,

forensic, classification, and attitude and demeanor. Inmates passing this

process can work in the facilities' kitchens, linen rooms, law library, library, or

work on the painting crew.

Service Action Corps

Sentenced inmates from the Erie County Correctional Facility participate

in the Service Action Corps. This is a community service program in which

inmates volunteer to perform heavy manual labor, respond to county-wide

emergencies where cleanup is needed, cut grass, clear brush, and pick

up debris.

To be eligible to participate in the Service Action Corps, prisoners must

be classified as non-violent; have no criminal history of sex crimes; have

no crimes against children; have no warrants against them; and have no

behavioral problems in the jail.

It is estimated that in 2011, $400,320 Erie County tax dollars were saved by

having inmates assist government agencies with work projects. Two crews

worked in 2011 for a total of 26,688 man-hours at $15.00 per hour.

Church Services

The Erie County Holding Center /Correctional Facility provide religious

services for the Catholic, Muslim, and Protestant Faiths. Chaplains of each of

these faiths are on staff and available for consultation via an inmate request

slip. Each facility holds a set schedule for worship.
---
Police Services Division

The Police Services Division encompasses several

facets of the Office of Sheriff, including the

most readily recognizable to the citizens of

Erie County; that is, the uniformed law enforcement

officers in their distinctive red and white

patrol vehicles. This division is charged with law

enforcement duties, traffic enforcement, crime

prevention, and service to the citizens of Erie

County. The Sheriff's Office maintains substations

in the towns of Grand Island, Clarence, Elma,

Colden, and Collins, as well as in the Villages of

Springville and North Collins. This deployment of

personnel ensures rapid response to the needs

and concerns of the citizens of Erie County, which

encompasses 1,034 square miles.

A branch of the Police Services Division is the

Investigative Services/ Detective Bureau. This unit

is comprised of detectives who work with road

patrol deputies and other area law enforcement

agencies to investigate serious felony crimes such

as rapes, grand larcenies, robberies, etc.

2011 Investigative Services/

Detective Bureau Stats

Burglaries

Grand Larcenies

Communications Center

The Erie County Sheriff's Office Communications

Center was temporarily under the direction

of Central Police Services in 2011. Our Office

received 88,963 calls for various police services.

Broken down, that is approximately 1,710 calls

per week, 244 calls a day, or 10 calls per hour.

More than 11,000 tickets were issued on the

roadways in Erie County by our deputies in

2011. A significant statistic is the number of DWI

arrests. We made an average of more than one

per day. The Erie County Sheriff's Office has zero

tolerance when it comes to drinking and driving.

Deputy Simon Biegasiewicz (middle in photo at

right) was the recipient of the MADD/STOP-DWI

Award for law enforcement. Deputy Biegasiewicz

made 68 DWI arrests in 2011 and assisted in a

total of 86 DWI's. Deputy Biegasiewicz is also a

Department Department Traffic Traffic Summons Summons Issued Issued 2011 2011

DWI Arrests

374

Drug Recognition Expert (DRE), and is often called

on by local police agencies to perform drug evaluations

of suspects.

Deputy Biegasiewicz is flanked by (1-r)

Sergeant Daniel Dytchkowskyj and

Lieutenant William Cranston of the Erie

County Sheriff's Office.

Speeding

4,361

Petit Larcenies

Fires

Death Investigations

Various

6,266

Sex Offenses

Suspicious Incidents

Criminal Mischief

Issuing Bad Checks

Rape

Assaults

Assisting Other Agencies

Aggravated Harrassment

Forgery

0 50 100 150

Narcotics Unit

It is the responsibility of this unit to investigate

narcotics-related incidents and to help reduce

the usage and availability of illegal controlled

substances in Erie County. The head of this unit

directs narcotics investigations for the Sheriff's

Office, and to this end, investigates, arrests, and

helps in prosecuting drug users and traffickers.

The Erie County Sheriff's Office subscribes to the

adage that removing the seller from the streets

assists in controlling criminals who are driven to

crime in order to purchase drugs. In 2011, the

Narcotics Unit lodged 116 arrests for possession

of controlled substances, arrested 13 suspects for

criminal possession of a weapon, and lodged a

total of 327 various charges, including felonies,

misdemeanors, and violations. This Unit also

assisted other police agencies a total of 69 times.

Seatbelt

206

Cell Phone Violations

436
---
Aviation Unit

This unit has the only full-time dedicated law

enforcement helicopter in Erie County. We are

available to more than 24 police agencies and 96

fire companies in Erie County and respond on a

regular basis to assist adjoining counties.

We are also the first responder helicopter for the

United States and Canadian Coast Guard in the

Buffalo area. Air One is available 24 hours a day

and is called into service for a variety of reasons,

including search and rescues, helping other law

enforcement agencies in tracking their suspects

from the air, taking surveillance video, shooting

pictures from the air to be used as evidence, etc.

In 2011, the Aviation Unit logged 2,141

flight hours.

2011 Air One Helicopter Stats

Life Saving Transport

to the Hospital

Buffalo Bills Stadium

Flights

Lifesaving Rescues

Training Flights

Calls for Assistance

to Federal/State

Calls for Assistance

to Fire Agencies

Demo Flights

Surveillance Flights

Searches Conducted

Calls for Assistance

to Police Agencies

Calls for Assistance

Marine Unit

The Marine Patrol's primary function is patrolling

the 90 miles of navigable waterways in

Erie County. Deputies assigned to the unit are

responsible for enforcement of navigation law

and other related laws. They are on call 24 hours

a day to perform search and rescue operations

and accident investigations, including BWI

(Boating While Intoxicated) and marine larceny

investigations. These deputies sometimes work

under extremely hazardous conditions due to

Scuba Dive Team

The Erie County Sheriff's SCUBA Dive Team

consists of certified SCUBA divers affiliated with

the Professional Association of Diving Instructors

(PADI) who are trained and experienced in search

and recovery of anything lost below the surface

of the water in Erie County and surrounding

areas. The divers are able to operate in all weather

and water conditions to conduct searches for

evidence, lost items of interest related to criminal

investigations, and persons. The team is issued

dry suits and full face masks to protect them from

contaminants and the cold.

The SCUBA Dive Team has the capability of going

through a hole in the ice where a victim has

fallen through and rescuing them, hopefully in

time to render first aid and possibly save a life.

inclement weather. In 2011, The Marine Unit

logged 2,876 patrol hours, inspected 157 vessels,

issued 88 citations, and gave out 72 warnings for

minor violations.

The ability to do this is extremely important

given the large amount of winter recreational

activities that we have in our area, such as ice

fishing, ice hockey, and cross country skiing. This

team also trains and operates with our Marine

Unit. They use boats to dive in a variety of different

areas in Lake Erie and also in the strong

currents of the Niagara River, from the Peace

Bridge to the north end of Grand Island. The Dive

Team does its best to keep up with the newest in

dive training and tactics along with maintaining

the best equipment possible to make sure that,

when called upon, they provide the best service

possible. In 2011, the Scuba Dive Team trained

for 606 hours, conducted three searches, had nine

call-outs, and participated in five special details,

such as the Polar Bear Plunge.

0 50 100 150 200 250 300 350 400

The Scuba Dive Team - (l to r) Sgt. Warren

Luick; Detective Brian Ohara; Deputy

Jeremy Lehning; and Deputy Dan Walczak
---
Swat Team

The Eric County Sheriff's Office SWAT team provides

an enhanced level of expertise to respond

to high-risk situations. Team member are trained

and equipped to respond to situations where the

level of risk exceeds that of a conventional police

response. These situations include barricaded/

hostage/shots-fired situations; counter sniper

operations, high-risk warrant service; dignitary

protection; or other situations involving a high

risk of serious injury or death to police officers or

civilians. In addition, team members are trained

in land navigation and woodland search and

rescue to assist in situations involving missing

or lost persons and to support Project Lifesaver's

electronic tracking of at-risk individuals, such

as Alzheimer's patients and autistic children. In

2011, the SWAT Team trained 3,894 hours, served

26 high-risk warrants, conducted one woodland

search, had two multi-agency trainings, and were

called out three times for a barricaded subject.

Weapons & Ordnance Unit

The Erie County Sheriff's Office Weapons &

Ordnance (WOU) unit is comprised of several

specialized teams that work cohesively to

respond to call-outs and collect and store seized

weapons. This unit consists of SWAT team and

Bomb Squad members, along with firearms

instructors. The deputies assigned to the

Weapons and Ordnance Unit qualify and train

hundreds of law enforcement personnel within

the Sheriff's Office, along with other county,

town, and village agencies, in the use of their

assigned firearms.

In 2011, the WOU spent nearly 5,500 man

hours in firearms training; 360 weapons were

surrendered to this unit.

2011 W&O Unit Incidents

Hoax

Threat

Explosion

Suspicious/

Unattended Package

Recovery

0 5 10 15 20 25

Captain Sean Simet and his K-9 Jules.
---
K-9 Corps/Police

Services Division

The Erie County Sheriff's Office has three dogs

tasked with performing different duties within

the Police Services Division.

BOMB SQUAD UNIT- Captain Sean Simet's K-9

partner Jules is an ATF- (Alcohol Tobacco and

Firearms) trained dog capable of detecting a

wide range of explosives that include various

types of gunpowder and commercial, military, and

homemade explosives. Jewel put in 320 hours

worth of training in 2011. Simet and his partner

recovered 20 explosives in 2011 and assisted

neighboring police agencies 31 times.

FIRE/HAZMAT UNIT - Detective Steve Meerboth's

K-9 partner is Kindle, who is an integral partner

in this unit. She is trained to sniff out petroleumbased

products including gas, kerosene, alcohol,

lamp oil, etc. Detectives Meerboth and Shaun

Hediger investigated six arson fires in the county

in 2011, as well as another 40 fires that were

ruled undetermined.

PATROL- K-9 Deputy Brad Ballantyne and his

partner Hayco (below) began working together in

the middle of 2011. K-9 Hayco sniffs out a variety

of drugs, helps track suspects, and assists in

various facets of patrol work. Deputy Ballantyne,

with the help of his partner, made 97 penal law

arrests; 123 traffic arrests/summonses; had

contact with 800 students in schools; performed

more than a dozen lectures and demonstrations;

and conducted nine school searches. K-9 Hayco

also trained 180 hours.

Snowmobile Unit

The Snowmobile Patrol is comprised of full-time

deputies who help patrol the trails in Erie County.

In the mild winter of 2011, this Unit patrolled

965 man hours. They issued 21 summonses,

responded to 19 complaints, and issued

11 warnings.

Training

Training, just like in the Jail Management Division,

Is imperative for law enforcement officers. In

2011, members of the Police Services Division

logged 4,433 hours of training . Of that amount-

1,896 was for firearms training.

The New York State Municipal Police Training

Council requires that all police officers must

qualify annually with their issued duty weapon.

Professional

Standards

This Division is an avenue through which citizens

can both protect their rights and voice complaints

of possible misconduct of employees. Complaints

received from citizens are treated in a positive

manner; they are investigated and validated,

and disciplinary action, if any, is determined. This

division also investigates inter-departmental

incidents; conducts confidential investigations;

prepares civil law suits; monitors absenteeism;

performs internal investigations; conducts preemployment

background checks; and facilitates

urinalysis testing of all probationary employees.

In 2011, there were 172 cases investigated by the

Professional Standards Division – down from 210

the previous year.

Civil Process

Division

Deputy Joe Hastreiter

This Division aggressively seeks and develops

partnerships with the community to satisfy their

needs for the delivery of quality civil law

enforcement and service of process.

The first of its kind certified as "Professionally

Accredited" by the New York State Sheriff's

Association, all sworn and civilian personnel of

the Civil Process Division receive extensive,

specialized training from its headquarters

in Albany.

The Sheriff's Office is the sole law enforcement

entity with jurisdiction in all courts in Erie

County; it has statutory authority as the civil

enforcement officer – from Town & Village courts

to the County, Family and Supreme courts.

The Civil Division's responsibilities fall within

two distinct areas: Service of Process and

Enforcement. The service area pertains to such

items as summonses, subpoenas, petitions and

court orders, while the enforcement area includes

property and income executions, warrants for

eviction or civil arrest and orders of seizure,

among others.

In 2011, the Civil Division opened a total of

5,665 cases, with gross receipts of $9,475,501; it

forwarded $8,720,918 to creditors and $754,583

to Erie County's General Fund, which helps fund

safety initiatives and reduce the tax burden on

county citizens.

Deputy Brad Ballantyne and his K-9 Hayco.
---
Income Executions

In general, the purpose of an execution is to

enforce a creditor's money judgment. The type of

property possessed by the judgment debtor and

sought by the judgment creditor will determine

the type of execution used. In general, executions

fall into two categories: income and property.

Income Executions: This instrument, commonly

referred to as a wage garnishment, is used to

satisfy a money judgment from the debtor's

earnings. This is done in two separate stages after

a judgment is obtained in court. In 2011, there

were 3,499 income executions.

Property Executions: The property execution

is an instrument whereby a judgment creditor

can "stand in the shoes" of a judgment debtor.

The judgment creditor has obtained a judgment

from a court and looks to obtain property, either

tangible or non-tangible, of the judgment debtor

to satisfy the debt. The type of property the

judgment debtor has and the judgment creditor

would like to obtain dictates the method or type

of property execution utilized. In 2011, there

were 244 property executions.

Administrative Services

Donna Jusiak, Sr. Personnel Clerk

The Administrative Services Division provides

support services for all Divisions of the Erie

County Sheriff's Office, including:

Payroll - Personnel - Pre-Employment -

Absentee Control - Reception - Budget -

Purchasing - Accounts Receivable/Payable -

Grant Management - Fleet Administration -

Foil (Freedom of Information Law)

Administrative Services furnishes all benefits to

the more than 1,000 employees of the Sheriff's

Office. The Erie County Sheriff's Office is an equal

opportunity employer.

It is the responsibility of the Administrative

Services Division to ensure that all regulations

are enforced.

Evictions

Warrants of Evictions address the Sheriff as the

enforcement officer. Once a Warrant of Eviction is

delivered to the Sheriff, he will produce a Notice

of Eviction. This is the Sheriff's notice whereby

he informs the renter of the date and time the

eviction is to commence. The Sheriff must serve

this and the Warrant of Eviction on the renter,

and at least 72 hours of notice needs to be given

prior to the eviction. All Warrants of Eviction must

be conducted between sunrise and sunset. Prior

arrangements need to be made by the landlord

for locksmiths and moving companies at time

of eviction. The eviction cannot be considered

perfected until all people and personal property

are removed from said premises. Personal

property must be stored off-site and cannot be

placed curbside. Reasonable care must be taken

to protect the property. This protects all parties

involved. Throughout this process, the tenant

has a right to his/her personal property. Denying

access to this could result in the landlord being

charged criminally. In 2011, there were 177

Warrants of Eviction.

The Administrative Coordinator/Staff:

Develops the departmental budget in cooperation

with division heads and for approval

of the Sheriff

Administers purchasing procedures

Supervises the processing of personnel and

the maintenance of personnel records

Supervises budget control and administration

Assists employees with retirement benefits

Compiles statistics for the Equal Employment

Opportunity Division

Maintains time and attendance records for

both full- and part-time employees

Responds to employment inquires

Handles United Way Cards, savings bonds,

and employment verification.

Grant Management

The staff oversees projects within the Sheriff's

Office that are funded by state and federal

grant monies. In 2011, our office secured a

$500,000.00 (2-year) grant from the federal

government for our efforts in combatting

Human Trafficking.

Budget and

Purchasing

This Division prepares, monitors, and reports on

the entire budget for the Sheriff's office.

The staff administers revenues generated by all

divisions, including:

Civil Process fees

Driving While Intoxicated monies

auctioned vehicles and property

inmate cell rental opportunities

participation by the Holding Center in the

federal school lunch program.

The unit also controls monies received from

Police Service Contracts between the Sheriff's

Office and Erie County villages for intensified

police services.

Fleet

Administration

The Fleet Office is responsible for the maintenance

of marked and unmarked vehicles,

motor cycles, boats, and snowmobiles. The Fleet

supervisor has both administrative as well as

hands-on duties to perform in order to keep the

vehicle fleet operational and ready to respond

to any emergency. The fleet consists of specially

adapted cars, trucks, trailers, and vans that are

fully equipped to perform their law

enforcement mission.

Fleet maintenance provides for the preparation

of vehicle specifications required in the bidding

process and makes all necessary preparations

for vehicle marking, decals, radio, and

emergency lighting installation once the

vehicle is purchased.

Every vehicle in the fleet is subjected to regularly

scheduled preventative maintenance checks

in order to assure dependability, as well as to

minimize costly repairs through early detection

and correction.

The Fleet Supervisor also is required to make

budget recommendations to the Chief of Administrative

Services regarding Fleet operating costs.
---
Human Trafficking

Human Trafficking, commonly referred to as

"modern day slavery", is a global phenomenon

that involves obtaining or maintaining the labor

or services of another through the use of force,

fraud, or coercion in violation of an individual's

human rights. Generating billions of dollars in

profits each year, human trafficking is one of the

world's fastest growing criminal activities,

operating on the same scale as the illegal trade

of guns and drugs. Fueled by global economic

conditions and increased international mobility,

the market for and trade of human beings

continue to expand rapidly.

Six years ago, the United States Attorney General

came to the Western District of New York to

announce that the Department of Justice had

funded a Human Trafficking Task Force District.

$900,000 was awarded by the Department of

Justice in two equal grants to the Erie County

Sheriff's Office and the International Institute of

Buffalo for the purpose of identifying and assisting

victims of human trafficking and prosecuting

those engaged in trafficking offenses. This task

force includes the U.S. Attorney's Office, the U.S.

Department of Labor-Wage and Hour Division,

Mrs. New York State Karen Ohara &

Deputy Elizabeth Fildes, BS, MS, Human

Trafficking Program Director. (Mrs. Ohara

used Human Trafficking as her platform

for her title).

U. S. Border Patrol, the International Institute of

Buffalo, Farm Worker Legal Services, and the

National Center for Missing and Exploited

Children.

Under this grant, the Sheriffs' Office has been

given the task to educate and train law enforcement

officers, prosecutors, EMS, and firefighters

about human trafficking, as well as to train nongovernment

organizations (including the public)

on what signs to look for when it comes to

human trafficking. In 2011, we opened 14 cases

of Human Trafficking, and trained approximately

7,300 people on the subject of human trafficking,

including law enforcement agencies, educational

institutions, and community groups. Our Office

was able to secure another half million dollar

federal grant to continue our fight on this

horrific scourge.

Domestic Violence

The Erie County Sheriff's Office provides victims

of domestic violence (DV) early intervention

through access to services and courts in order to

provide safety and support. Our highly trained DV

advocates understand the criminal justice system

and the Social Services and Family Court systems.

They are familiar with the communities' resources

and can provide appropriate referrals. Most

importantly, our experienced advocates assist in

helping to better understand, 365 days a year.

In 2011, our office logged 1,694 complaints of

domestic violence, an increase of more than 300

from the previous year; 272 people were arrested.

Public Awareness Is Prevention Program

This program was developed by the Sheriff's

Office to promote the idea of prevention and

education as the most effective way to reduce

substance abuse in Erie County. The program is

funded by the New York State Office of Alcoholism

and Substance Abuse. The mission is to

prevent and delay the onset of alcohol and other

drug use, and to eliminate or reduce high-risk use.

Under the umbrella of this unit falls Px20, a

collaboration of joined forces with several

prevention service providers. The goal of Px20

is to develop a multi-year comprehensive

prevention plan that incorporates data-driven

decision-making and evidence -based practices

into a local framework whereby the results can

be used to help prevent alcohol and substance

abuse in Erie County. This is a big undertaking,

with a decade-long commitment and an initiative

that we believe will save both lives and money.

In 2011, we reached nearly a million people with

our anti- underage drinking campaign in area

cinema theaters. This, coupled with 72 yearly

billboards dotted across the county with an antiunderage

drinking theme, has helped propel this

very important message to a whole cross-section

of citizens.

Sheriff Howard and Erie County District Attorney Frank A. Sedita, III
---
Reserve Divisons

It is my pleasure to command the men and women

who comprise the Erie County Sheriff's Office

Reserve Divisions. The following Reserve Division

Directory is a snapshot of the men and women

who, at some time or another, have been called

upon to assist their Sheriff's Office. They are to be

commended for sacrificing their personal time,

out-of-pocket money expenses, and the public

relations efforts they put forth on a daily basis

in proudly representing the Erie County Sheriff's

Office. The individuals who serve in these specialized

fields bring a wealth of knowledge and

personal experience to the table when they are

called upon to assist. I am truly grateful for their

service; Erie County as a whole is a better place

to live and work because of it.

Mounted Division

Aviation Reserve

Special Services

Scientific Reserve

Explorers

As the Office of Sheriff has a rich history, so too

do these specialized units. The Mounted, which is

the oldest and most visible Reserve Unit, began

in 1942. The Mounted Reserve Deputies patrol at

Bills home games, special events, and festivals.

Each Mounted Reserve Deputy assumes all

related expenses to their horses, which could

run upwards of $30,000.

The largest unit in the Reserve Division is the

Scientific. It has roots dating back to 1971, when

an all-volunteer advisory team made up of highly

skilled individuals began to provide technical

assistance to the Sheriff's Office. Their fields of

expertise include, but are not limited to, physical,

medical, art, business, and social sciences. This

branch of the Reserve Division boasts dozens

of members.

The Aviation Reserve Unit is comprised of pilots

or observers who are sometimes called upon to

help perform search and rescue missions, air

surveillance, and air transportation. We have

called this unit into action numerous times,

including having them fly employees from the

Sheriff's Office down to New York City after

September 11, 2001, to assist in the recovery

of evidence.

Mounted Reserve Lt. Wayne Wolf and

Mounted Reserve Captain Joe Metzger

The Special Services Unit also assists our Office

in a variety of roles and details.

The Erie County Sheriff's Explorer Post #505 is

an after-school career training program (called

"Exploring") for young adults who want to gain

insight into a law enforcement career. Exploring

includes meetings, classes, hands-on exercises,

observation, shadowing, field trips, scholarships,

internships, and much more. Topics include:

forensic sciences; citizenship; drug and alcohol

abuse problems; drills and ceremonies; search

warrants; personal defense; police pursuits;

arrest procedures; search and seizure law; and

firearms safety.

Candidates must be between the ages of 14 and

20 years of age, must be considered in good

standing at their respective school, and must

maintain at least a "C" average.

The Sheriff's Office Exploring program is

conducted by Sheriff's Deputies and community

volunteers at all three Erie Community College

Campuses. Meetings are held twice a month, on

weekdays from 6:30 p.m.- 8:30 p.m.. The Sheriff's

Explorer Post was established in the year 1999.

Members of the Erie County Sheriff's

Explorer Post #505 fingerprint children at

the Erie County Fair for Safe Child ID cards.

Members of the Erie County Sheriff's Office Explorers Post #505
---
It was our honor to host the 2011 New York State Sheriff's Association

Summer Conference in Buffalo. Dozens of sheriffs from across the state

participated in the five-day event, commencing with the first pitch thrown

out by Niagara County Sheriff Jim Voutour at the Buffalo Bisons home game

on Monday, July 25th at Coca-Cola Field in downtown Buffalo. (Voutour

played college baseball, and professional baseball with the Detroit Tigers

organization; his position was catcher). The week was chalk full of information

and fun as we had classes in the morning and entertainment in the

afternoons and evenings. From riding jet boats in the mighty Niagara River

to dinner on the U.S.S. Little Rock with the grandson of the former President

of the United States and Sheriff of Erie County- Grover Cleveland, a fun time

was had by all.

Sheriff's Summer Conference

Niagara County Sheriff James Voutour throws out the first pitch

at a Bisons game kicking off the festivities for the New York State

Sheriff's Summer conference in Buffalo, NY.

George Cleveland (grandson of President Grover Cleveland and

former Erie County Sheriff) with Sheriff Howard

Sheriffs Voutour and Howard react to the crowd.

Retired Erie County Sheriff Mike Amico; Dan Centinello-Special

Assistant to Sheriff Tim Howard and Retired Erie County Sheriff's

Deputy Tony Fontana- also son-n-law of Sheriff Mike Amico

Buffalo Bisons player autographs a fan's baseball.
---
Erie County Sheriff's Office Contact Information

Office/Facility Address Phone

Erie County Sheriff's Office

Sheriff Timothy B. Howard

Undersheriff Mark Wipperman

10 Delaware Avenue

Buffalo, New York 14202

(716) 858-7608

(716) 662-5554

Administrative Services 10 Delaware Avenue, Buffalo, New York 14202 (716) 858-7630

Division of Patrol One Sheriff's Drive, Orchard Park, New York 14127 (716) 667-5200

Emergency 9-1-1

Patrol Administrative Number (General Information) (716) 662-6150

Crime Prevention/ Community

Relations Unit

134 West Eagle Street, Buffalo, New York 14202 Phone: (716) 858-8863

Fax: (716) 858-2947

Public Awareness Is Prevention 134 West Eagle Street, Buffalo, New York 14202 (716) 858-6305

Civil Division 134 West Eagle Street, Buffalo, New York 14202 (716) 858-7606

Holding Center 40 Delaware Avenue, Buffalo, New York 14202 (716) 858-7636

Correctional Facility 11581 Walden Avenue, Alden, New York 14004 General Information:

(716) 937-9101

Investigative Services One Sheriff's Drive, Orchard Park, New York 14127 (716) 667-5200

Training Office

Erie Community College North Campus

6205 Main Street, Bldg. B-700, Suite B-711

Williamsville, New York 14221

Phone - (716) 270-5382

Fax - (716) 270-5390

Corrections Training Office

(716) 858-7206

Training Office

Office of Undersheriff

(716) 858-4979

10 Delaware Avenue, Buffalo, New York 14202

Domestic Violence Unit One Sheriff's Drive, Orchard Park, New York 14127 Ph (716) 667-5259 Hotline

Fax (716) 662-8477

Sex Offender Registry (716) 667-5236

Family Court Warrants and

Child Support

134 West Eagle Street, Buffalo, New York 14202 (716) 858-3285

(716) 858-6158

Professional Standards Division 134 West Eagle Street, Buffalo, New York 14202 (716) 858-8088
---
Erie County Sheriff's Office

Timothy B. Howard, Sheriff

10 Delaware Avenue

Buffalo, NY 14202

www.erie.gov/sheriff/

Paid for by the Erie County Sheriff's 21st Century Law Enforcement Foundation

Editor: Mary Jacobs

Design/Layout: Rob Marczynski

Cover photo courtesy of Derek Gee