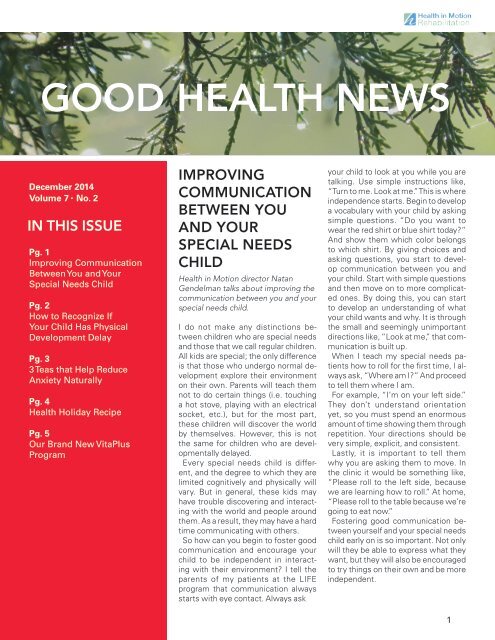 You also want an ePaper? Increase the reach of your titles
YUMPU automatically turns print PDFs into web optimized ePapers that Google loves.
GOOD HEALTH NEWS

December 2014

Volume 7 No. 2

IN THIS ISSUE

Pg. 1

Improving Communication

Between You and Your

Special Needs Child

Pg. 2

How to Recognize If

Your Child Has Physical

Development Delay

Pg. 3

3 Teas that Help Reduce

Anxiety Naturally

Pg. 4

Health Holiday Recipe

Pg. 5

Our Brand New VitaPlus

Program

IMPROVING

COMMUNICATION

BETWEEN YOU

AND YOUR

SPECIAL NEEDS

CHILD

Health in Motion director Natan

Gendelman talks about improving the

communication between you and your

special needs child.

I do not make any distinctions between

children who are special needs

and those that we call regular children.

All kids are special; the only difference

is that those who undergo normal development

explore their environment

on their own. Parents will teach them

not to do certain things (i.e. touching

a hot stove, playing with an electrical

socket, etc.), but for the most part,

these children will discover the world

by themselves. However, this is not

the same for children who are developmentally

delayed.

Every special needs child is different,

and the degree to which they are

limited cognitively and physically will

vary. But in general, these kids may

have trouble discovering and interacting

with the world and people around

them. As a result, they may have a hard

time communicating with others.

So how can you begin to foster good

communication and encourage your

child to be independent in interacting

with their environment? I tell the

parents of my patients at the LIFE

program that communication always

starts with eye contact. Always ask

your child to look at you while you are

talking. Use simple instructions like,

"Turn to me. Look at me." This is where

independence starts. Begin to develop

a vocabulary with your child by asking

simple questions. "Do you want to

wear the red shirt or blue shirt today?"

And show them which color belongs

to which shirt. By giving choices and

asking questions, you start to develop

communication between you and

your child. Start with simple questions

and then move on to more complicated

ones. By doing this, you can start

to develop an understanding of what

your child wants and why. It is through

the small and seemingly unimportant

directions like, "Look at me," that communication

is built up.

When I teach my special needs patients

how to roll for the first time, I always

ask, "Where am I?" And proceed

to tell them where I am.

For example, "I'm on your left side."

They don't understand orientation

yet, so you must spend an enormous

amount of time showing them through

repetition. Your directions should be

very simple, explicit, and consistent.

Lastly, it is important to tell them

why you are asking them to move. In

the clinic it would be something like,

"Please roll to the left side, because

we are learning how to roll." At home,

"Please roll to the table because we're

going to eat now."

Fostering good communication between

yourself and your special needs

child early on is so important. Not only

will they be able to express what they

want, but they will also be encouraged

to try things on their own and be more

independent.

1
---
Maggie receiving treatment at the

LIFE Program at Health in Motion.

HOW TO

RECOGNIZE IF

YOUR CHILD

HAS PHYSICAL

DEVELOPMENTAL

DELAY

As a parent, it's natural to worry about

your child developing normally. Especially

when comparing your child with

other kids: For example, "Her brother

was crawling by this time, why can't

she?" Please remember that every

child is different, and will

develop at different paces.

However, it is important

to be aware of the 'red

flags' associated with developmental

delay.

Here are some warning

signs to look out for:

• At 2 months: When

picking up your child, they

should be able to bring

their head forward. In a

developmentally delayed

child, their head will move

backwards because they are not able

to hold it up.

• At 2 months: If they are arching

their back and neck away from you

while being held.

• At 4 months: Watch how your child

mimics others and if they react to people

around them. If they don't smile,

react, or try to copy others' expressions

and movements, this may be a

sign of developmental delay.

• At 6 months: If your child is constantly

keeping their hands closed and

fisted. Also if they don't try to grasp for

toys and have difficulty opening their

hands.

• At 7 months: They are unable to support

their head when they are helped

into a sitting position. They don't grasp

or reach for their toys.

• At 9 months: They are unable to sit

without support. Normally developing

children will generally begin crawling

around this time and be able to stand

up by holding onto something.

• At 12 months: They are not crawling

and can't stand by holding onto something.

You can find a more complete and

detailed list of warning signs here:

(http://www.babycenter.com/0_warning-signs-of-a-physical-developmental-delay_6720.bc).

Please be aware

that this is a very general timeline,

and every child will vary in terms of

when they hit their developmental

milestones. If your child seems to exhibit

any of these signs, then consult

your doctor or a pediatric neurologist

so they can be assessed. Even if there

is no problem, it's always better to err

on the side of caution.

"If your child happens to be diagnosed

with developmental delay, you

must understand that the diagnosis

is not a label. This is just a title for the

symptoms that the child is exhibiting.

As a therapist, it gives me certain information

to keep in my head so I can

lead this patient out from what he has.

CP and developmental delay is not a

life sentence. No one can predict your

child's future." –Natan Gendelman,

D.O.M.P.

3 BENEFITS OF RAW, UNPASTEURIZED HONEY

1) Soothes throat irritation and cough: In one study, eating buckwheat honey was more effective than dextromethorphan

(a cough suppressant) and diphenhydramine (an antihistamine) in helping 139 children in relieving

their nighttime cough. It even improved their sleep! (http://www.webmd.com/diet/features/medicinal-uses-of-honey?page=3)

2) Anti-bacterial, anti-fungal & anti-viral properties: The enzymes found in honey produce hydrogen peroxide,

which is a natural antibacterial agent. Honey has also been shown to effectively fight food-borne pathogens like E.

coli and salmonella, as well as many other bacteria. Because of its unique properties, eating honey may also be a

good treatment for stomach ulcers and food poisoning!

3) Allergy Relief: Exposure to small amounts of flower pollen naturally found in unpasteurized honey may help

build up the body's immunity to seasonal allergies. Try taking two teaspoons of honey daily up to 6 weeks before

allergy season kicks in to help combat bad reactions. For serious allergic conditions, you should always consult

your doctor.

2
---
3 TEAS THAT HELP REDUCE ANXIETY NATURALLY:

Have you been under a lot of stress

lately? Whether it's meeting a new

deadline at work, kids misbehaving at

school, relationship troubles, or just

general apprehension about the future,

it's perfectly normal for everyone

to feel the anxiety jitters from time to

time. However, if you find that your

anxiety symptoms continue to persist,

consider adding these natural

herbal remedies to your diet to soothe

your nerves.

• Chamomile: For centuries, chamomile

has been used as a medicinal

herb to treat a variety of conditions

such as eczema, rheumatic pain, indigestion,

etc. It was also regarded

as an effective sedative to treat anxiety,

hysteria, and even sleep problems

such as insomnia. A recent study has

shown that chamomile significantly

calms the human body by relaxing

its blood vessels and smooth muscle

fibers. Another 2009 study by the

University of Pennsylvania School of

Medicine found that patients diagnosed

with generalized anxiety disorder

(GAD) who were treated with

chamomile extract for 8 weeks experienced

a significant reduction in their

GAD symptoms compared to patients

who did not receive chamomile extract

treatments.

• Lavender: Used in the ancient baths

and homes of Greece and Rome,

this herb has a long history of being

used to help remedy a wide range of

conditions including insomnia, anxiety,

depression, upset stomachs, and

headaches. Lavender is widely used

as an aromatherapy treatment for its

calming and sedative properties (this

is why you may find some doctor's

office waiting rooms scented with lavender

oil), but it can also be made

into a tea. In a study published in the

International Journal of Phytotherapy

and Phytopharmacology, researchers

found that lavender administered orally

to adults with GAD effectively reduced

anxiety symptoms just as well

as lorazepam, a common medication

used to treat anxiety disorders. Since

there is no potential for substance

abuse with lavender, researchers concluded

that it could be a good alternative

to using certain medications.

• Peppermint: The menthol present

in peppermint leaves acts as a natural

muscle relaxant, which is excellent

for soothing the body when it is under

a lot of tension. It has been used to

treat stress induced headaches and

migraines, anxiety, nausea, diarrhea,

indigestion, and even symp toms of

the common cold and flu. According

to the University of Maryland Medical

Center, some studies suggest that

peppermint may have antibacterial,

antifungal, and antiviral properties.

When preparing these anxiety-reducing

teas, always use loose tea leaves

for best results! Also, consult your

health care provider if you are on any

medication before taking any herbal

supplements to prevent unwanted

side effects. And remember, it's also

important to treat anxiety disorders

with a healthy lifestyle (nutritious diet

& exercise); surrounding yourself with

people who love and support you; and

consulting a therapist to learn proper

coping mechanisms.

WANT TO SUBSCRIBE?

DID YOU KNOW?

People whose diets are rich in

potassium may be less prone to high

blood pressure. Besides reducing

sodium and taking other hearthealthy

steps, eat potassium-packed

picks such as bananas, cantaloupe,

and oranges.

Good Health News publishes articles about curent health issues. The

material in this newsletter is not copyrighted, and may be reproduced

and shared with family and friends. Articles in GHN are for informational

purposes only. If you have a health condition, please consult your physician

or health care provider before following any advice. Good Health

News is published by the Health in Motion Rehabilitation Clinic, Toronto,

Ontario, (416) 250-1904, info@healthinmotionrehab.com. Previous

issues of Good Health News are posted at: www.healthinmotionrehab.

com. If you would like a subscription, or a copy of past issues, feel free

to contactu us. We hope you enjoyed this issue!

-The Health in Motion Team

3
---
HEALTHY HOLIDAY RECIPE

Baked Stuffed Apples (4 servings)

Duration: 35 minutes

Ingredients:

-4 apples (choose your favorite organic kind!)

-one handful of nuts, roughly -chopped (use your favorite

assortment)

-one handful of dates, roughly chopped

-one handful of raisins

-one handful of figs, roughly chopped

-¼ teaspoon cinnamon or nutmeg (optional)

-2 tablespoons of unpasteurized -honey for sweeter taste

(optional)

Directions:

Photo credit: Morsels Minus

1. Preheat oven to 350 degrees Fahrenheit.

2. Slice off the top of the apples and scoop out the center

and seeds for each, so there is a hole where you can

place the filling. Should look something like an apple cup!

3. Save the apple bits you scooped out, chop them

up, and toss with the nuts, dates, raisins and figs in a

separate bowl with honey.

4. Stuff each apple hole with the honey-coated nuts,

apples, dates, raisins and figs.

LIFE PROGRAM

"Since we've been

coming here, Poppy

has made so many

improvements and

has learned to do so

much. When we first

came 2 years ago,

Poppy's movements

and skills were very

limited. She couldn't

roll, she couldn't pick

things up, she couldn't

hold things, and she couldn't sit without throwing herself

back. Now she can roll, she can hold things, use her

hands, and she can sit with minimal support. She's almost

crawling, she can stand, and can even take steps with

support. The LIFE Program has taught Poppy so much and

she is now on her way to crawling, something we didn't

think would ever be possible."

-Haley Lyons, Poppy's mother

Mini Program

For: kids 0-12 & 12-16 with CP, ABI or stroke

Frequency: 2 times a week, 2 hours/day

Duration: Ongoing as needed

Maxi Program

For: kids 0-12 & 12-16 with CP, ABI or stroke

Frequency: 5 times a week, 4.5 hours/day

Duration: 4 weeks

Contact us if you are interested in booking for 2015.

For more information, visit our website:

www.healthinmotionrehab.com.

Have something you'd like to share?

E-mail us! We'd love to hear from you. Send your stuff to:

healthinmotion@bellnet.ca

www.facebook.com/EnabledKids

www.twitter.com/EnabledKids

www.facebook.com/healthinmotionrehab

4
---
WHAT IS VITAPLUS THERAPY?

VitaPlus therapy is an all-natural treatment for people suffering

from chronic illnesses, which activates the body's

innate ability to regenerate healing through a completely

organic and vegetarian diet, juicing, natural supplements

and vitamins, detoxification and cleansing. Based on osteopathy

manual practitioner Natan Gendelman's extensive

experience of successfully treating various conditions,

such as cancer, arthritis, fibromyalgia, asthma, irritable

bowel syndrome, Crohn disease and so on, the VitaPlus

methodology and program is based on a whole-body approach

which reactivates the immune system and develops

an environment in which diseases cannot survive.

VitaPlus Approach

We see the body as a single unit of function, which encompasses

the mechanisms and ability to heal itself. Our

treatment reactivates and boosts the immune system,

which fights and kills diseases.

How Do We Do This

VitaPlus treatment is a full intensive detoxification and

cleansing regimen focused on restoring and reactivating

the body's ability to heal itself.

It Consists Of:

- Entirely organic and vegetarian diet plan,

including juices, meals and snacks

- Up to 5 litres of fresh pressed juice daily

- Biologically-natural nutritional supplements

and vitamins

- Detoxification and cleansing

- Massage therapy

- Health coaching

5