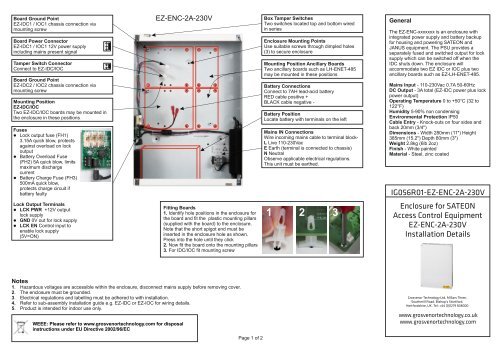 Enclosure for SATEON Access Control Equipment ... - Grostech.com
Enclosure for SATEON Access Control Equipment ... - Grostech.com
Enclosure for SATEON Access Control Equipment ... - Grostech.com
SHOW MORE
SHOW LESS
You also want an ePaper? Increase the reach of your titles
YUMPU automatically turns print PDFs into web optimized ePapers that Google loves.
Board Ground Point

EZ-IDC1 / IOC1 chassis connection via

mounting screw

Board Power Connector

EZ-IDC1 / IOC1 12V power supply

including mains present signal

Tamper Switch Connector

Connect to EZ-IDC/IOC

Board Ground Point

EZ-IDC2 / IOC2 chassis connection via

mounting screw

Mounting Position

EZ-IDC/IOC

Two EZ-IDC/IOC boards may be mounted in

the enclosure in these positions

Fuses

l Lock output fuse (FH1)

3.15A quick blow, protects

against overload on lock

output

l Battery Overload Fuse

(FH2) 5A quick blow, limits

maximum discharge

current

l Battery Charge Fuse (FH3)

500mA quick blow,

protects charge circuit if

battery faulty

EZ-ENC-2A-230V

Box Tamper Switches

Two switches located top and bottom wired

in series

Enclosure Mounting Points

Use suitable screws through dimpled holes

(3) to secure enclosure

Mounting Position Ancillary Boards

Two ancillary boards such as LH-ENET-485

may be mounted in these positions

Battery Connections

Connect to 7AH lead-acid battery

RED cable positive +

BLACK cable negative -

Battery Position

Locate battery with terminals on the left

Mains IN Connections

Wire incoming mains cable to terminal block-

L Live 110-230Vac

E Earth (terminal is connected to chassis)

N Neutral

Observe applicable electrical regulations.

This unit must be earthed.

General

The EZ-ENC-xxxxxxx is an enclosure with

integrated power supply and battery backup

for housing and powering SATEON and

JANUS equipment. The PSU provides a

separately fused and switched output for lock

supply which can be switched off when the

IDC shuts down. The enclosure will

accommodate two EZ IDC or IOC plus two

ancillary boards such as EZ-LH-ENET-485.

Mains Input - 110-230Vac 0.7A 50-60Hz

DC Output - 3A total (EZ-IDC power plus lock

power output)

Operating Temperature 0 to +50°C (32 to

122°F)

Humidity 5-90% non condensing

Environmental Protection IP50

Cable Entry - Knock-outs on four sides and

back 20mm (3/4")

Dimensions - Width 280mm (11") Height

385mm (15.2") Depth 80mm (3")

Weight 2.8kg (6lb 2oz)

Finish - White painted

Material - Steel, zinc coated

IG056R01-EZ-ENC-2A-230V

Lock Output Terminals

l LCK PWR +12V output

lock supply

l GND 0V out for lock supply

l LCK EN Control input to

enable lock supply

(5V=ON)

Fitting Boards

1. Identify hole positions in the enclosure for

the board and fit the plastic mounting pillars

(supplied with the board) to the enclosure.

Note that the short spigot end must be

inserted in the enclosure hole as shown.

Press into the hole until they click

2. Now fit the board onto the mounting pillars

3. For IDC/IOC fit mounting screw

1 2 3

Enclosure for SATEON

Access Control Equipment

EZ-ENC-2A-230V

Installation Details

Notes

1. Hazardous voltages are accessible within the enclosure, disconnect mains supply before removing cover.

2. The enclosure must be grounded.

3. Electrical regulations and labelling must be adhered to with installation.

4. Refer to sub-assembly installation guide e.g. EZ-IDC or EZ-IOC for wiring details.

5. Product is intended for indoor use only.

WEEE: Please refer to www.grosvenortechnology.com for disposal

instructions under EU Directive 2002/96/EC

Page 1 of 2

Grosvenor Technology Ltd, Millars Three,

Southmill Road, Bishop's Stortford,

Hertfordshire, UK. Tel: +44 (0)1279 838000

www.grosvenortechnology.co.uk

www.grosvenortechnology.com
---
Installation

Fix the enclosure to a flat surface using the three dimpled holes with suitable screws. The

dimples provide a spacing from the wall which is necessary to accommodate items protruding on

the back such as screw heads and PCB mounting pillars. The spacing provided by the dimples

will help in preventing distortion of the enclosure when fixing to slightly uneven surface however

care should be taken to avoid distorting the enclosure if the surface is too uneven.

Mechanical

Drawing Dimensions - Shown in mm

Cable Entry - Knock-outs on four sides and

back 20mm.

The enclosure is intended for indoor use only and should be located in a dry non-corrosive

environment.

Mount the enclosure in either of the orientations shown.

UP

Block Diagram

The diagram below shows how different elements of the power supply are interconnected. The

lock power switch provides a shut-down for the lock power supply when the EZ board shutsdown

(refer to EZ board Installation Guide for wiring details).

The EZ-ENC-2A-230V is capable of powering two EZ boards, battery charging and providing a

minimum of 2Amps for locks and readers.

Mains IN

110-230Vac

Mains PSU

12Vdc

Boost

3Amps

Mains Present Signal

13.6Vdc

To EZ-Board

FH3

FH2

Lock

Power

Switch

FH1

Lock Power

Lock Power

Enable Signal

(from EZ Board)

Battery

Page 2 of 2