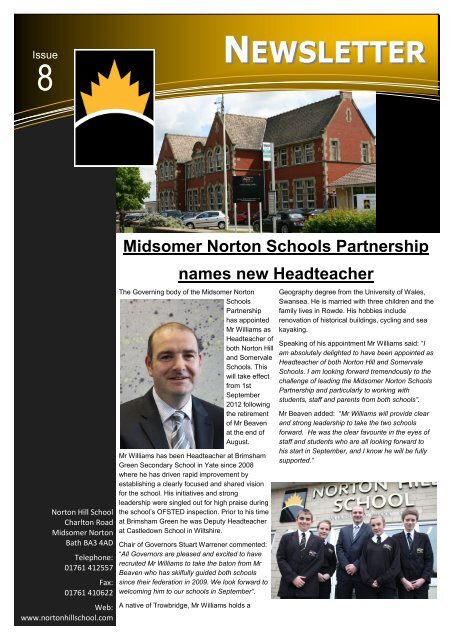 NEWSLETTER - Norton Hill School
NEWSLETTER - Norton Hill School
NEWSLETTER - Norton Hill School
SHOW MORE
SHOW LESS
You also want an ePaper? Increase the reach of your titles
YUMPU automatically turns print PDFs into web optimized ePapers that Google loves.
Issue

8

Norton Hill School

Charlton Road

Midsomer Norton

Bath BA3 4AD

Telephone:

01761 412557

Fax:

01761 410622

Web:

www.nortonhillschool.com

NEWSLETTER

EWSLETTER

Midsomer Norton Schools Partnership

names new Headteacher

The Governing body of the Midsomer Norton

Schools

Partnership

has appointed

Mr Williams as

Headteacher of

both Norton Hill

and Somervale

Schools. This

will take effect

from 1st

September

2012 following

the retirement

of Mr Beaven

at the end of

August.

Mr Williams has been Headteacher at Brimsham

Green Secondary School in Yate since 2008

where he has driven rapid improvement by

establishing a clearly focused and shared vision

for the school. His initiatives and strong

leadership were singled out for high praise during

the school"s OFSTED inspection. Prior to his time

at Brimsham Green he was Deputy Headteacher

at Castledown School in Wiltshire.

Chair of Governors Stuart Warrener commented:

"All Governors are pleased and excited to have

recruited Mr Williams to take the baton from Mr

Beaven who has skilfully guided both schools

since their federation in 2009. We look forward to

welcoming him to our schools in September".

A native of Trowbridge, Mr Williams holds a

Geography degree from the University of Wales,

Swansea. He is married with three children and the

family lives in Rowde. His hobbies include

renovation of historical buildings, cycling and sea

kayaking.

Speaking of his appointment Mr Williams said: "I

am absolutely delighted to have been appointed as

Headteacher of both Norton Hill and Somervale

Schools. I am looking forward tremendously to the

challenge of leading the Midsomer Norton Schools

Partnership and particularly to working with

students, staff and parents from both schools".

Mr Beaven added: "Mr Williams will provide clear

and strong leadership to take the two schools

forward. He was the clear favourite in the eyes of

staff and students who are all looking forward to

his start in September, and I know he will be fully

supported."
---
Orienteering to Success

Zac Hudd (Year 7) attended the British

'O' Champs as a Orienteering competitor

in York. He won the Sprint O Champs on

the Saturday which involved competition

heats and the final (set in the grounds of

York University campus). But, if this

wasn"t enough, on the Sunday, Zac also

won the British Middle Distance

Championships (at M12 age class)!

Zac is currently preparing for the

international JK O festival in Scotland

over Easter and the British Long

(Classic) Championships in early May

(Lake District) and then the Welsh '6

days' International O festival in late July.

We wish him every luck & success!

Norton Hill School's Community Garden

Year 10 students are volunteering their time and gardening skills

in order to create a community garden which is situated in

between Charlton Road and Silver Street. Shyam Sawhney

(10Q2) who was a Deputy Member of Youth Parliament was given

the land by the Parks department of the local council and a £300

grant from the O2 Think Big scheme in order to establish the

garden.

Working in

liaison with

Simon

Memory

(BANES) and

Jamie

Colston (Green Vision), he then set up a steering group of 15 students

to draw up plans. On Wednesday the group attended a session on

permaculture run by Sarah Pugh (Shift Bristol) who helped them to

turn their plans into reality. This session was a great

success and the group have now marked out their

vegetable patches and flower beds. After Easter, the

project will be opened up across the rest of the

school as they move onto the planting stage. The

group"s plan is to plant fruit trees, vegetables, wild

flower seeds, bulbs and trees. They are also

planning to install a bird bath. The group is really

keen to make their garden an area that can be

enjoyed by the whole local community. They are

very excited and can"t wait to share their progress

with everyone.
---
Four students from Norton Hill have

shown off their language skills and won

themselves places in the final of a

nationwide competition. The Year 7

After getting through the public vote, partly due to the support

of many of Cassidy"s friends and teachers, Cassidy qualified

for the final of Miss Teen Dreams UK in Milton Keynes. At the

ceremony, she had to give a 5-10 minute speech in front of

the other forty contestants and three judges. Cassidy"s

presentation was based upon the aims for the Dangme East

District in Ghana with her main focus being education.

Instead of focusing directly on the construction of schools in

the region, Cassidy concentrated her presentation on "The

limitation of learning resources in Ghana and how the use of

learning resources in the classroom influence learning more

than any other media".

Spelling Bee Champions

students have been taking part

in the national Languages

Spelling Bee, where they have

had to learn the spellings of 150

words in French, German or

Spanish, and then spell out loud

as many as they can within a

minute.

Andrew Mateer, Josh Pidduck,

Cerys Stephens and Vanessa

Lewis took part in class

competitions back in the

autumn, resulting in them

gaining places to represent the

school in the regional final. This

took place at Norton Hill on Monday 19 th

March and saw teams from all over the

South-West taking part, from

Gloucestershire to Cornwall.

Miss Teen Dreams UK

Cassidy stated "It"s so cheap

and easy to send over items

such as number lines and

posters to Ghana. I"m sure

Norton Hill School can help

me achieve this, as in the

Summer, I will be collecting

as many resources as I can,

to fit into my suitcase to take

over to Ghana." Cassidy also

hopes that Somervale will

help her achieve this aim.

"All in all, I hope to actually

inspire the children in Ghana to learn. I would love to be able

to brighten up their lives, even just a bit and make the school

environment a really cheerful environment, just like ours! Not

only due to the donated resources, but also by contributing

with a positive, enthusiastic, fun attitude (as usual)!'

The Norton Hill team held their own and

all four students won themselves places

at the national final in Cambridge in July.

For this, they will have to learn the

spellings of a further fifty words, making

200 in total. Andrew Mateer, winner of

the French competition, said "taking part

in the regional final made me feel

nervous and excited at the same time –

the trip to Cambridge is sure to be a

good one".

The competition is organised by "Routes

into Languages", a national consortium

of university language departments

working together with schools and

colleges to enthuse and encourage

students to continue with their language

studies.

Further details of this event can be found at

www.ukteendreams.com.

Mr Beaven,

Headteacher at

Norton Hill

School said "we

are very proud

of Cassidy's

achievements

and wish her

every success

in Ghana. She

is a remarkable

student with so

much

enthusiasm and

determination to

make a

difference. 'The

school has

vowed to help

wherever it can

to support her.
---
In March, award winning Radstock based drama group, Exit

Stage Left gave a fabulous

rendition of Hansel and Gretel,

the Pantomime. Among the

talented cast were Lauren

Martin (8M1), Ellie Williams

(9C1), Melissa Oram (9C1),

Acting and Singing Talent

Michael

Doe

(9C1),

Natalie

Cross

(9C2) and

Molly

Barron

(10B1).

They did

five performances over 4 days and demonstrated

just what can be achieved through sheer

determination, practice and oodles of enthusiasm.

It is great to see that level of commitment from our

Year 11 Language Leaders

The Year 11 Language Leaders have recently celebrated graduating from the scheme and gaining the award. For the last

year they have been busy working in after school sessions to

develop their leadership and communication skills. More

importantly, though, they have spent a lot of time supporting

younger students with their language learning. This culminated

in the Language Leaders hosting the regional final of the

national Spelling Bee last month – a massive success. This

year the cohort has been bigger than ever, at 36 students,

building on the successes of previous years. We congratulate

all the students on their achievement and wish them well in their

future language learning.

On Wednesday 18th April, 28 Dutch

students from Veluws College in Holland

came to visit Norton Hill. Many Year 9

students showed them

around and looked after

them for the day. They

arrived at approximately

9:15am by bus and were

taken to the hall where

they were paired up with

our Year 9s who they had

already contacted,

through a website called

TwinSpace. For Period 1

all students got to know

their partners and things about each

other"s schools.

After this brief meeting, the English

students took their partners to their next

lesson where the Dutch students got a

feel for English lessons. The Dutch

Dutch Visitors

pupils stayed with their partners through

break, Periods 3 & 4, lunch and Period

5. In Period 6 everyone went back to

the hall and we then walked around the

school and did a quiz. Kindly, the Dutch

students brought us all presents from

Holland! They were typically Dutch

things including waffles and clogs!

After school, we all trekked to the astro

in the pouring rain for a game of football

between England and Holland. We drew

2-2 but would have lost if it wasn"t for

Norton Hill"s very own

Joe Hart – Steve Rogers.

partners.

The day was very

interesting and we learnt

a lot about Dutch culture

and schools. We would

like to thank all the

teachers involved - both

the Norton Hill teachers

and the Dutch visitors.

We hope to keep in

contact with our Dutch

By Melissa Oram (9C1) and Jacob

Smith (9E2)
---
Heading

SAINSBURY'S ACTIVE KIDS VOUCHERS

If have been collecting Sainsbury's Active Kids vouchers over the past few weeks could you please try to get all you

vouchers into school ASAP. We are fast approaching the deadline for collection and we are on track to obtain some

fantastic new PE equipment for the start of next year. Remember every voucher counts!

Vouchers can either be posted into the box at reception or brought to the PE office.

Norton Hill School Supports Cancer Research UK

On Wednesday 25th April, Norton Hill

School was the venue for a fantastic

musical concert in aid of Cancer

Research UK. Staff and students of all

ages gave performances across the

many genres of the musical spectrum

including classical, jazz and rock.

During the intermission, students held a

cake sale and raffle, both of which were very well received and helped add to the

total money raised, which on the night

was £406.44p.

The concert was very well attended by

parents and the music lovers amongst

us. Everyone involved would like to

thank the local community for their

support on what by all accounts was a

Nail Parlour -Thursday 21st June

very successful evening in aid of a very

worthy cause.

As part of the Cotswold House charities week it is proposed to hold a "Nail painting session" during the lunchtime on

Thursday 21st June.

There will be a small charge for the

service where pupils can have their

nails painted. Pupils will be permitted

to wear polish for only that afternoon

and will be expected to arrive in

school on Monday, adhering to normal

school rules regarding nail varnish.
---
Sixth Form Charity Event

After the fantastic success of Midsomer Norton Sixth Forms previous event, the "Elderly Citizen Christmas Party", the Sixth

Form embraced their charity week with great energy and enthusiasm.

For several weeks prior to the week, the Sixth Form student Council met weekly, planning the events carefully, to gain

maximum proceeds for their chosen charities.

The Sixth Form gave great consideration to deciding on which charities to support. They finally decided on Cancer Research

UK, Help for Heroes and local charity; Time is Precious. They all agreed they knew someone who had been affected by

cancer or war casualties, and they believe that Ben Halford has touched the hearts of everyone in our community.

The Council decided to offer a range of activities that they hoped would appeal to all year groups across both schools. The

week was a huge success with staff and students supporting each event, from yummy cake sales, a raffle, a school quiz

(with Sixth Formers beating the staff), Super Heroes fancy dress with lots of "pink clothing" during dressing up day,

culminating in the finale of a football match between the Sixth Form and staff which ended in a draw. A great time was had

by all!

The sixth form students agreed that they had thoroughly enjoyed participating in the charity week, were thrilled by the

support and were delighted to hand over cheques to the chosen charities and hoped it would put a smile on many faces.

Headteacher Mr Beaven standing here with the Midsomer Norton Sixth Form Charity Committee, holding cheques destined

for two of the chosen charities of Help for Heroes and Cancer Research UK

New Sixth Form Centre

On May 16 th the new Sixth Form Centre was opened at Somervale School . Costing over a quarter of a million pounds the

Centre will support students in the Midsomer Norton Sixth Form by providing extra

study facilities.

It will provide

a base for the

Sixth Formers

whilst they are

at the

Somervale

site and will

house up to

sixty Sixth

Fomers as

they do their

private study.
---
The teachers were looking good

and the sixth formers didn"t know

what hit them. Suddenly James

Gwyther goes down the wing and

finishes a beauty! The teacher"s

heads went down but we knew

they wouldn"t give up. Mr White

got the ball from Pricey, Mr White

takes on 1, 2 and then gives the

ball back.

Mr Price makes his way into the

box, he goes down and Goldsmith

gave the penalty (Sir winks

towards us!) Mr Lee steps up,

straight down the middle and Jon Harvey saves it with his

foot, easy save!

The teachers were on the back foot quite a lot now but Mr

Ireland was there to pick up the pieces! Ryan Gay heads

down the line running with extreme pace! He skips past

Ireland, but the finish wasn"t great and turned out to be an

easy stop for the goal keeper. The teachers were looking

Sixth Form V Teachers

save.

tired, one

picked the ball

up on the edge

of the box from

Mr White. He

shoots and hits

the hands of

defender Jack

Gianella.

Pricey steps up

this time not a

great penalty

and Jon

Harvey makes

another great

The teachers receive a free kick and Mr Lee is desperate to

take it, but he scuffs it and hits the wall. As the game goes

on, the teachers are getting free kicks everywhere from Mr

White. Mr Ireland steps up to this one! Goes for finesse and

hits the crossbar! So close to equalising! Another free kick

has been awarded to the teachers. The unknown

science teacher gets a chance to finish it, he hits

it hard and it flies over the goalkeepers head into

the back of the net. Mr Goldsmith blows his

whistle and ends it at that!!

Teachers 1-Sixth Form 1

Kailan Gould 9B1

Dates for 2012/13 Academic Year are now available on the school's website.

Term 5 Finish: Friday 1st June 2012

Term 6 Start: Monday 11th June 2012