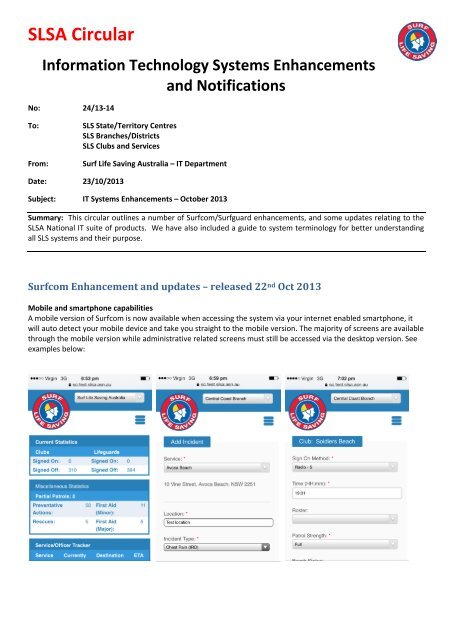 SLSA Circular - Surf Life Saving NSW
SLSA Circular - Surf Life Saving NSW
SLSA Circular - Surf Life Saving NSW
SHOW MORE
SHOW LESS
You also want an ePaper? Increase the reach of your titles
YUMPU automatically turns print PDFs into web optimized ePapers that Google loves.
SLSA Circular

Information Technology Systems Enhancements

and Notifications

No: 24/13‐14

To:

From:

SLS State/Territory Centres

SLS Branches/Districts

SLS Clubs and Services

Surf Life Saving Australia – IT Department

Date: 23/10/2013

Subject: IT Systems Enhancements – October 2013

Summary: This circular outlines a number of Surfcom/Surfguard enhancements, and some updates relating to the

SLSA National IT suite of products. We have also included a guide to system terminology for better understanding

all SLS systems and their purpose.

Surfcom Enhancement and updates – released 22 nd Oct 2013

Mobile and smartphone capabilities

A mobile version of Surfcom is now available when accessing the system via your internet enabled smartphone, it

will auto detect your mobile device and take you straight to the mobile version. The majority of screens are available

through the mobile version while administrative related screens must still be accessed via the desktop version. See

examples below:
---
Surfcom Contact groups – Maintenance of contact groups in Surfguard

To avoid having potentially wrong contact information in Surfcom we have provided the ability for Surfcom

managers to maintain contact groups within Surfguard. When an SMS or Email is sent through Surfcom Messaging it

will now allow Surfguard mailing groups to be selected, the message will then be sent to the mobile or email against

the members in that group. In this way if a member changes their mobile or email in Surfguard then it will

automatically be used by Surfcom next time a message is sent.

Important: When creating Surfcom mailing groups in Surfguard ensure that the mailing group is setup with group

type 'Surfcom'. Only mailing groups with group type 'Surfcom' will be available from within the Surfcom system. This

is explained more in the Surfguard enhancement update on the following pages.

When generating a Surfcom message, operators are now given the choice between current Surfcom contact groups

or groups created through Surfguard. Both are provided currently to allow for a transition however the contact

groups creating within Surfcom will be removed in the coming months.

SMS Messages appearing on the radio log

SMS messages sent through Surfcom messaging will now appear on the Surfcom Radio log so that important

communication can be tracked and reported on more efficiently.

User Guide updates

The Surfcom online user guide has been updated and is accessible via the "Online Help" button at the top of

Surfcom, as highlighted below:

2
---
GPS Tracker Log

All information logged through the SLS Portal GPS tracking application is viewable in real‐time on a map, using the

"Map" menu item. A new log has also been created allowing operators to see a log of all GPS tracking related

activities for the current day. The new log is available via the "Logs" menu and is called "GPS Log", see below:

Hazards at Sign‐off

When signing off a club or lifeguard, operators will now see the standard list of hazards on the sign‐off screen. If any

hazards are still present at the time that the club is signing off then the operator should ensure the hazard(s) is

ticked. This will then log the hazard(s) directly against the beach and therefore even though the club has signed off,

the hazards will still show on the Beachsafe website for important real‐time community beach safety information.

Callsigns for all organisations

Surfcom now has the option of putting callsigns against any

organisation in the system. Where a callsign has been assigned

to an organisation it will appear after the organisations name

in square brackets, example Central Coast RWC 1 [Rescue 1]

Where an organisation can be selected from a dropdown in the

system, you can now type either the organisations name or

callsign to find/select it (see image to the left).

For Administrators: the callsign management screen is

available in the "Administration" menu.

Service/Officer Tracker ‐ Odometer and fuel level during sign‐on/sign‐off

During sign‐on and sign‐off of support services and officers both the odometer and fuel level have been added to

the screen. This will allow operators to record the fuel level and odometer reading for all rescue and support

operation personnel at both the start and end of their shift. See below image:

3
---
Bug fixes and other updates

• An issue with the time offset (for some states) when setting hazards at unpatrolled beaches has been fixed

• An issue with the Surfcom server time going out of synch by a few minutes has been resolved

• A security loophole allowing some users to access administration screens has been resolved

• An issue whereby Supervisor level users were unable to re‐open incidents has now been fixed

Surfguard Enhancements and updates – released 17 th Oct 2013

Assessment processing and certificate printing

A fix has been released into Surfguard and the following issues should now be resolved in relation to assessment

processing and printing of certificates:

‐ Timeouts

‐ Database errors

‐ Duplication of awards/units

If you are still experiencing any issues then please contact the SLSA IT Helpdesk.

Multiple allocation of awards

A number of awards can now be allocated multiple times to members were required. This functionality has been

applied to all Recognition awards and Units of Competency.

4
---
Carnival Manager

Australian Surf Rowers League (ASRL) conducting boat carnivals – entry

The ASRL will be using the Surf Life Saving Carnival manager to take entries and for recording results for events this

season, 2013‐2014.

A new link has been added to the selection screen at http://carnival.sls.com.au called ASRL. To enter for a specific

State or National ASRL event, go to this version.

Clubs are advised that their login used for the Aussies / State entries can also be used for the ASRL version.

Any questions related to a specific ASRL carnival or event should be directed to the organiser in that State or at

National. These details should be contained in the carnival details.

Officials / Organisers should review the User Guide to acquaint themselves with the system if. The User Guides can

be found here: http://sls.com.au/downloads under Information technology/User Guides. See below image:

Any issues with logins or system trouble, please email ithelp@slsa.asn.au

General – award enforcement

Please note that the carnival system only currently enforces the following awards:

• Bronze Medallion – not Certificate II

• SRC

• Junior Activities competition evaluation – not Surf Education

Please note that the proficiency requirement is not strictly enforced in the carnival manager, ie a non‐ proficient

member can be entered BUT the non‐proficient status is highlighted in red and marked with an X in the draw sheets.

The Club should NOT enter a non‐proficient person to a carnival unless they are sure of a valid reason and each

carnival organiser (Branches and States) has processes in place to check proficiency status at the appropriate time.

Check with your Branch/State Surf Sports / Member Services if unsure.

Force Update

Clubs should use the 'Force Surfguard Member List Update' function regularly to ensure the latest details come

across from Surfguard to the carnival system, especially whilst renewals and proficiencies are being processed.

NOTE: If you are unsure OR have any questions, contact your State / SLSA Surf Sports area for clarification

5
---
SLS Portal Website – portal.sls.com.au

The following updates have been applied to the SLS Portal:

• Memory and Configuration changes to allow for speed increases in the system

• The syncing of user accounts between the Portal website and Portal Smartphone App

• Enhancements in the "Search Center" to allow for easily searching library documents. When using the

search center, click on the "All Sources" option and select "Library"

• Bug fixes in password validity checking. This is now the same for both the create account page and the

update password page

SLSA Resources Library moved to the members portal (portal.sls.com.au)

The SLSA Online Resource library will be retired in early

2014. All members who need access to SLS information

at an SLSA and State level are encouraged to obtain a

portal account – no paperwork is required, a portal

account can be created by any member of a

club/service. Members need to be financial for the

current season to see the library and use other

features within the library (REG 2013‐14).

There are two ways to get access to your documents as

outlined below:

Secure Resources Library

The Secure Resources Library and SLSA Brandbox will be moved into the SLSA Members Portal in early 2014.

Previously the secure library was accessed via the SLSA Website using the Members ‐> Club and member resources

menu item. You will now be required to go to the Members Portal (http://portal.sls.com.au) and log in using your

member login. If you do not have a login then please use the "Create Account" link to create your Members Portal

account. Once logged into the Portal you will find the Secure Resources under the Library menu.

Admin and Resources Library

The publicly available admin and resources area will be split into Member Specific resources and Public Resources.

The Member Specific resources will be loaded into the Members Portal Library (as per above) and the publicly

available resources will still be available via the SLS Website.

Portal activities for States

States are encouraged to commence the process of loading relevant files into the Portal Library and to start the

process of approving content that has been added by members.

States are also encouraged to monitor and approve/reject submissions to the News/Jobs/Announcements area of

the member's portal.

Content Approver permission is required for the above two activities – if this is required then a Form 49 needs to be

sent to SLSA. This form 49 can be found on the Surfguard Login page under the "Account Assistance" section

During the transition if you have any queries regarding the location of a resource or access to the Members Portal

then please contact the SLSA IT Helpdesk on 1300 724 006 or ithelp@slsa.asn.au
---
Smart Device Applications and other web applications

The following Smart Device applications have been enhanced and/or implemented recently:

Can be used by members and Clubs:

• Beachsafe for IOS (ipad and iPhone) has been enhanced and is available through the iTunes App Store

• Beachsafe for Android devices has been developed and is available through the Google Play store

• Water Safety Policy risk application for IOS and Android is available on email request through

ithelp@slsa.asn.au (please advise in your email if IOS or Android is required. A new feature to allow for

comments to be added against a Risk or Hazard regardless of the selection has been added.

• Event risk application for Android (IOS is already released) has been created. This application is used by

Emergency Services Coordinators or Event Managers to assess risks related to an event. This application is

available via a F49 signed off by your club.

• Beachsafe web – www.beachsafe.org.au has been extensively rewritten with many new features. This

website is available on all devices that have internet connection through a web browser.

Can be used by Members, Clubs, Lifeguards and Support Operations on approval by your State:

• Members Portal with Patrol tracker for IOS and Android – V1 has been released and distributed once

approved by your State Lifesaving Department.

• Members Portal with Patrol tracker, Signon/off and Hazards at unpatrolled beaches ‐ V2 for IOS and

Android. V2 will be released in late 2013. Only approved users sent in by States can use this application.

• Voice sign on/off – this application is in pilot and only those clubs/support operations and Lifeguards who

have been approved by State Lifesaving Departments can use this application.

Other Action for Clubs – web and Social media

• Your Clubs facebook administrator should 'Like" your beach in Beachsafe so that you connect your beach to

you clubs facebook page. See below image to see the 'Like' link

• Your Clubs Website administrator should link your beach in Beachsafe (using the URL of the beach) on your

clubs website so visitors can easily see the beach information from your website.

• There is an event area in Beachsafe where clubs can advertise their events along with other community

events. See below image showing the "Create event" option

• Club members who use Facebook are encouraged to leave positive comments on your beaches Facebook

page in Beachsafe. Use the 'Social' tab as can be seen below to add Facebook comments.

7
---
A guide to systems terminology

SLS IT assists many people over the course of a day, in particular those who are trying to access the wrong system or

are confused about which system they should be using. We would appreciate if Clubs / Branches and States could

explain to members which system they are supposed to use:

Lifesaving Online – this is the members self service area where members can go to renew membership, change

contact details and view their own details. Each member has a separate Lifesaving Online account created by them

(even children). Go to www.lifesavingonline.org.au

Surfguard ‐ this system is used by Club Officers / Administrators to manage members, awards and patrols. It is NOT

used by members. Go to www.surfguard.slsa.asn.au

Portal or Members Portal – this is a new system similar to lifesaving online. Members and officers will use this

system to view organisation news, files, communications and other features. It is being rolled out in 2013. A

member of a club can create an account themselves by going to portal.sls.com.au

E‐Learning – this system is accessed through Lifesaving Online by clicking on the My Courses tab.

Payment Gateway – members of clubs are encouraged to make a payment to their club through Lifesaving Online

rather than just going directly to the payment gateway. Club officers use ilink to manage the payment gateway.

NOTE: Clubs should always be the first port of call for members who are having difficulty renewing / joining their

club and for the updating of member / personal information. Making your Club's contact details easy to find will

assist members / new members through the joining process.

Help & Support

http://sls.com.au/ithelp

SLS IT Welcomes new Staff member

SLSA Welcomes new Staff Member Cheryl White to the IT Support Team. Cheryl will complement the existing Team

and once up to speed will enable extended hours of support to our Volunteers and Staff around the country.

Support Hours (SLS IT will advise the extension of hours in the next circular)

Monday to Friday:

8.00am – 6.00pm

Saturday & Sunday:

9:00 am – 1:00 pm

Email:

Surfguard Help:

All other IT Help:

surfguardhelp@slsa.asn.au

ithelp@slsa.asn.au

Telephone: 1300 724 006

8