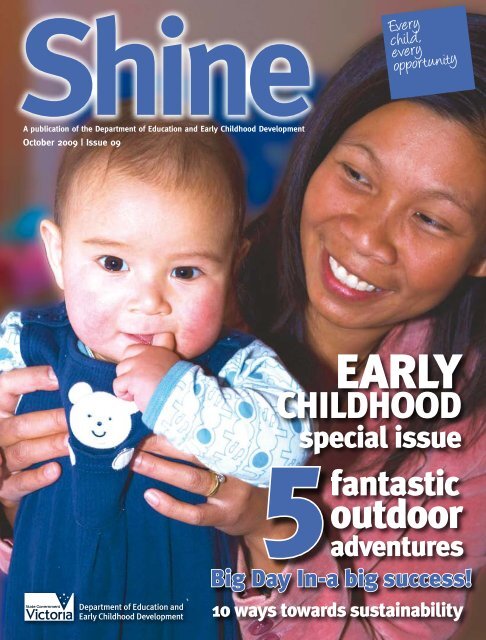 Shine Magazine, Issue 9, October 2009 - Department of Education ...
Shine Magazine, Issue 9, October 2009 - Department of Education ...
Shine Magazine, Issue 9, October 2009 - Department of Education ...
SHOW MORE
SHOW LESS
You also want an ePaper? Increase the reach of your titles
YUMPU automatically turns print PDFs into web optimized ePapers that Google loves.
Shine

A publication of the Department of Education and Early Childhood Development

October 2009 | Issue 09

EARLY

CHILDHOOD

special issue

fantastic

outdoor

5adventures

Big Day In-a big success!

10 ways towards sustainability
---
THINK

OUTSIDE

THE

CLASSROOM

IMAGE: SINGING BOWL MEDIA SOURCE: MUSEUM VICTORIA

MELBOURNE MUSEUM

NICHOLSON STREET CARLTON

SCIENCEWORKS

2 BOOKER STREET SPOTSWOOD

IMMIGRATION MUSEUM

400 FLINDERS STREET MELBOURNE

BEYOND FOUR WALLS

The Melbourne Story exhibition is divided

into 7 distinct time periods which highlight

key events and changes to the city from early

days of European settlement to the present.

Staff-led education programs – Fun and Games,

Making a Quid, Load of Old Rubbish and

Cold Case Detectives – are designed

to engage students in an enquiry based

investigation of the city. See our website

for details of humanities programs.

GOING PLACES:

THE TECHNOLOGY OF TRANSPORT

This interactive exhibition explores the

technology humans have developed for travel

and the way it has shaped the social fabric of our

time. Observe, understand and use an incredible

range of travel technology to see how it makes

our lives easier and get a glimpse of the future

of transport. Suitable for Years 3–8.

TALKING FAITHS

EXHIBITION OPENS 26 NOV

'I've learned that we should get to

know people before we judge them.'

Year 10 student

Talking Faiths is a program developed to

engage faith communities, schools and young

people to explore interfaith issues through

a multicultural perspective. This includes the

Talking Faiths exhibition and online programs.

The Talking Faiths Project is part of the 2009

Parliament of World's Religions program.

ENTRY & BOOKINGS Entry is free for students. A one-off booking fee of $11 applies

per school (additional fees may be incurred for staff led programs). Bookings for 2010

open 1 December. Bookings essential.

STAY IN THE LOOP Subscribe to MV Teachers for unlimited general entry to our museums.

VISIT MUSEUMVICTORIA.COM.AU ⁄ EDUCATION OR CALL 13 11 02 FOR MORE DETAILS
---
Contents

Shine 3

30 38 56

Shine is published monthly by the

Communications Division for the

Department of Education and Early

Childhood Development, GPO Box

4367, Melbourne 3001

ABN 52 705 101 522

www.education.vic.gov. au

ACTING EDITOr | Tina Luton

EDITOr | Sarah Oppenheim

Phone: 9637 2914

Email: editor@edumail.vic.gov.au

DESIGNEr | Jackie Jackson

Any use of this publication is welcome

within the constraints of the Copyright

Act 1968.

PuBLICATION DATES 2009 |

Next issue published on 5 November

TO ADvErTISE |

Contact Wayne Maxwell

or Diane Mifsud

Ph: 9637 2868 or 9637 2862

ed.advertising@edumail.vic.gov.au

TO SuBSCrIBE |

Contact Wayne Maxwell

Ph: 9637 2868

Email: shine@edumail.vic.gov.au

Advertisements featured in Shine

carry no endorsement from the

Department of Education and Early

Childhood Development, either

implicit or explicit. readers should

rely on their own inquiries and

investigation. No responsibility is

accepted by DEECD for the suitability

or accuracy of goods, services or

advice contained in advertisements.

Some material in Shine is

opinionative and does not

necessarily reflect the views of

the Department.

Proudly printed by Hannanprint

victoria under ISO 14001

Environmental Certification.

The paper used to create

this magazine comes from

certified and

sustainable forests.

Please recycle.

COvEr | Photo by Clinton Plowman

News

11 Children's Week

A list of events and activities for children of all

ages around the state.

21 Kinglake day care centre

A long day care service has been re-established

at Kinglake.

32 Smarter Schools Partnerships

Victorian schools will benefit from an injection

of funds to boost student outcomes and

improve the quality of schooling.

34 Bar None

The new Bar None Community Awareness

Kit will assist schools to be even more

welcoming to people with a disability.

35 Teach for Australia

A new national partnership will see Victoria

lead the way in assigning outstanding

graduates to disadvantaged schools.

64 Lessons in multiculturalism

Australia is a drawcard for inbound study

programs, which provide the chance for a rich

and rewarding multicultural exchange.

Regulars

Letters 5

Briefcase 6

Calendar 10

Snapshot 14

Flashback 33

Where are they now 38

Research 56

Features

16 Suggestions for sustainability

Ten ways to help your school or early

childhood facility to reduce its carbon

footprint.

26 Gifted and talented students

Dr Patricia Edgar on the power parentteacher

partnerships can have on building

student succeess.

28 From the minds of babes

'Sticky mitten' research is being conducted at

Australia's first cognitive neuroscience

'baby laboratory'.

46 Barnum

Spectacular photos from the latest production

by Joining the Chorus.

48 Big Day In

All the news from the statewide

Big Day In for principals.

52 Deeper learning approach

Developing rational understanding may encourage

more students to take up science, technology,

engineering and maths.

eLearning 72

Regional Roundup 78

Appointments 82

Curtain Call 87

Professional Development 88

Staffroom Quiz 90
---
4 Oct 09

Messages

Welcome to the

October issue

Minister for Education

Bronwyn Pike

Minister for Children

and Early Childhood

Development

Maxine Morand

Welcome to a special early childhood edition of Shine. There

is overwhelming evidence and increasing recognition that

the early years of life have a profound impact on each child's

future. Parents, families, the community and government

are all vital influences on ensuring our children have the

best possible start in life. We know that children's learning

and development starts from day one and that their early

experiences have a direct impact on their future wellbeing

– which is why we outlined our commitment to improving

early childhood services in the Blueprint for Education and

Early Childhood Development.

Already this year we have launched the Children's

Services Regulations, increased funding for technology in

kindergartens, released the draft Early Years Learning and

Development Framework, and made significant headway

in implementing the 'Transition: A Positive Start to School'

initiative – all key elements of a broader reform agenda

designed to improve early learning in Victoria.

The Victorian Government is also committed to the

delivery of an inclusive education system that ensures all

students have access to a quality education to meet their

diverse needs. Schools and kindergartens across Victoria will

now be even more welcoming to people with a disability,

thanks to a new resource kit launched last month.

World Teachers' Day – held annually in Australia on 30

October – was developed in 1994 by the United Nations

Educational, Scientific and Cultural Organisation. It is a

day to celebrate teachers and the central role they play in

guiding children, youths and adults through the lifelong

learning process. This year, World Teachers' Day focused on

the role of teachers within the context of the global financial

and economic crisis, and the need to invest in teachers now

as a means to secure post-crisis regeneration.

There is no doubt that teachers provide an invaluable

service to every community, and here in Victoria we can be

incredibly proud of the quality, dedication and commitment

of our teaching staff. Teaching is a profession that simply

cannot be underestimated, and World Teachers' Day serves

as reminder of the importance of this vital role.

Secretary of the Department

of Education and Early

Childhood Development

Professor Peter Dawkins

For the second year in a row, Victorian students have

been amongst the nation's highest performers in literacy

and numeracy. Results from the National Assessment

Program Literacy and Numeracy (NAPLAN) tests

show that Victoria, along with the ACT and NSW,

are the highest performing states and territories in

Australia. In the Blueprint for Education and Early

Childhood Development, we highlighted our commitment

to improve student achievement, and these results are a

terrific indication that we have a lot to be proud of in our

education and early childhood system.

In the last edition of Shine we brought you news of the

Regional Network Leader (RNL) Institute – a weeklong

professional development session for regional

network leaders and other regional staff. After five

days of professional learning, Victoria's RNLs put their

newfound knowledge into practice, coordinating a Big

Day In for principals. The day was an overwhelming

success, with events held at 30 venues across the state –

giving education professionals a valuable opportunity to

discuss school improvement. You can read more about

these developments in this edition of Shine.

Advance

Tutoring

School

Home or centre tuition – Year 1 to Year 12

The Professional Teachers

• English

• Chemistry

• Physics

• Scholarships

• Business management

• Maths

• Biology

• Italian and more

• Accounting

Tuition bookings:

0411 333 001 / 0413 880 897

Teachers are welcome to join our team

www.advancetutoringschool.com.au
---
Letters

T

28 Apr Jul 09 Opinion

Pandora Petrovska

Why Aboriginal languages

should be taught

"Before we started I had absolutely no idea that our

language even existed." – VCE Indigenous Reclamation Language Student

here is something profoundly

sad about a young person being

oblivious to their own history.

Knowledge about oneself and one's

heritage is fundamental to our sense of self, and

understanding of the world. Language is an

enduring marker of identity and culture, and this

story shows how individuals strive to overcome

the deep wounding of past policy affecting self, to

this day.

It was the summer of 2005 when I first met

Wotjobaluk woman Jennifer Beer from the

Wimmera, as she stood in the doorway of my

office. It was hot and she had trave led from

Horsham to Melbourne to meet with somebody

who could help her realise her dream: the teaching

of her language, Wergaia.

Jennifer Beer is one of those remarkable characters

you are truly fortunate to meet in a lifetime; a

person whose vision inspires many to do things

they never imagined were possible, like asking for

the basic rights we take for granted. For Jennifer,

this meant teaching a Victorian Aboriginal

language that is no longer spoken as a primary

means of communication.

It is a well-known fac that after the establishment

FRIDAY 31 JULY

Phonics and Spe ling in the Early

Years

David Hornsby

PREP TO YEAR 2 TEACHERS

WEDNESDAY 12 AUGUST

Three Dimensions in a Day – Part 2:

Measurement, Chance & Dat and

Working Mathematically

Rob Vingerhoets

(can be a tended as a stand-alone

seminar)

PREP TO YEAR 6 TEACHERS

of government and church missions, where

Aboriginal people were forbidden to speak their

language, or practise their culture, the transmission

of Victorian Aborigina languages ceased. This,

and the threat of having their children removed,

was an effective mechanism to achieve a situation

where these languages simply faded.

Jennifer Beer had come to the right place: the

Victorian School of Languages, a specialist

government language school teaching 45

languages in over 40 schools in Melbourne and

country Victoria, as we l as a distance education

section teaching nine languages to a l school

sectors. With broad VCE provision, many

thousands of students around the state, and

Term 3 & 4 Program

THURSDAY 20 AUGUST

Project-Based Learning in the Middle Years of Schooling

Darryn Kruse

YEARS 3 TO 9 TEACHERS

THURSDAY 27 AUGUST

Comprehension and Strategies for Fiction

Deb Sukarna

YEARS 3 TO 9 TEACHERS

TUESDAY 1 SEPTEMBER

Assessment for Learning in the Inquiring Classroom

Kath Murdoch

PREP TO YEAR 6 TEACHERS

We had a country centre at

Horsham, so delivering an

Indigenous language was

possible. But this experience

was very different from the

many established languages

we taught.

I read with great interest your article on 'Why Aboriginal

languages should be taught' (issue 06, page 28). I think that

reviving, reclaiming and honouring all cultures is important.

When apartheid was lifted/banned in South Africa in 1994,

at least 15 African languages and three Indian languages

were made compulsory in schools, acknowledging and

representing the varying segments that made up the South

African population. This was a moment in history that

reflected that all people were equal and important and

that the South African culture was not only a reflection of

Western values but made up of a rich tapestry.

It is wonderful to see that my niece's children learn English,

Hindi, Zulu and Afrikaans at school. The inclusion of all

languages is a true representation of the people. The shame of

being black has been replaced by dignity when all languages

are recognised and acknowledged in the curriculum of the

school. If the government wants to build a true and united

nation then Indigenous languages need to be taught.

In South Africa the overthrow of the 'white only'

government saw three major changes: the flag, the national

anthem and the inclusion of Indigenous languages in

the curriculum. Apart from the 'Sorry Day' speech, so far

the Australian Government has not changed anything to

acknowledge the Aboriginal people as the First Nation of

Australia. The Aboriginal culture has a lot to teach us about

conservation, harmony and interconnectedness. I feel that

it is a sorry day indeed that Aboriginal culture is still not

officially reflected in our government logos and community.

Dr Intal Chetty

recent delivery of Yorta Yorta in partnership with

Northland Secondary Co lege, we were we l

placed to assist.

We had a country centre at Horsham, so

delivering an Indigenous language was possible.

Bu this experience was very different from the

many established languages we taught. There were

no dictionaries or grammar books. Even when

we undertake the teaching of refugee languages,

like Dinka and Somali, materials have often been

developed internationa ly, and may be adapted

for the Australian classroom. This required a

partnerships and co laboration with many to

become a reality.

Permission to undertake the reclamation and

revival of Wergaia was given by the community

in the Wimmera, and after consultation with the

Local Aboriginal Education Consultative Group

(LAECG) and the Land Council, the community

received funding from the Victorian Aboriginal

Corporation for Languages (VACL) to develop

a Wergaia word list. Monash University linguist,

Dr Julie Reid, developed the Wergaia Community

Grammar and Dictionary in 2007.

For the firs time, Wergaia was taught at VCE

level to students in Horsham and Ba larat using

Ivanhoe Grammar School is committed to building academic professional knowledge through

the delivery of high quality seminars and workshops presented by internal and external speakers.

FRIDAY 9 OCTOBER

Ensuring an Effective and Strong Final Term in Maths

Rob Vingerhoets

PREP TO YEAR 6 TEACHERS

THURSDAY 15 OCTOBER

Mathematics – Teaching and Learning the Four

Operations in Number

Michael Ymer

PREP TO YEAR 6 TEACHERS

Fo registration forms and enquiries, please contact Paula Welham on:

Telephone: 9490 1877 • Mobile: 0488 110 000 • Email: mail@ivanhoepl.com • Book online: www.ivanhoepl.com

Where: Darebin Arts & Entertainment Centre

(Cnr Be l Street & St Georges Road, Preston)

Time: 9:30am – 3:30pm (Registration from 9:00am)

Cost: $185 (inc. GST). Cost includes morning tea,

lunch& hand-outs

our video conferencing facility in Thornbury.

Linguist Dr Julie Reid conducted weekly twohour

classes, and regular one-day workshops

in Ba larat in accordance with the VCE Study

Design for Indigenous Languages of Victoria:

Revival and Reclamation, which was specifically

designed to teach the fundamentals of language

reclamation.

The starting point for the linguist, and the class,

was the sketch grammar written by Hercus

(1986) based on 1960s audio recordings of

individuals speaking Wergaia. Unbeknowns to

her, these audio recordings had captured the voice

of one of Jennifer's own relatives. "I remember

growing up hearing Uncle Walter and others

speak language as a sma l child, but I did not

know he had been recorded," she told me. "When

I heard his voice on the tapes, I had a deep sense

of pride."

Seeing these VCE Indigenous Language

Reclamation students successfu ly complete their

studies and receive validation from Minister

for Education Bronwyn Pike, at our VCE Top

Scorers Function was bri liant. The joy for me

wi l be seeing what they do with this knowledge

in the future and the language classes they wi l

teach. On reflection, as I write this, I understand

why I came to spend so many years with this

language school.

Pandora Petrovska is assistant principal of the

Victorian School of Languages (VSL). She leads

curriculum and training for over 700 language

teachers employed by the VSL statewide and has

been instrumental in the implementation of VELS

electronic reporting and many other projects at the

VSL, which are shared across a l government schools.

Tell us what you think.

Email editor@edumail.vic.gov.au

Email editor@edumail.vic.gov. au

Letters may be edited for space.

Opinion

Shine 29

Briefcase

Shine 5

Letter of the month

We applaud Dr Patricia Edgar's continued efforts to combat the

advertising of junk food on television (issue 07, page 26). Such

marketing is indeed highly questionable, particularly when it is

aimed at children. Our concern is that it becomes so pervasive in

the child's world that it limits knowledge and interest in other food

choices, putting additional health-related pressures on families.

It is a disservice to our young people to underestimate their

capacity (and their right) to enjoy real food. While children

are susceptible to advertising, on the other hand they can be

wonderfully open to new, fresh and healthy choices. Parents

and home economics teachers

know what pleasure young people

get from preparing, tasting and

sharing food, and how much they

can learn along the way. This

experience and knowledge can

help children to be critical of the

food advertising they see around

them, and to aspire to long-term

health. But kids, parents and

teachers could do without the

constant bombardment of

counterproductive messages

on television.

Jo Scanlan

Bouquets for Shine magazine! It's very attractive, encourages a browse

and there is an interesting range of articles. There is a gap though.

I have been a full-time classroom teacher since 1970. It has been

a privileged, professional life and it continues for me. Many of my

peers are retiring or have retired. A concern to me is the prevailing

view that many workers will change careers numerous times during

their working lives. This view encourages a perception that being

a teacher is not a long-term commitment, and that after a while a

person might/ought seek greener pastures and move on/up in their

professional journey.

I, on the other hand, believe we should be encouraging new

teachers to see this career as lifelong and not just one railway

station on the longer line. People need to be encouraged to stay

the distance. They need to be shown how others have stayed the

distance; that you don't have to become burned-out wrecks after a

short time.

Dennis Matthews

Next month's best letter wins an audio book!

26 Aug Apr 09

Opinion

Send us your views on an article in this month's issue and you could win

the classic Andy Griffiths novel Mascot Madness: Schooling Around in

audio book format, courtesy of Bolinda audio.

Email editor@edumail.vic.gov.au

I

sat on the beach last summer observing

the parade of bodies, recalling

photographs taken of my children

playing on that same beach one

generation before. The difference was massive.

Australians are now among the fattest people

on the planet. Twenty per cent of Australian

children are overweight and 10 per cent are

obese. These young people will battle i lness

for most of their lives – type 2 diabetes, bone

disease, respiratory and cardiovascular diseases.

Studies pu the cost of obesity in children

and adults in Australia in excess of $21

bi lion dollars. Researchers are warning that,

In Sweden, television advertising

to children under 12 has been

banned since 1991. In the UK,

television regulator Ofcom

banned junk food advertising in

and around children's television

programs in 2007.

Opinion

Dr Patricia Edgar

Biting off more than

we can chew

Children are targeted relentlessly by fast food companies with irresponsible

marketing campaigns. As teachers – your voices should be raised in this debate.

for the firs time in more than a century, life

expectancy may fall.

The psychological impact of obesity can

be as damaging as the physical effects with

many children demonstrating increased levels

of stress with effects on their behaviour,

concentration, learning ability and mood. I

am sure teachers observe these symptoms in

classrooms across the state.

We are hearing more and more messages about

healthy eating bu they get lost under the

welter of products designed to tempt, which

are thrust under our noses. In supermarkets

there are lo lies, chips, chocolates and biscuits

all on shelves at children's eye level so they can

pester their parents.

It's not just the amount o food we now eat

but also what is in the food – the saturated

fats and the quantity of sugar – that make the

battle to keep weight within normal range

a cha lenge for many people. The way food

and drink is advertised creates confusion

about what are the contents of food products

and what represents healthy eating. Labels

trumpet: 20 per cent less fat; 70 per cent less

sugar, but the real meaning is less clear.

Children are targeted relentlessly by

companies and advertisers with irresponsible

marketing

fat, sugar an

promotions

Shrek promo

popcorn, Cok

Without

a very un

Sophistry bedevil

industry's role in t

industry insists we

media industries in

they only offer ente

calls on parents to b

children: they can tu

refuse to buy, feed th

But business conspire

are way ahead of the g

best minds to bear on w

develop the market. The

people genera ly would

of french fries or two bu

buy the super size, the va

Super-sizing led to a revo

A serving of McDonald's

ballooned from 200 calorie
---
6 Oct 09

Briefcase

What's new this month

Make a Scene is back!

Students Australia wide are once again

invited to select a Shakespearean phrase and

interpret it in their own way for the Make a

Scene competition. Students can submit their

interpretation in any medium they choose

– drawing, photograph, illustration, podcast,

animation, or movie – as long as it is submitted

electronically as a still image, audio or movie file.

There are significant prizes to be won, with the

best national entry awarded an Apple iPhone

3G plus $5000 cash for the individual student

and $10,000 cash for their school.

Entries can be uploaded from 1 October and

close 30 November 2009. For more information,

visit www.optus.com.au/makeascene

Battle online baddies

and save energy

Origin has launched a new environmental

education program called Energy Force. This

digital game is specifically aimed at kids aged

8–12 years, and encourages them to think about

saving energy in a fun, safe and interactive online

environment. By joining a fictional spy agency,

players can choose an agent alias and receive

secret missions whereby they learn about the

wasteful energy behaviours of the 'baddies' from

a group called WASTE (We Are Stealing The

Energy) and earn rewards along the way. For more

information, visit www.energyforcegame.com.au

Where's Kate

Adventurer Kate Leeming is about to set off

on her grueling 20,000km cycling journey

across Africa! The first leg will see her pedal

250km from Dakar to Saint Louis in Senegal.

Ms Lemming's Breaking the Cycle quest

aims to explore and understand the causes

and consequences of extreme poverty. Middle

years students are encouraged to

take part in the journey through

the Department's associated

education program. For more

information and updates, see

www.btcycle.com

Open Day at the

Gould League

All teachers are invited to a free Teacher Open

Day at the Gould League Environmental

Education Centre in Genoa Street,

Moorabbin, on Monday 26 October between

11:00am–2:00pm. Tour the centre, explore

the Climate Change and Water Education

Garden, and participate in a hands-on sampler

of environmental education programs, before

taking part in a delicious and complimentary

light lunch. RSVP to gould@gould.org.au or

call 9555 5565.

Put your knowledge

to the test

How much do you know about State Government,

and how confidently could you answer any

questions parents and students may have about

it Try these questions on for size – is Federation

Square public or private Where would you look

for historical documents Who makes the laws,

and what is the highest court in Victoria

Check your answers in Welcome to Government,

your introduction to working in the Victorian

public sector at www.ssa.vic.gov.au, and impress

your colleagues with your newfound knowledge!

The origins

of life

From Charles Darwin's theory of evolution to

modern biomolecular technologies, where we

all came from remains a fundamental headscratcher.

Join world-leading evolutionary theorist

Prof. David Penny for The Origin of Life: from

Darwin to the metabolome of primordial soup,

a public lecture presented by the University of

Melbourne on 22 October. Visit www.pmv.org.

au/darwinlecture/darwinlecture.html

Anaphylaxis

conferences

Anaphylaxis Australia will hold seminars

in Melbourne and Ballarat on 28 and

29 October. These seminars will provide

useful information for individuals who

are at risk of anaphylaxis, as well as

parents, relatives, friends, carers, teachers,

health professionals and members of the

community who want to know more

about the management of severe allergy

and anaphylaxis. Expert speakers will

cover a range of topics including, what is

food allergy, how to recognise and treat

a reaction with EpiPen demonstration,

management of food allergy in the home,

childcare and school community. The

Melbourne event will be held at AMREP

seminar room, ground floor, Alfred Hospital,

Commercial Road, on 28 October at 7pm.

Cost: $15 per person. For more information

or to register, visit www.allergyfacts.org.au
---
Ready,

set – walk!

Walktober Walk-to-School, the highly

successful VicHealth event aimed at getting

more children walking to and from school,

is being run again throughout Victoria on

Wednesday 21 October 2009. Last year 322

primary schools across Victoria participated

in the event, with over 60,000 children

walking to school on the day – this is an

increase of over 100 schools and 21,000

children since the inaugural event in 2006.

For more information, see www.vichealth.vic.

gov.au/walktober

Melbourne

International

Arts Festival

Briefcase

Shine 7

It's time to party! Some of the world's most exciting and challenging creative works will again be

on display in Melbourne. The Festival's 2009 Schools Program provides some great opportunities,

including a review writing competition for students, and free educational resources for teachers.

Melbourne International Arts Festival runs 9–24 October 2009. For full details, visit www.

melbournefestival.com.au/education

Uncover the Distance

Education Centre Victoria

Former teacher Jenny Campbell has painstakingly researched the history

of distance education to create Across the Distance – 1909–2009: Celebrating

100 Years of the Distance Education Centre Victoria. The book charts

DECV's growth from small beginnings to present day, and contains letters,

photographs and plenty of fascinating, and perhaps little known, facts.

For example, during 1916–1917, returned soldiers participated in teacher

training by correspondence, which would assist them to integrate back into

the community. To purchase a copy of the book for $10 (includes postage),

call DECV on 8480 0000 or email centenary@distance.vic.edu.au

Across the Distance: 1909-2009

Celebrating 100 Years of the Distance Education Centre Victoria

PREP

TO

YEAR 8

Did you know

AutoMarque

can assess written work.

Yes, written work!

A world fi rst, AutoMarque provides teachers with astute

feedback on their teaching and the gaps in student learning that

would otherwise go unnoticed.

Educational leaders can reduce their teachers' work load while

simultaneously improving their teaching effectiveness.

AutoMarque is the assessment for learning tool.

"We have found AutoMarque to be a very powerful way to inform us of our

strenghths and weaknesses in [learning] across the school and we are now

progressing toward directing our teaching with regard to these… I have

heard from teachers that they, and many students, have found this to be

a powerful experience. It has certainly changed the conversations we are

having". (Senior Teacher)

Get your free demonstration disk from

www.automarque.biz

or contact Customer Service for information on (03) 6234 8336

Why have

WOODWORK WORKSHOPS

in your classroom

Because our workshops are:

• EASY - we provide everything & teachers

regularly rebook

• SAFE - custom workbenches & tools

• THEME-TAILORED - to any

classroom topic

• FUN - engaging & interactive,

kids take models built home

• HANDS-ON - tool skills,

techniques, co-ordination,

confidence

Popular topics:

Energy, toys, environment, gears

& pulleys, movement, machines,

electricity, solar energy and more.

Programs

from

under

$10 per

student

BOOKINGS 1300 966 338

Email: admin@woodworkroom.com.au

woodworkroom.com.au
---
8 Oct 09

Briefcase

Short films for the future

Young Victorians are urged to create short films about sustainability

for Future Shots, a short film challenge sponsored by Sustainability

Victoria, in partnership with Melbourne Water, DEECD,

CERES, Australian Film Television and Radio School, Hopscotch

Entertainment and Little Big Shots. Three awards are on offer: best

film, people's choice, and an award for the film made with lowest use of

resources. Films may be of any genre and made individually or as part of

a team. Entrants may use any filmmaking device, ranging from a mobile

phone, home video equipment to a film crew. Training workshops are

being held for teachers to help them support aspirational filmmakers

in the areas of sustainability and film production. Entry deadline is 6

November 2009. Winners will be announced at an awards night in

December. The top 20 films will be screened on the night and also be

streamed on the Sustainability Victoria and Future Shots website. For

information, visit futureshots.com.au

Slimy science PD

Healesville Sanctuary is running a full day PD to give primary and

secondary teachers valuable information and practical ideas on how

to engage their students in science, with particular emphasis on frogs,

their biology and the conservation and creation of frog habitats.

Five of the eight schools that attended the last Slimy Science PD

have since established thriving frog bogs and created cross-curricular

activities. Teachers at Bayswater North Primary School have initiated

a frog habitat at their school, improving the husbandry and extending

the use of their classroom green tree

frogs as a result of attending the

day. They have also purchased

additional frog models for use in

the lifecycles program for early years'

students. So, hop to it! The next session

of Slimy Science is on Thursday 29 October

from 9.15am to 3pm and costs $99.00. For

more information, see www.zoo.org.au/

Learning/TeacherPD/Slimy_science

Foxtel wants you

for its high school musical!

Does your school have what it takes to deliver the ultimate school

musical Foxtel is on the hunt for Australia's most talented school,

giving students a once-in-a-lifetime chance to be cast in a new reality

TV series Fame The Musical. Schools are invited to submit promo

tapes that demonstrate their singing and dancing talents. It doesn't

have to be current – it could be from last year or the year before, just

to give an idea of what your school has produced in the past. Only

one school will be chosen! Students from the chosen school will then

be invited to audition for the musical.

Auditions start early November. Rehearsals will run through

December with the curtain rising on the final cast of 30 talented

students who will perform in front of a massive audience of family

and friends in January 2010. For more information contact Jo Rippon

at jo.rippon@freemantlemedia.com.au

Is your teacher the

world's greatest

To celebrate World Teachers' Day

on 30 October, the Victorian

Institute of Teaching is inviting

students to make a three-minute

film that answers the question,

"What makes a great teacher"

Winning schools in the P–6 and

7–12 categories will receive a

set of 10 iPod touch units, and

gift vouchers for up to four of

their students. Entries close 16

October, so be quick! For more

information, visit www.vit.vic.

edu.au.

YOUR TEACHER

YOU

STARRING YOUR TEACHER

TO CELEBRATE WORLD TEACHERS' DAY ON 30 OCTOBER 2009, THE VICTORIAN INSTITUTE OF TEACHING

WANTS YOU TO MAKE A 3 MINUTE FILM THAT ANSWERS THE QUESTION "WHAT MAKES A GREAT TEACHER"

YOUR SCHOOL COULD WIN A SET OF 10 iPOD TOUCH UNITS FOR CLASSROOM USE *. TO FIND OUT MORE OR

TO ENTER, VISIT WWW.VIT.VIC.EDU.AU

THIS FILM HAS BEEN RATED

G GENERAL AUDIENCES

*(ONE SET FOR EACH WINNING ENTRY IN THE P-6 AND 7-12 CATEGORIES)

HURRY, ENTRIES CLOSE 16 OCTOBER 2009

DIRECTED BY YOU

WTD POSTER FINAL A3 (5).in d 1 27/08/09 12:15 PM

Catch great

Australian movies at

the Mediatheque

Melbourne's Australian Centre for the Moving Image (ACMI) and

the National Film and Sound Archive (NFSA) have collaborated to

create a new national screen culture resource centre. The Australian

Mediatheque is housed in a purpose-built centre within ACMI

at Federation Square and will provide Victorians and visitors to

Melbourne with new and exciting opportunities to freely engage

with the moving image and to explore significant screen culture

archives, including highlights from over 100 years of Australian and

international film, clips from Australian television productions, film

stills and publicity materials, video artworks, student and communitymade

films and sound resources. The Australian Mediatheque is open

to the public free of charge between 12–6pm Monday to Sunday. For

further information, see www.australianmediatheque.net
---
Happy 120th birthday

Mentone Primary!

Mentone Primary School is inviting the

community, along with past teachers and

students, to help celebrate its 120th birthday

with a huge festival to be held on the school's

premises in Childer's Street, Mentone, on

Saturday 24 October 2009 from 10am–4pm. There

will be stage performances from the Mordialloc

Band and various artists, Indonesian and Indian

dance demonstrations, food stalls, games, an animal

farm, art show and plenty of activities for kids. For

more information, contact Robyn Wilson on 9583 2995 or

email wilson.robyn.m@edumail.vic.gov.au

Last chance to enter

Dardee Boorai art competition

Entries for the Dardee Boorai art

www.education.vic.gov.au/aboriginalcharter

Victorian Charter of Safety & Wellbeing for Aboriginal Children and Young People www.education.vic.gov.au/aboriginalcharter

Dardee Boorai:

Victorian Charter of Safety & Wellbeing for

Aboriginal Children and Young People

competition close on Friday 30

October 2009, so if you haven't already

entered you had best get to work!

Students' artwork should reflect their

interpretation of the theme: Strong

Aboriginal Children. Prizes include

bikes, DS Nintendos, $200 gift

vouchers, Wii Fits and more. Visit www.

education.vic.gov.au/aboriginalcharter

Visit Skydeck

FREE!

To celebrate World Teachers' Day on 30 October, Eureka Skydeck

88 is offering all Victorian teachers free admission on presentation

of their VIT cards between 30 October and 1 November 2009.

Teachers will also have a chance to win a six-course degustation

dinner at Eureka 89, an unforgettable dining experience 300 metres

above cosmopolitan Melbourne, by subscribing to the online

Teacher Subscription during October. For more information, visit

www.eurekaskydeck.com.au

CAR LEASING
---
10 Oct 09

Briefcase

What's on this month

14

24

October

Leave the car at home and don your bike helmet for National

Ride to Work Day. This annual Australia-wide event

encourages workers to feel good and have fun by commuting

to work by bike and experiencing the health, financial and

environmental benefits of riding.

Children's Week begins today. Tomorrow, head to the

Melbourne Zoo where kids will enjoy the

lion's share of fun with music, games,

fairies and face painting. Throughout

this week schools, playgroups, child care

centres, kindergartens, cultural groups,

libraries, community groups and

more, will provide activities and

events for thousands of children

and their families around

Australia. To join the fun, see

www.childrensweek.org.au

November

1

3

Say farewell to Children's Week for another year, and join

the free, final festivities at Melbourne Museum.

Celebrate in style for the race that stops a nation on Melbourne

Cup Day. It's all about the fashion, the fillies, fine food and

having a friendly flutter. May the best horse win!

28

30

31

Universal Children's Day. Winners of the Early Years Awards,

which recognise the contribution that partnership approaches

make to improving the health, learning, development and

wellbeing of all Victorian children, will be announced at a

ceremony in the Great Hall of the National Gallery of Victoria.

The wait is finally over, so set your clocks, prepare your pens,

take a deep breath and smile as thousands of students across

the state begin their VCE exams.

At the same time, pay homage to the extraordinary

contributions and achievements

of Australia's educators and early

childhood workers for World

Teachers' Day.

Get a little spooky for

Halloween.

Carrington Financial Services

Transition to Retirement can Provide:

n Same Income As Now

n Retain Your Tenure

n Retain Your Sick Leave

n Retain Your Long Service Leave

n Pay Less Tax

n Have More Superannuation at 60 or later

Contact John Doyle or Diana Sangue on (03) 9820 8688

For a no obligation assessment of your situation.

Email: carringtonfs@carringtonfs.com.au Website: www.carringtonfs.com.au

We visit your

school or

home
---
Celebrate

CHILDREN'S WEEK

Children's Week offers an array of fun – and free! – activities for children of all ages right

across Victoria, writes Caroline Kearney.

From tai chi to sand sculptures and

sing-along sessions with Blinky

Bill and the Wonderful World of

Mr Men and Little Miss – the

Melbourne Zoo will be transformed into a

children's wonderland on Sunday 25 October

as the Minister for Children and Early

Childhood Development, Maxine Morand,

launches Children's Week 2009 with a family

fun day.

Entry is free for children 15 years and under

and the zoo will be abuzz with face painters,

empress stilt dancers, Chinese lantern and

knot workshops, wacky musical instrument

workshops, crafty animal fun and 'Go for your

life' activities.

Running from Saturday 24 October to

Sunday 1 November, Children's Week is

an annual, national event that celebrates

children's right to enjoy childhood and

provides opportunities for young Victorians

to participate in a range of activities provided

by the Victorian Government in partnership

with local governments, Victorian schools,

early childhood services and key stakeholders.

Themed around 'a caring world shares',

Children's Week recognises the importance

of cherishing children; their talents, skills and

achievements.

On Universal Children's Day, Wednesday

28 October, Minister Morand will celebrate

the positive impact of early years' education

and care partnerships on Victorian children

and families through the presentation of the

Early Years Awards. Held at the National

Gallery of Victoria, the awards recognise the

contribution that partnership approaches make

to improving the health, learning, development

and wellbeing of all Victorian children.

Children's Week also draws on 2009 as the

International Year of the Gorilla, Astronomy,

Natural Fibres and Reconciliation. During launch

day at the zoo a gorilla art mural will be created

and 'gorillas in the wild' art activities will take

place. On Sunday 1 November, as Children's

Week celebrations draw to a close, a new initiative

with The Alannah and Madeline Foundation –

Children365 – will be launched with a family fun

day at Melbourne Museum.

Children365 encourages all of us to cherish

our children every single day of the year. The

concept was developed after the tragic death of

Darcey Freeman. The Alannah and Madeline

Foundation – a charity focussed on protecting

children from violence – supported Darcey's

family after her death, and together with the

Find out what's happening in Children's Wee

Victorian Government, www.education.vic.gov.au/childrensw

will host a special day

to celebrate all children.

During the launch adults will be encouraged

Children's Week - Poster Vic 2009.indd 1

to make promises and declarations about their

children for the year ahead. A free calendar

will be distributed featuring great ways to

spend time with your children. An exciting

range of interactive, fun and educational

activities will be available for the whole family

to enjoy.

Concession card holders and children 12 years

and under have free entry to the Melbourne

Museum. For this event, the museum is

offering free admission for all adults with a

voucher.

See pages 12–13 for a selection of events taking

place around the state during Children's Week. For

a full list of events and information on museum

admission vouchers, visit www.education.vic.

gov.au/childrensweek
---
CHILDREN'S WEEK

Children's Week – fun and fabulous events in your region

BARWON SOUTH WESTERN

Family fun day

Sun 25 Oct; 11am–3pm

Potato Shed, Bellarine Multi Arts Centre, 41

Peninsula Drive, Drysdale

Celebrate the launch of Children's Week in Geelong

at's happening with a free in Children's family fun Week day featuring by visiting: games, stalls,

.education.vic.gov.au/childrensweek

activities, open mic sessions, roving entertainers and a

stage performance by Spontaneous Broadway.

Contact Angela Baum on 5272 4816 or at

7/4/09 12:38:29 PM

abaum@geelongcity.vic.gov.au

Ships ahoy

Tues 27–Thurs 29 Oct

Flagstaff Hill Maritime Village, 81 Merri St,

Warrnambool

Step back to the 1800s at Flagstaff Hill Maritime

Village, awash with fun activities including crafts,

gardening, traditional games and storytelling.

Entry is free for children aged 0–8 years and an

accompanying adult.

Contact Rebecca Fleming on 5559 4600 or at

flagstaffhill@warrnambool.vic.gov.au

NORTHERN METROPOLITAN

Super sporty skills

Mon 26 Oct–Fri 30 Oct; 11am and 1:30pm

daily

National Sports Museum, Gate 3, Melbourne

Cricket Ground, Yarra Park, Jolimont

Super Sporty Skills with Sam Starr is a fun,

interactive show highlighting essential skills as a basis

for all sporting endeavours.

Contact Adriana Agosta on 9657 8864 or at

adriannaa@nsm.org.au

Westside kinder circus

Mon 26 Oct and Wed 28 Oct; 9am–10:15am

and 10:30am–11:45am

Westside Circus, Warehouse 3, 433 Smith

Street, Fitzroy

Children aged 3–5 years can work with members of

the Westside Circus to learn skills such as juggling,

hoops, balancing tricks and creative games.

Contact Alicia Clark on 9482 2088 or at

communityprograms@westsidecircus.org.au

EASTERN METROPOLITAN

Sky pilots

flight spectacular

Sat 31 Oct; 10am–3pm

Healesville Sanctuary, Badger Creek Road,

Healesville

Come along to the Sky Pilots Flight Spectacular

and learn about all types of flying critters. Flap into

a flight show and see Birds of Prey and Parrots in

Flight and meet Karak the red-tailed Black Cockatoo.

Learn boomerang throwing and join the Junior Birdo

activity for bird-spotting tips. Dress up in your finest

feathers to win prizes. Free entry for ages 0–8 years.

Contact Karen Lane on 5957 2800

Compost cake –

the musical

Sun 25 Oct; 11am–2pm

Hawthorn Town Hall, 260 Burwood Road,

Hawthorn

Come and see what Katya Konsumption and her

waste-loving neighbour, Mr Hyde, are up to in the

premiere of the family musical Compost Cake. Other

activities include an interactive show-and-tell with

native Australian animals, environmental displays,

games and art activities. Travel to the event by train,

tram or bike, or walk in to enter the 'sustainable

transport competition' and be in the running for great

prizes. Suitable for ages 4–10 years.

Contact City of Boroondara Leisure and

Cultural Services on 9278 4770 or at events@

boroondara.vic.gov.au

GIPPSLAND

Fun run, walk and ride

Sun 25 Oct; 9:30am

Burke Street, Warragul

Get active in Baw Baw by joining in the annual fun

run, walk and ride. Bring the family for an enjoyable

day of activities.

Contact Gabrielle McBain on 5624 2437 or at

gabrielle.mcbain@bawbawshire.vic.gov.au

Family art party

Sun 25 Oct; 11:30am–2:30pm

Latrobe Regional Gallery, 138 Commercial

Road, Morwell

Join in the fun at this family art party, including

activities and an art trail for children. This event

forms part of the Get into Art weekend of free

activities available at art galleries across Victoria

(visit www.pgav.org.au).

Call 5128 5700 or email lrg@latrobe.vic.gov.

au. Website: www.latroberegionalgallery.com

LODDON MALLEE

Fun science

Thurs 29 Oct; 11am–12pm

Discovery Science and Technology Centre,

Discovery's Lab, 7 Railway Place, Bendigo

Are your kids always asking why Bring them along

to this fun science session for curious kids.

Contact Angie Carter on 5444 4400 or at

manager@discovery.asn.au. Web: www.

discovery.asn.au

Celebrating childhood

Tues 27 Oct; 10am–12pm

Mount Alexander Town Hall, 25 Lyttleton

Street, Castlemaine

Mount Alexander is a great place to be a kid! Plenty

of entertainment for children aged 0–10 years and

their families, by local school children, jugglers and

more, as well as art and play opportunities. Parents

will have the chance to learn about child safety

and receive a copy of the new Children's Services

Directory.

Contact Jenny Balmer on 54721364 or at

casltemainemch@mountalexander.vic.gov.au
---
HUME

All aboard

Sat 31 Oct; 10am–4pm

Bury Street and Turnbull Street, Euroa

Join in the Children's Week street parade along

Bury Street from 10am before heading to the Euroa

Miniature Railways centre on Turnbull Street for

an afternoon of free train rides, clowns, balloons,

baby animals, face painting and a movie matinee.

VicRoads, and members of the ambulance, police and

CFA services will pay a visit.

Contact Heather Bryant on 5795 0001 or at

heather.bryant@strathbogie.vic.gov.au

Strolling along

Mon 26 Oct (Yea), Wed 28 Oct (Eildon);

10am and 12pm

Enjoy fresh air and good company. Bring your family

and friends for some gentle exercise, yummy food

and lots of great give-aways. Yea – meet at the BBQ

shelter at the Old Railway Station for a walk along

the Rail Trail. Eildon – meet at the Lions BBQ

shelter for a gentle stroll around the pondage.

Contact Louise Flowers on 5772 0356 or at

lflowers@murrindini.vic.gov.au

SOUTHERN METROPOLITAN

Meet a lifeguard

Mon 26 Oct–Fri 30 Oct; 9am–3pm daily

Life Saving Victoria

Interactive sessions in beach safety awareness, the role

of a lifeguard, rescue techniques and more.

Contact Jane Flowers on 9676 6954 or at jane.

flowers@lifesavingvictoria.com.au

Animals on the move

Thurs 29 Oct (Moorleigh Community Centre

Bentleigh East), Sat 31 Oct (Carnegie Library

and Community Centre forecourt); 10am–1pm

A visit from a variety of farmyard animals that

children will be able to watch, hold and feed.

Contact Janette Keesman on 9524 3285 or at

jkeesman@gleneira.vic.gov.au

GRAMPIANS

Journey through the pages

Wed 28 Oct–Fri 30 Oct; 10:30am and 12pm

Sovereign Hill, Bradshaw St, Ballarat

Reading comes to life as students immerse themselves

in the tale of Tilly, a young girl who loses her father's

pocket watch. Ideal for children in Prep to Year 2, the

program includes working in groups, and the hunt for

the missing watch will take them on an adventure all

over the township.

Call 5337 1188 or email schoolbookings@

sovereignhill.com.au

Mega-fun

Mon 26 Oct–Fri 30 Oct; 10.00am–12.00pm,

12.30pm–2.30pm

Ecolinc Science and Technology Innovations

Centre, 17-23 Labilliere Street, Bacchus Marsh

Investigation and hands-on activities are all part of

the fun in this introduction to the fascinating world

of Australia's megafauna, including the Diprotodon

– which was found in Bacchus Marsh – giant

kangaroos and giant wombats.

Contact Suzanne Clark on 5367 0171 or at

ecolinc@edumail.vic.gov.au

CITY OF MELBOURNE

Romp and stomp

Wed 28 Oct; 10am–3pm

Melbourne Museum, Carlton Gardens, Melbourne

An event that celebrates children aged 0–5 years

and families, and highlights the importance of

early childhood development. The event features

Melbourne Museum's new exhibition 'Wild: amazing

animals in a changing world', along with loveable

roving characters, and a myriad of craft activities,

multicultural dance, music and more.

Contact Margaret Griffin on 131 102 or at

mgriffit@museum.vic.gov.au

WESTERN METROPOLITAN

Furaha African acrobats

Saturday 31 Oct; 10am–3pm

Werribee Open Range Zoo, K Rd, Werribee

Immerse your children in a fun and interactive

cultural experience. The Furaha African Acrobats

will hold children's workshops sharing their skills in

jumping hoop, human pyramid, limbo dance and

juggling, as well as delighting their audience with

performances throughout the day.

Call 9731 9600

Machines in action

Sun 25 Oct; 10am–4:30pm

Scienceworks, 2 Booker Street, Spotswood

All visitors to Scienceworks can enjoy the fun of

the Machines in Action program, which explores

engines and transport. Ride a model steam train,

view historic machinery in action and learn about

transport in the Start your Engines Show.

Contact Michelle Sanders on 9392 4800 or at

msaunders@museum.vic.gov.au

Arts alive

Fri 30 Oct; 10am–2pm

National Gallery of Victoria, 180 St Kilda

Road, Melbourne

Recommended for students in Years 3–6, Arts Alive

is a collaborative program between The Song Room

and the NGV that brings the visual arts, performing

arts and music together. Students will be introduced

to the wonderful world of music through a fantastic

performance in the Great Hall where they will be

able to actively participate in a sing-a-long. On a

guided tour, students will have the opportunity to

view original artworks that make up the diverse and

extensive international collection of the NGV. The

gallery will also be holding a Theatre Attack day on

Sun 25 October.

Call 8620 2329

For a full calendar of Children's

Week events, visit www.education.

vic.gov.au/childrensweek
---
14 Oct 09

Snapshot

12pm: San Remo, Phillip Island

Got a great pic Email your high-resolution photo

to editor@edumail.vic.gov.au to win a pack of

photographic resources.

"Feeding time for the pelicans at San Remo on Phillip Island. I took this photo while on holidays with our

foster child. While he was engrossed with the hand-feeding and information session, I made the most of the

photographic opportunities." Photo sent in by Laureen Knight, Millwarra Primary School.

Send us your snapshot and win an audio book!

Email us a great photo and you could win an audio book of Paul Jennings' The Nest, , courtesty of Bolinda Audio Books.

Email your high-resolution photo to editor@edumail.vic.gov.au. See page 76 for competition Terms and Conditions.
---
Kindergarten teacher

loved by all

Early Childhood

Shine 15

Sassafras Preschool director Debbie Haberfield is a much-loved part

of the kindergarten and her local community.

For local parent Heidi Clarke – who will see all four

of her children go through the doors of the Sassaras

Preschool – the ongoing relationship her family has

formed with preschool director Debbie Haberfield

is something to treasure. "Debbie is really gentle

with the children and respectful of them; she never

raises her voice and is so calm and enthusiastic and

motivated," Ms Clarke says.

"I have a nine-year-old and a seven-year-old and

they love going back to say hello to Debbie. I have

a five-year-old at the kinder and a two-year-old

coming through next year, and I think that ongoing

relationship is really lovely," Ms Clarke says.

Kindergarten commitee president Melissa Chipp

says Ms Haberfield has taught the four-year-old

group since 1995 and has introduced lots of new

ideas. "Debbie is constantly thinking of new

and creative ways to involve the children, such

as Africa day, and a café day where the children

made scones and served them to their parents.

Then there is the much loved 'special box', where

a child is given the opportunity to bring five

treasured items from home to talk about to the

group, enabling the children to practice essential

talking and listening skills," she says.

Ms Haberfield says she is humbled by so many

kind comments, and honoured to be part of such

a wonderful, tight-knit community. "Sassafras is

a beautiful area and the families here are warm

and welcoming. The centre is a very enjoyable

environment to work in: relaxed and easygoing,

and the children love coming here. I am very

lucky to have the support of the families, staff and

the committee over the years, and I have had a

wonderful assistant, Leonie Stow, who has been with

me for 13 years. We make a great team," she says.

Much-loved Sassafras Preschool

teacher Debbie Haberfield.
---
10

16 Oct 09

Eco footprint

ways towards

sustainability

There is a multitude of ways that you can become more

sustainable. Here are some suggestions to help your school or

early childhood facility reduce its impact on the environment.
---
Shine 17

ILLUSTRATIONS BY TONY REARDON

1. Team up and take action

Set up an action team of members who want to make a difference.

Include teachers, parents, gardeners, canteen managers, administration

staff, school or kindergarten council and local community members.

Draw up a plan for future improvements and obtain support from

key parents. Develop a marketing plan to promote your achievements

– make sure you have a regular column in the local newsletter and a

feature on the school or kindergarten website. Invite local press to an

activity that highlights your commitment to sustainability.

2. Monitor your money

and your waste

Join the Schools Environment Tracking System (SETS) through

Carbonetix (there is an annual subscription fee). This web-based monitoring

tool allows you to input your billing information, such as water, energy,

waste and any land management costs, into the database to see where

your money is going. It can transform these figures into tables and graphs

for easy use in the classroom. Importantly, SETS allows you to track

sustainability performance by highlighting discrepancies such as water leaks

and inefficient electricity use.

3. Reduce greenhouse gases

•

Avoid using fossil fuel energy as much as possible. Monitor usage

of heaters/air conditioners, electronic whiteboards and computers –

if you don't need them, turn them off.

•

Use sunshades to keep out the summer sun and reduce your use of

air conditioning. Well-insulated walls and ceilings will also help to

reduce greenhouse gases.

•

Increase your use of green electricity. Many schools have prepared

their Federal Government National Solar Schools Proposal for

$50,000 installations of photovoltaic panels as well as energy

efficiency improvements.

Some schools are now developing their carbon sequestration plans,

planting trees as carbon sinks. Balnarring Primary School is a

Electricity Usage Comparison (per day)

Electricity 1200 Usage Comparison (per day)

1200

1200

1020

1020

1020

840

840

840 660

660

660

480

480

480 300

300

300 120

120

120

J F M A M J J A S O N D

J F M A M J J A S O N D

Peak 2009

Peak J2009 F M A MPeak J J2008 A S O NPeak D 2007

Peak 2008

Peak 2008 Peak 2007

Peak 2007

Electricity Usage per day (KWh/day)

Electricity Usage per day (KWh/day)

Electricity Usage per day (KWh/day)

Electricity Usage Comparison (per day)

champion with the creation of an 80-tonne carbon sink through

a massive revegetation program allied to green electricity use and

considerable cuts in fossil fuel use.

4. Energy saving ideas

•

Put stickers on power points to remind people to switch off

appliances when not in use.

•

Avoid making rooms too cold in summer or too hot in winter and

set the thermostat temperature accordingly.

•

Stop draughts to keep warm air in.

•

Run your air conditioning and heating only during the times staff,

students and children are actually in the building.

•

Install programmable thermostats that can be timed to switch on

30 minutes before work and switch off when the building is empty.

•

Provide external shading from direct sunlight to reduce or avoid the

need for air conditioning.

•

Ceiling fans are cheap to run and are often all that's needed to get

to a comfortable temperature.

•

Even better, open a window and make use of fresh air to moderate

temperature and improve air quality.

5. Let there by light

Maximise natural light – it's the most energy-efficient lighting source.

Replace old, incandescent globes with energy-efficient fluorescent globes.

Keep light fittings clean to maximise light output.

Switch lighting off when the room is empty.

•

•

Measure lighting levels to guard against over-lighting – use the lux

meter that was sent to all Victorian government schools.

•

Use the TREES software to identify where you can reduce lighting.

•

Install programmable timers, daylight sensors or movement sensors

to control outdoor and security lighting, so unoccupied areas aren't lit

without reason.

Meter
---
FIZZ

FIZZ

FIZZ

FIZZ

FIZZ

FIZZ

FIZZ

FIZZ

FIZZ

FIZZ

FIZZ

FIZZ

FIZZ

FIZZ

FIZZ

FIZZ

FIZZ

FIZZ

FIZZ

FIZZ

FIZZ

FIZZ

FIZZ

FIZZ

FIZZ

FIZZ

FIZZ

FIZZ

FIZZ

FIZZ

FIZZ

FIZZ

18 Oct 09

Eco footprint

6. Be water wise

Did you know that 10 drips per minute from a leaking tap wastes 3000

litres of water a year

•

Turn taps off fully when not in use and fix leaks quickly.

•

Install tap aerators to reduce flow, or taps that automatically shut off.

•

Use rainwater tanks to collect roof runoff for flushing toilets or watering

the garden. Retrofit dual flush toilets and water efficient urinals.

•

Encourage children and staff to use refillable water bottles rather

than using bottled water – it will reduce your waste and is much

better for the environment.

•

Only run the staffroom dishwasher when it is full, and use the

economy cycle.

•

If you're purchasing a new dishwasher, get one with at least a 3.5 star

energy and water rating – every extra star can reduce running costs by

around 30 per cent.

•

Remember, drought-resistant plants require less work and less water,

and garden beds will survive dry conditions much better if they are

well mulched.

7. Have a water audit

Schools now have short water audits performed by the School Water

Efficiency Program (SWEP). Support for auditing is important in

recognising the cost effective savings and future opportunities.

Simple actions like leak detection saved one school $7000 a year. Installing

tank-to-toilet systems and flow reducers in taps can save up 20 to 30 per cent

on mains water use. Ways of reducing water usage can be debated in the

classroom and a complete water conservation curriculum can be established

using programs such as Water – Learn It! Live It!

8. Reduce, reuse and recycle

•

Separate your waste into three easily identifiable bins: recycle,

organic, and landfill.

•

Food scraps can be collected for worm farms and chickens.

•

Organic waste can also be used to make compost and mulch for your

garden or vegetable patch.

•

The volume and cost of waste collections can be monitored, graphed and

reported on using SETS.

•

To further reduce your waste, encourage students to use re-usable

lunchboxes and plastic containers instead of paper bags.

•

Rubbish-free lunch days are a fun and creative way to get children

thinking about how reduce the amount of packaging that goes into

landfill.

FIZZ

FIZZ

FIZZ

FIZZ

FIZZ

FIZZ

FIZZ

FIZZ

FIZZ

FIZZ

FIZZ

FIZZ

FIZZ

FIZZ

FIZZ

FIZZ

FIZZ

FIZZ

FIZZ

FIZZ

FIZZ

FIZZ

FIZZ

FIZZ

FIZZ

FIZZ

FIZZ

FIZZ

FIZZ

FIZZ

FIZZ
---
Shine 19

9. Create an ecosystem

•

Restore original vegetation, grow native grasses

and bush foods.

•

Begin systematic surveys of the garden through weeks and

seasons until nature is restored. ResourceSmart AuSSI Vic

uses Landlearn/Greening Australia materials to measure

habitat quality each year. See www.greeningaustralia.org.au

•

Develop special outdoor areas for butterflies, lizards, birds, etc.

•

Create a frog bog or build a pond.

•

Propagate native and vegetable seedlings to sell during school

fetes and open days.

10. Build biodiversity

Make the most of the great outdoors and create wonderful places and spaces

for children to play, rest, learn and explore. Plant a vegetable garden, a mini

orchard or a special interest garden using native and drought-tolerant plants,

trees and grasses. Include flowering plants for all seasons that will provide

beautiful flowers and plants for indoor use.

Build a chicken coop – the chooks will make short work of your organic

waste and the rewards will be lovely fresh eggs that the kids will be lining

up to collect! Make a worm farm. Worms also love organic waste and

the 'worm juice' makes for a rich, organic fertiliser that will help your

garden to thrive. Brighten up a wall with a colourful mural made from

recycled materials, or create a dynamic sculpture to decorate the garden

to promote sustainable actions.

recycle

For more information, see: Sustainability Victoria,

www.sustainability.ceres.org.au; Victorian Association

for Environmental Education, www.vaee.vic.edu.au;

ResourceSmart, www.resourcesmart.vic.gov.au
---
20 Oct 09

Early Childhood

Early childhood scholarship

recipients doing what they love

Early childhood workers Joanne Clarke and Sharon Bamblett have recently upgraded their

qualifications, thanks to two scholarship programs for educators in the early childhood sector.

Child care assistant Joanne Clarke spends her

days rattling off the alphabet, counting aloud to

10, and marveling at the unique ways children

find to communicate. "I love the way children

express themselves. I just enjoy the way they

speak, the way they try to put their words

together – they're great!" she enthuses. "I love the

nurturing aspect as well. I really enjoy my job."

The former travel consultant has been working at

Wonga Park Community Cottage for five years,

after discovering her dream job when her eldest

daughter was at kindergarten. "They'd ask for

parents to volunteer once a term – well I was down

there all the time!" she laughs. "I absolutely loved

it, I couldn't get enough. So when my youngest

daughter started school a few years later, I saw a job

Scholarship for Existing Workers in Licensed Children's

Services recipient Joanne Clarke knew she'd found her calling

when she became almost a permanent fixture at her eldest

daughter's kindergarten.

advertised here and thought, why not"

In July this year, Ms Clarke was awarded a

Scholarship for Existing Workers in Licensed

Children's Services. The program was developed to

support unqualified staff working in licensed child

care facilities attain a Certificate III in Children's

Services, and there are 200 scholarships available

in 2009/10. Ms Clarke completed her studies last

month and says her new qualification has increased

her confidence and opened many doors.

"At the beginning it's very daunting,," she

says. "It's all finished now and it has been

absolutely wonderful. It does open you up to the

opportunities out there – it really opened my eyes

to what I can do. My qualifications are so much

more up-to-date, and should my circumstances

change I'll be so much better qualified to try other

things. I think it's great that the government's

done this for a lot of people."

Aboriginal Early Childhood Teacher Scholarship

recipient Sharon Bamblett couldn't agree more.

In April this year, she completed her Bachelor of

Early Childhood at Deakin University's Institute

of Koorie Education. The Department's 2007-08

budget provided $1.4 million over four years

to provide scholarships for up to 21 Aboriginal

people holding a Diploma in Children's Services

to undertake further studies to become an early

childhood teacher. The scholarship totals $58,540

over two years – and because it covers HECS

fees and contributes towards living expenses, Ms

Bamblett could afford to take the necessary time

off work to focus on her studies.

"It was something I had thought about but I

didn't have the time with work and family," she

explains. "However, the scholarship gave us time

off to study so we weren't disadvantaged with our

pay, which meant we could keep up with all the

work. I was really pleased when I found out I had

the scholarship – I probably wouldn't have studied

without it."

Ms Bamblett is a child care coordinator at

Shepperton's Lulla Children and Family Centre

– and she wasn't the only one kept busy with her

studies. Kindergarten assistant Kristen Atkinson

and preschool coordinator Sharyn Sinclair

were also awarded scholarships, and the three

colleagues graduated this month. Ms Bamblett

has been working in early childhood for over 22

years and, as she explains, looking after young

children is the most natural thing in the world

to her.

"It's just in our blood, taking care of our children,"

she explains. "It's part of our culture to look after

our young. I enjoy the work – I get a good laugh

out of it! I enjoy the time spent with children

and the difference you can make for children and

their families. I hope I encourage our children

to participate and go further in life, and build a

better future for our children."

For more information, visit

www.education.vic.gov.au/careers/

earlychildhood
---
Early Childhood

Shine 21

Long day care centre

re-established at

Kinglake

A

A portable building donated by the Investa

Property Group will replace the Kinglake

Long Day Care Service until a permanent

centre is built.

Minister for Children and Early Childhood

Development Maxine Morand said the

centre would ensure Kinglake families have

a children's centre available to meet young

families' needs.

"The return of a long day care centre is very

important to Kinglake families with young

children – giving Kinglake parents greater

flexibility and opportunity for work, and giving

Kinglake children a wonderful facility to

enjoy," Ms Morand said.

The Victorian Government provided

$90,000 to move the portable building to

Kinglake West, where the centre offers day

care from 7am to 6pm for up to 35 children.

Murrindindi Shire Council community services

manager Sandra Saxton said the local council

new child care centre has

opened in Kinglake, replacing

the Kinglake Long Day Care

Service that was destroyed by

the Black Saturday bushfires.

also put significant resources towards getting the

centre up and running in the shortest possible

timeframe.

"Murrindindi Shire Council worked incredibly

hard to make the building operational as soon

as possible, at a cost of $120,000," she said.

"Restoring children's services was vital, and our

major challenge was to provide a suitable venue.

But it has now been open since 27 August and

the under-three room already has 13 enrolments.

It's been a tremendous partnership between the

council and the community."

Investa Property Group general marketing

manager Katie Barton-Harvey said the

company's donation was part of the extraordinary

statewide effort in supporting bushfire-affected

communities. "An early learning centre is a vital

aspect of any community, particularly in rural

areas, and we were glad to be in a position to

donate the building and play a small part in

rebuilding the Kinglake community," she said.
---
Mooroopna North Primary School is the first of six rural schools to be completed in the first round of the State

Government-funded rural schools replacement program. Principal Geoff Newman says the new school, which has been

erected next to the old site consisting of relocatable buildings and an original building from 1875, is fantastic. "It's the Taj

Mahal. It's open-plan, bright and airy and the staff and students – all 73 of them – love it!"
---
For Teaching English

As A

First Or Other Language

R

Windows PC: XP or Vista

If this CD does not autorun,

double-click on your CDROM

icon or naviagate to the

contents of this CD and

double-click on the

CHART.exe icon.

PC -Mac

Compatible CDROM

For Teaching English As A First Or Other

Language

R

Mac: OSX 10.4.0+

Navigate to the contents

on this CDROM and

double-click on the

CHART.app icon.

Backstage pass

for Christine Nixon

Jed McIntosh, 12, lost everything

except his much-loved drum kit

in the February bushfires. The

Drouin West student was part of

the orchestra in Joining the Chorus'

production of Barnum, and was

cheered on by classmates during

a special matinee performance for

more than 800 students from fireaffected

schools. The students were

bussed into Melbourne's historic

Comedy Theatre to enjoy the circus

musical free of charge, thanks to the

support of the Victorian Bushfire

Appeal Fund.

Victorian Bushfire Reconstruction

and Recovery Authority chair

Christine Nixon went backstage

after the show to meet with the

musical director Kirk Skinner, Jed

and his parents .Recruiting for the

2010 State School Spectacular has

commenced and schools will receive

information packs later this month.

THRASS ® Accredited Certificate Courses

THRASS provides Australia's best phonics PD.

THRASS explicitly teaches linguistically correct phonics.

THRASS uses a phonographic method to teach the 44 speech

sounds of English and their various spelling choices.

THRASS is a code-breaker, often described as 'the key that

unlocks the door to our language' or 'the missing link'.

THRASS is the perfect partner for whole-language strategies.

DECODER 1.0

Features The 120 THRASSWORDS

PC - Mac Compatible CDROM

Windows PC: XP or Vista

Mac: OSX 10.4.0+

If this CD does not autorun,

Navigate to the contents

double-click on your CDROM

on this CDROM, doubleclick

on the Decoder.app

icon or naviagate to the

contents of this CD,

or Video.app icons

double-click on the

and follow the

THRASS.exe and

install prompts.

follow the install

prompts.

Decoder Serial: T6H5R4A3S2S1

PC Install Serial: dpe172

Video Serial: V8I2D7E5O4

PC Install Serial: dpe162

© Denyse Ritchie 2009

Published by THRASS Australia Pty Ltd 2009

ISBN 1 876424 78 8

www.thrass.com.au

Training courses

New Software Available Now

Quote: 'I came looking for

something to help one child

in my class. I have found

something for all 27 of them.'

– Evaluation from a participant at a

THRASS course, Melbourne, 2003.

Read other evaluations at

www.thrass.com.au

Features The THRASS Picturechart

CDROM must be in your CDROM drive for the program to run.

Serial: QW27PZ63T95C

© Denyse Ritchie 2009

09

Published by THRASS Australia Pty Ltd 2009

ISBN 1 876424 79 6

www.thrass.com.au

THRASS Australia Pty Ltd. Tel 08 9244 2119 Fax 08 9244 4044

www.thrass.com.au enquiries@thrass.com.au

ABN 15 081 990 490

Serial: ZA7PC814MB2H

Version 1.0

REGISTER NOW!

OCTOBER

Bendigo-F/U* 21

Bendigo 22-23

Geelong 26-27

Geelong-F/U* 28

Melbourne-F/U* 28

Melbourne 29-30

NOVEMBER

Shepparton 09-10

Ballarat-F/U* 11

Ballarat 12-13

Melbourne 18-19

Two-Day Course:

$396 (Inc. GST, Catering & Comp. Resources)

* Follow-Up Workshop:

$198 (Inc. GST & Catering)

**Advanced Course:

$1100 (Inc. GST, Catering & Comp. Resources)

Download rego forms from

www.thrass.com.au and

fax to 08 9244 4044 or

Tel. 08 9244 2119 for us to fax you a form.
---
24 Oct 09

Resources

Parents and children flock to

Rhymes, songs and stories form the basis of this early years

program designed to nurture the parent-child relationship and foster

family wellness.

The Parent-Child Mother Goose Program

(P-CMGP) originated in Canada in 1986 and

is now operating in several countries, including

Australia where it has enjoyed a growing

movement over the past few years.

The program aims to strengthen the bond

between parents and their children through

story and rhyme. It also helps to develop good

communication skills, pre-literacy skills, and

provides parents with new ways to manage their

children's behaviour by distracting them with story

and songs.

Knox City Council organises the training for

the program Australia wide. Janene Swalwell,

coordinator for Specialist Support and Resources

with Family and Children's Services at Knox,

says that there are currently 800 people on the

council's database who have been trained to run the

program, and that a register is being established to

identify where programs are available.

"The Parent-Child Mother Goose Program

provides simple, engaging and positive

experiences. The program's warmth supports

parents' and young children's connections with

each other before words. It is slow, gentle and

very respectful of all participants. The songs

and stories used reflect the groups' cultural

backgrounds," she says.

Jen Mitchell, manager Specialist Children's

Services in the Barwon South West Region,

says parents love the program because it is

very low key, free and, as it is based on oral

language, accessible to a wide range of families.

"It is a group experience for parents, their

babies and young children, which focuses

on the pleasure and power of using rhymes,

songs, and stories together," she says. "Parents

gain skills and confidence, which can enable

them to create positive family patterns during

their children's crucial early years, and give

their children healthy early experiences with

language and communication."

The program can be run in a variety of settings,

including community centres, community health

centres, neighbourhood houses, library outreach

programs, family service agencies, Aboriginal

friendship centres, teen parent centres, and

immigrant and refugee support centres.

Each program has at least two accredited teachers.

Groups are small to ensure that the needs of

individuals, and of the group as a whole, can be

met. Teaching is directed at adults and the children

participate as is appropriate to their stage of

development and inclination.

"The atmosphere is accepting and supportive, with

the intention of building the confidence of all

participants, and creating a feeling of community

and mutual support within the group," Ms

Mitchell says.

"Activity focuses on interactive rhymes, stories and

songs. No toys or objects are used, but there are

plenty of simple hand actions. The pace is slow

and relaxed with plenty of time for repetition, and

casual discussion of issues and questions that arise,"

she explains.
---
Premier John Brumby and Minister Bronwyn Pike recently met online with students from across the state, including Niki and Blake,

(pictured above) from Warrandyte High School, in the Department's virtual conference room. They wanted to hear what students have

to say about their digital world, cyberethics and the role students can play in leading responsible online behaviour. The session was

an introduction to the Leading Responsibly in a Digital World Student Summit, which will take place on 12 October.
---
26 Oct 09

Opinion

Dr Patricia Edgar

Give gifted and talented

students a push

The argument in support of special programs for gifted and talented students

begins with a different premise but arrives at the same overall goal of

improving schools.

"No one has written your

destiny for you. Your

destiny is in your hands."

There are "no excuses" for

underachieving, said President Barack Obama

in an address to the NAACP (The National

Association for the advancement of Coloured

People) in July this year.

In exhorting all kids to apply themselves and

try harder he also called on parents to play

their part. "…we can't tell our kids to do well

in school and then fail to support them when

they get home. You can't just contract out

parenting… It means pushing our children to

set their sights a little bit higher."

In a debate challenging educational thinkers

around the world to improve the education of

children generally, there are different points of

view about how best to help children succeed. Is

it the child's natural in-born talent that makes

the difference (as we have long believed), is it the

school they go to, or is it the teacher or the parent

who pushes their child to excel

Barack Obama credits his mother with

pushing him, caring about his education,

taking no lip, teaching him right from wrong

and insisting he use his abilities.

In the same month as President Obama gave

his rallying call for education, Alan Milburn,

MP and chairman of the UK Government's

panel on social mobility, delivered his report

Unleashing Aspiration. He too spoke of the

key role parents can play claiming "Parental

interest in a child's education has four times

more influence on attainment by age 16 than

does socio-economic background".

'Pushy parents' make a difference in education

for all children, but those with high incomes

have additional advantage, they can buy

extra tuition or move near a good school to

guarantee a place.

Parents should push but the school their

children go to makes a difference. "A good
---
Whether the goal is to develop unfulfilled talent or skills to

compete in the modern labour marketplace, good schools for all –

staffed with skilled teachers who work in partnership with parents

– are needed to educate young people successfully.

school", Mr Milburn says, "opens the door to

a good career. Generations of low and middle

income young people will miss out unless we

do more to close the educational attainment

gap in schools". He is an advocate for paying

schools according to the progress their pupils

make, providing an incentive to drive up

standards and improve pupil's outcomes.

The argument in support of special programs

for gifted and talented students begins with

a different premise but arrives at the same

overall goal of improving schools.

In the UK Young, Gifted and Talented is a

national program providing extra educational

support for those who excel in one or

more academic subjects, like language and

mathmetics, learn faster than others in their

year group or may have high potential but are

underachieving. Or they are talented, with

practical skills in areas like sport, music, design

or creative and performing arts. Skills like

leadership, decision-making, and organisation

are also taken into account when identifying

and providing for gifted and talented children.

The national champion of gifted and talented

learners in the UK, John Stannard, sees benefits

to schools as a whole from a systematic focus

on providing successfully for able, gifted

and talented learners: lifting standards and

expectations for all; more optimistic and

challenging learning and teaching; increased

opportunity through curriculum enrichment;

positive and creative impact on school climate;

increasing parental commitment.

What able children can do, he says, is a good

guide to what should be an entitlement for

everyone. A curriculum pitched only at the

average, he says, is unlikely to serve anyone's

interests well.

Surely the aim should be to devise schools that

both challenge the ablest and push the less able

to achieve their best. Whether the goal is to

develop unfulfilled talent or skills to compete in

the modern labour marketplace, good schools for

all – staffed with skilled teachers who work in

partnership with parents – are needed to educate

young people successfully.

If we get the system right we still need to

monitor the motivation of the individual child.

It is the teacher in the classroom who is best

placed to identify talent and motivate unengaged

minds in partnership with a pushy parent. But

the child is central in this partnership.

My eight-year-old grandson's parent teacher

interview – a process usually undertaken

without the child present – underwent a

transformation recently with the school

encouraging the child to opt-in and express

their views. It proved to be a powerful

experience for all involved. The teacher learned

things about the child she wasn't aware of.

The boy heard his teacher and parents suggest

a course of action which gave the agreement

more weight in his eyes. He was happy to

be included and turned over a new leaf the

next day. It demonstrated how powerful a

partnership between a teacher and parents

with a child could be.

Dr Patricia Edgar is an author, television

producer, educator and founding director of the

Australian Children's Television Foundation.

Her latest book is The New Child: In search of

smarter grown-ups.

Tell us what you think

Email editor@edumail.vic.gov.au

ENVIRONMENTAL EDUCATION in WARBURTON

Natural Resources Conservation League programs utilise spectacular and

unique locations in Warburton including the Yarra Ranges National Park,

where classes may undertake one of the following programs...

BIODIVERSITY

INCURSION WORKSHOPS

For Primary School Based

WATER for LIFE

– an informative study of water systems

Students. 4 one hour

from beginning to end,

sessions per day @ flat

INSIDE FORESTS

– a fascinating study of a cool temperate

rate of $350.00

rainforest & Mountain Ash forest

Please phone our

LIQUID and LEAVES

– a combined water and

office for more

forests program

details.

All programs are linked to the Victorian Essential Learning Standards.

For a brochure or to make a booking visit Natural Resources

our website nrcl.org.au or call (03) 5966 5822 Conservation League

SCHOOL

NOTIFICATION

SYSTEM

CONTACT

HUNDREDS

OF PARENTS

INSTANTLY!

Visit

www.zapitsms.com.au

for your FREE

trial today.

With ZapitSMS you can send

text messages quickly and

easily from your PC.

Notify parents of bus

delays, event cancellations,

emergency announcements,

rehearsal reminders and

much more!

SAVE TIME,

SAVE MONEY, VISIT

www.ZAPITSMS.com.au

TO FIND OUT HOW.

Race River Corporation is a participant of The

Australian Government ICT MUL

T +61-7-3369-4770

F +61-7-3369-4771

PC to Mobile Communications

T 1300 119 487

E info@zapitsms.com.au
---
28 Oct 09

Research

From the minds of babes

a key to understanding…us

Australia's first cognitive neuroscience 'baby laboratory' is hoping to learn how infantile thoughts and gestures

mature into deliberate action; how the human brain develops and sometimes fails. By Rebecca Thyer

Sitting on her mother's lap with a tiny, Velcrocovered

mitten on her 11-week-old hand, Molly

reaches for an object that is similarly clad in

Velcro. It's a simple move that defies what other

babies her age typically do, which is how young

Molly is helping researchers better understand

developing brain activity.

As a 'baby scientist' Molly is helping researchers

at Swinburne University of Technology's Brain

Science Institute learn more about a process

called mirror neuron activity – where the brain

mirrors the activity of another person, activating

a neuron response, even though no physical

movement occurs.

Leading the work is Dr Jordy Kaufman, who

moved to Melbourne from the University of

London, Birkbeck, to establish the Swinburne

Baby Laboratory in early 2008. Dr Kaufman says

Molly's involvement in the lab's 'Sticky Mittens'

project is allowing researchers to explore brain

development. "At three months old babies are not

good at reaching for things, but with practice they

can do something like it. It may look like they are

just swiping or swatting at things, but they are

trying to get the toy."

Previous US-led research has shown that babies

with 'sticky mitten' experience take more of these

bold, directive actions – that is, they grab at

objects more than other babies.

Sticky mitten research began about a decade ago

with Professor Amy Needham, who supervised

Dr Kaufman's PhD in her previous role at Duke

University. Now at the Department of Psychology

and Human Development at Nashville's

Vanderbilt University, Prof. Needham says these

types of projects help to build an understanding

of infant motor skill development and the

changes behind it. "Development is a complex

phenomenon and we are only now starting to

understand the many ways in which different

processes influence each other as development

takes place," she says.

Perhaps most importantly for those who are

exploring brain development, is that babies with

a sticky mitten experience also watch the actions

of others more closely. By carefully watching

the actions of others, there is the possibility of

enhanced brain development, allowing infants to

better interpret other people's actions.

Swinburne's Dr Kaufman says his sticky mitten

research will monitor this. "We want to know
---
"The more we know about the typically developing brain, the

more scientists can discover markers for atypical development…"

if giving babies a sticky mitten experience leads

them to show more mirror neuron activity than

those without."

To answer this question, Dr Kaufman is studying

the brain waves of two sets of babies: those like

Molly who have sticky mitten experience and

those without. In both cases babies watch their

parents grab for an object while their brain waves

are monitored. "We are essentially finding out

more about the mind's building blocks."

The Swinburne Baby Laboratory monitors

these brain waves using a non-invasive

electroencephalogram (EEG). It works in

much the same way as a thermometer measures

temperature. A net of 128 sensors is placed over a

baby's head to measure naturally occurring brain

activity. The sensors capture the electrical signals

coming from the brain while the baby watches

objects or listens to sounds. Dr Kaufman says it is a

completely safe experience for the babies involved

and usually lasts between two and 15 minutes.

The work could also have commercial

ramifications. Dr Andy Bremner, a former

colleague of Dr Kaufman's from the University

of London, Goldsmiths, says that because sticky

mitten research may help to explain how active

exploratory experiences drive development, it

could provide toy manufacturers with evidence

that certain educational products are beneficial.

"Currently there is little evidence basis for any

benefit of such toys, but this research could help

to provide this."

That aside, Dr Kaufman says what drives the

Swinburne Baby Laboratory is the ability to

provide insight into the minds of infants and

young children. Its work has important

ramifications for learning about the

development of autism and schizophrenia.

"Understanding how these conditions develop

could lead to more sensitive diagnostic

measures, and therefore earlier intervention."

One way of doing this is to measure how

babies' brains react to changes in sound, a

perceptual process called 'change detection',

which forms the basis of another Swinburne

Baby Laboratory project. "Basically this means

we play some sounds and then change it and

see what their brain waves do. We know how

adults' brains respond to auditory change –

even in our sleep our brains are aware of any

changes in noise – but do babies respond"

Finding out if babies do respond to auditory

change could lead to a better understanding

of how autism and schizophrenia develop. For

example, people with schizophrenia do not

show the same level of change detection as

those without it; and some people with autism

are highly sensitive to auditory change.

"So by monitoring how the brain develops we

might gain more insight into this," Dr Kaufman

says. "The more we know about the typically

developing brain, the more scientists can

discover markers for atypical development,

perhaps leading to early diagnostic tests and

early interventions to minimise the negative

effects of atypical brain development."

This story was first published in Swinburne

Magazine, the official publication of Swinburne

University of Technology.

If you are a parent of a baby or child up to five years old, you can take part in

research at the Swinburne Baby Laboratory by emailing babylab@swin.edu.au or

visiting www.babylab.org

Lab delves into

our infancy

The Swinburne Baby Laboratory is

Australia's first cognitive neuroscience

facility for babies and infants.

It was established in early 2008

by Dr Jordy Kaufman, who became

interested in studying brain

development when he undertook a

cognitive science degree at Carnegie

Mellon University in the USA, and a

PhD at Duke University with Professor

Amy Needham. His interest then led

him to the UK to work with Professor

Mark Johnson at the Centre for Brain

and Cognitive Development at the

University of London, Birkbeck.

He wants to find out how the

mental world of infants differs from

that of adults.

"We are more infantile than we think,"

he says. "Only 10 to 15 per cent of

things we do now are different from

what we did then. Yet, the relationship

between brain development and

cognitive development in babies is

largely unknown."

What drives Dr Kaufman is the

desire to give scientists and parents

alike a window into this world from

which we have all grown. "Almost

all parents at some point wonder

what it is that their baby can see,

hear, feel, remember and understand.

The Swinburne Baby Laboratory

was created to help answer these

questions," he says.

SCHOOLS OUT FOR SUMMER!

Luna Park is the perfect venue for your

schools end of year activity day.

Students $20.95. Teachers free of charge

Exclusive access for schools - nice and secure

Easy to supervise & free coffee and tea for teachers

Dec 2, 3, 4, 8, 9, 10, 11, 14, 15, 16, 17

For more information contact us on 9525 5033

www.lunapark.com.au; justforfun@lunapark.com.au

www.lunapark.com.au
---
30 Oct 09

Resources

adrenaline-pumping

outdoor activities

These action-packed outdoor adventures will get your students' hearts racing and push them to

the extreme edge of fun. Compiled by Rachel Skinner

Caving

Adventure caving will open your students' eyes to a subterranean world of

stalagtites and stalagmites, boulders, mazes, rivers and caverns. Adventure

Guides Australia can arrange single- or multi-day caving adventures

in a number of locations around Victoria. Britannia Creek, just a short

drive from Yarra Junction, is great for beginners, or you might like to

check out Labertouche Cave at Drouin in Gippsland – one of Victoria's

largest granite boulder caving systems. Buchan Caves, also in Gippsland,

is a limestone wonderland, and your students will be spellbound by the

underground waterfalls at Mount Buffalo in North East Victoria. Visit

www.adventureguidesaustralia.com.au or call 0419 280 614.

Canoeing

What a great way to travel! A peaceful cruise down a river is just the

thing to give your students a new appreciation for the great outdoors.

Bindaree Outdoor can arrange canoeing trips from half a day to eight

days in a variety of locations around Victoria, including the majestic

Murray River. There are some great trips on the doorstep of Melbourne

with the Yarra River winding its way through some magnificent and

peaceful gullies within half an hour of the city. For something a little

different, why not try gliding alongside the tall buildings of Southbank

Visit www.bindaree.com

Abseiling

Abseiling is a great introduction to the vertical world. Originally simply

a way of getting to the bottom of a climb, it's now a thrill of its own and

accessible to people of all ages. Your students will love the adrenaline

rush that only hanging precariously off a cliff face can bring. South West

Adventures caters to school groups, and has locations in Portland, Mount

Arapiles and The Grampians. Visit www.southwestadventures.com.au

or call 5523 3175.
---
Rock climbing

Nothing tests limits and overcomes fear like scaling a large cliff

face – and while safety equipment ensures this exhilarating activity is

low-risk, your students' hearts will still be pounding with anticipation!

Bindaree Outdoors offers rock climbing in several locations throughout

Victoria, from half a day to a full week, so you won't have to travel far

to experience the ultimate adrenaline rush. And better yet, there's no

experience needed to begin climbing, but the sense of achievement will

last forever. Visit www.bindaree.com

www.circusmaximus.com.au

Your New Principal

& Deputy for a day!

Since 1983

Mountain biking

Victoria has a huge range of mountain bike tracks to choose from, and

Off Road Cycling Adventures can arrange half-day, full-day or multi-day

rides – so to really get your students' hearts pumping, get them pedaling!

Choose from guided rides along the Yarra and Maribyrnong rivers, or go

for something a little more challenging in Gippsland, Murrundindi, the

Otways Coast or Lysterfield Park. Visit www.orca.net.au or call

1300 652 277.

"Professional approach,

great rapport with children."

Victorian Arts Council

• 60 minute performance–Highly Educational

• Enquire about our free workshop/s offer

• Performance successful in all settings from Primary to SDS

• Have Police check, WWC check and public liability

• Appropriate for Years Prep to 6 at the same performance

• Our show highlights strengths in Persistence, Resilience,

Confidence, Organisation and Getting Along.

UNICYCLING

MAGIC

RELATES TO

CURRICULUM

COMEDY

SLAPSTICK

JUGGLING

STUDENT

Involvement

MUSIC

AVAILABLE THROUGHOUT 2009/10

• From $4 plus GST per child.

Contact Greg Spillane,

Melbourne 9482 3512

Freecall 1800 800 192

Email: greg@circusmaximus.com.au

ALL THE

FUN OF THE

CIRCUS AT

YOUR SCHOOL

If you're serious about entertainment... Don't call us!
---
32 Oct 09

Partnerships

Smarter Schools

National Partnerships

Over 500 Victorian Government, Catholic and independent schools are set to receive a share of $325

million dollars to boost student outcomes and improve the quality of schooling under the new Smarter

Schools National Partnerships.

The Smarter Schools National Partnerships focus on improving

schooling in three key areas:

• Low socioeconomic status (SES) school communities

• Literacy and numeracy

• Improving teacher quality

The Commonwealth Government is providing funding of $325 million

for the partnerships over seven years, with the Victorian Government

making a similar investment over this period. Investment will support

Victoria's ongoing reform of school education and the priorities in the

Blueprint for Education and Early Childhood Development, including to:

• strengthen public confidence in a world-class school education

system;

• improve outcomes for disadvantaged young Victorians; and

• integrate services for children and families.

Under the partnerships Victoria's three school sectors will work together

to develop and implement reforms and to share learning and best

practice. With the benefit of partnership funds, DEECD, the Catholic

Education Commission of Victoria, and the Association of Independent

Schools of Victoria will seek to implement a range of school

improvement strategies. These include developing teacher and school

leadership capacity and quality, and collecting and analysing student

data to improve teacher practice and engaging with parents, families and

wider school communities.

Education Minister Bronwyn Pike is expected to launch the final

Victorian implementation plan for the Smarter Schools National

Partnerships in November 2009, following a formal co-signing of the

bilateral agreement for the partnerships with Deputy Prime Minister

Julia Gillard.

About partnerships

The Literacy and Numeracy National Partnership will deliver sustained

improvement in literacy and numeracy outcomes for all students,

especially those who are falling behind. Key initiatives include:

•

Building teacher and school leadership capacity through support

from literacy and numeracy coaches and professional learning

programs focusing on literacy and numeracy.

•

Resourcing for schools to provide intensive literacy and/or

numeracy intervention and support for students performing below

the expected level.

The Low SES School Communities National Partnership aims to

address the diverse education needs of students in low SES school

communities, and to support sustained improvement in their

educational outcomes. Initiatives include:

•

School partnerships with the community and business to address

barriers to students achieving their education potential.

•

Family Partnership Coordinators to build the capacity of schools

to develop strategies that will better engage families in their child's

learning.

The Improving Teacher Quality National Partnership will deliver

system-wide reforms to attract, train, develop and retain quality teachers

and school leaders. Initiatives include:

•

Establishment of specialist centres such as the Bastow Institute of

Educational Leadership, the Teacher Education and Leadership

Centre, and the Centre for Leadership and Professional Learning.

•

Further developing and enhancing the performance and

development and improvement frameworks.
---
1929

Flashback

Shine 33

"Melbourne High School has an archive with a large collection of photographs and materials dating from 1905. The archive

is open to the public for free by appointment. I also conduct regular tours of the school. This photograph is of the Form

Four (Year 10) class of 1929. Not much more is known about this image, except that it was taken within two years of the

school moving to its new site at South Yarra." Photo sent in by Glen Turnbull, archivist, Melbourne High School.

SEND US YOUR FLASHBACK PHOTO AND WIN A DVD!

Got a great old photo Email your image to editor@edumail.vic.gov.au to win Tim Winton's classic tale Blueback

in audio book format, courtesy of Bolinda Audio. See page 76 for competition Terms and Conditions.

Create effective Student Wellbeing through on-site

Staff Training and Professional Development;

needs analysis; planning; skill building.

www.schoolwelfaresupport.com.au

Deborah Pyke Ph 0433 362 683 & Rob Mason Ph 0431 295 522

Creative Teaching

Strategies

Workshops, Focus Groups and unique

onsite PD supporting teachers in the

use of Creative Teaching Strategies

for the classroom.

Making learning more interactive,

stimulating, and engaging.

Focusing on the 'how' of teaching.

Supporting teacher creativity!

In Clued Ed

Thornbury

Darron Davies

darron@darrondavies.com

Ph 0405 170 493

www.inclueded.net
---
34 Oct 09

Resource

Breaking down the

barriers of disability

Schools across Victoria will be even more welcoming to people with a disability,

thanks to a new resource kit launched last month.

Education Minister Bronwyn Pike and Community Services Minister

Lisa Neville launched the Bar None Community Awareness Kit at North

Melbourne Primary School on 10 September. The kit includes curriculum

units for Prep to Year 8 students that are linked to the Victorian Essential

Learning Standards, a professional development module, a teacher

information booklet and a DVD featuring real-life stories about students

with a disability, their families, teachers and principals.

Ms Pike said the kit aims to assist in breaking down any fears or barriers

towards people with a disability, and has been distributed to government,

independent and Catholic primary and secondary schools and governmentfunded

kindergartens state wide.

"There are 55,000 school-aged children with a disability or additional

learning needs in Victoria and that is why we need to continue to support

teachers in creating more inclusive and welcoming learning environments,"

Ms Pike said. "Every child has the right to a great education and the life

chances that this brings, and that is why we have developed a resource that

will help all students to better understand disability. This is a crucial step in

making our schools even more welcoming, giving students with a disability

the best chance of doing well at school and succeeding in life."

Down Syndrome Victoria president Kirsten Deane attended the launch with

her daughter, Sophie, who is in Year 2 and has Down Syndrome. Ms Deane

and Sophie were involved in the development of the kit and Ms Deane is

confident it will benefit school communities.

"The dreams I have for Sophie are the same dreams I have for my other

kids. I want them to go to school, to get an education, and to find a

job that is meaningful and they enjoy," Ms Deane said. "The resources

provided in the kit will assist in building a safe learning environment

to talk about some issues and potential fears people might have about

disability and more importantly how they can then move forward with

increased knowledge and awareness."

For more information or to obtain a copy of the Bar None

Community Resource Kit visit www.officefordisability.vic.gov.au

Minister Pike with Down Syndrome Victoria president

Kirsten Deane, her daughter Sophie, and Community

Services Minister Lisa Neville at the launch of the Bar

None Community Awareness Kit at North Melbourne PS.
---
Leadership Program

Brightest graduates to

Shine 35

teach for Australia

Victoria will lead the nation by assigning some of the brightest university graduates to disadvantaged

schools as part of a national partnership to raise the level of teaching Australia wide.

Teach for Australia is a groundbreaking

leadership and career development program

designed to prepare outstanding graduates

from all degree disciplines for teaching in

disadvantaged schools. The program was

launched in April by Premier John Brumby,

Deputy Prime Minister Julia Gillard and

Victorian Education Minister Bronwyn

Pike. It will complement existing teacher

recruitment pathways while providing

alternative opportunities for outstanding

graduates – who may not have considered

teaching – to move into the profession to

inspire and motivate students and become

exceptional leaders.

Victoria is pioneering this initiative, and is

ready for Teach for Australia's first round of

graduates – known as 'associates' – to begin

two years of teaching in secondary schools

from 2010. Government schools will be

accepting a minimum of 75 associates.

The selected associates, who were chosen

from hundreds of exceptional applicants, will

undertake a Graduate Diploma in Education,

commencing with a six-week intensive

program before taking up their positions in

schools. Once in schools, they will spend 80

per cent of their time in the classroom. The

rest of their time will be spent completing

the remainder of their two-year teaching

qualification and leadership program. The

associates will receive comprehensive academic

and professional support and leadership

development by trained school-based mentors,

Teach for Australia professional development

coaches, and University of Melbourne tutors.

Glen Proctor, executive principal of Hume

Secondary College, has met several of the

potential associates. "I was very impressed

with the calibre of the Teach for Australia

candidates and the rigour of the selection

process. From what I know, I would be happy

to have Teach for Australia associates in my

school," he said.

Teach for Australia is modelled on the

internationally successful UK Teach First and

Teach for America programs, where research

has indicated the delivery of better student

outcomes and the raising of the status of the

profession in the respective countries. The

Department has utilised the best aspects of

these programs in the design of the Teach for

Australia model, which also incorporates aspects

of the Victorian Career Change Model.

For more information, visit www.teachforaustralia.org or call 9656 3003.

www.edventures.com.au

Team Programs

Low and High Challenge

Ropes Courses

Affordable Programs at your location or

ours in Doncaster

Portable Challenges
---
36 Oct 09 Opinion

Gene Geoffrey

Make the most

of machinima

Build on students' skills under the guise of a computer game.

Sometimes I am sure I have the mental

maturity of a 12- to 15-year-old. I

know this, because if something

interests and engages me, then it will

usually interest and engage a 14-year-old.

This is not necessarily a bad thing, as I work

with students in Soundhouse at Debney

Park Secondary College. At Soundhouse we

focus on strengthening students' multimedia

skills, with a strong emphasis on film and

documentary production, and we are always

looking for new and innovative methods to

explore narrative storytelling.

By chance, one lunchtime I was sitting in the

library watching a group of students having

a blast playing World of Warcraft, when I

flicked past an article about machinima – the

art of creating films by capturing the threedimensional

animation of a computer game in

real time, and then editing those captured clips

together to make a film. With a quick bit of

research I found a free downloadable piece of

software called Game Cam (v2.planetgamecam.

com), which allowed the on-screen game-play to

be captured as AVI or WMV files. This meant

that the captured files easily imported into video

editing software like Windows Movie Maker

and Sony Vegas. That was easy! Now came the

hard part: to find some suitable games, which

could be used in classrooms.

Oblivion is set in the Middle

Ages, with a huge island to

explore, mountains, beaches,

grasslands, castles, villages,

churches, shops, markets and

a collection of human and nonhuman

characters.

With my network of 14-year-old coconspirators

– who by now thought this

machinima thing could be pretty good – we

began the hunt. I was amazed how responsible

they could be. A game title would come up and

all would sound great, until someone would

remember the flesh-eating killer zombies in

level 12 – probably not so useful! Finally, they

decided on a game called Oblivion. Oblivion

A scene from the computer game Oblivion.

is set in the Middle Ages, with a huge island

to explore, mountains, beaches, grasslands,

castles, villages, churches, shops, markets

and a collection of human and non-human

characters. We then clocked the game, which

effectively means we finished all the levels and

solved all the quests. This was necessary, so

that when I was working with a classroom of

students, there was no longer any game to play,

just an environment to move around in and

capture sections to create a story.

Over a 12-month period we have run

approximately 20 machinima classes with

students from Years 5–9. Working in pairs, the

students produce two-minute animations over

a four-hour period. The topics and content

vary; sometimes teachers have particular

themes they want students to explore, other

times the content is more free-ranging. Some

of my favorites have been 'Men are Strong

but Women are Powerful', which explores the

tenacity of women. Another, made by a Year

9 student, involves a Gollum-like character

searching for an artifact that has trapped his

family in poverty. The creative choices are

limitless; students create the voices for their

characters by recording their own voices

directly into the computer; sometimes they

film each other in front of the greenscreen and

place themselves into the game. Sound effects

and music can be added to create mood.

Machinima classes have a wonderful buzz about

them. There is a lot to do: writing, capturing,

editing, voices, music, sound effects and titles –

and none of it seems like schoolwork. However,

the number of skills it allows us to cover in a few

hours is amazing, and it's all under the guise of a

computer game!

I was asked why I thought kids liked doing

machinima. The answer is obvious – because

it's fun, it's invisible learning, and, ultimately, it

appeals to 14-year-olds like me.

Gene Geoffrey is director of creativity at

Soundhouse.com.au
---
Early Childhood

Shine 37

Playgroups support

Ballarat families

For parents in Ballarat, supported playgroups not only provide a caring environment to exchange ideas

and meet new people – they also help parents in tough situations realise they're not alone, writes

Rachel Skinner.

A room full of giggling preschoolers and chatting adults may not

sound like an intimidating scene, but for parents who feel their family

doesn't fit the usual mould, run-of-the-mill playgroups can seem a

little daunting. That's where supported playgroups come in. Targeted

at disadvantaged families, they aim to include parents who may not

normally attend these sessions.

The City of Ballarat is doing all it can to help vulnerable community

members. Family day care and supported playgroups manager Jan Ditchburn

says the council currently runs two supported playgroups – New Residents

and Young Parents – but has previously run groups for other specific

demographics, including Me and My Dad and Parents of Premmies.

"Playgroups can be very, very inclusive," Ms Ditchburn says. "So if you

don't fit in with the other parents, it can be difficult. For example, for

parents of premature babies, to talk to someone who has a full-term

baby is just not the same. And dads might not be comfortable in a room

full of women."

She says playgroups provide vital community links to parents who

may otherwise feel isolated and encourage families to access other

early childhood services, such as maternal and child health centres and

kindergartens. "As well as providing developmental activities for the

children, it gives social contact for the parents, too," she says.

Playgroup coordinator Julie Davies says supported playgroups

constantly evolve to meet community needs – existing playgroups are

given the expertise and resources they need to become autonomous, so

the council can focus its attention on developing new playgroups.

"What we aim to achieve is that after a 12-month period, the groups can

go into the transition phase and become independent," she says. "We use all

the networks at our disposal to form playgroups – maternal and child health,

community pages, community and primary school networks. Those special

needs groups tend to be people within the community who are in isolation

or disadvantaged in some way. Young parents, for example, are part of the

population that are particularly hard to engage, so it's about encouraging

them to participate in the community.

"Being at home with a little one can be very isolating – but when you've

got a playgroup to go to once a week, it's something to look forward to,"

she continues. "The parents get to talk to other parents who are in similar

situations, and their network of friends can be enlarged as a result."

GREENHOUSE

www.adloheat.com.au

We will provide a complete

set up for your school.

Professional horticultural equipment and

advice to suit your schools' curriculum

requirements.

Kit form Greenhouses, benches, shelving,

potting benches, propagating equipment,

misting systems etc.

Free brochure available.

For school grants go to www.kitchengardenfoundation.org.au

Phone us on 03 5940 0281 or call in to see us at 2/7 Bormar Drive, Pakenham Vic (M-F 8.30-5pm)

Advance

Tutoring

School

Home or centre tuition – Year 1 to Year 12

The Professional Teachers

• English

• Chemistry

• Physics

• Scholarships

• Business management

• Maths

• Biology

• Italian and more

• Accounting

Tuition bookings:

0411 333 001 / 0413 880 897

Teachers are welcome to join our team

www.advancetutoringschool.com.au
---
"In Year 12, I thought medicine was a fad –

everyone who does well, does medicine. My

first preference was engineering and I went

straight into that at Monash University, yet

the thing that didn't interest me is what I do

now. It just shows that if you do something

that you love, it can lead you anywhere."
---
Where are they now

Shine 39

STORY BY TINA LUTON

Dr David Nisbet

Bentleigh Secondary College, 1994–2000

Dr David Nisbet is one of a new breed of scientists with expertise that

bridges the traditional fields of materials engineering and neurobiology. His

research lies in the field of nanobiotechnology and tissue engineering.

As a PhD student at Monash University he developed a new technique that

has the potential to revolutionise stem cell treatment for crippling conditions

such as spinal cord injury and Parkinson's disease."I always wanted to be an

engineer, I wasn't really interested in medicine," he confesses.

"In Year 12, I thought medicine was a fad – everyone who does well,

does medicine. My first preference was engineering and I went straight

into that at Monash University, yet the thing that didn't interest me is

what I do now. It just shows that if you do something that you love, it

can lead you anywhere."

From Moorabbin Heights Primary School, Dr Nisbet attended Bentleigh

Secondary College where he quickly became a shining star and an exemplary

role model who shared a healthy dose of competition with his peers.

"I have always worked well setting goals, and always enjoyed a healthy

rivalry. At school I had a big group of mates and we had a quiet competition

amongst ourselves. I was dux every year from Year 10, so I suppose you could

say I did all right," he says without false modesty. "A lot of it came naturally

but I always worked hard. I used to load myself up and did extra practice

exams and really filled my plate. I guess I was a bit of a nerd," he laughs.

"My favourite subjects were maths and science. My maths teacher, Paul

Dean, was brilliant. He was a VCE Specialty Maths and Maths Methods

teacher, and I had him two years in a row. His teaching style really suited

me. He taught like a university lecturer; he made you think about things

and he tried to guide you in the right direction. He really prepared us well

for getting a good ENTER score and for life at university. "He is still at the

school and I still catch up with him for a beer, but these days we talk about

football and other things," Dr Nisbet says.

"The science teacher's name was Glenn Ross and he could see that I liked to

be pushed. He used to give me extra work, which I appreciated. If I got a test

back and it was 95 per cent, he would push me to get 100 – that's how I like

to operate. I work well under pressure, I like to bite off more than I can chew,

and I like to be the best."

Dr Nisbet is currently an assistant lecturer in materials engineering and

biological engineering at Monash University. He is one of the youngest

assistant lecturers on campus, having fast-tracked his PhD in three years

instead of the more usual four. His groundbreaking work combines the two

once separate disciplines of nanotechnology and stem cell research into a

new and exciting era of discovery, which could be the first step towards a

cure for conditions such as Parkinson's disease and spinal cord injury.

Dr Nisbet has used existing polymer-based biodegradable fibres, 100 times

smaller than a human hair, and re-engineered them to create a unique 3D

cellular scaffold that encourages stem cells to attach to nerves in the human

body – like ivy growing on a trellis. His technique to design a 3D structure

is a world first. After spending eight months in Canada working with

Professor Molly Shoichet, the world's foremost expert in neural tissue in

the spinal cord, Dr Nisbet is now collaborating with like-minded experts in

Australia, Singapore and London.

"Repairing damaged neural pathways is the holy grail of many

researchers," he says. "Our studies show that stem cells anchored

to a scaffold not only attach more easily, but rapidly adapt to their

environment and regenerate effectively.

Then

Dr David Nisbet, pictured here in his final year at Bentleigh

Secondary College, was dux of his class from Year 10 to Year 12.

Now

In a world first, Dr Nisbet has created a unique 3D cellular

scaffold that encourages stem cells to attach to nerves in the

human body, which could be the first step towards a cure for

conditions such as Parkinson's disease and spinal cord injury.

"It is a very long road to success, which will require small steps from

many people, but it's wonderful to know we're making such a significant

contribution here at Monash University, and we are very excited about the

therapeutic outcomes that could be obtained from our research."

Dr Nisbet has returned to Bentleigh SC to talk to students about his

research. Throughout his talk, he proudly reminded the intent young

achievers of tomorrow of the importance of goal setting, and of what can be

achieved when you believe in yourself and aim high.

"I think people at public schools try harder," he says matter-of-factly. "For

me, it was the ideal learning space because it was a laidback environment

where you had to be self-motivated. I had a lot of mates who went to private

schools and were spoon fed, and they failed most of their subjects first

semester – I went to a public school and I won scholarships right through

university," he says. "I am also glad I was at a co-ed school," he adds. "Socially

it was really great, we had lots of parties and heaps of fun," he grins.

If you know a past student who's achieved success,

email us at editor@edumail.vic.gov.au
---
40 Oct 09

School News

Smoking ban on

government school

premisesA new ban on smoking within government school premises

marks an important advance in Victoria's campaign against

cancer and preventable chronic disease, writes Rachel Skinner.

For the majority of adults who smoke, that

first furtive drag on a cigarette happened while

they were still at school – and with tobacco

responsible for more deaths than any other

drug, the Victorian Government is doing all it

can to buck this worrying trend.

On 1 July 2009 smoking on Victorian

Government school premises was prohibited,

after public consultation found a high level of

support for schools to be completely smoke

free. Before the ban, smoking was not permitted

in Victorian Government school buildings or

enclosed outdoor areas. This rule, however, did

not extend to smoking on school grounds – adults

were still permitted to smoke in unenclosed

spaces, when out of view of students.

Community and Stakeholder Relations branch

manager Helen Clarke said the smoking ban

is part of a whole-of-government strategy to

drastically reduce preventable chronic disease

in Victoria.

"What we're aiming to do is send a clear message

to school communities that smoking is harmful

and non-smoking is actively encouraged," she

said. "The challenge remains to ensure that all

children and young people understand that

smoking is damaging to their health."

And as drug education officer Doug Sandiford

explains, the smoking ban provides schools

with the ideal opportunity to review their drug

education policies.

"Smoke-free school policies and tobacco

prevention education are most effective

when linked to a student's personal health

and wellbeing and are part of a whole school

approach," he explains. "Health education

programs should include prevention education

about smoking, and support a safe and healthy

environment for all students."

"Health education programs

should include prevention

education about smoking, and

support a safe and healthy

environment for all students."

'All I want is your money and your health.'

But for many Victorian schools, creating

a smoke-free environment is nothing new.

Brauer College principal Julie Myers says

the school has long recognised the need

to do everything it could to discourage

impressionable adolescents from taking up the

habit. The school has been smoke free since

well before smoking was banned in other

public places.

"Brauer has been a smoke-free school since

soon after the Department made this open

See our advert in

the PD section or

book online at

www.edpd.com.au

INCORPORATING ABORIGINAL PERSPECTIVES IN KLAs

CLASSROOM READERS

Indij Readers has 29 contemporary Indigenous stories for mainstream

guided reading lessons, special literacy & Reading Recovery classes,

homework centres, after school care & libraries.

ACCOMPANYING TEACHERS GUIDES

Provide cultural information, lesson plans, activity sheets, blackline

masters, drama guides and discussion topics for each book in the series.

FEATURES

All authors/illustrators are Indigenous. Stories (from urban and rural

communities) are clever, interesting and fun. Underlying messages:

healthy eating, exercise, school is fun and family is important. Excellent for

SOSE and HSIE, as well as literacy.

PRICES

Series 1: 11 readers + Teachers Guide $151.40

Series 2: 9 readers + Teachers Guide $139.50

Series 3: 9 readers + Teachers Guide $151.50

Schools can save

up to 20% on

guided reading

packs.

HOW TO ORDER

Ask your local bookseller if they can supply or

contact Tracey and Margaret at Indij Readers:

Telephone 02 9597 7844

Facsimile 02 9597 7855

Email info@indijreaders.com.au

Download an order form directly from the web:

www.indijreaders.com.au/order-books
---
to schools to apply for in the mid-90s," Ms

Meyer explains. "The school pursued the

initiative because it was agreed that it was

an important adolescent – not to mention a

staff – health issue. Parents smoking on the

school grounds when visiting during student

attendance hours were requested to butt

out. There were one or two 'discussions' with

individuals, but most were fine with the idea."

At Fountain Gate Secondary College, it's

always been a case of prevention is better than

cure when it comes to smoking. As student

welfare coordinator Demi Stathopoulos

explains, the message to students is loud

and clear – while dependent teens will be

given all the support they need to

quit smoking, they should think

seriously before taking up the habit

in the first place.

"We have programs as part of the

health initiative where students

in Years 7 and 8 do a big unit on

smoking," she explains. "Kids freak

out a bit when they see the list of

the things that go into tobacco –

there are over 4000 chemicals."

Research has found that many

lifelong smokers take up the habit

between the ages of 12 to 14 – but

despite adolescents' willingness to

dabble in experimental behaviour,

there is still one risk they'd rather

avoid: their parents finding out.

"If I catch a child smoking, I don't

tell their parents straight away – I

give them a second chance," Ms

Stathopoulos explains. "If I tell

their parents, they're not going to

come to me."

Instead, Ms Stathopoulos aims

to nip the problem in the bud

with early intervention through

individual counselling sessions,

to help students kick their dependence without

fear of parental retribution. And slowly but surely,

the message is getting through.

"I try to manage their smoking so they don't

smoke during school hours," she says. "If I

tell them they have to quit, they're not going

to. But the amount of kids who get caught

smoking is decreasing, and I think it's because

of the education program we have in place. I

don't see as many kids smoking at the back of

the school and I don't smell it as often."

The updated Smoke Free Schools resource has

recently been distributed to schools.

Smoke Free Schools

Tobacco Prevention and

Management Guidelines

for Victorian Schools

School News

Shine 41

The cold

hard facts

• Cigarettes contain over

4000 chemicals.

• It is estimated that you

can become dependent

on cigarettes in the first

100 cigarettes; for some it

is fewer.

• In the 2004/05 financial

year, the total social

cost of tobacco use

in Australia was $31.5

billion. This accounted for

56.2 per cent of the total

social costs of all drugs,

including alcohol and

illicit drugs.

• In 1945, 72 per cent

of adult males were

smokers – in 2007 it was

estimated to be 21 per

cent of males.

• Smoking is responsible

for 90 per cent of

drug-related deaths in

Australia.

For curriculum materials,

regional support and information

about being smoke free, visit

www.education.vic.gov.au/

drugeducation

Bush Babies

Hands-on education with our Australian

native animals including a wombat,

joey, possums, birds and reptiles

Milking

Help us milk 'Brandy' the cow and make your

own butter and cream the old-fashioned way!

Farmyard

Feed pat and hold the best variety

of farm animals in Melbourne

1300 760 354

Chicken Hatching

Experience the excitement of chickens

hatching from eggs in your very own classroom

Rabbit Rearing

See new-born rabbits open their eyes

for the first time, develop fur and learn

how to hop over a four-week period

Pony Rides & Camel Rides

Take a break and let the ponies

and camels do the walking

We can setup indoors or outdoors

Franchises now available

Are you an energetic

and enthusiastic

teacher

Do you love drama

and working with kids

Then we want you to join the team at

Helen O'Grady Drama Academy.

Call us now about part-time positions

for 2010 across Melbourne and

the Peninsula.

Phone 95306080 for more details.

Franchises are also available.
---
42 Oct 09

School News

Victorian students

top of the class

A report on the results from the National Assessment Program Literacy

and Numeracy (NAPLAN) tests, which were undertaken by all students

in Years 3, 5, 7 and 9 in May this year, was released last month.

The report stated that Victoria, ACT and NSW,

are the highest performing states and territories

in Australia. Victorian students, on average,

performed better than the Australian average

in reading, writing and numeracy, as well as

grammar and punctuation, across all year levels.

The percentage of Victorian students performing

at or above the national minimum standard was

significantly higher than for Australian students

as a whole in 19 of the 20 assessment measures.

In writing, the percentage of Victorian students

in the top achievement band was significantly

higher than students in Australia as a whole.

Education Minister Bronwyn Pike said

information from the NAPLAN tests will

further support parents and teachers in their

understanding of what their children can do and

where they need additional help.

"We agree with parents that nothing is more

important than their children's education. That

is why our government has invested more than

$80 million in schools with dedicated literacy

specialists and maths and science coaches

to ensure that every student is given every

opportunity to reach their full potential, and

clearly initiatives such as these are working,"

Ms Pike said.

"These results are good news for parents who

can be confident that students are gaining the

vital skills they need for the future. The results

are also a tribute to the dedication of our highly

motivated principals and teachers."

How Victoria performed

in the NAPLAN tests

Reading

Over 94.3 per cent of Victorian Years 3, 5, 7

and 9 students are at or above the national

minimum standards in reading.

The average score for Victorian Year 5 and 9

students is higher than other jurisdictions. In

Years 3 and 7, Victoria is one of the highestperforming

jurisdictions along with NSW and

the ACT.

Writing

Over 90.3 per cent of Victorian Years 3, 5, 7

and 9 students are at or above the national

minimum standards in writing.

For all year levels, Victoria is one of the highest

performing jurisdictions in terms of the proportion

of students achieving in the highest band.

Spelling

Over 90.9 per cent of Victorian Years 3, 5, 7

and 9 students are at or above the national

minimum standards in spelling.

For all year levels, Victoria is one of the highestperforming

jurisdictions along with NSW and

the ACT.

Grammar and Punctuation

Over 92.7 per cent of Victorian Years 3,

5, 7 and 9 students are at or above the

national minimum standards in grammar and

punctuation.

The average score for Victorian Year 3 and 5

students is higher than other jurisdictions, and

in Years 7 and 9 second only to the ACT.

Numeracy

Over 95.6 per cent of Victorian Years 3, 5, 7

and 9 students are at or above the national

minimum standards in numeracy.

The Victorian mean score is above all other

jurisdictions for all year levels, expect for Year

3, where NSW and Tasmania perform similarly

to Victoria.

A unique educational resource

'Living' history

Personal Development

Find out what Enterprize can offer your students

www.enterprize.org.au

Phone or email for our Schools' Programs brochure

03 9397 3477 or sailing@enterprize.org.au
---
Negotiated reviews help

schools perform at their best

Every Victorian Government school is required to be formally reviewed every four years – and for schools

with student outcomes above expected levels, negotiated reviews offer a flexible and focused way to closely

examine a specific area for improvement.

Southern Metropolitan Region program

planning and development officer Jenny

Flint said a negotiated review recognises

that a school has done exceptionally well in

improving student learning outcomes over

time, and has the capacity to conduct its own

review supported by the regional network

leader, a critical friend and the region. Schools

in the region meet each term to clarify and

discuss expectations of a negotiated review,

and give feedback and challenge each other on

their investigations.

"This is an exciting opportunity to investigate

an area informed by the school self-evaluation

that will take the school to the next level

of improvement," she said. "Schools are

encouraged to take an approach to the review

that is investigative in nature, the results of

which will inform the development of their

School Strategic Plan. It's a way for schools to

challenge themselves to ask 'what can we do to

enhance the students' learning; what can we do

differently'."

Mount Eliza North Primary School took part in a

negotiated review this year. Principal Kerry Graham

said the entire teaching staff was divided into teams

to research ways to improve student performance,

particularly focusing on literacy and numeracy.

"We're a fairly high-performing school, but we felt

the students could achieve a lot better than what

they were achieving. We felt we weren't getting the

best out of them that we could possibly get," she

explains. "What we discovered was you can have all

the whizz-bang programs, but unless you improve

teachers' instructional practices, those programs are

not going to make one iota of difference – so what

we were looking at was how to improve consistency,

by researching best instructional practice."

And, she said, because the school undertook its

School News

Shine 43

own research, every teacher was able to provide

valuable feedback on how teaching practice could

be improved. "It's put all of our teachers on the

same page," says Ms Graham. "They all have an

understanding of the direction we are taking, and it

has galvanised everyone's enthusiasm."

SCHOOL SEATING SOLUTIONS

Tough. Reliable. Good looking.

"Building the Education Revolution in our Schools made easy with Felton Industries"

Jumbo Park Setting

1800mm long x 1000mm wide (table top).

Seats 10-12.

Free standing or bolt down.

Great for interaction.

Price: $1800 +GST Code: FELJPS

Delux Sheltered

Park Setting

1800mm long x 2300mm high x 1560mm wide.

Seats up to 8.

'Colorbond' roof provides weather protection.

Bolt down lugs for maximum stability and safety.

Powder coated frames.

Price: $3800 +GST Code: FELRPT

ALUMINIUM

SEATING

Park Setting

1800mm long.

Seats 6-8.

Can be fixed down for

security and stability.

Wheelchair access.

Price: $1086 +GST

Code: FELPS

Phone NOW for: Government & Educational Price List and Free Catalogue

Toll Free Ph: 1800 22 00 55 Toll Free Fax: 1800 05 91 58 Email: sales@felton.net.au

Felton_Shinda_Ad_125x188.indd 1

28/07/2009 10:15:50 AM
---
44 Oct 09

Regional Network Leaders

questions for

Barbara O'Brien

Barbara O'Brien, regional network leader

(RNL) for the Ovens and Murray Network,

likes to relax by catching up with

friends, pottering in the garden or

lazing by the pool with a good book.

1. What do you think makes a good principal

When I think of the really good principals I have had the privilege to work

with, they all seem to have a special charisma to engage and communicate

with people. They have a real passion for working with young people and

constantly strive to ensure their school provides the right opportunities for all

students. Good principals can create and articulate a vision for improvement

that instils confidence and loyalty in those they lead.

2. When you were a student who was your most

inspirational teacher

I'm showing my age because it was Mrs Naughton, my homeroom teacher

in Form 1. She was young and trendy and took a special interest in each of

us. She always made me feel confident in her classes and she made the work

interesting. I really think she is one of the reasons I became a teacher.

3. What are you reading at the moment

I have just spent two weeks travelling with my husband

and I found a book in the Kuala Lumpur Airport

called What's Age Got to do With it by Robin McGraw

who boasts about turning 55 this year. It caught my

eye because since taking on the RNL role my regular

exercise regime has just gone out the window, so I

thought she might inspire me to get fit again … it

hasn't happened! Dare I mention Instructional Rounds

in Education, which I think will provide the impetus to

network improvement.

4. What is your idea of the perfect weekend

About once a year we have a weekend away with our friends. We've been to

a few different places but my favourite is a fantastic house in the Yarra Valley

that very comfortably accommodates eight couples. We spend the weekend

eating, drinking and laughing. It's hard work. Especially recovering!

5. What were you

doing prior to this

role

I was principal of

Grahamvale Primary School,

which has approximately 350

students and is situated on

the outskirts of Shepparton.

6. What do you love to eat

I enjoy eating Thai food but unfortunately I'm

not very good at cooking it. I also like pumpkin soup

with crusty white bread and a really good risotto.

7. What was your main motivation for becoming

an RNL

Throughout my career I have had colleagues who have encouraged me to

take the next step, and this was the case when considering the RNL role.

Secondly, I had actually been a member on one of the RNL panels and I was

in awe of the skills and knowledge that the applicants displayed; it was the

best professional learning I could have had.

8. What are some of the key projects you are

working on

I find our work very complex and I could fill a book with the many key

aspects of this work. At the moment a key project is developing effective

Professional Learning Teams in every school across the network where

the focus is on students and a culture of "challenge and defend, not share"

(Patrick Griffin). School retention is also a key piece of my work as we

must provide pathways for students to continue their education in the

post-compulsory years, and for small secondary schools this can be quite a

challenge.

9. What do you do to relax after work

At the moment we are doing a makeover of our backyard, so I guess it is

gardening, if ripping up old pavers and pulling out plants is relaxing. I enjoy

watching AFL footy and going to my daughter's netball and, of course,

catching up with friends on a Saturday night and having a glass of wine.

In the summer, relaxing by our pool with a good book is my idea of true

relaxation.

10. What is your all-time favourite movie

I really love a good chick flick with lots of funny

one-liners; Bridget Jones' Diary is an all-time

favourite of mine. I'm embarrassed saying this

but I also love Gone with the Wind. I have

watched it so many times and while there are

characters in it that drive me insane because

they are so insipid or self indulgent, I love the

story and I cry every time.
---
School News

Shine 45

Wireless upgrade for

primary schools

Classrooms may soon match the modern office thanks to a $7 million wireless access point upgrade to

all Victorian Government primary schools.

Up to 7300 wireless access points (WAPs) were

delivered to schools in September boosting

network coverage and capacity for students who

access the web. The statewide ratio of wireless

radios is now one to 14 students, which is among

the best in Australia.

Minister for Education Bronwyn Pike made

these exciting announcements during a recent

visit to Merri Creek Primary School, which is one

of the first to go live with the new devices.

"Schools across the state already enjoy

10-megabits-per-second broadband speeds

and these upgrades will help Victoria maintain

its leadership in the provision of bandwidth to

schools," she said.

The Department has provided, through IBM,

Cisco new generation dual radio WAPs

and funding for cabling to every Victorian

Government primary school. In addition,

specialist school technicians are receiving training

in planning and optimal placement of the new

equipment in the classroom. Rollout of the new

WAPs is expected to be complete by early 2010.

In the meantime, staff and students at Merri

Creek PS are enjoying the added freedom that

boosted network coverage allows.

"The increased coverage throughout the school

means that there are more spaces that children can

take laptops to," principal Dionne Wright says.

"The courtyard is a really lovely outdoor space for

the Year 5 and 6 students to work in, and we are

considering a complete changeover from desktop

computers to laptops for students in Years 3 and

4. It will allow them to work in different spaces,

and not always at a desk. It means that the

teacher can sit in circle with the students to work,

which is very exciting," she says.

Ms Wright adds that one of the greatest – and

most appreciated – changes has taken place in

the staffroom.

"Only half of the staffroom was covered by the

original wireless network so the teachers were all

stuck on top of each other at one end of the room

during breaks – now they can relax and spread out

while they work."

Minister Pike with Merri Creek PS students Joshua, Year 5, and Isobel, Year 6 – two

of thousands of Victorian Government primary school students who will reap the

benefits of having increased wireless access.

Live Butterflies!

come to your classroom all year

• touch the butterflies

• watch them eat

• learn about the life cycle

Call Natalie 0410 098 855 email: info@butterflyadventures.com.au

Carrington Financial

Services

We offer

n Salary Sacrifice

n Novated Lease

n 54.11 Resignation

n Retirement Planning

n Wealth Creation

n Taxation

n Estate Planning

For a no obligation assessment of your situation

Contact John Doyle or Diana Sangue

on (03) 9820 8688
---
A stunning

school circus

spectacular

Melbourne's Comedy Theatre

was transformed into a big-top

extravaganza as more than 70 musicians

and performers from government

secondary schools dazzled audiences

in the latest Joining the Chorus stage

musical, Barnum.

The theatre was packed to the rafters for

all nine shows as crowds cheered on the

daring stilt walkers, amazing jugglers

and spectacular trapeze performers

from the Flying Fruit Fly Circus.

The musical, based on the life of

legendary circus showman PT

Barnum, provided students with a

fantastic opportunity to work with

industry experts and gain professional

performing arts experience in a topclass

venue.

Dressed in flamboyant 1850s-inspired

costumes, towering top hats, huge hoop

skirts and stunning clown make-up,

the talented student ensemble upstaged

even the most polished of Broadway

professionals to earn standing ovations.
---
PHOTOGRAPHY BY LES O'ROURKE
---
Big Day

In a big

success

After five days of professional learning at the

RNL Institute, Victoria's regional network leaders

put their newfound knowledge into practice,

coordinating a Big Day In for principals.

Attendees at the EMR Big Day In step outside to

enjoy some fresh air and sunshine and to take in

the glorious views across the Docklands.

Minister Pike with keynote presenter Professor

Doug Reeves, Chairman of The Leadership and

Learning Centre, and EMR acting regional director

Jan Lake take a short break during the Big Day In

at Etihad Stadium.

John Cortese, RNL for the Highlands City Network

in the Grampians Region, holds court during the

Big Day In for the Highlands City, Highlands South

and North East Highlands networks at the Mercure

Hotel, Ballarat.

Macedon Ranges Network literacy improvement officer

Lisha Nash enjoys a laugh with principals Joan Gibbs

and Kathy Vella at the Macedon Conference Centre.
---
The Big Day In for principals was an overwhelming success,

with events held at 30 venues across the state on Friday

14 August. The day replaced the previous statewide Big

Day Out to reflect the new network structure and the role

of Regional Network Leaders (RNLs). Some regions and networks

hosted the day at a common venue, while others held their event at

separate venues across the region.

Minister for Education, Bronwyn Pike, attended the Eastern

Metropolitan Region's event at Etihad Stadium. "The move from

the Big Day Out to 68 network-centred Big Days In reflects the

increased maturity of the system and government's expectations

that the RNLs and network principals will be the key units

driving school improvement," she said. Ms Pike also attended the

Banyule and Nillumbik networks' event at Heidelberg Golf Club

in the Northern Metropolitan Region. Professor Richard Elmore

attended the Macedon Ranges Network Big Day In, together

with Office for Government School Education (OGSE) Deputy

Secretary Darrell Fraser and School Improvement Division's

General Manager Judy Petch.

The theme of the Big Day In was 'A Profession with a Practice', which

built on the work of the recent RNL Institute. Principals received a

copy of Professor Elmore's book Instructional Rounds in Education prior

to the event for pre-reading, and all networks spent time discussing the

process of instructional rounds and how these might be used within the

network to support school improvement.

Oberon PS assistant principal Andrew Augerinos and

BSW regional director Grant Rau take the opportunity

to chat with Premier John Brumby.

The theme of the Big Day In was 'A

Profession with a Practice', which built on

the work of the recent RNL Institute.

Julie Baker, assistant regional director (ARD) school improvement

for the Loddon Mallee Region, attended a Big Day In at Mildura:

"It was absolutely fantastic. We noticed in our region that there

was a deeper level of conversation among our principals. I was very

proud of the RNLs and the preparation they put in to make sure

everything went smoothly," she said.

Mark Thompson, RNL for the Nillumbik Network in the Northern

Metropolitan Region, agrees that it was a significant day that provided

opportunity to look closely at teacher practice and how to stay in the

descriptive mode when making observations.

"Conversation was generated about how to improve instruction across

the network. Principals were able to spend time and effort on the

activities provided, and to discuss school improvement in their own

network," he said.

RNLs Janet Gill-Kirkman and Jan Gregory ran a sub-regional event

for the Southern Hume Network and The Ranges Network at Euroa,

and included their ARD school improvement David Cummins, as

well as Student Wellbeing General Manager Ian Claridge and OGSE

executive coordinator Mark Brear.

"We modelled the day on what Richard Elmore did with us at the

RNL Institute – we used the same videos and the same learning

framework and it worked! We had a very hands-on, very collaborative

day that was extremely successful and worthwhile," Ms Gill-Kirkman

says. "Our principals were really engaged and had a readiness for the

next level of learning. It was fabulous."

Ms Gill-Kirkman says she is now working with principals to use the

methods of observation that were covered in the Big Day In. "We

learned that practice is very important, and our regional team of seven

RNLs and the two ARDs have all made a commitment to complete

instructional rounds early in Term 4," she says.

left to right: Belmont PS principal Mark Arkinstall,

Montpellier PS principal Russell Koehler, Rollins PS

principal Steve McGarrigle, and North Geelong SC

principal Allan White get down to business.

OGSE's Deputy Secretary Darrell Fraser participates

in the marshmallow challenge during the Macedon

Ranges Network Big Day In. Participants used skewers,

marshmallows, Blu-Tack and sticky notes to create a

sculpture representing a network.
---
50 Oct 09

Building the Education Revolution

Infrastructure Update

Strathmore North PS sports new oval

An exciting new sports ground at Strathmore North Primary School will help to keep students active for

years to come, writes Tessa Van Der Riet.

The Strathmore North PS community joined $35,000 of school fundraising

with federal funding for the construction of the synthetic turf oval, which

was launched with a whole-school celebration – after which, the students

were invited to run and play on the field for the very first time! "We're very

excited about being given these funds from the Federal Government and

being able to realise our dream for the oval, which has been a much-loved

project for some time," principal Jenni Lewis said.

The oval has been imagined and anticipated for some years and came

together as part of the National School Pride initiative, just one segment of

the Building the Education Revolution (BER), part of the Federal Nation

Building – Economic Stimulus Plan (ESP). The school has also started

construction of its $2.5 million learning neighbourhood, another BER

project, which will open up learning spaces into new and dynamic 21st

century teaching and learning environments.

Ms Lewis, who has been principal at Strathmore North for nine years, says

the school community is "over the moon" with the stimulus plan projects.

"I've never seen this volume of money for infrastructure development and I

think it has huge potential to improve learning outcomes for students and

teaching conditions for our staff, and really add value to education.

"We identified the oval project because it was something that would benefit

all children, Prep to Year 6, and also children with special needs allowing

them to get out onto the oval," she said.

Ms Lewis added that the school community has experienced a real lift with

the new oval as well as other upcoming projects, including the learning

neighbourhood and Better Schools Today classroom rejuvenations, which

are all working together toward improving learning environments and,

ultimately, student performance. The investments in school infrastructure

"will take us to a new level of learning and learning outcomes," she said.

Lowest Basic Mortgage Rate – Best Mutual:

Victoria Teachers Credit Union

Source: infochoice June 2009

12 month discounted variable rate

%

4.72 p.a.

Basic Home Loan

Refer to website for current rates

% 1

4.95 p.a.

Comparison rate

$0 establishment fee*

fortune favours the refinancers!

Refinance to any of our Home Loans between

1 August and 31 October 2009 and we'll waive the

establishment fee.*

For further information, or to apply, call a friendly

Home Loan Consultant on 1300 654 822 or visit

www.victeach.com.au.

Victoria Teachers Credit Union Limited

ABN 44 087 651 769 AFSL 240 960

Offer valid for Home Loan applications received from 1 August 2009 to 31 October 2009 and loan must be funded by 31 January 2010. Minimum loan amount is $100,000. At the end of the discounted period the

interest rate then reverts to the Basic Home Loan variable rate, currently 4.97%p.a. Interest rates subject to change. This offer is only for new Home Loans; it does not apply to switching existing Victoria Teachers

Credit Union Home Loans. Loans in excess of 80% Loan to Value Ratio (LVR) will incur Lenders Mortgage Insurance charges.*Applicants who decide not to proceed with the loan may incur establishment fees.

Minimum redraw $500 and is only available via Internet Banking for Basic Home Loans. 1. Comparison rate is calculated on a secured loan amount of $150,000 for a term of 25 years. WARNING: This comparison

rate is true only for the example given and may not include all fees and charges. Different terms, fees and other loan amounts might result in a different comparison rate. A comparison rate schedule is available on

request from our branches. Terms and Conditions available upon request.
---
Tate Street's

Trojan horse

www.teachingwithouttelling.com.au

Following Karen Green and Amanda

Dressing's successful roll out of the e 5

Instructional Model to Principal Class

Officers in 11 Regional Networks in

Victoria during Term Three 2009, they

are proud to present

e 5 Instructional Model

School Leaders Workshop

MELBOURNE CRICKET GROUND –

Brunton Avenue, Melbourne

13 November 2009

An interactive, informative and thought

provoking workshop about the e 5

Instructional Model that was developed

by the DEECD in 2009.

AND

IMAGE COURTESY OF THE GEELONG ADVERTISER

A colossal wooden horse has brought legend to life for the students of Tate Street

Primary School, thanks to a $36,000 grant.

The groundbreaking project is one of the first of the Extended School Residencies

funded by Arts Victoria in association with the Department.

The four-metre high Trojan horse was created by local artists Glen Romanis and Stuart

Guthrie as the centerpiece of the school's latest stage show, The Legend of Troy. Torquay

artist Janet Muller added the final touch by creating the helmets and shields worn by

students during the battle sequences.

Students worked with artistic director Dave Kelman for three hours every Friday for

20 weeks to get ready for the play, and he was hugely impressed by their dedication to

creating a production of epic proportions.

"This is our first project in Geelong," he said. "It has been fantastic to work at Tate

Street and we have been blown away by the talent and enthusiasm of the young people

and the professionalism and commitment of the staff. This work is about telling an

important story for our times. It is not about 'stars'; everyone is equally important and

they must work together to make the story work for the audience."

e 5 Instructional Model

Train the Trainer Program 09/10

MELBOURNE CRICKET GROUND –

Brunton Avenue, Melbourne

DAY ONE – FRIDAY 11 DECEMBER 09

DAY TWO – FRIDAY 12 FEBRUARY 10

DAY THREE – FRIDAY 23 APRIL 10

DAY FOUR – FRIDAY 23 JULY 10

These practical and engaging

workshops are designed for teachers

who will be empowered to unpack

the e 5 Instructional Model and recreate

the activities in school-based

professional learning sessions. The

first of these will be conducted

in Term 4, 2009 to allow for the

introduction of e 5 during professional

learning days at the beginning of

2010. It is highly recommended that

each school send two participants.

Participating schools will receive a USB

containing all workshop materials.

Workshop details, registration forms

and on-line registration available at

www.teachingwithouttelling.com.au
---
52 Oct 09 Opinion

Dr Gaye Williams

A deeper learning approach

We need a fundamental shift in how science, technology, engineering and

mathematics subjects are taught, so that students find them engaging, exciting and

want to pursue it at the next level.

Australia does not have enough

students taking science, technology,

engineering and mathematics

subjects – collectively known as

STEM – in senior secondary school and beyond.

Our young people simply don't seem interested

in studying these vital subjects beyond the

compulsory years.

This isn't just an Australian problem; it's an

issue for almost all developed nations. And

it's a serious one: if we don't have students

studying STEM subjects at university level,

where will we find the STEM 'ideas workers'

of tomorrow to maintain our position on the

cutting edge of research and design

To fix this problem, we need to start in the

primary classroom. We need a fundamental

shift in how STEM subjects – in particular,

mathematics – are taught, so that students

find the subject engaging, exciting and want to

pursue it at the next level.

At the moment, the majority of mathematics

in schools is taught in ways that produce

instrumental understanding; that is, the teacher

explains a topic, with students completing a

number of exercises on that topic before moving

on to the next one. This type of teaching requires

a great deal of repetition, as students tend to

forget details of the topic quickly, and often

struggle to understand how one topic relates to

another. This learning is superficial and shortterm

– and, for too many students, boring, or

difficult and stressful.

Instead, if students are taught in a way

intended to develop relational understanding,

they are able to relate one topic to another and

gain a deep understanding of mathematics.

This type of learning is what we should be

aiming for in the classroom; it gives students

the chance to build their understanding of

a topic and really engage with it to develop

further mathematical ideas.

To do this, parents and teachers need to have

more faith in our young people's ability to think.

I developed a group work approach while working

as a teacher that I refined through my PhD

studies. A carefully designed problem solving

task that is accessible in multiple ways is given to

the class, who then work together to explore the

problem by sharing their existing knowledge and

building on their combined knowledge.

After about 15 minutes, students report on an

aspect of their progress to the rest of the class.

This helps them consolidate their ideas and often

adds a new dimension for the consideration of

other groups. They then return to their groups to

continue their thinking. This generally happens

three to four times before the students as a class

have developed new understandings around the

mathematics available through the task.

The teacher's role is to ask questions (not hint

or tell), to assist students to think further along

the directions they have decided to take. The
---
By trying to do too much thinking for our students and young

people, we stifle their ability to learn at their full potential. Perhaps

it's time to let go and enable our students to think for themselves.

teacher also works out the order of reporting so

each group has the opportunity to investigate

something new, and knowledge builds for the

class during the process. This helps students make

mental leaps to a new idea, and sharing these

ideas contributes to what others can draw on in

their own problem solving endeavours.

Within this learning context, optimistic

thinkers view success (i.e. learning something

more) as permanent and personal, and failure

(not yet knowing) as temporary and something

that can be overcome through personal effort.

They are aware that there are specific aspects

of the present failure that they may be able

to change, and in doing so come closer to

achieving success.

Students who think in this way respond to the

group problem solving positively; they are able to

use what they already know and apply it to build

a new concept. When it doesn't work out the first

time, they are happy to try again until it does.

In other words, they are persistent and creative

problem solvers.

Students who don't perceive things this way

(because they are not optimistic) want to remain

working within the knowledge they already have.

They are not willing to struggle to develop a new

concept or idea. They perceive learning as being

'told' the correct answer and then repeating it,

rather than coming up with it themselves. These

children could be very high achievers on recall

type mathematics tests that are frequently used

to assess student performance in schools, but

their ability to problem solve is lacking and their

understanding tends to be recall of rules and

procedures only.

The good news is that, in certain circumstances,

a student can change their way of thinking from

non-optimistic to optimistic in one year. My

research is currently looking at how the learning

of maths can contribute to such changes.

In 1999, after the Trends in International

Mathematics and Science Study (TIMSS) results

from the mid-1990s had shown that Singaporean

students clearly outperformed Australian students

in mathematics, Prof. Berinderjeet Kaur from

the National Institute of Education in Singapore

came to Australia to find ways to overcome a

problem she had noted in Singaporean engineers.

Despite the top marks they were achieving, they

had a high proportion of engineers working in

industry who could not pose problems; only work

out problems identified by others. She considered

Australian students were more likely to be able

to pose problems. Problem posing is integral to

the problem solving undertaken by STEM 'ideas

workers' and despite Prof. Kaur's confidence in us,

Australia also needs to develop these skills further

and engage students in the process.

Using this deep learning approach will not only

teach our students to become better problem

solvers and to think more independently, it will

also free up the curriculum to cover more topics at

a higher level, as space becomes available because

teachers will not need to go over and over the

same work year after year.

By trying to do too much thinking for our

students and young people, we stifle their

ability to learn at their full potential. Perhaps

it's time to let go and enable our students to

think for themselves.

Dr Gaye Williams won the University of

Melbourne's Chancellor's Prize for Social Sciences in

2007 for her work into optimistic thinking in the

classroom. She is hosted by the International Centre

for Classroom Research at the Melbourne Graduate

School of Education.

Tell us what you think

Email editor@edumail.vic.gov.au
---
54 Oct 09

Regional Network Leaders

questions for

Peter Enright

When he's not engrossed in a novel, Peter

Enright – regional network leader (RNL)

for Moreland in the Northern Region – is

happiest when playing golf, gardening

or working out at the gym.

1. What do you think makes a good principal

The ability to create an informed vision based on improved student

outcomes with the local community and hold all accountable for its

successful implementation.

2. When you were a student, who was your most

inspirational teacher

My Year 12 Literature teacher had a genuine love of books and the capacity

to inspire and support me to work really hard to achieve good results. He

also had very high expectations and knew his content extremely well.

3. What are you reading at the moment

In the past few weeks I have read Breath by Tim

Winton, The Slap by Christos Tsiolkas

and The Road to Lost Innocence by Somaly

Mann, as well as How to Get Your School

Moving and Improving by Steve Dinham

and of course Instructional Rounds by

Marzano.

4. What is your idea of the

perfect weekend

My perfect weekend includes some physical activity – golf, gardening, beach

or gym – a great meal with family and friends and the opportunity to read

for enjoyment in front of an open fire.

5. What do you love to eat

Thai food or paella.

6. What was your main motivation

for becoming an RNL

To continue and extend the work I had been doing as a senior education

officer (SEO) on school improvement, internal accountability and

developing leadership capacity basing the work on using a network model.

7. What were you doing prior to this role

I had been an SEO for seven years, mainly working on the Broadmeadows

Schools Project, and I was principal of two large primary schools in the

Western Region for 13 years before that.

8. What do you do to relax

after work

After work each day it is usually so late

that I have dinner and collapse exhausted

onto the couch. But if I have any energy

left, I try to exercise on my treadmill and

home gym equipment and spend time

with my wife and adult children.

9. What are some of the key

projects you're working on

The main project is school improvement

for all of the schools in the Moreland

Network where performance needs

significant support to improve outcomes.

I have also been working on two

regeneration projects that are designed

to bring together smaller primary and

secondary schools to improve the

choice, diversity and pathways for all

students.

10. What is your alltime

favourite movie

Dead Poets Society and Milk are

both fantastic movies.
---
Careers Education

Shine 55

Careers teacher

wins national award

Gisborne Secondary College careers coordinator John Horley has received

the prestigious Judith Leeson Award for Excellence in Careers Education.

Mr Horley, who is in his fourth year at the college,

says the award is a great honour and acknowledges

the school's success in the careers field. "It's great

to be at a school that recognises that careers

guidance is absolutely critical in achieving good

outcomes for young people," he says.

Mr Horley has overseen the revamp and overhaul

of the school's approach to careers education.

The college now integrates careers and the

curriculum in a model that ensures students

develop understanding and skills as they progress

through the school. Mr Horley has also linked

the curriculum and the Australian Blueprint for

Career Develepment, Employability Skills for the

Future, Student Well Being Model, and Managed

Individual Pathways.

The model begins with Year 8 students playing

the Real Game, which links into their subject

selection and careers counselling for Year 9 and

10. Year 9 and 10 subjects incorporate skills from

Employability Skills for the Future and there is a

compulsory career elective in Year 10.

Workshops are run for VCE/VCAL students

as well as visits to career expos, industry, guest

speakers, extension studies in VCE and at

university, VTAC information nights, parent

information nights and intensive personal

assistance for students when necessary. More than

1000 students participate in some aspect of the

careers program annually.

Principal John Flanagan says that Mr Horley

clearly understands students' needs as well as the

variety of career pathways. "Within two months of

his appointment, John outlined a strategic plan for

the next three years," he said.

Mr Flanagan describes Mr Horley, who holds

a Masters in Careers Education, as passionate

and articulate about the important role that

teachers play in students' career development.

"He understands the constraints on teachers' time

and is a strong advocate for quality, well-targeted

training," he said.

"Teachers are beginning to feel more confident

and better resourced to meet the challenges that

the curriculum changes bring."

Mr Flanagan added that Mr Horley's work had

very successful outcomes. "We had a very high

rate of students getting their first preference for

university placements last year and our exit data

tells us that just about every student goes into

further education, training or worthwhile career

pathways," he said.

Get your careers teacher

recognised For more information,

visit www.cdaa.org.au
---
56 Oct 09

Research

Q&A with Collette Tayler

Collette Tayler holds the Chair of Early Childhood Education

and Care at the Melbourne Graduate School of Education

at the University of Melbourne. She conducts local and

international studies of the ways that social, family and

educational policies and practices affect early childhood

education and care outcomes.

Can you tell us a little about your background in

early childhood education and care (ECEC)

I guess from the time I (literally) had to march into school at age four

I've been thinking about how children come to learn and get on in

group settings. I've worked with very young children in far northwest

and regional southeast Queensland and in WA, where I did my graduate

studies contrasting the interactions in preschools and early primary

school classes to find out how better to handle transitions.

My time working in the Organisation for Economic Cooperation

and Development (OECD) to produce the Starting Strong II report

(ECEC provision in 20 countries) made me think more about questions

around the quality and effectiveness of different types of ECEC

programs – this is the subject of our team's research.

Why are high-quality ECEC programs so important

Important and rapid cognitive growth happens very early in life. We know

from very large studies in North America and the UK that high-quality

ECEC programs promote positive development. Experimental studies show

us that the effects of high-quality programs can be sustained into adulthood.

Lack of a quality program can predict poor progress.

More broadly, our society requires accessible high-quality ECEC

programs. They are a good foundation for other social institutions.

ECEC programs promote increased participation in the labour force

and increase the social inclusion of both children and parents – they can

help level the playing field and promote gender equality. And they may

be an impetus for gender equity, prompting in two-parent households

equal sharing of child rearing and domestic work.

How can parents help their children's learning

and development

Parents are the most important influence in a child's early learning

and development. Children's physiological and mental systems develop

through the relationships they experience. Research shows us that

creating a warm, nurturing and safe environment where children can

learn and grow is very important. Listening to children, reading, playing

and exploring are important early forms of learning and development.

What are the elements of a well-designed

ECEC program

Defining what constitutes 'quality' in an effective ECEC program is

one of our main objectives in the E4Kids (Effective Early Education
---
Experiences for Kids) study. We already know that high-quality staff,

small group sizes and high staff-to-child ratios are important, as is

creating a warm, engaging environment for the children.

The Australian Government currently invests $3.3 billion annually in

early childhood education and care. Our study will enable educators and

policymakers to make the most of this annual spend by providing detail of

what elements of a program have the greatest effect. So watch this space!

What kinds of ECEC programs do 3–5-year-olds

usually encounter

Between the ages of three and five, there is a wide range of programs

children encounter as they transition to school. Through this period, as

children get older they begin to encounter more consistent programs

and more children participate.

Significantly, less than two-thirds of Australian three-year-olds take

part in an ECEC program (that receives public funds) – a low level of

participation for a rich OECD country. These programs vary widely in

terms of content and structure, ranging from small groups running from

providers' homes to centres in the community.

By age five, children are moving into Prep, the first year of school, where

provision becomes much more consistent. The variability of provision at

age three begs questions about how different programs affect children's

development: this is a core question of our study.

What are the challenges for ECEC provision in Victoria

and Australia in terms of access, quality and equity

We need to have a better understanding of exactly what constitutes

quality in an early childhood setting and how we measure it. Further,

we need to know exactly which elements of programs have the greatest

effect in promoting positive development in a broad range of areas:

cognition, social and emotional development, literacy and language,

mathematics and numeracy, social inclusion and health.

In terms of access, the challenge of providing services to regional and

remote areas is unique to Australia, and one that we must address.

The E4Kids study

The E4Kids study is an Australian Research Council linkage project

of which the Department is an industry partner. The Victorian

Government has made a $1.4 million commitment to the project,

which will provide evidence about ways to optimise early learning and

social experiences and establish positive life trajectories for Australia's

children. It addresses the national research priority of 'a healthy start to

life' and aligns with the National Productivity Agenda.

This is the first Australian study to link the non-compulsory education of

three-year-olds to national test data collected when children are eight. It will

determine what elements of early childhood education and care programs

make a significant impact on a child's learning and development over time.

The research team will analyse a typical suite of early childhood education

and care programs in diverse Australian communities: remote, regional,

urban, disadvantaged and wealthy. It will also study the outcomes for

children who do not access ECEC programs.

The study will also draw on expertise from the Queensland University

of Technology; the Institute of Education, London; the University of

Toronto; the Royal Children's Hospital, Melbourne; the Queensland

Government Office for Early Childhood Education and Care; and the

Queensland Department of Education and Training.
---
58 Oct 09

Research

Children's perspectives

of starting school

A group of Prep students recently shared their

thoughts on starting school – these valuable

opinions should help inform adult understandings

of and responses to the complexity of school

transition. By Kay Margetts
---
Shine 59

Starting school is a time when learning

and education becomes formalised, when

conformity to rules and expectations, and

relationships with others become a measure

of success. Children's social and affective

wellbeing, identity, and learning are important

and can make the difference between a child

progressing well or experiencing ongoing

difficulties (Fabian 2007; Margetts 2007;

Niesel & Griebel 2001).

Becoming a school child involves dissecting

information and constructing understandings

about school and the role of school children.

This includes responding to and taking on

the behaviours and expectations of the new

environment. The variation in individual

development and experiences of each child

means that for some children, the new

experiences encountered at school will provide

minimal challenges and difficulties, while

for others, the same experiences will provide

heightened challenges and difficulties (Fabian

2007; Margetts 2007).

There is general agreement that the success

of the transition to school and adaptation to

the new physical, social and academic contexts

is mediated on many fronts including: child;

family; school and community. It is important

for children to contribute to the processes that

affect them and to include their perspectives

in research about early childhood issues

(Dunlop 2002). The reality of the child's view

may differ from that of adults (Heinzel 2000,

cited in Griebel & Niesel 2000). Further

differentiation of experiences and perspectives

occurs through the individuality of personality

and experience that each child brings to their

impressions and interactions within the school.

These interviews enabled the

'expertise' of children, who

had actually experienced the

transition to school, to be

expressed and heard.

This view recognises the agency of children

as co-constructors of their socio-cultural

environments. By listening to and analysing

the 'voices' of children who have been directly

involved in the transition to school process,

a third dimension is added to the voices of

parents and teachers, and should help inform

adult understandings and responses to the

complexity of school transition.

Fifty-four Prep children from four

metropolitan schools in Melbourne were

recently interviewed after attending school

for seven months. Children were interviewed

in small focus groups of three and asked two

simple questions: 'What do you think new

children starting school need to know' and

then after each child in the focus group had an

opportunity to respond: 'What can schools do

to help children who are starting school' These

interviews enabled the 'expertise' of children,

who had actually experienced the transition to

school, to be expressed and heard.

Six main themes emerged in relation to what

new children starting school need to know

about: peer relationships; school rules; general

procedures; classrooms; academic skills; and

feelings. Responses support the notion that

social, affective and learning competencies are

important to children as they start school.

Knowing about how to make friends and

deal with interactions included establishing

friendships, knowing children's names,

considering the feelings of others, sharing and

taking turns. The number of times not being

hurt, or hurting were mentioned suggests that

the playground, in particular, places demands

on children's social and emotional skills and

wellbeing, and assistance is needed for dealing

with playground conflict. Children suggested

that schools need to help them know what
---
60 Oct 09

Research

to do when they are hurt, should provide

teacher assistance in the playground, and teach

children how not to hurt.

Having someone to rely on during the start

to school – whether for social, physical or

other reasons – was recommended. Children

suggested this could be the teacher or

principal, but it could also be an older more

experienced child: "a friend that has already

been in Prep ... they could help you do things".

This included being told or shown how to use

the playground equipment safely: "You have to

show them (Preps) how to do that so they don't

get hurt."

Knowing about school rules, consequences

of breaking rules, being good (not bad), and

avoiding or not getting into trouble, were

noted often. The suggestions by children on

ways that schools could help newcomers–

"give them a reward if they've been good or

not if they've been bad" or "they could tell

you if you do something bad" – indicates that

they want clarification about what constitutes

appropriate and inappropriate behaviour, or

that they are trying so hard to do the right

thing that they want this recognised:

Knowing general school procedures and ways

of doing things was also important. This

involved knowing what to do (actions), where

to go (locations), and timing of routines. For

example, asking for help, doing up shoelaces,

lining up with a partner, responding to bells;

and playing on the right playground.

Knowing about: school rules;

consequences of breaking

rules; being good (not bad);

and avoiding or not getting

into trouble were noted often.

Another distinct set of knowledge related to

classroom procedures including information

about the teacher, the teacher's name, what

the classroom is like, and how to behave in

the classroom such as: listening to the teacher;

doing what the teacher says; being quiet; asking

permission; sitting on the mat; and so on.

Knowing how to learn, doing hard work, and

knowledge related to literacy and numeracy

was also important. There was a strong focus

on the importance of knowing how to write;

writing one's name; the alphabet and letter

sounds; and maths and numbers. Along with

recommendations that teachers could help

children sounding letters and words, help

them learn and provide easier work, responses

suggest that these skills are a challenge to new

entrant children but may also be a means of

measuring one's competence as a school child.

Fifteen children referred to feelings about

starting school with most relating to 'not

feeling scared': "Not to be scared … Because

it's not scarier when you start school. Because

it's easy when you get in Prep."

Ways that school could help included helping

children 'feel good': "They could make sure that

none of them are sad and they're all happy."

Children's responses affirm that relationships

and interactions, procedures and ways of doing

things are important elements of starting

school and appear to provide children with a

sense of identity and competence, safety and

emotional wellbeing.

Familiarity with school, the people in it and

acceptable ways to behave gives children a

frame of reference by which they can function

independently and determine their own

competence (and that of others). These initial

impressions are important and can become

the standard against which future school

experiences are measured.

By understanding the challenges articulated

by children as they start school, and the skills

and competencies and aspirations of them and

their families, educators in the early years are

better able to support children and implement

strategies, both prior to and during the

transition period, that enhance development

and learning, and minimise difficulties as

children start school.

Kay Margetts is an associate professor in early

childhood studies at the Melbourne Graduate School of

Education at the University of Melbourne.

References

Department of Education and Early Childhood

Development 2009, Transition: A positive start

to school, Melbourne. www.education.vic.gov.au/

earlylearning/transitionschool/default.htm

Dunlop, A-W. 2002, 'Bridging early educational

transition in learning through children's agency',

European Early Childhood Education Research

Monograph, 1, pp. 67–86.

Fabian, H 2007, 'Informing transitions'. In A-W. Dunlop

& H. Fabian (eds) Informing transitions in the early

years (pp. 3–20). Berkshire: Open University Press.

Griebel, W. & Neisel, R. 2000, 'The children's voice in

the complex transition into kindergarten and school'.

Paper presented at the 10th European Early Childhood

Education Research Association Conference, London, 29

Aug- 1 Sept. Available at: http://extranet.edfac.unimelb.

edu.au/LED/tec/pdf/griebelniesel1.pdf

Margetts, K. 2007, 'Understanding and supporting

children: Shaping transition practices'. In A-W. Dunlop &

H. Fabian (eds) Informing transitions in the early years.

(pp. 107–119). Berkshire: Open University Press.

Niesel, R. & Griebel, W. 2001, 'Transition to schoolchild.

What children tell about school and what they teach

us'. Paper presented at the 11th European Early

Childhood Education Research Association Conference,

Alkmaar, Netherlands, 29 Aug – 1 Sep
---
A positive start

to school

A number of promising practices were

identified though the evaluation of the 30

Transition: A Positive Start to School pilots,

which ran across a diverse range of Victorian

communities from October 2008 to May

2009, including:

• Reciprocal visits for children and

educators between early childhood

services and school;

• Sharing information about children's

learning and development via transition

statements and meetings;

• Joint professional development for early

childhood educators and school staff;

• Local transition networks, which involve

a broad range of stakeholders;

• Buddy programs for children and

families;

• Activities that promote the engagement

of families;

• Learning programs responsive to

children;

• Social storyboards for children on the

transition to school; and

• Community-level transition timetables.

PantoFlex...

World's First

Ergo-Dynamic

School Chair

Surely, there are

no more important

chairs than the

ones we ask our

children to sit on...

Endorsed by the

Woods Furniture Pty Ltd

PHONE 03 9316 0600

FAX 03 9316 0611

FrEEcAll 1800 004 555 Australia only

www.woodsfurniture.com.au

IMAGE BOUND / WOOD_3716 SHN

DON'T MOVE PUPPET THEATRE

PUPPET SHOWS & PUPPET MAKING WORKSHOPS

Celebrating 19 years in 2009

Prices from $3.85 (GST inc.) per student

For details

contact

John Evans

Tel: 9397 0033

0419 346 731

See pictures of student's work, comments from

many happy customers and full price details at

www.dontmove.com.au
---
62 Oct 09

School News

Erin Brockovich a class act

A little piece of Hollywood came to Berwick recently when Erin Brockovich, the real-life heroine of the

movie of the same name, dropped by to speak with students at Kambrya College.

The 2000 film won Julia Roberts Oscar glory and its namesake acclaim

for her investigative skills. Ms Brockovich helped terminally sick

residents of the Californian town of Hinkley win $333 million in

damages when she found toxic chemicals in their drinking water.

In Australia working with Brisbane law firm Shine Lawyers, Ms

Brockovich travelled to the school after legal studies teacher Anne

Kyprianos emailed her asking her to visit if she ever came to Melbourne.

She couldn't believe her ears when she received a phone call advising her

that Ms Brockovich was happy to fulfill her request.

"I was numb!" she laughs. "My ears started ringing and I thought, 'I

can't be hearing right!' My heart was pounding at 100 miles an hour and

I didn't want to hang up the phone just in case it wasn't real."

But real it was, and Ms Brockovich gave the students an unforgettable

insight into her personal challenges and legal triumphs.

"When I looked over the faces in the audience, there were around 170

to 180 students seated and captivated by Erin's powerful words and

warm encouragement to believe in themselves, to trust their gut feelings.

You could hear a pin drop," Ms Kyprianos says.

"Ultimately what I wanted and what I envisaged was to bring Erin's

world and experiences into the classroom and be something that they

would remember forever, if nothing else," she continues. "And boy, I

wasn't wrong – the students still talk about Erin's speech every day and

in one way or another, her name continues to come up."

During a recent visit to Australia to work with a Brisbane law firm,

real-life heroine Erin Brockovich flew in to Melbourne to visit with

students at Kambrya College in Berwick. Left: Julia Roberts won

an Oscar for her feisty portrayal of human rights champion Erin

Brockovich in the 2000 Hollywood movie of the same name.
---
During the Royal Melbourne Show thousands of children and their families visited the Department and Education and Early

Childhood Development exhibit at the Government Pavilion to take advantage of dozens of free activities including face painting,

art and craft, interactive whiteboards, Wii and Nintendo consoles and banks of iMac and Netbook computers.

MTC

Blinds, Shutters &

Timber Flooring

"The Ultimate Solution for Window & Floor Coverings"

Romans Timber - Venetians - Curtains - Shutters - Verticles - Laminates - Floating Floors

- Solid Pre Finished Timber - Bamboo Flooring

WE WILL BEAT

ANY WRITTEN

QUOTE ON BASSWOOD

SHUTTERS

BY 10%!

Professionally made at Melbourne's lowest prices!

Free Measure & Quote

BUY DIRECT FROM MANUFACTURER

Phone 97917970 Fax 97935133

UP TO 50% OFF ALL STOCK (Limited time)

142-144 Williams Rd,

Dandenong, 3175

mtcblinds@bigpond.com.au

mtcfl ooring@gmail.com

WE WILL BEAT ANY PRICE

Monday - Friday 9am-5pm | Saturday 9am-4pm | Sunday 11am-4pm
---
64 Oct 09

Multicultural Education

Overseas students look to Australia for

lessons in multiculturalism

Inbound study programs offer overseas educators and students much more than the chance to develop

their language skills, they also provide an opportunity for a rich and rewarding multicultural exchange.

In August, Korean afterschool English teacher

Suah Myeong organised and accompanied a

pioneering UNESCO/Seoul Metropolitan

Government Korean Global Youth Leadership

'Multiculturalism Study Tour' to Australia. Ms

Myeong and her group of six middle school

students spent two weeks in Australia investigating

multicultural policies, programs and issues, in

Melbourne, Canberra and Sydney.

On their return to Korea, the group prepared

comprehensive written and verbal presentations on

their findings for a large Global Youth Leadership

Initiatives forum, joining other groups of Korean

students and teachers who have made similar,

issue-specific study tours to countries including the

US, Canada, Britain and Europe.

"Multiculturalism is evolving as high interest and

is an obvious subject for our overseas visitors," says

Ian Stockdale, manager of International Training

Programs, International Education Division.

"It is becoming a leading societal issue in many

of our neighbouring countries, such as Korea,

China and Japan, and educators and students

from these countries want to come here to study

multiculturalism because Australia is considered

the 'multiculturalism capital of the world'," he says.

During their time in Melbourne, the Korean

students visited the Adult Multicultural

Education Service Languages Campus, the

Department's LOTE Multicultural Education

Resource Centre, and the Australian

Multicultural Foundation. Visits to the

Melbourne and Immigration Museums, and

the National Gallery of Victoria were also

scheduled, where DEECD education staff

provided specialised multicultural programs.

The group also spent time at Livingstone

Primary School, where they observed classroom

activities and heard all about the school from its

enthusiastic teachers and students.

While they were there, the visiting teens had

the chance to catch up with another group of

14 Korean primary school students and their

teachers, Eun-kyoung Jang and Yong-jin Lee,

who were in Melbourne on a three-week study

tour and cultural exchange program, and being

hosted by families from Livingstone PS.

"This is the second time that we have hosted

Ms Jang and some of her students, and it won't

be the last. Our children love having visiting

students and there is never any shortage of families

wanting to host them," principal Kathy Jones said.

Livingston PS doesn't teach Korean – it teaches

German and is adding Mandarin next year – but

Ms Jones says it is not so much about language as

it is about cultural exchange and enabling children

to be part of the global society.

"We have children who represent so many cultural

heritages at our school and it is lovely for them

– and very important – to have the

chance to interact with children

from other countries.

It extends

multiculturalism

to give our children

the opportunity to

spend time with and

learn from children from

another culture,

For more information on study

tours, contact Alan McLean from the

International Education Division on

9637 3697 or email mclean.alan.w@

edumail.vic.gov.au

at the same time giving the visiting students a

chance to speak English and learn about our

culture," she says.

To encourage other schools to look beyond

language-based study programs, the Department is

currently refining its range of themed, short-term

study programs to include science and technology,

visual and performing arts, and leadership, to

name a few.

During their recent multicultural study tour to Melbourne,

teacher Suah Myeong and six Korean students met

with International Education Division Unit manager

Alan McLean (left) and International Training Programs

manager Ian Stockdale (right).
---
VCAL

Shine 65

Auslan gives VCAL

students a hand

VCAL students at Croydon Community School have gained confidence and new skills after completing

an Australian Sign Language course as part of their regular studies, writes Emily Stoikovich.

Students at Croydon Community School completed their level one

Australian Sign Language (Auslan) certificate this year as part of a unique

VCAL program called The Studio, in which the curriculum focuses

specifically on personal development and vocational training as a means of

re-engaging students who are at risk of being marginalised from education.

The Auslan course was initiated by VCAL teacher Trish Kruse. A newcomer

to sign language, Ms Kruse envisaged the 10-week course would provide

students with important life and employment skills, such as improved

communication, empathy and relationship building. However its success, she

says, surpassed all expectations.

"When I was doing my lesson plans I thought, 'Okay, what will the

outcomes be' I thought we could improve literacy and communication skills.

But what came out of it was so much more than I expected; a real sense of

connectedness has taken place."

Ms Kruse maintains that much of the course's success is due to Auslan's

ability to create a level playing field in terms of learning, and by

accommodating different learning styles. She feels that Auslan offers

young people a holistic approach to education that enables instant

success – by the end of their first lesson the students were able to sign

sentences about themselves.

Ms Kruse's inspiration for the course evolved from the 2008 Australian

Government Residential Summer School for teachers, where the

exploration of innovative ways to use applied learning included Auslan.

She later received a grant to develop a program that would improve

students' learning outcomes. As a result, Darren Roberts, director of The

Auslan Company, was recruited.

A qualified teacher, Mr Roberts adapted the curriculum at The Studio

to incorporate games and activities, which encouraged interpersonal

development and team building amongst the students. His final assessment

included an informal group activity that tested their knowledge of Auslan,

and the results were pleasing. Mr Roberts and Ms Kruse presented The

Studio's Auslan course at the Victorian Applied Learning Association

conference in August, where it was well received. "The beauty of Auslan is

that it assists people who have learning difficulties by enabling them to see

what they need to know," Mr Roberts says. "It is a visual language that relies

heavily on facial expression, body language and memory to communicate."

Because of this, students are required to use a lot of eye contact and that

alone has been a great step forward for many of The Studio's students. "The

young people realised the importance of eye contact when talking to others.

Positive eye contact and body language helps people project a sense of selfconfidence

that is really important to potential employers," Mr Roberts says.

With his certificate firmly in hand, VCAL student Andy Thomas says

the journey into the world of sign language was very rewarding: "My

school experience wasn't really good at the start, but meeting Darren

and doing Auslan has changed my life a bit because now I know how to

sign to deaf people".

PHONEÊ5 241Ê9 581ÊÊÊÊÊÊÊÊÊÊÊÊÊkt

CREATIVEÊ HANDS-ONÊÊ

INCURSIONS

Toys,Ê forces,Ê levers,Ê energy,Ê

mechanisms,Ê structures,ÊÊ

simpleÊ machines,Ê angles

PREPÊ TOÊÊ

YRÊ 10

AllÊ materialsÊ supplied

aylor@robotics.com.auÊ Ê Ê Ê Ê Ê Ê Ê Ê Ê

CIRCUS MAXIMUS P/L

ALL THE FUN OF THE CIRCUS AT YOUR SCHOOL

• 60 minute

• Persistence, Resilience,

performance–Highly Confidence, Organisation

Educational

& Getting Along

• Enquire about our free • Have Police check and

workshop/s offer public liability

• Links in perfectly with • Appropriate for Years

Skill & Social

Prep to 6 at the

Development Programs same performance

AVAILABLE THROUGHOUT 2009

•From $4 plus GST per child. Contact Greg Spillane,

Melbourne 9482 3512 STD Freecall 1800 800 192

Email: greg@circusmaximus.com.au
---
66 Oct 09

Music Awards

Recorded music strikes a chord

Music teacher Gail Godber is as passionate about her music as she is about her pupils.

Gail Godber has been teaching music to students since 1981, and has been

an integral part of Spring Gully Primary School community since 1997.

Throughout her years at the school Ms Godber has encouraged students,

staff and community members to take an active part in the school's

celebrated music program, which culminates in whole-school productions

featuring original songs penned and performed by her students.

In 1998, to commemorate the official opening of new buildings at Spring

Gully PS, Ms Godber composed a school song, which is sung each Monday

morning during assembly. In recognition of her contribution to the school,

one of its six houses is named Godber House.

Her passion and dedication to music was recognised most recently with a

win in the 'teacher' category of the 2009 National Awards for Excellence

in School Music Education. As part of the award Ms Godber will receive

a $5000 grant to further her professional learning in the field of music

education. She plans to use the money to help her pupils.

"Because we write original compositions, I am interested in honing

my skills with the music software program we have and recording the

children's work for posterity," she says.
---
NEWS

BITES

Ultranet update

The Department is working with regional directors and Ultranet

coaches to refine the rollout plans to deliver the Ultranet to every

Victorian Government school by the end of Term 3, 2010. Since

the contract to deliver the Ultranet was signed in July, detailed

scoping of the system has been underway. This will soon be

complete and the Ultranet will be configured to the Victorian

context. More information about the system and rollout will be

shared with all principals in Term 4, 2009. Visit www.education.

vic.gov.au/ultranet

Find an Early Childhood

service or school website

The new Find an Early Childhood Service or School website is

now live and integrates three former Departmental websites: the

Maternal Child Health Centre Directory, Find-a-Kindergarten

and Schools Online.

Now you can search for maternal child health services,

kindergartens and schools in your area or across Victoria in one

place, and use a variety of different search methods to get the best

results for you. Results are displayed on maps, and with contact

details and the ability to get directions, your service or school

can be easily found by parents and the general public. See www.

education.vic.gov.au/findaservice

Kindergarten water

conservation trial

South East Water is trialling an early

childhood water conservation program

Delivered through storytelling,

movement and song by a trained

early childhood educator, the

program aims to educate children

aged 3–6 years about the

value of water and support

teachers on ways to save

and use less water in early

childhood settings. The

program is free and open to all

kindergartens in the southeast

suburbs of Melbourne. For

more information, contact

Sonya Magain on 9552 3682

(Mondays and Tuesdays) or email

education@sewl.com.au.

Live Reptiles at your school

EDUCATIONAL • INTERACTIVE • FUN

Hold a snake • Feed a lizard • Say hello to a

frog • Touch a turtle • Wrestle a crocodile!

Other programs available:

WHAT'S SAFE IN MY GARDEN

Invite our Magnificent Mini-beasts

to crawl around your school or

kinder.

Beetles, Stick Insects, Scorpions,

Spiders, Giant Cockroaches & more!

ANIMALS WITH ATTITUDE

Targeting Challenging students

Years 3–11. We bring live: Lizards,

Sporpions, Bird-eating Spiders,

Giant Cockroaches, Huge Snakes

and Crocodiles.

Tracey Sandstrom

0418

B.Ed. Dip.Teach. 227 W.D.L.

083

www.roamingreptiles.com.au

• Public Liability

Insurance

• Presentation designed

by teachers

• K to 12

WE GUARANTEE

no student attacked

by the crocodile

(unless requested)!

snakes@roamingreptiles.com.au
---
Longwarry principal

nominated for award

Staff and parents at Longwarry Primary School in Gippsland are so passionate about

principal Peter McKay and the positive changes he has made to the school, that they

nominated him for a National Excellence in Teaching Award (NEiTA). By Elana Panayiotou

The award, which recognises inspirational teaching in

schools across Australia, provides parents and school

communities with a unique opportunity to say thank you to

an outstanding and hard-working teacher.

Since his appointment six years ago, Mr McKay has created

a collaborative and open environment between the school

and the wider community, making the school "a place where

everyone is welcome."

"By closely involving parents in various school programs,

Peter reinforces the value of school and the importance of

quality education. Parents feel they are an integral part of

their students' learning," Tracey Stephens, president of the

Parents and Friends Association, says.

Newly graduated teacher, Wayne Higgins, is thrilled to be

part of a school community where everybody is focused on

student learning. "Mr McKay is an inspiration for the school,

always putting the needs of the students first."

Overwhelmed with the support from the school community,

Mr McKay is thrilled many think so highly of him. "I

cannot describe how I feel – it is an honour and privilege to

be nominated by people I work with everyday," he said. "It

really reinforces the community oriented environment that

has been developed at the school."

Sixty award winners will be announced in November,

with a further 10 second-round winners to be announced

in January.

Welcome to Primary School

A Parent's Guide to Victorian

Government Primary Schools for 2010

Distributed in Term 4 to all kindergarten venues for

parents of 3 and 4 year old children.

Primary and Special Schools will receive copies to meet

additional needs.

Enquiries to parenthandbook@edumail.vic.gov.au
---
NEWS

BITES

Organisational

Development activities

The recently announced

Organisational

Development

Framework supports

the building of

organisational

capability in a way

that is explicitly

linked to the

Department's

strategic objectives.

A co-ordinated

approach to

Organisational

Development will assist

DEECD to achieve its

aspiration of providing consistently excellent

learning and development services for all Victorians aged 0–18

years.

The first activity will be a Department-wide consultation process

to develop a set of shared values. Subsequent activities will focus

on collaboration and partnerships, improved processes and

capability development.

For more information, visit www.portal.eduweb.vic.gov.au/

collaboration/orgdevdeecd/default.aspx

RMIT rewards Year 12

best and brightest

RMIT University has launched a scholarship scheme to

reward Year 12 students who demonstrate outstanding levels of

achievement.

Students currently completing their VTAC applications for

study in 2010 are the first in line for Achievement Scholarships

that will pay $6000 a year for the length of their study at RMIT.

Thirteen scholarships will be offered in the first year, with

funding provided by the RMIT Foundation.

To be eligible, Year 12 students must lodge an application

through VTAC by 30 October.

For more information, see www.rmit.edu.au/students/

scholarships/undergraduate/achievement

SMART

FUNDRAISING

Buy $3.50

Sell $7.00

Cancer Council

sunscreen for

the whole family.

- Just clip it on!

Raise money for your group

• $28 profit per pack of 8 • Great value and quality

• Fastest growing sun- • Sales help fund cancer

screen brand in Australia research, education

and support

CALL 03 9008 6944

www.skinhealth.com.au/smartfundraising

Educators,

there's no

better time to

volunteer overseas

Take your life and skills to a place that needs you most

and be a part of a community effort that is contributing

to positive and lasting change.

There are many places you can go with Australian Volunteers International –

from an English Teacher in Indonesia to a Special Education Supervisor in

Lebanon. Wherever you go, you'll train local education workers and support

people who urgently need your help.

Volunteers receive airfares, accommodation, a living allowance, ongoing

support, career advancement and you'll have the experience of a lifetime. After

all, what goes around comes around.

Applications now open. Check our website for further details. You'll also find

details on AVI's public information sessions, visiting all states in October.

For more information please call

Nancy Zele +61 3 9279 1843 or

email nzele@australianvolunteers.com

tollfree 1800 331 292

www.australianvolunteers.com

AusAID, the Australian Government's overseas aid program, is proud to provide significant

support for Australian volunteers who work in a development capacity overseas.
---
Gould news for gardens

One hundred years on, and the Gould League

continues to thrive – along with all the multicultural

school gardens it helps to create. By Eamon Evans

You can't keep a good league down. A year after being put into voluntary

administration, the Gould League is alive and well and celebrating its

centenary, thanks to a last-minute buy-out by non-profit landcare group,

Liverpool Plains Land Management.

Gould League spokeswoman Nikki Saleeba said staring down the barrel

of bankruptcy was distressing and frustrating for the whole team. "Our

staff and life members, as well as many of our customers and suppliers,

have always been personally very committed to the Gould League and

its work. We were devastated at the potential loss of so many outstanding

programs and resources, and so many years of hard work."

Established as the Gould League of Bird Lovers in 1909, with Alfred

Deakin as the founding president, the Gould League originally campaigned

against bird egg theft. The charity turned its focus to environmental

education in the 1960s and has since reached hundreds of thousands of

children with original and award-winning programs and resources.

One of its most popular projects is the Multicultural School Gardens,

which is once again available to Victorian schools, thanks in part to

funding from the State Government. Now in its fifth year, the project

sees students work with their 'gardening buddies' – parents, grandparents

and representatives of the local ethnic communities – to create

multicultural food gardens, containing fruit, vegetables and herbs from

across the world. Together, they then use the produce to cook traditional

dishes from different parts of the world, and share stories about the

different cultures that inhabit them.

Ms Saleeba says it is a safe and positive way for families and community

members to become more involved with the school, with added bonuses

for student health and nutrition. "By growing their own herbs and

vegetables, the children not only learn more about healthy eating but are

more willing to try new, healthier foods."

The league provides an experienced mentor to help schools set up their

gardens and recruit community help. This year's program will also make

more extensive use of online mentoring and resources.

"Teachers will be encouraged to create a community of interest

using online chat and discussion groups to share ideas and

experiences," she says.

All schools are eligible to apply for the heavily subsidised project,

though priority will given to those with a high proportion of lowincome

families and/or families with languages other than English

spoken at home.

For more information about the Gould League's environmental education

programs and resources, go to www.gould.org.au

Creative Teaching

Strategies

Workshops, Focus Groups and unique

onsite PD supporting teachers in the

use of Creative Teaching Strategies

for the classroom.

Making learning more interactive,

stimulating, and engaging.

Focusing on the 'how' of teaching.

Supporting teacher creativity!

In Clued Ed

Thornbury

Darron Davies

darron@darrondavies.com

Ph 0405 170 493

www.inclueded.net

ACCREDITED

SCHOOL

ACCOMMODATION

BOOK NOW! TO AVOID

DISAPPOINTMENT

$40*

Make you next school trip to Melbourne

an adventure and stay at the

Hotel Claremont

Guest House.

189 Toorak Road, South Yarra, 3141

1300 301 630

info@hotelclaremont.com

www.hotelclaremont.com

per student per night (based on group share accommodation) includes breakfast,

GST and 1 teacher at no cost for every 10 students. * All rates subject to alteration
---
Innovative Program

Shine 71

Rolling Hills students

hit the airwaves

Getting to the bottom of crime scenes, indulging in feasts fit for ancient civilisations, and burrowing

for archaeological discoveries are all part of bringing learning to life at Rolling Hills Primary School.

These fascinating hands-on activities are part of the school's Thinkers Group

program – a series of enrichment lessons designed to extend students'

learning beyond the classroom. And as well as getting a taste for forensic

science, archaeology and the ancient world, budding broadcasters in the

Radio Thinkers group can also test their scripting and presenting skills as

part of Yarra Valley Radio's 'Schools In' program – a daily 30-minute, live-toair

segment presented by students of local schools.

Assistant principal Mary Moore said the school has been hitting the

airwaves for two years – groups of nine students present a segment at least

once a term.

Assistant principal Mary Moore said the school

has been hitting the airwaves for two years –

groups of nine students present a segment at

least once a term.

"I've always believed in the potential to enhance learning skills outside the

classroom and the extension classes provide students with the opportunity

to broaden topics of interest, to go just a little bit more in depth," she said.

"The Radio Thinkers group teaches them speaking and listening skills, script

writing, time management and performance skills – students negotiate what

they'd like their broadcast to be about, then they write their own script and

choose what songs they'd like to play."

The group has a dedicated listenership of proud parents, grandparents and

neighbours – and once, a listener from Germany who had tuned in via live

internet streaming, prompting a German-language segment for the next

broadcast. "They had heard that someone in Germany had been listening

so they wanted to say 'hi'," Ms Moore laughed. "These Thinkers Groups are

about extending students and seeing their minds ticking over," she continued.

"We really believe in differentiation – we do try to make sure every child gets

every opportunity to have a go."

Budding broadcasters at Rolling Hills Primary School test their

skills as part of Yarra Valley Radio's 'Schools In' program, a daily

live-to-air segment that is presented by students of local schools.

Carrington Financial Services

Novated Lease Service

We can now...

n Search for a New or Used

Motor Vehicle for you

n Organise your Finance

n Complete all your

paperwork

n Provide an Initial

No Cost Illustration

Instruction courses

THRASS phonics courses provide teachers

with a simple and sustainable methodology

for teaching English right from day one of a

child's learning. THRASS is Australia's most

attended phonics PD. Please see our ad on

page 23 for details of upcoming courses.

Contact John Doyle or Prachi Marfatia on (03) 9820 8688
---
72 Oct 09

eLearning

Great websites for…early years

Everything you need and more is right at your fingertips with these fabulous

websites designed to educate and entertain children in their early years.

WEBSITE OF

THE MONTH

Connect Early Childhood

www.education.vic.gov.au/child

Some of the world's best sites for early years

including literacy and numeracy, music, art, with

plenty of information for teachers and parents.

The Playground

www.abc.net.au/children

Early years board games, audio books, and plenty of fun activities

with much-loved ABC TV characters, including Bananas in

Pyjamas, Postman Pat and Shaun the Sheep.

Count Us In

www.abc.net.au/countusin

Engaging games designed to help children understand basic number

concepts. Includes teacher resources for each activity.

Explore Early Childhood through these colourful and interactive

websites from Connect at www.education.vic.gov.au/connect. Get great

ideas for using Connect and eLearning with Kerry Rowett at

rowett.kerry.k@edumail.vic.gov.au
---
Our Early Years

www.education.vic.gov.au/showcase/earlyyears

Featuring DEECD's programs and services, community partnerships

and information for childhood professionals and parents.

Panwapa

www.panwapa.org

Created by the educational experts behind Sesame Street, this

online world aims to inspire and empower children aged 4–7

years, to be responsible global citizens.

Literacy Center

www.literacycenter.net/lessonview_en.htm

A fabulous collection of activities to build skills in literacy and

includes shapes, numbers and colours.

A fabulous employment

opportunity for an

experienced teacher of

Italian!

EDUCATION OFFICER

1 x Full time

Salary package: $60,000-$70,000

Term: One year, renewable for a further two years.

An exciting joint initiative between the National Gallery of Victoria and CO.AS.IT

for the development of new programs for students and teachers of Italian to begin

in 2010. We are seeking an experienced, enthusiastic and creative educator who is

fluent in written and spoken Italian for the full time position of Education Officer.

In this role you will be working with teachers and students of primary, post primary

and special needs education, using the National Gallery of Victoria's permanent

collection and temporary exhibitions. You will research, develop and implement

professional development programs and prepare curriculum resources for teachers

and students of Italian.

To be considered for this role the successful candidate will possess an appropriate

teaching qualification, have excellent bilingual communication and interpersonal

skills and a demonstrated ability to work flexibly in a team environment. You will

have proven art and Italian teaching experience, knowledge of the collections of the

National Gallery of Victoria and an established understanding of current curriculum

developments and government priorities.

A role statement can be obtained from Mr. Umberto Martinengo at COASIT

by emailing schools@coasit.com.au Applications must address the key

selection criteria and be forwarded to Mr. Umberto Martinengo, COASIT

Level 1, 189 Faraday Street CARLTON 3053 by November 13, 2009.
---
74 Oct 09

eLearning

How ICT can make your

KidSmart!

The IBM KidSmart Early Learning Program provides technology and professional learning opportunities

to kindergartens and primary schools in low socio-economic or disadvantaged areas.

The KidSmart Program supports early childhood education and builds

on the understanding that pre-school children learn through creative

play and social interaction. The program encourages children to become

confident users of technology – an increasingly important life skill – and

also to improve in other areas of their learning. It actively supports and

promotes innovative information and communication technology (ICT)

integration through a play-based curriculum.

The KidSmart units consist of colourful Little Tikes furniture, an IBM

PC and an extensive range of educational software. The participating

kindergartens and schools are also provided with a printer and technical

help. Each teacher participates in workshops to introduce them to the

technology and provide an opportunity to explore ways of effectively

integrating the KidSmart software applications into their learning and

teaching programs. An independent evaluation in Australia has shown

that children participating in the KidSmart Program have improved

their sharing, listening and cognitive skills.

Meadows Primary School Prep teacher Jodie Holland says her students

love using KidSmart. "The children are enjoying using the programs

such as Millie's Maths House and Bailey's Book House. They have

also had the opportunity to explore some of The Learning Federation's

learning objects to help with their numeracy and literacy activities."

Ms Holland also uses the KidSmart computer as an independent

activity. During reading sessions the children click on pictures on a

website, which starts with the letter the class is learning about that

week. "For this activity the Prep students have been given a Year 1

buddy to help them with basic computer skills, such as using a mouse

and navigating around a website, and with identifying the letter," Ms

Holland explained.

The KidSmart units are currently being delivered to kindergartens and

primary schools in Broadmeadows, Ballarat and fire-affected schools

in Victoria.

For further information on the KidSmart program, see www.

kidsmartearlylearning.org or contact Leanne Compton, eLearning

Unit, on 9637 3544 or at compton.leanne.l@edumail.vic.gov.au.
---
NEWS

BITES

Education and

Training Reform

Legislation has been introduced into the Victorian Parliament that will

lift the minimum school leaving age from 16 to 17. From January next

year all Victorian students will be required to complete Year 10 and

remain in some form of education, training or employment until the age

of 17.

Minister Pike said this reform will encourage young people to stay in

Victoria's excellent school system, giving them better career opportunities

and therefore life chances. "We want to build on this great work and

ensure we are giving our young people opportunity, choice, and a modern

education, while equipping them with the life skills they need for jobs of

the future."

Ms Pike said Victoria had some fantastic examples of vocational

programs that are inspiring students to broaden their horizons and

become job-ready while still at school. The amendment is aimed at

setting a higher bar for the community and not punishing school leavers.

"This is not a punitive approach – and it supports the many programs

already in place to support early school leavers," she said. "Research

shows that young people who stay in education and training significantly

boost their career prospects and have a better chance of experiencing all

the benefits that come with a good education.

"Education is the Brumby Government's number one priority and

part of giving our students a good education is giving them a range of

educational options that suit their individual aspirations and provide a

platform for them to pursue their dreams."

In Victoria, students can choose from a range of academic and applied

learning options, including the Victorian Certificate of Education

(VCE) and the Victorian Certificate of Applied Learning (VCAL).

Students can undertake the popular Vocational Education and Training

(VET) in Schools program as part of their VCE or VCAL.

"Victorian students are embracing these options, with more students

staying on to complete Year 12 or its equivalent," Ms Pike said. In

2008, the percentage of young people who had completed Year 12 or

equivalent rose to 88.7 per cent – up from 81.8 per cent in 2000.

All states and territories will next year implement the National Youth

Participation Requirement, which includes a mandatory requirement for

students to complete Year 10 or an equivalent and be in some form of

education, training or employment until the age of 17.

Dr. of Chinese

Medicine/

Writer/Actor

RL PRoductions

4 Education PLays

2009/10 touR

teen issuEs – Drug/

Alcohol Abuse

– Party Safe

– Body Image

sEXuaLE

– Relationship Issues

– Same Sex Attraction

LiVEsPaRK – Mental Health Issues

– Anxiety/depression

HiddEn

VioLEncE

– Bullying &

Peer Pressure

these Plays

"Guide the way for the youth of today"

Awarded 2009 AustrAliAn Achiever AwArd –

highly recommended

in the area of health & Fitness

Ph. (03) 9331-1063 Mob. 0412291174 Email info@yerahealth.com.au

EMAIL FOR A FULL INFO PACK/COSTS

"Attention Teachers" –

WEEK /WEEKEND GETAWAYS AT YERA HEALTH RETREAT

www.yerahealth.com.au

Because our workshops are:

• EASY - we provide everything & teachers

regularly rebook

• SAFE - custom workbenches & tools

• THEME-TAILORED - to any

classroom topic

• FUN - engaging & interactive,

kids take models built home

• HANDS-ON - tool skills,

techniques, co-ordination,

confidence

Popular topics:

Energy, toys, environment, gears

& pulleys, movement, machines,

electricity, solar energy and more.

PREP

TO

YEAR 8

Why have

WOODWORK WORKSHOPS

in your classroom

Programs

from

under

$10 per

student

BOOKINGS 1300 966 338

Email: admin@woodworkroom.com.au

woodworkroom.com.au
---
76 Oct 09

External Resource

Helping to rebuild

the parental bond

The Shine for Kids organisation lends a helping hand to children of imprisoned parents.

Shine for Kids has been working with children and young people in NSW

for over 25 years and is now operating programs in Victoria for young

people who have a parent in prison or on Community Corrections Orders.

"Children with a parent in prison are perhaps the most vulnerable group

in Australian society," says Victorian manager Guy Hatfield.

"Given over 95 per cent of prisoners in Victoria are men, most children

who experience parental incarceration lose their father, which can mean

the loss of someone loved, the loss of a provider and a role model. Even

in circumstances where it is a 'welcomed' loss there is still the creation of

unwanted turbulence in a child's life," he says.

"The loss of a mother poses even greater problems to children in terms

of their health and welfare," he adds, "and despite attempts made by

Corrections Victoria to maintain healthy relationships between parents in

general and their children, there are many severed bonds between mother

and child, which impact on the child's development and livelihood."

Ms Hatfield says that children of prisoners, through no fault of their own,

face unique challenges that can leave them traumatised, stigmatised and

isolated. "Many teachers will have children in their classes experiencing

this situation," he says.

"These young people deserve our help because none of us would choose

for them to suffer. Beyond the humanity is a more selfish motivation,"

he adds. "When we help them we are also helping ourselves: children of

prisoners are five times more likely than other kids to end up in prison

themselves – a high price we all have to pay."

Shine for Kids programs are founded on the belief that early intervention

helps to stem the negative effects of parental crime on children.

The SKY Program provides mentoring and counselling through the

Victorian Association for the Care and Resettlement of Offenders

(VACRO) for young people aged 5–17 years.

"Mentoring matches a young person with a highly trained volunteer

who, over a 12-month period, provides support by spending time

with the young person, encouraging participation in social activities

enhancing personal growth, development of skills and self esteem,"

Mr Hatfield explains.

The Prison Invisits Program, which operates in Barwon Prison and is

expanding to other Victorian prisons, provides an art and craft space

within the prison visiting area.

"This softer interactive corner supervised by a qualified childcare worker

offers activities to strengthen the parent/child bond while supporting

children to gain peer support, reduce feelings of isolation and the trauma

experienced entering the harsh prison environment," he says.

"The value of the parent/child relationship should not change when a

father or mother goes to prison. While we accept that society demands

crime not go unpunished it must not be done at the cost of the rights of

the child," he adds.

For more information on Shine for Kids, visit www.

shineforkids.org.au or contact Guy Hatfield on 9687 5200

or at victoria@shineforkids.org.au.

Terms and Conditions

1. Any entry into any Shine magazine competitions is deemed an acceptance of these terms and conditions. Entries not completed in accordance with these terms and conditions

will not be considered.

2. The Promoter is the Victorian Department of Education and Early Childhood Development. The Promoter is not liable for lost, late or misdirected mail or email.

3. Competitions commence on 8 October 2009 at 0900 (AEST) and close on 4 November 2009 at 1700 (AEST).

4. Entry to any of the Competitions is via email to the Shine magazine editor email account: editor@edumail.vic.gov.au or via post to GPO Box 4367 Melbourne Victoria 3000.

5. There are three prize packs to be given away in the August issue of Shine magazine. Details of items included in each prize pack are as specified within the magazine.

6. Winners will be determined by the editor of Shine magazine, Sarah Oppenheim, at 2nd Floor, 2 Treasury Place, East Melbourne Victoria 3002.

7. Winners will be determined according to the suitability of their contribution for publication.

8. The winners will be notified by 4 November 2009. The results will not be published. The judge's decision is final and no correspondence will be entered into.

9. Prizes will be awarded to those readers whose contributions are successfully published in the following edition of Shine magazine.

10. The prizes are strictly as stated above. The prizes are non-transferable, not exchangeable and non-redeemable for cash

11. The Promoter reserves the right to disqualify any entry, which in the opinion of the Promoter includes invalid, objectionable or defamatory content. The Promoter may disqualify

any entrant, who tampers with the entry process, who submits an entry that is not in the accordance with these terms or who has, in the opinion of the Promoter, engaged in

conduct which is fraudulent, misleading, deceptive or damaging to the goodwill or reputation of the Promoter. This right continues after the announcement of the winner.

12. If an entrant's contact details change during the competition period, it is the entrant's responsibility to notify the Promoter (Victorian Department of Education and Early

Childhood Development) in writing, at the address set out in these terms.

13. Prizes will be posted to winners at the expense of the Victorian Department of Education and Early Childhood Development.

14. The prize cannot be transferred from the winner to another person or party for any reason and shall not be sold or placed on auction sites such as Ebay.

15. To the full extent permitted by law, the Promoter excludes liability for any loss, damage or injury whatsoever suffered or sustained (including, but not limited to direct, indirect,

special or consequential loss or damage, loss of opportunity revenue or profit) arising directly or indirectly out of or in connection with this promotion.

16. By entering this Competition, each entrant accepts full responsibility for the decision to participate in this Competition and take the prize should he/she be selected as winner.

17. The Promoter accepts no responsibility for any variation in prize value. The Promoter reserves the right to substitute the prize for a prize of equal value or for the cash equivalent

at its discretion.
---
Innovative Program

Shine 77

Ouyen P–12 has SOLE

A remote Mallee school has successfully developed and trialled a

program aimed at boosting student wellbeing while reducing behaviour

management issues.

The Skills of Life Experience – or SOLE program

– is the brainchild of Ouyen P-12 College

co-principal Kathryn John and classroom teacher

Lisa Heslop. Mrs John said the three-month

pilot had lead to a reduction in the number of

classroom referrals to her office. "For me it provides

a structure to work through difficulties with

children – by focusing on the skills Lisa has already

given them, we can ensure there is a consistency

of messages," she said. Miss Heslop describes

the innovative curriculum as an eclectic mix of

philosophies and positive teaching practices. "It

includes social and cognitive problem-solving skills,

coping with uncontrollable stressors or difficult

emotions, assertiveness skills as well as relaxation

and overcoming procrastination," she said.

"More simply, the program discusses the seven

areas of resilience – emotional awareness, impulse

control, optimism, flexible and accurate thinking,

empathy, self-efficacy and connection with

others. The curriculum is supported by research

that illustrates the broad positive impacts of

such a program." Leading positive psychologist

Professor Martin Seligman is a major influence,

as are elements of the University of Pennsylvania's

Penn Resilience Program, which recognises the

restorative practices embraced by the school and

seeks to enhance relationships among students and

between students, teachers and parents.

The SOLE program aims to equip children with

the skills needed to live positive and fulfilling lives.

The committed educators say they were inspired

to develop the program out of a shared desire to

improve education outcomes at the rural school,

situated about 450km north of Melbourne.

"We just wanted to be pro-active about

teaching the whole child and raising the

skill levels of all children. We know if we can

create more settled, happier students that their

learning will be improved and enhanced," Ms

John said. "We were looking for something to

fulfill our needs and given our remote location

and the difficulty of accessing 'professionals' on

a daily basis, we wanted to come up with a way

of becoming more self-reliant ourselves rather

than being dependent on external services.

"A top priority was to improve our students'

capacity to solve issues and resolve conflict and

to equip the children with the skills needed to

enable them to make good choices – this program

complements our approach to student welfare.

"Creating this program really was an intuitive thing

– Lisa and myself share a passion about children,

their well-being and wanting to help facilitate welladjusted

young people."

Miss Heslop agrees. "I was driven by a desire

to teach kids some of the skills that will benefit

them for the rest of their lives and to help give

them strategies to cope better with difficult

situations that arise in their life," she said. "I

wanted to drive the kids to be positive thinkers

and to build on their own character strengths."

A combined community effort ensured the

program came to fruition in Term 1 this year,

including input from the local health authority,

the Mallee Track Health and Community

Serivce, and funding from the local municipal

body, the Mildura Rural City Council through

its School-Focussed Youth Service.

Mrs John said she was interested to hear Chris

Daicos, keynote speaker at the recent Loddon

Mallee Principal's Conference in Melbourne,

emphasise the importance of developing

programs similar to the one underway in the

Mallee. "It was satisfying to realize that we are

already providing on-the-ground delivery of her

main message," she said.

The school is hoping to secure funding to allow the

program to continue. Miss Heslop said she would

like to expand the program, which focuses on

small groups of students in Year 3–6. "I'd love to be

able to coach other staff in the terminology of the

program so we can have a whole-school approach

to it – I am certain teachers would personally

benefit from it as well as learning how the skills

can help children," she said. "Ultimately, our vision

would be that the program becomes a model for

other schools to use as well."

Students have their say

"We talk about how to solve problems

and how to fix things … it helped me

when I was doing cross country – I was

nervous and thought I would collapse

but we talked through those feelings as a

group and I felt much better going into

the race."

Charlotte, 11

"I like how we have a suggestion box

and we get to write down problems on

a card. We pull one out and try to deal

with it as a group … it is a good chance

to work together on a solution."

Ashley, 12

"I like the fact that it is teaching us

things that will help us for the rest of our

life, not just now …it's about changing

negative thinking to something better

and helping us to look at things from a

different perspective. It makes us think

about things in different ways and helps

build our confidence and makes us more

supportive of each other."

Rose, 12

"It is a fun place we get to go after lunch

and I enjoy when we role play … it's

good to be able to talk about feelings,

thoughts and problems."

Shania, 11

Students at Ouyen P–12 College took part in the successful three-month trial of the

Skills of Life Experience (SOLE) program, which was the brainchild of co-principal

Kathryn John and teacher Lisa Heslop.
---
78 Oct 09

Regional Roundup

Good news from around the state

Compiled by Tina Luton

Northern Metropolitan

Croxton Special School has opened its kitchen

garden to neighbours, offering a couple of plots for

community use in exchange for help looking after

the garden during summer. "Sharing our beautiful

garden breaks down barriers and builds community

engagement," says Basil Natoli, who runs the

garden and has worked with the children for the

past three years, helping them to plant a huge range

of produce. "We have broad beans and broccoli, bok

choy and beetroot, we have nashi pears, kiwifruit,

Fuji apples, rhubarb and lots of hardy, ornamental

plants. The neighbours can come and plant their

own produce and all we ask is that they water the

garden over the summer holidays. We have two

wonderful water tanks and can harvest 12,000 litres

of rainwater from the roof of the school building,

which is used to keep the garden alive in the hotter

months," he says.

Southern Metropolitan

Patterson River SC teacher Craig Waldron has set Shakespeare's immortal words to music once

again to create The Tempest rock opera. The show incorporates 34 students in Years 9–12 from nine

schools in the region, including Pakenham SC, Drouin SC, Mornington SC, McLelland SC, both

campuses of Beaconhills College, Mt Erin SC, Patterson River SC and Mt Eliza SC. This incredible

project has been two years in the making and includes more than 30 original songs, which will

be performed by the Pakenham Hills PS choir for the Australian performances. In November, the

students will head to Europe for performances in Italy and Germany, taking their sets, props and

costumes with them. The visit follows the successful tour of Mr Waldron's rock opera Romeo and

Juliet to Milan in 2007. In September, 25 students and six teachers from Milan will visit Melbourne

to perform Pinocchio, and will stay with the cast members of The Tempest.

Barwon South West

Warrnambool West PS is well on its way to

becoming an accredited Australian Developmental

Curriculum School by the end of this year. In

working toward accreditation, the school has

quelled morning hyperactivity among its 15 Prep

students, with a teaching program designed to

engage them through playtime activities. Teachers

Judie Irvine and Siobhan Lilley say the program

has been so successful that they are now running it

for students in Years 3 and 4 and will introduce it to

Year 1 and 2 students next year. Ms Irvine explains:

"We have a tuning-in session where we remind

the children of things we have been talking about

and looking at. Then we set up a series of activities

around the room, it's investigation time, which they

can do at their own pace."

Examples of these activities include role playing,

working with modeling clay and reading. The

teachers keep a close eye on what the students are

doing and how they are interacting, and will pick

up on something they feel is worth tuning the other

children into. "The outcome," Ms Irvine says, "is

that we have children who are much more engaged

and interested. They are writing with purpose, and

there is more language development as they have

to share information and negotiate with each other.

We started with the Preps and the whole school

has benefited."
---
Shine 79

Eastern Metropolitan

Boroondara Park PS students saddled up for a

Wild West musical adventure. The Year 5 and 6

students spent 12 weeks rehearsing for their musical

Ye-Ha, which is set in a fictional town called

Splodge City. To prepare for their performance,

the students studied the history of the American

Wild West, including the fashions and social trends

of the era. Musical director Lois Fleming said the

biennial musical theatre event is a highlight of the

school's calander, and offers a fabulous opportunity

for students to showcase their acting, singing

and dancing skills along with their creative and

organisational talents.

"The development of a full musical production

requires many skills in addition to basic musical

literacy. Students need to manage stage and prop

schedules, scene changes, dance routines, cast

requirements, all within a defined space and time

frame," she said.

Loddon Mallee

Students at Kyneton PS worked hard for an entire

semester to each create a personal masterpiece for

an art exhibition at the local town hall. The title

of the show was Breakfast @ DaVinci's. "All the

work was created to show what DaVinci would

be producing if he were alive," said art teacher

Danny Butterworth, who has based his teaching

this year on preparing work for the show. Focal

points were a reproduction of the Mona Lisa

painted with Vegemite, and a computer covered

with Cornflakes and oats, two giant collages

of sunflowers made out of peas and corn, and a

unique piece of work created as a class project

showing butterflies taking off from a sculpture

that was made from a log of wood, apples and

potatoes. Other points of interest included a wall

of sheep skull drawings created by Year 5 and 6

students, and five portraits of students that were

enlarged, dissected and pieced back together like

a jigsaw.
---
80 Oct 09 Xxxx Regional Roundup

Gippsland

Lakes Entrance SC VCAL

students are participating in a

Commonwealth-funded pilot

mentoring program called

'Mentors for Our Students'.

"The aim of the program is to

inspire young people to broaden

their horizons, encourage

them to stay at school and

to help them make informed

career choices," says program

coordinator Rhonda Kingston

of Gippsland East Local

Learning Employment Network

(GELLEN). Ms Kingston

says the students interact with

local community members,

who share their knowledge and

experiences. These mentors are

also volunteers with the 'Plan-

It-Youth Mentoring Program',

which has been operating in the

school successfully for five years,

and is also coordinated through

GELLEN.

Hume

NASA astronaut Dr Megan McArthur touched down at Tallygaroopna PS as part of National Science Week's 'Invite a

Scientist to Lunch'. The school's 54 students were over the moon to have such an awe-inspiring guest – who had only recently

returned to Earth after a 13-day mission in space helping to maintain the Hubble Telescope. Dr McArthur enthralled

students, teachers and parents with video taken during her mission. She talked about future space missions and her favourite

part of being in space – floating!
---
Shine 81

Grampians

Kaniva College won two of the top three places in this year's Aurecon

Bridge Building Competition. Fifty-six teams, made up of Year 8 and 9

students from schools across Victoria, took part in the competition, which

is now in its ninth year and was held at Scienceworks during National

Engineering Week. Students work in teams of three and are given three

weeks to design and construct a model bridge using supplied materials

that include balsa wood sticks, a cardboard tube, a 5m-long piece of string

and quick-drying glue. On judging day the bridges are tested to failure by

progressively adding weights to a specially built rig. They are also tested

on strength to weight ratio, visual appeal, workmanship and creativity.

The winning bridge withstood 136kg of weight before collapsing, earning

Kaniva College $1500, plus $200 each for team members Jacob Rayner,

Tim Eastwood and Joe McDonald. Leibler Yavneh College won second

place (104kg), while Kaniva College's female team came third (85kg).

Western Metropolitan

Video games, fashion and beauty products, cookbooks, and clever eye masks

with earplugs, are just some examples of business that students at Baden Powell

P–9 College represented at their inaugural Trade Fair. Presented by students in

Years 7 and 8, the fair was the culmination of a unit of work designed around

the Australian economy, learning about economics, civics and citizenship and

consumer science. Proud teacher Suzanne Love says the students thoroughly

enjoyed the hands-on approach to learning and the community was impressed

with their creativity and professionalism. "Everyone was extremely impressed by

the standard of their efforts and the manner in which they worked in teams to

brainstorm, design and produce an array of functional and quality products," she

says. "Their approach to businesses for sponsorship was professional, confident

and polite, and the community was amazed at their wonderful imaginations and

abilities to make their ideas into reality."
---
82 Oct 09

Appointments

The appointments listed below are as a result of vacancies advertised online. All data, including spelling of names and schools, is as provided

by schools through the Recruitment Online system. This information is published for the purpose of general interest only.

NAME SCHOOL CLASSIFICATION

Barwon South Western

Barwon South Western

Bernoth, Phillip Harold Cobden Technical School ES1-2

Brooks, Susan Marie Matthew Flinders Girls' SC ES1-1

Buchan, James Robert Barwon Valley School ES1-2

Coombs, Janine Grovedale College AP1-2

Dalipi, Selma Western Heights SC ES1-1

Doh, Eh Zue Bell Park North PS ES1-1

Isbister, Debbie Patricia Newcomb Park PS ES1-1

Kelly, Lynette Fay Casterton SC CLASS

Keys, Denise Edith Geelong HS CLASS

Macaulay, Erin Louise Corio West PS CLASS

Maharaj, Bramhanand Rajnish Brauer SC

CLASS

Marra, Damian Lara SC CLASS

Neilson, Michelle Anne Barwon Valley School ES1-1

Neilson, Michelle Anne Barwon Valley School ES1-1

O'Gorman, Marian Barwon Valley School ES2-3

Patrick, Robyn Elizabeth Warrnambool PS CLASS

Solly, Elijah Matthew Flinders Girls' SC ES1-1

Steven, Mardi Joy Colac PS CLASS

Stewart, Sandra Louise Moolap PS ES1-1

Szanto, Tina Lara PS CLASS

Whittington, Brenda Louise Matthew Flinders Girls' SC ES1-2

Williams, Donna Jane Cressy PS GRD

Wyld, Michael Alan Newcomb SC CLASS

Eastern Metropolitan

Alba, Jennifer Mary Heatherwood School CLASS

Allen, Anna Templestowe Valley PS ES1-2

Benson, Anne Majella Aurora School ES1-1

Brophy, Paula Upper Ferntree Gully PS ES1-1

Burton, Jennie Bronwen Aurora School ES2-4

Christofis, Anna Jane Park Ridge PS CLASS

Chu, David Blackburn HS CLASS

Cleary, Brian Templestowe Park PS AP1-1

Coffin, Dianne Beverley Park Ridge PS CLASS

Coleman, Gwenyth Anne Wesburn PS ES1-1

Corr, Julie Louise Kilsyth PS LEAD

Dunn, Paul Benjamin Ashwood SC CLASS

Eshuis, Gerald Henry Boronia Heights PS CLASS

Forsberg, Olivia Camberwell HS CLASS

Galloway, Jennifer Claire Aurora School CLASS

Gauci, Anita Dawn Upwey HS CLASS

Gordon, Miranda Norwood SC ES1-2

Graham, Karen Marie Bayswater South PS ES1-1

Grayden, Anthony John Wellington SC AP1-2

Hague, Joanne Jells Park PS ES1-1

Ham, Christopher Leonard Macclesfield PS CLASS

Henderson, Anna Christine Andersons Creek PS GRD

Horgan, Karen Maree Great Ryrie PS CLASS

Jackson, Chris Luke Heathmont College CLASS

Jansz, Samantha Hartwell PS ES1-1

Joyce, Penelope J Essex Heights PS CLASS

Kearton, Melanie Alexandra Wonga Park PS ES1-1

Keech, Susan Norma East Doncaster SC CLASS

Keeghan, Tanya J Bayswater South PS ES1-1

Keir, Rebecca Jane Kent Park PS CLASS

Kelly, Clare Lauren Orchard Grove PS GRD

Lambert, Graeme Mullauna SC LEAD

Lay, Steven Johnny Mount Waverley SC CLASS

Lim, Rebecca Siok Khing Mount View PS CLASS

Lowe, Andrea Croydon PS CLASS

Mariniello, Catherine Elizabeth Tinternvale PS

ES1-1

Martin, Rachel Anne Kent Park PS EXRT

Miller, Fiona Megan Hartwell PS ES1-1

Miller, Keirston Lysterfield PS CLASS

Mioni, Dimitria Wonga Park PS ES1-1

Moulynox, Lauren Kate Maroondah SC GRD

Murphy, Marian C Mullauna SC LEAD

Neil, Matthew Mooroolbark College CLASS

Newton, Penny East Doncaster SC CLASS

NAME SCHOOL CLASSIFICATION NAME SCHOOL CLASSIFICATION

Nieuwoudt, Lodie Ashwood SC ES1-1

Norden, Sharron Kew East PS SSO1-1

Ong, Chien Hsiu Wantirna College CLASS

Owen, Denise Lesley Jells Park PS ES1-1

Pappas, Helen Highvale SC CLASS

Pate, Teagan Louisa Orchard Grove PS GRD

Patel, Renee Kate Mitcham PS CLASS

Pop, Morris Lilydale HS ES1-2

Reid, Shirley Rosemarie Kerrimuir PS CLASS

Rice, Lauren Great Ryrie PS CLASS

Salam, Omaima Saad Camberwell PS ES1-1

Stevens, Mike Peter Vermont SC AP1-2

Tairych, Werner Johann Mullauna SC LEAD

Taylor, David Mount View PS CLASS

Terry, Nancye June Vermont SC ES1-1

Thompson, Julie Lynette Kerrimuir PS CLASS

Troup, Valerie Agnes Sussex Heights PS ES1-1

Van Der Spek, Leonie Karen Wonga Park PS ES1-1

Vrsecky, George Gerry Lilydale Heights College CLASS

Walton, Christine Maria Bayswater South PS ES1-1

Waterman, Gerard Thomas Heathmont College CLASS

Watt, Christina Upper Ferntree Gully PS ES1-1

Wearing, Tess Camberwell HS ES1-1

Williams, Emma Louise Pembroke SC CLASS

Wood, Taryn Templestowe College ES1-1

Yoxon, Anton William Rowville SC CLASS

Gippsland

Bennett, Angeline Izabelle Orbost North PS ES1-1

Benson, Jason Douglas South Gippsland Specialist Sch ES1-1

Brooker, James Lakes Entrance SC ES1-2

Bucknall, Philip Noojee PS CLASS

Christie, Emma Bairnsdale SC ES1-2

Forsyth, Lisa Maree Bass Coast Specialist School ES1-2

Goldsmith, Les Nowa Nowa PS CLASS

Humphrey, Helen Anne Airly PS ES1-1

McDonald, Leona Warragul North PS GRD

McGarigle, Grace Anna Sale College CLASS

Missen, Jennie Toongabbie PS ES1-1

Patten, Naomi Alice-May Toongabbie PS ES1-1

Phillips, Jan Orbost North PS ES1-2

Preston, Laural Lowanna College SSO2-3

Prior, Deborah Orbost North PS ES1-1

Ryan, Marnie Louise Lowanna College ES1-1

Santoro, Nicole Traralgon (Stockdale Rd.) PS GRD

Smith Sr., Jane Fleur Buln Buln PS ES1-1

Sutherland Sr., Gregory John South Gippsland Specialist Sch ES1-2

Trewin, Amanda Muriel Orbost North PS ES1-1

Trezise, Neil Rowlan Welshpool & District PS CLASS

Watts, Paula Maree Churchill PS GRD

Willesdorf, Julie Bairnsdale SC ES2-3

Williams Sr., Maxwell Eric Korumburra SC CLASS

Grampians

Allan, Janet Clare Horsham North PS CLASS

Bigham-Bish, Dianne Joy Jeparit PS ES1-1

Brown-Elkner, Fiona Balliang East PS ES1-1

Connelly, Jacinta Ann Birchip P–12 School ES1-1

Fitzpatrick, Shaun James Sebastopol College CLASS

Gifford, Jennifer Anne St Arnaud PS ES1-2

Glenane, Patricia Ballarat Specialist School CLASS

Griffin, Michelle Louise St Arnaud PS CLASS

Henry, Peter Gravener Grampians Region EXECLS

Johnson, Benita Ballarat Specialist School ES2-3

Kittelty, Sara Robyn Trawalla PS GRD

McKee, Leigh William Ballarat SC CLASS

McMahon, Julie Frances Grampians Region EXECLS

Mundy, Kathryn Linda Ballarat SC ES1-1

Rogers, Clifford J Daylesford SC CLASS

Schneider, Bronwyn Denise Nhill College ES1-1

Smith, Eileen A Birchip P–12 School AP1-1

Strachan, Helen Marie Laharum PS ES1-1

Weckert, Shellie Rokewood PS GRD

Hume

Betts, Lynsey Mcguire College Shepparton CLASS

Drury, Jane Marie Wandong PS ES1-1

Gifkins, Julie Elizabeth Anne Wodonga PS

ES1-1

Nishizawa, Satoru Euroa SC CLASS

Pracy, Jenny Rose Mooroopna PS CLASS

Ronald, Hailey Kay Yarrunga PS GRD

Russell, Nerissa Megan Dhurringile PS ES1-1

Stewart, Tina Mansfield PS ES1-1

Ward, Jennie Rutherglen HS AP1-2

Watkins, Tegan Elise Pyalong PS CLASS

Watson, Maxine Raye Kialla West PS ACPT

Loddon Mallee

Alvarez-Harris, Luis Joaquin Maryborough Education Centre CLASS

Beagley, Janelle Faye Bendigo South East SC CLASS

Bennett, Skye Louise Huntly PS GRD

Binding, Tina Louise Red Cliffs SC CLASS

Bird, Camilla Mary Castlemaine SC CLASS

Bird, Camilla Mary Castlemaine SC CLASS

Blakely, Tamra Lee Anne Bendigo South East SC LEAD

Bond, Robert George Maryborough Education Centre CLASS

Campbell, Jonathon Paul Chaffey SC ES1-1

Christenson, Lana Debra Robinvale Consolidated School CLASS

Clyne, Loretta Irymple SC LEAD

Comben, Lynne Krystine Gisborne PS CLASS

Coote, Nicole B Bendigo South East SC LEAD

Cowan, Susanne Tongala PS CLASS

Doyle, Stacy Richard Robinvale Consolidated School GRD

Ehlers, Ragna Birgitte Castlemaine SC CLASS

George, Jacob George Castlemaine SC CLASS

Hoare, Diane Joy Elmore PS ES1-1

Hopkins, Marie Swan Hill North PS CLASS

Kempton, Karen Maree Koorlong PS ES1-1

Ludeman, Lachlan James Echuca College ES2-3

McDonald, Barry Albert Castlemaine SC CLASS

Midgley, David Ian Loddon Mallee Region LEAD

Oakley, Lydia Castlemaine PS CLASS

Peppinck, Helen Kaye Weeroona College Bendigo CLASS

Probert, Bekki Lee Eaglehawk North PS CLASS

Purdon, Scott Patrick Chewton PS GRD

Reynolds Sr., John Allan Pyramid Hill College CLASS

Roberts, Sarah Lynette Pyramid Hill College ES1-1

Sansom, Thais Castlemaine PS CLASS

Thompson, Marie Castlemaine PS CLASS

Wakefield, Helen Margaret Chewton PS EXRT

Walklate, Aaron Brian Boort SC CLASS

Wilkie, Kate Margaret Bendigo South East SC LEAD

Willey, Tegan Talbot PS GRD

Wrate, Sara Irymple SC LEAD

Northern Metropolitan

Banfield Sr., Emma Louise Moomba Park PS ES1-1

Barclay, Mary Lynall Hall Community School AP1

Baweja, Vikas Distance Education Centre Vic ES2-3

Berryman, Annette Josephine Melbourne Girls' College CLASS

Bettiol, Dean Viewbank College CLASS

Bulley, Elise Claire The Lakes South Morang P–9 ES1-1

Butterworth, Karen Lee The Lakes South Morang P–9 AP1-1

Chen, Angeline Northern School for Autism GRD

Collins, Megan Joy Belle Vue Park PS CLASS

Costa, Rosa Maria Baltara School CLASS

Dalla Rosa, Livia Mill Park Heights PS ES1-1

Daly, Imelda Preston East PS ES1-2

Davies, Helen Gail Watsonia PS ES1-1

Devereux, Alison Marjorie Plenty Parklands PS AP1-1

Dileo, Maria Clifton Hill PS EXRT

Dobric, David Milos Box Forest SC CLASS

Filling, Thea Gladys Victorian School Of Languages ES1-2

Findley, Jared The Lakes South Morang P–9 ES1-1

Gardner, Robyn Epping Views PS ES1-1

Leadership Opportunities in Victorian Government Schools

Information about exciting

school leadership opportunities

is posted on www.education.

vic.gov/schooljobs and will

be available from the dates

indicated.

SHINE

publication date

Thursday 8 October

Thursday 5 November

Thursday 3 December

Online Job

Posting date

Friday 9 October

Friday 6 November

Friday 4 December

www.education.vic.gov.au/schooljobs
---
Appointments

Shine 83

NAME SCHOOL CLASSIFICATION NAME SCHOOL CLASSIFICATION NAME SCHOOL CLASSIFICATION

Gardner, Sheryl Dorothy Austin Hospital School AP1-1

Gittos, Raelene Ann The Lakes South Morang P–9 LEAD1

Giuliano, Donatella Mount Ridley P–12 College ACPT

Grant, Larry James Lynall Hall Community School CLASS

Heenan, Marc The Lakes South Morang P–9 CLASS

Heeremans, Meagan Jayne The Lakes South Morang P–9 ACPT

Hubl, Barbara Pascoe Vale Girls' SC ES2-5

James, Barbara G Sunbury Downs SC ES1-2

Kahle, Renee Meredith Willmott Park PS ES2-3

Karanikolos, Louie Reservoir District SC CLASS

Koochew, Kori Jai Diamond Valley SDS GRD

Licciardi, Nick Greensborough SC LEAD

Lloga, Pierre Lutfi Fawkner SC CLASS

Lowe, Renae Leah The Lakes South Morang P–9 CLASS

Marsh Iii, Sally Anne Alphington PS LEAD

Marsh Iii, Sally Anne Alphington PS LEAD

Marson, Cathy Northern School for Autism CLASS

McCarthy, David Box Forest SC CLASS

McGough, Karl Francis Thomastown SC ES1-2

Moh, Cecilia Mill Park Heights PS CLASS

Moore, Kathleen Mary Concord School AP1-1

Mountney, Carla Shannon Craigieburn SC CLASS

Parrish, Rae Maree Lalor PS EXRT

Pascuzzi, Laura The Lakes South Morang P–9 GRD

Paterson, Ashlea Renee Mount Ridley P–12 College ES1-2

Phillips, Rachel Louise Mount Ridley P–12 College ACPT

Presunka, Tanya Mill Park Heights PS CLASS

Ramsay, Daniel John Fawkner SC CLASS

Reilly, Lorraine Fawkner SC CLASS

Roberton, Paul Richard Meadow Heights PS CLASS

Robinson, Jayde Mount Ridley P–12 College ES1-1

Rupena, Sarah Elizabeth Mill Park Heights PS CLASS

Sanders, Bree Courtney The Lakes South Morang P–9 ACPT

Smith, Rebecca Anne The Lakes South Morang P–9 ACPT

Stephenson, Michelle Jean Box Forest SC CLASS

Sutherland, Madeleine Clifton Hill PS ES1-1

Swamy, Ranita Brunswick East PS ES2-3

Tamer, Eve Northern School for Autism ES2-4

Taylor, Narelle J Viewbank PS CLASS

Taylor, William David Sunbury Downs SC CLASS

Thompson, Lynda Kay Roxburgh Park PS AP1-2

Torcasio, Elizabeth Northern School for Autism ES1-1

Walker, Karen Margaret Sunbury PS ES1-1

Southern Metropolitan

Angelone, Maria Anna Westall SC ES1-1

Arnold, Katherine Elizabeth Oatlands PS CLASS

Ash, Joanna Yarraman Oaks PS ES2-3

Bacon, Julie Ann Frankston HS ES1-1

Bennett-Hullin, Karie Cranbourne SC GRD

Brown, Annabelle Gilmour Keysborough Springvale SC CLASS

Brydie, Tamara Yvette Carrum Downs SC CLASS

Buwalda, Wanda Joy River Gum PS ES2-4

Campbell, Heather Jean Mornington SC ES1-2

Carrubba, Maria Berwick PS ES1-1

Carver, Nicholas Peter Brighton SC CLASS

Casa, Katherine Pasqua Southvale PS CLASS

Chester, Kimberley Louise Timbarra PS CLASS

Conway, Karyn Louise Keysborough Springvale SC ES1-2

Coombes, Marion Patricia Southern Metropolitan Region ES2-3

Cornell, Helen Marie Port Phillip Specialist School CLASS

Cowden, Michael Kenneth Karingal Heights PS AP1-1

Crawford, Kathryn Jane Pakenham Hills PS ES1-1

Dahanayake, Yamuna Shanthini Noble Park SDS

ES1-1

Dale, Doreen Judith Yarraman Oaks PS ES1-1

Dawson, Erin Leigh Balnarring PS CLASS

De Lorenzo, Nikole Sharyn Pak enham Hills PS ES1-1

Demilio, Danielle Rosina Oatlands PS CLASS

Dike, Sally Jane Noble Park SDS ES2-4

Dollman, Anna Kambrya College LEAD

Dunkley, Pota Rhiana Carwatha College P–12 CLASS

Dunstan, Carolyn Renee Carrum Downs SC CLASS

Evans, Bronwyn Rose Berwick PS CLASS

Fawcett, Gregory George Mahogany Rise PS CLASS

Folwell, Elizabeth May Timbarra PS CLASS

Foreman, Fiona Louise Kambrya College LEAD

Francis, Christopher Mount Eliza SC CLASS

Frowd, Lori Dingley PS CLASS

Frye, Karen Dawn Dandenong Valley School CLASS

Gardiner, Lorraine Dorothy Gleneagles SC ES1-1

Griffiths, Geoffrey Carrum Downs SC CLASS

Haisty, Jessica Mount Erin SC CLASS

Harris, Sumah Maria Westall PS GRD

COOLING, HEATING & SOLAR SPECIALISTS

* Split systems *

* Multi Splits *

Fully Ducted

Portable & Fans

*

*

Solar Power

Solar Hot Water

* Evaporative Cooling Euan

Best Service & Advice…

Wayne

and we will beat ANY price!*

1110 Toorak Road, Camberwell

(opp. Camberwell Rd)

sales@giveusago.com.au

Cooling, Heating, Solar, Kitchen

FREE

SITE

QUOTE

* Conditions apply Don

Heng, Samnang Berwick SC ES1-1

Herman Iii, Angela Pakenham Hills PS ES1-1

Hicks, Bronwyn Elizabeth Balnarring PS CLASS

Hutchings, Ben Christopher Timbarra PS CLASS

Irving, Cheryl Catherine Cranbourne North East PS PR2-3

Joyce, Kaye Irene Narre Warren South P–12 College ES1-1

Keil, Ngamata Noble Park SDS ES1-1

Kenington, Amanda Louise Oatlands PS CLASS

King, Bernadette Maria Seaford North PS ES1-1

Kirkham, Sue Kambrya College LEAD

La Fortezza, Nazrine Glen Eira College CLASS

Lu, Lu Westall SC CLASS

Mabarrack, Carolina Moorooduc PS ES1-1

Marshall, Gordon John Carwatha College P–12 CLASS

McAlpine, Marina MacRobertson Girls HS LEAD

McLaughlin, Richard James Timbarra PS CLASS

Mclean, Keira Briallen Glen Eira College GRD

McNeil, Marina Mount Erin SC CLASS

Moody, Josie Sonnya Derinya PS ES1-1

Morales, Geraldine Noble Park SDS ES2-4

Moran, Christine Marie Keysborough Springvale SC CLASS

Mukhlas, Geeti Noble Park PS ES1-1

Nelson, Tracey Anne Noble Park SC GRD

Nichols, Margaret Osborne PS ES1-1

Nottle, Kellie Anne Frankston HS CLASS

Nuttall, Eleanor Irene Mount Martha PS ES1-1

O'Neill, Rosanne Jean Dingley PS CLASS

Olney, Karen Lee Mount Erin SC CLASS

Palazzolo, Debra Judith Southern Metropolitan Region ES2-3

Parsonage, Dean McClelland SC ES2-3

Petersen, Laura Maralinga PS ES2-4

Pitt, Briony Sorrento PS ES2-3

Pollard, Michelle Louise Dingley PS ES2-3

Reardon, Lynne Maree Pakenham SC ES1-1

Russell, John Desmond Frankston HS EXRT

Saciri, Cheryl Liz Mount Eliza SC CLASS

Sansom, Deana Jayne Berwick SC ES1-1

Sawaki, Shungo MacRobertson Girls HS LEAD

Schafer, Emma Rosebud SC LEAD

Schroffel, Angelica Maria Brighton SC EXRT

Scully, Jane Mornington PS ES1-1

Sherlock, Simon John Mount Erin SC CLASS

Shuttleworth, Donald Bruce Somerville SC ES1-1

Siegle, Mechelle Chandler Yarraman Oaks PS CLASS

Silestean, Steven Hampton Park SC LEAD

Skelton, Andrea Margaret Sorrento PS ES2-3

Smith, Kelly Lee Bunyip PS CLASS

Smith, Maria Concepcion Keysborough Springvale SC CLASS

Smith, Sylvia Naranga Special School CLASS

Steel, Alison Nicole Timbarra PS CLASS

Sukhatankar, Durgesh Gleneagles SC ES2-3

Sullivan, Rory Westall SC ES1-1

Szentessy, Lana Jane Yarraman Oaks PS ES1-1

Tarticchio, Samantha Jane Port Melbourne PS LEAD1

Thompson, Jodi Lorraine Oatlands PS CLASS

Tzilantonis, Anastasia Natasha Carwatha College P–12 CLASS

Van Gameren Sr., Jodie M Mount Erin SC GRD

Vega, Tatiana Western Port SC CLASS

Vegh, Helen Margaret Yarrabah School ES1-1

Walters, Vicki F Fountain Gate SC PR2-4

Williams, Kylie Kambrya College LEAD

Wills, Warren Clifford Lyndhurst SC PR3-5

Zouch, Penelope Jane St Kilda Park PS ES1-2

Western Metropolitan

Abbey, Anja Maria Warringa Park School ES1-1

Adamson, Robin D Essendon/East Keilor District AP2-4

Allen, Kylie Anne St Albans East PS CLASS

Baker, Lisa Jane Wembley PS CLASS

Barney, Rachel Ann-Jean Hoppers Crossing SC CLASS

Biles, Vivien The Grange P–12 College ES1-1

Borg, Leno Caroline Springs College ES1-1

Brachmanis, Clair Margarita A Braybrook College

CLASS

Bryce, Elise Michelle Werribee SC CLASS

Calleja Sr., Jodie Anne Warringa Park School ES1-1

Calleja Sr., Jodie Anne Warringa Park School ES1-1

Canny, Rebecca Maree Wembley PS CLASS

Canny, Rebecca Maree Wembley PS CLASS

Carter, Kylie-Ann The Grange P–12 College ES1-1

Casalbuono, Stephanie Glengala/Sunshine West PS GRD

Catalano, Giorgio G Williamstown HS AP2-3

Cobb, Gabrielle Juliette Warringa Park School ES1-1

Cook, Aaron Ross Carranballac P–9 College CLASS

9835 4343

www.giveusago.com.au

Costa, Rosa Maria Caroline Springs College CLASS

Cowan, Spencer Ward Ascot Vale West PS CLASS

Cristiano, Dominic Taylors Lakes PS EXRT

Day, Gabriela Elizabeth Carranballac P–9 College CLASS

Deacon, Andrew James Melton Specialist School CLASS

Dillon, Kate Mary-Elizabeth Essendon North PS CLASS

Dosti Sr., Valentina Hoppers Crossing SC CLASS

Drennan, Lydia Essendon North PS CLASS

Duff, Wendy M South Yarra PS AP1-1

Ebinger, Carmen Freda Warringa Park School ES1-1

Edwards, Nazlia Movelle PS CLASS

Eltham, Lisa Michelle Buckley Park College ACPT

Faltas, Nancy Caroline Springs College ES1-1

Farquharson, Yvonne Patricia Gilmore College For Girls LEAD

Gillespie, Faye Maree Warringa Park School ES1-1

Glass, Jessica Louise Caroline Springs College ES2-4

Green, Sandra Warringa Park School ES1-1

Hackett, Melissa Anne Warringa Park School CLASS

Haralambopoulos, Eleni Yarraville SDS CLASS

Hassan, Gary Kurunjang SC CLASS

Hatton, Nerissa The Grange P–12 College CLASS

Heaney, Tamara Lee Strathmore SC CLASS

Hennessy, Tara Sherie St Albans South PS ES1-1

Hitch, Kelly Sue Cairnlea Park PS ES1-2

Holland, Elizabeth Ann Point Cook Senior SC LEAD

Ireland, Martha Carranballac P–9 College CLASS

Ivankovic, Richard Caroline Springs College CLASS

Jennings, Ashlea Jayne St Albans East PS CLASS

Jevons, Madeleine Kate Victorian College of the Arts SSO1-1

Jones, Stacey Jane Carranballac P–9 College CLASS

Kelly, Anna Louise Carranballac P–9 College CLASS

Kennedy, Catherine Maree Warringa Park School ES1-1

Kent, Jonathon Essendon North PS CLASS

Kingsley, Amanda Joanne Essendon North PS CLASS

Kompa, Heather Carranballac P–9 College CLASS

Krajewski, Geni Carranballac P–9 College CLASS

Kurtis, Joan Warringa Park School ES1-1

Laird, Katie Margaret Woodville PS ES1-1

Laird, Melissa Simone Calder Rise PS GRD

Lata, Komal Karishma Maribyrnong SC CLASS

Legg, Emma Carranballac P–9 College CLASS

Linehan-Cunningham, Christine Galvin Park SC

ES1-1

Mackenzie, Siaan Maree Mackellar PS ES1-1

Magro, Amanda Glengala/Sunshine West PS GRD

Mahon, Shannyn Amie Point Cook Senior SC LEAD

Mariani, Elisa Juliet Strathmore SC ES2-3

Martin, Melissa Jane Kensington PS ES2-4

McIntosh, Alana Carranballac P–9 College CLASS

Monigatti, Daniel Sunshine College CLASS

Nolan, Simon Beau Wembley PS CLASS

Ostepeev, Lidia Braybrook College CLASS

Park, Nadine Lindsay Wembley PS CLASS

Park, Nadine Lindsay Wembley PS CLASS

Patton, Jessica Strathmore SC CLASS

Pelar, Rebekah Lauren Carranballac P–9 College CLASS

Pennisi, Marny Louise Wembley PS ES1-1

Perrottet, Adele Jane Moonee Ponds West PS CLASS

Rattray, Kerryn Warringa Park School ES1-1

Raud, Kirsten Nicole Melton West PS CLASS

Reddy, Jessila Braybrook College CLASS

Richter, Cheryl Lee Galvin Park SC CLASS

Roberts, Blake Thomas Warringa Park School ES2-4

Robertson, Julene Footscray City PS ES1-2

Rousseaux, Renate Rebekka Carranballac P–9 College CLASS

Ruberto, Michelle Josephine University HS ES1-2

Schiele, Kim Maree Woodville PS ES1-1

Schot, Colin Hendrik Warringa Park School PR2-4

Scott, Nick Maribyrnong SC PR3-5

Singh, Inderbir St Albans SC ES1-2

Smillie, David The Grange P–12 College AP2-3

Smith, Jeffrey Richard Movelle PS CLASS

Stella, Danielle Western Metropolitan Region PR2-3

Symons, Aaron Jens Maribyrnong SC ES2-3

Terris, Brea Louise Sunshine PS LEAD

Thorne, Amelia Claire Moonee Ponds West PS CLASS

Tsesmetzis, Sara Helen Carlton Gardens PS CLASS

Vella, Gary Strathmore SC CLASS

Vella, Julie Anne Sunshine PS CLASS

Waites, Kelly Ann Exford PS ES1-1

Wheelahan, Peter Stevensville PS EXRT

Wiffen, Kate Carranballac P–9 College CLASS

Xuereb, Rosetta Braybrook College CLASS

Yunis, Reem Caroline Springs College CLASS

and Laundry Appliance Specialists
---
84 Oct 09

Classifieds

RETIREMENTS

BRIDGES, CLIVE

After an exemplary career in education

including 10 years in the Principal class at

Spring Valley Primary School, Clive Bridges is

retiring from the Department. A function will be

held at Southern Golf Club, Keysborough on

Wednesday, 2nd December from 5.30-7.30pm

to which we invite colleagues and friends of

Clive. Cost $20 per head which includes finger

food, cake and gift. Drinks are available at bar

prices. To join us please call Spring Valley

Primary School and ask for Tina Kokkinos on

9547-3222 or 9562-4812. RSVP 23rd

November.

FARLEY, NICK

A retirement function for Nick Farley will be held

in the Wattle Park Primary School hall , Banksia

Street, Burwood on Wednesday 21st October

from 7.30 pm - 9.30pm. $30 per head to cover

finger food, refreshments and gift. RSVP 13th

October. Contact Robyn Hunter 9808 2165 or

email wattle.park.ps@edumail.vic.gov.au

GERALDINE NEwBEGIN

After an outstanding career in education,

including 20 years at Dromana P.S., Geraldine

Newbegin is retiring from the Dept. A function

will be held at Marina Cove, 329 Pt Nepean Rd

Dromana on Friday 16th October at 6.30pm.

Friends & Colleagues invited. Cost $25, inc.

gift, finger food, tea & coffee. Drinks at bar

prices. RSVP Dromana P.S. 59872367 by Wed

7 Oct. or dromana.ps@edumail.vic.gov.au

PEtER LoRD

Peter Lord, Principal of Richmond West Primary

School and former President of the AEU(Vic),

FTUV and VTU is retiring. The farewell function

is on Thursday, Dec 3rd, 5.30pm – 7.00pm at

the Amora Hotel, Riverwalk, 649 Bridge Rd

Richmond. Cheques for $30 (includes

presentation) to Richmond West Primary

School, PO Box 404 Richmond, 3121.

Enquiries to Jessica on 9429 2950

REtIRING SooN

Volunteers for Isolated Students' Education

recruits retired teachers to assist families with

their Distance Education Program. Travel and

accommodation provided in return for six

weeks teaching. Register at vise.org.au or

George Murdoch 03 9017 5439 Ken Weeks

03 9876 2680

REUNIONS

BASS VALLEY PRIMARY SCHooL

30th Anniversary Open Day - Saturday, 21st

November, 2009. Past, present & future staff

and families invited to come and help us

celebrate from 12noon – 4pm. School tours

and BBQ lunch available. Afternoon tea

provided. Contact Jo Peacock, 70 Corinella Rd,

Corinella. Phone: 03 56780208 Fax: 03

56780696 or email: peacock.joanne.j@

edumail.vic.gov.au

ENGRAVED GLASSES

Have your reunion or commemorative message

permanently laser engraved on glassware.

Contact Ian Newman, telephone/fax 9645

8699, or PO Box 5164, Middle Park Vic 3206.

GREYtHoRN HS 30 YEAR REUNIoN

Greythorn High School 30 Year Reunion - The

HSC Class of 1979 and students who left

Greythorn prior to Year 12 (but from the same

cohort) are invited to attend. Cost: $25 pp paid

in advance (includes entry + finger food;

drinks extra at bar prices). When: Saturday 7th

November 2009 from 7pm - 1am. Email for

venue details and more information:

greythornhigh79@yahoo.com.au

MoRwELL PARK PS 40tH ANNIVERSARY

To celebrate our 40TH Anniversary there will be

a Fete/Fun Day on Friday, November 27th from

12pm – 4pm on the school grounds. All past

students and teachers are cordially invited to

help commemorate this event. For more

information email Peter Credlin at morwell.park.

ps@edumail.vic.gov.au or Elaine Ivory at ivory.

elaine.l@edumail.vic.gov.au

St ALBANS NoRtH PRIMARY SCHooL

St Albans North Primary School is celebrating

its 50th Anniversary on Friday 13th November

2009 4pm – 9pm.

Past students, teachers and parents are invited

to join in the celebrations.

Official concert and presentation 6pm – 7pm.

Refreshments available.

Contact: st.albans.north.ps@edumail.vic.gov.

au or 9366 2029

ACCOMMODATION

BOOK

NOW! NOW! TO TO AVOID AVOID

DISAPPOINTMENT

DISAPPOINTMENT

Make your next

school trip to Melbourne an

adventure and stay at the

Hotel Claremont

Guest House

189 Toorak Road, South Yarra, 3141

1300 301 630

info@hotelclaremont.com

www.hotelclaremont.com

ACCREDITED SCHOOL ACCOMMODATION

per student per night

$40* (based on group share

accommodation) includes breakfast,

GST and 1 teacher at no cost for every

10 students. * Rates subject to alteration

BUILDING SERVICES

ACCENT

CURTAINS

& BLINDS

25 years experience

in industry

Government & commercial

(with a focus on schools)

Large or small developments

WE OFFER:

Installation of curtains & blinds

Room darkening options

Translucent curtains and blinds

Insulating options

Contact: Michelle

Ph 94971829 Mob 0425763280

Email acurtains@optusnet.com.au

FREE

MEASURE

& QUOTE

Phone us on

03 5940 0281

www.adloheat.com.au

See main

ad on

page 37

BLINDS REPAIRED AND NEw

Including audio visual venetians, verticals,

hollands, canvas, heavy duty venetians.

Maintenance service and laundering, GP

Blinds, repairs and sales, telephone 9844

0817, fax 9844 0199. Thirty-five years

Department of Education contracts.

See main

ad on

page 43

Toll Free Phone:1800 22 00 55

E: admin@felton.net.au

GRAFFItI REMoVAL

Sparkling Impressions is a specialist graffiti

removal and pressure cleaning business with

over 15 years experience. Call Phill Jenkins on

0418 322 689 for prompt service.

LINE MARKING

Impact Line Marking

Peter Rowell 0415 565 351

Fax 03 5974 4378

petrow@alphalink.com.au

LINE MARKING

Melbourne line marking company.

All playground lines, sports courts

and car parks.

Phone Barry 0419 315 431

See main ad on page 35

EDUCATIONAL

MATERIALS/SERVICES

Advance

Tutoring

School

Home or centre tuition – Year 1 to Year 12

The Professional Teachers

• English

• Maths

• Chemistry

• Biology

• Physics

• Italian and more

• Scholarships • Accounting

• Business management

Tuition bookings:

0411 333 001 / 0413 880 897

Teachers are welcome to join our team

www.advancetutoringschool.com.au

1300 760 354

ALUMINIUM

SCHOOL

SEATING

For details

about our

exciting

hands-on programs

– see our main ad

on page 41!

www.animalsonthemove.com.au

Music puppetry and dance

performance from Asia

Asia Raya also provide Asian music and

dance workshops to excite your students!!

www.asiaraya.com.au

Popular Performing Arts Incursion

Bush Dancing

Songs & Stories of Australia

V.I.T. Reg. Music Teacher

PHONE 0419 236 314

www.lazyharryaustralia.com.au

CIRCUS MAXIMUS P/L

"Over 20 Years

Experience Bringing the

Circus into Education"

Ph: 03 94823512

email:

greg@circusmaximus.com.au
---
Classifieds

Shine 85

DON'T MOVE

PUPPET THEATRE

PUPPET SHOWS &

PUPPET MAKING

WORKSHOPS

Contact

John Evans

Telephone

9397 0033

0419 346 731

www.dontmove.com.au

Hands On

Science!

Attention All Primary Schools

• Science & Technology teaching

specialists for Primary Schools

• A Learning Experience! Not a show

• Professional Development

• Practical workshops for children

- 90 minutes of educational fun

- individual grade lessons our specialty

• Many Topics / Themes (VELS)

* Sustainability Science

* Astronomy Science

• Family Science Nights

• No need for a bus

We come to your school

Contact: Emily or Robyn

Phone: (03) 9852 0054 or (03) 9855 1191

www.handsonscience.com.au

HAVE BUTTERFLIES

AT SCHOOL

Order now

for Term 4

Cage eggs & plants $129 (plus p/h)

Phone (03) 8802 0023

www.butterflykarma.com.au

OR

PLANETARIUMS

THAT COMES TO

YOUR SCHOOL!

From $4.50 per head

For bookings or for futher

information call

9748 8326

starlab@labyrinth.net.au

or visit

www.journeyman.net.au

www.edventures.com.au

Team Building

Low and High

Ropes Course

Located in Doncaster

Call us on (03) 9251 5261

MERIt StICKERS

Stickers with hidden keys Stickers with your

name on Join in the fun and see for yourself!

Unique and exciting, go to jayl.com.au

Jayl Enterprises - full of surprises!

EMPLOYMENT

Applying for a Job

Specialists in:

• Key Selection Criteria • Cover Letters

• Curriculum Vitae • Interview Preparation

Our consultants have extensive

principal class, teaching and editing experience.

Discounted rates for graduate teachers.

Phone Alison at Effective Corporate

Communications: 0413 142 050

Email: ecc@live.com.au

APPLYING FoR A JoB

Teachers, principals, support staff: Let us do

the difficult work! Friendly, professional service.

Effective résumés, selection criteria, letters,

interviews, help to apply online. Anywhere in

Victoria. Experienced in schools, staff selection.

Quality guarantee; testimonials. Contact Geoff:

03 9590 0174 or geoff@sagacityservices.

com.au

NEW!

Australia's

online Casual Relief

Teacher Directory

www.findacrt.com.au

PARt-tIME woRK tEACHING CHESS FoR

CHESS IDEAS AUStRALIA

Lunchtime and afterschool classes, mainly in

Primary Schools. If you have enthusiasm,

teaching background and some Chess

knowledge we'll Help with the rest. Contact -

Office 95328370 or email admin@chessideas.

com.au

Call Peter on

9505 3287

for professional support with

• selection criteria

• interviews

• resumés (CVs)

30 years experience with the Education

Department...teaching & in the Principal Class

Resumé Bureau

FINANCIAL PLANNING

Carrington Financial

Services

We offer

n Salary Sacrifice

n Novated Lease

n 54.11 Resignation

n Retirement Planning

n Wealth Creation

n Taxation

n Estate Planning

For a no obligation assessment of your situation

Contact John Doyle or Diana Sangue

on (03) 9820 8688

HOLIDAY

ACCOMMODATION

GIPPSLAND LAKES, PAYNESVILLE

Two bedroom units three minutes walk to

beach, three bedroom house with lake frontage.

Fully self contained for a comfortable holiday or

short break. Phone 5156 6395, email info@

lakewoodpark.com.au

Metung - Akora Flats

4 x 2BR self-contained flats

(sleep up to 5).

Close to Metung Village.

Pets welcome by

arrangement.

www.akoraflats.com

5156 2320

oCEAN GRoVE

Modern 2 story, Sea views, 2 living areas, 2

bathrooms, 3 bedrooms; sleeps 9. Secure

double garage. Ph; 9439 1258 Mob: 0419 536

608

PHILLIP ISLAND SUNSEt StRIP EStAtE

All accommodation is available anytime

throughout the week /weekends and also

available for Super Cars, Super Bikes, Grand

Prix, Cup Weekend, September and Christmas

School Holidays. *Three bedroom house in

Thompson Ave Cowes sleeps 6-8. Located in

the main drag of Cowes opposite RSL, 10 min

walk to pier, beach and main shopping centre.

* Fishing shack/self contained van sleeps 3-4

with boat parking and fish cleaning area

available. *One bedroom self contained unit

sleeps 2-4. All properties are fully furnished

and are available at a reasonable cost. We are

child and pet friendly and welcome families/

fisherman and anyone just wanting a relaxing

break. Please contact Kerryn for further

information and bookings - 0422 395 168 or

(03) 5952 5465

PRoMoNtoRY VIEwS, wALKERVILLE

NoRtH

Small A-frame cottage to rent. Handy to beach

and bush. Very comfortable. Reasonable rates.

Phone Helen for information mail-out:

56236390 or 0427-268211

QUEENSCLIFF

Charming 2BR restored 1930's cottage in

beautiful garden setting in the heart of

Queenscliff. Central heating. Holidays or

weekends. Ring 52582798 or 0409582798

PROFESSIONAL

DEVELOPMENT

BRAIN GYM woRKSHoPS

Professionally presented Brain Gym workshops

with Claire Hocking, International Brain Gym

Instructor and Educational Kinesiologist. Also

comprehensive Brain Gym resources. For more

information phone (03) 5282 5985 or 0419

569 071 or visit www.wholebrain.com.au

See our advert in

the PD section or

book online at

www.edpd.com.au

PoSItIVE RULES! FoR PoSItIVE KIDS!

Have you seen the feedback from Education

MPs, parents and kids, regarding:

Positive Rules! for Positive Kids!

Find out more at http://positiverules.com.au
---
86 Oct 09

Classifieds

Instruction courses

THRASS phonics courses provide

teachers with a simple and sustainable

methodology for teaching English right

from day one of a child's learning.

THRASS is Australia's most attended

phonics PD.

Please see our ad on page 23 for details

of upcoming courses.

SCHOOL CAMPS

Lakewood Park Paynesville

Making memories for life

ACA Accredited Camp

n Up to 100 students

n Luxury staff quarters

n Lakes cruise

n Australian Indigenous Culture

Activities

n Beach activities, water skiing,

sailing, canoeing, raft making,

nature walks, orienteering,

ropes, hut building

BOOK NOW for 2010

Contact us – limited dates available in 2009

www.lakewoodpark.com.au

Phone 5156 6395 or 0427 516 050

email info@lakewoodpark.com.au

wARANGA HoLIDAY CAMP

We are situated 4 kms from Rushworth, a 70

square mud brick complex offered on a catered

or self catered basis to groups of 20–64. Phone

for further details, 5856 1243. Email info@

lakewaranga.com

TAXATION

tAX REtURNS FRoM $75

Teachers Special Offer:Most refunds in 14

days. With 20 years experience we ensure

maximum refunds by claiming all allowable

deductions and tax offsets. After hours and

Saturday appointments available. Contact Mr M

Georgy, (03) 9467 7842.

TRAVEL

CHINA SCHooL toUR

Beijing, Shanghai, Xian, Yangtze Cruise,

Chengdu. Inc Grt Wall, Forbidden City,Terracotta

Warriors, Pandas etc. Free time, good hotels.

SSO's welcome. School visits, tax deductible.

14 days leaving 27 .03.2010. $4556 per

person twin. email: tremellen.terence.k@

edumail.vic.gov.au Advertising phone 0431359283

Shine

CLASSIFIEDS

E: ed.advertising@edumail.vic.gov.au

T: Diane Mifsud: (03) 9637 2862

China

Four Week Group

Study Tour

November-December

Is your school teaching Mandarin

Would your students like to

improve their skills in Mandarin

Who Can Apply

Interested school groups or individual

students aged 15 to 18 years. The

maximum size of the group is 15

Program Fee: $4,375

Program Fee Includes:

Return airfare from Sydney or

Melbourne. Comprehensive medical

and travel insurance, all meals and

accommodation in China. Program

fee does not include visa fees or

spending money

Departure Date: 25 Nov.

Return Date: 22 Dec.

APPLY BY 31 OCTOBER 2009

Call toll free

1800 654 947

yfuaus@yfu.com.au

YFU Australia international Student

Exchange 13/14 Edgeworth David Ave

Hornsby NSW 2077

See main ad on page 15 for more info

15

FRANCE - SoUtH wESt

17C.2B/R apart. in elegant Figeac or cottage in

hilltop Lauzerte.

www.fl ickr.com/photos/clermont-fi geac/

www.fl ickr.com/photos/les-chouettes/

Low cost, brochure, teacher owner 03 9877

7513.

FRANCE, PRoVENCE

Fully equipped and restored 17th century house

in mediaeval, fortified village of Entrevaux.

Sleeps seven. Close to Nice, Cote d'Azur and

Italy. Phone owner 5258 2798 or (02) 9948

2980. www.provencehousestay.com.

PARIS

Stay right in central Paris in a beautiful one

bedroom, fully contained apartment. Five

minutes walk to the nearest metro and then on

to all the Paris tourist sites: Louvre, Eiffel Tower,

Champs Elyses. Sunny, inviting apartment.

Bedroom, lounge, separate kitchen and

bathroom. English speaking owners. Live with

the locals, talk with the locals and experience

the traditional Parisian lifestyle. www.

rentaparisfl at.com

WANTED

wANtED–PHotoCoPIERS

Photocopiers all brands and many models.

Working, faulty, obsolete or surplus. Also

telephone systems, IT/computer items. Contact

David on 0402 469 111, and fax 9388 9810.

Email bbs_copy@westnet.com.au Call all

hours and collection arranged.

MISCELLANEUS

Lowest Basic Mortgage Rate – Best Mutual:

Victoria Teachers Credit Union

Source: infochoice June 2009

12 month discounted variable rate

%

4.72 p.a.

Basic Home Loan

Refer to website for current rates

% 1

4.95 p.a.

Comparison rate

$0 establishment fee*

fortune favours the refinancers!

Refinance to any of our Home Loans between

1 August and 31 October 2009 and we'll waive the

establishment fee.*

For further information, or to apply, call a friendly

Home Loan Consultant on 1300 654 822 or visit

www.victeach.com.au.

Victoria Teachers Credit Union Limited

ABN 44 087 651 769 AFSL 240 960

Offer valid for Home Loan applications received from 1 August 2009 to 31 October 2009 and loan must be funded by 31 January 2010. Minimum loan amount is $100,000. At the end of the discounted period the

interest rate then reverts to the Basic Home Loan variable rate, currently 4.97%p.a. Interest rates subject to change. This offer is only for new Home Loans; it does not apply to switching existing Victoria Teachers

Credit Union Home Loans. Loans in excess of 80% Loan to Value Ratio (LVR) will incur Lenders Mortgage Insurance charges.*Applicants who decide not to proceed with the loan may incur establishment fees.

Minimum redraw $500 and is only available via Internet Banking for Basic Home Loans. 1. Comparison rate is calculated on a secured loan amount of $150,000 for a term of 25 years. WARNING: This comparison

rate is true only for the example given and may not include all fees and charges. Different terms, fees and other loan amounts might result in a different comparison rate. A comparison rate schedule is available on

request from our branches. Terms and Conditions available upon request.
---
87

Attention teachers! Nothing brings words to life for students like seeing them performed

on stage. Feast your eyes on this month's educational stage productions and incursions.

Melbourne Theatre Company

presents:

Bookings: 1300 723 038

When the Rain Stops Falling

Until Sunday 22 November

Sumner Theatre, Southbank

Incursions

No time for lengthy theatre

excursions Bring the show to your

students with professional, inschool

productions.

arts2GO, Regional Arts Victoria

presents:

Bookings: 9644 1800 or

www.rav.net.au/arts2go

Impro Melbourne –

Improvisation Performances

and Workshops

Incursions through 2009

Play It By Ear with Rae

Howell – Music Performance

and Composition Workshops

Incursions through 2009

Born in a Taxi – Physical

Theatre Workshops

Incursions through 2009

Andrew McKenna

Storytelling Workshops

Incursions through 2009

Brainstorm Productions

presents:

Bookings: 1800 676 224 or

www.brainstormproductions.com.au

The Human Race

Incursions through 2009

Verbal Combat

Incursions through 2009

CARP Productions presents:

Bookings: 9593 8581

The Teddy Bears Picnic

Incursions through 2009

The Dinosaur Dance!

Incursions through 2009

Bright and Bushy Animal Tales

Incursions through 2009

Dreaming of the Dreamtime

Incursions through 2009

The Magic Circus Show

Incursions through 2009

Playful Puppets and Cheeky

Monkeys

Incursions through 2009

A Land Far, Far Away

Incursions through 2009

Somewhere Over the Rainbow

Incursions through 2009

40 Minutes to Save the World!

Incursions through 2009

Proud to be Me – the Personal

Learning Show

Incursions through 2009

Complete Works Theatre

Company presents:

Bookings: 9417 6166

Romeo and Juliet

Incursions through 2009

Macbeth

Incursions through 2009

The Word Superb –

Poetry for Years 7-8

Incursions through 2009

BOObook theatre presents:

Bookings: 9397 6016 or

boobooktheatre@hotmail.com

Totally Wasted

Incursions through 2009

A Gargoyle in the Garage

Incursions through 2009

To list your school production

email editor@edumail.vic.gov.au

Quiz answers: 1. Victoria Street, Abbotsford. Little Audrey. 2. Australia. In the 17th century, part of Brazil was also called New Holland for several years. 3. Powderfinger. 4.

Underground. 5. 10 pin bowling (18.29m X 1.05m). 6. A decibel (dB). 7. Lassie. 8. It is short for fanatic. 9. The Ox (same as 2009 – the Chinese horoscope has a 12-year cycle).

10. Her Excellency Ms Quentin Bryce AC. 11. A bell (officially known as the Great Bell, it is inside the clock tower). 12. Vatican City. 13. Bergamot. 14. Uranus. 15. Pocket Monster

(Japanese - Poketto Monsuta). 16. Duchess of Cornwall. 17. The AFL Players Association Most Valued Player. 18. The nose. 19. Danish. 20. Doric, Ionic and Corinthian.
---
88 Oct 09

Professional Development

What's on in Oct/Nov

Kodaly Music Education

Institute of Australia

Bookings: 9535 7035 or

glenys@kodaly.org.au

Kodaly Favourites Workshop

Wednesday 21 October, Caulfield

Autism Behavioural

Intervention Association

Bookings: 9830 0677

Practical Strategies for Teaching

Social Skills Workshop

Friday 30 October, Surrey Hills

Healesville Sanctuary

Bookings: 5957 2818 or www.zoo.org.au/

Learning/TeacherPD/Slimy_science

Slimy Science Professional

Development Day

Thursday 29 October, Healesville

St Albans Meadows

Primary School

Bookings: www.samps.vic.gov.au

1:1 Learning – Logistics, Pedagogy

Plus Much More

Friday 20 November, St Albans

University of Melbourne

Bookings:www.education.unimelb.edu.au/ceiec

Early Childhood Conference

Thursday 19 November to Saturday 21

November, Parvkille

eLearning Unit, Student

Learning Division

Bookings: 9637 2163 or

mcnamara.brooke.l@edumail.vic.gov.au

Intel Teach Thinking With Technology

Thursday 26, Friday 27 and Monday 30

November, and Tuesday 1 December,

Strathmore

School Library Association

of Victoria

Bookings: 9349 5822 or

www.slav.schools.net.au

Seeing things differently: New

perspectives on reading and literacy

Friday 13 October, Melbourne

Victorian Information Technology

Teachers' Association

Bookings: 94956836 or

vitta.org.au/trainingevents

Web 2 and You

Thursday 15 October, Collingwood

The Australian Council for

Health, Physical Education

and Recreation

Bookings: www.achper.vic.edu.au

VCE Physical Education Program

Planning for 2010

Monday 19 October, Chadstone

VCE Health and Human Development

Program Planning for 2010

Monday 26 October, Chadstone

Victorian Information

Technology Teachers'

Association

Web 2 and You

Thursday 15 October, Collingwood

Bookings: 94956836 or

vitta.org.au/trainingevents

Autism Behavioural

Intervention

Association

Practical Strategies for Teaching

Social Skills Workshop

Friday 30 October, Surrey Hills

Bookings: 9830 0677

Email your PD listings to editor@edumail.vic.gov.au

Drama Victoria

Bookings: (03) 9419 2766 or

dramavic@netspace.net.au

Primary Drama Network Meeting

Wednesday 15 October, Abbotsford

Soundhouse

Bookings: Anna-Maree on 9376 6833 or

am@soundhouse.com.au

Digital Storytelling

Monday 12 October, Flemington

Managing Images using Adobe

Photoshop and Bridge

Monday 12 October, Flemington

Sibelius 110 (Sibelius Level 1)

Thursday 15 October, Flemington

Interactivity – Whiteboards and

eLearning Resources

Friday 16 October, Flemington

Dreamweaver Level 2

Monday 19 October, Flemington

Create Music for your Films –

GarageBand

Thursday 22 October, Flemington

Digital Movie Making for Home

and Classroom

Friday 23 October, Flemington

Drama Victoria

Primary Drama

Network Meeting

Wednesday 15 October, Abbotsford

Bookings: (03) 9419 2766 or

dramavic@netspace.net.au
---
Adobe In-Design

Thursday 29 October, Flemington

Using Popular Computer

Games in the Classroom

Friday 30 October, Flemington

Sibelius 201

Thursday 5 November, Flemington

Australian Council for Health

Physical Education and Recreation

Bookings: 9851 6966 or

achper@achper.vic.edu.au

PHASE Primary Course

Monday October 12 – Wednesday October

14, Parkville

Term 4, 2009

Professional Learning Workshop Programme

Why can't we… A Workshop for the

strategically minded School Administrator

Peter Goldsworthy. Thursday 15 October, 4pm – 6pm

Whole School Approach to Inquiry Based

Learning: What's Essential P-6

Kath Murdoch. Wednesday 21 October, 9.30am – 3.30pm

Dealing with the Hard Class

Bill Rogers. Monday 26 October, 9.30am – 3.30pm

Teaching Social Competencies

Helen McGrath. Friday 30 October, 9.30am – 3.30pm

Whole School Planning and Assessment in

Mathematics for 2010

Michael Ymer. Friday 30 October, 9.30am – 3.30pm

Thinking and Assessment

Clinton Golding. Friday 6 November, 9.30am – 3.30pm

Designing a Staff Learning Programme

for 2010

Neville Johnson. Monday 9 November, 9.30am – 3.30pm

Rich and Balanced Approaches to

Mathematics (Yrs 3-9)

Charles Lovitt. Tuesday 10 November, 9.30am – 3.30pm

Designing and Implementing Programmes for

Boys and Boys and Motivation

Rollo Browne. Friday 13 November, 9.30am – 3.30pm

Planning a Balanced and Effective Maths

Programme for 2010

Rob Vingerhoets. Monday 16 November, 9.30am – 3.30pm

Preparing for Personalising Learning

Darryn Kruse. Friday 20 November, 9.30am – 3.30pm

Leadership Skills for Coordinators

Karen Stammers & Yvonne Willich

Monday 23 November, 9.30am – 3.30pm

Planning for Year 12 English in 2010

Ross Huggard. Friday 27 November, 9.30am – 3.30pm

Designing a Whole School Welfare Approach

for 2010

Andrew Fuller. Friday 27 November, 9.30am – 3.30pm

All workshops are held at the Australian Institute of Management,

181 Fitzroy Street, St Kilda

For further information or to book online visit: www.edpd.com.au

or t: (03) 9524 6222 or e: seminars@edpd.com.au

J1931
---
90 Oct 09

Xxxx

Take a break

Staffroom Q uiz

Put your general knowledge to the test

with this month's 20 questions.

1 Where in Melbourne is the Skipping Girl

sign Bonus point: what's her name

2 'New Holland' was an early name for

which country

3 Bernard Fanning came to fame as the lead

singer of which Australian band

4 Which English word starts and ends in 'und'

5 Which sport has a playing area of

approximately 18 metres by a metre

6 What is one tenth of a bel

7 Trivia classic: Which famous female character

in films and TV series from the 1950s to the

2000s has always been played by a male

8 How did the word 'fan', meaning an enthusiast

or supporter, come into being

9 1997 was the Chinese year of what animal

10 What is the name of the Australian

Governor General

11 What is London's Big Ben

12 Which independent state allows entry to

anyone without a passport

13 With what is Earl Grey tea flavoured

14 Which is the only planet in the solar system

that is named after a Greek god

15 What is the origin of the name of the video

game Pokemon

16 What is Camilla's official title

17 To whom is the Leigh Matthews Trophy

awarded each year

18 On what part of the body would rhinoplasty

be performed

19 In 1997, the bubblegum pop band Aqua topped

the charts. What nationality was the band

20 In classic architecture, what are the three main

styles of columns

See page 87 for answers

Sudoku Difficulty level: expert

8 9 4 7 2 6 3 1 5

1 2 3 4 8 5 6 7 9

7 5 6 9 1 3 8 2 4

9 4 8 3 5 7 1 6 2

6 7 5 1 4 2 9 3 8

2 3 1 6 9 8 4 5 7

3 6 2 8 7 4 5 9 1

4 1 7 5 3 9 2 8 6

5 8 9 2 6 1 7 4 3

ACCENT

CURTAINS

& BLINDS

25 years experience

in industry

Government & commercial

(with a focus on schools)

Large or small developments

WE OFFER:

Installation of curtains & blinds

Room darkening options

Translucent curtains and blinds

Insulating options

Contact: Michelle

Ph 94971829 Mob 0425763280

Email acurtains@optusnet.com.au

Cartoon by Simon Schneider

FREE

MEASURE

& QUOTE
---
it's your sChool's ChanCE to shinE

Victorian state schools spectacular

hisense arena, 11–12 september 2010

Joining the Chorus, the organisers of the Victorian state schools spectacular, will soon

be on the lookout for 3000 singers, dancers, acrobats, actors, musicians and specialty

acts such as skateboarders, rollerbladers and BMX freestylers to star in the 2010 event.

Expressions of interest from government schools – for performance groups such

as bands, choirs, marching bands, cheerleading squads, dance ensembles and

student solo performers – open in october.

look for the information that will be sent to every government school at the start of term 4

or contact Joining the Chorus at jtc@edumail.vic.gov.au
---
SCHOOL SPECIAL!

Earn l0% rebate back to your school on

group bookings in May and June 2010

Also 1 teacher for every 10 students stays free

* $42 per person per night share basis

• Breakfast included in all rates

• 10 minutes CBD

• 100 metres famous Chapel Street

• 100 metres tram/train

• 24 hr Reception

• 77 rooms (Groups up to 100)

• Linen and bedding supplied

• Clean towels daily

• Sprinkler system and fire alarms installed

• Baggage storage

• Security entry doors

• 23 Bathrooms close to rooms

• Conference Room seats 30

• Evening meals easily arranged at nearby establishments

• No alcohol served on premises

189 Toorak Road, South Yarra 3141

1300 301 630

info@hotelclaremont.com

www.hotelclaremont.com

STAY WITH

CONFIDENCE

ACCREDITED SCHOOL

ACCOMMODATION

CLAREMONT GUEST HOUSE

SOUTH YARRA

DONÕ T MISS OUT

BOOK NOW

1300 301 630