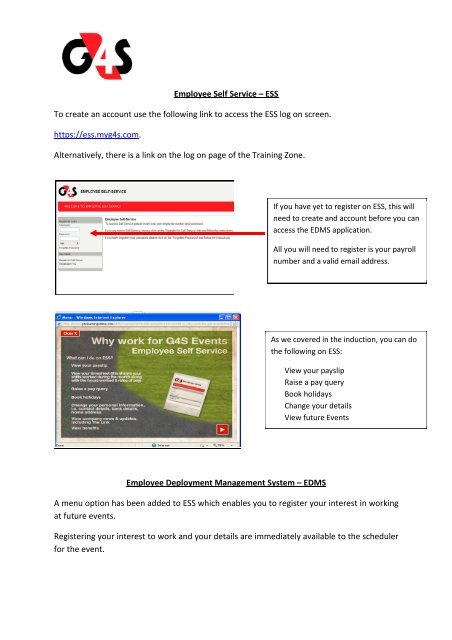 Employee Self Service – ESS - G4slearningonline.com - G4S
Employee Self Service – ESS - G4slearningonline.com - G4S
Employee Self Service – ESS - G4slearningonline.com - G4S
SHOW MORE
SHOW LESS
Do you know the secret to free website traffic?
Use this trick to increase the number of new potential customers.
Employee Self Service – ESS

To create an account use the following link to access the ESS log on screen.

https://ess.myg4s.com.

Alternatively, there is a link on the log on page of the Training Zone.

If you have yet to register on ESS, this will

need to create and account before you can

access the EDMS application.

All you will need to register is your payroll

number and a valid email address.

As we covered in the induction, you can do

the following on ESS:

View your payslip

Raise a pay query

Book holidays

Change your details

View future Events

Employee Deployment Management System – EDMS

A menu option has been added to ESS which enables you to register your interest in working

at future events.

Registering your interest to work and your details are immediately available to the scheduler

for the event.
---
1: Search dates

To search for future events, enter a start

date (the first date you are available to work)

and an end date (the last date you are

available to work) and click the "Search for

Events" button

Click the information icon to reveal

details about working at the event

2: Search results

On completion of the search you will be

presented with a list of Events which are

taking place during the date range searched.

Only events which have been opened up to

your Op Unit/Zone will be displayed

Click on the drop down arrow, to

reveal the Registration screen
---
3: Register interest

Select the tick boxes for the dates you would like to work and click the "update" button to

confirm your registration. If you fail to update the screen, your details will not be

registered. A separate update action is required for each event you are interested in

working at.

Please Note: At this point you are not scheduled to work at the Event. Your scheduler will

contact you to confirm the shifts you are required to work

4: De-register interest

Once you have registered interest in working at an Event, it is possible to change your mind.

To de-register your interest, search for the event using the date range facility, uncheck on

the tick boxes previously selected and click the "update button". This action notifies your

Manager that you are no longer interested in working on the dates deselected.

5: De-register when rostered

Once you have been scheduled to work at an event it is no longer possible to de-register

your interest via ESS. If this situation occurs, you should contact your scheduler.

6: Registration closed

Once the registration period is closed, unchecked tickboxes are replaced with the text

"Closed". When the registration period is closed, it is no long possible to register interest in

working via ESS