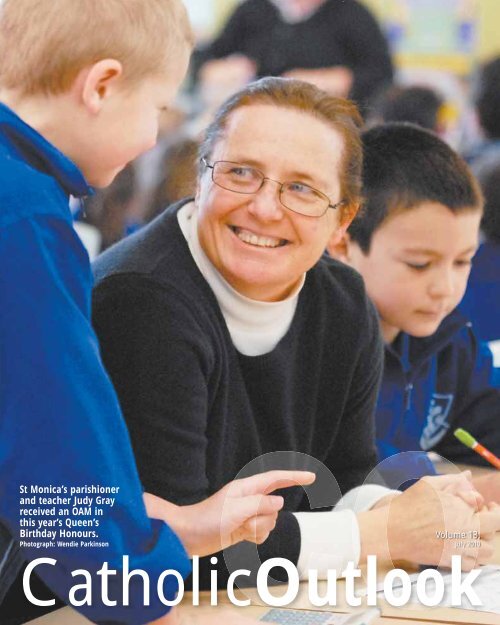 Download the "Catholic Outlook July" - Catholic Diocese of ...
Download the "Catholic Outlook July" - Catholic Diocese of ...
Download the "Catholic Outlook July" - Catholic Diocese of ...
SHOW MORE
SHOW LESS
You also want an ePaper? Increase the reach of your titles
YUMPU automatically turns print PDFs into web optimized ePapers that Google loves.
St Monica's parishioner

and teacher Judy Gray

received an OAM in

this year's Queen's

Birthday Honours.

Photograph: Wendie Parkinson

Volume 13,

July 2010

CatholicOutlook
---
2 CatholicOutlook July 2010

Celebrating our jubilarians: 230 years of service

THE BISHOP'S LETTER

inside

Australia's first

combined training,

employment and

housing project for

at-risk youth was

launched in Western

Sydney in May.

Bishop Anthony Fisher OP

Sixty years ago this month – on 22

July 1950 – His Eminence Norman

Cardinal Gilroy ordained three men

who would eventually become priests

of the Diocese of Parramatta: Fr Eric

Burton, Fr Les Campion and Fr David

Scott. Ten years later, it was Fr Gerry

Iverson's turn (see P6 of this issue).

Between them these men have served

the people of Sydney for 230 years, longer

than the time elapsed since European

settlement! They have lived through the

Great Depression, the Second World

War, the Menzies era, Vietnam, the

assassination of JFK and Martin Luther

King Jnr, Vatican II, the first man on

the moon, the fall of Communism, the

establishment of the Diocese of Parramatta,

so many new parishes, churches, schools,

a new cathedral, and on it goes …

For 230 years these men have served and

still they serve – even if two are officially

living in 'retirement'. Priests don't really

retire. They are priests forever 'according

to the line of Melchizedek', priests of Jesus

Christ. It's 'ontological'. It goes to the heart

of your identity, your destiny, your DNA.

Six decades ago, when those young

men lay prostrate before the altar for

the Litany of Saints and then knelt for

the Laying on of Hands and Prayer

of Ordination, they could not have

guessed how our Church and our world

would change and how they themselves

would change in the years ahead.

To some extent they gave themselves

over to a great unknown. But they knew

they could trust in the God of all time

and space. They said to Him, like couples

on their wedding day, like religious

when they take their vows: whatever,

whenever, however, I am for you, all for

you, now and always. All for God, all

for His Church, all for His people.

All for God

Priests are men of God. It is not their

natural gifts people most admire, but their

supernatural ones. No man makes himself

a priest. Nor can he ever deserve to be

a priest. We have done nothing, could

do nothing, to earn this gift. God's grace

is pure gift, given in mercy and love.

When people are disappointed with

their priests it pays tribute to the fact

July

1 July 7pm, Confirmations at St Monica's Parish, Richmond

2 July 6.30pm, Civic Reception, Granville Town Hall

4 July 9.30am, Installation of Rev Robert Sheridan,

Parish Priest of Blackheath Parish

6 July Centacare Catholic Social Services Meeting

7 July Diocesan Schools Council Meeting

12 July Opening Liturgy, National Council of Priests Conference, Parramatta

15 July Closing Liturgy, National Council of Priests Conference

& Conference Dinner, Parramatta

16 July 7pm, Golden Jubilee of Rev Gerry Iverson, Parish Priest

of Our Lady Queen of Peace Parish, Greystanes

that they still look to us to be different.

To be genuine representatives of

something bigger, something better,

something beyond. To be God's men.

So a priest must be first and foremost a

man of prayer and sacrifice, a man of the

altar and the kneeler. His celibacy, his hard

work, even exhaustion, his penances, his

oft' renewed, life-long determination to

give his all – all speak of the love of God

and his conviction of God's love for him.

When tasked with building a new

community, a priest does not start

with nothing. He starts with God and

the faith of those God is drawing to

Himself. Our priests are men of God.

All for His Church

No man is a priest for himself!

Priesthood is given on trust, to be shared.

Priests are stewards of God's mysteries.

They do not hoard the Word of God and

the sacraments, but pass them on to others.

For this they received Holy Orders. Our

four priests were ordained – ordered – for

service in a particular place, at a particular

time. They accepted the call to serve God's

Catholic people, first throughout Sydney,

and then in Western Sydney. The Church

needed them there. And it was there that

they built up the Church and sustain it still.

In building up the Eucharistic community

priests are privileged to have many other

priests, religious and especially lay people

as collaborators. By their sacramental

ministry, and especially by presiding at

the Sunday Eucharist, they strengthen

Photography: Alphonsus Fok and Grace Lu

people's faith and call them ever deeper

into that communion with Christ and His

saints that is the Church. Our priests give

themselves generously to the Church.

All for His people

But priests are not there just for the

practising Catholics. Parramatta's priests

have a mission to all the people of these

western suburbs, hills and mountains.

A priest must be a preacher of the

Gospel, an instrument of encounter

with Jesus Christ, for people of all

backgrounds, beliefs, life-stages. Our

priests give themselves to all people.

At every priestly ordination in our

Diocese, after the Bishop laid hands

upon the head of the candidates, our four

jubilarians laid their hands too on the man

being ordained. This shows that every

new priest is ordained to join a line of

priests, a fraternity, a 'presbyteral college'

gathered around the bishop of the Diocese.

Priesthood is no solitary existence. There

is the brotherhood among our priests

and it is no exaggeration to say that our

four jubilarians have been exemplary

in their service to their brothers. They

have offered friendship, hospitality,

support and example. They have truly

built up the presbyterate of Parramatta.

We thank them for accepting God's call

to offer themselves for priesthood, for

sticking with it in good times and in bad,

and for the witness of their lives. May

many more follow in their footsteps!

THE BISHOP'S DIARY

18 July 9.30am, Installation of Rev Robert Riedling, Parish

Priest of St Michael's Parish, South Blacktown

21 July Catholic Education Commission of NSW Meeting, Sydney

22 July Clergy Day, St Patrick's Cathedral, Parramatta

23 July Opening & Blessing, Sacred Heart Primary School, Mt Druitt

25 July 11am, St Patrick's Cathedral Mass

27 July Diocesan Development Fund Board Meeting

28 July Diocesan Finance Council Meeting

29 July Presentation of Bro. John Taylor Award, Xavier College, Llandilo

30 July Mass for the 10th General Chapter of the Sisters of Mercy, Parramatta

St Monica's parishioner

and teacher Judy Gray

received an OAM in

this year's Queen's

Birthday Honours.

In a world of

increasing diversity,

how do Catholic

schools respond to

the challenge of

meeting the individual

needs of students

The official publication of the Diocese of Parramatta.

Publisher:

Bishop Anthony Fisher op

Tel (02) 9683 6277

Fax (02) 9630 4813

PO Box 3066, North

Parramatta, NSW, 1750

Email:

bishop@parra.catholic.

org.au

Website:

www.parra.catholic.org.au

Editor:

Jane Favotto

Tel (02) 8838 3409

Fax (02) 9630 4813

editor@parra.catholic.

org.au

PO Box 3066, North

Parramatta, NSW, 1750

Advertising:

Tel (02) 8838 3409

Fax (02) 9630 4813

Deadlines: Editorial and

advertising – 10th of the

month prior to publication

School news:

Catholic Education Office

Tel (02) 9840 5683

news@parra.catholic.edu.au

On 16 July, Fr Gerry

Iverson will celebrate

his golden jubilee

of ordination to

priesthood with a

Mass and supper.

Bishop Anthony has

appointed Fr Suresh

Kumar MSFS as the new

Diocesan Youth Director.

Journalist:

Virginia Knight

Design:

Chris Murray

limad@mac.com

Website:

Andrew Emmerson

Tel (02) 8838 3407

aemmerson@

parra.catholic.org.au

Peter Gresser

Tel (02) 8838 3406

web@parra.catholic.org.au

Printing: Rural Press

Printing, North Richmond

40,000 copies of Catholic

Outlook are distributed

monthly through 49 parishes

and 82 Catholic schools. All

material in this publication

is copyright and may not

be reproduced without

permission of the editor.

Catholic Outlook is a

member of the Australasian

Catholic Press Assoc.

and the Australasian

Religious Press Assoc.
---
Agencies collaborate to Keep Kids in Mind

On 24 June at the head office

of Centacare Catholic Social

Services – Diocese of Parramatta

a Memorandum of Understanding

(MOU) was signed by four

Catholic social service and welfare

agencies.

The MOU between Catholic

Care and Centacare agencies

across Sydney and environs establishes

a consortium to deliver the

Keeping Kids in Mind Project,

which assists parents to co-operate

after separation

The signatories to the MOU

were the Chief Executive Officers

and Executive Directors of the

Signatories to the MOU (from left): Bernard Boerma (Catholic Care – Sydney), Kath

McCormack (Catholic Care – Wollongong), Deirdre Cheers (Centacare Broken Bay), and Otto

Henfling (Centacare Catholic Social Services – Parramatta). Photo: David Tang

Sr Marie Bourke

A Life

of Prayer

Are you called to

the Benedictine life

of divine praise and

eucharistic prayer

for the Church

Contact the

Tyburn Nuns

Rev Mother Cyril OSB Tel (02) 9627 5171

Tyburn Priory, 325 Garfield Road,

Riverstone, NSW 2765

www.tyburnconvent.org.uk

Greater Sydney area, the Central

Coast and Illawarra regions of

Catholic Care (Sydney), Catholic

Care (Wollongong), Centacare

Broken Bay, and Centacare

Catholic Social Services – Diocese

of Parramatta.

The Keeping Kids in Mind

Project is a case management support

model that offers a range of

therapeutic, educational and family

dispute resolution services to

couples and families experiencing

conflict in separation.

The project is designed to inform

and improve parents' awareness

regarding the impact of their conflict

on their children's psychological

and emotional development

and to increase their commitment

to collaborative parenting.

The agencies have been developing

the project for the past

three years. It includes a group

work program that has been

running as a pilot program and

has been researched and positively

evaluated.

The great benefits of the Keeping

Kids in Mind consortium are for

the children in these families experiencing

post-separation conflict

and an improvement in family relationships

generally.

CatholicOutlook July 2010 3

Indigenous parenting resource

Centacare Catholic Social Services

(CCSS) has launched a new resource

to assist services interested in providing

a facilitative group to Indigenous

parents and carers affected by drug

and/or alcohol, to increase their

parenting and caring skills.

The Indigenous Persons Infant

& Pre-Schooler Parenting Groups

Project educational and support

groups model has been developed

to be specifically appropriate for

Indigenous parents and carers living

in Western Sydney.

The project responds to the experience

of CCSS staff working in

Western Sydney, which has found

many Indigenous parents and carers

lack information and support

as they attempt to parent young

children, especially when the parents'

lives are impacted by drug and

alcohol issues.

The need of these parents is

heightened by the fact Indigenous

people do not necessarily feel comfortable

participating in support

and educational programs aimed at

the general community.

The project has been generously

funded by the Sydney West Area

Health Service as an initiative to

help maintain and strengthen partnerships

with ante-natal, post-natal

and community health services to

develop better health outcomes

in the region for Indigenous parents/carers

and children, adversely

affected by drug and/or alcohol.

The project's resource manual

(including CD) is available through

CCSS for $10 (including postage),

by phoning (02) 9933 0222 or

emailing enquiries@ccss.org.au

An online version of the manual

is also accessible from the Resources

section of the CCSS site at

www.ccss.org.au

Photographer: Ian Hitchcock for North Queensland

Combined Women's Service Inc.

You can help sisters to build formation house in Zambia

Australian-born Sr Marie Bourke

has been working with the sick and

dying in remote areas of northern

Zambia for 15 years.

A member of the Franciscan

Missionaries of the Divine

Motherhood, she works with

Nigerian nuns Sr Rogita

Bonaventure and Sr Anna Gochin

in bringing nursing care to more

than 90 villages where people have

HIV/AIDS.

"We are keeping people alive

who would otherwise die. We try

to witness to people that they matter,"

said Sr Marie of the homebased,

clinical and palliative care

for people with HIV/AIDS. It is

a ministry that has dramatically

reduced the mortality rate, especially

among children.

For the Zambian people whose

lives they touch the Franciscans'

mission is the affirmation of a

compassionate, loving God in their

lives. Their devotion to caring in

Christ's name has inspired many

local women to want to follow

them into religious life.

In answering this call the

Franciscans are now in the latter

stages of preparing to build a formation

house where aspirants can

discern their vocation. Here local

women will deepen their Christian

education. Those who choose to

stay will on go to profess their vows

as religious women.

The order recently accepted

a quotation of $327,800 for the

building of the new formation

house. The two-storey building

will be simply finished in concrete

throughout, with tiling in

the bathrooms and laundry.

With $219,618 already raised

towards these costs, there is a

shortfall of $108,182 before they

can bring the new formation house

into reality.

Catholic Mission's National

Director, Martin Teulan, said the

formation house will build directly

on the legacy of missionary work of

the sisters in remote Zambia.

"It speaks of a living faith which

is putting down deep roots for

the future of the Catholic Church

in Africa. Through our donors,

Catholic Mission is assisting Sr

Marie to bring this worthy enterprise

to completion."

For further information on

how you can help with this

mission phone Catholic Mission's

Media Officer, Netta Kovach,

tel (02) 9919 7800 or visit

www.catholicmission.org.au
---
4 CatholicOutlook July 2010

At-risk youth start building for their future

Australia's first combined training, employment

and housing project for at-risk youth

was launched in Shalvey, addressing the

twin issues of extremely high unemployment

and homelessness faced by at-risk youth in

Western Sydney.

The first sod was turned to mark the

Affordable Housing for Life (AHFL) project's

launch on Friday 28 May by the Federal

Minister for Employment Participation,

Senator Mark Arbib, together with AHFL

trainees Robert, Mick, Jerome, Dane and

Steven who proudly attended the event.

"This project is a first in that it will give

young, homeless people real training, work

experience and shelter," Senator Arbib said.

The project participants at the launch were

aged between 15 and 18, all from extremely

disadvantaged backgrounds. They spoke

positively of their involvement so far with

the project's training component.

"It feels good," one of the participants said.

"I'll know it's something that I've done in my

life and I can actually live in it."

It is hoped that the Shalvey house will be

completed by the end of this year.

'Positive and productive lives'

The Shalvey house is the first of two

AHFL project homes (the other being in

Hebersham) that have been approved under

the new SEPP Affordable Housing-Supported

Accommodation, a more streamlined development

process for social housing providers.

The project aims to be fully self-sustaining

on completion of the first two houses.

The project was conceived by Marist

Youth Care (MYC), the largest not-forprofit

provider of residential care to youth

at risk in Western Sydney.

AHFL brings together MYC's expertise and

experience as a community housing provider

in partnership with BoysTown (employment

skills), Bridgeworks Employment and

Training (training skills), St John of God

Healthcare and St Michael's Family Centre

at Baulkham Hills.

According to Marist Youth Care CEO

Cate Sydes, the project aims to provide not

just a bed, but also the tools and support

at-risk youth need to lead more positive and

productive lives.

"MYC currently provides full-time residential

care for up to 120 at-risk young

people per night and outreach services for

1,000 young people and their families each

year," Cate said.

"The benefit of the AHFL project is that

it recognises the critical need for housing,

whist integrating a range of essential services

to provide a solution for these young people's

lives in working towards independence.

"The first intake of young people entering

the AHFL program are undertaking training

and are now working on-site after completing

their pre-employment training. They are

really excited at the prospects of constructing

what could be their own home."

At the launch of the Affordable Housing for Life project are (from left):

AHFL Manager William Rak, project participants Mick and Robert,

Senator Arbib and Marist Youth Care CEO Cate Sydes.

On-the-job training

The AHFL project is based on a Social

Enterprise Model, which provides paid work

and on-the-job training to enable young people

to successfully make the transition into

open and sustainable employment.

Implementation of the Social Enterprise

project has been supported by the

Commonwealth Government, which committed

$1,711,847 under the Jobs Fund

Program, and the Mercy Foundation, which

provided $60,000.

The project will focus on the

construction of 'green' dwellings to house

homeless young people or those at risk of

homelessness. At the same time as providing

access to affordable accommodation,

the project also offers national accredited

training, ongoing employment and the

opportunity to be socially included within

their local communities.

Project participants will be employed for

up to six months within the Social Enterprise

under the direction of a full-time supervisor

and will be paid award wages in the building

and construction industry.

Trainees will receive on- and off-the-job

training in a nationally recognised qualification

(Certificate II in Building and Construction).

Participants will also be eligible for safe,

secure and affordable permanent housing;

assistance into open and ongoing sustainable

employment; and other wrap-around mentoring

and health support services.

Project aims to

support Aboriginal

people to achieve

independence

A win-win partnership has been formed

between Marist Youth Care (MYC)

and the Marrin Weejali Aboriginal

Corporation. The two organisations

will "walk together" to proactively

and sensitively provide a means to

further close the gap in healthcare, life

expectancy and employment for the

Western Sydney Aboriginal community.

Through the partnership, the Community

Support Service Program (CSS) Yanna

Janawee (Aboriginal for 'walking

with me') has been established.

The CSS program will support Western

Sydney Aboriginal community members

and their families who need links to

a range of mainstream and Aboriginal

services in Blacktown and Mt Druitt.

Services may include welfare, social

support, family violence (including

drug and alcohol), housing, childcare

and legal advice. There will also be

free and readily available access

to the internet at both sites.

Marist Youth Care, a Western-Sydney based

organisation with more than 100 years'

experience in caring for young people at

risk of social inclusion, initiated the CSS

partnership after current statistics showed

that 42% of participants in MYC's Youth

Homelessness Program were Aboriginal.

The CSS program will act as an

information referral and assessment

bureau, identifying client needs

and enhancing access to the most

appropriate local support services.

By better linking Aboriginal people to

community services, CSS will improve

social inclusion and community

cohesion. The overall aim of the

project is to support Aboriginal

people in the Blacktown and Mt Druitt

areas to achieve independence.

FATIMA DAY – 13th JULY

Programme: 9.30am Confessions, 10.00am Exposition & Rosary,

11.00am Solemn Eucharist, 1.30pm Eucharistic Procession to

Grotto, 2.00pm Devotions at Grotto, 3.00pm Conclusion

Our Main Celebrant:

Fr Marek Dutkiewicz OSPPE

Member of the Community of Pauline Fathers

and Brothers at Penrose Park

DIVINE MERCY DEVOTION

THE THIRD SUNDAY EACH MONTH:

11.00am Holy Mass with renewal of marriage

vows followed by an individual blessing of

families with the most Blessed Sacrament.

1.30pm Devotions including Exposition of the Blessed Sacrament,

Chaplet, Benediction and veneration of relics of St Faustina.

18th July we remember those whose

anniversaries are between 31 and 35 years

Pauline Fathers' Monastery – 120 Hanging Rock Rd, Berrima NSW 2577 – Open daily from 8 am to 5pm

Although the address used for mail is Berrima please take care that you DO NOT divert off the Freeway to the village of Berrima as the Shrine is

some 15km further south. It is the 3rd right turn after McDonald's and Shell Service Station.

phone (02) 4878 9192; e-mail paulinefathers@bigpond.com.au; website www.paulinefathers.org

Bus contact numbers: Sydney (02) 9823 7763 or (02) 9642 3373; Northern Beaches (May & October only) (02) 9984 8988 Central Coast (02) 4329

3369 or (02) 4396 6549; Illawarra (02) 4274 1490; Shoalhaven (02) 4423 3330; Canberra/Queanbeyan/Goulburn (02) 6254 6202
---
CatholicOutlook July 2010 5

news and events from

St Monica's teacher receives OAM

Judy Gray, a teacher and parishioner

from St Monica's Parish and

Primary School at Richmond, was

awarded a Medal of the Order

of Australia (OAM) in this year's

Queen's Birthday Honours.

Judy received the award for her

service to the community through

music, sporting and emergency

service organisations in particular.

Having lived in the Hawkesbury

region her whole life, Judy has been

a long-term member of Richmond

Parish. She is an active member

of the parish's music ministry utilising

her many musical gifts to

enhance the parish's services. As

well as singing in the church choir,

she also sings with one of the local

community choirs, the Hawkesbury

Song Company.

Judy said she was overwhelmed

when she found out she had received

the award. "It's overwhelming for

me to have received this award. I

just wonder why me It's just the

way I live my life," she said.

"Encouragement came from my

mother and father who were both

keen sportspeople and musicians.

They always encouraged me to do

the best I could and pass on the

knowledge that I have gained. That's

why I wanted to become a teacher."

Parish priest Fr Walter Fogarty

said Judy was a very worthy recipient

of the award. "Her sense of

dedication and enthusiasm is truly

inspirational," he said. "The parish

is very lucky to have someone as

talented as Judy in its midst.

"Much loved by generations

of students and their parents the

announcement of the award has

been enthusiastically received

by the parish and the wider

Hawkesbury community.

"Not one to seek the limelight,

Judy humbly accepted the honour

after much soul searching about

her own worthiness to receive

the award. Characteristically, she

doesn't see what she does as being

anything out of the ordinary."

From the age of 10 Judy has

been involved in the Hawkesbury

District Concert Band and now, in

her capacity as musical director/

conductor, she leads the band every

year in the Anzac Day march.

She also plays the Last Post on

the bugle at school and local Anzac

celebrations. In previous years,

she taught the school band at St

Monica's and still lends her musical

talents on special occasions.

During her 27 years at St

Monica's Primary Judy has taught

all year groups from Kindergarten

to Year 6 and currently teaches

Years 3 and 4.

Principal Lyn Legrand said

Judy was a dedicated teacher who

was particularly committed to

encouraging boys to become more

engaged in their learning.

Judy Gray … inspiring students to achieve excellence

"Judy is a highly regarded teacher

at the school and always has the

children very much at the fore,"

Lyn said. "She is always inspiring

her students to achieve excellence

and has a particular passion for

finding ways to engage boys more

in their learning."

Also a tireless sportswoman,

Judy has played with the Richmond

Hockey Club since she was 12 years

old and now also coaches the club's

two teams.

Judy said she tried to live by Mary

MacKillop's challenge to 'never see

a need without doing something

about it'. On one occasion, Judy

walked into the Hawkesbury Show

Association to drop off some of the

students' artworks when she saw a

man surrounded by thousands of

student displays.

"I asked if I could be of some

assistance and I've been working

with the Hawkesbury Show

Association now for the past 10

years," she said.

Judy also became involved in the

Rural Fire Service in 1995 when a

state of emergency was declared

in the Hawkesbury. She volunteers

in a communications role and is

responsible for liaison between the

fire grounds and offices via radio,

phones and messaging. "My brothers

were volunteers with the RFS

and I knew they needed some help

so I joined," she said.

LUCRATIVE PRIZES FOR SENIOR SCHOOL ESSAY WRITERS

Campion College Australia has launched a very

lucrative essay competition open to students from

all schools. Open to Year 11 and Year 12 students,

the competition is designed to seek out and foster

academic excellence in the humanities. If you are

a good essay writer, this competition is for you.

Here are the conditions of entry

Select one of the following essay questions:

1. Who do you think has been one of the greatest

leaders in the course of history and why

2. "Because of the emergence of the internet, books

will soon have no role in education." Do you agree

Essay Length: 2,000 to 2,500 words.

Submission Date: 1st August 2010.

First Prize: $3,000. Second Prize: $2,000.

Third Prize: $1,000. 8 Highly Commended: $250 each.

Award Night: 18th October 2010

GET THE EDGE IN YEAR 12

Sir Winston Churchill

Come to Campion for a life-changing summer camp. This is a

great opportunity to learn vital skills for life and school.

19-23 January 2011: for Students entering Year 12 in 2011

The program is a short live-in bridging course from secondary to tertiary education,

with Leadership training; personal, social and spiritual development.

Get the edge: learn essential study skills before your fi nal school year.

Sample undergraduate teaching in literature, history, philosophy and theology.

Have fun with adventure and social activities.

Make new friends in a relaxed, non-competitive atmosphere.

Five days and four nights from $400.

Some scholarship assistance available.

APPLY NOW FOR CAMPION'S EARLY ACCEPTANCE SCHEME

If you are commencing your trial examinations in mid-2010, now is the time to

put in your application for the early acceptance scheme. Students who apply

to Campion before the HSC, and are eligible to enrol based on trial marks, will

have guaranteed entry to the Bachelor of Arts in the Liberal Arts degree.

OPEN DAY – SATURDAY 28TH AUGUST 2010

This year's Campion College Australia Open Day will be held on

Saturday 28th August. From 10am to 3pm. Mark your diary.

Our graduates are looking forward to their roles as teachers,

lawyers, doctors, and many other careers.

Campion Mid-year

Enrolments Now Open

Applications are now open for students to enrol at Campion for its

mid-year intake. You may have already commenced at university but

are fi nding that it is not what you expected it to be or you may be a

mature-age student who wants to make the leap to a bachelor degree.

Campion's mid-year intake commences on Monday 2 August.

Arrange a campus visit now by calling (02) 9896 9300.

To fi nd out more about Campion

Phone (02) 9896 9300

or visit: www.campion.edu.au
---
6 CatholicOutlook July 2010

Fr Gerry Iverson celebrates

golden jubilee of ordination

Virginia Knight

At times self deprecating despite

the many achievements in his

priestly ministry, but with a wonderfully

wry sense of humour, Rev

Gerry Iverson celebrates his golden

jubilee this month.

Exactly 50 years to the day of

his ordination on 16 July 1960,

Fr Gerry will be joined by Bishop

Anthony, parishioners and friends

from across the Diocese at Our

Lady Queen of Peace Parish for

Mass at 7pm followed by a reception

in the parish hall.

The eldest of four children (he

has two brothers and one sister)

Gerry Iverson was born in 1937 to

Claude and Kathleen Iverson. He

grew up in Albury and was educated

at St Patrick's Primary and

Christian Bros College.

After completing his schooling,

the young Gerry went straight into

the seminary in 1954 at just 17

years of age. "Later at Manly, I used

to tell my own students that had I

been the rector of the seminary at

the time I would have said, 'Gerry

Iverson go away and grow up a bit

and come back later on.'"

He said a number of things drew

Fr Gerry Iverson, parish priest

of Our Lady Queen of Peace

him to priesthood. "It was a vocation

which had a lot more prestige

attached to it than it does now," Fr

Gerry explains. With such a strong

Irish Catholic presence in the parish,

the priest at that time was

almost an icon in the community.

One of the teachers at his high

school also had a very strong

influence on his decision to

become a priest. "Br Tom Davitt,

a Christian Brother, was a wild

eccentric Irishman, but his love of

the priesthood was profound and

his influence on us was extraordinary.

It seemed like a very fulfilling

kind of vocation."

Gerry spent two years at the seminary

in Springwood, and a further

seven years at Manly, including

two years of graduate studies.

His first appointment was in

1963 to the parish of Junee as second

curate. He did "a lot of knocking

on doors" for home visitation

and set up a young people's group.

After 12 months at Junee he was

transferred to the Cathedral parish

at Wagga Wagga as fourth curate

for four years. "I was the bottom of

the barrel," he said grinning.

Following a three-year appointment

at Griffith he returned to

the Cathedral as Administrator

from 1973-78 under Bishop Frank

Carroll. As the leader of the parish

team, it was during this time that

Fr Gerry began working officially

in the ministry that has been one of

the focuses of his priesthood.

Working with counsellors from

Charles Sturt University and other

Christian clergy he helped to establish

a marriage and personal counselling

service in Wagga, which was

similar to the type of service now

provided by Centacare.

In 1979, Fr Gerry returned to

academia in a very different way

as he puts it, when he went off

for a 'mid-life re-education' at the

Institute of Pastoral Studies in

Chicago in the US.

He completed a Masters degree

with a wide scope for developing

pastoral skills, updating his knowledge

of theology and scripture, psychology

and understanding human

behaviour. He said this was a wonderfully

enriching period in his life.

On his return to Australia, he

accepted an appointment as curate

in Albury and then Griffith while

becoming Director of Marriage

Education and Family Support

for five years in the Diocese of

Wagga Wagga.

From 1985-90, Fr Gerry was rector

of the seminary at St Patrick's

College, Manly. "And God laughed,"

he said. "It was a rewarding experience

to be in charge of the formation

of these young people and

dealing with their enthusiasm and

their questions of commitment;

facing up to the realities of inconsistency

and human failure, and all

the things that can interfere with

the best of our intentions."

Archbishop Ted Clancy sent Fr

Gerry to look at what was happening

in formation at seminaries

around the world for three

months. He came back determined

to ensure the students were more

active in the evaluation process of

their formation experience than

they had been before.

He aimed to produce a fairer

process of participation in which

they would give the educators

feedback and they, in turn, would

react and respond. It was an enjoyable

but challenging time, and he

feels he worked harder there than

anywhere else in terms of a sense

of responsibility.

However, he missed the variety

of closeness with families that parish

ministry brings. "It was in one

sense a desert experience. But, of

course, in the desert the flowers

bloom after the rain comes; so it

was also a very rich experience."

Looking for a change of pace, he

then applied for temporary work

Fr Gerry is grateful for the support of the parish team including (standing,

from left): Louise Woefl, Sacramental Coordinator; Sabine Harriss, Parish

Secretary; Sr Helen Cunningham OP, Pastoral Associate; Fr Zakaria

Gayed, Assistant Priest; and Richard Ward, Parish Manager (seated).

in the Diocese of Parramatta.

Bishop Bede Heather sent him to

Mt Kurrajong House of Prayer,

which was a much more relaxed

lifestyle in comparison to his time

at the seminary.

Once he was incardinated in

Parramatta, he was appointed to

Our Lady Queen of Peace Parish.

Fr Gerry came to Greystanes on

Easter Sunday 1994 in the fallout

of the sexual abuse accusations that

had seen the Brothers of St Gerard

Majella depart that year and the

parish subsequently handed back

to the diocesan clergy.

Fr Gerry was faced with another

career challenge, this time to rebuild

and reunite the parish. He saw his

job as reinforcing the positives

achieved by the brothers during

their administration, and focussed

on high-quality liturgy and a strong

adult formation program.

While many felt disillusioned

and walked away, many others

recognised the chance of a new

beginning. Now in his 17th year at

Greystanes, Fr Gerry is proud that

the parish has achieved a sense of

ownership. "There is a significant

number of people involved in ministry

and the quality of the leadership

is extraordinary," he said.

But by far the most enduring

part of Fr Gerry's ministry has

been assisting in marriages. At

Greystanes, he has enjoyed preparing

couples for marriage and

watching the growth in their

understanding of the challenges

and the strengths they develop

with each other.

"The best thing about being a

priest is the entrée card it gives

you into people's lives. You can be

with them in their most precious

moments, their moments of grace.

"It is not just the celebration of

the sacraments that is important,

but the sharing of the joy and

the sorrow, struggles and hopefulness,

and all those human emotions

that go with those different

stages of life."

The hardest part is sometimes

the loneliness. "The biggest burden

as one grows older is the sense of

loss of sharing in the most common

of human experience; that of

raising children and being a father,"

he said.

"What helps you to cope is the

trust people bring to you in inviting

you to be a part of their family

life. The cultivation of friendships

is the essential counterpart of

priestly ministry. You are a friend

to a great number of people and it

is a great support in maintaining a

priestly ministry."

As he prepares to celebrate 50

years of priesthood, Fr Gerry cites

the words of Jesus in John 10:10

as his choice in Scripture: "I have

come that they may have life and

have it to the full." He feels it sums

up the priesthood and Christian

life, and is a most wonderful way of

living a fulfilling human life.

Fr Gerry will celebrate his golden

jubilee with a Mass at 7pm on 16

July followed by a reception in the

parish hall. For catering purposes,

please advise the parish if you will

be attending tel (02) 9631 8135.
---
CEO Sleepout raises $2.6m

Evan Ellis

This year for the first time the

Society of St Vincent de Paul's

CEO Sleepout went national, raising

more than $2.6 million. The

CEO Sleepout is part of Vinnies

Winter Appeal, which aims to

raise awareness about homelessness,

and to raise funds for Vinnies

homeless services.

ABS figures show more than

100,000 people do not have a home.

While this statistic refers to a lack

of housing, homelessness is an issue

beyond mere bricks and mortar.

The reasons for homelessness,

like the makeshift dwellings

or the people themselves,

are diverse. Prime Minister Rudd

has rightly called homelessness a

"national obscenity".

The onset of winter only worsens

the situation. Earlier this year a

pretty nasty debate broke out about

whether homeless people should be

blamed for their predicament.

One of the most insightful voices

in that public discussion came

from Dr John Falzon, CEO of St

Vincent de Paul's National Council.

"Everyone has a story. And they

don't happen in limbo," he said.

"They happen in the context of

developing social and economic

structures. Each person's story is a

unique intersection of the personal

and the political. Each intersection

continues to change."

We all make choices. We do so in

a broader context, e.g. maybe you

have chosen to go overseas recently.

Why Because you love travel.

That's the personal. But maybe you

only did so because flights were

cheap. This was because carriers

needed to remain competitive during

the global financial crisis, which

was triggered by the bursting of

the US housing bubble. That's the

political. Together they make what

Dr Falzon calls an 'intersection'.

Homelessness is similar. Dr

Falzon attempted to move the

debate beyond apportioning

blame to being aware of these

intersections, particular when

"choices are constrained for those

… systematically locked out of the

nation's prosperity."

This winter we should remember

those left out in the cold

and support organisations like

Vinnies, which offer 'a hand up,

not a hand out'.

Volunteers are needed for

the Vinnies Winter Doorknock

Appeal in August. To register

as a volunteer or make a donation

call (02) 9689 1900 or go to

www.vinnies.org.au

Evan Ellis is the Diocesan Social

Justice Co-ordinator tel (02) 8838

3413, eellis@parra.catholic.org.au

Bishop Julian Porteous blessed the natural burial ground (from left):

Peter Ward, Chairman of Catholic Cemeteries Board; Minister Tony

Kelly; and Michael McMahon, CEO of Catholic Cemeteries Board

Natural burial ground

The NSW Minister for Lands, Tony

Kelly MP, opened Sydney's first natural

burial ground on 17 June, saying

that it offered a cheaper, more

environmentally friendly choice for

families when it came to farewelling

loved ones.

Mr Kelly commended the

Catholic Cemeteries Board's

initiative at St Francis Field,

within the grounds of Kemps

Creek Cemetery.

The field was blessed by Bishop

Julian Porteous, Auxiliary Bishop of

Sydney and Chairman of Catholic

Earthcare Australia.

Minister Kelly said natural burial

grounds responded to an emerging

need within the community for an

interment option more environmentally

friendly than traditional

burials or cremation.

Burials in St Francis Field will be

in biodegradable coffins and will

not be marked by traditional headstones

– instead they are designed

to blend back into the natural setting

of the field.

CatholicOutlook July 2010 7

This reduces the need for

manicured grounds and reliance

on chemicals – creating a lowcarbon

option.

Bishop Julian said that as

Chairman of Catholic Earthcare

he had a particular interest in

this form of burial. "It combines a

greater environmental consciousness

together with respect for the

dead," he said.

"Some Catholics may have a sensitivity

to an environmental cemetery

but, in time, I believe they

will grow to accept it. St Francis

Field will be a place of memorial,

remembrance and prayer."

The latest GPS technology is

used to ensure the location of the

deceased is noted and recorded.

At the front of the burial area there

will be an acknowledgement of each

person buried there in the form of

a plaque. There will also be a place

set aside for prayer and reflection.

Tenure is also limited to 30 years,

with the option to renew if desired.

In this way St Francis Field may

become a sustainable burial ground

for generations to come.

"No doubt natural burial grounds

will become a popular option for

many families over time," he said.

Mr Kelly said that the

Government would continue to

work with its Crown Cemetery

Trusts in exploring more opportunities

for natural burial grounds

and other sustainable ways of managing

the State's cemeteries.
---
8 CatholicOutlook July 2010

A new way of praying …

Rev Peter Williams

The words we use when we pray

publicly are very important.

They are important because

they help shape our religious

consciousness and they tell us

about who we are in relationship

to God and to one another as

members of the Body of Christ.

In the last half of 2011 we will

begin using a new translation of

the Roman Missal, which was

recently approved by the Holy See.

It has been a long process to get

to this point, which began after

the publication of the third edition

of the Missal in Latin in 2002.

For the past eight years the

International Commission on

English in the Liturgy (ICEL) has

been translating the Missal and

sending segments of it to the 11

English-speaking conferences of

bishops that make up ICEL.

There have been lots of

suggestions made about how

to translate the text. Late last

year the Australian Catholic

Bishops Conference voted on

the final segment and the entire

Missal was sent to Rome for

recognitio by the Holy See.

This Missal contains the

texts for the Order of Mass,

Solemnities and Feast Days of

Saints, the Proper of Seasons,

and Masses for Various Needs

and Occasions and Votive Masses

and Masses for the Dead.

Added to this will be specific

Australian observances like

the Feast of Mary MacKillop,

Australia Day and Anzac Day.

The way in which Mass is

celebrated will not change from

the way it is celebrated now, but

when we start using the new

Missal we will be introduced to

some new responses, and some

of the parts of the Mass that we

currently have become familiar

with have been re-translated.

This will mean that we will

have new musical settings to

the Mass as the Gloria (Glory

to God in the Highest) has

been translated so that it is

much closer to the Latin text.

There is a slight change in the

Sanctus (Holy, holy …) and the

Memorial Acclamations have

been re-translated. The Agnus Dei

(Lamb of God) remains the same.

Perhaps one of the biggest

changes we will need to adapt

to is the greeting response to

the priest. We currently say

"And also with you", but the

new response will be "And with

your spirit", which is closer to

the Latin "Et cum spiritutuo".

To help explain and

introduce the changes, the

National Liturgical Council

will prepare material in the

form of bulletin inserts, homily

notes, commentator's notes,

laminated cards and PowerPoint

presentations with the new texts

that will assist congregations in

preparing for the new translation.

Also available will be a DVD

resource entitled: "Become One

Body, One Spirit in Christ",

which will be used as the

principal resource in all the

English-speaking countries.

In the Diocese of Parramatta

in preparation for the changes

there will be a process of

education for the clergy and also

for the people of the Diocese.

This will take place over a

number of months before we start

using the new translation. I am

sure that at first we will find some

discomfort using the new texts but

just as people adjusted to the Mass

going from Latin to English in

the late 1960s and early 1970s, we

will soon be using the new texts

and responses with confidence.

Rev Peter Williams is Director

of Liturgy in the Diocese of

Parramatta and Executive

Secretary of the Bishops

Commission for Liturgy.

The new Missal will include specific Australian

observances such as the Feast of Mary MacKillop

Western Sydney Doorknock Appeal

is on again over two weekends:

21-22 August & 28-29 August 2010

Now it is winter and the overnight temperature drops to almost

zero degrees. A growing number of people are experiencing homelessness

and poverty in Western Sydney and the Blue Mountains.

Homeless families have been known to spend cold nights sleeping

in a rundown car. Others may not be able to afford electricity, gas or

firewood to heat their homes or buy food to feed their families.

We need your help to assist with doorknocking for three hours. It is a

great way of having fun, exercising and meeting people in your area

while collecting money for a good cause.

To register as a volunteer for the Doorknock Appeal

Tel (02) 9568 0253 or go to www.vinnies.org.au

Your gift today will give someone

a different tomorrow.

You can make a donation at: www.vinnies.org.au
---
More insurance options

and improved flexibility

VOLUNTEERS NEEDED

Chisholm Cottage, Westmead

Chisholm Cottage provides low-cost, short-term

accommodation for friends and relatives of

country people attending Westmead Hospitals.

It is owned and operated by the

Catholic Women's League (Aust),

Diocese of Parramatta Inc.

The Cottage needs volunteers to assist with

house duties, to answer the phone, etc,

once a month, from 9.30am to 1.30pm.

For more information please ring

Chisholm Cottage tel (02) 9633 4228

and leave your contact details.

The Australian Catholic Superannuation

& Retirement Fund

(ACSRF), Australia's largest

Catholic superannuation provider,

has improved its insurance offering

for members to provide greater

benefits and flexibility without

increasing premiums.

ACSRF chief executive Greg

Cantor said the changes would give

members more options when it

comes to their insurance, as well as

the ability to take advantage of special

offers to increase their cover if

they need it.

"We're delivering an enhanced

suite of products to our members

for the same low price they're used

to," he said. "Australia is one of

the most underinsured countries

in the developed world. We hope

these changes will have a positive

effect in helping to reduce the size

of this problem."

Under the changes, the dollar

value for each unit of Death and

Total and Permanent Disablement

(TPD) cover has increased between

8% and 28%, depending on age,

with the cost per unit remaining

the same.

Members can increase their coverage

without underwriting during

a special offer period and are able

to choose either age-based unitised

or fixed-rate cover. Cover has also

been extended from age 65 to 70.

ACSRF has increased the

income protection benefit from

75% to 85% of salary. Claimants

will receive the majority (75/85ths)

of their benefit in a lump-sum pay-

Mr Greg Cantor

ment with the remaining 10/85ths

now being directed to their superannuation

account.

"The Trustees of the Fund want

to make sure members' superannuation

is looked after even when

they're ill," Mr Cantor said. "It's

just another way we're helping our

members prepare for a comfortable

retirement."

ING is continuing to underwrite

the insurance and has provided

the improved cover because of the

fund's favourable claims experience

with the insurer.

Detailed information on the

changes can be found online at

www.catholicsuper.com.au and

in the fund's Product Disclosure

Statement and Insurance fact sheet

(available online from 1 July 2010).

New Chairman appointed

Richard Haddock has been appointed

the next Chairman of ACSRF,

effective 1 July 2010. Richard

replaces Br Kelvin Canavan FMS

AM, who has been a member of

the Trustee Board since 1993 and

Chair for the past three years. The

fund currently has nearly 90,000

members and $3.9 billion assets.

Mr Haddock commenced

his professional life as a lawyer

with Blake Dawson Waldron. He

then spent a great part of his

career with BNP Paribas and was

Deputy General Manager of the

Australian operation at the time

of his departure.

Mr Haddock is on the boards

of several organisations. He is

Chairman of Commonwealth

Managed Investments Ltd, and

CatholicCare. He is a director of

Tishman Speyer Australia Ltd and

Retirement Villages Group Ltd. He

is honorary treasurer and a national

director of Caritas Australia.

CatholicOutlook July 2010 9
---
10 CatholicOutlook July 2010

BISHOP ANTHONY FISHER'S HOMILY

Solemnity of the Body and Blood of Christ and Institution of Lectors

St Patrick's Cathedral, Parramatta, 6 June 2010

On 22 September 1871, the Bishop

of Adelaide, Lawrence Shiels,

excommunicated the 33-yearold

foundress of the Sisters of St

Joseph of the Sacred Heart. Mary

MacKillop's resolution, independence

and success had won her

admirers but also enemies, and the

whispering campaign reached the

ears of the bishop who reacted with

alarm and cut her off.

You might say that this year she'll

get her own back, as she is 'raised

to the altars'.

One internet site now names

her "Patron Saint of Opponents

of Church Authority": NOT, I

suspect, a title approved by Pope

Benedict XVI for her October celebrations,

nor one Mary would

have wanted herself.

Mary of the Cross was always

a woman of the Church and harboured

no bitterness. Rather than

defy her 'poor dear bishop', as she

called him, she obeyed and was

soon exonerated by a commission

of other bishops and reinstated.

Her vision for her congregation

was in due course confirmed

by Rome. The hierarchy of the

Church were as often her protectors

as her problems.

In the Apostles' Creed the sacraments

of Holy Communion and

Confession are described as "the

communion of saints and forgiveness

of sins", and so central are

they to our faith and practice that

they are linked to life everlasting,

that other Communion of Saints to

which Mary now belongs.

No doubt, as Mary MacKillop's

story is retold this year, her excommunication

will be used as an

example of the tyranny of authority,

but this will miss the point

that Mary so loved the Eucharist

that to be cut off from it, even for

a day, was a terrible trial. Perhaps

as a result of getting it so wrong

with her, Australia's bishops rarely

excommunicate anyone …

Yet there are ways that we can

cut ourselves off from communion.

Every Catholic knows, or should

know, that going to Communion

shouldn't be automatic. We should

not go just out of habit or because

there is a queue to join.

To receive Holy Communion

we must be baptised and Catholic

ourselves, we should believe in

the Real Presence and the rest

of the Church's faith and morals,

and be genuinely trying to live

those beliefs.

Normally, we should have fasted

for an hour or more. Above all, we

must be well disposed: we should

only open our mouths to Christ if

we have already opened our hearts

to Him.

If we are filled with anger or

hate towards God or neighbour,

if we are so distracted by other

things that we have not given the

readings and prayers of the Mass

the slightest attention, maybe we

should abstain.

We certainly should not go to

Communion if we are conscious

of any grave, unconfessed sin –

but rather go to Confession, as

soon as possible, and in the meantime

attend Mass reverently but

without receiving.

Our communion is both with

Christ's body the Eucharist and

Christ's body the Church and

we must be in full communion

with both to line up for

Holy Communion.

This teaching of the Church

is no new thing. In our Second

Reading (1 Cor 11:23-36) we

heard Paul, writing to Christians

in Corinth, to remind them how

sacred is the Eucharist.

He recalls its Institution: how on

the night He was betrayed, Jesus

took bread and wine, gave thanks

and said, "This is my Body, which

will be given up for you … This

is the cup of my Blood, the Blood

of the new covenant. Do this in

memory of me."

Paul had to remind the

Corinthians of the seriousness of

what they were doing, because some

were taking it for granted. The very

next verse after our reading (v 37) is

especially telling: "Therefore, anyone

who eats the Lord's Bread or

Seminarians Leo Napuli, Alfredito Dalagdog and Niño Canete were installed in the Office

of Lectors of God's Holy Word. Photography: Alphonsus Fok and Grace Lu

Bishop Anthony Fisher's homilies are

archived on the diocesan website

You can read the Bishop's monthly Letter in Catholic

Outlook, his pastoral messages, and addresses. The

website also has media galleries with photos and

videos, information about joining the priesthood, and

profiles of priests in the Diocese of Parramatta.

Visit: www.parra.catholic.org.au

drinks the Lord's Cup unworthily

profanes the Body and Blood of

the Lord. So let each man examine

himself before he eats of that Bread

and drinks of that Cup."

Of course, none of us is perfect

when we come to receive the

Blessed Sacrament. Our faith is

often weak and our knowledge of

it imperfect; our daily lives are a

mixture of good deeds and not so

good, heroic generosity and more

mediocre humdrum, virtuous

deeds that make virtuous character

and, sadly, sins and those

habitual sins we call vices.

The Church is for sinners and

would look pretty silly without

them, rather like a hospital without

patients. On that huge cross in our

Cathedral we are confronted with

the stark fact that God so loved the

world He gave His only Son, gave

Him into the hands of sinful men.

Rather than keep Himself secure

and clean, God gave Himself into

our hands as a fragile babe at

Christmas and as an innocent victim

on Good Friday.

At Corpus Christi we consider the

awesome fact that God still gives

Himself into the hands of sinful

men, at every Holy Communion, as

we receive the host into our hands

and tongues and persons.

As God did not will to remain

always safe in heaven, He does not

will to remain always secure in

the tabernacle. On this Solemn

Feast, all around the world, He

will be received at altars, or paraded

through street processions,

or exposed for Adoration and

Benediction. At each place He will

be received into souls less than perfectly

ready.

But at the very least, we must

be ready and willing to be transformed

by Him and into Him,

even as He transforms bread

and wine into His very body and

blood, body and soul, humanity

and divinity. We must not stubbornly

resist conversion to His

ways, as if we knew better.

We must receive God at

Communion not just out of habit,

not just because there is a queue

there and we have always joined it,

but as an expression of and food

for a genuinely Christian life, a life

lived especially for Christ and His

little ones – the orphans and widows,

the unborn, new-born and

the soon-to-die, the refugees and

the dispossessed.

When we say Amen to the Sacred

Host and the Chalice before us, we

say 'yes' to embracing the whole

life of the Gospel. We say 'yes' to

receiving Christ into our bodies

and souls. 'Yes' to then taking Him

out to the world: out to our homes,

workplaces, shopping centres,

schools, leisure activities, the public

square and all its institutions.

We say 'Amen' to then bringing

that world back to Christ, next

week at Mass, so that He might

transform our world and ourselves

with the bread and wine, into the

Communion of Saints.

Dear sons in Christ, Leo

Napuli, Alfredito Dalagdog and

Niño Canete, seminarians for the

Diocese of Parramatta: today you

will be installed in the Office of

Lectors of God's Holy Word as

part of your journey to that day

when, as priests of Jesus Christ,

you will consecrate the Body and

Blood of the Lord yourselves.

It was through Christ His Son

that God the Father revealed the

mystery of salvation and brought

it to fulfilment. Having made

all things known to us Christ

entrusted to His Church the mission

of preaching the Gospel to

the whole world.

From today you will share in that

mission as readers and bearers of

God's word. As ministerial Lectors

you will proclaim the Word of

God in the liturgical assembly. You

may instruct children and adults in

faith, and prepare them to receive

the sacraments worthily. You will

bring the message of salvation to

those who have not yet received it.

With your help people will come

to know God and so be able to

reach eternal life.

In proclaiming the Word to others,

accept it yourselves in obedience

to the Holy Spirit. Meditate

on it constantly, so that each day

you will have a deeper love of

the Scriptures, and in all you say

and do show forth to the world

our Saviour, Jesus Christ, our

Eucharistic Lord.
---
CatholicOutlook July 2010 11

What happens at Mass

Indeed a number of things

happen at Mass. Mass, or

liturgy, is the source and summit

(CS10). In the liturgy, God

is acting – it is God's action.

God acts to save us. What

higher summit can one hope

to achieve It is a huge event.

The entirety of God's saving

love is concentrated in the

ritual action and words of the

Eucharistic liturgy. It is a gift.

It is not immediately

understandable – it is a mystery

and, being a gift, cannot be

defined in our terms. God

defines the meaning within the

liturgy and we deprive ourselves

of the gift if we attempt to

manipulate the liturgy so that

it is meaningful on our terms.

Being the summit, it is

arrived at slowly and with

care and effort. The liturgy

requires our initiation through

Baptism, Confirmation and is

ongoing through the Eucharistic

liturgy. The liturgy is a ritual

and, therefore, it is through

the repetition that a gradual

deepening of understanding

and engagement occurs.

It is the form of the ritual

that delivers a content. Not

an intellectual content to be

grasped with the mind, but

an actual event; nothing less

than the very event of our

salvation. If we come not

prepared to be open to this

form, we run the risk of leaving

the same way as we came.

The ritual can take us out

of ourselves and beyond

ourselves. The very forms

themselves – the Word, the

bread and wine, the movements

of people and priest – become

saturated with significance.

The Mass is about love; that

is, the Mass is an encounter.

It is an encounter with God

through Jesus Christ. The

Jesus who was crucified and

rose from the dead is Lord and

God. It is through this new

relationship that the liturgy

changes us and offers us a new

relationship; a new way of being.

Every relationship needs to

be experienced and Mass is

the foundational experience

of our relationship with God

through Jesus, experienced and

celebrated in all its fullness.

It is through this relationship

and constant conversion that

we are able to engage in all

other relationships. It makes it

possible for us to love others as

we have been loved by God.

The Mass ends as it began

– with the sign of the cross:

the Trinitarian formulae that

is the embodiment of this

relationship. It is in the name

of this relationship that we

are sent forth into the world.

living

JULIE KELLY

As the assembly, the Church

has been transformed through

the liturgy, so it is the Church

that goes out and on to be the

Body of Christ in the world.

That is, to be the baptised,

transformed through the

Eucharistic liturgy and

transforming through the new

relationship in love. "There

is no greater love than this"

and it is only this love that

can transform the world.

The liturgy changes us and offers us a new relationship;

a new way of being. Photo: David Tang

Monaghan

& Gleeson

FUNERAL DIRECTORS

R
---
12 CatholicOutlook July 2010

Building on a once in

a lifetime opportunity

Over recent months, there have been many news

stories regarding cost blowouts of some school

projects under the Australian Government's

Building the Education Revolution program.

Comparisons with the Catholic school sector

have shown that Catholic schools have been

able to achieve better value for money,

overall, for their building projects.

Recent claims that the Catholic school

sector has achieved value for money with

buildings that are inferior to our public school

counterparts are absolutely not true.

All building projects in the Diocese of Parramatta

are architect designed, fully engineered, permanent

constructions that will last as long as any building.

I had the opportunity to speak to a Senate

Hearing recently with Bishop Anthony about

the response by our Diocese to the Building

the Education Revolution program.

From the beginning, in our Diocese we have

looked at this program as a once in a lifetime

opportunity. Australian schools have not seen, nor

will likely see again, the level of investment into

school buildings and educational infrastructure.

We have worked with our local school communities

to ensure that improving learning and teaching is at

the centre of our planning and design of projects,

and that our infrastructure will stand the test of

time and benefit students now and in the future.

I am extremely pleased with the response by our

school communities and our facilities team at

the Catholic Education Office who are managing

this significant program exceptionally well.

To date, 76 schools have completed their

National School Pride projects for minor building

and maintenance works; of the 54 projects

funded under the Primary Schools for the 21 st

Century program, 80% have commenced onsite

construction with funding of up to $3 million per

school to build multipurpose halls or learning

spaces; four secondary schools have commenced

onsite construction of language learning centres

under the Science and Language Centres for

21st Century Secondary Schools program

with funding of $1.97 million per school.

While most of the construction will be

completed over the coming months, the

important work of improving learning and

teaching in our schools will continue.

This once in a lifetime opportunity allows

us to build on our work of ensuring our

schools deliver a world-class Catholic

education for every student in our care.

Greg Whitby

Executive Director of Schools

Diocese of Parramatta

Twitter: gregwhitby

Blog: bluyonder.wordpress.com

When diversity is the norm:

Inclusive practices in action

In a world of increasing diversity, how do schools respond to the challenge of meeting the individual needs of

students to deliver personalised, relevant and meaningful learning

Jan Heyworth, Elizabeth Rowe and Gabrielle Stehr

Why value diversity

The increasing diversity in

contemporary society poses

considerable challenges for schools

and school systems in meeting

the needs of all students.

Catholic education in the Diocese

of Parramatta approaches this

diversity within the context of our

Catholic worldview, central to which

is an appreciation of the sacredness

and dignity of the human person.

Honouring the diversity of all people

is, therefore, a key principle of learning

and teaching in the Diocese.

The range of needs across the

whole student population, including

those young people with learning

difficulties, disabilities or complex

personal, social or emotional needs,

increasingly means that diversity is

the norm for schooling in today's

world. All students have specific

learning needs that must be met.

When we see student need in

terms of diversity, we avoid the

possible stereotyping and lowered

expectations that can come from an

approach that labels students as above

or below a set norm or average.

Labelling tends to identify difficulties

or differences in learning in terms

of deficiencies or impairments.

By contrast, a diversity model

focuses on the student's strengths

and what he or she can achieve.

Our diocesan system of schools

responds to the challenge of meeting

the diverse needs of students by

placing the students at the centre

of learning and teaching.

The underpinning principle

is to focus support at the school

level where it makes the most

difference to student learning.

Since the quality of the teaching is

the critical factor in how well students

learn, support is located as closely

as possible to the learning space.

Therefore, the quality of the

relationship between the student and

teacher is crucial. These relationships

are strengthened when teachers work

and learn together about how best to

meet the needs of their students.

Catering for diversity through

inclusive practice

Inclusive practices, based on the

principles of quality and equity, respond

to diversity through an invitation to

participate in learning together.

They are not additional to existing

practices, but are a way of working

to increase the participation of all

students and all adults within an

inclusive school community.

Inclusion is not the same as

integration or mainstreaming.

Integration is the process of placing

students with additional needs into

regular schools and classrooms,

with supports introduced to assist

the student to fit into existing

school structures and programs.

By contrast, inclusion emphasises

how schools respond flexibly to the

individual needs of every student.

St Margaret Mary's Primary,

Merrylands is a school in which the

individual needs of every student are

met within an inclusive framework.

Principal Carmel Agius explains

that the learning needs of all students

are met by flexibly providing the

resources necessary to support

their individual learning.

"This means the students with

additional needs learn alongside

their peers with appropriate supports

provided by their classroom teacher,

learning support teacher(s), peers

and other adults working in the

learning spaces," she said.

"Similarly, students who are

academically gifted are provided

with opportunities to extend their

learning within the learning spaces."

At the heart of inclusive practice:

Student-centred planning

A diversity model does not distinguish

between students on the basis of

disability or non-disability, instead

regarding all students as individual

learners with their own strengths,

competencies and identities.

Catering for diversity means

taking a strengths-based approach

to each student that builds upon

what learners know and what they

believe about themselves as learners.

Student-centred planning is about

classroom teachers personalising the

learning for students, including those

students with specific additional needs.

This work is complex and is best

done when teachers collaborate with

each other, with specialist teachers

within the learning support team,

and with school leaders to plan how

their students' needs can be met.

Central to this team approach

is collaboration with teachers and

leaders working and learning together

on real and often complex issues of

learning and teaching both within,

and beyond, the learning space.

At St Columba's High School,

Springwood the learning support

coordinator works with teachers
---
to build their capacity to respond

to the diverse needs of student.

The learning support committee, which

consists of representatives from different

areas of the school, looks at the different

learning needs across the curriculum.

Principal Delma Horan said collaboration

is the key when responding to diversity.

"We believe that all students can

learn and that the gifts and talents

of the individual learner should be

recognised, as well as the areas that need

support and development," she said.

"We can do this by working together

to both know our students' learning

needs and by employing specific

strategies that are best able to make

the difference for the learning.

"The teacher assesses where the

student is at now and where they need

to be. By working with the student, the

teacher identifies ways to close the gap.

We are a learning community that is the

richer for the diversity of its learners."

How does it work in practice

All good teaching begins by knowing

the learner. Teachers begin building a

picture of each learner with an assessment

of the student's learning needs. The

learning issue could be academic,

social, behavioural or emotional.

Essential contribution of families

The knowledge, wisdom and experience

of families are essential components

of student-centred planning. Parents

know their own children better than

anyone else and this "expert knowledge"

needs to be respected and drawn upon

throughout the planning process.

Step 1: problem solving

with a colleague

When a teacher identifies that he or

she needs to know more about how

or what to teach so that a student can

take the next step, the teacher problem

solves with a colleague(s) to develop and

implement a teaching plan to address

the identified need of the learner.

Step 2: teacher collaborates with

leadership team member

If additional support is required the

teacher seeks the assistance of an

appropriate leadership team member.

All relevant data such as student work

samples and formal assessment data is

analysed. The teacher and leadership team

member develop a plan together that

includes a way of monitoring progress

and facilitating ongoing collaboration.

Step 3: wider collaboration

with school support team

If concerns continue, a meeting of the

school support team is convened led by a

member of the leadership team. The team,

which may include the school counsellor, as

well as the learning support teacher and the

classroom teacher, collaborate across their

areas of expertise to support the teacher in

meeting the specific needs of the student.

Step 4: school and system collaboration

The school support team may decide that

the student's needs require additional

expertise from beyond the school. This

may result in a request for support from

specialist staff within the Catholic Education

Office for further collaboration, input

and planning. Key responsibility for the

student's learning needs remains, however,

with the student's regular teacher(s).

Supporting student self-discovery

The diversity model has the studentteacher

relationship at its heart. Students

are more engaged when learning is

connected with their passions and

when their learning is personalised,

focused on building achievement, and

on developing the talents of the child.

St Canice's Primary, Katoomba is

focusing on students' passions and

talents through an initiative called

Movies for the Minds (M4M). M4M is

a project where students film, edit and

present movies at a festival that capture

some of their learning experiences.

Principal Paul Devlin said Movies for the

Minds engages the students and provides

freedom to create in such a way that allows

personal expression for students of all ages

and learning capabilities. "The learning

environment allows students to naturally

discover their own interests and we have

found that they really want to learn."

Sources:

Carrington, S. (1999) Inclusion needs a

different school culture. International Journal

of Inclusive Education 3(3), 257-268.

CEO Parramatta, (2010) Theory of Action. Sydney:

Catholic Education Office, Diocese of Parramatta.

CEO Parramatta, (2009) Statement on Learning. Sydney:

Catholic Education Office, Diocese of Parramatta.

Robinson, K. and Aronica, L. (2009) The

Element: How Finding Your Passion Changes

Everything. New York: Viking.

Snelling, J. (2007) Including students

with disabilities: A curriculum toolkit for

schools and teachers. Melbourne: Royal

Children's Hospital Education Institute.

Jan Heyworth is the Head of Religious Education

and Learning Services and Elizabeth Rowe

is the team leader, Student Services for the

Catholic Education Office Parramatta.

CatholicOutlook July 2010 13

St Monica's officially opens new multi-purpose learning centre

A special ceremony was held at St Monica's

Primary, North Parramatta on 28 May to

officially open and bless the new multipurpose

learning centre. The learning spaces

were blessed by Bishop Anthony Fisher OP

and officially opened by the State Member

for Parramatta, Tanya Gadiel MP, and the

Executive Director of Schools, Greg Whitby.

The building project, which was funded

by the Australian Government's Building

the Education Revolution program and the

Catholic Block Grant Authority, included the

construction of the multi-purpose learning

centre. The centre provides flexible, open

Bishop Anthony blesses the new learning centre

with (from left): Greg Whitby, Michael Hopley,

Tanya Gadiel MP, and Fr Fernando Montano

learning spaces for all stage groups in the one space with a kitchen and a library, as well as a

new administration block and after school care centre on the ground floor.

Good Shepherd students make a wish for others suffering from disease

Students present the cheque to Toni Baker from the

Make A Wish Foundation with Mrs Magatanong (far

left) and class teacher Mrs Baird (far right)

Parramatta Eels continue their learning at Parramatta Marist High

The Parramatta Eels visited Parramatta

Marist High, Westmead in May to take part

in an online training course as part of their

Certificate IV in Frontline Management. The

school is providing the Parramatta NRL players

access to its advanced computer technologies

as well as training by the students. Nathan

Cayless, Parramatta Eels captain and former

Parramatta Marist student, said he was

pleased to be able to come back to his old

school to further his education. "It was a great

school and I really enjoyed my time here,"

he said. "It's amazing how schooling has

changed. You obviously don't need to bring

a pen and paper to class anymore, instead,

everyone has laptops."

Mike Chin assists Parramatta Marist students

to film a scene in the playground

Catholic schools designed to shine

Students from St Bernadette's Primary and

Gilroy College, Castle Hill have joined forces

with students from St Gabriel's School for

Hearing Impaired Children, Castle Hill to work

on a collaborative project called Design2Shine.

Over three weeks students worked in groups

to design and create a school beautification

project at St Gabriel's, which involved the

creation of a courtyard garden. The students

posted pictures and comments of what they

did during the day on their wiki, Design2Shine.

This is the first of a three-part beautification

project between the schools.

Good Shepherd Primary, Plumpton held

a mufti day on 28 May to raise money for

the Make A Wish Foundation in honour

of Year 6 student, Anthony Magtanong

who is in hospital fighting the disease,

Acute Lymphoblastic Leukaemia. Anthony

has recently undergone a bone marrow

transplant that involved his brother,

who is also a student at Good Shepherd,

donating marrow. Anthony's classmates,

who keep in touch with him regularly via

Skype, chose to raise money for the Make A

Wish Foundation so they could help other

children in similar situations. The students

managed to raise $700 through the mufti

day and other fundraising activities.

Parramatta Marist High students with former student

and Parramatta Eels captain Nathan Cayless

Students at Parramatta Marist High, Westmead

have also been working on a collaborative

project with acclaimed music and multimedia

artist/producer, Michael Chin to develop a

multimedia production celebrating Parramatta

Marist's 190th anniversary. The students

have used time-lapse and stop-motion

methodologies to condense video footage

taken over long periods of time into a short

multimedia presentation. Audio software

and microphones have been used to sample

and capture sounds for their compositions

and the video, images and sounds are

then edited in video editing software to

synchronise with the music they had created.

The project is part of the Diocese's creative

and performing arts program, Captivate.

St Bernadette's students show off the new play

equipment in the garden courtyard at St Gabriel's
---
14 CatholicOutlook July 2010

The flexible learning spaces at St Margaret Mary's Primary allow for greater teacher collaboration

Does class size matter

The Chair of the Productivity Commission,

Gary Banks, has called for less emphasis

on reducing class sizes in schools in

favour of improving teacher quality.

In a speech given earlier this year

titled Advancing Australia's 'Human

Capital Agenda'* he cites a 2009 report

commissioned by the Australian

Government, which showed a decline in

Australia's international performance in

literacy and numeracy.

"They [the report] observe that, as

this decline occurred over a period in

which real expenditure per student rose

substantially — through smaller class sizes

and higher teacher:student ratios — school

productivity probably fell during that time."

Mr Banks said the investment in

reducing class sizes was a "costly mistake"

because it had diverted much-needed

funding away from initiatives to improve

the quality of teaching.

"Arguably, the most costly mistake has

been to spend scarce budgetary resources on

smaller class sizes instead of better teachers,

notwithstanding steadily accumulating

evidence that smaller classes, in the ranges

contemplated, were unlikely to achieve

improved learning outcomes," he said.

Mr Banks cited the need for policy

makers to strengthen the evidence-base

for policy decisions and reform initiatives

in the future.

Contemporary educational theory and

research shows the greatest influence

on student learning outcomes is the

quality of the teacher. Everything else

such as smaller class sizes, spending per

student or technology capability has

less influence on improving the learning

outcomes of students.

The work of Prof John Hattie from

the University of Auckland and other

educational theorists reinforces this view.

Prof Hattie's 15-year research, which is

a meta-analyses of 50,000 studies of 200

million students, looks at the effectiveness

of 138 different influences on student

achievement. He found that learning

outcomes improved when teachers worked

collaboratively and were engaged in

ongoing professional learning.

Teachers are empowered when they are

able to learn from one another, sharing

good practice and critically reflecting on

their own work. It is even more powerful

when professional learning becomes part of

their daily practice.

The challenge faced by education systems

is to provide the most appropriate structures

to foster quality learning and teaching.

The Building the Education Revolution has

provided Catholic schools in the Diocese

with a unique opportunity to modernise

their learning spaces and to facilitate

opportunities for teachers to work in teams

to monitor learning and plan effectively.

These new spaces are designed around

flexibility – providing for different learning

activities and styles of teaching that focus

on the diversity of individual learners.

Education sets the foundation for

lifelong learning when it enables students

to develop the skills, knowledge and

confidence to become independent learners

and active participants in society.

Catholic education in the Diocese of

Parramatta is strategically focused on

improving the learning outcomes of all

students by improving the quality of

teaching in all schools.

When teachers work collaboratively,

share expertise and good practice, and

participate in an ongoing conversation

about learning within the classroom, they

are able to improve their teaching practice.

The research shows, this makes the biggest

difference to student learning.

* The fourth Ian Little Lecture, Melbourne,

13 April 2010. http://www.pc.gov.au/

Treasurer Wayne Swan visits Holy Cross Primary's BER projects

The Federal Treasurer, Wayne Swan, and

Australian Labor Party candidate for Greenway,

Michelle Rowland visited Holy Cross Primary,

Glenwood on 19 May to see the new $3 million

multi-purpose hall that was constructed as

part of the Australian Government's Building

the Education Revolution (BER). Mr Swan was

pleased to see how the school had utilised the

funds and said the school had achieved the

goals the Australian Government had intended

for the initiative. "As well as providing stimulus

to the economy and the creation of jobs in

the local community, the BER program is a

long overdue investment in infrastructure for

Australian schools," Mr Swan said.

Chisholm Catholic Primary students inspired

by the work of their namesake

Students and staff at Chisholm Catholic Primary,

Bligh Park received a visit from Sarah Chisholm,

the great-great-great-granddaughter of the

school's namesake, Caroline Chisholm, on 28

May. The visit was part of the Chisholm Day

celebrations, a school tradition held every year

to mark the anniversary of the birth of Caroline

Chisholm on 30 May 1877. Remarkably, Sarah

has followed in the footsteps of her renowned

relative, who was known for helping immigrants

to Australia. Sarah also helps those who have

Sarah Chisholm visits the Stage 3 learning

space to speak about her work with

humanitarian aid agencies

Delany College committed to building a safe and peaceful community

Members of the school community at Delany

College, Granville recently participated in

a conflict resolution program focusing on

restorative practices. Restorative practices

assists teachers, students and parents to build,

maintain and restore relationships. Students

and staff attended a training day on 11 May

focusing on restorative justice principles,

qualities of leadership, skills in active listening

and paraphrasing, scripts to resolve conflict

and peer observation and evaluation of

problem-solving skills. A workshop was held

for parents in which they were given some

helpful suggestions on using restorative

practices at home to help build quality

relationships with their children.

Wayne Swan and Michelle Rowland

speaks with Holy Cross students

come to Australia as refugees and as she visited

the classrooms she spoke to the students about

her work for humanitarian aid organisations.

Delany College is committed to building

a safe and peaceful community

Catholic primary students show some heart

at Westmead Private Hospital

As part of the Heart Foundation's 'Heart Week',

Westmead Private Hospital displayed artworks

from Sacred Heart Primary students and future

Mother Teresa Primary students who are currently

attending school at Sacred Heart, Westmead. Now

in its 10th year, the competition aims to raise

children's awareness of the importance of staying

healthy. This year's theme was 'identify the

warning signs of a potentially sick heart'. About

60 students submitted their creative entries

Sacred Heart students (from left): Matthew

Mina, Laura Ramia, Jessica Ramia and Valerie

Udan, show off their artworks with Mother

Teresa Principal, Gary Borg

Watoto Choir brings message of hope

and peace to Holy Family Primary

On 27 May, the students and staff of Holy Family

Primary, Luddenham were treated to a wonderful

cultural experience when the Watoto Children's

Choir visited the school. The Watoto Choir from

Uganda in Eastern Africa is dedicated to improving

the way of life for children in Africa. The word

'watoto' means 'children' in the Swahili language

and the choir is made up of 18 children who have

been orphaned through war, poverty and disease.

The choir performed two songs for the school

community and the Holy Family student choir

sang a song of welcome to the Watoto choir.

depicting the signs of an unhealthy heart. The

artworks were on display at Westmead Private

Hospital throughout May to coincide with Heart

Week from 2-8 May.

Watoto Children's Choir treats Holy Family

students to an inspiring performance

Receive more school news via email or news feeds.

To find out how visit www.parra.catholic.edu.au
---
16 CatholicOutlook July 2010

Police chaplain's role to be

a visible sign of God's love

Rev Kevin Lee, Police Chaplain

My Uncle John was a police sergeant who

used to visit Mum, his only sister, when we

were kids, often wearing his blue uniform

and impressing us with the .38 calibre revolver

and handcuffs on his hips.

He said he joined the police force because

he wanted to make the world a better place.

His words still echoed in my memory when

I decided to become a priest for the same

reason. My brother Terry has recently fulfilled

his lifelong ambition joining the NSW

Police last year and following in his uncle's

big footsteps.

I was once riding my motorbike a little over

the speed limit one Sunday afternoon trying

to make it back to St Patrick's Cathedral presbytery

in time for the evening Mass.

As I passed the Parramatta police station

I noticed a highway patrol car leaving the

station and I hoped he hadn't seen me. As

I turned into the driveway, the patrol car

followed me.

I thought once I was in the church grounds

I would be safe. As I hastened into the building

and closed the front door I saw the ominous

shape of an officer wearing his leather

cap through the opaque glass windows.

A moment later the doorbell rang and I

thought I was doomed. When I opened the

door the officer took off his cap and said,

"Father, do you have time for a confession"

I replied with relief, "For a moment

there I thought you were going to be taking

my confession!"

Over the months that followed, from the

referrals of that one policeman, I soon had

a steady stream of officers coming to speak

with me, not just about their sins but about

the difficulties of the police officer's life.

They spoke about the challenge of maintaining

a belief in a loving God and the

goodness of humanity when all around

them they saw evil and bad. I used to enjoy

listening to them and shared their struggle

while continuing to offer the positives of my

own experience.

As I told one man who had attended

six tragic road fatalities in one month, I

had seen just as many dead bodies in my

time ministering as part-time chaplain at

Westmead Hospital.

"You see only the deaths and disasters

whereas I also see the births, the optimism of

CENTRE FOR AUGUSTINIAN SPIRITUALITY

2-4 Hewitt Avenue, Greystanes

This centre offers Prayer and Reflection Days, Meditation classes, Workshops and Seminars in Lay Formation, for groups of adults (maximum 25) as

well as Spiritual Direction for individuals. There is accommodation for 3 or 4 guests who wish to make weekend or longer retreats.

TUESDAY 24 AUGUST

The place of Providence in

Augustine and in our experience

"You knew all along, O God, the real reason why I left to seek a different

country, but you did not reveal it either to me or to my mother, who bitterly

bewailed my departure and followed me to the seashore". (Confessions Book

5, 15) We learn from St Augustine (so close to his Feast Day) about the place

of God's Providence in our lives and in the world around us.

With Fr Paul Maloney OSA. Time: 9.45am-2.30pm.

Cost: $15 (conc. available). BYO lunch – refreshments provided.

young children in primary school, the joys of

engaged couples preparing for the happiest

day of their life."

After about three years of ministering to

police in times of depression and post-traumatic

stress, as well as celebrating the baptisms

and weddings of a number of officers

I was asked to take on the role officially as a

chaplain for the NSW Police in 1998.

I have been a chaplain for nearly 12 years

now and am often asked, even by police,

what my role entails. It's hard to explain

what a chaplain is to those who don't have a

religious belief.

One incident might help you to understand.

I was called to attend a fatality and the

commanding officer asked, "Who is that"

The police officer explained, "That is the

chaplain, sir." "What is he doing here" "He

prays for the deceased and helps police, sir".

The effect of my presence at that particular

tragedy prompted the commander to contact

me when he was experiencing his own

personal challenges. That incredulous commander

has since become a Catholic.

If a priest had turned up in his clerical

collar he would not be allowed access to

situations like that. But a priest wearing the

uniform of the police is given greater acceptance

and openness from police of all faiths.

The chaplain is given respect because it is

immediately assumed 'he is one of us'.

To summarise the ministry, I say that

we are like priests for police and the whole

police force is one big parish.

We are also expected to assist police with

the sacraments, particularly for those who

don't feel a sense of belonging in their own

geographic parish.

I encourage police to seek Baptism and

Marriage in the parish where they reside, but

they often admit to feeling more comfortable

with a chaplain who they know to be

approachable and available when they need

spiritual counsel.

When I have been with police at an accident

scene or a pool drowning, or even after

a home invasion, the frantic relatives or victims

will often turn to me.

In those situations where a victim

has requested it, the chaplain is able to

put them in contact with clergy of their

own denomination.

Our role is not to "convert" police or proselytise

for our own Churches, but mainly to assist

Commander Z. (Ben) Feszczuk APM of Penrith Area Local Command with (from left):

Constable Rebecca Finch, Constable Maggie Bobin, and Rev Kevin Lee. Photo: Virginia Knight

police to see a spirituality and support which

comes from a relationship with the Divine.

The chaplaincy to police began rather

informally through the efforts of Fr Jim

Boland more than 35 years ago, who followed

the model that was familiar in the military.

Steadily over the years a system has

developed, which has ensured that police

will always have chaplains as long as there

are priests or religious willing to offer

their services.

The police chaplain is an honorary position

and although appointed by the Commissioner

after recommendation from a bishop, the

role carries no monetary remuneration.

I like to believe that the reward comes daily

from the sense of achievement I feel when I

see police living a more committed spiritual

life or if an officer seeks my services or refers

another member to a chaplain.

Each time the phone rings and it is a commander

or duty officer advising me of a fellow

officer who is experiencing a personal

crisis or undergoing an operation or recently

dealt with the death of a family member, I

feel "needed" and leap at the opportunity to

show the love of Jesus and the willingness of

the Catholic Church to reach out to another

family member in need.

Indeed the police do form a family of

members who have special needs and, therefore,

deserve a special ministry. In my time

of service I have enjoyed many friendships

and shared many experiences that I would

never have imagined possible when I was

first considering priesthood as a vocation.

Let me list a few.

TUESDAYS 7, 14, 21, 28 SEPTEMBER

Jesus Christ the same Yesterday, Today

and Forever in Augustinian spirituality

"Our Lord Jesus Christ, brothers and sisters, as far as I have been able to tune my mind

to the sacred writings can be understood and named in three ways". (Sermon 341, 1)

We will spend these evenings discovering anew the "whole Christ" as envisioned by

Augustine who lived barely 300 years after the historic Jesus but met him every day in

scripture, liturgy and his extended community.

With Fr Paul Maloney OSA. Time: 7.45pm-9.15pm.

Supper provided. Cost: $80 per course ($20 per session) (conc. available).

THURSDAY 28TH OCTOBER

Praying in the

Year of St Luke

The Sunday Gospels this year focus on the Gospels of

St Luke. We will look to St Luke to find encouragement

in our prayer and union with our loving saviour Jesus

Christ the Lord.

With Fr John McCall OSA. Time: 9.45am-2.30pm.

Cost: $15 (conc. available). BYO lunch

– refreshments provided.

Fr Paul Maloney OSA Prior, tel (02) 9896 6794, osaspirit@bigpond.com.au www.augustinians.org.au/ministries.html

I assisted at the Glenbrook train crash and

witnessed the removal of seven bodies from

the train wreck supporting police rescue

personnel for 11 hours.

I was appointed a chaplain to athletes during

the Sydney 2000 Olympics because, for

security reasons, only police chaplains were

permitted to have that status.

I have presided at numerous funerals for

police and their families, often as a result

of suicide. I celebrate lots of weddings for

police as well as baptising their babies. All

this also requires me to spend time in preparation

and follow-up.

I am welcomed warmly whenever I visit

police stations around the region that I am

responsible for and also invited to attend to

difficult moments in policing such as delivering

death notices (the news of the death of

a member of the public).

For police, a chaplain is more than just

a friend or a colleague. The chaplain is a

visible sign of God's love in the person of

the man standing there next to them while

they perform their often emotionally challenging

work.

It is no surprise, therefore, that St

Michael the Archangel is the patron saint

for police. Each year on his feast day (29

September) a memorial service is held to

pray for all the police men and women

who have died in the active service for the

community. I often invoke the assistance

of St Michael when I am engaged in my

chaplaincy role.

Fr Kevin Lee is Parish Priest of

Padre Pio Parish, Glenmore Park.
---
News from the CCD

Paul Worthington,

CCD Director

Over the past two months,

the Confraternity of Christian

Doctrine (CCD) has been

engaged in circulating

the ethics trial petition in

parishes, the conclusion of

several accreditation courses

for catechists, and involving

Parramatta's seminarians

in CCD training courses,

observing lessons and teaching

at Glenwood High School.

The ethics trial instituted

by the State Government

has continued in 10 primary

schools in the Sydney area.

In our Diocese, SRE teachers

at South Baulkham Hills have

been affected with class sizes

being reduced, as have the

classes of other Christian

denominations and other faiths.

More details about the trial

will be published in a future

issue of Catholic Outlook.

During Terms 1 and 2,

Parramatta's seminarians

participated in the Level 1

course at Holy Spirit Parish,

St Clair in the company of a

number of SRE teachers.

The seminarians are Nino

Canete, Red Dalagdog, Thomas

Hien Thien Bui, Peter Kuraya, Leo

Napuli, Charles Nwaorgu, Larry

Tolentino, and John Sultana.

They observed lessons at

Grose View Public School and

Merrylands East Primary School

and have observed and taught

at Glenwood High School.

My personal thanks to the

SRE teachers and the parish

teams who have participated

and supported the seminarians

in their formation as future

priests for our Diocese.

The seminarians will undertake

the Level 2 course next semester

at St Nicholas of Myra Parish,

Penrith in addition to their

studies at the Catholic Institute

of Sydney in Strathfield and

in-house studies at the Holy

Spirit Seminary at St Marys.

The 990 SRE teachers in

the Diocese both welcome

you and appreciate the fact

that you have a growing

awareness of a major ministry

within each parish setting.

I want to congratulate all

the SRE teachers who do such

a great job for their parishes

in supporting Catholic

parents whose children are

in government schools.

In our Diocese, our SRE

teachers go into 206 primary

CatholicOutlook July 2010 17

On the SRE team are seminarians (back, from left): Larry Tolentino, John Sultana and Niño Cañete;

(seated) SRE teacher Irene Galea from Grose View Public School with (from left) Red Dalogdog,

Peter Kuraya, Charles Nwargou, John Watkins, Galbert Albino, Leo Napuli, and Thomas Bui

schools; four special education

units, and 22 secondary schools

where they teach 22,000

Catholic students each week.

These wonderful volunteers

give up their time for class and

preparation. You might take

the time occasionally to shake

their hand for their wonderful

contribution to parish life.

Within their ranks are senior

students in Catholic schools

who teach in state primary

schools as a part of their parish

SRE teams and are a great

testimony to their faith.

The term 'hero worship' comes

to mind with the work these

students do and the example they

set for their peers. Students from

St Dominic's College, Penrith;

Patrician Brothers' College,

Blacktown; Caroline Chisholm

College, Glenmore Park; Emmaus

College, Kemps Creek; Xavier

College, Llandilo; St Andrew's

College John Paul II Campus,

Marayong, and St Columba's

College, Springwood are part

of their parish SRE teams.

Mass

Saturday:

Sunday:

Daily:

Public Hols:

Vigil 6pm

8am, 9.30am, 11am, 6pm

Mon-Fri 6.45am, 12.30pm; Sat 8am;

8am

Reconciliation

Monday-Friday: 11.45am-12.20pm

Saturday: 8.30-9.30am; 5.15-5.45pm

Anointing of the Sick within Mass

3rd Friday: 10am (every month except Jan.)

Filipino Mass: 2nd Sunday 12.30pm

Devotions

Angelus: Mon-Fri noon

Rosary: Mon-Thurs 12.05pm

Eucharistic Devotion:

Mon-Fri 11.30-12.20pm

Morning Prayer Mon-Fri 6.30am;

of the Church: Sat & Sun 7.30am

Novena – 3rd Friday: 7.30pm

• Baptism by appointment. • Marriages by appointment •

Contact the Parish Secratary tel (02) 8839 8400 or (02) 9630 1115 admin@stpatscathedral.com.au
---
18 CatholicOutlook July 2010

WE SALUTE PARISH SECRETARIES

On the parish team at Springwood are (from left): fellow Parish Secretary Jan Malone,

Parish Priest Fr Peter Connelly and Jean Quinlan. Photo: Virginia Knight

Jean Quinlan

St Thomas Aquinas Parish, Springwood

Virginia Knight

After a career spanning several

decades and encompassing

everything from private enterprise

to government departments,

schools and parishes in both

the Anglican and Catholic

Churches, Jean Quinlan joined

the parish team at St Thomas

Aquinas, Springwood in 2000

as the Parish Secretary.

"I have been thinking that all

the things I have done (during

my career) have prepared me for

this," Jean said as she reflected

on all the work experiences that

have helped to develop her skills.

Born in Sydney in 1940 in the

middle of WWII, Jean is the

second eldest of five girls (and an

identical twin). Her parents, Vera

and Joseph Dunn, lived in Mascot

and the girls attended the local

schools, Mascot Central Primary

and Gardeners Road High.

Like many girls of her

era, Jean had completed a

commercial course at school,

which included bookkeeping and

typing in order to go straight

into office employment.

While still at school, Jean

was recruited by the ES&A

Bank (English, Scottish &

Australian Bank) and upon

completing her Intermediate

certificate the bank put her

through business college to

learn how to use the accounting

machines for data processing.

After two-and-half years

with the bank Jean and her

twin sister went into nursing

at Royal Prince Alfred Hospital

for a year. As she was tall, Jean

seemed to get all the 'lifting' jobs

in orthopaedics. And while it

wasn't ultimately her forte, she

felt the time was not wasted as

it was a great life experience.

It was when she returned to

office work that she met Jim

Quinlan, who was the accountant,

and a work romance flourished.

At age 29, Jean married Jim "a

staunch Catholic" in his parish

church of St Michael's Hurstville.

Jean left work to have their first

child but had intermittent casual

work. In 1975, they moved to

Narrabri bringing up their family

on 28 acres, five miles outside

town. "It was like coming home.

My grandfather had acreage

at Castlereagh and I always

felt a country girl at heart."

Jean was baptised an Anglican

and although Jim never requested

it, when she was 40 and living in

Narrabri, she went through the

process and became a Catholic.

The couple already had three

children: Melinda, Jane and Paul.

It was in 1980 when all the

children were at school and Jean

was volunteering at both the

Catholic school they attended

and her Anglican parish that

she contracted pneumonia. "I

never stopped. I was always on

the go in both volunteer and

casual work. I had to stop and

reassess what I was doing and

what were my priorities."

With the influence of the

Holy Spirit, Jean felt drawn

to the Catholic Church and

began attending Mass with Jim

and the children. "It started

when I had begun to question

the teachings of the Anglican

Church while doing Bible study.

"Once I realised the Real

Presence was in the Eucharist, it

wasn't such a big thing as the Mass

(at the time) was similar to the

Anglican Communion Service".

Jean was confirmed in the

Catholic faith and received first

Communion in the presence of

her mother, children and family.

In 1991, the family returned

to Sydney settling in Winmalee.

Jean reflects that the best thing

about working in a parish, what

really sets it apart from her other

occupations, is the opportunity of

working with the parishioners.

Having lived for almost 20 years

in the parish (and worked in the

office for 10), Jean has experienced

great joy in watching a generation

of children grow up, get married

and have families, helping them

to book weddings and baptisms.

So much so, she admits that

sometimes she feels like a member

of their extended family.

Recently, Jean celebrated

her 70th birthday and it is a

testimony to how important

she is in the lives of those at

Springwood that when the office

staff gave her a surprise morning

tea, many of the parishioners

turned up to help her celebrate.

"It was such a surprise. I had no

idea. It was just wonderful to

feel so appreciated and loved."

This month, Jean starts 17

weeks' holidays and long service.

So how does 'the hub of the parish'

(as she describes the role of parish

secretary) intend to fill her time

during such a lengthy absence

She will spend six weeks

travelling around Europe,

including attending the

Oberammergau Passion Play

in Germany. On her return

she and her twin sister, Joyce,

will bushwalk to Wilsons

Promontory, the southern-most

point of mainland Australia.

For the rest of the time

she plans to join the local

bushwalking club and catch up

on her knitting and sewing.

I admit to feeling exhausted

just hearing her talk about

it! What was that about

never stopping Jean

Holy Spirit will not

allow Church to fail

On Pentecost Sunday, more than 800 people gathered at Our

Lady Queen of Peace Church, Greystanes to celebrate the great

outpouring of the Holy Spirit promised by Jesus to His Church.

The occasional sermon was preached by Fr Ken Barker of the Missionaries

of God's Love, affirming that the Holy Spirit would not allow the Church to

fail despite the problems that the media has been publicising aggressively.

Fr Ken witnessed to the fidelity and the power of the Holy Spirit

in many events in his own life and offered inspiration and

encouragement to all, emphasising the following points:

Pentecost Sunday is the Holy Spirit's day, and if ever the

Church should rejoice, it is on Pentecost Sunday.

The Holy Spirit enlivens the Church, is our personal friend,

brings our liturgy to life, enlightens preaching and increases our

ability to hear the Word of God in a way that changes lives.

Without the Holy Spirit the Church is simply an organisation; with the

Holy Spirit it is the living presence of Jesus. Although we are a broken

people, the Holy Spirit makes us stewards of His grace in our time.

While the outpouring of the Holy Spirit in this century appeared to be late

in coming to the Catholic Church, this great grace came in God's time, at

the close of the Council and was embraced by the hierarchy of the Church.

In 1998, Pope John Paul II urged, "open your hearts and lives to

the Holy Spirit and exercise the gifts for the good of the Church"

in keeping with the prophecy of Joel, "I will pour out my Spirit

on all flesh. Your sons and daughters will prophesy, your old

men see visions and your young men dream dreams."

Today, 40 years since the outpouring of the Holy Spirit in

Duquesne Catholic University in the US, there is a new need

for each of us to yield to the power of the Holy Spirit, to a

moment of grace, so that we become much more dependent

on God and turn to Jesus in the Church; it is His Church.

While the Church and scandal can seem to be synonymous in the

media today we remain confident that the Holy Spirit will not

allow the Church to fail. Whatever state of life we find ourselves

in, we are called to witness to the presence of the Holy Spirit.

Re-published courtesy of 'Voice of the Spirit' newsletter.
---
what's on

Victor Chang

Institute

The OLQP Daytime Social Group

is organising a visit to the Victor

Chang Institute by coach. The trip

will include morning & afternoon

tea and a tour of the laboratories

and research centre. Lunch is at

Petersham RSL at own additional cost.

3 August – bus leaves church at 9am

Our Lady Queen of Peace Parish,

198 Old Prospect Road, Greystanes

Bookings Essential: Marie (02) 9896

7046 or Frances (02) 9636 5548

Adults $30

Potting Up at

Cumberland

State Forest

Celebrate the natural environment

and learn more about sustainable

forest management with a forest

walk led by a local ranger, followed

by a session of 'potting' up native

plants to take home. A chance to

visit the nursery and chat to the

specialists in Australian native plants.

Sunday 25 July: 10–11am

Cumberland State Forest,

West Pennant Hills

Bookings essential: 1300 655 687

General ticket $5.50 Family

ticket (2A/2C) $18

CatholicOutlook July 2010 19

Junior Boot Camp

Come along to Junior Boot Camp

at Blacktown Aquatic Centre and

learn different exercises and

skills. Packed with fun, energising

activities to help build strong fit

bodies and gain confidence. A 10-

week program for 8-16YO run in

conjunction with State school terms,

with qualified professionals.

During Terms 3 & 4 in 2010

Blacktown Aquatic Centre,

Boyd Street, Blacktown

Bookings essential: (02) 9622 2279

Cost: Children 6-16 years $99

National Tree Day

The garden of Rouse Hill House

is shaded by Moreton Bay

Figs, fashionable additions to

any mid-19 th century country

garden. Enjoy a guided tour

of the garden focussing on

the Australian native trees.

Sunday 1 August: 11am–noon

Rouse Hill House & Farm,

Guntawong Road (off Rouse

Hill Road), Rouse Hill

Bookings essential:

(02) 8239 2211

General ticket: $4

Unpacking the Trunk

A trunk has arrived at Elizabeth

Farm. As we carefully unpack the

contents we discover the story of the

Macarthurs' trading interests in the

colony and abroad. This new series

of talks and workshops will focus on

domestic life at Elizabeth Farm, a

centre for trade and colonial society.

Sunday 25 July: 4.30–6pm

Elizabeth Farm: 70 Alice

Street, Rosehill

Bookings essential: (02) 8239 2211

General ticket $25. Children/

Concession $20

Australia's First MasterChef

Julie Goodwin's highly anticipated cookbook.

In stores now.
---
THE

ROAD TO

EMMAUS

Diocesan Youth &

Young Adults Camp

DIOCESE OF PARRAMATTA

FROM FRIDAY NIGHT 16TH JULY

TO SUNDAY AFTERNOON 18TH JULY

GALSTON GORGE CONFERENCE CENTRE

8 CRUSADER ROAD, GALSTON

Relive the Emmaus experience and join us in:

• Journeying with Christ

• Receive life from the Word

• Reconciliation

• Discover Christ's presence and love in the Eucharist

Meet other young people, make new friends, share

ideas & experiences, grow spiritually and more!

The program will include a variety of inspiring talks,

music, games and fun activities, with reflection time.

So what are you waiting for

Invite your friends along and send in your registration form now!

For more details and to register, go to the Diocesan Youth Website:

www.parra.catholic.org.au/youth/events/diocesan-events/

Photos taken during "Witness09 – 2Gather" youth camp
---
WYD 2011 in Madrid

Pilgrim packages now available

World Youth Day 2008 in Sydney was an

unforgettable event where we welcomed

the world and together we experienced the

power and love of Jesus Christ in the universality

and youthfulness of the Church, in the

people who participated.

CatholicOutlook July 2010 21

With a bit more than a year to go to

World Youth Day 2011 in Madrid, preparations

are already underway. The Diocese of

Parramatta invites you to join in experiencing

this international event.

The four pilgrimage options are:

Fr Suresh Kumar MSFS has joined Annabelle Cauchi in the

Diocesan Youth Office. Photo: Virginia Knight

New Director for Youth & Young Adult Apostolate

Fr Suresh

Bishop Anthony has appointed me as the

new Director of the Diocesan Youth Office

(Youth and Young Adult Apostolate), replacing

Anna Vercellone who resigned recently.

I am a religious belonging to the

Congregation of the Missionaries of St

Francis de Sales known as Fransalians.

I feel privileged to serve this Diocese,

which is so dynamic, vibrant and, moreover,

very young.

I was born in India, one of four children.

I was converted to Christianity when I was

seven-years-old. I was mischievous and full

of energy doing all sorts of "naughty" things

in my younger days.

But God had something different in store

for me.

I treasure my priesthood very much. I personally

feel that God had a special plan for

me, as he does for others.

The call to priesthood came when I was

thinking of becoming a police officer. So it

was a big challenge for me to change my lifestyle

in order to accept the will of God in my

life. I could do it because of God's grace and

the prayers of my mother.

I have been an assistant priest at St Patrick's

Cathedral for a couple of years.

Youth ministry has been a special call for

me since my school days. I believe that the

young people are the promise of tomorrow

for the Church and the world at large. In

ministering to young people, I hope to be

helping to create a future Church and a

better world.

Our Diocese is one of the largest in

Australia and very multicultural. We have

young people from different background and

cultures. They have so much to offer to the

Church and the world. Their talents and

capabilities can be used for the greater glory

of God. Our Mother Church always feels

proud of such wonderful young people.

World Youth Day 2008 in Sydney has been

a blessing to our country and especially to the

young people. Growth in spirituality and a

sense of belongingness is being seen tangibly.

I am sure that the next World Youth Day,

which is to be held in Madrid in 2011,

will confirm the gifts and blessings that we

received from Sydney.

I am looking forward to meet all the Parish

Priests, parish youth groups, youth movements

and youth communities to get to

know them better. We need to work together

with the guidance of the Holy Spirit in order

to achieve our dreams of establishing the

Kingdom of God.

I welcome new suggestions and ideas from

anyone for the better functioning of the

youth office. I seek your prayers for me so

that I continue to be a simple instrument of

God to bring more and more people to God.

I can be contacted on the phone

(02) 8838 3419, mobile 04 8844 8844, or

email: suresh@parra.catholic.org.au

The Exodus Journey:

Pilgrimage to the Holy Land and World Youth

Day led by Bishop Anthony Fisher OP.

Day 1: 4 Aug – fly Australia to Egypt;

Day 2: 5 Aug – arrive Cairo;

Day 3: 6 Aug – Cairo exploration;

Day 4: 7 Aug – Cairo to Mt Sinai;

Day 5: 8 Aug – Mt Sinai & Red Sea;

Day 6: 9 Aug – via Masada & Dead Sea to Jerusalem;

Day 7: 10 Aug – Ein Karem/Bethlehem/Mount of Olives;

Day 8: 11 Aug – Old City of Jerusalem;

Day 9: 12 Aug – Nazareth/Cana/Mt Tabor;

Day 10: 13 Aug – Sea of Galilee;

Day 11: 14 Aug – Sea of Galilee;

Day 12: 15 – Jerusalem/fly to Madrid;

Day 13: 16 Aug – Official Opening Mass;

Days 14-16: 17-19 Aug – catechesis & youth festival;

Day 17: 20 Aug – pilgrimage walk to WYD Vigil;

Day 18: 21 Aug – XXVI World Youth Day, Papal Mass with the youth of the world;

Day 19: 2 Aug – depart Madrid;

Day 20/21: 23/24 Aug – arrive Australia.

Madrid Zone:

World Youth Day Direct led by Fr Paul Marshall.

Day 1: 10 Aug – fly Australia to Spain;

Day 2: 11 Aug – arrive Madrid/Salamanca;

Days 2-5: 11-14 – Days in the Diocese/Salamanca;

Day 6: 15 Aug – Salamanca to WYD in Madrid;

Day 7: 16 Aug – official opening Mass;

Days 8-10: 17-19 Aug – catechesis & youth festival;

Day 11: 20 Aug – Pilgrimage Walk to WYD Vigil;

Day 12: 21 Aug – XXVI World Youth Day, Papal Mass with the youth of the world;

Day 13: 22 Aug – depart Madrid;

Day 14/15: 24 Aug – arrive Australia.

Road of Pilgrims:

Pilgrimage around various spots in Spain and then World

Youth Day led by Fr Fernando Montano MS

Day 1: 7 Aug – fly Australia to Spain;

Day 2: 8 Aug – arrive Barcelona;

Day 3: 9 Aug – Montserrat & Manresa encounter;

Day 4: 10 Aug – Barcelona;

Day 5: 11 Aug – Barcelona to Lourdes;

Day 6: 12 Aug – Lourdes pilgrimage;

Day 7: 13 Aug – Lourdes to San Sebastian;

Day 8: 14 Aug – via Loyola & Pamplona to Logrono;

Day 9: 15 Aug – via Burgos to Madrid;

Day 10: 16 Aug – Opening Mass;

Days 11-13: 17-19 Aug – catechesis & youth festival;

Day 14: 20 Aug – pilgrimage walk to WYD Vigil;

Day 15: 21 Aug – XXVI World Youth Day, Papal Mass with the youth of the world;

Day 16: 22 Aug – depart Madrid;

Day 17: 24 Aug – arrive Australia.

Viva Spain and Italy:

World Youth Day and then following with a pilgrimage

to Rome and Assisi by Fr Suresh Kumar MSFS.

Day 1: 10 Aug 2011 – fly Australia to Spain;

Day 2: 11 Aug – arrive Madrid/Salamanca;

Days 2-5: 11-14 – Days in the Diocese/Salamanca (4 nights);

Day 6: 15 Aug – Salamanca to WYD Madrid;

Day 7: 16th Aug – Official Opening Mass;

Days 8-10: 17-19 Aug – catechisis & youth festival;

Day 11: 20 Aug – pilgrimage walk to WYD Vigil;

Day 12: 21 Aug – XXVI World Youth Day, Papal Mass with the youth of the world;

Day 13: 22 Aug – Madrid to Rome;

Day 14: 23 Aug – Rome pilgrimage (Vatican Museums, Sistine Chapel, St Peter's Basilica, St Mary

Major Basilica, St John in Lateran, Colosseum, Circus Maximus & Roman Forum);

Day 15: 24 Aug – Rome pilgrimage (Basilica of St Paul Outside the

Walls, ancient Catacombs, Rome by night);

Day 16: 25 Aug – Rome to Assisi;

Day 17: 26 Aug – Assisi pilgrimage;

Day 18: 27 Aug – depart Italy;

Day 19/20: 29 Aug – arrive Australia.

For more info, contact: Annabelle Cauchi

tel (02) 8838 3418 or email youth@parra.catholic.org.au
---
22 CatholicOutlook July 2010

Icons: glimpses of eternity

Philip Kariatlis

The heart of the Christian Gospel is

that the infinite and invisible God,

who is uncontained, became visible

and containable in Jesus Christ by

the Holy Spirit, so icons are nothing

less than an affirmation that

"the Word became flesh and dwelt

among us" in reality, and that we

"have seen his glory … full of grace

and truth" (Jn 1:14).

Following St Paul, who referred

to Jesus Christ as the "image" or

"icon [eikon]" of God (cf 2 Cor.

4:4) 1 , the Christian tradition claims

that in the humanity of Jesus, the

faithful have been granted a vision

of God himself . 2 Therefore, icons

affirm that God really became

human, took on human flesh, and,

therefore, could be portrayed.

The theology and meaning of

icons was eventually clarified in the

8th Century during a tumultuous

dispute about icons known as the

"iconoclastic" controversy.

Literally meaning "the smashing

of icons", this heated quarrel gave

rise to a council in 787AD, the 7th

Ecumenical Council, in Nicaea. 3

This council outlined not only the

legitimacy of icons but also the

propriety of venerating them.

Simply put, the Council taught

that, to deny icons meant a renunciation

of the incarnation of the

eternal Son of God, thereby bringing

into question the salvation of

the human person. 4 Part of the

doctrinal statement of the Council

of Nicaea read:

"We declare that we defend

free from any innovations all the

written and unwritten ecclesiastical

traditions that have been entrusted

to us. One of these is the production

and representational art; this is quite

in harmony with the history of the

spread of the gospel, as it provides

confirmation that the becoming

man of the Word of God was real

and not just imaginary, and as it

brings us a similar benefit". 5

It is clear that the existence of

icons was connected with a concern

to preserve a full doctrine of

the incarnation. Just as the written

words of the Scriptures brought the

faithful into an immediate encounter

with the very Word of God, so,

too, could icons, as graphic images,

do the same.

The icon was also seen as "theological

language in colour" highlighting

the sacredness of created

matter. Following the Incarnation,

the entire created cosmos could

now be transfigured and saved.

Christianity afforded a place of

salvation to God's entire created

world, spiritual as well as material.

No material element was to be

excluded from the plan of God's

redemption. In this way, all material

elements (in the case of icons,

colour, pigment, wood, etc) could

act as windows giving the faithful

glimpses of eternity – namely, an

anticipatory insight of the world as

it would be in the age to come.

To this end St John of Damascus,

echoing St Paul (Rom. 1:20) wrote:

"I worship the Creator of

matter who became matter for

my sake; who willed to take His

abode in matter; who worked out

my salvation through matter …

Never will I cease honouring the

matter through which my salvation

was wrought." 6

The icon was seen as a joyful testimony

of the innate goodness of

the material world (cf Gen. 1:1-28),

its potential capacity to reflect the

divine, and as fitting recipients of

Christian respect and veneration

insofar as they could lead the faithful

into the presence of the divine.

That icons serve as windows into

eternity is seen from their inverse

perspective – namely, the elongated

facial features and hands, the

small mouth for example – which

want to depict a radically transfigured

world as it will ultimately be

in the kingdom of heaven. 7

Always worship and adoration

(latreia) were directed to God

alone, while reverence and veneration

(proskynesis) could be paid

to icons.

And so, it must be remembered

that while it is true to affirm that

icons open for us a boundless

vision of the world as it was before

the Fall and as it will be in heaven,

this is nonetheless a "real-yet-partial"

experience awaiting its fulfilment

in the age to come.

In a profoundly mysterious way,

icons take the gaze of those viewing

an icon into the "beyond", offering

them in this way a foretaste of the

sweet hope of the fullness of a life

in God to come in His eschatological

kingdom.

Philip Kariatlis is a lecturer at

St Andrew's Greek Orthodox

Theological College, Sydney.

Footnotes:

1 Also Col. 1:15: "He is the image of the invisible God, the firstborn of all creation."

Other Scriptural passages such as 1Jn 1:1-2; Heb. 1:1-3 could also be cited.

2 One can already begin to discern the various meanings of the word "icon": For

example, Christ is the icon par excellence of God; the human person is also an

icon of God (cf Gen 1:26) and, of course, icons as sacred images.

3 This Council is also referred to as the "Council of Nicaea II". Before that, the

Council of Trullo (691AD) had insisted upon the legitimacy of icons.

4 From this it is clear that the Christian tradition of the first common Christian millennium

saw the rejection of icons not simply as an indifference to art, but as a

Christological heresy not affording full and fitting doctrine of the Incarnation.

5 Doctrinal Statement, 7th Ecumenical Council cited in Jaroslav Pelikan (ed), Creeds and Confessions

of Faith in the Christian Tradition (New Haven: Yale University Press, 2003), 1:235 & 237.

6 First Apology Against Those Who Attack Divine Images, 16 (PG 94:1245A). Cited in Peter Bouteneff,

Sweeter Than Honey: Orthodox Thinking on Dogma and Truth (Crestwood, NY: SVS Press, 2006),

188-189. It is for this reason that there can be no question of idolatry when it comes to "venerating"

icons, since reverence is afforded not to the wood or the pigment but to the prototype depicted.

7 In this sense the icon is not unrealistic in what it depicts but supra-realistic, betraying the saving effects

of a world touched by God. It is this fact which rules out "realistic" or photographic portraits and events.

This article was first published in Catholic Outlook, May 2007

Michael Galovic holds his icon Jesus The Good Shepherd inspired by the Year for Priests

Profile of iconographer Michael Galovic

Virginia Knight

Mary MacKillop Place in North

Sydney recently hosted an exhibition

of works by renowned iconographer

Michael Galovic. "The Art

& Heritage of Icon Painting" showcased

a collection of Michael's icons

including works depicting Mary of

the Cross and other figures.

In his works, Michael uses traditional

gesso, pure gold leaf and

paint with egg tempera, in a process

that adheres to strict rules and

technique, which combined make

icon writing a unique form of

Christian religious art.

Born in Belgrade in 1949,

Michael's parents valued art not

only for its creative expression of

life, but as a viable career choice.

It was a natural progression for

Michael to study art at the Belgrade

Academy of Applied Arts with a

view to following it as a profession.

However, upon completion of his

studies Michael decided to leave art

and travel instead. For many years

he had been interested in languages

and had a strong inclination to see

the world. At this point it didn't

seem possible that there was a way

to satisfy all three of his interests,

but time was to show him a way.

After 15 years in the art world

wilderness, Michael landed in

Australia in the 1990s. In his own

words he was already "itching to

resume art practice". However, he

never believed it would form the

basis of his primary living.

Australia was in recession and

Michael found it difficult to get a

job. Consequently, he had to pursue

the only means of employment

open to him, and began painting.

As commissions began rolling in

and his work became recognised,

Michael began teaching icon painting

in colleges around Sydney.

After 10 years of very active painting

based in Bondi, he left behind

the congestion of Sydney and settled

on the Central Coast.

He has established his creative

studio and gallery, accessible to

visitors by appointment

Michael first began to develop

an interest in icon painting in his

late teens. Familiar with the images

of icons through his stepfather's

art restoration work in Serbian

monasteries, Michael gave in to

his own personal curiosity and

began to teach himself the very

intricate and difficult process of

icon painting.

"When I started I had really big

Icon of St Therese of Lisieux, the "Little Flower"

problems like anyone who starts

on their own, not going to a school

or under the guidance of a director,"

Michael admits. "The task

was incredibly difficult and looked

almost impossible. But I like being

challenged; it is an intriguing and

stimulating force."

While the problems in mastering

this art form seemed insurmountable

at times he kept on, and 40

years later, he is branded Australia's

best-known iconographer.

Michael's work is in high demand

with pieces commissioned from

both individuals and institutions,

gracing more than 70 churches

across Australia, New Zealand and

the UK. "The process never tires

me. From the very beginning, I

endeavour to ever improve myself,"

he said.

Michael does not classify iconography

as art. "I don't consider

icon painting as art. Art is only the

means, instrumental in conveying

the message. It is a mix of art and

craft in the service of theology."

With his artworks now spread

throughout the world, the highlight

is the thought that he is leaving

behind a concrete contribution that

has resonance.

"There is great joy and fulfilment

in seeing people I don't know come

across my work and cannot hide

their delight. It means so much that

what I do on a solitary basis can

reach the hearts of so many."

For Michael, the highlight

of his painting life was an icon

commissioned in 2008 for Pope

Benedict XVI and given to the

Holy Father during World Youth

Day in Sydney. "I received a personal

letter from him thanking me

for the special effort and outcome

in creating that icon."

Having seen Michael's recent

exhibition at North Sydney I confess

that I felt drawn to his representation

of St Therese of Lisieux,

a piece which seemed to emanate

peace and grace.

Michael regularly exhibits in

many countries, and it seems he

has finally found a way to marry his

three loves. Travelling extensively

and meeting new people Michael

says the process of icon painting

"speaks a language of its own".

For more information about

Michael's work and to view his icons

visit: www.michaelgalovic.com
---
Outback

Odyssey: Part 2

Having completed our journey across Western

Australia from the edge of the Nullabor

in darkness, we made our descent into

the outskirts of Perth as the first fingers

of dawn's light were clawing their way

through a rain cloud-speckled skyline.

Whilst my companion sourced some minor

repairs to our vehicle I fell into conversation

with another fellow traveller, a truckie who

drives back and forth betwixt Queensland and

Western Australia, day after day, week after

week, carting various cargos for a living.

There is something very enchanting about

these gentlemen who, in many ways,

live a solitary existence, the loneliness

generally only relieved when they pull in

to truck stops to refuel body and vehicle.

Now I have been told that I could undoubtedly

talk underwater with a mouth full of marbles,

but these fellows beat me by the proverbial

country mile. With a wealth of issues burning

to be discussed at length, we whiled away

several hours on topics ranging from the

care and feeding of children, with particular

attention to the pitfalls of the teenage variety,

to politics and the state of the nation.

There was great warmth in his voice as he

expressed admiration for his wife holding

house and home together in Queensland

and wistfulness as he looked forward to

again seeing her and their progeny, of whose

achievements he was most proud to expound

upon at length, at the end of the week.

So it was that we finally rumbled

into Fremantle around mid-morning.

We were here to unload the cruise

vessel that had so fascinated our grey

nomad friend on the Nullabor.

By most people's standards it would have

been considered large. I for one would

have been most contented to have spent

a day sunning myself on its capacious

decks, that is until I saw its larger sibling.

As we pulled up to deliver and met the crew,

the first mate informed us that this was only

the pilot vessel. The main event was tucked

up in dry-dock undergoing a facelift. He

kindly showed us over this boat (or should I

classify it as a ship) and it has to be said, had

they been advertising for extra crew I would

even now be penning this article afloat on

the ocean from the other side of the world.

That night we dislodged the trailer and

joined them for dinner at the boat owner's

hotel, and it was still some feat finding

parking in a tiny side street in the suburbs

of Perth. I am sure the loading dock

had never been quite so overloaded!

The company was charming and the food

was good. Perched postcard-style, street-side

outside the hotel I met members of the parttime

bar staff when they alighted rotationally

at our table as their work breaks dictated.

They included a young medical student

who had just completed a number of

years working in pharmaceutical research

in a Third World country – enthralling!

From here we travelled up the West Australian

coast to Geraldton, this time to drop off the

antique tractor on a farming property.

Just as it had been built to do, the artefact

had spent much of its life at rest in a

paddock, and after a bit of TLC had been

with

VIRGINIA KNIGHT

applied the new owner intended to display

it proudly at the entrance to his property.

Like any dedicated city girl, I had never

experienced 'life on the farm'. Sure, I had been

a regular devotee of McLeod's Daughters, but

you really don't appreciate the incredible size

of a farming property until you actually find

yourself right in the middle of it or rather at

that point, though I didn't know it, the tip!

Framing a photo of the rusting relic against

the backdrop of uncluttered rolling hills,

property and tractor owner Tom Patience

inquired if I was interested in seeing some

old buildings erected in the 1800s, which

were nestled about 15 minutes away (a mere

handful of kilometres along dirt roads).

It seemed the original home of Edith

Cowan, West Australian domestic and

social rights for women pioneer, was still

standing (albeit in disrepair) on what

is now a part of John's property.

We had the rare good fortune to wander

cautiously through the ruin, which he is

lobbying government heritage departments to

assist him in restoring. A stone's throw away

was a set of whitewashed original stables,

which were remarkably well preserved but no

longer used on what is still a working farm.

To say I was fascinated would be to understate

my delight; my envy of his ownership

almost spilling over when John confided that

sometimes he had a 'sleepover' on the rickety

old camp bed beside the ancient open-range

oven in the kitchen area when it was late

and he couldn't be bothered going home.

"You just ignore all the odd, unexplainable

noises," he added mischievously as the

blood curdled appropriately in my receptive

veins and, involuntarily, I looked over my

shoulder to add some of the ghosts of

the past to our growing list of friends.

JULY

4 Feast Day of Saints Peter and Paul.

4 Aboriginal & Torres Strait Islander

Sunday: NAIDOC Week commences.

5 Theology on Tap: "Left to Tell".

Immaculée Ilibagiza will share her moving

story of surviving the 1994 Rwandan

genocide where she lost her family

and many of her friends. Today she is

regarded as one of world's leading speakers

on peace, faith, and forgiveness.

Immaculée will sign copies of her books

purchased on the night. For ages 18-35.

Time: 6.30pm. Where: PJ Gallagher's

Irish Pub, 74 Church St, Parramatta.

Details: www.theologyontap.com.au

7 Blessed Peter To Rot.

12-16 SCENE: Sydney Congress Embracing

the New Evangelisation. Bishop Julian

Porteous, Auxiliary Bishop of Sydney

and chair of the congress, welcomes

people of all ages, especially youth,

to come together and learn about the

New Evangelisation, called for by Pope

John Paul II. Details: www.scene.org.au

13-17 Looking Beyond Division: the Centre

for Ecumenical Studies is offering a

five-day winter school introducing

the study of ecumenism. The Centre's

academic co-ordinators are Rev Prof

Emeritus Robert Gribben and Rev Dr

Ray Williamson; international guest

lecturer Rev Dr John Gibaut, Director

of the World Council of Churches' Faith

and Order Commission. Where: United

Theological College, 16 Masons Dve,

North Parramatta. Details: Rev Dr Ray

Williamson (02) 6272 6213, 0417 447 981

16-18 'The Road to Emmaus' Diocesan

Youth & Young Adults Camp: relive

the Emmaus experience; by Journeying

with Christ, Receive life from the Word,

Reconciliation, and discover Christ's

presence and love in the Eucharist.

Meet other young people, make

new friends, share ideas & experiences,

grow spiritually and more

Where: Galston Gorge Conference

Centre, 8 Crusader Rd, Galston. Details

and registration at the Diocesan Youth

Website: www.parra.catholic.org.

au/youth/ events/diocesan-events/

19 Theology on Tap: Franciscan Friars

of the Renewal from New York. The

Franciscan Friars of the Renewal will

be performing & speaking. The Friars

are a Religious Community founded in

1987 by the leadership of Fr Benedict

Groeschel and Fr Stan Fortuna. Their

mission is to serve the poor and

evangelise through teaching & preaching

the Holy Gospel. For ages 18-35.

Time: 6.30pm. Where: PJ Gallagher's

Irish Pub, 74 Church St, Parramatta.

Details: www.theologyontap.com.au

30 July/ Worldwide Marriage

1 August Encounter Weekend: for married

couples. Where: Winbourne,

Edmund Rice Retreat Centre, Mulgoa.

Bookings: (02) 6379 1125, (02)

4283 3435, www.wwme.org.au

AUGUST

4 Feast of St John Vianney: 11am,

Mass for Jubilarians, St Patrick's

Cathedral, Parramatta.

6 Transfiguration of the Lord.

7-8 Caritas Australia Be More

Weekend: www.caritas.org.au

8 Feast of Mary MacKillop.

8-15 National Vocations Awareness Week.

15 Assumption of Mary.

15 Christian Meditation Introduction

and Renewal Days: arrive at 10am

for Eucharist at 10.30am, followed by

presentations and periods of meditation,

concludes at 3pm. BYO picnic

lunch. Tea and coffee provided. Books

and other material available. Where:

2010

CatholicOutlook July 2010 23

Benedictine Monastery, 121 Arcadia

Rd, Arcadia. Self-catering accommodation

is available in the new Monastery

Guest House. Bookings: Guest Master,

Br Terry tel 0438 282 318. Transport

inquiries: Ann Bergman (02) 9498

2625, anniebergman@hotmail.

com or Ann Lomas (02) 9456

4775, atlomas@bigpond.com

21-22 & Vinnies Western Sydney Doorknock

28-29 Appeal: volunteers are needed for

3 hours to collect donations for this

year's appeal. It is a great way of

having fun, exercising and meeting

people in your area while collecting

money for a good cause. To register

tel (02) 9568 0253. To make a donation

go to www.vinnies.org.au

21 St Leo's College, Wahroonga 30-year

reunion: for ex-students and staff in

Year 12 1980 & Year 10 1978 at the

Greengate Hotel (function centre). Time:

7pm. Cost: $70 (includes finger food &

drinks). Paul Fitzgerald 0400 61 44 08,

paul@fbcc.com.au or Peter Brown 0421

427 538, peterbrown@yahoo.com.au

24 The place of Providence in Augustine

and in our Experience: "You knew

all along, O God, the real reason why

I left to seek a different country, but

you did not reveal it either to me or

to my mother, who bitterly bewailed

my departure and followed me to the

seashore". (Confessions Book 5, 15)

We learn from St Augustine (so close

to his Feast Day) about the place of

God's Providence in our lives and in the

world around us. With Fr Paul Maloney

OSA. Time: 9.45am-2.30pm. Cost: $15

(conc. available). BYO lunch – refreshments

provided. Bookings: (02) 9896

6794, osaspirit@bigpond.com.au

27 Death of Dom Helder Camara (1999).

29 Refugee & Migrant Sunday.

28 Campion College Open Day:

Time: 10am-3pm. On Campus:

8-14 Austin Woodbury Place, Old

Toongabbie. Details: tel (02) 9896

9300, www.campion.edu.au

28 ACU Open Day: North Sydney

Campus. Time: 9am-4pm. Details:

www.acu.edu.au/openday

SEPTEMBER

5 Father's Day.

11 St Patrick's Cathedral Spring Fair: Come

and join us for entertainment activities

and lots of fun which will cater to all

members of the family. Where: 1 Marist

Place, Parramatta. Details: Sr Susan (02)

8839 8412, www.stpatscathedral.com.au

11 ACU Open Day: Strathfield

Campus. Time: 9am-4pm. Details:

www.acu.edu.au/openday

26 Social Justice Sunday: This year's

theme is 'Peace-building as a

Christian response to anger and

violence in Australian society'.

27 Feast of St Vincent de Paul.

OCTOBER

4 Feast of St Francis of Assisi.

5 Adult Confirmation. Where: St Patrick's

Cathedral, Parramatta. Time: 7.30pm.

19 Mass for Sacraments of Initiation Coordinators

& Teams. Where: St Patrick's

Cathedral, Parramatta. Time: 7.30pm.

24 World Mission Sunday.

28 Praying in the Year of St Luke: The

Sunday Gospels this year focus on the

Gospels of St Luke. We will look to St

Luke to find encouragement in our

prayer and union with our loving saviour

Jesus Christ the Lord. With Fr John

McCall OSA. Time: 9.45am-2.30pm.

Cost: $15 (conc. available). BYO lunch

– refreshments provided. Bookings: (02)

9896 6794, osaspirit@bigpond.com.au
---
Invest with the

Diocesan Development Fund

and help to meet the needs of

our growing Diocese

• Term deposits

Ask about our

competitive rates

• Savings accounts

with FREE bill-paying service

• No account-keeping

fees or charges

• Friendly, personal service

over-the-counter or

on the phone

To find out how easy it is to open and operate a DDF account visit our friendly staff at

10 Victoria Road, Parramatta (opposite the park)

Or complete the section below and post or fax to:

Diocesan Development Fund, PO Box 2605, North Parramatta, NSW, 1750

Telephone us on (02) 9683 6077, Fax: (02) 9683 6438 Email: ddf@atu.com.au

I would like more information about the Diocesan Development Fund…

Name: Mr Mrs Miss Ms ...................................................................................................................................

Address: ...........................................................................................................................................................................

....................................................................................................... Postcode: .................................................................

E-mail: ................................................................................................Phone: .................................................................

Disclosure: The Diocesan Development Fund Catholic Diocese of Parramatta (DDF) is not subject to the provisions of the Corporation Act 2001 nor has it been examined or approved by the Australian Securities

and Investments Commission. Deposits with the DDF are guaranteed by CDPF Limited, a company established by the Australian Catholic Bishops' Conference for this purpose. We welcome your investment with

the DDF rather than with a profit-oriented commercial organisation as a conscious commitment by you to support the Charitable, Religious and Educational works of the Catholic Church. The DDF nor the Trustees

of the Roman Catholic Church for the Diocese of Parramatta are prudentially supervised by the Australian Prudential Regulation Authority; contributions to the DDF do not obtain the benefit of the depositor

protection provisions of the Banking Act 1959; the DDF is designed for investors who wish to promote the charitable purposes of the DDF