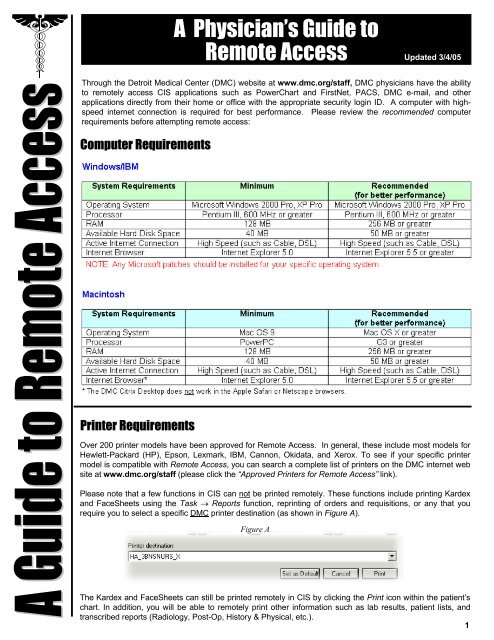 A Guide to Remote Access and the DMC Citrix Desktop
A Guide to Remote Access and the DMC Citrix Desktop
A Guide to Remote Access and the DMC Citrix Desktop
SHOW MORE
SHOW LESS
You also want an ePaper? Increase the reach of your titles
YUMPU automatically turns print PDFs into web optimized ePapers that Google loves.
Computer Requirements

A Physician's Guide to

Remote Access Updated 3/4/05

Through the Detroit Medical Center (DMC) website at www.dmc.org/staff, DMC physicians have the ability

to remotely access CIS applications such as PowerChart and FirstNet, PACS, DMC e-mail, and other

applications directly from their home or office with the appropriate security login ID. A computer with highspeed

internet connection is required for best performance. Please review the recommended computer

requirements before attempting remote access:

Printer Requirements

Over 200 printer models have been approved for Remote Access. In general, these include most models for

Hewlett-Packard (HP), Epson, Lexmark, IBM, Cannon, Okidata, and Xerox. To see if your specific printer

model is compatible with Remote Access, you can search a complete list of printers on the DMC internet web

site at www.dmc.org/staff (please click the "Approved Printers for Remote Access" link).

Please note that a few functions in CIS can not be printed remotely. These functions include printing Kardex

and FaceSheets using the Task → Reports function, reprinting of orders and requisitions, or any that you

require you to select a specific DMC printer destination (as shown in Figure A).

Figure A

The Kardex and FaceSheets can still be printed remotely in CIS by clicking the Print icon within the patient's

chart. In addition, you will be able to remotely print other information such as lab results, patient lists, and

transcribed reports (Radiology, Post-Op, History & Physical, etc.).

1
---
How to Access CIS Applications Remotely

With your active high-speed internet connection at home or office, please do the following steps:

Step 1: Within your web browser address field,

type www.dmc.org/staff, then press the Enter

key.

Step 2: Click the DMC Citrix Desktop icon.

NOTE: Macintosh

computer users need to

install and configure the

Citrix client software.

Instructions are available

via these links.

Step 3 (For First Time Remote Users Only):

A plug-in (small piece of software) needs to be

installed on the computer that is used for remote

access. To install it, click YES to both the

MetaFrame Presentation Server Web Client and

License Agreement prompts.

If you have previously installed this, continue to

step 4.

Step 4: Type your DMCNT enterprise username

and password into the appropriate fields, then

click the Log In button. Your DMC Citrix Desktop

will open.

NT Online Instructions

NOTE: If you do not remember or have a DMC

Enterprise/NT user ID, contact the Help Desk at

313-966-2400 or follow the NT online instructions.

Step 5: To access CIS PowerChart,

double-click the Start CIS icon.

Step 6: Enter your CIS user name and password

and click the OK button. CIS PowerChart will open.

NOTE: If you are already setup with Password

Manager, your application user name will

automatically display, so only a password will

need to be entered.

If you encounter problems accessing applications

via the DMC Citrix Desktop, please call the Help

Desk at 313-966-2400.

2
---
Some DMC Citrix Desktop Benefits and Features

Remote access also features the DMC Citrix Desktop, which provides the following key benefits to physicians and staff:

• Provides a more secured environment, ensuring patient confidentiality.

• Allows the user to suspend a CIS session, enabling the user to return to the same place in CIS from another computer.

• Saves a considerable amount of time logging in when using the Suspend feature.

• Includes a Universal Print Driver which makes most printers compatible for printing from CIS.

• Allows multiple applications to be opened at once.

A. SUSPEND: To ensure patient confidentiality, you should never walk away from the computer without suspending (or

logging off). Suspend allows you to save your place in any opened applications on the DMC Citrix Desktop, by doing the

following:

1. Leave your CIS PowerChart (and any other application) window(s) opened (don't close the windows).

2. Click the Suspend icon in the lower right corner. The DMC Citrix Desktop will close.

Please Note the Following Regarding the Suspend Feature:

• You can return back to any computer within 4 hours (by logging back into the DMC Citrix Desktop) and your

applications will be exactly where you left them.

• If there is no activity on your DMC Citrix Desktop for more than 30 minutes, you will be automatically suspended.

B. LOG OFF: This feature is typically used at the end of the shift. By clicking the LogOff icon in the lower right corner,

this action will close all application windows you may have opened.

C. DMC E-MAIL: You have the ability to view your DMC e-mail from home or office.

D. INTERNET & DMC PORTAL: Provides access to a web-based "information center" for physicians, such as Journal

Briefs, Clinical Tools, and Medical Literature Searches. You may also search the Internet using this icon.

E. PACS WEB FOR PHYSICIANS: Provides access to a stand-alone viewer for displaying radiology images and doing

side-by-side comparisons. NOTE:You may also view images from the All Results or Radiology tab in CIS PowerChart.

F. PERSONAL "MY DOCUMENTS" FOLDER: This gives the specific user the ability to save documents into a personal

folder. Their user name is displayed under the folder, indicating that they are logged into their DMC Citrix Desktop and

that this is their personal folder.

The advantage of using this "portable" folder is that it allows you to access your files remotely from anywhere, instead of

saving them on a hard drive on one stationary computer. These files are also backed-up nightly, so lost documents can

be recovered. Since this is your personal folder, it also provides a secure environment for your files.

C

F

Time Saver

Use the Suspend

icon as a time saving

technique. It will save your

place in any open applications

for up to 4 hours.

A

D

B

E

B

A

DMC Citrix Desktop Task Bar

Computer Desktop Task Bar

3
---
Remote Access Frequently Asked Questions:

Q. When logging in remotely, why do I get a message that states "The credentials supplied were invalid, please try again".

A. Either you typed the wrong user name and/or password, or you may have the "Caps Lock" key activated on the keyboard.

DMCNT IDs are case sensitive and are typically typed in lower-case characters.

Q. When logging in remotely, why do I get a message that states" ICA Client Not Found"

A. If you have already installed the plugin (as described in step 3 on page 2), you may need to delete your temporary internet

files by doing the following on your computer desktop (not the Citrix Desktop):

1. Within your IE browser window, select Tools, then Internet Options from the menu bar.

2. Click the Delete Files button (this may take a few seconds).

3. When finished, click OK.

1

2

3

Q. Can I use remote access if I have a firewall installed on my computer

A. Firewalls often prevent Citrix to work properly. It is recommended to turn off your firewall when using remote access.

Q. Can I download and install software on my DMC Citrix Desktop remotely

A. For security reasons and integrity of the Citrix Desktop, downloading and installing of any third party software is not

permitted. A prompt will appear notifying you of this, when attempting to download a software application from the internet.

Q. Can I use any browser (Yahoo, Safari, Netscape, etc.) for remote access

A. No. Remote Access is not supported in all internet browsers. It is recommended to use Internet Explorer 5.0 or higher.

Q. Are there known issues with Microsoft's XP Service Pack 2 (XP SP2) and remote access

A. Currently, the Windows XP Service Pack 2 is not suggested for best performance for remote access. You will need to

disable this Service Pack in order for remote access to work properly. XP Service Pack 1 is a better solution.

Q. How do I save a file in my personal folder on my Citrix Desktop remotely

A. You can email the file to your DMC email account, then access your email via the DMC Citrix Desktop (Outlook icon).

Open the email and right-click on the attachment to save it in your personal folder. The personal folder name will have

your user name with the word "documents" after it (i.e. "jsmith documents").

Copyright® 2005 – Detroit Medical Center

(This document was approved by ISD Communications 03/4/05)

4