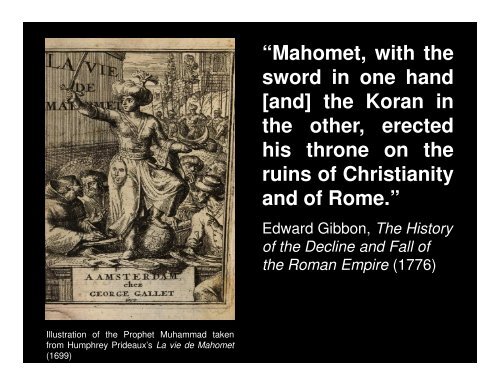 Faces of the Muslim Enemy_Presentation Part I.pdf
Faces of the Muslim Enemy_Presentation Part I.pdf
Faces of the Muslim Enemy_Presentation Part I.pdf
SHOW MORE
SHOW LESS
You also want an ePaper? Increase the reach of your titles
YUMPU automatically turns print PDFs into web optimized ePapers that Google loves.
"Mahomet, with the

sword in one hand

[and] the Koran in

the other, erected

his throne on the

ruins of Christianity

and of Rome."

Edward Gibbon, The History

of the Decline and Fall of

the Roman Empire (1776)

Illustration of the Prophet Muhammad taken

from Humphrey Prideaux's La vie de Mahomet

(1699)
---
William Blake, watercolor, Gustave 1826-27 Doré, engraving, 1860
---
Leon Jean Auguste Belly, oil Dominique on canvas, Ingres, 1861 oil on Henri canvas, Regnault, 1839 oil on canvas, 1870
---
"Turk as Barbarian" 1897

Judge magazine, 1903
---
Synthesis of a Negative Social Atmosphere
---
Rhetorical tropes and modes of persuasion

Synecdoche: A figure of speech in which a part of something

represents the whole or the whole represents a part; a specific thing

refers to a general class or a general class refers to a specific thing.

Examples: "hands" in reference to workers, "England" in reference to

the entire UK, "steel" in place of sword, "John Hancock" for a

signature, "wheels" for a car, "the Good Book" for the Bible.

Metonymy: A figure of speech in which a thing or concept is

represented not by itself but rather by something closely associated

with that thing or concept. Examples: "Washington" for the US

government, "Wall Street" for the American finance industry.

Pathos: An appeal to audiences' emotions, sympathies, and

imagination with the intent of persuading them to see things the way

the author does.
---
The Enemy as

Criminal or

Sociopath
---
The Irrational, Incomprehensible Enemy
---
The Enemy as

Threat to

Civilization