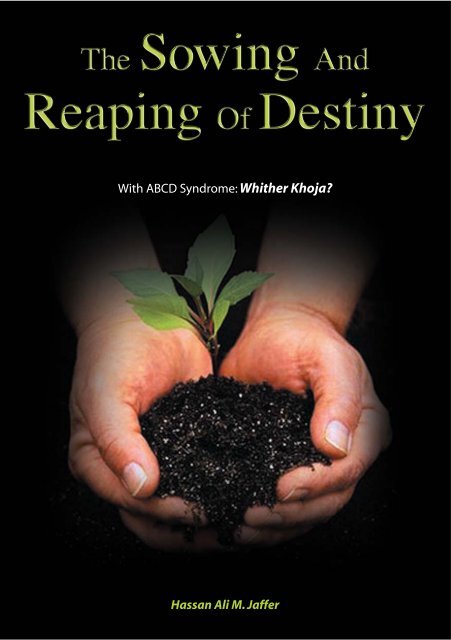 Sowing and Reaping of Destiny
Create successful ePaper yourself
Turn your PDF publications into a flip-book with our unique Google optimized e-Paper software.
The Sowing And

Reaping Of Destiny

With ABCD Syndrome: Whither Khoja

Hassan Ali M. Jaffer
---
Copyright © by Hassan Ali M. Jaffer

First Edition 2008

All rights reserved. No part of this book may be

reproduced, or transmitted in any form on by

any means, electronic, mechanical, photocopying

or otherwise, without the permission of author.

ISBN No - 978 - 9987 - 512 - 23 - 2

Published by:

Alitrah Foundation

P O Box - 19701, Dar es salaam.Tanzania.

Tel: +255 22 2110640

Tel/Fax: +255 22 2127555

Email: alitrah@raha.com

Website: www.alitrah.org

Online Shopping: www.alitrah.info
---
CONTENTS

Introduction . . . . . . . . . . . . . . . . . . . . . . . . . . . . . . . . . . . . . . . . . . . .2

Issues and concerns . . . . . . . . . . . . . . . . . . . . . . . . . . . . . . . . . . . . . .4

North American scene . . . . . . . . . . . . . . . . . . . . . . . . . . . . . . . . . . . .5

Historic realities . . . . . . . . . . . . . . . . . . . . . . . . . . . . . . . . . . . . . . . . .6

Indian scene . . . . . . . . . . . . . . . . . . . . . . . . . . . . . . . . . . . . . . . . . . . .8

Colonial heritage . . . . . . . . . . . . . . . . . . . . . . . . . . . . . . . . . . . . . . .10

Khoja identity . . . . . . . . . . . . . . . . . . . . . . . . . . . . . . . . . . . . . . . . .11

History of minorities . . . . . . . . . . . . . . . . . . . . . . . . . . . . . . . . . . . .13

Wandering Gypsies . . . . . . . . . . . . . . . . . . . . . . . . . . . . . . . . . . . . .14

Attitude . . . . . . . . . . . . . . . . . . . . . . . . . . . . . . . . . . . . . . . . . . . . . .16

Khoja migratory patterns . . . . . . . . . . . . . . . . . . . . . . . . . . . . . . . . .17

Generation chart . . . . . . . . . . . . . . . . . . . . . . . . . . . . . . . . . . . . . . .22

Khoja population . . . . . . . . . . . . . . . . . . . . . . . . . . . . . . . . . . . . . . .25

Reforms . . . . . . . . . . . . . . . . . . . . . . . . . . . . . . . . . . . . . . . . . . . . . .28

Female higher education . . . . . . . . . . . . . . . . . . . . . . . . . . . . . . . . .29

Marriage . . . . . . . . . . . . . . . . . . . . . . . . . . . . . . . . . . . . . . . . . . . . .30

Tussle. . . . . . . . . . . . . . . . . . . . . . . . . . . . . . . . . . . . . . . . . . . . . . . .31

Harnessing talents and potentials . . . . . . . . . . . . . . . . . . . . . . . . . .32

General complaint . . . . . . . . . . . . . . . . . . . . . . . . . . . . . . . . . . . . . .34

Hijab . . . . . . . . . . . . . . . . . . . . . . . . . . . . . . . . . . . . . . . . . . . . . . . .36

Leadership . . . . . . . . . . . . . . . . . . . . . . . . . . . . . . . . . . . . . . . . . . . .36

Danger signals . . . . . . . . . . . . . . . . . . . . . . . . . . . . . . . . . . . . . . . . .38

Great challenges . . . . . . . . . . . . . . . . . . . . . . . . . . . . . . . . . . . . . . .39

Ingrained philosophy . . . . . . . . . . . . . . . . . . . . . . . . . . . . . . . . . . . .42

Notes . . . . . . . . . . . . . . . . . . . . . . . . . . . . . . . . . . . . . . . . . . . . . . . .45

1
---
INTRODUCTION

Until recent times, books on Islamic subjects published in English language were

available mostly from Western sources. Books written by non Muslim writers

were often laced with the usual bias. There is growing demand for materials on

topical issues written by Islamic Scholars and thinkers who address common

concerns affecting the daily lives of individuals and societies from the Islamic

perspectives.

The need for producing such materials economically in English and in the East

African lingua franca known as the Swahili language has been long felt.

With the formation of Al Itrah Foundation in Daressalaam, Tanzania, in 2002, we

have undertaken the task of filling the void.

During the past six years, we have been able to translate and publish so far 80

titles in Kiswahili language. This will be the first book being published in English

language.

Al Itrah is dedicated to the spread of education through learning process, focusing

especially on the indigenous people of East Africa. Since its inception in October

2002, the Foundation has made great strides towards this goal. Teachings of the

Holy Qur'an provide the main driving force behind the various activities of the

Foundation.

One of the main objectives of Al`Itrah Foundation is to ensure that adequate

literature is readily available and accessible to the common masses. In so doing,

we hope to develop the culture of reading. Besides, for easy accessibility, Arabic

resource materials are also distributed to the Muballigheen in East Africa.

With the collaboration of the Islamic College for Advanced Studies (ICAS) based

in the UK, Al Itrah has embarked upon an ambitious program of donating Islamic

books on various academic themes and subjects to university and public libraries

throughout East Africa.

Recently Al`Itrah Foundation has launched its own cable TV channel called IBN

(Itrah Broadcasting Network), which airs its programs though the courtesy of

CTV. IBN airs Islamic programs 24 hours a day, seven days a week. It provides

viewers with a healthier alternative to the mainstream television. At the same

time, it helps in educating the public about the divine message of Islam as

received through the blessed Prophet (saw) and the Aimmah (AS).

2
---
Hassan Ali M. Jaffer who has been active in community services for the past five

decades has taken keen interest in promoting Islamic studies and in tabligh related

activates. Over the years, he has contributed a number of articles and discussion

papers at various forums. Among them:

"The Role of Madrassah". (1994)

"The Role of Majalis and Mimber." (1994)

"Case for Survival - A challenge facing the community in North America.

(A discussion paper presented to NASIMCO and other Community workers and

educators. (1999.)

"A reality we can ill afford to ignore." - Comments on the Muballigh training

program initiated by the W.F. (2007)

In this publication called: "The Sowing and Reaping of Destiny - With ABCD

syndrome, whither Khoja" the writer has endeavoured to highlight issues

affecting the community, especially for those who are settled in the West.

It is hoped that the material produced here will provide food for thought and

encourage readers to have an introspective look at the working of our societies in

different parts of the world. Some of the issues raised are equally applicable to the

communities living in Africa.

The writer succinctly sums up the central thrust of his presentation with the

following words.

"The very basis of the emergence of the Khoja Shia Ithna-Asheri community

evolves around their faith. Without attempts at practicing and promotion of their

faith, mere survival of the community as an ethnic entity only is irrelevant. No

faith. No Community. No structured organizations. That is the bottom line every

individual member of the community has to bear in mind"

In so doing, he poses a challenge that call for serious attention.

Mehboob Jaffer Somji

Alitrah Foundation

Daressalam. Tanzania

30th November, 2008

3
---
ISSUES AND CONCERNS

During my visit to Canada, in February, 2008, initial draft of this paper was circulated

to a group of friends as a basis for discussion. Later, I gave the draft to a group of

youngsters in New York and Toronto for their input.

Youngsters born in the West could not relate to various observations especially those

related to the developments and outlook prevailing in the East and their linkage with the

current outlook among the community members living in the West. To help clarify

issues, especially for the youngsters, various historical narratives and examples have

since been included in this revised draft.

Also included is a "Generation Chart" with some comments. Quoted also are the type

of challenges facing the migrant Muslim communities living in North America and a

message quoting Ayatullah Seyed Ali Seestani.

The writer is in the process of finalizing arrangements for the publication of two books:

"Relentless Endeavours"

A biographical review of the life and times of Mulla Asgharali M. M. Jaffer.

"The Endangered Species"

Evolution of the Khoja Shia Ithna-Asheri Muslim Community. Their origin, current

state and future challenges.

Issues facing Muslim communities living in the West have occupied the minds of many.

In an introduction to the: "Muslims on the Americanization Path" John L. Esposito

writes that "many Muslims have not solved the problem of the relationship of their faith

to national identity either: will they remain Muslims in America or become American

Muslims"1 This and the related questions that arise provide cause for concern to all

thinking Muslims. In this context, how does the miniscule community known as the

Khoja Shia Ithna-Asheri Muslim Community living in the West adapt to the prevalent

realities Could they sufficiently integrate or assimilate with the local societies, without

losing their identity as a Community and as Muslims In the following pages an attempt

has been made to review various aspects affecting this small community.

This is essentially a discussion paper aimed at encouraging an introspective look at our

society. Some of the observations made here may raise eyebrows and probably draw

strong reaction. A useful purpose would be served if it helps in generating lively

discussions for the way forward. The writer would appreciate input and suggestions in

this respect.

Hassan Ali M. Jaffer

Mombasa. Kenya.

4
---
NORTH AMERICAN SCENE

Writers with an experience of North American Islam describe the immigrant

Muslim settlers as "cultural Muslims" who can thrive only by clinging to their

past in an alien environment. Their progeny, known as "ABCD's (American

born confused Desi's)" are products of a dichotomy torn between two opposing

cultural heritages. 2

It is this dilemma that is not adequately understood and addressed from the

pulpit and by society at large. Consequently, the community finds itself adrift

and yet too proud to admit and recognize realities on the ground.

The plight of Muslims in the West is not too dissimilar to that of the confused

Pakistani politicians driven by their diverse interests. With reactionary

attitudes, as Pakistani leaders are preoccupied in promoting their own short

term goals they end up missing out on the bigger picture for the nation. While

people moan and bicker, the nation remains adrift.

(Acknowledgement: Reproduced here

is a cartoon from "Dawn" Newspaper,

Pakistan - that says it all.)

A serious challenge now facing Muslim

communities living in the West is: How

would their progeny survive in the West in

years to come Would they be able to

integrate into the Western societies

satisfactorily while still retaining their

cultural and spiritual base Or would they end

up fully assimilated into the Western societies

losing much of their cultural and spiritual

identities in the process This is what

happened to various waves of migrants that

settled in North America before them. Would the current wave of Muslim

migrants fare any better

Do they have a definitive vision for the type of society they would like to

evolve To achieve their defined objective how relevant and realistic are they

in their planning for the way forward

5
---
HISTORIC REALITIES

For analytical review of the related aspects, we have to recall some historic

realities.

It is recognized that evolution of human societies, the rise and fall of great

civilizations and development of cultures and traditions generally take time to

mature to leave any lasting impact. Great civilizations and cultures develop

over a long period of time. Their eventual decline, at times much faster than

their development phase, is generally accentuated as a result of a steady erosion

of moral values and discipline.

The word 'morality' is often narrowly viewed in terms of sexual morality only.

Here we are talking of morality in the broadest sense of the word encompassing

overall human behaviour in all walks of life.

A close look at the rise and fall of great empires and civilizations, Greek,

Roman, Egyptian, Mesopotamian, Persian and Chinese civilizations are

examples of this pattern. In more recent times, history records Arab expansion,

emergence of the Islamic civilization and the rise and fall of the Arab and

Muslim empires such as the Umayyad, Abbaside and Fatimid. After the fall of

these dynastic powers, the Turkish Ottoman Empire emerged in 15th century to

rule over the Balkans and much of the Muslim world in the Middle East until

the first quarter of the twentieth century.

Simultaneously, with the emergence of Ottoman rule in Turkey, Safavid reigned

in Iran and Moguls consolidated their hold in India.

Despite wielding so much power and influence over a vast expanse of the

Muslim world, Ottoman rule is remembered today for being the "sick man of

Europe" - an expression of its decadence towards its end.

As Europe woke up to the age of renaissance that ushered in the industrial age,

the period that followed is known as 'modern age'. Today we are living in what

is aptly described as 'post modern age.'

At a critical period in human history, introvert outlook of the Ottoman

Caliphate and the Islamic clergy within its domain left behind a legacy that has

contributed much to the widespread backwardness witnessed in the Muslim

world today.

6
---
A review of the history of printing press and attitude of the Muslim rulers and

Ulema at the time, illustrate the point.

"In 1485, a decree by the Ottoman Sultan, Bayazid II, banned this

new invention, on the grounds that it would be sacrilegious to use

the Arabic language in mechanical equipment. A press was sent

from Germany to the court of Turkey to print Koran. The Ulema

were called in to give a verdict (Fatwa) if such a contraption of

infidels can be used to print a holy scripture. The unanimous

opinion was NO. For the next four centuries, Muslims were

deprived of this privilege. Christians and Jews could use the

printing presses in Muslim lands and they could control the

learning henceforth. The Caliph needed accountants for his

business and not a single Muslim could apply for this job. All the

applicants were Christians and Jews."

"The Koran and Arabic were so closely entwined that the

language itself demanded pious treatment, which it wasn't likely

to get from printers. Furthermore, printing threatened Islamic

calligraphers, who became its powerful enemies. Jewish

publishers could operate in Turkey only so long as they did not

use Arabic. Printing in Arabic was illegal until the first half of the

18th century, and even then it grew slowly. When Napoleon

arrived in Egypt in 1798, Cairo had no presses. By then, European

thinkers had been educating one another through books for more

than two centuries." 3

Refusal to appreciate the need for reformation and change compatible with the

requirements of the time led to stagnation that ultimately contributed to the

decline of Muslim power. 4

Husein Haqqani summarizes the consequence of this trend:

"Muslim use of the printing press did not start until 1727 causing

the Muslims to lose more than 270 years in the world's greatest

explosion of knowledge. The Persian, Moghul, and Ottoman

empires controlled vast lands and resources, but important

scientific discoveries and inventions that had occurred since 15th

century came about in Europe and not in the Muslim lands." 5

7
---
INDIAN SCENE

In similar vein, on the Indian sub-continent, we see the splendour of the Mogul

rule in its early stages and its eventual demise with a thud that left Muslims of

India stymied in their imaginary past glory.

The Fatimids in Egypt are remembered for creating Al-Azhar in tenth century

as an institution of learning that has survived for a millennium. In India, Moguls

are mostly remembered for the splendid monuments they created like the Taj

Mahal in Agra, Red Fort and Jamia Masjid in Delhi and Badshahi Masjid and

Shalimar Gardens in Lahore. Mogul rule also bequeathed to India a new

language, known as Urdu.

In the past 500 years, as in the case of Turkey and in the rest of the Muslim

world, in India also, Muslim aristocracy and Ulema contributed much towards

stifling process of modernization. They failed to promote education in keeping

with the changing times.

It is widely held that in the past 500 years, Muslim world has produced more

reactionary thinkers with fixations for the revival of their perceived "golden

age" instead of applying themselves to address to the current realities. Even

today there are elements that advocate revival of an Islamic "Khilafat." There

are politicians while riding the democratic chariot are on record having aspired

to arrogate to themselves the accolade of "Ameerul Momineen" when in power.

6 Satirical comments heard in Pakistan in this context suggest that among the

ruling class, Islam is often used as a vehicle to grab power in Islamabad!

Afraid to ask question that could disturb their

traditional 'comfort zone'

Muslim society has been generally

reluctant to think out of the box. They

have been afraid to ask questions that

could disturb their traditional 'comfort

zone.' Feeble sounds emerging from

time to time that question long held

stereo typed concepts are often drowned

in the din of fanatical crescendo. 7

In the latter half of the nineteenth century, against many odds, Sir Seyed Ahmad

Khan led the Aligarh movement that helped establish Aligarh Muslim

University in India. But for this development, the plight of Muslims of the

Indian sub continent today would have been much worse.

8
---
Consequence of this introvert policy was also to be felt by Indian Muslims

settled in Africa from nineteenth century. It continues to be felt by Muslims in

India, Pakistan and Bangladesh even now.

While allowances could be made for progress made by individuals, especially

in the sphere of medicine and technology, this has been mostly attained with

education acquired in the West or from western oriented institutes. Overall,

Muslim societies in the Indian sub Continent continue to be educationally far

behind their non Muslim compatriots.

Asians who migrated to the West from Africa will recall that until almost mid

1940's, majority of Muslim business houses in Africa had to engage non-

Muslims as their accountants since they could not easily find educated Muslims

to handle their accounts. The central role of 'Mehtaji,' (accountant) in Muslim

commercial enterprises in Africa are well known. Low level of education

amongst Muslims was further illustrated by the fact that majority of the

expatriate teachers in Indian schools in Africa were non Muslims.

An added unfortunate trend among Muslim communities in Africa was that

once settled, they did not easily reach out to their compatriots in India the way

other communities did. This is amply reflected in the growing disparity

between Muslim and non Muslim migrants settling in Africa in the early

decades of the twentieth century.

These examples speak volumes and underline challenges facing the community

now settled in the West not to repeat the historic follies. The community living

in the West can ill afford to be out of tune with the current realities. It would be

disastrous for the community in the long run, were they to severe contacts with

the rest of the community members worldwide - a growing tendency that is

noted with concern.

An added aspect worth pondering upon here is that community members from

Africa now settled in the West need not forget a debt of gratitude they owe to

the continent of Africa. Their settlement in Africa for over a century has been

the main contributory factor in their relative better standard of education and

economic well being. Left in India, their condition would not have been any

different from that of their compatriots now living in Cutch, Kathiawad, Gujarat

and in Mumbai. Those who have visited India during the past thirty years will

be able to appreciate this aspect better.

9
---
COLONIAL HERITAGE

With the onset of the industrial age, over the past three centuries, we have seen

European colonization of the world, the zenith of their power and now their

decline. Western conquest of the world has, however, left a lasting impact.

Collapse of the Soviet Union and disappearance of Communism are significant

developments in recent history. Today, countries in the East, including Muslim

states "are in reality outposts of the West." 8 While Muslim masses watch

helplessly, everywhere, Islamic values continue to be eroded. At the same time,

in many countries, Muslim leadership and Ulema continue to play politics with

each other, jockeying for position and power to perpetuate their hold over the

perplexed societies. Pakistan, Afghanistan, Iran, Saudi Arabia, among other

Muslim countries, are glaring examples in this context.

Seyyed Hossein Nasr paints a grim picture of the dilemma facing the Muslim

Community today.

"Numerous Muslims, especially the young, journey to the West in

quest of modern education. Many others confront the challenge of

the modern world itself within educational institutions and certain

social circles which, although in Muslim lands, are in reality

outposts of the West. Many are alienated from Islam as a result of

the crushing influence of alien ideologies, while others react mostly

with emotional outbursts and occasional violence. But few gain

deep enough knowledge of the modern world to be able to preserve

Islam in the light of the challenges of that world and to succeed in

providing the necessary Islamic response posed by current

ideologies. There are very few maps of the modern "intellectual"

landscape which would allow Muslims to travel through this

landscape without becoming lost and without losing their faith (al-

Iman), that most precious of divine gifts, in the process." 9

In this paper an attempt is made to focus specific attention on the evolution of

the Khoja Shia Ithna-Asheri Muslim community. It is recognized that for any

one to focus in isolation on a factional group only in an attempt at evaluating

the evolution and current state of a small, regional and ethnic based society

known as the Khoja Shia Ithna-Asheri Muslim Community would be a folly.

One cannot remain oblivious of the changes taking place around them. After all

Khoja are not a separate entity on this planet that could remain unaffected by

the historical and environmental changes taking place around them.

10
---
KHOJA IDENTITY

Khoja are not a race or a tribe to claim any unique culture. They are essentially

a sub sect of a society that historical circumstances of ancestral Indian cultural

heritage and subsequent colonization and politicization of race, ethnicity and

class has allowed to exist. One is born as a Khoja. It is not a religion or a sect

to which one could be inducted. Born as Hindu, when their ancestors converted

to Islam some 600/700 years ago, they were to be called as 'Khoja'. Thus a new

Indian sub-tribe or clan was born.

Religion practiced by early Khoja Muslims was a loose form of Islam that could

be described as a combination of Islamic beliefs spiced with Sufi outlook and

with some remnants of Hindu beliefs and practices blended together. Majority

of them were gradually inducted to become followers of the Nizari Ismaili faith

with adaptations to suit local environments. They are now better known as

Ismaili followers of the Aga Khan. A smaller number amongst them had

leanings towards either Sunni or Shia Ithna-Asheri faith.

The three Khoja factions coexisted harmoniously for some time. Eventually,

when queries were raised about the fundamentals of the faith espoused by the

community leadership and over attempts by the Ismaili hierarchy at exercising

control over the community assets, the latter two factions were

excommunicated from the once united Khoja community.

Those who did not agree to toe the line and insisted upon upholding their

specific denominational leanings were obliged to branch out to form their

specific communities while still retaining their overall Khoja identity.

Until the first quarter of the nineteenth century, the united Khoja community

tolerated such mixed sectarian leanings. Disputes arose as early as 1828 and

again in 1848 questioning the hegemony of the Aga Khan. These were

successfully pacified or quelled. When the Aga Khan tried to enforce an oath of

allegiance to his authority, many objected. In 1862, one group openly distanced

itself from the united Khoja community to proclaim itself as Sunni Khoja

Jamaat. A decade later, another group emerged as Shia Ithna-Asheri Khoja

Jamaat.

A Khoja converting to any religion still remains a Khoja. While practicing their

specific beliefs, all three groups, Ismaili, Sunni and Ithna-Asheri groups

retained their Khoja identity.

11
---
Two more groups from Gujarat (India) to be converted to Islam at around the

same period as the early Khoja were however not classified as Khoja.

Those converts who originated from the Lohana tribe were known as 'Khoja'.

There are groups that are not different from the Khoja "either culturally or in

terms of religious doctrines, but nonetheless are not Khoja, i.e. Momnas,

Kunbis or Shamsis. These subgroups are converts from non Lohana casts." 10

Among theses groups also, there are adherents of the Ismaili, Sunni and Ithna-

Asheri beliefs.

Momna converts to Shia Ithna-Asheri faith organised themselves as "Shia

Ithna-Asheri Momin Jamaat" in Gujarat (India) and in Karachi (Pakistan).

Individuals from the Momin Jamaat who settled in Africa and later moved on

to the West are fully assimilated with the Khoja community.

Another group from the same areas of Gujarat to be converted to Islam was that

of the Mustali Ismaili. They are now better known as Dawoodi Bohra. Unlike

the Nizari Ismaili in India, the Mustali Ismaili converts were not classified as

Khoja.

Common to all migrant communities, as soon as they leave their protective

environments, because of their small number and widespread dispersal, they

begin to disintegrate. Their distinct ethnic entities are put to test. They are

forced to make choices. Khoja migrants to the West fall within this category.

They have an option to retain their identity in some loose form provided they

broaden their outlook and adapt to the current realities.

The second option for them is to become part of the larger and dominant

western society where many of them now live and strive to make their

ideological impact therein as practicing Muslims and not necessarily as Khoja

Muslims.

Failure to recognize the inevitable trends amount to risk degenerating and

disappearing in time by holding on to the old ways of doing things - especially

in managing the next generation.

12
---
HISTORY OF MINORITIES

This is the historical outcome of all minorities coming in contact with dominant

cultures, traditions and societies. Where they lack supportive community

organizations, the poor integrate into the mainstream more readily for they feel

they have nothing to look up to for protection. The middle classes survive

longer because they have their wealth to protect them. Mauritius, Malaysia, Fiji,

and the West Indies are examples of such Indian (dis)integration.

USA is another stark example of the fate that befell African Muslims from West

Africa who were initially brought in as slaves. A similar fate also befell a large

community of Arabs who settled in North and South America after the first

World War, 1914-1918.

Commenting on my initial draft paper circulated to some friends in February

this year, I received a letter from a friend who graphically illustrates the

problem affecting the Arab and Irani communities settled in North America.

"I fully concur with your observation about the radical

transformation and loss of identity in North America of

Iranians, Iraqis and Lebanese. A few years ago I visited a

place in North America and attended a funeral of an Iranian

doctor. As usual, it was Khoja who performed all the

funeral rites. I just could not believe what I saw and that

experience really gave me a jolt. The behaviour and the

dress of the Iranian men and women were typically those

that you normally see at a funeral in a Church. For once I

thought I was in a Church gathering facing a very

expensive coffin when I conducted Salatul Mayyit in a

hired Church hall. At the grave yard, the doctor's son

reinforced my bewilderment. He could not even read Surah

Al-Fatihah on his father's grave and I had to literally read

it and ask him to repeat after me. A member of our

community told me afterwards that such was the sad state

of affairs in that country. He painted a pretty bleak picture

of the Lebanese youth whose parents settled there about 50

years ago. He told me that nothing Islamic or Lebanese

remained about them." 11

13
---
Situation in mainland Europe and also in the British Isles is not too dissimilar.

A study of the North African Arabs settled in France and of Lebanese settled in

West Africa and Australia and in other parts of Europe and also of Irani,

Afghans, Turks, Bangaleshis, Indians, Pakistanis, West Africans and

Malayasians will be equally revealing.

As an immigrant community settled in the West, how well does the small Khoja

Shia Ithna-Asheri community fare today It would be unfortunate for the

community to operate with an "ostrich" mentality under the notion that because

of their community structures, they could possibly remain immune to the

environmental influences. What affected other communities could indeed affect

them too. Time has a tendency of taking a heavy toll on the unawares.

As a distinct Indian community that came into existence within the last one and

a half century, Khoja Shia Ithna-Asheri community does not appear to have

recovered fully from its birth pangs. About to step into adolescence and venture

out of the sheltered nursery of the home based Indian environment, the

community, constrained by its limited number, has undergone traumatic

experiences one after the other.

WANDERING GYPSIES

Emerging initially as a group within sheltered, Indian, caste based society, they

were restricted to the narrow confines of Cutch, Kathiawad, Gujarat, Mumbai,

Karachi, and in parts of Sindh. From mid nineteenth century, economic realities

compelled many among them to venture out to settle in Africa and on the

Arabian coast.

Ostracized by the larger Khoja community because of their doctrinal differences,

they suffered from the effects of social and economic boycott practiced against

them by their immediate cousins as they strived to structure themselves as an

alternative organized community based on their faith.

Displaced again from India at the time of partition in 1947, many sought shelter

in Pakistan. From 1960 onwards, they were to be uprooted once more from

Africa and partly also from Pakistan, in what until then, looked like their

alternative mother lands after India. Many families were thus to be displaced

from Africa and from India and Pakistan to be scattered in different parts of the

world. In the process, many lost touch with their close relatives. They also

began to lose their mother tongue, Cutchi and Gujarati.

14
---
With the loss of language, over a period of time, much of their cultural heritage

also ended up being diluted.

An attempt at reviewing the psychosis of the Khoja emotive drive in this

context would provide for some fascinating revelations.

Recalling their early emergence as a distinct Khoja Shia Ithna-Asheri

community, their innate sense of insecurity made them strive to improve their

economic circumstances and also their educational standards. At one stage in

1880's, they were described as the "least organized Asian community in

Africa." 12 In order to acquire a sense of self esteem and respectability, they

worked hard, against many odds, to structure themselves as an organized

community. At the same time, in keeping with the Indian cultural heritage, they

clung to a wide range of traditions and ritualistic forms ostensibly in the good

name of religion that could not be explained away easily. This early background

would continue to influence much of their thinking for long.

Indian communities settled in Africa operated in a make believe replication of

the Indian communal based societies with all their ethnic based outlook and

practices. Call it tolerance or political expediency, colonial masters in Africa

assisted in perpetuating their Indian heritage as it fitted into the wider imperial

strategy of promoting racial segregation. South Africa, Rhodesia and Kenya,

among other Colonial territories in Africa provide many examples.

The Ithna-Asheri Khoja community is an offshoot from amongst the followers

of the Aga Khan Ismaili Khoja Community. In order to practice their faith freely,

those among them professing to practice the Shia Ithna-Asheri faith were

obliged to severe their links with close family connections as they disassociated

themselves with the hereditary leadership of the Aga Khan as their temporal and

spiritual leader. Instead of one "Aga Khan" as their central icon, they soon

acquired scores of symbolic "Agas" and pseudo mini "Agas" also, minus the

socio-spiritual hold of a pontificating "Aga Khan."

While he was still in Iran, the 46th Ismaili Imam Hassan Ali Shah was

appointed Governor of Kirman and was given the title of 'Agha Khan' by Qajaar

ruler of the time. "Henceforth Hassan Ali Shah became generally known Agha

Khan Mahallati and the title of Agha Khan remained hereditary amongst the

successors, the Nizari Imams of the modern times" 13 Aga Khan Mahallati is

also known as Agha Khan I.

Persian language known as 'Farsi' is a flowery language. Apart from the

honorific title, the word "Aga" or more appropriately, "Agha," is commonly

used in Iran when individuals address another male person. Women are

addressed as "Khanum."

15
---
The word "Agha" could be loosely translated as "Respected Gentleman". The

nearest similarity in English language would be the use of prefix "Sir" when

individuals deferentially address an elder.

Towards the latter part of the nineteenth century and the beginning of the

twentieth century, Irani Ulema and Seyyed coming to Africa and India were

thus, in keeping with the Irani tradition, respectfully addressed as 'Agha'

followed by the respective names of the individuals. With the passage of time,

among Khoja, the word "Agha" came to be associated with Ulema or Sadaat.

Indian Ulema and Sadaat coming to Africa were also deferentially referred to

as "Agha".

With this background in mind, an amusing incident is recounted of a young

Khoja lad from Africa on his first visit to Iran. The inquisitive young man was

astonished to notice all Irani males addressing each other with the prefix of

"Agha" and loudly wondered if all Irani were indeed learned Ulema qualified

to be called Agha! To the young man, only turban wearing Ulema and Seyyed

qualified to be called Agha. The sight of commoners freely using the prefix in

addressing each other was perplexing to him.

This outlook, compounded by the ingrained complexes inherited from the age

old Indian, class prone system and the history of their past association as

followers of the Aga Khan at times coloured their outlook in life.

Has their wandering in search of greener pastures ended for them to finally

settle down and assimilate fully within their adopted environments

At times a question that haunts people is whether fate has some more wandering

in store for them The post 9/11 and post 7/7 anti Muslim backlash witnessed

in North America and Europe are pointers towards gathering storm over the

horizon. Evolving international scene cast further shadow in this context.

ATTITUDE

This migratory history affects many communities who have undergone similar

experiences. It gives rise to a mentality of 'rootedness,' where no place is

considered a permanent home. Their response then is to devise mental formulas

of the host countries/communities as different or even backward, in order to

retain their 'purity.' This is how Indian, Arab and European immigrants behaved

in Africa.

16
---
KHOJA MIGRATORY PATTERNS

Phase (1) 17th Century Gujarat

Phase (2) – Mid 18th Century To : Bombay (Mumbai) & Karachi

17
---
Phase (3) – late 18th / early 19th Century

To : Iran coast, Oman, Yemen, Burma

Phase (4) – 1820 onwards To : Zanzibar,

also 1840 & 1860 To : Madagascar

18
---
Phase (5) – 1860 onwards Into East Africa

Phase (6) – 1947 + 1960 onwards - more dispersals

19
---
In the West, eastern immigrant communities may behave somewhat differently.

Many among them suffer from some form of inferiority complexes arising out

of the legacy of their colonial past. While they were in Africa, during colonial

days, Asian immigrant communities would discriminate against the indigenous

people of African origin. At the same time they would sheepishly tolerate all

forms of discrimination practiced against them by their colonial masters and the

Europeans settlers in Africa. Even after independence of the African territories,

this mentality persists to a variable degree.

For the immigrants, at the back of their minds there is always a nagging fear

that should circumstances compel, they need to be ready for the next move out.

In managing their communities, there is a mob psychology at work as well -

keep the community tightly bound to a structured set up they have known so far

and to the few leaders and rich members of the society in some form of

different/puristic religious and cultural bond. This could be true of all

communities in similar circumstances. This mentality applies also to Khoja

Community.

The recurring question of great concern for the Khoja community, especially

for those settled in the West is whether their progeny would survive as

practicing Muslims fifty years from now. It is this concern that has made them

hold on to the preservation of their Khoja identity - an outlook that has served

them well in sustaining their faith over the past century.

However, increasingly, the new generation born and bred in the West is

questioning what they perceive as narrow-mindedness and insularity of the old

guard in the community who insist upon retaining the social and cultural ethos

and modus operandi which has worked well for the community in Africa and in

the India sub continent so far. Younger generation, born in the West develop a

sense of belonging to their places of abode. They do not have lingering of any

sentimental leanings noticed among their parents now living in the West.

It is interesting to observe here that among the former East African residents of

Indian origin from different communities now living in the West, there are

many who would not wish to be introduced as "overseas Indians". They would

rather be called as overseas East Africans, Tanzanian, Ugandans or Kenyans.

Indians in East Africa are said to have been once described by Nehru, the first

Prime Minister of India as "a bit of East and a bit of West, and at home in

neither."

20
---
In an Africana discussion forum (September, 12, 2008) Ramnik Shah of Surrey,

England, makes an interesting observation in this context.

"After three generations, the Hindu Lohana community in East

Africa has developed a unique self-determined combination of

Swahili, European, and South Asian elements. This community

does not identify with the Indian diaspora nor with the culture of

their ancestors in India. Their home is Africa and their outlook is

'international.' Whether we agree with this assertion or not, the

fact remains that there is some basis for his analysis of how the

Lohanas, and by analogy and extension, other Indian subcommunities

in East Africa have transformed themselves into a

somewhat different species."

To what extent does this description of the Lohana community apply also to

members of the Khoja community With this background in mind it is not

therefore difficult to comprehend how would youngsters born and bred in the

West feel, two to three generations down the line.

Thus it is against this background of balancing out the nervousness of the older

members of the community and the concerns of the younger generation that call

for attention. Torn between the pressures of integration and influence of alien

cultures on the one hand and the struggle for the maintenance and survival of

tradition and identity of the community on the other, historical legacy and

identity of the Khoja Shia Ithna-Asheri community emerges as an important

case study.

That they may ultimately lose much

of their cultural base and also their

current ethnic identity, especially in

the West, is understood and

grudgingly accepted. A similar trend,

at a relatively slower pace is noticed

in Africa and to some extent in

Pakistan and India also. Here they

appear to be resigned to the

inevitable - though too proud to

admit. Like the proverbial Ostrich

they appear to be in a state of denial.

Like the proverbial Ostrich

they appear to be in a state of denial

21
---
In terms of ensuring survival of their faith, they appear to be somewhat

confused and uncertain as to the best way forward. They are afraid to recognize

and identify the dangers posed in this context. With an escapist attitude, they

are hesitant to discuss the issues freely. Instead, they are inclined to indulge in

pious platitudes while hoping for mother 'luck' to sustain them.

In their current approach and in managing their community affairs, do they

sufficiently recognize the challenges that lie ahead for them

In my paper - "Case for Survival" - submitted to NASIMCO on 20th January,

1999, I made following observations.

"To analyze this question, let us study the following "Generation Chart" and

ask ourselves a few more questions.

"(1) Why, when, and where, did we first emerge as a Community"

"(2) Why, if at all, should we concern ourselves to work towards the retention

and further development of the Community in its present form"

"Are we succeeding in our current endeavors What could happen, if we

cease to exist as such"

"(3) What are our ideals in life and what is our vision for the type of society

that we wish to evolve for our progeny"

"(4) Having agreed upon the vision for the type of society we wish to evolve

for our progeny in North America, what are we doing positively to

achieve this objective"

"For people in the right age bracket, they can easily look back at the past fifty

years and recall their childhood memories. The question is how well can we

look ahead and try to visualize the period and the shape of things to come

during the next 50 years A look at the following chart may help to focus our

attention to crystallize the concept."

22
---
" What we do today and how we now go about evolving our

society will go a long way in shaping the destiny for our progeny,

five to six generations down the line."

"A youth in the age category "D", "E" and "F" today, will have a

great role to play in shaping the destiny of the succeeding

generations and a heavy burden of responsibility in this context

will eventually rest on their shoulders. The question one needs to

ask here is: "Do I feel confident with the upbringing of my own

children within this age bracket How do I feel about their

outlook, understanding and behavior If I feel satisfied with their

development so far, then there is hope for my offspring to live up

to my expectations 50 years from today. On the other hand, if, for

any reason, I feel concerned or somewhat unhappy with the

current state, outlook and development of my children in the age

category "D", "E" and "F", and somehow, I do feel that they do

not quite measure up to my expectations for the type of children I

would ideally wish them to be, what are the prospects for my

progeny in the category "G", 50 years from today"

"Primary crucial role of individual parents and influence of

respective family-life environment are generally recognized. It is

only appropriate to ask here how supportive, relevant and

effective is the collective role of the society, operating as a

structured Community as we continue to gravitate around its everloosening

fold. In this context it is only appropriate to ask how

relevant and effective are the local Jamaats, regional Federations

and the World Federation as umbrella bodies in moulding

progressive thought process"

Above all, there is need to query how appropriate, relevant and effective are the

people who wield influence in the development of thought process in our

society, i.e. the elected leaders, behind the scene power barons, vocal influence

peddlers, the Ulema and religious leaders of diverse statures.

A follow up question calls for attention. Who elected the leaders we now tend

to hold responsible for any shortcomings Who elevated and tolerated the

power barons and influence peddlers whom we now decry Here, a serious

question mark hangs over the role of the otherwise docile silent majority.

24
---
Khumar Barabankvi, an Urdu poet has commented on the role of the silent

majority in these words:

- Jafao.n pe ghut ghut ke chup rehne waalo,

- Khamoshi jafa ki ta'eed hi to hai.

- O those, (who, despite their gut feelings) opt to remain silent over the

wrong-doings,

- Your silence amounts to condoning the wrongful acts.

KHOJA POPULATION

Members of the Khoja Shia Ithna-Asheri community who number not more

than 110,000 all over the world trace their origin from Gujarat (India) and Sindh

(Pakistan). They are also known as Gujarati/Cutchi/Sindhi speaking Khoja.

Almost half this number continues to reside between India and Pakistan. An

almost equal number are dispersed in different parts of the world.

Those remaining in the Indian sub continent are facing additional challenges

peculiar to their local environments.

Outside the Indo-Pak sub continent, wherever Khoja settled, they formed local

communities and tried to operate under the umbrella of democratically run

structured organizations known as "Jamaat." In developing such institutions,

they have always adopted an apolitical stance focusing only on economic,

social and religious wellbeing of the local communities. In this they have been

careful as a community not to be drawn into or influenced by nationalistic

trends emanating from their countries of origin. With this approach, at times

they have been accused of being too localized in their outlook to the extent of

virtually severing their links with their compatriots in other parts of the world.

25
---
Leaders of the Community have always advised the membership to opt for local

nationality and to owe their allegiance to the countries of their abode. Such has

been their approach wherever they settled, be it in Africa, Europe or in North

America. This outlook has served them well. Despite being a very small

community scattered widely in the East African territories, during the colonial

and post-colonial independent Africa, members of the Khoja Shia Ithna-Asheri

community domiciled in various African countries have produced various

individuals of standing in local public life. Among them they have produced

Councilors and Mayors in local Governments; as members of the Colonial

Legislative Council and East African Legislative Assembly; as members of post

independent Parliaments and as assistant Ministers; as members of the

Government appointed public Commissions and as heads of the state run public

organizations; as Judges of the Industrial Court and the appellate Court and also

as Ambassadors. In Pakistan, they have produced Ministers in the Federal

Government and Senator in Pakistan Parliament. 14

For the current trends among the community members settled in Europe and in

North America, this is what I have written in an epilogue to my forthcoming

book "The Endangered Species" – a review of the evolution of the Khoja Shia

Ithna-Asheri Muslim Community.

During my visits to North America, I would ask my grandchildren in New York

and in Toronto what they aspired to be in life. While each one outlined a

preference for careers of their choice, my ten year old grandson from Toronto

snapped back with a very confident response: "Prime Minster!" When asked to

explain if he knew what it meant to be Prime Minister of Canada, his response

was: "Yes. Like President of America."

The outlook of the growing North American youths can be further illustrated

with following examples which I personally experienced.

In 1996, I took my four grandchildren on a trip for 'Umra' and 'Ziayart'. While

in Iran, they encountered the usual chant, "Marg bar America". In response to

a query as to what it meant, before I could respond, an elder grandson from

Canada, pointing towards his American cousins, teasingly commented that it

meant "Death to you American." My nine year old grandson from New York

was visibly agitated as a result. He stood up and shaking his clenched fist,

yelled back: "Nooo. I am American", much to the confusion of the Iranis

around.

26
---
Another incident observed was during the World Cup football match between

Iran and the United States in 1998. Iran was leading after half time by 2 goals

to 1. My grandchildren in New York, who were watching the game on

Television along with their parents, soon lost interest in the game. One after the

other, quietly they started retiring to their bedrooms. When told by their parents

that after all it was only a game and anything could happen until the last minute,

their response was: "Yes, we know it is only a game. But America is losing!"

As Americans, it was too hard for them to accept defeat! This happened in two

distinctly separate homes. In Britain, similar reaction is noticed among Asian

youths. During cricket matches between England and India or Pakistan, they

are resolutely cheering the English team.

Many young Muslims, men and women, have been fully integrated into the

European and North American societies. They include a healthy number from

among members of the Khoja Shia Ithna-Asheri communities who can trace

their settlement in the West to not more than forty years. Apart from a variety

of professions they have specialized in, many have acquired respectable

positions in the corporate world. Others have joined the public services, in the

academia and in scientific fields. Some have acquired religious training to fill

the roles as home grown local religious leaders. Some may join the armed

forces as a G.I., or be accepted in Sandhurst or the West Point as Officer Cadets.

Already a few have joined political parties and are active in local politics in the

U.K., Canada and the U.S.A. There are few who have also acquired positions

in local public life. In years to come it would not be surprising to see individuals

from the Community who are elected as members of local Councils and even

as members of Parliaments or as Congressmen and Senators. In their outlook

and devotion to duty, youngsters born in the West operate as indigenous, loyal,

British, American or Canadian citizens. For a small community of just over

110,000 individuals spread out in different parts of the world, the Community

can look upon such promising individuals with a sense of pride and satisfaction.

Election of President of Obama as President of the United States of America has

fried the imagination of youngsters everywhere. It also speaks well of the

American system at the same time for the degree of maturity and tolerance

displayed by the electorate. If a Kenyan of African decent born in America can

become President of the United States, there is no reason why our children

cannot similarly assimilate fully into the local societies and aspire for the

highest office. That is how our children are thinking. We need to recognize and

encourage such outlook.

27
---
REFORMS

Common with all immigrant societies, while evolving local communities in the

West, they feverishly strived to re-live their cultural past as they struggled to

replicate the customs, traditions and practices they have known in the Indo-Pak

sub continent and in Africa as the only model for the way forward.

A common phenomenon with members of the Khoja Shia Ithna-Asheri

Community is that (and this could be true of many other communities also)

while trying to survive as a community they have been generally conservative

in their outlook and slow to recognize the need for change in keeping with the

times. As a result, they have often been slow in initiating plans to evaluate

emerging trends and work towards evolving reforms that would at the same

time help to safeguard and entrench their values, for which they came into

existence as a distinct community. Arising out of the fear of the unknown, this

reticence on their part has often led to reactionary attitudes.

Vocal elements purporting to be holier than thou, driven by their sanctimonious

attitudes and the assertive rich and influential members of the society at times

have no qualms in flexing their muscles as they expediently join forces to assert

the beleaguered self with their narrow perspectives and short term objectives.

Consequently, the community has often failed to manage or moderate reforms

to introduce timely changes for their own good.

A dispassionate review of all changes that have come about in the community

over the past century in their social, religious and customary practices and

outlook will illustrate the point. One could end up with some startling

revelations that many such reforms and changes have slowly crept into the

fabric of the society either by accident, compulsion or filtered through the

windows and cracks in the walls of a passive group watching helplessly. A

closer review of the related developments over the past fifty years, which will

be easier to recall, will provide some graphic details.

For example, until the early 1950's, the community in Africa and also in the

Indo-Pak sub-continent widely tended to equate family planning to abortion, as

it is still so considered by many Muslim sections in different parts of the world.

A similar view prevailed over life insurance which was equated to a form of

speculative trade or gambling and considered forbidden. Until the points were

cleared in the mid 1950's, many among those who practiced family planning or

took out life insurance before that did so with a 'guilt' conscience.

28
---
On the question of education, female education was basically restricted to

primary education. Secondary education for girls was only encouraged in

domestic science and related courses. Girls were not allowed to drive vehicles

or work in offices.

Lacking in analytical review in devising

educational and social policies for the community,

the society, led often by elected leaders least suited

to head the various departments, ended up reaping

a harvest of unknown and unmanaged changes

across a broad front - at times with no holds

barred. Here they were paying the price of

practicing democracy with abandon. While vocal

elements often called the tune, the silent majority

opted to remain as passive spectators. Apathy

could be a recipe for disaster. That related

decisions made in the name of the community would affect them too is often

lost on the silent majority.

It is now common to see girls driving and taking up employment. At the same

time, the concept of hijab has gained wider acceptance and momentum, albeit,

with adaptations for a liberal modern touch!

FEMALE HIGHER EDUCATION

Many girls are now acquiring higher education. In many cases girls are viewed

to be more intellectually inclined and brighter than the boys. For variable

reasons, this is a general tendency everywhere.

In their enthusiasm to acquire higher education, many girls hastily opt for

careers which, for various reasons, they are unable to sustain in the long run.

For many, complexities arise when they recognize that careers they have chosen

are after all not to their liking or suitable for them in practical life. Additional

complexities arise also after matrimony with a clash of interest over family

obligations.

Matrimonial disputes arise where women are encouraged to work outside and

become bread earners while the traditional male chauvinistic attitudes prevent

males from sharing in domestic chores. People wish to live in the West and

adopt western life styles, but are reluctant to let go of the ingrained eastern

29
---
attitudes towards women. Issues of this nature contribute to increasing cases of

matrimonial disputes.

Issues related to career choice, especially for women, call for a detailed study

and constant review. Input from women sharing their practical experiences

would be of great help to the emerging younger generations. This trend is not

an exclusively Khoja experience. It is common with other communities also.

MARRIAGE

Children go to schools and attend Sunday classes where they develop friendship

across the sectarian, religious, racial and ethnic divide. They are not burdened

with the prejudices known to their parents. As a result, the ratio of intermarriage

where boys and girls from Khoja community marry into non-Khoja, Shia and

Sunni Communities of Indo-Pak origin, into Hindu and other non Muslim

societies and also across the racial divide with Arab, Persian and those of

European origin are not uncommon. This trend appears to be on the increase. This

is an issue that is often brushed under the carpet as people are reluctant to discuss

their long term sociological impact on the society.

From an Islamic point of view there could be no objection to intermarriage

where it does not compromise faith. The overall guiding principle is

compatibility and ultimate welfare of their progeny. Here, cultural dichotomy

comes into play in numerous forms. Obligations of parents towards their

progeny for inculcating spiritual values cannot be ignored.

Laudable progress has been made by the community in the economic and

educational spheres over the past fifty years. Besides, commendable structured

organizations have been evolved worldwide to manage their social and

religious activities.

Despite this progress, one often notices an air of despondency pervading where

the broad masses somehow tend to sense unidentified inadequacies. While they

recognize that they may be better placed than many other communities with

similar background, somehow they do not appear to be fully satisfied with the

way the community functions. They yearn for more reforms and changes.

Something where they expect of some invisible hands to emerge that would

undertake the task on their behalf in which they, with typical 'silent majority'

attitude, would not come forward to soil their hands!

30
---
TUSSLE

There is a silent tussle going on between those who advocate for reforms and

forces that are content with the maintenance of the status quo for re-living their

past. In this silent tussle, stifling intellectual consideration, propelled by

emotions and distracted by the trivia, society often finds itself adrift like a

rudderless ship on high seas.

Among Muslim societies across North America, certain traditionalist oriented

centers are satirically dubbed as "Home Sick Masjid" or "Home Sick Mehfils."

Within this framework many Khoja Centers can also be classified.

For imparting Islamic education to children, Sunday classes or Sunday

Madrasah are operating with variable degree of success. Voluntary teachers

devoting their time and energy are doing commendable work. Society owes a

debt of gratitude to them.

Overall environment in the West is not conducive to the development of

Islamic values and ethos. Peer pressure outside the home provide for negative

effect. To entirely depend on Sunday classes or the Jamaat institution only to

impart Islamic education to children would be asking for too much.

Role of the family life and the amount of quality time parents can devote to

their children is crucial in this context. For children to grow up as practicing

Muslims in the West, parents have first to set an example in their home

environment with set standards. Families need to cultivate an atmosphere at

home that nurtures learning and practice of Islamic values. Negligence on the

part of parents in cultivating core values at early stages is often reflected in later

lives. Loosening of family bonds in the long run are pointers in this direction.

There is no short cut to success. Already, we are witnessing diminishing

contacts between once closely knit families living in the same area. To stave off

the malady of isolationist tendencies, efforts need to be made to develop and

cement ties with other Muslim communities for our own betterment.

Much has been written by experienced and learned scholars. It would be well

worth for Muslim families living in the West to study at least two books that

address relevant questions with clarity and frankness.

31
---
"In Fraternity - A Message to Muslims in America"

by Hassan Hathouth, Ph.D., M.D., Fathi Osman, Ph.D., Maher Hathouth, M.D.,

published by the Minaret Publishing House, The Islamic Center of South

California 90020.

"A Young Muslim's Guide to the Modern World"

by: Syed Hossein Nasr.

Published by Kazi Publication. Chicago.

Having settled in the West, many parents proclaim that their main purpose of

settling in the West has been to educate their children. What youths often fail to

recognize is that many parents have struggled hard and undergone many

hardships to achieve this objective.

Educated youths born and bred in the West at the same time feel that having

acquired higher education, elders are not generally prepared to listen to their

views and involve them effectively in community affairs for evolving policies

and approaches. This is essential for a smooth transition in passing over the

baton to the younger generation.

As a result, a growing sense of disenchantment is emerging everywhere

amongst the educated youths who consequently tend to run shy of the

community. This is glaringly reflected in their poor attendance at various

community functions and at the general meetings of the Jamaat. What this

portends for the future is a moot question that cannot be taken lightly. A cynical

view held by some youngsters that a "Jamaat is a special type of institution run

by its own inmates" calls for some soul searching.

HARNESSING TALENTS AND POTENTIALS

Running of Jamaat institutions is viewed as being too cumbersome and taxing

on those who volunteer to serve, consuming much of their time and energies.

This reality often discourages young professionals, recently married and with

children to bring up. They cannot afford to spare enough time away from their

families and their jobs to devote in the service of the community with their

longwinded meetings and fruitless debates.

To a variable degree, Jamaats in the West appear to be operating in similar

manner as they used to operate in Africa or in the Indo-Pak sub-Continent. In

order to attract younger generations of the educated professionals in community

services, a more pragmatic approach will have to be devised.

32
---
There is need for some form of continuity where experienced personnel are

replaced in phases and not overthrown completely as it often happens in

elections. To groom youngsters into community service, a system could be

devised whereby young professionals are enlisted for specific tasks for a given

period of time. Having accomplished their task, they can exercise the option to

step back or volunteer their services for additional assignments. This will

provide youngsters exposure to community work and gain experience in the

process. It will also provide them with a sense of involvement, belonging and

ownership that is so crucial to the development of a vibrant society. In the

process, it may also help to instill fresh outlook overall. Such policies are better

devised in consultations with the younger generation.

Elders need to recognize the fact that many of them before settling in the West

had no experience or track record in community service. Yet, out of necessity,

many individuals have successfully emerged as community leaders, as religious

leaders leading congregational prayers, delivering sermons and teaching in

Sunday Schools. Some of them have also proved themselves effective social

workers. Lacking in first hand experience in community service while they

were in Africa or in the Indian sub continent, elders could recall and draw from

the experience of others in what they had seen in their places of origin and adapt

to local environments.

By the same token, it is to be recognized that their offspring, born and bred in

the West, lacking in any exposure of the cultural environments from where their

parents came from can be classified as products of the "bifurcation of cultures"

i.e., Indo/East African Khoja and now to Indo/East African, British/European,

American/Canadian, Australian etc., Khoja blend! As a result they are often

unable to understand and relate to outlook promoted by their parents which they

sometimes find alien.

A great challenge faces elders on this score. It calls for understanding,

tolerance, compassionate and loving approach in moulding younger generations

in understanding and appreciating ingrained values and cultural background

that elders wish to inculcate. A domineering approach by elders leads to

disenchantment and even rebellion. This has to be avoided.

An important economic aspect is often overlooked here. Among the new breed

of young professionals, there are many who earn six figures and above. When

this segment of the society distances itself from involving in community affairs,

they do not feel an urge to contribute towards community funds. Some well

33
---
meaning youngsters end up being exploited by sweet talking 'Smart Alecs'

promoting pet projects where accountability is never queried.

The community will always remain grateful to many philanthropists from

among the successful business families who have, over the years, contributed

generously to the community projects. It is a unique culture of donating and

creating endowments in the form of 'Trust' and 'Waqf' that the community can

be justly proud of.

At the same time this emerging additional potential source cannot be ignored.

If professional youngsters get increasingly involved, they have a great potential

to play positive role in the development of the community. Once actively

involved, they will acquire a sense of ownership and will thus be more inclined

to provide financial support also. Apart from the additional financial input that

this segment of the society can provide, professional expertise that they will

bring along will provide for some fresh air and open up new avenues for the

community without any one promoting personal agendas.

GENERAL COMPLAINT

For the community settled in the West, a general complaint against a section of

the migrants from Africa is that they tend to consider themselves as an elitist

group who wittingly or otherwise discriminate against their compatriots from

India and Pakistan. This attitude, taken to its logical conclusion two generations

down the line would give rise to parochial tendencies where people living in

North America would end up viewing themselves as superior to or different

from those living in Europe, Africa and the Indian sub continent, not

withstanding the fact that after all, they all originate from the same source.

The East African Khoja on the other hand complain of their Indo-Pakistani

brothers as being too traditionalists and not amenable to adaptations. Do East

Africans feel too insecure within themselves to cling only to their own limited

circles is a question that is often asked

An interesting observation made about the state of the Muslim communities in

the West is that many Muslim Community centers, Masjids, Mehfils are

established by well meaning individuals, among them either Ulema or wealthy

families who set up endowments. Unlike in the Khoja Community, where all

such Trusts and Waqf are held in the name of the Jamaat or the community

membership, majority of such centers established by the Indo-Pakistani,

34
---
Afghan, Arab and Irani communities are held in the name of individual

founders or private Trusts. The Boards of Directors or the Boards of Trustees

appointed are widely viewed as decorative figures with little effective say in

formulating policies. It is the founders who are the effective owners of the place

and who ultimately dictate policy and management.

This trend, has been widely practiced in the Indo-Pak subcontinent, much to

the disadvantage of the local communities. For whatever reasons, similar

practice is now followed in the West also by certain factions. In the process, it

is becoming increasingly fashionable as others also try emulate them. Despite

their best intentions in promoting pet projects, in applying such individualistic

attitudes, they often fail to draw lessons from the past. In the process, they

remain oblivious of the possibility of long-term adverse effect. In terms of

social services to the community, overall organization and management, the

plight of the Muslim and especially the Shia communities in India and Pakistan

today will help illustrate the point.

We live in the world that has progressed faster in the last 20 years than at

anytime in history. The changing world has actually brought us closer together

and made us part of the most diverse society as one large community.

Pragmatism calls for collective endeavours in planning and application. That

would take us a long way in fulfilling our needs and in effectively reaching out

to the needy. In so doing the community can become stronger to meet the

requirements of the time and at the same time abide by the laws of the land and

maintain dignity and honour.

A painful scenario here is of little co-ordination among various Islamic centers

despite espousing common faith and common ideals. Many such centers,

among the wider Indo-Pakistani-Bangladeshi communities have emerged as a

result of friction or disputes and end up being at loggerheads with each other.

Similarly Arab and Irani centers operate with their nationalistic leanings. More

often than not, there is growing rivalry and competition between the

protagonists of such centers to the detriment of the overall long term interest of

the wider community. Here, the Khoja, despite their limitations, stand out as a

unique community operating on democratic principles and with transparency

and open accountability. This innate realization among the Khoja and their

desire to hold on to their outlook at times tend to play negative role towards

their progressive involvement across the ethnic, linguistic and racial divide.

35
---
With parochial outlook gaining momentum everywhere, in North America, Europe,

Africa, the Arabian Gulf, and also in the Indo-Pak sub continent, all for different

reasons, are they missing out on the bigger picture A comment received from a

seasoned Khoja social worker is revealing: "The more I interact with the wider

society the more I realize how entrapped we are in our cocoon and how badly we

suffer from a chip on our shoulder that we are superior."

While this assessment may be hotly disputed by some people, what are the long-term

ramifications of the prevalent outlook How would such outlook affect the cohesion

of this miniscule Khoja community globally in years to come

HIJAB

In Africa during 1950's the concept of 'purdah' or 'hijab' was gradually

diminishing. In the Indo-Pak sub continent it was not widely practiced in urban

centers. In the aftermath of the post Islamic Revolution in Iran in 1979, the

concept of hijab gained wider acceptance throughout the Muslim world. It also

became increasingly fashionable.

In the West, today, the concept of hijab, unlike the traditional head to toe

covering of the type widely used in Saudi Arabia, Afghanistan and Somalia is

reduced to a head scarf only while the dress code has acquired a 'modern,

western, practical touch'. The Quranic call of - "yaghuddhu min ubsarikum"

and "yaghuddhuna min ubsarikum" - (24:30 and 31) -'lower your gaze' -

applicable to men and women, appear to have been mostly forgotten.

Pragmatism has made 'permissible' what at one stage was considered

'forbidden'!

LEADERSHIP

For the armchair detractors, a common apologetic lament is to blame the lack

of good leadership in the community for all shortcomings.

What good leadership is and how could such good leadership be acquired at

local, regional and at global levels are questions that are seldom debated.

Good or popular leadership at local Jamaat levels are viewed only in the context

of the past - what they have known before - masjid, majlis, nyaz, sports,

expensive marriage practices incorporating the best and the worst of both

36
---
eastern and western traditions, - keep everyone busy and occupied with

innovative traditional practices and ritualistic pursuits. Petty bourgeois,

collecting toys like cars and household appliances, in order to keep up with the

Joneses, chewing 'paan' or 'mavo', or 'qat', smoking 'shisha', eating out,

engaging in Jamaat politics plus indulging in the easiest pastime of all -

'community bashing' - are the occupations that keep all and sundry preoccupied.

As soon as one has made quick money, individuals seek recognition by taking

sides. Often the two "R's" - the 'rich' and the effervescent or overtly 'religious'

- find it convenient to join forces to entrench their hegemony over the gullible

society in a spirit of the Farsi saying: 'Too mara Qazi beguyam. Mun tora Haji

begu.' - You call me Qazi while I call you Haji.

Corporate outlook in collective planning and application with specialized input

based on merits are often trampled upon as egocentric attitudes gain

ascendancy. Some factions try to register their identity by always damning all

that is in the unknown. Others relish in criticizing the West without

understanding why - though they would not opt to return to their countries of

origin, forsaking the western comforts and security to face local music. This is

the mob psychology that propels individuals around the community with its

ever loosening fold.

An overall atmosphere of mutual respect, tolerance and understanding has to be

cultivated to attract good capable leaders amongst members. Those who are

capable do not have the stomach for pettiness and personal attacks. (Both

antithesis to Islamic values.)

This lament of poor leadership, oft repeated, tends to underscore the need to

recognize the inherited psychosis that people are hesitant to talk about. Until

this factor is adequately recognized and addressed, the drift currently witnessed

everywhere may continue unabated.

Dr. Hasnain Walji writing in a prologue to a capacity building document has

succinctly summed up the challenge we face in this direction.

"I can not help but vividly recall the profound words of Marhum

Mulla Asgher (RA), at the defining 1990 Conference on

Leadership, when he said that the leadership that espoused the

twin virtues of taqwa and adalah which the Community deserved,

would not 'drop from the sky' but would have to emerge from

within the Community. The capacity building program is the long

awaited vehicle to realize that vision."

37
---
DANGER SIGNALS

Success of the Khoja community in various spheres is greatly admired in many

circles. At the same time there are elements among some external forces that are

content to take the community for granted as good 'suckers'. They find the

community's attempt at collective planning, centralization and accountability

unpalatable as it tends to send out strong signals that raise questions for them in

their societies. Consequently such elements relish in maligning the community as

being too self-centered.

Because of the overall deferential attitude adopted by the Khoja towards others,

especially towards the Ulema and the Sadaat, some of them end up operating with

a 'class priesthood' mentality - a concept that in not necessarily in keeping with

Islamic outlook. Some elements from amongst such forces end up being too

patronizing in their dealings with members of the community. This situation is

further compounded by unfortunate elements from within the Khoja community

suffering from unrecognized mentality of blind subservience. Such elements have

no qualms in passively accepting and at times even encouraging external

blandishments. Some, from among such elements, appear to excel in the art of

community bashing without being constructive, as if they are ashamed to belong

to this community!

Was it in reference to such developments that Ayatollah Seestani cautioned the

community this year

During April, 2008, a group of 67 Zuwwar, ladies and gents, visited Ayatullah

Seestani in Najaf. I had the privilege to be in this group. Following notes made

of the meeting may interest readers and provide food for some thought.

- After courtesies, good wishes and dua, Ayatullah Seestani made

following observations directed towards the Khoja Community which

were translated into English.

- Complimented the Community for their organization and unity which was

looked upon with respect and was the envy of other Shia communities.

- Cautioned the community against forces that would rejoice to find

friction and division in the community and urged the community

members to be vigilant about such negative trends and strive to maintain

their unity.

38
---
- While appreciating the fact the Khoja Community operated under a

democratic process, Ayatullah Seestani stressed that the overall objective

of the unity of the community and their desire to uphold their religion

and to promote religious education must be upheld regardless of the

democratic changes in the leadership of the community.

- Ayatullah Seestani stressed that he was disturbed by reports he was

receiving from different sources about the growing disputes and

disaffection emerging within the community. Some one present asked if

he was alluding to any particular development to which Ayatullah stated

that he was not going to discuss the specifics but was pained to hear such

news and cautioned the community members to pay heed to his advice.

- Ayatullah referred to the situation in Iraq stating that the situation had

somewhat improved with room for further improvement and urged

Zuwwar to remember the people of Iraq in their prayers.

GREAT CHALLENGES

On the question of the survival of our faith for our progeny, especially for those

living in the West, following excerpts from "In Fraternity" would provide food

for some thought.

Commenting on the situation of the immigrant Muslims settled in North

America, authors of "In Fraternity" make some interesting and sobering

observations.

"They are genuine, proud Americans aspiring to save, serve and

guide their country. But what will happen if they do not grow up

as Muslims and discard Islam as they leave the nest This is not

an apprehension but a fact that has been observed in many

places."

Challenge 1

• "Our children and grandchildren are our guaranteed

biological link with the future. But are they going to

be our Islamic progeny"

"Islam did not come to America only in our

generation. It came before, more than once, and

disappeared. It came with the slave trade as Muslims

39
---
were kidnapped from West Africa and shipped to

America to work on the plantations. Some of them

tried hard to cling to Islam, but the hostile

conditions and abhorrent treatment were too much

for their endurance and most of them lost their Islam

almost within one generation."

Challenge 2

• "In the period between and around the two world

wars, there was a sizable immigration to America

from the Middle East. The immigrants included

many Muslims. The goal of the migrants was to

secure a fortune in this land of plenty. Many of them

were quick to get rid of their Muslim identity. They

changed their names and those of their children.

They embraced the existing materialistically geared

social customs and norms."

Challenge 3

• "They did not care whether their new identity was in

tune with Islam or not. They were lost and their new

surroundings completely digested them. They

multiplied in numbers, but their descendents

remained completely outside the realm of Islam.

America now witnesses the third wave of Muslims.

It is a wave that runs into millions and includes

highly educated committed Muslims. Their presence

is already felt and growing."

Challenge 4

• "In the period between and around the two world

wars, there was a sizable immigration to America

from the Middle East and South Asia. "Will Islam

stay or will it disappear as happened before by the

end of this generation The answer entirely depends

on whether our children will or will not grow up as

Muslims."

40
---
Challenge 5

• "In America, to stick to Islam runs against many

social norms, lifestyles and peer pressure. To retain

Islam our children have to be specially prepared.

They should be tought to swim against the current.

They need to know what to accept and what to reject

from a full spectrum of social and moral values. This

cannot be attained by chance. It requires a wellplanned,

intelligently executed and very broad

process of upbringing."

Challenge 6 - Prepare Children

• "We cannot live Islam through yielding to our

environment. Nor can we depend on social

conditions to groom our youngsters as Muslims as is

the case in mother countries. In those countries it is

of little importance whether a person is observant of

Islam or not. The issue is whether Muslims are

aware that they are Muslims and know the Islamic

standard."

• "In America, to stick to Islam runs against many

social norms, lifestyles and peer pressure. To retain

Islam our children have to be specially prepared.

They should be taught to swim against the current."

Challenge 7 - Build Institutions

• "In order to be a true representative of the divine

call, Muslim Americans must organize their

institutions and build up their centers with clarity of

vision. Islam is not an eastern ideology. It is a

universal religion. Islam is not an ancient cult but an

eternal message".

• "It might mean that the third wave of Muslims will

also break and vanish as the two previous waves did.

It might mean the current multi-million generation

41
---
of Muslims would prove infertile, living and dying,

but not leaving Muslims behind them. It might mean

that hundreds of Mosques built and under

construction will have to be sold some time in the

future for the lack of congregation."

• "A major issue, indeed a serious one, the immigrant

Muslim American will face is: Did our decision to

come to America and make it our home result in a

wider acquaintance of more people with Islam, or

did it result in our own children getting out of Islam

- an outcome we could have avoided by staying back

home" 15

Here the Khoja community may wish to recall their history in Africa. During

their stay in Uganda and Somalia for over century, for numerous reasons, they

failed to promote "wider acceptance" of the Shiite faith in Islam with the

indigenous local population. As a result, when Asians were forced to quit

Uganda in 1971 and from Somalia in 1991, there were no indigenous people to

look after their Mosques and to keep the faith alive. Belated success in

promoting the Shia faith in Uganda is as a result of the dedication and

enthusiasm displayed by indigenous Ugandans who had acquired training under

Maulana Zafar Abbas Malik at the Bilal Muslim Mission of Kenya in

Mombasa. That history could repeat itself in any form in the West will be very

sad indeed.

INGRAINED PHILOSOPHY

The philosophy under which the Khoja Shia Ithna-Asheri Community came into

existence must never be forgotten. During the latter half of the nineteenth century,

they said good-bye to the ancestral regimented society and opted for a new vision

and a clear ideal to openly practice the Shia Ithna-Asheri Muslim faith. They also

adopted democratic processes for managing their community affairs based on

equity, justice and open accountability. In pursuit of this ideal, the structures of the

Jamaat and the leaderships of the Jamaats and the Community as such are

supposed to be functioning as agents for the Imame Zamana (A.S) in working

towards evolving a just and equitable society.

42
---
The very basis of the emergence of the Khoja Shia Ithna-Asheri community

evolves around their faith. Without attempts at practicing and promotion of their

faith, mere survival of the community as an ethnic entity only is irrelevant. No

faith. No Community. No structured organizations. That is the bottom line every

individual member of the community has to bear in mind.

The Holy Quran is explicit on this score: "This is how we ordained you to be: a

people justly balanced that you be (a model) and a witness to others as the Prophet

is (a model) and witness to you." (Ch.2: V.143).

Despite its proclaimed faith and the democratic process under which the

community operates, would it be wrong to state here that the lament of the poor

leadership underscores a deep seated spirit of the "old love die hard" mentality

In yearning for a firm hand to lead them down the dotted lines, is the community

betraying its faith and at the same time proclaiming its incompetence in selecting

the right caliber of leaders from among themselves and in committing their

sustained support to their chosen leaders

The Khoja community is passing through a critical phase in its history. Unless

community members recognize the challenges facing them and apply themselves

to grapple with the issues at hand with clarity of vision and enlightened approach,

fifty years down the line this community may end up losing much in terms of its

ethnic and religious identity, especially in the West.

The community has recognized that the Ulema and religious scholars serving the

communities are mostly moulded into the traditional regional outlook. These

Religious leaders are not specifically trained for and equipped to apply themselves

in relevant terms to meet the spiritual needs of the community settled in the West.

There is a universal consensus of opinion across the board on this score.

It is often left to the individual scholars to strive and adapt themselves to meet the

requirements of the communities they serve. There is no institutional approach in

producing Ulema suited for the specific needs of the diverse societies located in

different parts of the world.

The World Federation of the Khoja Shia Ithna-Asheri Muslim Communities has

embarked upon an ambitious program with the setting up of the Islamic Institute

for Postgraduate Studies in Damascus. The Institute provides for traditional

Islamic teaching. Besides, the Institute is also linked to a recognized British

University. Those completing their education at the Damascus Institute will not

only receive traditional Islamic 'Hawza' degrees, they would, at the same time,

acquire MA degree from a British University.

43
---
The idea of this innovative project being that the graduates from the Institute

would be able to fulfill the role of a resident Aalim in any Jamaat, in addition to

having an opportunity at a later stage to join the academia for research and as

lecturers in Western Universities.

The project has received the

blessing and support from a number

of leading Ulema who have seen the

value of this approach. For

inexplicable reasons, there are

factions within the society that are

beating war drums against the

project. It is to be hoped that in not

too distant a future, within a decade

at the most, this innovative approach

promoted by the community will

soon be emulated elsewhere, in

Najaf and Qom also. When this

happens, it will be a proud legacy

bequeathed by the Khoja

community to the Shia world.

What is the way forward and what are the obligations of every individual member

of the community towards shaping the future of the community is a question that

needs to occupy our minds.

Time to reflect.

44
---
NOTES

1 "Muslims on the Americanization Path" Edited by Yyonne Yazbeck

Haddad and John L.Espositio. Published in 2000 by Oxford University

Press, New York, 198 Madison Avenue, New York. 10016. p.3

2. Syed Ehtesham. "Pakistan Post", New York. 17th January, 2008.

www.Paksitanpost.net. See "Life and Times of Pakistani Diaspora.

Understanding our sons and daughters." Page 6.

3. History of the printing Press. Marshall McLuhan.

4. See also "Islam- a Short History" by Karen Armstrong, section under

"Ottoman Empire" Pages 113/114.

5. Husein Haqqani writing in his "Afterword" in "Chasing a mirage" by

Tarek Fatah. p.343

6. There are many voices advocating revival of the concept of Khilafat.

Among them, a leading Muslim Scholar from Pakistan, Dr. Israr Ahmed,

well known for his TV talk shows, is a strong advocate. Ardeshir

Cowasjee, writing in DAWN, Karachi, June, 30, 2008, refers to the

lingering aspirations of Nawaz Sharif. "The emerging Taliban is not as

worrying for Nawaz as his latent tendencies, going by his record, swing

towards the Taliban way of life. We must not forget his 15th 'ameer-ulmomineen'

amendment bill which luckily for us came to naught. We

must also never forget Nawaz's tampering with the judiciary during his

second round as prime minister. A very fine and precise narrative of the

events leading up to the storming of the Supreme Court on Nov 28, 1997

and how it evolved is given in Shuja Nawaz's book, Crossed Swords,

which should be on every shelf."

Going back to 1920's, Jawed Naqvi makes a candid observation. "No

less a person than Mohandas Gandhi revealed early symptoms of this

nexus between liberal ideology and mediaeval worldview, when he

supported the Khilafat Movement to spur his anti-colonial campaign. He

thus worked overtime to endorse an anachronistic worldview whose time

was long over. That Muslim stalwarts like Kamal Ataturk and

Mohammed Ali Jinnah rejected the movement as undesirable in the new

social context is something that is not usually discussed or applauded by

45
---
the Indian state or its educational paraphernalia." DAWN, July 28, 2008

from Jawed Naqvi column under the heading: How the state connives

with fanaticism, instead of fighting it

Naqvi, writing in DAWN, Karachi, July, 28, 2008.

7. Writing on: "How the state connives with fanaticism, instead of fighting

it" Jawed Naqvi, writing in DAWN, Karachi, July, 28, 2008.

"Their chances of finding a worthwhile vocation are further weakened

by a conviction that goes back to the discourse of Maulana Maudoodi.

The former Amir of Jamaat-i-Islami had told the Justice Munir

Commission in the 1950s, in the context of anti-Qadiani violence in

Pakistani Punjab, that non-Muslims should not be allowed to work for an

Islamic state and, conversely, Muslims in a secular (he said Kafir)

country like India should not be given jobs by the state there. He would

be happy if the Indian Muslims were treated instead like shudras, he said.

The recommendations of the Amir are still pursued by some groups

among India's varied Muslims and they shun state jobs such as the army

and civil services even if they are otherwise qualified for them. I am not

sure if the Justice Sachchar Commission took up this issue at all when it

recently recommended the need to open more government jobs for

Indian Muslims."

8. Seyyed Hossein Nasr. "A Young Muslim's Guide to the Modern World."

Kazi Publication. Chicago. 1993. Introduction. P.viii.

9. ibid.

10. See Ali S. Asani, Harvard University, on "The Khojki Script: A legacy of

Ismaili Islam in the Indo-Pak subcontinent" quoting from "Khodja",

Shorter Encyclopedia of Islam, p.256.

11. Comments from a social worker from London visiting North America.

12. Farhad Daftary. "The Ismailis - Their history and doctrines." Cambridge

University Press. 1990. P.524.

13. ibid. p.505

46
---
14. During Colonial days, Ahmed Lakha Kanji and Anwer Hassan Virjee

served as nominated members of the Zanzibar Legislative Council. In

Kenya, A. H. Nurmohamed served as a nominated member of the Kenya

Legislative Council. In Uganda H. K. Jaffer served for long as a

nominated member of the East African Legislative Assembly. In pre

independent Tanganyika, Jaffer Mohamed Versi, Ebrahim Husein Sheriff

and Mohamed Banadali Versi served as nominated members of the

Tanganyika Legislative Council

In local Governments, in Tangnyika, Ramzan Rajabali Jaffer served as

an elected member and Chairman of the Daressalaam Muncipal Council

before it was elevated to City status while Ebrahim Husein Sheriff was

elected as Mayor of Arusha.

In Uganda, Mohamedali Hansraj was elected as the first Mayor of

Mbale. In Kenya, A. H. Nurmohamed who had taken active part in local

politics and in the Indian National Congress served for long as a member

of the Mombasa Municipal Council. He was followed by Husein Abdulla

Jaffer. In post independent Tanzania Shaukat Jaffer was elected to the

Dar es Salaam City Council in the last term.

In Zanzibar, during the Colonial days, Hussein Allarakhia Rahim who

served for some time as a Magistrate was later elevated as a Judge fo the

Zanzibar High Court and Hussein Nazerali served as the Registrar of the

Zanzibar High Court while Ahmed Abdulrasul Datoo served as

Commissioner of Customs.

In the first Zanzibar Government (after achieving independence in Dec,

1963 and before the Zanzibar Revolution of 1964) Amir Abdulrasul

Dewji was made one of the Ministers and Mohamedali Fazal Meghji

(Mohamedali 'Poz') was elected as the deputy Speaker in Zanzibar's first

Parliament. They functioned for barely a month before the Zanzibar

revolution swept aside the elected Government.

In independent Tanzania, Abbas Gulamali, Hassnain Murji, Hassanain

Dewji, Yasmin Alloo and Mohamed Gulamabbas Dewji have been

elected as members of the Tanzania Parliament. Yasmin Alloo has been

a leading member of the Women's Wing of the Umoja ya Wanawake in

Zanzibar and she was nominated as Women's representative to the

Tanzanian Parliament.

47
---
In post independent Kenya, Sajjad Rashid served as a nominated

member of Kenya Parliament and as an Assistant Minster.

Sajjad Rashid also served as Chairman of Kenya Ports Authority while

Murtaza Jaffer served as a CEO of the Legal Aid Centre (Kituo Cha

Sheria), as CEO of the National Council of NGO's in Kenya, as a

member of the Kenya Constitutional Review Commission, as Chairman

of the Export Promotion Zone Authority and as a member of the

Advisory Board of the Kenya Anti-Corruption Authority.

From Tanzania, Bashir Hassanali Allarkhia Rahim served as Chief

Parliamentary Draughtsman and as a Magisrate before he was appointed

Ambassador Plenipotentiary to the EEC in Brussels while Mahmood

Nasser Rattansi one of the few leading Indians to take active part in the

Tanzanian independence struggle was later appointed as Ambassador to

the Netherlands.

In Kenya Judiciary, Abdulrasul Ahmed Lakha served as a Judge of the

Kenya Appellate Court and Murtaza Jaffer as a Judge of the Industrial

Court.

In Pakistan the name of Quid-e-Azam Mohamed Ali Jinnah, the

founding father of Pakistan stands out as a luminary son of the Khoja

Shia Ithna-Asheri Community. Others who have held high offices in

Pakistan are Mustafa K. Gokul and Hamid D. Habib who have served as

Ministers in the Pakistan Federal Government while Maulana Abbas

Kumaili from Karachi has been elected as a Senator.

In Britain Nazir Jessa, has been nominated the High Sheriff of

Bedfordshire, UK for the year 2008. A number of individuals in the

United kingdom and in Canada and the United States are also active in

public life rendering social services.

(It is possible I might have missed out certain names. I stand corrected

and would welcome any input to help update the records.)

15. "In Fraternity" p.50/51

******************

New York, November, 2008.

48
---
NOTES

49
---
NOTES

50