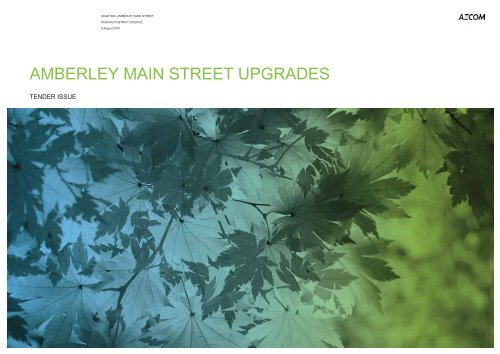 AMBERLEY MAIN STREET UPGRADES - Hurunui District Council
AMBERLEY MAIN STREET UPGRADES - Hurunui District Council
AMBERLEY MAIN STREET UPGRADES - Hurunui District Council
SHOW MORE
SHOW LESS
You also want an ePaper? Increase the reach of your titles
YUMPU automatically turns print PDFs into web optimized ePapers that Google loves.
CEAD HDC AMBERLEY MAIN STREET

HURUNUI DISTRICT COUNCIL

5 August 2010

AMBERLEY MAIN STREET UPGRADES

TENDER ISSUE
---
Lighting Schedule

Key Catalogue No. Description Drawing Qty Refer Spec

L01 WE161-9745

Signage Light

LD0910

L-MH-DE-CE-70-30

FLB440 A.BEAM 70W MH RX7s FLOOD IP66 ALU ECG

Lamp MH Compact Double Ended Ceramic 70W 3000K

1 11.4

RX7s 500x500 galvanised cage. Concrete plinth to be

done by others.

L02 WE185-1577

Uplight for poles

ETC140 M.BEAM 70W MH G12 UPLIGHT IP67 S/S ECG

LD0910

1 11.5

L03 WE185-1576

Architectural lighting for cob cottage facade

LD0181

WE185-0892

ETC 130 M.BEAM 35W MH G12 UPLIGHT IP67 S/S ECG

2 11.6

WE1850897

ETC/EYRIS RTC130 20 o DIRECTIONAL LENS

ETC/EYRIS RTC130 LINEAR LENS

L04 GL020FLOOD (Collingwood) LED Bollard light

LD0181

Stainless IP68 LED, Driver PLU350 1 to 9, Weatherproof

house

18 11.7

L05 WE161-9745

Above ground uplight for trees

-

L-MH-DE-CE-70-30

FLB440 A.BEAM 70W MH RX7s FLOOD IP66 ALU ECG

Lamp MH Compact Double Ended Ceramic 70W 3000K

RX7s 500x500 galvanised cage. Concrete plinth to be

done by others.

6 11.8

Street Furniture

Key Description Specification Drawing Refer Spec

F01 Timber bollard Material: 200x 200 x1100mm hardwood post (S07), 100mm wide corten LD0181

steel (S09), Light fitting (L04) inserted/glued into rebate.

Fixing/Fastening: HDG Mild Steel post bracket pre-cast in concrete

13.1

foundation (S08), fitted inside timber rebate and fixed with 2/M20 Corten

bolt and nut.

F02 Bin Supplier: Fel Group LD0181

Model: Square Colonial Bin

Material: Powder coated mild steel lid, saligna timber slats

13.2

Fastening/Fixing: Plant mounted as per manufacturer specification. Brass

fixings, stainles s steel lock

F03 Seat

Material: 3/1800x200x200mm hardwood beam (S07), 2/750x200x200mm LD0181

hardwood posts, 75mm wide corten steel band (S09)

Fastening/Fixing: 200x160x80mm galvanised mild steel angle bracket to

13.3

fix beams to post with M20 Corten hex head coach screws and EPDM

spacers/washers. Post set in concrete foundation (S08)

F04 Type A Station S04, S13, F03, S11 LD0162

13.4

Refer Drawing

F05 Type B Station S04, S13, S11 LD0162

13.5

Refer Drawing

F06 Picnic Table Existing picnic tables for relocation, with exposed aggregate (S04) LD0164

concrete pad footings

13.6

Key Code Botanical name

Planting Schedule

Description Grade/PB Spacing Total Qty

P01 Que rob Quercus robur v. fastigiata Street tree 45ltr/PB95 on plan 27

P02 Lib per Libertia peregrinans Feature Shrub 300mm PB3 0.3 1403

P03 Cop ten Coprosma tenuifolium 'Purpurea' Feature Shrub 600mm PB5 0.6 1263

P04 Ane les Anemanthele lessoniana Feature Shrub1.5-2.0m PB5 1.2 151

P05 Ane les Anemanthele lessoniana Shrub mix (Hynds east of rd) PB5 1.2 36

Car dis Carex dispacea PB3 0.5 256

Car vir Carex virgata PB3 0.75 114

Cor aus Cordyline australis PB5 1 43

Dod vis Dodonea viscosa PB5 2.25 19

Heb sal Hebe salicifolia PB3 1 85

Heb mis Hebe 'Wiri Mist' PB3 0.75 114

Heb vis Hebe 'Wiri Vision' PB3 0.75 114

Pho gre Phormium 'Green Dwarf' PB5 0.75 114

Pho tom Phormium 'Tom Thumb' PB5 0.75 114

Pit ten Pittosporum tenuifolium PB5 2 21

Pit ste Pittosporum 'Stephens Island' PB5 2 21

P06 Grass Mix: refer specification 17.0 Lawn Total area m 2 2,590

P07 Pru lus Prunus lusitanica Gateway Hedge PB8 0.75 49

P08 Ulm pro Ulmus procera 'Louis van Houtte' Hurunui Pathway trees 45ltr/PB95 on plan 5

P09 Cor gee Corokia 'Geentys Green' Feature hedges (Hynds/CC) PB5 0.8 169

P10 Pho pur Phormium cookianum 'purpureum' NG feature shrubs 2.5-3m PB5 1.5 87

Pho ten Phormium tenax PB5 1.5 87

P11 Car tes Carex testacea Hp termination area gardens PB3 0.3 317

Key Description

Surface Finishes

Specification Refer spec

S01 Topsoil

Planting beds: 300mm depth

Reinstatement areas: 100mm depth

16.5

Mounding: As specified

S02 Mulch Material: Large unit size 80mm+ unscreened bark/woodchip mulch to

depth of 120mm max to settle to 100mm.

16.12

S03 River stones

Material: Greywacke aggregate 140mm+

Finish: Natural, washed

12.3

S04 Exposed Aggregate

As supplied by Winstone aggregates - Yaldhurst Quarry

Material: 75mm thick, 15-20mm aggregate size

Finish: Greywacke/limestone exposed aggregate, surface retardation to 12.4

S04A Expose aggregate

5mm

Material: 100mm thick insitu concrete 25Mpa (engineer to confirm), 15-

Concrete (driveways) 20mm greywacke/limestone pebble inclusion, steel reinforcing

Finish: Surface retardation to 5mm

12.5

S05 Timber Retaining Material: 125x125mm H4 treated timber posts at 1.2m crs, 100x50 H4

treated timber palings. Refer drawing LD0331.

12.6

S05A Timber Retaining Material: 125x125mm H4 treated timber posts (spacing's as shown),

100x50 (200x50 for Southern Gateway Sign retaining) H4 treated timber 12.6

palings. Refer drawing LD0231.

S06

S07

Tim ber Inserts

Timber posts/Beams

Material: 2100x200x100 Australian 'B' grade hardwood

Finish: Weathered

Material: 200x200mm Australian 'B' grade hardwood

Finish: Weathered

12.7

12.8

S07A Timber poles Material: 300x300mm Australian 'B' grade hardwood

12.9

Finish: Weathered

S08

S09

Concrete foundation

Corten Steel

Material: 400x400x400 insitu concrete 17.5Mpa embedded 20mm below

finished surface level

Finish: Flush with finished surface level

Material: 5mm thick COR-TEN A (ASTM A588 weathering grade steel)

Finish: Weathered

Colour: Natural

8.2

12.10

S10 Concrete plinth (for lighting) Material: 500x500x250mm, insitu concrete 17.5Mpa

Finish: Flush with finished surface level

8.2

S11 Gravel

Material: 5-8mm crushed greywacke or limestone aggregate

12.12

Finish: Compacted

S12 Base course Material: AP40 compacted gravel 12.13

S13

S14

Timber edging

Hurunui Pathway Plaque

General Areas: 25x80mm H4 treated timber, 25x80mm stakes at 1.2mcrs

Kerbside Areas: 50x200mm H4 treated timber with 25x80mm stakes at

1.2m crs

Material: 400x200x10mm brass plate with cast relief

Fixing/Fastening: 2/55x10mm diameter threaded rod and nut (or approved

equivalent) welded to base of plate and set into concrete

Finish: Top of brass plate shall be 1mm proud of surrounding surface

12.14

12.15

S15 Polythene liner Material: Black 4m x 80mu 12.16

S16 Asphalt (reinstatement) Refer CSS: Part 6: 2007

Refer Specification

12.17

Other Items

Key

T01

Description

CCC kerb and flat

Specification

Southern Gateway Area

Drawing Refer Spec

channel SD601

LD0906

T02

CCC kerb and nib

SD602

Hynds Corner

LD0906

10.1

T03

T04

CCC mountable Northern Gateway Area

median kerb and

flat channel SD603

Soakpit and Sump Southern Gateway Area

LD0906

LD0911 10.2
---
Key Code Botanical name Spacing Area m 2

Planting Schedule: Hurunui Pathway

Description Grade/PB mix Qty

% of

P02 Lib per Libertia peregrinans Feature Shrub PB3 0.3 26 - 300mm 87

P06 Grass Mix: refer specification 17.0 Lawn N/A N/A 360 -

P09 Cor gee Corokia 'Geentys Green' Feature hedges (CC) PB5 0.8 55 - 69

P11 Car tes Carex testacea Hp termination area gardens PB3 0.3 95 - 317
---
Planting Schedule: Southern Gateway Area

Key Code Botanical name Description Grade/PB Spacing Area m 2 mix Qty

% of

P01 Que rob Quercus robur v. fastigiata Street tree 45ltr/PB95 on plan N/A - 14

P02 Lib per Libertia peregrinans Feature Shrub 300mm PB3 0.3 140 - 467

P03 Cop ten Coprosma tenuifolium 'Purpurea' Feature Shrub 600mm PB5 0.6 170 - 283

P04 Ane les Anemanthele lessoniana Feature Shrub1.5-2.0m PB5 1.2 80 - 67

P06 Grass Mix: refer specification 17.0 Lawn N/A N/A 1,400 -

P07 Pru lus Prunus lusitanica Gateway Hedge PB8 0.75 37 49