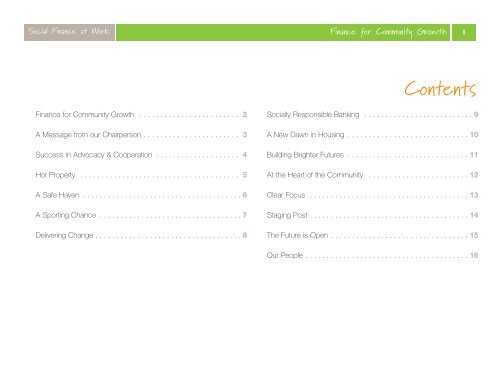 Social Finance at Work 2010 - Clann Credo
Social Finance at Work 2010 - Clann Credo
Social Finance at Work 2010 - Clann Credo
SHOW MORE
SHOW LESS
You also want an ePaper? Increase the reach of your titles
YUMPU automatically turns print PDFs into web optimized ePapers that Google loves.
CC Report Update Jan10 Inside 18/01/2010 10:30 Page 1

Social Finance at Work

Finance for Community Growth

1

Contents

Finance for Community Growth . . . . . . . . . . . . . . . . . . . . . . . . 2

A Message from our Chairperson . . . . . . . . . . . . . . . . . . . . . . . 3

Success in Advocacy & Cooperation . . . . . . . . . . . . . . . . . . . . 4

Hot Property . . . . . . . . . . . . . . . . . . . . . . . . . . . . . . . . . . . . . . 5

A Safe Haven . . . . . . . . . . . . . . . . . . . . . . . . . . . . . . . . . . . . . . 6

A Sporting Chance . . . . . . . . . . . . . . . . . . . . . . . . . . . . . . . . . . 7

Delivering Change . . . . . . . . . . . . . . . . . . . . . . . . . . . . . . . . . . . 8

Socially Responsible Banking . . . . . . . . . . . . . . . . . . . . . . . . . . 9

A New Dawn in Housing . . . . . . . . . . . . . . . . . . . . . . . . . . . . . 10

Building Brighter Futures . . . . . . . . . . . . . . . . . . . . . . . . . . . . . 11

At the Heart of the Community . . . . . . . . . . . . . . . . . . . . . . . . 12

Clear Focus . . . . . . . . . . . . . . . . . . . . . . . . . . . . . . . . . . . . . . 13

Staging Post . . . . . . . . . . . . . . . . . . . . . . . . . . . . . . . . . . . . . . 14

The Future is Open . . . . . . . . . . . . . . . . . . . . . . . . . . . . . . . . . 15

Our People . . . . . . . . . . . . . . . . . . . . . . . . . . . . . . . . . . . . . . . 16
---
CC Report Update Jan10 Inside 18/01/2010 10:30 Page 2

2 Finance for Community Growth Social Finance at Work

Finance for Community Growth

Social Finance delivers resources to communities and enterprises

overlooked by conventional outlets and ensures that all investments

produce a social gain or benefit.

All funding recipients are assessed first on their capacity to deliver

meaningful benefit to either the people or the community they serve and

then on their ability to repay the loans.

Social Finance differs fundamentally from standard finance because it

requires that investments do far more than just generate a financial

return - they must also deliver tangible improvements in the community

into which they are injected.

In 2008 and 2009, Clann Credo approved investment in over 100

projects and communities.

These included:

MISSION STATEMENT

Clann Credo - the Social Investment Fund

designs and promotes innovative social finance

products and services, contributing to inclusive

prosperity and developing social capital in

a way that benefits the whole community.

Community & Social Enterprise by Sector

• supporting long-term unemployed people back to work;

• enabling people with disabilities in Ireland, Romania and Zambia;

• cutting edge projects designed to insulate local authority homes;

• enhancing sporting and leisure facilities in rural areas;

• helping homeless people get off the streets

and realise their dreams;

• ensuring greater access to the arts and drama for youth;

• increasing care services in isolated areas.
---
CC Report Update Jan10 Inside 18/01/2010 10:30 Page 3

Social Finance at Work

Finance for Community Growth

3

A Message from our Chairperson

Social Finance provides a sustainable and equitable model of financial

assistance, which empowers those who aim to help others, but who

may not have access to traditional sources of finance.

The importance of Social Finance has become even more pertinent in

light of the economic crisis resulting from the turmoil in global and

domestic financial markets. Needs have increased but funding has

been cut and charitable giving declined. Social Finance is assisting the

social entrepreneurial endeavours of many NGO's, Nonprofits and

Community & Voluntary organisations who are now exploring new and

innovative ways of generating funds in order to continue to address

deeply entrenched social inequalities.

Since its inception in 1996, Clann Credo has been helping to combat

these issues, through investment based on a model which places

social dividend on an equal footing with financial return. To date we

have provided financial support to over 250 projects addressing social

needs in communities from Donegal to Cork, from Tallaght to

Manorhamilton and on a smaller scale, as far afield as Romania and

South Africa.

Our loans have helped organisations to achieve their objectives by

enabling them to create and maintain employment, develop community

activities and services, acquire vehicles for accessible transport,

purchase, construct or refurbish properties and provide training and

employment opportunities to those in need. This booklet showcases

some of that valuable work.

None of this would have been possible without the vision of our

founder, Sister Magdalen Fogarty, and the generous support of the

Religious Congregations, inspired by their commitment to social justice.

We acknowledge the assistance of An Taoiseach, Brian Cowen TD,

and welcome the establishment of the Social Finance Foundation and

the excellent relationship which has been built between our two

organisations.

These challenging times require a renewed commitment to social

inclusion. In 2009, we approved over c10 million for community based

organisations committed to social justice, which met the twin

requirements of social dividend and financial return.

Your support, combined with the prudent oversight of our volunteers

serving on our board and sub-committees, will ensure that Clann Credo

can continue to assist organisations and social enterprises working for

a more inclusive and equitable society for all.

Jerry Butler

Chairperson
---
CC Report Update Jan10 Inside 18/01/2010 10:30 Page 4

4 Finance for Community Growth Social Finance at Work

Success in Advocacy & Cooperation

Social Finance is an innovative financing system that unlocks social

returns through enhanced investment in social and community

initiatives. Its promotion is central to the work of Clann Credo.

Support for the development of Social Finance was first included in the

2002 Programme for Government and in each Social Partnership

Agreement since then.

In Budget 2006, then Minister of Finance, now Taoiseach, Brian Cowen

TD, announced the Government's intention to spearhead a Social

Finance Initiative. It was a major recognition of this new and exciting

source of development funding for the community and voluntary sector.

Minister Cowen launched the Social Finance Foundation in February

2007 with initial seed capital funding of c25m from the banking sector

through its representative body, the Irish Banking Federation (IBF).

The establishment of the Foundation was in response to two important

reports commissioned by Clann Credo - the Social Investment Fund,

the Dublin Employment Pact, Westmeath Employment Pact and Pobal.

The Foundation sources and distributes funding to specialist Social

Lending Organisations (SLO). Clann Credo, an approved SLO, is

responsible for screening and assessing loan applications and

managing the actual lending to projects.

An Taoiseach, Brian Cowen discusses Social Finance

with Pat Farrell, CEO Irish Banking Federation, Peter

Quinn, Chairperson Social Finance Foundation and Jerry

Butler, Chairperson Clann Credo.
---
CC Report Update Jan10 Inside 18/01/2010 10:30 Page 5

Social Finance at Work

Finance for Community Growth

5

Hot Property

Government support for Social Finance was also evident in the terms

of the bank guarantee scheme, enacted in October 2008. Banks

covered by the scheme must report, twice yearly, to the Minister for

Finance on the 'the promotion of financial inclusion, the development of

financial education and the implementation of the next phase of the

Government's Social Finance Initiative' (S.I. No. 411 of 2008).

The Foundation recently signed a new, 12-year loan agreement with the

country's retail banks. This will see c72 million being provided over the

coming years by the banks at a discounted rate of interest, enabling the

foundation to lend onward at competitive rates in support of social and

community projects and micro-enterprises all over the country.

Clann Credo gratefully acknowledges the genuine commitment of An

Taoiseach Brian Cowen to the development of Social Finance in this

country. We also appreciate our supportive relationship with the new

Social Finance Foundation and its important contribution to present and

planned work.

What started life as a local association tackling poverty in west Tallaght

has over the course of a decade, been transformed into a successful

and solid community enterprise.

Specialising in wall and attic insulation for poorly insulated homes in the

area, Heat and Energy Action Tallaght (HEAT) has to date carried

out work on over 1,600 houses and 2,500 attics in Tallaght, having

successfully bid for local authority contracts to carry out that work.

Today it employs 11 people and the company's five directors are

committed community activists, all deeply involved in development

work in their area. Equally, HEAT has developed a key local skill base

and capacity at a time when energy consumption and insulation are

high on the political agenda - and Tallaght may now have a headstart

on the rest of the country.

HEAT has a solid community based workforce. It is situated in and

serves a marginalised area. Its work provides clear benefits to local

authority tenants, improves the quality of the housing stock, helps

combat fuel poverty and is environmentally-friendly.
---
CC Report Update Jan10 Inside 18/01/2010 10:30 Page 6

6 Finance for Community Growth Social Finance at Work

A Safe Haven

Kate was on the streets at 11 years of age, wholly defenceless and

thrust suddenly into danger and despair.

She did not choose the streets, but dreadful circumstances in the

family home and poor state support left her no choice. As with many

forced into homelessness, drugs provided Kate with some temporary

comfort and succour. But drug addiction merely compounds the

misery of life on the streets. If she was to survive, Kate needed help.

Today Kate is a woman transformed. In her early 20's she is driven by

a renewed sense of self and of purpose, and is making steady

progress towards the realisation of her own personal dream: to study

Social Science at University College Dublin.

In 2005, she got lucky when she stumbled across Daisyhouse.

Founded in 1989, by the late Sr. Una McCourtney, CSJP, Daisyhouse

provides homeless people with a safe, secure environment and the

'space' in which they can begin the process of rebuilding their lives, one

day at a time.

In many respects, Daisyhouse fills the large gap between the

emergency homeless shelter and getting off the streets permanently.

Support from Clann Credo ensured that Daisyhouse had the resources

necessary to do its work.

Once in Daisyhouse, Kate worked hard to detox and get clean of her

drug habit. She underwent counselling and began to learn the basic

skills that a supportive home environment would have imbued in her.

She also learned crucial work skills to assist her in getting a job.

Volunteer House Manager, Sr. Mary McDermott in the

garden of one of the properties, before setting off for Flora

Mini-Marathon to raise funds for Daisyhouse.
---
CC Report Update Jan10 Inside 18/01/2010 10:30 Page 7

Social Finance at Work

Finance for Community Growth

7

A Sporting Chance

It is impossible to underestimate the contribution that sport makes to

community life. Indeed, it is a truism that a vibrant and thriving sporting

life is a clear indicator of the health, or otherwise, of a community.

It was to sport that the community of Aughnamullen East turned when

its people sought to pull together. Located between Carrickmacross

and Castleblayney in Monaghan, the area was bereft of the social

facilities required to encourage community activity and help build local

cohesion.

But that changed when activists of all social and religious backgrounds

made common cause and established the Aughnamullen Sports,

Leisure & Social Development Association, a body imbued with

limitless enthusiasm and ambition for its own region.

With support from Clann Credo and in cooperation with the local GAA,

an existing sports hall was transformed into state of the art Community

Hall, complete with an expanded sports' facility and a modern 265

square meter gymnasium.

As one of the project organisers points out: "It has been a long, long

road, but it has all been worthwhile. Clann Credo came to our

rescue… without the commitment from them, we would have had to

turn down our grant allocations and our project would never have been

more than a dream."

The centre offers an array of cross-community activities

- Keep Fit, Unislim, Dancing - ensuring it is in use

virtually seven nights a week, along with meeting rooms

in constant demand and other community services.
---
CC Report Update Jan10 Inside 18/01/2010 10:30 Page 8

8 Finance for Community Growth Social Finance at Work

Delivering Change

"After I was made redundant I just couldn't get a job. The longer I was

unemployed the less I was wanted. It was awful not to be able to

provide properly for my children. My confidence left me. I felt useless.

It was a good day when I was sent up to Speedpak. Although I now

work for another company I will always remember them."

It delivers commercial success to 1,000 customers and the

opportunities provided to over 200 people is an enormous social

dividend.

- John T, Santry, Dublin

Speedpak has a very simple philosophy: getting long-term

unemployed people back fully into the workforce can only happen if

they are involved and immersed in a working environment.

In 1995, the Northside Partnership established the company in

Clonshaugh, in north Dublin, as a provider of packaging services to the

local business community.

Speedpak utilises integrated training programmes to help get long-term

unemployed people back into the workforce, providing actual work

experience in a fully-fledged commercial - and supported -

environment.

It diversified into storage solutions and the production of promotional

products. Following the acquisition of Shamrock Rosettes, the

company now provides a range of products for Equestrian Events,

Agricultural and Dog shows nationwide.

Robbie, Team Leader, Speedpak providing job mentoring

support to Colin, a member of the print room training

staff. The company has had a long and fruitful

association with Clann Credo.
---
CC Report Update Jan10 Inside 18/01/2010 10:30 Page 9

Social Finance at Work

Finance for Community Growth

9

Socially Responsible Banking

To date, Clann Credo has invested in and supported organisations in

Ireland, Romania, Kosovo, Slovakia and South Africa.

KEP Trust, Kosovo began life as a Microfinance lender, shortly after

the war concluded in 1999, as a project of the International Catholic

Migration Commission.

Microfinance focuses on lending to the smaller projects and enterprises

that are often overlooked by big scale lenders, but which are vital to

community life. The utilisation of Microfinance to alleviate poverty forms

part of the United Nations' Millennium Development Goals.

An injection of funds at a crucial stage of KEP's development - by way

of a Clann Credo investment - helped the organisation leverage

additional international finance.

Since that date, KEP has assisted 36,000 clients with 68,000 loans,

totalling a heady c153 million. The impact of these loans, in terms of

rebuilding stricken communities, simply cannot be exaggerated.

"By the loan taken in KEP, I managed to

improve my living standards and provide

for my family. I also expanded my

business."

Beekeeper, Predrag Stanojkovic received an initial loan

from KEP, which he used to expand his apiary. His

business helps his family earn essential income for life.

One beehive can produce up to 50 kilos of honey a year.

Honey and beeswax are sold at market. And honey's a

terrific source of nutrition. As well as producing honey,

the bees pollinate local crops.
---
CC Report Update Jan10 Inside 18/01/2010 10:30 Page 10

10 Finance for Community Growth Social Finance at Work

A New Dawn in Housing

Kuyasa Fund, South Africa is one of the few not for profit

microfinance funds in South Africa that is specifically focused on

lending for housing among very poor households.

It provides access to credit to people excluded from the formal banking

sector. Its clients are women, pensioners, domestic workers and

informal traders.

The Kuyasa Fund empowers people to improve their housing by

themselves. Clients and their families go on to achieve better education

and health outcomes with an enhanced sense of security and self

achievement.

It works by linking savings to loans for clients in the townships who have

secure title to plots, but no formal houses and who earn less than

R3,500 per month (c280).

Clann Credo gratefully acknowledges the support and assistance of

Irish Aid in its work to enhance the capacity of the Kuyasa's

Management Information Systems. This is enabling the Fund serve

more people and reach financial sustainability.

The cover of Kuyasa's recent Annual Report which

outlined its impressive performance in enabling South

Africa's poor communities improve their own housing.

Kuyasa reports that 3 out of every 4 clients are women.

50% earn less than Q120 a month. 10,000 loans have had

massive multiplier effect.
---
CC Report Update Jan10 Inside 18/01/2010 10:30 Page 11

Social Finance at Work

Finance for Community Growth

11

Building Brighter Futures

The Comber Romanian Orphanage Appeal (Comber) was

established in 1991 in response to media coverage of the appalling

conditions in Romanian orphanages after the fall of the Ceausescu

regime.

It is building a further three purpose built homes in Giurgiu for adults

with severe disability from institutions, Clann Credo is providing the

loan finance.

During the 1990s Comber supported over 600 children in orphanages

in Tirgoviste, Videle, and Gradinari. Comber volunteers worked "handson"

caring for children, refurbishing buildings and transporting

truckloads of vital provisions to the orphanages. The organisation also

provided training programmes for staff and developed educational,

medical and therapy programmes for children.

Today the focus has shifted to achieving a systemic change, through

influencing the Romanian government's policies and practices for

people with disabilities. Comber now works with Romanian state

authorities and local NGOs to drive closure of institutions for young

adults with disabilities in Romania. They are also actively involved in the

development of group homes for young disabled adults and for children

who've grown up in institutional care. Some disabled children from

orphanages have been re-united with their birth families and are

supported by Comber.

Since 2006 they have helped to develop six of these group homes in

Giurgiu (south Romania).

Comber is also pioneering the first Group Homes in Romania for adults

with severe disability.

"With the Clann Credo loan, we immediately started

building three urgently needed purpose built group

homes. Otherwise, we would have had to wait another

two years until we had completed our fundraising.

Costs would have escalated, but more importantly the

adults with disability would have spent many more

months confined to an institution".

- Fiona Dowling, Executive Director
---
CC Report Update Jan10 Inside 18/01/2010 10:30 Page 12

12 Finance for Community Growth Social Finance at Work

At the Heart of the Community

Tulsk Parish Services places the enhancement of community life at

the heart of everything it does. An early recipient of Clann Credo

funding, Tulsk delivers affordable social services to those that need

them most, providing work for unemployed members of the community

in the process.

It delivers a homecare service, respite care, laundry services, social

housing and is closely associated with local tourism initiatives, such as

the Cruachan Aí visitor centre in County Roscommon. Overall, Tulsk is

a wonderful example of a viable, sustainable social enterprise that

enriches the community from which it sprang.

Tulsk Parish Services was honoured at the 2008 Roscommon Social

Entrepreneurship Awards, where it was selected as overall winner. The

Judges in commending TPS said: "Tulsk Parish Services provides

necessary social services at an affordable cost. The employment of

unemployed members of the community through viable and

sustainable service enterprise contributes to the social and economic

development of all sectors of the community. It is dedicated to the

enhancement of the local community, particularly the disadvantaged,

marginalised and isolated elderly."

Clann Credo through the Tulsk Parish Services provided

the means to set up a community laundry providing work

for local people and a service to this small rural

community. It was so commercially successful that a

dry-cleaning service was later added.
---
CC Report Update Jan10 Inside 18/01/2010 10:30 Page 13

Social Finance at Work

Finance for Community Growth

13

Clear Focus

The focus of the Millennium Family Resource Centre is clear: enhance

local quality of life and well-being through inclusiveness and

consultation in service development.

The Centre was founded in the Slieveardagh region of south Tipperary,

in response to studies which identified it as an area of significant

disadvantage.

The area has a population of 9,000 and includes the villages of

Glengoole, Ballingarry, Grange, Killenaule, Gortahoe and the

Commons. Unemployment has been a long-term problem in

conjunction with a low skill base, a high percentage of lone parents and

a growing elderly dependency.

The Millennium Centre opened its doors in 2004. Its main activities

centre on pre-employment training; pre-school childcare services;

outreach services developing community projects in villages for youth,

men's groups, senior citizen groups and others; family education and

counselling services. It has 8 full time employees.

Concentrating on fun at Daingean Community

Pre-School, Co Offaly: a Clann Credo childcare project
---
CC Report Update Jan10 Inside 18/01/2010 10:30 Page 14

14 Finance for Community Growth Social Finance at Work

Staging Post

Dublin Youth Theatre (DYT) has a uniquely holistic approach to the arts,

promoting personal and social development through theatre that is

relevant to and drawn from the lives of young people today.

It has fashioned a rather remarkable blend of the worlds of theatre and

youth work, providing opportunities to access drama to over 100 young

Dubliners, aged between 14 and 22. It is worth speculating how many

of those would have such an engagement with the arts were it not

for DYT

Based in Dublin's North Inner City, DYT has a voluntary board

comprising seven adult directors and two elected from the

membership.

It promotes learning: every Saturday young people take part in

workshops ranging from clowning, dance and forum theatre to

improvisation, percussion, puppetry and voice. Low key in-house

productions give new members with little or no experience the

opportunity to perform in a 'safe', less pressurised environment.

In 2008, DYT produced nine plays, participated in high profile festivals,

had a two week run in Dublin's Project Theatre, while the 'member's

one act festival' preformed at the Dublin Fringe Festival.

DYT gives young people a chance to develop their talent.

From left to right: Emily, Ciaran, Lauren and Hannah.
---
CC Report Update Jan10 Inside 18/01/2010 10:30 Page 15

Social Finance at Work

Finance for Community Growth

15

The Future is Open

Since 1994, OPEN has been to the forefront in advocating on behalf of

lone parents nationwide.

Lone parenthood can arise for many people. The routes into lone

parenthood are many, e.g. separation, divorce, desertion, death,

imprisonment of a partner or an unplanned pregnancy.

Whatever the route, the consequences and impact are usually traumatic

at number of levels for the lone parent and for his/her child(ren).

A variety of supports are required to assist one parent families address

the trauma and move forward. Lone parents in Ireland have come

together to support each other in local self-help groups since the

late 1980s.

OPEN, the national network of local lone parent self-help groups,

represents the diversity of interests of lone parents (particularly those

living in/or at risk of living in poverty) and promotes their inclusion and

progression within wider society.

The 'Future is OPEN' is an exciting and unique training and development

programme created by lone parents for lone parents.

Training takes place in OPEN's new National Centre, centrally located in

Dublin's Smithfield. The centre was developed with Social Finance from

Clann Credo.
---
CC Report Update Jan10 Inside 18/01/2010 10:30 Page 16

16 Finance for Community Growth Social Finance at Work

Our People

BOARD OF DIRECTORS

Jerry Butler (Chairperson) - Retired from

Trust Services, Bank of Ireland

Magdalen Fogarty - Clann Credo's Founder

and former Bursar General, Presentation Sisters

Peter Cassells - Chairperson of the National

Centre for Partnership Performance and former

General Secretary of the Irish Congress of

Trade Unions

Tom Finlay - Company Director

and Business Coach

Teresa Harrington - Partner, PwC Dublin and

Leader of its Charity and Not-For-Profit Division

Maurice O'Connell - Former Governor of the

Central Bank of Ireland

Grace Redmond - Congregational Bursar,

Presentation Sisters

Lorcan Tiernan - Partner with Dillon Eustace,

Solicitors and experienced in mutual funds and

alternative investment products

EVALUATION COMMITTEE

Jerry Butler and Magdalen Fogarty from

the Board are joined by:

Sheila Fox - Bursar, Presentation Sisters,

South Eastern Province, Ireland

Jerry Kivlehan - Treasurer, Oblate Fathers

and formerly Director of the London Irish Centre

where he was active in the social housing

movement

Martin Coggins - Principal, Coggins &

Company, Chartered Accountants, Sligo

Philip O'Connor - Director, Dublin

Employment Pact. It organises initiatives to

tackle employment and development issues

throughout the Dublin region.

The Board of Directors, Evaluation and Project

Support Committees meet regularly and the

members give of their time voluntarily and

without remuneration.

PROJECT SUPPORT COMMITTEE

Tom Finlay - Board Clann Credo

Emer Ní Bhrádaig - Lecturer DCU, Fiontar

Ann Clarke - Eustace Patterson

Fiona Nolan - Programme Development

Manager, Northside Partnership

Paul Sullivan - Formerly NTMA

(National Treasury Management Agency)

STAFF

Jim Boyle - Finance Officer

Tracey Hannon - Social Finance Executive

Angie Healy - Administration, ISFC

Jennifer Hennessy - Social Finance

Executive

Paul O'Sullivan - Chief Executive Officer

Anne-Marie Woodfull - Administration