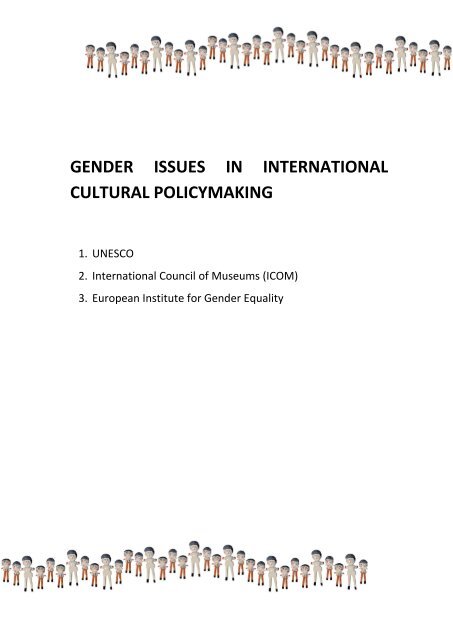 GENDER ISSUES IN INTERNATIONAL CULTURAL POLICYMAKING
You also want an ePaper? Increase the reach of your titles
YUMPU automatically turns print PDFs into web optimized ePapers that Google loves.
GENDER ISSUES IN INTERNATIONAL

CULTURAL POLICYMAKING

1. UNESCO

2. International Council of Museums (ICOM)

3. European Institute for Gender Equality
---
Introduction

This report investigates the attention paid to gender issues in cultural policymaking, as it is

communicated in official documents and web resources, both by international

intergovernmental organizations and by national institutions within the five countries under

survey (Albania, Denmark, Italy, Norway and Spain).

The study was carried out between November, 2013, and June, 2014. As regards international

cultural policies in particular documents and websites of cultural organizations belonging to the

UN System and to the European Commission were analyzed.

The material thus collected reveals that the cultural dimension of gender issues is largely

neglected, and, in parallel, little attention is paid to the potential contribution of cultural policies

to the cause of women. The research group went through a great number of documents and

publications, but very few among them presented the desired focus.

In particular, the document establishing the strategic framework of the 2014-2020 programme

Creative Culture, http://eur-lex.europa.eu/legal-content/EN/ALL/uri=CELEX:32013R1295 – An

European strategy for Culture, does not contain one single reference to gender and women.

For the above reasons, only three sources have offered relevant contribution pertaining to the

field of enquiry: Unesco, ICOM and the European Institute for Gender Equality.

As regards the five national cultural policies analyzed by the research team there is of course a

remarkable difference between institutions specifically devoted to women and the other

international organizations. In the latter, the focus on gender seems to receive a minor,

perfunctory attention, and the relationship between access to and participation in culture and

empowerment is hardly considered. Conversely, only few organizations directly dealing with

women's right seem to have produced specific policies on culture. As stated in the foreword,

the contributions for the different countries engage exclusively the authors of each profile.

7 She Culture CRT: Gender issues in international cultural policymaking
---
1. UNESCO

1.1. "Education for sustainable development" 1

"Gender Equality in Education

Gender-based discrimination in education is both a cause and a consequence of deeprooted

disparities in society. Poverty, geographical isolation, ethnic background,

disability, traditional attitudes about their status and role all undermine the ability of

women and girls to exercise their rights. Harmful practices such as early marriage and

pregnancy, gender-based violence, and discriminatory education laws, policies, contents

and practices still prevent millions of girls form enrolling, completing and benefitting

from education.

Gender must therefore be integrated at all levels of education, from early childhood to

higher education, in formal and non-formal settings and from planning infrastructure to

training teachers.

UNESCO works to promote equal opportunities to quality learning, free from genderbased

or other forms of discrimination. In particular, UNESCO:

promotes gender equality in national education laws, policies and plans

seeks to expand access to learning opportunities, in particular for girls and women, in

both formal and non-formal education

develops the capacity of education policy-makers, planners, teachers and other

education personnel regarding gender-sensitive approaches

supports countries to make education content gender-sensitive and free from

discrimination

seeks to address obstacles to learning such as gender-based violence and HIV & AIDS

Gender Equality and ESD at UNESCO

"ESD should actively promote gender equality, as well as create conditions and strategies

that enable women to share knowledge and experience of bringing about social change

and human well-being."

Bonn Declaration, 2009 UNESCO World Conference on ESD

UNESCO promotes the integration of sustainable development issues such as climate

change, biodiversity and disaster risk reduction into education systems.

Vulnerable groups including girls, women, indigenous and coastal populations are

hardest hit by impacts of climate change, including the increasing intensity and

frequency of extreme weather events and natural disasters. Especially girls and women

who often play an important role in managing risks in the household and community are

1 http://www.unesco.org/new/en/education/themes/leading-the-international-agenda/education-for-sustainable-development/gender-equality/

8 She Culture CRT: Gender issues in international cultural policymaking
---
aimed to benefit from climate change education and education for disaster risk

reduction.

For instance, UNESCO supports actions for enhancing and developing the crucial role of

women through UNESCO Chairs and UNITWIN Networks on gender and women issues ."

9 She Culture CRT: Gender issues in international cultural policymaking
---
1.2. "Report by the director-general on Unesco actions promoting

women's empowerment and gender equality, august 2013" 2

"Major Programme IV: Culture

1. Key initiatives and results

Reporting against the GEAP I Expected Results

Expected Result 1: Gender equality perspectives in cultural policies for development

promoted Major Programme IV has actively sought to scale up the promotion and

inclusion of gender equality perspectives in cultural policies for development at the local,

national and international levels. This has included gender-targeted activities aimed to

deepen the evidence base on culture and gender equality, as well as gender

mainstreaming in statutory and operational programmes.

Key examples in this reporting period include:

• Within the MDG-F inter-agency initiative, UNESCO led 18 of the joint programmes, all

of which had a strong dimension dedicated to gender equality and/or women's

empowerment. Highlights in terms of the inclusion of gender equality in national cultural

policies include the Gender and Interculturality Policy in Ecuador, and similar initiatives

in Nicaragua, as well as in local development plans in Morocco.

• Culture and development: Within the framework of the culture and development

activities spearheaded by CLT since 2010, special emphasis on the importance of

women's empowerment and gender equality for the achievement of sustainable and

culturally sensitive development has been promoted. This has included commissioned

research, dedicated sessions at conferences and workshops, and raising awareness at

the international level through operational projects (e.g. Cultural Diversity Lens) and

advocacy on the relationship between gender equality, culture and sustainable

development at the national and international levels.

• Conventions: The Conventions have increased their promotion of gender equality in

cultural policies related to their specific mandates. In particular, the 2005 Convention on

the Protection and Promotion of the Diversity of Cultural Expressions, where gender

equality perspectives are embedded in the core of the Convention's principles, has

actively promoted gender equality in cultural policies. This includes collecting and

analysing relevant data and information on gender equality in cultural policies from

State Parties in the Quadrennial Periodic Reports and implementing operational projects

where women's empowerment and gender equality are strongly promoted (e.g. the

International Fund for Cultural Diversity). The EU/UNESCO Technical Assistance Missions

carried out within the framework of the 2005 Convention has also successfully supported

States in the inclusion of gender equality in national policies on the cultural industries

(cf. Malawi). Additional information and examples on how the Convention's statutory

2 http://www.unesco.org/new/fileadmin/MULTIMEDIA/HQ/BSP/GENDER/PDF/GeneralConferenceReportAnnex.pdf

10 She Culture CRT: Gender issues in international cultural policymaking
---
and operational activities have worked towards the achievement of Priority Gender

Equality are included below under each respective Expected Result (Expected Results 2,

3, and 5).

• UNESCO Gender Equality and Culture initiative: In the 36 C/5, CLT proposed launching

a flagship Report on Gender Equality and Culture. This has developed into a multimedia

initiative aiming to produce the first global assessment of the roles of women and men

in the cultural sector. Through short films, a multimedia platform and a Report, UNESCO

will showcase the importance of promoting gender equality in cultural policies for

sustainable and inclusive development. Research on how UNESCO's statutory and

operational activities can facilitate the greater inclusion of gender equality in national

cultural policies has commenced; preliminary findings are expected by the end of the

biennium. It is expected that this initiative will allow CLT to scale up its gender-related

activities in the field of culture in the 37 C/5.

• Knowledge management on gender equality and culture for development: CLT has

scaled up its collection and analysis of the impact of its programmes on gender equality.

Sex-disaggregation has been mainstreamed across all meetings and activities: e.g. % of

women and men participating in capacity-building workshops and % of project

beneficiaries. In addition, UNESCO has spearheaded an innovative cultural statistics

initiative, the Culture for Development Indicator Suite, which has developed the first

cultural indicators addressing the role of gender equality in sustainable development.

Data is available for 11 countries.

• Violence against Women: CLT has been active in developing activities and raising

awareness around the issue of violence against women. Activities have included the

development of films and theatrical productions for awareness-raising purposes,

research on how culture can bemused as a weapon against violence against women, and

mobilizing leading artists to speak about this issue (more information under 3: Inter

agency programmes).

Expected Result 2: Gender equality considerations integrated into policies and practices

related to cultural heritage conservation

Performance Indicator: Support provided to women's professional and specialized

networks and associations

Over the period of the GEAP I, gender equality considerations have become increasingly

integrated and prominent in the Secretariat's approach to project implementation and

policy development. Notably, gender equality was included in a document on Draft Policy

Guidelines, which will be examined by the World Heritage Committee at its 37th session

(June 2013). In addition, gender analyses of the Convention's impact on communities and

sustainable development have been conducted: the 2012 publication, Beyond Borders,

highlights the multiple examples of how women's associations have been involved in

cultural heritage conservation practices at World Heritage (WH) sites. The COMPACT

study on WH sites also highlights how participation in cultural and natural heritage

conservation can be an important vehicle for the empowerment (social and economic)

of women within their own communities.

Appreciating women's roles in cultural heritage conservation, the 1972 Convention

Secretariat has worked closely with a wide range of stakeholders, including women's

11 She Culture CRT: Gender issues in international cultural policymaking
---
professional and specialized networks, to promote gender equality in cultural heritage

conservation. For example, UNESCO helped to construct an eco-friendly dyeing factory

in Bamako along the Niger River at a WH site. The center opened in November 2011 and

provides employment to 200 women. Women have been trained to use the new

equipment and operate the center through a management committee. They are also

provided technical support to diminish the global volume of water and chemicals used in

the production process, so as to increase productivity and curb environmental impact.

Some of them also expressed their wish to explore other more eco-friendly techniques

based on natural dyes. This activity was implemented as part of the "Niger-Loire:

Governance and Culture"2008-2011 project, coordinated by UNESCO Bamako office and

World Heritage Centre with funding from the European Union.

An exhibition entitled "Women Builders of Africa: Perspectives in Burkina Faso and

Niger", developed by the Association Bâtir et Développer, was featured throughout the

International Colloquium on the Conservation of World Heritage Earthen Architecture in

December 2012, which gathered over 200 experts at UNESCO Headquarters in Paris and

showcased the important role that women play in building, maintaining and

transmitting techniques for earthen architecture construction.

In addition, the World Heritage Volunteers programme works closely with local partners

in mainstreaming gender in their training and other related activities. For example,

through this programme, WHC has been instrumental in facilitating the discussion to

promote gender equality in China: WHC has also facilitated exchanges between partners,

CSETC, the All China Woman Federation and China Woman's University who will help

organize sessions on gender equality during the work camps for the volunteers. On

average, 56% of participants of training workshops of the Volunteer programme are

women.

Expected Result 3: Awareness of the gender dimensions of intangible cultural heritage

(ICH) enhanced

Performance Indicator: Number of policy-relevant references to the gender equality

dimensions of ICH in national planning documents

The tools to assess the gender equality dimensions of intangible cultural heritage in

national policies are primarily the Report on the Implementation of the 2003 Convention

submitted every six years by States Parties that have ratified the Convention for the

Safeguarding of the Intangible Cultural Heritage. In the last analysis of these reports

(Overview and summary of the 2012 reports of States Parties on the implementation of

the Convention) which was presented at the 7th session of the Intergovernmental

Committee held in Paris in December 2012, the Committee highlighted the need for

States Parties 'to give greater attention throughout their reports to the gender aspects

of intangible cultural heritage and its safeguarding' (Decision 7.COM 6).

Within the scope of its global capacity building strategy, the Secretariat of the 2003

Convention has invested in building up human and institutional capacity at the national

level for safeguarding intangible cultural heritage, including gender equality aspects of

its safeguarding. This targeted approach has developed specialized training materials

and tools that have been used at national level in workshops for representatives from

ministries of culture and other relevant ministries, national cultural institutes,

12 She Culture CRT: Gender issues in international cultural policymaking
---
community members and NGOs. To further enrich the curriculum the Secretariat is

working on additional materials on intangible cultural heritage and gender equality,

which aim at reinforcing the capacity of States Parties to incorporate gender equality

perspectives into national policies and safeguarding plans. Moreover, the Secretariat will

add to the forms that guide States Parties in the elaboration of their Periodic Reports,

specific questions related to gender equality aspects of safeguarding intangible cultural

heritage.

Expected Result 4: Gender equality integrated into the development and

implementation of capacity-building activities for museums

Performance Indicators: i) Increase in the number of women experts participating in

training activities, notably with a managerial focus.

• Within the framework of the recently terminated UNESCO/Norway FIT project "The

Restoration and Revitalization Programme for the Giorgi Chitaia Open Air Museum of

Ethnography: Conservation of the Movable Objects Collection and Institutional Capacity

Building: Phase III" (504 GEO 4004, total budget including 13% support costs: 489,749

USD, duration: June2009-December 2012), the Craft Programme activity aimed at

developing sustainable training mechanisms for crafts people, in addition to incomegenerating

and educational programmes for women from displaced communities by the

recent conflict between Georgia and Russia. In the 2011 Summer Craft Programme was

developed as result, unemployed women aged around 25 – 50 years old participated

actively with special interest in knitting traditional textiles as an additional source of

income. Many of these women attended the following year's Summer Crafts Programme

as instructors there bypassing on this traditional skill.

• The study "Reproducing Gender in Viet Nam's Museums", the first of its kind conducted

by UNESCO, set out to investigate how gender roles, norms, identities and differences

are represented and reproduced in museums, how male and female visitors perceive the

museum experience, and the attitudes and perceptions of museum staff, together with

gender differences in the professional opportunities and workplace conditions they are

able to access. Data collected from six museums throughout the country, including

content analysis, qualitative interviews with museum staff and quantitative survey of

museum visitors, drew conclusion to the importance of and ways for conducting gender

analysis to improve the museum experience, attract new audiences, especially female

audiences, improve female representation in collections, and generate more female staff

engagement in senior positions

Performance Indicators: ii) Development of special training sessions targeting young

professional women in Africa and LDCs The UNESCO/Japan FIT project "Revitalizing

World heritage Site Museums in Cambodia, Vietnam and Laos" (536RAS4004, total

budget including 13% support costs: 449,975 USD, duration: 2011-2013) involved almost

equal number of female and male participants from the 9 project participating museums

to the capacity-building intensive working sessions that were held throughout the project

implementation thereby increasing the capacities of women in particular young

generations of female heritage professionals.

13 She Culture CRT: Gender issues in international cultural policymaking
---
Expected Result 5: Women's active and visible participation in cultural and creative

industries increased

Performance Indicators: i) Increase of women participating in design 21 Social Design

Network programme, international events, fairs and festivals

The Design 21 Social Design Network's online competitions have been followed by an

increasing number of women, mainly from developing countries. In addition, through the

UNESCO Award of Excellence for Handicrafts Programme, craftswomen and designers

have had the possibility of participating in international fairs.

Performance Indicators: ii) Increase of UNESCO projects supporting creative industries

led and managed by women

Since its operationalization in 2011, the International Fund for Cultural Diversity (IFCD)

has supported 61 projects from40 developing countries totaling US$3.9 million in

funding. About 25% of these projects are led by women:

-Young talents fuel a booming film industry / Argentina / project manager: Alina

Frapiccini

-A vocational school creates new job options for young Argentineans / Argentina /

project manager: Claudia Billourou

-Study reveals Latin America's "Invisible cinema" / Cuba / project manager: Alquimia

Peña

-Creative producers revive Madagascar's iconic lambahoany / Madagascar / project

manager: Catie de Balmann

-Mexican city plays supporting role to Convention / Mexico / project manager: Gabriela

Sánchez

-Taking art to the people / Namibia / project manager: Luness Mpunwa

-African artists embrace the digital era / Senegal / project manager: Marion Louisgrand

-Unlocking funding to support cultural industries in South Africa / South Africa / project

manager: Michelle Constant

-Young people dance to a new beat in Uruguay / Uruguay / project manager: Malena

Lucero

-National cultural policy reform in Saint Vincent and the Grenadines / Saint Vincent and

the Grenadines / project manager: Janeil Henry

-Encouraging creative entrepreneurship in South Africa through recycled arts / South

Africa /project manager: Lorraine Tanner

-Building the creative city / Croatia / project manager: Daniela Jelincic

-Paralelo 9MX / Mexico / project manager: María Teresa Cordeiro

-The potential of the audiovisual industry to boost local and regional development /

FYROM /

project manager: Zaneta Trajkoska

In addition, in Azerbaijan, the UNESCO Sheki Project (2011-2015) has been supporting

women's income-generating activities through cultural industries. Special attention has

been given to women's businesses and activities through specialized training and

technical assistance. The UNESCO regional office in Cuba has also been implementing

activities in the framework of the 2005 Convention on the protection and promotion of

the diversity of cultural expression in the promotion of women in audio-visual

14 She Culture CRT: Gender issues in international cultural policymaking
---
productions through the program "Camaras de la Diversidad" ("Promotion of women in

audiovisual production") and through the SIDACULT program.

Support to the development of cultural and creative industries for the diversity of cultural

expressions - Strengthening the crafts industry in Mongolia (September 2011-September

2013; $95,000): This Republic of Korea FIT project in Mongolia aims to sensitize national

and provincial authorities to creative industries with focus on crafts; establish a practical

framework for local cultural industries, while building the capacities of local creative

crafts practitioners to acquire necessary technical and business skills. In 2012-2013, a

pilot survey carried out in five districts over two provinces highlighted the large number

of female crafts workers in the Orkhon Valley Cultural Landscape World Heritage site

and the increasing importance of the crafts sector as a tool for income generation,

tourism development and women's empowerment. Stemming from this realization,

capacity-building activities under the project have strongly encouraged the active

participation of women both as trainers (75% of speakers in workshops) and trainees

(50% of workshop participants). Though training activities, creative, productive and

business capacities of female local crafts producers are enhanced.

15 She Culture CRT: Gender issues in international cultural policymaking
---
1.3. "Foundation for the International Center for Women Artists" 3

"International Center for Women Artists to be created in Amman, Jordan

At its 36th session in October 2011, the General Conference approved the creation of an

International Center for Women Artists (ICWA) as a UNESCO Category 2 Centre to be

located in Amman, Jordan. This status grants the Center a formal association with

UNESCO since it shall contribute to the achievement of UNESCO's strategic programme

objectives, priorities and themes. The ICWA will function as a new museum specifically

dedicated to women in the Arts. It will house a permanent collection of works of arts by

the world's leading women artists and showcase women artists from the Arab region in

order to promote cultural diversity, a culture of peace, gender equality and intercultural

dialogue.

The United States of America has already granted 100,000 USD towards the

establishment of this new museum center, and Her Majesty, Queen Rania of Jordan, has

donated a building. A design competition is underway for the creation of the official logo,

and a web site for the ICWA is under development (www.icwajordan.org).

A Foundation for the International Center for Women Artists has been formed and

fundraising efforts are being supported by UNESCO, the founding members and Board of

Trustees are as follow:

Board of Directors

• Chairman – Mrs Ivonne A-Baki, UNESCO Goodwill Ambassador/Ecuador

• Co-Chair- H. E. Mrs Dina Kawar, Ambassador of the Hashemite Kingdom of Jordan to

France

• Co-Chair- Mrs Edva Ser, UNESCO Artist for Peace/France

• Mrs Esther Coopersmith UNESCO Goodwill Ambassador/USA

• H. E. Mr David Killion, Ambassador, Permanent Delegate, USA

• H. E. Mrs Eleonora Mitrofanova, Ambassador, Permanent Delegate, Russia

• H. E. Mr Vinay Sheel Oberoi, Ambassador, Permanent Delegate, India

• H. E. Mrs Katalin Bogyay, Ambassador, Permanent Delegate, Hungary

• H. E. Mrs Martina Nibbeling-Wriessnig, Ambassador, Permanent Delegate, Germany

• H. E. Mr Abdullah Alneaimi, Ambassador, Permanent Delegate, UAE

• H. E. Mrs Mariam Y. Katagum, Ambassador, Permanent Delegate, Nigeria

3

http://www.unesco.org/new/en/culture/themes/museums/museum-projects/archive/international-center-for-women-artists-to-be-created-inamman-jordan/#c295469

16 She Culture CRT: Gender issues in international cultural policymaking
---
• H. E. Ms Dolana Msimang, Ambassador of South Africa to France, Permanent

Delegate, South Africa

• H. E. Mrs Maria Laura da Rocha, Ambassador, Permanent Delegate, Brazil

• H. E. Mrs Shuyun Shi, Ambassador, Permanent Delegate, China

Chairman of Advisory Council = Dr. Sheree Wen

"We are confident that the International Center for Women Artists will help UNESCO to

promote the role of women artists and increase recognition for their contribution to

peace and to cultural development" said Ms. Mounira Baccar, the UNESCO Programme

Specialist from the Museums Section, responsible for the ICWA project. She added, "The

establishment of this Centre in Jordan represents the first institution of its kind in the

Arab world. It is therefore a major step in promoting the role of women in the region,

and one capable of creating new international networks with the various existing

Women's Artists Museums".

17 She Culture CRT: Gender issues in international cultural policymaking
---
1.4. "UNESCO Convention on the Protection and Promotion of the

Diversity of Cultural Expressions, Paris, 20 October 2005" 4

"The General Conference of the United Nations Educational, Scientific and Cultural

Organization, meeting in Paris from 3 to 21 October 2005 at its 33rd session,

Affirming that cultural diversity is a defining characteristic of humanity,

Conscious that cultural diversity forms a common heritage of humanity and should be

cherished and preserved for the benefit of all,

Being aware that cultural diversity creates a rich and varied world, which increases the

range of choices and nurtures human capacities and values, and therefore is a

mainspring for sustainable development for communities, peoples and nations,

Recalling that cultural diversity, flourishing within a framework of democracy, tolerance,

social justice and mutual respect between peoples and cultures, is indispensable for

peace and security at the local, national and international levels,

Celebrating the importance of cultural diversity for the full realization of human rights

and fundamental freedoms proclaimed in the Universal Declaration of Human Rights and

other universally recognized instruments,

Emphasizing the need to incorporate culture as a strategic element in national and

international development policies, as well as in international development

cooperation, taking into account also the United Nations Millennium Declaration

(2000) with its special emphasis on poverty eradication,

Taking into account that culture takes diverse forms across time and space and that this

diversity is embodied in the uniqueness and plurality of the identities and cultural

expressions of the peoples and societies making up humanity,

Recognizing the importance of traditional knowledge as a source of intangible and

material wealth, and in particular the knowledge systems of indigenous peoples, and its

positive contribution to sustainable development, as well as the need for its

adequate protection and promotion,

Recognizing the need to take measures to protect the diversity of cultural expressions,

including their contents, especially in situations where cultural expressions may be

threatened by the possibility of extinction or serious impairment,

4 http://www.unesco.org/new/en/culture/themes/cultural-diversity/diversity-of-cultural-expressions/the-convention/convention-text/

18 She Culture CRT: Gender issues in international cultural policymaking
---
Emphasizing the importance of culture for social cohesion in general, and in particular

its potential for the enhancement of the status and role of women in society,

Being aware that cultural diversity is strengthened by the free flow of ideas, and that it

is nurtured by constant exchanges and interaction between cultures,

Reaffirming that freedom of thought, expression and information, as well as diversity of

the media, enable cultural expressions to flourish within societies,

Recognizing that the diversity of cultural expressions, including traditional cultural

expressions, is an important factor that allows individuals and peoples to express and to

share with others their ideas and values,

Recalling that linguistic diversity is a fundamental element of cultural diversity, and

reaffirming the fundamental role that education plays in the protection and promotion

of cultural expressions,

Taking into account the importance of the vitality of cultures, including for persons

belonging to minorities and indigenous peoples, as manifested in their freedom to

create, disseminate and distribute their traditional cultural expressions and to have

access thereto, so as to benefit them for their own development,

Emphasizing the vital role of cultural interaction and creativity, which nurture and renew

cultural expressions and enhance the role played by those involved in the development

of culture for the progress of society at large,

Recognizing the importance of intellectual property rights in sustaining those involved in

cultural creativity,

Being convinced that cultural activities, goods and services have both an economic and

a cultural nature, because they convey identities, values and meanings, and must

therefore not be treated as solely having commercial value,

Noting that while the processes of globalization, which have been facilitated by the rapid

development of information and communication technologies, afford unprecedented

conditions for enhanced interaction between cultures, they also represent a challenge

for cultural diversity, namely in view of risks of imbalances between rich and poor

countries,

Being aware of UNESCO's specific mandate to ensure respect for the diversity of cultures

and to recommend such international agreements as may be necessary to promote the

free flow of ideas by word and image,

19 She Culture CRT: Gender issues in international cultural policymaking
---
Referring to the provisions of the international instruments adopted by UNESCO relating

to cultural diversity and the exercise of cultural rights, and in particular the Universal

Declaration on Cultural Diversity of 2001,

Adopts this Convention on 20 October 2005."

"Article 7 – Measures to promote cultural expressions

1. Parties shall endeavour to create in their territory an environment which encourages

individuals and social groups:

(a) to create, produce, disseminate, distribute and have access to their own cultural

expressions, paying due attention to the special circumstances and needs of women as

well as various social groups, including persons belonging to minorities and indigenous

peoples;

(b) to have access to diverse cultural expressions from within their territory as well as

from other countries of the world.

20 She Culture CRT: Gender issues in international cultural policymaking
---
1.5. "United Nations Creative Economy Report 2013 Special Edition

(Unesco and UNDP)" 5

"Culture also enables development. It empowers people with capacities to take

ownership of their own development processes. When a people-centred and place-based

approach is integrated into development programmes and peace building initiatives,

when interventions in fields ranging from health to education, gender empowerment to

youth engagement, take the cultural context into account, including diverse local values,

conditions, resources, skills and limitations, transformative and sustainable change can

occur" (pag.9). (…) In 2004, United Cities and Local Government, in its "Agenda 21 for

Culture", called for the addition of culture as a fourth pillar of sustainable development

but we have made a more ambitious argument in this chapter. We claim, following the

Caribbean economist Keith Nurse, that culture should be not just the fourth pillar but the

central pillar and that around this central pillar stand the other three: the economic, the

social and the environmental. In this perspective, the core social unit in which

transformative change takes place is a culturally defined community. The development

of this community is rooted in the specific values and institutions of its culture, in other

words in its own strengths and resources. It is in this sense that the manifestations of

culture we have reviewed here are indispensable enablers of the development process.

Each of them moulds people's communication and signifying systems as well as the

worldviews and cognitive frameworks that shape the ways they engage with the social,

political and environmental challenges they face. It is in this sense, too, that they truly

help attain the Millennium Development Goals and contribute to the debate on thepost-

2015 United Nations development agenda. Claims are often made that the cultural and

creative industries in and by themselves contribute to processes such as poverty

eradication, the search for environmental sustainability or the goal of growth with

equity, including gender equity. We should be wary about such blanket assertions.

Because they are over-ambitious, and hence easily countered, they can detract from the

power of our arguments for the broader cultural vision outlined in this chapter. We must

also recognize the inherent limitations of those arguments, which can rarely be bolstered

by the kinds of quantitative evidence available to most other sectors of endeavor. What

is more, while cultural goods and services do contribute to income and employment in

increasingly significant ways, other sectors may do so equally well, if not better. The

flourishing of culture brings other, non-material benefits. It is these benefits that we

ought to recognize and promote as development "goods"." (…)

P. 63, on Arab countries: "Festivals can also have significant gender benefits, with an

increase in female performers as well as the appointment of women as festival

5 http://www.unesco.org/culture/pdf/creative-economy-report-2013.pdf

21 She Culture CRT: Gender issues in international cultural policymaking
---
directors."(…). P. 69, on Asia: "Investing in the Wuhan central culture district The

BeijingWanda Group began investing heavily in culture-led urban development in 2010.

With registered capital of 31 billion yuan in total assets and an annual income of 20.8

billion yuan, it set up culture Industry Group that has become China's largest private

cultural enterprise. For Wanda, the culture industries are green as they consume few

resources and create no pollution. In addition, they can create long-term stable

employment and generate tax revenues. It is expected, for example, that Wanda

investments of 50 billion yuan in the Wuhan Central Culture District will create more than

30,000 urban jobs, contributing over 1 billion yuan in annual taxes. Compared with

manufacturing, culture industry jobs have the advantage of offering better working

environments and higher incomes, promote gender balance, and therefore hold great

significance for promoting social equality and urban harmony. Wanda's practice has

proved that investing in local culture industries represents opportunities fo both business

as well as producing outstanding social benefits." (…)

P. 81, on Latin America: "Medellín: A park, a library. How can one assure that people

living in violent neighbourhoods can meet, share, get to know each other, get to

recognize each other, or look into the other person's eyes, listen, understand the other

How can impenetrable districts, urban ghettoes marked by fear, whose names can only

produce echoes of death, be converted into references for a whole city and into places

that citizens are proud of How can culture be turned into a co-existence strategy, in

other words, into a strategy to fight the huge insecurity and by-product of inequalities

A park, a meeting place. A library, as a place for opportunities, for a future. A children's

playroom, a place for kids and family recreation, for growth and development. A few

training courses. An auditorium, a theatre, for the unthinkable and for daily life. A few

rooms to sail through cyberspace. A number of areas for community work and to meet

up those who devote themselves to community work. Art galleries. Music schools, for all

different kinds of music. Centres to support those willing to be entrepreneurs. A public

building, a symbol. Urban, as part of the social fabric. Architecture, as a human

transformation process. Dozens of people by the end of the hour, hundreds of people by

the end of the day, thousands of people by the end of the month, every single day of the

year, but for two: Christmas and New Year's Day. More people every week than in a

soccer stadium. Twenty-three thousand books, 220 computers.

Cultural programme, sports and recreational programme. Free access to everything.

Culture, a right, not a privilege. Nine library parks that become enchanted islands in a

strife-ridden land; library parks that are "arks for a lead deluge". Nine library parks in

this town that hold in a palimpsest its best metaphor, its reality, its dream. Nine library

parks on the hillsides of neighbourhoods and rural areas, references, pride, meeting

areas, areas of right, areas of creation, cultural circulation, awareness, areas of

bewildering, of reasoning, of feeling, and of emotion. The formula is easy, so easy it

could be applied to cities where violence still holds dreads and pains: opportunities,

inclusion, equality, access to culture, to the world, to the other possible worlds. These

library-parks exemplify the importance of generating public areas – understood as those

22 She Culture CRT: Gender issues in international cultural policymaking
---
where people of different walks of life, ages, genders, etc. meet, interact and share – in

marginalized neighbourhoods.

They also break free from the idea that beauty and design area privilege of the wealthy

and reaffirm the right to beauty and aesthetics for all." (…)

INTERCULTURAL DIALOGUE, EXPRESSION AND IDENTITY

Cultural expressions do not always cause frictions; they often help overcome them.

Music, literature, film and theatre, for example, are a means to empower migrant

communities in new contexts, enabling them to carve out physical and metaphorical

space to maintain roots to home communities while exploring the hybridization of

identities and expressing struggles and difficulties in new, unfamiliar circumstances. The

Senegalese star musician Youssou N'Dour, like many others, performs songs reflecting

the pressures of modernity: the impact of tourism and environmental degradation,

migration and nostalgia for the ancestors and their wisdom. The Beninese singer

Angélique Kidjo has drawn attention powerfully to social change issues and development

problems. As a young researcher recently put it, "the cultural economy could be seen as

a diverse and locally defined construct, where the cosmopolitan cultural entrepreneur

acts as hybrid agent, negotiating terms of modernity, both spatially and temporally."

Music releases, films, television programmes, books, art, etc., are all capable of

expressing perspectives from poor contexts, from migrant, indigenous or socially

marginalized groups, notably women, and are thus crucial to the broader agendas of

pluralism, equity and gender. Related is the opportunity to promote cultural citizenship

and rights. In many settings, art and music have become means to enabling people to

remain in their community contexts if they so choose–on tradition all ands where there

are documented mental and physical health benefits and improvements in well-being.

Moreover, participation in creative production can be maximized when residing in

traditional country where kin and familial ties are strong. Thus Aboriginal sculptors in

remote Australia were more engaged in production, and thus economic returns were on

average higher, when they lived in traditional country than in central town ships. (…)

Fostering social dialogue and social cohesion

The portfolio of programmes also shows significant impact on fostering social dialogue

and inclusion, representing 27per cent of the successes highlighted using a broad range

of approaches to achieve impact, including organizing festivals, revitalizing food

traditions, supporting women's empowerment and gender equality, institutionalizing

honour awards, establishing intercultural camps, fostering intercultural/interfaith

dialogue and organizing volunteers.

23 She Culture CRT: Gender issues in international cultural policymaking
---
2. INTERNATIONAL COUNCIL OF MUSEUMS (ICOM)

"28th General Assembly of ICOM Rio de Janeiro, Brazil, 2013" 6

RESOLUTION No. 4 - Museums, Gender Mainstreaming and Inclusion: Benchmarking

against the ICOM Cultural Diversity Charter, Shanghai 2010:

"Noting that:

• ICOM adopted the ICOM Cultural Diversity Charter during the 25th General

Assembly in Shanghai, in November 2010;

• ICOM also adopted during the 25th General Assembly ongoing support to the

Inclusive Museum Knowledge Community;

• The International Symposium on Inclusion and Gender Mainstreaming in

Copenhagen as part of the Inclusive Museum Knowledge Community conference in April

2013 (Co-chaired by the President of ICOM, Paris) expressed strong concerns about the

inadequate engagement with gender and women's issues in museums;

• Gender mainstreaming and other cultural borders of diversity such as race,

ethnicity, class, faith, age, physical ability, economic status, regionalism and sexual

orientation are important for the development of the principle of inclusiveness in

museums;

• ICOM must continue to expand and encourage the inclusion of its Members and

their communities and countries across the world, with the aim of becoming a globally

representative INGO;

It is recommended by the 28th General Assembly of ICOM, meeting on 17 August, 2013

in Rio de Janeiro, Brazil, that the newly elected President and the Executive Council:

• Develop a systematic approach to assessing the extent to which its programmes

and activities, including various Committee deliberations, address cultural and linguistic

diversity benchmarked against the ICOM Cultural Diversity Charter, and as part of this

agenda;

• Develop a Gender Mainstreaming policy and actively ensure its implementation

as an integral part of ICOM's strategic directions.

---

In addressing Gender Mainstreaming:

1. We recommend that museums analyse the narratives being told from a gender

perspective.

2. In order to have a gender policy, we recommend that museums work with

audience, staff and programmes from a gender perspective and at the same time with

the embodiment of ideas.

3. We recommend that museums use the analysis of inter-sectionality (race,

ethnicity, gender, class, faith, sexual orientation and so on) to realise the idea of

inclusiveness in museums."

6 http://icom.museum/the-governance/general-assembly/resolutions-adopted-by-icoms-general-assemblies-1946-to-date/rio-de-janeiro-2013/

24 She Culture CRT: Gender issues in international cultural policymaking
---
25 She Culture CRT: Gender issues in international cultural policymaking
---
3. EUROPEAN INSTITUTE FOR GENDER EQUALITY

EIGE is a European Union agency which supports the EU and its Member States in their

efforts to promote gender equality, fight discrimination based on sex and raise

awareness about gender equality issues.

Its tasks are collect and analyse comparable data on gender issues, develop

methodological tools, in particular for the integration of the gender dimension in all

policy areas, facilitate the exchange of best practices and dialogue among stakeholders,

and raise awareness among EU citizens.

The rich database available from the EIGE portal offers nearly 500 documents on gender

equality and culture: http://eige.europa.eu/search/apachesolr_search/culture. They

range from guidelines to basic data, from political statements to detailed programmes.

26 She Culture CRT: Gender issues in international cultural policymaking