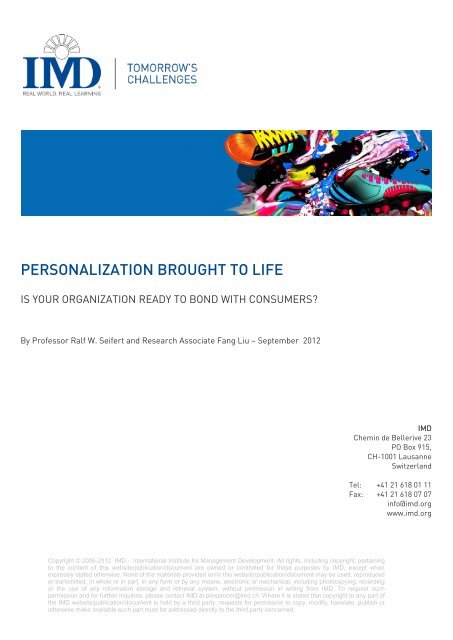 PERSONALIZATION BROUGHT TO LIFE - IMD
PERSONALIZATION BROUGHT TO LIFE - IMD
PERSONALIZATION BROUGHT TO LIFE - IMD
SHOW MORE
SHOW LESS
You also want an ePaper? Increase the reach of your titles
YUMPU automatically turns print PDFs into web optimized ePapers that Google loves.
PERSONALIZATION BROUGHT TO LIFE

IS YOUR ORGANIZATION READY TO BOND WITH CONSUMERS?

By Professor Ralf W. Seifert and Research Associate Fang Liu – September 2012

Copyright © 2006-2012 IMD - International Institute for Management Development. All rights, including copyright, pertaining

to the content of this website/publication/document are owned or controlled for these purposes by IMD, except when

expressly stated otherwise. None of the materials provided on/in this website/publication/document may be used, reproduced

or transmitted, in whole or in part, in any form or by any means, electronic or mechanical, including photocopying, recording

or the use of any information storage and retrieval system, without permission in writing from IMD. To request such

permission and for further inquiries, please contact IMD at pressroom@imd.ch. Where it is stated that copyright to any part of

the IMD website/publication/document is held by a third party, requests for permission to copy, modify, translate, publish or

otherwise make available such part must be addressed directly to the third party concerned.

IMD

Chemin de Bellerive 23

PO Box 915,

CH-1001 Lausanne

Switzerland

Tel: +41 21 618 01 11

Fax: +41 21 618 07 07

info@imd.org

www.imd.org
---
PERSONALIZATION BROUGHT TO LIFE I is your organization ready to bond with consumers?

Bonding with consumers in concrete terms is the Holy Grail for most consumer brands. But

operating in today's world, technology has drastically impacted both the number of messages a

consumer receives and how well communications are digested. Companies looking to develop new

bonds through differentiation, advertising and event marketing must play in a highly competitive

market. But there are still unique ways to reach out to consumers, namely through customization.

Adidas group, the Herzogenaurach-based German sportswear maker, provides a noteworthy

example of customization in action. The company recently launched its new mi team initiative and

will now rollout a full remake of their mi adidas product customization experience. The new

miteam.com site has been exclusively conceived to offer customized sportswear products –

including shoes, clothing and accessories – to schools, universities, leagues and teams who want to

create a team-customized adidas sports kit. Similarly, the miadidas.com site engages consumers

with personalized design and a unique purchasing experience and is expanding on shoe offerings,

while introducing customizable graphic tees starting in October 2012.

Adidas builds on its prior experience in mass customization – a concept which gained traction

during the emergence of the internet economy when early entrants were convinced that the internet

would revolutionize the customization industry by connecting individual customer information with a

computerized global supply chain. Trek Bicycle, a major bicycle manufacture in the US, introduced

its Project One initiative in 2001, which gave consumers the opportunity to customize their Trek bike

online by selecting the bike's color and components. Grundfos, the world's largest pump

manufacture from Denmark, also demonstrated how mass customization could work in B2B

markets 1 . Facing the competition from emerging countries, Grundfos customized its product offering

into four categories. The customization strategy improved Grundfos' inventory turnover and allowed

the company to outperform its initial ROI target.

But offering flexible individual customization to consumers on a volume scale and at a low price is

not an easy task. The mass customization market seemed promising, yet took most market players

much longer than expected to make it work. Some companies even withdrew from the market. Levi

Strauss closed its "Original Spin" operations producing customized jeans in 2004. In the same year,

Customatix.com, offering made-to-order shoes, went off-line after only four years in business. And

after nearly six years of investment, in 2005, Procter & Gamble shut down Reflect.com – a website

selling personalized health and beauty products. Even Dell, the iconic mass customization brand

which used to dominate the US computer market, was hit hard by the emergence of strong players

such as Apple, HP and Lenovo. Today, Dell's customization options are rather limited.

Even for adidas, enabling mass customization constituted an endeavour not without its difficulties.

At IMD we have been following its evolution over the past ten years. Our award-winning case study,

The "mi adidas" Mass Customization Initiative 2 , showcasing adidas' original "mi adidas" initiative

1 Grundfos, Winter Nie and Thomas E. Vollmann, IMD-6-0312.

2 "The "mi adidas" Mass Customization Initiative, by Ralf Seifert, IMD-6-0249.

IMD – www.imd.org Page 2/5
---
PERSONALIZATION BROUGHT TO LIFE I is your organization ready to bond with consumers?

that aimed to deliver customized athletic footwear to retail customers, documents the embedded

cross-functional challenges of making mass customization work. It gives an overview of the

interlinking set of issues – from marketing, retailer selection, and information management, through

to production and distribution, project management and strategic fit – that made expanding adidas'

trial initiative a daunting task. But over time, this very initiative became a cornerstone of adidas'

personalization strategy to fight commoditization risks.

Since the original IMD case was written, adidas has gone through a tremendous journey. The

grandiose mi innovation Center on the Champs Elysées in Paris opened in 2007 to offer consumers

the most authentic shoe customization experience using 3D technology. In 2009, as part of its group

strategy "Route 2015," adidas group announced its "Innovation leadership through personalization"

strategy in which it declared that personalization will be the brand's lead innovation concept and a

driving force of the adidas business as the company aims to become the most personal sports

brand by 2015. This marked an important milestone and was followed by an expansion at adidas –

mi team products are now available for eleven sports categories and have moved into 16 countries

across North America, Europe and Asia.

However, these achievements were accompanied with pressure from the marketplace. During the

same period, Nike iD, the biggest competitor of mi adidas having also entered the mass

customization game in 2000, grew its business by investing heavily in e-commerce in 2005. In 2010,

Nike iD announced revenues of $100 million for fiscal year 2009. 3

Adidas in turn is stepping up its efforts as a new generation of consumers embraces smart apps

and becomes more at ease with online applications – making the concept even more relevant

today. Driving mass customization experience, mi team is one of the first in the marketplace to

launch the team business, accompanied with the launch of a smart device app. Likewise, mi adidas

designs can now readily be shared among consumers through Facebook, Twitter or e-mail and are

fully integrated into adidas' e-commerce markets in the US, France, Germany, UK and the

Netherlands.

Today, adidas is able to leverage its hands-on experience and make an important step towards the

future by enabling a consumer-centric supply chain.

With adidas taking a futuristic step forward to engage its consumers, many other players in the field

might suddenly find themselves unprepared, and unable to customize. What makes it so

complicated?

Our research shows that standalone mass customization businesses and mass customization units

in well-established incumbents such as adidas face different challenges. While the incumbent can

provide the mass customization unit with strong resources, brand reputation, and existing

processes, the standalone businesses are more agile in decision making and are more likely to

exert commitment into the business. For many companies that are embarking on a similar journey,

the story of mi adidas can shed some light on their future operations. At the very early stage of

3 http://www.huffingtonpost.com/danny-wong/nikeid-makes-100m-co-crea_b_652214.html

IMD – www.imd.org Page 3/5
---
PERSONALIZATION BROUGHT TO LIFE I is your organization ready to bond with consumers?

development, while mi adidas received excellent feedback from consumers and saw great market

potential, challenges in information technology, supply chain and distribution turned out to be more

complex than expected. Internally, it required strong leadership and a commitment from top-down

for a clear positioning of the initiative.

Mass customization represents a new paradigm. Yet getting its front and back-end to work is a

challenging task. Is your organization ready to bond with millions of consumers?

Ralf Seifert is a Professor of Operations Management. His primary research and teaching interests

relate to operations management, supply chain strategy and technology network management.

Fang Liu is a Research Associate at IMD.

IMD – www.imd.org Page 4/5
---
PERSONALIZATION BROUGHT TO LIFE I is your organization ready to bond with consumers?

Related Programs

ORCHESTRATING WINNING PERFORMANCE - http://www.imd.org/owp

The global business program for individuals and teams

Program Directors Bettina Buechel and Dominique Turpin

- For individuals and teams who seek the latest management thinking and practical, innovative

solutions for their business

- Anticipate global business trends

- Boost your performance, broaden your perspectives and expand your global network

- Design the program that suits you

MANAGING THE GLOBAL SUPPLY CHAIN - http://www.imd.org/mgsc

Growth through agility and efficiency

Program Director Carlos Cordon

- Understand and manage global supply chain complexity and risks

- Protect sales and revenue growth through efficient execution

- Anticipate surprises and avoid problems within your global material, information and financial

flows

- Explore collaboration and various forms of integration that allow you to take advantage of

uncertainty

IMD – www.imd.org Page 5/5