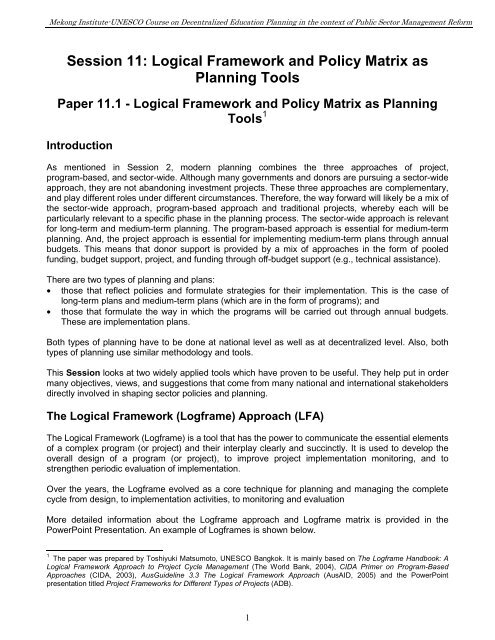 Logical Framework and Policy Matrix as - UNESCO Bangkok
Logical Framework and Policy Matrix as - UNESCO Bangkok
Logical Framework and Policy Matrix as - UNESCO Bangkok
SHOW MORE
SHOW LESS
Create successful ePaper yourself
Turn your PDF publications into a flip-book with our unique Google optimized e-Paper software.
Mekong Institute-UNESCO Course on Decentralized Education Planning in the context of Public Sector Management Reform

Session 11: Logical Framework and Policy Matrix as

Planning Tools

Paper 11.1 - Logical Framework and Policy Matrix as Planning

Tools 1

Introduction

As mentioned in Session 2, modern planning combines the three approaches of project,

program-based, and sector-wide. Although many governments and donors are pursuing a sector-wide

approach, they are not abandoning investment projects. These three approaches are complementary,

and play different roles under different circumstances. Therefore, the way forward will likely be a mix of

the sector-wide approach, program-based approach and traditional projects, whereby each will be

particularly relevant to a specific phase in the planning process. The sector-wide approach is relevant

for long-term and medium-term planning. The program-based approach is essential for medium-term

planning. And, the project approach is essential for implementing medium-term plans through annual

budgets. This means that donor support is provided by a mix of approaches in the form of pooled

funding, budget support, project, and funding through off-budget support (e.g., technical assistance).

There are two types of planning and plans:

• those that reflect policies and formulate strategies for their implementation. This is the case of

long-term plans and medium-term plans (which are in the form of programs); and

• those that formulate the way in which the programs will be carried out through annual budgets.

These are implementation plans.

Both types of planning have to be done at national level as well as at decentralized level. Also, both

types of planning use similar methodology and tools.

This Session looks at two widely applied tools which have proven to be useful. They help put in order

many objectives, views, and suggestions that come from many national and international stakeholders

directly involved in shaping sector policies and planning.

The Logical Framework (Logframe) Approach (LFA)

The Logical Framework (Logframe) is a tool that has the power to communicate the essential elements

of a complex program (or project) and their interplay clearly and succinctly. It is used to develop the

overall design of a program (or project), to improve project implementation monitoring, and to

strengthen periodic evaluation of implementation.

Over the years, the Logframe evolved as a core technique for planning and managing the complete

cycle from design, to implementation activities, to monitoring and evaluation

More detailed information about the Logframe approach and Logframe matrix is provided in the

PowerPoint Presentation. An example of Logframes is shown below.

1 The paper was prepared by Toshiyuki Matsumoto, UNESCO Bangkok. It is mainly based on The Logframe Handbook: A

Logical Framework Approach to Project Cycle Management (The World Bank, 2004), CIDA Primer on Program-Based

Approaches (CIDA, 2003), AusGuideline 3.3 The Logical Framework Approach (AusAID, 2005) and the PowerPoint

presentation titled Project Frameworks for Different Types of Projects (ADB).

1
---
Mekong Institute-UNESCO Course on Decentralized Education Planning in the context of Public Sector Management Reform

LOGFRAME example (from World Bank, The Logframe Handbook)

Narrative summary

Goal

More and better trained

students enroll and graduate

from secondary schools

Performance

indicators

Monitoring and

evaluation

Assumptions and risks

Objective

More and better trained

students graduate from

primary schools at reduced

costs with more gender

equity

Output

Adequate, quality

classrooms are used by

students in the target groups

Students have support

from their families to enroll

in secondary schools and

to continue their

education

Secondary schools have

excess capacity to

provide education from an

increased number of

enrollments

Transportation system

allows children to get to

schools in less than one

hour

Component activities

1.1. Determine school needs

for construction and

rehabilitation

1.2. Construct schools

1.3. Equip schools

Inputs

Classroom

renovation US$ xx

M

Administration

US$ xx M

Children are well fed

when they arrive at school

Weather does not hinder

building

Political stability

Policy Matrix

Another planning tool is the Policy Matrix. It is a roadmap for planning to ensure

• that objectives and targets on specific policy reforms are coherent;

• that the actions required in order to achieve the targets are feasible; and

• that monitoring is possible in order to make sure that policy implementation (reform

implementation) is on the right track. Most importantly, it is a tool that helps to ensure that

Government commitment on specific policy actions is feasible.

In a context of program-based approaches (PBAs), the Policy Matrix is an essential tool to ensure the

achievement of development outcomes, and joint accountability for these outcomes. Funds may or

may not be earmarked for specific activities, but the tendency under PBAs will be to reduce the specific

targeting of funds by using modalities such as pooled funding or budget support. The aim is to promote

the larger objectives of the program by reducing transactions costs, reinforcing local systems, and

introducing a larger element of flexibility in the use of funds. National ownership is emphasized and

prime responsibility for program design and implementation rests with the national institutions. The

Policy Matrix also strengthens donor coordination and harmonization of procedures.

2
---
Mekong Institute-UNESCO Course on Decentralized Education Planning in the context of Public Sector Management Reform

The Policy Matrix is one of the most important documents in the program-based support agreement

between the Government and donor(s). It includes medium-term policy reforms and concrete policy

targets which are decided based on situation analysis of the education sector/sub-sector(s) and

intensive consultation among key stakeholders. The emphasis of the measures included in the Policy

Matrix is on key actions and on milestones (policy triggers). Those actions required to achieve the

policy targets are based on feasibility in terms of scheduling, regulatory framework and management

responsibilities (i.e., timeframe to achieve the policy targets, who will draft what kind of policy

documents, who will be consulted, who will review and approve the documents, etc.). During

implementation, the Policy Matrix is also the reference document that allows assessing to what extent

and how the programs are implemented.

As such, the process of producing the Policy Matrix is very similar to the modern education planning

approach which is explained in Session10. In this sense, the Policy Matrix could be a useful planning

tool.

While logframe and policy matrix have many similar features, they are different in the purpose of use.

Logframe summarizes a project document and therefore is used as an agreement among project

partners. Policy matrix stipulates conditions to be fulfilled by a recipient country. These are conditions

related to national policy change and used as triggered for disbursement of funds. The nature of the

performance indicators (targets) is therefore different from the nature of indicators included in the

logframe. The latter are not necessarily linked to policy change, (but can be purely

operational/procedural) and funding tranches.

The sample format of the Policy Matrix is shown on below.

Policy areas and

measures

Actions to be taken

prior to first tranche

release

(expected Dec. 2007)

1. Increase resource allocation to the education sector

1.a. establish national policy

and institutional framework

for the education sector

1.b. increase education

sector allocation

(Source: Asia Development Bank)

MOE will approve the

finalized education

strategic plan and

education sector

support program

MOF will provide ADB

with written confirmation

that budget is

consistent with ESSP

requirement

Actions to be taken

prior to second tranche

release (expected Feb

2009)

Actions to be taken

prior to third tranche

release (expected Dec

2010)

3
---
Mekong Institute-UNESCO Course on Decentralized Education Planning in the context of Public Sector Management Reform

ANNEX - LOGFRAME Examples

1st example from ADB (Cambodia ESDP II)

Design summary Program targets

(verifiable indicators)

Development goals

Objective/purpose

Program

components/output

Inputs

Monitoring

mechanisms

Assumptions

and risks

2nd example from ADB (Lao PDR BESDP)

Design summary Performance

targets/indicators

Impact

Outcome

Output

Data

sources/reporting

mechanism

Assumptions and

risks

Activities

Inputs

Example from World Bank (The Logframe Handbook)

Narrative summary Performance

indicators

Goal

Monitoring and

evaluation

Assumptions and

risks

Objective

Output

Component activities

Inputs

Example from UNESCO

Narrative summary Verifiable indicators Means of verification Risks/assumptions

Goal

Objectives

Expected results

Activities

Inputs

4