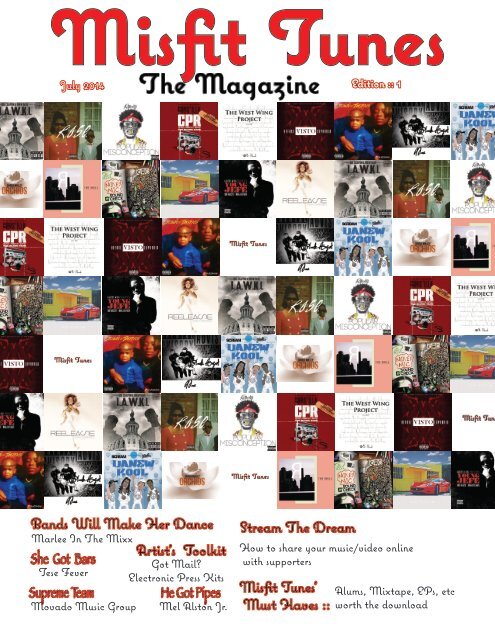 Misfit Tunes The Magazine July 2014
Misfit Tunes is an organization dedicated to promoting domestic as well as international Indie and/or little known artists from all genres of music to the awaiting masses. In this issue :: Artists :: Marlee in the Mixx, Movado Music Group, Bobby Hagens, Drew Reigns, Devin Paige II, Gene Edwards, Tese Fever, and Mel Alston Jr. Articles :: Stream the Dream, Got Mail?, and EPKs. plus lots of Misfit Tunes's Must Haves :: music we recommend you check out. ISSN: 2375-2432
Misfit Tunes is an organization dedicated to promoting domestic as well as international Indie and/or little known artists from all genres of music to the awaiting masses. In this issue :: Artists :: Marlee in the Mixx, Movado Music Group, Bobby Hagens, Drew Reigns, Devin Paige II, Gene Edwards, Tese Fever, and Mel Alston Jr. Articles :: Stream the Dream, Got Mail?, and EPKs. plus lots of Misfit Tunes's Must Haves :: music we recommend you check out.
ISSN: 2375-2432
SHOW MORE
SHOW LESS
You also want an ePaper? Increase the reach of your titles
YUMPU automatically turns print PDFs into web optimized ePapers that Google loves.
Misfit Tunes

July 2014

Edition :: 1

Bands Will Make Her Dance

Marlee In The Mixx

She Got Bars

Tese Fever

Supreme Team

Movado Music Group

Artist's Toolkit

Got Mail

Electronic Press Kits

He Got Pipes

Mel Alston Jr.

Stream The Dream

How to share your music/video online

with supporters

Misfit Tunes'

Must Haves ::

Alums, Mixtape, EPs, etc

worth the download
---
1290 Bay Dale Drive

Suite 213

Arnold, MD 21012

202-656-8626

info@shopcapitalcity.com

COPYRIGHT © 2013

2

Capital City Co.

Capital City Co.

Capital City Co.
---
Misfit Tunes'

Must Haves

Title: Crown Of Thorns Artist: Tate Kobang Released: 4/2014

Intro Crown Of Thorns (Prod. YG! Beats)/ Gun Me Down (Prod. 187 Beatz) /

Live Hazy (Prod. Tommy Kruise) / Dream Killer / Suburbs (Prod. Street Scott)

/ Thotti Pippen (Prod.YG! Beats Tate Kobang) / If I Wuna (Prod. Millz Dxuglas)

/ Light Blue Panties (Prod. YG! Beats) / One Time Interlude (Prod. Dame

Beatz) / Sak Pase (Prod. YG! Beats) / Fine Linen (Prod. YG! Beats) / Kush

Salad (Prod. YG! Beats)/ Give It Up (Prod. YG! Beats) / Chimmy Chang (Prod.

Tate Kobang) / Oodles Of Noodles (Prod. YG! Beats) / Here I Go (Prod. Street

Scott) / Pray For Me

Tate Kobang

Tate_ Kobang

Title: Black August Artist: Mac Released: 1/2014

Tate_ Kobang

Intro / Common Logic Feat Francis May / Flawless Victory / The Ruler /

Back for The 3rd Time / Lord Forgive Me feat. J.Cross / Life is Like a Movie /

Push ft. Styles / The Master of Ceremonies / Run On / 40St Feat J.Cross /

Adderall / Adrenaline / Jokers / Want It Feat. J.Cross / No Coincidence feat.

J.Cross / Interlude Poetry by T.Gross / Balance feat.Marveloso / shine /Just

Believe / Clocks / TheLastAve Produced By Serybrul / Mac feat Francis

May90$Nigga$ / Get Yours (Produced by Adwerdz)

Dmv_Macx

Dmv_Mac

Title: Da New Cool Artist: Slutty Boyz Released: 4/2014

Intro / Take Em Back (We On) [Prod. By K No] / Giddy Up (Feat. Migos)

[Prod. By Mercy] / Ya'll Ain't Ready [Prod. By Bassheds] / Dinner (Feat. Wale

& Rich Homie Quan) [Prod. By Pro Reese] / Pimp Tight (Feat. Fat Trel & Juicy

J) / I Swear (Feat. Fat Trel) [Prod. By Yung Chop] /SDMM (Feat. Boosa) [Prod.

By Yung Chop] / FWM [Prod. By London] / All Up [Prod. By JeffreyVon] /

Road Trip (Feat. Chinx) [Prod. By Beat Billionaire] / Wen U See Me [Prod. By

Yung Lan] / Salute (Feat. Boosa & Wale) [Prod. By Bassheds] / U (Feat. Young

Thug) [Prod. By Honorable C Note] / Luv My Gang (Feat. Fat Trel) [Prod. By

Bassheds] / Ain't My Fault (Interlude) / Ain't My Fault [Prod. By Bassheds]

Slutty Boyz

SluttyBoyz

DaSluttyBoyz

3
---
TABLE Of CONTENTS

Editor in chief :: K. Simms Ki_Misfit Ki_Da_Misfit Ki Misfit

Bands Will Make Her Dance 8

Supreme Team 16

Marlee In The Mixx

Stream The Dream 24

How to share your music/video online

with supporters

Movado Music Group

She Got Bars 28

Misfit Tunes'

Must Haves

Alums, Mixtape, EPs, etc

worth the download

He Got Pipes 33

Artist's Toolkit

Got Mail 12

Tese Fever

Electronic Press Kits 14

Mel Alston Jr.

4
---
What is Misfit Tunes

Misfit Tunes is an organization

dedicated to

promoting domestic as

well as international Indie and/or

little know artists from all genres of

music to the awaiting masses. We

use several vehicles to promote the

artists' work, such as:

Misfit Tunes' blog, which can be

found at www.misfittunes.blogspot.

com , receives thousands of views

daily from all around the country.

We also boast international visitors

from places like Canada, the UK,

Ireland, and Jamaica, to name a

few. We update the blog weekly

with new music and videos.

Why does Misfit Tunes do it

We do it for two main reasons:

1. We do it for the LOVE of the

music. The current top 40 selection

leaves Misfit Tunes wanting

more from music, which is why we

promote indie and/or little known

artists. The music industry has

become so saturated with clones

that the music has gotten lost in

translation or merely forgotten. We

believe it our duty to keep good

music relevant!

2. We do it to change the industry.

It is our belief that the industry has

become too much about money and

no longer about the art of creating

music. With the current state of

the economy and the advent of so

many free internet tools to make

music, it's now the perfect time to

usher industry change.

Now that you know who Misfit

Tunes are and what we do, we

would like to invite you to build a

wonderful working relationship.

Again our services are completely

FREE of cost for artist. We would

appreciate you sending us your

music, videos, upcoming events,

pictures, and/or any other information

you would like us to share. By

sending an email to Misfit Tunes at

submissions@misfittunes.com. We

request that you to ask your fans,

followers, and supporters to support

Misfit Tunes. By increasing

our supporters, we can reach more

people. The more people we can

reach the bigger Misfit Tunes will

grow. Our growth will ensure more

people will be exposed to your music,

which in turn, will potentially

increase your fan base.

We would also like to request any

promotional merchandise you can

spare, as we would like to begin

running contests to get people to

engage more with the artists as

well as Misfit Tunes. The more

people we get to engage with Misfit

Tunes, the better we can serve the

indie market. We fully understand

Misfit Tunes need the support of

artists to reach our full potential as

we are nothing without the music!

How can I as an artist support Misfit

Tunes

· Keep us informed on your

career by emailing us an artist

bio, your music, pictures, videos,

and any information on upcoming

projects.

. Encourage your fans to support

Misfit Tunes. The more people we

have supporting Misfit Tunes the

more people with which to share

not just your music, but also the

other artists' music we support.

. Provide Misfit Tunes with exclusives.

Let us be the first to break

a new video or song, as well as

details on upcoming events or new

projects.

. Invite us to events. If you are

having an album release, performance,

and/or any event you'd like

us to cover, send us press credentials

or put us on your guest list. If

we are in your area we will gladly

enjoy covering your event. We

want to support all events, however

that can become very costly potentially

taking funds away from the

services we provide since we don't

charge for our services.

. Make Misfit Tunes your #1

source for indie news, music, and

videos.

Remember, we do this for the love

of the music! So if you love your

music and want to support an organization

that will love your music

as much as you do, look no further

than Misfit Tunes!

~ misfit movement let's make it

count!!!

links::

Misfit Tunes

Misfit Tunes

Misfit Tunes

5
---
Misfit Tunes'

Must Haves

Title: Orchids Artist: Darius Wolley Released: 2/2014

Orchids by Darius Wolley / Constellations by Darius Wolley / Work by Darius

Wolley / Crush by Darius Wolley / Lipstick by Darius Wolley / Night Shift by

Darius Wolley / September by Darius Wolley

Ace Wolley Darius Wolley Darius Wolley

Title: The Drill Artist: Redline Graffiti Released: 4/2014

Mayfair / Two Face / Cuddlebug

Junior June / Scene Flowers

Recorded at Recording Arts|Fairfax, VA & at Mousai House|Washington, DC

Redline Graffiti is: Ajene Harley- Guitar / Dante Pope- Drums, Percussion / Donald

Martin - Producer, Composer, Vocalist / Drew Moten - Producer, Composer,

Vocalist, Bass Guitar

Redline Graffiti Redline Graffiti vivaredlinegraffiti

Title: Sound Check Artist: Mikey MIC Released: 12/2013

Bare Witness / When I Go / Acapella / Mikey MIC feat. J-O & Clifford Cartel

- It Ain't Over / Mikey MIC feat. Eazo The Show - Everyday, Eryday, Herbday

/ "Comp of The Week" / Rite Now / Candy Lady / We High / Mikey MIC feat.

Wes Glover - Vent / Mikey MIC feat. Wes Glover - Damn Shame /InOutro

6

Mikey Mic MuzicIControl Mikey_Mic
---
www.WeirdArtSociety.com

WeirdArtSocity

WeirdArtSocity

WeirdArtSocity

7
---
Bands Will Make Her Dance

Marlee in the

Mixx

8
---
When you sneak out of

work early, fight traffic,

and hunt for the elusive

parking spot all to see your favorite

band, at the very least you expect

them to make you dance. You hope

that there is some sort of connection

made with the lead singer and

you get called up to sing back up

on your favorite song. You blow

the lead singer away and you two

quickly become besties. Some people

will call you a naive dreamer

for having such lofty expectations

from your favorite band. That is,

unless your favorite band is Marlee

in the Mixx.

Marlee in the Mixx is an independent

progressive band from the

DMV (DC/MD/VA) area. Marlee

in the Mixx, better known as

MITM, was officially formed in

2012. The band is comprised of

members Marlee D (lead vocalist/

songwriter/band leader), Austin

Dean (vocalist/songwriter), Foots

"The King" (drums/band leader),

Miciah "Ki" Duncan (lead guitar/

engineer) Rob Lowe (bass guitar),

Omari "Kaash J" (keys), Arami

"Coles" Coleman (keys/key bass),

Deon "Rookie" Moon (keys/music

director), and Ant "Juicy A" Minor

(percussion).

The eight piece band of twenty-somethings

display a level of

musicianship beyond their age.

Each member possesses an amazing

talent in their own rights.

Collectively, they create a sound

as eclectic as their influences. With

musical roots in Neo-Soul, R&B,

Gospel, Hip Hop, Jazz, and Go-Go

(the sound of DC), MITM comes

together to build upon and fuse

these genres.

Their goal is to create a new and

constantly progressing sound that

blurs lines, knows no gender or

age, pushes genre boundaries, and

elevates the message in today's

music; hence the term "progressive."

The band refers to their content

as "Monday To Friday" music,

communicating themes involving

everyday life struggles, triumphs,

spirituality, love, fear and anything

else their listeners can relate to.

The band has been known to

send crowds around the world into

a frenzy. Their debut performance

took place at The Filmore Silver

Spring in front of a sold out audience

of over 2000 people, where

they were the opening act for

Island Def Jam's own Big K.R.I.T.

MITM also opened for Iggy Azalea.

MITM acknowledges both are

huge career accomplishments yet

promises bigger acts to come

In 2013 the band performed at

the Seoul Music Festival in Seoul

Korea. MITM also performed

during a R.A.W. Showcase at the

famous SOB NYC, "R.A.W. (Real

Art Works), is the ultimate experience

dedicated to the growing

market of alternative music. This

show series is a platform for the

crop of genre-defying artists who

aren't confined to stylistic labels.

R.A.W. encumbers a diverse group

of performances ranging from new

to established, with a mission to

bring recognition to the growing

presence of alternative progressive

music."

MITM has demolished stages

across the Washington, DC metropolitan

area as well. From college

events, concerts, fashion shows,

plays & more they performed to

rave reviews. Building a cult following

along the way.

With their fan base growing at a

feverous pace club owners began

to take note of Marlee in the Mixx.

The attention from club owners

landed MITM one of the hottest

stage on U Street, a popular corridor

in the District of Columbia

known for great live entertainment

located across from the city's

historic Ben's Chili Bowl and The

Lincoln Theatre.

Marlee in the Mixx secured a

weekly Friday night feature at

Indulj commonly known as "In The

Mixx Fridays."

"In The Mixx Friday" is two one

hour high energy sets accompanied

by MITM's signature cocktail,

"The Mixx." It is also during their

weekly sets that the band debuts

new music as well as reveal the

latest MITM merchandise.

With each set of "In The Mixx

Fridays" the band's reputation as

9
---
one of the area's top bands grows

as does the attendance rate.

With their hectic performance

schedule one might think MITM

would have no time for anything

outside of the music. One would

be wrong. Marlee in the Mixx"s

love for music is matched closely

by their love of community service

and education.

In 2014 MITM partnered with

3D Music Group, LLC (3DMG) to

present the 10,000 Hours Educational

Excellence Tour." The tour

is a groundbreaking event created

to encourage people to pursue their

purpose, passion and education. Per

Ellis Lambert, founder and CEO of

3D Music Group, LLC (3DMG),

"The tour was created in response

to an initiative President Obama

created in order to focus on the

achievement gap between African

Americans and White people." On

April 12, 2014 Marlee in the Mixx

kicked off their "10,000 Hours Educational

Excellence Tour" at the

St. Charles Town Center.

Marlee D., lead singer of Marlee

in the Mixx states "10,000 Hours

is more than music. It's a lifestyle

and mantra to dedicate yourself to

developing your gifts to their maximum

ability."

Marlee's statement is a direct

interpretation of the 10,000 hour

rule. The rule has to do with attaining

Big Time Success. Based on a

study done by Malcolm Gladwell.

Gladwell claims that any of us can

reach greatness by practicing tasks

relevant to our chosen field for a

total of 10,000 hours. Students of

Gladwells's theory MITM named

their EP, "10,000 Hours."

Marlee In The Mixx highly anticipated

debut EP "10,000 Hours"

was released in May 2014. The

EP contains both studio and live

versions of all six tracks totaling

twelve tracks of original MITM

music. "10,000 Hours" is a perfect

example of progressive music. The

EP contains music with progressive

qualities such as conceptual ideas,

heightened lyrical content, longer

songs, time changes, sophisticated

instrumentation and compositions,

and superior vocals.

"10,000 Hours" is an exhilarating

ride through different genres

of music all strung together to give

the listener a refreshing jolt of eargasmic

music. The EP is certainly

worthy of having a listen. You may

find the effort you put into getting

to your new favorite

band's show well worth

it especially if that band

is Marlee in the Mixx. As

MITM delivers on awesomely

extraordinarily

great show time after time

ensuring that the band

will make you dance.

*** Catch Marlee in the Mixx

every Friday at Indulj 1208 U St

NW, Washington, DC 20009 ***

EP ::

10,000 hours

video::

intro

cloud 9

links::

marleeinthemixx

marleeinthemixx

10

marleeinthemixx

marleeinthemixx
---
Foolish Radio

Thurdays

noon - 2pm est

on

www.Listenvision.com

FoolishRadio

11
---
You've got mail

Proper email etiquette

ARTIST TOOLKIT

You've got mail No this is not an AOL reference. This is a legitimate question.

Just sending a link of your music is not sending an email. Just sending a link

is what is known as a lazy hustle. Or in most cases it is done because the sender

does not know the proper way to send an email. Studio time to record your

hit song is not cheap. so why waste money by sending your music with an email

lacking proper email etiquette. Proper email etiquette can be the difference between

the work being viewed or

deleted without the work being

viewed. Although email us-

age has lead to an increased

trend of informal com-

munication practices, it is

still strongly suggest-

ed proper email etiquette

when contacting

individuals for a professional

purpose.

The email should

not include slang,

text message abbreviations,

nor profanity.

Instead

the email

should include: 1)

Label

your emails

with a

professional

sub-

ject line.

A pro-

fessional

subject

line which

will help

ensure the

email

reaches the

recipient.

2) Address

the re-

cipient by

name, if

possible.

Make

every attempt

to

learn the

name of

the email's

recipi-

ent shows

you have

done your

research.

3) Write

the pur-

pose of

your email

out clearly.

State the outcome you seek as a result of the email. Include all details necessary

for the reader to make a decision or take action. 4) Avoid rambling within

the email. A straight forward to the point email is much easier to read and

respond to than a lengthy email. 5) Close the email. Thank the recipient and

provide your contact information (name / phone number / email address).

Now You've got mail.

12
---
Misfit Tunes'

Must Haves

Title: Pulp Fiction Artist: Miloh Smith Released: 2/2014

6:30 AM (Intro) [Prod. By Big Jerm] / Revolver [Prod. By Jordan Lewis] / VHS

Tapes (Ft. Jace) [Prod. By Wavy Wallace] / Mr. Wallace (Ft. Wavy Wallace)

[Prod. By Wavy Wallace] / Intexication [Prod. By ForteBowie] / White [Prod.

By Childish Major] / Starz (Ft. Brandon Rossi) [Prod. By Justin Rose] / Come

Alive (Ft. Go Ricky Go!) [Prod. By Jordan Ware] / Church (Ft. Cyhi The Prynce

& Marian Mereba) [Prod. By 808 Blake] / Extra [Prod. By Walt Live] / Never

Coming Down [Prod. By Stroud] / Pride (Outro)

MilohSmith

MilohSmith

Title: Young Jefe Artist: Shy Glizzy Released: 2/2014

La Introduccion [Prod. By Roger Beat] / I Can't Trust Myself [Prod. By Will

A Fool] / I'm On Fire [Prod. By Roger Beat] / Awwsome [Prod. By EA Glizzy]

/ Medellin (Feat. Young Scooter) [Prod. By Zaytoven] / Tha Gang (Feat. Plies)

/ Call From Cannon / Or Nah [Prod. By Cardo] / I'm A Star (Feat. Flow &

Gudda Gudda) / Ungrateful (Feat. Percy Keith) / Coca Loca (Feat. Zed Zilla)

[Prod. By EA Glizzy) / Snow Angel [Prod. By Nito Beats] / Living It Up (Feat.

Young Thug & Pee Wee Longway) / Mula (Feat. 3 Glizzy) [Prod. By EA Glizzy]

/ White Girl [Prod. By Cardo] /Catch A Body [Prod. By Zaytoven] / Glizzy

(Feat. Young Thug & Pee Wee Longway) [Prod. By YDG] / Prey For Me [Prod.

By Zaytoven] (3:31)

ShyGlizzy ShyGlizzy ShyGlizzy

Title: Reelease Artist: Reesa Renee Released: 8/2012

Intro: Need a Reelease / Listen (feat. Ra the MC) / Good Day (feat. Tabi Bonney)

/ Music High / Got Me Loose / World Go Round (feat. Kamila Gem) /

Gotta Get By / Radio / Last Goodbye / Wonderland Cool / So Easy / Interlude

- Waste Away / Waste Away / Reelease (feat. Charissa Rouse) / The Build Up

/ Obvious (feat. Black Cobain & Silk Gates)

ReesaRenee ReesaRenee ReesaRenee

13
---
Electronic

What are Electronic Press Kits

press kits

ARTIST TOOLKIT

An electronic press kit, also

known as an EPK, is a

traditional promo package

in digital form. A promo package

is your introduction to its recipient.

Due to the fact you may not

be capable of speaking with every

single person you want to contact

in person it is very important your

EPK represents you as an artist.

There are promo packages that are

sent through the mail however the

cost for postage can get expensive.

Due to cost most artist elect to use

the electronic press kit. As well as

the fact it is much easier to cram

information into an electronic

press kit than a traditional promo

package. Regardless how you

chose to send it be sure to put your

best foot forward while including

all pertinent information about you

and your work. An EPK is often

used as a tool to promote your

work to the media, agents, managers,

and promoters.

Your EPK should include:

1. Title - tells the reader who you

are. Simple stated it is where you

put your name. Your stage name.

Not your government name or

name given to you by your parents

(unless it happens to also be your

stage name).

2. Photos - shows the reader what

you look like . Keep the pictures

to a minimum of two with no

more than three. The photos should

be in color and free from clutter.

They do not need to be professional

done yet they should be good

quality photos. Pictures that are out

of focus, dark, poorly cropped, etc

should not be used.

3. Audio - allows the reader to

hear a sample of your work. Often

an MP3 NOT a link to soundclound,

bandcamp, or another site

that host the song. Links to other

sites limits how your recipient can

access the music.

This MP3 should include an ID3

tag. An ID3 tag is used to embed

information in an MP3. It provides

the album name, artist name,

genre, song title, and year through

a thirty character text field embedded

at the end of the MP3 file. ID3

tags uses a total of 128 bytes of

total data.

Keep your MP3 files to a maximum

of four. List your files so that

your most recent song is first.

4. Visuals - allows the reader to

watch a sample of your work.

Often a videotaped performance

of one of your popular recorded

songs most times accompanied

by visual images interpreting the

lyrics and/or dancing. If the videotaped

performance is of a live

performance make sure the audio

is clear and audible with little to no

crowd noise. Keep your video to a

maximum of two.

5. Links - tells the reader where

to find you. Often links are social

media links such as Facebook,

Instagram, Souncloud, Twitter

and many more. Keep them under

control list only the links you keep

updated. Do NOT drown your

reader in links.

6. Bio - allows the reader to learn

about your story. Often a SHORT

straight forward depiction of musical

highlight, musical accomplishments,

and musical influences.

The bio is your way of introducing

yourself to the reader male sure

you find the proper balance between

providing useful information

and being to long winded. You do

not want to lose your reader.

7. Contact info - allows the reader

to contact you with any additional

request for information. Often

times this contact information is

simply the artist's email address

and/or phone.

Any EPK is often an overlooked

yet very important and necessary

tool. Be sure to get one your music

career depends on it!

14
---
SUPREME TEAM

16
---
SUPREME TEAM

MOVADO

MUSIC

GROUP

Movado Music

Group embodies

the meaning of a

Supreme Team. A Supreme

Team as defined by Misfit

Tunes is three or more individuals

working together to

impact the indie music industry

either through innovative

concepts or creating good

music. Each member of a Supreme

Team has one primary

mission which is to succeed

while remaining ethical. Supreme

Teams look to lead

the crowd, change industry

norms, and usher in a new

business model.

Movado Music Group,

MVG, is a up and coming

independent label from Maryland.

MVG consist of Bobby

Hagens (artist), Devin Paige

II (engineer / producer), Drew

Reigns (artist), and Gene

Edwards (artist manager). The

label was established in 2011

by Bobby Hagens, Devin

Paige II, and Gene Edwards

with the primary goal of chasing

their dreams while helping

shine a light on Hagens gifts

as a rapper and an undeniable

talent from the DMV [DC,

MD, VA]. MVG wanted to do

everything in house. As they

believed there is not many

people willing to lend a helping

hand in this industry. They

knew with their core group

they could accomplish great

things. Especially if they kept

God first and trusted one another.

Approximately one year

after Movado Music Group

was established Drew Reigns

joined the team.

Now a quartet, MVG is

steadfastly becoming a brand

to keep both an ear and an

eye on. With releases from

both Bobby Hagens and Drew

Reigns featuring executive

production by Devin Paige II

MVG is carving a custom lane

to the top.

Movado Music Group's custom

lane is filled with messages

of self-love and acceptance.

No they are not a band of hippies

just some everyday fellas

hoping to encourage listeners

to stop living for the attention

of others, social media, and

undesirable trends.

In a time in music where

songs instruct you to get yours

by any means necessary and

encourages you to self-centered

MVG's message is very

refreshing.

Now that you know Movado

Music Group's mission get to

know the line-up.

17
---
THE LINEUP

SUPREME TEAM

Bobby Hagens is an artist/

songwriter born and raised in

Clinton, Maryland, a suburb

of Washington, DC., as well as the

head of the Movado Music Group

(MVG). He and his team is taking

the DMV indie music scene by

force. Some have tried to label him

a rapper others a singer both are

partial correct as Hagens describes

himself as a musical innovator who

transcends genres. He believes his

passion for music as well as his

versatility is what separates him

from the other artists. He hopes

to gain fans by not only making

quality music, but by also making

telling, thought provoking, and

emotional charged music. His goal

is to show the world that rap does

not mean you have to only talk

about sex, guns and violence. Instead

he celebrates and encourages

his supporters to be "real." Being

"real" is letting people inside of

your life, and most importantly not

being afraid to be YOU.

In 2012 Hagens released his

highly anticipated debut mixtape

entitled "My Beautiful Mind." He

dedicated "My Beautiful Mind" to

connecting with his audience and

letting them into his inner thoughts

18

Artist

BOBBY

HAGENS

"I'm a lover of music. I hope to change the world someday with the

words that come from my heart. Being Beautiful is being you"

~ Bobby Hagens

and life. A closer look into his lyrics

will reveal his true passions and

his continued message of embracing

one's identity.

The mixtape contained tracks fifteen

tracks that highlights a range

of Hagens' talents. From captivating

vocals to conscious wordplay.

Label mate Drew Reigns can be

heard on 'Love of Lies.' There are

not many featured artist on the

mixtape. However, Hagens does

manage to get two of the DMVs

stars, Fat Trel and Phil Ade to

feature on two separate tracks that

quickly became fan favorites. Fat

Trel on 'Friday Nite' and Phil Ade

on 'The Sky'.'

The mixtape also provided fans

with four new visuals: 'My Beautiful

Mind', 'Chicago O'Hare,'

'Love of Lies,' and 'Just A Dreamer.'

All four videos captures the

viewers attention abruptly transporting

them into Hagens' beautiful

mind.

Hagens' is currently working on

new music. His second mixtape

is titled "Winter Dies" scheduled

to be released this year 2014. To

thank his fans and supporters for

their continued support and patience

as he takes his time building

his sophomore offering Bobby

released a few singles: 'City of

Sin,' and 'Worst Remix.' He also

released the first single, 'December

6th,' off "Winter Dies"Each single

was accompanied by a stunning

video bringing his words to life.

MIXTAPE::

my beautiful mind

Video::

december 6

LINKS::

bobbyhagens

bobbyhagens

bobbyhagens
---
THE LINEUP

Drew Reigns is an artist from

Front Royal, Virginia who

joined the MVG family a

year after the trio formed Movado

Music Group thus rounding out the

quartet bound to leave their mark

on the game. How he came to be

a member of MVG is straight of a

storyline.

Reigns became a fan of Bobby

Hagens as he identified with many

of the subject matters in Bobby

Hagens songs. One day he reached

out on Facebook by sharing a link

to a few of his songs. His songs impressed

Gene Edwards which led to

a formal meeting which eventually

landed Drew Reigns a position on

the MVG team.

In 2012 Reigns released his debut

mixtape "Moon Walk" nineteen

tracks of venomous wordplay

designed to imprint the name Drew

Reigns on the listeners ears. "Moon

Walk" is a heavy hitting grimy depiction

of a world as seen through

the eyes of Reigns. It features

production from Devin Paige, Sean

Divine, Sir Henry, Platinum Sellers

Beats, June G., Diamond Style Productions,

Ill Muzik as well as a few

other talented producers. All of the

executive production for "Moon

Walk" is credited to both Reigns

and Devin Paige.

With his debut mixtape out and

commanding attention from indie

heavy hitters in the DMV scene

Reigns turned his attentions to his

sophomore mixtape which he knew

had to be just as if not better than

"Moon Walk." To keep his fans

appetite fed he released videos

for two tracks off of 'Moon Walk'

'Million Dollar Underdog,' and

'Watch The World Go By.' Both

videos were shot and directed by

the very talented Chastity Corset.

In 2013 Reigns released his sophomore

mixtape "Now They Know"

a twenty track powder keg of explosive

beats and witty word play.

"Now They Know"let's the listener

know Reigns is far from being

satisfied with his success even

though people now know his name.

It showcase several hungry new

producers such as SdotFire, Primestars,

Flash Beats and many others.

Reigns along with MVG producer,

Devin Paige executive produced

the mixtape. The mixtape boast

collaborations with XXL freshman

Dizzy Wright, Trippz Michaud and

label-mate Bobby Hagens.

Reigns has proven himself an artist

to take note of. Both of his mixtapes

are samples of the desire that

burns in Reigns. A desire to impact

the world through his music.

mixtapes::

Now They know

moonwalk

video::

chin music

links::

drew reigns

drew reigns

drew reigns

DREW

REIGNS

Artist

19
---
THE LINEUP

SUPREME TEAM

DEVIN

Devin Paige II is a twenty-something

Maryland native

charged with the task of making

sure MVG's sound is undeniable.

He has been with MVG since the

beginning although most would not

know him walking down the street.

An anonymity he hopes to shed

after his production work on Bobby

Hagen's 'My Beautiful Mind' and

Drew Reigns' 'Moonwalk' and

'Now They Know.'

Paige produced nine of the fifteen

track off 'My Beautiful Mind.'

He also produced six of nineteen

20

PAIGE II

tracks off 'Moonwalk' and eight of

20 tracks off 'Now They Know.'

These three projects were well received

as they are all solid projects

certainly worth a listen.

Paige's services are not exclusive

to the Movado Music Group.

He has produced blazing tracks

for other local DMV indie artist.

Nike Nando is one such local artist

whose 2013 song 'Let Em' Down

Easy' which featured MVG artist

Booby Hagens is produced by

Paige.

Paige is not just a produce he

GENE

EDWARDS

Gene Edwards wears the title

of manager of Movado

Music Group however he

makes it clear Bobby Hagens is

the true leader of MVG. Without

Hagens Edwards would not have

developed a love and passion for

the business side of music. Edwards

and Hagens are High School

friends who attended Shenandoah

University together where Edwards

studied business.

Edwards graduated with a business

degree making him the perfect

candidate to fill the manager position.

As the artist manager of MVG

he takes care of the day - to - day

operations, organization, contact

retention, and a host of other task.

Edwards happily performs each

task as he believes in the talent

Movado Music Group has on its

roaster.

Edwards describes the MVG

team as family, as brothers that

will go to war for one another. It is

producer / Engineer

is also an engineer. Being a dual

threat helps guarantee the sound

remains true to his vision. A vision

that is shared throughout MVG, a

mission to create good music that

inspires change with in the listeners.

links::

devin paige II

devin paige II

devin paige II

manager

this bond he knows will assure the

success of Movado Music Group.

As well as inspire a team approach

to business development and music

creation impacting industry cultures.

links::

gene_edwardsmvg

gene_edwardsmvg

gene_edwardsmvg
---
109 Ingraham St. Suite 302 Brooklyn,

NY 11237

(address is not a storefront)

GoodWood is a company & brand focused on creativity and design. We offer a variety of products

and accesories with an unlimited ability to design and customize your own. We have collaborated

with artists, brands and agencies to create unique products and worked with many stores

and brands to create their signage, POP display and special projects including custom boxes and

package design.

All of the products made by GoodWood are created and designed in Brooklyn, New York.

© 2014 GoodWoodNYC

www.GOODWOODNYC.com

22

Good Wood NYC GoodWoodNY GoodWood NYC
---
Misfit Tunes'

Must Haves

Title: L.A.W.K.I. Artist: D.O.E. C.I.G.A.P.O.M Released: 4/2014

INTRO / YOUNGBLOOD / GOING HOME / HELP ME / DOE'S EXPERI-

ENCE / I DID / TELL ME / ON THE RUN FT. ONE-TON / INTERLUDE /

HEART SPEAK / INDIE LOVE FT. yU / FEEL THE BEAT (DANCE TO SEX)

/ YES U DID / U KNOW WHO U R FT. UPTOWN XO / JIMI HENDRIX THE-

ORY/ PLAYER'S BALL / OUTRO

All Songs Produced By: Drew Dave / All Lyrics Written By: Swenton Stroman

(Doe Cigapom) / Engineered By: Mike Reason (Loudwater Studios) / Mastered

and Mixed By: Aleem Bilal (ABthePRO)

DoeCigapom

DoeCigapom

DoeCigapom

Title: R.O.S.E. Artist: Phil Ade' Released: 7/2013

Nas Told Me (Intro) (prod. Sunny Norway) / The Dreamer (prod. Teddy Roxpin)

/ City Lights ft. Skream (prod. Sunny Norway) / Every Bag (prod. Sunny

Norway) / Money ft. Phil Da Phuture (prod. 6ix) / Check My Tags (prod. Sunny

Norway) / The Vapors (Bet U Kno Me) ft. Shawn Chrystopher (prod. OB) / 2AM

ft. Bun B (prod. Sunny Norway) / Xscape (prod. Ashton Gold) / Big Mistake

ft. Metronomy & Like (of Pac Div) (prod. Sunny Norway) / Simply Beautiful

ft. Raheem DeVaughn & Dee Boy (prod. DJ Black Diamond) / Under Achiever

(prod. Sunny Norway) / One Time ft. Ice The Villain & Andain (prod. Sunny

Norway) / Get Back ft. Rockie Fresh (prod. Sunny Norway) / Tony Lewis Jr.

Speaks / Disappointed (prod. Teddy Roxpin) / Roses ft. Flex Kartel (Outro)

(prod. Sunny Norway

PhilAdeRF

PhilAde_RF

Title: Popular Misconception Artist: Awthentik

Released: 5/2014

PhilAde_RF

Bamboozled / It's Possible / Lets Get It /What Ya Know

Wild West feat Ethan Spalding

Blank Canvas /Dying Breed / Real Woman

Preconceived Notion

Awthentik

Awthentik

Awthentik

23
---
Stream The Dream

Share your music/video online with your supporters.

You have done it created the next big hit the

song that is sure to get you signed to a big major

label, get you paid the big dollars, get you

the Grammy. Now what I would suggest you share

your music with your fans and supporters. How By

streaming the dream and sharing your music online.

Whats is streaming You ask a lot of good questions.

Audio streaming is more commonly known as

streaming music is a way of delivering music without

the need to download files of different audio formats.

Typically, if you want to listen to music, or any other

type of audio, you need to download an audio file in a

format such as an MP3, WMA, AAC, OGG, or Flac.

However, using a streaming delivery method, there

isn't the need to first download a complete file. The

basic way that this process works is that the audio file

is delivered in small 'packets' in order for the data to

be buffered on your computer and played virtually

straight away. As long as their is a steady stream of

these packets delivered to your computer, you'll hear

the sound without any interruptions. This will allow

your fans supporters to listen to your music anywhere

they have an internet connection. Which in todays

world is everywhere. There are many audio streaming

sites that would love to host your music at little or no

cost. This article will concentrate on two of the more

popular sites, Bandcamp and Soundcloud.

Both of these sites offer excellent free options as well

as paid options that will give you more options to

share your music online with your fans and supporters.

Neither of these sites should replace an actual website

however they are a good place to start as websites can

be costly. It is extremely important that you upload

your music online to ensure more than just your family

and friends hear your next big hit!

24
---
What is Bandcamp According to

bandcamp it is "a rock-solid platform

for artists to sell their music

and merchandise to their fans, and

a thriving community of enlightened

listeners who get that the best

way to support the artists they love

is by directly giving them money."

Sounds pretty good but you are still

not sure how bandcamp will assist

you in your dreams of super stardom.

Here are a few advantages of

bandcamp:

* Sell your music via the platform,

give it away for free or focus on

streaming (this gives you an online

presence outside of social media).

* With free downloads, you have

the option to insist on an email

address from users, which you can

use for your newsletter (this allows

you to build an email tree so that

you can keep your fans and supporters

up to date about new music,

shows, etc.).

* Sell and manage merchandise

directly from you page (this will allow

you to create a revenue stream

and track inventory).

* Automatic taxing is included on

purchases, depending on the location

of you and the buyer (this

makes sure Uncle Sam gets his cut

of the pie).

* Bandcamp pricing is quite fair.

They retain 15% commission of

purchases up to $100, dropping to

10% after $5000 sales in 12 months

(let us do the math for you 15% of

$10 is a $1.50).

How to sign up for a FREE account:

Step 1: Create a user name and

password, provide an email address

and artist/band name, check the

box "I have read and agree to the

Terms of Use and click sign up.

Step 2: Select a genre and provide

a location. Genre tags are optional

yet highly advised.

Step 3: Select your bandcamp address

and you are now official

signed up with bandcamp.

Step 4: Upload your music. (Bandcamp

requires WAV formatt the

easiest way to convert is to use

iTunes to create a WAV version).

There are many advantages to

using bandcamp these listed above

are just a few intended to peek

your interest. If you are interested

in learning more about bandcamp

visit www.bandcamp.com.

25
---
great for spontaneous recordings

with the use of the mobile apps.

* No file size limits (this means

that no file can be too big or too

small however keep in mind the

free account only allows 120 minutes

total).

What is Soundcloud "SoundCloud

is the world's leading social sound

platform where anyone can create

sounds and share them everywhere.

SoundCloud lets people easily

share them privately with their

friends

or publicly to blogs, sites and social

networks with a single click. Yes!

It takes just a click to share sounds

to Twitter, Tumblr, Facebook and

Foursquare. SoundCloud can be accessed

anywhere using the official

iPhone and

Android apps, as well as hundreds

of creation and sharing apps built

on the SoundCloud platform."

Sounds pretty good However you

are still not sure how bandcamp

will assist you in your dreams of

super stardom. Here are a few advantages

of soundcloud:

* Send and share your music easily

using its own page complete with

a unique URL address ( this allows

you to send a specific track or entire

project with ease).

* Allows for private areas and sets,

so you can preview tracks to the

media or a select group of people

before going public.

* Allows for recording and uploading

from a smart phone which is

26

Step 1: Sign in with Facebook,

Google +, or an email address,

create a password then re-type the

password, check the box "I have

read and agree to the Terms of Use

and click sign up.

Step 2: Create a username and provide

the month and year you

were born and click get started with

soundcloud.

Step 3: Upload to Soundcloud.

Chose a track upload or start a

new recording directly to soundcloud.

There are many advantages to

using

Soundcloud these listed above are

just a few intended to peek your

interest. If you are interested in

learning more about Soundcloud

visit www.soundcloud.com.

Again it has to be stressed short

of having an actual website uploading

your music online is vital to the

success and growth of your music

career. Having your music on either

or both Bandcamp and Soundcloud

will give your music a chance to be

heard around the world. Also it will

allow you to grow your fan base

from the comfort of your home.

With a growing fan base you are

well on your way to reaching your

goal of being the artist that made

the next big hit so don't delay sign

up today.
---
www.CITYOFGODSHOP.com

CityOfGodShop

© 2014 CityOfGodShop

CityOfGodShop

27
---
SHE GOT BARS

TESE FEVER

Twisted Irish

President FVR

28
---
Tese Fever erupted on Misfit

Tunes' radar in November

2011 when Maria J's hit

single 'Cell Block Tango (Hood-

Mix)' featuring Mina Leon, The

Real Jay Mills, and of course Tese

Fever was released. All are talented

up and coming female emcees

out of the DMV (D.C., Maryland,

and Virginia area). Each stood out

and captured my attention in their

own rights. However, it was Tese

Fever's savagely slick delivery of

slicing her ni**a like a ninja that

forced me to get to know the pitbull

on the mic.

Tese Fever started rapping at

an early age to escape the harsh

realities that many young girls

faced coming to age in Virginia.

She laid her first freestyle down

over a Bones Thugs N Harmony

instrumental at he young age of 8

years old proving she was a lyricist

well ahead of her age. The Virginia

native moved to Maryland and

quickly began generating an undeniable

buzz as not just a formidable

rapper but also a true sneaker

junkie capturing both the attention

of the indie as well as sneaker communities.

The attention allowed her

multiple opportunities to feature on

several of the areas heavy hitters

projects.

In 2008 Tese Fever released

her first mixtape, 'Fever Day.' The

mixtape was released with much

anticipation on Datpiff. It was built

with 16 tracks of raw Fever. She

masterfully crafted a couple of

tracks which pays homage to Go-

Go the music of the nation's capital,

Washington D.C. Fever gives

the listener many tracks that shows

off her willingness to decapitate

both mics and emcees for her mere

amusement. 'Fever Day' was a

solid first offering definitely worth

the listen. A couple of the stand out

tracks are: "Step Ya Game Up,""9

to 5,"and "Back To The GoGo."

In 2010 Tese Fever released

her second mixtape, 'Stance Of

A Fallen', also on Datpiff. Her

second offering is a verbal display

of her growth. On many of the

tracks you can hear her maturity. It

is built from 17 tracks of top level

production and lyricism. 'Stance

Of a Fallen' has an army of killer

lyricists that was featured on many

of the tracks. A few standout tracks

are: "Cocaine Music," "Pretty Picture,"

and "Put Ya' Name Here."

Tese Fever has received accolades

from Graph of Black Hand

Records during her 2008 performance

at Howard University

Homecoming. He was quoted saying,

"Ma [Tese] you really be doing

your thing. I really enjoyed your

performance." Armed with these

accolades and two strong offerings

Tese Fever rapidly became one of

the artist to know in the DMV.

In 2012 she was interviewed by

DMV Life. Then in 2013 Natasha

from Volume TV caught up with

Tese Fever at a charity Capitol City

Cipher host by Will Rap 4 Food.

Also in 2013 Hip Hop Since 1987

selected her for their 30 for Thirty.

And now in 2014 MTV's Rap

Fix hosted by Sway selected Tese

Fever for its 'Get in the Game'

segment during their Women in

Hip Hop episode whose guest included

such industry heavy hitters

as Angie Martinez, Heather B, and

Mona Scott-Young. Mona was very

excited after watching Tese Fever's

video "Massacre" and drowned her

with compliments and demanded

Tese Fever keep going because she

will go far in the music industry .

With Mona's words ring in her

head Tese Fever took to the studio

to lay down "Hope," a thank

you to all of her supporters and an

inspiration to young artist. It was

devoured by her supporters and

serves as a beacon of inspiration

and hope to all. Having accomplished

her mission of hope with

"Hope" (excuse the pun) Tese Fever

teamed up with House Studio

DC producers A&R Vic and David

Knocks to create an inferno entitled

"Fever." The House Studio DC

duo sampled Little Willie John's

1956 hit "Fever" which lends itself

perfectly to Tese Fever's aggressive

flow. Tese Fever savagely delivers

one liners aimed at those naysayers

that doubt her prolific skills as a

rapper. These same naysayers believe

her obsession with sneakers is

a huge distraction sure to keep her

from reaching any real success. No

Stranger to naysayers Tese Fever

refuses to let them derail her movement.

She also refuses to acknowledge

the naysayers instead she lets

her success speak for itself. Such

success as being selected by Reesa

Renee, fellow DMV talent, for a

Sport Zone Elite national advertisement

campaign.

Tese Fever was an excellent

choice for the Sports Zone campaign

as she is an avid sneaker

connoisseur. She takes great pride

29
---
in her sneaker collection which

includes vintage Nikes, Retro

Jordans and countless other fresh

kicks. Tese proudly displays her

KOTD (Kicks Of The Day) on

her instagram page causing other

sneaker heads to do as fans of her

lyricism does stand and salute.

Fever's love of a good pair vintage

kicks comes in a close second

to her desire to conquer beats creating

a hot single. Most are surprised

to see this pretty blue eyed young

lady ferociously attack mic and demolish

stages while rocking a pair

of retro Jordans.

It is clear to all that can see,

Tese Fever is easy on the eyes yet

it will be only a fool that let's those

look convince them the president

of Twisted Irish will not nor cannot

end their career. Tese Fever is

a proven veteran of the cipher and

never shy away from a battle! Approach

the pretty face with extreme

caution!

MIXTAPEs ::

victory

push thru

SINGLES ::

stance of a fallen

fever

SHE GOT BARS

fever day

Videos ::

stance of a fallen

hope

LINKS ::

TeseFever

TeseFever

TeseFever

TeseFever

30
---
Fabes Sole Sauce

Professional Sole Restoration

Projected Restores:

4oz - 2-3 pairs depending on condition.

8oz - 4-5 pairs depending on condition.

16oz - 8-10 pairs depending on condition.

*EACH ORDER COMES WITH DETAILED INSTRUCTIONS*

Fabes_Sole

WHOISFABE.com

Fabes_Sole@yahoo.

com

© 2014 Fabes Sole

www.TeeZeeWatches.com

TeeZee_Watches

TeeZee_Watches

TeeZee_Watches

31
---
Misfit Tunes'

Must Haves

Title: CPR Artist: Gods'Illa Released: 7/2011

Intro / Sal's Pizzeria / God ft. Kaimbr / You Don't Have To Be A Star ft. Maimouna

Youssef / Glaciers II ft. Joe.D / Everybody ft. Substantial & Kingpen

Slim / Stay On (MMM Mix) ft. Substantial / Happy Trinity ft. Dirty Water, YU,

Ra The MC & Pro'Verb / Fine Line ft. Joe.D / Family (Intermission) / Eternal

Mind / About That Time ft. Uptown XO / IllaLoop ft. Laelo Hood & K Beta /

Rockin' Wit YU ft. YU / Another Day ft. Lyriciss / Silent Weeper / Our Lane

(To The Table) ft. Substantial / You Owe Us ft. Dirty Water / Grey Skies / Outro

/ Light The Way ft. Kokayi / Saviours & Punishers ft. Sean Price (free) / You

Don't Have To Be A Star (Remix) ft. Maimouna Youssef, Bahamadia, Monie

Love & MC Lyte (free)

GodsIlla GodsIlla Gods_Illa

Title: The West Wing Project Artist: BOOMscat

Released: 2/2014

MORETHANANYTHING / RUNNINGONE

CATCHME / HEY / HANDS

YOURLOVER / CLOSURE

BOOMscatMUSIC BOOMscatMUSIC BOOMscatMUSIC

Title: Before Euphoria Artist: Visto Released: 8/2013

Before Euphoria (Feat. Shari) [Prod. By Chris Key] / Everything Gorgeous

[Prod. By Mark Henry] / Fxcking Around [Prod. By Krews HL] / Make You

Move (Feat. K-Rucka & Fat Trel) [Prod. By K-Rucka] / One Night (Feat.

Kyonte & Black Cobain) [Prod. By ThisGuyQ] / Acapulco Gold (Feat.

Folkz & Nike Nando) [Prod. By Folkz] / How That Pxssy Taste (Feat. Phil

Da Phuture) [Prod. By Koncept Beats] / Witcha [Prod. By Sunny Norway] /

Wakin Bakin (Feat. StefisDope, Itz2Eazy & Kaye Trill) [Prod. By Baze] /

Before Euphoria (Certified Remix)

32

VistoIsArt

VistoHLK

VistoHLK
---
MEL ALSTON

JR.

PHILLY CROONER

33

HE GOT PIPES
---
HE GOT PIPES

During a time in music when

romantic metaphors have

been replaced by blunt

vulgarities, one might believe that

R&B is dead. Or that the art of

wooing a woman through song

is now just a thing of the past. To

those people, I say hold on, there

is still hope. You merely need to

search behind under every unturned

rock to stumble across one of the

few remaining R&B crooners. A

crooner such as Mel Alston Jr. out

of Philadelphia, Pennsylvania, also

known as Philly.

Mel Alston Jr., an indie singer/

songwriter, fell in love with music

at a very young age thanks largely

in part to his mother, Renee.

His mother kept Alston and his

brothers busy with music to ensure

their safety growing up in Philadelphia.

Everything felt to evolve

around music which really taught

Alston how to deeply appreciate

melodies and music creation. His

mother is seated high on the list of

people that have inspired him on

his musical journey. The list also

includes such greats as: Babyface,

Luther Vandross, Michael Jackson,

Jodeci and Steve Wonder to name a

few. Mel did not get into songwriting

and singing until after attending

Howard University. While at

Howard University he played the

trumpet for the "Showtime Marching

Band."

After graduating from Howard

Alston returned to Philadelphia.

Where he started acting and singing

in local productions which

eventually led him to pursue his

solo career. He also sought to unify

local Philly through his Da Circle

Entertainment Group. The group

was created along with J. Forbes

and others with the primary focus

to positively impact Philly's indie

music scene.

34

In 2010 Da Circle Entertainment

Group presented Alston's first mixtape,

"Waking Up vol. 1." "Waking

Up vol. 1" was recorded at Da

Circle Ent. Studios and contains 15

tracks of soulful R&B. It featured

four of Philly's top indie artist.

Features by Jalima Shani on 'All

Grown Up' a track which evokes

childhood memoirs of summertime

fun, block parties, and community.

Astro Inch on 'See Your Face'

a funky track which finds Alston

attempting to get a young lady to

go on a date with him in person opposed

to simply chatting on social

media. Lei Row on 'Never Be The

Same' a duet between

battling lovers

trying to figure

out if they should

hold on to or let go

their dysfunctional

love. L.A.W on

'Pretty Poison,' the

first single off of

"Waking Up vol.

1," an electric track

depicting the struggle

Alston endures

when trying to let

go of a no good

woman. The mixtape

has become

known as "music

for tha soul."

In 2013 after

spending the

next three years

performing on

numerous stages

up and down the

East Coast collecting

countless fans along the way

Alston released his sophomore

project an EP entitled "Waking Up

vol. 1.5." "Waking Up vol. 1.5"

was released digitally worldwide

in conjunction with BYNUMAgency/iNgrooves/Universal

Music

Group. The EP contains 6 tracks

of previously unreleased music as

well as remastered songs including

the motivational single "Dreamer."

Much of the EP was produced by

Alston's long time collaborator,

Willie Stone who also serves as

one of the Executive Producer on

the project. "Waking Up vol. 1.5"

was somewhat of an appetizer to

keep fans hungry for Alston's next

move.

Alston's next move came in

2014 with the release of his highly

anticipated debut album, "Movie

Muzik: A Cinema For The Blind."

"Movie Muzik" introduces a new

raw sound strongly influenced by

Rock and R&B, developing a blend

of classic soul melody with modern

rock rhythms. The soulful sound of

Alston's voice embodies what can

best be categorized as "Philly Soul."

Alston defines "Movie Muzik" as "a
---
seductive collection of R&B melodies."

It is intended to be apart of

a trilogy with the next installation

scheduled for the end of 2014 or

early 2015. The album contains

nine official tracks as well as two

bonus tracks. Jay Griffy is the only

featured artist on the album. He can

be heard on 'The Impossible' a bass

heavy snare driven electric ode to a

woman. The album was written by

Alston and frequent co-writer and

main producer, Willie Stone. To

date the album has produced one

video for the song 'Purple.'

"Movie Muzik" opens up with

Alston memorizing singing his intentions

to take listeners to a place

where "time is a myth and clocks

are faceless where melodies are so

sweet that you can taste it." It then

quickly wraps you in a tornado of

soulful vocals drenched seductive

R&B twisted with electric Rock

riffs. The albums is filled with messages

and cautionary tales of love

found and lost, lust hazed nights,

and beautiful creatures. "Movie

Muzik" is masterfully produced

and extreme well written. There is a

consistent flow between songs that

reveals an action packed love story.

From start to finish the album

reveals track after track of scenes of

music that makes "Movie Muzik"

certainly worthy of you having a

listen.

Mel Alston Jr. is truly a member

of a dying society and a master of

a lost art. He is the match that will

spark the resurrection of dimming

flame that is R&B. He has delivered

a well rounded offering with this

album that has definitely position

him to enjoy a long successful

career.

Alston believes music not only

change lives it also saves lives. He

hopes his fans are able to not only

hear his passion but also feel his

passion through his music. He

wants the listener to be able to

develop a picture in high definition

for each song through its lyrics.

Hence why he named his debut album

"Movie Muzik : A Cinema For

The Blind." Mel Alston Jr. seeks to

share a musical bond with his fans

that allows them to feel submerged

in the song as if his music was a life

raft.

Albums ::

Movie Muzik

Waking up vol. 1

videos ::

Purple

Pretty poison

Come back down

Let's Get Away

Single ::

stargazer

links ::

melalstonjr

melalstonjr

melalstonjr

melalstonjr

35
---
SPORTS ZONE

Elite

www.SportsZoneElite.com

36

SPZN SPZN SPZN

Copyright © 2014 sportszoneelite.com
---
SPORTS ZONE

Elite

www.SportsZoneElite.com

Reesa's Picks

37