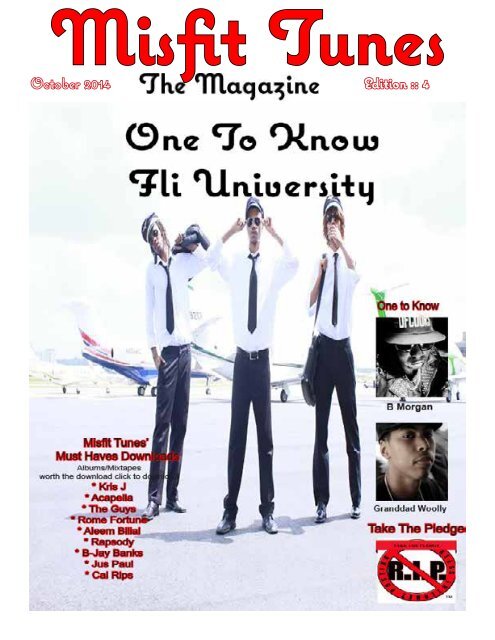 Misfit Tunes The Magazine October 2014
Misfit Tunes The Magazine October 2014 Misfit Tunes is an organization dedicated to promoting domestic as well as international Indie and/or little known artists from all genres of music to the awaiting masses. In this One To Know issue :: * Granddad Woolly * B Morgan* Fli University * Slash Speaks: The DMV Movement * Plus lots of Misfit Tunes' Must Haves (music we recommend you check out). ~misfit movement let's make it count!!! ISSN: 2375-2432 www.misfittunes.com
Misfit Tunes The Magazine October 2014
Misfit Tunes is an organization dedicated to promoting domestic as well as international Indie and/or little known artists from all genres of music to the awaiting masses. In this One To Know issue :: * Granddad Woolly * B Morgan* Fli University * Slash Speaks: The DMV Movement * Plus lots of Misfit Tunes' Must Haves (music we recommend you check out). ~misfit movement let's make it count!!!
ISSN: 2375-2432
www.misfittunes.com
SHOW MORE
SHOW LESS
You also want an ePaper? Increase the reach of your titles
YUMPU automatically turns print PDFs into web optimized ePapers that Google loves.
Misfit Tunes

October 2014 Edition :: 4
---
Capital City Co.

1290 Bay Dale Drive

Suite 213

Arnold, MD 21012

202-656-8626

info@shopcapitalcity.com

COPYRIGHT © 2013

Capital City Co.

Capital City Co.

2

www.MisfitTunes.com
---
Misfit Tunes'

Must Haves

Title: Members Only Artist: Kris J

IamKrisJ

IamKrisJ

KrisJ

KrisJ

AcapellaFNFAC

AcapellaTNFAC

AcapellaTNFAC

TNFAC TV

Title: Free The Guys Artist: The Guys

Download

Smoked Out intro prod CmbeatsMusic // Ready prod

808 mafia

This That prod Natural Disaster // Late Night prod

Skye Chai

Mourning Routine prod mjNichols // Smoke Break prod

Maxx Payne // Paint a Picture feat K -Major // On The

Way feat Translee Prod PittThaKiD // What Up prod EZ

feat Shad Da God

The World is Yours feat Tez McClain prod Nate Rhoads

// Faded prod Natural Disaster // Go Dumb prod Kid

Flash // Pole Action prod Fresh Joneslisten // The Ex-

Title: The EP Artist: Acapella

The Vent (prod. By A - Train) // Paradise/Nightmares

(prod. By Dopie & A-Train) // Paradise/

Nightmares (prod. By Dopie & A-Train) // Neck

2 Neck (prod. By A - Train) // Pain (prod. By

Motizzy) // Windows (feat. Vaughn)(prod. By

Motizzy)

Hit (prod. By Motizzy) // BANG (feat. Yung)

(prod. By A - Train)

WeTheGuys_

WeTheGuys_

WeTheGuys

We The Guys

Modern Day Love (Prod. by The Legendary Fya

Man)

The Black Condition // Ferragamo Belts (Prod. by

The Legendary Fya Man) // Black Aids // Chainz

(Prod. by Stevie Nick) // Imma Dog (Prod. by Cam-

Beats) // Leggings (ft. Courtlin Jabrae) (Prod. by The

Legendary Fya Man)

You (Lets Go) (Prod. by The Legendary Fya Man)

Rain (ft. Courtlin Jabrae) (Prod. by The Legendary

Fya Man) // Tell me this (Prod. by The Legendary

Fya Man)

www.MisfitTunes.com

3
---
TABLE Of CONTENTS

Editor in chief :: K. Simms Ki_Misfit Ki_Da_Misfit Ki Misfit

One to Know 21

One to Know

One to Know 26

B Morgan

Granddad Woolly

Misfit Tunes'

Must Haves Downloads

Albums/Mixtapes

worth the download click to download

Fli University

Slash Speaks 16

The DMV Movement

SlashWaterboy

* Kris J

* Acapella

* The Guys

* Rome Fortune

* Aleem Bilial

* Rapsody

* B-Jay Banks

* Jus Paul

* Cal Rips

Take The Pledge 18

4

www.MisfitTunes.com
---
What is Misfit Tunes

Misfit Tunes is an organization

dedicated to

promoting domestic as

well as international Indie and/or

little know artists from all genres of

music to the awaiting masses. We

use several vehicles to promote the

artists' work, such as:

Misfit Tunes' blog, which can be

found at www.misfittunes.blogspot.

com , receives thousands of views

daily from all around the country.

We also boast international visitors

from places like Canada, the UK,

Ireland, and Jamaica, to name a

few. We update the blog weekly

with new music and videos.

Why does Misfit Tunes do it

We do it for two main reasons:

1. We do it for the LOVE of the

music. The current top 40 selection

leaves Misfit Tunes wanting

more from music, which is why we

promote indie and/or little known

artists. The music industry has

become so saturated with clones

that the music has gotten lost in

translation or merely forgotten. We

believe it our duty to keep good

music relevant!

2. We do it to change the industry.

It is our belief that the industry has

become too much about money and

no longer about the art of creating

music. With the current state of

the economy and the advent of so

many free internet tools to make

music, it's now the perfect time to

usher industry change.

Now that you know who Misfit

Tunes are and what we do, we

would like to invite you to build a

wonderful working relationship.

Again our services are completely

FREE of cost for artist. We would

appreciate you sending us your

music, videos, upcoming events,

pictures, and/or any other information

you would like us to share. By

sending an email to Misfit Tunes at

submissions@misfittunes.com. We

request that you to ask your fans,

followers, and supporters to support

Misfit Tunes. By increasing

our supporters, we can reach more

people. The more people we can

reach the bigger Misfit Tunes will

grow. Our growth will ensure more

people will be exposed to your music,

which in turn, will potentially

increase your fan base.

We would also like to request any

promotional merchandise you can

spare, as we would like to begin

running contests to get people to

engage more with the artists as

well as Misfit Tunes. The more

people we get to engage with Misfit

Tunes, the better we can serve the

indie market. We fully understand

Misfit Tunes need the support of

artists to reach our full potential as

we are nothing without the music!

How can I as an artist support Misfit

Tunes

· Keep us informed on your

career by emailing us an artist

bio, your music, pictures, videos,

and any information on upcoming

projects.

. Encourage your fans to support

Misfit Tunes. The more people we

have supporting Misfit Tunes the

more people with which to share

not just your music, but also the

other artists' music we support.

. Provide Misfit Tunes with exclusives.

Let us be the first to break

a new video or song, as well as

details on upcoming events or new

projects.

. Invite us to events. If you are

having an album release, performance,

and/or any event you'd like

us to cover, send us press credentials

or put us on your guest list. If

we are in your area we will gladly

enjoy covering your event. We

want to support all events, however

that can become very costly potentially

taking funds away from the

services we provide since we don't

charge for our services.

. Make Misfit Tunes your #1

source for indie news, music, and

videos.

Remember, we do this for the love

of the music! So if you love your

music and want to support an organization

that will love your music

as much as you do, look no further

than Misfit Tunes!

~ misfit movement let's make it

count!!!

links::

Misfit Tunes

Misfit Tunes

Misfit Tunes

www.MisfitTunes.com

5
---
Misfit Tunes'

Must Haves

Title: Small VVorld Artist: Rome Fortune

RomeFortune

RomeFortune

RomeFortune

RomeFortune

Title: ReInvention Artist: Aleem Bilal

ABThePRO

AleemBilal

AleemBilal

ABTheProDC

Download

The Experiment feat. OG Maco [Prod By Cubby]

4 Seasons feat. OG Maco [Prod By Dizzle]

Why [Prod By Pat Lukens] // 5 second RULE [Prod

By SuicideYear] // Workin' Gal (Interlude) [Prod

By Lava Dome] // Workin' Gal (Prod by SuicideYear)

// FriendsMaybe (Feat. ILOVEMAKON-

NEN) [Prod. By Money Karlo] // No Evidence

[Demo Prod By Blood Diamonds] // Flashback

[Prod By Bassnectar] // Suit Case feat. OG Maco

[Prod By honeycoma x SuicideYear]

BONUS: One Time For (prod Four Tet)

Who Me_co produced by_House Of Wine // Griselda_ft_Khayree

Ali // Here_ft_Obii Say // TBH(To Be

Honest)_ft_Khayree Ali // Geetchie Suede_ft_Yoaz //

On Point_Co produced by Drew Dave // Consistent_

ft_DWE // Pure Gold

Wagwan_ft_Doe cigapom // Dreamer_ft_IhsAn Bilal_Byggz

Answers_ft_Uptown XO_Ockz // Deep Space 9 I

Love The Game // WRC // One Time // On Everything_DB

// NOMB_EALU gang_Konshens

Title: Beauty and The Beast Artist: Rapsody

RapsodyMusic

RapsodyMusic

RapsodyVEVO

RapsodyMusic

Feel It

Who I Am

Hard To Choose

Drama

Waiting On It (Baby Girl)

The World

Godzilla

The Man

Coming For You

Forgive Me (I'm Sorry)

6

www.MisfitTunes.com
---
WeirdArtSocity

WeirdArtSocity

www.MisfitTunes.com

WeirdArtSocity

www.WeirdArtSociety.com

7
---
one to know

granddad woolly

8

www.MisfitTunes.com
---
Misfit Tunes: What is your

government name

Granddad Woolly: Chris Carter

Misfit Tunes: Where were you

born/raised

Granddad Woolly: I was

born in Chicago but raised in

Northwest Indiana.

Misfit Tunes: What are your

influences

Granddad Woolly: Hip Hop

wise my biggest influences

were Talib Kweli and MF

DOOM. They were the ones

who really got me into wanting

to make music. But I'm

influenced by artists across all

genres of music.

Misfit Tunes: How did you

come up with your stage

name

Granddad Woolly: It's kind of

a weird story. Basically I was

watching a documentary on

the Woolly Mammoth and was

inspired by the type of amazing

creature that it was and

the fact that's now extinct. I

saw myself as an emcee in the

same light. I'm this amazing

talent sourced from a time that

is considered extinct in today's

world of modern music.

My original name was actually

Tuskus Woolly or T-Woolly

for short. I had that name for

about 4 years then changed

it to MF Woolly for an MF

DOOM cover album I did.

After that album I changed

it to who I am now which

is Granddad Woolly. As I

www.MisfitTunes.com

evolved as an artist and emcee

so did the name. But I'm not

going to change it anymore I

don't think.

Misfit Tunes: Why are you a

performer

Granddad Woolly: I honestly

think I was born to do it.

I love commanding a room

and showcasing my talents.

I never get nervous. I like

everything about the performance

aspect of music. Being

able to showcase your work

and directly connect with the

people is a powerful thing,

especially if you know how to

do it well. I consider myself a

good performer but me being

me I strive to get better and

learn from every show to give

the best performance I can

every time.

Misfit Tunes: If you were not

making music what would

you be doing

Granddad Woolly: I'd definitely

be working in the film

industry. Film is my 2nd love

next to music. It was my

major when I was in college

and it's an entirely different

passion and feeling I get being

about to create visual art such

as films and videos. So yeah,

if I didn't have a mic in my

hand I'd have a camera instead.

Misfit Tunes: How would you

describe your sound/music

Granddad Woolly: I've broken

it down to this. Golden Era

Underground Boom Bap Sci-

Fi Hip Hop. That pretty much

sums it up.

Misfit Tunes: What does your

lyrics say about you/your

character

Granddad Woolly: That I

bring endless amounts of

wisdom. I try to always leave

the listener with some food

for thought with my lyrics and

music. Even on songs where

I seem to be just bragging or

rapping to rap I also mix the

medicine in the food so they

will get it either sooner or

later. I feel I can do it without

being preachy. Kind of

like how an actual Granddad

would put the young cats on

game with things. That's what

I do, just in a more entertaining

way.

Misfit Tunes: Do you love

your music Tell me about

that love how it feels, where

it has taken you, the sacrifices

you've made for it

Granddad Woolly: Of course

I do. I feel like I'm one of the

best emcees and artists ever. I

get chills listening to my music

at times and love the way

I create my work. I can listen

to any of my albums and still

enjoy it like it's brand new

because it has that longevity

factor. My music has taken to

places creatively that I never

thought I was capable of. It's

given me a chance to meet

my influences and heroes

face to face and interact with

them and I've spent almost 10

9
---
years doing this. I've sacrificed

everything from friends,

relationships, finances and the

way I live to not give up on

this dream because that last

thing I want to do is waste this

god given talent.

Misfit Tunes: What is your

mission What kind of impact

if any do you want your music

to have on your fans

Granddad Woolly: My mission

is to provide meaningful,

creative and entertaining

music to those willing to hear

it. I want people to get something

valuable when they hear

my records. Something that

will stick with them and make

them want to come back for

more. I want my music to

have an influence on people

the same as the artists I looked

up to had an influence on me.

10

Kind of like a pass the torch

situation.

Misfit Tunes: What are your

goals

Granddad Woolly: I just want

to be able to do this for a

living. Make this a real career

and garner a big enough fan

base and level of respect that I

can look back on it years from

now and say to myself "I did

it."

Misfit Tunes: What is your

definition of success

Granddad Woolly: Whatever

makes you say to yourself that

you've accomplished whatever

you set out to do and are

happy with the results from it.

It could be money, fame, respect

or anything in between.

Misfit Tunes: How will you

know when you have "made

it"

Granddad Woolly: I'll know

I've made it when people hear

the name Granddad Woolly

and they not only know who

that is, but also that he's one

of the most respected and

dope emcees to ever touch a

mic. Also when I don't need

to work a regular job cause

hip hop is feeding me well.

Misfit Tunes: Do you have a

team behind you If so tell me

about your team

Granddad Woolly: I've always

been a very hands on

person so I like to do most of

my work myself if I can. I do

have a team of producers that

I constantly work with called

my starting five. Chikano,

Hostile Product, Causmic, Vanilla

and Linn Mori. And they

all but Causmic live in a different

country. My girl Gabi

also helps a lot. She's my

right hand and second say in a

lot of things. She's sort of like

my creative manager and we

work together on my records,

videos and ideas on promoting

myself as an artist. As of

now it's been working real

well with the people I have in

my corner so if you want to

join the team you have to be

dedicated and a supporter of

myself and the music.

Misfit Tunes: How many live

performances have you done

Tell me about your best performance

what made it the

best…. Tell me about your

worst performance what made

www.MisfitTunes.com
---
it bad and what lesson did it

teach you.

Granddad Woolly: I've done

quite a few live shows. More

than I can count. I had took

a hiatus from performing for

about 2 years to focus on my

film work but I'm back at it

now and love every second

of it. The best performance I

think I've had was probably

one of my most recent shows.

It was my first show since my

hiatus and I got the chance to

perform all new material and

the crowd loved every second

of it. The energy and love I

got was amazing and was a

great way to get back into the

live performance game. My

worst performance was probably

an open mic I did a few

years back. I live in Atlanta

so my style of music isn't

always accepted with open

arms and I got sort of a mixed

crowd. So half the room was

feeling the music and the

other half wasn't and they

made it known. But from that

I learned how to read a crowd,

see how they respond to certain

types of music and know

what songs are good live and

which aren't. It was a truly

humbling experience that I

learned a lot from.

Misfit Tunes: What's next for

you

Granddad Woolly: I'm currently

working on new music.

A slew of new singles that I

will periodically release over

www.MisfitTunes.com

the next few months. After

that I'm aiming to drop my

next full length album hopefully

around spring or summer

of next year.

Misfit Tunes: Where do you

see yourself this time next

year

Granddad Woolly: I see myself

doing what I'm doing

now on a more frequent and

larger scale. More shows,

more music, more fans, more

grinding. And if so happens

the right situation presents

itself to partner up with a

bigger entity then so be it. But

the focus is to keep putting

out great content and getting it

to the masses anyway I can.

Misfit Tunes: What is your

most recent project

Granddad Woolly: My most

recent project is "The Vanilla

Tape". It's a free record and

sort of a blend between an

album and mixtape. I don't

call it either though. I see it as

a musical presentation piece.

It's art. I released it this past

April and it's received a ton of

positive response and praise.

It's all produced by the very

talented UK producer Vanilla

(hence the title) and it's

literally one of my favorite

projects I've ever created. I

think that's because it served

as a self-reflection record. Just

me on there and all the songs

have something to do with

me personally. It's a timeless

project that I has the potential

the reach classic status in the

future.

Misfit Tunes: What accomplishments

and /or awards

have you received

Granddad Woolly: No awards,

yet. But I my 2009 MF

DOOM cover album "MF

Woolly-Chrome & Ivory" was

listed on several best of 2009

Hip Hop albums list as well as

cosigns from producer

!llmind and Editor-In-Cheif of

KevinNottingham.com Justin

Ivey and I have a good feeling

that "The Vanilla Tape" will

be showing up on a few best

of 2014 lists this year as well.

video ::

The End

links ::

GranddadWoolly

GranddadWoolly

GranddadWoolly88

GranddadWoolly

11
---
Foolish Radio

Thurdays

noon - 2pm est

on

www.Listenvision.com

FoolishRadio

12

www.MisfitTunes.com
---
www.MisfitTunes.com

13
---
Do you want to

advertise

with

misfit tunes

the magazine

Email

info@misfittunes.com

~misfit movement let's make

it count!!!

Misfit Tunes Misfit Tunes Misfit Tunes Misfit Tunes

14

www.MisfitTunes.com
---
Misfit Tunes'

Must Haves

Download

Title: Outta Sight Outta Mind Artist: B-Jay Banks

BJayBanks

BJayBanks

BJayBanks

BJayBanks

NKODB [Produced By B-Jay Banks] // Survive

[Produced By AM JayEm] // Let Me Whip [Produced

By Rel Live Beatz] // Tell No Lie (Feat.

Freddie P.) [Produced By Beat Zombies] // Nothin'

New [Produced By Young Clip & Don Gotti] //

Hustle Up [Produced J. Rob On The Track] // All

In (W/ P-Wild) [Produced By YB On Da Beat] //

Move [Produced Yung Dave] // Oh No (With Darren

Hanible) [Produced By D1 Beatz] // Love Reel

(Interlude) [Produced By EJ Beats] // Over & Over

[Produced By Beat Zombies] // Promise Place

Title: Bobby Brown Jr. Artist: Jus Paul

JusPaul

JusPaul202

JusPaulMusic202

BBJR Intro // Fling //The World

Money On Sight (feat. Nooch) // Gorgeous

Yellow Button // Bobby Brown Interview

Boutta Crush (feat. Cerda) // Alive

Party Favors (feat. P - Wild) // Bobby & Whitney

No Fux // Melanie (feat. Visto) // Fling Reloaded

Carousel

JusPaul202

Title: Phor You Artist: Cal Rips

CalRipShit

CalRips

CalRipsFYM

Say FT. King Rose' // Auto Pilot FT. Money Four

Drugs & Sir E.U // Silver Lining // Fadeaway FT.

Kelow // Body/ Fools Gold II // MISFIT // The Klan

Meeting III // Live From The 7 FT. Obii Say & CJ The

Genesis // Imaginary Girlfriend FT. Beya Likhari

Voicemail // Phor You

CalRipsFYM

www.MisfitTunes.com

15
---
slash speaks...

The dmv Movement

16

Sup yahl... welcome to the

first installment of "Slash'

Corner". For those of you

that don't know me, I am a

producer/songwriter/businessman/consultant/jack-of-alltrades,

Howard Bison, Native

Washingtonian (a rarity these

days), and one of the original

Hip Hop'ers in the DC area.

Some of my aliases are "Harvey

Wallbanger", "Slashwaterboy",

and Marcus G, which

is my retired MC name. I

figured it only right to make

my first column about the

DMV movement. Its a movement

that is near and dear to

me... yet one that I find my

self distancing myself. I had

a very interesting conversation

with an area engineer

whom has mixed some of the

top tier artist nationally and

in this area... and we were

discussing the state of MU-

SIC in this area... and what it

needed and doesn't need....

and of course... opinions are

like assholes and we all have

em... but... for the sake of this

column.. I'll voice my opinions..

and you can reply to

me via twitter, email, or other

forms of communication that

the world wide net affords us.

But anyway.. we were talking

about the lack of bridge between

the elder statesmen and

the new school. It was interesting

to me how the DMV

movement mirrors African

American society over the

last few decades... My generation

pretty much grew

up in single parent homes...

mostly mothers, with no real

reach back from the men in

the neighborhood... sure you

had a little more reach back

then the generation after

me... but ultimately ... most

of the young men were left

to venture out into manhood

alone.... or learning as they go

with the "homies".... Its not

TOO different in the DMV

music movement.

Lets go back to 1988... when

DC was the murder capitol,

and most of the known rappers

like Fat Trel and Wale,

were either dreams in they

daddies' nutsac or JUST born

( dunno they ages honestly)....

well.. GO GO was our music

(and definitely a STRONG

part of the foundation that

HIPHOP on which built its

house).. But that Rap thang

that was somehow making

its way down here to the

DC area ( which a RACKA

GoGo bands were stealin the

songs as their own). Many

Washingtonians (this is PRE

DMV... a term Created by 20

Bello in the mid 2000's.. I

KNOW .. I was there) were

resistant to GoGo ... hell..

Washingtonians were resistant

to ANYTHING NEW

YORK honestly.... but some

of us felt something... we

knew that while we had our

own music... this RAP thing..

seemed to speak to the new

generation.. and PROBABLY

wasn't going anywhere. And

what did we do We jumped

on it! Typically with ridicule

in tow.... that ridicule would

continue through the 90's.

While slightly more acceptable

in the 90's.. as Rap had

slowly started to become big

www.MisfitTunes.com
---
usiness and seen as a "way

out" ... I contend that most

of the EARLY guys doing

HipHop here - the 2 Face the

Dons, the Section 8 Mobs, the

Stinky Dinks, Tony Blunts,

Nitti & Gottis, Circle Boys,

Maximum Xposure, etc -

were all doing it outta love...

and there was a bit of community

that was associated with

the DMV scenes. It was quite

divided back then as well...

the streets cats aint fuck wit

the artsy fartsy cats... rarely

would you see the streets cats

at the U street open mics.. and

u damn sure aint see the artsy

cats at the hood open mics...

( a welcome change that i

think shows the growth of our

movement) .... It simply just

wasn't cool to be rappin from

DC...

But shyt done changed! And

while the scene has grown...

and the eye is ON THE DMV

now..... there is still a gap.

There are some examples of

the gaps closing.. but ultimately

... it has more closing

to do... There needs to be a

respect for the ground that

the new ave of DMV artist

are making... and those same

artist would be served well

to research those that came

before them... that sold CDs

on the streets.. OR in stores...

The doors didn't just magically

open for yah.... there were

people knocking wayyyyyy

before yah... and its because

www.MisfitTunes.com

of that early knocking.. that

we have the WALES and the

TABIS and the FATTRELS...

I also encourage the elder

folks to EMBRACE the

youngsters and the sound that

they bring... its not yours...

but think about how YOU felt

when peope were rejecting

and ignoring YOUR sound....

Go to these guys with the

mistakes YOU made.. so they

don't make em... and NEW

SCHOOLERS... don't be

afraid to listen.. It cant hurt to

lean on someone who walked

the road and made mistakes..

so you wont...

In ATL, HOUSTON, and in

MIA... hell even in NY....

there is a sense of community..

and we have that here...

but with the eye on us... let's

STRENGTHEN it.. Lets

BUILD TOGETHER. A

wave flowing in one direction

is HARD to stop....

welp.... that's all for me

for now... feel free to

email me at slashwaterboy@

gmail.com for comments, topic

recommendations, to curse

me out, or to send me nude

photos (ladies only)LOL

Signing out....

Slash's Corner

~ @Slashwaterboy

follow @Slashwaterboy at ur

OWN risk..

if u got comments or issues or

wanna be a topic of SLASH

SPEAKS... Hit the inbox

gnahtg@gmail.com

slashwaterboy

slashwaterboy

slashwaterboy

17
---
pledgenorip pledgenorip pledgenorip pledgenorip

18

www.MisfitTunes.com
---
No Reckless Internet

Posting better

known as No R.I.P.

is a movement started and

led by entertainment mogul

and rapper Waka Flocka's

mother, Debra Antney. Ms.

Antney and her family have

had documented turbulent relationships

with several blogs

and other media outlets which

have sensationalized stories

to garner popularity for their

site as well as to drive traffic

to the site. These tumultuous

relationships cost Ms Antney

her twenty-two year old son

Caodes "KayO" Scott.

During the 2013 Christmas

Holiday season the stresses

and pressures of the world

forced KayO to do the only

thing he knew to ease the

pain and end his own life.

KayO's kind heart often wept

due to the malicious, reckless,

and thoughtless people

who spread vicious rumors as

well as fueled harmful gossip

about not only himself but

his mother and other family

members.

Ms. Antney is determined

her son's silenced voice be

heard by the world! She also

hopes to speak for the millions

of people living through

the same storm while encouraging

positive change in

not just media but also in the

Global Online Community.

"In every test there is testimony.

Through all adversity

www.MisfitTunes.com

there is a lesson to be learned.

And in cleaning up the mess

around us often times you'll

find a message." For Ms.

Antney and the supporters

of the No R.I.P. movement

the message is simple… NO

RECKLESS INTERNET

POSTING! NO R.I.P.

What It Means to Pledge No

R.I.P.

* KayO never supported the

saying "Rest in Peace" because

he believed that people

lived on in their spirits

forever. Instead, he would

say "Long Live" to whoever

transitioned on. In loving

memory of Caodes "KayO"

Scott, the No R.I.P. movement

will take on a life of its

own and continue. No R.I.P.

#LLKayO

* When you gossip and

spread rumors and recklessly

post about people's lives, you

are speaking death - killing

their spirits, killing their reputations,

killing their relationships,

killing their hope and

so much more. Stop speaking

death. No R.I.P.

* We are afforded the rights

of free speech, freedom of the

press, etc. However, we also

have a humane responsibility

to each other. As media, we

encourage all bloggers and

other members of the media

to take the No R.I.P. pledge

and post responsibly on your

site; report responsibly on

your shows. As a community,

care for one another. Be

mindful that words do hurt

and can cause damage. Focus

on the positive, not the negative.

Focus on the truth, and

not the gossip and the rumors.

Stop the reckless, hurtful and

destructive gossip. Whether

you are media or the general

public, please post responsibly.

No Reckless Internet

Posting! No R.I.P.

If you are a blogger, media

entity or personality, or other

member of the media, we

invite and encourage you to

take the No R.I.P. pledge. We

simply ask those blog and

media sites that take the No

R.I.P. pledge to download

the official No R.I.P. logo

and post it to your website

and social media pages - this

logo placement will serve as

a visible badge which lets the

public know that your site is

one that has pledged to post

responsibly.

19
---
20

STREAM OR DOWNLOAD MIXTAPES ON YOUR DEVICE FOR FREE!

Updated Daily with the newest and hottest mixtapes!

Mymixtapez Mymixtapez Mymixtapez Mymixtapez

www.MyMixtapez.com

www.MisfitTunes.com
---
morgan

one to know

www.MisfitTunes.com

21
---
Bronx borne Jamaica

raised Desmond Morgan

Jr. better know as

B. Morgan to his fans. Was

gracious enough to take the

time to answer our Misfit

questions. It has been a pleasure

getting to know the man

behind the hit "Poke It Out."

Misfit Tunes: What are your

influences

B Morgan: Hmm R.kelly,

Jahiem, David Ruffin, Usher,

Donell Jones, Tank just to

name a few.

Misfit Tunes: How did you

come up with your stage

name

B Morgan: Lol well I went

on a hiatus from my previous

situation after Universal

records.. Then I was trying to

revamp so one day sitting in

the studio with my home Boi

Brian (class clownz ent) and

he ran it by me! The B stands

for my nickname Boobie lol

and Morgan is my last name.

Misfit Tunes: Why are you a

performer

B Morgan: Smiles!!! Well I'm

a performer because it's just

something I live to do. Entertaining

people puts me in a

good mood.. Being the center

of attention is good if it's used

in a positive way you know.

Misfit Tunes: If you were

22

not making music what would

you be doing

B Morgan: I'd be working on

cars lol I have a thing for cars

all types old skool, new skool

doesn't matter.

Misfit Tunes: How would

you describe your sound/music

B Morgan: How would I

describe my sound! Well

I try not to compare to any

one more so pay homage so I

would say Back to R&B the

sweet stuff but sometime trill

being that's the Era we are

kind of in at the moment..but

I'm more like let's make love

lol.

Misfit Tunes: What does

your lyrics say about you/your

character

B Morgan: Just that I'm a

down to earth person and I

understand everyone's point

of view.. and I'm a love maker

lol... fighter if it's necessary

lol.

Misfit Tunes: Do you love

your music Tell me about

that love how it feels, where

it has taken you, the sacrifices

you've made for it.

B Morgan: Man! Love is an

understatement I live this...

I've sold my car, traveled

places where I have no reason

being just to catch those opportunities...

no money in my

pocket slept outside on park

benches, lost friends, family

that's just to give a few it goes

longer lol

Misfit Tunes: What is your

mission What kind of impact

if any do you want your music

www.MisfitTunes.com
---
to have on your fans

B Morgan: Just enjoy life and

don't take it so serious death

is the only way out anyways

funny but it's real talk..and I

just wanna really implement

that anything is really possible

if u work hard for it so keep

pushing.

Misfit Tunes: What are your

goals

B Morgan: To make history

period.. Bring something or

change something that's not

already here in the game.

Misfit Tunes: How will you

know when you have "made

it"

B Morgan: Haha when my

bank account numbers go up

lol... nah but my demand you

know "supply and demand"

the more the ppl ask for me

the more I hear myself or my

name in the majors and doing

shows almost every night

in front of thousands of ppl

then it's clear.

Misfit Tunes: Do you have

a team behind you

B Morgan: Sure do.. are the

best especially my manager

he goes hard men plus

my head of promotion lady

Steele (VMMG) and Kato

(TMNYC)

My big homie Phil gates

(VMMG) founder of sporty

thieves, Jaheim and Eric

Benet... but they go to the

www.MisfitTunes.com

edge of the earth for me

Misfit Tunes: How many

live performances have you

done Tell me about your best

performance what made it the

best…. Tell me about your

worst performance what made

it bad and what lesson

B Morgan: Hmmm I've lost

count of how many live performances

I've done so many.

But my best I would say I did

greenhouse which was pretty

dope as for worst I'd sat stage

48 because of the timing.

Misfit Tunes: What is next

for you

B Morgan: This EP I'm gearing

up for plus this Big kap

MIXTAPE he is dropping I

have a few singles on there...

other than that just getting

myself out there more and

more recognition.

Misfit Tunes: Where do you

see yourself this time next

year

B Morgan: Well at the rate

we are going hopefully next

to a few major hitters when

I say that I mean like around

the likes of Chris Brown and

Diddy etc.. but still growing.

video ::

poke it out

links ::

IAmbmorgan

iambmorgan

iambmorgan

RNBMorgan

23
---
CityOfGodShop

1118 HOLLINS ST BALTIMORE

24

© 2014 CityOfGodShop

www.CITYOFGODSHOP.com

www.MisfitTunes.com
---
MD 21223 · 443.226.8621

CityOfGodShop

www.MisfitTunes.com

© 2014 CityOfGodShop

www.CITYOFGODSHOP.com

25
---
FliUniversity FliUniversity FliUniversity FliUniversity

One to know

Fli university

26

www.MisfitTunes.com
---
What is your government

name

There are 3 members in Fli

University: King Tone (Antonio),

Leak (Malik) and Mark

(MT - Teezy 808)

Where were you born/raised

King Tone (Talladega, AL),

Leak (Stone Mountain, GA),

MT (Jackson, MS)

What are your influences

We are all over the map,from

Outkast, to Nickleback, Bob

Marley, India Arie, Prince, to

2Pac and Biggie.

How did you come up with

your stage name

We struggled coming up with

a name. Our management

named us based on our lifestyle.

We usually have a party

at our place or bring the party

back to our place after the

club. We just want to have a

party every day, drink, smoke

and party with women who

like to enjoy life. We were in

college and were living the

college party life. We also

have our own distinct style in

how we carry ourselves. So,

management was like "You

are Fli.... Fli University." Its

a lifestyle not just for us, but

for everyone to be involved

in with our music. We are Fli

University, but you can be

enrolled and enjoy the experience

as well... like being apart

of an exclusive club.

What is your most recent

project

Higher Learning (Mixtape). It

www.MisfitTunes.com

actually got nominated for a

2015 Southern Entertainment

Award for mixtape of the year.

The whole concept was a cool

introduction to us as a group.

Fli University and using a

play on words for "university"

being Higher Learning,

and also that fact that we

are speaking about Smoking

weed. The whole vibe of the

mixtape is something that

you can smoke to and party

to and just have a good time,

a real good stoner CD to vibe

to. We have songs like "So

High," "Come Smoke with

Me," "Still Smoking," "Upside

Down," and "Can't Get

Enough," are all songs heavily

influenced by Mary Jane... we

were mostly high and drunk

during recording the entire

CD, so it fits all together.

Why are you a performer

There is nothing that we

would enjoy doing rather than

entertain people. When you

see us on stage, we all turn up

and entertain the crowd differently

in our own way. We just

love it. If we couldn't do music,

I think we are all in agreement

that we would rather be

dead than not perform, create

music and entertain.

If you were not making music

what would you be doing

Dead.

How would you describe your

sound/music

Depends on what mood we

are in when we make our

music. You can hear a little bit

of Outkast, some say we even

remind them of Bone Thugz.

On "Do You" people say it has

a Caribbean feel to it, we also

have a few songs that sound

more like Alternative Rock.

Overall, we are really diverse.

You can hear a little bit of diversity

on the mixtape, BUT,

the vibe and feel of the CD is

geared towards smoking, so

it sounds like its on the same

vibe. I think that when we release

a full length CD, people

will see and hear the variety

of music that we make.

What are your goals

Just to make awesome music,

set trends, create memories

for people, and make money

in the process. We want to be

recognize for our efforts and

what we contribute to music,

but we do want to make a

living doing this and create a

better life for our families.

Where do you see yourself

this time next year

Next year we would of grown

as artist. We hope to do some

collaborations with other major

artist in Atlanta, possibly

27
---
a small tour and our songs on

the radio.

What's next for you

We are working on booking

some college shows. We did

2 major college shows last

year and we hope to do at last

4 college shows this year. We

really want to win at least one

SEA (Southern Entertainment

Award) either Best Group or

Best Mixtape of the year. That

would be an honor, we are

going up against K- Camp,

Young Dolph, Kevin Gates,

and Yo Gotti. Just being mentioned

with those artist is an

honor, I just hope we win an

Award, that would be a good

start. We are also working on

our first CD, not sure if it is

going to be called "Welcome

to Fli University" or "Frat

House." But there will be an

Album dropping in 2015 with

HOT music.

What is your definition of

success

It's different for all of us, but I

think achieving your goal then

you had success. But after you

achieve one goal, you set even

higher ones to achieve, success

is a moving target.

How will you know when you

have "made it"

I think we will have made it

when we are not introducing

ourselves. When people see

is and say "That's Fli University."

That's when you have

made it. Funny because we

were in Black Bike Week and

we had someone notice us and

say "Hey, you guys are Fli

University.... Doooo Yooou..."

That really shocked us because

we didn't expect people

28

www.MisfitTunes.com
---
to know us on the street and

even in another city hours

away from where we do most

of our performances.

How many live performances

have you done

We have put in work. Actually,

our management had us

doing 4 performances a week

at one point. We did over

60 performances last year.

Our best performance was at

Georgia Tech. We opened up

for Gorilla Zoe at Frat Party.

Before we went on stage, we

were engaged with the crowd.

We played beer pong, we took

pictures, we just partied. We

also interacted with the crowd

between other artist's sets

with the DJ. When it was time

for us to perform, we urged

people to come to the stage

and party with us. We were

not taking "No" for an answer.

We kept pressing until we

got the majority of the people

to get close to the stage.

When we started to perform,

it was electric, the crowd was

bouncing with us and they

didn't know us, didn't know

our song, but they were vibin'

with our energy for our

entire set. King Tone was in

the crowd bouncing with the

crowd, I (Leak) was in my

zone on stage, the next thing

we know, MT was crowd

surfing, just crazy energy and

wild performance.

Our worse performances has

been when we didn't rehearse,

www.MisfitTunes.com

spent very little time rehearsing,

when one of us are missing

OR if we were drinking

TOO much. We learned to

drink more in moderation

before our performance, that

eliminates a lot of performance

issues. We have to get

our performance set together

days in advance and must

spend hours getting it together,

so when we are stage, it

comes second nature. We also

have a unique chemistry, if

one of us are missing, it just

doesn't "Feel" right. If all

of us can't perform, we just

won't perform, we want to

give a great show to our audience.

We are our best when

it's all 3.

What does your lyrics say

about you/your character

Lyrics describes us perfectly.

We rap about what we know

and live. We party, we make

music, we hustle to get by, we

try to get at these ladies, but

its all in our own way. You

can see right away that King

Tone is more street and leans

towards the "Gangsta" side.

Not saying that anyone of us

consider ourselves soft by any

means, but we are different.

MT is a little dark, hustles

and thugs in his own way,

but he always has something

creative and unusual to say to

the ladies. I, (Leak) am sorta

unpredictable, you don't know

if you are going to get the

upbeat fun Leak or the "I ain't

having that shit today" Leak.

And that all comes out in our

lyrics.

Do you love your music

We love music. We have

stayed up for 3 and 4 days

straight making music and

performing. That is what we

live for, making music, pushing

it, seeing what else we

can come up with. It feels

like you are so "Alive" when

you can create something to

cause a person to dance or tell

you "I love this song," and to

see them smile and dance to

it, no feeling in the world, its

the greatest high there is. We

have lost sleep, lost friends. I

(Leak) have missed out on my

daughter's events. We have all

missed out on time with our

family, but its all for the greater

good.

Do you have a team behind

you

Yes. Black Emerald Music

Group. They are sort of like

the older version of us. They

are like our Big Brothers.

Ron, Lo, and Black our the

management team. They set

up everything and tell us to

execute and they tell us when

we are wrong. They give us

so much guidance and wisdom.

They also get in our

Ass too. LOL. They all have

musical background being

former artist, they know a lot

about the business aspect and

what we need to do to market

ourselves. They also have a

29
---
lot of business experiences

and hustle to make so many

opportunities for us. We have

done so much and wouldn't

be where we are now without

Black Emerald Music Group

(BEMG).

What is your mission What

kind of impact if any do you

want your music to have on

your fans

Our mission is to get our

music heard by as many people

as possible and perform

in front of millions of people.

We love music and we love

performing. We want to experience

the music with our

fans. We want them to feel

good, create memories to our

music and say "Remember we

were going to your brother's

party and were listening to Fli

University and...." or "Remember

when went to that Fli

University show..."

What accomplishments and /

or awards have you received

We have won a few open

mics. Well, maybe more

than a few. We have won a

few contests, but we really

just want to get our music

out there. We one "Exposure

Open" mic at Apache

Cafe hosted by Defient Ent

and Hustle Gang. We won

the New Music Wednesday

with 107.9FM. We appeared

on 107.9FM Monday Night

Battle Grounds. There were

a few other open mics that

30

we have won. Right now, we

want to win that SEA award

bad. That is not an open mic,

an award for the City, or state,

or for one performance. It is

an award for Best Group of

the Year and Mixtape of the

Year, 2 things we worked hard

on this year, so that's what we

have our eyes on right now.

www.MisfitTunes.com
---
www.MisfitTunes.com

31
---
SPORTS ZONE

SPZN SPZN SPZN

Elite

www.SportsZoneElite.com

32

Reesa's Picks

www.MisfitTunes.com
---
SPORTS ZONE

SPZN SPZN SPZN

Elite

www.SportsZoneElite.com

Reesa's Picks

www.MisfitTunes.com

33