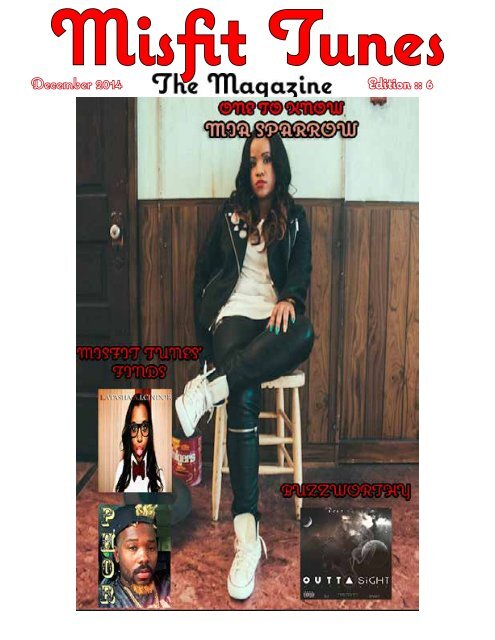 Misfit Tunes The Magazine December 2014
In this issue :: ONE to KNOW - Mia Sparrow :: Misfit Tunes' Finds- L.atasha A.lcindor // PHOR :: BUZZWORTHY - Outta Sight Outta Mind Misfit Tunes' Must Haves - Da Real, Lowercase Letters, Law 3: Now Or Never, Black Friday, Boriqua Baby, Steak x Shrimp vol. 1, No Feelings, Transitions, Wheel Power. Misfit Tunes The Magazine is a publication dedicated to promoting domestic as well as international Indie and/or little known artists from all genres of music to the awaiting masses. ISSN: 2375-2432 www.misfittunes.com
In this issue :: ONE to KNOW - Mia Sparrow :: Misfit Tunes' Finds- L.atasha A.lcindor // PHOR :: BUZZWORTHY - Outta Sight Outta Mind Misfit Tunes' Must Haves - Da Real, Lowercase Letters, Law 3: Now Or Never, Black Friday, Boriqua Baby, Steak x Shrimp vol. 1, No Feelings, Transitions, Wheel Power. Misfit Tunes The Magazine is a publication dedicated to promoting domestic as well as international Indie and/or little known artists from all genres of music to the awaiting masses.
ISSN: 2375-2432
www.misfittunes.com
SHOW MORE
SHOW LESS
Create successful ePaper yourself
Turn your PDF publications into a flip-book with our unique Google optimized e-Paper software.
Misfit Tunes

December 2014

Edition :: 6
---
TABLE Of CONTENTS

Editor in chief :: K. Simms Ki_Misfit Ki_Da_Misfit Ki Misfit

ONE to know

A quick Question and Answer introduction to

artists on the move

BuzzWorthy

A project that proves the arstist worthy of

major BUZZ!!!

Misfit Tunes' Finds

A quick peek at artists we find on our never-ending

search for new music.

2

L.atasha

A.lcindor

10

mia sparrow

PHOR

24

Outta Sight Outta Mind

Misfit Tunes'

Must Haves Downloads

Albums/Mixtapes worth the download

click to download:

* Only Da Real

* Lowercase Letters

* Law 3: Now or Never

* Black Friday

* Boriqua Baby

* Steak x Shrimp vol. 1

* No Feelings

* Transitions

* Wheel Power

*Unstopppable Queen

*Winter Break

*RedHanded

www.MisfitTunes.com
---
1290 Bay Dale Drive :: Suite 213 :: Arnold, MD 21012

202-656-8626

ShopCapitalCity.com

Capital City Co.

www.MisfitTunes.com

Capital City Co.

Capital City Co.

3
---
Misfit Tunes'

Must Haves

Download

Title: Only Da Real Artist: King Shug

KingShug__GSE

KingShugGSE_

KingShug

KingShug__GSE

Only Da Real (Feat. YoungLos640) // Keesh

(Feat. Kid Excluzive) // Slow Mo (Feat. A1 Flow)

// Why U Hating // Da Plug (Feat. Buttas, A1

Flow, & Lil Riley) // Dope Gang (Feat. Kp) //

Better Then That (Feat. Shaq James) // Another

Day (Feat. GooGlizzy, Lil Tay, & Mike Brown

Da Czar) // Trapping & Rapping (Feat. Swipo

& Moon Man) // Born Into (Feat. Jus Paul) //

Shawty On Fire (Feat. Rayne Da Ryder) // Am

Tellin Ya (Feat. Louie Black) // Seen It All (Feat.

Freddie P, Top Dolla Sweizy, & GTown Wayne)

Title: Lowercase Letters Artist: Lowercase Letters

Lowercase_Letters_Band

LowercaseLetterslmnop

LowercaseLetters

LowercaseLetterslmnop

Across the Sky

Dutchie

Open Blinds

Can't Won't Rush

Give Me

Hook-up Fee (Remix)

The Bird Song

Restless City (Kick It)

Unattainable

Ransom

Title: Law 3: Now or Never Artist: Shy Glizzy

ShyGlizzy

ShyGlizzy

ShyGlizzy

GlizzyGang

Legend (Prod by KE on The Track) // Celebration ft. Bobby

Shmurda (Prod by Zaytoven)

Anywhere ft. 3 Glizzy 30 Glizzy (Prod by Young Chop) //

Funeral (Prod by KE On The Track)

What U Talkin Bout (Prod by Doughboy Beatz) // Cocky

(Prod by LG)

Ridin (Prod by Roger Beat) // What To Do (Prod by All-

Star) // Handcuffs (Prod by KE On The Track)

Money ft. Young Dolph (Prod by Zaytoven) // She Like

Me ft. Migos (Prod by Da Doman) // Better Days ft. Goo

4

www.MisfitTunes.com
---
What is Misfit Tunes

Misfit Tunes is an organization

dedicated to

promoting domestic as

well as international Indie and/or

little know artists from all genres of

music to the awaiting masses. We

use several vehicles to promote the

artists' work, such as:

Misfit Tunes' blog, which can be

found at www.misfittunes.blogspot.

com , receives thousands of views

daily from all around the country.

We also boast international visitors

from places like Canada, the UK,

Ireland, and Jamaica, to name a

few. We update the blog weekly

with new music and videos.

Why does Misfit Tunes do it

We do it for two main reasons:

1. We do it for the LOVE of the

music. The current top 40 selection

leaves Misfit Tunes wanting

more from music, which is why we

promote indie and/or little known

artists. The music industry has

become so saturated with clones

that the music has gotten lost in

translation or merely forgotten. We

believe it our duty to keep good

music relevant!

2. We do it to change the industry.

It is our belief that the industry has

become too much about money and

no longer about the art of creating

music. With the current state of

the economy and the advent of so

many free internet tools to make

music, it's now the perfect time to

usher industry change.

Now that you know who Misfit

Tunes are and what we do, we

would like to invite you to build a

www.MisfitTunes.com

wonderful working relationship.

Again our services are completely

FREE of cost for artist. We would

appreciate you sending us your

music, videos, upcoming events,

pictures, and/or any other information

you would like us to share. By

sending an email to Misfit Tunes at

submissions@misfittunes.com. We

request that you to ask your fans,

followers, and supporters to support

Misfit Tunes. By increasing

our supporters, we can reach more

people. The more people we can

reach the bigger Misfit Tunes will

grow. Our growth will ensure more

people will be exposed to your music,

which in turn, will potentially

increase your fan base.

We would also like to request any

promotional merchandise you can

spare, as we would like to begin

running contests to get people to

engage more with the artists as

well as Misfit Tunes. The more

people we get to engage with Misfit

Tunes, the better we can serve the

indie market. We fully understand

Misfit Tunes need the support of

artists to reach our full potential as

we are nothing without the music!

How can I as an artist support Misfit

Tunes

· Keep us informed on your

career by emailing us an artist

bio, your music, pictures, videos,

and any information on upcoming

projects.

. Encourage your fans to support

Misfit Tunes. The more people we

have supporting Misfit Tunes the

more people with which to share

not just your music, but also the

other artists' music we support.

. Provide Misfit Tunes with exclusives.

Let us be the first to break

a new video or song, as well as

details on upcoming events or new

projects.

. Invite us to events. If you are

having an album release, performance,

and/or any event you'd like

us to cover, send us press credentials

or put us on your guest list. If

we are in your area we will gladly

enjoy covering your event. We

want to support all events, however

that can become very costly potentially

taking funds away from the

services we provide since we don't

charge for our services.

. Make Misfit Tunes your #1

source for indie news, music, and

videos.

Remember, we do this for the love

of the music! So if you love your

music and want to support an organization

that will love your music

as much as you do, look no further

than Misfit Tunes!

~ misfit movement let's make it

count!!!

links::

Misfit Tunes

Misfit Tunes

Misfit Tunes

5
---
BUZZWO

bjaybanks bjaybanks bjaybanks

6

www.MisfitTunes.com
---
RTHY

www.MisfitTunes.com

Outta Sight Outta Mind is

the latest mixtape offering

from Washington,

DC rapper B-Jay Banks. The

mixtape displays all facets of

the talented Mr. Banks, from

his undeniable flow to his calculated

production. The mixtape

is masterfully arranged.

Built of thirteen solid tracks

the mixtape from start to finish

takes the listener on a ride

not soon to be forgotten.

The mixtape paints the picture

of a young man forced to

grow up fast and become the

man of the house. It tells of

the young man acquiring his

first gun, becoming a stick up

boy then graduating to whipping

up packages in the kitchen.

"Outta Sight Outta Mind"

also warns of supporting and

believing fake rappers who

rap about life on the block,

yet have never stepped foot on

the block. It also tells of the

young man finding true love.

The opening track,

'NKODB,' produced By

B-Jay Banks, starts as most

cats in the hood day starts off;

with their girl going off about

money then goes into telling

of a young dude coming to

age in the trap.

The coming of age story

continues with 'Survive,' produced

By AM JayEm, tells of

the daily struggle in the hood

to make it. The tracks lyrics

"It's crazy what a young nigga

will do for survival." and "We

just trying to survive" speak to

anyone out here just trying to

reach a goal while overcoming

countless obstacles.

Cloaked in a metaphor of

whipping up a batch of crack

'Let Me Whip,' produced By

Rel Live Beatz, speaks to

rappers daily struggle to avoid

the trap and stay true to the

rap game.

The worst thing one can be

is fake and lying to their fans

about the

life they

are living.

'Tell

No Lie'

featuring

Freddie

P. is

produced

By Beat

Zombies

and

speaks

to the

disdain

B-Jay has

for those

faking

like

they're

bout that block life.

The money, the drugs, and

the women that these fools

worship on their albums ain't

'Nothin' New,' produced By

Young Clip & Don Gotti.

This mixtape is definitely

buzzworthy from start to

finish each track gives you a

birds-eye view into the life of

not just B-Jay Banks, but anyone

going through the struggle

trying to make it by any

means necessary while staying

out of the system. "Outta

Sight Outta Mind" gets:

7
---
luvlywear luvlywear luvlywear

Handmade Accessories

for the stylish students

of all things

Luvly

Place orders at:

Misfit Tunes' Marketplace

www.MisfitTunes.com

8

www.MisfitTunes.com
---
www.MisfitTunes.com

9
---
Misfit Tun

While covering the tenth anniversary

of the A3C Festival

in Atlanta, Georgia, I had the

pleasure of catching Latasha Alcindor's,

aka L.A., performance

during The Circuit Showcase.

L.A., the only female rapper

to headline the showcase, stood

in front of the mic wearing all

black from head to toe looking

like the

poster child

for the Afro

Latina movement,

with

the grace and

eloquence

of a queen

perched on

her throne.

She surveyed

the

crowd, I

guessed sizing

them up,

to determine

if they were

ready for the

fire she was

Mixtape::

about to unleash. Then without

any warning nor a beat, she

went in!

She had the crowd chanting

lyrics like "get em got em gone'

with such ferocity it began to

sound like a war cry.

Just when you cannot take

another vicious line, she changes

course and begins singing

video::

her hooks with the harmony of

an old soul singer and the easy

caress of a mythological siren.

L.A. held the crowd firmly in

the palm of her hands, mesmerizing

them with her true lyrical

assault.

More than just a pretty face

curvy sista, L.A. is a true entertainer

who is quite comfortable

on stage as

well as commands

the

crowd like a

seasoned vet.

She is a

conscious

rapper with

a message of

female empowerment

and everyday

struggles.

She can also

get the party

started. L.A.

is definitely

one to get to

know.

ucancallmela

ucancallmela

ucancallmela

10

Spark

MOMA

ucancallmela

www.MisfitTunes.com
---
es' Find

www.MisfitTunes.com

11
---
Misfit Tunes'

Must Haves

Download

Title: Black Friday (Instrumentals) Artist: Hipstrumentals

Hipstrumentals

Hipstrumentals

Hipstrumentals

Hipstrumentals10

Evil (Prod. By Jake One & G Koop) // Disfunction

(Prod. By Cornerboy Muzik) // What They

Tryna Say (Prod. By The Chemist) // Rose Pedals

(Prod. By Dee Aye) // Psychotik (Prod. By

Jacob Levan) // Fienin' (Prod. By Sounds by

C.O.O.P) // Four Ten (Prod. By Chance Beats)

Wavy Gravy (Prod. By Blair Norf) // Foreign

(Prod. By Cash Bag) // My Ambition (Prod.

By TaylorOfficialTracks) // Loud Pack (Prod.

By Lil Jay) // Hot Pepper Gumbo (Prod. By

The N.E.W.S.) // Camp Lunacy (Prod. By Nikk

Title: Boriqua Baby Artist: Fly Dantoni

FlyDantoni

FlyDantoni

FlyDantoni

FlyDantoni

SuckaFree // Numero Uno! // Me No Way //

Toyz! (Feat. Al-Doe) // D!amonds // No Fvcks

// Drugs (B!lly BadAss) // Too Much (Feat.

Chase Dreamz) // No Favors // La Banda De

Drogas (Feat. Al-Doe) // LooPy - Dope Fiend

Jose Speaks // Papi Chulo // Money! // SpaceGhost

(Feat. Al-Doe) // Da Off!ce // Check Baby

1,2 (Feat. Verse Simmonds) // Mouth // T.T.G

(TrainedToGo) (Feat. TK) // Torica - What If

(Feat. Fly Dantoni)

Title: Steak x Shrimp vol.1 Artist: Le$

12

settle4LES

settle4LES

settle4LEStv

SteakxShrimp

Mission Statement // Diamondz [Prod. By June

James] // '96 (Feat. Max Minelli, Paul Wall &

Ronnie Spencer) [Prod. By Happy Perez] // Sweet

Jones [Prod. By Cardo] // Flippin' [Prod. By Ric &

Thadeus] // Comin' Dine (Feat. Slim Thug) [Prod.

By Block Beattaz] // Forever Trill [Prod. By DJ

Mr Rogers] // Ridin' In Mr Rogers Neighborhood

(DJ Mr Rogers Mix) // Ridah (Feat. Slim Thug &

Curren$y) [Prod. By Stunt N Dozier] // My Chain

[Prod. By Stunt N Dozier] // The Man (Feat. A$ton

www.MisfitTunes.com
---
STREAM OR DOWNLOAD MIXTAPES ON YOUR DEVICE FOR FREE!

Updated Daily with the newest and hottest mixtapes!

Mymixtapez Mymixtapez Mymixtapez Mymixtapez

www.MisfitTunes.com

www.MyMixtapez.com

13
---
ONE TO

miawashere0000 miawashere0000

miasparrow

MIa sparrow

14

www.MisfitTunes.com
---
KNOW

We had the pleasure of

asking Maryland native,

Mia Sparrow a few questions

and enjoyed her answers. After

reading this piece, we are

sure you will have enjoyed

her answers, as well as became

a fan!

Read::Listen::Watch::Enjoy

What are your influences

Musically...Nas, Hov, Drake,

Furious 5. Legendary movies

like Beat Street. Cult classics

like Club Paradise. That's

actually the inspiration for the

new album.

How did you come up with

your stage name

It's my name...I've had a

few lol! I played around with

Olivia Daye (my middle

name and a fake last name)

and thought about going with

"Mia was here," which I use

on social media. Sometimes,

I still wish I'd gone with Mia

was here, lol! But in making

LAOD, it was raw emotion.

Five years in 15 tracks. It was

all me. I wanted my name to

be just as honest as the music.

If you were not making music

what would you be doing

Brand managing. Something

in fashion like styling.. I'm

www.MisfitTunes.com

going into politics one day.

Can you see me as Mayor of

DC

Why are you a performer

It's a necessity really. The

greatest way for me to grow

my fan base has been performances.

There's no studio

or collaborators to help.

Just you, a mic, and a track.

And you make due. I love it

though, whatever has happened

comes out at that show.

Good or bad, it's always an

honest showing.

How many live performances

have you done

Too many to count. Enough

to know I've got a lot more

work to do and that I need to

improve. Best performance...

Karamudc. The crowd was

so into it. You could actually

feel the love. It was amazing.

North Carolina is close too.

The performances are best

when people can't take their

eyes off of you. I don't think

I've had my worst yet. Let's

pray I never do.

Do you love your music

I do love my music. Not from

a perspective of vanity, but

because it's healed me. I've

been through a lot, saw too

much, too young. But music

was God's gift to me because

it helped me to channel everything

in a way that could

help people who listen. I'm

at my best in the booth, not

because of sheer talent, but

because I'm more vulnerable

and most honest. The major

sacrifice has been my ego.

My willingness to tell stories

that won't allow me to hide

from myself. I am who I am

and I've accepted my flaws,

but realized God isn't finished.

My sacrifice has been

me. Less of me, more of God.

What do your lyrics say about

you/your character

My lyrics say that my character

is in tact. I don't blame

anyone for my issues. I've

been in a few bad situations

and dated a few guys I probably

shouldn't have, but

no one forced me to stay. I

thought love could inspire

them to change. But the reality

is, you're never going to

be good enough for a person

who isn't ready. That isn't

your fault, but it isn't really

their fault either. My lyrics

speak to my willingness to be

honest, despite how it makes

me look. I'm not perfect but I

am a good person. I'm proud

of that.

15
---
How would you describe your

sound/music

Honest...soulful...detailed...

relatable.

What is your most recent

project

Love and Other Drugs is out

now at Miawashere.com and

on Spinrilla, but I'm working

on my new album, Club Paradise

as we speak. It will be

different to say the least, lol!

What are your goals

A billboard, an AMA, an

MTV award (yes, I want one

lol) and a Grammy all in the

same year, then disappear into

publishing.

What is your definition of

success

Enough money to buy time.

Meaning, I don't have to work

24/7 to enjoy a month out of

the year. I want to work when

I feel inspired and write when

I feel the desire to relax. The

first billion is the hardest, lol!

How will you know when you

have "made it"

The Grammy speech.

What is your mission What

kind of impact, if any, do you

want your music to have on

your fans

Win awards. Build my publishing

company into a major

firm and help to put on deserving

DMV artists. I want

16

my music to be timeless. A

blueprint. I want my fans to

feel like someone understands

them.

What accomplishments and /

or awards have you received

Well, Love and Other Drugs

has over 15,000 downloads,

with no radio support, no

organization backing me, no

management and no label. I'm

cool with the first step. The

Grammy is coming though,

lol!

Do you have a team behind

you

No comment.

What's next for you

More shows out of town. Club

Paradise. Expanding my publishing

company.

Mixtape::

Love and Other Drugs

video::

Love and Other Drugs

www.MisfitTunes.com
---
Do you want to

advertise

with

misfit tunes

the magazine

Email

info@misfittunes.com

~misfit movement let's make

it count!!!

Misfit Tunes Misfit Tunes Misfit Tunes Misfit Tunes

www.MisfitTunes.com

17
---
pledgenorip pledgenorip pledgenorip pledgenorip

18

www.MisfitTunes.com
---
No Reckless Internet

Posting better

known as No R.I.P.

is a movement started and

led by entertainment mogul

and rapper Waka Flocka's

mother, Debra Antney. Ms.

Antney and her family have

had documented turbulent relationships

with several blogs

and other media outlets which

have sensationalized stories

to garner popularity for their

site as well as to drive traffic

to the site. These tumultuous

relationships cost Ms Antney

her twenty-two year old son

Caodes "KayO" Scott.

During the 2013 Christmas

Holiday season the stresses

and pressures of the world

forced KayO to do the only

thing he knew to ease the

pain and end his own life.

KayO's kind heart often wept

due to the malicious, reckless,

and thoughtless people

who spread vicious rumors as

well as fueled harmful gossip

about not only himself but

his mother and other family

members.

Ms. Antney is determined

her son's silenced voice be

heard by the world! She also

hopes to speak for the millions

of people living through

the same storm while encouraging

positive change in

not just media but also in the

Global Online Community.

"In every test there is testimony.

Through all adversity

www.MisfitTunes.com

there is a lesson to be learned.

And in cleaning up the mess

around us often times you'll

find a message." For Ms.

Antney and the supporters

of the No R.I.P. movement

the message is simple… NO

RECKLESS INTERNET

POSTING! NO R.I.P.

What It Means to Pledge No

R.I.P.

* KayO never supported the

saying "Rest in Peace" because

he believed that people

lived on in their spirits

forever. Instead, he would

say "Long Live" to whoever

transitioned on. In loving

memory of Caodes "KayO"

Scott, the No R.I.P. movement

will take on a life of its

own and continue. No R.I.P.

#LLKayO

* When you gossip and

spread rumors and recklessly

post about people's lives, you

are speaking death - killing

their spirits, killing their reputations,

killing their relationships,

killing their hope and

so much more. Stop speaking

death. No R.I.P.

* We are afforded the rights

of free speech, freedom of the

press, etc. However, we also

have a humane responsibility

to each other. As media, we

encourage all bloggers and

other members of the media

to take the No R.I.P. pledge

and post responsibly on your

site; report responsibly on

your shows. As a community,

care for one another. Be

mindful that words do hurt

and can cause damage. Focus

on the positive, not the negative.

Focus on the truth, and

not the gossip and the rumors.

Stop the reckless, hurtful and

destructive gossip. Whether

you are media or the general

public, please post responsibly.

No Reckless Internet

Posting! No R.I.P.

If you are a blogger, media

entity or personality, or other

member of the media, we

invite and encourage you to

take the No R.I.P. pledge. We

simply ask those blog and

media sites that take the No

R.I.P. pledge to download

the official No R.I.P. logo

and post it to your website

and social media pages - this

logo placement will serve as

a visible badge which lets the

public know that your site is

one that has pledged to post

responsibly.

19
---
Misfit Tunes'

Must Haves

Download

Title: No Feelings Artist: Dejuan Turrentine

LiveFreeDT

DeJuan_

DeJuanTurrentine

Good Bye

No Feelings

Hearts Exposed

Alone

Title

DeJuanTurrentine

Title: Transitions Artist: Keith 'WildChild' Middleton

KeithWildchild

KeithWildchild

KeithWildchild

KeithWildchild

B.M.F. // Supreme // That Kiss (feat. Latoya Kennedy)

// Brazilian Skies (feat. Camille Armstrong &

Nabiyah Bashir) // Share // FeelsGood (feat. Double

R) // Here I Go Again (feat. HYDRA & Ace Digital)

// Transitions

Supa Stahh (feat. Ryan Pinkston) // Speed of Life

// Groan In Sexii (feat. Double R) // Majestic //

Ode To The Damsel I Have Distressed (feat. Jonathan

Hoard) // Come Closer (feat. Ryan Pinkston &

Lauren Molina) // Rain // Carpe Diem // Easy (feat.

Title: Wheel Power Artist: Remedy

YoungRemedy415

YoungRemedy415

YoungRemedy415

YoungRemedy415

Intro [Prod. By Remedy] // On Fire Pt. 2 (Hot

Boy) [Prod. By Remedy] // All I Know [Prod.

By Remedy] // Sneaky [Prod. By Remedy] //

Bad (Comments, Likes) [Prod. By Bass Feenz]

// Secrets [Prod. By Remedy] // Work [Prod. By

Remedy] // Bank [Prod. By Remedy] // D.F.A.

[Prod. By Remedy] // Chillin' [Prod. By Bass

Feenz] // Good [Prod. By Remedy] // No Favors

[Prod. By Remedy] // Amazing [Prod. By

Remedy] // Make It [Prod. By JuneOnnaBeat]

20

www.MisfitTunes.com
---
Misfit Tunes'

Must Haves

Download

Title: Unstoppable Queen Artist: Celina Lina

Celinalina_pow

Celinamusicsite

CelinalinaJuddmusic

CelinaJmusicsite

Do it (prod by @itsnairda) // No New

Friends ft Rezay C-MIX // Posted // Every

Little Step ft Stefan Jay //Money Baby

C-MIX // Get It // Don't Talk // Bout It

(prod. by @ grindation) // Love You Down

(prod. by @lbonthetrack) // Wait For It ft

Cheeta Mane (prod. by @itsnairda) // Coolin

(prod by @iamfrekklez)

Title: Winter Break Artist: Bop Alloy

bopalloy

bopallloy

bopalloy

Let The Flakes Fall Where They May

Hottest Christmas On Record

Resolutions Per Minute

Spent

Longing For Nia

A Celebration 04:1

bopalloy

Title: RedHanded Artist: Sixxcess

iamsixxcess

iamsixxcess

iamsixxcess

LOOK WHAT IM DOIN // FOR YOUR LOVE

I TOO FT KO AKA SICKWITIT // THE CLIMB

ROCKSTAR // LIFE AINT FAIR

SIN // OH LORD // WORLD ON FIRE FT.

CHILLER

OH WELL // WHAT YOU KNO

WELCOME IN FT. JREYNOX AND ONE LIFE //

DITD

iamsixxcess

www.MisfitTunes.com

21
---
phoreverim phoreverim

phoreverim phor

Misfit Tun

22

www.MisfitTunes.com
---
es' Find

While trying to find a parking

space during the 10th anniversary

of the A3C Festival in

Atlanta, Georgia, an odd pair

caught my eye. One wearing

what appeared to be a pair of

Nike moonboots, with a light

up Swoosh. The other a full

body Count Dracula black

cape! Yup! You know once

I parked I followed this pair

down the rabbit hole.

To my surprise, the dude in

the cape was by far the hypest

hype man I had seen all festival,

and the light up boots

belonged to Chicago rapper,

PHOR. Together these two

captivated the crowd immediately,

and not just because of

their oddness.

Phor performed a few songs

that revved the crowd up. He

had a sure presence on stage

that tells me he is not a rookie

in this rap game. Covered

in sweat, he performed a few

crowd favorites from his mixtape,

"Nino."

I found myself chanting a

few lyrics like "live for the

moment," "bury me in gold,"

and "like I don't know no

better" along with the mighty

MC.

If you ever see this odd pair,

I strongly suggest you follow

them to the stage, as I am sure

they will entertain you!

Mixtape ::

Nino

www.MisfitTunes.com

23
---
CityOfGodShop

1118 HOLLINS ST BALTIMORE

24

© 2014 CityOfGodShop

www.CITYOFGODSHOP.com

www.MisfitTunes.com
---
MD 21223 · 443.226.8621

CityOfGodShop

www.MisfitTunes.com

© 2014 CityOfGodShop

www.CITYOFGODSHOP.com

25
---
SPORTS ZONE

SPZN SPZN SPZN

Elite

www.SportsZoneElite.com

26

Reesa's Picks

www.MisfitTunes.com
---
SPORTS ZONE

SPZN SPZN SPZN

Elite

www.SportsZoneElite.com

Reesa's Picks

www.MisfitTunes.com

27