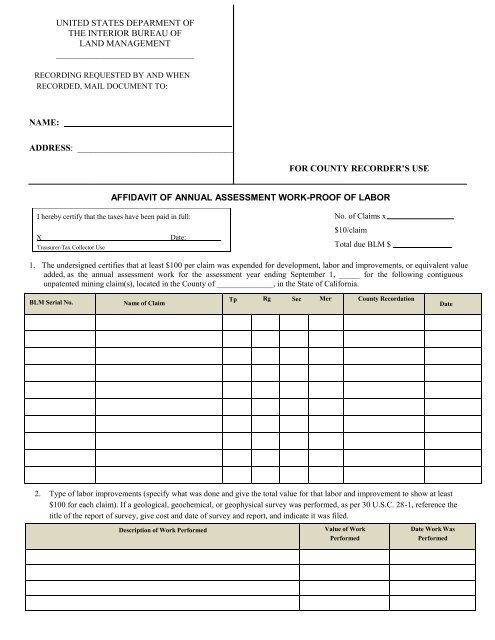 Affidavit of Annual Assessment Work - County of Inyo
Affidavit of Annual Assessment Work - County of Inyo
Affidavit of Annual Assessment Work - County of Inyo
SHOW MORE
SHOW LESS
Create successful ePaper yourself
Turn your PDF publications into a flip-book with our unique Google optimized e-Paper software.
UNITED STATES DEPARMENT OF

THE INTERIOR BUREAU OF

LAND MANAGEMENT

_______________________________

RECORDING REQUESTED BY AND WHEN

RECORDED, MAIL DOCUMENT TO:

NAME:

ADDRESS: ___________________________________

FOR COUNTY RECORDER'S USE

AFFIDAVIT OF ANNUAL ASSESSMENT WORK-PROOF OF LABOR

I hereby certify that the taxes have been paid in full:

X

Date:

Treasurer-Tax Collector Use

No. of Claims x

$10/claim

Total due BLM $

1. The undersigned certifies that at least $100 per claim was expended for development, labor and improvements, or equivalent value

added, as the annual assessment work for the assessment year ending September 1, _____ for the following contiguous

unpatented mining claim(s), located in the County of ______________, in the State of California.

BLM Serial No. Name of Claim

Tp Rg Sec Mer County Recordation

Date

2. Type of labor improvements (specify what was done and give the total value for that labor and improvement to show at least

$100 for each claim). If a geological, geochemical, or geophysical survey was performed, as per 30 U.S.C. 28-1, reference the

title of the report of survey, give cost and date of survey and report, and indicate it was filed.

Description of Work Performed

Value of Work

Performed

Date Work Was

Performed
---
3. Residence and mailing address of each person who performed the labor and improvements:

Name (please print)

Residence and Mailing Address (please print)

4. Residence and mailing address of each person who holds and claims the subject mining claim(s) for the valuable minerals contained

therein. Be sure to indicate if there is a change of address:

Name (please print)

Residence and Mailing Address (please print)

5. The undersigned testifies that on the date of , 20 , all monuments

required by law were erected upon the subject claim(s), and all notices required by law were posted on the subject claim(s) or

copies thereof were in place, and at said date, each corner monument bore or contained markings sufficient to appropriately

designate the corner of the claim to which it pertains and the name of the claim(s).

I hereby certify under penalty of perjury under the laws of the State of foregoing statements are true and correct:

Date

(Signature of person responsible for above statement)

Title 18 U.S.C. 1001 and 43 U.S.C. 1212 makes it a crime for any person knowingly and willfully to make to any department or

agency of the United States any false, fictitious or fraudulent statements or representations as to any matter within its jurisdiction.
---
DO NOT RECORD THIS PAGE

INSTRUCTIONS

1. This is an optional form that may be used to satisfy the requirements for the Bureau of Land Management (BLM)

under the provisions of 43 U.S.C. §1744 and 30 U.S.C. §28-28d and the regulations thereunder (43 CFR part

3835). Since local and State laws may vary, you should contact your local and State agencies where the claims

are located to ensure all applicable laws and requirements are satisfied.

2. The claimant(s) must fill in the date in paragraph 1 for the applicable assessment year and the county and state

where the claims are located.

3. All claim names, BLM serial numbers, legal descriptions, and original county recording information must be

listed for the claims pertaining to this assessment notice.

4. The claimant(s) must complete paragraph 2 listing all labor or improvements which was performed on or did

benefit the subject mining claims. The value and date of the labor or improvements must also be listed. The total

amount of labor or improvements can be listed, but the total expenditure must equal at least $100 for each claim.

5. The names and current mailing addresses of the person(s) performing the labor shall be listed in paragraph 3.

6. The name and current mailing address of each owner (claimant) of the claims shall be listed in paragraph 4. The

mailing address shall be the owner's address and not the address of an agent or anyone representing the claimant.

Be sure to note if there has been a change of address.

7. Paragraph 5 shall be completed to show the date it was verified that all monuments required by law were properly

erected, all notices were posted, and that corners were appropriately designated for all claims listed.

8. An exact legible reproduction or duplicate (other than microfilm or other electronic media) of this affidavit or

another type of affidavit of assessment work that you file or will file in the county where each claim is located,

must be filed with the BLM on or before December 30 of the calendar year in which the assessment year ends.

For mill or tunnel sites, a separate notice of intent to hold must be filed with the BLM on or before December 30.

Requirements for filing a notice of intent to hold can be found at 43 CFR 3835.33.

9. A processing fee of $10 for each claim listed must be remitted to the BLM along with this or any other affidavit

of assessment work.
---
DO NOT RECORD THIS PAGE

NOTICES

THE PRIVACY ACT and 43 CFR 2.48(d) require that you be furnished with the following information in

connection with the information requested by this form.

AUTHORITY: 30 U.S.C. §28-28d and 43 CFR part 3835 permit collection of the information requested by

this form.

PRINCIPAL PURPOSE: The BLM will use the information you provide to document compliance with 43

U.S.C. 1744 and that assessment work has been completed in accordance with 30 U.S.C. § 28-28d and 43 CFR

part 3835 in lieu of paying the maintenance fee for the mining claims listed on this form.

ROUTINE USES: The BLM will only disclose this information in accordance with the provisions at 43 CFR

2.56(b) and (c).

EFFECT OF NOT PROVIDING INFORMATION: Disclosure of the requested information is required by

30 U.S.C. § 28-28d and 43 CFR part 3835 for claimants qualified to perform assessment work in lieu of paying

the maintenance fee. Failure to submit all the requested information or to complete this form will delay the

BLM's processing of the form and may preclude the BLM's acceptance of the assessment work information,

which may result in forfeiture of the mining claim(s) by the claimant.

THE PAPERWORK REDUCTION ACT requires us to inform you that:

Use of this form is optional. You must perform assessment if a waiver to pay the maintenance fee has been

requested. This form is provided to help you attest that annual assessment work has been completed in lieu of

paying the maintenance fee for your claim(s). Submission of the requested information is necessary to obtain or

retain a benefit.

You do not have to respond to this or any other Federal agency-sponsored information collection unless it

displays a valid OMB control number.

BURDEN HOURS STATEMENT: The estimated public reporting burden for this form is 30 minutes per

response, including the time for reviewing instructions, gathering and maintaining data, and completing and

reviewing the form. You may submit comments regarding the burden estimate or any other aspect of this form

to: U.S. Department of the Interior, Bureau of Land Management (1004-0114), Bureau Information Collection

Clearance Officer (WO-630), 1849 C Street, N.W., Room 2134LM, Washington, D.C. 20240.