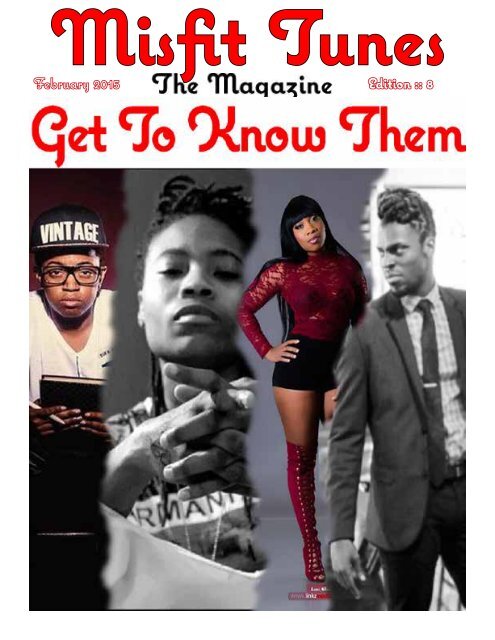 Misfit Tunes The Magazine February 2015
In this issue :: ONE to KNOW - I Am Jones // DH DaHitWryter // NahNah Corde // Arys Dejan // V. Ness // Lil Baby :: Misfit Tunes' Must Haves - House of Whales, N0 Buzz, Leftovers, Benjamin Booker, Gambino's Way, Black Is Once Again Black, GS 15, Live From Da Ghetto, It Is What It Is, Art Royalty and Only 4 Da Ladies, Daily New York :: BuzzWorthy - No Life Jacket by BOOMscat :: Misfit Tunes' Finds - Nique Goldi Misfit Tunes The Magazine is a publication dedicated to promoting domestic as well as international Indie and/or little known artists from all genres of music to the awaiting masses. ISSN: 2375-2432 www.misfittunes.com
In this issue :: ONE to KNOW - I Am Jones // DH DaHitWryter // NahNah Corde // Arys Dejan // V. Ness // Lil Baby :: Misfit Tunes' Must Haves - House of Whales, N0 Buzz, Leftovers, Benjamin Booker, Gambino's Way, Black Is Once Again Black, GS 15, Live From Da Ghetto, It Is What It Is, Art Royalty and Only 4 Da Ladies, Daily New York :: BuzzWorthy - No Life Jacket by BOOMscat :: Misfit Tunes' Finds - Nique Goldi Misfit Tunes The Magazine is a publication dedicated to promoting domestic as well as international Indie and/or little known artists from all genres of music to the awaiting masses.
ISSN: 2375-2432
www.misfittunes.com
SHOW MORE
SHOW LESS
Create successful ePaper yourself
Turn your PDF publications into a flip-book with our unique Google optimized e-Paper software.
Misfit Tunes

February 2015

Edition :: 8
---
CONTENTS

Editor in chief :: Ki_Misfit Ki Misfit

Ki_Misfit

One To Know

A quick Question and Answer introduction to

artists on the move

Latrell

James

6

Dh

Dahitwryter

12

nahnah

corde

22

arys dejan

26

V Ne$$

30

Lil

baby

34

BuzzWorthy

A project that proves the

artists worthy of major

BUZZ!!!

No life jacket

14

Misfit Tunes'

Finds

A quick peek at artists we

find on our never-ending

search for new music.

Nique goldi

18

Misfit Tunes' Must

Haves

Albums/Mixtapes worth the

download click to download:

* house of whales

* N0 Buzz

* Leftovers

* benjamin booker

* gambino's way

* Black is once again black

* gs 15

* live from da ghetto

* It is what it is

* art royalty

* Only 4 da ladies

* Daily new york

2

www.MisfitTunes.com
---
1290 Bay Dale Drive :: Suite 213 :: Arnold, MD 21012

202-656-8626

ShopCapitalCity.com

Capital City Co.

www.MisfitTunes.com

Capital City Co.

Capital City Co.

3
---
Misfit Tunes'

Must Haves

Download

House Of Whales

No Buzz

Leftovers

House of Whales

HouseofWhales

HouseofWhales

HouseofWhales

Black Cobain

BlackCobain

BlackCobain

BlackCobain

Big Bone

Boney850

CoachBone

BigBoneMusic

Benjamin Booker

Gambino's Way

Black Is Once Again Black

Benjamin Booker

4

BenjaminBookernola

bbookerNOLA

BenjaminBooker

Krazo

KrazoTheShowStoppa

MrGambinoQSGDON

KrazeVEVO

W. Ellington Felton

WesFeltonDC

WesFelton

WesFelton

www.MisfitTunes.com
---
What is Misfit Tunes

Misfit Tunes is an organization

dedicated to

promoting domestic as

well as international Indie and/or

little know artists from all genres of

music to the awaiting masses. We

use several vehicles to promote the

artists' work, such as:

Misfit Tunes' blog, which can be

found at www.misfittunes.blogspot.

com , receives thousands of views

daily from all around the country.

We also boast international visitors

from places like Canada, the UK,

Ireland, and Jamaica, to name a

few. We update the blog weekly

with new music and videos.

Why does Misfit Tunes do it

We do it for two main reasons:

1. We do it for the LOVE of the

music. The current top 40 selection

leaves Misfit Tunes wanting

more from music, which is why we

promote indie and/or little known

artists. The music industry has

become so saturated with clones

that the music has gotten lost in

translation or merely forgotten. We

believe it our duty to keep good

music relevant!

2. We do it to change the industry.

It is our belief that the industry has

become too much about money and

no longer about the art of creating

music. With the current state of

the economy and the advent of so

many free internet tools to make

music, it's now the perfect time to

usher industry change.

Now that you know who Misfit

Tunes are and what we do, we

would like to invite you to build a

www.MisfitTunes.com

wonderful working relationship.

Again our services are completely

FREE of cost for artist. We would

appreciate you sending us your

music, videos, upcoming events,

pictures, and/or any other information

you would like us to share. By

sending an email to Misfit Tunes at

submissions@misfittunes.com. We

request that you to ask your fans,

followers, and supporters to support

Misfit Tunes. By increasing

our supporters, we can reach more

people. The more people we can

reach the bigger Misfit Tunes will

grow. Our growth will ensure more

people will be exposed to your music,

which in turn, will potentially

increase your fan base.

We would also like to request any

promotional merchandise you can

spare, as we would like to begin

running contests to get people to

engage more with the artists as

well as Misfit Tunes. The more

people we get to engage with Misfit

Tunes, the better we can serve the

indie market. We fully understand

Misfit Tunes need the support of

artists to reach our full potential as

we are nothing without the music!

How can I as an artist support Misfit

Tunes

· Keep us informed on your

career by emailing us an artist

bio, your music, pictures, videos,

and any information on upcoming

projects.

. Encourage your fans to support

Misfit Tunes. The more people we

have supporting Misfit Tunes the

more people with which to share

not just your music, but also the

other artists' music we support.

. Provide Misfit Tunes with exclusives.

Let us be the first to break

a new video or song, as well as

details on upcoming events or new

projects.

. Invite us to events. If you are

having an album release, performance,

and/or any event you'd like

us to cover, send us press credentials

or put us on your guest list. If

we are in your area we will gladly

enjoy covering your event. We

want to support all events, however

that can become very costly potentially

taking funds away from the

services we provide since we don't

charge for our services.

. Make Misfit Tunes your #1

source for indie news, music, and

videos.

Remember, we do this for the love

of the music! So if you love your

music and want to support an organization

that will love your music

as much as you do, look no further

than Misfit Tunes!

~ misfit movement let's make it

count!!!

links::

Misfit Tunes

Misfit Tunes

Misfit Tunes

5
---
ONE TO

iam_the_dope

iamjonesmusic

iamjonesmusic

6

www.MisfitTunes.com
---
KNOW

Where were you born/raised I was

born in Peeskill New York. Raised

all over the south. It was interesting

to say the least

What are your influences Musically.

All of gospel. Rock&Roll. John

Legend. Kanye West. Mos Def.

Kelvin Lee. Outkast. My mother.

Langston Hughes. I really can go

on and on.

How did you come up with your

stage name The Most High had

given me so much magic that I

could never be put in one category.

I needed a name that represented

that. Therefore whatever I need

"iAm".

What is your most recent project I

have an EP on iTunes called "The

Last Night of Billy Lyons" the

album this summer is "Tale of a

Wolf"

How would you describe your

sound/music storytelling/ Rock&-

Soul. Man is there any other lol

What are your short term and long

term goals Career wise, short

term

Let's finish this album. And my

short films. I would love to perform

at the Afropunk festival this year.

Long term. Make history. Make art.

Make love. Make a difference.

Do you want to sign a major deal

or stay independent and have total

control over your music

Major deal influence and power.

With the indie money lol. Control

is an illusion. The only true choice

you have is what purpose you will

serve.

Do you believe artists should be

role models as well as volunteer

and perform community service in

their communities

Role models yes. Idols...no. Everyone,

regardless of their craft,

should a humanitarian at the core

What can someone expect when

they come watch you perform

To have an amazing time. It's really

corny, but I want them to feel it.

What made you get into the music

industry I'm a storyteller as are

we all. That is an avenue in which

I can express what I feel my people

need to hear.

If you were not making music what

would you be doing Teaching

www.MisfitTunes.com

7
---
luvlywear luvlywear luvlywear

Handmade Accessories for the stylish students

of all things

Luvly

Place orders at:

Misfit Tunes' Marketplace

www.MisfitTunes.com

8

www.MisfitTunes.com
---
How will you

know when you

have "made it"

When I don't

have to worry

about anything

but the business

of creating art.

What kind of

impact if any do

you want your

music to have on

your fans

I want them to

know what they

are, and what

they can do. I

want to inspire in

a way that no one

has before. Look

at me and know

you do anything.

What is one thing

your fans/supporters

would be

surprised to find

out about you

I am a nerd. I

love playing warhammer

fantasy.

Empire. Vampires.

And Wood

Elves. I'm a beast

lol. ~Ki Misfit

Single ::

Love And War

www.MisfitTunes.com

9
---
1) Audio-Technica AT2020USB Cardioid Condenser USB Microphone

2) TLS Professional Slim Laptop Backpack

3) Sennheiser HD-280 PRO Headphones

10

www.MisfitTunes.com
---
4) GoPro HERO

5) MacBook Pro (black not sold via Apple Inc)

6) WD My Passport Ultra 2TB Portable External USB 3.0 Hard Drive with Auto

Backup

www.MisfitTunes.com

11
---
ONE TO

DH_dahitwryter DH_dahitwryter

DH_dahitwryter

12

www.MisfitTunes.com
---
KNOW

I was born and raised in Baltimore,

Md! Aye Bmore I love a lot

of artists, but musically my influences

have been Michael Jackson,

Tupac Shakur and Lauryn Hill. I

also love Dr. Martin Luther King

Jr. and Michael Jordan. All of these

people possess their on unique

thing, but they all share a passion

that I can relate to.

My stage name includes my initials

and I added a twist to it, I love

to write songs and I think highly of

myself, so I gave myself the nickname

DaHitwryter!

Tupac Shakur! Made me get into

the music industry. I saw him when

I was about 9 years old and he gave

me so much life! Just seeing how

passionate and versatile he was,

made me want to do it too.

If I was not making music Basketball

was my first love, unfortunately

I got hit by the injury

bug one too many times, but my

hoop dream was strong lol.

My music is a journey about

the things I've faced as a lesbian.

I'm a storyteller so each time you

press play, you will definitely

take a trip, as I lyrically paint

pictures in your mind! When

someone comes to one of my

shows they should expect ENER-

GY! And again, we will go on a

journey, as I tell my audience a

story.

Verses The Mixtape is the latest

project! Thanks to everyone who

has taken the time to listen and

share it. I actually released it 2

years ago, but I didn't have the

same opportunities that I have

now so no one really knew about

Verses The Mixtape

it. Shout out to my team Yag Elite

and Caterina, because of them, a lot

of people are hearing what some

call my best work.

I want my music to inspire people,

and get them through whatever

they are dealing with. I want my

music to make people think and

I want my songs to decrease homophobia.

There is nothing wrong

with homosexuality, except the hate

that the LGBTQ people, HUMAN

BEINGS, face on a day to day

basis in this society.

In high school I knew that I

didn't want to sign to a major,

unless I reached a point where I

could go in calling the shots, and

not 50/50, on some 80/20, maybe

70/30 level. I'll never give anyone

the rights to control MY VISION!

I already made it! That has to be

your first thought before you do

anything. Think it, be it! Making it

is coming out of the womb.

I think the non gay supporters

would be surprised by how much

I embrace my femininity! I love

being a woman, I just love men's

clothing.

~DH DaHitWryter

www.MisfitTunes.com

13
---
No Life Jacket

drink no

chaser," the first

"Straight

line to an intoxicating

EP that is just that. No

watered down

music to be found

anywhere near

the duo known

as BOOMscat

nor their debut

offering "No Life

Jacket."

The duo is comprised

of Asha

Santee (BOOM) is

a multi-instrumentalist/producer,

and Jennifer Patience

Rowe (scat)

is a vocalist/songwriter

coming to

you from the talent

hot bed known

as the DMV (DC/

MD/VA).

"No Life Jacket"

picks up of the

bass-line set by

it's 2013 predecessor

and the duo's

first EP, "The West Wing."

Returning home from their

Mid-West tour the duo received

word they had been

selected to receive a House

Artist Grant, which allowed

them the opportunity to produce

and record a new project

pro bono from House Studio.

House Studio is arguably the

#1 creative studio in Washington,

DC. giving the EP a

sound that fills you with warm

joyous bubbling that tickles

your ears etches a smile on

your face and cause your heart

to flutter.

"No Life Jacket" contains

six songs:

(1) "Simple

Things" is a feel

good track that

list the simple

things that make

BOOMscat happy.

These are the

simple things

green lights, good

parking spots,

direct deposits you

get the idea features

RAtheMC a

DMV music scene

veteran as well as

a House Studio

Alumni. She raps

about her simple

things a of how

God has blessed

her with her talents

which affords

her the ability to

pay off bills in full

for her mom

(2) "Private

Show" is a sexy naughty track

with lyrics like "tell me you

can crawl I'd make you beg

for it" and "touch you in your

favorite spot" leads the listner

on a sensual ride.

14

www.MisfitTunes.com
---
BUZZWORTHY

(3) "Karma" is a scat driven

track intertwined with a melodic

chorus.

(4) "Alright" is a light

breeze on a hot summer day

it blows through the listener

leaving them feeling refreshed.

It features yet another

House Studio alum, Joe Maye

and is hands down one of the

best songs on No Life Jacket

followed closely by "Next

Time."

(5) "Next Time" is a tribal

track with lyrics like "I don't

know what it looks like what

it feels like what it is but i

know when i get there when

I find it it is for me." "Next

Time" is tied for the honors

of best song on the EP with

"Alright."

(6) "Magic in the Moment"

the songs lyrics "life ain't

simple but you gotta keep

raising the bar... the future

not promised cant dwell on

whats to come" encourages

the listener to appreciate every

moment for there is magic

in every moment that can be

missed if you get caught up in

the noise instead of flowing

with the music.

"No Life Jacket" is the

perfect soundtrack to any day.

Once you press play you may

want to go ahead and hit the

repeat button as this is one

you won't mind hearing over

and over again.

The duo that is BOOMscat

is an intoxicating elixir that

eliminates all drama and

stress.

"No Life Jacket" has easily

become one of my favorites

projects of 2014. It is a project

that proves the artists worthy of

major BUZZ!!!

~Ki Misfit

BOOMscatMusic

BOOMscatMusic

BOOMscatMusic

BOOMscatMusic

BOOMscatMusic

www.MisfitTunes.com

15
---
"Life Would Be A Much Better Place If People Wore

More Tutu's & Ate More Cake Pops"

To place an order email

tu_2sweet@yahoo.com

16

Tu_Tu_Sweets

www.MisfitTunes.com
---
Champions exists to provide prevention, confidence, communication, and happiness. Champions is

leading the way in delivering help to children who feel that they have no one. We want to make a positive difference

by being the most inspired and dependable organization through our caring staff and honest connection

to children all over the world. Champions is here to show Value, Respect,Caring, And Open Doors.

___Champions___

www.MisfitTunes.com

Championschamps

Champions

17
---
Misfit Tunes' Find O

1st Lady of HD Society

Nique_Goldi

theycallmeNique

Nique Goldi

18

www.MisfitTunes.com
---
ne Time In The A

During the 10th Anniversary

A3C festival I

had the pleasure of being

introduced to the First

lady of High Definition

Society, The 5''6 beauty

lurked in the shadows

waiting for Mr. High

Definition, Laelo pass

her the mic and set free

to torch the stage.

Watching her ready to

rip the stage I could not

help but think oh I hope

she is not just another

pretty rapper thats going

to rap about make up,

how good her cookies

are, and/or the name

brands painted on her

curves.

Just when I had resolved

to hit the bar

while the crowd was

mesmerized by the pretty

rapper Laelo passed

the mic to Nique Goldi

and it was like a bomb

exploded! She growled

bars that let you know

she far from just another

pretty rapper here to

stroke the male ego and

get by on her looks.

Her performance on

that night proved how

and why she is the First

Lady of the powerhouse

known as HD Society

whose roster is comprised

of a whose who

true lyricist.

If you do not want

to take my word for it

check out "Pieces" a

www.MisfitTunes.com

synthesized pop track with an

infectious hook and "Did It For

Love" a call to arms in the name

of love that Nique Goldi attacks

with a cadence much like an

automatic weapon.

Nope Nique Goldi is not just

another pretty rapper determined

on making it on her looks she is

a ferocious MC you commands

the stage is stilettos and demands

your attention with witty

wordplay.

For these reasons and countless

number of others I would

strong advise you get hip quick

because this star is rising!

~Ki Misfit

Singles ::

Pieces

Did It For Love

19
---
Misfit Tunes'

Must Haves

Download

GS 15

Live From Da Ghetto

It Is What It Is

Gorilla Slim Tom. G Ruga

Gorilla_Slim

Gorilla_Slim

GorillaSlim

TomG813

TomG_8thirteen

Tom.G

GG_Ruga

GG_Ruga

RugaMusic

Art Royalty

Only 4 The Ladies

Daily New York

TT The Artist

TTTheArtist

TTTheArtist

TTTheArtist

20

Fatz Da Big Fella

DaBigFella

DaBigFella49

FatzDaBigFella49

NY

N_WY

N_WY1

NYMuzik

www.MisfitTunes.com
---
STREAM OR DOWNLOAD MIXTAPES ON YOUR DEVICE FOR FREE!

Updated Daily with the newest and hottest mixtapes!

Mymixtapez Mymixtapez Mymixtapez Mymixtapez

www.MisfitTunes.com

www.MyMixtapez.com

21
---
ONE TO

nahnahcorde nahnah_corde nahnahcorde

22

www.MisfitTunes.com
---
KNOW

NAHNAH CORDE' ........

"NahNah" Derived From

The Days I Played The

Drums For A Local Female "Go-

Go" Band Called "Necessary

Kaos" In 2009/2010. One Year We

Had A Manager By The Name,

"Reflexx", Who Gave Each Member

A Stage Name By What He

Seen In Their Traits Or Characteristics.

At That Time, I Was Developing

Into The Drummer I Aspired

To Be, But In A "Group", I Had

To Always Consider The Opinions

Of Others. That Didn't Always Go

As Smooth lol, But When It Was

Something I Didnt Agree With

Or Stand For, I Was Quick To Be

Like "Nahhhhh Im Not Settling

For That" Or "Nahhhhh Let Me

Do ME". So Reflexx Named Me

"NahNah". " Corde' " Came Later

When I Plunged Back Into The

Rapping Scene. It's The Masculinity

Of My Real Name " Charne' ";

With My Hardcore Image/Lyrics,

I Wanted A Name That Not Only

Stood Out But Matched My Style.

Also I Wanted Something Sharp

& Sexy For The Ladies lol......

Corde'! See It Even Rolls Off

Your Tounge Sexy lol.

I was Born In Prince George's

County Maryland, But Raised In

The Metropolitan Areas Of The

DMV. S/O To The "Southside"

(Southeast Washington DC )

Where I Was Conceived lol And

Lived For A While I Got Out On

My Own!

My Influences Are My Relationship

With God, My Struggles,

My Triumphs, My Environment,

My Immediate Family, And My

Passion For The Art Of Music.

All These Influences Help Shape

The Woman I Have Grown To

Be; Moreover, These Influences

Are Inspiration & Topics For My

Music!

I got into the music industry To

Make Up For The Seldom Females

In The Artistry & Industry, But

That Was The Case When I Was

In My Adolescent Years. Now,

Female Artist Are Coming Out In

Bundels lol. Also, Im Proud And

Comfortable To See Women Coming

Into The Game As They Are

And How They Want; Especially,

Those Who Consider Themselves

"Dominant". Moreover, I Wanted

To Bring Originality And Truth

(Spirituality) Back To The Industry.

Nowadays, A Lot Of Artist

Are Capitalizing Off I Wanted

Another's Work Or Success And

Calling It Their Own. Majority Of

The Artist Today Are Also Blinded

By The Fame, Fortune, Fashion,

Drugs, & Sexual Content Of The

Industry. They Neglect Their Truth

With Lies, Substituting God Glorification

With The Idolization Of

Man Or Self, And Music Seldom

Inspires Or Teach Anymore; It Encourages

Vanity. " I Want To Save

Whats Left Of HipHop"

My Sound Is Original! Some

Might Categorized It As "Old-

Skool" For I Give That Raw/

Hardcore Flow, But My Words Are

Filled With Intellect And Passion;

Moreover, My Melodies Are Chosen

By Whether It's Goin Create

A Nostalgic Feeling. "Ima lyricists

Not A Rapper."

If i wasn't making music I Would

Be Doing What Im Already Doing

Now Aside Of Music And Thats

Driving Buses/Trucks/Tractors. I

Am CDL Certified With 4 years In

www.MisfitTunes.com

23
---
The Transportation Field. I Love

Driving!!! If The Music Dont Work

For Me, I Aspire To Buy My Own

Van/Truck/Rig And Start My Own

Transportation Company One Day

God Willing!!!!!

My Short Term Goals Is To

Finish My 1st Upcoming Mixtape

"Split Realities"! Eventhough I

Been Rapping And Writting Since

I Was 6 years Old, I Always Completed

Singles But Never An EP.

However, My Long Term Goals

Are Far More Complex. I Just Dont

Have A Talent And Passion For

"Rapping", But I Also Have Talents

And Passions For Drumming,

Written & Communications, And

Activism. So Not Only Do I Want

To Show & Teach The Musician

Side Of Me, But I Plan To Get

Into Journalism; Start Small With

A Blog Or Column. Also, Song

Write For Other Artist. Moreover,

Speak And Reach Out On Causes

& Effects In Our Communities &

World. Nonetheless, As A Lesbian,

I Want To Make Impacts On The

LBGT Community For They Have

My Undivided Support!

When I Can Afford For Both My

Mother & Grandmother To Stop

Working And Live As Comfortable

As Me! Lol, Real Live Though!

Eventhough We All Want To Be

Able To Help Out Our Loved Ones,

It's Not About The Money. When

Somebody Comes Up To Me And

Say "Aye NahNah Your Music

Really Touched Me And Helped

Me Get Through Some Tuff Times"

Then I Have Made It!

I Want To Stay Independent And

Have Total Control Over My Music

& Brand. I Believe Thats Apart Of

The Success Story When It Comes

To Artist Development, And Of

Course, I Believe It's Better For

Business Relationships

The Impact I Aim For My Music

24

To Have On My Fans Is To Have

A Diverse Range Of Projects That

All Demographics Can Relate Too.

Also, A Wide Range Of Topics/

And Or Situations They Can Relate

Too! For Example, How 2Pac Had

Songs Like "Brenda's Got A Baby"

For Persons Goin Through Rough

Pregnancies Or Abortion Crisis.

"Keep Ur Head Up" For The Persons

Who Feel Like Giving Up Or

Down On Themselves. "How Do U

Want It" For The Ladies And The

Freaks lol Etc.

My Most Recent Project Is A

Track Called "ANTIDOTE" Off Of

Lil Kim's "Drugs" Instrumental.

I Haven't Dropped It Yet; Its Still

Getting Mixed/Mastered, I Want To

Make Sure Its To Perfection For I

Am A Perfectionist And My Biggest

Critic. However, I Do Have A

Finished Product; I Have An Original

Track Called "NIGHT LYFE"

FT . DOMOFDADISTRICT

(On SoundCloud ). I Won 1st Place

In The Coast2Coast DMV Edition

For This Song. Now That Im Back

Off My Hiatus, I Can Finally Work

On Shooting The Visuals For It. Its

Goin Be Epic!

You Can Expect Explosive Passion!

My Words Personified! More

Of A Movie To Narrate My Story

Then Just A Show!

My Fans And Supporters Would

Be Surprised To Find Out That Im

Very Sensitive When It Comes To

My Work. Im Secure With It But

Im Quick To Defend, Explain, Or

Justify Why I Do What I Do, When

I Do It, And How I Do It!

I believe artists should be role

models as well as volunteer who

perform community service in their

communities. Today Kids Dont

Want To Be Doctors & Lawyers

Anymore, They Want To Be Artist

In The Music Industry. So Being

An Artist Today Requires Active

Positive And Influential Roles. My

Main Focus Is The Youth; Giving

Opportunities & Sponsorships To

Upcoming Artist Who May Cant

Afford Things Like Studio Time,

Photoshoots, Videos, Etc. Also, Not

Only Provide Them With Connects/

Tools To Futher Their Artistry, But

The Education, Professionalism,

And Support They Goin Need

Throughout Their Journey!

~NahNahCorde

www.MisfitTunes.com
---
flaunt.official

flauntofficialproductions@yahoo.com

www.MisfitTunes.com

25
---
ONE TO

My

government

name is Arys

Déjan Allen-McPherson.

I was born in Toronto,

ON, Canada but I was raised

in Niagara Falls and many other

places in the Ontario/Toronto area

like Maple (Near Wonderland),

Richmond Hill and Thornhill.

I've had many nick names during

my life on this planet...King, Ace,

Nathan (Long Story), Young God,

Just E (Long story as well), LSN

(Light Skinny N***a),...but once I

started perusing music as a career,

I decided to use my 1st and middle

names, enter Arys Déjan.

My influences tend to derive

from what I've seen, the youth of

today, my favorite movies and of

course...my twisted mind. My mission

is to spread love through the

music. Make a difference in this so

called "famed world." Show that if

you build it they will come whoever

"They" are.

If I was not making music I

would work with kids and youth.

At risk youth specifically. Promoting

non-violence withing the

Toronto communities. I'm the

program facilitator at an organization

called LOVE (Leave Out

Violence). I use media arts to channel

through messages/social issues

like bullying, racism, sexism etc in

order to help the youth also make

a difference and to make sure they

don't go left.

My goal is to master the arts of

business, music and philanthropy...

mesh them all together to become

a super powered, mighty morphine

Jay Z lol

A lot of the projects that I have

26

released have really been to only

test my own waters. Nothing worth

even mentioning nut my upcoming

debut EP - LCBO (Life Can Be

Overwhelming) will be something

that everyone will enjoy.

I know how to connect and be

in tune with the crowd. I think it

also comes from me being a dancer.

I like attention, so I know what

it feels like to crave the attention

from someone else. When your

fans are watching you perform, all

they really want is acknowledgment,

that eye contact, that opportunity

to touch you...even just a

shout out. When I perform, I'm one

with the crowd and my audience.

Plus I'm hype as F**k.

I have not had many performances

I consider myself to be a new

artist. Anything I've done in the

past is irrelevant...I do have some

cray stories though for another time

lol. Plus, I have some crazy shows

lined up so I'll be sure to keep you

in the loop with those. Got share

my music with Misfit Tunes!

I LOVE my music it is varied,

uplifting but vulgar at times,

inspiring and performance worthy.

Without it to be honest, I'd be

dead. Music helped me bring my

thoughts to life. Music is what's

helping me get through all this war

and anger going on in the world

today.

My music paints a picture thats

shows I'm hurt, but strong. Very

aware of who I am and my surroundings.

Sometimes bitter but

ready to move forward and to

cause some ruckus.

I will know I made it when I am

well known for my story, talents

and the good that I do and difference

that I have made for myself

and trying to make in this world.

When I get that call telling me

that I am leaving Toronto, the

first check that I get from writing

someone else's hit song, the day

I see billboards with my face and

name on it, and/or the day stadiums

are screaming my name and what I

represent.

On my quest to success I have

my minions I meant team. They

believe in the mission. One thing

that I am missing is a manager to

conduct my train to station MADE

IT!

~Arys Dejan

www.MisfitTunes.com
---
KNOW

only1arys

only1arys

only1arys

only1arys

www.MisfitTunes.com

27
---
Advertise Here

Misfit Tunes

Misfit Tunes Misfit Tunes Misfit Tunes

28

www.MisfitTunes.com
---
classifieds

Think Brown Ink

Consulting/Business Services

Creative Think Tank, Social Responsibility

Branding and Impact Writing. We mobilize

people, empower organizations and build communities.

www.ThinkBrownInk.com

The Bassline Group

Consulting/Business Services

Like the Bassline in a song, your brand is the

foundation to your career. We specialize in

Brand Development, Marketing Strategy and

Management.

www.TheBasslineGroup.com

Fat Fat Beats

Music Producer

FatFatBeats is a female producer from the

DMV. She placed Second Place in the 2012

iStandard Producer Showcase in Washington,

DC.

www.FatFatBeats

Your Brand

Here

To have your brand/service listed in the

classifieds send an email to

sales@misfittunes.com

Your Brand

Here

To have your brand/service listed in the

classifieds send an email to

sales@misfittunes.com

Your Brand

Here

To have your brand/service listed in the

classifieds send an email to

sales@misfittunes.com

Your Brand

Here

To have your brand/service listed in the

classifieds send an email to

sales@misfittunes.com

Your Brand

Here

To have your brand/service listed in the

classifieds send an email to

sales@misfittunes.com

Your Brand

Here

To have your brand/service listed in the

classifieds send an email to

sales@misfittunes.com

Your Brand

Here

To have your brand/service listed in the

classifieds send an email to

sales@misfittunes.com

www.MisfitTunes.com

29
---
ONE TO

vnessmusic vanessmusic1024 vnessmusic

vnessmusic

30

www.MisfitTunes.com
---
KNOW

Vanessa Logan.

I AM I was Born in St.

Andrew Jamaica but raised in Hartford,

Connecticut. My stage name

is V Ne$$. I wanted something

that was true to me and free of any

gimmicks so I decided to use my

nickname V-Ness. My main influence

is art and since it imitates life,

I'd say life is my biggest influence.

I always like to breathe life into

something I'm passionate about.

I'm a performer because I am a

lover of music. I am in love and

have always loved my music. My

music takes me to certain places

I've been, situations that have occurred

and just day to day life.

As a Scorpio, I play off of my

mood and it shows through different

songs. I am currently working

on my E.P, G.O.A.L, due to be released

late March. I would have to

say that my sound/music is diverse.

Its a fusion of my Jamaican culture

and love for reggae and my upbringing

in the U.S. along with my

love for REAL hip hop. My lyrics

will definitely say that I'm quite

genuine, playful, serious and fun.

To be honest, it shows my creativity

and my love for hip-hop. I'm a

lover of words so I'm very big on

word play.

My goal is to share my lyrical

genius with the world...to bring

#RealMusic back. If I was not

making music I would be writing

screenplays and selling my artwork.

However, I'm on a mission is

to bring the RealFeel of music back

to the public. I want my fans to be

able to relate to my music, party to

my music, cry to my music...just

be able to say wow, I know exactly

where she's coming from.

I've made many sacrifices for

music. I remember spending a

number of nights at the studio with

my son who who was only 4 years

old at the time. I was working on

my first solo mix tape and had to

do what was necessary to get it

finished. I even ended up including

my son on a couple of hooks for

that project.

I've done countless amounts of

live performances from the local

roller skating rink to the Hippodrome

in Springfield, MA where

I opened up for Lil Kim. I'd have

to say that opening for Lil Kim

was the best performance for me

because it was the largest audience

I had ever performed for. My

energy was through the roof and it

only made the audience even more

receptive. As far as for the worst

performance, I'd have to say that it

was one of the first shows I did at a

local club. I was with a team at the

time and having the whole squad

on stage was a no no...the sound

was horrible and I pretty much

was swallowed up by the crowd on

stage. I learned a valuable lesson

that night...less is more. I was apart

of a few teams in the past...but I am

my team now.

Going hard for myself will ensure

I am on a television or arena near

you! Success is when you're able

to do what you love without worry.

When you can have your craft

work for you...instead of working

for your craft. When I can call my

parents and tell them to quit their

jobs...that's when I'll know I have

MADE IT! ~V. Ness

www.MisfitTunes.com

31
---
CityOfGodShop

1118 HOLLINS ST BALTIMORE

32

© 2014 CityOfGodShop

www.CITYOFGODSHOP.com

www.MisfitTunes.com
---
MD 21223 · 443.226.8621

CityOfGodShop

www.MisfitTunes.com

© 2014 CityOfGodShop

www.CITYOFGODSHOP.com

33
---
ONE TO

Hi, my name is Christine Harris

I was born/raised in Chicago

il on the low end of the south

side. My influences growing up in

was Aaliyah ,tupac , mc lyte and a

Chicago female rapper chin chilla

meek . I came up with the name lil

baby from the CEO of my music

group when I was younger , and

it fits me so I kept it . Recently

I've been working on my mixtape

called " chiraq's story (by lil

baby) just basically sharing what

I've seen and been threw because

I know a lot of people in the same

boat or who have been .

I enjoy writing music and then

hearing coming out of some headphones

, it feels good to hear your

self and actually make since and be

good at what u do it's an amazing

feeling. If I wasn't doing music I'd

be in the criminal justice field. i

like learning new things and understanding

them at that and I can't sit

down to save my life so I wouldn't

mind always being on the move.

My music to me is universal , I

feel like it relates to many of the

young community problems ,turn

ups , love , heartaches . My goals

in life is too accomplish being

successful in the music part of the

industry but most of all successful

in life as well, if you don't have

hope what else is there to have.

This time next year I see myself

somewhere far in my career know ,

hated , loved , and respected that's

not a prediction either it's definitely

a fact . I think a great and well

payed off life it's ahead of me , I

know I'm close to the end of the

tunnel where the light is just need

to take a couple more steps . Success

to me is when you feel comfortable

with what you've done

with your talent , when you can sit

back and say to yourself "yeah I

wrote that"then you've successfully

made what you've been pushing

for .

I know I've made it when the

day I shake jayz hand (lol) but I'll

definitely know when get to sit

at the bet awards and actually be

apart of it.

I've performed about 5 to 7 times

. I started rapping in a club in

Markham il called Red diamond,

i was excited and nervous at the

same time before performing a

couple times but I got use to it after

a while. My best performance

was at another club in Markham

named Adrianna's where I closed

for an Atlanta Artist by the name

of shawty lo . It also was the

worst , Everyone around me got

drunk and I'm not technically a

drinker so I don't mix with the

alcohol group .

I learned to stay in my zone and

not really letting others Get to me

because I didn't want it to ruin

my performance , I can tell people

could see it in my face I was kind

of pissed.

I definitely love my music once

I've perfected the song got it

mastered down then listen to it , it

make me feel some what powerful

! I love how my mind puts words

and phrases together to make a

whole verse . My music somewhat

saves me from me in a way it's not

always smiles behind close doors.

I dropped out of high school at

the age of 16 started music at 17

,even though I quit going to school

I'm also still smart with words.

It definitely slowed down a lot of

opportunities for me in life but I'm

still young and there's not but time

is what you make it.

I've been rapping and the First

Lady of a label by the name of

Hitsquad Empire Ent LLC. For

almost 3years . We all have a different

style and mindset on music

but at the end of the day it sounds

amazing coming out the other end

. We are basically a family We've

been through it all and made it ,

and I'm glad to say we're still here

and I think we're going to be a

success in our own ways.

I want my fans to know no matter

what follow your first mind and

speak your first mind ,never let

anybody tell you that you can't

achieve things in life that matter

to you and make u feel good about

your self.

I've achieved people hearing my

voice and liking it and some dislike

it , I learned if a couple of a

few don't like you ... You're doing

something right . ~Lil Baby

34

www.MisfitTunes.com
---
KNOW

Lilbaby_tha_weirdo hitsquad_finest christineharris7

www.MisfitTunes.com

35