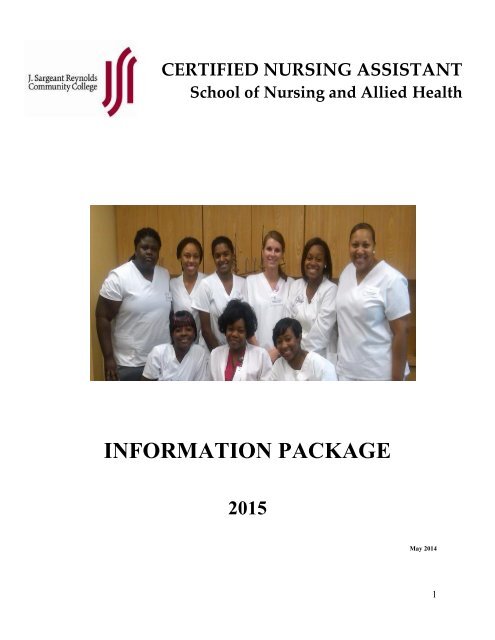 Information Packet - J. Sargeant Reynolds Community College
Information Packet - J. Sargeant Reynolds Community College
Information Packet - J. Sargeant Reynolds Community College
SHOW MORE
SHOW LESS
You also want an ePaper? Increase the reach of your titles
YUMPU automatically turns print PDFs into web optimized ePapers that Google loves.
CERTIFIED NURSING ASSISTANT

School of Nursing and Allied Health

INFORMATION PACKAGE

2015

May 2014

1
---
Dear Nurse Aide Applicant,

Thank you for your interest in the Nurse Aide Program. Caring for others is a wonderful

opportunity. Knowing that you have made a difference in someone's life is a very rewarding and

satisfying experience. The field of nursing is a challenging one. Entering this field at the nurse

aide level will enable you to explore the realities of nursing and help you to decide if this is the

career choice for you.

This packet provides you with information about the class, how to register, tuition, national

exam, and other costs for the program.

What this class provides

In this class you will gain the knowledge and skills to be able to care for those whose lives

depend on others in order to meet their daily needs. There are many opportunities for certified

nurse aides today. The areas of employment include long-term care facilities, hospitals, and

home health agencies. Success in this class will provide you with both the knowledge and

practical skills required to be successful on the national exam as well as provide you with the

skills to become a good employee in a long-term care facility, hospital, or home-health agency.

Required Skills

Student must be able to:

See well enough to assess patients and document care.

Hear well enough to acquire vital signs and hear patients talk.

Speak English well enough to communicate with staff, patients, and peers.

Write well enough to accurately document patient care.

Have dexterity to operate equipment.

Have strength and movement to lift, stoop, or bend to safely deliver nursing care.

Be able to stand for long periods.

Prerequisites

Students must meet these prerequisites in order to enroll in NUR 27:

ENF3 or enrolled in/completed ENG 111.

MTE 3 or enrolled in/completed MTH 120.

Class information:

Mark your calendar for the first day of class as you will not want to miss it. Traditional class

meets two days per week – Tuesdays and Thursdays. In the hybrid version (HD), you will only

meet on campus three times; the rest of the class will be done on your computer. A 4-hour

campus lab is required of all NUR 27 classes, as are clinicals at a local nursing home. The

2
---
specific campus skill lab and clinical calendar can be located on your schedule as printed from

SIS; however, updated schedules may be distributed on the first day of class, as all

schedules are subject to change based on clinical and instructor availability. The most up-todate

information is on Blackboard. Please plan your life to be available 5 days a week for this

course.

Tuition and Registration

The tuition cost for this course is approximately $730. The dates for registration are available at

the college website. The sections fill quickly. We strongly encourage each of you to register,

and pay for the course by the deadlines posted on the college calendar.

Estimated Cost:

Tuition ....................................................................... $730.00

Textbook .................................................................... $65.00

TB test (varies) .......................................................... $25.00 and up

Uniform (varies) ........................................................ $30.00 and up

Shoes (varies) ............................................................ $30.00 and up

Watch (varies) ........................................................... $10.00 and up

Stethoscope ................................................................ $10.00 and up

Certification exam ..................................................... $94.00 money order

Criminal Background Check

The clinical sites the program uses require a criminal background check. The clinical site will

not accept any other background check other than the one they perform. A misdemeanor or

felony conviction may result in a student being unable to attend clinical and require the student

to drop the class. The background check will research back at least 7 years. Convictions

involving moral turpitude may prevent you from attending a clinical facility, or earning

certification. Moral turpitude means convictions related to lying, cheating, or stealing. Examples

include, but are not limited to: reporting false information to the police, shoplifting or

concealment of merchandise, petit larceny, welfare fraud, embezzlement, and writing worthless

checks. If a misdemeanor conviction includes a possible impairment issue, such as DUI and

illegal drug possession convictions, then there may still be a reason for denial of clinical

placement, or certification. Felony convictions consistently block a student from attending

clinical experiences. Conviction of grand larceny, fraud, bad debt, theft of anything related to

money at any time in the past will as well deny a student a clinical placement. Healthcare

agencies used by the program reserve the right to refuse and/or reject for clinical practice

any student whose background check does not meet the applicable guidelines.

Required Health Information

You must have a current (six months) TB test report. Proof of this test will be required in

order to enroll in the course. The health department in the county/city where you live, a walk

in clinic, or your physician can perform the test for you.

Textbook

Please buy the Textbook from the Downtown Campus Bookstore and read Chapters 1 & 2 before

class starts.

3
---
Text: Carter, Pamela. Lippincott'Essentials for Nursing Assistants, 3rd Edition.

ISBN #978-1-60547-002-3 ($ 53.00 new)

Homework on Blackboard

Once you are registered for NUR 27, you are required to log into the blackboard system before

your first day of class and follow the instructions given to be prepared for your first day of class.

You will need to have access to a computer in order to be successful in this course. The

assignments and testing in NUR 27 are done online. The downtown campus has spaces for

students to use a computer and print the materials for a nominal fee.

Direction to access blackboard are as follows:

Log into My JSRCC as follows: https://jsr.my.vccs.edu/

To access blackboard for the first time, you must select the link to look up Username, Empl

ID, and set their password. Follow the instructions with each screen until you see the MY

TOOLS screen.

The college website offers Blackboard classes for students not familiar with using

Blackboard for a course.

Open the Blackboard system and follow the instructions given under announcements for

the nurse aide class.

Dress Code and Uniforms

There is a dress code required for clinical rotations. You will need to provide your own white

uniform, shoes and a watch with a second hand. Please refer to the instructions on BB to choose

the right uniform. You may not wear artificial nails, nail tips, or acrylic nails during your

clinical rotation. All tattoos must be covered. Jewelry will be limited to ONLY a wedding band

set, a watch that shows seconds and minutes, and no more than two pairs of small stud earrings.

Loop earrings and necklaces are prohibited. Pierced jewelry may be worn on the ears only. All

other visible body piercings must be removed when in the clinical setting. The shoes must meet

specific criteria. Canvas shoes are not acceptable. You must wear the uniform and have a

professional appearance whenever on the grounds of the clinical site, including orientation,

background check, etc. Please also wear scrubs at skills lab.

POLICY: SOCIAL MEDIA

The purpose of this policy is to provide guidelines for the appropriate use of, and conduct on,

social media sites. Examples of social media include, but are not limited to, blogs, microblogs,

wikis, virtual worlds, Facebook, My Space, YouTube, Twitter and Flickr. Once you become a

student in a professional nursing program, the public view of your social media changes and your

content may be viewed by a wider audience, including future employers.

Do not post confidential or sensitive information about J Sargeant Reynolds Community College

or its community partners including patients, other students, faculty or staff. Do not post

comments or use language that could reflect poorly on you, the college, or the Nursing Program.

Students who participate in social networking represent themselves, and by extension, J Sargeant

Reynolds Community College and the Nursing Program.

4
---
Think before you post. Conduct yourself professionally at all times in all social settings, virtual

or otherwise. Use privacy settings when appropriate.

• You do not have college permission to use the J Sargeant Reynolds Community College

name.

• You do not have permission to discuss faculty, clients or other students.

• You do not have permission to use images of the program, the college or any faculty or

staff.

• What you write is your responsibility, and so are any consequences

The consequences of violating this policy may include disciplinary action up to and/or including

dismissal from the nursing program.

Conduct yourself professionally at all times in all social settings, virtual or otherwise.

Program Notes:

1. Course, campus skill lab or clinical instructors reserve the right to restrict a student from

attending clinical lab after any missed campus lab if any part of that lab is deemed

necessary by the instructor for safe client care in that week of clinical practice.

2. Before attending clinical you must be passing the classroom portion of the

class (minimum of 2 tests will have been completed). – Please review Virginia

Board of Nursing regulations.

3. You will review and sign an "Assumption of Risk" form which identifies

potential risks faced in a healthcare environment.

4. You are responsible for medical costs for any injury received while in any clinical

setting, including injuries for which testing is required by clinical agencies

Potential Program Changes

The college offers this program in connection with the healthcare agencies and practitioners in the

communities the college serves. The college relies on its community partners to provide clinical

education opportunities for its students, expert clinical preceptors, and course instructors for many

courses. The often rapid changes in healthcare law, standards of practice, technology, and content

of credentialing examinations increasingly requires sudden changes in the program's course

content, policies, procedures and course scheduling.

As a result the college cannot guarantee every student continuous and uninterrupted clinical and

course instruction as outlined in the printed catalog curriculum for this program. Circumstances

beyond the control of the college may cause the postponement of course offerings or changes in the

sequencing and/or location of scheduled courses or clinical assignments. Additionally the college

may have to change the instructor for courses after instruction has started.

5
---
Professional Behaviors to use while in a clinical learning environment:

• You should consistently demonstrate those professional behaviors identified in the

statement of Professionalism (Appendix) with patients, family members, faculty,

interdisciplinary team members, and peers.

• You are to consistently implement principles of safety, accountability, and

responsibility.

• You are expected to show accountability by making sure you safely transfer the care

of the patient to another health care individual, under the direction of course faculty,

before leaving the assigned nursing unit. You will not leave the clinical learning

environment without notification of faculty.

• Professional communication, in English, is expected at all time, and in all clinical

learning environments.

• All of our clinical partners are smoke free facilities. Smoking in uniform leaves a

scent that lingers on clothing and could be potentially harmful and/or offensive to

patients, especially those with respiratory diseases.

• Drinking alcoholic beverages while in uniform is not permitted.

• Gum is not to be chewed during clinical experiences. Food should not be eaten in

nursing care areas.

• Students may not carry cell phones into the clinical site.

• You may obtain a unit contact number for family emergencies.

• You are responsible for medical costs for any injury received while in any

clinical setting, including injuries for which testing is required by clinical

agencies

How to Register

If you have never taken a course at J. Sargeant Reynolds Community College before, you need to

do the following:

Become a JSRCC student either using the online program, or come to a Student Success

Center on any Reynolds campus. Complete the on-line application to the college at

https://apply.vccs.edu/oa/launch.action

Use the college website to enroll in NUR-27 and pay the tuition to confirm your registration.

6
---
SUMMARY of what you need to do

1. If new to JSR, complete online application

2. Visit your doctor or healthcare provider to obtain current, negative TB documentation.

3. Submit this documentation to the Nursing Office or the Program Head in order to receive

a permission code.

4. If not new to JSR go ahead and register – remember classes fill early

5. Pay tuition (if you do not pay, you will be dropped from the class)

6. Once registered, purchase textbook and workbook

7. Log onto Blackboard. Review the schedule, syllabus, and course outline.

8. Start your assignments.

9. Review your calendar and mark class and clinical time as well as study time

7