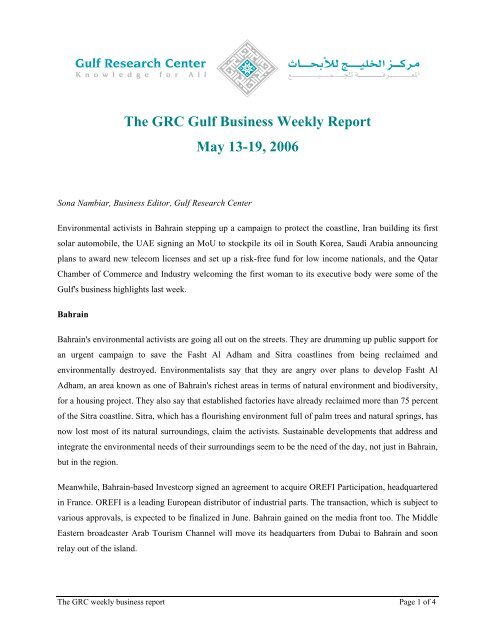 The GRC Gulf Business Weekly Report - Gulf Research Center
The GRC Gulf Business Weekly Report - Gulf Research Center
The GRC Gulf Business Weekly Report - Gulf Research Center
SHOW MORE
SHOW LESS
You also want an ePaper? Increase the reach of your titles
YUMPU automatically turns print PDFs into web optimized ePapers that Google loves.
The GRC Gulf Business Weekly Report

May 13-19, 2006

Sona Nambiar, Business Editor, Gulf Research Center

Environmental activists in Bahrain stepping up a campaign to protect the coastline, Iran building its first

solar automobile, the UAE signing an MoU to stockpile its oil in South Korea, Saudi Arabia announcing

plans to award new telecom licenses and set up a risk-free fund for low income nationals, and the Qatar

Chamber of Commerce and Industry welcoming the first woman to its executive body were some of the

Gulf's business highlights last week.

Bahrain

Bahrain's environmental activists are going all out on the streets. They are drumming up public support for

an urgent campaign to save the Fasht Al Adham and Sitra coastlines from being reclaimed and

environmentally destroyed. Environmentalists say that they are angry over plans to develop Fasht Al

Adham, an area known as one of Bahrain's richest areas in terms of natural environment and biodiversity,

for a housing project. They also say that established factories have already reclaimed more than 75 percent

of the Sitra coastline. Sitra, which has a flourishing environment full of palm trees and natural springs, has

now lost most of its natural surroundings, claim the activists. Sustainable developments that address and

integrate the environmental needs of their surroundings seem to be the need of the day, not just in Bahrain,

but in the region.

Meanwhile, Bahrain-based Investcorp signed an agreement to acquire OREFI Participation, headquartered

in France. OREFI is a leading European distributor of industrial parts. The transaction, which is subject to

various approvals, is expected to be finalized in June. Bahrain gained on the media front too. The Middle

Eastern broadcaster Arab Tourism Channel will move its headquarters from Dubai to Bahrain and soon

relay out of the island.

The GRC weekly business report Page 1 of 4
---
Gulf Research Center

Saudi Arabia

Last week, Saudi Arabia announced that it would award one or more new licenses for fixed and mobile

services by end-2006. It also said that it will set up a risk-free fund for low-income Saudis who want to

trade on the stock market. Media reports quoted King Abdullah as saying that the fund would be limited to

a maximum investment of SR 500,000 and that small investors "will be able to buy and sell for two years;

if they win, then this is their luck with God's will. And if they lose, then their capital is preserved with us."

On the other hand, Saudi Arabia's shopping malls have gone on record as saying their visitors are

spending more time browsing through stores than buying. The bourse crash changed the lives of thousands

of Saudis, and now sales registers show 20 percent drops. Some malls are offering discounts of up to 70

percent to pull in traffic.

Meanwhile, the Saudi government's plans to launch the Development Bank next year are causing concern

in the local banking industry, which is already facing foreign competition. The government says it plans to

float 70 percent of the bank's capital (SR 15 billion), making it larger than any of the 11 banks operating

in Saudi Arabia; the new bank will have almost the combined paid up capital of the top two banks – stateowned

National Commercial Bank and private bank Al-Rajhi. PIF, the General Pension Organization, and

the General Organization of Social Insurance (GOSI) will each hold a 10 percent stake in the venture. The

planned IPO will allow every Saudi to become a shareholder, says industry sources.

UAE

Last week, UAE Minister for Government Sector Development Sultan bin Saeed Al Mansoori made it

clear that the privatization of the telecom sector was not on government's immediate agenda. He said that

the UAE was committed to the liberalization of the telecom sector by 2015 under commitments made to

World Trade Organization (WTO).

On the energy front, the UAE and South Korea signed a series of accords, including a memorandum of

understanding (MoU) on stockpiling Emirati oil in South Korea. The MoU, whose terms have yet to be

finalized, stipulates that South Korea will rent out facilities for the stockpiling of UAE crude oil. The two

sides signed a total of six MoUs, including one on energy cooperation, in addition to an agreement on

economic, trade, and technological cooperation. This deal will give the UAE a marketing gateway to

Northeast Asia, one of the fastest-growing markets for oil consumption.

The GRC weekly business report Page 2 of 4
---
Gulf Research Center

Meanwhile, the UAE removed some restrictions on share buybacks, hoping to encourage companies to

add some support to tumbling stock markets. The official WAM news agency said that new rules would

allow companies to purchase up to 10 percent of their own stock. On the commodities front, the Dubai

Gold and Commodities Exchange (DGCX) said that it could be trading eight to ten currency futures

contracts over time, and is in an advanced stage of preparedness for the introduction of fuel oil and steel

futures. DGCX plans to begin trading euro-dollar, yen-dollar, and sterling-dollar future contracts in June.

And within the next 18 months, international investors can participate in another IPO – Dubai Ports World

(DPW), the world's third largest container port operator. It was not revealed where the shares would be

listed or how much of the company would be sold.

On the real estate front, a developer said that an acute shortage of contractors in the local market was

forcing him to invite construction companies from outside. Axon Gulf chief executive officer June Kim

said that he has seen delays in projects due to shortages, and that this affected developers' relationships

with their clients. His company plans to invest around $1 billion in different projects in Dubai.

Meanwhile, Dubai Properties unveiled Dubai's latest tourist landmark, the Dh 50 billion Culture Village,

which will be built along the Dubai Creek.

Qatar

Last week, Ibtihag Mohammad Al Ahmadani, a young and active businesswoman, was elected to the

board of the Qatar's Chamber of Commerce and Industry. It is the first time in Qatar's history that a

woman has been elected to the Chamber's executive body. She is married to a diplomat and a mother of

four children, said a media report.

Iran

A month after Iran's oil ministry granted a license for its first euro-denominated oil bourse, Venezuela's

president, Hugo Chavez, said that he would consider pricing his country's oil in euros instead of dollars.

"That is an interesting proposal made by the president of Iran," Chavez told Britain's Channel 4 news.

"We are free to choose too between the dollar and the euro."

Iran will soon make headlines for a different reason. "Persian Gazelle," the first solar automobile in the

Middle East region, is on its way to Isfahan. The car, powered by solar energy, has been designed and

produced by students from the University of Tehran. The single-passenger car will make a trip from

Tehran to Kashan and then Isfahan, after which it will come back to Tehran. The designers have been

The GRC weekly business report Page 3 of 4
---
Gulf Research Center

invited to join the 20 best research teams of the world at the Massachusetts Institute of Technology (MIT)

to cooperate in building of future solar cars.

Sources: Regional newspapers and agencies

*****************************

The GRC "Gulf Business Weekly Report" is published online in Dubai, United Arab Emirates by Gulf

Research Center, as part of the GRC Gulf Business Weekly Bulletin Series. The opinions expressed in this

publication are excerpts from regional newspapers and news agencies and do not state or reflect the

opinions or position of the Gulf Research Center.

© Gulf Research Center 2006

Gulf Research Center, 187 Oud Metha Tower, 11th Floor, 303 Sheikh Rashid Road, P. O. Box 80758,

Dubai, United Arab Emirates, Tel.: +971 4 324 7770, Fax: +971 3 324 7771, E-mail: sales@grc.ae,

Website: www.grc.ae.

The GRC weekly business report Page 4 of 4