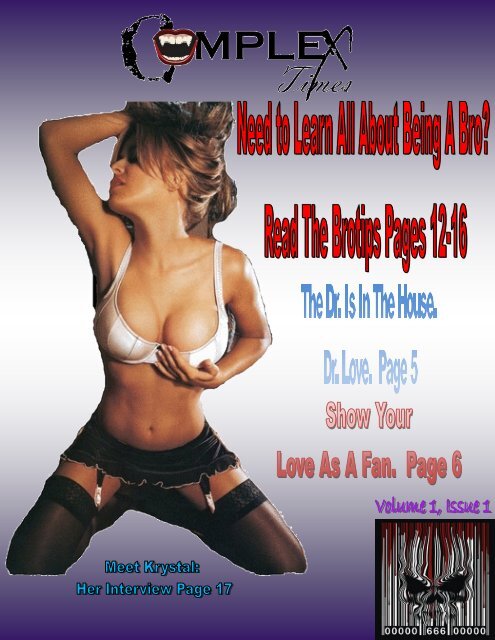 You also want an ePaper? Increase the reach of your titles
YUMPU automatically turns print PDFs into web optimized ePapers that Google loves.
3. Does Size Matter?

4. Ads

5. Dr. Love - Need advice? Ask the dr.

6 & 7. Fanboy/girl Love Mail & Interview

8. Tips - What's the best way to get the most out of the

game.

9. Gossip - We know it and you're the first to hear it!

10 & 11. Carry It With Pride - How to deal with a broken

heart

12—16. Bro-tips with Mirky & Legacy featuring the

original Brochick, Rinni

17. Cover feature interview with Krystal

2
---
So we asked some of you what you thought about the size of a girls

breasts or a mans penis. The e-size. Here is what y'all said:

Personally, if its all natural then i have no issue with it, implants on

the other hand are a waste of monies i say. As the human body is how

'fate' deemed you to look so why make it unnatural?

- Sorn

Not to me personally no. Age old saying. Size does not matter'. To

me that goes for breasts too.

Definitely not and I'm is sick of seeing 8" 12" 16" cock

- Apostolos

it gets annoying.

- Anaita

To some, penis size might matter, and maybe it does. But I personally

think that it doesn't. There are guys that have huge penises that don't

know anything about how to give a girl pleasure. They think they

might, but they really don't. And then there are other guys who

might be what some people call small and can send a girl to the moon

with orgasms. So, bigger is not always better.

- Anonymous

3
---
- Lonely? Needing someone to accompany you to a party or

event? Want someone to spend time with?

The Guild of Pleasurable Company is the answer. We are your

total escort needs from corporate date to someone to spend some

well needed moments for the release of some certain sexual

needs. We have the finest Ladies and Men who are drug and

disease free available for your personal pleasure. Contact

Madam Victoria Chambers or her Lead Dancer to schedule the

services of the guild. Services include: Exotic Dancers, Male

Strippers, Escort Service, and Massage Services.

- Bella, the awesomest do-do girl of the site. Now should you

meet her? Of course you should, you can't live without meeting

her!!! The best. And this ad was NOT made by her

4
---
When people ask questions of love and struggle to pull the right moves, Dr. Love will

help you on your way to achieving all that you thought impossible on the love side of

things.

First question of the day, How do I get laid?

After careful consideration of the appropriate method, I say that you ought to be making

bold yet subtle movements towards the desired target, making sure to first find

out of they are free or otherwise occupied. As sitting at a table staring at them is just

likely to creep them out, some appreciate forwardness, others to not, some may say

women to be like Russian Roulette. Due to the total randomness of their actions and

nature, text my good friend Sara if this doesn't work for you.

Next question: How do I make people like me?

Well that's a tough one as a lot of the people are different, both men and women are

attracted to people that just act themselves, some like cocky and independent people,

where as others may like the complete opposite. There is no formula for love so i say

just be yourself and things should fall into place steadily, some of you may be thinking

its harder than it looks but in actual fact if you want people to like you its really

easy, so best of luck to you.

Here's an interesting question, Is it wrong to have pets/masters while married?

Personally I'm not too sure out to answer that one, it really depends on the people involved,

whether the spouse would allow such a thing and be willing to share their lovers

body. Id say it were fine as long as spouses needs came before the masters/pets,

unless of cause the spouse is one of those two, even then it shouldn't change.

Remember to keep the questions coming (text Sara with dr. love as subject) and I will

answer then in next months Magazine, till then toodledo!

5
---
So you are a fan of someone? Want to show your love and

admiration? Then send them love mail or shout outs into the

magazine. (Text Sara). Below are some shout outs /mail already

and I, /Sara interviewed Mirky and Legacy to see

what it was like having a fan and why

they have them. Hope you enjoy!

Dear Mirky, Legacy, and Violet,

You three are amazing. You make it

fun and awesome to be here at the club. You make me smile

and make my time here worth it. I love you guys and love

my club. Legacy and Mirky, I don't think there isn't a day I

login where I'm not laughing at some point or another. I'm

proud to be your guys fan girl. I love you all.

kisses and hugs

Love,

Sara Nagarian

6

Interviews on next page!
---
Legacy's Interview:

Sara: So what do you think girls like most about you?

Legacy: Apparently my handwriting now. Haha, just kidding. Uh, my ability to goof off.

Sara: What makes you a Legacy?

Legacy: What makes me a legacy? My way of spreading shit, causing a riot with Mirk. But I guess I used

Legacy because it's not a legitimate name.

Sara: Do you hold any duties for your fangirl/boy? Like expect things of them?

Legacy: Attack me with love whenever I walk in. Then swoon, and stuff. Typical fangirl/boy behavior.

Sara: How would you feel if one of your fans ever fell in love with you?

Legacy: Let them down gently, if I couldn't reciprocate their feelings.

Sara: Most of all and last question. What's the most fun thing out of having all these fans?

Legacy: Being able to not have a moment of boredom. Always the life of the party, because they're always

there. =D

Mirky's Interview:

Sara: What do you think a girl likes most about you?

Mirky: I'm a very entertaining individual. I don't mean to sound conceited, but I'm very fun to be around,

as I'm sure anyone who has seen me around can tell you. I'm very exciting and random, you never

know what I'm going to do next, just that it's gon' be fun.

Sara: So do you have any expectations of your fangirl/boy?

Mirky: All I expect of a Fangirl/Boy is that I recieve the lurve from them. How they express it is his/her

own deal. Whether it's automatic servitude (in exchange for items from me) from a Fanboy like Legacy

to the kind, loving compliments and huggles from a Fangirl like you, Sara. I guess I expect my fans to

be themselves around me, and to show that they care.

Sara: How would you feel if one of your fans ever fell in love with you?

Mirky: I'd be flattered, but I'd have to respectfully decline. Sorry ladies, but I'm taken. ;D Violet's my girl,

and I love her. I'd think it was adorable, but I'd discourage it. But if it were to happen, I won't make it

awkward. I'd treat said fan with the care and respect he/she deserved.

Sara: Out of all the names you could have, why Mirky?

Mirky: Oh Man. . . Let's see. . . that was like, 5 sites ago xD back in the old days of Eragonlive. I chose

the name Mirkwood, which was actually an LOTR reference. A friend on there (Lauren on TY) nicknamed

me "Mirky" and I've been using that ever since.

Sara: Most of all and last question. What's the most fun thing out of having all these fans?

Mirky: *Chuckle* I guess it's just hanging with them ;d I love to be around my fans. They are so much

fun and I love 'em all. And all the unconditional love and adoration doesn't hurt either >.> xD

7
---
Alright, So you might be having trouble staying alive,

huh? Or, you might be wondering any other tips that

you haven't heard of. Well let's start off with the basics.

For those who are just starting, get a weapon and

armor. Go to the Weapons/Armor and get the highest

level you can buy. Now that you have a weapon, go to

the dance floor and dance! When you have a lot of dollars

and diamonds, go get a cool ride. Go to the Auto

Dealer and pick the most expensive one that you can

find. This will prevent you from dying a lot. Also,

when on the dance floor, dance with skills. This will

give you the most experience for each turn. Hopefully,

this will help you level up faster.

- Ares

8
---
Trouble in Paradise :

From this persons eyes it appears to be trouble in paradise for lovers Astovidatu and

Lexi whom are expecting a baby. Recent events with Astovidatu becoming the pet to

Marie seems to have pushed a wedge between the lovers and parents to be and there

has been noticeable changes to them before for this. Will they live happily ever after

or is this the beginning of the end and will Astovidatu and Marie becomes lovers next.

Only time will tell.\

- Anonymous

So, let's get the scoop on a couple of our friends shall we? Our first friend is Sam.

This is one friendly guy! His best friends are Cassy, Sara, Matilda, and Akasha. He's a

real conversationalist, which he admits to being a flaw as well as an asset. He really

dislikes when people pretend to be someone they're not. He admits to having few disputes

with a couple of people about this topic, but he says that later after the dispute,

he regrets a lot of what he says. So please, for the sake of this loveable guy, don't

hold grudges.

The next person is Grace. This little girl is more than what she lacks to show. She's

Black and white at the same time. But, where that line between Black and White is, is

jagged and always changing. An example is that she "doesn't like to interact, but

(she) enjoy(s) observing people, figuring them out." Now, this might sound creepy,

but she just likes to figure out how certain people are. If you approach her, odds are

she won't talk. But don't be too hasty. Odds are after that, she won't ever talk to you.

- Ares

9
---
Lately I have been thinking of many things of life. Simple things as waking up in the

morning, enjoying a meal or having a nice vacation are acts of miracles, but we forget

that life is not a bed of roses. Though we wish it was a bed of roses, many of

us have to deal with heart break. Many times we find ourselves loving someone

more than ourselves, that person even writes and expresses their love towards our

person, then sudden they just stop. At this point many things go through your

mind, "Was I the problem?" "Was it my fault?" "What did I do wrong?!"

The first thing you need to do is STOP. Sit down and stop. I remember my first

break up, I started hyperventilating. Though that action did not solve anything and

it surely did not soothe me, I saw that I was in a hole in which I couldn't get out.

When Bob broke my heart I was devastated, something low like never appearing

hit me hard because it doubted me and who I was. It was the wrong attitude to look

at things. I lurked to town, was depressed and got worse when I saw him with other

girls. Eventually I got over him and fell in love with another man. It took me longer

to trust him, yet he took my heart. As many people do, promise to not hurt me, yet

Mike did. He did not only cheat on me, he told me to my face that he loved it. Kind

of that song in which it says "I kissed a girl, and I liked it", partly I was glad he liked

kissing girls, but not others that was not me.

Again I lurked thru the streets of Tynastera depressed. I wondered WHY on earth

people I love hurt me. Things I did, examined my attitude, and I fell into depression.

One day I was walking to town not noticing the beauty and accidentally tripped. I've

falling in front of Gemmie. Her caring voice was evident as she asked the reason

WHY I was so gloomy blue. Funny how it all happened though, it was the right

thing that I needed.

I told her what happened. Told her that and how I felt. Gemmie gave me her famous

grin and told me something like this "Wake up Miss E, feeling bad for a man

that broke your heart? Get over it; don't make your life miserable because an idiot

broke your heart. Stand up. Don't let a man control who you are."

10
---
At first it seemed like a very… odd comment, for me at least thought it rested on my mind. I

thought about it for months and months. Why do I need to stand? This is when I came to the

conclusions when broken hearts incident happens:

Stand up, wash off.

Yes, Stand up. Your heart was broken by a person that claimed to love you, guess what

he never did. He did at first, but he "fell out of loving you?" Naah, he just didn't MEAN

the "I love you" part. Mainly because the person LACKS the knowledge to the definition

of what LOVE is. Love is patient, kind, does not envy or boasts, it is not prideful, not

self-seeking. It is not easily angered, keeps no record of wrongs, does not delight in

evil and rejoices with the truth. Love always protects, always trusts, always hopes, and

always perseveres. LOVE never ever fails.

This means that LOVE perseveres. If he dumped you after one fight, he never knew that

love is all these things. No, I am not addressing that you never fight, fighting in a relationship

is normal, but what is most important is to accept and respect each other's attitude.

Most importantly never dig up old records of wrong. "Git-get!" (forgive, forget!)

But that is other topic.

Stop! Stand up and wash off, it was not your fault. Be sure of who you are, and he knew

who you were, why change for someone? Do not. If he tells you "You're too fat, I like

thin" might as well tell him "Goodbye". No one should tell you to change. If you ever

EVER change, do it for yourself.

Learn from the experience; do not be foolish to be in another relationship without learning

from the last one.

Do not think of starting new relationship right away; give yourself some time to learn. I

had a relationship in which he never took the initiative of things. I had to pay my own

dinners, pick the restaurant and so on. He never bought me flowers, or chocolate. He

didn't defend me and always critique me. I stopped him right there, and although he

claimed to love me, he never expressed so. I broke up with him… but learned because

I knew what I want and needed in the next relationship. Now you might want different

things, or similar, yet you need to learn what you can deal with and what you cannot

deal with.

Take the break up with pride

Simple words, the person broke up with you? "His/her loss." Don't let THEM ruin your

groove. You were whole before him, you are whole after him! You are an awesome

person, I know; don't let an idiot break who you are. His/her loss, stand tall and walk it

off.

Follow this and see the change, don't fret or frown, soon enough, LOVE will knock on

your door.

11
---
Brotips with Mirky & Legacy

Featuring "Rinnie", the original Brochick

Item up for discussion, article uno of Bro Code:

Bros before Hoes.

The origin of this most popular and most sacred of rules is simple:

it comes from the idea that the bond between two bros is stronger than that

between a man and a woman because, on average, men are stronger than

women.

Would you like to begin the discussion, broham?

Damn straight, broseph.

Basically, all my fellow bros/male specimen/penis-possessing-creatures out

there -- it is absolutely imperative that you must choose your bro before your

hoe.

Why? Simple.

A bro will be there for you when you're drunk, when your girl isn't there for

you.

A bro would be there for you when you decide to re-enact "Jackass".

A bro would be there for you when you go to the hospital with a broken pelvis

and concussion, laughing, because you totally fucked up the trick -- the fuck is

wrong with you man?

A bro would be there for you when your girl breaks up with you because

you've been spending too much time with your bros.

A bro would be there to buy you a prostitute when your girl leaves you.

So, why would you abandon your bro?

Amirite, broman?

12
---
Straight up truth, broimanjaro.

However, the main issue with this is that all too often

a bro is left for a ho.

This is the stupidest move a bro could make.

It's like, breaking the golden rule for bro-ness. But, it happens way too

much. . . brings a tear to my eye just thinking about it.

Bros out there:

the only reason Bros should split because of a ho is if a wingman has

done his job and gotten that bro tail!

It's mutually understood in this situation why the bro is leaving, and the

wingman shouldn't be upset, because he did his job well. xD

But bros, think before you leave with your hos:

"Am I doing to brotherly thing?"

And contemplate a bro-less future if you break this foremost guideline

of being a bro.

Well said, bro-derick.

Now we all know that bros are to be good wingmen. It doesn't matter

what the situation, where the situation, or why the situation --

all bros must follow other bros blindly in the quest for booty.

I'll let you start this brotip off, bro.

13
---
Well, the quest to sleep with women is not best done alone. There needs to be

someone there to help you, to push her in the right direction, to give a good

impression.

That is what a wingman is.

The purpose of a wingman is to either:

introduce you, thus the:

"Have you met -insert bro-?" line;

or to be backup for your wild stories.

Say you tell the target chick a story in which you are a doctor, saved 30

orphans, and own a key to the city for being a public idol.

She ain't gonna believe you and that is where the wingman comes in.

His automatic agreeing and reassuring seals the deal in most cases.

Back to you, broseidon.

Exactly.

So, here are a few things that you, as a wingman, can do to ensure proper tail

for your bro (and you know you'll get the awesome, testosterone-fueled feeling

of satisfaction when your bro gets tail):

1. Never let your broman talk to landmines, grenades, or hippos. Dude, he's

drunk. Absolutely drunk, and steer him clear of this. But unless he is sober,

then you help him; which brings us to

2. Put your bro on a pedestal, and kiss his feet. At this moment, your bro is

GOD. With proper wording, every girl is convinced that your bro is almighty

bro. And

3. If your bro has "dibbed" the girl, you cannot, under any circumstances of

wingman, steal the dibbed girl.

If you do, automatic broxecution. No exceptions.

14
---
And that, broski, leads us to the next brotastic topic.

Article 22 of the almighty Bro Code dictates:

There is no law that prohibits a woman from being a bro.

Now I know what all you testerone-pumping, penis-bearing macho bros out

there are thinking:

'Bro, Why even mention this? Chicks are chicks,

how could they be a good bro?'

Yes, it is an unconventional idea, since chicks to no have penises, and

therefore lack a key component to being a man.

However, in some cases, a chick is an excellent bro.

In fact, women can make the BEST wingmen. They can warn what type of

chick she'll be before a man would notice, therefore warding off a possible

crazy.

She can fit the situation well, providing the jealousy factor.

A competitive chick might let a dude go if no one else is chasing them, but a

dude who seems to be making headway with a hottie seems like a challenge.

That could be key in getting a more competitive girl.

That aside, a woman is more likely to reassure another that you are a GOD

in the pedestal situation.

Now, to get the opinion of a sexy woman, since my bro here and I don't have

a feminine point of view, we have our very own original brochick, Rinnie,

here to comment on being a female bro. Take it away, Rinnie.

15
---
Brochick Code

Thou shall not cock block a bro.

Thou shall not share a bro's secrets; especially not with a bro's +1.

Thou shall not, purposefully, make a bro's +1 jealous.

Thou shall not steal a bro's +1 for some [sexy] brochick on chick action,

unless the bro gives his approval.

Thou must pretend to obey a bro's command, while really not, unless it's

absolutely important, like being forced to give a brochick opinion on what a

brochick is. >_>

And that wraps up all our brotips for this issue. Remember to read our other

tips, despite the long reading, we all know you bros need us bros to lead you

in the right direction.

Peace, pizza, hoes, & bros

Special thanks to Sara for featuring us bros. Fangirls for keeping us flying high

by inflating our egos: Marie & Secret . Our girls -- Violet & Stella for calming

down the craziness of our broness [we love you, lots.] And last, but not least,

all you bros out there that love us for us. Any comments, questions, random

shit, fangirl/boy gushing -- attack either Mirky or Legacy; the dudes who took

time out of their day to assemble this brotipz for all of you.

[Peace, pizza, hoes, & bros.]

16
---
So we here at the magazine thought you'd all Like to meet one of the bitches

of the club. We featured her on the cover and figured we interview her for

some little one on one about hr. Hope you enjoy.

Magazine: What brought you to the club?

Krystal: Well my friend Jamison was first originally the one to find it and I of

course followed, then joined, deleted myself then finally asked if I could

come on since I was 17 and I was allowed but Sara and I liked it and helped

grab people to come join, it's a fun and easy going atmosphere most of the

time I suppose unless it gets rowdy.

Magazine: What do you like most about the club?

Krystal: It's peaceful and it's got a lot of great people there. There is always

something entertaining going on and it's a peaceful environment in a way.

Magazine: What made you wanna be the bartender?

Krystal: It's something to do and it's fun. I mean I can meet people that way

and it's pretty laid back plus I enjoy chatting with people and making drinks.

Magazine: Can you tell us one thing about you not many know. Something

interesting or juicy?

Krystal: I was once a rapist, then stripper now I am plain me and I don't date

men nor do I cyber men.

So that's it. Hope you enjoyed. There will be another feature next month!

17
---
Sexting - The mobile way to fuck. Its sex on the go. Grab a phone

and let the session begin.