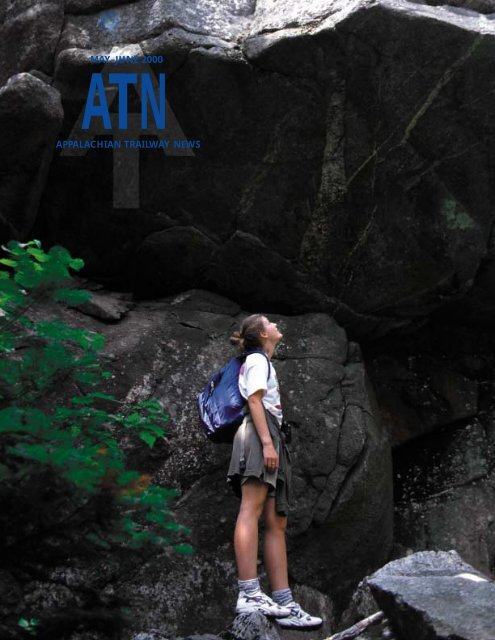 atn may–june 2000 appalachian trailway news
atn may–june 2000 appalachian trailway news
atn may–june 2000 appalachian trailway news
SHOW MORE
SHOW LESS
You also want an ePaper? Increase the reach of your titles
YUMPU automatically turns print PDFs into web optimized ePapers that Google loves.
ATN

MAY–JUNE 2000

APPALACHIAN TRAILWAY NEWS
---
2 MAY–JUNE 2000
---
APPALACHIAN TRAIL

MAY-JUNE 2000

ATN

APPALACHIAN TRAILWAY NEWS

MAINE

TO

GEORGIA

ON THE COVER

Blue blaze to Table Rock, Grafton Notch

State Park, Maine. Photo by Niobe Burden.

Left, the Mt. Washington Cog Railway at

day's end. Photo by Kristen Furstenburg.

VIEWPOINTS

SHELTER REGISTER ♦ LETTERS 4

FROM THE CHAIR ♦ DAVID B. FIELD 5

MINISTRY OF FUNNY WALKS 31

WHITE BLAZES

PAPER TRAIL ♦ NEWS FROM HARPERS FERRY 8

Accessibility: Q&A with Dave Startzell •

New ATC Web site • Staff changes at ATC

SIDEHILL ♦ NEWS FROM CLUBS AND AGENCIES 13

Busy with beavers at Dry Run

TREELINE ♦ NEWS ALONG THE A.T. 15

Quarry at Hump Mountain• Renovations

at The Place • Deaths: Guy Waterman •

"2,000-Milers" for 2000

BLUE BLAZES

WHAT IS PAST, AND PASSING, AND TO

COME 22

By Glenn Scherer

Assembling a "cultural inventory" of

Trailside historical sites.

SHUTTLING 101 26

By Stephen H. Knox

The ins and outs of back-and-forth.

TREADWAY

MEMORIAL GIFTS 16

NOTABLE GIFTS 21

TRAIL GIVING 29

PUBLIC NOTICES 30

APPALACHIAN TRAILWAY NEWS 3
---
Appalachian Trailway

News

VOLUME 61, NUMBER 2 • MAY–JUNE 2000

Appalachian Trailway News is published by the Appalachian

Trail Conference, a nonprofit educational organization representing

the citizen interest in the Appalachian Trail and dedicated

to the preservation, maintenance, and enjoyment of the

Appalachian trailway. Since 1925, the Appalachian Trail Conference

and its member clubs have conceived, built, and maintained

the Appalachian Trail in cooperation with federal and

state agencies. The conference also publishes guidebooks and

other educational literature about the Trail, the trailway, and its

facilities. Annual individual membership in the Appalachian

Trail Conference is $30; life membership, $600; corporate membership,

$500 minimum annual contribution.

Volunteer and free-lance contributions are welcome. Please include

a stamped, self-addressed envelope with your submission.

Observations, conclusions, opinions, and product endorsements

expressed in Appalachian Trailway News are those of the author

and do not necessarily reflect those of members of the board or

staff of the Appalachian Trail Conference.

DIRECTOR OF PUBLIC AFFAIRS

Brian B. King

EDITOR

Robert A. Rubin

CONTRIBUTING EDITORS

Hollyce H. Kirkland

Glenn Scherer

ATC BOARD OF MANAGERS

Chair

David B. Field

Vice Chairs

Brian T. Fitzgerald Thyra C. Sperry

James Hutchings

Treasurer

Kennard R. Honick

Secretary

Marianne J. Skeen

Assistant Secretary

Arthur P. Foley

New England Region

Stephen L. Crowe Carl Demrow

John M. Morgan Andrew L. Peterson

Ann H. Sherwood Steven Smith

Mid-Atlantic Region

Walter E. Daniels Charles A. Graf

Sandra Marra Eric C. Olson

Glenn Scherer William Steinmetz

Southern Region

Bob Almand Theresa A. Duffey

Michael C. McCormack

William S. Rogers Vaughn H. Thomas

James M. Whitney, Jr.

Members at Large

Al Sochard Dawson Winch

Appalachian Trailway News (ISSN 0003-6641) is published bimonthly,

except for January/February, for $15 a year by the Appalachian Trail

Conference, 799 Washington Street, Harpers Ferry, WV 25425, (304)

535-6331. Bulk-rate postage paid at Harpers Ferry, WV, and other offices.

Postmaster: Send change-of-address Form 3597 to Appalachian

Trailway News, P.O. Box 807, Harpers Ferry, WV 25425.

Copyright © 2000, The Appalachian Trail Conference. All rights

reserved.

Shelter Register

Trail diversity?

ERE ARE THE FACTS. LATINOS AND ASIANS

Hwill represent more than half of the

U.S. population growth every year for the

next fifty years. The population of non-

Latino whites, presently 75 percent of all

Americans, will shrink to a bare majority

by 2050 (52.8 percent); Latinos will

make up 24.5 percent and African Americans

will make up 13.6 percent. The fastest-growing

group in the United States is

Asian Americans, increasing eight times

as fast as the general population.

Diversity is not about EEO and affirmative

action. It is about organizations

accurately reflecting the society within

which they exist. It is about organizations

understanding the needs, interests, and

values of the general population in order

to successfully recruit members, raise

dollars, and generate support for programs

and initiatives.

Ginny McGrath was right. If anything,

we as an organization need to go

even farther in addressing how to understand

and react appropriately to the

changes occurring in our society. We need

to take our message of stewardship and

wilderness preservation and reach out to

populations not traditionally raised with

the "back to nature" ethic. Contrary to

other views, I respectfully submit that

this is one of the most important things

we have to worry about.

Sandi Marra

Fairfax, Va.

Editor's note: Ms. Marra is a member of

the ATC Board of Managers.

♦

Letters from our readers

well-equipped young hikers who wanted

to prove they were as tough as any Indian.

What could he do? Take a swing at one of

them? I saw a lanky mechanic from Colorado

being shunned as he moved up the

Trail, with hikers "warning" park and

forest service personnel that he was coming

because they thought he was

dangerous. I tented out next to him at Bly

Gap, and he offered me a cup of coffee

before taking off up the Trail. Some dangerous!

I saw fewer than a dozen black

kids, all within the shelter of organized

groups. Funny, they looked like they were

having a good time.

I have no quarrel with people choosing

their own company. If we are a group

of snobs, that's okay, too, but, for goodness

sake, let's at least be honest about

hikers who are "not our sort of people."

If they don't hike, they won't belong to

ATC, and we won't be seeing them on our

Board of Managers.

Sally J. Walker

San Francisco, Calif.

♦

HEN I WAS A CHILD GROWING UP BLACK

Win the western North Carolina

mountains, I learned from my parents'

teachings and from my own experiences

that the greatest safety lay in staying in

sight of those who hoped they could protect

me. As an older adult who loves hiking

and backpacking, pursuits learned

Letters

Appalachian Trailway News

WAS TOUCHED BY THE WARM, HUMAN RE-

in the March/April ATN to will be edited for clarity and length.

welcomes your comments. Letters

Isponse

Ginny McGrath's recent letter about diversity.

Please send them to:

How careless of her not to have

Letters to the Editor

EXECUTIVE DIRECTOR

David N. Startzell

realized that the underrepresentation of

minorities on the Trail was because they

Appalachian Trailway News

P.O. Box 807

prefer to watch television in urban security.

Harpers Ferry, WV 25425-0807

E-Mail:

This is what I saw on the Trail: A

native American being heckled at Tray

Mountain Shelter by a group of affluent,

4 MAY–JUNE 2000
---
and, for the most part, engaged in in the

company of white friends, I have not entirely

put away caution.

The responses to Ginny McGrath's

letter appealing for more heterogeneity

throughout ATC's operations reminded

me of a letter I received from a Trail-maintaining

club after an outings leader looked

past me and my niece, dressed as foretold,

when we met at the prearranged spot in

an otherwise empty parking lot for a wildflower

walk. (She and her companions

arrived and tumbled out of their car, and,

standing right next to me, she said,

"They're not here. Let's go look in the

other parking lot.") The letter from the

club leader patiently explained, in response

to a letter I had written, that there

was nothing racial about the incident,

that "our leaders are not like that."

Contrary to those who find comfort

and confirmation in assertions that the

Trail does not "appeal to all people" and

that only certain people have the capacity

to "love the Trail," I find hope in

Ginny McGrath's willingness to champion

the Trail as a resource and trust that

embodies many stories, not all of which

are honored, and as a legacy we must all

learn together to value and protect.

Bertha Johnson

Raleigh, N.C.

♦

EGARDING THE DIVERSITY ISSUE, I THINK

Rthe two letters published in the

March/April ATN probably reflect how

most hikers feel about this vacuous concept.

The Trail discriminates equally

against all—no excuses, no set-asides, no

affirmative action—only merit, commitment,

and determination wins the day.

The A.T. is one of the few remaining bastions

of what life and this country is supposed

to be about. I agree with Mr. Tarlin:

We've more important things to worry

about.

Richard Hurd, Jr.

Trekking poles

LANG! CLING! SNAP! THAT IS WHAT IT

Csounded like while I was quietly

From the Chair

David B. Field

Broken twigs, symbols carved on trees and rocks, paint blazes, and letters

routed in wood—humans have marked their paths with "signs" for millennia.

When the goal was simply to find the way from one place to another,

the clearer the direction, the better it was. Symbols that warned of

dangers, milestones that confirmed progress, and signs that identified locations

were welcome contributions to a traveler's safety and peace of mind.

In addition to markers, blazes, paint and cairns, the local club in whose territory

the Trail lies should put up and maintain signs at principal points on the

Trail, particularly where highways cross it.

—ATC Trail Manual for the Appalachian Trail, 1951

For many years, ATC and Trail clubs have put information in Trail guides rather

than on signs along the Trail. The basic goal has been to maintain as primitive an

experience for Trail users as possible, consistent with needs for resource protection

and safety. Some signage has been reduced, such as the old painted mileage markers

formerly on the Trail in Maine. More attractive

and naturalistic wooden signs have

Sign Language replaced stenciled signboards. The use of

the metal A.T. diamond has largely been

discontinued. At the same time, Trail managers

have long recognized that many Trail users simply do not carry a guidebook. An

ATC study in the 1970s led to the use, in Maine, of simple one-page information

sheets at each trailhead that provided basic information about Trail conditions, safety

precautions, and basic rules for Trail use.

Managers' communications to hikers will be primarily through guidebooks

and other literature distributed off the Trail and secondarily through signs on

the Trail.... Commercial endeavors designed to profit from visitor use are not

an acceptable component in the Trail corridor.

—Comprehensive Plan for the Appalachian National Scenic Trail, 1981

In 1999, a new sign appeared at the intersection of the A.T. and a logging road

near Maine's Pemadumcook Lake. The operator of a commercial sporting camp near

the Trail corridor sought to supplement winter snowmobile and summer fishing patronage

by attracting A.T. hikers to his meals, beds, and showers. The advertisement

was an immediate success, but triggered broader concerns among Trail managers

about the appropriateness of commercial signs in the Trail corridor and the more

philosophical question of intrusion into the Trail experience.

Signs not installed by or approved by the MATC or an agency partner will not

be permitted along the Trail or in the corridor.

—Local Plan for the Management of the Appalachian Trail in Maine, 1995

Ironically, hikers in Maine were originally expected to stay at the eleven commercial

sporting camps (including the predecessor of the one that caused the 1999

debate) that existed in 1937, when the A.T. was completed. Primitive campsites were

rare along the route east of Maine's Kennebec River. So, there was no need to carry

bedding, other camping gear, or food across this hundred-mile section of Trail. Already

weakened by the Great Depression, most of those camps closed their doors to

the public during World War II, which meant that hikers had to provision for a tenday

hike between Monson and Katahdin.

With new corridor-management responsibilities, clubs and ATC now must use

informational and regulatory signs to inform hikers, Trail neighbors, and po-

Continued on next page

APPALACHIAN TRAILWAY NEWS 5
---
Shelter Register

lunching at Pocahontas Spring in Pennsylvania

with my grandson. "What is

that?" he exclaimed. Tranquility was

shattered, and inquisitive squirrels scurried

for shelter.

Having liked the Trail since 1952, my

wonderful world of serenity was shattered

by those "trekking poles" (ATN November/December

1999). Let us go back to

basics and preserve the Trail's peace and

quiet as it was intended to be.

Shirley Henry

Mertztown, Pa.

Access for the disabled

AVY RAY'S LETTER TO THE EDITOR IN THE

DMarch/April issue addressed an important

question about whether to make

the A.T. accessible to the disabled.

My wife, Dolores, suffered a ruptured

brain aneurysm six years ago and is disabled

to the point that she finds sustained

concentration difficult. This makes

climbing rough trails tough.

Our dilemma is that she loves the

A.T. but cannot hike on much of it. I have

From the Chair . . .

Continued from previous page

thought about the idea of volunteers rebuilding

parts of the Trail into a smooth

pathway without rocks and roots, so she

and other handicapped folks could more

easily walk on it. But what parts would

we want rebuilt? Among many favorite

places I'd like her to see are the Bigelow

Range, Katahdin, and Saddleback, all for

their wild, high, remote beauty. Would

they still have those qualities after the reconstruction?

A seasoned maintainer once commented

at a Maine Appalachian Trail

Club annual meeting that a hill in his

section had become "steeper," so he had

added steps. Folks chuckled, but, in fact,

he was already making his section a bit

more accessible to disabled hikers. There

are places along trails already accessible

to the handicapped—the summit of Mt.

Washington and Cadillac Mountain in

Acadia National Park, to name but two

in our neck of the woods. We don't go

there because they're too crowded with

automobiles.

I asked Dolores what she thought,

tential trespassers about restrictions that apply on the Appalachian Trail and

corridor lands.

—ATC Local Management Planning Guide, 1997

One might argue that, despite greatly increased road access, the demise of the

Maine sporting camps created a more "wilderness-like" environment than was experienced

by the original Trail builders. This could justify resistance to any further

intrusion, physical or psychological, that a renaissance of this Trail tradition might

threaten. On the other hand, one might argue that we should consider the reduced

impact on A.T. campsites if fewer people camp along the Trail itself and the regional

economic boost that some restoration of Maine's traditional sporting camps and facilities

elsewhere could provide. With services located outside the A.T. corridor, but

readily accessible via side trails (signed and controlled by A.T. managers), hikers could

choose the level of accommodation and solitude that suited their preferences.

Personally, although I tend to resist the more elaborate "kiosks" and other large

signboard structures that are becoming more common at trailheads, I enjoy the traditional

directional signs and place markers and recognize the need for informing the

public about the lands for which we are responsible. I'm also not especially troubled

by information (excluding commercial signs within the Trail corridor) that helps Trail

users know about services near the Trail that they might choose to use. The Appalachian

Trail Conference and the Trail clubs will continue to struggle to find the balance

of sign language and other information that will best serve the Trail community. I

welcome your ideas and suggestions.♦

and she replied that there are places where

she will just not be able to venture. She

says she doesn't resent that, as it's an acceptance

of part of her life. Most of us

gradually become physically disabled to

some degree as we grow older. How far

do we carry A.T. accessibility?

Milton Gross

Steuben, Maine

♦

T WAS NEVER ONE OF MY GOALS, BUT I'M

I"one of the above" now, and that gives

me the right to speak on the subject.

Those who attended the biennial meeting

at Radford will remember me as the

"senior" whose knee decided to give out

as I arrived at the cafeteria that first day.

Well, since I refuse to have a knee replacement

(metal here, metal there, and

plastic goosh in between!), I will be getting

around on one crutch the rest of my

life. I am a hiker and will be making what

progress I can, trying out all the rail trails

and any part of the A.T. I can manage.

As for changing the Trail for me, or

any other handicapped hiker, I say, Don't

you do it! If we want to finish the Trail,

we'll do it, if it means crawling up on our

elbows. Meanwhile, please don't smooth

our way. The Trail needs to be a challenge

for even the strongest—else, why do it and

be proud of making it all the way? The

path is fine. Didn't a blind man make it

through? Didn't someone go all the way

on two crutches? We all, even the strongest,

dream of a nice little antigravity

machine we can attach to our pack straps

to help us up Mt. Washington. But, don't

tell me about it, if someone actually invents

one.

And, that's the opinion of "Flake."

See you at the next biennial meeting.

Carol Vernon Hope

Staten Island, N.Y.

Editor's note: For further information on

the issue of access to the Trail by people

with disabilities, please see the article

and interview with David Startzell on

pages 8-12 of this issue.

Escaping the city

OWHERE IN MY JULY 1999 LETTER TO

NATN [regarding Jacques d'Amboise]

6 MAY–JUNE 2000
---
Camping in the 1940s

did I state that the Trail is not for everyone.

Fortunately, of those who do use the

OGER MEYER'S NOVEMBER/DECEMBER some of the down bags even then in ex-

five pounds, it was a little heavier than

Trail, most are trying to escape from the R 1999 ATN article about camping in istence, but they were too expensive for

city rather than trying to take the city to

the Trail.

Harold Croxton

Abingdon, Va.

the 1940s was interesting and doubtless

accurate as far as his experience went, but

I found superior camping resources even

ten years earlier.

As a member of Takoma Park,

us. That booklet also listed the firm of

Ome Daiber in Seattle. In 1941, I scraped

up the ten dollars needed to buy their version

of the Bergan frame rucksack that,

with one replacement sack, served me

The First Thru-hikers? Maryland's Boy Scout Troop 33, we had a until 1970. And, yes, it had pockets.

VERY YEAR I READ WITH INTEREST THE troop committee made up of scientists Two books that I acquired should

E names of that year's thru-hikers in from the departments of agriculture and have also been available to Mr. Meyer and

the ATN. Mine was so listed for 1983. In

1994 (November/December), an article,

"The Summer of 1936," documents the

thru-hike of Max Gordon, Seymour

Dorfman, Louis Zisk and three other Boy

Scouts from Troop 257, Bronx, New York.

Regarding their hike, the editor offers the

caveat that three miles of the Trail were

"not yet complete." Using this criteria,

the following hikers cannot be given

credit for finishing the Trail:

1. Myron Avery—credited with finishing

in 1936, before the A.T. was even done.

2. Earl Shaffer—during his 1948 hike, the

Blue Ridge Parkway construction had

wiped out much of the route south of

Roanoke, which forced him to improvise

a route.

3. Ed Talone—during my 1983 hike, the

A.T. was not recognized for about five

miles around Sherburne Pass, Vermont,

and a second section was wiped

out by logging in Maine.

4. Every hiker who has had to leave the

Trail because of fires, landowner disputes

(I'm showing my age), and so on.

Before anyone has a stroke, I only list

the above examples to illustrate the point

that even today the A.T. is hardly ever

"an unbroken footpath." The six intrepid

hikers of 1936 followed a little known and

poorly (by today's standards) maintained

route from Katahdin to Mt. Oglethorpe.

Their tremendous achievement should be

celebrated. I look forward to seeing the

names of Max and his fellow hikers in the

next listing by ATC of those who report

completing the A.T. To Max and the others

I say, "Welcome to the Club."

Ed Talone

Silver Spring, Md.

Editor's note: The names were added to

the listing in this issue.

the interior. One of them, for example,

was able to get permission from the

Weather Bureau to let us camp at Mt.

Weather in 1938. That included my first

hike on the Appalachian Trail. I haven't

been able to stop yet. (Finished the whole

Trail in 1979.) Members of Troop 33 certainly

carried trash out, dug holes for our

waste, and certainly filled up those holes

and the ditches we dug around our tents.

At the end of each outing, the committeemen

snooped around each patrol's

campsite and expected to find no evidence

that we had ever been there or had built a

fire. "No-Trace Camping" is not so new

as some might think.

These same men introduced me to

L.L.Bean. From Bean's I got—among other

things—a "Hudson Bay" axe, a pack basket

with waterproof cover, a three-and-a

half point "Hudson Bay" blanket and dehydrated

Maine potatoes—yes, not as

good as freeze-dried, but not bad. I still

have the blanket and the ax. When another

Scout and I spent three weeks in

the Shenandoah Park in 1941, there were

stacks of chestnut logs at each shelter.

The axe was great for splitting these logs

down to size. I did not use a stove until

hiking the Smokies in 1966.

The 1938 Scout hike on the A.T. led

me to visit the original office of the ATC

and to learn about the Potomac Appalachian

Trail Club. I didn't join PATC until

1941 (at age sixteen, I believe that I was

their youngest member to date, and it was

through Jean Stephenson's intervention

that I was deemed worthy). In those days,

PATC had a wonderful booklet listing

lightweight camping and trail-maintenance

equipment. As a result of that

booklet, my parents bought me a David

T. Abercrombie mummy sleeping bag. At

gave invaluable help on lightweight

equipment. One, of course, was Horace

Kephart's Camping and Woodcraft. The

other was the Boy Scout Fieldbook. (Incidentally,

Camping and Woodcraft was

originally printed in 1917 and reprinted

in 1988 by the University of Tennessee

Press. Even some of you "young squirts"

reading this letter could learn something

from it.)

Lightweight tents made of some material

like that of parachutes (also called

"balloon silk") and well waterproofed

were in existence, but rather expensive.

A friend and I made a lightweight Fraser

tent (Camping and Woodcraft, page 83)

out of unbleached muslin with much help

from his mother. Our first waterproofing

didn't take. In 1940, we were soaked at

Keys Gap after hiking in two weeks

from the Susquehanna River. But, I

rewaterproofed it, and, in 1945, I was

"high and dry" in a hurricane rain at Petites

Gap.

Much of my experience did resemble

Mr. Meyer's. Other than Bean's potatoes,

we didn't have lightweight food. We usually

ate Ralston or Cream of Wheat (not

instant) for breakfast or pancakes if there

were time. We frequently baked our own

bread. In 1942, at Katahdin Stream Campsite,

my buddy turned out a blueberry

cobbler that would surpass anything from

Mountain House or AlpineAire. We carried

the cereal and flour in paraffin-treated

cloth food bags that were no more mouseresistant

than today's plastic. Even though

I did not enter the Coast Guard until 1943,

I always preferred canned corn beef to

Spam. Like Mr. Meyer, I profited by World

War II's equipment developments, especially

those for the mountain troops. In

Continued on page 28

APPALACHIAN TRAILWAY NEWS 7
---
PAPER TRAIL

News from Harpers Ferry

An "Accessible" Trail:

Are new federal rules a nightmare or just misunderstood?

"

ACCESSIBILITY FOR THE

disabled"— for some

Tame or not, "accessibility"

the ATC Board of Managers' ecutive Director Dave Start-

is coming to the Trail. representative at a two-year zell, the conference's alternate

wilderness lovers, Like other national parks, the process of negotiations designed

representative, on an advi-

the words conjure up a horrific A.T. is subject to federal laws

to come up with a sory committee of twenty-five

vision: blue-and-white wheelchair

passed over the last thirty reasonable plan for making all people appointed by the United

signs instead of white years regarding access. New U.S. recreational facilities States Architectural and Trans-

blazes. Paved paths, concrete federal accessibility regulations

more accessible to the disportation

Barriers Compliance

ramps, guardrails, and elevators

that will affect how all abled, the A.T. as it presently Board, better known as the

up the sides of cliffs and trails are constructed could be exists is largely exempt from "Access Board." About half

mountainsides. Something in place by next year.

new access requirements. The were people with disabilities

tame, something resembling But, hikers and Trail changes will be incremental, or representatives for groups

the Park Service's concrete maintainers shouldn't start as new treadway and Trail facilities

associated with particular

observation tower at Clingmans

having nightmares just yet.

are built, and even disabilities; the other half rep-

Dome.

According to Peter Jensen, those changes should be of the resented various federal and

Above: Ramp and observation tower atop Clingmans Dome, common-sense variety. state agencies and groups

Great Smoky Mountains National Park.

Jensen joined ATC Ex-

such as ATC and American

8 MAY–JUNE 2000
---
Paper Trail

Trails, as well as recreational

businesses such as Kampgrounds

of America (KOA).

Meetings began in 1997 and

concluded last year.

According to Jensen,

much of the alarm over the

issue of accessibility boiled

down to a problem of communication.

"The way these regulations

are written, each piece

refers to other pieces by

numbers of sections and subsections.

It's like learning a

whole new language," Jensen

Editor's Note: Appalachian

Trailway News asked Dave

Startzell to discuss the process

by which ATC worked with

advocates for the disabled,

federal agencies, private citizens,

businesses, and other

"recreation providers" to

build a unified approach to

dealing with access issues.

ATN: How would you characterize

the experience of

serving on the committee?

Startzell: In a word: intense!

ATN: How so?

Startzell: We met on ten occasions,

for three to four days

each time, with sessions often

extending from early

morning to late at night.

This included "breakouts"

and subcommittees.

ATN: I gather that discussions

got pretty heated.

Startzell: Many of the discussions

related to "scoping"

[the process of determining

what should be examined for

accessibility] were highly

emotional, while others

related to technical requirements

were extremely

tedious. And yet it would be

difficult to participate in

said. "Not everybody learns

it at the same pace, and

that's what people are really

reacting to. Once they understand

it, they'll see that it's

not as worrisome as some

think it is."

Jensen said the most important

parts of the proposed

regulations might be those

related to Trail maintenance.

"Routine maintenance is excepted

from the regulations,"

he said.

What that means, in essence,

is that the ATC and

clubs are free to do work

that maintains the Trail's

current form, or restores it to

that form, without having to

build in new "accessible"

features.

New shelters, bridges,

and new sections of Trail

longer than five hundred feet,

however, will not be exempt,

and Trail designers will have

to consider access issues as

they are being designed. Even

so, he said, the proposed

policy includes exceptions

that may permit them to be

ATC's Startzell: Both factions took "a leap of faith"

such a process and not come

away with a heightened

sense of awareness of the

challenges that people with

disabilities face in gaining

access to outdoor-recreation

areas.

ATN: Do you think the outcome

satisfied members of

the disabled community

and recreation providers

alike?

Startzell: For the most part,

yes. But, compromise is at

the heart of any negotiation,

regulatory or otherwise. In

that respect, neither side got

everything it wanted. The

disabled community wanted

a "bright line"—they wanted

the recommendations to be

very clear about the number

or percentage of recreational

elements required to meet

accessibility standards.

They feared some recreation

providers would exploit

ambiguities in order to avoid

meeting the requirements.

With respect to the recommendations

affecting trails,

there is no "bright line."

Considerable discretion will

remain with the recreation

provider.

ATN: What did the recreationproviders

fear?

Startzell: They feared that,

even if considerable discretion

were permitted,

regulations could be misinterpreted,

requiring them to

make modifications to

accommodate access for disabled

people, even where

such modifications were

never intended.

ATN: Is it a legitimate fear?

Startzell: The final recommendations

do not necessarily

remove that risk.

ATN: So, where does that

leave us?

Startzell: In a sense, both factions

were forced to take a

"leap of faith" and accept

that, somehow, a commonsense

interpretation of the

recommendations will prevail.

Only time will tell

whether such faith is justified.

ATN: Did the committee

reach consensus on all of the

issues?

Startzell: Not entirely. A few

issues, presented as questions

in the final report, will

be highlighted during the

public-comment phase.

built in many circumstances

and locations without elaborate

access features.

Jensen pointed out that

the regulations are not mostly

aimed at long wilderness

trails, such as the A.T., but at

beaches, campgrounds, public

parks, and other facilities in

areas with road access.

The committee's report,

issued in January, will be sent

out later this year for public

comment after a final review

by the federal Office of Management

and Budget.♦

Based on the feedback received,

a final determination

will be made by the Access

Board.

ATN: What sort of issues?

Startzell: One particularly relevant

issue concerns how

accessibility requirements

are applied to remote campsites

that only can be reached

by a trail that does not

meet accessibility standards.

About half the group

believed that recreation elements

associated with such

sites—including shelters,

privies, fire rings, picnic

tables, tent platforms and

pads, and so forth—should

meet accessibility standards.

The other half of the group,

including ATC, argued that

the modifications would

result in unnecessary expenditures

of limited financial

and human resources at sites

few, if any, disabled people

are likely to ever reach. Our

view is that a more logical

approach is investing in sites

that can be readily accessed

by disabled people.

ATN: Did the committee consider

how likely disabled

Continued on following page

APPALACHIAN TRAILWAY NEWS 9
---
Paper Trail

Blind thru-hiker Bill Irwin's 1990 trek made national news.

people are to actually use

primitive or backcountry facilities

and trails?

Startzell: Yes. It probably is fair

to say that the prevailing

attitude among the representatives

of the disabled

community was: "If you

build it, they will come."

However, a number of

recreation-providers with

experience in designing and

building accessible recreation

facilities did not

necessarily support that.

ATN: What about the Appalachian

Trail?

Startzell: People with various

disabilities—including serious

vision and mobility

impairments—have explored

portions or even the full

length of the Trail without

the benefit of accessibility

modifications. But, our

experience simply is too

limited to draw reliable conclusions

about the extent to

which use by disabled people

is likely to be generated by

expanded opportunities for

such use.

ATN: What are the implications

of the cost?

Startzell: The disabled community

generally believes

that equal (or at least proportional)

access fundamentally

is a civil-rights issue that

does not lend itself to traditional

cost-benefit analyses.

Some recreation-providers,

on the other hand, believe

that accessibility requirements

stemming from the

Americans with Disabilities

Act and other related legislation

simply represent

an "unfunded mandate."

ATN: How did the committee

resolve this conflict?

Startzell: I believe each side

came to recognize some basis

for both perspectives. In

any case, the Access Board is

required to develop and consider

some financial-impact

analyses before adopting any

final regulation. That information

also should be

available for inspection during

the public-review period.

ATN: Do the recommendations

address the needs of all

disabled people?

Startzell: Not necessarily. The

greatest emphasis was on

people with mobility impairments,

who require the

assistance of wheelchairs,

motorized scooters, or prosthetics,

and, to a lesser extent,

people with vision or hearing

impairments.

ATN: So, how would you

summarize the committee's

recommendations affecting

trails?

Startzell: The committee

recommended an "exceptions-based

approach." This

means the decision-maker

begins by assuming that

accessibility can be incorporated

into the design and

construction of the trail or

trail segment. In other words,

to paraphrase one of the

committee members, "access

should be 'on the table'

whenever decisions are made

affecting outdoor-recreation

facilities, including trails,"

in much the same way as we

presently consider slope, surface

conditions, and a host of

other issues.

ATN: Will all trails will be

required to meet these

standards?

Startzell: No. That's why it's

"exceptions-based." In the

first place, the standards apply

only to new construction

or substantial alterations to

existing trails or trail segments.

Also, the affected

segment must be connected

to an accessible trailhead or

to another accessible segment.

The regulations would

not apply to trail segments

"in the middle of nowhere."

Another general exception

would effectively eliminate

from consideration trail

segments characterized by

"extreme" conditions—severe

slopes, cross-slopes,

and/or surface impediments.

Such conditions are quite

common along primitive,

mountaincrest footpaths

such as the A.T.

ATN: Are there other exceptions?

Startzell: Yes. Where modifications

would cause substantial

To paraphrase one of the committee

members, "access should be 'on the

table' whenever decisions are made

affecting outdoor-recreation facilities,

including trails."

harm to natural or cultural

resources; where they would

substantially alter the nature

of the setting or the purpose

of the trail; where they

would require construction

methods prohibited by federal,

state, or local laws; or

where they would not be

feasible due to terrain or

prevailing construction

practices. Clearly, one or

10 MAY–JUNE 2000
---
more of these circumstances

may exist along many sections

of the A.T.

ATN: Both you and Peter

Jensen have been attempting

to keep leaders of Trail-maintaining

clubs informed of this

issue throughout process.

What's been the reaction

among those volunteers to

the accessibility proposals?

Startzell: Before the actual

language of the recommendations

was fully developed,

many of the reactions tended

to cluster at the "fear and

loathing" end of the spectrum.

ATN: And now?

Startzell: Once the exceptions-based

approach was

explained, I think people

came to understand that

what is being proposed is

not as onerous as some had

feared. I would not, however,

suggest that all of the concerns

have disappeared. The

most commonly voiced concern

is that modifications

could fundamentally alter the

nature of the Appalachian

Trail experience. The Trail has

been designed, constructed,

and maintained for seventyeight

years to provide a

primitive, mostly backcountry

experience with

opportunities for physical

challenge and to "lie lightly

on the land." When people

think of wheelchair-accessible

trails, they tend to think

of flat, paved pathways that

would be altogether incongruous

with the character we

have striven to establish and

maintain along the A.T.

ATN: That's not a legitimate

concern?

Startzell: It's legitimate, but

extensive grading and paving

are not necessarily

required in order to meet the

recommended accessibility

Extensive grading and paving are not

necessarily required . . . and no one

is suggesting that a primitive footpath,

such as the A.T., should be

modified in that way.

standards, and no one is

suggesting that a primitive

footpath, such as the A.T.,

should be modified in that

way.

ATN: So, what will clubs have

to do that they didn't do before?

Startzell: Today, new Trail

construction or reconstruction

tends to make greater

use of sidehill terrain to facilitate

drainage anyway. It

has a somewhat wider treadway,

gentler slopes and cross

slopes, and more self-maintaining

erosion-control

devices, such as drainage

dips. Many of these same

techniques also can be employed

to make the Trail

more accessible to people

with varying degrees of disabilities.

ATN: Aren't modifications to

accommodate accessibility

expensive? Will funds be

diverted from other Trail

projects in order to pay for

accessibility modifications?

Startzell: It depends on the

site, the length of Trail, and

other factors. But, modifications

to accommodate

wheelchair or scooter access

definitely can be quite expensive

when compared to

our "normal" construction

practices. Since neither ATC

nor the Trail-maintaining

clubs have unlimited financial

resources, funds targeted

for accessible-trail projects

certainly could divert funds

away from other projects.

ATN: Is that the main concern?

Startzell: A greater concern

may be the impact on our

human resources—our volunteers.

Those volunteers

already devote an incredible

number of hours to Trail

construction and maintenance.

If compliance with

accessibility regulations significantly

increases demands

on those volunteers, the burden

could prove to be "the

straw that breaks the camel's

back."

ATN: How do we address that

issue?

Startzell: My hope is that this

new challenge will prove to

be manageable if we focus on

Trail segments that can be

most easily modified to

accommodate accessibility—

and where there is the

greatest likelihood for ready

access by disabled people.

We also will need to program

these projects in a way that

does not exceed our available

resources or create excessive

or disproportionate demands

on any single Trail-maintaining

club.

ATN: What are the next steps?

Startzell: Next comes the pub-

Bob Barker battled both A.T. rocks and multiple sclerosis in

1987 to become a "2,000 miler."

APPALACHIAN TRAILWAY NEWS 11
---
Paper Trail

lic-review process. We hope

many Trail-maintaining

clubs, as well as individual

ATC members and Trail

users, will participate by

commenting on the recommendations

developed by

the advisory committee.

ATC also will be submitting

additional comments.

ATN: When will we actually

see regulations?

Startzell: Even if the publiccomment

phase results in

some changes to the recommendations,

my expectation

is that new regulations will

be adopted within the next

year or so.

ATN: What will ATC be doing

in the interim?

Startzell: I'm suggesting to our

Board of Managers and leaders

in the Trail-maintaining

clubs that we may want to

begin now to incorporate

"accessibility awareness"

into our decision-making

processes. We make decisions

almost every day

affecting Trail construction

and reconstruction projects

all along the A.T. Considerations

related to accessibility

traditionally have played

little or no role in the design

or construction process.

Those days may soon be

coming to an end. Through

expanded education and

training programs, I hope

staff and volunteers engaged

in the Trail project can develop

the skills necessary

to incorporate more opportunities

for people with

disabilities to experience at

least selective portions of the

Appalachian Trail. But, I believe

we should create those

opportunities in a way that

does not alter the primitive

character or the challenging

recreational experience that

makes the A.T. such a special

place. That will be our

greatest challenge. I think

we can do it!

Editor's note: ATC will post

the final report at . Or see

the Access Board's Web site at:

. ♦

ATC Web site gets new domain name, content

Staff changes at ATC

ATC ANNOUNCED IN

January three staff

changes in positions

that deal directly with the

Trail community and the hiking

public. They are:

• Kevin Peterson, for thirteen

years ATC's New England

regional representative, left

that position in January to

become regional land trust

administrator. Peterson now

oversees ATC Land Trust activities

from Maine to New

Jersey, including the work

of four "land trust coordinators,"

who cultivate

conservation projects outside

the publicly owned A.T. corridor.

He continues to serve

as the coordinator for New

Hampshire and Vermont,

where several landscape

conservation projects are

underway near the Trail.

• J.T. Horn was named as

ATC's new regional representative

for New England.

He coordinates Trail-man-

agement issues with the six

New England clubs and

serves as ATC's primary

liaison to government agencies

from Connecticut to

Maine. Horn joined ATC in

1997 as associate regional

representative in New England,

and, in 1999, took on

expanded duties in Trail

management and club liaison

while Peterson expanded

his role with the Land Trust.

• Lauren Post was named assistant

to Laurie Potteiger,

information services coordinator

at ATC's Harpers Ferry

office. She will work with

volunteers and answer questions

from the public about

the Trail, and help provide

news about current Trail

conditions. She completed

the Appalachian Trail in

1999, and served as ATC's

summer information assistant

in 1999, in addition to

volunteering at the Harpers

Ferry office. ♦

ATC'S WORLD WIDE

Web site has a new

address, new features,

and a new look.

Beginning in 1999, a

grant from the Robert and Dee

Leggett Foundation funded redesign

and technical updates

by the Collaborative Technology

Group of Arlington,

Virginia. The new site went

"live" in April. Eight conference

staffers contributed to

its content, with reviews by

members of the ATC's volunteer

committee on education,

information, and outreach.

The heart of the site is a

state-by-state compilation of

hiking-related information,

including an unprecedented

listing of all governmental

regulations and ATC policies

applicable to use of the Trail,

by section. Later phases of the

renovation will add listings of

all ATC policies, a new history

of the Trail and conference,

and possibly archives of past

Appalachian Trailway News

articles.

To go along with the new

look and content is a new "domain

name," donated to ATC

by member Rich Sliwinski,

who had registered it with the

intent of using it to post news

of a planned 2001 thru-hike.

ATC's current domain name,

www.atconf.org, will continue

to work, but will redirect Web

browser programs to the new

address.

ATC's new Web site can

be found at:

♦

12 MAY–JUNE 2000
---
SIDEHILL

News from clubs and government agencies

Busy with beavers at Dry Run

By Karl Kunkel

WHEN A FAMILY OF

beavers set up

housekeeping in

late 1998 at Dry Run, where

the Appalachian Trail crosses

the creek in southwest Virginia,

it was clear that something

had to be done.

Once known as "the buffalo

of the east" because of

their great numbers and influence

on the environment,

beavers in the Appalachians

were virtually wiped out by

19 th -century fur trappers. Only

in recent years have significant

numbers started reappearing

up and down the East Coast.

Their impact on the environment

can be profound and

positive, drawing birds and

other wildlife to the ponds.

But what happens when a

beaver dam threatens to flood

the A.T.? That's the question

that members of the Piedmont

Appalachian Trail Hikers

(PATH) had to confront as the

dam started to take shape and

water crept up from Dry Run

toward the path.

At first, the beavers built

a small dam a few yards downstream

from the footbridge

built to get hikers over the

thigh-deep stream at Dry

Run and onto a bottomland

meadow. That was fine, until

the beavers set to work damming

up the whole meadow,

felling large trees and turning

more than one hundred yards

of the A.T. into a bog—a bog

that would soon become a

pond, submerging the treadway

entirely.

"That's when we knew

we had a problem," said Paul

Clayton, president of the club,

which maintains fifty-seven

miles of the Trail between the

south fork of the Holston

River, south of the Mt. Rogers

Visitors Center, and the Interstate

77 crossover near Bland.

The club's board members

immediately huddled to discuss

the options. Some favored

just going in with hand tools

to destroy the dam, returning

again and again until the beavers

gave up. Others suggested

trapping them alive, then

transporting them to another

stream. Still others argued that

they were an important part of

the environment, and the Trail

should coexist with them.

In early 1999, club officials

met with Mike Dawson,

ATC's regional representative

in southwest Virginia, and

Terry Bussey of the Wythe District

of the U.S. Forest Service,

the agency that manages the

land. The rule of thumb in

such matters along the Trail is

that the land-managing agency

calls the shots, but that the

goal is to preserve nature.

Dawson said he was impressed

with the extensive

homework PATH had already

done before he and the Forest

Service were contacted.

"They were looking for

a way for the Trail to get

through and preserve this

natural scene," Dawson said.

"One of the most important

things about the volunteer

Trail community is that they

always have a great deal of

imagination to come up with

solutions that professional

land managers might not

think of."

One choice, quickly ruled

out, was to relocate about half

of a mile of the A.T. back onto

a nearby two-lane blacktop

The beavers set to work damming up the

whole meadow, felling large trees, and

turning more than one hundred yards of the

A.T. into a bog.

Puncheon and bridge across flooded meadow at Dry Run.

that would take hikers past the

boggy area. Though the Trail

had followed that rural road for

many years, the twisting roadway

with blind curves is used

regularly by local residents,

many of whom speed along it,

endangering hikers. The Forest

Service had purchased land

nearby to get the Trail off the

road and give it more of a scenic

buffer from civilization.

Abandoning that property for

a trek along a trash-strewn

roadside would not be a good

use of the land purchase or its

scenery.

Also ruled out were the

ideas of tearing the dam down,

having hikers walk over it,

or installing a "Clemson pond

leveler," a drainage pipe system

developed at Clemson

University that regulates the

water level by discharging excess

water below the dam. The

leveler was not necessary because

the water would never

get high enough to threaten

the existing bridge. As for the

dam-as-bridge idea, no one

wanted to disturb the beavers.

Trying to tear the dam down

might be a losing proposition

against a determined beaver

family. One visionary suggested

forming a ferry service,

shuttling hikers across the

pond in canoes for a fee.

Ultimately, the group

voted to let the beavers do

their thing undisturbed, while

allowing hikers to do theirs,

too. They settled on a plan of

building wooden "puncheon"

—essentially a footbridge lying

on the ground instead of on

abutments—that would stretch

over the boggy meadow, secured

by rods driven into the

APPALACHIAN TRAILWAY NEWS 13
---
Sidehill

ground. By making it temporary,

The planks, purchased even become a destination said Bob Proudman, ATC's di-

the club was adhering to with $300 of club money, for people. Club member rector of Trail management

ATC's creed of having the Trail had been cut and stacked on Scotty Folds has made several programs. "If we have persistent

"lie lightly on the land," respecting

pallets by a local lumber com-

two-hour trips from her home

beaver activity in the

the environment. pany on very short notice and in Winston-Salem, N.C., just drainage, it is nice to have

Beavers migrate. They lugged in by club member Bill to watch the beavers. Folds enough land higher up to relocate

create a habitat, raise a family,

Medlin. About thirty volun-

describes the pond as a magi-

if we have to. Sometimes,

exhaust the food supply, teers with numb toes and cal, tranquil place. There, she we will be on a pond shore—

and then move on, leaving behind

soggy gloves worked alongside said, a harried person can es-

this is common in northern

fertile wetlands. When the Forest Service's Terry cape from civilization easily New England—and then the

they do leave and the waters Bussey throughout the day and and enjoy nature within minutes

pond level will come up. So,

recede, PATH will remove the into the chilly evening, completing

of busy Interstate 81. the people will keep moving

wooden walkway and use

more than ninety feet The pond is hidden from the the Trail up. Occasionally, we

the materials for other A.T. of walkway, stopping only highway's view by one small will do relocations."

projects.

when they ran out of poles. A hill. Folds usually arrives When the beavers do migrate,

PATH's thirty to fifty few weeks later, when more about dusk and quietly finds

they will leave behind a

"regulars" (out of a membership

poles were scavenged, they fin-

an unobtrusive perch to watch fertile ecosystem they helped

of about two hundred) ished the project.

the beavers preen one another. create. They will also leave

range from retirees to teachers

behind some good feelings

to bankers to skilled

among club members who

craftspeople, but they are not

watched them create it and

accustomed to working together

learned to enjoy a side of the

on intricate projects

Trail they hadn't seen before.

with hand tools in weather

The beavers haven't migrated

hovering around the freezing

yet and, in fact, are

point. Most live in North

colonizing, building additional

Carolina and drive one hundred

dams in the area.

to three hundred miles

Since the first project, the

each way into the Virginia

club discovered another dam

mountains monthly in order

site on the Trail two miles

to remove blowdowns in the

south of Dry Run. Several

early spring, wage a war with

members, using materials

briars and other overgrowth

provided by the Forest Service,

installed a Clemson

throughout the summer, work Tree stumps and beaver pond near Holston River footbridge.

with ATC crews on major (Photos by Karl Kunkel)

"pond leveler" to prevent the

projects, and repaint white Hikers now had a clear "They look totally contented,"

water from submerging a

blazes on the trees in the snow path—and dry feet—as the

she said.

walkway over a tributary of

flurries of late October. Special whole meadow was transformed

The pond has also become the Holston River. That

projects such as the beaver

from a nondescript a good educational setting for project, completed in late

pond require special trips and field into a lush nature preserve

youngsters, Folds added. On 1999, required volunteers to

special effort.

as the beavers widened one field trip, she took two don chest-high waders and

On a frosty Saturday in the dam and the water backed neighbor children, ages two work in frigid water for hours.

February 1999, club members up. Ducks, geese, and birds not and five, to the pond.

By early 2000, however, the

crawled out of sleeping bags often seen in that part of the "They were so excited," beavers had worked around

and started work. They used state suddenly appeared. she said. They watched the the problem of the pond leveler,

telephone poles donated and Clayton even spotted a mink. beavers work together as a

and water was rising

hauled to the edge of the road Dawson noted that several family and were fascinated by once again. At press time, it

by the Forest Service, then types of Virginia wildlife that the characteristic shapes of the looked as if PATH would

dragged to the site by Clayton had disappeared when the beaver

tree stumps left by the gnaw-

once again be getting busy

in his Jeep. Railroad ties, although

population was decimated ing of the beavers.

with beavers.♦

available, were ruled years ago have started to return

"With animal rights and

with the proliferation of the high sensitivity now to Karl Kunkel lives in High Point,

out because of the danger of

N.C., and edits PATH's

creosote preservative leeching beaver ponds.

creatures, it pays to accommodate

the Trail to the beaver,"

newsletter. He has been a club

into the water.

PATH's beaver pond has

member since 1995.

14 MAY–JUNE 2000
---
Hikers view proposed quarry (highlighted) from the Stan

Murray Memorial near Hump Mountain.

Construction continues on quarry in

Hump Mountain viewshed

CONSTRUCTION IS PROceeding

on a gravel

quarry near Hump

Mountain, in western North

Carolina, despite recent public

outcry over its effect on the

view from the A.T.

At issue is the Putnam

Mine, a quarry under development

two miles from Hump

Mountain, in Avery County,

North Carolina. The quarry is

visible from a scenic stretch of

balds in the Roan Highlands.

A public hearing was held

March 16 to hear complaints

about the quarry, and thousands

of public comments

have been submitted in response

to publicity on several

Internet Web sites. But, since

protests came only after a permit

had already been granted

TREELINE

News from along the Appalachian Trail

and construction begun, it appeared

doubtful that the North

Carolina Division of Environment

and Natural Resources

would take further action.

According to ATC Regional

Representative Morgan

Sommerville, the state's permit

process for quarries did

not require any notification

about the potential impact on

scenic views. "That's unfortunate,

as it's likely to have a

significant visual effect on

this very scenic stretch of

Trail," Sommerville said.

ATC continues to work to

reduce the quarry's impact and

has since urged the state to

revise its permit process so

that communities near such

quarries can be notified in a

timely way, he said. ♦

Hikers and church committee raise

$19,000 for repairs at "The Place"

Corridor countdown

The Place," the storied

A.T. hostel in Damascus,

Virginia, that

has sheltered thousands of

hikers since the 1980s, is getting

a facelift.

"It was kind of old, kind

of ugly on the outside, the

paint was peeling, and there

were problems with water

damage," said Mary Hayes, a

member of the hostel committee

of the Damascus United

Methodist Church, which operates

The Place. "At first,

when we started talking about

it, we just thought we'd get

some new siding," Hayes said.

The committee put out

the word last year that funds

were needed for renovation.

But Hayes said they never expected

the response they got.

By March, more than $19,000

had been raised from the Trail

community, including more

than $5,000 from hikers.

"Now, we're going to be

able to put on new siding, put

in new windows, paint the interior,

and paint the roof,"

Hayes said. Hayes said that

more than 184 different people

contributed funds to the

project. The hiker money was

mostly raised through a charitable

raffle and gear sale at

"The Ruck," an annual gathering

of past, present, and

future long-distance hikers,

held in February 2000 at

Pennsylvania's Pine Grove

Furnace State Park.

The largest contribution

IT'S THE HOPE OF CONGRESS, THE FEDERAL ADMINISTRATION, AND

the Trail community that the Appalachian Trail can be

pronounced "fully protected" by the end of this year. Here

is where federal and state agencies stood at the beginnig of March

2000 in terms of footpath miles (one percent to go!) and adjoining

acreage left to acquire:

States Map Miles Acres

Maine 4.2 1,188

New Hampshire 0.2 18

Vermont 0.0 42

Massachusetts 0.1 447

Connecticut 0.3 210

New York 0.1 214

New Jersey 0.0 78

Pennsylvania 3.0 301

Maryland 4.7 806

Virginia 5.0 2,252

West Virginia/Va. 0.0 0

N.C./Tennessee 3.9 2,179

Georgia 0.0 513

Total 21.4 8,248

APPALACHIAN TRAILWAY NEWS 15
---
Treeline

Memorial Gifts

came from the estate of a

member of the Damascus

church whose son was an A.T.

hiker, she said.

"I think the thing that has

meant the most has been the

letters," Hayes said. "I was

glad I did this, just to read the

letters. People said the nicest

things. And, a lot of the hikers

will be coming here in

April to help us clean it up and

get it ready for Trail Days."

Hiker John O'Mahoney,

who helped coordinate the

hiker contributions, said that

a ceremonial presentation of

an oversized check for the

hiker funds will be made at

Trail Days, the town's annual

celebration of hikers and hiking,

scheduled for May 19–21.♦

Deaths

Guy Waterman, author and maintainer

UY WATERMAN, AN INFLU-

author of books Gential

on wilderness conservation

and the history of trail-making

in the northern Appalachians,

froze to death February

6 near the summit of Mt.

Lafayette, on Franconia Ridge

in New Hampshire's White

Mountains. His death was

ruled a suicide. He was sixtyseven.

Mr. Waterman was an

avid climber and longtime volunteer

with the Appalachian

Mountain Club (AMC). With

his wife, Laura Waterman, he

had adopted the section of the

Appalachian Trail along Franconia

Ridge, carefully building

walls and steps to keep hikers

from damaging fragile alpine

plants at a time when overuse

was causing extensive damage

to the above-treeline ecosystem

on Franconia Ridge. The

Trail work done there by the

Watermans and others is credited

with helping trampled

vegetation recover. It became

a model for trail design in

similarly fragile alpine environments.

The Watermans, a husband-and-wife

writing team,

were authors of the influential

books Backwoods Ethics and

Wilderness Ethics, both instrumental

in the Appalachian

Trail Conference's 1995 policy

mandating that the primitive

character of the Trail be preserved.

This policy has since

been integrated into all Trail

and resource decision-making

affecting the Appalachian National

Scenic Trail. Their most

extensive work, Forest and

Crag: The History of Hiking,

Trail Blazing, and Adventure

in the Northeast Mountains,

contains numerous references

to the early history of the Appalachian

Trail. It took more

than a decade to prepare and

is without equal in documenting

the trail and mountain

history in the eastern United

States.

Before moving to Manhattan

in the late 1960s, Mr.

Waterman had been a successful

jazz pianist. His career

included work as a campaign

speech writer for Presidents

Eisen-hower, Nixon, and

Ford. He met Mrs. Waterman,

who became his second wife,

on a climbing trip with the

AMC New York Chapter. As

soon as they were able,

they moved to a primitive

twenty-seven-acre farm in

East Corinth, Vermont,

Since our last edition, donations to the Appalachian Trail

Conference were made in memory of:

RAY BROWN • By Roberta K. Tower

CLARA CASSIDY • By Marylee M. Armour, John and

Dorothy Hughes, Larry E. Kinley, Bernie C. Klemanek

and Pat Callahan, Leila B. Lange, Dell Loyless, Robert

and Tobey Milne, Joe and Miriam Nokes

RICHARD B. CLARK • By Marguerite T. Clark

ART COMEY • By Bill and Iris Baird

CHRIS DEFFLER • By Edwin and Margaret Deffler

EDWARD B. GARVEY • By Jim Stoltz

KENNETH E. HOPPEL • By Anonymous, Thomas and Carol

Anderson, Bradley and Bonnie Awe, James and Ruby

Barron, Sondra Bartley, Thomas and Anna Lois Beumel,

Linda Clark, Ronald and Wanda Goodnight, Mr. and

Mrs. Marvin Hartig, Hoosier Backpackers Indiana,

Kevin and Darlene King, Robert and Gail Lehr, Louise

Lutz, Elizabeth Lyon, Scott and Janet Mohler, Mohler

Technology Inc., Clark and Laura Moranz, Neal Scruggs

Family, Larry and Alice Wildeman

CHARLES THOMAS JACKSON • By Bill and Iris Baird

FRANK "SHADOW" LEMIEUX ('97) • By Cathie "Fruitcake"

Cummins

WILLIAM J. MILNE • By Paul Restuccia

HAZEL MONROE • By Piedmont Appalachian Trail

Hikers

BETSY NOVICKI • By Piedmont Appalachian Trail Hikers

ORION MEADE PAISLEY • By Ernest and Elizabeth Jones

GEORGE SAYRE • By Loren and Betty Schroeder, "The

Kansas Kids"

PAUL S. SCHNARE • By Dorothy H. Schnare

MARSHALL STONE • By Roy Anderson, Robert and

Therese Chaisson

GUY WATERMAN • Bill and Iris Baird

CHARLES WELLS • By Piedmont Appalachian Trail

Hikers

GEORGE F. WERNER • By William and Elaine Herrmann,

Paul and Joan Housworth

named "Barra" after Water–

man's Scottish ancestral

home. The couple cut by

hand all their firewood, grew

their own vegetables, and

made maple sugar. At Barra,

they wrote by kerosene lamp

on an old typewriter.

More than 200 friends

and admirers attended his

memorial service at the Congregational

Church in East

Corinth on February 17. Music

included a medley of piano

works that Mr. Water-man

had performed and recorded to

be played at his funeral. ♦

16 MAY–JUNE 2000
---
"2,000-Milers" for 2000

The Appalachian Trail Conference has received 550 reports of complete hikes of

the Trail—either by thru-hikes or in sections over a number of years—since a similar

list was published in last May's ATN. The reports from persons listed below are grouped

by the year in which the hike was completed.

The database and other records from which this list is derived were prepared by

intern Matt Rice and volunteers Fred and Joanne Firman, with the assistance of Laurie

Potteiger and Lauren Post of the ATC Information Services Office.

1978

J. Andrew Walsh, Scituate, Mass.; Christopher

J. Yambor, Annandale, Va.

1986

Kent H. Kannegieter (O-D-Doe), Glen Allen,

Va.

1988

George A. McDaniel III (Telephone Man),

Independence, Va.

1991

Richard M. Callahan (Mike), Annapolis, Md.;

David P. Ransom (Spoons), Waterville, Vt.;

Louise S. Ransom (Spoons), Waterville, Vt.;

Dana D. Thurston (Stryder),

Yarmouth, Maine.

1992

Frederic L. O'Connor (Chooch),

Moran, Wyo.

1994

Keith Kimball (Wolf), Clifton,

Va.; John Robblee (Packrat),

Salem, Mass.

1996

Zaz Brelsford (Sunbeam),

Putney, Vt.; Bob L. Lively

(Lively), Cary, N.C.; Matthew

Sweeney (Aussie Crawl), Rose

Bay, New South Wales,

Australia.

1997

Jennifer E. Baehre (Hat Trick),

Annandale, Va.; Michael D.

Baehre (Dingleberry), Annandale, Va.;

Jonathan E. Haas (Eagle), Philadelphia, Pa.;

Michael W. Kemner (Wings of Desire),

Lebanon, Ohio; Timothy S. Schoolcraft

(Vermontster Green Bean), Randolph Center,

Vt.; J. Harmon Steiner (Harmony), Atlanta,

Ga.; Colin S. Thomas (Easy 8), Chapel Hill,

N.C.

1998

Laurie M. Adkins (The Umbrella Lady),

Catawba, Va.; Leonard M. Adkins (The

Habitual Hiker), Catawba, Va.; Brendan O.

Bogan (Brendan), Rolla, Mo.; Morgan Briggs

(Old Smoky), Pigeon Forge, Tenn.; Eric

Brunet (Eric the Red), Longueuil, Quebec,

Canada; Kierstie Clark, Newport, R.I.; Jason

Corry (Aeneas), Watertown, Mass.; Ryan A.

Crawley (Crawl-dog), Roanoke, Va.; Janis H.

Eisenberg (Swimmer), Woodbridge, Conn.;

Howard W. Emerson (Assman of the

Emerson Brothers), Great Bend, Pa.; Justin R.

Gallagher (Muledozer), Vail, Colo.; Rich C.

Gambale (Greenleaf), Tyngsboro, Mass.;

Melissa S. Goehrig (The Hare), Flagstaff,

Ariz.; John F. Golle (Longdrop), Palmers

Green, England; Nat Greenspan (Polar Bear),

Jamaica Plain, Mass.; Matthew C. Hasuly

(Rimrunner), Greer, S.C.; Chris A. Ingraham

(Free Spirit), Lawrenceville, Ga.; Brian Kelly

(Too Obtuse), Sanbornville, N.H.; Aaron K.

Kraft (Still Thinking), Minocqua, Wis.;

Courtney L. Mann (Mogo), Round Hill, Va.;

Jonathan R. McLamb (Woodpecker),

Roseboro, N.C.; Jeff E. Murkett (Can-Do),

Crested Butte, Colo. (completed twice);

James R. Ohler (Jim), Severna Park, Md.;

John L. Ohler (John), Queen Anne, Md.;

Ronald L. Ott, Jr. (AT 2), Muncy, Pa.; Andrew

L. Petersen (Alpo), West Fairlee, Vt.; Sharon

L. Petersen (Quilter), West Fairlee, Vt.; April

D. Peterson (Trail Gimp), Saratoga Springs,

N.Y.; Philip W. Piaski (Gnatcatcher),

Newton, N.C.; Jamie A. Rankin (Lemonhead),

Epworth, Ga.; Warren P. Renninger

(Lake), Muncy Valley, Pa.; John R. Rist

(Patches), Fallston, Md.; Janet L. Roberts

(Shutterbug), Truro, Nova Scotia, Canada;

Gordon C. Rollins, Jr. (Gooner), Orlando,

Fla.; Jordan T. Snow (Wandering Bear),

Thomaston, Ga.; John Starr (Yo Yo), Minneapolis,

Minn.; Robert E. Strootman (Silverfeet),

Jackson, Wyo.; Junius R. Tate (Model

T), Woodlawn, Tenn.; Claudia Tuor (Swiss

Miss), Plons, Switzerland; Jerry I. Ziemer

(Goat Legs), McHenry, Md.

1999

Michael R. Adamo (The Gambler), East

Northport, N.Y.; Daniel R. Alexander

(Butkus), Homewood, Ala.; William M.

Alexander (Sticks), Atlanta, Ga.; Ben P. Allen

(Uncle Ben), Sartell, Minn.; Mark R. Allen

(YN0T2K), Sartell, Minn.; Matthew C. Allen

(Caboose), Long Beach, Calif.; Huma

Alvarado (Morning), Asheville, N.C.;

Thomas W. Anderson (Tommy Sweats),

Vienna, Va.; Christopher K. Andrews (Wood

Doctor), Hixson, Tenn.; J. Blake Andrews

(Spoonman), Alpharetta, Ga.; Bruce L.

Andrus (Sidewinder), East Hampton, Conn.;

Jeffrey J. Apolinario (Patches), Peekskill,

N.Y.; Brian T. Arntz (Grubby), Greenville,

Mich.; Heather Lynn Arsenault (Moglo),

Townsend, Mass.; Richard N. Ashley (Zip

Drive), Arlington, Va.; Jason S. Badders

(Duke), Otsego, Mich.; Anonymous Badger

(Anonymous Badger), Coudersport, Pa.; Chris

Bagby (Spur of the Moment),

Atlanta, Ga.; Carol D. Baker

(Snowy Egret), Houston,

Texas; Lissa C. Baker (Stowaway),

Houston, Texas; Ronald

B. Baker (Leafhopper),

Houston, Texas; John H.

Balentine (Zin Slojourner),

Westerly, R.I.; Bill Bancroft

(Gaseous), Bryan, Texas; Ted

Barnette (Little John),

Spartanburg, S.C.; Anthony J.

Barrett (Only Tony), Hingham,

Mass.; Shawn A. Basil

(Bearpaw), Bowling Green, Ky.;

Charles E. Baughman (Chief

No Pecs), Hendersonville,

N.C.; Linda M. Baughman

(Mom), Hendersonville, N.C.;

Sonia Beaudoin (Huayna),St-Christophe

D'Arthabaska, Quebec, Canada; Leonard C.

Bechler (Rhubarb), Oakland, Calif.; Monika

Beckmann (Monika), Stockholm, N.J.;

Stephen M. Beggs (Dr. A), Middleburg, Va.;

Jean-Francois Belzile (KayBek), St-Augustin,

Quebec, Canada; Omer Benayahv (Timeout),

Bet-Yannay, Israel; Bryn A. Bender (Dragonfly),

Perth, Australia; Gary M. Bissaillon (Mr.

B), Skaneateles, N.Y.; Bryan W. Black (#1

Gopher), Savannah, Tenn.; Andrew J.

Blubaugh (Semper Fi), Wadsworth, Ohio;

Alison D. Bochner (Bugbite), Deerfield, Ill.;

Vincent C. Bochsler (High Country), Rock

Springs, Wyo.; Brad K. Boehringer (Orion),

Doylestown, Pa.; Gabriel R. Boisseau (Luna),

St. Johnsbury Center, Vt.; Justin D. Bonnett

(Ragweed), Forest Lake, Minn.; Molly A.

APPALACHIAN TRAILWAY NEWS 17
---
Bonnett (Clover), Forest Lake, Minn.;

Gregory M. Boone (Grizzly), Elizabethtown,

Ky.; Bill L. Booz III (Orion), Voorhees, N.J.;

Daniel Brent Borders (Double Barrel),

Fayetteville, Ga.; Jennifer R. Bowden (Sky),

Big Timber, Mont.; Keith Bown (Hedgehog),

Rotherham,

England; Kimberly

B. Boyce, Houston,

Texas; A. Hank

Boyd (Easy Rider),

Cleveland, Ala.;

Brenda L. Braaten

(Wilderness

Woman), N.

Weymouth, Mass.;

Laurie J. Braaten

(Holek), Weymouth,

Mass.; Thomas F.

Brady (Mr. Green

Jeans), Barnardsville,

N.C.; Thomas J.

Brady (Speedyfeet),

Barnardsville, N.C.;

William L. Brady

(Pigpen), Barnardsville,

N.C.; Sean F.

Brants (Ape), Royal

Oak, Mich.; Krista

A. Brewer (Krista),

Phoenixville, Pa.;

James A. Bright (Groove), York, Maine; Paul

P. Brinson Sr. (Blue Ridge), Turtletown,

Tenn.; Brigit E. Brown (Pigpen), Wisconsin

Dells, Wis.; Edmund E. Brown (R.E.S.), Bryn

Athyn, Pa.; Steven A. Brown (Bulletproof),

Albuquerque, N.M.; Guenther K. Brucha

(Moosburger), La Grange Park, Ill.; Nelson C.

Bruni (Slow Buffalo), Stafford, Va.; Julian P.

Bryant (Smokestack), Fitzgerald, Ga.; Troy J.

Bryant (Chap), Madison, Ga.; Matthias Buhl

(Fritz), Berlin, Germany; Jason N. Bulay

(Pending), Old Town, Maine; Edward D.

Burgess (Never Alone), Seville, Ohio; Parker

D. Burgin (Picture This), Wimberley, Texas;

Loy A. Burke (Bushrod), Clarkesville, Ga.;

Steven D. Burrough (Dry Fly), Roswell, Ga.;

Miller A. Bushong (Miller Time), Charleston,

W.Va.; Joseph W. Cappel (Charlie Hustle),

Cincinnati, Ohio; Daniel K. Capps (Dan),

Downers Grove, Ill.; George Carleton (One

Shot), Greensboro, Ga.; Andrew R. Carter

(Pop), Yorktown, Va.; John M. Carter (Dark

Star), La Grange, Ky.; Josh E. Carter (Launchpad),

Canterbury, N.H.; Christian J. Caruso

(Privey), Gahanna, Ohio; David L. Cassidy

(Drum Stick), W. Peabody, Mass.; Reed D.

Chambers (Blue Note), Pittsburgh, Pa.; Paul

E. Chapman (Bandit), Signal Mountain.,

Tenn.; Alan W. Chase (Splinter), Little

Meadows, Pa.; Loren Jay Chassels (Artic

Sven), Kirksville, Mo.; Matt T. Chism (Old

Crow), Louisville, Ky.; Dick Christian (Every

Hikers Dream), Manchester, Conn.; Peter D.

Christiana (Pete), Fayetteville, N.Y.; Dave N.

Clark (Doctor Ragamuffin), Hendersonville,

Tenn.; Jonathan D. Clark (Red), Yarmouth,

Maine; Stacy W. Clark (Roseycheeks),

Hendersonville,

Tenn.; Elmer J.

Clegg (The Jersey

Four (two of)),

Gibbstown, N.J.;

Isabella M. Clegg

(Bunny), Gibbstown,

N.J.; Michael

Clements (Wrangler),

Spring, Texas;

Laura S. Clinton

(Stinkerbell),

Daleville, Va.;

Thomas K. Conover

(Silver), Ruskin,

Fla.; Elaine L.

Contant (Elf),

Lincoln, Mass.;

Wilbur Cooley (PA

Mule), Doylestown,

Pa.; Scott J. Cooney

(Blind Elf), Ft.

Collins, Colo.;

Johnny A. Cooper

(Johnny Reb), Hazel

Green, Ala.; Melvin

P. Cooper (Lunch Time), Huntingdon, Pa.;

Alex J. Coughlin (Cracker), Durham, N.C.;

Michael C. Courtney

(Courdog), Mt.

Gilead, Ohio; Alison

G. Coviello Ouimet

(Cook from Cook n'

Clean), New York,

N.Y.; Thomas L.

Cronan III (TN-

Tom), Knoxville,

Tenn.; C. Mc Dowell

Crook, Jr. (Movin'),

Birmingham, Ala.;

Kevin C. Cross

(Chickpee), Tray,

Mich.; Sylvia Strawn

Crump (Orange

Blossom/Mountain

Marching Mama),

De Leon Springs,

Fla.; Ben A. Curtis

(Cobweb), Waterbury,

Vt.; Alton W.

Dail III (Clothes

Pin), Powhatan, Va.;

Claude Dallaire

(Machu Picchu), St-

Christophe D'Arthabaska, Quebec, Canada;

Edmund J. Danziger, Jr. (Fast Eddie), Bowling

Green, Ohio; Oren Davidoff (Little D), Ariel,

Israel; Charles W. Davidson (Chase), Axton,

Va.; Heath C. Davidson (Crumbsnatcher),

Lincoln, Neb.; John D. Davis (Single Malt),

Annapolis, Md.; John C. De Mattei (Doughboy),

Travelers Rest, S.C.; Robert D. de Vos

(The Fox), Atlanta, Ga.; Ronald Dearlove,

Inlet, N.Y.; Donald L. DeMeza (Empty Head),

Frederick, Md.; Steven K. Dendle (Candleman

UK), Newcastle Upon Tyne, England;

Jon M. Dennis (Heyoka), Florida City, Fla.;

Dan B. Denton (Go Back), Hesston, Pa.;

Jamie A. Derrick (Sunshine/Awaking

Dreams), Sierra Madre, Calif.; Will W. Dewey

(Willie B Walkin), Hendersonville, N.C.;

Brett R. Dixon (Brett), Seaford, N.Y.; Peter A.

Dohrenwend (Yahtzee), Newton, Conn.;

Chris Dooley (Dooley), Burlington, Vt.;

Damion A. Dooros (Rambler), Cincinnati,

Ohio; Casey Downs (Bones), Meredith, N.H.;

David A. Drachenberg (Bugbait), Newington,

Conn.; Richard Dreselly, Brunswick, Maine;

Lionel Roscrow Dreyer (Klipspringer), Cape

Town, South Africa; Audrey H. Duane

(Audie Go Lightly), Dalton, N.H.; Emily R.

Duhaime (Lu), Akron, Ohio; Ben R. Dulac

(Grizzbee), Newmarket, N.H.; Adam M.

Dulaski (Last Exit), Park Ridge, N.J.; Susan L.

Durrence (Skydog), White, Ga.; Don E.

DuRussel, Jr. (Potato Picker), Manchester,

Mich.; Caitlin M. Dwyer-Huppert (Riverdance),

Petersham, Mass.; W. Reed Dyer (The

Peaceful Warrior), Winthrop, Maine; Charles

S. Eckenroth (Funk That), New Holland, Pa.;

Hanan A. Edery (Husband), Gaithersburg,

Md.; Eric A. Eichler

(Young Buck),

Washington, D.C.;

Ken R. Evans

(Wadi), Wilmore,

Ky.; Thomas K.

Evans (Flatlander),

Salisbury, Md.;

Matthew H.

Falkinburg (Falcon),

North Jackson,

Ohio; Conor D.

Farley (Chocolate

Thunder), Hummelstown,

Pa.;

Kenneth G.

Felgenhour

(Mousebuster),

Woodstock, Ill.;

Nancy B. Field (Just

Nancy), East Lyme,

Conn.; Andrew J.

Fisher (Fish),

Southminster,

England; David

Forbes (No Worries),

Mosinee, Wis.; Roderick Forsman (Chronic

Fatigue Syndrome), Intervale, N.H.; Holly

Sue Forte (Holly), Raynham Center, Mass.;

Anna Franke (Pokey), Weimar, Germany;

18 MAY–JUNE 2000
---
Clinton E. Fuhr (Pale Rider), Pittsburgh, Pa.;

Luther B. Fuqua III (Supafly), Lexington, Ky.;

Matthew M. Furtney (Flash), Somerville,

Mass.; Robert E. Furtney (Merritt), Rutland,

Vt.; Scott D. Gaffney (Lord of the Flies),

Tampa, Fla.; Mike Galyean (Koolade), Winter

Park, Fla.; Joseph C. Gamble (Trout),

Savannah, Ga.; Josh C. Gambrel (Rocketman),

Johnson City, Tenn.; Kristen R.

Gardella (Krispina), Voluntown, Conn.; Louis

Gardella (Marco Polo), Voluntown, Conn.;

Catherine A. Gawronski (Rocky), Niantic,

Conn.; Glenn C. Gawronski (Bullwinkle),

Niantic, Conn.; Randy S. Geary (Mr.

Missouri), Desoto, Mo.; John D. Gillette

(Jester), Enfield, Conn.; Robert J. Glynn

(Muddy Creek Kid), Pearl River, N.Y.; Jeffrey

E. Godby (Yogi), Columbia, S.C.; Alexandra

M. Goncalves (Brooklyn), Waukegan, Ill.;

Erin M. Gooch (Repartee), Plymouth, N.H.;

Carl C. Goodman (Greybeard), Alexandria,

Va.; Timothy C. Goodman (Duke), Richmond,

Va.; Lizzie F. Goodrick (Paranoid),

Merriam, Kan.; Eric J. Gott (Colby Jack),

Shepherd, Mich.; Darren S. Gouran (Breakin'

Wind), State College, Pa.; Eric J. Green

(Crusher), Richfield Springs, N.Y.; George E.

Green (Greenfoot), Melrose, Mass.; Daniel P.

Gregory (Just Dan), Cincinnati, Ohio;

Lawton E. Grinter (Disco), Gaffney, S.C.; J.C.

Grotz (JC/Skunkmonkey), Tampa, Fla.; Jason

P. Grudell (1st Degree), Rhinebeck, N.Y.;

Chris W. Habeck (Grover), Georgetown,

Mass.; Nathan C.

Hackett (Arrowhead),

Yorktown,

Va.; Petr Hajda,

Ottawa, Ontario,

Canada; Gayle C.

Hall (Bluemoon),

Bloomington, Ind.;

Justin B. Hall

(Jetson), Locust

Grove, Va.; Wayne

W. Hall (Finnegan),

Nicholasville, Ky.;

Chris M. Hallien

(Woodchuck),

Arlington, Texas;

Jonathan W.

Hamilton (That

Guy), Snellville,

Ga.; Ryan W.

Hamler (Redneck

Rye), Groveport,

Ohio; Ernie

Hansche (Stone

Monkey), Manchester,

N.H.; Erik S.

Hansen (Raven), Billings, Mont.; George F.

Harenberg (Geo), Denver, Colo.; James C.

Harvey (Mountain Bear), Linden, Va.; Jason

Hawkins (Catfish), Richmond, Ky.; Charles

O. Hearon III (Buzzard Wing), Campobello,

S.C.; Nathan L. Helminiak (Flounder), Jersey

Shore, Pa.; D. Oliver Henderson, Lookout

Mountain, Ga.; Hal K. Hess (Cross Country

Wingnuts), Hurricane,

Utah; Tim B.

Hewitt (Paddler),

Old Orchard Beach,

Maine; Maureen J.

Hickey (Laughing

Hyena), Elizabethtown,

Ky.; Gregg R.

Hilferding (Uncle

Bearbait), Zephyrhills,

Fla.; Dave L.

Hill (Sorefoot),

Norwich, United

Kingdom; Michael

C. Hillen (Spud),

Jefferson City, Mo.;

Bryce W. Hipp (The

Combustible

Postman), Montmagny,

Quebec,

Canada; Wally L.

Hockly (Apteryx),

Stewart Island, New

Zealand; Walt L.

Hodges (Walt),

Irondale, Ala.;

Benjamin B. Hodgins (Hopper), Vancouver,

Wash.; Donna Holmes (Free Spirit), South

Boundbrook, N.J.; Arno Holschuh (Frog),

Bloomington, Ind.;

Scot C. Holt (Celt),

Lincoln, N.H.;

Stephen C.

Hotchkiss (Steve),

Houston, Texas;

Steven T. Howard

(Snickers), Athens,

Ga.; Jeffery A. Hoye

(Chooch), Merrimack,

N.H.;

Wendell R.

Hubbard (Grateful

Grandpa), Collinsville,

Va.; Brad

Hubeny (The Great

Hue-Beenie),

Hingham, Mass.;

William M.

Hughes, Jr.

(Einstein's Human),

Alexandria, Va.;

Richard C.

Humphrey (Posey

Picker), Kansas

City, Mo.; John G.

Hunkele (Spiderbite), West Hollywood,

Calif.; Richard A. Hurd, Jr. (Powdermanof

Blind Mice Expedition), Alpharetta, Ga.;

Lee A. Hurd (Mattressman), Bishop, Ga.;

Stacy D. Huskins (Hutch), McDonald, Tenn.;

Bradley W. Ivey (Carolina Kid), Asheboro,

N.C.; Andrew L. Jagenow (Mardi Gras),

Groton, Conn.; M. June James (Jilebi),

Oakland, Calif.;

Amanda K. Jaros

(Tamarack), Long

Valley, N.J.; Jack B.

Jenkins (Kentuck

Jack), Louisville,

Ky.; Carl Jesionowski

(Lightfoot),

Plaistow, N.H.;

Theresa Jesionowski

(Mother

Theresa), Plaistow,

N.H.; Connie L.

Jeska (Yellow Rose

of Texas), Carrollton,

Texas; Brian S.

Johnson (Airlift),

Elkin, N.C.; James

G. Johnson

(Tommy Bahama),

Woodstown, N.J.;

Michael D. Jones

(Roanoke), Luray,

Va.; Lloyd C. Joyce

(Load), Lawrence,

Pa.; Kevin J.

Kalthoff (Oz), Topeka, Kan.; Jeffrey J.

Kavanaugh (Second Wind), Indianapolis, Ind.;

Dale R. Keirstead (Galahad), Alton, N.H.;

Brooks Kelley (Mr. Boo), Jeffersonville, Vt.;

Leo A. Kellogg (The Persistent), East

Greenbush, N.Y.; Thomas A. Kennedy (The

Lovely Overpacked), Lake Worth, Fla.; Jeff A.

Killian (Twice), Knoxville, Tenn.; Ellen V.

Kilpatrick (Mama Kazoo), Gainsville, Fla.;

Richard S. Kimmel (Lucky), Nashville,

Tenn.; Harry E. Kintzler (Uncas '73), Mt.

Prospect, Ill.; Michael J. Kirby (Bipolar

Disorder), Pensacola, Fla.; Mark W. Kittrell

(Man-Who), Kissimmee, Fla.; E. Jolene Koby

(Jojo Smiley), Hayfork, Calif.; Sasha M. Kodet

(Honeydo), Tray, Mich.; Tom R. Kozlowski

(Polish), Jersey Shore, Pa.; Daniel P. Krieger

(Too Hot to Handle), Northfield, Ohio; Eric J.

Kuzma (TH434N), Collingswood, N.J.;

Curteis J. La Boy (The Corsican), Black

Mountain, N.C.; Melody H. Lam (Yodi),

Collinsville, Va.; Jennifer D. Lamb (Bear

Bait), Los Altos, Calif.; Cory Lampert (Cross

Country), Denver, Colo.; Anthony C. Lance

(Glider), Springfield, Tenn.; John H. Lange III

(The Georgia Crackers), Columbus, Ga.; J.

Harry Lange, Jr. (Trail Dad of The Georgia

Crackers), Cataula, Ga.; Patrick H. Lange

(The Georgia Crackers), Cataula, Ga.; Ingrid

K. Larsson (Sunshine), Campbellcroft,

Ontario, Canada; Allison B. Lassiter

(Hummingbird), Weston, Mass.; Eric E.

Lawrence (Campbell's Kid), Silver Spring,

APPALACHIAN TRAILWAY NEWS 19
---
Md.; Joe Lawrence (Biohazard), Athens, Ga.;

James F. LeCroy, Jr. (Papa Squat), Columbia,

S.C.; J.D. Lee (Tellico Advocate), Knoxville,

Tenn.; Susan E. Lee (Boo Boo), Columbia,

S.C.; William E. Lesmerises, Jr. (Scooby),

Laconia, N.H.; William E. Lesmerises

(Crash), Laconia, N.H.; David J. Lewis

(Chewy), Yarmouth, Maine; Lung Sang Li

(Jersey George), Piscataway, N.J.; R. Laine

Ligon (Grey Man), Columbia, S.C.; Lynn A.

Lingenfelter (Team Myoplex), Winter Spring,

Fla.; Robert E. Lloyd, Sr. (New Jersey Four),

Woodbury, N.J.; Joyce M. Lloyd (New Jersey

Four), Woodbury, N.J.; Robert A. Longmire

(Chaco), Lexington, Ky.; Jeffrey L. Loso (The

Vagabon'), Bloomington, Minn.; Michael E.

Lowell (Plantar), Clovis, N.M.; Lyle E.

Lumsden (Painted Turtle), Manchester,

Mass.; Jason A. Lustig (Sage), Shingle Springs,

Calif.; Luke C. Lydiard (Jedi), Chesterfield,

Mass.; Loren P. Mach (Rhythm), Sun Prairie,

Wis.; Sandy MacKay (Perma-Grin), Aspen,

Colo.; Frederick E. Maerker (Magic

Merk), Thornton, Pa.; Tommy E.

Magrinat (Doc), Greensboro, N.C.;

John K. Magullian (Archaeopterix),

Kearny, N.J.; Marc D. Mainville

(Rainbow Bright), Longueuil, Quebec,

Canada; Tod E. Marks (Magnet),

Greenville, S.C.; Winton T. Martin

(Bronco), Casper, Wyo.; Martha

Mathewson (Joyous Tears), Shady

Side, Md.; Philip C. Mattson (D.O.C.),

Clifton, Va.; Judson T. Maurer (Heavy

Pack), Blythewood, S.C.; Scott A.

McCammon (Animal Cracker),

LaGrange, Ind.; Charles N. McComas

III (Satori), Bel Air, Md.; Dennis L.

McCrate (Buckeye), Barnesville, Ohio;

Bryon K. McCune (Cune), Columbia,

Mo.; Steve S. McDonald (Lank),

Vancouver, Wash.; Jacqueline A.

McDonnell (Yogi), Mission, Kan.;

Matthew J. McFarland (Iceman), Cary,

N.C.; Ryan J. McGhee (Ulysses),

Boone, N.C.; Sarah L. McGinley

(Firelily), Brookline, Mass.; Fran J.

McGregor (Sparrow), Howell, N.J.;

Owen McKinney (Tumbleweed), Middletown,

Ohio; Timothy M. McLain (T-Bone),

Franklin, Ind.; Monica McManus (Moonshine),

Washington, D.C.; Richard J. McNelis

(Rickrock), Pittsburgh, Pa.; Ryan J. McNulty

(Tiger), Watertown, Mass.; Michael W. Mead

(Ditka), Ft. Walton Beach, Fla.; Michael J.

Menard (Pilgrim), Ferrum, Va.; Holly J.

Messier (Barefoot), Essex Jct., Vt.; Joel A.

Metcalfe (Bigfoot), Marietta, Ga.; William F.

Miller (Hebgebs), Stafford, Va.; Robert D.

Minton (Mitty), Jacksonville, N.C.; Seth H.

Mitchell (Lone Star), Fair Oaks Ranch, Texas;

Benjamin J. Molineaux (Chile), Santiago,

Chile; Chris Monello (Walking Tree),

Marietta, Ga.; Matthew J. Moore (Milo),

Weymouth, Mass.; Stanley J. Moore

(Bermuda Incher), Albany, N.Y.; Denis S.

Moran (Sack), Newcastle, Maine; Rockett

Morgan (Rockett), Hollis, Maine; Jackie L.

Moulton (Mom), Bow, N.H.; Jen L. Moulton

(Booboo), Bow, N.H.; Randolph H. Moulton

(Gramps), Macon, Ga.; Andrew M. Mujica

(Freebird), Stone Mountain, Ga.; Larry

Mulder (Dutch Plodder), Holland, Mich.;

William Fox Munroe (Red Fox), Reading, Pa.;

Mike C. Navjoks (Wandering Taoist), Miami

Beach, Fla.; Cara M. Nealon (Supergirl),

Philadelphia, Pa.; Andrew T. Nelson

(Smiley), Arnold, Md.; Jack E. Nelson (Yak),

Charlotte, N.C.; Joanna Nelson (Yo),

Charlotte, N.C.; John K. Nelson (Hercules),

Smithville, Md.; Kathryn W. Nelson (Kaku),

Maryville, Tenn.; Nancy Jo Nelson (FAL/Free

At Last), Smithville, Mo.; Eric D. Neville

(Tripper), North. Dighton, Mass.; William L.

Newman (Circuit Rider), Alanson, Mich.;

Joseph S. Newton (Ranger), St. Petersburg,

Fla.; Chester Nicholson (Ice Falcon), Pass

Christian, Miss.; Tony A. Nitz (Prehistoric

Tony), Sparks, Nev.; Jacob W. O'Dell (Darth

Moezass), Bluff City, Tenn.; Robert W.

O'Hara (Dragline), Fairfield, Pa.; Patrick B.

O'Keefe (Breakin' II), Fort Ashby, W.Va.;

Christina N. Olex (Red Stripe), South Boston,

Mass.; Chase L. Orton (Casy), Center

Sandwich, N.H.; George F. Otto (Tuesday

Night Norm), Oreland, Pa.; Rick W. Ouimet

(Clean from Cook n' Clean), New York, N.Y.;

Judy A. Owen (Gourmet Gert), Lupton,

Mich.; Elise S. Owens (Trash Pocket),

Bradenton, Fla.; Emma S. Owens (Kermita),

Bradenton, Fla.; Peter R. Palmer (Cujo),

Avon, Conn.; Jackie D. Parker (Mud Puppy),

Clifton Park, N.Y.; Neil D. Parker (Woodcutter),

Clifton Park, N.Y.; John L. Passman

(Madhatter), Marietta, Ga.; Scott M. Payne

(Doc Alley), Sycamore, Ga.; Garry Pelletier

(Wounded Knee), Coventry, R.I.; Andrew M.

Perdas (Icehouse), Shippensburg, Pa.; Paige

Peters (Sunny P), Lebanon, Ohio; Robbie W.

Peters (Shawnee), Effingham, Ill.; Mary L.

Pfennig (Hoosier Mama), Rising Sun, Ind.;

Matthew W. Pilachowski (Drive By),

Baltimore, Md.; Joseph A. Platt (Patch),

Cartersville, Ga.; Priscilla L. Potter (Toasted),

North Berwick, Maine; Steven L. Prescott

(Steve), Bainbridge, Pa.; Heidi Preuss (Hyper),

Laconia, N.H.; Dick D. Proctor (The

Diamond), Ottumwa, Iowa; Richard S.

Provost (Pots), North Ferrisburg, Vt.; Bradley

R. Quentin (Lao Hu), Perrysburg, Ohio; Todd

V. Querry (Citrus), Mechanicsburg, Pa.;

Hannah B. Quimby (Songbird), Portland,

Maine; Daniel B. Raber (Jes' Feeblin'

Along), Asheville, N.C.; Gregory C.

Raber (The Other Feeblin' Along

Boys), Garrettsville, Ohio; Andrew

M. Raby (Nets), Nashville, Tenn.;

David W. Rainoshek (The Happy

Hikers), Houston, Texas; Summer P.

Rainoshek (The Happy Hikers),

Houston, Texas; Parker Rajotte

(Lobo), Plainville, Conn.; Davy G.

Ray (Karma Suture), Eugene, Ore.;

Jeremy Rayner (Creeper), Concord,

N.H.; Sarah Rebick (Kamikaze),

Annandale, N.J.; Mitchell T. Renville

(Bud from Oregon), Portland, Ore.;

David Reus (Nemo), Hillsborough,

N.C.; David P. Richard (Shaft), Key

West, Fla.; Denny R. Richard (Jam

Bone), Moncton, New Brunswick,

Canada; James H. Richards (Houdini),

Jonesville, S.C.; Norm E. Richardson

(Stormin' Norman), Fairfax, Va.;

Larry L. Ridenour (Pa. Pilgrim),

Pittsburgh, Pa.; Anneliese Ring

(Frische Luft), Castle Rock, Colo.; R.

Quincy Robe (Bog), Groton, Conn.;

Dolores Roberts (Downhill Hopeful),

Thornton, Ky.; Donald R. Roberts (Sly Fox),

Suffolk, Va.; Keel Robinson (Keel), Decatur,

Ill.; Rodney S. Robinson (Sweet Blood),

Hendersonville, N.C.; Larry J. Rod (Omar the

Tent Maker), Winter Springs, Fla.; Emmett

N. Roden (Logjumper), Chevy Chase, Md.; A.

Wade Rogers (Grace's Son), Florence, Ky.;

Daniel L. Rogers (Sheltowee), Bloomingdale,

Ohio; Jan E. Ronco (Gumby), Abbot, Maine;

Tess Rowe (No Time), Silverthorne, Colo.;

Andrew Ryan (Groovin' Moose), North

Providence, R.I.; Bill C. Ryan (7 Year Itch),

Colorado Springs, Colo.; Richard J. Ryan

(Lionheart), Ft. Lauderdale, Fla.; Jeremy P.

20 MAY–JUNE 2000
---
Samford (Greenbean), Avondale, Ga.; Paul E.

Sanford, Meadowbrook, Pa.; Ed D. Schernau

(All Downhill From Here), Providence, R.I.;

Mark E. Schieber (Gruff), Battle Creek,

Mich.; Lenore G. Schneider (Mountain

Marching Mamas/Mother Superior),

Bradenton, Fla.; Matthew G. Schomburg

(Coos), North Stratford, N.H.; James C.

Schrock (Gentleman Jim), Eastham, Minn.;

Russell T. Schundler (Cap'n Crusty),

Westfield, N.J.;

Chris A. Schwab

(Hops), Decatur,

Ga.; Ronald L.

Schweller (McGiver),

Wilmington, Ohio;

Sarah G. Scott

(Humboldt),

Murphy, N.C.;

Martin L. Seelig

(Ironhorse), Granville, Mass.; Nancy B.

Seymour (Mothergoose), Asheville, N.C.;

Armen A. Shabazian (Smoky Jack), Gardnerville,

Nev.; Brett N. Simmons (Hungry Brett),

Manassas, Va.; Brian M. Simon (Kernel),

Minneapolis, Minn.; George E. Sinkinson

(Whitebark), Akron, Ohio; Michael J.

Sisemore (Super Fly SY), Gainesville, Ga.;

Daniel E. Smith (Bee), Brookline, Mass.;

Robert B. Smith (Waterboy), Niceville, Fla.;

Rachel P. Soifer (Wife), Gaithersburg, Md.;

Edie C. Sonne (Speedy), Tuxedo Park, N.Y.;

Josh C. Spalding (Joshua Tree), Southbury,

Conn.; Rob A. Sparks (Sparks/Botany Boyz),

Centerville, Ohio; Rick J. St. John (Log),

Boulder, Colo.; Alexandra Staab (Silver

Moon), Atlanta, Ga.; Joseph J. Staft (Old

Blue), Cincinnati, Ohio; Mark A. Stanfill

(Buford), Murfreesboro, Tenn.; Patrick B.

Stanley (Daybreak), Nashua, N.H.; Matthew

D. Stauffer (Heart Break), Myerstown, Pa.;

Anthony M. Stillwell (Stilly), Huntington,

W.Va.; John J. Stoddard (LJ), Enfield, Conn.;

Adam M. Stolz (Jiffy), Preston, Conn.; Mary

Sturtevant (Possum), Londonderry, N.H.;

Megan A. Supple (Megan), Culver City,

Calif.; Peter F. Swarce (Squanto), Bridgewater,

Mass.; Dariusz A. Swiderek (Hiking Pole),

Portland, Ore.; Mark A. Tai (Zaugau),

Raleigh, N.C.; Nathan L. Tanner (The

Captain), Seaford, Del.; Mark W. Taylor

(Professor Booty), Montgomery, Ala.; Wido J.

Teriet (Traveler), Freiburg, Germany; Sven

Thesen (Culvert/Box Culvert), Berkeley,

Calif.; Troy A. Thompson (Wide Brim), Tuart

Hill, Australia; James F. Tidd (Gadgetman),

Odessa, Fla.; Russell H. Tinkham (Serpico),

Groton, Vt.; Marty P. Tipton (Bullfoon),

Lexington, Ky.; Roger E. Tipton (Smoky),

Knoxville, Tenn.; Brian Tourkin (Blisterbutt),

Jacksonville, Fla.; Josee P. Trudeau (Mini-

Me), Sudbury, Ontario, Canada; Carri Uranga

(Pepper), Arlington, Texas; Michael B.

VanReken (No Sub), Great Mills, Md.; Megan

L. Varellas (Batgirl), Atlanta, Ga.; Bronald

John Vasalle (4 X 4), Lebanon, Maine; Nathan

C. Waggoner (Avlo), Tulsa, Okla.; Benjamin

A. Wagner (Sundance), Exeter, N.H.; Jon S.

Wakeman (Little Jon), Claremont, N.H.;

Sharon L. Walker (Buzzard), Franklin, Ind.;

David L. Walters (The Acrobat), Edinburg,

Pa.; Joe D. Ward (Smoky Joe), Jacksonville,

Ga.; Willard T. Ware (Poopa Jack), Limerick,

After your re-entry, remember this moment, this and all other

nights pitched out in the lofty stillness beneath the heavens.

Remember it when tragedy befalls you or hardship comes

knocking. You have hiked the Appalachian Trail, you have

scaled the eastern peaks, and you have walked from Maine to

Georgia. You can do anything.

—Joseph Gamble, "Trout" (Maine–Georgia, 1999)

Maine; Michael E. Watkins (Miracle Mike),

Dacula, Ga.; Laura B. Wawierowski (Crazy

Legs), Akron, Ohio; Ted J. Wawierowski

(Teddy Bear), Akron, Ohio; Mary M. Webster

(Swamp Yankee), Jamestown, R.I.; Elizabeth

Wegmann (Flightless Towhee), Blowing

Rock, N.C.; Matthew J. Wertman (Hoover),

Rapid City, Mich.; Charles Justin West

(ManGo), Somerville, N.J.; James L. Weston

(Wing Man), Greene, Maine; Scott M.

Wheaton (Red Wing), Traverse City, Mich.;

Evelyn M. Wheeler (Team Myoplex), Winter

Spring, Fla.; George A. Wheeler (Wideload),

Cambria Heights, N.Y.; Eric S. White (White

Notable Club, Organization, Corporate,

and Foundation Gifts

(since January 2000)

Rabbit), Williamstown, Mass.; Johnny L.

White (Whittler), Mayfield, Ky.; Marci L.

White (Trail Trotter), Mayfield, Ky.; John

Whiting (Graybeard), Somerset Center,

Mich.; Eric Wiese, Hixson, Tenn.; Kristofor

R. Wiley (Blisters), Springfield, Mo.; John D.

Williams (Fairweather), Mc Cordsville, Ind.;

Alistair G. Wilson (Dog Bone), Chapala,

Mexico; Asher Wolf (Asher/Slugface),

Knoxville, Md.; Emma M. Worst (LLama),

Westmont, Ill.; Susanne

Wright Ashland (Walking

Home), Canaan, Maine;

Matt J. Young (Spicoli),

Happy Jack, Ariz.; Jenna

M. Zampiello (Nipper),

Boxboro, Mass.; Troy A.

Zohner (Tomcat),

Shoemakersville, Pa.

2000

Michael S. Kulik II (Wyoming Skateboarder),

Jackson, Wyo.

ATC also received the following corrections

to the database of 2,000-milers:

1936

Max Gordon, Bronx, N.Y.; Seymour Dorfman,

Bronx, N.Y.; Louis Zisk, Bronx, N.Y.

1969

Edwin Bock, Juneau, Alaska; Zillie Johnson,

Juneau, Alaska.

1998

David Mastroianni (Lars ThunderFoot),

Watertown, Mass.♦

$10,000 and above

Friends of Great Smoky Mountains National Park—caretaker and ridgerunner

programs

$1,000 to $4,999

Blue Mountain Eagle Climbing Club—Land Trust

Dover Foundation—general support

MBNA America—land acquisition fund

New Hampshire Charitable Foundation—Upper Valley Trails Alliance

New York–New Jersey Trail Club—mid-Atlantic Trail crew

Piedmont Appalachian Trail Hikers—general support

Spear, Leeds & Kellogg—Land Trust, South Egremont, Massachusetts

Virginia Power—general support

$500 to $999

Atlantel—general support

Bank of Charles Town, W.Va.—general support and National Trails Day

Campmor—Land Trust

Pennsylvania Power and Light Co.—general support

Frank and Brinna Sands Foundation—Upper Valley Trails Alliance

APPALACHIAN TRAILWAY NEWS 21
---
What is past,

and passing,

and to come

Bit by bit, historians,

anthropologists, and

archaeologists are looking

beneath the Trail's duff and dirt

to assemble a "cultural

inventory" of the recent and

ancient history that the

Appalachian trailway

encompasses.

By Glenn Scherer

VISUALIZE FOR A

moment a

day in 1944,

foggy February

along New

Jersey's Kittatinny Ridge. Two

farmers butchering hogs in the

valley below hear something. A

plane—the groan of a fourengine

bomber circling low, lost

in sleet and fog. Its anxious

crew has no warning of the

looming mountain.

The farmers hear an earsplitting

explosion. They break

off their bloody work and run

22 22 MAY–JUNE 2000
---
through freezing rain up the ridge, only

to come upon a hellish scene. A twentyfive-ton

B-17 "Flying Fortress" has

slammed into the mountain. Its fuel tanks

have exploded. Fire rages in the wreckage

and the surrounding trees. The B-17's

hundred-foot wingspan has sheared off

treetops along a quarter-mile swath. Bodies,

thrown clear of the crash, lie amid

debris. Only the fuselage is intact. The

words painted on the nose cone declare

the crew's patriotic intentions: Up Der

Fuehrer! This bomber will never see Europe

or the mission for which it was built.

A month later, in the farm

country below the ridge, the boys

of Camp No-Be-Bo-Sco (short for

"North Bergen Boy Scout" Council)

turn out to memorialize the

airmen of Up Der Fuehrer. They

gather around the tail-gunner's

section of the aircraft and light a

council fire.

"You could hear a pin drop, it

was so quiet and solemn," recalled

scout John Hover. "It was a very

moving service, as most of us had

family members in World War II."

Half a century later, the forest

has healed, hiding signs of fire

and destruction. I'm hiking the

A.T. along the ridge in October

with historian Ron Dupont. Although

birches have gone golden,

we aren't leaf-peeping. Dupont is

hunting for something. We leave

the Trail and enter a patch of blueberry

bushes, their leaves scarlet. A gum

wrapper and a tin can litter the ground.

"People think of the Appalachian

Trail as untrammeled wilderness,"

Dupont muses, "but it's been trammeled—trammeled

big time."

Then, he bends over. "What the hell

is this?" he asks.

He holds up a foot-long chunk of

metal. The jagged scrap is old. It's

Left: Farm water tower at Hurd's Corner,

New York. The 1920s landmark fell into

disrepair in the 1960s. Volunteers from

the New York–New Jersey Trail Conference

and local civic groups restored it in

1989. Photo: John Nelson. Above: Stone

wall near Hosner Mountain, New York.

Photo: Mike Warren.

scorched black, twisted and fused, peppered

with rivets and melted glass. It's

what Dupont has been looking for, and

he turns solemn.

"This is the place," he says.

The mountains (and maintainers)

remember…

For Dupont, and others like him, the

Appalachian Trail pierces the sediment

of history like a drill bit cutting

through strata. Since the days of

"It's not until you actually go out there

and pay close attention to the stone

walls that you realize the startling

extent to which these mountains were

cultivated."

Myron Avery, Trail maintainers have

cared passionately about the history

they've found underfoot. Volunteers from

Maine to Georgia have spent countless

days scouring local newspapers (where the

story of the B-17 crash turned up), visiting

historical societies, tracing deeds, interviewing

old-timers, walking the

woods, and joining professional archaeological

digs.

In recent years, the process has become

more formal. The Trail, as part of

the national park system, is undergoing

an official "inventory" that looks at its

"cultural resources" (government jargon

for what the rest of us might call "cool

historical sites"). The idea is to perform

a state-by-state systematic cataloguing of

the historical landscape within the bor-

ders of the Trail corridor.

Even as the National Park Service's

Appalachian Trail Park Office begins the

methodical inventory process, local volunteers

continue to figuratively peel back

the forest duff to uncover the history that

lies along and beneath the A.T.

While Dupont's period of expertise

begins after 1492, archaeologist Joe

Baker's is more remote. His special interest

is in searching out prehistoric hearths

and trash pits, and deciphering the Stone

Age record.

"We have the oldest radiocarbon

dates in the East," Baker observes,

pleased by what he

and fellow Pennsylvania archaeologists

have found. Carbon

dating is a technique for

measuring the age of organic

material, based on the decay

rate of radioactive carbon.

"People were living in Pennsylvania

at least 14,000 years

ago, maybe 20,000. At every

little spring, tucked back into

the folds of these mountains,

you'll find chert flakes." The

flakes are a byproduct of Indian

tool-making. "In fact,

we've probably damaged

some encampments by unknowingly

plopping Trail

shelters on top of them."

Baker first volunteered

his scientific skills as part of

a 1988 historical study of the

A.T. corridor where it crosses the Great

Valley of the Appalachians in Cumberland

County, Pennsylvania. Later, he

took part in the 1999 Pennsylvania A.T.

cultural resource survey, the first statewide

inventory ever conducted by the

National Park Service along the Trail.

"There are a lot of things we found,

but a lot we didn't," Baker says. "We only

looked at the existing written record and

never turned a shovel. We didn't look on

the ridges. The Catoctin greenstone up

there was mined by Stone Age peoples for

thousands of years. It was carried and

traded as far away as Maine and the Mississippi

River."

Baker immediately qualifies his

statement, happily debunking the most

persistent of A.T. historical myths. "But,

APPALACHIAN TRAILWAY NEWS 23
---
you know, the Trail was never a native

American path. Only modern idiots

would think it's fun to hike a high and

dry ridgeline end-to-end!"

By the 1700s, European

immigrants had cleared away

native American culture and,

along with it, the Appalachian

forests. "We know from land

records that the A.T. passes

through the remnants of collapsed

18 th - and 19 th -century

farms," Ron Dupont explains,

"but it's not until you actually

go out there and pay close attention

to the stone walls that

you realize the startling extent

to which these mountains were

cultivated."

Pay attention is just what

Dupont did from 1991 to 1993,

when he made a one-man historical

study of New Jersey's seventythree

miles of Trail. "You find stone

fences in the most wild, windswept, improbable

places, which means someone

was grazing animals or trying to grow hay

up there," he says.

In the 19 th century, the mountain

farms failed—bypassed by the canals and

railroads that linked eastern cities with

the rich midwestern agricultural breadbasket.

Evidence of Appalachian farmsteads

vanished nearly as quickly as the

Indians had. Farm fields reverted to forest,

and newly overgrown ridges became

the ideal route for the Appalachian Trail.

The A.T., Dupont points out, could

never have been built if vanquished primitive

cultures and failed pioneer economies

had not first vacated the land. It is the

artifacts and stories of those long-gone

worlds, bounded by the Trail corridor, that

attract historians and archaeologists to

the cultural-inventory process, a process

that remains far from complete.

Baker argues that these inventories

are both urgent and relevant. Discoveries

about the past offer meaningful lessons

for our future, he asserts. "The history of

ecology in North America is preserved in

its archaeological sites. Friends of mine

digging in northern Pennsylvania recently

found that, between the end of the Ice Age

and the arrival of the Europeans (that's

Cultural legacy with cat? An old farm on a rainy day in

Pennsylvania. (Photo: Chris Myers)

Interpretive display, Harpers Ferry.

(Photo: Frank Logue)

10,000 years), only two-and-a-half feet of

soil were deposited in a particular river

floodplain. But, in the four hundred years

since then, eight more feet of soil were

dumped on top." The soil had once covered

lush mountainsides. When the ridges

were clearcut, the soil washed away, leaving

loggers, charcoal makers, and farmers

without a livelihood. That tells you

what happens when land is mismanaged,

Baker says. When you lose fertile topsoil,

you bankrupt your future.

Saving the storied landscape

"

Ilove protecting the best of what's

left in America," declares

Dave Sherman of the Forest

Service's Lands Office. Ironically, this particular

Sherman began his career

in public service by trying to preserve

Georgia, rather than ransacking

it, acting as the state's

historical preservation officer.

Later, after the Park Service

geared up to protect the A.T.

corridor, it was Sherman who

marched in to map out land that

would eventually be acquired.

"We reviewed three hundred-odd

segment maps and had

to decide what we should try to

protect: scenic vistas, water

sources, and, of course, cultural

resources," Sherman explains

with undisguised enthusiasm.

"You just knew when you walked out

there and saw charcoal bottoms and cellar

holes there was a story to be told. Often,

we widened the corridor from 1,000

to 1,500 feet just to preserve an interesting

piece of the landscape."

One of the most important sites

snatched up by Sherman was at Fox Gap

on Maryland's South Mountain. In 1862,

outnumbered Confederate soldiers defended

this natural mountain fortress

against repeated Union bayonet charges,

probably saving Lee's army from disaster.

"The battle of South Mountain, with

its 5,000 casualties, is overshadowed by

the battle of Antietam three days later,

with its 27,000 dead and wounded," says

amateur historian Steve Stotelmyer. "But,

to anyone who studies the Maryland campaign,

it's obvious that South Mountain

was the more strategically important action."

Stotelmyer applauds the A.T.'s landacquisition

efforts at Fox Gap. "If not for

the Appalachian Trail, there'd be a house

sitting right in the middle of the 17th

Michigan field, scene of some of the fiercest

fighting," Stotelmyer says. His nonprofit

Central Maryland Heritage League

has united with the Potomac Appalachian

Trail Club, the state of Maryland, and

Park Service officials to design a management

plan for the battlefield.

24 MAY–JUNE 2000
---
"A.T. hikers now walk within thirty

feet of a hand-dug well, down which fiftyeight

Confederate dead were dumped, but

don't even know it," Stotelmyer comments.

He hopes to do archaeological

work at the Gap, restore the battlefield

to its 1862 appearance, install signs, and

build a loop trail that will interpret this

bloody page of history.

Hidden treasures

Serendipity sometimes rewards the

volunteers who seek out cultural

treasures. One spring morning in

the mid-1980s, Rick Patterson took his

golden retriever for a walk near the Trail

(in a state that shall remain nameless). A

flint outcropping caught his eye. As the

self-trained archaeologist explored further,

he knew he had made an important

find.

"Most native American quarries are

little more than holes in the ground,"

Patterson says, "but this site had oredressing

stations, mill-processing sites,

and open-air workshops for producing finished

stone points. I realized this was a

completely intact prehistoric mining district.

Our town planners wanted to put a

subdivision smack on top of the quarry. I

tried to save it but couldn't. The Park Service

and ATC could. They acted and

bought what may be the most important

prehistoric site on the entire Appalachian

Trail."

The quarry purchase didn't come

without controversy. Patterson argues

that the site should be opened to the public

for interpretation, while the National

Park Service insists it be kept secret.

"I've found shovels and a wheelbarrow

out there," Patterson says, lamenting

the destructive work of looters. "The

only way to really protect the place is to

have a presence there, make it into a

museum, and let people tour the site."

Don Owen, cultural resources manager

for the Park Service's A.T. office, sees

things differently. He explains that ARPA,

the federal Archaeological Resource Protection

Act, mandates that the Park Service

zealously protect historic cultural resources.

The act makes it a crime to disturb

such sites.

"Historical resources, like old farms

Original A.T. metal marker—some parts of

the Trail itself now date back seventy-five

years or more. (Photo: ATC Archives)

or railroads with large immovable structures

are much better suited for interpretation

than prehistoric sites," Owen contends.

"Prehistoric sites contain small,

potentially valuable artifacts that are

critical to our understanding, but easily

looted." And so, the location of the A.T's

only prehistoric mining district remains

hidden.

Archaeologist Ed Lenik agrees with

this practice. "The best protection for sensitive

sites is anonymity," he says. "Once

you promote a site, the risk of vandalism

goes way up."

Lenik implemented an innovative

solution to the problem of looting at native

American rock shelters in New

York's Bear Mountain–Harriman State

Parks. He established a core group of volunteers

from the Thendara Club (once

part of the Green Mountain Club) who

work as "heritage monitors."

"The members of the Thendara Club

aren't policemen," says Lenik. "They are

observers. They visit the rock shelters

regularly and look for signs of disturbance.

If they see any evidence of digging, they

report it to park law enforcement."

"Volunteer heritage monitors are a

way to preserve these sites until we can

afford better protection." That's important,

Lenik says, since "everything isn't

written down in books. Knowledge is still

buried in the ground, awaiting our discov-

ery and interpretation."

Bringing the dead to life

Not everything is so safely buried.

Some history is weathering

away before our eyes, and

land managers—strapped by tight budgets—are

unable to take action.

ATC's chair and self-described Maine

history buff, Dave Field, regrets the inability

of Trail-maintaining clubs to aggressively

protect historical sites. "I can

show you old graves and logging camps

and a big pile of crosscut saw blades just

lying out there," he says. "We know these

things exist, we've recorded them, but

they're slowly sinking away into the soil."

Though frustrated by lack of time and

money, Field is optimistic about the future

of historical preservation. "It seems

that the more you lose, the more people

get excited about saving what's left."

Increasingly, examples from Maine to

Georgia seem to prove out Field's optimism.

At a handful of sites, volunteers

are already working with federal and ATC

staff members to stabilize cultural resources

and bring them back to life.

"When we first designed the Trail

corridor, we included the old Groseclose

farm with its intact house, barns, smokehouse,

and corncrib," says Mike Dawson,

ATC's regional representative for southwestern

Virginia. "Then, we invited local

people on board as our partners. They

now manage the farm as the Settler's Museum

of Southwest Virginia."

On weekends, local residents don period

costumes and offer living-history

demonstrations at the farm, only a few

steps from the footpath. They tend fields

and orchards sown with heirloom seeds.

They teach children and adults about the

consequences of the leap from small-scale

family farm to large-scale agribusiness.

"Hikers who haven't been to Groseclose

have little idea of who settled Appalachian

Virginia," says Dawson. "But,

Continued on page 28

APPALACHIAN TRAILWAY NEWS 25
---
Shuttling

101

Car-hopping your way north (or south) along the A.T.

Section-hikers, weekend backpackers, and dayhikers

all encounter the problem of getting

to and from the Trail. Though it's not unheard-of

for hik\ers to hitchhike, most of us,

and even some end-to-enders, find it desirable

to have a car waiting for us at times. I was made painfully

aware of the shuttling problem when a friend and I

1

By Stephen H. Knox

put three hundred miles on our cars just so I could finish a

one-mile stretch of Trail that I had bypassed due to bad

weather.

Since we hikers have lots of time to think while cranking

out miles on the Trail, and since I am not troubled by a

great many stray thoughts, I composed several plans to help

others in my situation.

Two cars, two drivers

2

1. Park Car A at the southern end of the section, drive Car B north,

hike back, and drive Car A back to where you've parked Car B.

This option involves minimal driving, since you need drive only

two legs for each leg walked, for a drive-to-hike ratio of 2:1. The

disadvantage is that you are always walking southbound to make

northbound progress.

3

DIRECTION OF PROGRESS

DIRECTION OF PROGRESS

2. You can hike northbound if you do the sections in reverse order

and drive south. Again, you're driving two legs for every leg walked.

The problem here is that your over-all progress is southward. If you

feel that working your way south while walking north seems sort

of self-defeating, wait until you see Option 3.

3. To progress and hike north, start by driving both cars to the northern

end of the first section, so you can leave Car A there. Drive

Car B back to the southern end, and then hike north to where Car

A is parked. You will now have to drive Car A south in order to

retrieve Car B.You have now driven four legs, and you are at the

southern end of the first section with both cars. If this is the end

of your hike, your final drive-to-hike ratio is 4:1. (Continued below.)

DIRECTION OF PROGRESS

(3. Continued.) But, if you're continuing north, you'll now have

to drive both cars north again past the end of the first section

(bringing your drive-to-hike ratio to 6:1), continue to the end of

the second section, and repeat the process. Because you wouldn't

actually be stopping at the end of the first section as you move

the cars to the second section, and may be able to bypass some

back-road trailhead hunting, you may save a few road miles.

26 MAY–JUNE 2000
---
For the sake of discussion, let's assume you're going south

to north and that you plan to hike a long distance while shuttling

a car or cars as you go through several sections. If you plan

to go south, just reverse everything.

If you're hiking only one section, your plan will depend

partly on where you live in relation to the section. You may

find it convenient to meet at the northern end of your section

instead of the southern end, as described here.

Two cars and two drivers

If you're fortunate enough to have two cars and two drivers

at your disposal, you have several options. These are illustrated

in the box on the previous page.

One car, two drivers

When only one car is available, the logistics are simple,

but hiking together is impossible.

4

DIRECTION OF PROGRESS

4. Starting from the southern end, Hiker A starts northbound, while

Hiker B drives north and then hikes south. The two hikers pass

each other mid-way, and Hiker A returns to the southern end of

the section to pick up Hiker B at day's end, then the two drive

together to the next section. The drive-to-hike ratio here is 1:1

or 2:1 if you're doing another section.

One car and shuttle service

When you have one car, and walking together is a priority,

you will need to engage shuttle services. Costs go up quickly.

It's reasonable for the service to charge fifty cents to a dollar

per mile, or more than twenty dollars per hour. Remember,

though, that no shuttle driver ever made enough money to retire

early, and the person providing the service has to drive both

ways, whether she is dropping you off or picking you up.

5. If you plan to have your car waiting for you at the end of the section,

you'll need to pay the shuttle service to follow you to the

north end, where you drop off your car. Then he delivers both hikers

to the south end. Your car is not actually useful for transportation

in this situation, but it does provide several advantages: First,

it will be there for you at the end of the section. Second, you have

transportation into town when you finish the section. Third, you

can carry clean clothes, back-up supplies, extra Trail food, and the

proverbial kitchen sink, if you wish. If you choose this option, be

sure you arrange to park your laden car somewhere safe, so it won't

be vandalized or broken into. Call ATC for suggestions.

If none of the plans above suits you, consider hiring a Sherpa.

Or try the final option:

One car and one driver (who doesn't hike)

This is the best of all worlds, if the driver is willing to ac-

company you but is not such a purist that he expects to actually

hike. Just have him meet you at every road crossing and be

sure he brings a cold drink and an ice-cream bar. When you use

this technique, there is no need for you to be troubled by a

backpack for shorter sections. You will want to treat this person

very well. Just make sure he brings a trailer for the llama

when you do the "Hundred Miles" in Maine.

If your partner has the audacity to want to hike, too, you

will have to do loops or backtrack in order to come out where

you went in. Or you can enlist a shuttle service, as in Option 5.

Cost

Few people hike the entire A.T. accompanied by cars, but

you can still use the 1:1, 2:1, 3:1, 4:1, and 6:1 ratios for planning.

The actual cost per mile varies a great deal. Somewhere

between fifteen and thirty-five cents per mile is realistic, depending

on gas prices and the fuel economy of the car you use.

Also consider that road mileage usually exceeds Trail mileage.

Assuming that road mileage is only twenty-five percent

more, and assuming a modest cost of fifteen cents per mile,

Options 1 and 2, with northbound progress and southbound

hiking (or vice-versa), would permit you to hike the entire A.T.,

while driving five thousand miles at a cost of $750. You'd spend

one hundred hours on the road. Surprisingly, using two cars in

this way permits hiking together and is almost as cost-effective

as the one-car system, if you don't count the cost of getting

both cars to the Trail and back in the first place.

Option 3, with two cars and continuous northbound hiking

and progress, costs $2,250 and involves three times as much

driving—three hundred hours. And, this doesn't include the cost

of getting from home to the start of the first section and from

the end of the last section to home. For section-hikers, this is a

great deal of time and money.

Keys

A final word about keys. The two-driver system is often

called "exchanging keys," because the southbound hiker supposedly

hands the keys to his partner in the middle. Bad idea.

Each hiker should have keys to both cars. Ideally, there will

never be an emergency, and both hikers will be able to do the

walking as planned. But, if your original plans don't work out,

you may need access to your partner's car. You wouldn't want

to "hike out" only to find you can't get into the car. Guarantee

access by each carrying a key, or hiding a key in a magnetic

box, if the place you've parked is safe from vandals and thieves.

The classic mistake when shuttling is to leave your keys

locked in your partner's car to avoid carrying them on the Trail.

This, of course, means that you get to the northern end and the

keys are at the southern end.

The situation can test even the most solid partnership.♦

Stephen H. Knox lives in Baltimore, Maryland, and has been

section-hiking the A.T. since 1983. He plans to complete it this

year.

APPALACHIAN TRAILWAY NEWS 27
---
Shelter Register

Continued from page 7

1946, I bought as surplus their two-part

(inner mummy and outer rectangular)

down bag for twenty-five dollars.

Like others of that day, I often used

public transportation to reach the Trail

because it was much more available. The

May 1945 issue of Appalachian Trailway

News has my article, "Trail Trips Utilizing

Public Transportation." Among other

items, it lists four bus lines that crossed

the A.T. in Maine; today, there are none

at all near. In North Carolina, there was

even a line called "Appalachian Trail

Bus."

It was a great time to be alive—but

so is 2000.

Oh, yes. There was Sanka.

Henry V. Harman

Richmond, Va.

More Appalachian trails

S MANY MID-ATLANTIC HIKERS KNOW,

ALloyd MacAskill's vision is even

more complete than his article ("A second

Appalachian trail?" ATN, March-

April 2000) indicates! Here are some additional

details about connecting trails.

Pennsylvania's longest, the Mid-State

Trail, offers spectacular vistas (and plenty

of rocks). Its orange blazes run basically

north and south of State College, connecting

the Mason-Dixon Line with Pennsylvania's

"Grand Canyon," Pine Creek Gorge.

The county-wide gap between Everett and

Williamsburg is rapidly closing.

Just one county north of the Pine

Creek Gorge, the Finger Lakes Trail (here

mostly combined with the North Country

National Scenic Trail) winds along

from the Allegheny River to New York's

Catskills so that the intrepid northbounder

has two choices upon arriving at

Hancock, Maryland, on the Tuscarora

Trail: She can either continue into Pennsylvania

on the Tuscarora to near Burnt

Cabins, and diverge onto the wonderfully

little-used Tuscarora-Mid State Link Trail

to McAlevys Fort, or, walk west briefly

on the C&O Towpath to the Green Ridge

Trail, which leads up to the Mid-State on

the border.

Another county's-worth of roadwalking

takes our hiker from the north

end of the Pine Creek Gorge to just past

Corning, New York, and familiar white

blazes—this time on the Finger Lakes

Trail. The next choice awaits northeast

of Cortland: Continue east on the existing

Finger Lakes Trail to the Long Path in

the Catskills, or proceed northeast on the

Onondaga Trail, the Link Trail (another

one), the Old Erie Canal towpath, and others

to and through the Adirondacks.

All of these offer wild or pastoral

beauty, with more solitude than the A.T.

Some key organizations involved in

these trails are the Mid-State Trail Association,

Keystone Trails Association (the

first Link Trail), Finger Lakes Trail Conference,

Central N.Y. Chapter of the

North Country Trail Association (the second

Link Trail), and various chapters of

the Adirondack Mountain Club. All offer

plenty of opportunity to work hard on

trail crews, too.

Perhaps visitors to the ATC's 2001

meeting in Shippensburg, Pennsylvania,

can sample some of the splendor of this

"second" Appalachian trail!

Peter Fleszar

Hershey, Pa.

Trail Difficulty in Maine

ADLY, SEVERAL PEOPLE HAVE WRITTEN TO

Scomplain about the difficulty of the

A.T. in Maine. Yes, parts are difficult.

Other parts are flat; some of it lies on

gentle hills, some follows beautiful

lakesides. That is one of the beauties of

Maine: It has great diversity.

People's experiences vary. I found the

most difficult walking on the Trail to be

in easternmost Pennsylvania. The most

"pointless" ups and downs were in the

"roller coaster" section several days south

of Harpers Ferry. I liked them both (although

I was glad to get to Blackburn and

to New Jersey). The steepest part I recall

was in New Hampshire (Kinsman Mountain)

and the most difficult part of the

whole hike was crossing the sod farm near

the Wallkill River in New Jersey when it

was 103 degrees, only to reach a shelter

with no water.

Dex Perkins

Grand Forks, N.D.

♦

What is past . . .

Continued from page 25

after a tour of the farm, they can hike on

and see a ruined chimney, cellar hole, or

hog pen and clearly visualize the past."

Another bonus is the tight bond formed

between locals and Appalachian Trail

maintainers.

That bond is also being experienced

far to the north. When Wallingford, Vermont,

schoolteacher Debra Gardner

learned about Aldrichville—a mill town

turned ghost town in the Green Mountain

National Forest—she became excited.

Gardner and local historian Michael

Barbieri approached David Lacy, a Forest

Service archaeologist, with a plan to interpret

Aldrichville for school children. At

first, the scientist hesitated.

"We were worried about the sensitivity

of the location," Lacy says. The Appalachian

Trail runs right down the middle

of the ruined town's main street. "Then

we concluded that an interpreted site

would be less prone to vandalism than an

abandoned site."

With that decision, Aldrichville became

the focus of the award-winning

"Relics to Ruins" program. For three summers,

Vermont school children hiked the

Appalachian Trail into the defunct hamlet

and dug into its foundations, uncovering

glass and ceramic fragments, nails,

iron pipe, and burnt brick—items identified

as the remains of a blacksmith shop,

sawmill, and homes.

"The children were most impressed

when they found the broken pieces of a

porcelain doll and a toy tea set," Lacy says.

"These items brought home the fact that

kids their own age had lived a very different

lifestyle here."

"Relics to Ruins" wasn't just about

getting kids' hands dirty. It embraced oral

history, art, and creative writing. Students

built models of the town, painted pictures

of it, and learned traditional dances and

songs (mostly sung in French, since many

of the 19 th -century village's inhabitants

were French Canadian).

"We brought in biologists who helped

the children imagine the effects of logging

on the wild critters," Lacy says. "We offered

an empowering message: If you can

understand the changes of the past, you

can understand change in your own life.

28 MAY–JUNE 2000
---
Then, maybe you can try to control it and

make a difference."

Tomorrow's Trail

For every successful preservation

project, dozens more are waiting

in the underbrush. Iron mines in

New Jersey, a Revolutionary War redoubt

in New York, canals in Pennsylvania—

all beg for preservation and interpretation.

"I'd love to see us interpret Brown

Mountain Creek, a post-Civil War black

settlement," says Mike Dawson, "but we

have so much on our plate that its restoration

has taken a pretty low priority."

Joe Baker cautions against a rush to

disturb these sites: "Remember, good archaeology

is expensive, especially in dense

cover, miles from anywhere. When you

painstakingly remove soils, record, measure

and photograph, you can almost hear

the cash register going 'ching, ching.'"

History moves on, however. Today,

even the Appalachian Trail itself is considered

an artifact by some, though few

volunteers would have claimed they were

making history when they first blazed it

in the 1920s and 1930s. The Trail's Depression-era

Civilian Conservation Corps

shelters, its bridges, and even the path itself

tell a story of 20 th -century American

idealism, volunteerism, and hard-won

victories for the conservation movement.

In a year marking the seventy-fifth anniversary

of ATC, is the two-thousand-mile

artifact built by the conference's volunteers

any less noteworthy than an ancient

quarry or an old stone wall?

Finally, consider that today's mere

curiosity may become tomorrow's history.

Just look at Camp No-Be-Bo-Sco, the

humble Scout camp near the A.T. that

half a century ago bade a solemn farewell

to the fliers of Up Der Fuehrer. In 1980,

the camp served as backdrop to more

ghoulish goings-on: the filming of Friday

the 13 th , the first of a seemingly endless

series of "slasher" movies that dominated

American pop culture for a decade. Perhaps,

in some remote future, New Jersey

Trail managers will struggle to preserve

and interpret this bit of our own era's

twisted social history. I wish them luck.♦

Glenn Scherer is a contributing editor of

this magazine and a volunteer maintainer

with the N.Y.–N.J. Trail Conference.

Income for you

. . . and the Trail

TRAIL GIVING

By Amy Owen

Here at the Appalachian Trail Conference, we would like to propose a

new investment partnership for the Trail community—a partnership

between you and the Trail.

If you manage your assets to secure your annual income, take a fresh look at the

advantages offered by establishing a charitable gift annuity. These annuities provide

a simple mechanism for you to receive a fixed-income payment for your lifetime and

for the lifetime of a spouse or other beneficiary. Upon your death, and the death of

any additional beneficiaries, the proceeds pass immediately to ATC—without any

probate or tax consequences!

So, with a charitable gift annuity, the ultimate beneficiary of your gift is the

Appalachian Trail. Both parties in this partnership benefit. How, then, does it work?

Consider the following two examples.

Example 1: A gift of stock

Mrs. Mohasco Brown, at age 70, establishes

a charitable gift annuity with ATC

by making a $10,000 stock donation with

an adjusted cost basis of $4,000—an asset

that has doubled in value since she bought it. The capital gains on that asset will be

spread out over her lifetime payments, with an annual annuity rate of 7.5 percent:

Year Total Annual Ordinary Tax-Exempt Long-Term

Income Income Income Capital-Gains

Income

2000 $562.50 $295.04 $106.98 $160.48

2001–2015 $750.00 $393.38 $142.65 $213.97

2016 $750.00 $696.53 $21.36 $32.11

2017– $750.00 $750.00 $0.00 $0.00

Example 2: A gift of cash

Nantahala and Prince O'Ryan, ages 67 and 68 respectively, reinvest a matured

certificate of deposit by creating a $20,000 charitable gift annuity with the conference

with an annual annuity rate of 6.7 percent:

Year Total Annual Ordinary Tax-Exempt Long-Term

Income Income Income Capital-Gains

Income

2000 $1,005.00 $579.43 $425.57 $0.00

2001–2015 $1,340.00 $772.57 $567.43 $0.00

2016 $1,340.00 $800.98 $539.02 $0.00

2017– $1,340.00 $1,340.00 $0.00 $0.00

Notice that, in each example, some of the income that returns to the donor is

tax-exempt. A charitable gift annuity is an excellent tool to meet your current income

objectives and invest in the Trail's future. If you would like more information,

ask for an illustration; no obligation or cost is involved.

Amy E. Owen is the Appalachian Trail Conference's director of development. She can be

reached via e-mail at , by phone at (304) 535-6331, or by writing to

her at the following address: Amy Owen, Director of Development, Appalachian Trail

Conference, P.O. Box 807, Harpers Ferry, WV 25425

APPALACHIAN TRAILWAY NEWS 29
---
PUBLIC NOTICES

Lost and Found

Ring, lost October 9 while

hiking Connecticut Section 4.

Simple ring, great sentimental

value. Gift to my daughter when

she first got pregnant (six months

into her pregnancy, she died without

warning; my grandson died

days later). Had planned to wear

the ring in memory of my "little

ones." Fit very tightly, so unlikely

it slipped off. Most likely broke in

two during steep descent down

north side of St. Johns Ledges or

steep ascent of the south side of

Silver Hill. Would mean a great

deal to me to get it back, even in

two pieces. Chuck Warfield, 16565

Snyder Road, Chagrin Falls, OH

44023.

Camera, lost at Dartmouth

Outing Club, in the yard, on September

8. Small silver camera

with zoom that uses Advantix

film. Double the shipping for your

trouble. Tommy Edwards, 10571

Bluefield Rd., Okeechobee, FL

34972; .

Partners Wanted

Section-hiker, 68, seeking

partner(s) from Manchester Center,

Vt., northward during August.

Averaging 10-12 miles/day, less in

the Whites. Call before July 4.

Emily Kimball (Tooth), 3220A

West Grace St., Richmond, VA

23221; (804) 358-4959; .

Section-hiker, 44, seeks

partner(s) from Monson, Maine, to

the "Big K." August-September.

Would prefer to do day hikes over

an 8–10-day period with car

shuttles or key swap. John J. Hunt,

1219 Oak Grove Rd., Kings Mtn.,

NC 28086-8517.

Section-hiker, looking for a

hiking partner to complete hike

from the Berkshires to Katahdin.

Preferably starting in May, but

will consider later start for this

two-month adventure. Pamela

Morehouse, 65 Gamwell Ave.,

Pittsfield, MA 01201; (413) 496-

9763.

Section-hiker, 21, female,

graduating Boston U., looking for

mixed (M/F) hiking group to hike

from Mass. to Maine, from May-

August. Flexible on starting,

ending dates. Willing to hike at

strenuous pace. Brianne Keith,

(617) 352-6900; .

Section-hiker, 51, female,

looking for a partner/partners to

hike this summer, starting in

Georgia at the beginning of the

Trail. No set time; schedule depends

on when I could find

others to go with. Judy Lassiter;

.

Thru-hiker, 49, seeks partners

for possible "flip-flop"

starting northbound in Va. in May.

At first, 7-12 miles per day. Tom

Ruetenik, P.O. Box 186, Delhi, NY

13753; (607) 746-6693.

Hiker seeks partner, Davenport

Gap to Sams Gap, June 7-13.

Prefer partner with vehicle so

we can shuttle each other. Ron

Grubb, 3123 Maryland Road,

Rockford, IL 61108-5917;

(815) 399-0106; .

Hiker, 59, seeks partner(s) for

day hikes or overnighters on the

A.T., around 15 miles/day. Retired,

flexible schedule. Phelps

Gates, 160 Windsor Circle, Chapel

Hill, N.C. 27516; (919) 967-5193;

.

Hiker (slow—10 miles/day),

has done 1,200 miles of A.T., seeks

companions for sections of the

southern half: Catawba, Va., to

Daleville (June 5-7), Daleville to

Glasgow (June 8-13), Glasgow to

Tyro (June 14-18), Tyro to Rockfish

Gap (June 19-21), Franklin,

N.C., to Nantahala River (June 27-

30), Nantahala to Fontana (July

1-3), Fontana to Davenport Gap

(July 4-11), Davenport Gap to

Allen Gap (July 12-16), Springer

Mtn., Ga., to Hiawassee (Aug. 2-

9), Hiawassee to Franklin, N.C.

(Aug. 10-14), Allen Gap to Erwin,

Tenn. (Aug. 15-20), Erwin to El

Park (Aug. 21-24), Elk Park to

Damascus, Va. (Aug. 25-31),

Public notices

Damascus to Troutdale (Sept.

11-15), Troutdale to Atkins (Sept.

16-17), Atkins to Bland (Sept. 18-

22), Bland to Pearisburg (Sept.

23-26), Pearisburg to Catawba

(Sept. 27- Oct 3), Rockfish Gap to

Front Royal (Oct. 4-14). George

Meek (Poet); 703-875-3021;

.

American Discovery Trail—

Experienced long-distance hiker

seeks partners for thru-hike or

sections of 4,900-mile ADT, beginning

on West Coast, May 11,

2001, finishing about December

18. Age, gender don't matter, only

strong heart and desire to walk 22-

30 miles/day. No smokers, heavy

drinkers. Join me or help out with

lodging, rides, or a friendly face.

Bob Wirth, 2040 Marathon Ave.,

Apt. 1, Neenah, WI 54956.

For Sale

Free (you pay shipping),

complete set of Appalachian

Trailway News from September

1967 through November/December

1999. Richard Buralli, 161

Lincoln Rd., Phillipsburg, NJ

08865-1523.

Sierra Zip Ztove, $15. Z-

Rest Mat, $10. Stuff sacks. Alice

Mackenzie, 1775 Hollywood Avenue,

Winter Park, FL 32789; (407)

645-2039.

Boots, heavy backpacking

model by Limmer, women's size

6 1/2 , like new—great, sturdy boots,

don't fit my feet. Cost $275, will

sell for $150 or best offer. Leave

message for JoAnne (724) 327-

2197; .

Boots, Men's Vasque Skywalkers,

12W, new condition—$90

or best offer, including shipping.

Bruce Eure, P.O. Box 2112, Cumming,

GA 30028; (770) 781-9346.

are published free for members of the Appalachian Trail

Conference. We cannot vouch for any of the advertised items.

Ads must pertain to the A.T. or related hiking/conservation

matters. For complete guidelines, send SASE to ATC. Send ads

to PUBLIC NOTICES, Appalachian Trail Conference, P.O. Box

807, Harpers Ferry, WV 25425. Deadline for the July-August

2000 issue is May 10; deadline for the September–October

issue is July 7.

For Your Information

Hike Mt. Rainier National

Park this summer with the Appalachian

Mountain Club's August

Camp. Choose Session One (July

15-29) or Session Two (July 29-

Aug. 12). Four hikes offered by

experienced leaders, campfire,

three meals a day, tents, cots supplied.

Call registrar, Trish Niece,

(203) 265-9584.

Workshop, "Long-Distance

Hiking," at Bear's Den Hostel.

Join Bears Den hostel manager and

1996 Appalachian Trail thruhiker,

Melody Blaney, on October

15–16, 2000, for an informative

weekend discussing and demonstrating

skills required for a

long-distance hike. Designed for

beginners and experienced backpackers

planning a long hike.

Cost: $40. Overnight lodging at

the hostel is available for an additional

cost ($12 for members, $15

for nonmembers, plus tax) per

night. For reservations or information,

contact: Bear's Den Hostel,

18393 Blueridge Mountain Road,

Bluemont, VA 20135; (540) 554-

8708; bearden@crosslink.net.

Wanted

Safe parking. "Trail Snail"

and "Tumbleweed" need parking

in Va. between Damascus and

Troutville for about 4 weeks while

we hike the section. Kim and Tom

Lyons, RR 1, Box 3342, Carmel,

Maine 04419; (207) 848-3729.

Help Wanted

Volunteers. Have fun building

the Appalachian Trail for the next

millennium as a volunteer for 2000

seasonal Trail crews. No experience

required. Five different crews operate

along the A.T. during the summer

and fall months and are jointly sponsored

by A.T. maintaining clubs,

agency partners, and ATC. Special

women-only and over-50 crews will

continue to be offered this year.

Write to: Crews, ATC, ATN-00B/C,

P.O. Box 807, Harpers Ferry, WV

25425; call 304-353-6331; or e-mail

and ask for a

crew brochure.

30 MAY–JUNE 2000
---
MINISTRY OF FUNNY WALKS

Felix J. McGillicuddy

She had never heard of the Appalachian Trail, let alone

hiked it. That didn't stop Lizzie from taking to the footpath

like a child to a swing set. She set out on her first

section-hike with her eyes wide open and her ears

pinned back. There was no stopping her.

"Hold on, Lizzie," I yelled. She looked back briefly, then

continued up the Trail. She paused idly to pick some bark from

a tree trunk. When she heard me getting close, she turned and

ignored me. It was obvious that she intended to stay in front of

me this afternoon.

The more I thought about it, the more I liked it. We were

making pretty good time this way. Plus, I didn't have to be involved

in one of the countless one-sided conversations that had

Lizzie

become a major part of our relationship.

She hurried along in front of me, sometimes wandering

several feet off the Trail, and, as I followed, I couldn't help but

notice how beautiful she was. Every trailside noise caught her

attention, and she investigated it eagerly. As soon as she heard

my footsteps, though, it was back to the Trail and staying in

front of me.

You see, I had angered Lizzie. Actually, I had angered her

twice. During lunch, before we had even hit the Trail, two things

happened that more or less ensured that I'd be watching Lizzie

from a distance. They may sound trivial now. But, at the time,

to Lizzie, they were pretty important.

First, while filling our water bottles, I had turned the spigot

on too suddenly. Water spurted out with such force that it

knocked the bottle from my hand and soaked Lizzie. Then, while

eating, I didn't offer to share my food, figuring she had enough

of her own. For crimes as minor as spraying a little water and

not sharing a can of tuna, I was condemned to an afternoon of

hiking alone—an afternoon of being forced to watch my sexy

hiking partner from behind. She played the game pretty well.

I knew, however, that, within a few tenths of a mile, we

would be at Pine Swamp Branch Shelter, one of the mousiest

lean-tos along the A.T. This, I figured, would be my chance to

gain her favor again. This would be where she would forget about

tuna fish and remember me as the guy who is always looking

out for her. A true friend.

The only time she would let me near her was when her

attention was captured by a pileated woodpecker. I don't think

she'd ever seen a bird that large from so close. The woodpecker

looked like a chicken dancing on the side of a poplar tree. She

was first startled by it, and then by me. When she realized I was

standing next to her she flinched and hurried off again.

Her pace picked up once she saw the shelter. I stopped to

watch her enter the structure, making sure everything was okay.

I could see her looking our night's resting-place over with a

keen eye. Every corner, every cranny, was checked.

"How's it look?" I asked as I walked in.

She glowered at me and walked around the corner to the

woods behind the shelter. Clearly, she didn't feel like talking,

so I got our bedding ready for the night. I could hear her walking

around in the leaves. I wondered what she was looking for

and if she'd find it. I gathered firewood from the woods around

the shelter. I would occasionally see her walking around, looking

under the bunks, or in the cracks of the rocks, checking for

mice or anything else. She didn't know I was watching her, but

she still made me smile.

As darkness settled in, so did paranoia. Every noise got a

wide-eyed look. She was still pacing around, silent as ever, as I

lit the fire. The flames turned the shelter walls orange, with

warm light dancing around.

She sat on the bottom bunk on the opposite side of the

shelter. We both watched the fire flicker and pop. I watched the

reflection of the flame in her eyes. She was so beautiful.

"Well, I'm going to bed," I said as I put the last of the wood

on the fire. I got into my sleeping bag and got comfortable. I lay

and considered her for a while. Her eyes moved back and forth

like a kid watching fireworks on the Fourth of July. She looked

at every movement, stared at every shadow, noticed every noise.

I was just dozing off when she got into bed. It seemed like

it took her forever to get situated. But, then, it always does.

Finally, she snuggled up against me. She started purring when I

reached out and scratched her head. She touched my lips with

her paw.

I knew she couldn't stay mad. ♦

Felix J. McGillicuddy is a 1999 thru-hiker from the wilds of

southern Indiana. His columns appear here regularly, when he is

not out hiking.

APPALACHIAN TRAILWAY NEWS 31
---
Katahdin, by J. Andrew Walsh. This photograph of Maine's "greatest mountain," the northern terminus of the Appalachian Trail,

is available as a limited-edition 29" by 24" poster, commemorating the 75 th anniversary of the Appalachian Trail Conference. It

may be purchased for $10.00 ($8.50 to ATC members), plus $2 shipping and handling. To order and pay by credit card, please call

toll-free to 888-AT-STORE (888-287-8673), or visit us at . Please specify item #316.

APPALACHIAN TRAIL

MAINE

TO

GEORGIA

Appalachian Trail

Conference

P.O. Box 807

Harpers Ferry WV 25425-0807

Address Service Requested

Nonprofit Organization

U.S. POSTAGE

PAID

Appalachian Trail

Conference

32 MAY–JUNE 2000