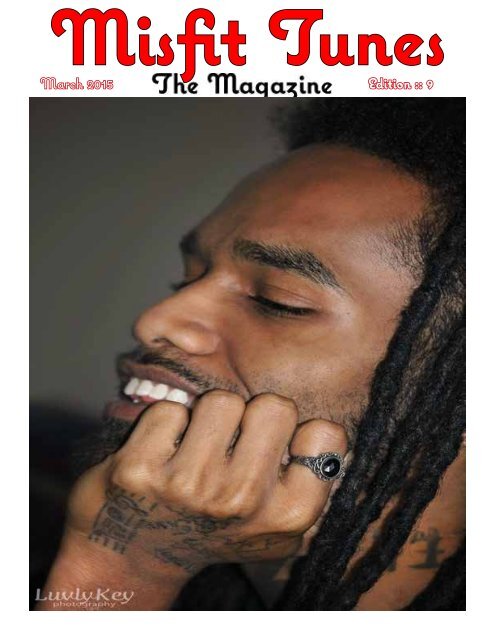 Misfit Tunes The Magazine March 2015
Misfit Tunes The Magazine March 2015 In this issue :: Featured Article - Visto The Man Behind The Music by Ki Misfit :: ONE to KNOW - Tamara Bubble // Saga The Great // Bongo :: Misfit Tunes' Must Haves - Vintage Heart, Yooth, Studio 68, Silent Thoughts, Sacrifice, Fuck You, Rich Before Money, American Horror Story Freak Show, Roses & Rubbers, Love Sex Passion, Only 4 Da Ladies, and Show Tunes :: BuzzWorthy - Only 4 The Ladies by Fatz Da Big Fella :: Misfit Tunes' Finds :: This One Time In The A - The Hang Suite :: Health - H20 :: March Horoscopes Misfit Tunes The Magazine is a publication dedicated to promoting domestic as well as international Indie and/or little known artists from all genres of music to the awaiting masses. ISSN: 2375-2432 www.misfittunes.com
Misfit Tunes The Magazine March 2015
In this issue :: Featured Article - Visto The Man Behind The Music by Ki Misfit :: ONE to KNOW - Tamara Bubble // Saga The Great // Bongo :: Misfit Tunes' Must Haves - Vintage Heart, Yooth, Studio 68, Silent Thoughts, Sacrifice, Fuck You, Rich Before Money, American Horror Story Freak Show, Roses & Rubbers, Love Sex Passion, Only 4 Da Ladies, and Show Tunes :: BuzzWorthy - Only 4 The Ladies by Fatz Da Big Fella :: Misfit Tunes' Finds :: This One Time In The A - The Hang Suite :: Health - H20 :: March Horoscopes Misfit Tunes The Magazine is a publication dedicated to promoting domestic as well as international Indie and/or little known artists from all genres of music to the awaiting masses.
ISSN: 2375-2432 www.misfittunes.com
SHOW MORE
SHOW LESS
You also want an ePaper? Increase the reach of your titles
YUMPU automatically turns print PDFs into web optimized ePapers that Google loves.
Misfit Tunes

March 2015

Edition :: 9
---
CONTENTS

Editor in chief :: Ki_Misfit Ki Misfit

Ki_Misfit

One To Know

A quick Question and Answer introduction to

artists on the move

Featured

Visto

The Man Behind The Music

Tamara

bubble

22

saga the

great

26

Bongo

32

BuzzWorthy

A project that proves the

artists worthy of major

BUZZ!!!

on 4 the ladies

4

Misfit Tunes'

Finds

A quick peek at artists we

find on our never-ending

search for new music.

The hang suite

6

Misfit Tunes' Must

Haves

Albums/Mixtapes worth the

download click to download:

* Vintage heart

* yooth

* Studio 68

* silent thoughts

* sacrifice

* Fuck you

* rich before money

* American horror story

* roses & rubbers

* love sex passion

* Only 4 da ladies

* Show tunes

2

www.MisfitTunes.com
---
Handmade Accessories for the stylish students of

all things

Luvly

Place orders at:

www.KSquaredShop.com

luvlywear luvlywear luvlywear

www.MisfitTunes.com

3
---
BUZZWORTHY

Dabigfella49 dabigfella fatzdabigfella fatzdabigfella49

Fatz Da Big Fella (also

known as Da Big

Fella) hails from the

Nation's Capital, Washington,

DC. Revered as a respected

player in the DC music scene

he follows up his 2014 streets

approved mixtape, "Fatz Sinatra,"

with the 50 Shades of

Gray of the mixtape world, an

erotic gem titled "Only 4 The

Ladies." Just as a busty chested

woman pops buttons on a

too small top, this mixtape is

bursting at the seams!

"Only 4 The Ladies" was

released on February 13, 2015

via Spinrilla. It maintains an

even flow throughout the entire

project taking the listener

on a racy roller coaster ride

with the intentions to make

you want to scream. Fatz Da

Big Fella's lazy flow can be

compared to Bun B or other

southern rappers. Da Big

Fella is certainly not bashful

to share how he will grab his

woman by the waist and eat

her from behind. Nor does he

mind letting the listener know

he knows his way around the

bedroom, as it is pretty much

the theme of "Only 4 The

Ladies."

Several dynamic producers

worked tirelessly on the

mixtape. The producers that

crafted this gem are BuBu,

Chris Heist, Diesel Beats,

Don Amos, Endustretz, Mark

Henry, The Directors, Tom

Davids, and Tone P.

Fatz Da Big Fella also had

many of his talented counterparts

featured on the mixtape.

Such amazing talents as

DeAngelo Redman, Krayzo,

Eastman Osborne, Tre, Tone

P, PinkyKillaCorn, Dino Bam,

Savannah, Shorty Da Prince,

Brian Angel, JusPaul, Scooby,

Lyquin, Main Girl, Kevin

Ross, Boobe,

and Ay-Rock.

All fourteen

tracks

on "Only 4

The Ladies"

will make

you want to

hit the repeat

button. With

that being said

here are a few

standout tracks:

(1) "From

The City"

is produced

by Diesel

Beats features

Krayzo

and Eastman

Osborne, is a tour of the city

and all its lovely ladies. It is

certain to be a crowd favorite!

You will definitely hear "From

The City" bumping from cars

heating up the cold streets.

(2) "Come Here Girl" is

produced by The Directors.

It features Pinky KillaCorn

and Eastman Osborne and is

possibly the sexist track on

the album. "I'm tonguing

her down, she biting my lip,"

growls Fatz Da Big Fella in

his easy lazy flow. Eastman

Osborne once again slithers

4

www.MisfitTunes.com
---
Only 4 The Ladies

vocally "temperatures rising

no room from hiding ... you

got me excited...so come here

girl..." Pinky KillaCorn Corn

drops napalm on the track

with her lyrics "Poppy turn

the music up cuz it's going

down...fucks you up cuz I be

bustin' nuts that make you

call back."

(3) "Lay Up" is produced by

The Directors. It's a catchy

song featuring Scooby, about

spending the day wrapped up.

Scooby delivers a soulful seductive

chorus, "I wanna lay

up lay up... we grown as fuck

girl I know what you want...I

am not stressing you but

this bed was made for two,"

between Fatz Da Big Fella's

verses telling his woman how

he is going to satisfy every

inch of her body. This is the

song you want to play riding

around town with your boo.

(4) "Believe" is produced

by Don Amos and features

DeAngelo Redman. It is an

ode to Fatz Da Big Fella's

lady. "Baby hold me up and

I'll hold you down" "keep it

real from the jump and loyal

to the end...my girl like Cookie

with this empire..."

Fatz Da Big Fella mixes witty

pop culture references with

www.MisfitTunes.com

blatant direct request to bed

a woman to deliver a solid

project that highlights great

production and tiptop features.

"Only 4 The Ladies" contains

strong explicit language. This

is not the mixtape to play

during a ride out with your

grandmother.

Fatz Da Big Fella proves

once again why he is a revered

player in the DC music

scene with delivering such

a follow up project. I would

strongly encourage you to add

this mixtape to your collection

(click cover below to download).

"Only 4 The Ladies" earns

three and a half out of five

5
---
6

www.MisfitTunes.com
---
his one time in The A

I was out exploring

the historical section

of Atlanta GA known as

Sweet Auburn when came

across Sweet Auburn Seafood.

Sweet Auburn Seafood

is one of Atlanta's premier

seafood restaurants, located

at 171 P Auburn Ave in the

historical Auburn Street area.

It offers a delicious and innovative

menu created by celebrity

Chef Sammy Davis. Chef

Davis has been ordained one

of Atlanta's culinary superstars

making Sweet Auburn

Seafood a must have, as well

as the perfect venue for QT

Entertainment to kick off

their Hang Suite Series. QT

Entertainment is an Atlanta

based, all female marketing/

promotions firm.

The night's vibe was easy

and laid back. The crowd

mingled and took in the artwork

and the bartenders created

cocktail and other drinks

from Status Vodka made to

stand up to the delicious edible

gems on the plates.

With an inviting atmosphere,

textures, warm

colors, and sleek furnishings,

Sweet Auburn Seafood

was the perfect pairing

for the 90's kickback

soundtrack Fleet DJs' DJ

Kalisemo provided. The

lovely Carrie Michelle,

hostess and founder of QT

Entertainment, was the red

velvet rope that led those in

attendance down a musical

trail paved with stimulating

artwork by Aspernaut,

as well as great talents like

YMCMB recording artist

Veronica V., Visto, Rantz Davis,and

Kevin Caterz.

Overall, the night featured

artwork from multiple artistic

platforms which created

an unforgettable event. The

Hang Suite is a monthly

event brought to you by QT

Entertainment, which I would

strongly encourage you to

attend if you are in the Atlanta

area. I am looking forward

to next month's and if you are

too don't meet me there beat

me there! Be sure to reserve a

table as they are the best seat

in the house and rightfully so

go fast!!!

~Ki Misfit

www.MisfitTunes.com

7
---
8

www.MisfitTunes.com
---
The Man Behind

the Music

n a surprisingly warm

and pleasant winter

day in Atlanta, GA, I

find myself pulling up to a traditional

craftsman style home

on a dead end street nestled

alongside a set of railroad

tracks. The sound of dogs

barking mixed with a passing

train greets me as I approach

the door. I ring the bell and

was welcomed into the Hippie

House by Visto.

Crossing the threshold, I

was expecting to find Nagchampa

incense burning, sexy

hipstresses scattered around

the room, and jars of exotic

hippie medicine, also known

as Marijuana but better

known as weed, stacked floor

to ceiling. I know, sounds crazy

yet when you consider the

fact that it is Visto the Hippie

King I'm interviewing, most

would expect pretty much the

same thing. However, to my

surprise there was no weed

stacked from floor to ceiling

www.MisfitTunes.com

nor were there naked women

roaming around. For all accounts

Visto is an everyday

man just like many others out

here trying to live.

One wall of the modest

dwelling had a huge Bob

Marley poster constructed

of Marley album covers and

the adjacent wall held a purple

floor to

ceiling Ying

Yang flag. A

coffee table

set in the

middle of the

floor holding

a healthy

plant basting in the sunlight

pouring in from the only window

in the room.

We got comfortable on a

sofa set against a wall with

the patented Hippie Life Krew

monogram etched in the center.

We shared an easy conversation

where Visto opened

up and spoke freely, as well

as passionately, about topics

"I don't want a

baby mama. I

want a family!"

ranging from young Visto,

to his relationship with his

parents, to the importance of

education (even though he

himself dropped out in high

school). We talked about his

desire to have a family of his

own and the new church.

Visto (real name Travis)

originally hails from Norfolk,

VA (but later

relocated to

DC) and was

a shy, quiet

loner in high

school. He

often felt like

an outcast,

maneuvering the halls with

his head down to avoid making

eye contact, although he

seemed to always befriend

the cool kids. Oblivious to

the plethora of secret crushes

girls had on him, Visto had

one goal. One single focus

that manifested early in his

life. That goal was to become

a star.

9
---
At the age of only six, Visto

exhibited a strong will and

great discipline by calling Bad

Boy Records everyday for one

year. He was resolved to call

until someone

answered. And

answer someone

did. "It

was well after

midnight,"

Visto recounted.

He took the

call as being

the sign he

needed to keep

going. He remembered

the

woman who

answered was

very pleasant

and helpful.

She provided

him with information

he

would later

use to further

propel his lofty

goal of changing

the world

through music.

Having gotten through to

Bad Boy Records, young Visto

now approached music with

more focus and determination.

He would rehearse dance

routines he choreographed for

hours in his bedroom. It was

during one of those rehearsals

when his father told him

something that fuels him to

this day. "I was in my room

dancing my ass off in the

10

mirror when I saw my father's

reflection. He scared the hell

out of me [laughing]! He was

getting ready to head back to

Virginia and he told me I was

going to be a star one day."

Those are the last words, "You

are going to be a star," father

and son shared. Visto's father

died shortly after returning to

Virginia.

The death of his father

forced Visto to be the man

of the house. A role he took

rather seriously. He dropped

out of high school to get a

job to help his ailing mother

make ends meet. Even in

his new role as man of the

house, Visto could not shake

his father's words. He told his

mother he was going to be a

singer. "She laughed me out,"

Visto recalled. "It really

pissed me off." Deciding

he could no longer

wait and using his anger

to push him, Visto went

into the studio on a

mission to create a masterpiece.

Unfortunately,

what was produced was

"Burgundy Walls," a

hurried, sub-par project

with a couple of decent

tracks that showed Visto

had potential.

After going back to

the drawing board,

Visto went back into the

studio and twenty-four

hours later, "Before

Euphoria" was birthed.

"Before Euphoria" is

credited with kicking

off the Hippie Life

movement. Released in

August 2013 the album

boasted such hits as "How

That Pxssy Taste," "Wakin

Bakin," "Acapulco Gold," and

fan favorite "Everything Gorgeous."

Visto seemingly appeared

overnight with his hit

project. Even though it was

not his first release, "Before

Euphoria" was the spark Visto

needed to catapult him to the

top of the DC music scene.

Visto openly admits his

Hippie persona is his means

www.MisfitTunes.com
---
has thoughts on education, but

on religion as well. Growing

up in a religious household,

Visto recalls going to church

on Sunday mornings and then

seeing the church clergy out

in the neighborhoods. "They

don't do that anymore. Church

ain't what it used to be."

Nowadays, Visto considers

himself to be more spiritual

than religious and seeks his

own relationship with a higher

being.

Having no children of his

there is no special woman

in his life currently, Visto is

open and ready to settle down

if the right one comes along.

"I don't want a baby mama.

I want a family!" Visto says

with conviction. No specific

type. A "fat ass and titties,"

is what he's into. But most

importantly, she would have

to understand that he and the

music are a package deal.

If you ask Visto how will

he know when he's "made it",

he'll tell you he already has. It

of "getting rid of stress and

shit I'm going through. In real

life I'm just living, breathing,

fucking up and eating noodles

like everybody else," Visto

says with a smile. He is a deep

thinker that daily seeks to find

his way through everyday life

situations. Even though he

himself dropped out of high

school, Visto finds great importance

in education. But not

just the traditional kind. Visto

believes that children should

not only be educated by teachers,

but that parents should

also take a lead role. After all,

who better to teach their history

than those who have lived

it? He believes in not only

feeding the logical mind, but

also in cultivating the artistic

minds of the children.

The Hippie King not only

may not seem that way to you,

but once his mother showed

her pride for his feature in the

Washington Post, withstood

her pain for his sold out, headlining

show at The Fillmore

Silver Spring, and having

his mentally ill sister (who

doesn't sing anything but Bewww.MisfitTunes.com

own, Visto often fantasizes

about the type of father he

would be. He sees himself as

the type of father who will

always have his kids by his

side. The type of father that

gets up to do his daughters

hair for school and teaches his

son how to be a man. While

11
---
What is Misfit Tunes?

Misfit Tunes is an organization

dedicated to

promoting domestic as

well as international Indie and/or

little know artists from all genres of

music to the awaiting masses. We

use several vehicles to promote the

artists' work, such as:

Misfit Tunes' blog, which can be

found at www.misfittunes.blogspot.

com , receives thousands of views

daily from all around the country.

We also boast international visitors

from places like Canada, the UK,

Ireland, and Jamaica, to name a

few. We update the blog weekly

with new music and videos.

Why does Misfit Tunes do it?

We do it for two main reasons:

1. We do it for the LOVE of the

music. The current top 40 selection

leaves Misfit Tunes wanting

more from music, which is why we

promote indie and/or little known

artists. The music industry has

become so saturated with clones

that the music has gotten lost in

translation or merely forgotten. We

believe it our duty to keep good

music relevant!

2. We do it to change the industry.

It is our belief that the industry has

become too much about money and

no longer about the art of creating

music. With the current state of

the economy and the advent of so

many free internet tools to make

music, it's now the perfect time to

usher industry change.

Now that you know who Misfit

Tunes are and what we do, we

would like to invite you to build a

wonderful working relationship.

Again our services are completely

FREE of cost for artist. We would

appreciate you sending us your

music, videos, upcoming events,

pictures, and/or any other information

you would like us to share. By

sending an email to Misfit Tunes at

submissions@misfittunes.com. We

request that you to ask your fans,

followers, and supporters to support

Misfit Tunes. By increasing

our supporters, we can reach more

people. The more people we can

reach the bigger Misfit Tunes will

grow. Our growth will ensure more

people will be exposed to your music,

which in turn, will potentially

increase your fan base.

We would also like to request any

promotional merchandise you can

spare, as we would like to begin

running contests to get people to

engage more with the artists as

well as Misfit Tunes. The more

people we get to engage with Misfit

Tunes, the better we can serve the

indie market. We fully understand

Misfit Tunes need the support of

artists to reach our full potential as

we are nothing without the music!

How can I as an artist support Misfit

Tunes?

· Keep us informed on your

career by emailing us an artist

bio, your music, pictures, videos,

and any information on upcoming

projects.

. Encourage your fans to support

Misfit Tunes. The more people we

have supporting Misfit Tunes the

more people with which to share

not just your music, but also the

other artists' music we support.

. Provide Misfit Tunes with exclusives.

Let us be the first to break

a new video or song, as well as

details on upcoming events or new

projects.

. Invite us to events. If you are

having an album release, performance,

and/or any event you'd like

us to cover, send us press credentials

or put us on your guest list. If

we are in your area we will gladly

enjoy covering your event. We

want to support all events, however

that can become very costly potentially

taking funds away from the

services we provide since we don't

charge for our services.

. Make Misfit Tunes your #1

source for indie news, music, and

videos.

Remember, we do this for the love

of the music! So if you love your

music and want to support an organization

that will love your music

as much as you do, look no further

than Misfit Tunes!

~ misfit movement let's make it

count!!!

links::

Misfit Tunes

Misfit Tunes

Misfit Tunes

12

www.MisfitTunes.com
---
Misfit Tunes'

Must Haves

Download

Vintage Heart

Yooth Studio 68

Lydia Rene

LydiaRenes

Lydia_Rene

LydiaRene

ColdWay

ColdWay

ColdWayPro

ColdWayPro

Kaj Kadence

KajKadence

KajKadence

KajKadence

Silent Thoughts

Sacrifice

Fuck You

Ace

TheFreeThoughts

TheFreehoughts

TheFreeThoughts

Phor

PHOReverIM

PHOReverIM

PHOReverIM

Moll Kush

MollKush

MollKush

MollKush

www.MisfitTunes.com

13
---
"Life Would Be A Much Better Place If People Wore

More Tutu's & Ate More Cake Pops"

To place an order email

tu_2sweet@yahoo.com

14

Tu_Tu_Sweets

www.MisfitTunes.com
---
Champions exists to provide prevention, confidence, communication, and happiness. Champions is

leading the way in delivering help to children who feel that they have no one. We want to make a positive difference

by being the most inspired and dependable organization through our caring staff and honest connection

to children all over the world. Champions is here to show Value, Respect,Caring, And Open Doors.

___Champions___

www.MisfitTunes.com

Championschamps

Champions

15
---
yonce) singing "On Fleek," to

him, that was it. Although the

awards would be nice, they

are not his main goal.

Visto doesn't do music for

popularity, but for a purpose.

One of his main goals, like

most mama's boys, is to buy

his mom a house so that she

can rest just a little bit. Although

16

he

knows

that this

a big

goal

and that

he has

to work hard to achieve it, he

often feels guilty leaving his

mother to do music while she

continues to work. Even on

days when she has dialysis.

"All I ask for is respect for my

work ethic," he states.

The man behind the music

also has a few people behind

him as well. The Queen Hipstress

of Hippie Life Krew

(HLK), Pinky KillaCorn, is

the lyrical ying to his yang.

She is his sister in music and

always willing to lend her

vocals. They most recently

collaborated on the newly

dropped single "What Hippie

What." Also supporting

Visto are his musical brothers

and HLK members Eazy and

Bonnie Rash. Others include

his managers Melissa of

Maniiifest and Greg Calloway

of Defient Entertainment,

DC's own Raheem DeVaughn,

DJ Chris Styles of 95.5

WPGC (DC), Conan of 92Q

(Baltimore), and the Morgan

State University radio station

88.9 WEAA. Of course Visto

wouldn't be able to fulfill his

dreams if not for his amazing

and loyal fans. Fans that

will travel

"She laughed me out!

It really pissed me

off!"

from hours

away just to

watch him

live on any

stage.

Gone

are the days

of being laughed out by his

mom. With his fathers words

planted firmly in mind, Visto

went from opening act at

the Fillmore to headlining at

the Fillmore, to performing

on some of the best stages at

SXSW.

Visto is fortunate to be

doing what he loves. He is

the true epitome of a hippie.

His biggest wish? "Only love

and peace for everyone in the

world!" And he makes that

statement with the utmost

sincerity and the biggest smile

he's had all day.

~Ki Misfit

Album

Before Euphoria

Single

What Hippie What

Video

Shinobi

VistoHLK

VistoHLK

www.MisfitTunes.com
---
1290 Bay Dale Drive :: Suite 213 :: Arnold, MD 21012

202-656-8626

ShopCapitalCity.com

Capital City Co.

Capital City Co.

Capital City Co.

www.MisfitTunes.com

17
---
Health :: The P

18

www.MisfitTunes.com
---
ower Of Water

H20

WATER has

seen a surge

in popularity yet it is still often the

last drink choice. Every day, we

lose 2-3 quarts of water through

urination, sweating and breathing.

Since many of the processes within

the body rely greatly on water, it

is important we replace our fluids

regularly to compensate for this

loss.

For the human body, water is

truly a vital resource. You can go

weeks without food but only 5-7

days without water. When the

water in your body is reduced by

just 1 percent, you become thirsty.

At 5 percent, muscle strength and

endurance declines significantly

and you become hot and tired.

When the loss reaches 10 percent,

delirium and blurred vision occur.

A 20 percent reduction results in

death.

There is no more important

nutrient for our bodies than water.

No other substance is as widely

involved in the processes and

make up of the body. A man's

body is about 60 percent water,

and a woman's is approximately

50 percent.

Your body is made up of about

60 percent water. Water is essential

for removing waste from your

body, keeping tissues moist and

carrying nutrients to cells. You

also need water to keep you full,

protect your teeth and aid in digestion.

To reap the benefits, men usually

need about 13 cups of water

daily, while women require about

9 cups. However, your specific

needs may vary if you live in a hot

climate or exercise regularly.

Top 9 Benefits of

Drinking Water:

1. Increases Energy & Relieves

Fatigue :: Since your brain is

mostly water, drinking it helps you

think, focus and concentrate better

and be more alert. As an added

bonus, your energy levels are also

boosted!

2. Promotes Weight Loss ::

Removes by-products of fat,

reduces eating intake (by filling

up your tummy if consumed prior

to meals), reduces hunger (hello

natural appetite suppressant!), raises

your metabolism and has zero

calories!

3. Flushes Out Toxins :: Gets

rid of waste through sweat and

urination which reduces the risk of

kidney stones and UTI's (urinary

tract infections).

4. Improves Skin Complexion

:: Moisturizes your skin, keeps it

fresh, soft, glowing and smooth.

Gets rid of wrinkles. It's the best

anti-aging treatment around!

5. Maintains Regularity :: Aids

in digestion as water is essential

to digest your food and prevents

constipation.

6. Boosts Immune System :: A

water guzzler is less likely to get

sick. And who wouldn't rather feel

healthy the majority of the time?

Drinking plenty of water helps

fight against flu, cancer and other

ailments like heart attacks.

7. Natural Headache Remedy

:: Helps relieve and prevent headaches

(migraines & back pains

too!) which are commonly caused

by dehydration.

8. Prevents Cramps & Sprains

:: Proper hydration helps keep

joints lubricated and muscles more

elastic so joint pain is less likely.

9. Puts You in a Good Mood ::

When the body is functioning at

its best, you will feel great and be

happy!

www.MisfitTunes.com

19
---
Misfit Tunes'

Download

Must Haves

Rich Before Money

American Horror Story

Freak Show

Roses & Rubbers

Coin$

CoinIsMoney

CoinsIsMoney

CoinsIsMoney

Sir Nasty

SirNasty74

Sir7Nasty4

SirNasty74

Mr. Diesel

MrDiesel202

MrDiesel202

MrDiesel

Love Sex Passion

Only 4 The Ladies

Show Tunes

Raheem Devaughn

Raheem_DeVaughn

Raheem_DeVaughn

RaheemDeVaughn

20

Fatz Da Big Fella

DaBigFella

DaBigFella49

FatzDaBigFella49

Cornelius Butler

CorneliusButluh

CorneliusButluh

Cornelius_Butler

www.MisfitTunes.com
---
STREAM OR DOWNLOAD MIXTAPES ON YOUR DEVICE FOR FREE!

Updated Daily with the newest and hottest mixtapes!

Mymixtapez Mymixtapez Mymixtapez Mymixtapez

www.MisfitTunes.com

www.MyMixtapez.com

21
---
ONE TO

tamarabubble tamarabubble tamarabubble

22

www.MisfitTunes.com
---
KNOW

I

was born and raised in Brooklyn,

NY, but I've lived in NC

as well. I don't give out my

government name so please just

address me as Tamara Bubble.

Tamara is my name. Bubble was

given to me for so many reasons.

My personality is very bubbly.

I'm generally in a good mood and

always laughing and smiling. I

got the name bubble for physical

reasons too ... ahem ... I'm pretty

well rounded.

I'm giving my self 3 years to get

1 Grammy, 1 Oscar and 1 songwriter

award. Short term and long

term I want to connect with and

build my fan-base. I feed off their

energy and support. It's motivating.

I enjoy meeting new people

and entertaining them, it doesn't

even feel like work when you're

have this much fun.

If I had only 3 words to describe

my sound, I'd say real, raw, and

undefined. If I had only 3 words to

describe my songwriting, I'd say

powerful, comical and sexy. I just

make music that's real to me because

that's what people can relate

to. Music you can laugh to, cry to,

dance to, make babies to, all that

good stuff.

If I was not making music I

would have a career in accounting.

I took one class in high school

and it was easy so I majored in it

in college. I even passed my CPA

exam and got my license, but it

just wasn't my calling. So here I

am with EPs under my belt and

Grammy within reach!

I got into the music industry

because of songwriting although I

have been singing in church since

I was old enough to remember

being in church. I was more focused

on modeling and acting until

I met a producer at a photoshoot.

I sang for him and he asked if I

songwriter too? I said "I do now"

and I went home that night after

the photoshoot and wrote 10 songs

in 2 hours. I've been hooked ever

since.

I have a gospel background. I

grew up singing in church so I

definitely have a soulful sound/

influence. I love harmonies in my

music and it's because I listened

to ALL the 90s R&B groups (male

and female): Brownstone, SWV,

En Vogue, 702, 112, Jodeci, Boyz

II Men. You name it I listened to

it. I attribute my rap influence to

Biggie Smalls, he's the reason

that I respect lyricism in hip hop

and I love his storytelling and

flow. When it comes to Jazz,

Ella Fitzgerald is THE REASON

why I scat to this day. I still go on

youtube and listen to her voice. I

like Lena Horne too. Also, when

it comes to Pop and overall stage

performance, Michael Jackson

does it for me!

Michael Jackson holds two of my

top three albums of all times. My

top three are "Bad" by Michael

Jackson and "The Miseducation

of Lauryn Hill" by Lauryn Hill.

You know now I think about it I

actually don't have a third all time

favorite ... maybe Thriller by Michael

Jackson, but "BAD" is definitely

my all time favorite album

ever ever ever! I really can't even

explain why and shouldn't have

to .. it's Michael Jackson! I love

Lauryn Hill because she's a singer,

rapper, musician and her content

was positive and she's a female

www.MisfitTunes.com

23
---
too. Her music has had a really big

influence on me.

I always say if I can influence

or inspire just one person, I'll be

satisfied. I want my fans to be great

people and do great things and I'll

simply provide the soundtrack to

their lives.

"Living It Up" is my latest EP.

It's a 6 track EP that was originally

called "Where Babies Come From"

because the songs are definitely

about love and sex, but I wanted to

dig a little deeper on this EP and

explain how all these babies actually

got here. Babies come from

somebody in the club you just met

and don't even know their name,

babies come from cheating, babies

magically come home war, all these

things! I changed the name to the

lead single, "Living It Up" at the

last minute because pretty much

sums up how all these babies got

here. I am not afraid to take control

of all aspects of my musical career!

When the topic of signing a

major deal or staying independent

and have total control over your

music arise I take creative control

for $200 Bob lol I enjoy the indie

life!!! I doubt I'll ever shelf myself

haha, but I also doubt I'll ever stop

promoting myself or be a lazy artist

so I don't think I'd have issues with

a major. I just prefer to be able to

wake up and drop a jazz single and

then when I get good and ready

24

drop a rap freestyle video. My fans

love the versatility. They especially

love when I blend the genres. A lot

of times I'll rap, sing, and scat all

on one track. I think if I do any

business with a major, it'll be a

(SILENT) partnership or investor

type situation. I really just need

an investor to cut the check and

sit back and watch me work that

return for them.

I have a small team of HARD

WORKERS, myself included. I

have excellent management. S/O

2 P.Spell Management. Special

thanks to my make up artist Silhouette

Beauty, my graphic designer

and website admin. I'm my own

stylist, but I rock with KrazyFigz

for music production for my major

projects and Manny Mac for my

videos. It is these hard workers that

keeps me grounded.

I am always asked how will I

know I made it. If it will be when

I get to work with the likes of :

Lauryn Hill, J. Cole, Joell Ortiz,

Jazmine Sullivan, Lil Kim and

John Legend. Or when I get to remake

We Dem Boyz by Wiz Khalifa.

The fact is I won't know when

I "made it." I'll wait until you guys

(the media and my supporters) tell

me so much that I can no longer

deny it. Even then, I'll pretend you

all are lying so I stay motivated and

remain humble.

Most people think because I

am in the music industry I like

being surrounded by people all

the time. My supporters would be

surprised to find out I'm a very

private person that hide a lot from

my fans, but I've recently started

releasing one secret a week which

I like to call #TuesdayConfessions.

I post it on my facebook page,

twitter and IG (all @TamaraBubble)

on Tuesday mornings and try

not to talk about it anywhere else

lol. I'm a little upset because my

fans have been stingy with theirs.

I'm doing most of the talking and

they haven't really been sharing

their confessions, but hopefully,

once they're comfortable, it won't

just be me. If you keep too many

secrets in you'll go crazy. I enjoy

laughing and smiling so If you can

keep me laughing, we can definitely

be friends!

Thank you for getting to know

Tamara Bubble now go visit www.

TamaraBubble.com and sign up for

updates to stay in touch with the

bubble.

www.MisfitTunes.com
---
flaunt.official

flauntofficialproductions@yahoo.com

www.MisfitTunes.com

25
---
ONE TO

sagathegreat

sagathegreat sagathegreat

26

www.MisfitTunes.com
---
KNOW

I AM

Patrick

Jr.

Goins

I was born in Hamilton, Ohio an

raised in the Cincinnati, Ohio area

through out all my teen years.

I came up with the name Saga

first because I wanted a name that

fitted my vision which as the meaning

Saga in the dictionary means

to always continue an a journey an

long live non stop story. Because

after I'm gone my epic story will

continue to live on. Also I came up

with my own definition meaning

success always gains attention. An

later later I added the great simply

because everything I do an want

to be remembered as is something

great a great Influence to the world.

My influences are just basically

everyday life from my emotional

an joyful experiences that I have

encountered or witnessed. I'm

highly influenced by others as well

I just simply have a open mind

from learning from other people.

What made me choose to get in

the music industry was basically

the passion to speak to the world

in a wide way that can talk to

people's lives. I feel like I'm that

voice that's different an convincing

for people to truly understand an

relate to. If I was not doing music I

honestly don't know what I would

be doing because my passion for

music is just so pure. Maybe if I

wasn't as passionate about music I

could come up with something.

I consider myself a very versatile

artists from a conscious rapper to

a energetic aggressive heart felt

lyricist. Delivering witty an passionate

word play to paint a picture

of where I'm coming from in life.

I feel like I can do anything from

laid back music to great club music

an storytelling. I do not limit the

distance I can take my sound. My

Top three albums that have influenced

me as artist to do what I'm

doing now growing up were Jay

Z the "Black Album," T.I. "Urban

Legend," and probably the "Carter

II" by Lil Wayne.

My latest project is the 2013

mixtape "This Aint Music This Is

Life" Vol.2 which I released a few

years ago available on Datpiff.com.

lately I just been focused on just

consistently creating good music an

singles an more importantly putting

out a lot of music videos for

my fans to really get closer to my

appearance an personality videos

which can be viewed on my You-

Tube page - Saga The Great.

My short term goals are to establish

myself in the music industry

amongst other media entertainment.

As for long term it's to

inspire an build a brand that the

people believe in an can hold on to

for life.

I would like to stay independent

and just have great side partnership

with a label. But I am really open

www.MisfitTunes.com

27
---
to whatever opportunity fits my career

an the direction I want to take

my Music. So at this point I don't

want to jump to an conclusions but

I definitely want to have control

over my Music an continue to put

in hands on work.

I want my music to be able

inspire an help people get through

there everyday life whether it's

painful or joyful situations. A song

that inspired me is "All Of The

Lights" by Kanye West. It is also

the song I would have loved to get

on the remix.

A few more of my favorite

current artist I would to work with

would be J.Cole, Drake, Wale, Big

Sean, Meek Mill Rhianna, and

my all time favorite Jay Z. I know

working with these artists would

yield number one songs across the

charts even with me being a little

bit of a science nerd on low. I'm

really into astronomy you know

I'm just amazed by space an the

mystery it continues to hold.

For fun outside of music I enjoy

playing basketball I'm really

into sports just hanging with close

friends as well bowling an watching

a lot of movies. I also love to

draw I actually drew my own Logo

for my official stage name SAGA.

I always said my greatest gift

is not gone be treating myself but

more of making others lives feel

complete an purely happy. So when

I have most of the worlds trust as

a artist an brand I feel like I have

achieved something priceless.

~Saga The Great

Fans' Favorite Single

Check My Logo

28

www.MisfitTunes.com
---
Foolish Radio

Thurdays

noon - 2pm est

on

www.Listenvision.com

FoolishRadio

www.MisfitTunes.com

29
---
30

www.MisfitTunes.com
---
* Capricorn :: Foreign ideas

and concepts are suddenly

much more appealing to you.

If it has been your desire to

work in a foreign country,

now is your big chance to

make a move toward that

goal. The time is right for you

to advance in a new location.

* Sagittarius :: A radical shift

in energy makes you feel like

your efforts are actually getting

you somewhere. You are

not just a hamster on a wheel.

You are a prosperous, successful,

and extremely lucky

individual who is on his or her

way up in the world.

*Aries :: Think back to the

lucky break that you got a few

months ago. Remember it?

No? Well, perhaps you forgot

it because it lost steam and

seemed to have fizzled out.

Now is the time to rekindle

this opportunity and bring it

back to life. Rewards are at

hand.

*Taurus :: You are suddenly

seeing the light on obstacles

that have been standing

in your way for a couple of

months. Suddenly you feel

like you are making progress

on an issue that has had you

stuck in a rut for quite some

time. Charge forward with

confidence.

www.MisfitTunes.com

*Gemini :: Short-term rewards

might not be much to

speak about right now, but

the long-term trends are quite

favorable. Take a look at the

big picture and you will see

that the future is actually quite

bright. Believe it or not, you

are making progress.

* Cancer :: Your financial

luck is changing - and changing

for the better. You will

now feel like you are actually

moving forward with regard

to your finances instead of

moving backwards. Pat yourself

on the back for making

this important shift.

*Leo :: The train that you

have been riding was stuck in

reverse for a while, but today

it is moving in a forward

direction again. This spells

nothing but prosperity for

you with regard to anything

having to do with your career.

Take control once again.

* Virgo :: An idea you had a

while back is finally receiving

the positive recognition that it

deserves. Now it is your turn

to review the plan and scan

for any potential pitfalls. This

may require reviewing data

that you have already gone

over, but that's fine.

* Libra :: Someone in your

workplace, perhaps even your

boss, has an important change

of heart on an issue that directly

pertains to you. This

reversal in decision means a

big opportunity for you, and

possibly even a larger salary.

Keep your eyes open.

* Scorpio :: A problem you

thought had gone away is

now resurfacing. To make

matters worse, this problem

has seemed to worsen since

the last time it reared its ugly

head. Tackle this difficult

issue once and for all instead

of putting on the back burner

again.

* Aquarius :: Someone who

knows that he or she is right

seems to be rubbing it in. Try

to get past this person's immature,

egotistical approach,

and extract a bit of helpful

information from him or her.

This information will help you

redefine your perspective.

* Pisces :: Take a lesson from

people who are successful in

what they do. This is a good

day to browse in a bookstore

or a library. Pick out a book

about a person you admire

that works in the same field

that you do. Use this person as

inspiration for yourself.

Horoscopes from Horoscope.com

31
---
ONE TO

kalaiigriffin

kalaiigriffin

kalaiigriffin

32

www.MisfitTunes.com
---
KNOW

is Kalaii

My name Griffin I

was born in Springfield Mass (413)

and moved to the DMV [DC, MD,

VA] area at fourteen.

When i first moved to dmv i

bought a mic and tried to produce.

Knew nothing about it, but i left it

alone when i fell inlove with football,

2 months ago i had got off a

motivating phone call that basically

made me feel. " i am going to do

what made me happy, and see what

i can do to music if i just gave a

little effort."

In the 10th grade we were freestyling

and didn't have anything

that rhymed with kangaroo, so i

used bang-o roo. Sounded good

whenever it was said then i started

saying it. A lot of my older friends

started calling me Bang and it just

kind of stuck.

I ask myself all the time what is

my sound? I ask myself that all the

time, you have to grow and change

with the time and vibe whether it is

Drake, Will Smith, or any trap drill

music artist you see a lot of change

ups. I would say I adapt to whatever

beat I'm on. That's the best way

for me to describe my sound.

Ultimately I want my music to

make my female and male fans party

together. I want them to be hype

before a event. At the same time

have a woman vibe and want to

listen to it while at the same time a

grown man can turn it on and give

me props.

My short term goal is to open for

many and work with artists like

Rae Sremmrund or Travis Scott. My

long term goals are to have a sold

out tour and or perform with my

favorite artist. I feel I would sound

like a crazy collab with myself. Bizzy

crook or wale i would love to "

intern" with they would grow me as

a artist at this point in my "career".

But for the dmv ! Streetz 1waynostra

i think would be a good collab.

When asked if I would sign a

major deal or stay independent my

honest answer every time has been

id be good with either if it is reasonable.

My fans and supporters would

be surprised to find out that

"1975" is my first real recorded

song and video. Redspace studios

did a amazing job dealing with

the fact it was many hours and i

couldn't get the voice I liked when

recording "1975." It being my first

real effort at music I wanted it to be

better than people expected.

Not at all did I expect "1975" to

take off like it did

just like the mixtape title this was

all just to say i did it. Especially not

the video or all the amazing positive

feedback. Thank you for all the

shares!

~Bango

www.MisfitTunes.com

33
---
Advertise Here

Misfit Tunes

Misfit Tunes Misfit Tunes Misfit Tunes

34

www.MisfitTunes.com
---
classifieds

Think Brown Ink

Consulting/Business Services

Creative Think Tank, Social Responsibility

Branding and Impact Writing. We mobilize

people, empower organizations and build communities.

www.ThinkBrownInk.com

The Bassline Group

Consulting/Business Services

Like the Bassline in a song, your brand is the

foundation to your career. We specialize in

Brand Development, Marketing Strategy and

Management.

www.TheBasslineGroup.com

Fat Fat Beats

Music Producer

FatFatBeats is a female producer from the

DMV. She placed Second Place in the 2012

iStandard Producer Showcase in Washington,

DC.

www.FatFatBeats

Your Brand

Here

To have your brand/service listed in the

classifieds send an email to

sales@misfittunes.com

Your Brand

Here

To have your brand/service listed in the

classifieds send an email to

sales@misfittunes.com

Your Brand

Here

To have your brand/service listed in the

classifieds send an email to

sales@misfittunes.com

Your Brand

Here

To have your brand/service listed in the

classifieds send an email to

sales@misfittunes.com

Your Brand

Here

To have your brand/service listed in the

classifieds send an email to

sales@misfittunes.com

Your Brand

Here

To have your brand/service listed in the

classifieds send an email to

sales@misfittunes.com

Your Brand

Here

To have your brand/service listed in the

classifieds send an email to

sales@misfittunes.com

www.MisfitTunes.com

35
---
CityOfGodShop

1118 HOLLINS ST BALTIMORE

36

© 2014 CityOfGodShop

www.CITYOFGODSHOP.com

www.MisfitTunes.com
---
MD 21223 · 443.226.8621

CityOfGodShop

www.MisfitTunes.com

© 2014 CityOfGodShop

www.CITYOFGODSHOP.com

37