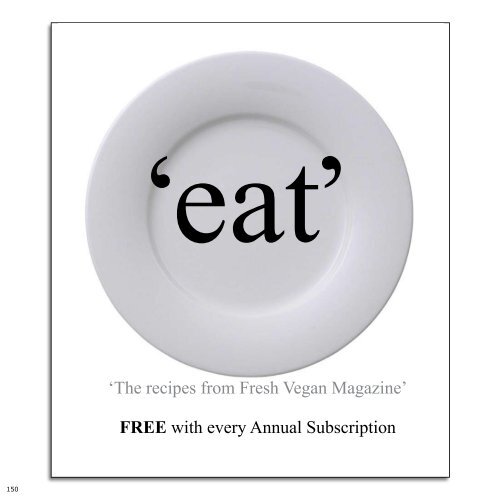 fresh view issue 1 (issue 5 from fresh publications) Issue 5 Is a bumper issue of great articles and features with information about all of the amazing projects that people from all walks of life are involved in to create little steps and make huge changes for the future of our Planet.

We talk to an independent book seller to discuss why considered conscious local buying is important to all of us. We invite you to a Vegan High Tea at Casa Angelina, sample some seasonal raw recipes from Dani Mitchell and share a cocktail or two with Veronica Steenberg.

Jacqui shares the amazing healing work that 'Jacobs Ridge' does with horses and finds out about their horse whispering retreats. Ron talks to 'Trees for Life' an amazing Project in the Caledonian Forests of Scotland where they are bringing the forests back to life whilst rescuing the native wildlife and plant species.

Some tasty Middle Eastern recipes from Photographer Madhia Abdo, whilst Jo Hudson exposes the dangers of the sweet stuff and processed sugars whilst sharing some amazing healthy sweet recipes that are processed sugar free.

Our Guest writer Eleanor Jackson and her son Tor visit 'The Green Backyard' a community project in the middle of a City that connects people to nature in a real accessible way, whilst Jacqui and Ron visits a small 'growing passion' for creating an amazing smallholding who are growing and sharing vibrant live food. We find out about a Leeds Homelessness Project, the 'Interfaith Vegan Alliance' that feeds the homeless nutritious tasty Vegan food, and our old friend and amazing Vegan Chef Boris Lauser, who provided our cover image for Issue 1, revisits us to talk about his Raw Vegan retreats in Bali.

Loads of recipes to try, book reviews of the latest amazing recipe books, the best raw, vegan, skin care products and the healing power of Flower Essences. This and more packed into 140+ pages of full colour tree friendly planet loving goodness.
'eat'

'The recipes from Fresh Vegan Magazine'

FREE with every Annual Subscription

150
More magazines by this user