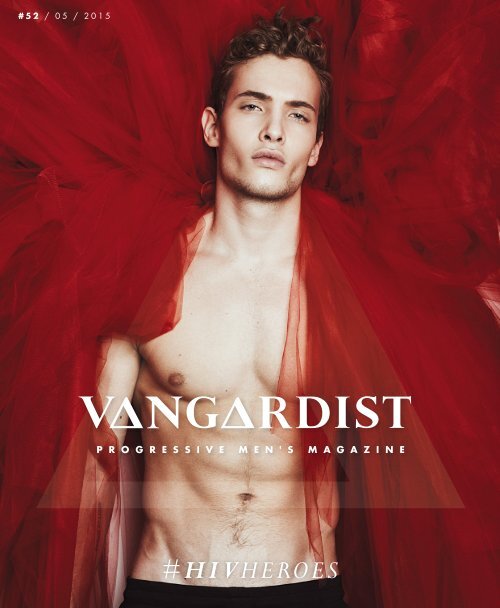 VANGARDIST MAGAZINE - Issue 52 - The #HIVHEROES Issue
You also want an ePaper? Increase the reach of your titles
YUMPU automatically turns print PDFs into web optimized ePapers that Google loves.
#52 / 05 / 2015

#hivheroes
---
HIV doesn't make

the news anymore

Today, however, you have the chance

to take the issue into your own hands.

That's because we believe it needs

to be talked about much more.

The stigma surrounding HIV continues to be

a topic that cannot be ignored.

Despite thirty years of campaigning to halt its spread,

the epidemic continues to grow.

In Europe and Central Asia, there were 80 per cent

more new cases of HIV in 2013 compared to 2004.*

Because HIV is talked about less, the less

of a danger it seems, and the more risks people take.

Also, because it's talked about less, the more shameful

it seems to those who carry the virus.

This month we INJECTED THE Vangardist presses with

the blood of three HIV-positive donors.

A limited edition of 2500 copies of the magazine was printed with it.

(To see how it happened visit www.vangardist.com)

This copy, however, was not. Even if it were,

there would still be no risk to you or your friends –

Just like there is no danger

in shaking the hand of an HIV-positive person.

The virus can only be spread through sexual contact,

needles or live blood entering open wounds.

Yet people are still afraid of getting close to those living with HIV

because they still don't know enough about it:

It is because of these fears that not all copies of this edition

were printed in such a bold manner.

Today, some people with HIV are concerned about

alienating their loved ones.

Others worry about losing their jobs if an

employer learns of their illness.

Some countries even criminalize HIV-positive people.

These fears stop INDIVIDUALS FROM SEEKING the support they need.

For all these reasons, VANGARDIST would like to

reignite the conversations

about HIV – free from taboo

and discrimination.

* WHO Regional Office for Europe and ECDC - Joint Press Release: "Europe's HIV

response falls short in curbing epidemic:

80% more new HIV cases compared to 2004.", 27 NOVEMBER, 2014.
---
Leading by example, we can all become champions

by improving the lives of those

living with HIV and those living with the danger

of contracting the virus.

Our publication will carry this message over the coming months

AND GIVE IT PARTICULAR ATTENTION IN THIS #HIVHEROES EDITION.

By buying this magazine you HAVE ALREADY BECOME a hero.

All donations raised will go to organizations focused

on equal opportunities for those living with HIV,

from fairer access to health care to combatting

By taking up this issue,

and by helping to keep it

on people's minds,

it is quite possible –

given current medical

advances – that one day

HIV/AIDS may never make

the press again.

social prejudice and discrimination.

Encourage others to also

become heroes

by sharing this edition and

making their own statement

against HIV stigma.

Make a donation and get a limited edition copy of

Vangardist printed with the blood of HIV-positive people. or simply

check out this digital editionto see how the issue was made.

HELP BRING US CLOSER TO A WORLD FREE FROM

THE SOCIAL STIGMA OF HIV BY SEARCHING FOR OUR

HASH TAG AND LIKING THE HIVHEROES FACEBOOK PAGE.​

www.HIVHEROES.org
---
20 Jahre Forschung

32 Patente weltweit *

N°1 Konzentrat**

* Für ULTIMUNE, gesamt zum 1. August 2014.

** Shiseido Verkäufe.

ULTIMUNE

Aktivieren Sie das

Immunsystem Ihrer Haut.

Nach 20 Jahren Forschung gelingt es

Shiseido erstmalig, die Langerhans-Zellen

anzusprechen, die die Schutzfunktion der

Haut stimulieren und ihr Immunsystem

regulieren.

Die Haut wirkt sofort geschmeidiger und

sichtbar glatter*.

Innerhalb nur einer Woche finden 75% der

Frauen, dass ihre Haut an Ausstrahlung

gewonnen hat*.

Nach vier Wochen empfinden 67% der

Frauen ihre Haut fester und 82% finden sie

elastischer. Die Hälfte der Frauen bestätigt,

dass Falten sichtbar gemildert erscheinen*.

Das ultimative Schönheitselixir für eine

kräftige und schöne Haut in jedem Alter.

*Selbsteinschätzungstest mit 100 Frauen

Because the beauty is already in you.

www.shiseido.at
---
uy now!

1 Box

5 Products
---
Become

an HIV-

Hero!

Now, the issue is in your hands,... almost.

Get a copy of the limited edition, printed

with the blood of HIV+ people and

support our cause.

to find your exclusive copy – check out

www.vangardist.com/PRINT

Get the Print Issue >>
---
Become

an HIV-

Hero!

Now, the issue is in your hands,... almost.

Get a copy of the limited edition

and support our cause.

to find your exclusive copy – check out

www.vangardist.com/PRINT

Get the Print Issue >>
---
Editorial

Imprint:

Publisher: VANGARDIST MEDIA GmbH

Editor-In-Chief and Management: Julian Wiehl

Copy Editor: Klemens Gindl

Editorial staff: Julian Behrenbeck, Klemens Gindl,

Hendrik H., Philipp Spiegel, Tobias Seebacher,

Wiltrut Stefanek, Wyndham Mead

Illustration: Magdalena Weyrer

Photography: André Gehrmann, Daniel Gottschling,

Darius Lucaciu, Shlomit Migay, Sam Scott Schiavo

Translation: Lisa Voigt

Proofreading: Jay Bannmuller, Erin Troseth

Production & Styling: Mirza Sprecakovic

Production assistant: Victoria Abulesz, Vladimir

Satric, Liqiao Zhu

Graphics and Layout: Magdalena Weyrer

Graphics assistant: Julian Behrenbeck

Editing: Cristóbal Hornito

Making of: Tamara Pichler

Sincere thanks to all who, through their tireless efforts,

have helped to produce this very special edition.

VANGARDIST MEDIA GmbH

Mariahilfer Straße 49 Top 15

1060 Vienna

office@vangardist.com

Dear VANGARDISTS!

Welcome to the #HIVHEROES Edition!

Yes, we've printed 2,500 copies of this edition using ink mixed with the blood

of HIV-positive people, and no, you can't get infected from it, but beware: Your

thoughts might get stimulated.

The #HIVHEROES Edition is our statement to fight the stigma that many people

living with HIV face day after day. Overcoming the fear of talking about HIV

or telling somebody that you're positive still takes bravery. So with this issue we

want to unlock the Hero in every one of us.

If you're holding the "infected" print edition in your hands right now, you'll

get into contact with HIV like never before. You might have been embarrassed

at first. And as you opened the wrapper you might have felt a bit of that fear

mentioned above. As the blood used as ink has been sterilized by pasteurization,

the virus is unquestionably dead. But it will make you reflect on HIV and

you will think differently afterwards. Because now the issue is in your hands.

Personally, I've always been afraid of becoming infected with HIV, and in

thinking about this, something very important came to my mind: I didn't fear

the health issues as much as I feared a life of social exclusion and the absence

of intimate contact with anybody.

Sadly, rejection and stigma are created by society, which means by every one

of us. So it is up to us, the HIV-negative ones, to speak out about this topic. We

can start a conversation and make our statement without fearing any negative

consequences. The easier it is to live with HIV, the more people will dare to

get themselves tested and seek medical treatment, and the more lives can be

saved this way.

We need to take responsibility and be the Heroes we always wanted to be.

Thank you for joining our cause!

Julian Wiehl and the progressive VANGARDIST team
---
SHOOTINGS

INDEX

facade

red 00

topics

COVER

STORY

EDITORIAL 00

facade

'94 00

radar

wrath of god 00

And why it prevents us from talking

about HIV

the campaign

foR the good cause 00

Diary of a hard fight

facade

Editor's Choice 00

Style tip

facade

Shopzone 00

advertorial

conchita's Vienna 00

A walk around town with Austria's

most important voice

the campaign

Hard facts about HIV

the campaign

the blood donors 00

facade

i am not a terrorist 00

vangART

deep throat 00

Ein Interview mit Filius de Lacroix

the campaign

when do I tell her? 00

The implications of an HIV-positive hetero life

advertorial

humans need heroes 00

Destination Madrid
---
never miss an issue!

sign in for free >>
---
20

radar

wrath

o f

God

And why it prevents us

from talking about HIV

Text: klemens gindl

illustration: Magdalena Weyrer

HIV is a punishment from God—if you believe

in him that is. Or rather, if you're the

kind of person who believes in what the

god depicted by the Bible represents: an

archaic, patriarchal idea of society carried

over from the distant past into our

21st century. For everyone else, HIV is a

disease, admittedly a fucked up one, but

a mere illness nonetheless. We might all

be quick to think that as privileged, well

informed representatives of the so-called

First World, we're above these types of

stone-age ideas and know that of course

HIV is an illness like any other, and we

congratulate anyone who truly and honestly

believes this. Apparently not too many

people share this belief though, because

even in this day and age, people who test

HIV positive are confronted by a serious

social stigma, and yes, this is also the case

in Western countries. So in view of this fact,

we decided to do a bit of research into questions

like how it's possible even for nonreligious

people to think like conservative

pricks and how this is linked to the fact that

HIV/AIDS remains a taboo topic.
---
22

The scourge

of humanity

Let's start by saying this: For a considerable

part of humanity, the effect of

HIV/AIDS does indeed have apocalyptic

dimensions. In Africa, the most

direly affected continent, Acquired Immune

Deficiency Syndrome is responsible

for the death of entire communities,

and we're not talking about in

the 1990s, or 30 years from now, but

right this moment! South of the Sahara

more than 22 million people are HIV

positive, but it can be assumed that

there's a considerable number of unreported

cases. In countries like Botswana,

Namibia or South Africa, almost

a quarter of the population is affected

by the disease and, unfortunately,

most are from younger generations,

less than 60 years old. Forget Ebola,

even forget all the wars being waged

from Donetsk to Aleppo and from

Kirkuk to Benghazi at the moment,

because after hunger and typhus, HIV

is probably still the worst scourge of

present-day humanity. Currently, only

Western societies are exempt from

this truth, but that doesn't mean we're

forever safe from this threat. Because

although we should be humbly grateful

for our privileged situation in light

of how infinitely vast the suffering is in

developing and emerging countries,

we in the West still haven't conquered

the underlying cause of the problem

of HIV/AIDS—one that doesn't have a

medical solution, but is instead deeply

rooted in our society.

Doomsday scenario

Apart from a lack of material resources

to fight and prevent the virus, the

reason for the epidemic's unparalleled

spread amongst the poorest of the

world has always been the fact that this

disease is something that's not talked

about because it's still treated as a taboo:

because for many people, what

shouldn't exist simply cannot possibly

exist. The fear of massive discrimination

and stigmatization understandably

reduces people's willingness to be

tested, which is especially damaging

since, in order to curb the pandemic, it

is vital to deal with the disease openly.

But while in the West, the doomsday

scenarios hawked by the fearmongering

mass media in the 80s and 90s led

to relatively effective education on

this topic, in the Third World, HIV has

been able to spread almost uncontrollably

over two decades. In Western

countries, HIV has always been a tricky

topic as well though, and the disease

still comes attached with a certain

stigma; even though from a medical

viewpoint it's not actually that big of a

deal anymore, people suffering from

it will still think twice before openly

talking about it. And so while we're

congratulating ourselves on being so

super-educated on the topic, we tend

to forget that all the knowledge in the

world isn't actually worth much if you

have to keep silent about it. The fact
---
24

is that after overcoming our doomsday

fears, recent years have seen the return

of a certain tabooing trend in AIDSrelated

matters. Some reasons behind

this may be from ignorance, because

we think HIV is no longer relevant, or

may be from the fact that we've gotten

used to it and look to something more

spectacular and new like Ebola to be

scared of. The main reason, however,

still is that it's a disease we've never actually

felt comfortable talking about.

5,000 years of patriarchy

It might be asking a bit much to expect

a radical change in social structures

within just a few decades, but

one thing is certain: The stigmatization

of HIV/AIDS predominantly has to

do with sexual morals, which explains

why it's still such a taboo topic. Consequently,

both this illness and the question

of how we should deal with it have

the power to shake society to its very

foundations. This may sound like nothing

more than a casually made claim,

but in this case you better believe it:

When we say "foundations" we really

mean foundations. Because even

though the established order has often

taken quite an existential battering as

a result of the 20th century's major new

occurrences like industrialization, capitalism,

liberalism and the sexual revolution,

it would still be an illusion to think

that we have managed to overcome

5,000 years of patriarchy in just a few

decades. As patriarchy is at the core

of all conservative concepts of society,

the sexual morals that come with it are

the ultimate condition for its existence.

Bible, Shakespeare,

Game of Thrones

How come though? Male rule is far

from being a law of nature. Quite the

opposite actually. It's dependent on

cleverly devised cultural techniques

and, more than anything, on fairly strict

regulations of what's sexually permitted

and what becomes ostracized. And

this has one very simple reason: For a

long time in our civilization's history it

was basically impossible to deliver safe

proof of paternity, which, in a society

based on the hereditary transmission of

power, status, wealth and identity from

a male to his male heir, is absolutely essential.

Anyone who's ever read the Bible

or Shakespeare, or watched Game

of Thrones, knows the implications that

being born a bastard used to have.

While the mother was nearly always

easy to identify, our sperm donor could

be any random bloke; the only way to

ensure some certainty on these matters

was the implementation of strict
---
26

behavioural laws and to inflict severe

punishment for any kind of promiscuity.

How tightly this was linked to the

whole patriarchy issue can, for example,

be read in the works of the Roman

historian Tacitus who, in his famous

Germania, delivers quite a precise description

of the social conditions the

Teutons lived in. In their society, males

had no real tasks other than fighting in

wars, everyone was free to cavort and

copulate like there was no tomorrow,

and women had children by lots of different

men—which was fine because

they were the ones that led the clans,

as status and power were passed on

through the female bloodline.

God equals society

Right now you're probably thinking

that all this sounds like not much more

than a bunch of made-up rules, but it's

a fact that established moral concepts

regarding sexuality—ranging from monogamy

and faithfulness to the rejection

of sexual variations like anal sex

and fellatio, as well as any form of homoeroticism—are

not simply rules, but

moral questions that are religiously

motivated. Anyone who, from a rational

viewpoint, would definitely reject

such ideas but sometimes still experiences

a dim feeling of moral turpitude

when excessively engaging in random

sex knows what we're talking about:

the pang of conscience felt by a sodomist,

formerly referred to as a sinner,

against his better judgment. This perception,

however, is only based on the

"enlightened deception" that we have

to differentiate between morals and

religion on the one hand and rationally

devised laws and rules on the other,

when in truth they're one and the same.

As early as the 19th century, academic

scholars of religion declared that when

we say God, what we actually mean is

society, the obvious principle behind

this strategy being to lend some kind

of transcendental and spiritual legiti-

mization to all the invented rules that

sustain the established (male) order—

or in short: to convert these rules into

eternal law that cannot simply be annulled

by new generations.

The stigma

of promiscuity

To this day, despite all their heartfelt

attempts at progress, even the most

liberal societies continue to be affected

by the old sexual morals because

these codes are part of the roots of

cultures which, as we all know, consider

themselves firmly anchored in

the Judaeo-Christian tradition, but

in fact, they even pre-date it. To put

it more crudely: A large part of civilization's

values dates back to those of

tribally organized shepherd communities

in the Bronze Age whose timeless

representative figure was a punitive

male god who saw to it that the

tribe's (male) leaders all got what they

understood to be their (god-given)

right. After millennia of this kind of tyranny,

we suddenly go and invent the

pill and paternity tests, kick off the
---
28

sexual revolution, fuck around like rabbits

for about two decades and then

bam! This stupid virus decides to jump

from chimpanzees to us and ends the

party. And before you know it, all the

complexes we thought long gone are

back with a vengeance because one

thing became clear pretty quickly: HIV

is mainly contracted through sex—and

not the kind you have with just one

partner your whole life. If we follow the

logic of patriarchal morality, HIV/AIDS

can be seen as a stigma: the disease

as a mark, a badge of shame and—in

a sense—punishment for a promiscuous

lifestyle. As in: "If you had been a

good boy and lived by the established

bourgeois rules, this would not have

happened to you." Consequently,

from a patriarchal viewpoint, the disease

simply has to be a manifestation

of God's wrath; also in a more figurative,

secular sense, because after all,

"God" is nothing other than society's

personified order.

The shadows of the past

This, of course, explains the initial stigmatization

of HIV as the "gay plague".

The discrimination against homosexuality

by the conservative mainstream

is mainly rooted in the fact that, for

its members, the gay lifestyle represents

the essence of promiscuity and,

as such, a constant threat to traditional

male rule. As a paradoxical side-effect

of this, nowadays it's even harder for

many heterosexuals to deal with the

social dimensions of this disease than it

is for homosexuals, since the latter had

to learn long ago how to live outside

the patriarchal mainstream. Obviously

we've left the 19th century behind and

not all of us see HIV as a god-inflicted

punishment. Yet a certain echo of this

set of values still rings through modern

Western society though, whispering

that it's your own fault if you contract

the virus. And since, culturally, we're

still miles away from actually being able

to openly talk about any form of sexuality,

the whole HIV topic still carries

the stigma of something "dirty" that

no one wants to talk about—because

we still haven't fully liberated ourselves

from some ancient set of moral values.

HIV as a social gauge

We live in 2015 and it's fair to say that

our Western societies are more or

less on the right track when it comes

to shedding the patriarchal tradition.

Having said that, we're still a far cry

from shedding it completely.

At least in those parts of the world

blessed by a certain standard of

wealth, HIV/AIDS has become medically

manageable and has developed

from a certain death sentence into

more of a chronic disease. In turn, this

has led to the widespread idea that

it's something that no longer needs

to be talked about. In fact, most of us

are glad that this somehow disreputable

topic is finally off the table, but
---
30

that's a big mistake, because the only

efficient way to counteract this problem

is an open and ongoing discourse

about it. Everyone who doesn't know

what it is or that they have it will most

likely unwittingly pass it on to someone

else. Simple preaching doesn't

help though, because the problem is

rooted much more deeply. In some

way, how we deal with HIV/AIDS functions

like a gauge that measures to

what extent a society has managed to

liberate itself from patriarchal rule.

The #HIVHeroes Edition:

that's why!

At the VANGARDIST we regard ourselves

as a progressive medium committed

to proclaiming a lifestyle far

removed from all kinds of patriarchal

restraints. We regard all forms of sexual

preferences—whether they're homo

or hetero—as completely natural and

equally valid. A large part of the content

of our men's magazine is gay and

so are a considerable number of the

people involved in its making. Because

of this, we are used to standing up and

fighting, but at the same time we're

aware that there's not much use in playing

the suppressed minority here. For

this reason, our magazine deliberately

treats an open attitude to all things

sexual as a given that is befitting to our

modern times, just as we regard openness

regarding gender stereotypes.

We've decided to boldly expect overall

equality because this type of selfconfidence

is much more efficient than

self-victimizing whingeing will ever be.

And that's why the VANGARDIST is organizing

the #HIVHEROES Campaign:

because we need an open discourse

about HIV/AIDS without all the moral

baggage.
---
Pullover Dyn menswear, leather top Marina Hoermanseder
---
Shirt Vivienne Westwood, brooch Marekowa, Briefs Stylist's own, leather belt

Marina Hoermaneder

Top Dyn menswear, Headpiece Marekowa, leggings stylist's own
---
cap Kolos Schilling, coat Leni Landsgesell

Leather Top Marina Hoermanseder, Ring Marekowa, Shorts Stylist's own,

Leggings Mirza Sprecakovic
---
Look Emporio Armani, watch Adidas, Socks Falke

shirt Dyn menswear, Jeans custom made, Leather belt Marina Hoermanseder,

backpack Leni Landsgesell
---
suit Strellson, shirt Mirza Sprecakovic, backpack Vivienne Westwood, watch Diesel

Leather shirt Marina Hoermanseder
---
fashion editor

Mirza Sprecakovic

mirzasprecakovic.com

photography

Sam Scott Schiavo

samscottschiavo.com

Grooming

Zoltán Tóth

leather jacket Emporio Armani

models

Kristobal & JP, Sam the Agency

Mark, Art Models

fashion assistant

Vladimir Satric
---
44

making of

editing: Cristóbal Hornito

Interpreter/ Track: MINDRXK - 'Life is a party'

See more

making-ofphotos
---
46

the campaign

# H

i v h e r o e s

E

d

i

t

for the good

cause

n

i o

0001

Fearlessness is not a sign of bravery but of foolhardiness.

You can't become a hero before you confront your fears and overcome them.

Once you've mustered that much strength, even failure becomes something noble.

These or similar thoughts frequently came to mind whenever the road from our

initial idea for the #HIVHEROES Edition to its final realisation got particularly

bumpy. You, dear readers, who are now holding this VANGARDIST issue in

your hands, have accepted the challenge. You have overcome your fears and,

by opening this magazine's wrapping, have sent a signal. But until this was

finally possible, we came across quite a number of people

who weren't quite as brave…

diary of a hard fight

text: Hendrik H.

photos printing press: Daniel Gottschling

Foto cat: Jonathan Teo

0001

Felix Nowack & Julian Wiehl at Donau Forum Druck Ges.m.b.H.

A meeting with far-

reaching consequences

It's one thing to come up with a good

idea. To carry through with it, though,

is a very different matter. It was actually

Raffaele Arturo, former head of Publicis

Austria and close confidante of our

sales and marketing team who came

up with this daring plan at a meeting

set to discuss the question of what in

the world we could write about on the

occasion of this year's Life Ball and upcoming

Eurovision Song Contest. An

issue printed with HIV-positive blood?

What a mad idea! An idea that didn't

just pop into Raffaele's head as if sent

by Apollo's marketing muse though.

From his time a few years ago at Publicis,

he remembered an advertising

campaign for a client that they had

contemplated running on the occasion

of the Life Ball which had never actually

been carried out. For one quite obvious

reason: It was simply too wild. The

thing is though, words like "mad" and

"wild" quickly trigger a certain itch and

urge in our Chief Editor, so that anyone

watching him while Raffaele presented

this idea could detect a gentle glow on

the boss' attentive face.
---
HIV doesn't make the news anymore.

Now the issue is in your hands.

Raffaele also told us that after the people

at Publicis in charge of the campaign

had quashed the idea, Jason

Romeyko, Creative Director of Saatchi

& Saatchi Geneva, which in turn is a

subsidiary of the Publicis Groupe, had

continued to toy with it. And then he

asked us whether this wouldn't make

for an interesting campaign for the

VANGARDIST.

A radical plan

The concept was simple and powerful.

We would confront the increasing marginalisation

of the HIV/AIDS discourse

and make people aware of how social

prejudices against people with HIV are

still pretty rampant in today's society.

Our main focus was to be on the issue

of social exclusion that many HIVpositive

people who openly deal with

their situation continue to face, simply

because the disease still triggers all

kinds of irrational fears of contracting

it, even though this is virtually impossible

through ordinary social contact.

Our plan: to find three people infected

with the virus who should be as different

from each other as possible as well

as be willing to donate their blood for

a good cause. This blood, after being

treated in a laboratory to exclude any

possible risk of infection, would then

be mixed with printer ink to produce

an ad that would, in essence, contain

the following information: This ad has

been printed with HIV infected blood.

Pure fate

While our Chief Editor's ears had already

pricked up during the description

of the idea, when he heard the name

Romeyko, a wide grin spread over his

face, because—what a nice coincidence—Jason

is a personal friend of

the VANGARDIST in general and of Julian

and Carlos (the founders and editors

of this magazine) in particular. At a

time when their career ladders weren't

being climbed quite as ambitiously as

they are now, these two would regularly

visit Jason in Berlin. Probably mostly

to party, but also, whenever Jason was

sent off around the world, to look after

Jason's cat, Bauer. We should probably

mention here that Bauer isn't just

some ordinary cat. He's a muse, and
---
in that role one could even venture to

say that, next to Karl Lagerfeld's Choupette

and the Clinton family's former

First Cat, Socks, he's one of the three

most important cats in the world and,

just like his famous colleagues, has his

own Facebook profile.

At lunch with

Saatchi & Saatchi

The unexpected appearance of this

personal contact meant we didn't even

have to steal the idea! Without further

ado, a call was made and a few minutes

later an excited Jason Romeyko

had gladly accepted our offer, saying

that this campaign was something he

had already felt strongly about from

the very beginning. Just a few weeks

later, we had lunch in Vienna with Jason

and his producer, Emma Jenkins,

and even before we were able to prime

them with alcohol, maybe even before

dessert was served—which, on a side

note, no one apart from Emma and

this article's author actually touched,

because the boys spend too much

time looking after their figures—the

whole thing was underway and Saatchi

& Saatchi had promised to put everything

at our disposal that they had already

done for the campaign.

0002

Bauer Romeyko

Legal grey areas

A few days later, a legal opinion by a

US law firm written in 2011 and commissioned

by the client the campaign

had originally been devised for landed

on our Chief Editor's desk. In it, the legal

experts succinctly recommended

dropping such an HIV campaign idea,

as the consequences were not predictable

and there was no way of knowing

where the ad might eventually end

up. Although we were certainly a bit

surprised about receiving this legal

opinion without any further comment,

and by the fact that neither Jason

nor anyone else had ever mentioned

its existence, we decided not to be

put off by this. After all, it was just an

overly-cautious recommendation, the

Publicis client who had commissioned

it wasn't exactly of Benetton calibre,

and anyway, everything had gone so

smoothly up to this point, and so on

and so forth. Since we didn't want to

ignore the legal opinion completely

though, our Chief Editor forwarded it

to Raffaele's brother, Claudio, a good

personal friend as well as advocate

and Honorary Consul of the Republic

of San Marino in Vienna.
---
Exile in

San Marino

This had been a cunning move because

we figured that, should his Excellency

the Honorary Consul give us

his legal go-ahead after coming to

the conclusion we thought he would

come to, namely that the guys at Publicis

were a bunch of cowards, then if

the whole thing did for some reason

go tits up in the end, he would probably

feel so guilty about it that he'd

have to grant the VANGARDIST's entire

editorial team exile in San Marino.

Unfortunately, such plans fell through

pretty quickly, because one week later

Raffaele arrived at the office with

bad news from San Marino. We were

informed that the whole thing was indeed

quite tricky, beginning with the

problem that different countries had

different laws, which would be an issue

insofar as the campaign was intended

to be launched internationally. A call

made to Jason in Geneva didn't solve

this problem either, because all we

learned was that he was already familiar

with this legal opinion and that as a

result of it, the printing office commissioned

to do the job for the first campaign

attempt had refused to "infect"

their printing presses with the virus.

A campaign is born

Faced with these facts, we almost got

cold feet like everyone else before us

had, but then came salvation in the

form of a brilliant idea: The main argument

used in the legal opinion was

that the distribution of an ad appearing

in different print mass media would

be impossible to control. If, however,

the VANGARDIST as a magazine were

figured as the responsible body initiating

the campaign's actions, it would

be able to print only a limited edition

of the magazine with ink that actually

contained blood and just use ordinary

ink on the rest, and that way we would

retain relative control over the distribution

of the blood mags. In addition,

we came up with the idea to cover the

"contaminated" issues in plastic wrap

to make people aware of what they

were about to purchase and make it

their active decision to unwrap and

touch the actual magazine. The act

of unwrapping it would thus become

a statement and send out the message

that, in order to read this issue,

you had to be brave. And with this, the

#HIVHEROES Campaign was born.
---
The unknown

residual risk

Our new Heroes Campaign plan, involving

a limited running of magazines

sealed in plastic that would challenge

recipients to make a statement

by actively unwrapping and touching

them, was then sent to San Marino

once more, along with a request for a

second legal opinion. And this time,

the response was guardedly positive.

It stated that even though the Consul

couldn't vouch for the rest of the

world, according to German and Austrian

law, our campaign wouldn't pose

any legal problems. And since by that

point we'd swaggered so much about

heroism, we decided to just go ahead

with it and face the potential risks.

Definitely not standard

operating procedure

So now that we were willing to assume

the possible risks, all we had to

do was convince others of how noble

our campaign was. Since something

like this had never been done before,

we had no standard operating procedure

to fall back on. As a first step, we

had to find a laboratory that would be

willing and able to treat the donated

blood to rule out any possible risk of

infection, and of course none of the

laboratories we contacted were willing

to do it. Through one of our boss' old

childhood friends, we finally managed

to establish contact with the medical

faculty at the University of Innsbruck

and, after some negotiation, we had

them where we wanted: The guys from

Tyrol would extract and pasteurise the

blood and then submit it to processing

in an autoclave set to "biosafety level

3". After that, we were told, you could

basically drink it.

Old love never dies

The second hurdle we had to overcome

was to find a printing office

willing to allow the blood to come in

contact with its printing presses, but

all the big ones turned us down. Our

last chance was a small print shop under

the name of Donau Forum Druck,

who we had already worked with on

our very first print issue. Its owner did

express some reluctance at first, because

he didn't want to force his staff

to participate in our stunt, but in the

end he offered to do the job himself
---
in one long nightshift. We will be eternally

grateful to him for his heroic act.

Finding donors

The third and trickiest task would be to

find three people who would be willing

to donate their HIV-positive blood

to help our campaign. What made our

job even harder was that our potential

candidates had to be as different from

each other as possible, meaning we

had to find someone who dealt openly

with the condition and could show the

world how that's done, but also someone

who found this hard to do and

could show the world why openness

continues to be such a challenge.

Into an unknown

future: postscript

Today it's April 9th 2015, and we've

found our donors. Tomorrow they'll

put their blood at the disposal of the

medical faculty at the University of Innsbruck.

In our #HIVHEROES Edition,

which will head to print in four days,

you'll be able to find out all about who

they are and what they do. While I'm

typing these last lines into my computer,

next door our Chief Editor is sitting

in his office full of vim. When you, dear

readers, are holding this VANGARD-

IST issue in your hands, we'll already

know whether we've achieved our goal

or if all hell has broken loose. Or, who

knows, maybe both will happen at the

same time. You have to overcome your

fears to deem yourself brave—because

anything else would be nothing

but foolhardy. So long...
---
58

the campaign

Philipp Spiegel

the

blood

donors

age

Philipp Spiegel is an alias. The person behind it prefers

to stay anonymous. He is the author of the article

"When Do I Tell Her?" which you can find in this

very issue

"Who are you?"

There is not much to say about me at the given time.

All there is to know is that I am male, heterosexual

and HIV positive.

Photos: André Gehrmann, Daniel Gottschling

HIV can affect anyone. But how a positive diagnosis affects individuals' lives is very

much dependent on their social environment.While some people are in a position to

openly deal with the challenges of HIV without having to fear severe discrimination,

for others, "outing" themselves would be equivalent to social suicide.

The heroes of this issue are named Philipp, Wyndham and Wiltrut.

The blood they donated has become a part of this magazine. The three of

them all have one thing in common: They're HIV positive.

Their stories, however, could not be more different.

"Why are you doing this?"

Due to the fact that the infection is rather recent, I

am still struggling with this new impact on my life.

I am working on a reassessment of myself: of who I

am, of what I will do with this. In that sense, the preinfection

life doesn't matter very much. Because of

the fear of implications both socially and professionally

for myself, my friends and my family, I still prefer

to stay anonymous.
---
60

Born in Stockton, California, Wyndham

relocated to New York before leaving

the Big Apple for freakin´ Berlin, where

he's been living and working the

past four years. He got his diagnosis

in October 2012; about a year later

he "came out" as HIV-positive with

#CHANGETHEFACE, sharing his story

to start conversations, change opinions,

increase awareness and affect positive

change in people. He is 26 years old.

"Who are you?"

I'd say I'm one of the most normal guys

on the planet. I go to work, I see my

friends, I've got some big dreams for

my life that I hope to accomplish, and

I try to keep in touch with my family as

much as possible.

That being said, becoming HIV positive

did have an effect on who I am:

I am now more grateful for every experience

I have, a characteristic that

didn't exist before. Think of how much

happier we would all be if we woke up

each day and said, "Thanks, life, you're

amazing." That's the person I strive to

be.

"Why are you doing this?"

You know, the interesting thing is that

I've become numb to the existence of

"HIV stigma". I've overcome most of

the self-loathing and shame about my
---
62

own status, and forget sometimes that

not everyone out there has had the

same experience—that many people

who are diagnosed aren't able to process

it. They keep secrets. They suffer.

Only to be fed by a globally universal

fear and lack of understanding of HIV/

AIDS.

Enjoying this confidence can be dangerous.

Complacency is why we find

ourselves—in 2015!—with increasing

HIV infection rates in certain groups.

I've learnt that rather than becoming

complacent in my own shame-free

HIV-positive life, I must keep pushing

forward, using my numbness to, or ignorance

of, stigma for something bigger

than me. I guess I do it because

I'm not afraid. You'll have to ask my

parents about that fearlessness, as it's

been around far longer than I've been

positive!

#CHANGETHEFACE is an attempt to

make things better for "us" and start

conversations that might help remove

the stigma that absolutely still exists.

Us means other HIV-positive people.

Us means our families and friends. Us

means low-risk groups that normally

have few reasons to involve themselves

with the topic of HIV.

And why would I agree to have my

blood used to print this magazine? Because

holding my HIV in your hands

is… well, even I am a bit shocked by

the idea. Hopefully this act—a brave

one for some, a non-issue for others—

will create waves of conversation about

HIV that I could never achieve by myself.

I'm doing this because I believe positive

can be positive, and talking about

HIV is the only way we can get more

people to share that vision.

Wiltrut Stefanek

AGE

Wiltrut has been living with her

HIV-positive status for over twenty years.

After being diagnosed, she decided to

openly deal with her condition and, as

a result, founded the special interest

group PULSHIV (www.pulshiv.at). She

lives and works in Vienna and has a

24-year-old son.

45
---
64

# H

E

d

i v h e r o e s

i

t

n

i o

"Who are you?"

HIV—three letters that turned my life

upside down. Many people think I

must be unhappy and despair over my

life! Well, yes, I am indeed HIV positive,

but primarily I am a mother, friend

and partner.

For many years I had been leading a

double life in a marriage conditioned

by violence, but when I was diagnosed

20 years ago, I realized something had

to change. The diagnosis was a wakeup

call because it made me see how

wonderful, but also how terribly short,

(my) life can be.

In spite of my fears, I decided to openly

share my HIV status because I don't

want to hide and have to lie about who

I am, and so I founded PULSHIV in Vienna.

It's a special interest group organised

by and for people with HIV/AIDS

and their families. We provide information,

counsel and guidance on HIV and

often live with it ourselves. We're people

with and without HIV/AIDS who

have taken their lives and futures into

their own hands.

"Why are you doing this?"

Today, I'm living a "normal" life. I work,

meet friends, have hobbies and spend

as much time as I can with my family.

My social circle is very important to me;

they're my friends through good and

bad times. Over the years, I've come

to realise how important it is to share

your problems with others. Many people

with HIV think that they're alone

with it, but that's not true. Communication

is essential to my quality of life.

I've been in a partnership with an HIVnegative

man for many years. At the

beginning, things were difficult because

many people didn't accept our

relationship. We faced a lot of prejudices

which, as far as I'm concerned,

were completely unfounded because,

against all odds, we're still together today.

My son was six when he learned about

my status—an age when he wasn't yet

able to really grasp what HIV meant—

but with professional help he has learned

to live with it. There were times

when he talked about it a lot, but today

I feel that HIV is as normal a part

of life to him as is eating or taking a

shower is.

It was my conscious choice to become

an advocate for the interests and concerns

of people with HIV. In today's

society, this illness continues to be a

taboo and, way too often, something

people whisper about behind closed

doors while the real problems are not

discussed. The majority of HIV-positive

people are scared to openly deal with

their illness because, even in 2015,

too many of us still harbour prejudices

against HIV and fear coming in contact

with it.

We finally have to get rid of the myths

of the 80s and draw attention to all the

positive changes instead. We have to

put HIV on the agenda, raise awareness

for this issue and strongly encourage

communication on a sociopolitical

level. That's what drives me.

Through donating my blood to be part

of the #HIVHEROES Edition, I want to

make people understand that in dayto-day

dealings with it, HIV poses no

risk to anyone.

Living with HIV isn't only taxing for

those of us who have it. My true heroes

are my son, my partner and my

parents, who have always stood by me

despite the struggles and supported

me through some hard times. If we all

managed to look beyond our own borders

once in a while, we could all be

heroes.
---
66

the campaign

Hard

Facts

about

How do I behave

around someone

who's HIV positive?

J ust like around anybody else.

When do I

risk catching

the virus?

• Unprotected sex

• Swallowing sperm or blood

• Contact with fresh open wounds

• Dirty needles (drug use)

Always use a condom •

Don't swallow sperm or blood •

What's the right

way to protect

myself?

Regular intake of meds •

Regular medical checkups •

Lifelong therapy •

Life changes in terms of eating habits, •

relationship habits, family and friends

Condoms, condoms, condoms •

What will I be

dealing with as someone

living with HIV?

What do I do if I've

been exposed

to a potential risk?

• Consult a doctor within 1 or 2 hours

• PEP (HIV post-exposure prophylaxis) within 48 hours

• If sperm has entered your rectum, squat down and

try to push it out

Common

misconceptions

about HIV

• Faeces, urine, sweat and saliva are contagious

• Sperm should be removed with an anal douche

• Even if HIV-positive people are receiving the

right kind of treatment, transmission risk from

sex with them is very high.
---
skirt [ep_anoui] by Eva Poleschinski,

trousers Alexander McQueen at STEFFL department Store
---
dress & Bag Diesel, skirt Leni

Landsgesell, bracelet Moschino

Shirt Givenchy at Amicis, trousers Kenzo at Steffl

Department Store, boots Diesel, TROUSER CHAIN Chanel
---
shirt Maison Martin Margiela, Shorts Valentino at Amicis, Socks Falke,

Sneakers Saint Laurent, chaiR Qitoya

corsage Marina Hoermanseder,

earrings Peacock-Modeschmuck
---
Shirt & Sandals Diesel, sKirit [ep_anoui]

by Eva Poleschinski, belt Dior Homme,

Bag Marina Hoermanseder, socks Nike

Jacket Madanti, Sweater Ute Ploier, Briefs Björn Borg, boots Moon Boot

tights Wolford, necklace Peacock-Modeschmuck
---
Shirt, Jacket & sweater Diesel, Shorts Valentino at Amicis

shirt Vivienne Westwood, pullover Diesel,

Jeans Alexander McQueen at Steffl Department Store,

belt Ana Kaan, stool Qitoya
---
shirt Maison Martin Margiela

dress Maiken K. at Runway, earrings

Peacock-Modeschmuck, suitcase Qitoya
---
Fashion Editor Mirza Sprecakovic / www.mirzasprecakovic.com

Photography Darius Lucaciu dariuslucaciu.tumblr.com / Hair &

MakeUp Shlomit Migay www.shlomitmigay.com / Models Simon C.

& Natalia S., mmanagement.sk / Assistant Victoria Abulesz /

Making Of Tamara Pichler

wool hat Stylist's own
---
making of

editing: Cristóbal Hornito

Interpreter/ Track: SPAM the Q - BiRD of HERMeS

See more

making-ofphotos
---
84

the campaign

Text Philipp spiegel

when do I

tell her?

THE IMPLICATIONS OF AN

h i v - p o s i t i v e

HETERO LIFE

Being a heterosexual male with HIV is

filled with emotional contradictions. Having

been infected rather recently, my experiences

concerning the matter are rather

recent—and yet HIV has changed my life

in numerous way. Ways I cannot even fathom

just yet, for they are in constant fl ow.

The diffi culties and confrontations concerning

this new life are numerous, and a

lot of exploration is still necessary.

A new routine

My first months were the most difficult

ones. Plagued with doubt about my

actions, there were two main concerns

that dominated my life. For one, the

medical aspect. With knowledge and

research, I could deal with my initial

fears of this aspect rather quickly. Being

born in the 80s, with the deadly threat

of this disease being hammered into

me from early on, properly done research

soon alleviated my fear of a gruesome

death. I informed myself, and

still do, about therapies and medical

implications. Of course, the privilege

of living in a Western country with excellent

medical facilities and treatment

options gives comfort and has made

life almost normal. My gratefulness towards

the amazing scientific and medical

progress concerning this disease

is never-ending. At least on a medical

level, knowledge truly is power.

Knowing that this is something that will

be there for the rest of my life has a

strong impact. Death itself has become

a constant. Not a threat, but "company".

An awareness of my own mortality,
---
86

causing me to reflect on my own life

and the decisions I have made so far.

A questioning of my goals and motivations

that gives them

a different meaning. For

I feel I carry death in me.

And every single day,

upon taking my medication,

I am given the

position to decide whether

I want to live or die.

"Every single day, for the

rest of my life." That is a

strong, and I confess, strange sentence

to tell yourself. It is an experience very

few people can share.

The medication itself is quite a tricky

thing. On one hand, every day becomes

an affirmation of life. But the implications

of these blue pills are still

very present—that I cannot take a

break from them, that I'm not allowed

to forget to take them and that long

term consequences are still uncertain

are ideas that cause constant pressure.

The paranoia of forgetting to take

the pills still grabs a hold of me. Not as

much as in the first few months, but it

still happens. A brief panic attack comes

over me every so often, trying to

remember whether I have taken them

or not. Although two alarms annoyingly

remind me of them every single

day, I always have to be very present

in the moment when taking them.

These daily alarms accompany

me—not necessarily

as a dominating

feature, but their

presence adds a certain

reminder of HIV in my

life. Every trip I take to a

different time zone must

be thoroughly calculated

for possible adjustments

to my alarms. Often, I have to readjust

my intake habits a few days in advance

to not diminish the medication's effect.

My poisonous self

The second thought that dominated

my mind in the first weeks after my diagnosis

was neither about my own psychological

situation, nor was it about

telling my friends and family. Although

those two thoughts were very present,

there was one other thing that caused

me nightmares: the fear that I had infected

someone else. The idea that

my irresponsible behavior had potentially

endangered someone else's life

kept me up at night. I was put in the

situation of having to inform three women

of my status. Simply having "that"

conversation is bad enough. Had I infected

anyone else, I don't know how

I could have lived with the guilt. This

situation would be even more difficult

than it already is. After accompanying

these women to their tests and finding

out that I caused no further infections,

I was filled with relief—but scared.

Even today, with my levels being far

below the detection limit, and practically

being unable to infect anyone via

sexual contact, this fear remains, and

it has had a great impact on my sex

life. Ease and lightness have gone. For

about a year, intimacy was more associated

with stress, anxiety and fear than

anything else. I trust medicine and my

medication—but I'm not entirely sure

how much I trust myself yet.

Herein lies one of the differences between

homo- and heterosexuals. I don't

want to downplay the fear that homosexuals

have when thinking about the

consequences of infecting someone

else—but those consequences for women

are much greater than for men.

Simply the idea of bearing children has

to be taken into consideration. The

impact of infecting a woman is, in that

sense, much greater than infecting a

man.

I have my blood tested every three

+ + + + + + + + + + + + + + + + + + + + + +

+ + + + + + + + + + + + + + + + + + + + + +

+ + + + + + + + + + + + + + + + + + + + + +

+ + + + + + + + + + + + + + + + + + + + + +

+ + + + + + + + + + + + + + + + + + + + + +

+ + + + + + + + + + + + + + + + + + + + + +

+ + + + + + + + + + + + + + + + + + + + + +

+ + + + + + + + + + + + + + + + + + + + + +

+ + + + + + + + + + + + + + + + + + + + + +

+ + + + + + + + + + + + + + + + + + + + + +

+ + + + + + + + + + + + + + + + + + + + + +

+ + + + + + + + + + + + + + + + + + + + + +

+ + + + + + + + + + + + + + + + + + + + + +

+ + + + + + + + + + + + + + + + + + + + + +

+ + + + + + + + + + + + + + + + + + + + + +

+ + + + + + + + + + + + + + + + + + + + + +

+ + + + + + + + + + + + + + + + + + + + + +

+ + + + + + + + + + + + + + + + + + + + + +

+ + + + + + + + + + + + + + + + + + + + + +

+ + + + + + + + + + + + + + + + + + + + + +

+ + + + + + + + + + + + + + + + + + + + + +

+ + + + + + + + + + + + + + + + + + + + + +

+ + + + + + + + + + + + + + + + + + + + + +

+ + + + + + + + + + + + + + + + + + + + + +

+ + + + + + + + + + + + + + + + + + + + + +

+ + + + + + + + + + + + + + + + + + + + + +

+ + + + + + + + + + + + + + + + + + + + + +

+ + + + + + + + + + + + + + + + + + + + + +

+ + + + + + + + + + + + + + + + + + + + + +

+ + + + + + + + + + + + + + + + + + + + + +

+ + + + + + + + + + + + + + + + + + + + + +

+ + + + + + + + + + + + + + + + + + + + + +

+ + + + + + + + + + + + + + + + + + + + + +

+ + + + + + + + + + + + + + + + + + + + + +

+ + + + + + + + + + + + + + + + + + + + + +

+ + + + + + + + + + + + + + + + + + + + + +

+ + + + + + + + + + + + + + + + + + + + + +

+ + + + + + + + + + + + + + + + + + + + + +

+ + + + + + + + + + + + + + + + + + + + + +

+ + + + + + + + + + + + + + + + + + + + + +

+ + + + + + + + + + + + + + + + + + + + + +

+ + + + + + + + + + + + + + + + + + + + + +

+ + + + + + + + + + + + + + + + + + + + + +

+ + + + + + + + + + + + + + + + + + + + + +

+ + + + + + + + + + + + + + + + + + + + + +

+ + + + + + + + + + + + + + + + + + + + + +

+ + + + + + + + + + + + + + + + + + + + + +

+ + + + + + + + + + + + + + + + + + + + + +

+ + + + + + + + + + + + + + + + + + + + + +

+ + + + + + + + + + + + + + + + + + + + + +

+ + + + + + + + + + + + + + + + + + + + + +

+ + + + + + + + + + + + + + + + + + + + + +

+ + + + + + + + + + + + + + + + + + + + + +

+ + + + + + + + + + + + + + + + + + + + + +

+ + + + + + + + + + + + + + + + + + + + + +

+ + + + + + + + + + + + + + + + + + + + + +

+ + + + + + + + + + + + + + + + + + + + + +

+ + + + + + + + + + + + + + + + + + + + + +

+ + + + + + + + + + + + + + + + + + + + + +

+ + + + + + + + + + + + + + + + + + + + + +
---
88

months to monitor the medication

and its impact on the virus and on my

body, and to check on other potential

threats. My virus load has been under

the detection limit for nine months—

meaning that I can even have uninfected

children, and that even if I had

unprotected sex, the chances of me

infecting anyone would be minimal.

Should a condom burst, my doctor

mentioned that he wouldn't even see

post-exposition prophylaxis as necessary.

I am more informed of what I do

and do not have than most other people

out there. If I were to meet a woman,

I would be her safest bet simply

because of my knowledge of what I

have and what I can and cannot do.

There are other STDs out there—ones

which, because of my regular updates,

I know I do not carry. How many people

can say that of themselves? And

yet the fear of infecting someone still

weighs on me. I carry a new sense of

responsibility towards myself and especially

towards others.

Basic knowledge

The half-knowledge that other people,

particularly in my generation, have

acquired is one of the biggest difficulties

when confronted with being HIV

positive. Having grown up with the

death of Freddy Mercury and films

like Philadelphia, the predominant

message associated with HIV in our

teenage years was that it caused a

long and horrible death. This imagery

is still very present, especially in heterosexual

surroundings. The difference

between the knowledge of HIV within

the heterosexual community, in comparison

with the homosexual one, is

massive. Being a heterosexual male,

this came as surprising and slightly alienating.

I've come to realize that the

topic of HIV is simply more common in

the homosexual community, where the

perception of the disease—as well as

its implications, treatments and consequences—is

based on much greater

knowledge than that found in heterosexual

surroundings.

Topics like the "detection limit",

"post-exposition prophylaxis" and the

fact that HIV has become a chronic disease

and not a deadly one are common

knowledge to my homosexual

friends but need a lot of explanation

to my hetero ones.

The positive impact of the medication

and its effects—such as

being able to have children

and to avoid infecting

someone—have simply

not widely reached the

heterosexual community.

After my being infected

led me to doing research,

my reaction was similar

to that of my friends. I'd

simply had no idea of the medical advances

that have happened in the last

years. Surprised about the idea that

having children isn't even a problem

anymore, a comforting "wow" was

one of the first reactions I always received.

And of course, a "thank god

for medicine…".

Although my homosexual friends have

been of great assistance, topics like

having children, speaking to women

about the virus and simply the "nonthreat"

of the disease are things I have

been struggling with by myself and

have admittedly been very lonely with.

+ + + + + + + + + + + + + + + + + + +

+ + + + + + + + + + + + + + + + + + +

+ + + + + + + + + + + + + + + + + + +

+ + + + + + + + + + + + + + + + + + +

+ + + + + + + + + + + + + + + + + + +

+ + + + + + + + + + + + + + + + + + +

+ + + + + + + + + + + + + + + + + + +

+ + + + + + + + + + + + + + + + + + +

+ + + + + + + + + + + + + + + + + + +

+ + + + + + + + + + + + + + + + + + +

+ + + + + + + + + + + + + + + + + + +

+ + + + + + + + + + + + + + + + + + +

+ + + + + + + + + + + + + + + + + + +

+ + + + + + + + + + + + + + + + + + +

+ + + + + + + + + + + + + +

+ + + + + + + + + + + + + +

+ + + + + + + + + + + + + +

+ + + + + + + + + + + + + +

+ + + + + + + + + + + + + +

+ + + + + + + + + + + + + +

+ + + + + + + + + + + + + +

+ + + + + + + + + + + + + +

+ + + + + + + + + + + + + +

+ + + + + + + + + + + + + +

+ + + + + + + + + + + + + +

+ + + + + + + + + + + + + +

+ + + + + + + + + + + + + +

+ + + + + + + + + + + + + +

+ + + + + + + + + + + + + +

+ + + + + + + + + + + + + +

+ + + + + + + + + + + + + + + + + + +

+ + + + + + + + + + + + + + + + + + +

+ + + + + + + + + + + + + + + + + + +

+ + + + + + + + + + + + + + + + + + +

+ + + + + + + + + + + + + + + + + + +

+ + + + + + + + + + + + + + + + + + +

+ + + + + + + + + + + + + + + + + + +

+ + + + + + + + + + + + + + + + + + +

+ + + + + + + + + + + + + + + + + + +

+ + + + + + + + + + + + + + + + + + +

+ + + + + + + + + + + + + + + + + + +

+ + + + + + + + + + + + + + + + + + +

+ + + + + + + + + + + + + + + + + + +

+ + + + + + + + + + + + + + + + + + +

+ + + + + + + + + + + + + + + + + + +

+ + + + + + + + + + + + + + + + + + +

+ + + + + + + + + + + + + + + + + + +

+ + + + + + + + + + + + + + + + + + +

+ + + + + + + + + + + + + + + + + + +

+ + + + + + + + + + + + + + + + + + +

+ + + + + + + + + + + + + + + + + + +

+ + + + + + + + + + + + + + + + + + +

+ + + + + + + + + + + + + + + + + + +

+ + + + + + + + + + + + + + + + + + +

+ + + + + + + + + + + + + + + + + + +

+ + + + + + + + + + + + + + + + + + +

+ + + + + + + + + + + + + + + + + + +

+ + + + + + + + + + + + + + + + + + +

+ + + + + + + + + + + + + + + + + + +

+ + + + + + + + + + + + + + + + + + +
---
90

Being openly HIV positive and heterosexual

is kinda rare, and "outing" myself

would cause more burden than relief

at the moment. This half-knowledge

of HIV makes me feel more secure to

stay hidden—which is why I do not

desire a portrait of me to accompany

this article.

Revelations

HIV is a very intimate disease. Upon

mentioning it, not only does it cause

a shocked reaction from others, but

it immediately gives them a glimpse

into your sexual life. Any conversation

about HIV is immediately associated

with sex. It gives a person a view

of your past. And the reaction upon

confession tends to be a blank stare—and

as we all know, stares can be

louder than voices. The psychological

burden, especially when it comes to

meeting women, is heavy. Wearing a

mask, concealing my disease in social

surroundings, is becoming standard

and upon meeting potential partners,

the constant question in my head is:

"When do I tell her?" There is no correct

answer to that. Every time I meet

someone, a new assessment is required.

Legally, I am not obliged to tell

anyone about my status as long as I

take safety precautions. And yet this

status sharpens my senses about people.

Ideas like "Is this short term?"

and "Can I imagine this going somewhere?"

are immediate thoughts that

must be taken into consideration. Do I

destroy the initial, passionate curiosity

upon meeting someone by revealing

my disease, or do I dare put myself in

the situation of concealing this information

altogether? I try to assess how

the woman will react. I admit, I haven't

put myself into such a situation very often,

since I fear the outcome. I've been

trying to avoid it, for the only answer I

can find at the moment is that I simply

do not know. We all wear masks in social

surroundings, but with HIV, carrying

an additional one is the norm, due

to fears of rejection, of discrimination,

of seeing horror in the eyes of someone

you desire—being seen as a threat

from someone you could potentially

love. Burdened by HIV, my approach

to sexuality and feels about myself are

in constant flow. My heart is proud but

it aches with rage. One moment I hate

myself, am plagued with guilt and feel

poisonous, and in the next moment I

stand defiant and find a superhuman

strength to rise above myself.

My personal mirror

HIV is a disease that comes from one's

behavior, not from circumstance. It is

caused by your own actions. Unlike hereditary

diseases, or bad luck, the only

one to blame for being infected is you

and your own actions. This, especially

at the beginning,

makes you question

every decision

you've made. My

perception of my

surroundings is also

in constant change.

Within the past year

of being infected,

my priorities have

been altered. Certain

friends simply

aren't close anymore,

while others have

grown much closer.

My perceptions of

beauty, of intimacy

and especially of sexuality and women

have become very delicate. The strange

thing about HIV is that it is a curse—but

at the same time it is a blessing.

A relief. It makes me more aware

of everything I am surrounded by. And

when the depressive moments fade,

"everything we

shut our eyes to,

everything we

run away

from, everything

we deny, denigrate,

or despise,

serves to

defeat us

in the end."

henry miller

the heights of life weaken my knees. A

feeling of gratefulness towards life envelops

me.

One of the hardest things to accept

is that certain things will never again

be the same in my life. A part of me

died when I found out about my infection.

In a way, I

have to relearn certain

habits and tendencies—things

that

used to be easy are

now completely different.

And yet, HIV

has given me a new

chance: a reset button

that allows me

to reexamine my

choices in life. There

is a certain rebirth

association with it.

While HIV is a burden,

causing me to

live life with a fear of

having to hide, wear a mask and have

a constant threat within me, it is also

altering my perceptions, giving me a

new honesty towards myself, my family

and my friends. And in defiance of negativity

and superficiality, I am confronting

my fears to exhale.
---
92

advertorial

photos © "Fundació Lluita contra la Sida". 5ª Gala Sida Barcelona

© Madrid Destino, Cultura, Turismo y Negocio S.A.,

Gregorio Reche, José Barea

humans

heroes

need

World Pride

2017 Madrid

The Hero from

the world of pop

In Latin American pop, Miguel Bosé

is a well known entity. Not only has

the former actor-cum-pop star landed

seven top ten hits in Italy, Spain and

numerous Latin American countries,

he's also collaborated with many big

names in the industry, from Shakira

and Ricky Martin to Juanes and even

R.E.M.'s Michael Stipe. And since his

parents counted the likes of Picasso

and Hemingway among their closest

friends and his godfather was none

other than the great Luchino Visconti,

he truly seemed predestined for

artistic success from the beginning.

Fundraising Deluxe

His music stardom didn't let him rest

on his laurels though, as for five years

running he's been hosting the AIDS

Gala Barcelona and using his name

and connections to raise money for

the fight against HIV. So far, each year

he's managed to raise more than half

a million euros for AIDS research from

the well known guests and sponsors at

his outstanding gala dinner. Not only

are we impressed by Miguel Bosé's

music but also by his giant heart and

tireless support of this good cause. In

a TV spot at the end of 2014, he repeated

his promise to not give up the

fight until a vaccine to prevent AIDS

has been found.

The talent to

inspire others

People like Miguel Bosé are blessed

with the talent to motivate and inspire

others. Such talents turn these people

into heroes when their main feat is to
---
stand up for what's important and give

others a chance to follow suit and do

the same. They show us how important

it is to fight for something and lead by

good example. And we need more

people like them! There's a hero in all

of us. We just have to learn that it's not

enough to privately donate money every

now and then, but that sometimes

you have to make a statement with

your actions—because other people

are influenced by what we do and say.

Madrid, Center of Liberty

For many years, Barcelona and Madrid,

and Spain in general, have set good

examples in the global fight for a more

liberal world. Every year, more than

two million people visit the famous

Gay Pride in Madrid, and the five-day

festivities that culminate in the final

grand parade are not just a top event

for members of the LGBT community

but for everyone. Yet Spain's capital

city, Madrid, also shows its liberal

side in everyday life, for example in its

Chueca district, which is not only one

of the trendiest neighbourhoods in

Spain, but also has its own gay quarter

with countless boutiques, cafés, bars,

restaurants and night clubs. The city

also stands out for its brave concepts

in showbiz: At the Gula Gula, drag

queens entertain the audience with

top-notch comedy, shows and an excellent

dinner, while the Teatro Alcalá

is currently showing Priscilla, Queen of

the Desert, a story about three transvestites

on a road trip. So topics like

identity and cultural diversity are omnipresent

here, and the courage people

have shown to express themselves

has definitely paid off.

As an upcoming highlight, in 2017

Madrid will be hosting WorldPride,

for which the city will doubtlessly be

bursting at the seams. And that's great,

because there can never be too many

heroes in one place, and as long as it's

for a good cause, who cares if things

get a bit crowded.

Here are a few

sources of inspiration

for your next trip to Spain:

www.esmadrid.com

barcelonaturisme.com

www.spain.info
---
96

FACADE

Editor'S

Choice:

style-

TIPP

Shirt by Lyle & Scott feat. Jonathan Saunders / Keychain by Givenchy /

Bag by Louis Vuitton / Sneakers by Dolce & Gabbana / Vodka by Belveder

Bag by Vivienne Westwood / Sticker by Anya Hindmarch at Amicis / Watch by

Victorinox / Cap by New Era / Backpack by Eastpak with Jean Paul Gaultier /

Shirt by Soulland / Fragrance Bleu de Chanel
---
98

Long sleeve shirt Lylle & Scott feat. Jonathan Saunders / Underpants by Björn Borg /

Headphones by Dre / Sunglasses by Lacoste/ Fragrance by Lacoste / Keychain by M

Missoni / Shoes by Dolce & Gabbana

Cummerbund by Herr von Eden / Belt by M Missoni / Shorts by Lylle & Scott feat.

Jonathan Saunders / Tote by Vivienne Westwood / Sunglasses by Lacoste / Wallet by

Givenchy / Creme by La Prairie / Pocket handkerchief by Herr von Eden
---
Fashion Editor

Mirza Sprecakovic mirzasprecakovic.com

Photography, Hair & MakeUp

Shlomit Migay shlomitmigay.com

Model David L., Mother Agency

Assistant Victoria Abulesz

BLACK BODY CHAIN SASKIA DIEZ, red peArls Gemmini,

watch Bell & Ross,MakeUp sponsored by MAC Cosmetics
---
stockings Agent Provocateur, watch Bell & Ross, necklace Swarovski
---
sunglasses Andy Wolf eyewear, Rings Stylist's own

tights Wolford, visor worn around the neck Missoni, jewellery SWarovski
---
tights Palmers, Sunglasses Andy Wolf eyewear, Golden Ring vintage FerRagammo,

Gold/black Ring House of Harlow 1960
---
making of

editing: Cristóbal Hornito

Interpreter/ Track: SPAM the Q - BiRD of HERMeS

See more

making-ofphotos
---
110

advertorial

Conchita's

A walk around town with Austria's most important voice

After Conchita gave the Eurovision Song Contest the longoverdue

political relevance that it needs, she's become one

of Austria's best-known contemporary public figures worldwide.

And it's no surprise to us that such a progressive

daughter of the modern age should choose Vienna as her

home, as this city is, without doubt, one of the most liveable

and tolerant places there is. This is also why we've asked

Conchita to take us to all the local spots she thinks any visitor

should know. And since one day simply isn't enough to

explore this town, the VANGARDIST's editorial team has

added a few tips of its own. After all, our offices are situated

right in the heart of this metropolis with a unique location

between Europe's East and West.

photos © WienTourismus/Rainer Fehringer

Traditionally progressive

Vienna is a progressive place, whether

it's for start-ups, fashion, art, culture

or new lifestyle concepts. After all,

our city council made a special effort

to promote Vienna's historical buildings

like Schönbrunn Palace or places

like the Prater's famous Ferris wheel as

being wedding locations available to

couples choosing registered partnerships.

The city's open-minded attitude goes

back some time, as already back in 1993

Helmut Zilk, who was Vienna's mayor

at the time, opened its city hall to host

the very first Life Ball. Over the years,

this charity event, in keeping with its

motto "Fighting AIDS—Celebrating

Life", has not only raised millions but

has also become an acclaimed stage

for the international who's-who, so

of course this year's ball, entitled Ver

Sacrum (Latin for "holy spring"), will

also welcome big names like Charlize

Theron and Jean Paul Gaultier. And it's

obviously no surprise that once more

it's Conchita's charming smile we see

on the golden posters announcing the

event.

Come aboard and enjoy

A broad channel of the Danube runs

right through the city, and on its banks

you'll find beach cafés and deck chairs

on proper beach sand, a boat equipped

with a swimming pool and downstairs

party area, and an abundance of graffiti

art which has turned the entire river

promenade into an open-air gallery.

And right above the pier of the Twin

City Liner, a speedboat that covers the

distance between Vienna and Bratislava

in only 45 minutes, you'll find the

area's highlight: the café-restaurant

Motto am Fluss. Well, of course this is

where Conchita likes to start her day off.

The venue's boat-like architecture and

timber plank floors instantly remove

you from the city's day-to-day reality

and make you feel like you're on holiday,

and its culinary options are worthy

of the Titanic's first class. Whether

you pick the café on the upper deck,

the downstairs dining room or the truly

amazing cocktail bar, you'll definitely

enjoy what you're served. And to top

it all off, it's guaranteed to be all topquality

organic food. Yummy!
---
112

Underneath the imperial city

If there's anyone Conchita Wurst has

to share her glory with, it's our beloved

Sissi, as Empress Elisabeth has

been tenderly nicknamed by all those

who are eagerly trying to shove tickets

to one of her numerous palaces or

a cup adorned with her image at you.

Up until Conchita's big breakthrough,

Sissi was, in effect, Austria's First Lady,

which might have had more to do with

the way Romy Schneider portrayed her

in her famous Sissi trilogy of films than

with the actual eccentric royal lady,

known for keeping diplomats waiting

and then showing them gymnastic

tricks on the high bar.

If you feel like walking in the eccentric

empress' footsteps for a day, you

should visit her private quarters at the

Sissi Museum at Hofburg Palace, her

summer residence Schönbrunn, or the

Hermesvilla. There's a total of 27 palaces

waiting to be explored in Vienna,

so when you've finally seen the last

one, you might already feel it's time to

go back to the first.

Yet instead of leading us to the grandiose

buildings of the old aristocracy,

Conchita takes us to the Imperial Crypt,

where 149 members of the Habsburg

family lie buried under the Kapuzinerkirche.

It's open to the public and

if you manage to find an unoccupied

spot, you can place all kinds of devotional

objects by the empress' tomb.

Art for philistines

Next, we follow Conchita into our nation's

greatest music institution: the

Vienna State Opera. Here, you can

regularly see international stars like

Anna Netrebko perform on the grand

stage. Those of you who prefer your

nights spent in clubs should at least

check in during the day for a guided

tour through the magnificent building.

The auditorium is humongous and the

glimpse that visitors are allowed into

the backstage area is really quite exciting.

Newbies and spontaneous types

can purchase standing- room tickets

for three to five euros on the night of

the show. After all, as a city of culture,

Vienna wants all its citizens to have access

to what it has to offer, and when
---
114

greeted by the friendly bar owner herself.

We order a Colada Habanera and

are served an entire pineapple with

straws: bravo! Why this is such a special

place for Conchita is something she'll

explain in the video available with the

online edition of this magazine. Unlike

Conchita, we're not fully booked

tonight, so now we have time to head

out into the night and find some things

to add to our list of recommendations

for you.

we say culture, we mean no less than

one hundred museums (plus we'd

consider the city in itself a giant openair

museum). Life here is amazing. No

matter where you work, live or like to

hang, your eyes will be aesthetically

entertained by the stucco decorations

and statues found everywhere in the

city.

Ending the day

with a nice drink

After all this culture, we're in need of

a drink, and so Conchita takes us to

her second living room, the Cuban

Mojito Bar in Vienna's first district. The

elegantly crafted dark wood panelling

takes us back to the glorious old

times, and from behind the bar we're

Thank God

Vienna isn't New York

If you dislike going out in places like

New York where bars close at 2:00

a.m. and security will politely but firmly

usher you out of a club by four, then

you've come to the right place, because

in Vienna you can revel till the

crack of dawn. With the city's 1.8 million

inhabitants, it has quite a substantial

nightlife, and if you know where to

go, you'll always find a place to go wild

on the dance floor. That said, there's no

drunken revelry comparable to places

like Ibiza or New Orleans during Mardi

Gras. Vienna has just too much charm

for such things, plus quite a fondness

for individuality. Special society

events are mostly privately organized,
---
116

but if you go to www.wien.info, the

city's official online guide, you'll find a

regularly updated event calendar offering

quite a variety of tips for every

taste, from the Rainbow Parade to

S&M clubs and gay saunas.

A whole month of delight

The merry month of May is looking especially

wild this year. May 16th sees

the opening of Life Ball season, and

before that, the pre-parties start popping

up like peonies in the city's event

calendars. Soon after, the big open-air

Calendar of events

Life Ball

16.5.2015

Vienna Pride

16.–21.6.2015

Eurovision

Song Contest

18.–23.5.2015

Regenbogenparade

20.6.2015

stage at the Rathausplatz will become

part of the Eurovision Song Contest

Village, and for the one week leading

up to the grand finale at the Stadthalle

on May 23, there'll be entertainment

and live music galore (for those of you

who didn't get finale tickets, you can

still sign up for one of the other eight

ESC events held at the same venue).

And of course, Vienna's organisers of

community events are also gearing up

for the onslaught of the ESC troops, so

for a whole week there'll be one party

after the other.

Fetish Spring

Vienna

3.–7.6.2015

identities - Queer

Film Festival

11.–21.6.2015

Places from this article:

Motto am Fluss

Franz-Josefs-Kai, 1010 Vienna

www.motto.at

Vienna State Opera

Opernring 2, 1010 Vienna

www.wiener-staatsoper.at

Clubs

Pratersauna

www.pratersauna.tv/site/club.aspx

Volksgarten

volksgarten.at/de/

Grelle Forelle

www.grelleforelle.com

Chaya Fuera

chayafuera.com

Cuban Mojito Bar

Naglergasse 5, 1010 Vienna

www.cubanmojitobar.at

Imperial Crypt

Tegetthoffstraße 2, 1010 Vienna

www.kaisergruft.at

Partys

OMG

www.facebook.com/pages/OMG-Society/147455705303019

The Circus Club

www.facebook.com/The.Circus.Club

Ken Club Vienna

www.facebook.com/ken.club.vienna

Malefiz

www.facebook.com/malefizclub

Meat Market

www.facebook.com/ClubMeatMarket

For more tips, go to:

www.wien.info/en/vienna-for/gay-lesbian

www.wien.info/en/lifestyle-scene/nightlife

Or connect on:

www.facebook.com/GayCityWien

www.facebook.com/WienTourismus

http://www.youtube.com/Vienna

http://instagram.com/viennatouristboard

Heaven

www.facebook.com/heavenvienna

Why Not

www.why-not.at
---
118

vangart

0001

---
120

Porn movie stills

De Lacroix mainly uses portraits as his

models, but sometimes he also finds

inspiration in certain situations, objects

and emotions. His pornographyinspired

pictures, which make up a

large part of his work, have received

an especially strong public response.

They show themes based on porn

movie stills from the 70s that openly

depict people naked and fornicating,

while also referencing topics like gang

bangs, autoeroticism and homosexuality

in an undisguised, and almost distant

or matter-of-fact, manner. The artist

seeks to provoke his audience with

these images and categorically rejects

the idea of beauty as an artistic end

in and of itself. So if the sight of gay

cowboys, voluptuous backsides, hairy

pussies and plump breasts shocks you,

you should definitely take a closer

look—don't forget you're looking at

art!

A nice surprise

over a cup of coffee

In a cosy corner of the Café Nil in Vienna's

seventh district, we meet the master

of cuts himself. With his long dark

hair, his "pornstache" and washed

out denim jacket, he looks like someone

right out of his own pictures and

his lively eyes betray that he is a restless,

but keen, observer. He expresses

surprise at his arriving on time, orders

as double espresso with milk, and sits

down. After a short exchange of pleasantries,

he reveals that he's got a little

surprise for us: Exclusively for our

#HIVHEROES Edition, he's going to cut

a portrait of the American artist Keith

Haring. In the 80s, Haring used his artworks

to benefit numerous charitable

activities against AIDS; Haring himself

died of the virus in 1990, two years after

receiving his diagnosis. We want

to give another great big thank you to

Filius for his generous offer, which we

think is amazing! And now the time has

come to let the artist speak for himself.

0002

Filius de Lacroix

Vangardist: We're sitting here at the

cosy Café Nil in a neighbourhood of

Vienna where, artistically, there's a

lot going on at the moment. Do you

need these kinds of surroundings as a

source of inspiration?

Filius de Lacroix: Definitely, because I

get a large part of my inspiration from

people-watching in different bars and
---
122

0003

bang your friends, Filius de Lacroix, 2013

cafés here. This means that many of my

pictures are based on everyday situations,

but the people involved in them

can't be recognised directly, because

in the end what remains is pure form.

V: You use a special variation of the

silhouette paper cutout technique

that relies on the effect created by

light and shadow. What should we

imagine the development process of a

Lacroix piece to be like?

F: The term cutout is actually misleading

in combination with my work, because

I don't simply cut out forms, I

walk around with my camera and pick

out specific situations. For more complex

themes, I first sketch their mirrorreversed

image on the back with a pencil.

I always cut them out from the back

though, because that creates nicer cut

lines on the front, which you can see

if you take a closer look. Afterwards, I

mount the whole thing on a cardboard

backing and affix it in certain places.

Sometimes I'm also approached directly

by people at some party who

ask me to do a picture of them. Then I

usually wait for them to get a bit tipsy

before I ask them to accompany me

to the restroom. You wouldn't believe

all the local in-scene names here in

Vienna who have stripped for me. Of

course I assure everyone, and I always

keep that promise, that I'll delete their

photos as soon as the images are finished.

This awareness of the evanescence

of my material also intrigues me.

I only work with untreated paper, which

means that after some time it starts to

turn yellow—just like people age and

grow older too. I just find that a beautiful

sight.

V: What's striking is how monochrome

your pieces are. Is this owing to the

specific material aesthetics of the paper

you use, or is there another idea

behind this "art of omission"?
---
124

F: There's one more very important

thought in this: As soon as I add a colour,

and even if it's only red lipstick, I

automatically dictate a basic emotion

to whoever's looking at the picture. If

I depict a gangbang scene in black or

red, I instantly give it a touch of wickedness,

of something forbidden. If it's

all in white, the image retains its virginal

innocence.

V: The topics you work with are quite

varied, and you've also created set

designs and commissioned work for

magazines and big fashion companies

like Hermès—where your art is

quickly gaining publicity at the moment.

But that's not always been the

case, right? What led to your breakthrough

as an artist?

F: There was a time when I'd pretty

much hit rock-bottom. After ten years

in the business, I had to close down

my multimedia agency, and after a

20-year relationship and 15 years of

marriage I got divorced and, as a result,

broke off contact with a lot of socalled

friends. So I was sitting around

my 30-square-metre bachelor pad with

letters from the debt collection agency

piling up, drunk and basically awaiting

eviction. At that low point in my life,

one day I was sitting on the loo taking

a dump, wallowing in self-pity and telling

myself: "God, you've managed to

royally fuck up your life, dammit!" And

when I looked down on the ground I

saw, on a sheet of kitchen paper towels

lying around, the face of a woman.

I instantly went to my desk and started

cutting, and after 30 attempts I finally

managed to get one done the way

I'd imagined it. And from that point

things continued looking up, up, up. I

was soon commissioned to do jobs for

a variety of magazines, was suddenly

also selling a lot of my work directly to

private customers, and my pictures for

Peek & Cloppenburg were shown in

Vienna, Berlin and Stuttgart.

V: In November 2012, you had your

first solo exhibition under the interesting

title "Deep Throat". The audience

was presented with a lot of bare

skin, sensual titillation, full penetration,

group sex, big tits, gay cowboys,

and so on—mainly subjects taken

from 70s porn

films. What

inspired you

to deal with

pornography

as a topic?

F: My parents,

intellectual

hippies and

typical products of the 70s, had a very

free, permissive lifestyle. Every year,

we'd go to nude beaches, so as a child

I was constantly surrounded by nudity

and sexuality. My dad would also constantly

take pictures of my naked mum

and next to the morning paper, there'd

"Every year, we'd go to nude

beaches, so as a child I was

constantly surrounded

by nudity and sexuality.

My dad would also

constantly take pictures

be porn mags on the kitchen table; all

this was very normal to me. But when I

hit puberty, I suddenly started to have

a problem with it. All this didn't fit in

with the coolness propagated in the

80s when, even in the hottest summer

months, people were walking around

in black polo-neck jumpers. Back then,

I wasn't interested in porn either and

found it extremely boring when my

friends went to the video shop for

porn. I couldn't understand how anyone

could be so obsessed with sex and

nudity, but now I've started to look into

the subject again.

Porn is one of the

oldest art forms,

as people have

always felt the

need to depict

female fertility

in some way or

show men with

erect penises. The film Deep Throat

from 1972 marks the breakthrough

point when porn became mainstream,

and that's why the aesthetics of my

work make reference to that time.
---
126

0004

der stricher, Filius de Lacroix, 2013

V: In your opinion, what determines

whether or not a piece of art is perceived

as pornographic?

F: I think what's essential to understanding

this is that this perception happens

inside the viewer's head. If what I see

corresponds to some erotic desire of

mine, it becomes pornographic; or

also, if I see something that I can't reconcile

with my own ethical values.

V: With the way you reprocess porn

films, you confront social phenomena

everyone thought had been long

overcome, yet even half a century after

the hippie generation an open approach

to sexuality remains an illusion.

Do you see it as the artist's job

to stimulate open public discourse by

provocation and exposure of our vulnerabilities?

F: The way I see it, that's the main purpose

of art! Too often, art's only role

is to fit into your beautiful designer

apartment, even if it's cheap and made

by IKEA. Art has been reduced to fulfilling

a decorative role for ordinary

middle-class consumers or serving as

an object of capitalist speculation for

collectors who only buy what's expensive

and is likely to become even

more expensive. And if you make art

that, at first glance, doesn't look like

it might fit into a designer apartment,

you hardly stand a chance of getting

a good gallery interested in you. But

that's a disaster, because art's purpose

shouldn't be that it's beautiful, but that

it addresses problems!

V: When confronting people with HIV,

no matter what their social background,

many unfortunately still

associate it with things like promiscuity,

homosexuality and guilt due to

a lack of responsibility. Why do you

think these prejudices are so deeply

rooted?
---
128

F: I can add a few more to the list:

"nigger", "whore", "junkie"! It wasn't

long ago that we started to dismantle

traditional relationship structures and,

especially in less urban areas, the typical

heterosexual relationship with two

children is still seen as the norm. And

so someone who's stuck in this conservative

"neo-bourgeois" concept

and confronted with HIV will probably

think: "Thank God that could never

happen in my safe, healthy world. And

well, the fact that John got it doesn't

surprise anyone, does it? Because he

sleeps with prostitutes!" And the media

supports this kind of attitude. You'll

never read about, say, a nice student

couple who have a completely "normal"

relationship and both have AIDS,

but obviously the example of the junkie

they find in the street we do hear

about, because he had sex with a dealer

from Africa. So the prevalent attitude

is still that AIDS only affects those that

you should stay away from anyway—

those who supposedly threaten the

system. We tend to forget that it's precisely

because of the threatening role

they're attributed to having that many

of these people are struggling with social

marginalisation. Among everyone I

know here in Vienna, homosexuality is

generally dealt with quite openly, and I

think in that respect we're quite a good

model city. Conchita taking part in the

Song Contest for example was quite a

good message to promote tolerance

in the world. And then, in comparison,

we have someone like Andreas Gabalier

who, in his role as a "poor hetero"

feels threatened by things he refuses

to understand! That's one of the few

things that really piss me off.

V: When looking at your pictures, the

viewer often feels a bit caught out, because

the images make you think of

the porn you've watched, even though

you know it's art you're looking at,

0005

kein titel Filius de Lacroix, 2014
---
130

and consequently you're confronted

with the question of how to categorise

it. Do you deliberately play with this

uncertainty?

F: Absolutely! When people realise

that what they've been looking at is a

giant cunt, and they feel shocked for

a moment, but then smile a bit, that

means I've won

because in that

instant I've managed

to create

a little shift in

them. Maybe

they won't notice

it straight

away, but eventually

they might

view something

more openly, even if it's only some little

thing.

V: Our last question: What direction

are you headed in artistically?

F: My next big series will be about

punk icons, but at the moment I'm also

working on another porn series, which

will be shown in a small group show in

connection with Off Art Vienna about

images you're not allowed to show in

certain galleries because they depict a

giant pussy or whatever.

V: That reminds us a bit of the Salons

de Refusés in 19th century Paris

where artists exhibited pieces which

the official jury had deemed too ugly

or improper, some of which today are

known as important milestones in

art history. So

it seems like

even in today's

art

world there

are still a lot

of problems

we thought

had been

solved but

that still need

to be dealt with. On that note, we

hope that many people will still get to

see your pictures. Thank you so much

for the interview and for getting involved!

"When people realise that

what they've been looking at

is a giant cunt,

and they feel shocked for

a moment, but then smile a bit,

that means I've won..."

0006

boots and butts, Filius de Lacroix, 2013
---
132

faCade

shop zone

The following products are all available

for immediate purchase. Delivery time is

1 to 2 days, which will be carried out by

our reliable web shopping partners.

Long Sleeve Shirt

Eur 34,25

Buy now

Adidas Originals X Jacket

Eur 82,19

Buy now

Uppercut Deluxe Pomade

Eur 21,90

Buy now

Lulu Guinness Clutch

Eur 335,60

Buy now
---
134

shop

zone

>>

Reclaimed Vintage Braces

Eur 20,55

Buy now

Adidas Backpack

Eur 47,94

Buy now

Converse All Star Backpack

Eur 6,85

Buy now

River Island Bowler

Eur 54,79

Buy now

TOMS Slip On Shoes

Eur 54,79

Buy now
---
Shop

zone

>>

Vivienne Westwood Card Holder

Eur 75,34

Buy now

Warhol Pop Art Book

Eur 9,57

Buy now

iPhone 6 Cover

Eur 10,96

Buy now

Bandana

Eur 6,85

Buy now

Sunglasses

Eur 16,44

Buy now
---
138

THANKS TO...

you are our heroes!

in cooperation with

Saatchi & Saatchi

Jason Romeyko

Jan Teulingx

John Pallant

Lennert Vedts

Melissa Masurel

Lucas Conte

Andrea Pedrazzini

Emma Jenkin

Guendalina Gennari-Curlo

Nicolas Pignatelli

Vicky Cullen

Andy Gulliman

Rob Wetton

Jean-Pierre Maler

Tom Eslinger

Mike Mackay

Shane Horn

Lucy Titterington

Isobel Kerr-Newell

Zoe Kent

Roger Kennedy

PULSE FILMS

Oliver Würffell

Arlene McGann

Clemens Krueger

Rainer Petershagen

FREUD COMMUNICATION

Proud Robinson

Ben Robinson

Elizabeth Derham

Chloe Frances

Natasha Mensah

V I K N A L L G R A U

Amir Tavakolian

SPONSORS

Project Support Austria

Cheers GmbH

especially: Raffaele Arturo

and Martin Bohonnek

Legal Advisors

HÄRTING Rechtsanwälte PartGmbB

especially: Niko Härting

BLOOD COLLECTION

Labor Dr. Therese Kosak

blood transportation

medlog Medizinische Logistik

und Service GmbH

Packaging

pri-ma.net

especially: Wilhelm Beyer

SUPPORTERS

legal advisors

Petsch Frosch Klein Arturo

Rechtsanwälte

especially: Claudio Arturo

medical support,autoclaving

and medical security

Medizinische Universität Innsbruck

Department of Hygiene, Microbiology,

Social Medicine; Division of Virology

Univ.-Prof. Dr. med. Dorothee Holmvon

Laer

Bettina Großlercher, Bakk. Biol.

SUPPORTERS

print

Donau Forum Druck Ges.m.b.H.

especially: Felix Nowack

magazine delivery

international market

VfmK Verlag für moderne Kunst

GmbH

magazine delivery

german speaking market

DPV Deutscher Pressevertrieb GmbH
---
140

rooms

25hours Hotel Vienna at MuseumsQuartier

VERY SPECIAL

THANKS

TO OUR BLOOD DONORS

Wyndham Mead

Wiltrut Stefanek

Philipp Spiegel

SPECIAL

THANKS

Helpers

Medical Advisor: Dr. Ernest Zulus

Markowski Schellmann Rechtsanwälte OG

Gottfried Schellmann

PR assistants: Lara Schopper, Kerstin Siller

Consultant: Lukas Burian

and tO THE VANGARDIST TEAM

"Courage is not the absence of fear,

but the triumph over it."

nelson Mandela

# H

E

d

i v h e r o e s

i

t

n

i o