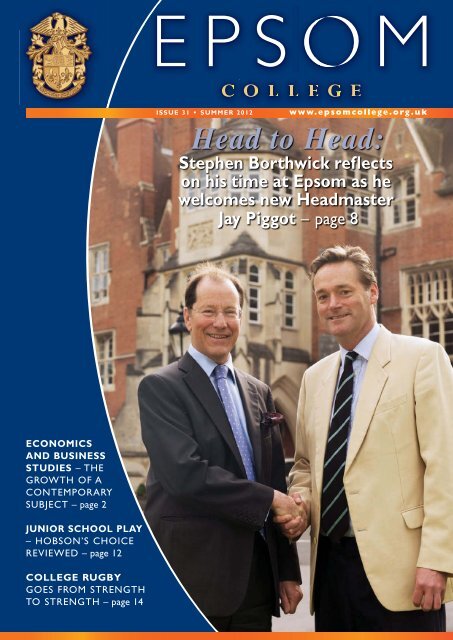 ECONOMICS AND BUSINESS STUDIES – THE ... - Epsom College
ECONOMICS AND BUSINESS STUDIES – THE ... - Epsom College
ECONOMICS AND BUSINESS STUDIES – THE ... - Epsom College
SHOW MORE
SHOW LESS
You also want an ePaper? Increase the reach of your titles
YUMPU automatically turns print PDFs into web optimized ePapers that Google loves.
ISSUE 31 • SUMMER 2012

www.epsomcollege.org.uk

ECONOMICS

AND BUSINESS

STUDIES – THE

GROWTH OF A

CONTEMPORARY

SUBJECT – page 2

JUNIOR SCHOOL PLAY

– HOBSON'S CHOICE

REVIEWED – page 12

COLLEGE RUGBY

GOES FROM STRENGTH

TO STRENGTH – page 14
---
ACADEMIC EPSOM

Head of Department

Paul Gillespie with

6th Form students

Doing the

business

In the current recessionary climate, the economy and business

are big news, with regular media coverage and extensive

exposure in books and films.

The higher profile gained by the business sector in recent years

has seen Economics and Business Studies shake off their reputation

as somewhat pedestrian subjects taken mainly by budding

accountants or bankers.They are now seen as exciting areas of

study that provide a broad insight into the world of business and

are attracting more and more students nationwide into their ranks.

The College's Economics and Business Studies Department

mirrors this trend with the number of students opting to study

A level Economics increasing by 50% over the past two years.

"It has been interesting to walk into bookshops and see the

bestseller lists full of economics and business books covering a huge

range of topics from How to Make Life Choices to The Banking Crises",

said Head of Department Paul Gillespie. "When you also consider the

domination of the news by current economic affairs, not to mention

the success of TV programmes such as The Apprentice and Dragons'

Den, it is not surprising to see the surge of interest in these subjects."

Exam results for Economics are outstanding with well over 60%

gaining an A grade and 90% either A or B grades at A2 last year.

Many go on to read Economics at university and the Department

has excellent results with Oxbridge applications.

A similar success story is evident in the case of Business Studies,

with 83% of entrants achieving A or B grades at A2 last year.

Interestingly, a large number of students studying Business Studies

in the 6th form go on to read a business-related degree at university.

For those with an appetite for investment and finance, there are

now even more opportunities to broaden their business horizons

in the shape of the Securities & Investment Institute's Introduction

"When you also consider the domination of the news by current economic affairs,

not to mention the success of TV programmes such as The Apprentice

and Dragons' Den, it is not surprising to see the surge of interest in these subjects."

2 www.epsomcollege.org.uk
---
ACADEMIC EPSOM

to Investment Award programme for students in the U6th.

Epsom is one of the first schools to offer this programme, which

is normally targeted at professionals in the financial services

sector.The challenging and innovative course investigates equities,

bonds, derivatives and other financial assets.

Also new is the Investment Club, run by Chemistry master

David Schofield, who spent 12 years working in the City in

investment banking before becoming a teacher. Open to L6th

students, the Investment Club takes part in the annual Shares4Schools

competition against other schools in the UK where participants are

provided with an investment pot of £1,500 and attempt to

maximise the value of their portfolio over an eight month period.

This competition, as well as the online IFS Student Investor

Challenge, which is entered by all L6th students, provides the

opportunity to develop analytical, team-working and business

skills, whilst bringing a "real world" approach to learning.

In addition,Young Enterprise (YE) is offered to L6th students as

an extra-curricular activity and one of this year's YE companies,

Prism, has been particularly successful in winning the Best Marketing

Strategy trophy at the Surrey Finals of the YE competition.

Students also regularly attend Eton College's Keynes Society

talks, while the Epsom College Economics and Enterprise Society,

organised by the students themselves, successfully arranges talks by

leading business luminaries. Recent speakers have included Jeff

Randall, former business editor at the BBC, Rob Shaw, joint

managing director of fashion chain Jack Wills, and Old Epsomian

Tony Fernandes, founder of AirAsia and the Tune Group.

COLLEGE YE COMPANY

BAGS MARKETING PRIZE

AT SURREY FINALS

A group of L6th formers took the trophy for

the Best Marketing Strategy at the Young

Enterprise Surrey Finals held at the School of

Management at Surrey University this term.

Prism, a company set up and run since last

September by 11 College students, was one

of nine finalists to win through from a field of

70 that competed in area competitions earlier

in the year.

The companies were judged on their trade

stand, company report and a presentation given

to a packed auditorium. At the beginning of

the evening, the students answered questions

from the judges while they manned their trade

stand and later told the audience about their

experiences and what they had learnt during

the year.

The standard of presentation was very high

and Prism was delighted to be awarded the Best

Marketing Strategy trophy, which was sponsored

by Proctor and Gamble.

The judges commended the enterprising

students on their approach to marketing the

company, which acts as a wholesaler to schools

in the area.

Prism has had a remarkably successful year

working on a variety of projects, including

selling friendship bracelets and candy canes and

importing "Onesies" from overseas. Well over

500 of the all-in-one tracksuits have now

been sold.

"The pupils have learnt a great deal about

innovation, business and the successful launching

of a company in an uncertain economic climate.

The fact that they were judged as having the

best marketing strategy out of 70 companies

speaks highly of the calibre of the pupils," said

Head of YE, Lizzie Irvine.

www.epsomcollege.org.uk

3
---
ACADEMIC EPSOM

Best ever results at

Chemistry Olympiad

BACK ROW: Patrick Lewis,

Tom Williams and Jing Kua.

FRONT ROW: Theo Gibson,

Charmaine Tam and Andrew Lim

Six U6th form students have recorded the College's

best ever results in this year's Chemistry Olympiad

organised by the Royal Society of Chemistry.

In the first round of the national competition that is

part of the process of selecting a UK team to compete in

the International Chemistry Olympiad,Tom Williams

became the first student at Epsom to be awarded a gold

certificate.Theo Gibson, Patrick Lewis, Jing Kua and

Andrew Lim were awarded silver certificates and

Charmaine Tan a bronze.

The Chemistry Olympiad is designed to inspire 6th

form chemists to think beyond the boundaries of the

syllabus. Over 3,000 students sat the first round paper,

which is a written test of chemical knowledge that

stretches the most able.

"I am delighted with the students' approach to this

challenging paper. Only the top 7% of entrants are

awarded gold certificates and these excellent results are

testament to all their hard work," said Tracy Muller,

Head of Chemistry.

All six students are holding places to study at leading

universities next year.Tom has been offered a place to

read Chemistry at Oxford, Patrick is planning to study at

Cambridge, Andrew at UCL, Jing at Imperial College,

Theo at Durham and Charmaine at Edinburgh.

LARGE GATHERING FOR

PHOTOGRAPY EXHIBITION

A photography exhibition held at the College this term provided students

from the L6th and U6th forms with an opportunity to showcase their work.

Parents, friends and members of the Common Room gathered in Main

Hall to enjoy a glass of wine and canapés whilst viewing the students' AS

and A2 coursework and exam preparation portfolios.

The event was held following the moderation of A level work by the

examination board's external

moderator and saw a high

standard of work on display.

Many of the students chose to

create a theme and ideas on the

topic of "experiences", reflecting

such areas as identity, cultural

differences and consumerism.

Others chose to present their

work in new and interesting

ways, for example combining

family holidays abroad with their

photography topics to produce

interesting images from around the world.

"The standard of work on show this year was very high and it was clear

that the students had researched their subjects in depth," said Angela

Drew, Deputy Head (Academic).

A level photography students have the use of a fully equipped photography

studio complete with Macintosh computers and a wide range of

software for post-production work.

TOP: Francesca Dakin-White L6th ABOVE: Alex Hinds U6th

4 www.epsomcollege.org.uk
---
ACADEMIC EPSOM

DT STUDENTS RISE TO THE CHALLENGE

Two teams of M4 pupils representing the

College's Design Technology Department

were awarded second and third places at a

recent technology tournament organised by

the Rotary Club.

Held at Warlingham School,Technology

Tournament 2012 involved teams of four

students from local schools, who were set

a technology task to solve.The competition

provided an opportunity for team-building

and practising communication skills, as well

as problem solving.

This year's event involved designing and

making a coin sorter, based around a

charitable theme, to sort 21 coins – 7 lots of

5p, 10p and 20p pieces.All the teams had a

set bag of materials and were instructed to

bring along specific tools and the competition

was judged on both the success of the coin

sorters and the design folios each team had

to complete.

Epsom College Team 1, comprising William

Hornby,William Murdock, Frances Payne and

Dilys Tambini-McGee, came a very close

second with their design based on the Help

for Heroes charity, equalling the number of

The two College teams with their designs (left to right):Thomas Egan,William Butterfield,William

Slough, Rebecca Nesbit, Frances Payne, Dilys Tambini-McGee,William Murdock and William Hornby

coins sorted by the eventual winners, which

was the maximum of 21.

Epsom College Team 2, made up of

William Butterfield,Thomas Egan, Rebecca

Nesbitt and William Slough, managed to sort

15 of the 21 coins successfully with their

design, based around a Breast Cancer

charity theme, and took third place.

The winning team came from Robert

May's School in Odiham, Hampshire, which

specialises in Science, Mathematics and

Computing. Other schools competing included

Whitgift (two teams), Oasis Academy from

Enfield and Wallington High School for Girls.

LEFT: There was a large turnout for this

year's Junior Dodd Speaking Competition

ECLECTIC TOPICS AIRED AT

JUNIOR DODD SPEAKING COMPETITION

This year's Junior Dodd Speaking

Competition, once again offered younger

members of the College the opportunity to

develop and hone their public speaking

skills in front of a packed house of staff,

parents and peers.

Each team comprised three speakers –

one to introduce the chosen topic, one to

deliver the body of the argument and one

to sum up, with the objective being to

communicate their ideas in an effective,

engaging and informed manner.

The teams had dreamed up a somewhat

diverse set of topics, ranging from the

serious matter of Sweatshops to a lighthearted

exploration of Happiness, but every

group had clearly made a real effort to rise

to the challenge of the evening.

Amongst the M4s, some nerves were

understandably evident, but special

mention must go to Jonathan Pollard and

William Slough for their mature and

confident efforts. It was not easy to pick a

stand-out group, however, and although a

talk on Exploding Pigeons raised a few laughs,

the Headmaster, in his role of adjudicator,

ultimately settled on a rather provocative

effort by Juyeon Oh, Astrid Molke and

Catrine Gillies on the theme of Nudity.

The U4s certainly built on the successes

of last year and, again, it was difficult to

decide on a clear first place. George

Hancock delivered a masterful presentation

on Fundamentalism but the deserved winners

were Amy Bramworth, Aidan Smith and

Lewis Bizaoui for their impassioned plea to

parents to fix the economic mess the

country finds itself in.

"Congratulations go to all participants

for their hard work and impressive efforts

on what was a most successful evening,"

said English master Mark Zacharias, who

organised this year's competition.

www.epsomcollege.org.uk

5
---
ACADEMIC EPSOM

WHAT IS THE FUTURE

for history teaching?

With the teaching of history in English schools coming in for some heavy

criticism recently, Dr Murray Tod, Head of the History and Politics

Department, outlines the College's progressive approach to the subject

The teaching of history in secondary

schools, and the nature of the current

curriculum, has recently been at the

forefront of an intense media debate.

Academics such as Robert Tombs, a

History Fellow at St John's College,

Cambridge, and think-tanks like Politeia,

have criticised the teaching of history in

England, claiming that, as a result of the

National Curriculum and the requirements

of certain Examination Boards, too many

schools are fixated on narrow specifications

with more attention often paid to skills

such as evaluating sources rather than

acquiring knowledge.

This is all, it is argued, at the expense of

a wider grounding in historical knowledge.

Indeed,Tombs has even proposed an

alternative curriculum requiring all history

students to have an appreciation of 36 key

events in British history, ranging from

Boadicea to the end of the British Empire.

Whilst acknowledging the validity of

many of these arguments, and partly as a

result of its modular approach, the Epsom

College History and Politics Department

has striven to avoid repetition in course

material throughout the year groups and

has actively sought to challenge students to

learn new and interesting information.

Although there is an inevitable focus

on World War 1 and World War 2 at points

in the M4/GCSE years, and indeed it is

important to have an awareness of these

fundamentally pivotal decades, courses of a

more unusual hue have been introduced.

At present, both History Early (HE) and

History Late (HL) courses are offered at

A-Level, comprising options such as Henry

VIII and the English Church (1529-47), the

reign of Louis XIV of France (1661-1715)

and the eighteenth century French and

American Revolutions.

In addition to A2 modules on Elizabeth I

(HE) and International Relations 1945-2004

(HL), students at Epsom are also prepared

for an independently-researched coursework

assignment consisting of a 4,000 word essay.

In the History Late option, the focus is on

Tsarist and Soviet Russia, circa 1850-1950,

with the influence of Lenin and Stalin

"It is illuminating to witness Epsom students grappling with, and coming to

appreciate, concepts that still gain little coverage in the more lofty university environs."

6

www.epsomcollege.org.uk
---
ACADEMIC EPSOM

FAR LEFT: M4 pupils during a recent

visit to the Battlefields of Ypres

and the Somme. LEFT: Dr Murray

Tod, Head of the History and

Politics Department, teaching a

L6th form class. RIGHT: Dr Tod

with M4 pupils at the 51st

Highland Division Memorial at

Newfoundland Park in the

Somme. BELOW: M4 pupils were

able to learn about trench warfare

first hand on the Battlefields trip

forming central themes of investigation.

On the History Early side, coursework

centres on the much neglected subject of

European witch-hunting (circa 1450-1650),

which is as far removed from a repetitive,

narrow view of historical thinking as it is

possible to be.The introduction of this

course has proved to be a genuine success

and it is illuminating to witness Epsom

students grappling with, and coming to

appreciate, concepts that still gain little

coverage in the more lofty university

environs.

In the M4 year, the College is also bucking

the national trend. As noted, there is a

degree of specialisation in some twentieth

century material, but teachers also have the

latitude to introduce new areas of interest,

with the history of slavery being one such

notable example.

However, it is a matter of some personal

regret that recent overtures to cement the

history of the Scottish Wars of Independence

(circa 1280-1330) into the psyche of the

average Epsom M4 student have been firmly

rebuffed by the rest of the Department!

Nevertheless plans are afoot to further

tweak and mould the history covered at

M4 level, always with the aim of stretching

the ability and interest of pupils and

opening their eyes to the valuable lessons

to be learned from the past.

The 2012 M4 World War 1 Battlefields

Trip in early June is a case in point.This

was a hugely enjoyable experience in which

the students' knowledge was enriched by

an experience they are unlikely to forget.

This was not "boring" or "repetitive"

history, but rather history at the coal-face,

allowing students to attain an appreciation

of the past by gaining insights and

inspiration from the experiences of Ypres

and the Somme.

This is surely a solid foundation upon

which to build the historical knowledge of

the current M4s, hopefully enticing them

to consider a wider spectrum of eras in

their forthcoming years of study.

www.epsomcollege.org.uk

7
---
EPSOM LIFE

Heading TO PASTURES NEW

Stephen Borthwick is retiring at the end of the summer term after 12 years as Headmaster of Epsom College

"A school's pupils need to

achieve their personal

potential, be ambitious,

have flair, behave generously

and supportively towards

each other – this is

the key to happiness."

Stephen Borthwick

in the Physics Lab

with M4 students

Stephen Borthwick took up the reins at

Epsom College at the start of the new

millennium and has led the school through a

period of extraordinary growth and change.

Notwithstanding the recession of the past few

years, pupil numbers are 10% higher today

than they were when he took over in 2000.

During his time, the College has gone

from strength to strength as Stephen has

successfully implemented improvements in

academic performance, pastoral care and

the extra-curricular programme.

He has also overseen the College's

transition to a fully co-educational school,

which posed its own challenges, "not only in

terms of the cultural change that any school

has to make, but in the infrastructural

requirements necessary to accommodate a

larger number of girls," he said.

Indeed, over £20 million has been

invested in enhancements to the College's

facilities during his tenure.These projects

have ranged from numerous redevelopments

in the Houses, to the refurbishment of Big

School, which is now large enough to put

on opera and big shows, the building of the

Performing Arts Centre and the expansion

and refurbishment of Chapel to allow it to

accommodate the whole school.

New netball and tennis courts and a new

astroturf pitch have been built and the

original astroturf pitch has been completely

refurbished.

He has also had a central role in the

planning and development of Epsom

College in Malaysia, the school's first

overseas venture, which is due to open its

doors in 2013.

The last Independent Schools Inspectorate

(ISI) report underlined the fact that Epsom

was outstanding in its personal development

of youngsters. Stephen has long believed

this to be of vital importance to a top school.

"A school's pupils need to achieve their

personal potential, be ambitious, have flair,

behave generously and supportively towards

each other – this is the key to happiness,"

he said.

Stephen is particularly proud of the

College's high standard of pastoral care.

"I have been delighted with the quality of

pastoral and academic support in the Houses.

There now exists a very substantial and

effective tutor team structure with virtually

8 www.epsomcollege.org.uk
---
EPSOM LIFE

Stephen Borthwick

and Henry

every member of staff committed to a

boarding or day House with responsibility

for the academic and pastoral progress of

pupils," he said.

The extra-curricular programme at the

College is also one of its strengths and

Stephen has been instrumental in its

continued development. "The extracurricular

programme is one of the main

life springs for us at Epsom. Broadening

that programme, organising it and getting

the mix right have been key all through my

time and it is now outstandingly effective,"

he said.

Part of being an effective Headmaster is

to understand the pupils and one of the

best ways to do that is to continue to be

involved in the classroom. Despite his

hectic schedule, Stephen has taught physics

to every M4 year group since he started at

the College, teaching nearly every pupil at

some stage.

"It is, of course, the only job I have ever

been trained to do; academically it has been

fun and I have met all the youngsters as they

have come into the school. It has allowed

me the sight and feel of sets of pupils vital

to our profession as teachers," he said.

Will he miss being Headmaster of Epsom

College? "It is exciting to have your hand

on the tiller of a big ship and to experience

the sheer buzz of working with youngsters.

It has been a fantastic job and I will miss the

rhythm of life of a boarding school. I will

miss the stimulating challenge of youngsters

"It is exciting to

have your hand

on the tiller of

a big ship and

to experience

the sheer buzz

of working with

youngsters. It

has been a

fantastic job and

I will miss the

rhythm of life of

a boarding school."

and their parents and the enormous

community of friends amongst the teaching

staff," he said.

And what does the future hold for him?

Stephen is retiring on the eve of his 61st

birthday and he, his wife Glynis and their

dog, Henry, will live in Symonds Yat, a

house on the banks of the River Wye on the

edge of the Forest of Dean. In addition to

playing an active role in community affairs,

he is already committed to consulting to

educational institutions and schools'

governing bodies.

He will now also have the time to feed

his passion for live music, especially

international opera festivals, as well as to

pursue his lapsed interests in photography,

golf and hill walking.

NEW MAN AT THE HELM

Jay Piggot

James A (Jay) Piggot will become the 13th Headmaster of Epsom College from the

Michaelmas term 2012 following the retirement of Stephen Borthwick. He joins Epsom

from Campbell College in Belfast, where he has been Headmaster for the past seven years.

Jay studied for a BA in English Literature at Cardiff University before completing

a Postgraduate Certificate of Education (PGCE) at Pembroke College, Cambridge.

A keen rugby player and latterly supporter, he played rugby for the University 1st XV

during his time at Cambridge.

He went on to complete an MA in Renaissance Literature at the University of

Liverpool, before becoming a specialist English teacher, initially at Millfield School in

Somerset and then at Eton College, where he spent seven years as a Housemaster.

"I look forward to working closely with Jay over the coming years to continue to

build on the solid foundations that Stephen has established," said Chairman of

Governors Dr Andrew Vallance-Owen.

www.epsomcollege.org.uk

9
---
EPSOM LIFE

College CCF at Diamond Jubilee Pageant

The College's Combined Cadet Force was honoured to

be invited to support the Jubilee Pageant, one of the

highlights of Her Majesty the Queen's Diamond Jubilee

celebrations.

On Sunday 3rd June, along with other volunteer uniformed

organisations, a total of 52 College cadets and officers were

invited into the VIP enclosure on Westminster Bridge where

they watched a flotilla of 1,000 boats sail along the Thames as

the Queen travelled the river on the royal barge.

Members of staff attending included Lieutanant Colonel

Mike Hampshire, Major Eric Huxter, Captain Roger Gill,

Flight Lieutenant Tracy Pearson, Lieutenant Lawrence

Matthews and Lieutenant Clare Jeens.

The Queen is Patron of Epsom College and Captain General

of the Combined Cadet Force. "It was a great privilege to be

able to attend this unique, historic occasion. I am sure the

cadets will remember this day for many years to come," said

CCF Commanding Officer Mike Hampshire.

To celebrate The Queen's Diamond Jubilee, pupils and staff

enjoyed a special patriotic picnic lunch. Chefs and porters

dressed for the occasion in red white and blue, whilst serving

a large selection of picnic food decorated with Union Jack

flags. Special Union Jack plates, drinking bottles and hats were

provided for the occasion and the Dining Hall was decked out

with Union Jack bunting. All pupils received a Diamond

Jubilee mug and keyring as a souvenir of this special occasion.

TOP: A total of 52 College cadets and officers were invited into the VIP enclosure on Westminster Bridge. ABOVE: Pupils and staff enjoyed a special patriotic picnic lunch

Accompanied by Modern Languages teacher

Maurice Hynd, a group of L6th form students

travelled to Barcelona recently to brush up on

their language skills. They spent a week staying

with Spanish families and attended daily

lessons at a language school. They also had

time to visit the sights of Barcelona, including

La Rambla, La Barceloneta beach area, the

Sagrada Familia Cathedral and Gaudi's amazing

structures in the Parc Guell

DESIGNS ON

THE OLYMPICS

Pupils taking part in the popular Fashion Design

and Textiles activity were set an interesting task

recently when they were challenged to design

a sportswear outfit using the London 2012

Olympics as the basis for their inspiration.

The 2012 M4 and U4 Fashion Design

Competition, organised by teacher in charge

Beth Day, tasked pupils to design a smartcasual,

everyday outfit reflecting the Olympic

colourways and Team GB.

Entrants had to submit their research of

the look, initial ideas and development of

the outfit using a figure template to ensure

correct proportions.

This year's competition, judged by Crawfurd

Housemistress Helen Keevil and Carr Housemaster

Mike Day, produced a high standard of

inspirational designs.The M4 competition was

won by Zoe Olsen and Phoebe Gibson, with her

striking, but very wearable, design (left), won

both the U4 competition and the overall trophy.

Both prize winners won vouchers to spend at

the ASOS online fashion store.

10 www.epsomcollege.org.uk
---
EPSOM LIFE

FORMER MASTER VISITS

SCHOOL IN KOSOVO

Former College master Peter Thompson travelled to Kosovo

recently to visit, for the first time, a project he spearheaded

some 12 years ago.

Launched in the year 2000, the ambitious project to build

a new school in the war-torn hillside village of Kopiliq

galvanised the College community and saw pupils, parents

and staff raise over £30,000 in funds in just one year.

The new facility, which opened in September 2001,

changed the lives of the village children who no longer

had to walk for hours to school each day.With five

classrooms and five teachers, the school educates children

from six to 10 years of age.

Peter, who retired from teaching maths at the College last

year, visited the school with his wife and was able to take a

number of bags of warm clothing for the children. Donated

surplus stock from school outfitters, Lester Bowden,

included track suits, jumpers and other accessories.

The school Charity Fund for this year has donated a

further £2,000 to the project, which will help with the

purchase of a new pump for the well to provide water for

the toilets and to decorate the classrooms.

Peter, who intended to visit the new school in 2001,

had his travel plans disrupted by the 9/11 terror attacks.

Peter Thompson speaks to pupils at the school in Kopiliq

Thanks to the generosity of Old

Epsomian Peter Dodd, girls in

Crawfurd House are now the

proud owners of a croquet set.

Having sought grounds

permission, the girls have been

playing the recreational lawn

game on most fine evenings on

the manicured lawns outside

Crawfurd House.They are

fortunate to have an expert

coach in Housemistress, Helen

Keevil, who played croquet

competitively at university.

The College offers croquet

as an extra-curricular activity

for students in the 6th form, but

this recent evening activity for

Crawfurd House is proving very

popular with the younger

members.

A challenging and intriguing

sport, croquet requires tactical

ability, judgment and skill but is

fun for all to play at any level.

"An advantage of the game,

and the reason for its success, is

that it is also a social activity

played on completely equal terms

by males and females, young and

old.The girls are enjoying

learning something new in the

company of their friends," said

Helen Keevil.

ABOVE: Crawfurd girls are enjoying learning to play croquet

STUDENTS NETWORK AT LEGAL SOCIETY DINNER

OE Steven Kay QC, President of the Epsom

College Legal Society, hosted a dinner this term

for parents and OEs in the legal profession and

students considering a career in law.

Held in the Parliament Chamber at Inner

Temple, the well-supported event provided an

ideal opportunity for College students to

network with, and learn from, experienced

legal professionals.

"One of the main aims of this Society is for

those of us who are established in our practice

to lend a hand to those starting out," said

Steven Kay in his welcoming remarks.

Pupils and veterans alike had something to

learn from the after-dinner speech entitled The

perils of litigating in the media spotlight: A personal

perspective by OE Ian Mill QC, who spoke about

Steven Kay QC with 6th Form students

his role in two high profile cases involving Nina

Wang in Hong Kong and Charlotte Church's

former manager in the UK.

Her Majesty's Chief Inspector of Prisons, OE

Nick Hardwick, also attended the dinner as a

special guest of the Education Trust.

www.epsomcollege.org.uk

11
---
EPSOM LIFE

JUNIORS take centre stage

A review of this term's Junior School Play by Drama and Theatre Studies master Paul Henson

TOP: A picture of family harmony and happiness from the final Act.

Elise Mather and Aiden Smith with Emily Oulton, Max Wildenberg and

Callum Watson (centre) and Lyndsey McJarrow and Tim Lazarus;

MIDDLE: Callum Watson as Horatio Hobson, discussing his troublesome

daughters with his drinking friend, Jim Heeler, played by William Slough;

Vicky (Elise Mather) and her sister Alice (Lyndsey McJarrow), fight

for their rights with eldest sister Maggie (Emily Oulton) centre

Big School became a time machine this term for the Junior

School Play, Harold Brighouse's Hobson's Choice.

The audience was taken back to the grimy, industrial

tapestry of Lancashire in the 1880s, with the strife and troubles

of Hobson's shoe repairers serving as the background to a

commentary on many of the problems of the time, yet still

interlaced with a rich band of northern humour.

Serious issues, like poor education, poverty and the role of

women, are tackled in Brighouse's multi-layered text and the

Junior actors more than did justice to its depth.There was a

small cast and all of them did the play proud, especially the

three central characters.

Callum Watson gave the audience a blustery, battered and

finally broken Horatio Hobson, while Max Wildenberg superbly

portrayed the gifted, and eventually self-assured,Will Mossop.

Superbly in charge of all she surveyed was Emily Oulton as

Maggie Hobson, who cajoled and coralled the male characters,

moulding them exactly as she wished.

There were excellent debuts from Elise Mather and Omar Said

and a measured performance from Jonathan Pollard, but the

whole company, which included Lyndsey McJarrow,Tim Lazarus,

Aiden Smith, Lucy Ward, Zoe Olsen and William Slough, gave

a consistent pace and rhythm to the performance, helped in no

small way by authentic and secure Lancashire accents.

Once more, it seems, Director, Kim Chandley, has unearthed

and begun the process of nurturing a rich vein of Junior talent

ready to grace the stage in future productions.

Technician Rob Anderson, in his first school play, created

a superbly versatile and atmospheric design and the stage

management team, led by Stephanie Boote, all helped to

produce a slick and enjoyable performance.

Towards the end of the play, as Hobson's world crumbled

around him, the key message of the play – the power of

education – emerged. How appropriate, in a school such as

Epsom, to see that although walls may tremble and fall,

through education we all have within us the power to build a

better and brighter world.

12 www.epsomcollege.org.uk
---
EPSOM LIFE

After experiencing their first overnight

CCF exercise in Aldershot, putting their

campcraft skills to the test, as well as

learning some basic leadership skills, Field

Day held at the end of term saw the entire

M4 year group visit the Royal Military

Academy (RMA) Sandhurst.

On arrival, the cadets were split into

two groups with half touring the buildings

and, following a BBQ lunch, the other half

taking part in leadership-based activities.

Cadets were shown the famous parade

ground, were the senior NCOs of the

British Army were engaged in the Pace

M4 CADETS AT SANDHURST

Stick competition prior to the World

Championships.They sat on the steps of

Old College and were told about the

history of the foundation of the RMA that

led to training officers for the British Army

and how the Military Academy came to be

at Sandhurst. Before the RMAS, it was

possible to buy any rank, and lead an army

without training.

The group then entered Old College

and viewed the India Room, which was

originally the Chapel of the RMA, and

was consecrated in 1813. However, when

the number of Gentlemen Cadets rose

following the abolition of the purchase

system for commissions, it was no longer

big enough to act as a Chapel and became,

in turn, a model room, museum and later

a cadet dining room where Winston

Churchill dined while a Gentleman Cadet

in the 1890s. Afterwards, they visited

some of the rooms and saw old uniforms

and some of the gifts given to RMAS in

grateful thanks for training officers for

armies overseas.

The cadets finally moved on to the

Chapel, which was dedicated by King

George VI in 1937.The memorial stained

glass windows in the Chapel honour

various regiments and some memorials are

carved into the black marble flooring. On

panels devoted to the particular campaigns

in which they lost their lives, are the

names of ex-cadets killed in action.

Cadets were asked to remember the

motto of the RMAS (Serve To Lead) and

it was then explained what it meant to be

trained as an officer to lead soldiers,

hence the motto.

ABOVE: The entire M4 year group at the

Royal Military Academy, Sandhurst

LEFT: Captain Fi Drinkall with M4 cadets

College prefects took part in a day-long training programme

during the last week of term to prepare them

for life in the U6th when they return at the start of

the Michaelmas term this September.The day, run by

an outside company,Team Thinking, covered a number

of topics including Effective Problem Solving, Human

Behaviour, Exploring the Situational Styles of Leadership

and Role Play, led by the College's senior Housemistress,

Helen Keevil.There was also an opportunity for indoor

and outdoor team-building activities. Prefects are pictured

right tackling The Swamp, an exercise which tests

their team-working skills. George Hatfield from Fayrer

House has been appointed Head of School for the

Michaelmas Term.

www.epsomcollege.org.uk

13
---
EPSOM SPORT

The 1st XV in action against Oundle at the HAC ground in the City

of London. BELOW: RFU Level 4 coach Andy Wolstenholme has been

in charge of the College's rugby programme for the past 15 years

RUGBY goes from strength to strength

Epsom College rugby has enjoyed significant success in recent years as a

succession of talented players has arrived from strong local prep schools.

Many have gone on to even greater success after leaving the College

Epsom's growing reputation as a rugby

school is reflected in the fact that

the regular fixture list has strengthened

considerably in the last few seasons to

include some of the strongest rugby playing

schools on the circuit, including Wellington,

Dulwich and Tonbridge, as well as Eton

and Harrow.

More local rivals include St John's

Leatherhead, Cranleigh and RGS Guildford,

and regular trips are made to the south coast

to play Eastbourne and Brighton.

The 1st XV also plays a special midweek

fixture at the historic Honourable Artillery

Company (HAC) ground in Moorgate in the

City of London. Last season, the College

took on Oundle, a strong Midlands school,

and won an entertaining game 24-12. Next

season the opposition will be Stowe School

from Buckinghamshire.

The College's rugby programme has been

overseen for the last 15 years by Andy

Wolstenholme, an RFU level 4 coach, who

had experience of coaching at Leicester Tigers

before moving to Epsom and now coaches at

Blackheath in National League 1.

Some 30 members of staff give up their

time to coach and referee rugby each week,

a good number of whom have coached and

played at a high level themselves.

They are backed up by first class outside

coaches from local club Rosslyn Park, as

well as specialists from nutrition, strength

and conditioning and sports psychology

backgrounds.

The College has close links with

Premiership club Harlequins and a number

of Old Epsomians currently feature in the

club's professional ranks.

George Lowe has been playing professionally

for Harlequins since he left the College in

2008 and was a member of the full England

squad on the 2012 tour to South Africa.

Chris York started eight premiership games

for Harlequins at No 8 this season and has

now signed for another Premiership club,

Newcastle Falcons.

Kyle Sinckler, who was a member of the

14 www.epsomcollege.org.uk
---
EPSOM SPORT

England U20s squad that played in the recent

Junior World Championship in South Africa, is

also on Harlequins' books, as is Joe Trayfoot,

who has played for England at U18 level.

International honours have also been won

by a number of recent OEs whilst playing at

the College, including Tom Flynn, who

represented the USA and Ireland Clubs at

U16 and U18 levels,Tom Harty, who played

for England Clubs U18s and Ben Francis and

Cameron Jeffery, who both played for

Scotland U16s.

Current pupil James Francis has also

played for Scotland at U16 level, while Jordan

Burns represented England Clubs U18s this

season and has become the most recent

College player to secure a professional

contract with Harlequins.

WOMEN'S RUGBY FIRST

FOR COLLEGE PLAYER

"The desire to be successful

runs deep at Epsom but all

levels of ability are catered for

within the rugby programme,

from the budding international

star to the "social" player."

Success in winning the Daily Mail U15 Cup

in the past has been matched by regular success

on the rugby 7s circuit in the Lent term.

The 7s squad benefits from specialist

sessions run by Mike Friday, the former

England 7s coach and members of the

Harlequins coaching team, led by Academy

coach, Howard Graham.

The Colts VII are past winners of the

National 7s competition at Rosslyn Park, while

the 1st VII have also regularly featured in the

final rounds of the national tournament.This

season, the 1st VII won the Reigate Charity 7s

title and were losing finalists at the Surrey 7s.

Touring is a regular and popular feature

of the rugby calendar.The senior squad have

alternated long haul trips to Australia, New

Zealand, South Africa and South America

with more local tours to Ireland and recently

to the Brian Ashton Academy in Normandy.

Junior squads have also made regular short

pre-season tours to Scotland and Northern

Ireland.

The desire to be successful runs deep at

Epsom but all levels of ability are catered for

within the rugby programme, from the

budding international star to the "social"

player who wants to keep fit and have fun

with his friends within a team environment.

The College runs teams from 1st XV to 6th

XV and all the way down to U14D.

Rugby success at Epsom College is not just

limited to the boys.The girls' 1st VII has won the

Reigate Charity 7s for the past two years and

now a female College player has gained

international recognition for the first time.

Following recent trial matches, this season's

captain of girls' rugby, Rochelle Smith, has been

selected for the England Women's U20 rugby

squad for the 2012-13 season. She will take part

in home and away games against France in the

spring internationals and the U20s Nations Cup

in England.

Rochelle has been playing rugby competitively

for the past four years. She started her playing

career aged 14 at Sutton & Epsom RFC and later

in her first season moved to London Irish where

a girls' squad had just been formed.

Training has been key to Rochelle's success and

as she has moved up the RFU player pathway, her

training load has increased from four hours to

12-14 hours a week.This includes club, county

and divisional training, as well as personal strength

and conditioning and fitness programmes.

Rochelle is keeping her feet firmly on the

ground, however, and is not letting her rugby

interfere with her studies."My academic work is

my priority, but I believe if you manage your time

well, there is no reason why one thing must be

compromised for another," she said.

Next year Rochelle will be doing a Pre-Med

course at Birkbeck, University of London, before

moving to Jamaica in September 2013 to pursue

a medical career.

During the year she does her Pre-Med course,

Rochelle will be playing for England and will also

be joining Premiership rugby club Saracens to play

a more intense, higher level of rugby. Whilst in

Jamaica, she plans to play rugby 7s with one eye

on a possible appearance at the Olympic Games.

TOP: The girls' 1st VII has

won the Reigate Charity

7s for the past two years

running. Captain Rochelle

Smith, seen holding

the trophy, was named

Player of the Tournament

on both occasions.

ABOVE: Rochelle Smith is

the first female College

rugby player to be selected

to play for England

www.epsomcollege.org.uk

15
---
EPSOM SPORT

College athletes star at

County Championships

Alarge contingent of Epsom

College athletes represented

Central Surrey at the Surrey Schools

Track & Field Championships held

at the Kingsmeadow Athletics

Centre in June.

First places were achieved by

Kieran Findlay in the intermediate

high jump (1.80m), James Gibbons

in the senior shot (11.22m) and

Connor Findlay in the senior

hammer (24.26m).

Strong performances by Babu Ocan

(left) and Edafe Sowole-James at

the Surrey Schools Track & Field

Championships saw them selected

to represent Surrey at the

Inter-Counties Championships

Babu Ocan came second in the

junior long jump (5.43m) and Edafe

Sowole-James second in the junior

triple jump (11.75m) and both were

selected, along with Kieran Findlay,

to represent Surrey at this year's

Inter-Counties Championships.

Other performances of note

included George Mount, who came

third in the intermediate shot

(11.36m), Damola Ibrahim fourth

in the intermediate discus (37.30m)

and Robert Aka fourth in

the junior triple jump

(11.43m). All of these

performances were

personal bests and all

three were selected as

reserves for the Surrey

Inter-Counties team.

In the senior boys'

event, second places went

to Luke Oldershaw in the

high jump (1.75m) and

Ben Grant in the long

jump (6.06m – just 1cm

behind the winner), while

Max Gathercole finished

third in the discus

(31.77m).

In the girls' events, the

performances of the day

came from Jess Woodley,

who won the senior

100m, Leah Amin third in the senior

triple jump and Gabi Orlich fourth

in the intermediate discus.

SPORTS BRIEFS

Phoebe Gibson

in action at the

2012 British

Tumbling Finals

Competing against

some of the best tumblers

in the country, U4 pupil

Phoebe Gibson scooped

third place in the 2012

British NDP3 (13+)

Tumbling Finals held at

the Fenton Manor Sports

Centre in Stoke-on-Trent

in May. Phoebe qualified

for the national finals after

winning the gold medal at

the South East Regional

tumbling competition

earlier in the year.

The Epsom boys' A team emerged as winners

of an outdoor volleyball tournament hosted at

the College in May. Two temporary courts were

set up on Wilson Pitch and another two outside

the Chapel as the College welcomed Rikkyo

School, Lancing College and St John's to the annual

event.The Epsom A team beat Lancing 25-21 and

the Rikkyo B team 25-18 to reach the semi-final,

where they beat the Epsom B team 25-17. In a

tense final, the Epsom boys overturned the form

book to score a 25-20 victory over the Rikkyo A

team, a side that had already beaten them in four

previous matches this season.

The College Target Rifle team

with their Sawyer Cup trophies

Crawfurd Housemistress Helen

Keevil was bowled over following

the success of her girls in the

annual House Rounders Championships

this term. For the first

time in the history of the competition,

the talented Crawfurd

girls took all four trophies on

offer, winning the M4, U4, 5th

form and Seniors tournaments.

The annual competition always

produces friendly, yet competitive,

matches and this year was

no exception. To add an element of fun

to the proceedings, many of the girls

painted their faces in House colours."I'm

delighted and very pleased for my girls.

The M4 and U4 girls benefitted from a

practice session run by U4 tutor Rebecca

Young the evening before the competition

and the purple and white face paint

adorned and possibly enhanced their

performance," said Helen Keevil.

The College Target Rifle VIII won the prestigious

Sawyer Cup at Bisley this term, beating some of the

top shooting schools in the country.The Epsom VIII

scored 371.17 points to head the field, with RGS

Guildford second on 367.20 points and Wellington

third with 363.20 points. Ben Ross was the top

scorer on the range at 300 yards, with his excellent

34.3 point V-bull count retaining the individual

trophy won by William Broad last year.

Playing some of their best cricket of the season,

the 1st XI fought their way to a draw against the

MCC this term. Batting first, MCC posted a total of

197-7 with Stef Sander taking 3 wickets for 38 runs.

In reply, Epsom scored 178-7 with a half century

from Dan Bradshaw and Harry Allen not out on 70.

16

Epsom College, College Road, Epsom, Surrey KT17 4JQ • Tel: 01372 821234 • Fax: 01372 821237 • e-mail: news@epsomcollege.org.uk

web: www.epsomcollege.org.uk • Editor: Corinne Munford • Design: Deborah Reader • Print: Summit Print