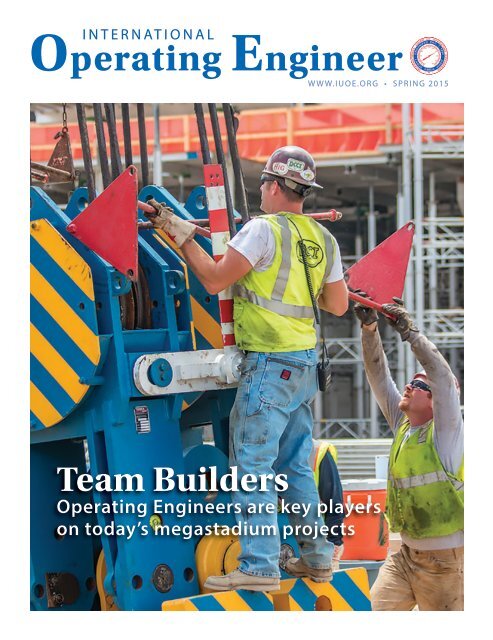 International Operating Engineer - Spring 2015
The quarterly magazine of the International Union of Operating Engineers.
The quarterly magazine of the International Union of Operating Engineers.
SHOW MORE
SHOW LESS
Create successful ePaper yourself
Turn your PDF publications into a flip-book with our unique Google optimized e-Paper software.
i n t e r n at i o n a l

Operating Engineer

WWW.IUOE.ORG • SPRING 2015

Team Builders

Operating Engineers are key players

on today's megastadium projects
---
i n t e r n at i o n a l

Operating Engineer

Spring 2015 • Volume 158, No. 2

Brian E. Hickey, Editor

Jay C. Lederer, Managing Editor

12 Prevailing Wage Under Assault

States move to cut workers' wages

14 Home Field Advantage

Operating Engineers hit the gridiron

20 Canada Faces Federal Decision

Locals prepare for coming campaign

Departments

05 From the General President

06 Education & Training

08 Safety & Health

10 Politics & Legislation

18 Canadian News

22 GEB Minutes

28 In Memorium

[cover] Local 49 Operating Engineers are part of an all union

team building the new Vikings Stadium in downtown

Minneapolis.

[photo] Tom Hayes/IUOE Local 49

2

INTERNATIONAL OPERATING ENGINEER

[left] Operating Engineers with Local 302 chipped away a

circle on the wall of the access pit that was built to access and

repair Bertha, the tunneling machine. The Bertha-sized circle

allows for a cleaner breakthrough when the machine moves

into the pit.

[photo] WSDOT

SPRING 2015 3
---
International Operating Engineer

(ISSN 0020-8159) is published by the:

International Union of

Operating Engineers, AFL-CIO

1125 17 th Street, NW

Washington, DC 20036

Subscription Terms - $5 per year

Change of Address - Requests must

be submitted in writing to the IUOE

Membership Department (address

above). Include your new address,

registration and local union number.

POSTMASTERS – ATTENTION:

Change of address on Form 3579

should be sent to:

International Operating Engineer

Mailing List Dept.

1125 17th St., NW, 3rd Floor

Washington, DC 20036

Publications Mail Agreement No.

40843045

Canada Post:

Return undeliverables to

P.O. Box 2601, 6915 ​Dixie Rd,

Mississauga, ON L4T 0A9

Printed in the U.S.A.

International Union of Operating Engineers

AFL-CIO

general officers

James T. Callahan, General President

Brian E. Hickey, General Secretary-Treasurer

William C. Waggoner, First Vice President

Patrick L. Sink, Second Vice President

Jerry Kalmar, Third Vice President

Russell E. Burns, Fourth Vice President

James M. Sweeney, Fifth Vice President

Robert T. Heenan, Sixth Vice President

Daniel J. McGraw, Seventh Vice President

Daren Konopaski, Eighth Vice President

Michael Gallagher, Ninth Vice President

Greg Lalevee, Tenth Vice President

Terrance E. McGowan, Eleventh Vice President

Louis G. Rasetta, Twelfth Vice President

Mark Maierle, Thirteenth Vice President

Randy Griffin, Fourteenth Vice President

Got Big

News

?

from Your

Local

We want to

hear about it.

trustees

Kuba J. Brown, Chairman

Bruce Moffatt, Trustee

James T. Kunz, Jr., Trustee

Joseph F. Shanahan, Trustee

Edward J. Curly, Trustee

International Operating Engineer

appreciates the stories and

photos we receive from

local affiliates throughout

North America. Send us your

submissions or ideas for stories

you would like us to consider.

Send your submissions, plus

photos (digital images are

preferred), to Jay Lederer

at jlederer@iuoe.org, or mail

1125 Seventeenth Street, N.W.,

Washington, D.C., 20036

From the General President

Meeting the Challenge Together

Foes bent on attacking workers and wages

THANKFULLY, THE GRIP of

another brutal winter has released

and we look to be entering a red hot

construction season. Demand for our

skilled operators is strong. Our local

training centers are buzzing, getting

apprentices started and upgrading

seasoned journeymen. Many locals

are expanding and upgrading training

facilities and the National Training

Fund continues to add equipment and

curriculum.

Positive signs indeed, but things

could be better. On the federal level,

important infrastructure investments

that create and support thousands of

Operating Engineer jobs remain stalled.

The utter failure of Congressional

lawmakers to pass legislation that

builds and maintains our nation's

roads, bridges and transit systems is a

national embarrassment.

Transportation funding should be a

no brainer. For every $1 invested, our

country's gross domestic output grows

by almost $2. For every $1 billion

invested, over 43,000 construction jobs

are created.

The gamesmanship being played

by members of both political parties

is more about saving their own jobs

than creating new ones for working

people. The IUOE continues to call for

Congress to increase investments in

the Highway Trust Fund and to enact

a multi-year transportation plan that

delivers stability for states to make

long range construction plans. Passing

a series of short term patches is not

responsible governing.

The International intends to hold

every member of Congress accountable

on this and other issues that affect our

collective bargaining rights, prevailing

wages, healthcare and pensions. It's

about action, not words. If elected

officials won't act in the best interests

of our members and their families,

then we must act.

There is no lack of legislative

action on the state level this year,

unfortunately most of it is extreme.

We have seen an unprecedented

attack on unions and workers' rights

within multiple state legislatures. The

coordinated push by well funded, antiunion

groups continues to escalate.

So called Right-to-Work has always

been an attack on union strength. But

now, the same right-wing groups are

targeting workers directly by moving

to cut wages through the repeal of state

prevailing wage laws. We must rise up

to meet these aggressive attacks head

on. In coordination with our Locals

we are mobilizing, but we need every

Operating Engineer to be active in

these fights.

Many folks don't like politics

and I understand that. Our lives are

busy enough with work and family

obligations. However, right now we are

witnessing just how much politics can

directly affect our lives – for good and

for bad. We must stand together now

to turn things around and protect our

families. In the next round of elections,

we must ensure that we pay close

attention and use our resources and

votes to elect pro-worker candidates at

every level of government.

Those types of decisions are fast

approaching for Operating Engineers

living and working in Canada. A federal

election has been called for no later

than October 19 this year. The current

Conservative government has taken on

some of the same attributes as the antiworker

forces operating in the States.

In particular, Bill C-377 is currently

before the Senate and is solely

intended to weaken Canada's labor

movement for political advantage. The

International has engaged in the fight

to defeat the bill and will be working

with local affiliates this year to help

mobilize IUOE members for the federal

election. A special website has been

[James T. Callahan]

launched to provide our members with

more information and will be updated

as the federal election approaches.

Please take a minute and visit www.

engineersaction.ca to find out more.

Every April, the labor movement

in the U.S. and Canada takes time to

remember our brothers and sisters who

have been killed or injured on the job

and to raise awareness about worker

safety. This year, I was honored to be

part of a memorial dedication at Local

793's head office in Oakville, Ontario

held on Canada's Day of Mourning.

The monument they have built is a

moving tribute to Operating Engineers

everywhere and epitomizes what

our union is all about. It's always

shocking when we lose someone on

a job, but knowing that their family

and co-workers have the support of

almost 400,000 Operating Engineers

looking out for them is uplifting. Our

brotherhood is a bond unbroken here

on Earth and beyond.

It is also that bond that will see

us through the challenges and

opportunities we encounter along the

way. Let's continue to work safe and

look out for each other. Have a great

summer.

4

INTERNATIONAL OPERATING ENGINEER

SPRING 2015 5
---
Education & Training

Local 3 Officially Opens New Training Site

National Training Fund Adds Brokk Demolition Training

THE IUOE LOCAL 3 Apprenticeship

Program began in 1961, when early

trainings were held wherever possible,

such as in high schools, gyms and

colleges throughout the union's fourstate

jurisdiction, which includes

California, Nevada, Utah and Hawaii.

Nearly 150 people attended the

historic event, including International

Union of Operating Engineers (IUOE)

representatives; Local 3 officers, staff

and apprentices; Joint Apprenticeship

Committee (JAC) coordinators and

instructors; employer representatives;

both the vision and the commitment

of labor and management to continue

to provide the highest-quality training

of its kind in the nation well into the

future."

Third-step Gradesetter Apprentice

Emmy Sanchez is a part

of that future and said

having a new training site is

exciting because of the many

opportunities it will offer.

"It was difficult to train

in the wintertime [at the old

site]," she said. "Now we'll

have a better area to be on."

THE NATIONAL TRAINING FUND

(NTF) has taken the next step in

maintaining our craft by leasing a Brokk

100 remote controlled demolition

machine. Locals will have access to the

machine to perform upgrade training

for their members on a rotating basis.

This piece of equipment plays a vital

role on today's demolition projects,

as well as construction sites of every

size. The unit is 3.8 feet high and 2.6

feet wide, which allows it to access

confined areas. Maximum horizontal

reach is 12.1 feet, and vertical reach

is 14.1 feet. A 20-horsepower electric

motor powers the unit.

Eight years later, California's more

permanent training facility, the

Rancho Murieta Training Center

(RMTC), officially opened putting

the union on the map as the leader of

apprenticeship standards and paving

the way for apprenticeship training

throughout the country.

Today, Local 3 continues to pave

the way for construction training, as

the union cut the ribbon on its new

training site. The new site is more than

30 times the size of the old one and will

allow apprentices to train year-round.

and state apprenticeship officials,

including California's Division of

Apprenticeship Standards Chief Diane

Ravnik.

"Viewing the miles of roadways

leading into the facility, I could not

help but think that the apprentices

who laid-out the beginnings of these

roadways may one day have their own

sons and daughters training there to

be the next generation of Operating

Engineers and be able to tell them,

'I built it,'" Ravnik said. "It [the new

training site] is a true testament to

Apprentices have already

been training at the new site,

including simulating the

building of on- and off-ramps,

cul-de-sacs and subdivision/

underground work, which

is all part of the first phase

of development. They also

provided the paving.

As of now, all the heavyequipment

is at the site,

except the cranes.

"The opening of the new

training site that allows us to

train year-round only proves

our steadfast commitment

to training today, tomorrow and well

into the future," said Local 3 Business

Manager Russ Burns.

[above] L to R: Financial Secretary Steve

Ingersoll, Business Manager Russ Burns,

Vice President Pete Figueiredo and

President Dan Reding dig in at the ribboncutting

ceremony for the new training site.

[article & photo] Mandy McMillen/Local 3

Valuable specialized training

is now available in this area of our

industry. The NTF has a schedule of

upcoming locations for the Brokk and

it has already been put into service for

trainings at IUOE Local 4 in Canton,

MA.

Ontario Hosts

NTF Basic

Teaching

Techniques Class

THE NATIONAL TRAINING FUND

(NTF) continues to strive to have the

highest caliber training instructors to

produce the best skilled workers in the

world.

The Basic Teaching Techniques

class was held March 16 - 20 and hosted

by Local 793 in Ontario. This course

has proven to be instrumental for the

new, as well as the seasoned instructor,

and is one of many instructor training

courses available through the NTF.

[above] L to R back row: Jeffrey Vincent (Executive Director, IUOE National Training Fund),

Greg Runions LU 793, Duncan Walker LU 721, David Francis LU 501, Harold McBride

(Executive Director of Operating Engineers Training Institute of Ontario – OETIO) and

Sheldon McLean LU 870.

L to R front row: Curtiss Biliak LU 870, Ray Doyle LU 793, Roy Peach LU 904, Deven Harvey

LU 721, Ken Kroeger Instructor and Richard Coulas (OETIO Director of Training).

6

INTERNATIONAL OPERATING ENGINEER

SPRING 2015 7
---
Safety & Health

Silica/Asphalt Milling Machine Partnership Releases

NIOSH Best Practices and Field Guide

that effectively reduce potential silica exposure below OSHA's

new proposed permissible exposure limit (PEL).

During the ceremony, Dr. Christine Branche, Director

of the Office of Construction Safety and Health at NIOSH,

spoke on the devastating effects of crystalline silica exposure

and highlighted the recent release of an asphalt milling best

practices document to ensure milling machine worker safety.

"Some 1.7 million U.S. workers are exposed to respirable

crystalline silica in a variety of occupations, including road

and highway workers," Branche said. "It is incurable, but

completely preventable."

Retired IUOE Safety & Health Director Emmett

Russell was on hand to receive a Distinguished Service

Commendation presented by NAPA President Mike Acott.

Russell was a valued member of the Silica/Asphalt Milling

Machine Partnership representing the interests of Operating

Engineers and also made important technical contributions

that were incorporated in creating the engineering controls

that will become standard equipment on milling machines.

"Thanks to this constructive partnership between

industry, equipment manufacturers, labor, and regulators,

engineering controls that ensure worker protection during

roadway milling operations will soon be standard equipment

on milling machines," said NAPA President Mike Acott.

"It shows the sort of progress that can be made when

government, labor, and industry work together, in a voluntary

fashion, to address real-world issues."

WITH A VARIETY of new equipment and innovations as

a backdrop, members of the Silica/Asphalt Milling Machine

Partnership were recognized during the World of Asphalt

show in March. The ceremony marked the successful

completion of the partnership's efforts to develop and

validate engineering controls for silica dust in asphalt milling

operations.

The Silica/Asphalt Milling Machine Partnership — which

is made up of the National Asphalt Pavement Association

(NAPA), milling-machine manufacturers, labor, academia,

and the National Institute for Occupational Safety and Health

(NIOSH) — has worked over the past decade to design, test,

and implement engineering controls for milling machines

Also released was a

field guide developed

by NAPA and CPWR

— The Center for

Construction Research

and Training covering

best practices for milling

operations. The "Field

Guide for Controlling

Silica Dust Exposure on

Asphalt Paving Milling

Machines," can be

downloaded from http://

goaspha.lt/1DxPbLr.

8

INTERNATIONAL OPERATING ENGINEER

SPRING 2015 9
---
Politics & Legislation

Deadline Nears to Fund Transportation Infrastructure

AS THIS ISSUE of International

Operating Engineer goes to press, the

federal Highway Trust Fund is once

again moving closer to insolvency and

Congress is facing a May 31st deadline

to find a suitable funding solution.

Although a majority of Congressional

lawmakers agree that a long-term,

fully funded bill is what's best for the

country, there is not much agreement

on what is the best funding source for

reauthorization.

Reauthorization of the highway

bill is the top priority of the IUOE this

year. The legislation affects thousands

of Operating Engineers and many

thousands more construction workers

from other trades. Another short-term

extension would hurt state and local

economies by not having the ability

to contract long-term infrastructure

projects, due to the uncertainty of

funding, and decreasing the amount of

tax revenues that would be generated

through infrastructure investments.

Reauthorization of a multi-year

highway bill will create good paying

jobs for hundreds of thousands of

construction workers and provide the

nation's economy with a major boost.

This is in addition to the overall public

service this bill would provide by

rebuilding the country's' unsafe and

crumbling roads, bridges and transit

systems.

A big part of the funding dilemma

could be solved by raising the

federal gas tax, which the trust fund

traditionally relies upon and which

hasn't been raised since 1993, and

adjusting it for inflation. However, the

Obama Administration and leaders

in Congress have indicated they have

little appetite for raising the gas tax at

this time.

To make matters worse, there is

a glaring lack of leadership from the

Senate Finance Committee Chairman,

Senator Orrin Hatch (R-UT), whose

committee is charged with passing

funding for the highway bill. Senator

Hatch's inaction on this vital piece of

legislation will prolong the amount

of time taxpayers are forced to travel

on unsafe roads and bridges as they

commute to work and take their kids to

school.

The IUOE has been working

with labor, industry and business

allies to move Congress towards

reauthorization of the transportation

bill, but as of this writing it looks more

realistic that Congress will approve yet

another short-term extension which

will only delay a real solution to the

problem. If so, this would be the 33rd

short-term extension of the highway

bill in the past six years.

A number of proposed bills this

session incorporate repatriation as

the revenue source for the Highway

Trust Fund. However, Sen. Hatch is

dead set against a repatriation tax

to fund highways. He wants to use

revenue from such a tax to help pay for

a lower overall corporate tax rate, the

centerpiece of the Republican plan for

tax reform.

Due to the lack of leadership

and inability of Congress to work

together on what used to be noncontroversial,

bipartisan legislation, it

is almost a foregone conclusion that

the transportation funding issue will

need to be addressed again later this

year.

Surface Transportation Reauthorization

Proposed Legislation

The following are some of the proposed transportation bills that have

been introduced in Congress this year:

Bridge to Sustainable Infrastructure Act (H.R. 1846) – Introduced

by Rep. James Renacci (R-OH) and Rep. Bill Pascrell (D-NJ). The bill would

increase the federal gas tax, which has been set at 18.4 cents per gallon since

1993, and to index it to inflation starting in January 2016. It would rise again

in three years unless Congress comes up with a new way to pay for federal

transportation projects.

Grow America Act – Introduced by the Obama Administration, it would

invest $478 billion in transportation infrastructure. The proposal relies on

funding it says can be drawn from taxing U.S. corporate profits being held

overseas. This corporate tax proposal, known as "repatriation," would require

companies to bring back earnings to the United States at a 14 percent tax

rate, generating an estimated $238 billion in revenue for the government

that could be used to pay for infrastructure improvements.

Infrastructure 2.0 Act (H.R. 625) – Introduced by Rep. John Delaney

(D-MD). The bill would tax existing overseas profits accumulated by U.S.

corporations. They would be subject to a mandatory, one-time 8.75 percent

tax, replacing deferral option and the current rate of 35 percent.

Invest in Transportation Act of 2015 (S. 981) - Introduced by Senators

Barbara Boxer (D-CA) and Rand Paul (R-KY). This bill would also extend

the Highway Trust Fund and create jobs through a form of repatriation of

corporate profits. The Invest in Transportation Act incentivizes companies to

bring some of the estimated $2 trillion in foreign earnings that are being held

overseas back to the United States.

Move America Act of 2015 (S.1186) – Introduced by Senator Ron

Wyden (D-OR). This bill creates Move America Bonds, to expand tax-exempt

financing for public-private partnerships, and Move America Credits, to

leverage additional private equity investment at a lower cost for states.

Through cheaper and more flexible access to debt and equity, the Move

America Act gives states the tools they need to expand investment in roads,

bridges, ports, rail, and airports.

Rebuild America Act (S. 268) – Introduced by Senator Bernie Sanders

(I-VT). A five-year transportation bill that would authorize $1 trillion in

infrastructure investments. Sen. Sanders does not identify any type of

funding method to reach the investment goal.

Stay up-to-date with the status of the highway bill and other important

legislation by checking-out the IUOE web site on a regular basis.

10

INTERNATIONAL OPERATING ENGINEER

SPRING 2015 11
---
Politics & Legislation

Is Prevailing Wage the Next Right-to-Work?

LEGISLATIVE PROPOSALS TO

repeal prevailing wage laws are gaining

traction in statehouses around the

United States. In combination with

efforts to pass so-called Right-to-

Work laws, these attacks are part

of a coordinated effort to undercut

labor unions and weaken collective

bargaining rights, particularly of union

construction workers.

In April, Indiana's Republican

controlled legislature narrowly voted

to repeal that state's prevailing wage

law, called the common construction

wage, which had been on the books in

various forms for 80 years. The law sets

pay standards for construction workers

on publicly funded projects.

In West Virginia, where Republicans

took control of the Legislature this

year for the first time since the 1930s,

lawmakers ended the prevailing wage

for projects bidding at $500,000 or less.

In Nevada, where Republicans

dominate the statehouse, lawmakers in

March exempted school construction

projects from that state's prevailing

wage requirement.

Proposals to repeal prevailing wage

laws entirely have been offered in more

than a dozen states, including Michigan

and Missouri, as well as Wisconsin.

In Illinois, newly elected Republican

Governor Bruce Rauner, an anti-union

zealot, has spent an enormous amount

of his first months in office attempting

to weaken labor unions. He has called

for changes to the state's prevailing

wage law and has attempted to blame

the law for the oversized budget

deficits the state is facing. Outraged

by the governor's deceitful tactics,

members of the IUOE have sprung into

action and packed local government

meetings across the state to expose

Rauner's anti-union agenda.

States began passing prevailingwage

laws during the Great Depression

of the 1930's in an effort to prevent

public projects from using local

tax dollars against local workers,

undercutting community wage

standards by awarding bids to outof-state

contractors. The laws, which

exist in 32 states as well as on federal

contracts, require private contractors to

pay workers, union and non-union, on

public projects wages in line with those

earned by people doing comparable

work in the same region.

Efforts to repeal the laws have been

around for decades, and groups like

EnginEErs Action rEsponsE nEtwork

Because elections matter

Make your voice heard • Register for EARN today

www.iuoe.org

the American Legislative Exchange

Council (ALEC) and the Associated

Builders and Contractors (ABC) have

included repeal as a model policy for

years. But as Republicans have gained

power in the states — they control 68 of

98 partisan state legislative chambers,

the most in the party's history — they

have found new traction on prevailing

wage.

Anti-union groups like the ABC

have exploited the opportunity to

aggressively push their agenda. With a

flurry of so-called Right-to-Work laws

enacted recently in parts of the Midwest

— states like Indiana, Michigan and

Wisconsin — the prevailing wage has

taken center stage.

The breathless pace and boldness

of such proposals have been embraced

by right-wing politicians, but it has

put some moderate Republicans

in an uncomfortable position.

Wisconsin Assembly Speaker Robin

Vos, a Republican, lamented to a

conservative Milwaukee radio talk

show that the issue makes some of his

fellow Republicans nervous. "While I

support the repeal of prevailing wage,

(it) is an actual cut in wages to an

awful lot of folks around the state, and

that's where I think that a lot of folks in

vulnerable districts worry about having

taken a vote for right-to-work and then

another one that would reduce wages,"

Vos said.

Unfortunately, the moderate voices

are too often drowned out and bullied

by the right-wing who touts their

attacks on unionized workers as a

badge of honor.

This year's debate over the common

construction wage in Indiana was

different compared to twenty years ago.

When Republican lawmakers called for

repeal in 1995, union workers objected

in large numbers. Then Governor

Evan Bayh, a Democrat, negotiated a

compromise that, in essence, scaled

back and renamed the law but did not

end it. Not long after, Republicans lost

full control of the legislature, and the

issue faded until now.

State Representative Jerry Torr,

a Republican, who offered the

prevailing-wage repeal in Indiana this

year also led efforts to pass the 2012

Right-to-Work law — an episode that

he told The New York Times most likely

made passage of the prevailing-wage

repeal possible now. "I think people

found out that you could do something

bold like that and survive an election,"

he said.

"When you use the least-skilled,

least-costly labor, what you wind up

with is cost overruns, construction that

doesn't last as long and short-term

costs that are not projected in the initial

bid," said Indiana State Representative

Scott Pelath, the Democrats' leader in

the House, who also spoke to The New

York Times on the issue. "What we

see here is a willingness to look only

Attempt to Repeal Davis-Bacon

Prevailing Wage Defeated in House

REPUBLICAN REPRESENTATIVE

Steve King (Iowa) led another effort

to repeal the Davis-Bacon prevailing

wage with an amendment to the

Military Construction and Veterans

Affairs Appropriations Act. This was

the ninth time in the past eight years

that Rep. King has attempted to strip

the Davis-Bacon prevailing wage from

an appropriations bill with a legislative

amendment, not including his standalone

bills to repeal the Act completely.

And for the ninth straight time, the

Operating Engineers successfully beat

back his efforts.

Success in defeating this

amendment was made possible

because thousands of IUOE members

mobilized through the Engineers

Action and Response Network (EARN)

and contacted their Members of

at one side of the ledger and a trend of

ignoring what creates real prosperity."

Since Indiana notoriously pushed

through Right-to-Work in 2012,

Republicans have gained even more

seats in the legislature and hold

majorities so large that Democrats are

unable to block anti-worker legislation

that has been pushed by extreme rightwing

lawmakers. Republican Governor

Mike Pence has supported these efforts

and has signed legislation that repeals

the prevailing wage.

Building prosperity for middleclass

workers is at the heart of the

labor movement. The International is

working closely with local unions to

fight back. Mobilization campaigns are

underway and members are urged to

contact their state legislators directly to

voice their opposition to these attacks

on collective bargaining and prevailing

wage.

Congress directly to urge them to vote

against this anti-worker amendment.

The final vote of 186-235 included

52 Republicans who voted along with

every Democrat against the measure.

This bipartisan vote to retain Davis-

Bacon prevailing wage is a testament

to the IUOE's philosophy of building

relationships with Democrats and

Republicans around the union's core

issues and not along party lines.

The Operating Engineers thanks

every member who took action. If you

haven't signed-up for EARN, please do

so today on the IUOE web site.

To see how your elected official

voted on the amendment, visit this

website – http://clerk.house.gov/

evs/2015/roll191.xml

12

INTERNATIONAL OPERATING ENGINEER

SPRING 2015 13
---
Feature

FROM THE VERY FIRST athletic stadium in Greece to our

modern day megastructures, teams of highly skilled builders

have applied their trade to create some of the most iconic

buildings in the world. Significant public and private capital

investment in stadium construction is once again flowing in

major American sports markets. And the demand for skilled

operating engineers on these jobs has soared.

The biggest investments, along with the biggest stadiums,

are being made by teams in the National Football League

(NFL). At over $9 billion in annual revenue, the NFL is by

far the most lucrative sports league in the world. But that

doesn't mean they don't have competition.

The biggest threat to the NFL's top ranking isn't baseball

or soccer; it's what is commonly referred to as "the fan

experience." Football fans, like most of society, have

embraced technology. High-definition television, ondemand

sports packages and the Internet have combined to

compete with game day ticket sales.

To counter this, team owners are replacing or upgrading

facilities that will draw more people out. Stadium designers

are creating more aesthetically pleasing venues packed with

technology and amenities, leading to more intricate and

technically demanding construction requirements.

The proliferation of retractable roofs and the expansion of

building footprints have combined to increase the amount

of steel and concrete used in each project. The amount of

equipment and number of skilled operators required to

perform the work safely and on time has escalated right

along with the designs.

In places not usually friendly toward unions, IUOE locals

and their signatory contractors have been tapped to supply

the best hands possible on these huge jobs. The new Falcons

Stadium in downtown Atlanta is a prime example.

In order to meet the design requirements of the new

$1.4 billion 71,000 seat stadium, union contractors proved

competitive, even in a right-to-work state, because of the

quality of their operators. Seven contractors signatory

to IUOE Local 926 are working at the site, with operating

engineers involved in the structural and concrete work, as

well as site work for the electrical and mechanical systems.

"This job is not under any [project labor agreement] PLA,

but our contractors were still able to compete and obtain

the work. In a right-to-work state it is necessary to be able to

compete and work alongside of, and even provide support to,

non-union workers," explains Local 926 Business Manager

Phil McEntyre.

A similar story is playing out Florida, also a right-to-work

state, where the Miami Dolphins have begun a two-year,

$400 million renovation of Sun Life Stadium. A major part of

the renovation involves the installation of a state-of-the-art

canopy that will provide shade and rain protection on game

day to about 90 percent of the seating area. Operators from

Home Field

Advantage

Local 49 operating

engineers are halfway

through building the new

Vikings Stadium in downtown

Minneapolis. An

artist rendering at left.

14

INTERNATIONAL OPERATING ENGINEER

SPRING 2015 15
---
IUOE Local 487 are currently performing the foundation

work on the four masts that will support the canopy roof. The

contractor installing the roof will also use Local 487 crane

operators when that work begins in January 2016.

Even in more union-friendly parts of the country,

getting stadium projects from concept to construction takes

considerable effort because they often involve a healthy

investment of public tax dollars to build. For years, IUOE

Local 49 was an outspoken supporter of a new Minnesota

Vikings stadium because they knew what it would do for

operating engineers who had been sidelined during the

recession. Their efforts paid off as the team agreed to build

the new stadium 100 percent union under a project labor

agreement.

The new $1 billion stadium, the largest construction

project in the state, is located next to the former Metrodome,

which required a phased demolition and construction

schedule. According to Local 49 Business Agent Tom

Thompson, the operators who have worked on all phases of

the demolition and construction are some of the best he has

seen.

"I've been around for 35 years and it's been one of the

best groups of operators I can remember. Great team effort,

working together, knowing their job and getting it done

together," Thompson said.

By the time it's completed in 2016, about 7,500 union

construction workers will have been employed on the project.

"Before pulling down some of the tower cranes, we had

about 50 operating engineers working the site at the same

time. A lot of forklifts, crawlers and tower cranes. The

foundation work and demolition of the old stadium was all

Local 49," Thompson explained.

Site work has become more technical as building

footprints have expanded and as many of the newly built or

planned stadiums have been in tricky downtown locations,

like Atlanta and Minneapolis. Even the spaces around the

buildings are getting more lavish. Owners are spending

more on plazas and other finished outdoor spaces. Enlarging

the perimeter means more site work and paving – and more

hours for operating engineers.

More stringent seismic requirements in California have

also added to the site requirements there, as IUOE Local 3

operators experienced when they worked to build Levi's

Stadium, home to the San Francisco 49ers, which opened last

year. Local 3 operators were one of the first to break ground

on that project, putting in storm, sewer and water utilities.

Going forward, NFL team owners and the league are

talking about building one or possibly two new stadiums

in Southern California over the next few years. St. Louis is

also in the midst of new stadium planning in a bid to keep

the Rams in that city. These plans may cause heartburn for

some football fans if their home team moves away, but for

the teams of Operating Engineers entrusted to build this

generation's modern stadiums it is good news indeed.

[clockwise from above] Local 926 members building the new Atlanta Falcons Stadium [rendering inset]; Local 3 operators laid the

groundwork for Levi's Stadium completed in 2014 [photo inset]; Local 49 member on the Vikings Stadium project; Local 487 members are

installing the roof masts for the renovation on Sun Life Stadium in Miami [rendering inset]

16 INTERNATIONAL OPERATING ENGINEER

SPRING 2015 17
---
Canadian News

Local 115 Fights BC Hydro Over Union Pact

IN 1961, British Columbia Premier

W.A.C. Bennett proposed the

construction of a number of new dams

along the Peace and Columbia rivers,

including a massive, 2,800MW project

that would later bear his name. These

dams would form the basis of a modern

economy in the province, and would

set the standard for renewable energy

production in western Canada.

However, it wasn't long after first

proposing the project that Bennett

became concerned about the potential

for labour disruptions and a lack of

skilled workers on these vital, and

expensive, mega-projects. To avoid any

potential disruptions, he oversaw the

formation of the Allied Hydro Council,

a body representing all of the trade

unions, including IUOE Local 115. The

Allied Hydro Council in turn signed a

single contract that promised no strikes

or lockouts. Labour harmony was

achieved, and numerous dams were

constructed or retrofitted without any

unnecessary disruptions.

All of that has changed with B.C.'s

latest dam project, as anti-union

government ideology replaces the triedand-true

pragmatism of Bennett.

The Site C Clean Energy Project is

an 1,100 megawatt dam slated to be

built on British Columbia's Peace River.

Unlike all of the modern dams before

it, the provincial government and B.C.

Hydro have decided to force an 'open

site' model for the project, rejecting the

Allied Hydro Council model completely.

B.C. Hydro and the provincial

government even went so far as to

propose site terms that would bar any

union organizing on the site. IUOE Local

115 Business Manager Brian Cochrane

wasn't about to take that lying down.

"We had to take B.C. Hydro to court,

just to get BC's Premier Christy Clark

[above] L to R: IUOE 115 Business Manager Brian Cochrane with Brother Jack Whittaker, past

IUOE 115 president, in front of provincial legislature in Victoria, BC.[photo] IUOE Local 115

to come out and admit that under

the constitution of Canada, unions

absolutely do have a right to go to Site

C and organize. Fortunately the Premier

came out right after we filed suit, and

said Hydro was wrong," Cochrane said.

"However, that was only the first

skirmish in a larger war. The bottom

line is, they want to keep us off this

project as much as they can get away

with, and we won't take it. We're not

just going to shut up and go away, we're

going to fight this every step of the way,"

Cochrane added.

Cochrane has been active across the

province, leading the charge among

the B.C. Building Trades to ensure the

Allied Hydro Council continues to form

the basis for any labour agreements at

the site.

Cochrane recently travelled to the

provincial capital of Victoria, joined

by long-time Local 115 member and

past President Jack Whittaker, to lobby

senior government officials directly.

Brother Whittaker, now 78, was a

unionized worker on the construction

of the W.A.C. Bennett Dam back in

1964. Whittaker now owns and manages

a unionized construction company,

and knows just what kind of risks come

to large-scale projects without a labour

agreement.

Whittaker called the government's

plan for an open-managed site "foolish",

adding, "I'm here as a concerned

citizen of B.C. because they are going

to escalate that job. They are going to

extend the time frame. They are saying

10 years. They'll be lucky to do it in 15

years if they do it open shop because it

will be chaos."

Cochrane echoed Whittaker's

message.

"Could you imagine a $9 billion

dollar project, with thousands of

workers, and no comprehensive labour

agreement? Highly skilled craft workers

would be moving around the job site

from one company to the next, seeking

slightly better salaries and benefits,

or running from bad managers. These

contractors would have no way of

keeping their workers; they'd be

constantly tugging at each other's work

force. And the workers would have no

grievance system, so all of these little

disagreements would blow up into huge

disruptions. It will be total anarchy."

That message is being delivered by

Operating Engineers and their allies

throughout the province. The B.C.

Monument Dedicated at Local 793

Head Office

A CEREMONY WAS held April 28

at Local 793's head office in Oakville

to dedicate a monument to honour

members of the union who've died in

construction site accidents or from

occupational illnesses.

IUOE General President James T.

Callahan attended and spoke at the

event.

The ceremony was held on Canada's

Day of Mourning. A minute's silence

was observed during the ceremony.

The monument and garden consist

of an entranceway, three outer arches

and two inner arches with garden

elements and outdoor lighting.

There is a seven-foot diameter IUOE

logo cast in bronze at the centre of the

monument, symbolically locating the

union at the heart of the structure.

Names of 36 deceased Local 793

members have been engraved on the

columns of the monument.

The monument will provide a place

of reflection for Local 793 members and

Building Trades have even created a

website, www.buildsitectogether.com,

where members of the general public

can voice their support for the Building

Trades in their campaign to ensure that

B.C.'s latest dam stays union.

Cochrane remains confident that the

Operating Engineers will win the fight.

"One way or another, this dam is

going to be built Union. This is our

history, the legacy of our past members,

and we're not about to give that away.

The people of British Columbia deserve

cost certainty, and a safe and efficient

work site."

families who have lost loved ones.

Local 793 Business Manager and

IUOE VP Mike Gallagher said in his

remarks that the government and

health and safety agencies have to take

action to reduce deaths on worksites.

"We have to increase our efforts

tenfold and we have to go out there

and we have to tell the government the

only consideration that matters is not

whether they get re-elected or not," he

said, "it's whether our workers get to

return home at the end of the day."

Gallagher said there are new

technologies, new equipment and new

methods coming into the workforce, yet

the system moves slowly.

"We move at a glacial pace to get the

job done, to protect the workers that we

send out to work every single day and

it's a damn shame," he said. "We should

move faster, put a higher priority, stop

every other consideration except for

protecting workers out on the job."

IUOE General President Callahan,

who lost a brother due to an illness from

[above] The monument outside Local

793's head office in Oakville.

[photo] IUOE Local 793

the cleanup after the collapse of the

World Trade Centre in New York City,

said the monument and garden are a

moving tribute to Operating Engineers

and fallen workers.

"This is a thought-provoking

monument, I have to say," he said in

his remarks. "Walking through there, it

stirred up what the Operating Engineers

are all about."

When a family member is killed

at work, Callahan said, it's one of the

most devastating things to get over

because there was no opportunity to say

goodbye.

"If there's any solace to that, it's

when your loved one fell they never

touched the ground because there were

380,000 Operating Engineers that ran to

them spiritually and looked out for their

families afterwards, and that's what a

brotherhood is all about."

18

INTERNATIONAL OPERATING ENGINEER

SPRING 2015 19
---
Canadian News

IUOE, Labour Unions Gear Up for Federal Election

THE IUOE PROUDLY participated

in the Canadian Labour Congress (CLC)

Election Preparation Conferences that

took place across the country. The

CLC conferences made 15 stops, crisscrossing

the country. Kicking off in

Saskatoon, Saskatchewan on January

9, 2015, they ended in Thunder Bay,

Ontario on March 21, 2015.

These conferences were organized

by the CLC in co-operation with

provincial labour federations,

municipal labour councils and affiliate

unions, like the IUOE. The two main

purposes of these conferences was to

prepare working Canadians for the

upcoming federal election which is

legislated for no later than October

19, 2015, and to inform participants of

how important it is to elect a federal

government that shares their goals,

values and vision for Canada.

Participants left the conference

ready to return and speak to their

communities, families and workplaces

on four key national issues: good jobs,

retirement security, health care, child

care. Four issues that are critical for

hard working Canadian women and

men.

The conference discussed the

current federal government's history in

dealing with these files since they took

power in 2006 and the current status of

each issue:

Good Jobs – Despite a steady stream

of radio and television ads touting

the successes of the government's

"economic action plan," the national

employment rate in June 2014 was

not much better than at the low of the

recession in June 2009. Today, Canada

has 638,810 fewer jobs than it did in

June 2008. Though some job growth has

happened, it has been concentrated

in an increase of precarious part-time

jobs with little future. Most impacted

by these changes in the labour

market have been young workers—

shouldering an unequal portion of

the unemployment rate. Meanwhile,

the federal government has drastically

expanded its Temporary Foreign

Worker (TFW) Program and reduced

the numbers admitted through the

permanent immigration program—

historically an important source of

labour for Canada.

Retirement Security – Seniors

are approximately 16% of Canada's

population, a number expected to

grow to 25% within a generation.

Alarmingly, a significant number

of Canadians are about to reach

retirement with inadequate savings

and limited access to good pensions.

Less than 40% of working Canadians

have access to workplace pensions. In

the private sector it is worse, with less

than 25% of workers having pensions

through their workplace. For young

workers the situation is abysmal,

with only 13% of those under 29

reporting workplace pensions. Despite

the terrible numbers, the current

government raised the age of eligibility

for retirement income benefits from

65 to 67 years—withdrawing support

just as a large number of unprepared

workers are about to retire.

Health Care – Universal Health Care

is a major part of the Canadian identity,

with access to health care being based

on an individual's need, rather than

a person's wealth or privilege. The

Canadian Health Care system has

never before needed the stewardship of

good strong government to make sure

that the system changes and improves

to address the always changing needs

of the Canadian people. Unfortunately

over the last nine years the current

government has not done their part,

instead eliminating the Health Council

of Canada and refusing to work with

the provinces and territories while

Image: http://globalelectioninsights.ca

making plans to slash $36 billion from

Canada's health care system.

Childcare – Access to good quality,

affordable childcare is a major problem

in Canada. For families with more than

one child, child care is the second

highest expense after housing—that is

if they can even find a daycare spot. The

importance of affordable and available

childcare is critical to every young

Canadian family regardless of political

stripe. If childcare costs exceed the

income of one parent, there is little

incentive for that parent to work.

In Quebec, the provincial universal

daycare system provides affordable

daycare for children from birth to age 5.

Currently half of all children in Quebec

under the age of 5 are enrolled. The

next federal government needs to look

at this critical issue and have a plan for

the future of Canadian children.

Armed with information on these

four issues, Canadian IUOE members

are ready to pitch in and work towards

positive change in the next federal

election.

BC Building Trades Board Meets With

Liberal Party Leader

MEMBERS OF THE BC Building

Trades Executive Board and the

Construction Labour Relations

Association of BC met recently with

Federal Liberal Party Leader Justin

Trudeau at the International Union of

Operating Engineers Local 115 office in

Burnaby, BC.

The meeting was an important

opportunity for the new leader to hear

about key issues in the construction

industry in BC.

Participants discussed the failures

of the Temporary Foreign Worker

program and its abuse by employers.

In 2013, the BC Building Trades

challenged the program when the

International Union of Operating

Engineers Local 115 and Labourers

Union Local 1116 took HD Mining to

court for hiring foreign miners when

local Canadians were available to

work. Since the case was dismissed

two other coal mines in the area have

closed leaving HD Mining the only

operational mine in the Tumbler Ridge

area. To date, not a single Canadian

miner has been hired.

Building Trades executive members

called on the Liberal leader to support

policy that puts Canadians first in

line for resource jobs, to which Justin

Trudeau agreed in principle.

Participants at the meeting also

discussed using apprentices on

publically funded federal projects.

Federal Conservative government

policy merely asks contractors to

report if they have apprentices

working on public projects. This does

not go far enough. Representatives

from the Building Trades asked the

Liberal Leader to commit to placing

apprenticeship quotas on federal

projects.

Over the coming months

representatives from the Building

Trades and IUOE Local 115 will

continue to meet with Liberal and New

Democrat Members of Parliament and

advance our issues in the upcoming

federal election.

[left] Liberal Party Leader Justin Trudeau

meeting with the British Columbia Building

Trades Executive Board in Local 115's

main Boardroom in Burnaby.

[photo] IUOE Local 115

20 INTERNATIONAL OPERATING ENGINEER SPRING 2015 21
---
In Memorium

February

2015

Local 003

Alameda, CA

Peter J. Ciaramitaro

Noland Clayton

Gary A. Dickson

Jack W. Hartley

Clarenc E. Heacock

Filbert Munoz

Frank Souza

Local 004

Medway, MA

Arthur J. Diaz

Ralph Mariano

Thomas H. Mcdonnell

Local 009

Denver, CO

Alva L. Bussian

Paul W. Pickard

Ronald M. Sanford

Local 012

Pasadena, CA

Ralph Allison

Matias Alvarado

Howard Arnett

J. Bucy

Noble Burton

James Crabb

Tony Crisalli

Junior Dodd

Douglas England

Edward Erranova

Walter Green

Carroll Hammons

John Henry

Loren Hill

Jay Hubbs

Quenton Jackson

Harold Jackson

Kenneth Knoettgen

Edward Lunsford

Al Nichols

Raymond Ruh

Robert Saville

Charles Sellentin

Charles Zard

Local 015

Long Island city,

NY

Albert C. Basile

Joseph Mugno

Local 017

Lakeview, NY

Frederick Eye

Edward N. Schurr

Local 018

Cleveland, OH

Irvin R. Betz

Roger Carper

James V. Delmonte

Richard J. Eisenmann

John D. Green

Jack Keverkamp

Eugene J.

Schadle

Steve Wasylko

Local 037

Baltimore, MD

Raymond B.

Bivens

William W. Moxley

jr

Samuel M. Walbeck

Local 049

Minneapolis, MN

Charles L.

Buehner

Fred Lange

Morgan Simonson

Local 066

Pittsburgh, PA

Joseph Casertano

William E. Crusan

Louie Lopshansky

Eugene D.

Moretti

John R. Nestor

Local 068

West Caldwell,

NJ

William T. Mcfadden

Local 101

Kansas City, MO

Harold Alexander

Paul Perry

Local 115

Burnaby, BC

Leonard A. Donaldson

Bernard Soucie

Wayne G.

Vanderberg

Local 137

Briarcliff Manor,

NY

George A.

Combs

Local 138

Farmingdale, NY

Charles J. Hein

John R. Moon

Richard Pearson

Donald L. Wright

Local 139

Pewaukee, WI

Lawrence Matkey

John Zinkowich

Local 147

Norfolk, VA

Carl E. Simpson

Local 148

Saint Louis, MO

Robert V. Coovert

Local 150

Countryside, IL

Sam A. Cipolla

James Northern

Billie Rucker

John L. Simonelli

Louis J. Sineni

William E. Snow

Sam J. Ventrella

Edwin E. Weber

Local 158

Glenmont, NY

Donald Ames

Frank Deluke

Joseph Fabozzi

Louis M. Kotasek

William A.

Toohey

Local 302

Bothell, WA

Earl D. Deater

Robert B. Dellinger

Rod W. Graber

Clarence B.

Green

Local 310

Green Bay, WI

Arba Rupert

Local 324

Bloomfield

Township, MI

Gerald D.

Dankert

William C. Huffmaster

Terry L. Marsh

Edward J. Simmonds

Gerald R. Spear

Robert Tyler

Local 351

Borger, TX

Clarence G.

Mcgehee

Local 369

Cordova, TN

Kenneth Lampley

Local 381

El Dorado, AR

Joe C. Nesbit

Local 399

Chicago, IL

Ronald C. Bartoli

Richard J. Miller

Local 400

Helena, MT

Lawrence D.

Crouse

Wallace H. Floren

Death benefits paid

February, 2015 - April, 2015

Local 407

Lake Charles, LA

Clarence Fisher

Local 428

Phoenix, AZ

Gary Jennings

Local 513

Bridgeton, MO

Joseph A. Meyer

Local 520

Granite City, IL

John W. Curtner

Fred C. Eisenhauer

William J. Sutter

Local 542

Fort Washington,

PA

James Caputo

John H. Haney

William F. Waring

Paul O. Whitted

Local 627

Tulsa, OK

Louis Davis

Local 649

Peoria, IL

John L. Hawksworth

Local 701

Gladstone, OR

Charles Anderson

Art Arionus

Eldon Hunt

Ewell Stephens

Local 793

Oakville, ON

Owen Doherty

Anthony Formica

Local 825

Springfield, NJ

John L. Cannon

Mario S. Castoro

Charles L. Cooke

James Egan jr

Alfred G. Tanguay

Local 912

Columbia, TN

Charles Odom

R .B. Potts

Lonnie W. Russell

Local 955

Edmonton, AB

William H. Badry

Edward Warkentin

March 2015

Local 003

Alameda, CA

James H. Audrain

William Bossert

Douglas Bratton

Richard Goshi

Theodor Johnson

L .C. Kent

Steven Maxwell

Local 004

Medway, MA

Walter H. Curtis

Robert C. Smith

Local 009

Denver, CO

Lynn Curtis

Clifford G. Lyons

Local 012

Pasadena, CA

Benito Acosta

Travis Cadwell

Fred R. Cannon

Manfred Carlson

Betty Carrillo

Peter M. Casarez

Jerry Claborn

Rodney Cook

Dante Dusi

Jack Edmondson

Diamond C.

Farr jr

Marion Freeman

Delbert Galloway

Harvey W. Glamuzina

Roger Key

Charles Kincaid

James Mc nulty

jr.

David Mcmullen

Jimmy Pryor

Local 015

Long Island city,

NY

Thomas F. Diamond

Anthony J. Frandina

Edward Oberlander

James D. Orlando

Gino L. Sozio

Local 018

Cleveland, OH

Donald Corder

Jackie L. Fuller

Russell Gatchel

Robert P. Gibbs

Richard G. Hite

Richard N. Joy

Jack R. Lashley

Alvin Meade jr

Gerald L. Shook

John R. Smith

Charles Stanford

Donald E. Woodruff

Local 020

Cincinnati, OH

William G.

Grooms

Local 036

Clyde M. Hedin

Local 037

Baltimore, MD

Harold W. Hosier

Local 049

Minneapolis, MN

Vern C. Carlson

Douglas M.

Hegna

Edward O. Johnson

Paul J. Kloeckl

Ernest E. Marquette

Arthur T. Olson

Local 057

Providence, RI

Francis R.

Pearcey

Local 061

Richard Karpinski

Local 066

Pittsburgh, PA

John J. Bruno

Frank Caffro

Edward G.

Codori

Eugene Fedders

Raymond Hongisto

Dewitt B. Palmer

Joseph J. Phillips

Otto L. Stricek

Local 068

West Caldwell,

NJ

Charles Devito

Local 098

East Longmeadow,

MA

Gordon N. Owen

sr

Local 101

Kansas City, MO

Beverly G. Heim

Sam Mccoun

James Mcmenemy

James I. Stanaland

Local 103

Indianapolis, IN

Charles E. Didion

Donald G. Draper

Edmond

Gryszowka

Local 115

Burnaby, BC

James G. Clouston

Douglas G. Davis

Richard Mcnamara

Ronald R. Roshinsky

Gordon W. Street

Kenneth J. Wakeman

Local 139

Pewaukee, WI

Francis C. Bitters

Leslie G.

Boustead

William N. Graff

Edward Klinkhammer

John Oswald

Millard C. Sorenson

Local 147

Norfolk, VA

Johnie L. Miller

Local 150

Countryside, IL

Raymond J.

Andersen

Vincent Chirillo

William P. Convery

Ernest W. Cureton

Edward R. Eisner

Thomas Feltenz

Paul F. Halter

Edward Heissler

John R. Ladgenski

Sam Nuzzo

John Pohar jr

Lee Rannfeldt

Daniel J. Rich

Ruben Riemer

Richard L.

Shryock

William C.

Tomsovic

John L. Vittori

Richard Webber

Wilbur W. Wright

John W. Zuidema

Local 158

Glenmont, NY

Milton E. Marchand

Local 181

Henderson, KY

Thomas J. Chapman

John D. Clark

Meredith W.

Cloud

Howard L. King

Local 234

Des Moines, IA

Donald G. Steinfadt

Local 286

Auburn, WA

Ewald J. Havist

Local 302

Bothell, WA

Ben Heflin

Chester B. Hill

Byron A. Peterson

Bud Shauf

Local 303

Julius Z. Zsigmondovics

Local 312

Birmingham, AL

Gerald Crews

Local 318

Marion, IL

Donald E. Johnson

Local 324

Bloomfield

Township, MI

Daniel T. Owens

Alpha Phegley jr

Edward L. Poe

Dale A. Schrader

Robert J.

Shaughnessy

Local 399

Chicago, IL

Thomas M. Corridon

Local 400

Helena, MT

Everett W. Allen

Preston Blum

Local 406

New Orleans, LA

Joseph T. Blanco

Marvin K. Griffin

Henry L. James

Nathan Laporte

Harlwin A. Miller

Calvin O. Wainwright

Local 407

Lake Charles, LA

H .T. Worthington

Local 478

Hamden, CT

Edwin R. Bienvenue

John A. Guros

Howard W.

Knapp

Nicholas Martino

Local 501

Los Angeles, CA

Henry Corbin

Robert H. Fox jr

Local 513

Bridgeton, MO

Baptiste Bonzani

jr

Johnnie R.

Davolt

Sam M. Poindexter

Local 515

Thomas E. Marlow

Joe R. Morris

Local 520

Granite City, IL

Daniel A. Wofford

Local 525

Richard T. Pile

Local 571

Omaha, NE

Alvin J. Skow

Local 589

Joseph P. Boggins

Local 612

Tacoma, WA

Frank R. Valenta

Local 627

Tulsa, OK

Don Briscoe

James M. Oliver

Local 647

Knob Noster,

MO

Gayle E. Honey

John A. Petrick

Local 653

Mobile, AL

James P. Walker

Local 670

Ardmore, OK

Rodolph Smith

Local 701

Gladstone, OR

Robert E. Billings

Frank Mcjunkin

John Short

Local 825

Springfield, NJ

Nunzio J. Dagostino

Gregory Kapsky

jr

Merritt Mead

Donald D. Reed

Bernard Wayman

Local 841

Terre Haute, IN

Harley Stremming

Local 891

Brooklyn, NY

Leonard E. Polikoff

Local 912

Columbia, TN

Lewis A. Hann

Local 917

Chattanooga, TN

C .W. Gates

Local 955

Edmonton, AB

Robert Marshall

Henry

Stallknecht

Local 965

Springfield, IL

Richard L. Grubb

Oscar L. Kuder

April 2015

Local 003

Alameda, CA

Antonio Barela

Rodger Eliason

Robert H. Fieguth

Curtis Flowers

Dean Jennings

Jay S. Ortmayer

Harvey Powell

Ted A. Scott

Ross E. Sliger

Felix Torres

Albert N. Walker

Local 004

Medway, MA

George C. Duquette

John S. Federico

Robert F. Kilduff

Robert C. Kizik

Emil J. Osiecki

Charles D. Sayers

Kenneth Wilder

Local 009

Denver, CO

Charles N. Bell

Raymond L.

Brillhart

Local 012

Pasadena, CA

Floyd Garrett

Cruz Longoria

William Mcburney

Joseph Mcelroy

V. Nietzke

Richard Payton

Harrison Proctor

J. Smith

Darrell Ward

Local 015

Long Island city,

NY

Sebastian J.

Dimarco

Harold Hayhurst

Howard C.

Heitner

Howard E.

Plattner

Edwin Slavin

Local 017

Lakeview, NY

William C. Brothers

Walter Evaniak

Earl Mcdonald

Local 018

Cleveland, OH

Warren L. Davis

Harold J. Davison

Harry C. Hagemann

Robert N. Holler

Homer E. Hysell

Richard Lokar

Donald J. Perry

Fred F. Ritchie

Keith Swalley

John Syrowski

Robert A. Waller

Local 030

Richmond Hill,

NY

Michael J. Hach

Local 037

Baltimore, MD

James V. Dunnigan

Local 066

Pittsburgh, PA

Jack E. Harding

Local 068

West Caldwell,

NJ

Fred Forster

Weldon Kane

Local 101

Kansas City, MO

Harold Mc granahan

Robert C. Miller

Wilbur G. Wright

Local 103

Indianapolis, IN

Herman Hooten

Local 132

Charleston, WV

H .E. Cavender

Roy R. Meadows

Local 139

Pewaukee, WI

Morris Blihovde

Gilbert Kessenich

Peter L. Lybert

Theodore P.

Mutanen

Eugene Sosalla

Local 150

Countryside, IL

Richard A. Bednarcik

William Chester

John Ciccone jr

...Cont'd page 31

22 INTERNATIONAL OPERATING ENGINEER SPRING 2015 23
---
International Union of Operating Engineers

1125 17 th Street, NW

Washington, DC 20036

NON PROFIT ORG

US POSTAGE

PAID

KELLY PRESS, INC.

Printed in the U.S.A.

Here's one more thing

union families can share.

Everyday savings add up with union-member-only discounts from

Union Plus on a long list of products and services including discounts on

movie and theme park tickets, flower delivery, pet services and products,

car rentals, wireless services and more. In addition, there's three credit

card options designed to meet the needs of hard working union members.

Learn more at UnionPlus.org

INTERNATIONAL OPERATING ENGINEER • SPRING 2015