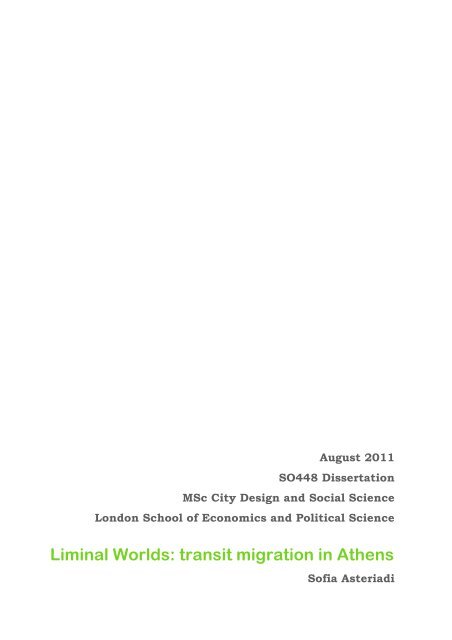 2011-12 | LSE_Liminal Worlds: Transit migration in Athens
LSE Cities_Dissertation by Sofia Asteriadi
LSE Cities_Dissertation by Sofia Asteriadi
SHOW MORE
SHOW LESS
You also want an ePaper? Increase the reach of your titles
YUMPU automatically turns print PDFs into web optimized ePapers that Google loves.
!!

!

!

!

!

!

!

!

!

!

!

!

!

!

!

!

!

!

August 2011

SO448 Dissertation

MSc City Design and Social Science

London School of Economics and Political Science

Liminal Worlds: transit migration in Athens

Sofia Asteriadi
---
!

!

!

!

!

!

!

!

!

!

!

!

!

!

!

!

!

!

!

!

!

!

!

!

!

!

!

!

!

Sofia Asteriadi

s.asteriadi@gmail.com
---
Liminal worlds: transit migration in Athens

!

Transit migration is a relatively new concern within the political and scientific debate on

human mobility. However, the phenomenon appears to have significant implications at

various levels, as transit migration routes come across a broad geographical range and

interrelated sociopolitical and economic fields. Crucial points of these routes are the cities;

those of origin and destination as well as the cities of transit countries. The latter, as

intermediate stations, play an important role in determining the course of migration while

are simultaneously affected by the same flows, which are often stemmed at this point. Thus,

transit cities, hide glimpses of various spatial and social realities that migration flows bring

or generate within their urban fabric. These realities become distinguishable when one gets

into the same rhythms and follows the urban processes that create them rather than drawing

conclusions from afar. This paper focuses on the city of Athens, Greece and the narratives of

transit immigrants who inhabit spaces of 'liminality' within its urban core. Based on the

Athenian urban context, it researches the spatial and social processes of appropriation to

their new environment, to question the relation of place, space and the sense of belonging.

!

!

!

!

!

!

!

!

!

!

!

!

Figure!1!

!

1!
---
Acknowledgments

!

I am deeply grateful to Mr Apostolos Veizis, Head of Programmes Support & Institutional

Relations at Doctors without Borders 1 in Athens and Miss Natassa Vourtsi, Social Worker

at The Greek Council for Refugees 2 in Athens who generously gave me their time,

information and guidance.

I am also indebted to Dr. Maria Theodorou, Architect and Director of Sarcha 3 , and the

whole team for their information about Gerani.

Of course, I owe the most significant thanks to Mammon and Faruq for introducing me to

people and guiding me along routes in the city I would have never guessed before. And to

Amar, Sadeh and Kostas who told me their stories and I wish them all good luck.

Finally, I owe my gratitude to my tutor, Dr. Savvas Verdis for his advice, to Dr. Fran

Tonkiss for her valuable insights, and to the LSE Cities Programme for making me see my

city under totally new glances this summer.

!

!

!

!

!

!!!!!!!!!!!!!!!!!!!!!!!!!!!!!!!!!!!!!!!!!!!!!!!!!!!!!!!!!!!!

1 !Médecins!Sans!Frontières!/"Doctors!Without!Borders!annex!of!Athens:!15!Xenias!Street,!115!27!Athens@GR,!www.msf.gr""

!

2 !!Greek!Council!for!Refugees!@!25!Solomou!Street,!106!82,!Athens@GR,!www.gcr.gr!

2 !Greek!Council!for!Refugees!@!25!Solomou!Street,!106!82,!Athens@GR,!www.gcr.gr!

!!

3 !SARCHA!(School!of!Architecture!for!all),!http://www.sarcha.gr/!

SARCHA's!research!team!worked!in!Gerani!(a!neighbourhood!close!to!Omonoia!Square,!between!Athinas,!Euripidou,!

Epikourou!and!Peraios!Street)!from!July!to!November!2010,!exploring!the!urban!accumulation!of!city!resources.!They!

collected!data!on!people!and!their!activities,!buildings!and!un@built!spaces,!the!area's!smells,!natural!ventilation!and!

sunlight!conditions.!The!data!was!classified!in!three!categories!@!human,!physical!and!natural!resources@!and!transferred!

onto!multilayered!maps!to!facilitate!complex!searches.!!

The!Gerani!pilot!study!was!commissioned!by!the!Hellenic!Ministry!of!Environment,!Energy!&!Climate!Change.!

(http://sites.google.com/site/ccrpkpgerani2010/)!!!

!

!

2!
---
Liminal worlds: transit migration in Athens

Table of contents:

1. Introduction:!The!city!from!above!

2. An!overview:!!

a. The!Mediterranean!passage!

b. Transit!migration!through!Greece!

3. Gerani!!

4. Space!and!place!

5. The!unbuilt:!squares!and!sidewalks!

6. The!semi@built:!staircases!and!arcades!

7. The!built:!mezzanines!and!corner!shops!

8. Conclusions!!

!

!

!

!

!

!

!

!

!

!

!

[Word!count:!10.560]!

!

Figure!2!

!

!

3!
---
Introduction: The city from above

Moments come when for some unpredictable reason we find ourselves on rooftops or even

higher taking views of the city. Outside the streets' daily grasp, the urban totality becomes

seemingly visible. From above, Athens seems much larger than it is, as the dense and

complex urban structure makes its centre and suburbs disappear into a seamless blend of

concrete sprawling across the Attica Basin, from the feet of its surrounding mountains to the

sea. The uniformity of the landscape is slightly broken by few large archaeological sites and

green hills. Descending a level, my optical tour is continued from the summit of a hotel café

in a central point of Athens, close to Omonia Square. Standing in the middle of the 'urban

island' (Certeau,1984:91), this overlying world made of urban rooftops looks like a new

ground; a continuous terrain, spreading at almost thirty meters above ground level. The

narrow, labyrinthine character of the Athenian streets leaves no scope to the ground; a few

major highways traverse the expanse, leading to the main city's exits, including the port of

Piraeus. The din of streets remains a distant murmur, yet the view of the city's outskirts is

gone and glimpses of urban life become more detailed. The atmosphere is hot and smoggy,

black soot covers the multistorey blocks that stand tall and close together, dominating the

landscape within a large radius from my vantage point. A dense mixture of apartment and

office buildings, the majority looks abandoned and dilapidated. On their rooftops and upper

balconies, improvised structures and slums occupy the space, witnessing an abundantly

populated interior; sporadic reflections of their underlying world.

Standing on the Athenian rooftops, the observer can read in the urban text a world in

constant change. Athens is the locus where a large percentage of the population of Greece is

concentrated, a capital of approximately four million people 4 . A city with a heavy past, which

is currently undergoing another major transformation period. One of the grounds for its

change is that it has become a transit station for a large number of immigrants traveling to

Europe, mainly from Africa and Southern Asia. Its urban core in particular is witnessing

rapid changes in its population, which is growing and becoming more diverse, transforming

it into a melting pot of people and influences. However, the limited assimilation of the

newcomers, due to ineffective and incoherent migration policies at different levels, puts them

in a permanent 'transit' state. Moreover, the increased insecurity and unemployment rates

caused by the economic downturn, has inflated crime, xenophobia and deterioration in many

!!!!!!!!!!!!!!!!!!!!!!!!!!!!!!!!!!!!!!!!!!!!!!!!!!!!!!!!!!!!

4 !Metropolitan!region!ratings!by!Detailed!Census!Results!2011:!

http://www.statistics.gr/portal/page/portal/ESYE/BUCKET/General/resident_population_census2011.xls!

!

!

4!
---
already devalued neighborhoods of Athens, leading to phenomena of social and spatial decay,

adding to their negative connotation.

Yet, as in de Certeau's (1984:93) urban walks, the ordinary practitioners of the city live

below the level at which this illusionary visibility begins; their walks unconsciously writing

the urban text and their bodies making use of spaces that cannot be seen. Taking a closer

view to these neighbourhoods, this immigrant population - which is often treated as a mass

and addressed as one of the city's pathologic conditions - reveals its complex character: an

increasingly diverse crowd redrawing boundaries in space and time in order to adapt to their

new environment and gain a sense of belonging. By sharing space for leisure and social

integration or informal labour exchanges, people 'on the fringe' heavily depend on

socialisation in the public realm for their identity-building and economic survival. Thus,

daily practices transform the urban scene as spatial access is negotiated within migrant

groups and among migrant groups and host society over time. Moreover, same practices are

used to shape coherent personal biographies as immigrants build in space their own points of

reference in a world that urges them to be in constant movement. In these interpretations,

the definition of space and place as well as their interrelation is also negotiated and

questioned.

Often, social groups who represent 'undesirable' social elements and perceived to be

'polluting' or threatening the mainstream, become imbued with a level of unreality. These

are liminal beings, non-corporeal inhabitants of an in-between space (Katz,2011:20). While

outlining the marginal phase of initiation in tribal cultures, Arnold Van Gennep (1960:74-

75) describes the notion of liminality as a condition that is characterised by ambivalence; the

Figure!3:!Views!of!the!city!from!the!Acropolis!hill!(left)!and!Omonia!Square!(right).

!

5!
---
'initiand', or 'liminal' is neither what one once was, nor yet what they will be. The temporary

stage plays a considerable role, however the cut-off from the past is permanent and the

journey to a future, constrained condition, inevitable. Victor Turner (1987:8-9) asserts that

liminality, which represents the structurally 'invisible' (though physically visible), is the

seedbed of both negative and positive structural assertions. It is not my purpose here to

engage in a study of the many permutations of liminality; however, the above two

perspectives of the same concept are often addressed in this essay.

Methodology

This work is based on interviews with immigrants who live or have spent a period of

time in Gerani, a central area of the city of Athens. It draws from their narratives to research

their means of appropriation in the urban environment. I focus specifically on newcomers

undocumented immigrants from Africa and Asia. Sampling for this work relayed on social

networks and key contacts with which I conducted unstructured interviews. Information has

also been achieved through interviews with immigrant organisation officials and an

architectural team who has previously researched on and mapped the area.

The analysis begins with a brief overview of transit migration and migration policies in

the European, Mediterranean and the Greek context. Then it moves to the level of the city

to connect specific sites from Gerani with the immigrants' daily practices and the integration

states they have come across during their stay in Athens. These sites are either visited and

observed during a three-week fieldwork or are based on interviewees' descriptions. Several

points of connection between these populations and the dominant society are also briefly

demonstrated in the end. This work aims at coming to conclusions about place identity and

the way this is developed in cities through social spatialisation and under the particular

conditions of mobility.

!

6!
---
The Mediterranean passage

"Once on shore, political organs dilute the sea's raw democracy, as if secretly wishing for the end

of politics or a delivery from the sea's unknowns. Land and sea again appear to be a pair or two

halves of a single world. Yet the site of this contemplation is the shore, the interface between raw

democracy and political organization… interfaces between worlds, they form a perpetual

wilderness with limitless surface area – always newly minted, and often underexplored. However

rough they may be, these seas are also spacious, mixing different waters and different political

constitutions" (Easterling,2005:71).

The Mediterranean Basin has always been a natural global border managed differently

according to historical periods and geographically embedded power relations. The sea's

functioning as a common space for trade, warfare, colonisation and free-will migration

exemplify Braudel's conceptualisation of the 'Mediterranean as a human unit', while the

various historical patterns of intra-migration around and between its coasts confirm the long

tradition of pan-Mediterranean mobility (in King,2001:2-3).

However, as Russell King cites (2001:2-5), the above reality mainly corresponds to

migration patterns before and since the early postwar decades: Subsequently, between the

1950s to mid 1970s, the Mediterranean Basin transformed to a reservoir of migrants

supporting the labour needs of the big cities and major industrial zones of northern Europe.

Following this transitional period, a new configuration of Mediterranean migration sets the

basis of the current trends in the area. The EU accession of southern European countries

and the collapse of communist regimes in the early and late 1980s renewed and intensified

alternative migratory routes from this point onwards. Incomplete migration control policies

as well as the Schengen Agreement in the 1990s reactivated the number of northward

migration flows from the Middle East, Asia and sub-Saharan Africa transiting the

Mediterranean.

King also highlights (2001:4-11) that apart from its geographical location, the southern

European crossroad faces increased migrant movements due to the nature of its boundaries,

the tradition of its regions and their changing economic and demographic context. Even

within the Basin, short stretches of water separate societies with significant gaps in material

wealth, opportunities and quality of life, which increased with the 'Europeanisation' of the

Mediterranean states. Moreover, the long coastlines, the mountainous external borders and

a vital maritime trade and tourist industry, imply the continuous movement of people and

goods, making the Mediterranean by its nature a much more complex frontier to monitor

and control.

!

7!
---
Figure!4

However, the demand for immigration into the EU is increasing and remains at much

higher levels than the existing opportunities for legal entry. The growing unrest in the

Middle East and Africa during the last decade, as well as the recent political turmoil in

Tunisia, Egypt and Algeria, intensified mobility around the basin and by the mid-2000s,

migrants heading to southern Europe accounted for more than 60% of the continent's new

arrivals (Papadopoulou-Kourkoula,2010:15-35;Itano,2010). The flexibilities of mobilities in

the area contradict conventional definitions of migration. People move back and forth,

through and onward the Mediterranean, pausing for shorter or longer periods: migration

flows that fluctuate along with shifting policies, striving to adapt to a European, national

and local level (King,2001:9-12). The Mediterranean remains in a stranded, mid-way

position between the 'advanced' societies of the north and the less developed parts of the

world at its doorsteps. When considering north-south imbalances in a globalised world, it

represents one of the most active friction-planes hosting sharp contrasts and phenomena

deriving from global inequality and instability (Ribas-Mateos,2001:22; Nicolaidis,2007:126).

Figure!5!

Transit migration through Greece

Transit migration is a phase that cuts across various categories rather than a distinct

type or policy area; it refers to the condition of 'transit' within which migrants, asylum

seekers and refugees may find themselves at some point. In fact, it can be defined as a

!

8!
---
process that plays a central role in determining the course of migration, challenging the

traditional linear view of distinct phases between departure, arrival and integration

(Papadopoulou-Kourkoula, 2008:4-5).

Greece is a transit hub, primarily due to its geographical position. According to

UNHCR (2011:8) it was the sixth most popular destination for asylum seekers in the

industrialized world during 2007. However, the Greek asylum policy is extremely

restrictive, and the serious deficiencies of reception infrastructure and migration policy

understate the opportunity for effective provision of protection and settlement.

Nevertheless, a well established informal economic activity, wide social networks, and the

existence of small-scale enterprises create an environment that absorbs and sustains

undocumented labour. Semi-legality is tolerated and survival is possible (Papadopoulou-

Kourkoula,2008:48).

According to Apostolos Veizis 5 , the number of undocumented migrants arrested and

retained at the Greek-Turkish borders has doubled since 2005; inward flows have

significantly risen since Spain and Italy intensified their border patrol policies 6 putting

additional pressure on Greece which receives today a 75% of immigrants travelling to

Europe:

"The burden is heavy, and even if a part of it is shared with the EU through common policies,

most of them are still in the making and fail to address real problems. The current Greek system

for the allocation of funds does not reflect the need's real dimensions and bureaucracy does not help

either. Frontex 7 provides support and surveillance at the borders, yet it is questioned whether

increased measures can safeguard human rights. Most people have survived long and perilous

journeys, hiding in crammed trucks or crowded boats. Lacking legal ways to enter, many had to

use the services of smuggling networks. Once they arrive in Greece, they are systematically

detained in overcrowded facilities without discrimination, up to 18 months. We try hard to find

resources to support sanitary conditions and healthcare" (Interview: 19/07/2011).

The Greek legal framework for asylum and migration has started to develop only

recently. Until 2001 issues were regulated by a 1991 law, not responding to current needs.

The two additional laws of 2001 and 2004 changed the perception of migration as a mere

security to a home issue, yet did not manage to overcome long-standing problems, such as

!!!!!!!!!!!!!!!!!!!!!!!!!!!!!!!!!!!!!!!!!!!!!!!!!!!!!!!!!!!!

5 !Mr!Apostolos!Veizis!is!the!Head!of!Programmes!Support!&!Institutional!Relations/!Doctors"without"Borders0Athens/GR!

6 !It!refers!to!the!border!fences!that!have!been!constructed!between!Morocco!and!the!Spanish!cities!of!Melilla!and!Ceuta!in!

2005!and!the!'friendship!treaty'!between!Libya!and!Italy!in!2008,!which!allows!for!immediate!repatriation!of!illegal!

immigrants!arrested!by!the!Italian!coastguard.!

7 !Frontex!is!the!European!Union!agency!responsible!for!coordinating!the!Member!States'!actions!in!the!implementation!of!

Community!measures!relating!to!the!management!of!the!external!borders.!It!started!to!be!fully!operational!in!2005.![Ref:!

http://www.frontex.europa.eu/]!

!

9!
---
the duration and flexibility of residence and the provision of work permits (Papadopoulou-

Kourkoula,2008:50-51).

"Only a 0.3% of asylum seekers obtain a legal permit today. The great majority of illegal

immigrants remain undocumented. But deportation is not an option. People come back after a

while and past experience has shown that temporary migration most often becomes permanent"

(Interview: 19/07/2011).

The population group arriving in Greece is characterized by great diversity. People

originating from Eastern Europe and the Balkans 8 arrived during the 1990s and are well

settled as migration happened gradually and is now stabilized. Most Africans and Asians

arrived after 2000:

"There are great numbers of refugees from Morocco, Algeria, Pakistan, Afghanistan, Iraq and

Kurdistan – mostly young men -fewer women come on their own or with families from Iran,

Somalia and Ethiopia. Many are heading to Norway and Germany, but it depends on their

networks. Usually plans change. Migration routes are also changing constantly. For instance,

with Bulgaria joining Schengen area soon, we are expecting a new shift"

(Interview: 19/07/2011).

According to information from Ms Natassa Vourtsi 9 , there are many different categories

of immigrants and cases of refugees but are rarely treated according to their differences. In

the common sense, illegality is usually identical with the lack of papers. Authorities too, fail

to distinguish between those who actually need asylum and protection and immigrants who

entered the country with tourist visas and remain undocumented. Thus, refugees are left

alone to deal with the situation:

"The majority does not lodge an asylum application in Greece, in order to obtain one easier in

another European country. But this accounts for those who manage to skip border control. Lately,

due to Frontex, most are declared when entering the country and - according to the Dublin II

regulation 10 - they must apply within 30 days or go back. Then, they should renew their pink card

(provisional permit) every six months. Today we have 45.000 applications pending for even 10

years. There is a new law to tackle the problem since 2010. Yet capacity is still low. Settlement is

not enough, not even for half of them. Without an address they are not eligible for any kind of

social provision. A large proportion declares false identities to be treated favorably when at

borders. Thus, they get trapped in an institutional gap, in a situation between legality and

illegality. Today, a 40% of this population lives in Athens" (Interview: 20/07/2011).

!!!!!!!!!!!!!!!!!!!!!!!!!!!!!!!!!!!!!!!!!!!!!!!!!!!!!!!!!!!!

8 !Usually!from!Albania,!Georgia,!Romania,!and!Bulgaria!

9 !Ms!Natassa!Vourtsi!is!a!Social!Worker!with!The"Greek"Council"for"Refugees!in!Athens!

10 !The!Dublin!Regulation!is!a!EU!law!that!determines!the!EU!Member!State!responsible!to!examine!an!application!for!asylum!

seekers.!It!does!not!contain!any!mechanism!to!ensure!that!responsibilities!are!shared!in!a!balanced!or!equitable!manner.!It!

was!adopted!in!2003.[Ref:!Kok,!Laura!(2006),"THE!DUBLIN!II!REGULATION!A!UNHCR!DISCUSSION!PAPER",![Online]!Av:!

http://www.unhcr.org/refworld/pdfid/4445fe344.pdf!]!

!

!

10!
---
Gerani

An Icarian fall follows my flying above these waters, to the mobile and endless

labyrinths of the city far below, "into the dark space where crowds move back and forth"

(Certeau,1984:92). Walking around this part of Athens can be challenging. Most pavements

are cracked, sidewalks are packed with vehicles and litter and traffic is heavy. Yet the

overlapping of archaic, ottoman and modern pathways make every corner surprisingly

interesting. Omonia Square has historically been a main transport hub; its role as meeting

point of routes and flows throughout the city justifies its cosmopolitan character. I begin

mixing with a diversity of ethnicities: a bustling, colorful crowd passing by or loitering on

the square and the street corners around it, inhabiting the city in its own unique way.

Behind the traffic maelstrom, overcrowded conurbations accommodate the majority of this

population. Gerani is one of these neighbourhoods, an area adjacent to the traditional

commercial triangle in the historic core of the city of Athens.

Figure!6:!Omonia!Square

Although still a nascent phenomenon, Athens is starting to show signs of ghettoization

in places of its urban core (SARCHA:2010). But entering Gerani does not imply the crossing

of any spatially disguisable boundaries. It is the city's urban form, bound to its traditional,

small property construction and mixed-used urban development that leaves no place for

significant socio-geographic distinctions to consolidate (Leontidou,1990:8-23). Like in every

central Athenian neighbourhood, small squares are scattered along appropriate sections of

the main thoroughfares and you can easily lose yourself amid its narrow streets. The

different aspect of the city reveals itself through a closer observation: shadowy figures

huddling in semi-secluded places, homeless begging or sleeping on building's stoops and

!

11!
---
illegal street vendors at every step. A smell of human waste and other filth mixes with the

smell of spices from the open markets while deteriorated buildings and doors behind iron

bars stand next to crowded kiosks, small bakeries and textile merchandise displayed on

sidewalks.

Figure!7:!Gerani

!

12!
---
Undoubtedly, the area is a well-evolved cluster. People from multiple origins gather

here to gain access to services and information, seize employment opportunities and share

accommodation. According to Achmet Moavia 11 , the city centre has become the life of the

immigrants. Whether or not someone lives there, they will eventually have to pass by at

some point, to use a service or cover a need:

"There is a whole new form of life growing in these neighbourhoods, one on its own. It seems -

and it is - chaotic and complex, even though this is merely perceived as a mass of immigrants by

public opinion. Even for the state, which does not help much; on the contrary, authorities' actions

increase problems. In some cases, when crimes or other sort of events are published, they intervene,

but usually to increase policing or dislocate groups. Interestingly, the informal activities that have

sprouted over time actually cover pieces that are missing and should be formally addressed. When

a structure is missing or cracked, the gap will somehow be replaced."

In relation to the rest of the city, Gerani is a leftover or a marginal place, dominated by

immigrants, crime and poverty. Rob Shields (1991:3,4,276) suggests that being 'on the

margin' indicates an exclusion from 'the centre'; yet relations which bind peripheries to

centres – be it economic, social or political – do not allow for complete disconnection, but

tend to keep these two together in a series of binary relationships. Peripheries here are not

necessarily geographical. Marginal places can be those on the periphery of cultural systems

or the sites of illegal or disdained social activities; and as such, their marginal status occurs

only through a complex process of cultural work and social activity. Similarly, Stallybass

and White (1986:2-3) suggest that in the European context, the cultural categories of the

social and aesthetic and of the physical body and geographical space are constructed within

dependent and interrelated hierarchies of high and low. This is a process of categorisation

through simple binary oppositions, within which further classifications can be made. In that

sense, the focus on marginal places can provide critical insights into the conditions of the

economic and cultural centres these are linked to, rather than just constituting "a voyeuristic

tour of anomalies and limina" (Shields,1991:276); and the interaction of the liminal with the

entrenched creates the possible conditions of reconfiguring socio-cultural entities and space.

!!!!!!!!!!!!!!!!!!!!!!!!!!!!!!!!!!!!!!!!!!!!!!!!!!!!!!!!!!!!

11 !Achmet!Moavia!is!the!President!of!the!Greek"Migration"Forum!in!Athens.!His!interview!was!part!of!a!conference!entitled!

Another"City"is"Possible,!which!took!place!at!the!Benaki!museum,!Athens,!on!March!15,!2011.![Reference:!Sarcha@Gerani"

Pilot"Project!Blog![Online],!Av:!http://vimeo.com/22362536,!Accessed:04/08/2011]!!

!

13!
---
Figure!8

Figure!9

!

Figure!10:!Maps!of!Physical!and!Human!

Resources!of!the!area!by!the!'Sarcha'!team.!

14!
---
Space and place

At this point it is crucial to highlight the importance of the spatial to any study of

culture and social action. The spatial is an integral part of our notion of reality, truth and

causality as culture remains an unclear abstraction until actualized in a particular site or

situation (Shields,1991:7). Relph (1976:78) notes the inseparable relationship of individual

and place and defines it as an unconscious involvement, a continuous dialectical interchange

where a person seeks to identify with and through their environment. Incorporating

Heidegger's idea of 'place' and 'dwelling' (in Shields,1991:15) he associates people's 'deep'

empathy with their dwelling with instincts and attitudes of domination and control over the

environment. By place, therefore, a stricter determination of space is often attempted.

Broadly defined, place usually expresses human encounters with particular locales and a

spatial setting of recognisable and persistent social and cultural meaning. It can pertain to a

territory of significance with particular environmental qualities, distinguishable from others.

In any case, place implies something about somewhere – like scale, social context, cultural or

spatial attributes (Relph,2009:24). That is why place is associated with a sense of familiarity,

as it partly addresses the desire of fixity and the protection of identity against mobility and

change (Massey,1994:149-151).

The flexibility of the notion of 'place' allows it to embrace a wide range of possibilities,

contrary to 'space', which is often regarded as a uniformly arranged assemblage of

geometrical elements that might structure, constrain or generate certain forms of movement

or interaction. Thus, 'space' usually constitutes the pre-condition (material and geometric

properties) or the opportunity, for the production of places (human activity) (Relph,2009).

However, when Massey (1994:146-156) describes the unique character of Kilburn, she claims

that there is a non-static side of this 'sense of place' and an ongoing linkage between a place

to the rest of the world through memory and imagination. Similarly, she (1994:153) doubts

the connection of boundaries with the concept of place and the possibility of its identification

with a 'community' within an exact geographical region. Eventually, she implies the

existence and interplay of many places within a broader space and a blurring of physical and

conceptual boundaries. Bill Hillier (2007:15-20) ascribes both physical and social attributes

to the concept of 'space': the spatial and the physical inherently include a social value and

provide further elaboration of this value through their transformation. Human activities

themselves constitute spatial patterns and space is more than a neutral framework. Hence,

when it comes to moving from the simple space to the intelligible, it is the process that

counts for more. This passage toward the configuration of space, although inclusive of the

!

15!
---
'primitive', cannot be fully explained by natural law or biological 'imperatives' such as

'territoriality', since it is based on a far more complex relational scheme (Hillier,2007:18,69).

So place and space are both products of embodied social practice. Yet, they are more, as

far as their interconnections are concerned. I suggest that their difference, though, may lie

on different systems of social practice in relation to scale and time. Thus I focus on the

notion of spatiality – as the act of relating, involving and understanding the structures of the

spaces we encounter. It is highlighted in Certeau's concept about the unconscious practices

through which people appropriate space and cultural products, making them their own.

These processes, as he puts it (1984:97,117) imply "relations among differentiated positions",

and spatial tactics as walking and wandering – thus 'space' is a 'practiced place' composed "of

intersections of mobile elements".

The following case histories of immigrants in the neighbourhood of Gerani link the

material and the abstracted, socio-spatial aspects of their practices of adaptation to their new

environment. Specific spaces - or a combination of spaces - are used as a setting for the

narratives to unfold. Here, the 'unbuilt', is a spatial attribute, not freed from its physical

fixation and symbolic form. Its inherent fluidity, though, allows for differentiations in

relation to the restrictions that can be imposed at all levels: from unbuilt to built, unused to

used, illegal to legal. Thus, the 'built' and its variations address both physical attributes and

social patterns in space.

!

16!
---
The unbuilt: squares and sidewalks

Amar is from Senegal and Sadeh from Afghanistan. They are in their mid-twenties.

They both travelled for months, less than a year ago, to escape poverty, racism and strict

authoritarian regimes. They have obtained the Greek pink-asylum card. Sadeh belongs to

the race of the Saharas and he was able to communicate fairly well with Mammon who

arrived in Athens from Bangladesh, following the same routes through the Greek-Turkish

borders. Mammon introduced me to Sadeh and helped us communicate, as he is now familiar

with the Greek language. Amar, on the other hand, took the sea-route to Greece. He was

detained for three months on the island of Mitilini, before he made his way to Athens and

subsequently to the neighbourhood, following instructions from those who had preceded

him. All three came from different places but dream of similar destinations, have common

memories and share the same spaces.

I met them one afternoon in Eleutherias Square. It took me sometime to get there,

observe the flow of the passersby, and gain a sense of familiarity. For Sadeh, though, this

sense seemed to be well-developed; the square furniture arrangements and the concealed

corners between the trees created a sense of privacy, while simultaneously offered an open

view to the rest of the area. It is often that Sadeh, Mammon, and other immigrants from

Asia gather there to meet friends, socialise, and get job related information. They also visit

the Theatre square, a few blocks away, around which there are several services they use in

order to call or send money back home. And sometimes, usually on Sundays, they meet at

Omonia Square; the latter is considered a broader meeting point, where everyone gets an

insight of the immigrants' flows and a chance to "get an idea of the new arrivals and where the

oldest stand" (Interview: 22/07/2011). Yet this is not a space that 'belongs' to a certain

majority, apart from particular corners that diverse groups use. Continuing my research I

discovered that there is an established 'square network' around the city centre and each

serves a certain purpose for the different migrant groups. Africans, on the other hand, like

Figure!11:!Eleutherias!Square

!

17!
---
Amar, mostly use the sidewalks as a terrain of social exchange, as they are often involved in

the selling of cheap Chinese imports and spend a lot of time on the streets as informal

vendors.

Amar, Sadeh and Mammon's narratives express a transitional relationship between

individual and place. In the beginning of their journey, they considered Greece to be a

transit station, not a destination. Movement to them was equal to achieving a desired

trajectory to a dream nation somewhere in Northern Europe. However, a series of untoward

and arduous incidences followed their journey and culminated with their arrival, placing

them upon another threshold. Thereafter, movement is redefined through their common

practices, and becomes constitutive of a new space they all share. The idea of a fixed place is

erased or shifted into the realm of memory. Descriptions of activities and everyday practices

substitute any place reference and movement continues to be tantamount to their fate.

But their 'placeless' movement in the city is more than a vague practice; it actually

creates places by defining spaces. According to Hillier (2007:113), movement is the basic

correlate of the spatial configuration: it notably dictates the configuring of space in the city

while at the same time is largely determined by spatial configuration. This relation coincides

with the one between urban form and function. When people pause to interact they define a

space by their group activity. The spaces individuals occupy can be represented as points on

a map; this is a convex shape in mathematics and provides the possibility for people who

occupy the convex space to see each other and have a direct contact (Hillier,2007:115). As

we move through the cityscape, such shapes vary and change our spatial experience; so

urban space is practically a set of potentials made by describable shapes and ways of using

them. The immigrants' routes are inscribed in space by a continuous process supported by

Figure!12:!Euripidou!Street.

!

18!
---
!

the long-term temporary character of migration. More than any other user of the city, they

exploit the space potentials driven by their need to create their own points of reference and

establish a social network with a common protection strategy and socioeconomic activity.

From my observations and the immigrants' narratives, it becomes apparent that there is

an inner logic to the seemingly disorderly grid made of their 'convex' spaces. If drawn on a

map, it would be made up out of lines linking these spaces together, often several at a time.

Sometimes these links are visible, or can cut across built spaces; in either case, though, there

is the creation of a new space within which lies a structure intelligible from the point of view

of movement (Hillier,2007:116). The most important quality of this functional shaping of

space is the potential that movement gives for creating co-presence. I am not implying here

that the lines of this grid do not interact with the activities of the local people or older

immigrant groups that have established economic or social activities. Certainly, there is a

level of integration, yet the specific nature of this 'map' is that it needs to be hidden; thus, it

always remains detachable, connectable, modifiable and reversible with "multiple entryways

and exits" (Deleuze & Guattari,2004:23).

Amar and Sadeh – both working as informal street vendors – share their daily routes

and experiences with their friends, those who work at the same or overlapping sites, or those

who meet to pick up goods or to sell. On the streets and sidewalks, particular spots are

associated with particular groups. Thus, Amar mostly frequents with his compatriots at the

sidewalks of Euripidou, Sokratous and Geraniou Street, while Sadeh meets with other

Afghans and Bangladeshis at Eleutherias square and its surrounding streets. In Korinis

Street as well as in Menandrou and Sofokleous there are also several cafes where the latter

often meet. Afghans usually gather at Amerikis Square to pray, or participate in rituals in

Agios Panteleimonas or Kotzia Square with other Muslim groups. On the streets, they adapt

common protection strategies and ways to warn each other in case of danger, either through

signals or mobile phones. This process of spatial negotiation between different groups

happens gradually and silently over time. Along with movement, there is a deep relationship

between body and space. It seems bodily gestures and postures - the way they pray, sit in

public or gather for their interpersonal communication - play a significant role in the

spatialisation of their culture and differentiates among immigrant groups. Their everyday

practices become a form of 'embodied memory', by which bodies are taught the correct

performance of roles and routines as if their movements spell out the letters of a secret

alphabet across their territory (Shields,1991:261; Sinclair,2003). The selection of distinct

spots is made in relation to the goods they sell, the activity of the street and several spots

can be linked to immigrants' organisations that are settled in nearby buildings. In many

!

19!
---
Figure!13:!Kotzia!Square

cases, though, considering the fact that most of these spaces are used for loitering and

meeting friends, it happens intuitively and is not rationally justified. The relocation of these

spots is an equally ordinary process. The city for Amar and his friends is a place built of

danger zones, hiding corners and opportunities.

"I spend a lot of time out here; it doesn't feel good when I'm in the apartment. It is crowded, dark

and I don't like being hemmed inside. I just know that I will meet my friends there. I knew about

it since I first arrived here - where to find my people, everyone does. But we change often, because

the place changes, the police drive us off and we try to avoid them"

(Interview: 24/07/2011).

The creation of these thresholds of communication is favored by the area's urban fabric

which is dense and complex, multileveled, with many abandoned sites, a vivid commercial

character and a lot of open markets. The labyrinthine character of the streets facilitates their

'invisibility' yet their own symbolisms are set collectively through determining their own

networks in space. I would suggest that by picking specific spots, they try to eliminate

distances or maintain a linear connection in order to maintain a direct visual contact

between most parts of their spatial network.

This structure provides them with the

Figure!14:!Agios!Panteleimonas!Square.

!

20!
---
possibility to contact more than one person at a time and sufficient levels of encounter to

warn each other and take evasive action when necessary. They seem to have developed

strong navigation skills within the city and a remarkable knowledge of the area, to be able to

coordinate so effectively. They hardly speak the language and cannot read street signs with

ease, yet they know many unofficial Greek names and move with comfort. Their activities

matches Hillier's description about children discovering the potential of space when playing

games, like 'hide and seek': when given the opportunity to explore, children discover the

most integrating lacunas in the natural moving system and create "probabilistic group

territories which then attract others" (2007:155).

These networks are their 'localities' and the space shaped by immigrant groups is one of

multiple, overlapping networks. As individuals, too, they belong to numerous networks,

according to race, nationality, activity, age, gender and so on - and these networks have

particular ways of occupying public space. The shaping of their communities is based

initially on spatial patterns of co-presence and co-awareness which form a 'raw material for

community' that has the potential to be activated in due course and when needed; the certain

obvious property of this virtual community is density and the less obvious the existence of a

fixed structure (Hillier,2007:141). The lack of this specificity is due to the mutable nature of

the community and its inherent spatial and contextual fluidity. Apparently, though, there is

an underlying mechanism that generates and preserves its existence, despite the fact that the

former attributes remain stable in time.

First of all the community offers help to the newcomers to cover basic physical needs

and enhances their informal support networks at a social level; it is a buffer for the individual

against a hostile environment. Moreover, it cradles their expectations and reinforces their

dreams - about escaping and continuing their journey – dreams that fade in Athens as time

goes by. Clearly, what takes place is a symbolic construction of a community identity; a

social level of 'imaginary geographies', as Shields (1991:262) notes, which transcends the

polyphony of individual controversies. Myths and images of a dream world function as

insider stories for individuals to identify with their close circle but also to affirm community,

regional or national identities and coalitions; spatialisation enters and underscores the

perceived unity of communities at every scale (Shields,1991:262). Empathy is another force

to bring the community together. Suffering brings members closer and informs their

collective actions. Kleinman (2000:227-238) points out that both structural violence (as for

instance extreme poverty, homelessness and a shared fate of misery) and everyday violence

deriving from the interaction of changing cultural representations, social experience, and

!

21!
---
individual subjectivity result in strong "sociomatic interconnections" between local worlds

and people who live there.

Thus, the members of the community share a common history and experiences and

develop a unifying knowledge, action and sense of reason. However, the community, as it

will be shown, is only a place wherefrom immigrants pass through; it does not constitute the

final point in their process of appropriation, rather than a state or a neutral territory

between a world that is left behind and a new one (Gennep,1960:19;Turner,1987:4).

The semi build: staircases and arcades

Upon arriving in Athens, Sadeh spent a week in a small shack under a subway. Later,

with two other newcomers he found a place to settle, in a derelict building close to Gerani.

The same happened to Faruq, who came from Syria. An abandoned, two-storey, half-ruined

house accommodated his first months in the new city. Similar houses can often be seen in the

area, either standing on their own beside quiet alleys or mixing with the multi-storey

residential blocks of the 60s and 70s. For almost the last four decades, these buildings are

like ghosts, their front entrances are heavily locked and pieces of stones have crumbled on

their facades. The shuttered details of their beautiful neoclassical architecture witness their

glorious past, when they represented the newly established national freedom and the rising

bourgeoisie of the mid-nineteenth century. The climbing plants on their walls cover their

broken windows and permeate the remainders of the faltering rooftops, giving the only

signs of life in these places – signs that, lately, appear to have been multiplied. Faruq

discovered an opening on the side of the house and a place to sleep on the ground level,

Figure!15:!abandoned!buildings!in!Gerani!(Dipylou!Street).

!

22!
---
under the main staircase with the rusting, decorative rails. He shared the place with three

people from Afghanistan who slept on the first floor. This was a secure place for Faruq; it

was hidden from the traffic while he had a good view of the street, through the building's

half-ruined walls.

Figure!16!

Faruq is in his late twenties and he is Kurd. He has chosen to be called Aris in Greek

and claims that his native name means someone who can find truth in life. He has lived in

Greece for the last two years, he speaks the language and he is friendly. He now rents an

apartment in Gerani with two of the friends he met when he arrived. He works informally

for a creamery in the central market near Kotzia Square, and for a small textile

manufacturer, located on the other side of Omonia square. He still frequents with his fellows

on the streets, he takes part in the immigrants meetings and activities and he guides

newcomers in the same way he was guided when he first arrived. However, he is now

socially mobilised and interacting with other networks, either those of local Greeks or more

established immigrants, even in other parts of the city. He often thinks about the possibility

that his next refugee permit renewal could be denied. His life in Athens has gradually

become one of insecure permanence and he seems to fluctuate between the thought of it as a

space of transition and a place where he could settle down. The myth of an ideal destination

that accompanied him throughout his journey has passed to a state of redefinition swayed by

his newly achieved, increasing sense of control and his still vivid traumatic memories.

"I was sleeping inside an arcade near Omonia Square, and then under a staircase for three

months; I suffered before settling properly. Now I can afford a place to live and the people I work

for treat me well even as an informal labourer; if you work hard there are opportunities. I still

dream of a better life but many of my friends who moved to north Europe did not have better luck.

They call me and tell me to stay and make what I can of the situation. Another friend of mine

!

23!
---
managed to reach France and after a few weeks he was brought back. It is painful to think I have

to go back to travelling this way, maybe later…" (Interview: 26/07/2011).

Added to the perpetual memories of his trip to Athens, the first images of the city

occupy a strong place in Faruq's narratives. And the steps that made up every walking tour

with him were simultaneously real and imagined; a crossroads of characters, thoughts and

memories bonded with a distinct relationship with space. Squatting ruins, sleeping under

staircases, subways or arcades; conditions of homelessness and despair that bring to mind

reflections of cities during natural disasters – when space is all that is left and the

architectural boundaries that help define ourselves are missing (Lara,2008:57). Under these

conditions, one has to deal with the real dimensions of space and time; the full weight and

hardness of the built environment; the cold stone; a body in pain; the weight and materiality

of the wall that now matter. Distance is also crucial; Fernando Lara (2008:57-59) describes it

as follows: "the next bridge might be too far, the lights are off and yet under the stairway,

down the street, on rooftops… you start to see that you're living amid a world of

people…Where were they before?" – capturing the state of 'distracted perception' which one

experiences when architecture falters, the city is thrown into disorder and injustices are

exposed.

Figure!17

Same kinds of injustices have lately come into light in Athens. They gather, though, and

hide well in shady corners, like closely packed nests, which expand to occupy what is left

abandoned. Or they secretly burrow into narrow passages when silence starts to fall.

Listening to Faruq's narratives makes it easier to realise that everything is associated with

the experience of space insofar as it is not possible to talk about ourselves except by using

relational terms as 'here' and 'there' or 'beside' and 'inside', no matter what our cultural

affirmations may be (Shields,1991:266). For the sense of place, apart from being culturally

!

24!
---
molded and patterned, is also a synthesis of sensory inputs; and our perceptual worlds are a

function not only of culture but of relationship, activity and emotion (Hall,1969:181).

Along with the old neoclassical houses, Faruq talked about the role of the area's arcades

in his life: as the place he once found shelter, the place of the homeless, the one that had been

sealed with iron bars by the Chinese to accommodate their illegal trade. As for the city, the

role of the contemporary Athenian arcades once was to support the commercial character of

the area for more than a century. Many link the inside of building blocks to the streets and

others are made of glazed roof and steel bones to protect the outdoor markets, following

their European predecessors. A third kind is based on the ancient pattern and accompanies

the passerby's leisurely stroll while its colonnade - standing by the roadside - supports the

building's projected facades. Sennett (2002:50) describes the ancient Greek 'stoa' as an

essential part of an urban form which is based on a direct analogy between body and

building; that is, to include cold and hot, sheltered and exposed dimensions, encourage social

relations and define space. In this sense, arcades constitute a unique architectural

component, one that simultaneously belongs to the city and the building, linking the public

to private and comforting movement. However, the once vivid commercial arcades are now

experiencing a sharp fall in activity as the majority of their small businesses is closed; many

of them have become dark, partly or fully isolated spaces, and these in turn – like the old

neoclassical houses – have acquired new guests.

Figure!18,!left!to!right:!arcade!near!Eleutherias!Square,!arcade!near!Omonia!Square!(Eirinodikiou).!

Together with undocumented immigrants, diverse marginal groups share the space of

the arcades; and like social space explorers, as Hillier (2007:155) puts it: "junkies and

methsheads, like children… use space to create and form localised social solidarities". Here

again, like on the streets, there is a reverse process of 'learning' and using the formal

properties of space. It is one of rediscovery, based upon a 'manipulation of the world and its

!

25!
---
objects', which is what Piaget (in Hillier & Hanson,1984:47; Martin,1976:8,24) in his

developmental studies calls topological: a spatial relationship lying primarily on the concepts

of proximity, separation, enclosure and contiguity rather than on topological equivalence,

order, and continuity which evidently develop later. The direct analogy and interdependence

of the terms 'inside' and 'outside', which implies the creation of spaces, is blurred. The spatial

configuration by drawing boundaries - or naming a category both inside and outside – is

redefined and better expressed by the looseness of a term like 'formations' rather than

'structures' with all their implied stability, hierarchies and rationality (Hillier,2007:15; Lévi-

Strauss as quoted in Shields,1991:32). When a subway turns into a shelter or an arcade

becomes a dwelling, spatial relations are very puzzling entities and they seem to exist

'objectively' as Russell (1967) points out, in an independent world that can be understood by

thought but cannot be rationally created.

Hence, space is not merely an outcome of causal forces; it is also causative. And it is

spatialisation – as the possibility of rearranging spatial components and reshaping the

space's inheriting 'multifunctionality' – that accounts for the causative nature of the spatial. I

would agree with Shields (1991:57,261), who points out that it is the human agent behind all

these processes and spatialisation has a mediating effect in the sense that it channels or

expresses causation; yet, since the spatial is charged with emotional content, community

symbolism and myths rather than empirical nationality, the relation between the social and

the spatial is not a mere set of dialectical causalities and the spatial becomes the prejudice of

people making decisions.

Spatialities may be constitutive of narratives of self. Walter Benjamin (cited in

Pile,2002:114) inter-weaves memory and the city to indicate that walking the streets allows

for memories to flood in; more than that, the streets organise and produce more experiences.

For each new angle could produce another memory and the past, the present and the future,

as well as memories of different places, are combined and recombined at the same space.

Space to him is not just a scene were dramas of memories and forgetting take place; it has

the capacity to invade the body and mind and thus 'authobiography' is a matter of time and

sequence as a natural consequence of life. It is also a matter of myths and utopias: in 1984's

Paris, Benjamin (2002:21;1935,1939) describes the city's iron-and-glass covered arcades as

small worlds wherein old and new epochs coexist through traces and dreams. He sensed

these spaces signaled transformations that were still being felt a century after the advent of

industrial capitalism, scribbled on the middle-class culture growing in and around them. For

his flâneurs the city was a landscape: they strolled like hidden figures totally at home in the

urban milieu and had a strong capacity to read the city, including the faces and the crowd,

!

26!
---
combining observation and watchfulness, while preserving their incognito at the same time

(Frisby,2001:37). From a different parallel, they, too, were lingering on the threshold

condemning the political status quo and exposing the relativism of cultural identities, places

and epochs. In the postmodern moment, there is a similar loss of identity – a simultaneous

centrality and marginality (Shields,1991:274).

Faruq is at a state of moving beyond the collective by gradually assembling essential

elements to put him on the track of social mobility and redefine a new kind of movement.

While companionship and the sharing of a common fate will always attract him back and

enable him to be a member, the option of stability lessens his suffering and simultaneously

opens a new chapter in his life, mobilising aspects of it that have remained stagnated for

long. As a unique node in space he collects new experiences and memories but struggles to

redirect them in relation to his past expectations, memories of places of origin and visions of

dream destinations. Without having necessarily achieved a coherent identity, extending

himself into his milieu, physically and socially, his environment, emotions and memories

become tied to smells, sounds and names of places forming those within which his own

autobiography will be developed. A sense of intimacy between memory and the city begins

to add. Shields (1991:268) describes this individual as one possessing multiple identities; he

also ascribes to it a degree of agency capable of investing in scenes where identities can be

released, actualizing and deforming structural codes rather than being a passive body or an

actor grasped in a structurally determined social arrangement. Similarly, Faruq tries to

discover and reconfigure his new spatial realities, literally producing part of the space of the

city. As Steve Piles (2002:124) asserts, it is through an intersection of a multiplicity of

stories, inherently historical and spatial, that memories and cities are made; these times and

spaces can be both coherent and persistent, but they can also be fragmented and lie in visible

or less visible ruins.

The built: mezzanines and corner shops

Mammon has lived in Athens for more than six years. After spending one and a half

years in Gerani, he moved to an area in the southern part of the city. He is able to rent his

own place, is accepted by his neighbours and works around the area at two different places:

as a carrier in a local cellar and a grocery store in the morning, while in the afternoon he

earns an extra income in the nearby gas station. He does not visit Gerani regularly anymore

and he has chosen to engage with other parts of the city and its people. However, he has

kept his old contacts and he visits his old neighbourhood to attend the common rituals in the

!

27!
---
Mosque in Sofokleous Street, participate in the meetings of a local Bangladeshi haunt and

spend time in Eleutherias Square. He has not obtained a Greek resident permit, and works

without insurance. He claims that this has now become a way of living.

"I cannot follow legal procedures any longer, it takes time, I never have what they ask from me,

they always deny it and there is no point in further pursuing it. No, I would not go back. I left

Dhaka when I was seventeen, travelled for three months, paid a lot for this trip and now I have

something. I can send money back to my family and they are proud of me. Back home I could not

work. I am not a refugee but I was looking for a better life. Sometimes I also miss travelling. I

would like to visit my family, too. But how am I supposed to come back? I also think that I could

buy a property here, build something stable, pay taxes. Well, this is not possible, too, but you

know... it is Greece that loses from this, don't you see where the situation is driving us all now?"

(Interview: 14/07/2011).

Before moving, Mammon spent a year in an apartment in one of the old blocks in

Gerani, sharing it with seven more people from Bangladesh. Amar now lives in a similar

block, in one of its abandoned workshops on the mezzanine with ten more people. Sadeh has

recently found a corner in a space shared by twelve more Afghans in a multistory office

building; their landlord is a Chinese. Overall, landlords are either Greeks who live elsewhere

in the city or other immigrants who sublet. Many floors in the office buildings are rented

and used by the Chinese as warehouses for the illegal textile trade. Others are also used as

'immigrants' hotels', where someone can find a place to sleep or have a bath for two or three

Euros. Sadeh mentioned two other 'Afghan Hotels' in other parts of the centre; one of which

is in Victoria square, sheltered in a three-floor residential building. The two unlicensed

mosques of Gerani are also accommodated by old-block flats. So are emerging immigrant

organisations and cultural spaces. Several 'visible' signs of the multicultural activity of the

area, like transaction centres or ethnic restaurants, occupy the ground levels. The majority

of these multi-storey blocks were massively built from the 60s' to 70s, to accommodate the

increasing rural-urban migration of the time. Their design, based on vertical differentiation

and a high-building factor, was initially made to accommodate retail activities on the ground

and residential uses on the top floors. Today, these functional definitions are partly proved

dishonest. The new socio-economic realities they shelter have put them into a 'transitional

state'. By any means, there would be no reciprocal relations to define them; their structural

components hold their properties by virtue of the function they fulfill within a broader

system of interconnections (Bourdieu,1968:682).

!

28!
---
Figure!18:!Building!blocks!in!Gerani.

Despite his frequent visits to Gerani, Mammon has withdrawn from the everyday

activities of the migrant community, the economic ties and the rationale of his old group. He

has certainly developed a critical view of his situation and the relationships he is making;

and he has a very good knowledge of the political conditions, the institutions and the people

of his new environment. To make his way successfully through the challenges and hazards

he learned to anticipate opportunities and constraints, regulate his behavior accordingly and

he is comfortable with pursuing a new, most independent journey. That is not to say that

Mammon or the other undocumented immigrants did not possess a degree of reflexive

subjectivity at previous stages; on the contrary, they chose to be a part of the collective,

perform their roles and coordinated activities insofar as an efficacious collectivity had been

evolved and maintained (Bandura,2001:16).

Nonetheless, the collective was a space that generated reactive rather than proactive

behaviour to human agents; that is, it operated as a social structure which did not provide

enabling recourses and adequate opportunities to promote given psychosocial changes and

levels of functioning (Bandura,2001:15-19). Therefore, over time and while gaining

experience through relating with 'external' structures - institutional, physical, real or

mythical - the individual exits the group or acquires a new relationship with it. Accordingly,

any analysis of the social structure-agent division should go beyond dualisms

!

29!
---
(Shields,1991:273) as social spatialisation includes the construction and legitimation of

relations between various elements. This multiplicity is also highlighted in Bourdieu's

(1968:684-685) conceptualisations about mediating factors transforming 'methodically

established' relations; his 'habitus', too, involves a continuous modification by daily routines

and a vague, changeable relation between the individual and structured regulations

(Bourdieu & Nice,1977:16,72). Consequently, the concept of the self as 'a hybrid sum of

institutional and discursive practices' (Stam cited in Shields,1991:273) is closer to the

gradual process of immigrants' social spatialisation. Entering this state of hybridity,

Mammon has moved further, towards more extensive arrangements by realising and

coordinating his multiple identities, accepting his situation and emphasizing his creative

action and individual initiative.

However, barriers continue to be built in Gerani and not all of them can be crossed. The

iron bars and heavy locks that divide the common corridors of the building blocks and seal

the apartment doors of the locals multiply. Similarly, Mammon is confined within

institutional gaps and a deeply territorialized state. His life has been the product of a clash

between international migratory flows and local histories which, no matter his desire to

embrace and build upon, he will have to reconstruct everything the minute he transcends

their geographical borders. In that sense, his life and that of the other undocumented

immigrants who have chosen to stay, is in a constant state of 'traveling' without moving; in

practical terms that means leaving a non-fixed financial footprint, remaining alert to

evanescent economic opportunities and avoiding state agents. The degree, to which they will

blend with the local society and grow roots, is different for each of the undocumented

immigrants and though it is partly happening unconsciously, it also depends on their

personal aspirations as shown before.

Between the flows and interconnections that constitute their trip, undocumented

immigrants are placed in a weak position. Within the 'power geometry' of time-space

compression, as Massey (1994:149) puts it, it is not merely the issue of moving itself, rather

than the possibility to be 'in charge' of the process and turn it into advantage. Different

social groups have a distinct relationship to this mobility; on the two opposite sides are those

who initiate international flows and movement even when standing still, while others are

imprisoned by it, despite the fact that they have come half way round the world. So this is

not even an account of travel for Mammon, as this would imply movement between fixed

positions and the knowledge of an itinerary; it would also intimate a potential return, an

eventual homecoming (Chambers,1993:5). It entails, though, another sense of home and

being in the world; it is about inhabiting time and space not as if they were fixed or closed

!

30!
---
structures, but as if they were open and always mutable (Chambers,1993:4-5), challenging

the components that our sense of identity, place and belonging are built upon. The

rearrangement of these fragmented parts, either physical or imaginary, takes place

inevitably, no matter what the difficulties are, in order to constitute, for each individual, a

story that makes sense.

……………………….

Kostas is Greek. He owns a small corner shop with spices on Euripidou Street and he

lives in the nearby neighbourhood of Kipseli. Being born and raised in Athens, now in his

late fifties, his attachment to Gerani is intertwined with the memories of his grandfathers

from whom he inherited his business and the transformation of the area as he experienced it

during the last decades. His thoughts express ambivalence toward a past he feels obligated

to preserve and his current life. He claims that small Greek businesses in Gerani are

threatened by crime and deprivation as well as from the cheap Chinese products. Yet the

relations he has developed with immigrants in the neighbourhoods he lives and works makes

him hold a more open and objective stance:

"It is true that many local residents are frustrated with the situation. They are afraid to reach

their apartments at night. This area has almost been vacated by locals who headed toward the

suburbs the last three decades and now the situation is worsening. Those who stayed, including

me, look back with longing on the good old days. But we cannot always blame the immigrants. I

agree that something must be done about crime, laws and migration policies. But it is also about

us. We are a bit Eastern and Southern as well, us Greeks, maybe a bit European, too. And we

have also been immigrants, since forever. There is a young man from Egypt in my block in

Kipseli. He has built a small garden outside his dark basement, in between the blocks at the back.

There was nothing there before, only litter. Then I come here and I'm worried about my business,

the future, the recession. Maybe real Hellenism and our sovereignty is a myth after all. We are all

on the same boat and it is cracked" (Interview: 26/07/2011).

Figure!20

!

31!
---
Since the arrival of the massive migrant inflows, flags and symbols of national identity

can be found hanging on shop entrances and balconies, even tied at the back of public

benches. And Greeks began to claim public space in an unprecedented way. According to

recent reports (Leontidou,2001:5), Greece evidences the densest incidences of xenophobia in

Europe while those of racism are low, sporadic and decline with age group. In the urban core

of Athens, though, racist incidences have been intensified lately, often leading to violent

conflicts both between natives and immigrants and among immigrant groups. The recent

turbulence in Agios Panteleimonas Square 12 underscores the rise of social unrest in the

urban environment. But the atmosphere in the city was thin with tension long before these

events appeared. The EU incorporation was followed by a decade of urban competition and

renewal for the attraction of mega-projects and global tourism and of a sudden financial

crisis. A situation built over and beyond the needs of urban inhabitants and a longestablished

dysfunctional state apparatus, created polarisation and disadvantaged vulnerable

populations bringing unemployment and poverty back on the agenda (Leontidou,2010:1194).

Violent riots originating from urban neighbourhoods have been spreading across the city.

Yet, these socio-political transitions also manifested a generative impact on public

consciousness, leading to the regeneration of grassroots urban social movements and the

emergence of groups of activism in the urban space. Moreover, they inspired a period of

broad reconsideration of self and place during which the existential qualities of citizenship

began to be renegotiated; and there was an understanding that security and political being

was now relative to a changing topography, rather than a mere matter of nationalist

discourse and imported global phenomena (Alexandrakis,2009). The coming together of

small urban groups enhanced micro-scale social activity and established a general consensus.

Many of the 'unconventional' citizens entered the political civic space through participating

in these activities (Kalyvas;Leontidou,2010). Apart from the crime and illegal occupations,

many of the undocumented immigrants are members of flourishing social networks and their

important role in the regeneration of the labour market is well recognised (Arapoglou,2006).

Certainly, the effects of unconventional citizens in reshaping the Greek civil society are

a subject of further research. What I want to focus on here is that these 'invisible' groups

may hold tangible and evolving implications in social, political and spatial reproduction.

Through their direct or indirect action, citizenship is expanding and democracy becomes denationalized

and redefined in urban public space. For what makes a place public is when

Lefevre's (cited in Mitchell,2003:26-35) cry and demand for the 'right to the city' takes

!!!!!!!!!!!!!!!!!!!!!!!!!!!!!!!!!!!!!!!!!!!!!!!!!!!!!!!!!!!!

12 A!central!city!square!where!citizen!patrols!use!violence!to!repel!the!immigrants!during!the!last!three!years.!!

[Ref:"Battlefield",!in!The"Prism:"GR2010![Online]!Av:!http://www.theprism.tv/home5.php#&panel1@2]!

!

32!
---
space, can be heard and seen: the right to housing becomes the right to inhabit; the right to

occupy public space, gather and protest become forms of appropriation of the city and the

struggle for rights produces space. In that sense, the in-depth examination of these processes

may be crucial when considering issues related to broader socio-political change.

Borders and barriers that keep us in enclosed safe and familiar territories can also be

prisons when defended without reason or necessity, as Chambers (1993:2) rightly argues.

The stranger is a presence that like a ghost lives within all of us, questioning our present

and being; and this is how the familiar is turned around and by becoming unfamiliar for a

while, it generates unexpected and sometimes magical spaces (Chambers,1993:16).

Figure!21

Conclusions

Space is a critical component of migration. During the time of adaptation, social

spatialisation as a practice involves a continual appropriation and re-affirmation of the world

as a structured socio-spatial arrangement (Shields,1991:52). This goes beyond the notion of

place as a specific context within which people and their means of appropriation could be

examined as a set of relations with the existing locales, their interpretation with fixed

boundaries and their behavioral responses drawn from existing cultural settings. Under

conditions of constant movement spatialities seem to be produced from within through lived

experience and embodied action, rather than being imposed and defined from external

codifications. People actually generate spatial forms and articulate spatial experiences.

Spatiality becomes the means to interconnect structures that relate the places we encounter

so as to build new ones.

Through the narratives it became apparent that while in the process of appropriation

immigrants pass through a number of phases that take diverse forms of engagement and

spatial expression. These are not fixed, rather than multiple and fluid, indicating that there

!

33!
---
is not a unique path to integration. Due to the lack of political recognition, their feelings of

spaces are not expressed through limitations of socioeconomic or political conditions rather

than through their appreciation of activities in places that acquire meaning in time; as

unconventional citizens, they physically enact belonging in the city and become agents. By

using the city in different ways, physical forms, functions and conventional symbolisms of

space are challenged and reconfigured and space is reproduced through lived practice. At

this point, the causative role of the spatial was highlighted and justified by its inherent

capacity to channel causation and by having the possibility to be recharged with emotional,

mythical or symbolic content. Thus, even if space was defined merely as a set of

arrangements of geometrical components and mathematical relations, these are not

contingent; they include normative perceptions acquired by everyday practices. However,

this structure is not fixed; it is continuously challenged by reality.

I also emphasized the role of the creative agency to conceive and assert new spaces of

belonging in their everyday lives, as a form of engagement with the city. Every new state of

integration, though, entails the breaking of a previous pattern of use (i.e. the immigrant

community). And since these facets of identity, which are spatially expressed in different

ways, change, so does the way they use the city. Nevertheless, each of their previous facets

is not erased or totally replaced by the new one. On the contrary, in their daily movements

though the city they carry their myths with them. Myths that are no more signs of origin

but traces mixed with other histories, episodes and encounters (Chambers,1993:19). It is

important to underscore that given the obstacles, the insecurity and suffering they are

facing, it is not surprising to remain at this liminal state and there are many who refuse any

kind of further integration than their closed community. Space and mobility create

opportunities but cannot obliterate the gap between the forced movement, expatriation,

poverty, racism or slavery and the privileged channels of movement, media, technology and

consumerism.

Nonetheless, as it was shown, the struggling for rights also produces space; a space that

often overlaps with the 'established', putting local communities in a process of questioning

their own fixity and perceptual boundaries. In an urban life already standing on shaking

ground the 'margins' become hidden political actors, and lay a new ground for possibility to

flourish. A space must be left open, an indeterminacy to be kept, for questions to emerge and

political action to be sustained (Chambers,1993:17). Now, in that opening and beyond

conventional and abstract identifications as tradition, nation, race and religion, we are all

destined to live, as Arturo Islas puts it, in a 'border condition' (cited in Chambers,1993:17).

For Simmel (1971:143-144), the apprehension of truth comes from the cognitive freedom

!

34!
---
achieved through the 'critical distance' of the marginal stranger. When it comes to matters

as migration policies and active citizenship at every scale, an urban flâneur, one moving

between social classes, local and global realities and converging spatialities rather than

totalities (Routledge & Cumbers in Leontidou,2010:86), could possibly bridge the gap.

A critical distance is also useful when considering the relation between 'society' and the

spatial. It has been argued that space production is a natural constituent of situating oneself

in a physical environment. Yet, the creative act of spatial practices that characterized

immigrants' daily forms of engagement exceeds structural limitations and, though not

always achievable, the sense of belonging derives from collectively and individually

accumulated experiences of spatial behavior and representations of space, histories, and

imagination. The social-spatial linkage is not strictly a dialectical oscillation but a meeting

point of tensions that defy any distinctive synthesis (Shields,1991:261). On the discourse of

thinking, designing and using space, we should think and test more than counting and

analysing, for there are no universal norms about spatial behavior and how it could be

channeled through specific spatial arrangements. Places are not local things, they are

moments in large-scale things we call cities; it is cities that make places and not the opposite

and what we need is a deeper understanding of their physical and spatial function

(Hillier,2007:112).

……………………..

My walk ends with a sense of rediscovering a part of the city. Leaving behind Gerani and

heading towards the ancient cemetery of Keramikos, the smell of lemon trees on the

sidewalks and the sounds of the clinking glasses from a nearby café bring back something of

the old familiarity. Our relationship with space lies in a continuous process of rediscovery,

which is never complete to be mapped as we also change along the journey. Around me,

layers of history upon ruins witness the constant re-writing of space; a hidden script, which

has definitely not been revealed yet. Robust, dynamic shapes, with a life of their own. The

only underlying principle I can distinguish is that this has always been the case.

!

!

!

!

!

!

!

35!
---
References

Alexandrakis,!Othon!(2009),!"Anarchism!and!the!New!Greek!Civil!Society:!Examining!the!Rise!

of!Modern!Athenian!Youth!Politics",!4th!Hellenic!Observatory!PhD!Symposium,!LSE,!25@26!

June!2009![Online]!Av:!http://www.doxtop.com/browse/1ee50fb7/anarchism@and@the@new@

greek@civil@society.aspx?show=pdf,![Accessed:!22/08/2011]!

!

Arapoglou,!Vassilis!P.!(2006)!"Immigration,!segregation!and!urban!development!in!Athens:!

The!relevance!of!the!La!Debate!for!Southern!European!Metropolises",!in!The"Greek"Review"

of"Social"Research,!Issue!121,!p.!11@38,![Online]!Av:!

http://crete.academia.edu/VassilisArapoglou/Papers/584734/IMMIGRATION_SEGREGATION

_AND_URBAN_DEVELOPMENT_IN_ATHENS_THE_RELEVANCE_OF_THE_LA_DEBATE_FOR_SO

UTHERN_EUROPEAN_,!!![Accessed:!15/05/2011]!!

!

Bandura,!Albert!(2001)!"Social!cognitive!theory:!an!agentic!perspective",!in!Annu."Rev."

Psychol,!Vol.52:1@26![Online]!Av:!

http://www.annualreviews.org/doi/abs/10.1146/annurev.psych.52.1.1,![Accessed:!

19/08/2011]!

!

Benjamin,!Walter!(1935,!1939),!"Paris,!Capital!of!the!Nineteenth!Century",![Online]!Av:!

http://www.casbarcelona.org/BenjaminParis.pdf,![Accessed:!10/08/2011],!p.!77@88!

!

Benjamin,!Walter!&!Tiedemann,!Rolf!(2002),!"Baudelaire,!or!the!Streets!of!Paris",!in!

Benjamin,!Walter!&!Tiedemann,!Rolf:!The"arcades"project,!Cambridge,!Mass.,!London:!

Belknap!Press,!p.21@26!

!

Bourdieu,!Pierre!(1968),!"Structuralism"and"Theory"of"Sociological"Knowledge",!in!Social"

Research,!35:4,!p.681@706![Online]!Av:!http://www.4shared.com/get/sZuY@62S/Bourdieu_@

_Structuralism_and_T.html,![Accessed:!17/08/2011]!!

!

Bourdieu,!Pierre!&!Nice,!Richard!(1977),!Outline"of"a"theory"of"practice,"Cambridge:!

Cambridge!University!Press!!

!

Certeau,!Michel!de!(1984),!"Walking!in!the!City",!in!Certeau,!Michel!de:!The"Practice"of"

Everyday"Life,!Berkeley:!University!of!California!Press,!p.91@111!!

!

Chambers,!Iain!(1993),!Migrancy,"culture,"identity,"London;!New!York:!Routledge!!

!

Deleuze,'Gilles'&'Guattari,'Félix'(2004)'"Chapter1'@!Introduction:!Rhizome",!in!Deleuze,!Gilles&

&"Guattari,"Félix:"A"thousand"plateaus:"capitalism"and"schizophrenia,!London:!New!York:!

Continuum,!p.3@28!!

!

Easterling,!Keller!(2005).!Enduring"Innocence:"Global"Architecture"and"its"Political"

Masquerades,!Cambridge,!Mass.:!MIT!Press!

!

Frisby,!David!(2001).!"The!City!Observed",!in!Frisby,!David:!Cityscapes"of"modernity:"critical"

explorations,"Cambridge:!Polity!Press,!p.27@51!

!

!

36!
---
37!

!

Gennep,!Arnold!van,!(1960),!The"rites"of"passage,!Chicago,!London:!University!of!Chicago!

Press!!

!

Hall,!Edward!T.!(1969),!"Proxemics!and!the!future!of!man",!in!Hall,!Edward!T.,!The"hidden"

dimension,!Garden!City,!N.Y.:!Anchor!Books,!p.181@189!!

!

Hillier,!Bill!&!Hanson,!Julienne!(1984),!"Morphic!languages",!in!Hillier,!Bill!&!Hanson,!

Julienne,"The"social"logic"of"space,"Cambridge:!Cambridge!University!Press,!p.45@52!!

!

Hillier,!Bill!(2007)!Space"is"the"Machine:"A"configurational"theory"of"architecture,"Electronic!

Edition![1st!paperback!Ed:!1996],!UK:!Space!Syntax![Online],!Available:!

http://www.ninsight.at/ak_stdb/SpaceIsTheMachine.pdf,![Accessed:!12!Dec!2010]!!

!

Itano,!Nicole!(2010),!"Southern!Europe's!Immigration!Test",!in!TIME"Specials,![Online]!Av:!

http://www.time.com/time/specials/packages/article/0,28804,1964957_1964954_1964939,

00.html,![Accessed:!!17/06/2011]!

!

Kalyvas,!Andreas!(2010),!"An!Anomaly?!Some!Reflections!on!the!Greek!December!2008",!

Blackwell"Publishing"Ltd.![Online]!Av:!

http://www.columbia.edu/cu/hellenicstudies/pdfs/Kalyvas%20presentation.pdf,!!![Accessed:!

22/08/2011]!

!

Katz,!Louise!(2011),!"Dangerous!narratives:!politics,!lies!and!ghost!stories",!in!Cosmopolitan"

Civil"Societies"Journal,"Vol.3,!No.1,![Online]!Av:!http://

http://utsescholarship.lib.uts.edu.au/epress/journals/index.php/mcs,![Accessed:!

22/06/2011],!p.20@41!

!

King,!Russell!(2001),!"The!troubled!passage:!migration!and!cultural!encounters!in!southern!

Europe",!in!King,!Russell!(ed.)!The"Mediterranean"passage:"migration"and"new"cultural"

encounters"in"Southern"Europe,!Liverpool:!Liverpool!University!Press,"p.1021""

"

Kleinman,!Arthur!(2000),!"Forms!and!dynamics!of!social!violence",!in!Das,!Veena!(ed.),!

Violence"and"subjectivity,!Berkeley:!University!of!California!Press,!p.226@241!

!

Lara,!Fernando!(2008),!"Explicit!ruins:!Architecture!Is!More!Visible!When!It!Fails",!in!

Steinberg,!Philip!E.!and!Shields,!Rob,!What"is"a"city?:"rethinking"the"urban"after"Hurricane"

Katrina,"Athens:!University!of!Georgia!Press,!p.57@60!!

!

Leontidou,!Lila!(1990),!"Spontaneous!urban!development:!in!search!of!a!theory!for!the!

Mediterranean!city"!in!Leontidou,!Lila:!The"Mediterranean"city"in"transition:"social"change"

and"urban"development,!Cambridge:!Cambridge!University!Press,!p.7@35!!

!

Leontidou,!Lila!(2001),!"Shifting!configurations!of!"the!other"!in!European!Border!Towns:!

Ambivalence!&!Fluidity!of!perceptions!of!"the!immigrant",!"the!core",!and!the!communities!

"across!the!border"",!in!the!Dialogue"Workshop"on"Racism"and"Xenophobia:"KEY"ISSUES,"

MECHANISMS,"AND"POLICY"OPPORTUNITIES,"on 5@6!April!2001,!Centre!Borchette,!Rue!

Froissart!36,!Brussels,![Online]!Av:!
---
ftp://ftp.cordis.europa.eu/pub/improving/docs/ser_racism_leontidou.pdf,![Accessed:!

16/06/2011]!

!

Leontidou,!Lila!(2010),!"Urban!Social!Movements!in!'Weak'!Civil!Societies:!The!Right!to!the!

City!and!Cosmopolitan!Activism!in!Southern!Europe",!in!Urban"Studies,!Vol.!47(6):!1179@

1203,![Online]!Av:!http://usj.sagepub.com/content/47/6/1179,![Accessed:!04/08/2011]!!

!

Martin,!Larry!J.!(1976),!"An!Analysis!of!Some!of!Piaget's!Topological!Tasks!from!a!

Mathematical!Point!of!View"!in!Journal"for"Research"in"Mathematics"Education,!Vol.!7,!No.!1!

(Jan.,!1976),!pp.!8@24,![Online]!Av:!http://www.jstor.org/stable/748762,!![Accessed:!

17/08/2011]!!

!

Massey,!Doreen!B.!(1994),!"A!global!sense!of!place",!in!Massey,!Doreen!B.,!!Space,"place"and"

gender,!Cambridge:!Polity,!p.!146@156!!

!

Mitchell,!D.!(2003),!"To!go!again!to!Hyde!Park",!in!Mitchell,!D.,!The"Right"to"the"City:"Social"

Justice"and"the"Fight"for"Public"Space,!New!York:!Guilford!Press,!p.13@41!

!

Nicolaidis,!Kalypso!&!Nicolaidis,!Dimitri!(2007),!"Europe!in!the!Mirror!of!the!Mediterranean",!

in!Fabre,!Thierry!&!Sant@Cassia,!Paul!(2007)!Between"Europe"and"the"Mediterranean:"the"

challenges"and"the"fears,"Basingstoke;!New!York:!Palgrave!Macmillan,!p.!126@194!

!!!

Papadopoulou@Kourkoula,!Aspasia!(2008),!Transit"migration:"the"missing"link"between"

emigration"and"settlement,"Basingstoke;!New!York:!Palgrave!Macmillan!

!

Pile,!Steve!(2002),!"Memory!and!the!city",!in!Campbell,!Jan!and!Janet!Harbord,!Janet,!(Ed):!

Temporalities,"autobiography"in"a"postmodern"age,"Manchester:!Manchester!University!

Press,!p.111@128!!

!

Relph,!E.!C.!(1976),!Place"and"placelessness,!London:!Pion!

!

Relph,!E.!C.!(2009).!"A!Pragmatic!Sense!of!Place",!in!Environmental"&"Architectural"

Phenomenology,""

"Vol."20,"No."3,"p."24031"[Online]!Available:!!

http://krex.k@state.edu/dspace/bitstream/2097/2211/1/60_09_fall__20_3.pdf,![Ac:!03@08@

2011]!

!

Ribas@Mateos,!Natalia!(2001),!"Revising!migratory!contexts:!the!Mediterranean!

caravanserai",!in!King,!Russell!(ed.)!The"Mediterranean"passage:"migration"and"new"cultural"

encounters"in"Southern"Europe,!Liverpool:!Liverpool!University!Press""

"

Russell,!Bertrand!(1967),"The!world!of!universals",!in!Russell,!Bertrand,!The"problems"of"

philosophy,!Oxford:!Oxford!University!Press,![Online]!Av:!!http://www.sadena.com/Books@

Texts/Bertrand%20Russell%20@%20The%20Problems%20of%20Philosophy.pdf,![Accessed:!

17@08@2011]!

!

!

!

38!
---
Sarcha!(2010)!"Athens!–Gerani!2010"!(In!Greek)![Online]!Available:!

http://www.ypeka.gr/LinkClick.aspx?fileticket=t1pdNBl40wg%3D&tabid=367&language=el@

GR,![Accessed:!15@06@2011]!

!

Sennett,!Richard,!(2002)!"Nakedness:!The!citizen's!body!in!Perikles'!Athens",!in!Sennett,!

Richard,!Flesh"and"stone:"the"body"and"the"city"in"western"civilization,"London:!Penguin,!p.31@

68!!

!

Shields,!Rob!(1991),!Places"on"the"margin:"alternative"geographies"of"modernity,!London:!

Routledge!!

!

Simmel,!Georg!&!Levine,!Donald!(1971),!On"individuality"and"social"forms:"selected"writings"

[of]"Georg"Simmel,!Chicago,!Il;!London:!University!of!Chicago!Press!

!

Sinclair,!Iain!(2003)!"Skating!on!thin!eyes:!The!first!walk"!in!Sinclair,!Iain:!Lights"out"for"the"

territory:"9"excursions"in"the"secret"history"of"London,"London:!Penguin!

!

Stallybrass,!Peter!&!White,!Allon!(1986),!The"politics"and"poetics"of"transgression,"London:!

Methuen!!

!

Turner,!Victor!(1987),!"Betwixt!and!Between:!The!Liminal!Period!in!Rites!of!Passage",!in!

Louise!Carus!Mahdi!(ed):"Betwixt"and"Between:"Patterns"of"Masculine"and"Feminine"

Initiation,!La!Salle,!Ill.:!Open!Court!!

!

UNHCR!(2011),!"Asylum!Levels!and!Trends!in!Industrialized!Countries!2010:!Statistical!

overview!of!asylum!applications!lodged!in!Europe!and!selected!non@European!countries",!in!

United!Nations!High!Commissioner!for!Refugees:!The"refugee"story"in"data"and"statistics,!

[Online]!Av:!http://www.unhcr.org/4d8c5b109.html,![Accessed:!18/07/2011]!

!

!

Figures

Figure!1:!Network"Nomadic"Architecture,![Online]!Av:!http://nomadikiarxitektoniki.net/!!

Figure!2:!"Sarcha!–!Gerani!Pilot!project!at"Again"All"Odds0"Ethic/Aesthetics,"[Online]!Av:!

http://aaoproject.org/!!!!

Figure!4:!Network"Nomadic"Architecture,![Online]!Av:!http://nomadikiarxitektoniki.net/;!

"Immigration!in!Europe",!in!Photo"Essays"TIME![Online]!Av:!

http://www.time.com/time/photogallery/0,29307,1964922_2066399,00.html!!

Figure!5:!"The!Lost!Boys!of!Afghanistan",!in!Angel"Flores,"[Online]!Av:!

http://angelfloresjr.multiply.com/journal/item/2972/2972!!!!

Figure!7:!photo!at!bottom@right:!!"Sarcha!–!Gerani!Pilot!project",![Online]!Av:!http://sarcha@

architecture.blogspot.com/2011/04/ccr@athens@gerani@2010@presentation.html!!

Figure!10:!"Sarcha!–!CCR@ΠΚΠ!CityCommonResource!Athens!Gerani!2010",![Online]!Av:!

http://sites.google.com/site/ccrpkpgerani2010/!

!

39!
---
Figure!11:!photo!in!the!middle:!!Enet.gr,![Online]!Av:!

http://www.enet.gr/?i=news.el.article&id=71614!

Figure!13:!first!photo!on!the!right:!TA!NEA.gr,![Online]!Av:!

http://www.tanea.gr/ellada/article/?aid=4593592!!

Figure!14:!"Battlefield",!in!The"Prism:"GR2010![Online]!Av:!

http://www.theprism.tv/home5.php#&panel1@2]!

Figure!16:!first!photo!on!the!right:!"Immigration!in!Europe",!in!Photo"Essays"TIME![Online]!Av:!

http://www.time.com/time/photogallery/0,29307,1964922_2066405,00.html!

Figure!17:!"The!Lost!Boys!of!Afghanistan",!in!Angel"Flores,"[Online]!Av:!

http://angelfloresjr.multiply.com/journal/item/2972/2972!!!!

Figure!21:!"Battlefield",!in!The"Prism:"GR2010![Online]!Av:!

http://www.theprism.tv/home5.php#&panel1@2]!

!

! Interviews !

Mammon:!!14/07/2011!–!16/07/2011!–!22/07/2011!

Faruq:!22/07/2011!@!26/07/2011!

Amar:!24/07/2011!

Sadeh:!22/07/2011!

Kostas:!26/07/2011!

Mrs!Maria!Theodorou!(Architect!and!Director!of!Sarcha):!Athens,!12/07/2011!

Mr!Apostolos!Veizis,!(Head!of!Programmes!Support!&!Institutional!Relations,!Doctors!Without!

Borders!@!annex!of!Athens):!Athens,!19/07/2011!

Miss!Natassa!Vourtsi!(Social!Worker,!Greek!Council!for!Refugees!in!Athens):!Athens,!20/07/2011!

!

!

!

!

!

!

!

!

!

!

!

!

40!