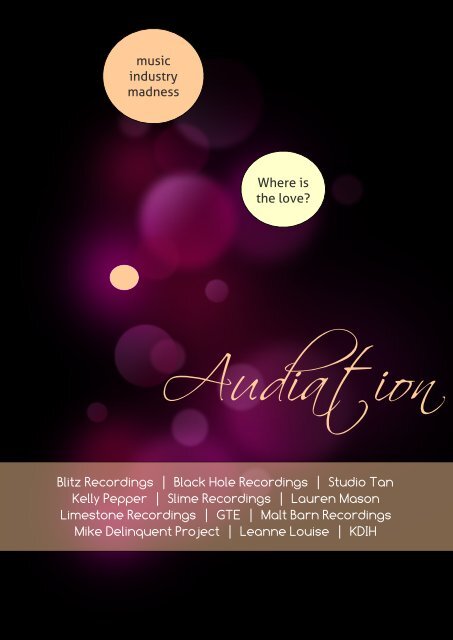 AM001
Issue 1 May 2014 features an in depth look into the music industry. Including music from Lauren Mason, Blitz Recordings, KDIH, Slime Recordings, Studio Tan, Kelly Pepper, Limestone Recordings, GTE & Mike Delinquent Project.
Issue 1 May 2014 features an in depth look into the music industry. Including music from Lauren Mason, Blitz Recordings, KDIH, Slime Recordings, Studio Tan, Kelly Pepper, Limestone Recordings, GTE & Mike Delinquent Project.
SHOW MORE
SHOW LESS
You also want an ePaper? Increase the reach of your titles
YUMPU automatically turns print PDFs into web optimized ePapers that Google loves.
music

industry

madness

Where is

the love?

Audiation

Blitz Recordings | Black Hole Recordings | Studio Tan

Kelly Pepper | Slime Recordings | Lauren Mason

Limestone Recordings | GTE | Malt Barn Recordings

Mike Delinquent Project | Leanne Louise | KDIH
---
Audiation is a magazine full of music goodness.

We aim to showcase the amazing talent that

does not receive the recognition it deserves.

AUDIATION

For the love of music you will most definitely be

able to find something you enjoy in our eclectic

selection. Whether your groove is house, garage,

dance or soul; we will cater to your desires.

Music is the voice of the soul. It is much more

than sound. Music can be a comforter, party

maker, career path or a way of life.

Music is passion & adrenaline rolled into a pattern

of music notes that create a permanent etching

of a moment in my mind.

Follow your heart and let your passion & dreams

guide you.
---
A U D I A T I O N

An imagination..

not with visuals, but with sound.

www.AudiationMagazine.com

Tweet @AudiationMag

Like AudiationMagazine

Email info@AudationMagazine.com
---
www.TheSassyYank.com

Simply spreading the word about great music.

Christina Johnson, aka "C.J. - The Sassy Yank" is the

creator of The Sassy Yank Music Publications and

Promotions, 1/3 of The Push and Pull Show, blogger and

A&R for OneFold Records. Her passion, dedication to

the music and determination have gamered her

endorsements from several industry leaders/legends.

The Sassy Yank
---
www.MizzRubyX.com

International Dance & Eclectic music site with a touch of lifestyle

www.UKGarage.org

All things good in the Garage, House & Bass world.

La musique est ma vie.. music enthusiast label management, website

publications & music career advising.

Think positive. Be happy. x

Mizz Ruby
---
Monday 9pm Ministry Of Sound

Essential Garage

Tuesday 2pm Select Radio UK

Danny Blaze National Anthems Show - Club

Classics

Thursday 3pm Select Radio UK

Lizzie Curious – Funky / Tech / Uplifting / Groove

RADIO

Thursday 9pm Kiss FM

DJ EZ – UK Garage

Thursday 10pm JazzySoul Radio

DJ Soul Crush - Jazz & Soul

Thursday 10pm Freek FM

The Push & Pull Show – UK Garage

Friday 7-8pm Ministry Of Sound

Sister Bliss - International Dance

Friday 10-12am Vision Radio UK

DJ Emma Champion – House & UK Garage

Saturday 9pm Kiss Fresh

Mike Delinquent – UK Garage & Bass
---
Welcome to the debut edition of Audiation

magazine !
---
Studio Tan featuring Lauren Ashleigh -

Trippin

DANCE MUSIC

Hailing from Essex, UK, Studio Tan have been

producing and remixing for over ten years with a

background in House and Garage music. Studio Tan

and Lauren Ashleigh joined forces in 2014 to cowrite

house/dance track Trippin'. Due for release in

March 2014, the track has already picked up radio

support from Capital Xtra, and the single package

includes remixes by Mark Martin & Kettridge, and

Justyn Cousins. The official music video premiers

online via Vevo in February. Studio Tan have also

worked with UK Garage legend Brasstooth on his

2014 version of Pleasure (under the name of the

Final Cut Collective). Lauren Ashleigh is someone to

keep a watchful eye on, having worked with various

producers to date including L.I.A and Rascall

Soundzone, Lauren has begun to hone her sound and

is due to embark on a club tour later in 2014.

The track is available to purchase through all major

music store websites, and has also been featured on

four TV music channels includings Club Dance TV &

Chartshow Dance.
---
Haugli & Lizzie Curious - Your Touch

Songbird 346-0

DANCE MUSIC

Your Touch combines the

haunting production

talents of up & coming

producer Haugli, with spinetingling

vocals from

Lizzie Curious, to create a truly evocative piece

of house music. From the first moment you

hear the captivating organ melody and gentle

rhodes keyboard, you know this track is going

to be something special. Add to this crisp,

minimal percussion and warm, expressive

lyrics (written & performed by Lizzie) which

cannot fail to touch your heart, and you will find

yourself heading towards a breakdown of

almost ethereal quality - watch out for

goosebumps! Meanwhile, on the Tech House

remixes, Lizzie Curious showcases her

production skills, stepping up the tempo and

injecting her Curious groove into proceedings,

thanks to the rolling percussion and bouncy

bass. An electrifying breakdown propels you

towards a thundering crescendo, before

stripping back into the undeniable groove, all

the while allowing the vocals to shine through.

A dub mix is also included for those headsdown-at-6am

on the dancefloor moments!

The track is available to purchase through all

major music store websites.
---
Leanne Louise: Count My Blessings EP

I haven't enough positive words for Leanne, she is amazing and such an

inspiration. I've had the pleasure of hearing her progression since she started out

The first time I heard her voice was through her also musically talented producer

of a brother RDubz, on a track called Crazy. At that instant, I fell in love with her

vocals. Through her journey her fans have grown stronger & stronger and more

people are getting to know her voice which is beyond super because she is not

only talented, she also has such a kind heart and deserves every single positive

aspect in the music career. I have no doubt she will achieve great things and you

should all get listening! This is her very first EP!! So please support her, enjoy her

voice, and keep an eye out for more to come!

Untitled Now you may think she ran out of imagination for the title but as you

listen you shall realise it is all justified. This track showcases the depth of her

vocals with an urban edge, and a really interesting rhythm which has me hooked!

Save Your Heart A lovely smooth piece. Nice tones on the strings which

accompany the gorgeous soft sweet vocals. No More Love, this beautiful

track shows not just Leanne's soft but strong vocals, it gives a little insight into

her lovely soul. Glass House This track has a slighter darker tone, highlighting

her soft tones with equally soft melodies. Bouncing them off nicely against

rough punchy vocals. Count My Blessings A rhythmic delight with the vocals,

yet with a smooth undertone of the melody.

"There are words in my

heart that have never

been spoke"

Leanne Louise.. The lady who will make you smile.
---
Superhand: Discipline Me

.

Discipline Me by Superhand featuring a "dizbusting" remix by Rednek.

Debut release from Superhand & Malt Barn Recordings from the hills o

mid Wales.

"A thrilling boundary-busting meld of rock, electronica, blues and soul,

'Discipline Me' teams singer Inga Carlstrom and principal

instrumentalist Leck Fischer with a vastly experienced crew: Jason

Cooper of The Cure is on drums (band friend Duane Atherly plays bass

with Mike Mason (formerly of 4AD label luminaries Swallow) producing

and Cameron Craig (Placebo, UNKLE, Amy Winehouse) the Grammywinning

engineer." (Martin Aston)

"I'm so obviously

crazy"

"I grabbed my coat, but a monstrous bass line rabbit-punched me in

the back of the head and a voice made me weak at the knees. I ordere

another drink and witnessed the best performance I've seen in years."

(Mike Mason)

Superhand are here to break the mould, with their edgy tunes

which smash down the walls of any conventional music of

today." (Samantha Anderson)
---
Shane Blitz featuring Lauren Neko - Do You

BR006

HOUSE MUSIC

Blitz Recordings presents a seductive three

track release - Do You featuring Lauren Neko.

Vocalist Lauren Neko (AUS) and Shane Blitz

(UK) had a chance encounter one early morning

in South East London, Giving birth to this

timeless creation. This Deep House original

invites in the 90s and all the pleasure that

comes with it. London producer Adam Dmize

presents a cheekier remix, Blending Deep

House and everything thats UK, dark and gritty.

Sheckas from the Outskirts of London offers

an intimate remix, with a lush Tech House

treatment.

The track along with remixes can be purchased

through all major music store websites and has

also been featured on DJ Mag Australia.
---
DJ AK Steppa - Knee Deep In House 12

HOUSE MUSIC

London based House DJ

A.k.Steppa has plenty of

experience behind the

decks, having held down

weekly shows on various

stations over the years

through his love of music

which spans early Hip

Hop into Acid House,

Rave, DNB & UK Garage, the list goes on...

He's also built up a worldwide listening fan base, not

forgetting his regular bookings & residencies in

Clubs & Bars within the UK which have included

Ministry Of Sound, Pacha & Aquarium to name but a

few.

As well as playing regularly in Ibiza, he's one of the

hardest working DJ's and always has an ear out for

whats fresh on the underground, featuring tracks

on his often updated well thought out mixes that

are downloaded in high demand.

The latest edition of the Knee Deep In House

podcast features music from AndMe, Donaeo,

Tempo Elektrik, Groove Armada. Amine Edge &

DANCE and Disclosure.

www.aksteppa.com
---
Music is more than sound.

We would like to turn your attention

to these two organisations who

help others through the power of

music.

Nordoff Robbins use music therapy

to help others who are facing

challenges such as autism,

depression and mental health

problems.

Rhythmix gives various music

making opportunities to young

people in challenging

circumstances, working with Crime

Reduction and other youth support

services.
---
Artists/DJs/Producers looking to increase promotions,

you now have the opportunity to have your own iPhone

application! Including live audio streaming, social media

content and music players.

For more information contact: djpyro@me.com
---
GTE - I Know

The brand new track from GTE is

available now on all good digital sites.

This is the first releease since 2011 and

the first of many this year on a new label

ADAP. Tracks with MC Neat, Kelsey and

American rapper Mike Dubb are all in the

pipeline as well as remixes and releases

with Huggy under their alias name Lapis

Lazuli all set for release over the coming

months.
---
The Music Industry

This is the digital age and growth of technology has made it so easy call themselves a DJ with the

press of a button. But is this right? I much prefer the pureness and love from a REAL DJ who has

worked hard to get where they are today. These talented people do not get the recognition they

deserve. Somehow the world has stumbled into this fake culture where suddenly being a "DJ" is a

trend that anyone can jump on. The likes of Paris Hilton, Joey Essex, "Big Mo" from EastEnders and

Steven Gerrard have now turnt to "DJ'ing" in order to gain more fame and money. Where is the love?!

Why is this socially acceptable? Someone mentioned "DJ qualifications" this is a great idea, you

cannot call yourself a DJ if you don't have this degree!! - There are lots of great music courses for

those who are seriously interested in the industry and have a passion for music.

Do what you love; with all your heart may I add. I would love to be able to do a really wicked mix or

create an absolute banger or two, but I don't because I know I just don't have the skills. There are far

too many no name "DJ's" who just think oooh cool I'll jump on my laptop and overuse that fade in/out

feature with all the latest hyped up chart pop nonsense and now I'm a good dj! No. My respect goes

to those who have been working hard in the music scene and is passionate about their work in music.

Always learning and always feeling good about what they do. Not for the money or image, but for

themselves and their passion for music.

Even Jon Richardson said "Why is nobody reporting the fact that music is dead?" - in reference to

Miley Cyrus.. but really thinking on an international scale gives me a headache! My advice is keep

away from the fakeness and stay true to what you love doing.

Promotion: Several of the same kind of promos get recieved but simply dismissing anything in the

emails that follow the same bland structure is not right. Receiving promos is always great for me, I

love hearing new music and amazing talent, however I agree with the notion that impersonal mail

outs sent to 100s of others all the time is a little tiresome to be raking through. When I receive a

personal message from someone who has clearly done their research and has genuine passion for

music then they have my full attention and respect. This may be a long process but in my opinion the

work will pay off and you'll be able to build up a network and be taken seriously. For example we all

get annoyed with telemarketers trying to shove a ppi claim in your face but perhaps if they took a

personal touch and found people who really needed their help then they wouldn't get hung up on all

the time..

Music is love. An art form, a creative outlet, not a cheesy fad.

A while ago people talked about wanting to change the name of the new style of garage, in order to

re-introduce it to more people who would accept it. The term "new garage" often turns people off

the idea. Going to "garage" events, people who aren't in the music scene expect and want old school,

and the others want to hear the new music.. where is the middle ground? It is still the same genre so

I don't believe the name is the issue, there already is "nu skool" and "future garage" but at the end of

the day it is all garage, just a more evolved take on the style.

"People follow trend setters and originality is decreasing." Christopher (Permanent St8).
---
"We just need unity and a united vision, not division" DJ Emma Champion.

"I think the important thing is for producers to move away from labeling their music as a particular

genre as it can put people off listening to it. Many tunes out nowadays cross a number of genres

put people will still pigeon-hole them and will continue to do so. Good music will always rise to the

top if it gets the right support." Minerals.

But evolution of music is natural right? Music is always changing, people are always learning and

new talent emerging every day. Then why are there still the stereotypes of genres? Music is an

expression, in this instance the new style of uk garage has come a long way since the last decade,

but then why do people still associate garage as being old. Is society open to change? People need

to consciously understand that there are always new things out there and genres will constantly

grow and change and should not be labelled as one particular thing.

So how does it all work? All areas have links that effect each other and this works for everything

including the music industry.. Producers/Artists create pieces from their own influences and loves,

the media promote music to the audience, the audience will listen to what they like, the "hot"

producers/artists will be booked and promoted more, the others get less acknowledgement, the

media won't promote them, the audience concludes that their music is "old", and the vicious cycle

continues.. leaving the talent to keep rising but no one wanting to pay attention to their views.

"I may be in line at the grocery store and hear something I like. I will pull out the phone and Shazam it

to sort which tune it is. I am ALWAYS searching for new stuff." The Sassy Yank.

Growth of technology: Where do people go to hear music? The evolution has passed

through vinyls, cassettes, CDs to MP3s, and now in this day and age, YouTube. Doing a quick survey,

6/10 people listen to the good old radio for new music, and the others go to music

sites, predominately Youtube or Soundcloud. Music promotion has also evolved and it's all about

gaining that first airplay on radios, filling up all the social networking sites and uploading to Youtube

and Soundcloud.

The industry artists & producers now rely on the internet for their sales. Far from whiling away in

the music stores flicking through, having a listen and getting lost in a piece of music.. it is now one

click on iTunes and you can get he top ten chart.. soul less. I would like to express that I am not at

all slating these companies because they do efficient work at helping people share & listen to

music, I am however concerned about how people are using these tools.

The Trichordist & The Digital Music News discuss the affects on sales with the increasing

technology. To all lovers of music, please support the good talent as much as you can.

"White labels, test presses, 3 copies of a track and that was it! That was underground and

exclusive!" DJ Kristal.

Commercialism: Music to me is everything, and I respect those who know the industry inside out

through their experiences. A lot of commercial listeners don't understand the underground scene

or the works of the business Some people just want money and fame and that's not what music is

about at all...
---
DJ's complain about only old tracks being played on majority of uk garage radio shows. But is this

because it is what society wants to hear? This goes back to the topic of the genuineness of music

and it's listeners. It isn't on a small scale any more, people are generally listening to the same thing

that's on the popular radio and TV channels just because it is "hot right now".

"The commercial industry has never listened to REAL talent, they go after celebrity whores."

"We still have a thriving underground scene. Full of great Djs/MCs and producers. And not a sync

button in sight" DJ Ink.

"There are NO shortcuts in the music biz unless you sell your soul to the devil. It takes sacrifice and

GRAFT... Even if you graft there are NO guarantees So you gotta have PASSION and self-belief and

do your thing REGARDLESS! I have been writing songs since I was 12, performing since I was 14 and

working with major Artists touring at 21. I've performed at pubs, bars, working men's clubs, on

cruise ships, theatres, parties, arenas, festivals, on TV, in studios: EXPERIENCE! I am comfortable

on ANY stage in front of ANY audience. I have learned STAGECRAFT! How many of you can hold

your own in ANY situation? I've performed on my own: accapella, acoustically, with backing tracks

and with 16 piece live bands. All are learning curves! It takes more than riffing & over-playing to be

an Artist. DISCIPLINE! Learning to embrace the space, DYNAMICS and convey EMOTION are VITAL!

I have also been a vocal & performance tutor and worked at a Music School in East London for 2

years so I have seen RAW talent! I also have a Masters Degree in Music Business Management and

run my own Limited Company so I KNOW what I'm talking about - I've LIVED it! I'm just reminding

folk as when I comment on shows like XFactor and other Artist performances I see BEYOND the

obvious. I have had a No. 13 hit single and although I'm not a "star" music is my destiny. It speaks to

my soul and I have a RIGHT to be here! Its important to speak out and fight against the commercial,

corporate-led misconceptions of our industry. Phew! Its great to get all fired up about music, its a

GIFT and needs to be honoured and respected, not pimped, I'm pleased you all agree! I think society

is waking up to the bull and are desperate for more sincere and genuine music, Its only a matter of

time." Kay Jay.

Taken from Mobo.com. "The appeal of UKG is that it knows not to take itself too seriously. While it

was once on the outside looking in, trying to prove itself as a set of feelings and sounds - having to

be serious and headstrong to some extent - it didn't have to sacrifice the fun to push on through.

And this is what's great about today's generation, the parallel stars."

Taken from Helium.com. "The question of how commercialism has hurt the music industry is more

than a little bit misguided. The music industry is commercialism. Maybe that's somewhat cynical.

That does not mean it is an untrue statement. The music industry is run by people that truly do not

care about music. Executives of record abels, program directors of radio stations, and anyone else

who is "in charge" of the music industry care less about music than they do about selling

advertising and merchandise."

Taken from an online discussion. "It does damage the variety of music that makes it's way into our

record collection since bands that are loved by a minority don't get the fame or money they often

deserve, and they are often forced to give up. And while commercial music is created to be enjoyed

by as many people as possible, it is not being created out of simple enjoyment for music."
---
"It's always been about the underground, the industry take our music, water it down & fed it to the

masses. Too many young ones get caught up in the bright lights"

Taken from Last.FM. "I work in a (commercial) record store, and everytime I see new CD's coming

in. And when Korn turns into POP-Korn*, Nelly Furtado trades her musical identity and the beautiful

original (sad) use of her voice and still make happy songs to make some sort of pussycatdoll-music,

and when Richard Ashcroft makes a Robbie Williams-pop CD when The Verve had so much

potential, then I ask myself... is commercialism killing music?"

Solution? Whether it is society, commercialisation or DJs and producers, something needs to be

done. There are already radio shows which promote new music, and dozens of various events.. but

they are all aiming at specific people who make an effort to listen to the new music. We need to be

thinking on a much broader scale and let the world realise that music is more than their labels. We

need to work together, intervene and just really grab people's attention. There will always be a

trend, unfortunately, but I think somewhere along the lines people have got stuck into these same

ideas and don't appreciate music as a genuine heartfelt piece of art.

"The reason it is not underground anymore goes way deeper, it's because people just follow fashion

these days, not much is underground these days! As mainstream music goes downhill in general,

youth are not used to quality underground sounds. Everything is too easy these days, people used

to spend all day in record shops, now they want 5 million tunes on their iPod in 5 mins without any

effort made, that's why the underground has gone. Nowadays people don't even wanna pay £2 quid

for a tune. I play old and new and my only stipulation is that it is GOOD. 100% just good music, not

just cos it's new or cos it's old. Old skool will never die no matter how much the new skool wishes it

would. It's only the djs and producers that can move it forward." DJ Emma Champion.

"It's Particularly hard as artists who enjoy experimenting with different sounds, as everyone wants

to label u" Soneni and The soul.

"I think lack of decent production killed the scene off. House (especially Deep House) is killing it at

the minute because it is excellent quality club music. A LOT of new garage being made is not even

worthy of radio play let alone clubs. There is a couple of producers who are producing quality music

but you can't build back a scene with 1 or 2 producers!! Make club bangers and get it back into the

clubs." DJ Smiffy P.

"People these days that use to be into UK garage think it is dead or do not wish to listen to any new

stuff or give it a chance because they cannot move on from the bad associations it once had. The

sound has changed a lot over the last 5 years or more and it is slowly becoming the sound it once

was. Not everything is going to be liked by everyone but that would have still been the case nearly

20 years when it first began but because people hear a couple of tracks on an album they believe

that it is the only sound of UK garage around and just dismiss it. I find it hard to believe that it is

completely dead when I'm constantly hearing it on pirates and podcasts still. What makes me really

laugh is that for example Sunship remixes a track, Kiss fm playlist it and then people really love it but

have no real idea what genre it is." Rascal Soundzone.

"Old skool garage all the way can't be beat. Have to keep a close eye on my cds. I'm just a

garage fan big on my old skool" Toni.
---
"I like the exposure social media provides to artists, makes it easier to reach audiences that would

have been more difficult to reach previously. I am pleased to see growth in the amount of producers,

it is nice to see more UKG coming out. Still requires searching but its def getting better I think. I

definitely feel there is a difference in the sound of old garage vs new garage but speaking from an

outsider yet insiders perspective I think that is a lot of people just not wanting to accept

change.which is not abnormal from normal life really. You can't have UKG come back and have it

sound exactly the same as before as that was a different time in history. There have been updates in

music applications etc so the sounds of course are going to be different and you have had other

music styles change through the years so people are drawing from within themselves, their

experiences etc. I of course am at a disadvantage since I am fairly new to the garage scene. It just

isn't possible for it to be like it was as it was a different era in history. But having said all that there is

a lot of really good new garage music and I feel that a lot of the new garage has the potential to be

more crossover music then say some of the older garage, though my fav will ALWAYS be 2 step old

school." The Sassy Yank.

"Think that's this ego thing people keep throwing around. it's more the "sound" people are trying to

put across rather than genres. Egos can get left at the door, all or nothing." Rudeboibrand.

"I think general society is open to change, but they see 'garage' as an era of music that happened,

not as a genre like djs, and avid listeners understand. Remember that house and garage in the UK

stemmed from other 'genres' yet.. we don't clamour for them like we do garage. Why? because of

our fond memories associated with garage. In my opinion people need to stop trying to resurrect

something that isn't dead. Music doesn't die, it just gets older, if the garage scene will once again

become the focus of the UK music industry it will happen naturally...last time around 'deep house'

tracks e.g. strictly rhythm, cloud9 etc preceeded garage. Deep house is prominent now. I consider

myself a listener first, then a DJ because hearing the music and enjoying it is my first buzz, then I

get to play it (work with it) But then I just love good music. like I can't stick my fugees or

chakademus album on cos it's 'old' !! farce - exercising of egos. I'll never play music because it's

'new'.." Eamonn James.

"Old garage = sick but alot of the same tracks has been rinsed far too much over last 15 years. New

garage hasn't been given a chance properly coz youngsters are still hearing oldskool tracks mainly.

Many youngsters growing up into loads of types of bass music now where as I grew up on jungle &

garage they're growing up on that. Is it underground anymore ?? U say it is but u got DJ Fresh, Skrillex

in the charts, dubstep & d&b list goes on educating youngsters. Underground scene was

underground until mp3 took over vinyl u went to be educated now u go on YouTube. People

associate garage as old because that's what it is to younger generation just like Barry whites music

is to me. I agree labelling garage as old is no different from labelling Motown music as old people still

love it tho. Thing is I do love garage the fact it isn't moving fwd irritates me alot. For me that's a clear

sign it should stay as it is. Defo I don't believe it's anyone's fault at all, sometimes trying to changes

something with a strong foundation don't work. There's so many genres, sub genres to choose from

now it's like a dj feast, even with meetings nothing has been resolved, will it ever?? Not so sure" DJ

Zenn.

Music is love
---
Lauren Mason - Would It Be Fair?

A nice smooth melody with little interesting

touches, along with Lauren's gorgeous

versatile vocals. The brand new track from

Lauren Mason, track produced by Sticky. The

track is available to purchase on the iTunes

music store on Dirty Dolly Records.

Mike Delinquent Project ft Terri Walker - Tension

The rhythm will certainly have you bouncing

with Terri's soft & versatile vocals

accompanying nicely. The beat with slight little

dips & fragmented notes giving more interest &

flair to the piece. The break is bringing a

smooth, almost sweet soulful funky element.

Including a bumpy vip MDP edit, a mellow

"midnightRnB"PresidentBeatsremixanda

Matthew Bandy featuring Diane Charlemagne - Pieces Of My Dreams

Limestone presents the first collaboration

with Matthew Bandy & Diane Charlemagne.

The project journeys through soulful vocals,

uplifting pads and a synth driven baseline.

The Layabouts support the remix with a

classic 90's influenced mix, deep yet driving.

www.limestonerecordings.com
---
Monika - Chimera

SLM106

BASS MUSIC

Slime welcomes back to the label

London producer Monika. Since

debuting on the imprint last year

with the spellbinding 'Devotion'

EP he has been hard at work

refining his unique distillation of

the autonomic sound through a

prism of melody and ethereal atmospherics. For his

return, he brings four beautiful cuts of forwardthinking

electronic music that will capture your heart

instantly.

Kelly Pepper - Drop The Bomb

The gorgeous vocals of Kelly

Pepper, with this great little

JungleTek style track. The song is

produced by up and coming drum

n bass producer Drifta, and

features a sample by The Ragga

Twins. Drum n bass legend Ray

Keith has produced the official remix for the track

along with a few other remixes by Drifta, Yohann &

Exist.
---
VISIT WALES

CYMRU

Nannerth Ganol & Nannerth Fach

Nannerth Ganol, LD6 5HA Rhayader

+447723330239

"I would highly reccommend visiting and

cannot wait to stay again. The hosts are

very friendly and accomadating. Enjoy a

cosy peaceful cottage surrounded by

amazing nature & scenery."
---
On 27th April over 50 UK Garage artists came together to be

photographed with some of the children from Great Ormond

Street Hospital. To see video's and behind the scene photos from

the day please log onto www.butterflyphoto.co.uk

BUY A UKG 2015 CALENDAR for just £10 by emailing:

natalie@butterflyphoto.co.uk

£5 will be donated to Great Ormond Street Hospital

If you do not wish to buy a calendar but would like to donate to this

special project, please add directly to the JustGiving page or text

GRGE99 to 70070.

By donating as little as £1 you will be helping GOSH continue to

support ground-breaking research and provide their wards with

leading edge equipment!
---
Well, here we are.. you have reached the end of our very first music

magazine edition. We hope you have enjoyed it as much as we have

creating it! The next issue will be available 01.06.14. Please subscribe,

and thank you for the continuous support. This is not only our magazine,

it is yours too! There are far too many amazing musical minds that we

aim to share to the world!

Send us feedback & a star rating (out of 5), please be kind :)

info@audiationmagazine.com

with love

The Sassy Yank & Mizz Ruby xx
---
Audiation

AM001 Copyright 2014 © Audiation Magazine