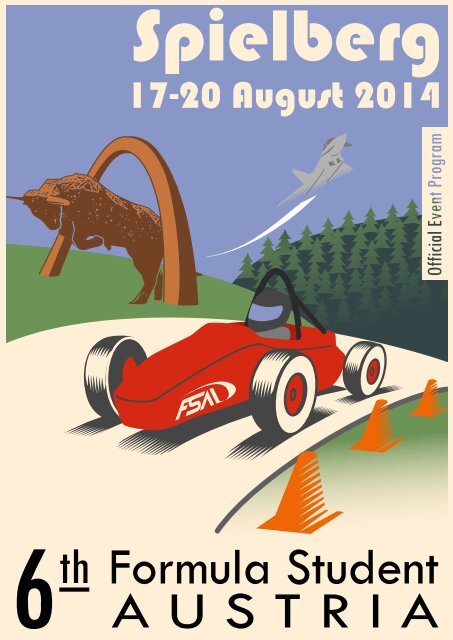 FS Austria Event Programme 2014
Official event programme containing information on the competition, site plan and competing teams.
Official event programme containing information on the competition, site plan and competing teams.
SHOW MORE
SHOW LESS
You also want an ePaper? Increase the reach of your titles
YUMPU automatically turns print PDFs into web optimized ePapers that Google loves.
Spielberg

17-20 August 2014

6 A U S T R I A

th

Formula Student
---
CONTENTS

Foreword 4

The FSA Team 6

Our partners 8

Formula Student 11

Disciplines 12

Event Schedule 14

Competing Teams 15

Site Plan

30 (Centerfold)

Spielberg 2014 | Formula Student Austria | 3
---
Foreword

Martin Matzer

Dear friends of Formula Student Austria,

It is a great pleasure for me to welcome all of you to this

years' Formula Student Austria (FSA) event.

This year FSA is held for the 6th time, and for the 4th time

at the great Red Bull Ring. As a former formula student

team member it is great to see the world from

the other side.

Since Formula 1 returned this year after a long

break without Austria on the calendar, the Red

Bull Ring has been expanded in many ways -

we are really happy to use this great venue for

our competition. At this point I want everyone to

thank our partner, Projekt Spielberg who has

helped us set up this great event.

As already mentioned above, it is necessary to have partners

for an event like this. Without all our partners, all of

this would not be possible. So THANK YOU VERY MUCH for

your great support. It is great to work with all of you.

Even with the best partner I could not run this event by

myself. Therefore FSA has its steering committee which

simply consists of five people. So many thanks to Christoph

Lorenzutti, Ralph Moser, Michael Müller and Lukas

Raschendorfer for all the work you put into this event throughout

the last year. It is great to have you as colleagues

as well as friends.

But running this event with just 5 people is also not possible.

I would like to also thank all our staff members and judges.

It is great to see so many different former participants

from formula student teams and different companies from

countries all over the world supporting this event with

their passion.

Last but not least I want to thank all of you

teams who are coming every year and make

this event one of the best in the world. I hope

you will have good time and can enjoy this

event and our great country. To all team members

I can recommend talking to our sponsors,

because they are looking for new employees

and this could be great opportunity for you to

start your work-life after finishing university. It

will be a win-win situation for you and our partners - so

take your chances.

In the end, all I can say is THANK YOU to all our supporters

and helpers. Good luck and much success to all the teams,

may we all have great time.

Best regards and keep on racing,

Martin Matzer

"As a former formula student team member it

is great to see the world from the other side."

4 | Formula Student Austria | Spielberg 2014
---
AVL RACING helped win 13 racing world championships

last year. For some, the quest for speed can take plenty

of twists and turns. We take the direct route.

AVL RACING: TRANSPARENT SPEED

INNOVATIVE POWERTRAIN DEVELOPMENT · COMPLEX PRECISION

MANUFACTURING · YOUNG DRIVER SUPPORT PROGRAM · INTEGRATED

INSPECTION & TEST SYSTEMS · VEHICLE SIMULATION & DRIVEABILITY · MULTI-

DIMENSIONAL SIMULATIONS · YOUNG DRIVER SUPPORT PROGRAM

INNOVATIVE POWERTRAIN DEVELOPMENT · COMPLEX PRECISION MANUFACT

www.avl.com
---
The FSA Team

Formally known as the FSA Steering Committee

Martin Matzer | Event Manager

Martin Matzer

With experience as both FSAE Team Manager and Endurance/AutoX

driver, Martin is now at the wheel of FSA

for the second time after 2013. A motorsports fan by heart

and trade he is determined to keep FSA one of the most

attractive events in the series.

Christoph Lorenzutti | Sponsor Relations, Scoring

Part of the FSAE circus since 2005, Christoph can look back

on a lot of experience in the series. Working on aquiring

new supporters for FSA throughout the year, his main responsibility

at the event is the scoring system.

Christoph Lorenzutti

Ralph Moser | IT, Timing, HR

Ralph Moser

As FSA's tame IT professional, Ralph makes sure that all

the electronic systems at the event, from timing to team

internet, play nice. During the rest of the year his responsibility

is recruiting the staff and judges, without whom this

FSA would not be possible.

Michael Müller | Dynamics

Former FSAE Team Manger and powertrain guy, Michael

has the oversight over all of the dynamics. During the night

you may catch a glimpse of him placing cones and making

the very special FSA course a reality.

Michael Müller

6 | Formula Student Austria | Spielberg 2014
---
Lukas Raschendorfer | Rules, International Relations

Lukas Raschendorfer

After multiple years as "Sparkie" for both C&E FSAE cars,

Lukas joined FSA and is now responsible for the rules,

also taking FSA's chair in the FSAE world committee.

An engineer by day, a designer by night he also creates

most of FSA's graphical designs.

A whole lot of Volunteers | Making FSA happen

Five guys may be enough to organize the event, but to actually

run the event a much greater number of people is

needed. This is where all of our red-shirted volunteers

step in and take over all the tasks from scrutineering to

fetching the cones that were ungently removed from their

positions.

Like the steering committee, they are all volunteers, dedicating

their free time and holidays to providing you a great

experience.

Spielberg 2014 | Formula Student Austria | 7
---
Our partners

ACstyria functions as the hub of the Styrian automotive and aviation

supply chain industry and has, with 190 partner companies,

gained major cross-regional and international importance.

ACstyria connects partners from the fields of economy, research

and public bodies for the automotive and aviation industry's interests.

Initiating cooperation between companies in order to open

potentials and find synergies and to support them at best lies at

the centre of the cluster's activities. Thus ACstyria successfully

supports its partners to improve their innovation potential and

international competitiveness. Furthermore, for its partner companies

the cluster facilitates a large number of activities to go international.

KTM-Sportmotorcycle AG, with its headquarters in Mattighofen, is

one of the world's leading manufacturers of motorsport vehicles.

Our product portfolio ranges from race-ready offroad and street

motorcycles to ATVs and the lightweight X-Bow sports car, as well

as PowerParts and PowerWear.

Qualified and highly-motivated employees are our most important

success factor. So if you share our passion and

would like to accomplish your own aims with KTM, visit

www.ktm.com.

Mubea Carbo Tech's main focus is on complete consistency from

the projection through to construction, strength design, model

building, mold making and final testing. In this way the customer

has a partner for a cost-efficient total solution, whether it's the

manufacture of a single prototype or a whole series. In order to

manufacture high-end composites, extensive hardware and software

solutions are required. That´s the reason why we are a "Tier

1" supplier.

8 | Formula Student Austria | Spielberg 2014
---
AVL is the world's largest privately owned company for development,

simulation and testing technology of powertrains (hybrid,

combustion engines, transmission, electric drive, batteries and

software) for passenger cars, trucks and large engines.

Currently operating 6.200 employees in 45 locations worldwide,

with a turnover of Eur 1.015 million, the proportion of company-financed

research is approx. 12.5%.

Every day AVL is developing cutting-edge solutions for our clients.

We are pushing ahead to realize visions and set new standards.

We are looking for people who have the drive for excellence and

the ambition to become part of an advanced team of professionals.

For those who join us, the opportunities are endless.

www.avl.com/career

Pankl Racing Systems AG, based in Bruck/Mur, Austria, specialises

in developing and manufacturing engine- and drivetrain

components for racing cars, high performance vehicles and the

aerospace industry.

Pankl scores with lightweight components made from high-grade

innovative materials designed to withstand extreme mechanical

stress.

Pankl is a global niche player with worldwide subsidiaries in

Austria, UK, USA, Slovakia and Japan. Pankl employees around

800 people and achieved a total turnover of EUR 109m in the fiscal

year 2010.

The Austrian Society of Automotive Engineers (Österreichischer

Verein für Kraftfahrzeugtechnik – ÖVK) is a non-profit organisation

which seeks to promote the meaningful application of automotive

engineering. Furthermore, it organises scientific conferences,

lectures, seminars, and symposia at which mechanical engineering

experts can deepen and widen their knowledge in the field of

automotive engineering, and publishes relevant documents. The

Association?s supreme goal is to create a symbiosis between

theoretical scientific findings and their practical application by

engaging in a permanent dialogue and assuring an exchange of

experience between mechanical engineering experts lecturing at

universities or working in practice and scientists. The Association

was founded in 1985 and at present has about 750 regular members

who are natural persons.

Spielberg 2014 | Formula Student Austria | 9
---
Riedel Communications was founded in 1987 and today employs over

350 people spread over 12 locations in Europe, Australia, Asia and the

Americas. The company operates in three business fields:

Manufacturing: Riedel designs, manufactures and distributes the most

sophisticated intercom, fiber, audio and radio technology for customers

worldwide in the broadcast, pro-audio, event, sports and theatre

industries.

Rental Service: The rental service provides wired and wireless intercom

solutions, IT infrastructure for events, accreditation & ticketing

systems as well as radio and fibre-based audio and video transmission

systems. Riedel offers extensive services including project planning,

logistics, set-up and operation.

Radio Distribution: Riedel is one of the biggest authorized Motorola

business partners in Europe and operates one of the biggest radio

rental businesses worldwide.

Die GMC-Instruments Austria GmbH ist der Spezialist für tragbare

Messtechnik und industrielle Messtechnikkomponenten. Als Hersteller

von bewährten als auch innovativen Produkten und Lösungen,

unter den Marken GOSSEN METRAWATT und CAMILLE BAUER, bieten

wir "Sicherheit durch Kompetenz" im Bereich der Messtechnik.

• Vorschriften-Prüftechnik GOSSEN METRAWATT

• Medizinprüftechnik SECULIFE

• Netzqualitätsmesstechnik MAVOWATT

• Kalibratoren / Multifunktionskalibratoren

• Milliohm- / Isolationsmessgeräte

• Prozessmesstechnik SINEAX: Signalkonverter, Trennverstärker

• Drehwinkelmesstechnik KINAX

• Starkstrommesstechnik: multifunktionale Messgeräte APLUS, Messumformer,

PQ/Energiemesssysteme

•u.v.m.

10 | Formula Student Austria | Spielberg 2014
---
Formula Student

Scope and Martin History Matzer

"The Formula SAE ® Series competitions challenge

teams of university undergraduate and graduate students

to conceive, design, fabricate, develop and compete

with small, formula style, vehicles."

Formula SAE Rule A1.1: Competition Objective

The roots of formula student lie in 1970s Texas, as a

variant to the already existing Mini Baja (competition

for lawnmower-powered offroad vehicles). The idea

resonated well and after a few establishing years, Formula

SAE was introduced as a design competition with a very

open ruleset and also much more "race" appeal since the

cars were allowed to have engines with siginficant power

comapred to the spec'd single cylinders in Baja.

The event quickly picked up momentum, and in 1998 it

made the jump over the big pond when Formula Student

UK was the first non-US competition to be held. Soon other

followed and today there are eight official competitions all

over the World:

• Formula SAE Michigan

• Formula SAE Lincoln

• Formula SAE Australasia

• Formula Student Austria

• Formula SAE Brazil

• Formula Student Germany

• Formula SAE Italy

• Formula Student (UK)

Formula Student Austria was founded in 2009 by alumni

of both UAS and TU Graz. The European Formula Student

Scene has been growing rapidly since around 2007 and

there was not only room but need for another competition

besides UK, Germany and Italy. The reception of the event

was quite good, so over the years it grew to its present

size of 42 participants, also necessitating the move from

the Wachauring in Melk to the Red Bull Ring in Spielberg.

Also , it was one of the first events to allow the 2010-introduced

Formula student vehicles to compete, for some

years even against each other. Starting 2014, however,

this was dropped and replaced by a split scoring with two

classes (Combustion/Electric) due to the big development

advances seen in electric vehicles, making them all but

impossible to beat in some aspects.

So what is it all about? Formula Student is an engineering

Design competition that should teach engineering

students some real-world skills relevant to the automotive

and other industries. To sucessfully compete, a team

has to delve into research, design, manufacturing, testing,

developing, marketing, management and finances - this

favors or even requires the formation of multi-disciplinary

teams. This and the fact that Formula Student is as much

a project management exercise as it is an engineering

challenge, it teaches the competitors a valuable and industry-appreciated

combination of soft- and hard skills.

The vehicle itself is governed by a set of internationally

agreed upon rules. The rules have grown pretty complex

over the years (the rule book is now larger than the one for

F1), so here are the defining characteristics:

Vehicle:

• Open-Wheel, Open-Monocoque, Formula-style body

• four wheels

• aerodynamic devices are limited in size

C - Powertrain:

• max. 610 cc four-stroke piston engine

• 20mm Air restrictor

• turbo/supercharging is allowed

E-Powertrain:

• any number of motors and driven wheels

• 85kw peak system power

Spielberg 2014 | Formula Student Austria | 11
---
Disciplines

The first of the so-called Dynamic Disciplines is the Acceleration.

The car has to accelerate from a standstill and cover

a distance of 75 meters a quickly as possible. Due to a high

power to weight ratio, FSAE cars can do this in well below

four seconds with terminal speeds of well over 100 kph, outrunning

almost all road-going sportscars. Each team can

have two drivers, each of them doing two runs.

Maximum Score: 75

2013 Winner: AMZ Racing (ETH Zürich)

In the Skid Pad event the lateral ability of the car is tested on

a figure-eight course. After entering the course, the driver

he has to go round the right circle (right turn) two times, then

round the left circle (left turn) two times - the time for the second

lap of each circle is used to determine the score. Again,

each team has 4 runs split among two drivers.

Maximum Score: 75

2013 Winner: AMZ Racing (ETH Zürich)

The Autcross track is a handling course consisting of turns,

hairpins, straights and slaloms and is roughly 1000 meters

long. Each car enters the track on its own and will do a single

"hot lap" of the course.

The track is marked using small traffic cones which will,

when hit, result in a two-second penalty.

Each team has two runs for each of their two drivers.

Maximum score: 100

2013 Winner: TUfast Racing Team (TU Munich)

The Endurance race takes part on a closed autocross course

over a distance of 22km. At half-time a driver change is performed

and the car has to perform a hot restart. This event

is driven with multiple cars on the course but overtakes are

performed in special two-lane overtaking zones.

The fuel/energy consumption as well as the laptimes during

the Endurance are used to calculate the Efficiency score.

Maximum Score: 325 (Endurance) / 100 (Efficiency)

2013 Winner Endurance: TUfast Racing Team (TU Munich)

2013 Winner Effy: Lions Racing Team (TU Braunschweig)

12 | Formula Student Austria | Spielberg 2014
---
The most important one of the Statics is the Engineering

Design Event. During the judging the team has to present

their car to a group of automotive and racing experts. These

judges will check if the design goals have been met, if the

team members understand their design and if it has been

executed well.

Maximum Score: 150

2013 Winner: AMZ Racing (ETH Zürich)

For the Cost Event, the teams have to submit a detailed Bill of

materials up front. At the event, their correctness and completenessis

checked an the team is presented with an additional

cost-related task.

During the Presentation Event, the teams have to present a

business plan for selling their design to fictional investors.

Maximum Score: 100 (Cost) / 75 (Business)

2013 Cost Winner: Rennteam Uni Stuttgart

2013 Presentation Winner: DUT Racing (TU Delft)

When all the events are over, the scores are added up and

the Winner Over All is determined. Additionally, prices are

given to the best teams in each discipline. From 2014 on, the

scoring is split between cars with electric and combustion

powertrain.

Maximum Score: 1000

2013 Winners: 1. AMZ Racing (ETH Zürich)

2. DUT Racing (TU Delft)

3. Rennteam Uni Stuttgart

Spielberg 2014 | Formula Student Austria | 13
---
Dingens Event Schedule

Martin Matzer

Daily operations

12:00 – 13:00 Lunch Break (no engine running anywhere)

18:00 – 08:00 no engine running anywhere

20:00 Closing time - everybody has to be off site

Saturday, 16th of August 2014

16:00 Campsite officially open

20:00 - 24:00 Registration @ Red Bull Ring Ticket Counter

Sunday, 17th of August 2014

09:30 Site opens

09:30 – 17:00 Registration open

09:30 – 17:00 Event Control open

10:00 – 18:00 Tech Inspection (in the Scrutineering pits)

18:15 Team Photo

18:45 Team Welcome (at the pits)

Afterwards Team Captains & Faculty Advisors Meeting

Monday, 18th of August 2014

07:00 Site opens

07:30 – 08:00 Driver's Briefing

08:00 – 18:00 Event Control open

08:00 – 18:00 Tech Inspection

08:00 – 18:00 Fuel Station open

08:30 – 20:00 Cost Event

08:30 – 20:00 Engineering Design

08:30 – 20:00 Business Presentation

09:00 – 18:00 Tilt Test

09:00 – 18:00 Noise Test

09:00 – 18:00 Brake Test

12:00 – 13:00 Lunch Break (no engine running)

13:00 – 18:00 Practice Area open

Tueday, 19th of August 2014

07:00 Site opens

07:30 – 08:00 Driver´s Briefing

08:00 – 18:00 Event Control open

08:00 – 18:00 Fuel Station open

08:30 – 17:30 Practice Area open

08:30 – 12:00 Skid Pad

08:30 – 12:00 Acceleration

12:00 – 13:00 Lunch Break (no engine running)

12:30 – 13:30 Engineering Design Finals

13:00 Driver´s Course Walk Autocross

14:00 – 17:00 Autocross

18:00 Team Photo (alternate date)

Tech / Brake / Tilt / Noise by appointment until 12:00

Wednesday, 20th of August 2014

07:00 Site opens

07:30 – 08:00 Driver´s Briefing

08:00 – 16:00 Event Control open

08:00 – 16:00 Fuel station open

08:00 – 08:30 Driver´s Course Walk Endurance

08:30 – 14:00 Practice Area open

09:00 – 15:00 Endurance

12:00 – 13:00 Lunch Break (no engine running)

17:30 Pits Closing

19:00 -- 22:00 Award Ceremony – Final Gala @ Campsite

Thursday, 21st of August 2014

14:00 Closing of Camping Site

14 | Formula Student Austria | Spielberg 2014
---
Competing Teams

Car # Pit # C/E Country University Team Name

3 1 C Germany University of Stuttgart Rennteam Uni Stuttgart

4 2 C Germany Technische Universität München TUfast Racing Team

6 3 C Germany UAS Kempten Infinity Racing

10 4 C Austria Technische Universität Graz TU Graz Racing Team

11 5 C Austria FH Campus Wien OS.car Racing Team

12 21 E Estonia Tallinn University of Technology Formula Student Team Tallinn

13 6 C Germany UAS Munich municHMotorsport C

14 22 E Netherlands Delft University of Technology Delft University of Technology Racing Team

16 7 C United States Oregon State University Global Formula Racing

18 8 C Germany UAS Darmstadt FaSTDa

19 23 E Germany Technische Universität Braunschweig Lions Racing Team

20 9 C Germany Ulm Einstein Motorsport

21 24 E Germany Bayreuth Elefant Racing

22 10 C Germany UAS Ravensburg-Weingarten Formula Student Team Weingarten

23 25 E Germany Ostbayerische Technische Hochschule Amberg-Weiden Running Snail Racing Team

24 - E Finland Helsinki Metropolia University of Applied Sciences Metropolia Motorsport

26 26 E Germany Universität Stuttgart GreenTeam Uni Stuttgart

27 27 E United States Oregon State University Global Formula Racing

29 28 E Germany Dresden University of Technology Elbflorace

31 29 E Germany UAS Munich municHMotorsport E

33 30 E Switzerland ETH Zürich AMZ Racing

34 31 E Germany Technische Hochschule Ingolstadt Schanzer Racing Electric e. V.

35 11 C Serbia Faculty of Mechanical Engineering Road Arrow

41 32 E Austria Vienna University of Technology TUW Racing

42 33 E Germany Hochschule Augsburg StarkStrom Augsburg e.V.

44 34 E Germany Technische Hochschule Deggendorf Fast Forest e.V.

49 12 C Germany Friedrich-Alexander-University High-Octane Motorsports e.V.

53 13 C Germany TU Berlin FaSTTUBe

55 14 C Israel Ben Gurion University of the Negev BGR ben gurion racing

56 35 E Germany TU Darmstadt TU Darmstadt Racing Team e.V.

58 15 C Germany University of Paderborn UPBracing Team e.V

64 36 E Germany TU Kaiserslautern Kaiserslautern Racing Team e.V.

65 37 E Germany Hochschule RheinMain Scuderia Mensa

68 16 C Germany UAS Mannheim Delta Racing Mannheim

69 17 C Germany HAW Hamburg HAWKS Racing e.V.

70 18 C Germany UAS Coburg CAT-Racing

74 19 C UK University of Bath Team Bath Racing

76 38 E Germany TU Bergakademie Freiberg Racetech Racing Team TU Bergakademie Freiberg

78 39 E Germany TU Hamburg e-gnition

82 - C UK University of Cambridge Full Blue Racing

95 40 E Germany UAS Esslingen E.Stall Esslingen

99 20 C Germany Hochschule Karlsruhe Technik und Wirtschaft High Speed Karlsruhe

Spielberg 2014 | Formula Student Austria | 15
---
University of Stuttgart

Rennteam Uni Stuttgart

3

F0711-9

keywords

Yamaha YZF R6

- 4 cylinders

- water-cooled

- dry sump

- displacement: 599 cm 2

E85

4-speed transmission

chain drive

CFRP-Monocoque

CFRP-Rearframe

Aeropackage with

DRS

10" LC0 Hoosier Tires

Pushrods

weight < 185 kg

The Rennteam Uni Stuttgart was founded in 2005. Since then, the Rennteam has built

successful Formula Student racecars. This year we proudly present the 9 th combustion

car, the F0711-9.

40 Teammembers started in August 2013 to design, engineer and manufacture the new

car, which will now participate at FSUK, FSG, FSA, FS Italy and FSAE Michigan to defend

the World Ranking Position 1. We wish every team all the best for the event, here at the

Red Bull racetrack and cordially invite you to visit us in our pit or at the campside. #hdgn

Rennteam Uni Stuttgart e.V. Combustion FS Team Universtiy Stuttgart www.rennteam-stuttgart.de

16 | Formula Student Austria | Spielberg 2014
---
Header

Technische Universität München

4

Car#, Country, TUfast University, Racing Team Teamname

Based on the campus of the Technische Universität München, we are now building our 11th

combustion car. As always, the nb014 is going to incorporate a number of innovations

compared to its predecessors. The aerodynamic package and the suspensions have been

redesigned so that they work in harmony together. The most important evolution is the new

engine: After 10 years with a 600cc Kawasaki straight-4, this year's car is powered by a light

and efficient 510cc single cylinder engine from KTM.

Technical Data

Engine KTM 500 EXC

Differential Drexler Limited Slip

ECU Motec M800

Max. power 47 kW @ 9000 rpm

Wheels Hoosier R25B

Fuel E85

Frame Monocoque + Spaceframe

Weight 164 kg

Suspension Double A-Arms, pull rods on the front axle, push rods on the rear axle

Footer

Spielberg 2014 | Formula Student Austria | 17
---
UAS Kempten

Infinity Racing

6

The Infinity Racing Team was established in 2007 by five

innovative students. Since then, Infinity Racing gives

students the unique opportunity to put their theoretical

knowledge into pratice.

The team around Infinity Racing is constantly growing and

now includes 45 students from all faculties of the

University of Applied Sciences Kempten. Original, innovative ideas, teamwork and our constant

urge for improvement assures our success within the Formula Student.

In 2014, we present our 6th car: TOMSOI VI!

General

Power: 63 kW/ 85 PS | max. 13.900 rpm | Torque: 59 Nm | Weight: 202 kg |

Acceleration 0 – 60mph: 3,7 s

Engine

Yamaha R6 RJ 09 | Capacity: 600 cc | Engine Control Unit: Bosch MS 4 Sport

Drivetrain

Chain drive | Drexler limited slip differential | Electropneumatic gearshift (4 – speed)

Suspension

Double unequal length A-Arms | Aluminium-CFRP hybrid construction |

Front and rear Pushrod actuated Penske Spring/damper units | Wheelbase: 1530 mm |

Track width, front/rear: 1200/1150 | Brakes: 4 piston front calipers, 2 piston rear calipers

Chassis

Steel-Tubular space frame | Carbon fibre reinforced plastics | Resin infiltration technology

Electronics & Informatics

MCU triggered gearbox | LCD Dashboard | Smart MOSFET power controller |

Bosch Motorsport C50 data logging system | 868MHz SRD-band telemetry

18 | Formula Student Austria | Spielberg 2014
---
Header

Technische Universität Graz

10

Car#, Country, TU Graz University, Racing Team Teamname

Representing the next step in the evolution of formula student

featuring the TANKIA 2014.

Emerged out of the finest racing university of Graz

this beast shall be a challenge to be tamed for

other teams.

Following the inventive ideas of the predecessor

team, the newest generation of the TANKIA family

has been given an overall renewal, making it not

only one of the fastest but also the most

aerodynamic of its kind.

Following the gentle curves of the carbon fibre monocoque,

past those hard hollow tubes of the suspension stretching

out to the edge of the TANKIA 2014 - despite this being less

than four metres in length - that's where you might find the

secret of an unique example of its kind.

Driven neither by petrol nor by gas but by the rhythm of

Helene Fischer.

Summing up: the Tankia 2014 a.k.a. Helene is powered by

an optimized single-cylinder engine, an overall updated aerodynamic chassis as well as a failure-proof

electronic system and a suspension with a performance from your wildest dreams.

Technical Data TANKIA 2014

Engine KTM SX-F 450 combined with KTM

Differential Drexler multiplate LSD

EXC 510 parts

Rythm of the engine 4 stroke (nearly a waltz but faster) Breathing Atemlos a.k.a breathless

ECU (the brain) Bosch MS4 Motorsport Max. power Sufficient

Wheels(Fr/Rr) 6,5 inch wide, 19mm offset, cfrp rim Dimensions

(not 90/60/90)

1550 mm WB/

Track: 1190 mm Front / 1150 mm Rear

Electronic Gadgets

(not the ones you might

expect)

Suspension

(make it bounce)

Fuel

electrically actuated clutch, gearshift

and brake balance; anti stall,

acceleration/launch mode, 2-channel

live-telemetry as well as DRS

Double unequal length A-Arm. Pull rod

and bell crank actuated Öhlins damper

and spring units.

98 octane unleaded gasoline as well as

Helene Fischer

weight

Frame type

(HOT !)

Driver

150kg heavy for a girl, light for a car

one-piece sandwich-structured composite

monocoque

The Stigs Austrian cousin

Wings Like an angel but with DRS Best Feature Well just look at her

Footer

Spielberg 2014 | Formula Student Austria | 19
---
11

Header

FH Campus Wien

Car#, Country, OS.car Racing University, Team Teamname

This car is the first from the FH Campus Vienna and is called "CR-

113". At the very beginning we started with a simple brainstorming to

determine what we exactly want to built.

First we started to build a seat box made of ply-wood. It was

constructed in order to determine the space required for the driver and

the exact locations for the pedal box and seat location. Based on the

rules, the geometry of the frame could be specified.

For our suspension design we used most of the parts out of

stock. The reason was to ensure both, reliability and

feasibility of the suspension.

To meet our design goals of reliability and feasibility of the

engine assembly following features were selected and

carried out: The drivetrain was built with standard

components. So we could meet our overall design goals.

As defined in our design goals the design of the

electronics is kept as simple as possible.

Wire harness: the wiring takes into account all

necessary components that need to be supplied with

electricity or any signal-processing components. It was

designed in CAD and optimized during manufacturing.

Instrumentation: All the necessary information such as

current gear, neutral or oil temperature is displayed via LED lamps in the cockpit. Thus the aim of

feasibility could be easily realized.

Engine Management: We use a DTA S60 Pro ECU to manage the engine and its components.

Technical Data

Engine Honda Hornet 600

ECU DTA

Wheels 20.5x7.0-13 R25B

Electronic Gadgets Electro-pneumatic shifting

Suspension Marzocchi ROCO TST R

Fuel ROZ 100 gasoline

Wings N/A

Differential Drexler V1

Max. power 45 kW

Dimensions WB 1600 / TW f 1150 & r1164

weight 271 kg

Frame type steel spaceframe

Driver Victor Klamert

Best Feature selfmade CFK seat, printed Airbox

20 | Formula Student Austria | Spielberg 2014

Footer
---
Header

Tallinn University of Technology

Car#, Formula Country, Student University, Team Tallinn Teamname

12

From a tiny and cold country come a small group of people who call themselves the

FS Team Tallinn. In a hidden garage just near the heart of the capital of Estonia is where it all

happens.

Mr Parts assembles the CrMo skeleton. Mr Tom wires up the veins. Super Mario charges the

batteries. Mr Aero gives wings. The PCBs are designed in a basement where there is little radio

coverage. 'Rosebud' drifts to the site in his fire red Datsun and laminates the carbon fibre elements.

He has still not given up hope that one day he is allowed to make an awesome carbon fibre

bonnet for his beloved Datsun. No luck so far, though!

When the electrical 'Beast' is on its wheels and

running, the 'cuddly Teddy Bear' and comrade

Bullfinch can set off to testing it. If

anything should go wrong, then Super

Mario, Stennar, Mr Tom, Herring and

other electronics' geniuses are ready

to step in and save the day.

The entire operation is coordinated by

the managing director comrade

Bullfinch and the board of directors or captains: 'cuddly Teddy Bear', the Moustache and Telly

Tubby. Under their watchful eye everything is coming together and you can come to check us out

in our pit here in Austria.

Miscellaneous Data

Number of people named Siim in the team 4 Number of gils in the team 2

Number of spokes on a wheel of FEST14 12 Number of teeth on the steering rack 18

Number of people taken away by the

Estonian army this season

4

Number of buttons on the steering

wheel

Number of team captains 3 Number of corners in the team logo 18

Number of years in 'the business' 8

Number of pneumo cylinders on the

car

3

Number of combustion cars built 5 Number of LEDs in the brake light 30

Number of electric cars built 2 Number of spark plugs 0

4

Footer

Spielberg 2014 | Formula Student Austria | 21
---
13

UAS Munich

municHMotorsport C

munichmotorsport

ABOuT uS

We are munichmotorsport, Formula Student

team out of uAS munich! Our claim

#PASSiOnWORKS is also our philosophy

- one team, one goal, one motivation: design

a competitive car and go racing.

Since 2005, we have been designing Formula

Student combustion cars. Last season,

we didn't compete at any events,

though - we had decided to design a two

year car in order to get everything right

with the 2014 car.

That we did, and now we're back. With a

vengeance. With the PW8.14, and with

the will to perform like we never have performed

before.

Big thanks to our sponsors for supporting

us and to our families for being patient!

We couldn't do it without you, but every

time we get to watch our car on track, it's

worth it...

Thanks to FSA for organizing the event!

ABOuT ThE cAR

Key facts:

• 179kg overall weight

• 105hp output

• honda cBR600RR engine

• moTec m800 Ecu

• dry sump lubrication system

• modular chassis

• 10 inch wheels

• we don't have a cooling problem!

#13

#PASSiOnWORKS

22 | Formula Student Austria | Spielberg 2014
---
Header

Delft University of Technology

Car#, Country, University, Teamname

Delft University of Technology Racing Team

14

The Delft University of Technology Racing Team consists of 80 team

members from eight different faculties of the university. After building ten

combustion cars the team decided to start building lightweight electric

cars. The team is divided into 5 technical departments and a management-team consisting of 4 people. The

newest car, the DUT14, can be described as an extremely lightweight four-wheel driven electric car

enhanced with aerodynamic devices, a slip ratio controller and a yaw rate controller. All four motors are

placed inside the wheels together with a one-stage planetary transmission. With the self-designed tyres the

team was able to fully optimize the wheel assembly and improve tyre behaviour. This year, aluminium

honeycomb is used as core material for the composite monocoque, reducing the weight of the chassis.

Based on wind tunnel tests and CFD calculations, 725 N of downforce at 60 km/h is achieved with a rear

wing, front wing, and diffuser.

Technical Data

Motors 4x Modified AMK DT5-14 Differential Electronic differential

ECU Self developed Max. power 114 kW

Tyres 368 x 209.5 R254 Apollo Dimensions 1530 WB/ 1150 Track

Transmission 4x One stage planetary

Weight 155 kg

gearbox inside wheel

Brakes Metal matrix composite Frame type Full carbon fibre monocoque

aluminium brake diesk with

modified brake calipers

Accumulator Lithium polymer 138S2P Drivers Mostly Belgian

Aerodynamics Front wing, rear wing and

undertray with diffuser

Best Feature Self designed tyres

Footer

Spielberg 2014 | Formula Student Austria | 23
---
16

Oregon State University

Global Formula Racing

Global Formula Racing is the first international collaboration of its kind in the history of both the USbased

Formula SAE and EU-based Formula Student programs. The former BA Racing Team from

the Duale Hochschule Baden-Württemberg-Ravensburg (DHBW-R), Germany, and the Beaver

Racing Team from Oregon State University (OSU) combined forces in 2010 to compete as a single

entity. Every year two vehicles are built, one combustion and one electric.

Both universities share physical and intellectual resources to create highly competitive vehicles

worthy of international recognition. Design, manufacturing, and testing occur at both schools

simultaneously - over nine time zones and more than 8600 kilometers away.

24 | Formula Student Austria | Spielberg 2014
---
UAS Darmstadt

FaSTDa

18

Spielberg 2014 | Formula Student Austria | 25
---
Header

Technische Universität Braunschweig

Car#, Country, Lions Racing University, Team Teamname

19

Established in 2000, the Lions Racing Team from the Technical University of

Brunswick is the 2nd oldest FS team in Germany. Consisting of roughly 50

Students from different

departments, we are proud to

welcome our 3rd electric racecar to our family, the LR14.To

reach our goals of becoming faster, lighter, easier to maintain

and to reach a place among the Top 10 teams overall, we

built in a 80% lighter new motor, compromised the battery

package and developed an all new aerodynamic package.

Techical Data

Frame Construction Tubular space frame Number of Motors /

Location / Max Motor

Power

1 / rear / 100kW

Material

4130 steel round material; Motor Type

Enstroj Emrax 228 HV LC

10mm to 25mm

Overall L / W / H (mm) 2896 / 1325 / 1127 Max Motor RPM 5000

Wheelbase (mm) / Track (Fr /

Rr) (mm)

Weight with 68kg Driver (Fr /

Rr)

1545 / 1140 / 1140 Motor Controller UniTek BAMOCAR-D3-

700-400-RS

127 / 166 Differential Drexler FSAE, clutch pack

limited slip

Suspension

Double antiparallel

unequal length A-Arm.

Push rod actuated spring

Öhlins / damper, anti-roll

bar

Electronics

wiring harness sealed to

IP55, Multifunction

Dashboard, Live

Telemetry & Data Logging

System

Tyres (Fr / Rr) 205/510 R13 34M,

Continental

Electrode Materials /

Combined Accumulator

Capacity

LiPo / 6,2kWh

Wheels (Fr / Rr)

8x13, 10mm offset, 3pc

AlMgSi1 Rim

Max System Voltage

470V

26 | Formula Student Austria | Spielberg 2014

Footer
---
Header

Ulm

Car#, Country, Einstein University, Motorsport Teamname

20

The Einstein Motorsport Team was founded in 2006. The first car

built by students from Ulm started at Hockenheim in 2006. The

actual car for 2014 is the eighth car in its history. Starting with the

Al'06 (ALbert), every car was a continuous development with

adoption of the parts which were proved in former cars. With a

new monocoque, a Husaberg single-cylinder engine and a whole

new team, the Al'14 will be the lightest car for now - and hopefully

the most competitive.

Technical Data

Engine Husaberg FE570

ECU Bosch MS4

Wheels 20x7-13 R25B Hoosier

Electronic Gadgets WIFI-Telemetry

Suspension Double A-Arm, Pull rod

Fuel Unleaded fuel 98 ROZ

Wings 404 Error

Differential GKN, Student built housing

Max. power 34 kW, 7100 rpm

Dimensions 1580 WB/ 1215 Track

weight 178 kg

Frame type Monocqoue

Driver Very shy

Best Feature Reliability

Footer

Spielberg 2014 | Formula Student Austria | 27
---
21

Bayreuth

Elefant Racing

In spring 2004, racing enthusiastic students at the University of

Bayreuth founded "Elefant Racing e.V.". The name is derived from

the Faculty of Applied Sciences, abbreviation FAN, which shares its

letter string with the clever and powerful animal. Starting into

season 2010/11 we decided to break with our tradition of building

combustion cars and developed our first electrically powered

vehicle. Celebrating the 10th year anniversary of "Elefant Racing

e.V.", we are very proud to present you our latest race car, the "FR14

Norsu". Our particular focus was on weight reduction of the

vehicle dynamic units. Therefore we switched from 13" to 10"

wheels and developed a 10" hybrid CFRP-Aluminum wheel. General

Furthermore, our car features a self-developed and programmed

electronic control unit. For further in- Empty Weight:

Maximum Speed:

formation, you are very welcome to visit our pit. Acceleration:

Suspension

Wheelbase:

Track:

Chassis

Type:

Weight:

Powertrain

Motor Type:

Max. Motor Power:

Transmission:

Battery

Cell Type:

Combined Capacity:

Control & Driver Information

Inverter:

Driver Interface:

136 km/h

185 kg

3,6 s (0 - 100 km/h)

1530 mm

1200 mm

Steel Space Frame

37 kg

1 x Enstroj Emrax

85 kW

Drive Belt

LiPo

5,5 kWh

Unitek Bamocar D3

Smartphone App

www.elefantracing.de

28 | Formula Student Austria | Spielberg 2014
---
Header

UAS Ravensburg-Weingarten

Car#, Formula Country, Student Team University, Weingarten Teamname

22

The Formula Student Team

Weingarten consists of about 45

students, who spent one year to

build their own Formula Student

car. The main aim of the 2014 car,

the "Stinger 14" was to improve the

speed and the reliability of the car.

All in all the goal was to reduce our

weight, but still prevent the stability

of the car. To improve our

performance on the track a new

aerodynamic package was

developed and the driving dynamics

were improved radically. As every

year the car is power by a Honda

CBR 600 RR 4-cylinder engine. It is the first year that not only automotive and mechanical engineering

students take part, but also students from the management faculty of our university.

Technical Data

Engine Honda CBR 600 Differential Drexler Formula Student

ECU Bosch MS 4 Max. power 90hp

Tyres 20.5x7.0-13 Hoosier R25B Dimensions 1630 WB/ 1200 Track

Electronic Gadgets Display, Logger weight 230 kg

Suspension double A-arm Frame type E355 steel round tubing

Fuel ROZ 98 Drivers to slow

Wings amazing Best Feature paint

Exhaust very loud Brake System ISR caliper

Cooling Student designed radiator Drive Type XW-Ring Chain 520

Fuel System Student designed/built Telemetrie Can to Wifi

Footer

Spielberg 2014 | Formula Student Austria | 29
---
Dingens Site Plan OVERVIEW –

Martin Matzer

Red

11

12

10

6

8

9

4

3

5

7

2

1

13

19

14

Box 32

15

Box 31

Box 30 Box 29 Box 28 Box 27

17

16

18

30 | Formula Student Austria | Spielberg 2014
---
Event Area

Bull Ring, Spielberg (AUT)

August, 17 th – 20 th 2014

N

1 Registration

2 Fuel Station

3 Event Control, FS-Lounge, Business 1 & 2

4 Pits, Charging Area & AVL (Simulator)

5 Scrutineering, Design and Cost Event

6 Team Truck Parking

7 Tilt, Noise, Rain and Weighing

8 Practice Area

9 Brake Test

10 Visitor Area / Business 3

11 Dynamic Area – Skidpad, Acceleration, Autocross & Endurance

12 Additional Parking

13 Scrutineering Area (Dynamic Passes required)

14 Tilt/Weighing

15 Scrutineering

16 Design & Cost (Mon) / Charging Area (Tue & Wed)

17 AVL Stand & Simulator

18 Charging Area

19 Track Access – Keep clear at all times!

Box 26 Box 25 Box 24 Box 23 Box 22 Box 21

Box 20

Box 19

Box 18

Box 17

Box 16

95

42

41

23

21

69

68

20

18

3

78

76 65

44

64 56

34

33 31

26

29 27

19

14 12

70

99 74

58

55 53

22

49 35

16

13

11

4

6

10

other

Event

Pit Lane

Spielberg 2014 | Formula Student Austria | 31
---
23

Header

Ostbayerische Technische Hochschule Amberg-Weiden

Running Snail Racing Team

Car#, Country, University, Teamname

Since the foundation in 2004, the Running Snail Racing

team is constructing and assembling a new race car in

their small university in the heart of Bavaria, Germany.

True to the motto "Innovation never stops" , every year the team members are

coming up with new ideas, like the change from combustion to electric drive in 2013,

the construction of a CFK-based full monocoque instead of the steel frame, and last

but not least the centerless wheel drive. As the university is rather small, the

atmosphere is very familiar and the team spirit is an important feature.

With the new RS14, we took the (slightly adapted)

CFK monocoque and the electric drive train from the

RS13 as well as the unique centerless wheel from

the RS12. We created an even more amazing car by

combining the centerless wheel with the electric drive

train. Our electrical engineers constructed and

programmed the control unit themselves and make

sure this way that the car will go wherever the driver wants it to. We are looking

forward to let our RS14 run at Formula Student Austria and compete with other

teams.

Technical Data

Engine TQMA248-172-

030

ECU self-designed Car

Control Unit

Wheels 13" x7 inch wide;

CFRP Rim base

Electronic self-designed

Gadgets telemetry system

Suspension Doblue unequal

length a-Arms

Fuel electric

Wings Don't work

Differential -

Max. power 4 x 22,2 kW at

403.2V

Length, 2526mm,

width, 1408mm,

height 1234mm

weight 234 kg

Frame type CRFPmonocoque

Driver Good!

Best self-designed

Feature hubless motors

32 | Formula Student Austria | Spielberg 2014

Footer
---
Header

Helsinki Metropolia University of Applied Sciences

24, Finland, Helsinki Metropolia Metropolia Motorsport Univeristy of

Applied Sciences, Metropolia Motorsport

24

Metropolia Motorsport is the first Finnish Formula Student -team. Our team was founded during the start of

the millennium. First racer saw the daylight during the year 2002 and since then we have been designing

and manufacturing new racer annually. During the year 2013 we changed from combustion racers to electric

racers. There are roughly twenty students who participate and about three of the students graduate from the

project annually.

HPF014E

Our electric racer's frame was built using Ruukki's steel tubes and Kevra's composites for side impact

structure. For this year we are using Hoosier's LC0 6.0 / 18.0 - 10 with 10" aluminum billet wheels.

Powertrain system is designed for two Emrax 207 electric motors. Torque is been delivered to the rear

wheels using timing belt operated reduction gear. Motor controllers for our racers come from MGM Compro

and are specially modified to fit our needs. Our

6.1kWh battery pack is monitored and controlled by

Orion BMS.

HPF014E's body panels are made from aramid fibers

to get the best sustainability. For the first time in our

team's history we designed and manufactured full

aerodynamic kit for the racer. Diffusor has been used

once before on our last combustion model HPF011.

Both rear and front wings are built from carbon fiber.

Technical Data

Engine 2 * Emrax 207 Suspension Double unequal length A-arms and

pushrod actuated Öhlins TTX25

dampers

Max. power 85 kW Wings Rear and back

Wheels

3pc 10" bespoke billet

aluminum wheels

Frame type Tubular steel space frame with

composite stress panels

ECU Elektrobit EB 6120 Dimensions 1525 Wheelbase

1210 / 1180 Track

Footer

Spielberg 2014 | Formula Student Austria | 33
---
Header

Universität Stuttgart

E26, Germany, GreenTeam University Stuttgart of Stuttgart,

26

GreenTeam

The GreenTeam is driven by the deep

inward urge to always take a step further.

We never only develop the earlier cars, but

we take apart the whole construction and

try to innovate each part of the car - always

with a common goal in mind.

Our 5 th generation car was designed

to be faster, lighter and more efficient

than the Formula Student cars before. The

E0711-5 is powered by a light-weight fourwheel

drivetrain whose maximum total

power of 100 kW accelerates the racing car

from 0-100 km/h in less than 2.2 seconds.

By developing a new full monocoque we

could integrate each part of the car in our

vehicle CFD simulation to design a

completely aerodynamic shaped car. The

optimized full aerodynamic package and the

new delta shaped front wing guarantee the

desired downforce on track.

To reduce the centre of gravity

significantly we revised the packaging

concept of the accumulator and arranged it

as an external under tray. The implemented

electrical control units improve the driveability

of the E0711-5 with torque vectoring,

differential breaking and traction

control as well as recuperation.

E0711-5 – Highlights

Recuperation // Torque vectoring // Four-wheel-drive // Traction control // Weight: 164 kg

Maximum speed: 130 km/h // Power: 136 PS (4 x 25kW) // Acceleration 0 to 100 km/h:
---
Header

Oregon State University

E104, Germany, Global DHBW Formula Ravensburg,

Racing

Global Formula Racing

27

Global Formula Racing is the first innovative global collaboration of

its kind in the history of both the US-based Formula SAE and EUbased

Formula Student programs. The former BA Racing Team

from the Duale Hochschule Baden-Württemberg-Ravensburg

(DHBW-R), Germany, and the Beaver Racing Team from Oregon

State University (OSU) have combined forces in 2010 to compete

as a single entity.

In the first shared season two identical cars have been

developed and created at both universities. Based on

this concept from 2010 GFR is creating two race cars

each season: one with a combustion motor at the

campus of the Oregon State University and one with an

electrical motor at the Cooperate University (DHBW) in

Friedrichshafen, Germany. The both universities share

physical and intellectual resources over 9 time zones

and 8799 km distance.

For the first time in the history of Global Formula Racing the electric car gets

powered by two motors and a two-stage gearbox. The motors have been

developed in cooperation with Brusa to fulfill the specific requirements of

Formula Student disciplines. The electric energy is provided by 288 LiPo cells

which are monitored by a self-developed battery management system. A

model based vehicle control unit is responsible for the regulation of the

power.

Drivetrain unit: Open half of gearbox

Technical Data

Engine 2 x Brusa IPM1 Differential Electric torque vectoring

Motor Controller Brusa DMC514 Max. power 2 x 54kW

Wheels Hoosier 18.0/6.0-10 Dimensions 1488 WB/ 1145 Track

Electronic Gadgets Motec ADL, Gigabox weight 192 kg

Suspension A-arms, Push- / Pull-rod Frame type CFRP/ Honeycomb monocoque

Battery 96s3p 7000 mAh Melasta cell Driver

Wings Front and rear wing with

undertray

Best

Feature

The amazing sound

Footer

Spielberg 2014 | Formula Student Austria | 35
---
29

Header

Dresden University of Technology

Elbflorace

Car#, Country, University, Teamname

Elbflorace is a group of students enrolled at Dresden University

of Technology. We came together under this name for the first

time in July of 2006! Our team is coined after Elbflorence, our

hometown's namesake, which titles Dresden Florence on the

river Elbe.

Technical Data

Frame

CFRP Monocoque

Overall Length

3062 mm

Overall Width

1392 mm

Overall Height

1293 mm

Wheelbase

1550 mm

Track (Front / Rear) 1200 mm / 1150 mm

Weight

196,5 kg

Suspension

Double length A-Arm, Push rod

actuated vertically oriented spring and

damper

Tyres

205/510 R13 Continental

Motors

2x Siemens 1FE1051

Max. power

24kW per motor

Max. RPM 40.000

Motor controller

2 Siemens SINAMICS S120 T23

Max System Voltage 600V

Combined Accumulator 7kWh

Capacity

Transmission Ratio 33:1

Drive Type

2 level, spur gear and planetary gear

Differential

Electronic differential

Cooling

1 cooling circuit, located under the left

sidepod

Brake System

4 Disk system, self made rotors with

220mm diameter, AP Racing calipers

This year Elbflorace consists of 70 students of different fields of study

like Mechanical Engineering, Mechatronics, Electrical Engineering,

Economics and Computer Science. We all share the passion for motor

sport and pursue the common goal to successfully participate in the

design competition Formula Student. Our fourth electric race car will

pay tribute to what worked well in the past and surprise with new,

innovative parts and qualities. This year's highlights are the full aero

package as well as the motors which are incorporated into the hub of

the wheels.

36 | Formula Student Austria | Spielberg 2014

Footer
---
UAS Munich

municHMotorsport E

31

#passionworks

abouT

munich

MoTorsporT

#passionWORKS - not only the name

of our cars but also our guiding principle!

Last season, we took a big step forward

in terms of driving performance

and reliability of the car. This year,

we're happy to announce that we

build a car that signifies a big evolutionary

step.

Many new solutions can be found on

our car with the aerodynamics package

being the most obvious one. Combined

with an early roll out giving us

a lot of time for testing, we hope to

improve upon last year's results.

Key facts of the PWe5.14:

• 198kg overall weight

• 85kW power output

• Microautobox ii control unit

• torque vectoring

• 346V voltage, 6.5kWh energy cap.

• lithium in cells, 96s9p config.

Spielberg 2014 | Formula Student Austria | 37
---
33

ETH Zürich

AMZ Racing

The AMZ Racing Team was founded in 2006 by students from

the ETH Zurich. It is the only swiss formula student team, with

team members from various Swiss universities, making it the inofficial

Swiss national formula student team.

The team is organised in active members and passive members.

The active members are designing, building and testing the car

for the current formula student season. The passive members are

mostly so-called "veterans", former active team members, which

assist the core team with their knowhow and experience while

maintaining the retired formula student cars.

After competing 3 years with combustion cars, the team

started designing electric cars in 2010. Since then, every

car featured innovative solutions, 2011 the

first self-developed motor, 2012 10"-wheels

and the first aerodynamic package, 2013

4WD and wheel-hub motors and 2014 adaptive

dampers and DRS.

All cars are named after swss alpine passes (albula,

maloja, simplon, furka, novena, umbrail, julier).

The newest car is called grimsel. It features

a one-piece CFRP monocoque, self-developed

AMZ M4 motors, one-piece CFRP rims, triple-foil

aerodynamics, including drag reduction system,

and an adaptive damping system.

Name grimsel

Nickname(s) der Laden

Place of birth Technopark, Zurich

Hair color Carbon-black

Hair style UD-Twill 45

Size 1.13 m high

Weight 169 kg

Favourite color TSAL-red

Favourite food Cones

Favourite sound Ready-to-drive

Favourite movie Herbie

I like ...

Freshly anti-seized

wheel hubs

I hate ... bumpy tracks

I want to become ... reliable

38 | Formula Student Austria | Spielberg 2014
---
Header

Technische Hochschule Ingolstadt

Schanzer Racing Electric e. V.

34

Car#, Country, University, Teamname

Schanzer Racing Electric e.V. (SRE) is a

student racing team from Ingolstadt in

Germany. The team was founded in 2011 by

five students with the goal to go to Hockenheim in

summer 2012 with a functional racing car. Also,

the university, different sponsors and other

students had quickly interest in the project and

the idea. Within a short time the team has

grown to an acceptable size and it could be

started with the development and

construction of the racing car.

In the first season Schanzer Racing Electric was very

successful and they have already reached the Top 10 in

the World Ranking.

In this year Schanzer Racing Electric will participate in

Formula Student Electric for the third time. The team of

about 70 students of the "Technische Hochschule"

Ingolstadt developed its third car in its third Formula

Student Season ever. With a weight decrease of about

60kg, a carbon fiber monocoque, aerodynamic devices,

torque vectoring and lots of new developments,

Schanzer Racing wants to tie in with the really good

results of the last two seasons. SCHANZER POWER

Technical Data

Engine Entroj Emrax Differential Electronic Differential Torque

vectoring

ECU Infineon Hybrid Kit 1 (Pin Fin) Max. power 80kW

Wheels 21.0x6.5 R13 Dimensions 1550 WB/ 1214 Track (Fr)/ 1176

Track (Rr)

Electronic Gadgets Multifunctional Steering Wheel, Weight 240 kg

wiring harness, selfdesigned

Live-Telemetry System, Torque

Vectoring

Suspension

Double equal length A-Arm. Push Frame type Monocoque

rod actuating horizontal

orientated spring-damper

Fuel Unicorn Tears Driver Stig's Bavarian Cousins: Manuel,

Thomas and Christoph

Wings Almost everywhere Best Feature Launch Control

Footer

Spielberg 2014 | Formula Student Austria | 39
---
35

Header

Faculty of Mechanical Engineering

Road Arrow

35, Serbia, University of Belgrade, Road Arrow

Road Arrow is the first and only Formula Student team in Serbia, and we

are extremely proud of that fact. We are representing the University of

Belgrade since November 2010, with the team that comprises of all the

best, smartest, and generally coolest engineering students from five

faculties, which makes our team very rounded-up concerning all the

necessary (formula designing and manufacturing) and not-necessary (barbecuing) skills. The core principles

of our team are professionalism, hard work and devotion, although we also have a 'party side' – we do live in

Belgrade, one of the greatest party cities in the world. We are especially proud to say that we are very fast

learners, and there is no limit or challenge that we can't overcome as a team. This fact is aplified by the fact

that our engineers do most of the work themselves, from studying the principles for solving the given problem

to actually solving it – perfectly. So, you can see that we will be a serious challenge on and off the track. This

season you can meet us in FS Austria in our debut in Ostereich, and FS Italy, where we are defending our

best result – 10th place overall. You can easily recognize us by great mood and friendly attitude, very very

loud talking (borderline shouting),

Serbian folk music, red-blue-white

colours, and obvious ingenuity.

Also, we are eager to learn as much

as we can from all of you guys – the

best and brightest in the world.

Designing the vehicle for season

2014, we had four main goals in

mind: reducing the vehicle overall

weight, achieving better

performance on the track,

implementing some ingenius

engineering solutions, and last but

not least, establishing a constant

learning enviorment that makes us

better each and every day.

Our third car "FSRA 2014" – University of Belgrade

Road Arrow team

Technical Data

Engine Yamaha YZF-R6, 20 mm restrictor

Continuously Variable Intake Manifold

ECU DTA S80 PRO

Wheels OZ Superleggera C 7x13

Tires AVON 7.2/20.0-13 Slick

Electronic Telemetry unit, data log unit, Variable

Gadgets Intake Control unit, driver interface

Suspension Öhlins TTX 25 MKII FSAE

Fuel RON 98

Wings Front wing, rear wing and

undertray with diffusers

Differential Own design, limited slip

Max. power 64 kW @ 13000 RPM

Dimensions 1550 WB/ 1200F/ 1150R

Best Feature Continuously Variable Intake

Manifold and Electronics

Frame type Space Frame

Weight 230 kg

40 | Formula Student Austria | Spielberg 2014

Footer
---
Header

Vienna University of Technology

Car#, Country, University,

TUW Racing

Teamname

41

TUW-Racing was founded in 2007 and the EDGE MK1 was the first racing car of

our young and motivated team. Every year we set our goals high to continue our

innovative design and to stay competitive. We are for example the only team

worldwide who successfully implemented a carbon fibre

space frame in our EDGE 2 and EDGE 3 racer. All the 5

previously built cars were motorized by a one cylinder KTM

engine, which was also supercharged in some models.

This year we will again compete against other universities in Silverstone as well as in Hockenheim,

Spielberg and on the Czech Ring with more power than ever. 2 self-developed motors will accelerate the

EDGE 6, our first electric racing car. With

lightweight design of every component

we were able to further decrease the

weight of our car.

Strict organisation of our team and

project management are necessary to

manage this complex and challenging

project. Special thanks goes to our

numerous sponsors – without them we

wouldn't be able to build such a high

performance racing car year after year!

Last 5 cars with one cylinder KTM engine, supercharged, always one of the loudest cars in the field. This

year transformation to "silent mode" electric drive but with more power than ever!

Carbon over all: one of the cars with the hightest percentage of carbon fiber parts! From large one piece

carbon monocoque to one piece carbon rims and small motor position sensor mounting made from carbon

Technical Data

Engine TUWR E1

ECU TTTECH 200

Wheels 18.0 x 7.5 - 10"

Electronic Gadgets Torque vectoring, WiFI

Suspension Double unequal length A-

Arm, pull rod actuated,

horizontally oriented spring

and damper

Fuel LiPo Driver -

Wings Front- and Rearwing Best Feature -

Differential Electronic differential

Max. power 80kW

Dimensions 7.0x10, 25mm offset, one piece

CFRP rim

weight 170 kg

Frame type CFK Monocoque

Footer

Spielberg 2014 | Formula Student Austria | 41
---
Header

Hochschule Augsburg

Car#, Country, StarkStrom University, Augsburg e.V. Teamname

42

Starkstrom Augsburg e.V. was founded in 2011 and has about

170 members in 2014. The Racing Team itself has about 100

Teammembers which work directly on the car or coordinate the

projects with our sponsors. As we build most of the car by

ourselves, we have to bring in a lot of effort for manufacturing

on the one hand, but on the other hand, the in-house production allows us to control the emergence of the

car as best as possible.

This year we participate at the Red Bull Ring for the first time. With our third car, called "Elinor" we are

looking forward to the challenge on a new racetrack.

For being competitive, we strengthened our design focus on ligthweight solutions. Although we added an

aerodynamic package we were able to reduce the weight significantly. Additional, elaborated electronic

driver assistance systems enhance the driving performance.

UASA 1403 - Elinor:

¥ 3 rd car of Starkstrom Augsburg e.V.

¥ First car with aerodynamic package

¥ 45 kg lighter than its predecessor

¥ Drive torque 2x 600 Nm

Technical Data

Engine 2x 1FE11082-6W.10

Siemens

ECU dSPACE MicroAutobox

Wheels 205 / 510 R13 34 M,

Continental

Electronic Gadgets Display for velocity and

maintenance mode, own

developed live telemtry

Suspension Double unequal length A-

Arms, Pull rod actuated

horizontally oriented spring

and damper

Accumulator LiPo, Capacity 6.66 kWh

Wings Front wing, rear wing,

undertray with venturitunnels

Driver Assistance

Systems control, recuperation

Torque vectoring, traction

Max. power 2x 47 kW

Dimensions 1550 WB, 1250 Track front/

1200 rear

Crash structure tailor made nose crash

structure made of aramid and

carbon fibres

Frame type One piece Composite

monocoque with anti rollbar

structures

Weight 260 kg

Best Feature Physical appearance

42 | Formula Student Austria | Spielberg 2014

Footer
---
Header

Technische Hochschule Deggendorf

Fast Forest

44

E44, Germany, Deggendorf IT, Fast Forest

represents the Deggendorf Institute of Technology in Formula Student

events. Our sixth season's team consists of 65 active team members. With FF06 we decided to

design an entirely new car. For the chassis, a CFRP monocoque is used. The wheels are mounted

on a completely revised double wishbone suspension with a pullrod-actuated damping system and

carbon fiber anti-roll-bars and are driven through a new rear-middle-positioned drivetrain with 2

spur gears and 2 Continenal BAS+ motors. With our new telemetry system and the integrated

Raspberry PI we will be able to control all functions of

our car in real time. For power supply an 8.7 kWh

battery package with LIP-cells was fit to Jenny6e. To

keep the car on the ground, an all-new aeropackage

with front and rear wings, sidepods and an undertray

with splitter was designed. Those and many additional

changes will make FF06 ready to race all over Europe!

Technical Data

Motors

2x Continental BAS+,

Continental REX controllers

Position: rear-middle

Differential

None (Torque-vectoring on rear

wheels)

Motor Controller Continental REX Max. power 85 kW

Battery LIP cells, 353V, 8,7 kWh Drivetrain 2x spur gear (transmission

1:10), rear driven

Wheels+Tires OZ 7x13", Continental C14 Dimensions Wheelbase: 1575

Track: 1208 (front)/1212 (rear)

Suspension

Electronic gadgets

Wings

Double wishbone, pullrodactuated

damping system,

CFRP anti-roll bars

Live-telemetry system with

raspberry PI

Front and rear, splitter plate,

side pods

Weight

Frame type

Best Feature

230 kg

Distribution: 48 (ront)/52 (rear)

CFRP Monocoque

Headlights

Footer

Spielberg 2014 | Formula Student Austria | 43
---
49

Header

Friedrich-Alexander-University Erlangen

Car 49, Germany, High-Octane Friedrich

ch- Alexander-Universität Motorsports e.V.

Erlangen-

Nürnberg, High-Octane Motorsports e.V.

65 students – 5 specialist subteams – 1 team

The non-profit association was founded in 2006 under

the name "High-Octane Motorsports e.V." and was

entered in the register of associations in the local court

of Fürth.

Our primary goal is to expedite research and science,

as well as to support creativity and qualification of

our association members.

In order to achieve our goal, we plan, design and

build an innovative and unique race car together

every year.

With our car we take part in the design competition

"Formula Student", where we compete with other

university race teams from all over the world.

All active members are students of different

subjects, mainly technical or economic studies, at the University of Erlangen- Nürnberg

Every single person is included in the whole process, from an initial cost estimate to the roll out of

the finished racing car. As a result, every person develops skills which will help to

improve the transition into working life.

Overall about 65 highly motivated students from various disciplines are working

together in order to develop and build our new racecar.

Technical Data

Engine Aprilia SXV 550 V2-Motor Differential Proprietary developed limited slip

differential based on Drexler FSAE

ECU DTAfast S80 Pro Max. power 56 kW

Wheels FW: Hoosier Racing Slicks 18-6

x 10

Dimensions L: 2884 mm / W: 1435 mm / H:

1078 mm

RW: Hoosier Racing Slicks 18-

7.5 x 10

Electronic Gadgets Live-telemetry via bidirectional

Weight >160 kg

W-Lan-CAN-Interface

Suspension Öhlins TTX 25 MkII FSAE Frame type Carbon Monocoque

Fuel E85 Driver Barack Obama jr.

Wings

Front and rear wing with

innovative side plate concept

Best Feature

Super motor, super mono, super

aero, SUPERGEIL

44 | Formula Student Austria | Spielberg 2014

Footer
---
TU Berlin

FaSTTUBe

53

Coming from the capital of Germany

from the Technische Universität Berlin

(Berlin Institute of Technology) FaST-

TUBe is now in its ninth season and

ready to continue its run in successfully

engineering, constructing and racing

in the Formula Student.

With around 40 students

from all different

majors and interests,

FaSTTUBe is steadily

working on perfecting

their racecar and its

performance. But not

only technical skills are

required to be a part

of FaSTTUBe. A wide

range of skills is necessary

when it comes to

putting all the pieces together

and working towards a goal as

a team and as a unit. At FaSTTUBe it's

all about teamwork. Everybody is aware

of their own value for the team and

the responsibility they have for its success.

Furthermore the combination of

the skills and the knowledge acquired

during the courses at the Berlin Institute

of Technology and actually putting

this knowledge to work in the garage

and meeting rooms of FaSTTUBe is inevitable.

Every year FaSTTUBe puts great effort

in not only following up the good results

from previous years, but also to

further improve the benchmarks set

in the racing but also in the construction

and marketing categories. The

strive for success is what unites everybody

at FaSTTUBe and is the motor

that keeps the team growing. Over the

past few years many alumni have begun

their working careers at all kinds

of manufactures and different companies,

all of whom were either sponsors

for FaSTTUBe or willing to help in the

not always easy challenge of successfully

constructing and building a new

FaSTTUBe racecar.

All in all FaSTTUBe is a highly motivated

racing team made up of individuals

who not only share a passion for

racing but also a motivation to work

towards success as a team. All of us are

looking forward to having a great time

at Formula Student Austria this year.

We hope to meet other teams from all

over the world to share our passion, to

talk about racing and technology and

joy

this beautiful sport!

Engine

Weight

Suspension

Frame

Aerodynamics

BMW G450x//altered compression//Fuel E85 //55 bhp//0-100Km/h 4.0s

180 Kg

precision cut steel tubes//25CrMo4

full aerodynamics kit//frontwing//rearwing//underbody tray

Spielberg 2014 | Formula Student Austria | 45
---
55

Header

Ben Gurion University of the Negev

BGR ben gurion racing

Car 55, Israel, Ben Gurion University, BGR

"A single dream is more powerful than a thousand realities." ― J.R.R. Tolkien

We, Ben Gurion racing, from Ben Gurion

University in Israel, feel that such is our

story. We come from a small country with

no automotive industry nor race tracks

and extremely draconian legislation

against motor sports.

Team BGR is the very first FSAE team in

Israel - 4 years ago we have created

something unheard of in Israel and are

now leading the field of racecar

manufacture domestically. Our success

has paved the way for other universities

in Israel to launch their own FSAE

projects. Last year, 3 teams raced in FSAE Italy alone. We believe that by reaching a high position in worldwide

rankings we will leverage our achievements to promote motor sports in our country and possibly develop the

automotive industry. Therefore, success for us is also a mission.

Our group consists of 34 students divided into 16 different teams. Each team has its own freedom of action

defined within the limits & restrictions of the team's guidelines, because in this way the team members can

express their own personal talents best. As expected from a team whose aspirations are high, for the first time

in Israel, we have put our best efforts into producing the front chassis from Carbon fibers laminates instead of

steel tubing. Also, the gearbox has been redesigned and custom manufactured.

We believe the most important ingredients for success are courage, innovation, work ethics and black coffee.

Gallons of black coffee. With no sugar. This is an opportunity for you to meet the Israeli team. Our mentality

is very clear. Serious when required and frivolous when we can.

Technical Data

Engine Yamaha XJ6 600cc ECU MoTeC M400

Max. Power 81.2HP @ 10200RPM Max. Torque 67NM @ 7400RPM

Wheels 20x7.5-13 R25B Hoosier Suspension Double A-Arm

Differential Drexler LSD Weight 199kg

Track Width 1230mm Overall Length 2734mm

Wheel Base 1550mm Frame Type Semi-Monocoque\Steel Tubing Frame

Innovative Features

Electric ECU Controlled Shifter

Custom manufactured Gearbox

DogBone Chain Tension System

Semi-Monocoque Frame

Dual Data Acquisition System (Both Dynamic & Static)

46 | Formula Student Austria | Spielberg 2014

Footer
---
Header

TU Darmstadt

Car#56, Germany, TU Darmstadt TU Racing Darmstadt, Team e.V. DART Racing

About the Team

The TU Darmstadt Racing Team (DART) has been found 2005, being at FSG 2006 with their

first car, the alpha2006. In 2012 the team made the change in starting the development of

an electrical powertrain. After participating in last year´s FS Austria 2013 we are here for the

second time as an electrical team. Over 30 highly motivated students from various fields of

study have worked on this year's car, the Iota2014. The foundation therefor has been set 10

months ago with the attempt of a fully new designed car and a two motor concept.

the iota2014

By creating a completely new chassis and

suspension, we decided to take the

know-how from last year`s electrical

powertrain and start with a new

packaging. We set our focus on a twomotor

concept, in order to apply an

electronic torque vectoring. Therefor the

main components of our drive train, the

motors and a gear box, have been selfdesigned.

Also the capacity of the battery

has been set to a sustainable standard to get the possibility to achieve endurance lap times comparable to

the autocross event. Following last year's attempts of an aerodynamic front- and rearwing, we are now

introducing a further optimized aerodynamic package with a DRS system.

Despite all these features our main goal was to reduce the weight of the car to minimum in team history.

DART-Racing is looking forward to an interesting and hopefully successful Formula Student Austria

competition. Therefor we would like to thank all sponsors and supporters who make the participation in

Formula Student Events possible.

Technical Data

Dimensions 2977 mm long, 1416 mm wide,

1180 mm high

Weight 195 kg

Frame Type CFRP Monocoque

Wheels 15 inch low section Pirelli

Suspension Cfrp A-Arms, air spring/damper

Capacity 7 kWh

Motors 2x Brusa

Voltage 420 V

56

Max. power 51 kW

Max. Troque 42 Nm

weight 195 kg

Differential Electronic Torque Vectoring

Aerodynamic Front- and Rearwing, Undertray

Best Feature Endless Telemetrie range

Footer

Spielberg 2014 | Formula Student Austria | 47
---
Header

University of Paderborn

Car#, Country, UPBracing University, Team e.V Teamname

58

We are the UPBracing Team e.V., a

team consisting of aspiring mechanical

engineers, electrical engineers,

industrial engineers, informatics and

international economists studying at

the University of Paderborn. Our team

was founded in 2006 and ever since

has grown in several ways. We are a

self-organised Formula student Team

with young highly motivated members.

At this point we purposely do not want

to illustrate our whole team's history

but would like to mention some

highlights and recent developments. Our aspirations have grown with the competition which is why

this season was characterised by major changes.

The PX214 is the eighths step in the ongoing process of increasing the performance of our cars.

This year our car comes with a new aerodynamic package, 10" tires and a hybrid chassis. By

means of those new parts we are going to improve the cornering speed of the PX214 by increasing

the maximum transmittable lateral force.

Following the famous slogan 'to finish

first you have to finish first' the main goal

was to increase the reliability of our car

while maintaining low weight and high

efficiency. We have also put a lot of

effort in the analysis of the vehicle

dynamics with a self-developed

measurement system. Our passion for

motorsports and engineering motivates

us to go the extra mile and act beyond

our obligations. The PX214 is a further

milestone in the history of the UPBracing

Team. In the long run we want to

compete with the best teams around the world.

48 | Formula Student Austria | Spielberg 2014

Footer
---
TU Kaiserslautern

Kaiserslautern Racing Team e.V.

64

Für das erste E-Auto

stand ein Konzept im

Vordergrund der Entwicklung,

das eine solide

Grundlage für die erfolgreiche

Teilnahme an allen

dynamischen Disziplinen

der "Formula Student

Electric" (FSE) bietet und

zugleich die Basis für zukünftige

Weiterentwicklungen

darstellen kann.

Enge Kurven und kurze Sprints prägen die Streckenführung des Wettbewerbs. Um

diesen Eigenschaften der dynamischen Disziplinen Rechnung zu tragen, zielte die Auslegung

des Fahrzeugs auf eine maximale Elastizität ab. Neben der Fahrdynamik war

auch die Dauerfestigkeit ein wichtiger Aspekt, um bei der "Endurance" konkurrenzfähig

zu sein. Nur wer seinen Formelwagen ideal auf die unterschiedlichen Disziplinen abstimmt,

kann gute Ergebnisse einfahren und sich erfolgreich behaupten.

In den kommenden Jahren wollten wir unser Fahrzeug schrittweise um komplexere

Konzepte erweitern. Dazu gehören beispielsweise Bremskraftrückgewinnung und die

Nutzung von Torque Vectoring bei der Motoransteuerung, sowie die weitere Gewichtsreduktion

durch Leichtbau. Bei Optimierungen im Bereich des Fahrwerks greifen wir auf

ein Telemetrie-System zurück, das wir selbst entwickeln und kontinuierlich ausbauen.

Dabei wird die effiziente Nutzung der Erfahrungen

und Erkenntnissen aus unseren

ersten beiden FSE-Saisons eine wesentliche

Rolle spielen. Denn es gilt nicht nur,

innovative Neuerungen zu integrieren, sondern

auch erkannte Defizite auszumerzen.

Deshalb legen wir besonderen Wert auf Dokumentation

und Wissensweitergabe.

Spielberg 2014 | Formula Student Austria | 49
---
65

Hochschule RheinMain

Scuderia Mensa

This team didn't submit an entry for this program,

so here's a picture of a cat instead:

50 | Formula Student Austria | Spielberg 2014
---
Header

UAS Mannheim

Car#68, Germany, Delta UAS Racing Mannheim, Delta Racing

68

This year, we designed an all-new lightweight concept sporting a lightweight space frame, 10 inch

wheels, new suspension with new kinematics, one-cylinder KTM EXC 500 engine and a first-time

aerodynamic package in Delta Racing history.

This season, we strive for reliability an successful on-track as well as good statics.

So come over to our pit, meet our fantastic team and check out our brand new car!

Technical Data

Engine KTM EXC 500 modified

ECU manufacturer supplied

customizable ECU

Wheels Keizer 6x10,5 inch

backspacing, 3 pc rim

Electronic Gadgets adjustable engine mapping

and shift timing, electronic

activated clutch

Suspension double unequal length CFK

A-Arm, direct actuation

Fuel 98 octane unleaded gasoline

Wings adjustable 3 Element Wing at

front and rear

Differential Drexler clutch pack limited slip

differential, preloaded

Max. power 40 kW at 9000 rpm

Dimensions 2954/1377/1500 L/W/H /

1200/1150 F/R Track

weight 180 kg ready to race

Frame type Tubular space frame

15mm - 30mm dia

Driver The Stig brothers

Best about 100 kg lighter than last

Inovation year car!

Footer

Spielberg 2014 | Formula Student Austria | 51
---
69

HAW Hamburg

HAWKS Racing e.V.

In 2014 HAWKS Racing proudly presents the 10th generation of our Formula Student

racecar. The H0X is the result of the know-how gathered over 12 years of Formula Student

experience combined with the hard work of 45 students of different fields of study.

Our team designed a car with its advanced ergonomics, mainly featuring an adjustable

pedal box as well as specially adapted driver's seat and steering wheel developed in compliance with the

driver to guarantee maximum drivability. The driver is additionally supported by a Bosch M4 ABS system, a

traction control and a homogenous engine torque curve – increasing performance of driver and car.

Focusing on weight reduction, the H0X is our first car with a layup and core material optimized full body

CFRP monocoque supported by an aluminum frame structure.

The heart auf our car is the Kawasaki

ZX6R engine featuring coated and

weight reduced components to

increase efficiency. Different enginemappings

guarantee optimal engine

characteristics the characteristic for

each event discipline.

Our 3D-simulated aero dynamic package consisting of an undertray as well as front and rear wings was

further optimized and is positively influenced by the monocoque geometry.

Come and visit us - we are looking forward to seeing you in our pit!

Technical Data

Engine Kawasaki ZX6R (2001)

ECU Ole Buhl EFI Euro 4 ECU

Wheels Continental 205/510 R13

Electronic Gadgets Power management units

Suspension Double unequal length A-

Arm. actuated spring /

damper. Adj. Roll bar.

Fuel RON 100

Wings (lift/drag coef.) 3.2 front / 2.8 rear

Differential limited slip differenzial,

acceleration 40°->60%,

deceleration 50°->42

Final drive

Max power/ Power: 10100 RPM Torque:

torque RPM 8700 RPM

Dimensions 1649 WB/ 1170F – 1138R Track

weight 205 kg

Frame type Full body CFRP Monocoque /

Aluminum support frame

Shift actuator Mechatronic clutch and shifter

Best Feature Bosch M4 ABS, traction control

Be part of the passion - be HAWKS

52 | Formula Student Austria | Spielberg 2014
---
Header

UAS Coburg

Car#, Country, University, CAT-Racing Teamname

70

CAT-Racing (Coburg Automobile Team) enters in 2014 its 7th Formula Student

Combustion season. The 50 members are motivated students from different courses

of study. The growing standards and knowledge in every new season lead to deeper

scientific work and more complex design.

For the current car, the "C-14 Gepard" the team converts three main

alterations at the suspension, the chassis and the new aerodynamic

package.

Constructing the components as small as possible is one of the rule

to minimize weight. The switch from 13" to 10" rims was the first

decision at the suspension, which affects all other parts. Together

C-14 Gepard front view

with materials, who allows extreme lightweight designs the

suspension was designed for a car with aerodynamic forces at both axles. The two wings are designed with two

selective adjustable flaps and one main profile, getting the optimal downforce by maintaining a reasonable dragcoefficient

in each disciplines of the Formula Student. The main design goal of this year chassis was to ensure

maximal torsional stiffness to optimize working conditions for the suspension. Therefore CAT-Racing designed their

first hybrid carbon fibre monocoque. The power of the 4-zylinder engine and the individual design of the cooling

system, the airbox with variable intake runners and the titanium exhaust system prepared the "C-14 Gepard" for all

driving situations. The electrical system was enhanced with a display with an integrated data-logging-module. This

system logs data from a variety of sensors like brake pressure, lambda sensor, coolant temperature.

In the season 2014 the team participates at the Events in Hockenheim (DE), Spielberg (AT) and Barcelona (ES).

C-14 Gepard side view

Footer

Spielberg 2014 | Formula Student Austria | 53
---
74

University of Bath

Team Bath Racing

Team Bath Racing have competed in

Formula Student since 2001, with an entirely

new cohort of team members each

year. This presented a clean sheet of

paper for the 2014 team, comprising of 25

undergraduates.

The focus of this new car has been on

a lightweight, tuneable and ergonomic

chassis, with significant aerodynamic enhancements.

To meet this aim we have

designed a completely new CFRP monocoque

with a steel rearframe to achieve

ideal torsional stiffness, weight reduction

and engine accessibility. The Aprilia

550cc 2 cylinder engine has been selected

to provide excellent drivability and

torque with a low engine mass of 32kg.

Our outboard suspension assembly

features some exciting integration and

weight saving concepts through combining

the wheel centre and hub into one

component, plus a unique manufacturing

additive manufactured intake system has

been developed on the dynamometer to

improve torque by 10% across the range

by optimising fuel and air mixing.

The careful implementation of advanced

materials in integrated designs

gives this car potential to excel in the

static and dynamic events. We will also

compete in Germany and Austria this

year. Thank you to our sponsors including

BP, M+W Group and Cytec Industrial Materials.

Please visit:

facebook.com/teambathr

www.teambathracing.com

54 | Formula Student Austria | Spielberg 2014
---
TU Bergakademie Freiberg

Racetech Racing Team TU Bergakademie Freiberg e.V.

76

With our 8th entry at the FSG we are once again looking

forward to a great season. The RTo8 is the 3rd electric race

car, combining new ideas like the casted inverter housing or

the redeveloped casted rear frame with traditional concepts

like the magnesium bodyshell. Our focus on an obvious lighter

car than last season despite a new designed aeropackage

will hopefully give us the chance to improve our last years

results. We are eagerly awaiting the upcoming events!

Frame Construction

tubular steel space frame with

CFRP reinforcements

Material

25CrMo4 and CFRP

Dimensions L/W/B (mm) 3170/1404/1240

Wheelbase (mm) 1530

Track (Fr/Rr) (mm) 1200/1160

Weight with 68 kg driver 139/139

(Fr/Rr)

Suspension

double unequal lenght A-Arms,

Pull rod actuated spring/damper,

ARB with adjustable blades

Tyres (Fr/Rr)

Continental C14 205/510 R13

Engine

two (rear right; rear left) 40 kW

BOSCH SMG 138/80 with 15.000

RPM

Motor Controller BOSCH INV 2.2

Combined Accumulator 6.5 kWh

Capacity

Cooling

motors and motor controllers are

seperatly watercooled, twin side

pod mounted radiators

Brake System

self designed casted calipers

and rotors with 210mm diameter,

adjustable brake balance

Spielberg 2014 | Formula Student Austria | 55
---
78

TU Hamburg

e-gnition

With its first apperance

at the Formula

Student Austria,

representing the

Hamburg Univesity of Technology, the Team e-

gnition Hamburg consits of sixty students from

almost all the diffrent faculties of the TUHH.

Founded in 2011 e-gnition Hamburg developed

the third electrical Formual Student race-car

of its history. Based on the technical expertise

made in the past years the egn14 lost another

50kg to increase the performance on track.

This became possible by using new accumulator

cells, light weight concepts and different engines,

which provide the same power than before

while having a reduced mass. Also e-gnition

Hamburg focused on using more environmental

friendly materials. To meet this goal the body of

the egn14 is made of natural fibres.

This great car would never have been designed

without the support of our sponsors and friends!

Thank you for your ongoing support!

Engine 2x 207 Emrax motor

Wheels Hoosier R13x7

Electronic

features

Torque Vectoring

Traction Control System

Cockpit Display

Max Power 85 kW

Weight 220 kg

Frame Tubular space frame

Construction

Features NFRP Bodyworks

Suspension Double unequal length A-

Arms

Push rod actuated spring

and damper with U-anti

roll bar

56 | Formula Student Austria | Spielberg 2014
---
University of Cambridge

Full Blue Racing

82

This team didn't submit an entry for this program,

so here's a picture of a cat instead:

Spielberg 2014 | Formula Student Austria | 57
---
Header

UAS Esslingen

#95, Germany, E.Stall Esslingen UAS Esslingen, E.Stall

95

The E.Stall Esslingen was founded in 2012 and is the electric Team of the

UAS Esslingen with the Rennstall Esslingen as its sister team. We are a

small team of about 15 people located in Goeppingen with a great passion

for racecars and especially electric ones. On the 27 th of May we finally

presented, toghether with the Rennstall, our electric racecar EVE '14 and the

combustion racecar Stallardo '14 on a double rollout.

Our latest car EVE '14 arose out of hard work,

innovation, lightweight design and team spirit true

our motto AIM HIGH. We managed to decrease

the weight of EVE '14 by a third compared to our

last year car. Amongst other things we introduced

a monocoque, advanced aerodynamics and

drivetrain to EVE '14.

We're looking forward to a great event season!

Picture: campushunter

Technical Data

Engine 2 x Enstroj Emrax 207

Max. Power 140kW / 85kW

Cell configuration 144s2p

Wheels Hoosier R25B 7,5x10

Suspension SLA with pushrods

CAN 2 separate CAN-Busses

Gearbox Student built epicyclic gearing

TS-Voltage 600V

Energy 6,66kWh

Frame Hybrid monocoque

weight 200 kg

GLV-System 25 Control Units (18 student

built)

58 | Formula Student Austria | Spielberg 2014

Footer
---
Header

Hochschule Karlsruhe Technik und Wirtschaft

Car#, Country, High University, Speed Karlsruhe Teamname

99

Footer

Spielberg 2014 | Formula Student Austria | 59
---
FSA on the intertubes

: fsaustria.at

youtube.com/user/fsaustria

flic.kr/photos/fsaustria

fb.com/FormulaStudentAustria

@fsaustria

FORMULA STUDENT AUSTRIA

Impressum

Herausgeber:

FSA Bewerbsorganisation

Plüddemanngasse 39

8010 Graz

Gestaltung;

Lukas Raschendorfer

Julia Feirer

© 2014 Formula Student Austria