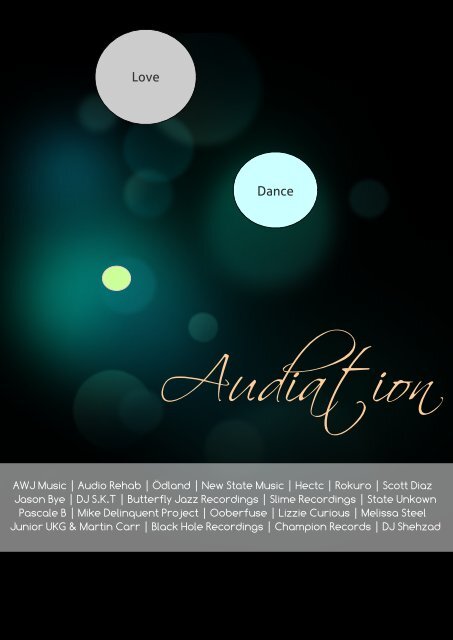 AM002
Issue 2 June 2014 features discussions with DJ Shehzad, Matthew Daniel and Junior UKG & Martin Carr. Including music from Ödland, Jason Bye, DJ S.K.T, Ooberfuse, Pascale B, Champion Records, New State Music & more!
Issue 2 June 2014 features discussions with DJ Shehzad, Matthew Daniel and Junior UKG & Martin Carr. Including music from Ödland, Jason Bye, DJ S.K.T, Ooberfuse, Pascale B, Champion Records, New State Music & more!
SHOW MORE
SHOW LESS
Create successful ePaper yourself
Turn your PDF publications into a flip-book with our unique Google optimized e-Paper software.
Love

Dance

Audiation

AWJ Music | Audio Rehab | Ödland | New State Music | Hectc | Rokuro | Scott Diaz

Jason Bye | DJ S.K.T | Butterfly Jazz Recordings | Slime Recordings | State Unkown

Pascale B | Mike Delinquent Project | Ooberfuse | Lizzie Curious | Melissa Steel

Junior UKG & Martin Carr | Black Hole Recordings | Champion Records | DJ Shehzad
---
Audiation

Audiation is a magazine full of music goodness. We aim to

showcase the amazing talent that does not receive the

recognition it deserves.

For the love of music you will most definitely be able to find

something you enjoy in our eclectic selection. Whether your

groove is house, garage, dance or soul; we will cater to your

desires.

Follow your heart and let your passion & dreams guide you.

An imagination..

not with visuals, but with sound.
---
Meet the creators

"Music is passion & adrenaline rolled into a

pattern of music notes that create a permanent

etching of a moment in my mind."

The Sassy Yank

"Music is the voice of the soul. It is much more

than sound. Music can be a comforter, party

maker, career path or a way of life. "

Mizz Ruby

www.AudiationMagazine.com

AudiationMagazine

@AudiationMag

Email info@AudiationMagazine.com
---
Monday 4pm South Star Radio

DJ Junior UK Monday Madness - UK Garage & Bass

Monday 9pm Ministry Of Sound

Essential Garage

Tuesday 2pm Select Radio UK

Danny Blaze National Anthems Show - Club Classics

Thursday 3pm Select Radio UK

Lizzie Curious – Funky / Tech / Uplifting / Groove

Thursday 9pm Kiss FM

DJ EZ – UK Garage

RADIO

Thursday 10pm JazzySoul Radio

DJ Soul Crush - Jazz & Soul

Thursday 10pm Freek FM

The Push & Pull Show – UK Garage

Friday 6pm DJ Pyro

House & UK Garage

Friday 7pm Ministry Of Sound

Sister Bliss - International Dance

Friday 10pm Empire LDN

Heartbreak – UK Garage

Friday 10pm Vision Radio UK

DJ Emma Champion – House & UK Garage

Saturday 4pm Shine

DJ X-Ray – UK Garage

Saturday 8pm Shine

EssnVee – House & UK Garage

Saturday 9pm Kiss Fresh

Mike Delinquent – UK Garage & Bass

5 www.AudiationMagazine.com
---
Audiation

5
---
DJ S.K.T

A fast rising name in the UK's

underground music circuit. A producer,

DJ, and label manager, the Londoner

specializes in all forms of dance music –

from deep & soulful house, garage &

experimental bass, all tied together with

a common thread of working a

dancefloor.

Starting his career at a young age, S.K.T entered many under 18 DJ

competitions between the age of 12-17 including the "Technics

DMC under 18's battle" in which he came 4th in the country. He also

entered the "Radio 1 search for a DJ" (under 18's) in which he came

6th in the country. Both of these competitions gave S.K.T alot of

experience playing infront of thousands of people his age up and

down the country. He has delivered guest mixes for Kiss FM UK,

Capital Xtra and was resident DJ on BBC 1Xtra Talent's UKG show in

Feb 2014.

Tipped as a "Rising Star" (DJ Mag) and "One of the (underground)

scenes best Producers" (htfr.com) "it surely wont be long until

S.K.T crosses over (into the mainstream)" (DJ Mag).

www.uptemporecs.com

6

www.AudiationMagazine.com
---
Nightcrawlers vs DJ S.K.T - Push The Feeling

'Push The Feeling on 2014? started life as a bootleg remix done by

S.K.T for DJ sets which went on to get support from tastemakers

including the original producer MK (who recently played it on his

BBC Radio 1 Essential Mix), Amine Edge, Steve Smart, Sam Divine,

DJ Target, Pioneer and DJ Cameo to name a few. The songs original

vocalist, John Reid, loved the remix so much he agreed to rerecord

new vocals for S.K.T.

Little Nikki & DJ S.K.T - Right Before My Eyes

Little Nikki's cover of the Patti Day classic started life as a track

for DJ's to spin over carnival last year, since then the DJ S.K.T

produced track has continued to grow and cause damage across

radio and in the clubs. The track is currently on Rinse, Bang FM &

Kiss Fresh playlists and has already entered the top 100 Shazam

chart. Sony Music.

Audio Rehab Vol 1

1. Carnao Beats ft Kadey James - Let Me In

2. Playtime Productions - We Were Built for This

3. Shay and Sinista - Forgive Myself

4. Nightshift - Made You Look

5. Hugo Massien - Run It

6. Adam Cotier & Riaz Dhanani - Lost Planet

7. Mark Radford - All Night

8. Shea Burke ft Asha Rae - Solo Train

9. RS4 - In the Dark

10. DJ S.K.T - My House

11. Louie Anderson - Deep Down (VIP Mix)

12. Mark Radford ft Sarah Leigh - Take Me

13. Riaz Dhanani - Dark Forest

14. Nightshift - Through the K Hole

15. Adam Cotier - Physical

16. Shay and Sinista - Boiling Point

17. Kane Law - Free Your Mind

18. Carnao Beats - The Witness

19. Hugo Massien - Myndgamez

20. Louie Anderson - Meow

21. RS4 & Kane Law - Time Out

7
---
Rokuro

So here goes with my first contribution for Audiation Magazine, I think

we should start with the incredible resurgence of dance music that has

taken over the UK official pop charts at the moment, The majority of it

Deep House, Chilled House and UK Garage, With the more full on EDM

sound starting to lose ground here in the the last 12 months, As we

speak, eight of the top 10 are all dance tracks, top 3 being at 1.and one of

my favourite tracks of this year, Mr Probz - Waves (Robin Schulz Remix)

at 2 Calvin Harris - Summer and at 3. Kiesza - Hideaway…

Great chilled and deep house tracks to look out for this month are Y.V.E

"On the Road" (Armada), chilled guitars with a serious deep bass sound

to this. With a repeating On the Floor male vocal, this one's going to be

massive.

Another top track, Spanish Guitar summer style is Alex Kenji Ft Dacia

Bridges, called "work", Out on Spinning deep, Forget Calvin Harris this

track is what really what summer is all about.

One of the best house tracks around at the moment is Lovebirds,

featuring Lisa Shaw called "holding on"… Electro beats and old school

synths.

Another awesome Chilled deep track is EDX- "Breathin", Total blissed

out piano's with an R&B style male voca tol this, plus one of the coolest

baselines you will hear.

Spinnin Records seem to be releasing more and more deep house these

days, Something I'm quite happy about personally ;-)

8 www.AudiationMagazine.com
---
Another total killer is Tiesto- "Wasted", The Mike Mago Remix. Mike

totally takes the original and turns it into a funky deep house baseline

track, with cut up vocal snippets.

On a slightly harder edge, you shouldn't miss the new Don Diablo

track, "Knight Time", Coming out on (SPRS). Old school style house

updated for 2014, complete with retro vocal samples from the 90's.

Larse, Sneaky sound system - "This Feeling" is another blissed out

house track. Pretty haunting in a way, plus an amazing vocal, coming

out on Noir records shortly.

The Shapeshifter guys are also back with "Heartache" feat, Calvin

Lynch. This one drifts slightly in Uk Garage with its baseline, but

retains the Deep house vibe and a soulful male vocal.

Other nice ones to track down are Rene Amesz - Let Me on Toolroom

records.

Oliver Heldens "Gecko" now has a vocal courtesy of The Voice Uk

contested Becky Hill, It's getting abit of negative press for slapping the

vocal on top but definitely UK pop chart bound when realeased on 22

june.

9
---
Others to track down this month are, Lupe Fuentes "So High" on Brobot

records, 16bit liotes, the organ track on Anjuna Deep, definitely one of my

favourite labels at the moment, Arron Smth - "Dancin" - Krono remix is an

absolute beauty…. Massive Nudisco/House/Electro track and Currently one

of my favourite tracks around at the moment..

Out now is the huge Cazzette- "Sleepess", Its Destined for a top ten in the

UK pop charts if you ask me, It's that big.

More great deep house tracks Include ten walls, "Walking with Elephants"

on Boso Records, Sweet Baby - "Mickey" on Exploited Records.. And my

other pop chart prediction for this month, "i feel the heat", in the new tesco

advert, Wow what a vocal this has, and an MK remix to boot.

UK's 17 year old Ella Henderson is set for her First UK No1 when her Debut

Single "Ghost" is Released on the 8th of June. A great soulful funky pop track.

This girl is going to be massive, it also has a fantastic Oliver nelson Funk/Nu-

Diso Total Quality remix.

On a more EDM vibe there is a great remix of Nicky Romero's "Like home"

track, by one of Brazils most famous DJs Gui Arruda, Look out for this guy in

2014.

I'll be doing a DJ top ten so thought i'd kick it off with Gui's top ten...Also if

you're loving you USA style EDM you can catch my man paul Grundman

AKA PGX From Celeste&Rokuro, every monday at 6:00 pm EST live in the

mix on the jrfm network, repeated on Wednesdays.

There are also a couple of cool remixes out by some bloke called Rokuro,

Celeste&Rokuro - "Signs of time", Elsie- "Wild One" And Rita Ora - "I Will

Never Let You Down"., all to be found on my Soundcloud page.

See you next month… Rokuro

10 www.AudiationMagazine.com
---
DJ TOP 10 BY GUI ARRUDA

Gui Arruda is one of the hottest names in current international electronic

music. A DJ and producer with a successful career spanning more than 10

years on the road.

Surely you have heard one of the projects Gui, formerly known as "Vogue" has

done. Besides his renowned success as Vogue, he was also one of the creators

of "2Fuel", reaching prominence with productions on major country stations

and the primetime TV station Globo. Seeking new horizons in music with a

major change and a totally new design, he is now presented as Gui Arruda.

Producing intensely, he has released tracks for labels like Big Alliance, LK2

Music, Now or Never, Music is the Answer, and many more. He Recently

achieved the top sales on several websites due to one of his popular hits

entitled "Freaks"; a song which was done in partnership with The Kickstarts

Project, who also received an explosive remix by DJ Alvaro, one of the major

producers today.

His tracks have been used by several international artists, quickly falling into

the graces of Tiesto, who besides playing, included the track "We Party Like

Animals" on his radio program "Tiesto Club Life".

Featured wherever he goes, Gui has performed at clubs like Green Valley, Anzu,

Sirena, Kiss & Fly, and Pink Elephant.

i Arruda- Brazil- Top Ten

01 - Nicky Romero & Nervo - Like Home (Gui Arruda Remix) / Lk2 Music

02 - 3LAU Ft. Bright Lights - How You Love Me / Universal-Island Records

03 - NAPT - Come On Surrender (Chris Lake & Nom De Strip Remix) / Rising

Music

04 - Bastille - Pompeii (Audien Remix) / Virgin Records

05 - Steve Angello & AN21 & Sebjak - GODS / Size

06 - Gui Arruda & Stiw - Wild West / Lk2 Music

07 - Hook N Sling, Karin Park - Tokyo By Night (Axwell Remix) / Axtone

08 - Galantis - You / Big Beat Records

09 - Celeste & Rokuro - We Are Not Alone (Gui Arruda remix) / Empire

Audio

10 - Pierce Fultron - Old Man & The Sea / Cr2 Records

11
---
Martin Carr & Junior UKG

Introducing "Hiding" produced by Junior UKG with vocals from

Martin Carr. The is the first original track the pair have worked

together on, boasting of summery vibes along with great

vocals. Junior UKG has 2-step flowing out his ears and he loves

to give the bumpy touch to various tracks, including his latest

rework of Kat Dahlia's "Crazy". Martin Carr with his sweet

vocal tones is sure to get you singing too, having also just

released Rise EP.

"Since I released my first single GETAWAY from the RISE ep back in Feb

14th on BBC Northants Inspiration fm 107.8 with Paddy Grady, the

music has taken a massive jump for all involved. Get Away led to the

meeting of DJ Junior aka Nick Hounslow, as he heard the track on

SoundCloud. Nick got in touch with me directly and asked me if he could

remix the track as he thought he could make a seriously good UKG remix

to compliment the original. So naturally I was interested and we

immediately hit it off from the start. Within 24 hours Nick had finished

the track to my amazement and to my pleasant surprise I was totally

happy with the results. Since then Nick and I have gone onto making

several other tracks and a couple of remixes such as 'Song For You' which

I have put on the Rise ep along with 'Get Away' which has featured on

many underground and internet radio stations such as the Award

winning FREEK FM, KANE FM, SOUTHSTAR RADIO, URBAN KRONIX,

KRISS FM and many more. The original Get Away track also had a video

made for it and was released on youtube on April 1st and has since

reached over 16k views. Our current project is a track called 'HIDING'

which Nick has decided to release as a single ep with 4 remixes from

different genres. The SoundClound stats for the clip we put up for Hiding

have been very impressive in the short time we have had it on Nicks page

as are all of the tracks we have done so far. We think we have a fresh and

unique style with catchy lyrics that crosses into mainstream

commercial chart music and judging from the promo campaigns, DJ and

radio feedback we've been encouraged to continue what we are doing.

Anyway be sure to keep supporting our movement as there is plenty

more coming from Nick and myself, Thankyou." Martin Carr.

12 www.AudiationMagazine.com
---
"I was trawling through Soundcloud one day (as I do everyday looking for

fresh new music & talent) and I came across this track called "Get Away".

After listening to it, straight away I was hooked and thought "ive gotta do a

remix of this" so I sent the artist a message basically asking him if I could do

a remix of it and send it back to him to see what he thinks. We exchanged

emails for a couple of days and eventually I received the acapella from

Martin Carr and got to work. I finished it within 2 days and sent it back to

him and well, the response I got I wasn't expecting, he loved it. We started

chatting some more about music and how he liked my style of Uk Garage

and if I had any other productions or could make some more similar to what

I had done on "Get Away" so we exchanged a few tracks and song ideas

which later turned into my remix of his other track from the Rise EP "Song

For You" & our first original collaboration "Hiding".

Since we put the Hiding clip on Soundcloud the response has been MEGA,

weve had loads of People, Dj's, Singers, Record Labels & even other

Producers showing interest, love & support for it. Also with 4 of the

BIGGEST producers around at the moment putting their stamp on the

remixes for the EP, its gonna be a force to be heard. First on the remixes we

have Jack N Danny (House Ent) with a Bass House remix, Solo Suspex

(Ayklogic Records) with a 4x4 Todd-esque sounding remix, B1G PROJ3CT

with an awesome homage to how Garage used to sound with his Dub remix

and Zettin Zee with a nice minimal sounding 2 Step remix. We are currently

working on the release date for the EP and it should be available on all good

digital music download stores very soon…..

There is plenty more projects coming from me and Martin as we've decided

to keep the collaboration going and produce an albums worth of music

between us, so watch this space for future projects as you aint gonna be

able to listen to a mix cd or turn the radio on without hearing one of our

tracks. Lastly I just wanna say a MASSIVE thank you to everyone who's

shown love and support over the past 5 months and propelled us to the

position we're in of spreading fresh good quality music to the masses,

THANK YOU." Junior UKG

13
---
Jennifer Lopez ft French Montana - I Luh Ya Papi

(Mike Delinquent Project Remix)

Mike Delinquent Project has been smashing the music scene with

great bouncy tunes & remixes and he has been privelidged to

create the official remix for world famous Jennifer Lopez!

This remix is full of fun bumpy bouncy energy, Mike's signatures

summery bassline sounds and nicely finished off with a touch of

beautiful piano notes to compliment J Lo's vocals.

www.mikedelinquentproject.com

14 www.AudiationMagazine.com
---
INTRODUCING…MELISSA STEEL

DEBUT SINGLE 'KISSES FOR BREAKFAST FT. POPCAAN' OUT 14 JULY

Atlantic Records is proud to introduce new singing sensation, Melissa Steel. The

20-year-old Bradford native will release her debut single 'Kisses For Breakfast'

featuring Popcaan which is Mista Jam's 'Jam Hot' record this week, on 14 July.

Produced by upcoming UK talent, Wunda, the single boasts dancehall influences

with its breezy melodies flowing underneath Melissa's effortless vocals. Filmed

in Jamaica, she speaks about how the location was the best match for the video,

"The song has a summer, island feel to it which is pretty much why we envisioned

Jamaica as the perfect place to shoot the video. I literally had the time of my life

shooting it. I had a blast!"

Dancehall superstar Popcaan, who has previously worked with the likes of Snoop

Dogg and Drake, lends his unique freestyle rhymes and beats to the track. On

working with him, Melissa says, "Popcaan is also a really cool and talented artist.

It was a pleasure to work alongside him on the song."

Currently in the midst of writing and recording her debut album, the starlet is

working with hot producers such as Kz (Wretch 32, Jacob Banks) Bless Beats and

Jamaica's finest, Baby G. Set for big things, Melissa is also currently featured on

'Way We Are' by dance act Kove.

15
---
DJ Shehzad

The Ministry Of Sound DJ Academy in Mauritius took place earlier this year

courtesy of Social Buzz. Various budding music enthusiasts took part and

honed their skills throughout. Somehow the group of talented indivuals

were wittled down to just one, congratulations to DJ Shehzad for winning!

Shehzad Khodabaccus, commonly known as DJ SHEHZAD started as a DJ in

2007 with a DJ course attended at XINDIX DJ SCHOOL with the King of

Bollywood Music in Mauritius DJ SANPRIEST, director SHARIS SAMPUTH

Alias DJ SASH. Music was always in himself and was always seen playing

Music. He has a very amazing talent of playing music and when he puts a goal

in mind, he does everything towards achieving that goal. Creating and

producing his own music was always his prime objective and also his dream.

He always wanted to be among the best DJs in the country and also

worldwide and he would give all his time creating better and better music

that people would like and eventually take him closer to his goals.

Thoughts throughout the competiton

I entered the competition with a high moral but I knew that the competition

would be very tough with Outstanding Participants..But overall the journey

was good and full of surprises..

Facourite track: Calabria 2007 - Enur ft Natasja

https://vimeo.com/96616322

16 www.AudiationMagazine.com
---
Inspirations

David Jay, Hardwell, Avicii & David Guetta.

What does music mean to you?

Music is one of the most important aspect of my life,

A way to communicate to pass on a message of a creation the sharing of

creativity, it simplifies my whole being.

Advice to music minds

Keep creating new stuff, work in group, share ideas, have love for what you

do, enhance your creativity, be your true self and keep doing your best.

The affect of the competition & future plans

It brought me onto another level in my musical career.. Now i feel myself like

a fully qualified dj with still many more ambitions to attain....... My plans for

the future are to be able to play all around the world and give my best on all

my gigs and also to launch myself into music production.

This is just the beginning so keep following there's a lot more to come Dj

Shehzad.

17
---
Matthew Daniel

English Nu-Soul and Jazz producer. I'm currently producing songs

for my first album. There are collaborations with some

interesting artists and they are working in the music industry

creating Soul music - delicious cosmic soul dust with bass and

beautiful poetry & melodies . I have worked on this collaborations

album for two or three years. I play keyboard and piano, I'm from

the UK, I live in a beautiful part of London where I have a studio to

make music and record with artists.

What does music mean to you?

Music is a life line, it isn't just a hobbie and that passion that I put

into making songs not only is positive it's a vice. I may not be a

singer-performer, a lot of big industry people expect musicians

to do it all and this idea is unrealistic.

Where does your inspiration come from when creating music?

Usually it comes from a feeling or a song that strikes a chord with

me. I don't always know. Often that happens when I make my

favorite songs. I use instruments that compliment each other;

I'm working on being a stronger beat maker as far as composition

and mixing. I write lyrics and wrote Lose Your Smile lyrics and

Attempt Again lyrics. It's a dream of mine to write and produce

with one artist and make a body of work, who knows what will

come.

Music Industry advice?

Unless your already working with them nobody has your best

interests at heart and I say it from experience. Just focus on

making good music and forget about who said what and really

focus on getting the songs you like the most out to the right

people even if its not listened to it really takes a lifetime to find

yourself as a musician and artist.

18

www.AudiationMagazine.com
---
THE PERSONIFICATION OF SOUL Vol 1

A self-produced Various Artists album where I have decided to

collaborate with fresh talent and produce Soulful collaborations. I

have a lot of different vocalists featured on my album. It is the

most unplanned project not for the time it took to make, just, for

the way the collaborations took place. I started producing this

album back in 2011 and my album is really my way of showcasing

my skills as a new producer and timeless songwriting.

If I am going to be honest my album tracks came to life when I

worked with musicians and I want to continue doing it this way.

The super star on my album is Zulema Nakinda, she is a producer,

singer, songwriter and graphic designer from New Jersey, NY.

Zulema's voice reminds me of old school Mary J Blige. Bernard Rose

plays Saxophone Lovers Groove and Under the Stars adds a Jazz

sound I really appreciate him recording this way because he wasn't

used to up loading and sending mp3's! I've featured a talented

London based singer-songwriter with a rich soul voice on a deep

groove track called Soul Personified Linda Muriel and we may have

a few more songs to get done, lets see! I can't give too much away!

www.butterflyjazzrecords.co.uk

19
---
Ooberfuse - March Of The Downtrodden

Introducing the debut single from Peakflow Records signee

Ooberfuse, titled "March of the Downtrodden". The Woolwich,

London-based trio, consists of band members Hal, Cherrie and

producer Kinky Roland. The brand new release provides listeners

with a taste of things to come, a catchy dancefloor/radio friendly

record, with infectious vocals and wide appeal.

With a celebratory production and rallying vocals, the single

explores the bands unfolding, marking their introduction in the

best possible way, through song!

Fusing Pop and Electronica sounds, Ooberfuse provide a lethal

floor-filling injection, demonstrating their ability to leave

footprints on some of the hottest parties this coming summer.

www.ooberfuse.com

20

www.AudiationMagazine.com
---
Hectic

Tim Fitzpatrick; known in the industry as Hectic, has

dropped a wide variety of acclaimed tracks in a very

short period of time, ranging from dubstep to glitch

hop to garage and UK bass music. Hectic's previous

releases, including the tracks "Complex", "Evolve",

"Fatal", "Sudden Death", "Don't Tell Me", "Zone 10",

"How Could You" and "You Got Me" have established

his name once and for all. His latest releases, the

''Trendsetter'' EP and ''Drop It'', as well as various

tracks on DJ Hatcha's label, Hatched, delivered a raw,

uncut and heavy dubstep workout to the

dancefloors. Setting the pace with relentless beats in

a spacious and rough soundscape, it is clear that

Hectic gives a new twist to the dubstep genre. He has

received radio play and support from BBC Radio

1Xtra, Kiss FM, XFM and Sub FM.

London producer Hectic has been busy at work in the studio and

has some great remixes for our ears! A dark twist of Iggy Azalea

ft Charli's "Fancy", wow I've switched off from the commercial

world but this remix completely destroys the poptastic original.

The remix of I Killed Kenny's "Nobody", nice dark chillstep with

subtle light undertones. Hectic also gives a gritty edge to

Veronica Vesper's "Fuck The Ego".

21
---
State Unknown enter the summer season with the vocal smasher

alongside Jamie Lewis,a talented singer from Essex, UK, who

alongside State Unknown, has been working like crazy with a

string of quality releases with numerous high profile labels and

producers (Hed Kandi, Dirty Freek, Frater and Stent, Gorgon City).

Original mix is a pure summer corker bringing the early inspiration

of the conquering London vibe of the late 90's/early noughties to

the cut. Swing beats, big basslines alongside an infectious, hook

laden delivery by Jamie that has all genders hooked in. On the remix,

State Unknown go at it with their trademark sound, skippy 4/4

beats pushing for the bouncing dischorded baseline, twisted

melodies and stabs purely for the deep bass club floors! Also on

remix duties, they invite an absolute gem of a producer, Maff

Boothroyd heralding from Halifax, UK, who State Unknown met

while working on a previous project last year, they had to have him

back on board for another full on energy driven refix! Pure peaktime

smasher.

22 www.AudiationMagazine.com
---
I'm pleased to be able to share probably my most heartfelt work to date. By

putting this out into the world I'm trying to create something that will last and

won't be forgotten about in a week's time. That's my intention anyway. I guess

we're all just trying to do something significant. I've tried to make something

sincere and hopefully it resonates with you.

The EP is due for a full release via iTunes, Beatport and Traxsource on 16th June

but I'm giving those people who care about what I'm doing the chance to get it

early. As an additional thank you for your continued support, I've included a bonus

track 'Love Mistakes' as well as the radio edit of 'Lovesick'. These will not be

available on the general release.

I am offering this on a 'pay-what-you-want' basis, and within that there is the

option to get the EP completely for free. I'm open minded about how the music

business has changed and if it turns out to be a good idea, I would like to continue

to do things in this way. I realise that in these ever changing days people have

many different ways of accessing music, most of it for free. I would hope, however,

that if what I do connects with you then you will feel that there is value in it and

you'll be happy to pay what you think it's worth.

The EP has already had plays on Radio 1 and Kiss FM as well as being included on the

next Hed Kandi: Beach House compilation, so I'm really excited for you all to hear it

Much love, Scott. 3

23
---
The Beat Corporation ft Alison Bethune & Natasha Sky

You Don't Know

A bumpy rework of a classic released on

Champion Records. The video is a blend of urban

style, funky graphics, and kick-ass dance moves!

Slick editing and moderately paced shots to

match the bouncy beat. This is one for your

summer playlist!

The Beat Corporation are a group of artists that came together to create

music with no limitations. Based in Manchester UK, Tyler Daley & Jody

'Jodz' Spence are both established producers & songwriters in their own

right and share a common goal which is to make effective club music that

has no boundaries. From Deep house/Nu disco/soulful house/Dance &

Electro with deep heavy basslines the vibe is reminiscent of the old school

House and Garage era they grew up in with melodies playing a big part in

the sound.

A big coup for the boys was when their track 'Elevation' was played in a

Disclosure & Zed Bias back to back at Warehouse in Manchester. Their

biggest profile remixes are for Roy Davis Jr, Omar, Zed Bias, Ghetto n MC

Nasty and more. Continuing their incredible progression, later this year

The Beat Corporation have been confirmed to play at the Glastonbury

festival in Bez's Acid House tent.

'You Don't Know' is a cover of the classic RnB record by 702, originally

released in 1999 & became a dancefloor smash in the UK Garage 2step

scene shortly after. The 2014 cover features vocalists Alison Bethune &

Natasha Sky, whom the Beat Corp both met locally in Manchester. Alison

Bethune has been involved in various tracks across different genres, with

her vocal often described as soulful and sultry. Natasha Sky is a 22year

old singer-songwriter from Manchester. She is in the process of recording

her first album which features well known musicians such as Aziz Ibrahim

from the Stone Roses & Simply Red.

24

www.AudiationMagazine.com
---
Ödland

A Twonderful group based in

France with some absolutely

beautiful creations of music.

odand.fr

We love wind and violin, clouds and piano.

We have to dream or the way may be lost.

We were born in a train and we are traveling with

ghosts.

Our shadow will reappear, because the past is

lighting us.

Dear friends, welcome to our Land.

25
---
Jason Bye - The Beat

Jason started his career as being one the the first resident Dj's at

Cafe Mambo Ibiza where he still plays regularly every week during

the summer. Since then he has held a 4 year residency at Amnesia,

12 years at We-Love Space in Ibiza and 3 years as the mainroom dj

for Home nightclub in Sydney and London. Originally from the UK

he started DJing as a follow on to his previous experimentation

with Breakdance and B-boy electro beats, before moving on to

Garage and House in the early 90's. Having found himself in Ibiza

for a few summers he played a gig at Cafe Mambo and was

subsequently asked by the owner to come back the next year as

the first full-time resident dj. In the spring of 2011 Jason developed

the Ibiza 971 Club Radio show which has a current audience of

260,000 people weekly via his association with the Addicted To

Ibiza Facebook Group Page. I play House Music all night long, you

can call it what you like, Techno, Deep Jakin House, tribal garage

whatever but as long as the lady's are dancin the party is rocking.

A little nice edit bringing back the good oldschool atmosphere.

Jason bye delivers the first in a series of summertime slams, remix

comes from the hands of the man like Mickey G NYC baby.

26

www.AudiationMagazine.com
---
Pascale B - Dreamcatcher

Simply gorgeous music. Lovely vocals

complimented by sweet melodic sounds.

The album has a blend of mellow sunshine

pieces, upbeat rythmic tracks as well as

romantic mood setters.

A beautiful album with a mix of pop, lounge & world music in English

and French. The original songs are the creations of Pascale B and

various talented individuals. Artists involved include French

songwriter Luc Plamondon, John Helliwell (Supertramp) on

saxophone & clarinet, L.G. Hajishacalli and more.

AWJ Music presents Bass Elements,

compilation by DJ Wad & Mizz Ruby.

Showcasing music from the UK and Mauritius,

this hand-picked selection of dubstep & drum

n bass will knock your socks off! Drum & Bass

vs Dubstep compilation as never heard before.

This should be played at high volume.

www.awjrecordings.com

1. Mellow Sonic - Uplifting Worlds

2. RDubz - Rock The House

3. Mellow Sonic - Monument

4. Zant - Iron Hands

5. Mellow Sonic - Sunlights

6. Vitaliy Ghost - Long Silence

7. Mellow Sonic - Desire

8. Vitaliy Ghost - Monsoon

9. Mellow Sonic - Colibri

10. Hectic - The Wall Tribe

11. D-Mize - Red Cabbage (

12. D-Mize - Rotten

13. D-Mize - Congo Natty

14. Adenoiz - Red Rays Of The Sun

27
---
www.AudiationMagazine.com
---
La La Land - Lonely

La La Land make their much awaited debut on NewState Music with

future classic, summer anthem 'Lonely'.

La La Land is the new project of two successful UK producers (Mister P &

Voodoo), who have numerous international dance hits under their belts,

and continue to create the freshest electronic dance music around.

'Lonely' continues this momentum, with an infectiously catchy pop

vocal, and cool club sound.

Already a hit across mainland Europe, 'Lonely' has also blown up online

with the video racking up an impressive 265,000+ views so far on

YouTube. The track has also already picked up early radio support across

BBC Radio 1, 1Xtra, and Kiss FM, Capital Xtra, with Cameo, Target,

Trevor Nelson, Wideboys, and Ras Kwame all fans.

'Lonely' comes correct with three hot new remixes. First up, DJ Mag's

Rising UK star DJ S.K.T. brings a cutting edge Deep House vibe. Esteemed

German DJ/Producer D.O.N.S. delivers a forward thinking techy EDM

remix, and last but not least London based producer Mike Delinquent

Project drops a trademark Garage banger.

With further remixes to follow, you can be sure to hear 'Lonely' across

airwaves, clubs, and festivals, across the UK and beyond, all summer

long. www.newstatemusic.com

29
---
Lizzie Curious - Ignite

CC007 | www.lizziecurious.com

Ignite is a sizzling combination of a solid

tech house groove, pumping bass,

smokin' hot lyrics from Lizzie and a

powerful piano riff! A dub mix is also

included for those who like to let the

music do the talking. Early support in

from StoneBridge, Dave Rose, Hazzaro,

Dolly Rockers & more.

CC007

30

www.AudiationMagazine.com
---
Pōston & Lizzie Curious - Stranded

Black Hole 646-0

www.blackholerecordings.com

Black Hole Recordings proudly introduces a

new addition to the artist roster with the

signing of Dallas, Texas-based DJ/producer,

Pōston. Though the name might not yet

sound familiar, Pōston will likely be found at

the top of the charts with memorable vocal

trance tunage, beginning with his first single,

"Stranded," and a catchy follow up with

Linnea Schössow due later this summer.

With his debut effort, Pōston joins forces with London dance music artist,

Lizzie Curious, for a seven minute spine tingling rollercoaster. Poston's

masterfully crafted production skills take center stage just as "Stranded"

begins with a crisp, pounding bassline. Building quickly like crashing waves,

larger than life snares soon intermix, making way for a mystical chord

progression that highlights Lizzie's unique, haunting vocal performance.

Fans of Lizzie's massive 2011 hit collaboration, "Departures" with Robbie

Rivera/Cosmic Gate, will appreciate the self-penned vulnerable yet

relatable lyrics that keep "Stranded" in a league of its own. Poston further

cements that notion with a hair raising breakdown capable of wringing

every subtle nuance of emotion from each listener. The dark yet uplifting

breakdown features sweeping strings and solemn piano chords before the

crashing bassline returns with a dash of added spice to disrupt the

dancefloor.

Together with Lizzie Curious, Pōston's major label debut sets the standard

of modern vocal trance at it's very finest. Don't miss the first single of this

rising star's discog; "Stranded" hits Beatport EXCLUSIVELY on June 9th!

31
---
Retrospekt & Platkovsky - Faded EP

Slime welcomes Retrospekt back to the label, this time bringing with

him a new partnership in the shape of Polish producer Platkovsky. The

seductive elements of the former's previous production style are all still

present and correct, but through this forged alliance we are treated to a

brace of tracks that now pack a considerably harder punch. The

combined potency of both producers ensures these cuts will be

essential ammunition for any DJ looking to fill a floor.

'Faded' opens proceedings with a rolling kick and pulsating bassline,

before unveiling the Retrospekt & Platkovsky mantra from the mouth of

a wasted partygoer, succinctly put as "Name three fun things to

do…drink, party and smoke". The track builds itself around an insistent

melody line, layered across speaker-shaking drums that will incite

clubbers to follow their philosophy to the letter.

'Play Us' tells the tale of current dance culture across snapping

percussion and percolating drums, complete with a mischievous edge

and plenty of explicit name dropping of the scenes biggest players. A

serpentine bassline slithers and slides around the track with a

chokehold grip, pouring directly out of the speakers and straight into

your brainstem.

'HVN' drops the tempo down for a sensual little number Perfectly

poised vocals rub gently against narcotic beats and cavernous bass

stabs for a late-night jam that will be the soundtrack to many a headsdown

weekend workout before the sun comes up.

Up and coming house producer Matt Fear steps in to strip 'HVN' down

and rebuild it into a monster of a track, relentless drums providing the

exoskeleton around a beating heart of sublime chords and warm tones.

The sting in its tail comes with a killer bassline that will blow minds and

melt sneakers on the dancefloor.

SLM111 | www.slimerecordings.co.uk

32

www.AudiationMagazine.com
---
June

WWW.ONEFOLDRECORDS.COM

33
---
Jordan Morris (feat Dappy) - Taking Your Side (Solo Suspex Remixes)

Born in London, England on August 12th 1994, 19-Year Old Jordan Dominic Morris was

destined for great things from the very beginning.

The influences of the urban North West London scene would soon become apparent in

his artistry and he became a regular performer at open mics and underground

performances throughout London, winning the favor and support of major UK industry

players like Jamal Edwards of SBTV and producers Zay-D.

Jordan went on to record music with UK recording artist 'Faith SFX', building on his

knowledge of music, he fell in love with the sounds of artists like Lemar, Robin Thicke,

Brian McKnight and Justin Timberlake. "I just want to be the best artist I can be, I've been

inspired by so many talented people from all over the world and I feel like I owe it to

anyone who supports me on my journey to simply make them feel something when they

listen to my music".

In May 2013, Jordan signed a management contract with Jareiq 'JQ' Kabara, President,

Creative Director at The LDN Agency. Impressed by Jordan's artistic tenacity, JQ

partnered with Music Producer Sasha Farhadian and Business Executive Azos L. Rashid to

create independent label 'IQMG' ultimately signing Jordan Morris as their flagship artist.

With many exciting plans in the pipeline for Jordan Morris, 2014 looks to be a year of

great success for the #TeamJM movement.

London producers Solo Suspex provide a garage spin with two remixes including a 2 step

version.

www.solosuspex.com

34

www.AudiationMagazine.com
---
NEW MUSIC

Artful feat. Clare Dove

Trouble (2 step mix)

John Minogue vs Toumäsii

I Like You - Debut Single

Out Now On iTunes,

Beatport and SQ Music

35
---
& THE SASSY YANK
---
The next issue will be available 01.07.14. Please subscribe, and thank you

for the continuous support. This is not only our magazine, it is yours too!

There are far too many amazing musical minds that we aim to share to

the world!

Send us feedback & a star rating (out of 5)!

info@AudiationMagazine.com

with love

The Sassy Yank & Mizz Ruby xx
---
Audiation

AM002 Copyright 2014 © Audiation Magazine