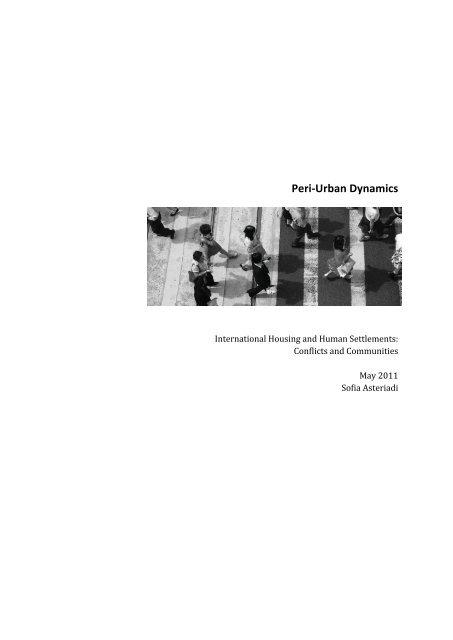 2011 | LSE_Peri-­Urban Dynamics
You also want an ePaper? Increase the reach of your titles
YUMPU automatically turns print PDFs into web optimized ePapers that Google loves.
Peri-­‐Urban Dynamics

International Housing and Human Settlements:

Conflicts and Communities

May 2011

Sofia Asteriadi
---
International Housing and Human Settlements / Sofia Asteriadi

London School of Economics and Political Science

Cities Programme

May 2011

SA4C6: International Housing and Human Settlements:

Conflicts and Communities

Sofia Asteriadi

s.asteriadi@gmail.com

1
---
International Housing and Human Settlements / Sofia Asteriadi

Peri-urban dynamics

Introduction

According to United Nations estimates, the global population will reach 7 billion this year. Twentyone

cities now hold more than 10 million people, and many more will join their ranks by midcentury

(Savchuk,2011). Today, for the first time in human history, urban dwellers outnumber rural

residents (Pacione,2009:3). The contemporary world becomes urban; and the trend is ongoing.

Urban environments have become of great importance, in supporting economic production,

structuring social reproduction and cultural life (Pacione,2009:3). This paper draws on examples

from the cities of Sao Paulo in Brazil and Karachi in Pakistan - both rapidly urbanized the last

decades –in order to highlight few of the main causes and outcomes of urbanisation.

Urbanisation

Economic forces are regarded as the dominant causes of urbanisation and urban change. Cities

have traditionally been poles of attraction due to the concentration of economic activity. These

vast agglomerations of businesses, people and activities, have always been offering opportunities

for employment, social exchange, information sharing and thus personal and collective

development. Furthermore, urbanisation is regarded to be a human need, including the need for

safety, social exchange and interaction; it is the impact of society to nature and surely proved to be

one of the most significant processes of environmental transformation throughout recent history

(Harvey,1996:186). Most importantly, even they do not often meet these expectations, urban

environments always hold out the promise of a better life (Kelley & Williamson,1984:8).

However, no matter how 'natural' they can be seen, there are social power-relations embedded

within urban environments, since their creation is socially, politically and economically mobilized

(Heynen et al, 2006: 6). The dramatic urban shift that is visible to varying degrees of both of the

developed and the developing world is based on multiple factors. One is the transition to

advanced capitalism, accompanied by an increasing globalisation of the economy

(Pacione,2009:4).This process is represented by the phenomena of peripheral urbanisation that

mainly characterise Third World cities and regions (Pacione,2009:11).These are also known as "the

urbanisation of poverty" and are mostly taking place in areas that are not rural or urban, but periurban.

Peri-urban areas have been typically defined as the city's border areas where rural workers

live and are often classified as slums or informal settlements; a catigorisation that fails to explain

their long-term existence in the city fringe, often within a short distance from economically rich

urban areas (Sanchez-Cuenca,2011).

Sao Paulo

In the case of Sao-Paulo's metropolitan area, population figures rose significantly the last decade

instead of being stabilized as was initially estimated by the national Bureau of Statistics.

Interestingly, this was the result of an in-migration process followed by unevenly distributed

demographic growth. While in the centre of the city the population significantly declined, in periurban

areas grew from 19 to 30 per cent in nine years (1991-2000). Contrary to the usual pattern of

suburbanization, where high and medium-income groups move outside the city to less dense

2
---
International Housing and Human Settlements / Sofia Asteriadi

areas, the cause of the population explosion in this case, was the expansion of the existing poor

areas in the external ring of the city region.

Indeed, the most important municipalities of Sao Paulo - inhabited by the wealthier groups - lost

population (from 6.7 to 6 million during 1991-2000). According to the writers (Torres et al,

2007:207-209) there was an expectation that the negative growth rates would also reduce the

need for public investment. Nevertheless, the fast growth of the periphery [MAP 1] brought

intense demographic variations and a rather unsettling result. The demand for new infrastructure,

social facilities and sanitation networks rose sharply. The persistent horizontal growth led to a

continuous extension of the public services and infrastructure network, even if the existing central

areas' facilities were not used to their full potential anymore. In any case, the expensive and

crowded transportation system did not facilitate access for the communities living outside the city.

Moreover, the city fringe areas indicated high rates of social degradation, unemployment and

poverty. Yet, the environmental consequences of this kind of urban sprawl had a general impact.

Long commuting hours due to the peri-urban housing resulted to high pollution rates and the

uncontrolled expansion to degradation of natural landscapes (Torres et al, 2007).

Sao Paulo's urban shift was heavily based on the residential real estate investment that took place

between 1985 and 2003 [MAP 2]. Almost 400,000 residential units and a great number of

residential projects were implemented by big private companies. Interestingly, these investments

happened where the population drop had been more significant. Housing units built by private

investors were only affordable to middle and high income population groups. There was no

provision of cost-effective apartments for low income families. Even small apartment projects were

sold as residential hotels, still not affordable for the poor. On the other hand, areas where

population increased did not present real estate development the last two decades and land

prices remained low, revealing the strong correlation between land prices and population growth

(Torres et al, 2007).

As a consequence, vast growth on the poor suburbs was accommodated by illegal settlements

and self-built houses. The evolution of an informal market arose within an already complex

3
---
International Housing and Human Settlements / Sofia Asteriadi

content of land use regulations, building norms, environmental constraints, infrastructural

arrangements, zoning and property rights. Just a small part of the city, continued to operate as

usual and private investment only took place in this 'legal' part. By 2007, illegal occupation

accounted for almost half (43%) of the population living in fast-growing peri-urban areas, being

one of the main processes inducing the strong rate of population growth. This high level of

irregularity and informal land use often negated the provision of social services and proper

infrastructure by the authorities, since it constituted a means to 'justify' limits imposed upon their

potential availability (Torres et al, 2007).

In addition, this unplanned urban expansion and land surface change put great stress on land and

water ecosystems of the Atlantic rainforest surrounding the city. A significant destruction of the

remaining forest greenbelt occurred, despite the restrictive environmental legislation. The

implications on the ecological balance have been severe, both in rural and urban areas;

indications, though, of the direct connection between urban growth and deforestation are not

adequate for this to be perceived as a general rule (Torres et al, 2007:219).

The disruption of the city's urban environment has been a combination of interrelated factors. Sao

Paulo is an important economic centre, concentrating numerous national and multinational

corporations, a link between global and local economies of Latin America. Its economic dynamics,

supported by governmental initiatives, attracts industries and the services sector. All these

processes, both affecting and affected by urban growth, are also followed by multiple kinds of

environmental and social implications (Melchert,2004).

Karachi

Train tracks in Karachi, Pakistan, on April 7, 2007

(Source:http://www.photographersdirect.com/buy

ers/stockphoto.asp?imageid=2177730)

City growth processes could be likened to a tangle of

knots; as it is not possible to be examined separately.

In a south-Asian city, Karachi, one of the most populous

cities, urban growth presents a similar pattern. The

city's fridge, due to low land prices, concentrates a

large proportion of the city's almost 10 million

inhabitants. Karachi's rapid growth begun in the

middle of the last century when, after the partition of

British India in1947, more than 600,000 refugees

moved to the city; by 1960 the increase was more than

1.5 million (Hasan,2009). Initially, in the mid and late

1950s, a good proportion of the above crowd started

living on the tracks of the Karachi Circular Railway

(KRC), illegally occupying the land. According to Arif

Hasan (2009) the groups of refugees decided

collectively to shift onto railway property due to

increased security and better environmental

conditions. The first settlements were either near a

water line, from where a connection was possible, or

close to the high and middle-income residential areas

where employment opportunities existed.

4
---
International Housing and Human Settlements / Sofia Asteriadi

Informal settlements occupy a big part of the railway property until today. The circular railway line

connects the five main employment centres of the city, wherein 45% of the jobs are concentrated.

What makes it more popular to the working class, though, is that it passes through middle and

high class areas that require domestic help. Yet, a great percentage of the railway land is taken up

by formal sector buildings such as banks, high-income residential projects, shopping malls and

factories. Being an important means of Karachi's economic development, the government

introduced a plan in 1998 for upgrading and expanding the railway services, after a long period of

malfunction. For this to be done, though, about 20,000 households living in informal settlements

along the tracks have to be evicted or relocated (Hasan,2009:337-343).

Over the years, vulnerable groups have organised and run formal organisations. Activists have

struggled to secure water, electricity, gas and telephone connections and most of all to acquire

ownership rights to the land on which they are living. Similarly, they organised to face the threat of

their eviction and cooperate with two Karachi based NGOs that support their initiative until today:

the Orangi Pilot Project (OPP-RTI) and the Urban Resource Centre (URC) (Hasan,2009).

Almost one third of the world's urban population (31.6%) lived in slums in 2001 according to the

UN (2003:23). Although slums are considered a physical manifestation of poverty and intra-city

inequality, they accommodate very active communities. Innovative solutions are developed by

many of these 'informal' communities to improve their living environments and their initiatives

gradually lead to consolidation of informal settlements (UN HABITAT,2003:26).

Macroeconomic, industrial policies and related investments are the main drivers of city growth in

most of the fast-growing Third World cities, according to a UN Habitat analysis (2009). The

improvement of transport infrastructure is of the biggest contributors, too. As for the third most

important factor, the designation of special economic zones supporting information and servicesrelated

sectors seems to hold an important position in urban growth today (UN

HABITAT,2009).These initiatives are mostly driven by central governments and further

implemented by local authorities and the private sector. Through these processes national and

local governments use cities to connect to the global space of business flows or propel social

change in particular directions. That is why urban growth cannot be adequately understood if

examined separately from the territorial organisation framework that supports it and without

explicit attention given to the interaction between urban and rural labor markets (UN

HABITAT,2009, Kelley & Williamson,1984:8). Nowadays, it is strongly believed that there is a double

influence; while global economic growth affects urbanisation rates, urbanisation may also have an

impact in aggregate growth (Kelley & Williamson,1984:7).

Lately, there is a growing global concern about growth issues, as well as initiatives adopted by the

governments and international organisations to improve lives of vulnerable communities and deal

with environmental issues. There are also complemented policies that have to be made. As UN

Habitat (2003:26) claims, improving security tenure and housing rights is part of the solution; insitu

slum upgrading is more effective that relocation of slum dwellers and should be the norm;

proper attention should be given to the maintenance and management of the existing housing

stock; public policies must be more inclusive and the public sector more accountable to all

citizens; adapting sustainable solutions to manage urban environments is essential too.

5
---
International Housing and Human Settlements / Sofia Asteriadi

Conclusion

The issue of urban growth is a contested field. Many analysts and policy makers claim that cities

are unable to cope with increased urban densities, environmental decay and the social overhead

requirements of rapid urban growth.

Nevertheless, others see urbanisation as the natural outcome of economic development and city

growth as an average of raising living standards (Kelley & Williamson,1984:3). In any case, rapid

urbanisation is an indispensable part of today's reality and evidently, even if governments often

implement policies to control it, urban capacity has always its way to regenerate growth.

Yet, modern reality poses a challenge to urban planners and researchers, as conventional solutions

and ideas are not adequate to address today's rapid urbanization. Solutions must be creative and

come from existing opportunities and initiatives that arise from each different context. They

should be based in understanding first and then providing technical support to those taking on

the existing opportunities, as well as enabling and strengthening local initiatives and bridging

social gaps. Whatever are the outcomes of urbanisation and the challenges that have to be met,

cities grow because they work. Thus, they can be seen as active human ecosystems; and as such,

they need a strong coordination between their parts in order to survive.

6
---
International Housing and Human Settlements / Sofia Asteriadi

REFERENCES

Harvey, David, (1996), Justice, nature, and the geography of difference, Malden: Blackwell

Publishers

Hasan, Arif (2009) "Land, CBOs and the Karachi Circular Railway, in ENVIRONMENT &

URBANIZAT ION, Volume 21, No 2, p. 331-345, [Online] Available:

http://eau.sagepub.com/content/21/2/331 , [Accessed: 18/04/2011]

Heynen, N., Kaika, M. and Swyngedouw, E. (2006) In the Nature of Cities: Urban Political Ecology

and the Politics of Urban Metabolism, London: Routledge

Kelley, Allen C. & Williamson, Jeffrey G.(1984), " The Third World City Growth Problem", in What

drives Third World city growth? : A dynamic general equilibrium approach, Princeton, N.J.:

Princeton University Press, p.3-12

Melchert, Luciana (2004), "In-between environmental risk and protection: Globalisation and

environmental transformation in the city of Sao Paulo", Paper prepared for the 2 nd ANPASS

Conference, 26-29 May 2004, Campinas, Sp, Brazil

Pacione, Michael (2009), Urban geography: a global perspective, London; New York: Routledge

(3rd Ed.)

Sanchez-Cuenca, Jordi (2011), "Planning in the Peri-Urban Interface: Beyond the Rural-Urban

Dichotomy", in Polis [Online] Available: http://www.thepolisblog.org/2011/05/planning-in-periurban-interface-beyond.html

, [Accessed: 30-04-2011]

Savchuk, Katia, (2011) "Interview: Should We Worry about a Global Population Explosion?" , in

Polis, [Online] Available: http://www.thepolisblog.org/2011/01/interview-should-we-worry-aboutglobal.html,

[Accessed: 11/04/2011]

Torres, H., Alves, H. & De Oliveira, M. A. (2007) "São Paulo peri-urban dynamics: some social

causes and environmental consequences", in ENVIRONMENT & URBANIZATION, Vol. 19, p. 207-

223

UN HABITAT (2003), "KEY FINDINGS AND MESSAGES", in THE CHALLENGE OF SLUMS:

GLOBAL REPORT ON HUMAN SETTLEMENTS 2003, p.25-34, [Online] Available:

http://www.unhabitat.org/pmss/listItemDetails.aspx?publicationID=1156 , [Accessed: 11/02/2011]

UN HABITAT (2009), "Case Study: How governments are propelling urban growth", in STATE OF

THE WORLD' S CITIES 2008/2009: Harmonious Cities, [Online] Available:

http://www.unhabitat.org/downloads/docs/presskitsowc2008/How%20gov%20propelling.pdf ,

[Accessed: 03/04/2011]

7