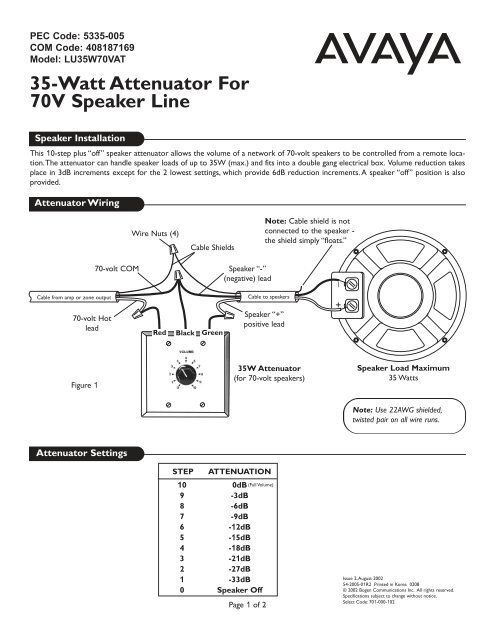 LU35W70VAT 35W 70V Speaker Manual - Avaya Paging Solutions
LU35W70VAT 35W 70V Speaker Manual - Avaya Paging Solutions
LU35W70VAT 35W 70V Speaker Manual - Avaya Paging Solutions
SHOW MORE
SHOW LESS
Do you know the secret to free website traffic?
Use this trick to increase the number of new potential customers.
PEC Code: 5335-005

COM Code: 408187169

Model: LU35W70VAT

35-Watt Attenuator For

70V Speaker Line

Speaker Installation

This 10-step plus "off" speaker attenuator allows the volume of a network of 70-volt speakers to be controlled from a remote location.The

attenuator can handle speaker loads of up to 35W (max.) and fits into a double gang electrical box. Volume reduction takes

place in 3dB increments except for the 2 lowest settings, which provide 6dB reduction increments. A speaker "off" position is also

provided.

Attenuator Wiring

Wire Nuts (4)

Cable Shields

Note: Cable shield is not

connected to the speaker -

the shield simply "floats."

70-volt COM

Speaker "-"

(negative) lead

_

Cable from amp or zone output

70-volt Hot

lead

Red Black Green

Cable to speakers

Speaker "+"

positive lead

+

Figure 1

35W Attenuator

(for 70-volt speakers)

Speaker Load Maximum

35 Watts

Note: Use 22AWG shielded,

twisted pair on all wire runs.

Attenuator Settings

STEP ATTENUATION

10 0dB (Full Volume)

9 -3dB

8 -6dB

7 -9dB

6 -12dB

5 -15dB

4 -18dB

3 -21dB

2 -27dB

1 -33dB

0 Speaker Off

Page 1 of 2

Issue 2,August 2002

54-2005-01R2 Printed in Korea 0208

© 2002 Bogen Communications Inc. All rights reserved.

Specifications subject to change without notice.

Select Code: 701-000-102
---
Attenuator Installation

1) Cut a rectangular hole 4-1/16" wide and 3-3/4"

high in the sheetrock where the attenuator is to be

mounted.

2) Pull approximately 12" of the amplifier and speaker

cables through the hole.

4 1/16"

Screw-mounted tab

(down)

3) Push each of the separate cables through the electrical

box entry holes and pull about 6" of cable

out of the front of the box (see Figure 2).

3 3/4"

4) Rotate the two screw-mounted tabs down against

the box and slide the electrical box into the opening

until it stops against the wall.

Figure 2

Entry holes

5) Begin to tighten both of the electrical box screws

until the box is held firmly into the wall.The clips

on the screws will rotate into place and clamp the

box against the wall.

Rotated screwmounted

tab

6) Make all the necessary electrical connections as

shown in the "Attenuator Wiring" section on the

front of this sheet (see Figure 1).

7) Remove the protective plastic film covering from

the attenuator face plate.

5

VOLUME

6

4

7

8) Mount the attenuator to the electrical box using

the 4 screws provided. Using a Phillips head

screwdriver, screw the attenuator into place (see

Figure 3).

Figure 3

3

2

1

0

Page 2 of 2