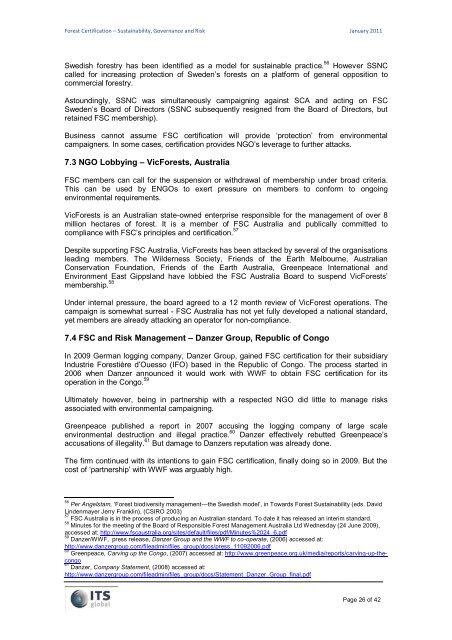 Forest Certification – Sustainability, Governance and Risk - ITS Global
Forest Certification – Sustainability, Governance and Risk - ITS Global
Forest Certification – Sustainability, Governance and Risk - ITS Global
SHOW MORE
SHOW LESS
Create successful ePaper yourself
Turn your PDF publications into a flip-book with our unique Google optimized e-Paper software.
Forest Certification – Sustainability, Governance and Risk January 2011

Swedish forestry has been identified as a model for sustainable practice. 56 However SSNC

called for increasing protection of Sweden's forests on a platform of general opposition to

commercial forestry.

Astoundingly, SSNC was simultaneously campaigning against SCA and acting on FSC

Sweden's Board of Directors (SSNC subsequently resigned from the Board of Directors, but

retained FSC membership).

Business cannot assume FSC certification will provide ‗protection' from environmental

campaigners. In some cases, certification provides NGO's leverage to further attacks.

7.3 NGO Lobbying – VicForests, Australia

FSC members can call for the suspension or withdrawal of membership under broad criteria.

This can be used by ENGOs to exert pressure on members to conform to ongoing

environmental requirements.

VicForests is an Australian state-owned enterprise responsible for the management of over 8

million hectares of forest. It is a member of FSC Australia and publically committed to

compliance with FSC's principles and certification. 57

Despite supporting FSC Australia, VicForests has been attacked by several of the organisations

leading members. The Wilderness Society, Friends of the Earth Melbourne, Australian

Conservation Foundation, Friends of the Earth Australia, Greenpeace International and

Environment East Gippsland have lobbied the FSC Australia Board to suspend VicForests'

membership. 58

Under internal pressure, the board agreed to a 12 month review of VicForest operations. The

campaign is somewhat surreal - FSC Australia has not yet fully developed a national standard,

yet members are already attacking an operator for non-compliance.

7.4 FSC and Risk Management – Danzer Group, Republic of Congo

In 2009 German logging company, Danzer Group, gained FSC certification for their subsidiary

Industrie Forestière d'Ouesso (IFO) based in the Republic of Congo. The process started in

2006 when Danzer announced it would work with WWF to obtain FSC certification for its

operation in the Congo. 59

Ultimately however, being in partnership with a respected NGO did little to manage risks

associated with environmental campaigning.

Greenpeace published a report in 2007 accusing the logging company of large scale

environmental destruction and illegal practice. 60 Danzer effectively rebutted Greenpeace's

accusations of illegality. 61 But damage to Danzers reputation was already done.

The firm continued with its intentions to gain FSC certification, finally doing so in 2009. But the

cost of ‗partnership' with WWF was arguably high.

56

Per Angelstam, ‗Forest biodiversity management—the Swedish model', in Towards Forest Sustainability (eds. David

Lindenmayer Jerry Franklin), (CSIRO 2003)

57

FSC Australia is in the process of producing an Australian standard. To date it has released an interim standard.

58

Minutes for the meeting of the Board of Responsible Forest Management Australia Ltd Wednesday (24 June 2009),

accessed at: http://www.fscaustralia.org/sites/default/files/pdf/Minutes%2024_6.pdf

59

Danzer/WWF, press release, Danzer Group and the WWF to co-operate, (2006) accessed at:

http://www.danzergroup.com/fileadmin/files_group/docs/press_11092006.pdf

60

Greenpeace, Carving up the Congo, (2007) accessed at: http://www.greenpeace.org.uk/media/reports/carving-up-thecongo

61

Danzer, Company Statement, (2008) accessed at:

http://www.danzergroup.com/fileadmin/files_group/docs/Statement_Danzer_Group_final.pdf

Page 26 of 42