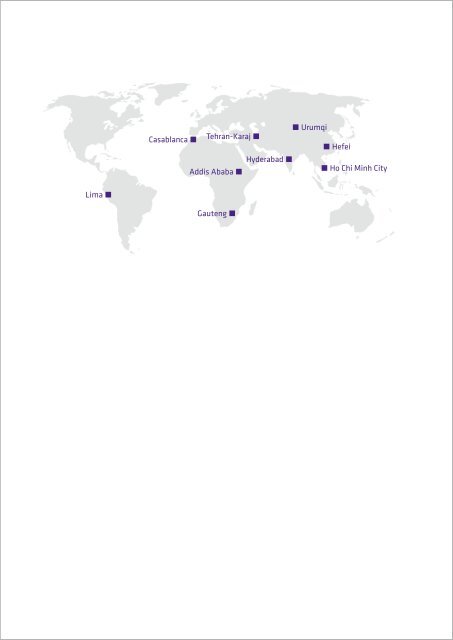 Future Megacities: Young Research Forum
ISBN 978-3-86859-279-5
ISBN 978-3-86859-279-5
SHOW MORE
SHOW LESS
Create successful ePaper yourself
Turn your PDF publications into a flip-book with our unique Google optimized e-Paper software.
• Urumqi

Casablanca • Tehran-Karaj •

• Hefei

Hyderabad •

Addis Ababa •

• Ho Chi Minh City

Lima •

Gauteng •
---
The Book Series "Research for the Sustainable Development of Megacities of Tomorrow" is

sponsored by the German Federal Ministry of Education and Research (BMBF) through the

funding priority "Research for the Sustainable Development of Megacities of Tomorrow". The

authors would like to thank the Ministry for this initiative, for the financial support, and for the

extraordinary opportunity to connect activity- and demand-oriented research with practical

implementation in various pilot projects targeting the challenges of Future Megacities.

The book series "Future Megacities" is published by Elke-Pahl-Weber, Bernd Kochendörfer,

Lukas Born, Jan Müller, and Ulrike Assmann, Technische Universität Berlin. The series contains

the cross-cutting results of the nine projects. These results are the intellectual property

of the authors.

This additional volume "Young Research Forum" is edited by Lukas Born, Technische Universität

Berlin (cross-project programme support of the Future Megacities Programme). The

editor would like to thank Francisco Aguilera S. and Lascha Sochadse for their support of

the editing process.
---
Index

Foreword and Introduction

9

21

The Future Megacities Programme—Framework and the Contribution of Young Researchers

Elke Pahl-Weber, Bernd Kochendörfer, Irmgard Kasperek, Lukas Born, Carsten Zehner

Participants' List of the DAAD Scholarship Programme: "Studies and Research

Scholarships of Today for the Megacities of Tomorrow"

Governance

27

41

The Agricultural Water-Energy Nexus of Rural India under Climate Change: How Learning

Coordination Becomes Key to Technology Adoption

Christian Kimmich

Implementation of the Clean Development Mechanism (CDM) in Gauteng Municipalities:

Barriers, Opportunities, and Post-2012 Outlook

Ntombifuthi Ntuli

Urban Resources: Water

57

73

95

111

Strategies for a Sustainable Megacity Development under the Water Resource Challenge

in Urumqi Region, Northwest China

Katharina Fricke

Auditing Water Resources for Application to Water-sensitive Urban Design—A Case Study

in the Lima Metropolitan Area, Peru

Kara Jean McElhinney

Adaptation of the Urban Water System to Future Developments—Modelling of Different

Options for Lima, Peru

Myriam Laux

Abstract: Comparison and Evaluation of Three Aquatic Plants for Determining the

Efficiency of Nutrient Removal in Domestic Wastewater Treatment

Zarela García Trujillo

5
---
Planning and Architecture

115

129

148

150

152

Integration of Environmental Components and Urban Climate Management in Land-use

Planning in Ho Chi Minh City, Vietnam

Ngoc Anh Nguyen

Land-use Change Detection and Analysis for Ho Chi Minh City

Jakob Kopec

Abstract: Multifunctional Urban Agriculture: An Urban Planning Model for the Megacities

of Tomorrow. The Case of Casablanca

Yassine Moustanjidi

Abstract: Climate-Responsive Residential Buildings for Hashtgerd New Town Based

on Traditional Residential Architecture of Iran's Arid Region

Schabnam Teimourtash

Abstract: The Feasibility of a New Generation Office Building in Hashtgerd New Town:

Modern, Efficient, and Environmentally Friendly

Nadia Poor Rahim

Mobility and Transportation

157

178

197

199

Transit-Oriented Development (TOD) for Megacities: Is TOD an Effective Solution

for a Megacity's Traffic Congestion? Case Study of Shenzhen, China

Xiaoli Lin

The Public Transportation System of Hefei, China. An Analysis

Manuel Fiechtner

Abstract: Development and Evaluation of an Airborne Traffic Detection System

Karsten Kozempel

Abstract: Perspectives for Gauteng's Transportation Sector: Potential Performance

and Costs of Exemplary Transportation Infrastructure Extensions

Steffen Bubeck

Appendix

201

221

224

The Projects of the Programme on Future Megacities in Brief

Authors

Imprint

6
---
INTRODUCTION
---
CASABLANCA: Young trees planted in an act of "guerilla gardening" in Casablanca's suburbs [Lukas Born]
---
Elke Pahl-Weber, Bernd Kochendörfer, Irmgard Kasperek, Lukas Born, Carsten Zehner

The Future Megacities Programme—

Framework and Contribution of

Young Researchers

The Future Megacities Research Programme

The Global Urban Future

The development of future megacities describes a new quality of urban growth with today's

unprecedented pace and dynamics of urbanisation. At the beginning of the twentieth century,

only 20% of the world's population lived in cities. Since 2010, however, the share of urban

dwellers has dramatically risen to over 50%. By 2050, world population is predicted to increase

from 7.0 billion to 9.3 billion and by that time, 70% of the population will be living in urban

areas, many of them in urban corridors, city- or mega-regions [UN−DESA 2012; UN−Habitat 2012].

Urban areas contribute disproportionately to national productivity and national GDP.

Globally, they are responsible for 80% of economic output [UN−Habitat 2012; UNEP 2011]. Urban

areas thus also are very relevant in terms of energy consumption. Although cities cover only

a small percentage of the earth's surface, 1 they are responsible for around 60−80% of global

energy consumption as well as approximately 75% of global greenhouse gas emissions [UNEP

2011]. In the future, this will increase for cities in so-called developing countries, as they will

be responsible for about 80% of increases in global annual energy consumption between

2006 and 2030 [UN−Habitat 2011]. Hence, cities are significantly contributing to climate change

while, at the same time having to deal with its devastating consequences because many are

located close to rising sea levels, in flood-prone or in arid areas. Cities therefore must take

action to increase energy and resource efficiency as well as towards climate change mitigation

and adaptation.

Megacities, as a spreading phenomenon, do have a special role in this context and illustrate

the urban challenges of the future. These urban centres are not only reaching new levels

in terms of size, but are also confronted with new levels of complexity. They are facing multifaceted

problems directly affecting the quality of life of their inhabitants. In many cases,

indispensable assets, such as social and technical infrastructure, delivery of basic services, or

access to affordable housing are lacking. Capacities for urban management and legal frameworks

tend to be chronically weak and are often insufficient for dealing with rapid population

and spatial growth. Moreover, excessive consumption of resources, such as energy or water, is

further aggravating existing problems.

In many countries, medium-sized cities are especially experiencing extraordinary growth

rates. These "Future Megacities" are to be taken into consideration for sustainable urban development

strategies and for urban and territorial planning as they still offer the opportunity

for precautionary action and targeted urban development towards sustainability [UNEP 2011].

9
---
Fig. 2

Winners of the Young Researchers Award and YRF Participants Presenting the Hamburg Declaration on May

15, 2013 [Lukas Born]

But they also demanded the need for continuity and long-term partnerships for ensuring

the success of megacity research and development. They called upon the BMBF, the DAAD,

and all other contributing organisations, institutions, and individuals (1) to establish lasting

networking opportunities for the alumni of this project programme; (2) to assist in the

continuation of capacity building efforts; (3) to establish new or connect existing knowledge

databases, including contact information and research results as an information reference

for project participants and others; (4) to ensure continued study opportunities for German

and foreign students and graduates, for example through the organisation and support of follow-up

initiatives; and (5) to establish a fund for the development and realisation of research

projects initiated by young researchers dealing with the issues of Future Megacities [Hamburg

Declaration 2013].

The Book Series' Volume on the Scientific Work of Young

Researchers

The volumes of the book series tackle respective topics with specific emphasis on the sustainable

development of megacities: energy and resources, mobility and transportation, planning

and design, capacity development, and governance (local action). Whereas the topic of

energy plays an important role in some of the articles in this book (e.g., Kimmich, Ntuli), the

field of capacity development is not represented at all. But this is only due to the fact that no

one contributed a thesis with this topic to the Young Researchers' Award. 3 However, the four

14 INTRODUCTION
---
topics (I) mobility, (II) urban resources, (III) planning and design, and (IV) governance are the

main chapters of this volume on young research. Each chapter starts with extended articles

by winners of the Young Researchers' Award summarising their PhD, Master, or Bachelor theses.

The chapters end with few abstracts of research papers by applicants to the award who

were not granted a prize or special recognition.

Furthermore, almost all articles are connected to one of the nine projects. Therefore, most

of the articles in this volume can be read as additional and valuable information to contributions

in other volumes of this series. Respective special notices in the following section,

which describes the contributions in brief, will give you an overview of these connections with

other volumes.

Governance in the Energy Sector in India and South Africa

Decision-making processes in cities often go beyond formalised procedures of local authorities

and result in rather informal processes of negotiation. Formal governments are no

longer the only key stakeholders on urban issues; many actors are on stage competing for

resources and decisions. Negotiations involve multiple players ranging from politicians and

public administrators, to civil society and the private sector. Furthermore, the effectiveness

of planning and governance depends upon the persuasive power that can lead to collective

actions [UN-Habitat 2009]. In this wide thematic field of governance, two papers were submitted

for the award.

In his dissertation, Christian Kimmich focuses on the situation of farmers close to Hyderabad.

He argues that agriculture is a crucial sector either enabling or impeding a transition

path towards the sustainable development of urban areas. Rural-urban linkages touch topics,

such as migration, food security, water allocation for agricultural production versus drinking

water supply in the city, or electricity allocation for agricultural production versus urban

consumption. Decisions on these topics are crucial and have long-lasting consequences for

both urban and rural spheres. Kimmich limits his analysis to the electricity-irrigation nexus

and includes as stakeholders, farmers, the electricity provider, and local governments. He

describes electricity providers as having reduced investments, monitoring capacities, and grid

maintenance. The connectedness of decisions of all stakeholders contributes to high voltage

fluctuations, poor power quality, pump-set burnouts in the countryside, and to increasing

blackouts in Hyderabad as well. Pump-sets of poor quality in combination with unqualified

repairs increase energy inefficiency and further deteriorate power quality. But this situation

leads to high costs and various heavy burdens on farmers as well. To ease the situation and

to assist technology adoption, Kimmich recommends the application of social learning and

governance mechanisms. The results have served to design a pilot project which is described

in detail in the first edited book Energy and Sun of the book series •.

Ntombifuthi Ntuli also describes governance issues in the field of energy in her master's

thesis. She focuses on the Clean Development Mechanisms (CDM). This arrangement

was established under the Kyoto Protocol to reduce global greenhouse gas emissions. It

allows rich countries to virtually meet their emission reduction targets through investing in

projects that reduce CO 2

emissions and contribute to a sustainable development in emerging

and developing countries. These projects generate credits called Certified Emission

Reductions (CERs) which help the buyers to meet their national reduction obligations. Once

they are sold, CERs create revenues for the authorities in the developing countries. Using

15
---
HYDERABAD: Transformer repair- collective action [Carsten Zehner]
---
Christian Kimmich

Dissertation at Humboldt University Berlin, Division of Resource Economics

The Agricultural Water-Energy

Nexus of Rural India under Climate

Change: How Learning Coordination

Becomes Key to Technology

Adoption

Abstract

Surprisingly or not, agriculture can be a crucial sector that either enables or impedes the transition

towards sustainable development of urban areas. This is also the case for the emerging

megacity of Hyderabad. Several rural-urban linkages support this perspective: (a) migration

patterns, dependent on agricultural and rural income, and development paths; (b) the food

security and provisioning dimension, especially relevant in the case of perishable agricultural

commodities that cannot be traded over long distances; (c) water allocation for agricultural

production versus drinking water supply in the city; and (d) electricity allocation for agricultural

production versus urban consumption. This research focuses especially on the latter

linkage (d), as electricity provision is one of the most crucial factors of sustainable development

for Hyderabad, becoming either a driver or inhibitor.

In India, electricity supply for agricultural irrigation is highly subsidised, increasing the scarcity

for urban, industrial, and commercial uses. With a share of 36% of all electricity consumption

in the state of Andhra Pradesh, agriculture has a very high potential for energy efficiency

and mitigation measures. Based on background studies and stakeholder analyses, the thesis

analyses two levels: (I) the macro level on the political economy of infrastructure regulation,

and (II) the micro level of electricity distribution and utilisation in irrigation. Through this twofold

approach, the level and measures enabling a transition towards sustainable resource use

can be identified. At the macro level, a model of regulation and party competition is applied.

This model is tested against the empirical background generated through an analysis of the

law, the discourse in newspapers and semi-structured interviews with experts and practitioners.

The micro level, which is the focus of this article, sets up an analysis of the agricultural

production economy based on interviews and a farm-level survey. The analysis at the level of

electricity distribution and agricultural production systems indicates that, although farmers

do not have to pay per unit of electric energy utilised, the costs of poor infrastructure impose

heavy burdens on agricultural enterprises. Adding the current kWh unit generation costs of

electricity would by far exceed those for each of the other input factors of production. The

absence of unit costs has led to highly inefficient groundwater irrigation and the high costs of

pump-set burnouts to severe voltage fluctuations. These problems work as indirect incentives

27 HYDERABAD
---
or striking reasons for farmers to improve the electricity quality by adopting new technologies

through coordinated social learning practices or concerted, joint action. These solutions can be

combined with energy efficiency measures. Effective measures and new technologies are most

feasible at the level of the electricity sub-station, isolating an agricultural electricity feeder and

the connected distribution transformers for the installation of capacitors.

The findings have served as the basis for designing a pilot project and capacity building

measures. More on the pilot project can be found in the volume Energy and Sun of this book

series [pp. 37–46 •]. In addition to the mentioned article, this article focuses on the preconditions,

such as costs and incentives, and provides the theoretical background. This article

summarises some of the core results of the underlying PhD research for an interdisciplinary

audience. From these findings, more general implications for other infrastructures can be

drawn where coordination is crucial.

Introduction: Scope of the Study

Highly Subsidised Electricity for Irrigation Has Severe Consequences

Electricity provision for irrigation is highly subsidised in most Indian states, including

Andhra Pradesh, the subject of this thesis. The subsidisation regime led to the diffusion

of groundwater-based irrigation, reducing dependence on irregular rainfall and decisively

contributing to the success of the Green Revolution [Badiani/Jessoe/Plant 2012; Kondepati 2011;

Repetto 1994; Rosegrant/Evenson 1992]. Besides a drastic increase in energy consumption and

connections, with a share of 33% of all end-use electric energy utilised for irrigation, the

policy also led to a steady deterioration in the quality of electric infrastructure [Shah 2009;

Tongia 2007]. Although being partly compensated for subsidised agricultural electricity supply

by the state, state-owned distribution companies have steadily reduced investments,

maintenance, and staff budgets for rural distribution. This resulted in reduced monitoring

capacities and grid maintenance, and contributed to high voltage fluctuations, poor

power quality, and increasing pump-set and electricity transformer burnout rates [Dossani /

Ranganathan 2004], but also challenged electricity supply in urban areas [Hanisch et al. 2010].

Non-standardised, unbranded, and often locally manufactured [Narayan 1999] pump-sets

of poor quality, in combination with unqualified repairs, increase energy inefficiency and

further deteriorate power quality [Tongia 2007].

Low Adoption Rate of New Technologies

The main objective of this analysis is to explain the low adoption rate of demand-side

technologies and the underlying barriers to efficiency improvements in the electricityirrigation

nexus. The analysis reveals learning and governance mechanisms that can facilitate

technology adoption and are transferrable to other technologies and environments.

The results have served to design a pilot project, which is described in detail in Energy

and Sun, the first book in the "Future Megacities" book series [Kimmich/Sagebiel 2013]. The

core challenge for increasing energy efficiency is a coordination problem that requires the

simultaneous adoption of technology by all farmers with pump-sets connected to the same

grid in order to affect power quality improvements and to reduce damages to the irrigation

28 GOVERNANCE
---
equipment. Due to the properties of the technologies, sequential learning heuristics through

experimentation by only few farmers does not yield the expected outcome of improved

power quality, and adoption is thus impeded. The findings reveal the importance of taking

into account the social dimensions of social-ecological and technological systems and the

ecology of connected action situations.

Methods and Data: Interviews and Surveys

For the selected research questions, a mixed method approach including interviews and

surveys is the most useful for gaining empirical knowledge. Many interactions and institutional

arrangements can best be covered through open questions. The interviews conducted

between January 2009 and October 2011 included farmers, repair workshop owners, pump-set

manufacturers and local retailers, utility managers and ground staff at sub-stations, as well

as village revenue officers, elected heads of the village level government, and members of the

Electricity Regulatory Commission. These interviews helped in preparing the cross-section

survey design. The qualitative data also informed the model building process to develop more

robust formal models. Crucial basic data on agricultural cropping, irrigation and electricity

patterns are best covered through standardised survey questions. Hence, the following method

structure for the survey was set up:

1. Standardised farm-level survey with 305 participants (N) and 52 survey items

2. Standardised village-level survey with 18 participants (N) and 29 survey items

3. Focus Group Discussions on village-level with 18 participants (N) and 8 open questions

The four rural districts adjacent to Hyderabad were chosen for drawing a sample for the

analysis. Based on the demographic Census data of 2001 and the village directory of the

Census 2001 [India 2001], a stratified village sample selection was conducted. Two Mandals 1

in each district and two villages in each Mandal were chosen for analysis. The stratification

selection criteria were:

· Average agricultural holding size: representativeness of average holding size with induced

variance, i.e., selection of large and small holding size structures

· Population characteristics according to castes: representativeness of caste composition

with induced variance, i.e., selection of differing village types

· Share of groundwater irrigation in total agricultural land use: high share of groundwater

irrigation, and half of the villages with alternative irrigation source, i.e., surface irrigation

reservoirs

Findings: The Costs of Failing to Coordinate

Overview

The following chapter focuses on four issues that are the main findings of this research.

· First, the text focuses on the various high costs of the necessary irrigation that impose a

heavy burden on farmers.

· The second section describes the technical device of a capacitor that could on the one

hand have a positive effect by stabilising the power grid, but on the other hand, could only

29 HYDERABAD
---
GAUTENG: Landfill gas collection in Gauteng [Carsten Zehner]
---
Ntombifuthi Ntuli

Master's Thesis at University of Johannesburg, Department of Geography, Environmental

Management and Energy Studies

(Co-Authors: Harold J. Annegarn, Ludger Eltrop, Ralf Kober)

Implementation of the Clean

Development Mechanism (CDM) in

Gauteng Municipalities: Barriers,

Opportunities, and Post-2012

Outlook

Abstract

The Clean Development Mechanism (CDM) can be defined as a project-based mechanism

established under the Kyoto Protocol to help Annex 1 parties meet their emission reduction

targets through investing in project activities that reduce greenhouse gas (GHG) emissions

and contribute to sustainable development in Non-Annex 1 countries [Curnow/ Hodes 2009].

Even though South Africa is leading in terms of the number of registered CDM projects in

Africa, it is still lagging far behind other developing regions in this regard, having registered

only twenty CDM projects by June 2011.

This research is aimed at identifying the constraints that inhibit large-scale implementation

of CDM projects by Gauteng municipalities, investigating the reasons why South African

municipalities are lagging behind the private sector in CDM project development, and identifying

opportunities for further development of CDM projects.

The study was conducted using qualitative research techniques, using methods such

as in-depth interviews and/or focus groups. Three different groups of respondents were

identified: (i) European Certified Emission Reduction (CER) buyers; (ii) project developers/

CDM consultants in South Africa; and (iii) Gauteng municipal officials responsible for CDM

project development. A separate questionnaire was compiled for each of the three target

groups with the purpose of drawing conclusions about the prevailing status of the South

African CDM market from the perspectives of each of these three groups. The objective of

examining the perspectives of international CER purchasers was to gain an outsiders' perspective

of the barriers to South African CDM implementation and to assess their appetite

for South African CERs.

The main barriers to CDM implementation that were identified include: inadequate project

development capacity, insufficient financing opportunities, low electricity tariffs, post-

2012 uncertainties, additionality, price volatility of CERs, high CDM transaction costs, and

scepticism regarding the benefits of CDM. That some of the barriers (applicable in the earlier

years of CDM) have since been addressed—either through direct action or by means of policy

41 GAUTENG
---
Conclusion: CDM Won't Finance South Africa's Contribution to

Climate Protection

The majority of barriers to CDM implementation in South Africa identified in earlier studies

were found to be still relevant. One crucial barrier that has been removed is the tax implication

of carbon credits. South Africa announced that from 2009 the revenue from the primary

generation of CERs would be tax exempt, a decisive step taken to support the CDM market.

Landfill gas was identified as a key opportunity that Gauteng municipalities could utilise

to participate in the CDM market. While municipalities can earn CERs already by simply flaring

landfill gas, an opportunity exists to generate even more carbon credits by using the gas

for the generation of electricity or compressed natural gas for vehicle propulsion. So far only

one project in South Africa has achieved such approval.

Most of the barriers pertaining to these project types related to internal municipal procedures,

including the stringent procurement rules set by the Municipal Financial Management

Act. A remaining challenge is that such projects generate insufficient volumes of CERs for

South Africa to take up a significant share of CDM investment funds. CER buyers expressed

the view that electricity prices in South Africa are low relative to international rates, making

it difficult for renewable energy electricity projects to compete. However, since the country's

2008 power crisis, electricity prices have increased drastically (25% per annum for three

successive years). This, together with the new bidding process for renewable energy power

purchase agreements, will strengthen the case for renewable energy CDM projects.

It has been established that there is a substantial pool of expertise available that could

assist municipalities to increase the number of CDM projects. However, bureaucracy in

decision-making and complicated rules in engaging external consultants were identified as

hindrances. The inherent conservative nature of South African municipalities when venturing

into new initiatives and technologies, reinforced by the constraints of the Municipal Finance

Management Act, remain challenges—these have been limitations to South Africa's development

of CDM projects.

Several European buyers actively seek CERs from African projects. These CER buyers, CDM

project developers, and consultants have extensive knowledge about the South African CDM

market. Nevertheless, because of the uncertainties regarding the CDM status after 2012,

South African project developers have been increasingly reluctant to initiate new projects,

especially in the period leading up to 17th Conference of the Parties (COP17) to the United Nations

Framework Convention on Climate Change (UNFCCC). The discounted price of post-2012

CERs (a drop of >50% in the spot price) has further contributed to scepticism.

While a decision was taken at COP 17 to extend the Kyoto Protocol for a second commitment

period up to 2017, several key players in the CDM market (including Russia, Japan, and

Canada) have withdrawn from the Kyoto Protocol. These countries join the USA, which has

never ratified the Kyoto Protocol, effectively leaving the EU as the only significant player in

CER trading under CDM. It should be noted that most CER buyers in Europe are also signatories

to the European Union Emission Trading Scheme (EU–ETS). Under this scheme, the EU–

ETS signatories will trade CERs only with the Least Developed Countries (LDCs) after 2012.

This excludes Advanced Developing Countries (a group including South Africa, China, India,

and Brazil). It is, therefore, apparent that the CDM market in South Africa is indefensible.

South Africa will have to seek buyers from outside the EU to sustain its carbon market.

52 GOVERNANCE
---
CER purchasers who actively sought projects during 2011 were particular about project

eligibility. Projects in the early stages of the CDM registration process were the least likely to

be considered, since the risk of non-delivery would be high compared with already validated

projects. Market uncertainty and high upfront transaction costs inhibit project developers

from initiating registration of CDM projects. This is especially the case with municipalities, as,

in addition to the CDM barriers, there are internal barriers within municipal administrations

that may further delay the registration process.

To the extent CDM continues post-2012, the level of benefit for South Africa is unclear

considering the reduction in the pool of CER buyers. Unfortunately, South Africa did not take

full advantage of the opportunity when CDM was at its peak. South Africa stood a reasonable

chance of capitalising on carbon financing, but the conservative nature of the country in

implementing large-scale projects restricted the growth of the CDM market.

Overall, besides the large pool of expertise and multiple players, there remain a formidable

number of barriers for the implementation of municipal CDM projects in South Africa, which

makes it improbable that the country will generate a significant revenue stream from the sale

of CERs beyond 2012. South Africa's contribution to climate protection and greenhouse gas

emission reductions will have to be financed through other mechanisms.

Acknowledgements

We acknowledge contributions by Dr. Maike Sippel (IER), Dr. Axel Michaelowa, Yuriy Lozensky, Elisabeth Frewin,

and all of the individuals who responded to our questionnaires. Financial contributions are acknowledged from the

German Academic Exchange Programme (DAAD), TÜV Rheinland (Cologne, Germany), the IER (University of Stuttgart),

the University of Johannesburg, the National Research Foundation (NRF), the EnerKey Sustainable Megacities

Programme, the German Federal Ministry of Education and Research (BMBF) (EnerKey Project support), the

South African National Energy Research Institute (SANERI) (EnerKey Project Support). Parts of this work have

been presented at two conferences: "Carbon Markets and Climate Finance Africa", January 2011, Sandton; and the

"South African Energy Efficiency Convention", November 2011, Johannesburg.

References

Couth R./ Trois C. (2012): "Sustainable waste management in Africa through CDM projects". In: Waste Management,

32, pp. 2115–25

Couth R./ Trois C./ Parkin J./ Strachan L.J./ Gilder A./ Wright M. (2011): "Delivery and viability of landfill gas CDM

projects in Africa: A South African experience". In: Renewable and Sustainable Energy Reviews, 15, pp. 392–403

Curnow, P./ Hodes, G. (2009): Implementing CDM Projects: Guidebook to Host Country Legal Issues. Risoe,

Denmark

Department of Environmental Affairs and Tourism (2007): Environmental Sustainability Indicator Report–Global

Stewardship. Pretoria

Department of Energy (2009): Department of Energy official website, Pretoria. (http://www.energy.gov.za/files/

esources/kyoto/kyoto_frame.html), 14.10.2009

Department of Energy (2011): South African CDM Project Portfolio (Up to June 2011), South African Designated

National Authority, Pretoria. (http://www.energy.gov.za/files/esources/kyoto/kyoto_frame.html), 25.06.2011

Eltrop, L./ Annegarn, H.J. (2011): "Energy as a Key Element of an Integrated Climate Protection Concept for the City

Region of Gauteng, South Africa". Energy & Climate Protection Conference, 5–6 October 2011, Johannesburg (www.

enerkey.info)

Gilder, A. (2006): Support for the Development and Uptake of CDM projects in the Industrial Sector: Country Report

South Africa. UNIDO Pilot Project in Cooperation with Austrian Industry. Johannesburg

Goldblatt, M. (2009): City of Johannesburg Carbon Finance Guidelines. City of Johannesburg

Hong J./ Guo G.X./ Marinova, D./ Jia R./ Yuang F (2011): "Distribution characteristics and prospects for CDM

projects in China". Paper presented at 19th International Congress on Modelling and Simulation. Perth. 12–16

December 2011

Jarman, M. (2007): Small Guide to Big Issues: Climate Change. Johannesburg

Jung, M. (2005): "Host country attractiveness for CDM non-sink projects". In: Energy Policy, 34, pp. 2173–84

53 GAUTENG
---
URUMQI: Panorama with snowy mountains [Katharina Fricke]
---
Katharina Fricke

Dissertation at Heidelberg University, Institute of Geography

Strategies for a Sustainable

Megacity Development under the

Water Resource Challenge in Urumqi

Region, Northwest China

Abstract

Located between the semi-desert Junggar Basin and the Tianshan Mountains in Northwest

China, the research area Urumqi Region is—despite its semi-arid climate—in a relatively

favourable hydrological situation. The nearby mountains provide water, making human development

possible in the first place. Due to socio-economic development during the last sixty

years and increasing water consumption, a demand- and population-driven water scarcity

exists today. Quantitative effects of climate and land-use change on the hydrological system

in the future are uncertain. This study aims to evaluate the projected changes by combining

a hydrological water-balance model simulating water supply with a socio-econometric model

projecting future water demand. With model input mainly acquired from global datasets,

references or remote sensing data, this approach is transferable to other areas.

The water balance model is used to calculate the annual water balance and the hydrological

processes for five different climate scenarios and one scenario for land use transformation.

The simulation results show that, on average, in the last decade more water has been

available than during the last thirty-six years. Within the next forty years, total water flow

will increase in the mountain areas, but decrease up to 12% in lower areas due to reduced

snowfall and meltwater. Groundwater recharge will decrease and actual evapotranspiration

will rise, especially in agricultural areas. Only a climate scenario with the maximum projected

precipitation provides a total water flow equivalent to the last decade.

The socio-econometric model is used to simulate water demand for six development

scenarios. The most probable scenarios lead to an annual water demand equal to available

water resources. Thus, water scarcity will increase and adaptation strategies be developed for

local geographical and hydrological conditions based on the modelling results. They focus on

measures to reduce absolute or relative water demand, especially in the agricultural sector.

A shift of production and infrastructure into areas with lower evapotranspiration and higher

precipitation, even outside Urumqi Region, is proposed. In urban areas, households and industries

should optimise usage efficiency and water treatment. But the natural advantage of

the hydrological system, the water supply from the mountains, and the extensive groundwater

bodies, should also be cautiously further exploited where suitable.

57 URUMQUI
---
Fig. 2

Hydrologic system, future changes and consequences for Urumqi Region.

(E: evaporation, ET: evapotranspiration, + increase in the future, - decrease in the future) [Fricke et al. 2009]

discourages an improvement of this situation [Zhou et al. 2007]. Du et al. summarise that new

requirements for water supply and discharge of pollutants and waste water will become one

of the largest challenges for urban infrastructure and municipal governments [2006].

Ambiguous Water Supply Forecasts due to Climate Change

In addition to this problem, Urumqi Region will experience changes due to climate change

and human development. An analysis of weather data from Urumqi [Barth 2011] shows

that in the past thirty-five years, air temperature has increased by more than the average

global warming trend published by the IPCC [2007]. This was also confirmed by the modelled

regional temperature change [Trenberth et al. 2007] and several publications about the notable

changes in Xinjiang and the Tianshan Mountains [Aizen et al. 1997; Piao et al. 2010; Shi et al. 2007].

The expected effects of climate change on the runoff were not necessarily clear since both

temperature and precipitation increased, which might increase evapotranspiration losses,

but also net precipitation. The precipitation also increased, but with a higher variability

[Aizen et al. 1997; Barth 2011]. The consequences for snowfall and snow cover so far are ambiguous

[Qin et al. 2006]. However, the glaciers in the headwaters of Urumqi River have notably

decreased in mass and length due to rising temperatures [Aizen et al. 1997; Fuchs 2011; Han et al.

2006; Piao et al. 2010; WGMS 1991-2009], resulting in a temporary increase in glacier meltwater

runoff [Li et al. 2003 in Shi et al. 2007; Ye/ Chen 1997]. Recently, glacier meltwater contributed to

up to 10% of the total river runoff in Urumqi Region and the increase of ablation could lead

to an additional 2 to 4% in the future, but break off after ice melts or a new equilibrium

state has been reached [Fricke 2013].

Besides aggravating a supply-driven water scarcity, population growth, rising living

standards, and economic and industrial development can lead to an additional demand- and

60 URBAN RESOURCES: WATER
---
population-driven water scarcity [Du et al. 2006]. Qualitative problems and probable changes

have been assessed [Fricke et al. 2009], but a quantitative projection and estimation of water

supply and demand in the future is still missing, although these projections are necessary to

develop a strategy for adaptation to the expected changes.

Methods: Simulations and Scenarios on Water Supply and

Demand

Future supply and demand of water resources in Urumqi were projected by separate models.

A hydrological model was used to simulate water supply under different climate and land-use

scenarios and a socio-econometric model was applied to project the demand of water resources.

Water Balance Model: Simulation of Water Supply

Several requirements and limitations influenced the hydrological model; because the watersheds

of the research area extend over an area of more than 7,000 km², modelling at the

macro-scale was chosen [Uhlenbrook 1999]. In order to also enable the investigation of spatial

differences at a smaller scale and make practical predictions for the effects of climate and

land-use change, the resolution of the input data and results should be raster-based and

model the responsible hydrological processes. Models that require an extensive calibration

of parameters and coefficients could not be applied as in situ measurements, input, and

calibration as well as validation data were limited. The dominant processes were simplified

and a combination of physical and index models with indices related to soil and land cover

characteristics simulated the water balance of the region's catchment area.

The design of the hydrological model is based on the water balance model ABIMO [Glugla/

Fürtig 1997 in Haase 2009], which was further developed by Messer [1997] for calculating longterm

groundwater recharge rates, including a runoff model by Schroeder/ Wyrich [1990 in Haase

2009]. The available net runoff Q n

is derived from the water balance equation and then divided

into surface runoff Q sf

and groundwater recharge Q gw

, which was calculated for monthly calculation

steps [Schmidt et al. 2003]:

Q n

= P – ET a

= Q sf

+ Q gw

with precipitation P and actual evapotranspiration ET a

[Figure 3 •]. In contrast to ABIMO, the

potential evapotranspiration ET p

was calculated with the Penman-Monteith equation according

to Allen et al. [1998], based on average climate data. ET a

was then calculated based on ET p

and P [Fricke 2013].

Storage in snow and ice is important for the timing of the water supply, as about one-third

of the precipitation in Urumqi Region falls as snow. Thus, a module based on temperature

and snowmelt indices to account for the accumulation and melting of snow was included

[Rango/ Martinec 1995]. The water available for surface runoff and groundwater recharge was

also simulated with an index-based module. Lacking the necessary field measurements or

calibration data, the processes were simplified to an infiltration coefficient based on soil,

land cover type and slope [cf. Haase 2009; Messer 1997]. Groundwater flow, interflow or glacier

61 URUMQUI
---
Introduction: Lima's Water Challenges and the Concept of

Water-Sensitive Urban Design

Challenges to Water Management in a Desert City

Potable Water from Rivers and Wells

The metropolitan area made up of the provinces of Lima and Callao is considered the world's

second-largest desert city. The aridity of coastal Peru results from a combination of climatological

and geographical factors which combine to minimise precipitation in Lima; on average,

the city and surrounding area receive less than eight millimetres of rain per year [INEI 2011; Unger

2010]. The average flow rates of Lima's three rivers, the Rímac, the Chillón, and the Lurín,

are 31.5 m³/s, 8.8 m³/s, and 4.1 m³/s, respectively [Fernández-Maldonado 2008]. The Rímac and

Chillón Rivers are Lima's major sources of drinking water. Throughout the year, more than

half of the Rímac river's flow is diverted to the La Atarjea water production plant operated

by the Servicio de Agua Potable y Alcantarillado de Lima (SEDAPAL, English: Potable Water

and Sewerage Service of Lima) [Encinas Carranza 2010]. The Chillón water production plant,

operated for SEDAPAL by the Consorcio Agua Azul S.A., diverts roughly 2 m³/s of the Chillón

river's flow for water production during the rainy season in the Andes from December to April;

between May and November when the Chillón's flow can slow to a trickle, the Consorcio Agua

Azul extracts up to 1 m³/s for water production from a system of groundwater wells in the

Chillón watershed [CAA 2009]. In addition to the wells operated for SEDAPAL by Agua Azul,

SEDAPAL owns and operates a network of 471 groundwater wells which are used to supplement

surface waters utilised for potable water production [Encinas Carranza 2010].

Rapid, Informal Urban Growth

In recent years, the consequences of rapid, generally undirected population growth have put

astrain on local water resources and their distribution in Lima Metropolitana. The population

in the metropolitan area increased about fourteen times between 1940 and 2010 [Zolezzi

Chocano 2005]. Large peripheral areas stretching into the hills north, south, and east of central

Lima were informally settled via rural-urban migration at the beginning of this period. Unable

to provide housing alternatives, authorities first tolerated and then gave support to the

improvement and extension of these peri-urban neighbourhoods, setting a precedent for

low-density growth. The political strife and economical insecurities that Peru faced in the

eighties and early nineties led to an increase in the influx of immigrants to Lima who were

forced to settle in undeveloped areas further and further from the historical urban centre

[Fernández-Maldonado 2008]. Lima's most recent metropolitan development plan was developed

for the period from 1990–2010, and though it has been temporarily renewed each year since

then, as of early 2012, the city had no legal instrument to discourage low-density growth [CML

1990; Zolezzi Chocano 2005].

Inadequate Water-delivery Infrastructure

Understandably, water-delivery infrastructure in the metropolitan area has not been able to

keep up with rapid, low-density population growth and currently serves only 80% of inhabit-

74 URBAN RESOURCES: WATER
---
Fig. 1 Wastewater treatment technologies used in Lima [Moscoso Cavallini 2011]

Treatment Technology Number of Facilities Percentage of Total

Collected Wastewater

Treated

Facultative lagoons 10 4.6

Aerated lagoons 5 2.2

Aerated lagoons w/sedimentation & polishing 3 44.2

Anaerobic lagoons w/aeration & polishing 3 29.1

Anaerobic reactors & facultative lagoons 2 2.5

Activated sludge 14 16.9

Trickling filters 2 0.3

Constructed wetlands 2 0.1

ants, despite almost continuous efforts by SEDAPAL since 1980 to provide complete coverage

[Fernández-Maldonado 2008; Unger 2010]. Furthermore, the distribution network exhibits losses

estimated at 35 to 40% [Silva Nole 2011], half of which can be attributed to illegal connections

[El Comercio 2012]. With network losses, average daily per capita water usage in Lima is estimated

at 250 litres. The roughly 20% of Lima Metropolitana's inhabitants who lack access

to the piped distribution network depend on potable water delivered by truck. Less than half

of the water delivery trucks supplying these areas are operated by SEDAPAL; the balance are

privately owned and operated. Water deliveries made by truck are often infrequent and no

mechanism exists for controlling the source or quality of delivered water or the proper maintenance

of truck water tanks. Moreover, potable water delivered by truck can cost up to nine

times more than water delivered via the city's piped distribution network [Unger 2010]. The

deficiencies in Lima's municipal water-supply service and the high cost of water in peripheral

communities have led to a profusion of illegal groundwater wells; 1,733 unlicensed wells were

counted in 2009. Without more investigation no one can be sure of the consequences that

unregulated illegal groundwater wells will have on the long-term sustainability of Lima's

subsurface water resources [Encinas Carranza 2010].

Insufficient Wastewater Treatment

Wastewater management presents another challenge in Lima. As with its piped water distribution

network, SEDAPAL has had difficulty expanding its sewerage network rapidly enough

to accommodate urban growth and only roughly 85% of the metropolitan area's households

are connected to the sewage collection network [INEI 2007]. Wastewater treatment facilities

have also not kept pace; currently only 16 to 17% of the 18,850 litres per second of wastewater

collected by SEDAPAL receives any form of treatment at all, while the balance is discharged

untreated into the Pacific Ocean [Moscoso Cavallini 2011]. Lima Metropolitana currently has

forty-one facilities for treatment of the 16 to 17% of domestic wastewater collected, as

summarised in Figure 1 •. Lima's wastewater treatment plants (WWTP) generally produce

low-quality effluents because many do not function as designed or are under-designed for influent

pollutant loads and types; furthermore, none of Lima's plants are designed to remove

nutrients or chemical contaminants from wastewater. Though twenty-seven of Lima's plants

75 LIMA
---
Fig. 1

(above) Temporary accommodation (Asentamiento Humano) [Lukas Born]

(middle) Treatment stages in a modern wastewater treatment plant in Mediouna, Morocco: (1) results

of pretreatment, (2) tanks with primary and start of secondary stage, (3) installation of tertiary stage

[Lukas Born]

(below) Water Treatment Plant in Lima, Carapongo [Ifak e.V.]

98 URBAN RESOURCES: WATER
---
Identification of Driving Forces (Descriptors) Influencing Lima's Water System

The sustainable development of a city requires the sustainable management of its resources

in order to ensure that the environment can be passed on to future generations in good condition

[Belevi 2002]. To achieve this, an analysis of the environmental system, with its inherent

problems and functions, must be conducted [Henseler et al. 1992]. To do so, the LiWa project has

cooperated with ZIRN. 1 Both partners were able to identify thirteen descriptors. The descriptors

are the main factors or driving forces that influence the development of Lima's water

system by the year for which the scenario is developed, in this case by 2040 [LiWa 2012a]. The

descriptors are:

A. Form of government

B. Corporate governance

C. Water tariffs

D. Demographics

E. Urban poverty

F. Water consumption

G. Network losses

H. Water resource management

I. Form of urban development

J. Coverage of water supply

K. Treatment and reuse of wastewater

L. Water resources

M. Climate (precipitation, risk, discharge)

Formulation of Five Scenarios Backed by Multiple Information Points

The combination of these descriptors led to the formulation of five consistent scenarios, by

which Lima could develop in the future [LiWa 2012c]:

Scenario A: "Climate stress meets governance disaster" (worst case scenario: no improvement

of the water system; the only changes to the current state are the treatment plants

Taboada and La Chira; aggravated by climate stress; no support for improvement through the

government; bad urban management)

Scenario B1: "Lone fighter catchment management" (increase of available amount of

drinking water, but only through integrated river management; no cooperation between water

authorities and the state's water company; water company is economically not working well;

no government support; bad urban management)

Scenario B2: "Lone fighter private water company" (good, economically working private

water company, but no cooperation with the river management; expansion of the wastewater

treatment system; expansion of reuse of wastewater for irrigation; no government support;

bad urban management)

Scenario C: "The opportunities of mesoscale actors" (a private water company is working

economically well; increase of water infrastructure; increase of sewage treatment efficiency;

but no government support; bad urban management)

Scenario D: "Climate resilience by governance" (good working government; good urban

management; cooperation between water authorities and river management; water company

is owned by the state and works economically well)

99 LIMA
---
the LiWatool. Therefore, it is not possible to come up with detailed comparison parameters in

this thesis. Hence, future investigations will be necessary.

But there are other challenges regarding water quality: the biological oxygen demand

(BOD 5

) in the Pacific Ocean is of great importance for the sustainable water household of

Lima as well. To keep this load at a satisfying level, the combination solution is the best and

scenario B1 (lone fighter catchment management) is the worst option.

Measures to Keep Energy Costs Low

Although donor organisations can finance the high investment costs of water infrastructure,

the country must continue to bear operating costs. And as energy costs rise, operating costs

of the proposed measures rise as well. Such costs are a heavy burden for Peru at the moment.

An analysis of the energy consumption of the entire water system and of proposed measures

therefore is extremely important. With the help of LiWatool, the energy consumption of the

individual components (derived from information from SEDAPAL [SEDAPAL 2009]) is calculated

by multiplying a power factor by the amount of water processed. Therefore, the energy

consumption for each scenario rises along with the growing population and its increasing

water consumption. If water demand can no longer be covered, the energy consumption curve

remains constant as no more water can be produced. The comparison of the energy consumption

also shows that solutions with enhanced reuse and expanded wastewater treatment

plants are the most energy-intensive.

Beyond the operating costs, the investment costs of individual measure also need to be

compared. But for such comparisons, concrete details of the measures must be available. The

calculation of the investment costs for wastewater treatment plants is especially complex

and is strongly correlated to future location. A detailed calculation of all the investment costs

of the proposed solutions is beyond the scope of this work.

The Integration of Mega-projects

A smooth implementation of major projects as water reservoirs or large wastewater treatment

plants such as Marca II or IV require political will, a long process of planning and

approval, and finally a huge investment of money and time before they start to function. The

success of such mega-projects can only be guaranteed if agreements between the involved

institutions on the rights and usage patterns are carefully negotiated. Such negotiations

ought to take place as early as possible in the planning stage. This will prevent potential

conflicts, for example between the energy and the water company. If such agreements were

to succeed and new dams could be constructed, not only parts of the water problem could be

solved, but the future energy demand of the region could be met as well.

Nevertheless, the construction of additional reservoirs will certainly have impact on the

Andean ecosystem. A reservoir forms a barrier to fish migration and thus prevents spawning

migrations and isolates individual fish populations.

Water-saving Campaigns and the Population's Participation

Additional measures such as water-saving campaigns can also lead to a decrease in water

consumption. Although the implementation of such campaigns do not need a long time, they

106 URBAN RESOURCES: WATER
---
depend on political influences and can be cost-effective, thus needing proper preparation.

The population itself carries an enormous stake in the success of such measures. Only when

social groups with a large demand of water undergo a change in attitude and consume less

water in the future, will water-saving campaigns have the desired success.

Regarding the poor segments of society, further water saving will not be possible. Already

today, they realise how valuable water is and therefore consume very little. There is no more

saving potential. Furthermore, even if they would save water, it wouldn't have a significant

effect on the city's total consumption due to their small share of it.

Necessary Improvements of the LiWatool and Applied Methods 2

Examining all important dimensions of Lima's water systems is beyond the scope of this

work. Thus, the following section gives an idea how the LiWatool and simulation runs can be

improved for future projects and some remaining questions and research topics are presented.

The following are of interest:

· further examination of the quality of the treated wastewater under consideration of other

factors such as coliform bacteria, nitrogen deposition, or BOD 5

load,

· improving the comparison of the different measures,

· deepening the knowledge on energy consumption,

· checking the impact of further combinations of measure as leakage reduction, water saving

campaigns, or changed water prices if adjusted to the real water demand of the region,

· simulating shorter time steps (for example, monthly steps) in order to examine annual

variations associated with glacial melt.

· checking the potentials, effectiveness, and risks of seawater desalination for Lima,

· extending the LiWatool to a more detailed level (e.g., district level). This may be of further

interest as the results of this simulation are qualitative but not quantitative. In addition,

more detailed investigations are necessary as water management measures are generally

non-transferable and should be adapted to local conditions. With a more detailed model

the following questions can be examined: (1) what are the preconditions for a more decentralised

system for wastewater collection and treatment; (2) which districts of the city are

more suitable for a decentralised sanitation, which ones for a central sewage system; (3)

what is the cleaning performance of different cleaning systems.

· further elaboration of LiWatool's capacity to simulate the capacities of wastewater

treatment plants if they do not run at full load. The model of the LiWatool, applied for this

research, is only capable of simulating wastewater treatment plants operated at full load.

· further assessment of water dams and reservoirs with their impacts to the Andean region,

to the water system of the whole city, and to the energy balance of Lima's water system.

These questions are already being scrutinised in a further research carried out in conjunction

with the LiWa project.

· simulating whether it is possible to sustain a stable and resilient water system with less

resource-intensive projects as the mentioned mega-projects.

107 LIMA
---
HCMC: Urban growth in flood prone areas [Carsten Zehner]
---
Ngoc-Anh Nguyen

Master's Thesis at Brandenburg University of Technology-Cottbus, Faculty of Environmental Sciences

and Process Engineering

Integration of Environmental

Components and Urban Climate

Management in Land-use Planning

in Ho Chi Minh City, Vietnam

Abstract

Ho Chi Minh City, the largest city in Vietnam and an emerging megacity of Southeast Asia, is

now experiencing a high demand for land due to residential development, transportation, and

economic growth. The rapid urbanisation and dense population growth in the past twenty

years have significantly affected the city's land use, and have had adverse effects on urban

flooding, urban climate, and its vulnerability to climate change. Land-use planning, at the

same time, is a key measure for adjusting and helping the city to adapt to the environmental

consequences and climate change impacts through the integration of environmental components

and urban climate management. The study included a literature review for the situation

analysis, followed by in-depth, semi-structured interviews with the Ho Chi Minh City authorities

to understand the challenges and potential for such integration. The results showed

that planning authorities are facing challenges in incorporating environmental considerations

due to a barrier of legislation, enforcement regime, and an absence of an integrated framework.

The study also pointed out three relevant proposals that would support efforts, including

environmental and climate issues in land-use planning: (1) a strong integrated framework

regime for climate change strategies, with collaboration among authorities and planners with

appropriate policies, management systems and norms; (2) the effective implementation of

strategic environmental assessment for land-use planning; and (3) land-use zoning. While

the framework regime and strategic environmental assessment require nationwide policy and

enforcement as well as methodological tools, land-use zoning needs more careful management

adjustment for acceptance and adoption at the city and local levels.

Introduction: HCMC between Rapid Growth and Vulnerability

Focus of Research

The general objectives of this research study are to analyse the existing urban planning system,

statutory planning at different administrative levels for Ho Chi Minh City, and to examine

the need for integrating environmental and climate considerations into land-use planning.

115 HO CHI MINH CITY
---
Fig. 3

Summary of key legislative instruments and documents supporting the integration of environmental and

climate-related in land-use planning [Vietlaw Database http://www.vietlaw.gov.vn/LAWNET]

Legislation No. and Date

No. 16/2003/QH11

26 November 2003

No. 52/2005/QH11

29 November 2005

No. 32/2009/QH12

17 June 2009

Decision No. 445/QD-TTg

07 April 2009

Decision No. 158/2008/QD-TTg

02 December 2008

NTP-RCC 2008

27 July 2008 (Draft)

Approved 14 December 2011

Launched 07 March 2011

Name of Legislation

Law on Construction

Law on Environmental Protection

Law on Urban Planning

Revising the Vision of General Planning for

Vietnam Urban Development up to 2025, vision

to 2050

Decision on Approval of the National Target

Program to response to climate change

The National Target Program to Respond to

Climate Change

The National Strategy for Natural Disaster Prevention,

Response and Mitigation to 2020

2008 Vietnam General Technical Guidance on the Application

of Strategic Environmental Assessment

Ministry of Construction, 2011

Circular No.01/2011/TT-BXD 27 January 2011

In effect 15 March 2011

Decision 1547/QD-TTg

28 October 2008

QD 936/QĐ-UBND

25 February 2012

Technical Guidelines for Strategic Environmental

Assessment (SEA) of Construction and Urban

Planning

Guiding the strategic environmental assessment in

construction and urban plans

The Irrigation Plan for Flood Control for the HCMC

Area up to 2025

Detailed Planning to Implement Flood Mitigation

Program 2011–2015 for HCMC

Challenges in Policy and Legal Framework

Existing laws as a means to influence land-use planning: The legal foundation is the underpinning

for encouraging and implementing the integration of environmental and climate

protection into spatial planning. Hence, including environmental and climate issues into

land-use planning could be accomplished through existing legislation that regulates the

requirement of environmental protection in urban activities. Figure 3 • summarises a number

of existing decisions and plans with the theme of climate change and natural disaster prevention,

response and mitigation, and the theme of urban flood control. These existing laws

and strategies could be utilised to seriously influence land-use planning.

New laws: Not only should existing laws be obeyed, but in the case of Vietnam, new ones

need to be established. Therefore, most of the respondents from DONRE and DPA expressed

their positive attitude toward the government's efforts to establish new legislative instruments

or legal tools to guide environmentally sustainable urban planning. Additionally,

government representatives also confirmed that huge efforts are already now being made to

base current plans on new policies that consider more environmental issues.

120 PLANNING AND ARCHITECTURE
---
Missing information and instruction on new laws: Although impressed by updated

legislative efforts, they expressed concerns about the effectiveness and enforcement of

these policies. In particular, they are not yet clearly instructed by the government, and

there is still a degree of reluctance as to how to handle new requirements. To overcome this

unsatisfying situation, strategic support and capacity development of planning authorities

is needed.

Weighing different interests: Another challenge for the integration of environmental

parameters into land-use planning is the pressure from policies that support social and

economic development strategies. According to an informant from the Division of Land-Use

Planning, DONRE, "the consideration of environment into land-use planning seems to be

difficult for many urban planners, as they set strong priorities on residential and industrial

development". Although legislation supporting the consideration for environment and climate

change does exist, contradictions still clearly exist and are challenging.

Thus, the study identified that land-use planning and environmental issues are currently

reflected in the Vietnamese legislation system, and changes of legal instruments related to

land-use planning are needed, including new regulations and the amendment of old ones.

However, further efforts are still strongly required. They need to tackle the mechanism framework

and create suitable tools for effective implementation and enforcement.

Challenges in Procedures, Policy and Management Frameworks, and Coordination

One requirement but two plans of two authorities: The first impression from the informants

is that institutional fragmentation is one of the major constraints of the current land-use

planning system in Ho Chi Minh City. The representative from the Division of General Planning

Management expressed that, "the job of HCMC land-use planning seems to be conducted

twofold by both MOC and DONRE". It is clearly acknowledged that there are conflicts

and pressures between plans prepared by different government agencies due to differences

in goals, interests, objectives, ambitions, approaches, and responsibilities. Most of the

informants noted that there is lack of coordination, lack of a common base of information,

lack of integrated multisector strategies, and confusion during implementation. For this

reason, feedback from stakeholders emphasised that these shortcomings are the strongest

barrier to integrating environmental issues into land-use planning.

Information gaps and non-correlating data: According to a stakeholder from the

Division of Research and Planning, SIUP, "the land-use planning in HCMC … is relatively

messy in contrast to many other plans such as regional plan, city master plan, and

sector plan". Additional feedback provided by DONRE officers revealed that barriers also

occur within the vertical management system for land-use planning. For applying the

land-use plan, the general plan included only broad guidance on where developments

should be encouraged and enforced. Thus, the general plan lacked specifics on permissible

land-use criteria.

Lack of capacities: The implementation and application of the plan is weak due to a

lack of technical staff in key and management agencies. DPA's respondents highlighted

that the level of specialised and professional knowledge are very uneven among different

agencies, and within different departments within one agency. However, according

to interviews with representatives from DPA, DONRE, and SIUP, most correspondents

agreed that Vietnam has improved significantly in terms of human resource capacity in

121 HO CHI MINH CITY
---
periods. Furthermore, an evaluation of both urban growth and landscape change on the basis

of spatial planning and landscape ecology criteria will be given. At this point, several urban

density metrics will be used to describe and evaluate the city's expansion process.

Methods of Landsat Data Processing

Level-1-Calibration

Both, to enhance raw satellite data and improve the image-based land use classification and

analysis, understanding the architecture of Landsat satellite imagery is important. Landsat-5

and Landsat-7 data consist of six spectral bands with a geometric resolution of 30 m and one

thermal band. From Landsat-5 to Landsat-7, the thermal band's geometric resolution has

been doubled from 120 m to 60 m. Furthermore, Landsat-7 has a panchromatic canal with

a geometric resolution of 15 m, used to sharpen the imagery [Taubenstöck et al. 2010]. Landsat

data is freely available from the web archives of the United States Geological Survey (USGS).

The data is delivered in raw eight-bit coded tif-format as digital grey numbers. For scientific

use and estimating further Landsat products, such as land-surface temperatures, calibrating

these digital numbers back to radiances and reflectances measured by the satellite's sensors

was necessary. Landsat data also need geometric and radiometric corrections or atmospheric

enhancements to reduce image distortions.

The first step in calibration is to calculate the digital numbers reaching from 0 to 255 back

to spectral radiances. There is a linear relation between digital numbers and radiances that

can be expressed as follows [NASA 2013a]:

L λ

= gain * Q cal

+ bias

where:

W

L λ

= spectral radiance of band λ [ ]

m² * str * μm

gain = rescaled gain, band related constant

bias = rescaled bias, band related constant

Q cal

= digital number of band λ

Gain and bias are band-related constants and can be found in the metadata file header

included in the Landsat data package. For Landsat-7 imagery, the equation can be described

as follows [Ibid.]:

where:

L c

=

LMAX λ

– LMIN λ

Q calmax – Q calmin

* ( Q cal – Q calmin ) + LMIN λ

132 PLANNING AND ARCHITECTURE
---
W

L λ

= spectral radiance of band λ [ ]

m² * str * μm

W

LMAX λ

= spectral radiance scaled to Q calmax

[ ]

m² * str * μm

W

LMIN λ

= spectral radiance scaled to Q calmin

[ ]

m² * str * μm

Q cal

= calibrated pixel expressed in digital number

Q calmax

= the maximum quantised calibrated pixel value ( = 255 )

Q calmin

= the minimum quantised calibrated pixel value ( = 1 )

LMAX λ

and LMIN λ

are the spectral radiances for each Landsat band. Maximum and minimum

values are stored in the metadata file. To receive clear Landsat scenes free from noise and

haze, a normalisation of solar irradiance needs to be performed. This step also provides a better

in between-scene comparability of two or more images [Chander et al. 2009]. This combined

atmospheric and surface reflectance can be estimated by the following computation [Ibid.]:

ρ P

=

π * L * d²

ESUN λ * cos θ s

where:

ρ P

= spectral reflectance of band λ

W

L λ

= spectral radiance of band λ [ ]

m² * str * μm

d = distance between Sun and Earth [AE]

θ s

= solar zenith angle in degrees

W

ESUN λ

= mean solar irradiance [ ]

m² * μm

The solar zenith angle is also listed in the meta-information. The earth-sun distance can be

retrieved from interpolated values found in the Landsat user manual.

Normalised Differenced Vegetation Index

A common method of detecting vegetation in a study area is deriving a vegetation index. The

normalised differenced vegetation index analyses the photosynthetic activity of vegetation,

and thus is a good indicator of the vitality of vegetation or for its growth stadium. This index

133 HO CHI MINH CITY
---
teresting developments can be recognised. In 2002, there was a significant rise in settlement

density which led to suburbanisation processes. Within a distance of between 2 and 4 km

around the city centre, a strong densification took place from 1989 to 2005, which is higher

than in the immediate proximity of the first ring. The density in the city centre remained

very high and unchanged. Because of the Saigon River and city parks, a higher density within

the first buffer zones is not possible and even not recommended, because the core city zone

benefits from the aeration of green spaces. The biggest increase in urban density proceeded

in rings five and six, which doubled the urban proportion, and in the peripheral rings ten to

thirteen where the settlement area even raised by 100% (!). That means that in 1989, the periphery

of Ho Chi Minh City was nearly free of urban structures. As Figure 10 • shows, Ho Chi

Minh City has expanded westward in the first period from 1989 to 2002. From 2002 to 2005,

the urban growth focused on the northern territories. The city's expansion southward seems

to be very difficult due to the very wet ground that impedes opening up new building sites.

Suburban Development along Highways

The jaggedness degree is the quotient of the total settlement perimeter and the perimeter

of the equivalent circle. The more the jaggedness degree tends to 1, the more compact the

urban structure appears. From 1989 to 2000, the city's jaggedness degree increased from

28.71 to 23.05, like that of the German city of Dresden in the late nineteen-nineties (23.2),

but not as compact as the settlement areas in Slovakia's capital Bratislava (11.8) [Meinel et

al. 2003]. Since then, the jaggedness degree of Ho Chi Minh City has not changed noticeably.

These high values are caused by the rise of many new settlements in the rural areas of Ho

Chi Minh City. The jaggedness degree is mainly affected by the total settlement perimeter.

Despite the constant increase of the equivalent circle, the jaggedness degree has remained

nearly unchanged since 2000. This is because the growth rate of both the urban area and the

settlement perimeter developed in balance. Nonetheless, the Ho Chi Minh City administration

needs effective planning instruments to prevent the city's expansion into rural regions

and to enhance urban densification where settlements already exist. The next metric is the

entropy that describes the spatial disorder of urban structures. If the whole city completely

takes up the equivalent circle, entropy equals zero. Low entropy means a compact structure.

This metric is affected by the spatial distribution of settlements. The more urban structures

concentrate around the city centre and the smaller the urban proportion in the outer rings,

the more compact the city appears. In Ho Chi Minh City, new settlements especially arose in

peripheral regions while there was less urban growth near the city centre. This is why entropy

has been increasing since 1989 and will continue due to the development pressure in rural

regions of Ho Chi Minh City. There was constant growth in the radial-fractal dimension—from

1.11 in 1989, to 1.62 in 2005—due to the past punctual densification of settlement-free areas.

Nonetheless, it cannot be assumed that the city is expanding in a circular manner due to the

limitations of the Saigon and Dong Nai River to the east as well as the very humid ground

in the south of the City. A fractal dimension around value one indicates that urban areas

develop along linear structures, such as main streets or highways. This spatial arrangement

can especially be seen in the 1989-image-classification where the radial-fractal dimension is

1.11. These results show that there are many linear settlement areas formed along junctions

between the city and the industrial sites in the east as well as along main roads directing to

rural areas in the north and west.

144 PLANNING AND ARCHITECTURE
---
Fig. 12

Key figures of urban density metrics for Ho Chi Minh City from 1989 to 2005 [Author]

1989 2000 2002 2005

Settlement perimeter [km] 999.59 1117.55 1499.48 1781.79

Equivalent circle area [km²] 96.43 187.03 325.92 491.19

Equivalent circle radius [km] 5.54 7.72 10.19 12.50

Equivalent circle perimeter [km] 34.81 48.48 64.00 78.56

Jaggedness degree 28.71 23.05 23.43 22.68

Entropy 0.73 0.85 0.95 0.98

Radial-fractal dimension 1.11 1.35 1.56 1.62

Conclusion: Applied Processing of Landsat Data as a Powerful

Urban-planning Tool

The combination of remote sensing techniques and geostatistical methods create a powerful

analysis and monitoring system in modern urban planning. Remote sensing is not only

applied in earth observation but also in landscape ecology and spatial research. Due to its

free availability, its continuity and actuality, Landsat data is very suitable for land-use change

monitoring in larger scales. Landsat provides a good compromise between required computing

power for image processing and geometrical resolution. This is why Landsat imagery is

often used to describe spatial patterns at the regional and national levels, but also allows

performant analysis on Megacity scales. For the detection of detailed surfaces, satellite data

with higher resolution is recommended. In tropical climate regions, radar imagery should be

preferred over spectral image data, because active sensors are nearly insensitive to clouds.

Against the background of sustainable urban master plans and spatial planning principles,

the metrics demonstrated above represent vital methods for land-use monitoring and analysis

in megacities and can be adapted to any other land-use data. On the basis of Landsat

data, land-use change in Ho Chi Minh City was described. With the help of density metrics,

urban growth could be detected and analysed. The combination of both methods provides

a useful tool and can be applied to other megacities as an important step for establishing

effective spatial control plans.

145 HO CHI MINH CITY
---
SHENZHEN: Urban landscape [Matias Ruiz Lorbacher]
---
Xiaoli Lin

Master's Thesis at Technische Universität Berlin, Urban Management Programme

Transit-Oriented Development

(TOD) for Megacities: Is TOD an

Effective Solution for a Megacity's

Traffic Congestion? Case Study of

Shenzhen, China

Abstract

Increased motorisation and its associated traffic congestions seem to be an unavoidable

urbanisation challenge for megacities in the South. Regarding BMBF's research objective of

enhancing energy-responsive and climate-efficient structures in the urban centres for future

megacities, this paper aims to reveal the underlying complexity of promoting Transit-Oriented

Development (TOD), which is an integrative approach to public transport planning and urban

planning. This research was done in the framework of the FMC-project in Hefei.

Shenzhen (SZ), chosen as a case study, is a South Chinese coastal city at the border to

Hong Kong and one of the five pioneer cities 1 under the central government's "open door"

policies since the late nineteen-seventies [Zou 1996; Ding 2003]. The aim of the Open Door

Policy was to apply a land-leasing mechanism to attract foreign direct investment to develop

mainland China's economy. The land-leasing mechanism has fundamentally accelerated

Shenzhen's land-use development in the past thirty years. Today, Shenzhen turns out to be

one of China's biggest megacities with a population of 10,467,400 in 2011 [Guangdong Statistic

Year Book 2012].

Shenzhen's growing integration with Hong Kong's economy has increased mobility

demands, first between the two cities, and second, in Shenzhen's central districts of Futian

and Luohu. As a response, a metro was opened in 2004 (metro phase I) connecting Shenzhen's

central districts with a border crossing to Hong Kong. The Shenzhen municipality

further continued its effort in improving its metro system by applying the concept of TOD in

its metro-planning phase II since 2011. The main objectives of this policy were to increase the

numbers of passengers using public transport and to create mixed land use around transit

stations—such as metro, bus, or tram stations. The general means of reaching these goals are

(1) the integration of the metro planning into the land-use management system, (2) cross-institutional

cooperation, and (3) the application of supplementary planning instruments to

the holistic transit planning framework. But these objectives were not fully reached in Shenzhen

due to the municipality's lack of experience.

TOD strategies should consider the public-transport system as a holistic system,

integrating all different mobility modes in its planning framework. In the case of Shen-

157 SHENZHEN
---
Fig. 16

Travel demand management: Comparison between Singapore and Shenzhen showing the TDM concepts in

use [Author]

Pull

Transit Accessibility

Motorisation Accessibility

Push

Singapore Government

TDM Instruments

Vehicle-related Taxes

Shenzhen Government

TDM Instruments

Parking Charges

Area Licensing Scheme

Electronic Road Pricing

Vehicle Quota System

Road Infrastructure

Transit Line

Sub-Urban Core

Urban Centre

at the same time [Figure 16 •]. On the "Pull" level, Singapore has constructed main transit

corridors leading to the centre. Here, bigger mass-rapid-transport trains (MRT) are in use. In

addition, important satellite towns have their own, smaller, light-rail trains (LRT) feeding the

main MRT lines [Cervero 2006].

On the "Push" level, the Singapore government was strongly involved in vehicle-compressing

polices; several TDM schemes have been applied, such as vehicle related taxes,

area licensing scheme, electronic road pricing and vehicle quota system, which have

strongly limited the growth of vehicles in Singapore [Seik 2000; Goh 2002; Willoughby 2001].

However, Shenzhen has only considered a scheme to charge for parking during the metro-planning

process.

Governance Issues in Shenzhen's TOD

Financial Restructuring Leads to Uncertainties

A sustainable financial mechanism plays an important role in TOD for a guaranteed transit

network optimisation. Shenzhen transit planning relied heavily on governmental funding in

phase I, but the municipality could not provide full financial support for further construction

of the transit system. Therefore, a financial restructuring is underway, which leads to an

uncertain future for Shenzhen's transit planning [Interview Song 2011].

Possible Solution

The direction of the improvement might be compared to the Hong Kong experiences on

three levels: land-use policy level, transport-planning policy level, and financial resources

level [Figure 17 •].

170 MOBILITY
---
Fig. 17

Financial mechanism comparison of TOD-planning between Hong Kong and Shenzhen [Author]

Land-use

Policy

Compact Land-use Policy

Revenues

Urban Expansion / Land Leasing

Transport

Policy

Hong Kong

Government

Public Transport Priority

and

Transit Accessibility

Shenzhen

Government

Vehicle Mobility

Enhancing Priority

Revenues

Land-use Development Right

around Station

Metro Construction Subsidy

Mass Transit Railway (MTR)

Mass Transit Railway (MTR)

Fare Autonomy

Fare Autonomy

Financial

Resources

Commercial

Property Sell

Policy Instrument

Capital Flow

1. On the land-use policy level, Hong Kong has promoted a compact land-use policy [Lo et al.

2008], but Shenzhen has allocated its land resources through land-use rights to different

land developers and state-owned enterprises.

2. On the transport-planning policy level: Hong Kong has applied a continuous policy to

guarantee mass transit facility's a priority status [Lo et al. 2008]. However, Shenzhen has

prioritised strategies to enhance vehicle mobility by expanding road infrastructures.

3. On the financial resources level: the Hong Kong government has granted land-use development

around the metro stations to Hong Kong's successful and private rail and metro

company, the Mass Transit Railway Corporation Ltd. (MTR), which plays the role of real

estate operator as well as railway construction company. MTR has successfully managed

metro construction costs without governmental subsidies by selling properties, face

autonomy, and integration of commercial activities around the metro network [Lo et al.

2008; Tang 2009; Cullinane 2003; Cervero/ Murakami 2008; Tang et al. 2004]. However, Shenzhen's

land resources have been distributed to different land-use developers; it could not provide

a centralised development model as in Hong Kong. Thus, the financial resources of transit

line operation in Shenzhen are far weaker than in Hong Kong.

Insufficient Adaptation of Shenzhen's TOD into the Legal Urban-planning System

The Singapore and Hong Kong TOD examples are not comparable to Shenzhen, due to the

differences in political and city planning systems [Newman/ Kenworthy 1996]. The Hong Kong

and Singapore governments are more strongly involved in urban planning legislation, and

promote transit accessibility as well as motorisation restriction. Shenzhen's TOD results were

not adapted into the Shenzhen City Comprehensive Plan (SZCCP) 3 and Shenzhen City Planning

Norms and Standards (SZCPNS); those are important planning documents to guarantee

a concrete planning outcome [Interview Song 2011].

Shenzhen's TOD approach has been limited to technical solutions instead of incorporating

it into urban-planning legislation. Different departmental interests and conflicts have

171 SHENZHEN
---
Manuel Fiechtner

Bachelor's Thesis at Freie Universität Berlin, Institute of Geographical Sciences

The Public Transportation System of

Hefei, China: An Analysis

Abstract

In addition to the important megacities Beijing and Shanghai, there are a number of rapidly

growing cities in the People's Republic of China. One of them is Hefei, the capital of the Anhui

province with about 5.7 million inhabitants (2011), situated more than 300 km west of Shanghai.

Especially since the beginning of the twenty-first century, Hefei is characterised by growth,

expansion, and reconstruction. Due to this ongoing growth, traffic volume has undergone a

massive increase, which has made huge investments in infrastructure necessary.

For Hefei, an extensive analysis of the current quality, major deficits, and an assessment of

the effects and importance of the PT-system was missing. Therefore, this paper focuses on Hefei's

public transportation system (PT-system), which is less developed than the infrastructure

for individual transportation. In conjunction with other measures of the METRASYS project,

an in-depth analysis can contribute to a reduction of climate-damaging individual traffic by

assessing the potentials of Hefei's PT.

Methods from the empirical social research and analysis functions of Geographic Information

Systems (GIS) were applied for this thesis. An explorative approach was used to retrieve

information about Hefei's PT-system. Based on the fundamentals retrieved from interviews,

additional GIS analyses were carried out. Through accessibility analyses and further GIS-analyses,

the quality of Hefei's PT system was determined.

The bus system is the "backbone" of Hefei's PT system. It is especially dense in the inner

city, but also makes vast areas of the city and the administrative district of Hefei accessible.

The Bus Rapid Transit System is not really established yet, and the first metro lines will not

start operating until 2014. Motorised individual transport has dominated Hefei's city traffic

since the level of motorisation increased. Analyses of the coverage of bus stops prove that a

large number of inhabited or residential areas have no bus stop available within a 300-m or

500-m radius. Hefei's bus system does not fulfil governmental standards and goals.

Hefei's eastern inner-city centre and the areas around important sub-centres have the best PT

quality. These areas also have the best accessibility by foot to bus stops, accessibility within the

PT to five selected sub-centres, and the highest density of supply of PT-service in Hefei. On the

other hand, urban expansions (after 2001) or peripheral development areas like the Binhu-district

have bad or non-existent PT-accessibility and altogether show poor quality of PT-supply.

It is unclear how long the growth process in Hefei will continue, how planned PT will be implemented

and accepted or which other challenges in the urban and traffic planning Hefei will

have to overcome, but the city will have to master a massive development of traffic infrastructure

and implement major urban-planning projects.

Note: The described events and sources reflect the status as of the beginning of 2012.

178 MOBILITY
---
Fig. 1

Research focus [Author]

Characterisation of Hefei's PT system

concepts

Is public transportation capable of relieving

urban traffic significantly?

• Structure of Hefei's PT

• General conditions and organisational structures

• Function, importance, and share of means of

transportation

• Is the PT currently significantly relieving Hefei's

transportation systems?

• Quality of current PT offers

• Access to PT

• How are areas in the inner city and of public

importance linked to PT?

Introduction: Challenges of Public Transport in Hefei and China

Hefei's Public Transport (PT)

The main focus of this paper is to analyse Hefei's public transportation system (PT-system)

and assess the extent to which PT can contribute to relieving Hefei's traffic system. The

particular focus is on Hefei's bus network. First, the efficacy of Hefei's current PT-system is

described and rated. Based on analyses carried out with Geographic Information Systems

(GIS), whether the PT-system is appropriately adjusted to Hefei's rapid development and to

adapt to the changing demand is evaluated. Therefore, the city structure and development as

well as its impact on the development of the PT-system are analysed.

PT in major cities has to offer mobility to all citizens, and to enable them to participate in

the city's public life. Especially in times of global climate change and shortage of resources,

PT is an alternative to automotive transportation and the backbone of urban transportation.

Each day, PT allows thousands of citizens to reach the institutions of daily life. High-quality

PT is an attractive alternative to motorised individual traffic and contributes to relieving

cities from motorised individual traffic. Attractive and sustainable PT concepts contribute to

environmentally friendly urban traffic and are essential for mobility concepts of major cities

[Kirchhoff 2002; Gather et al. 2008; Nuhn/ Hesse 2006; Senate Department for Urban Development of

Berlin 2011].

The focus of the following research is derived from these general conditions and theoretical

basics in Figure 1 •.

Filling the Research Gap on Hefei's PT

A sustainable PT concept can function as a fundamental control system for the development

of Hefei. By integrating measures of urban planning and traffic planning with traffic policies,

it can also influence growth tendencies in the People's Republic of China at a regional

level. As no further analyses focussing on PT quality were carried out in Hefei as part of the

METRASYS project, this work evaluates a very important part of Hefei's transport system

[Berberich 2010; Chu Jinlong et al. 2007; METRASYS 2010a; Eichhorst et al. 2010].

179 HEFEI
---
Fig. 15

Map of quality areas in PT [Author]

Conclusions: PT Development Must Speed up to Cope with

Urban Growth

Like most parts of China, Hefei is currently affected by ongoing transformation and far-reaching

processes of change, especially since the "great construction". In the next years, major

infrastructural projects will give room to new paths in the development of PT and change

traffic in Hefei. According to this analysis, those infrastructural projects, their realisation, and

their impacts will be severe challenges for Hefei.

Currently, Hefei's PT-system has to be constantly adjusted to numerous construction

sites, new traffic routes, and new urban areas. This makes an objective evaluation difficult.

Nevertheless, the selected investigation and analyses allow a critical evaluation of Hefei's

current PT-system.

How is Hefei's PT-system Characterised?

Hefei's PT-system currently includes conventional bus lines, the first lines of the BRT system,

and taxis. The first metro lines are still under construction. The bus network is especially

dense in the inner city, but also makes vast areas of the city and the administrative

district of Hefei accessible. In contrast, the BRT system is not successfully implemented.

In fact, the BRT system currently does not offer significant time savings for passengers

and no relief to inner-city traffic. Likewise, the metro network can only influence city

traffic in the future.

According to current planning, Hefei's PT network will undergo dramatic changes in the

upcoming years with the implementation of BRT, metro, and due to new intermodal train stations.

The metro can help break up Hefei's monocentral structure by offering better accessibility

to new urban quarters. The new south railway station can enhance Hefei's decentralisa-

192 MOBILITY
---
tion through faster access to the inner centre by intermodal orientation. During the transition

period, fast direct connection will be served by BRT lines, which is planned to serve less

densely populated areas once the construction of the metro network is finished. However, the

implementation of these BRT-projects is still not fast enough.

Is the PT Capable of Significantly Relieving Urban Traffic?

The analyses show a dense and high to very high quality PT-system in the historic centre,

major parts of the inner city (within the second Circular Road), and among the central traffic

axes of the bus network. These inner-city areas feature high residential use and are publicly

utilisable. However, outside the third Circular Road, the analyses show huge areas (mostly

industrial areas) that are poorly covered by PT and poorly accessible by bus. Poorly accessible

residential areas are also situated in the new Binhu-district.

Another result of the analyses is that in the research area standards for the access of

inhabitants to the PT-system are most likely not fulfilled.

The eastern inner city, the region around the main station, the area around the Wanda

Plaza, and the areas situated near the city hall and airport are easily accessible from areas

around the selected centres. These are areas of very good PT quality. The urban expansions,

therefore, are either poorly connected or not connected at all to the PT-system and have a

very poor PT quality.

The hugely populated areas with very poor PT are a crucial gap in the network coverage of

Hefei's PT system. The quality of the PT in not-yet-developed areas is an important indicator

for further planning. Gaps in the allotment must be closed if the areas are to be developed.

According to this analysis, the PT-system merely offers a significant relief of traffic volume

in the inner city (within the third Circular Road). In areas built since the great construction,

PT-systems do not offer an adequate alternative to motorised individual traffic, and therefore

cannot help to significantly reduce traffic volume in this area. In addition, the analysis shows

that the adaption of the PT-system to the ever-changing challenges of Hefei as a dynamically

growing city was not successfully managed. Establishing appropriate, sustainable, and competitive

PT concepts in the face of rapid development and growth is extremely difficult and

still a challenge for Hefei's PT concept development.

How to Fill the Gap between Sustainability and Construction Boom?

The aim of this paper was to analyse and evaluate Hefei's PT system in the context of the

METRASYS project and to figure out whether the PT-system can significantly relieve the

traffic network. Hefei's traffic sector in total faces severe current and future challenges. Its

current PT-system is not able to solve these challenges completely. The dominating motorised

individual transport, the daily traffic chaos, and the implementation of great urban planning

projects affect Hefei like many other Chinese major cities. Therefore, future research,

additional urban traffic planning and the adjustment of planned urban traffic projects will be

necessary to generate adequate solutions.

It is unclear if Hefei can overcome future challenges in urban planning and traffic planning

with many urgent problems still unsolved. If not, the scheduled growth process could be

affected and aims like an attractive, polycentric, and liveable metropolitan region may not

be reached. But the question about the reasonability of these further growth strategies for

193 HEFEI
---
The results show a significant potential for transport performance growth for the BRT

systems at relatively low costs. Gautrain infrastructure investments also have the potential

to increase passenger volumes significantly, but at much higher costs. Despite their potentials,

however, both of these innovative public-transport systems will continue to have a low

share of total transport demand until 2040. Thus, the positive impact on well-to-wheel GHG

emissions reduction is negligible. Nevertheless, Gautrain and the BRT Systems can improve

public-transport service in Gauteng in terms of reliability, availability, comfort, and safety.

Fig. 1

Station of Johannesburg's Rea Vaya [Ludger Eltrop]

200 MOBILITY
---
PROJECTS

IN BRIEF

On the following pages, all nine participating cities of the research programme on Future Megacities

are presented. They were funded between 2008–2013. Details are collected about the context and

challenges for the projects, their objectives, and approaches. A short overview of the most important

outcomes and solutions is provided. More information on these solutions can be found in the

Products and Tools Data Base at www.future-megacities.org.

• Urumqi

Casablanca • Tehran-Karaj •

• Hefei

Hyderabad •

Addis Ababa •

• Ho Chi Minh City

Lima •

Gauteng •

Featured in this volume:

Adaptation Planning in Ho Chi Minh City (Vietnam)

Energy and Climate Protection in Gauteng (South Africa)

New Town Development in Tehran-Karaj Region (Iran)

Water Management in Lima (Peru)

Urban Agriculture in Casablanca (Morocco)

Transportation Management in Hefei (China)

Resource Efficiency in Urumqi (China)

Governance for Sustainability in Hyderabad (India)

Featured in other volumes:

Solid Waste Management in Addis Ababa (Ethiopia)

Note: The article about Shenzhen was written in the framework

of the METRASYS project on Hefei.
---
Resource Efficiency

in Urumqi (China)

Context

Urumqi is the capital of China's North West Province,

"Xinjiang Uygur Autonomous Region" (XUAR). With

an initial population of 88,000 inhabitants in 1949,

Urumqi is fast becoming the biggest economic growth

node in Central Asia, with around 3.1 million inhabitants

in the city and about 4.5 million in greater Urumqi.

This rapid development is taking place in an ecologically

highly sensitive (semi-)arid environment within a

50-km-wide irrigated green belt between the foothills

of the glacial Tianshan Ridge (up to 5445 m a.s.l.) and

the Junggar Basin (500−600 m a.s.l.) The cold winters

are typically accompanied by extended periods of stable

inversion layers, which lead to dramatic increased

levels of air pollution. As the region is extremely

mineral-rich (coal, oil, gas, ores), dynamic industrialisation

and the rising wealth of the growing population,

as well as the increasing volume of traffic, are further

driving factors that have catapulted Urumqi onto the

"blacklist" of the top five most air-polluted cities in

the world [Blacksmith Report, 2007]. Both industrial and

private household waste are increasing rapidly, not only

in quantity but also in variety, without having led to

specific adaptations in waste management.

Water is the most precious and socially sensitive

resource in the region. A water provision gap starts

to open up during the summer months and has to be

gradually closed by the (over)exploitation of groundwater

resources. Climate change is aggravating the

situation, as the snowline rises, the period of snow

coverage decreases, as does the period of permanent

melted-ice water-runoff in spring.

Objectives

The project concentrates on energy efficiency, water

resource efficiency and materials efficiency. Within

the overall objective to promote a sustainabilityoriented

megacity development in semi-arid areas,

the project aims to do the following:

· Lower energy consumption in private households,

as well as in industrial areas, thereby lowering air

pollution, CO 2

emissions, and resource extraction

· Promote the installation of renewable energybased

facilities

· Implement a GPR-based monitoring system,

concentrating on soil moisture content as an

indicator for climate change

· Design a realistic descriptive hydrological model

and decision-making support system for Urumqi

to allow political actors to be able to better predict

future scenarios and their consequences on

water availability and distribution

· Promote developments towards a circular economy

on the level of industrial enterprises as well as

industrial parks

Approach

The main focal points of the project are directed at

the ecologically sensitive and closely interrelated

core cycles (1) water, (2) materials, and (3) energy

with three Sino-German task groups being assigned

respectively. The Chinese teams are led by key political

or scientific decision-makers who promote specific

tasks based on high-ranking political contacts

and who negotiate agreements, which has proven

to be a helpful support for the project. Scientists,

engineers, and other employees on the execution

level proved to be important key partners within the

development phase of products, processes, and the

specification of advanced new ideas that contribute

to greater resource efficiency in the respective

fields of action. A cross-cutting exchange of ideas,

concepts, and theoretical and practical solutions is

being facilitated by various exchange activities.

210 PROJECTS IN BRIEF
---
Water resources in the mountains close to Urumqi [Carsten Zehner]

Solutions

· Construction of the first passive house in Western

China

· Extra low-energy renovation of existing buildings

· Development of waste management software for

enterprises in Midong Industrial Park that covers,

classifies, and characterises all categories of

waste

· Hydrological analyses and modelling, advice on

efficient water use, and water information management

for political decision-makers in Urumqi

Region

· Mass and energy flow analysis in the Chinese PVC

industry

· Capacity building for a soil moisture-based

measurement methodology (Ground Penetrating

Radar) as a basis for modelling climate change

Contact

Project: RECAST Urumqi—Meeting the resource

efficiency challenge in a climate sensitive dryland

megacity

Thomas Sterr | Ruprecht-Karls-Universität Heidelberg,

Dept. of Geography

Email: thomas.sterr@geog.uni-heidelberg.de

Webpage: www.urumqi-drylandmegacity.uni-hd.de

References

Blacksmith Institute (2007): The World's Worst Polluted Places—

The Top Ten (of The Dirty Thirty), New York. In:

http://www.worstpolluted.org/reports/file/2007%20Report%20

updated%202009.pdf (23.05.2014)

211
---
CASABLANCA: Different modes of traffic in the outskirts [Lukas Born]
---
Authors

Steffen Bubeck works at the Institute for Energy

Economics and the Rational Use of Energy (IER) as

part of the Graduate and Research School "Efficient

use of Energy" Stuttgart (GREES). In 2012, he

received a master's degree in technically oriented

Business Administration from Universität Stuttgart.

His current research focuses on cost-efficient potentials

of expanding electrical end-use applications in

Germany.

Email: steffen.bubeck@ier.uni-stuttgart.de

Manuel Fiechtner, born 1987, studied B. Sc. Geographical

Sciences at the Freie Universität Berlin

from 2008–2012 and started MSc in Urban and

Regional Planning at Technische Universität Berlin

in 2012. Since 2012, he has been working as a project

assistant at the Berlin Senate Department for Urban

Development and the Environment in an e-mobility

research project. During his first study, he developed

a special interest in public transportation, GIS, and

megacities. As part of METRASYS project, he visited

Hefei, China in May 2011 for his Bachelor's thesis.

Email: m.fiechtner87@mailbox.tu-berlin.de

Katharina Fricke has been studying geography,

environmental physics, and political science in

Heidelberg since 2002, supplemented by interdisciplinary

environmental studies. She graduated from

Ruprecht-Karls-Universität Heidelberg with a diploma

degree in geography April 2008. During her PhD

research, she was part of the task group "Water Resource

Efficiency" of the multidisciplinary research

project "RECAST Urumqi—Meeting the Resource

Efficiency Challenge in a Climate Sensitive Dryland

Megacity Environment", and finished her dissertation

on the water resource challenge and adaptation

measures in Urumqi Region in October 2012.

Email: katharina.fricke@geog.uni-heidelberg.de

register of water and sewer networks. Currently, she

is working as a Technical Assistant in the execution

of drinking water systems and sanitation, and a

wastewater treatment plant.

Email: zarela.garcia@gmail.com

Christian Kimmich is an agricultural economist and

Postdoc at the Swiss Federal Institute for Forest,

Snow and Landscape Research within the domain

of ETH Zürich. He conducted his PhD research at the

Division of Resource Economics at Humboldt-Universität

zu Berlin within the BMBF-funded emerging

megacity programme on the sustainable provision

of electricity for irrigation in agriculture from the perspective

of evolutionary and institutional economics.

He also worked on the regional governance of energetic

biomass utilisation, food versus fuel conflicts

at the Leibniz-Institute for Agricultural Engineering,

and broader issues of ecological macroeconomics.

Email: christian.kimmich@wsl.ch

Jakob Kopec studied Spatial Planning at Technische

Universität Dortmund. During his studies, he

focused on geographic-information systems, remote

sensing and geoinformatics, as well as on planning

systems in the renewable energy sector. Since 2010,

he has been working at the chair of "Spatial Information

Management and Modelling" in Dortmund. He

takes part in the BMBF research program "Megacity

Research Project TP. Ho Chi Minh—Integrative Urban

and Environmental Planning Framework—Adaptation

to Global Climate Change" and in the BMWi

research programme "Research for an environmentally

friendly, reliable and affordable energy supply"

in cooperation with the transmission network driver

Amprion GmbH. He is also one of the founders of the

cooperative "Die Energiegesellschafter eG".

Email: jakob.kopec@tu-dortmund.de

Zarela Garcia is a sanitary and environmental engineer.

She has participated in research projects to obtain

efficiency at wastewater treatment at CITRAR,

Lima. She has worked in SEDAPAL, updating the

221
---
Karsten Kozempel graduated with an MSc in Information

and Media Technologies from Brandenburgische

Technische Universität Cottbus in 2007. From

2008, he worked as a PhD student for the German

Aerospace Center and received his doctorate in computer

science from Humboldt-Universität zu Berlin

in 2012. Since 2011, he has worked as research staff

member for the German Aerospace Center at the

Institute for Transportation Systems. His research

focuses on computer vision and photogrammetry for

object detection and tracking, as well as situation

detection and behaviour classification.

Email: karsten.kozempel@dlr.de

Myriam Laux studied environmental engineering at

Universität Stuttgart. She specialised in the field of

water supply and sanitation, river and groundwater

engineering. To gain more knowledge in hydrogeology

she studied at the University of Waterloo, Canada

from 2010 to 2011. To get some work experience in

the field of river construction, she carried out an

internship at WaterGroup Pty. Ltd in Sydney, Australia

(2011–2012). She wrote her final thesis at ifak

in Magdeburg in the LiWa programme on the Water

Supply System of Lima and finished her studies in

2012. Since May 2013, she has been working for the

engineering office Wald+Corbe.

Email: myriamlaux@gmail.com

Xiaoli Lin graduated in 2008 from the Shenzhen

University (China) with a bachelor's degree in

Urban Planning. In 2010, she enrolled in the "Urban

Management" master's programme at Technische

Universität Berlin. In 2011, she worked as an internship

in the megacity project METRASYS. Applying

the research skills acquired from the METRASYS

project, she conducted a research in Shenzhen about

Transit-oriented Development for her master thesis.

Email: linxiaoli@zedat.fu-berlin.de

Kara McElhinney is a 2012 graduate of the international

master's programme "Water Resources Engineering

& Management (WAREM)" at Universität

Stuttgart in Germany. Her academic and professional

interests include the integrated management of

water resources in urban areas, interdisciplinary approaches

to urban water infrastructure development,

and urban design. A native of Boston MA, USA, Kara

also holds a bachelor's degree in Mechanical Engineering

from The Cooper Union for the Advancement

of Science and Art in New York, NY. She currently

works in Hamburg in the field of environmental

consulting.

Email: kara.mcelhinney@gmail.com

Yassine Moustanjidi is a Moroccan architect and

urban designer; he holds a diploma in architecture

from the National School of Architecture Rabat,

an MSc in urban design from Tongji University,

Shanghai, and Technische Universität Berlin. Yassine

is a scientific research assistant within the chair of

Landscape Architecture and Open Space Planning at

Technische Universität Berlin. He is a PhD candidate

with focus on the development of megacities and

urban planning.

Email: ymoustanjidi@gmail.com

Ngoc-Anh Nguyen received her bachelor's degree

in Environmental Management from The University

of Newcastle in Australia, and her master's degree

in Urban Development Planning from Vietnamese

German University in Vietnam. She has six years

working experience in the non-profit sector. She is

now working at the "International Union for Conservation

of Nature".

Email: ngocanh.na@gmail.com

Ntombifuthi Ntuli holds an MPhil in Energy Studies.

She has worked in different spheres of the public

sector. She spent eight years in Ekurhuleni Metropolitan

Municipality working on Energy and Climate

Change programmes. She spent three years at the

Embassy of Denmark working as a Coordinator for

the Business to Business Programme, where she

facilitated business linkage between Danish and

South African companies. She joined the National

Department of Trade and Industry in January 2012. In

her current role as Director: Renewable Energy Industries,

she is responsible for facilitating the development

of the local renewable energy industry.

Email: ntombifuthi.ntuli@gmail.com

222 AUTHORS
---
Nadia Poor Rahim obtained a bachelor's degree in

architecture at the Art University of Isfahan/Iran and

has a degree (Dipl.-Ing.) from Technische Universität

Berlin. In parallel, she began a master's course

in Real Estate Management. She worked in the

Megacities Project "Young Cities|Iran" as a student

assistant at the Department of Vocational Education

of the TU Berlin. She recently started a new career

as assistant researcher in a BMBF-funded project on

Mobile Learning Unit.

Email: nadia.poorrahim@tu-berlin.de

Shabnam Teimourtash studied architecture and real

estate management at Technische Universität Berlin.

She wrote her PhD dissertation on energy and climate-efficient

architecture within the framework of

the Young Cities Project. She participated in DAAD's

Scholarship Programme "Study and Research Scholarships

of Today for the Megacities of Tomorrow".

Email: Shabnam.teimourtash@gmail.com

223