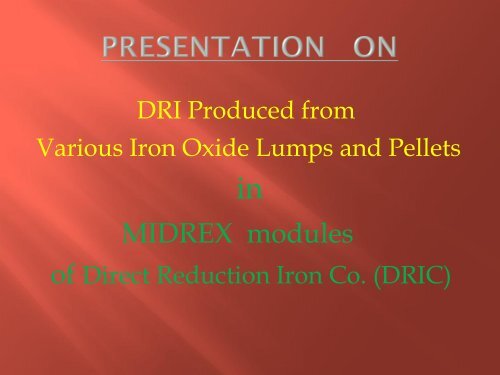 ISPC Saudi Arabia
ISPC Saudi Arabia
ISPC Saudi Arabia
SHOW MORE
SHOW LESS
You also want an ePaper? Increase the reach of your titles
YUMPU automatically turns print PDFs into web optimized ePapers that Google loves.
DRI Produced from

Various Iron Oxide Lumps and Pellets

in

MIDREX modules

of Direct Reduction Iron Co. (DRIC)
---
Direct Reduction Iron Company

(DRIC)

A Subsidy of

Ittefaq Steel Product Company (ISPC)

by

M. Aslam Khan
---
ISPC NETWORK AT 2 ND INDUSTRIAL CITY, DAMMAM
---
ISPC products high tensile Steel Bars

Deformed Reinforcement Bars

According to ASTM A-615 grade-60/40, BS-4449,

Grade-460B and 500B

Diameter Range : 8 to 40 mm

Annual Production Capacity : 2,750,000 Tons

Wire Rods

According to C1008 and C1006 grades

Diameter Range : 5.5mm to14mm (plain)

Annual Production Capacity : 250,000 Tons
---
• This is one of the largest downstream

industries in the Middle East having the

capacity of 500,000 Tons Per Annum

• Set up to ensure Vertical diversification,

Integration Strategy & Enhance Value

Addition

• The products of FSPC are as follows:

• Straightening & Cutting

• Cut and bend

• Cold rolled

• Weld Mesh

• Spring Wire

• Fusion Bonded Epoxy coating
---
The kingdom's First Private Sector Steel

Melt Shop

Strategic Backward Integration for

uninterrupted Billets supply to ISPC

State-of-Art Technology

Steel Producing through EAF-LRF-CCM

route

Basic Engineering by BSE (Germany)

Equipment from VAI (Austria) & Siemens

(Germany)

Set up in a Record time utilizing in-house

expertise
---
With the existing production facilities,

billets of following grades are produced as

per the market demand:

Low carbon steel

Medium carbon steel

Low alloy steel

Grades Produced

• ASTM A615 Gr.40,Gr.60

• BS4449Gr B500B

• SAE 1008,SAE 1006

• SAE 4140,EN8
---
◙ Two twin shell

DC EAF of

130 ton

capacity each
---
◙ One twin station LF & two of 130 ton

capacity each
---
◙ 2 x 6 strands billet casters
---
GAS TURBINE POWER STATION - TSML
---
• TSML HAS ;--

• Special permission to export 100% of its production as EPZ.

• Full ownership rights to foreign investor.

• Full Repatriation of capital and profits.

• No minimum or maximum limit for investment.

• Duty free imports of machinery, equipment and material.

• No sales tax on electricity and gas bills.

• Freedom from national import restrictions

• Foreign Exchange Control Regulations of Pakistan not applicable

• Being EPZ unit, TSML is only required to pay tax @ 1% at the

time of export. No other taxes are applicable on import or export

of any part of the plant, production including utilities.
---
Two MIDREX DRI modules built to produce 1.5

million tons of low residual metallic iron for the

production of high quality steel in NASCO & ARAB

Steel of ISPC.
---
Project Achievements

• Project started in Oct 2005 and successfully commissioned

first phase in May 2007 and second phase in Dec 2007 with

capacity enhanced from 0.88 million Ton to 1.5 million Ton.

• Modules were mobilized from Mobile, Alabama U.S.A.

• DRIC has the latest and most technologically advanced process

control System of Yokogawa.
---
Modules
---
DRIC PRODUCT – COLD DRI

COLD DRI
---
DRI IN BAGS FOR SALE
---
DRI BAGS IN 20 FEET CONTAINER
---
DRI BAGS LOADED ON TRAILER
---
Courtsey – Gregory L. Dressel, USA
---
Parameters Rio Tinto Lump Samarco

Fe (total) 92.09% 92.53%

Fe (metallic) 88.55% 86.60%

Metallization 96.31% 93.59%

FeO 4.56% 7.63%

Carbon 0.96% 1.94%

Sulphur 0.010% 0.004%

SiO2 1.21% 1.61%

Al2O3 0.25% 0.67%

CaO 0.22% 1.01%

MgO 0.10% 0.14%

Conclusion – Very Good Reducibility : But more Fines generation

( Ore TFe – 67.7%)
---
Chemical Analysis of Basket DRI

Parameters Lump Ore( Yemen) Samarco

Fe (total) 78.18% 92.24%

Fe (metallic) 17.53% 86.31%

Metallization 22.42% 93.57%

Gangue Not Done 4.31%

Carbon 0.62% 1.54%

Sulphur 0.00% 0.006%

Conclusion- No Reducibility observed. ( Ore TFe –68.2% )
---
Chemical Analysis of Basket DRI

Parameters Iran Pellets GIIC Pellets

Fe (total) 89.49 90.49

Fe (metallic) 83.82 85.84

Metallization 93.67 94.86

Gangue 7.99 5.53

Carbon 0.92 2.64

Conclusion- Poor reducibility: High Fines generation in DRI ; Low

Carbon Potential ( Pellets TFe -66.16% )
---
Chemical Analysis of Basket DRI

Parameters

CHIGENDIK(BALUCH

ISTAN)

Lump Ore

Samarco Pellets

Fe (total) 85.42 92.53

Fe (metallic) 80.46 86.83

Metallization 94.19 93.84

Gangue 11.39 3.34

Carbon 1.77 2.50

Conclusion- Good Reducibility : High Acid gangue & Low Metallic

Iron (Ore TFe – 61.81% )
---
Chemical Analysis of Basket DRI

Parameters

NML Pellets

Samarco

Fe (total) 91.21% 92.17%

Fe (metallic) 85.01% 86.29%

Metallization 93.20% 93.63%

Gangue 4.43% 4.20%

Carbon 3.30% 2.37%

Sulphur 0.0060% 0.0054%

Conclusion- Very Good Reducibility : Very Good Carbon Potential

( Tfe- 66.81%)
---
Chemical Analysis of Basket DRI

Parameters Peru DRI Samarco DRI

Carbon 2.14 2.07

Fe (total) 91.99 92.56

Fe (metallic) 87.50 87.79

Metallization 95.12 94.85

Gangue 4.58 4.01

Conclusion – Very Good Reducibility : Less Fines in DRI

( Tfe-67.40%)
---
Chemical Analysis of Basket DRI

Parameters Poltava Pellets GIIC Pellets

Fe (total) 88.10% 91.93%

Fe (metallic) 82.47% 88.04%

Metallization 93.61% 95.77%

FeO 7.24% 5.00%

Carbon 1.04% 1.78%

Sulphur 0.0044% 0.0046%

SiO2 6.89% 2.70%

Al2O3 0.70% 0.84%

CaO 0.84% 0.92%

MgO 0.15% 0.18%

Conclusion- Good Reducibility : Low Carbon Potential :High Acid gangue

( Tfe—65.29% )
---
KUMBA LUMP ( 30;70)

Parameters GIIC KUMBA

%Carbon 2.60 1.90

%Total Fe 89.45 92.23

%Metallic Fe 84.71 88.67

%Metallization 94.75 96.14

%Gangue 5.30 6.40

Conclusion;-- Very Good reducibility; Low carbon potential; High Mfe

( Lump Tfe – 66.3% )
---
(9) BALUCHISTAN LUMP (1/2)

Parameters GIIC Baluchistan(1/2)

%Carbon 2.16 3.27

%Total Fe 90.14 89.66

%Metallic Fe 85.09 83.49

%Metallization 94.40 93.12

%FeO 6.49 7.93

%Gangue 6.26 5.31

Conclusion;-- Good reducibility;Low gangue; High Carbon

Potential ( Lump Tfe – 66.69% )
---
(10) BALUCHISTAN LUMP (2/2)

Parameters GIIC Baluchistan(2/2)

%Carbon 2.05 1.96

%Total Fe 90.91 91.23

%Metallic Fe 86.24 86.23

%Metallization 94.86 94.52

%FeO 6.01 6.43

%Gangue 5.70 5.38

Conclusion;-Good Reducibility ; Properties as good as GIIC

pellets ( Ore Tfe -66.90% )
---
(11) MGL-201(DSO) LUMP (KSA)

Parameters GIIC MGL-201

%Carbon 2.06 2.78

%Total Fe 90.81 89.98

%Metallic Fe 86.07 79.78

%Metallization 94.78 88.66

%FeO 6.10 13.12

%Gangue 5.77 4.32

Conclusion;-- Poor Reducibility with low gangue; Good

Carbon potential ( Ore Tfe – 67.73% )
---
(12) MGL-193(DSO) LUMP

Parameters GIIC MGL-193

%Carbon 2.44 3.27

%Total Fe 88.17 84.11

%Metallic Fe 82.19 77.43

%Metallization 93.22 92.06

%FeO 7.69 8.59

%Gangue 7.68 10.71

Conclusion; - Good Reducibility and Carbon Potential;

High Gangue and low Metallic Iron ( Ore TFe -64.57% )
---
(13) SISHEN (SA) LUMP

Parameters GIIC SISHEN

%Carbon 2.93 1.24

%Total Fe 90.91 90.79

%Metallic Fe 85.65 85.77

%Metallization 94.21 94.47

%FeO 6.76 6.45

%Gangue 4.66 6.53

Conclusion;- Good Reducibility and TFe; Carbon

potential slightly lower (Ore Tfe- 66.27% )
---
(14) ZRP (SA) PELLETS

Parameters GIIC ZRP

%Carbon 1.72 1.45

%Total Fe 90.50 90.85

%Metallic Fe 85.19 85.33

%Metallization 94.14 93.92

%FeO 6.82 7.10

%Gangue 7.99 7.57

Conclusion;-- Good Reducibility and Total Iron ; Gangue lower

though Carbon potential slightly lower ( Pellets Tfe -67.29% )
---
THANK YOU