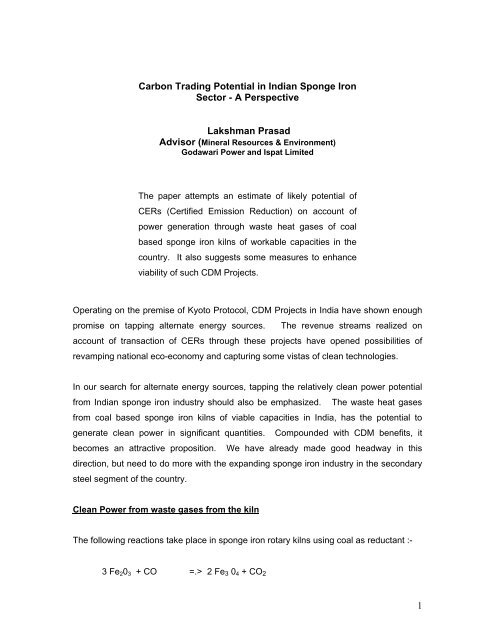 Carbon Trading Potential in Indian Sponge Iron Sector - A ...
Carbon Trading Potential in Indian Sponge Iron Sector - A ...
Carbon Trading Potential in Indian Sponge Iron Sector - A ...
SHOW MORE
SHOW LESS
Create successful ePaper yourself
Turn your PDF publications into a flip-book with our unique Google optimized e-Paper software.
Carbon Trading Potential in Indian Sponge Iron

Sector - A Perspective

Lakshman Prasad

Advisor (Mineral Resources & Environment)

Godawari Power and Ispat Limited

The paper attempts an estimate of likely potential of

CERs (Certified Emission Reduction) on account of

power generation through waste heat gases of coal

based sponge iron kilns of workable capacities in the

country. It also suggests some measures to enhance

viability of such CDM Projects.

Operating on the premise of Kyoto Protocol, CDM Projects in India have shown enough

promise on tapping alternate energy sources. The revenue streams realized on

account of transaction of CERs through these projects have opened possibilities of

revamping national eco-economy and capturing some vistas of clean technologies.

In our search for alternate energy sources, tapping the relatively clean power potential

from Indian sponge iron industry should also be emphasized. The waste heat gases

from coal based sponge iron kilns of viable capacities in India, has the potential to

generate clean power in significant quantities. Compounded with CDM benefits, it

becomes an attractive proposition. We have already made good headway in this

direction, but need to do more with the expanding sponge iron industry in the secondary

steel segment of the country.

Clean Power from waste gases from the kiln

The following reactions take place in sponge iron rotary kilns using coal as reductant :-

3 Fe 2 0 3 + CO =.> 2 Fe 3 0 4 + CO 2

1
---
Fe 3 0 4 + CO => 3 Fe0 + CO 2

Fe0 + CO => Fe + CO 2

The waste gases emanating from the sponge iron kilns contain substantial amount of

combustibles along with carbon particles, unused CO etc.

It is possible to exploit gainfully such waste heat contained in flue gases, utilize the same

to produce steam to generate power in a suitably designed waste heat recovery system

(WHRS).

In terms of Kyoto Protocol, such waste heat recovery systems, as a clean technology

options, fulfil the criteria of CDM Projects, primarily on account of the following features

of additionality :-

i) as compared to a conventional coal based power generation project, WHRS causes

reduced emission of green house gases

ii) the system contributes to industrial energy efficiency as an attendant benefit

iii) it conserves energy resources, and

iv) it replaces an equivalent amount of electricity from the usual carbon intensive power

grid

An assessment of clean power potential and CDM benefits

Coal based sponge iron plants collectively registered a production of about 11 million

tonnes during the year 2006-07. During the current year i.e. 2007-08, the production is

on an upward trend as borne out by the fact that in five months period between April –

Aug'07 the recorded production was 5.36 million tonnes.

While the small capacity plants may be constrained due to scale of economy to produce

power through waste heat recovery systems, the plants having capacity of 60,000

tonnes per annum and above i.e, those employing at least a kiln of 200 TPD or two kilns

of 100 TPD each can viably operate WHRB System. Further the plants operating at

least one kiln of 350 TPD are expected to be better placed to realize CDM benefits.

2
---
There are about 90 such feasible plants whose CDM potential can be tapped. While

more than 20 such projects have been registered by the CDM Board of UNFCCC as of

end Oct'07, there have been only eleven issuances of Certified Emission Reduction

(CERs) through nine plants (Godawari Power and Ispat Limited and Shri Bajrang WHR

CDM Project, each being credited with two issuances). Table-I furnishes the details of

such issuances.

Table –I

Details of CERs * Issued in respect of Indian Companies in Sponge Iron Sector for

WHRB Projects as of Oct'07

S.No. Project Developer Date of Issuance CERs Issued Verified Period

1 Godawari Power and 04 Aug 2006 66,536 01 Sept 2002 –

Ispat Limited

31 Dec 2005

2 Monnet Ispat Limited 06 Sept 2006 1,11,570 01 Jan 2005 –

31 Mar 2006

3 Tata Sponge Iron Limited 27 Dec 2006 1,06,463 01 Jan 2002 –

31 Mar 2006

22 Jan 2007 74,674 01 Sep 2005 –

31 Aug 2006

4 Shri Bajrang Power &

Ispat Limited

5 Orissa Sponge Iron Ltd. 02 April 2007 1,25,002 01 July 2001 –

31 Jan 2006

6 Usha Martin Limited 03 April 2007 60,989 01 Dec 2004 –

30 Nov 2006

7 Electro Steel Castings 11 June 2007 41,081 ** 01 April 2006 –

31 Jan 2007

8 Shree Nakoda Ispat 27 June 2007 23,368 01 Dec 2005 –

Limited

31 Dec 2006

9 Godawari Power and 02 July 2007 18,607 01 Jan 2006 –

Ispat Limited

31 Dec 2006

10 Vandana Global Limited 26 Sept 2007 31,541 01 April 2005 –

31 Oct 2006

11 Shri Bajrang WHRB 20 Oct 2007 66,885 01 Sept 2006 –

CDM Project

31 May 2007

Total CERs Issued 7,26,716

* a unit CER represents one tonne of CO 2

** includes waste gases of coke oven batteries and sponge iron kilns

In the overall assessment, taking a production of 7.7 million tonnes of sponge iron (70%

of actual production during the year 2006-07 through viable CDM projects), there is a

potential of producing about 500 MW power through WHRS with an annual carbon credit

of 1.50 million CERs. Such a projection takes into consideration the following

conservative assumptions :-

3
---
(i) waste gases from a 200 TPD kiln can produce 4MW power

(ii) 1 MW power, on an average, can attract 3000 CERs annually

By the year 2011-12, with the anticipated doubling of production of sponge iron through

coal based kilns, power generation and corresponding CERs would also be doubled to

realize a credit of about 3 million CERs annually.

Taking a case of some realistic recent transactions of CERs at 13.75 Euro per unit, there

is business volume of 41 million Euros annually or about 2250 million rupees per year.

Improving viability of WHRS

In view of such promise of business, there is a strong case to enhance viability of related

projects for better realization compounded with harnessing its full potential. Some of the

suggested measures could be :-

(i) earmarking and allocating non-coking coal blocks having coal of high ash fusion

temperature and high reactivity exclusively for sponge iron sector. Such coals are better

suited to manufacturing of sponge iron.

ii) allocating iron ore mines to sponge iron manufacturers to ensure availability of

consistent quality of high grade iron ore feed to kilns. This will lead to higher degree of

metallisation and reduced accretion in the kilns with less downtime and hence higher

plant availability.

(iii) permitting open access and inter-state wheeling of power from sponge iron sector at

a reasonable tariff with no hindrance.

While on the subject of wheeling power, it is estimated that a waste heat recovery

system based on 350 TPD kiln can generate about 7 MW, out of which 1.5 MW can be

used for captive consumption in sponge iron making in stand-alone sponge iron plants

and a surplus of 5.5 MW can be exported to the grid for trading. The sponge iron units

graduating to mini steel plants through forward integration by employing induction

furnaces, electric arc furnaces or similar adjuncts would require more power for captive

consumption. Such integrated plants can use the surplus power cost effectively with self

reliance.

(iv) networking of carbon trading business through carbon exchanges spread over

strategic locations.

4