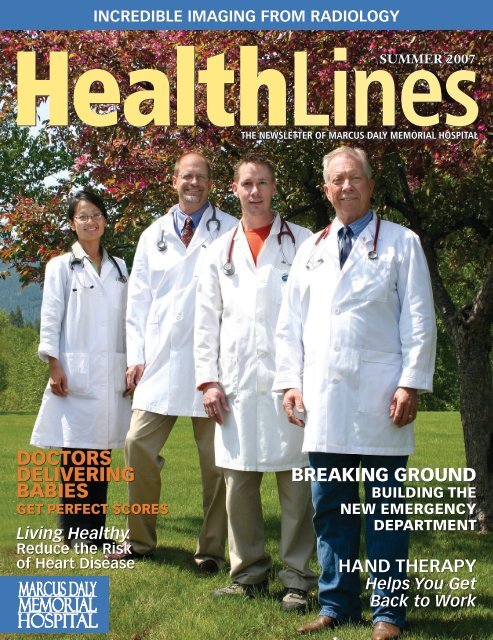 Summer - Marcus Daly Memorial Hospital.
Summer - Marcus Daly Memorial Hospital.
Summer - Marcus Daly Memorial Hospital.
SHOW MORE
SHOW LESS
Create successful ePaper yourself
Turn your PDF publications into a flip-book with our unique Google optimized e-Paper software.
incredible imaging from Radiology

HealthLines

summer 2007

The newsletter of Marcus Daly Memorial Hospital

doctors

delivering

babies

get perfect scores

Living Healthy

Reduce the Risk

of Heart Disease

Breaking ground

Building The

new emergency

department

Hand Therapy

Helps You Get

Back to Work
---
Letter from Daly Hospital foundation

COMMUNITY SUPPORTED HOSPITAL

Marcus Daly Memorial Hospital is your community hospital and a vital

service to Ravalli County. With the support you provide by using the

hospital's services, the hospital can continue to expand, hire and train

staff, and keep current with the rapid technology changes in healthcare.

Patient survey responses and other comments inform about how well

we are doing and where we need improvement. We appreciate the

communication regarding the care you have received. The Hospital is

here to serve your needs and strives to meet your expectations.

The Hospital, Hospice and Ambulance programs rely heavily upon the

dedication of volunteers who provide support for our staff and services

for our patients. The Hospital and Foundation Boards are comprised

of community members and physicians who volunteer to provide governance

and oversight for the hospital. Thanks to the many volunteers

for their time and energy.

Margaret Daly's original donation to build the Hospital in memory of

Marcus Daly continues to support Ravalli County. Marcus Daly Memorial

Hospital's philosophy has not changed; it was founded as a community

hospital and that continues today. For many reasons healthcare

costs continue to rise. Due to changes in how medical care is paid for,

some services are not self-supporting, such as the emergency room, ambulance,

pediatric rehab, and hospice. There are additional costs associated

with providing quality care such as replacing and upgrading equipment

and buildings, buying medicine, paying salaries and continuing

education. Also, many in our community cannot afford healthcare, adding

another financial challenge to the hospital.

The hospital is a non-profit charitable organization and is not tax supported.

Your donations help us meet our goal of being your choice for

innovative, high quality, affordable healthcare. Thank you for your financial

support of the Hospital.

Please let us know if you would like to volunteer or make a financial

contribution.

Sincerely,

A non-profit healthcare provider.

Our Mission:

We are committed to

excellence in providing

quality, accessible,

personalized healthcare.

Board of Directors

Veto J. "Sonny" LaSalle - c h a i r m a n

Carol Hinman - v i c e c h a i r m a n

Walker J. Ashcraft, MD

Donna Cooney

Stephen Ellis, MD

Jeanne Hargett

Frederick Ilgenfritz, MD

Barry Lemon

Don Lodmell

Donald Shaughnessy

Randy Stewart, MD

John M. Bartos - c e o

How are we doing?

We need your feedback for continuous

improvement and want to hear from

you. We welcome a letter or email

detailing your patient care experience.

Excellent, good, bad, indifferent, let us

know how we are doing!

If you receive a patient satisfaction

survey asking you about your hospital

stay, we would greatly appreciate it

if you would complete the survey

and return it, in the self addressed

envelope. We constantly strive to offer

the very best care and customer service

and appreciate your feedback.

Thank You.

Patient Satisfaction

Marcus Daly Memorial Hospital

1200 Westwood Drive

Hamilton, MT 59840

www.mdmh.org

Larry Johnson

President, Daly Hospital Foundation

HealthLines is published as a service

to the community. Material provided

in HealthLines is obtained from a wide

range of resources, including medical

sources and health care authorities.

Question or comments

about HealthLines:

Amy James-Linton

Marketing Director

406.375.4589

ajames@mdmh.org

2 | healthlines
---
contents

HealthLines

summer 2007

contents

10

Healthy Living

Prevent Heart Disease

4

FEATURE

New Emergency

Department

The future of healthcare in

Ravalli County.

12

13

Services

New Life -

Handled with Care

On the cover: Yvonne Courchesne, MD,

H. Brett Heath, MD, J. David Laraway, MD,

Marshall W. White, MD.

News

In The News

Caring for Women Program

receives Komen Grant.

6

8

new Technology

Incredible Images

Your PHysicians

Meet Your Doctors

14

Community

Daly Hospital Foundation

Building A Healthier Community

For more in-depth information about our services,

medical staff, events, health information and more;

visit www.mdmh.org

Cover photo by Thom Ainsworth

In Their Own Words.

Today, Glorian realizes that Thom is

still here because of our local hospital.

According to Thom Ainsworth, "without any warning;

chest pain radiating to my arms, clammy and a pasty gray

complexion, I knew I was having a heart attack. Dr. Hansen

and the emergency room team wasted no time in attending

to my immediate situation. I knew I was in good hands. I was

able to relax and entrust them to do their work."

Thom and Glorian express their appreciation for the life saving

care provided by the staff at Marcus Daly Memorial Hospital.

Healthcare Close to Home

1200 Westwood Drive • Hamilton, MT • 406.363.2211 • www.mdmh.org

summer 2007 | 3
---
feature story

The New

Emergency

Department

Summer 2008

Paving for the new

parking lot is underway

with groundbreaking

for the new

Emergency Department

on schedule for

mid-summer.

Marcus Daly Memorial Hospital

continues to look to

the future by investing in the facilities

to ensure that patients get

the right care, at the right time.

Construction has begun on the

20,000 square foot expansion that

doubles the size of the Emergency

Department. The expansion,

currently proceeding on schedule,

is due to be finished in the summer

of 2008.

Many changes have already taken

place to prepare for the construction

of MDMH's new Emergency

Department. A cement slab

was completed just east of the

hospital's main entrance. The

slab is for ambulance access and

MRI services at the hospital. For

safety reasons this area is not for

parking or use as a general entrance.

A chain link fence separates

the medical clinics from the

temporary ambulance entrance

to ensure patient safety. The

north parking lot is newly paved

and a ramp has been constructed

to provide access to Convenient

Care and Marcus Daly Laboratory

services. With these preliminary

changes accomplished, we

are looking forward to breaking

ground on the new Emergency

Department by mid-summer

2007.

New Facilities

& Expanded Service

The new Emergency Department

lobby will have a covered

drive-through entrance and public

patient drop-off for easy access.

The expansive lobby will

feature partitioned waiting areas

for family privacy as well as

a specifically designed area for

children. A quiet room will also

be available where doctors and

nurses can consult with family

members. Other new features

include public phones, toilets and

a vending machine area to add

convenience and comfort to visitors'

waiting time. In the new

Emergency Department lobby,

reception and control desk staff

will assist and usher patients

into an enclosed admitting area,

where the patient and/or family

member can supply vital information

privately.

Approximately 16 treatment

rooms will be located beyond the

admitting area in the new Emergency

Department. Three of

the treatment rooms will be allocated

for trauma patients and

one specifically for cardiac trauma.

Construction plans call for

two orthopedic treatment rooms,

a gynecology treatment room, a

dedicated pediatrics' treatment

room, a room specifically for

ears, nose and throat ailments,

a secure holding and treatment

room for patients dealing with a

severe mental health crisis, a decontamination

room for treatment

of industrial accidents, and

an isolation room for treatment

of contagious diseases. To reduce

medical team orientation times,

each treatment room will have

the same floor plan. All the treatment

rooms are designed with a

state-of-the-art overhead equipment

handling system. This system

allows for more care-giving

space, improved patient access

and the smooth movement of

equipment.

In a separate unit within the department

there will be four observation

rooms. Stabilized patients

will be cared for while

appropriate follow-up care de-

4 | healthlines
---
feature story

cisions are made, leaving critical

emergency treatment rooms

available for other patients.

A centralized nursing station will

be constructed in the middle of

all treatment rooms for optimum

patient care. A skylight over the

nursing station will provide natural

light. A warm and pleasant

color scheme has been selected to

create a calming environment.

A Bright Future

Sonny LaSalle, Chairman of the

Board of Directors, feels strongly

about the role the hospital plays

in our community. "The Marcus

Daly Board of Directors is committed

to MDMH being the best

choice in innovative, high quality

and affordable healthcare in

our community. What's more,

the Emergency Department expansion

project will provide even

greater economic benefits to the

Bitterroot Valley. The construction

phase of the project is already

benefiting our economy."

As the valley's only full service

healthcare provider, Marcus Daly

Memorial Hospital is a strong

economic contributor with nearly

500 employees. When completed,

the Emergency Department

will increase medical and support

staff. Studies show that those

employees and their families will

"The construction phase of the project

is already benefiting our economy."

spend 70% of their dollars in

the local economy. Most importantly,

notes MDMH CEO John

Bartos, "The completion of the

new Emergency Department will

enable Marcus Daly Memorial

Hospital to continue to provide

the best care possible for Ravalli

County residents."

Getting Around Campus

Throughout the construction process we will make every effort to ensure

the safety and convenience of patients, visitors and employees. For patients

and visitors, there is ample parking

in the spaces closest to the building on

the north, south, east and west side of the

hospital. A Marcus Daly team member is

at the main entrance 24 hours a day, seven

days a week, to greet you and assist emergency

patients. New directional signs have

been installed on the hospital campus and

all members of the Marcus Daly team are

happy to assist you in finding your way

around. Customer convenience is our

New directional signs have been

installed on the hospital campus.

main objective, and we appreciate your

support and patience during this time.

A Marcus Daly team member is at

the main entrance, 24 hours a day,

seven days a week, to greet you

and assist emergency patients.

summer 2007 | 5
---
new technology

Seeing

is Believing.

Incredible Images. Astonishing Detail.

Images from the GE Lightspeed VCT

GE Lightspeed VCT

Marcus Daly Memorial Hospital

is one of the first

medical facilities in Western

Montana to offer patients the GE

Healthcare Lightspeed VCT CT

Imaging system. According to

John Bartos, Hospital Administrator,

"The addition of the GE

Healthcare Lightspeed VCT CT

Imaging system and an Acuson

Antares Ultrasound System complements

the advanced technology

in the Radiology Department

and extends the

range of quality diagnostic

services that Marcus

Daly Memorial Hospital

offers to Ravalli

County residents."

The LightSpeed VCT

and Acuson Antares

Ultrasound provide

incredibly detailed

images. The new

LightSpeed VCT

system provides

"The improved image quality enables us

to make accurate diagnoses more quickly,

often helping us to avoid referring our

patients to more expensive modalities."

outstanding image details for virtually

any exam, including cardiac,

head, spine, abdominal and

vascular studies. This technology

allows us to image smaller structures

and see greater detail in

even the most challenging applications.

The LightSpeed VCT

allows us to perform studies

faster, with better resolution and

lower radiation dosage.

The Acuson Antares Ultrasound

provides dramatically

improved image

quality for patients,

helping radiologists

to make faster, more

confident diagnoses,

and improved overall

patient care. According

to Lance

4D baby image from

the Acuson Antares

Ultrasound

Pysher, MD, Marcus

Daly Staff Radiologist,

"This new system

provides us with exciting

new levels of detail especially

when trying to capture diagnostic

information from criticalcase

patients or those considered

more difficult-to-image." He

continues, "The improved image

quality enables us to make accurate

diagnoses more quickly, often

helping us to avoid referring

our patients to more expensive

modalities." The Acuson Antares

Ultrasound enables clinicians to

capture clearer, sharper images

that previously were unattainable

with a non-invasive exam. Other

features include MultiHertz

and directional

power Doppler

imaging for use in

abdominal, obstetrical,

gynecological,

vascular, shared service

cardiac and urology

applications and

3 and 4 dimensional.

With 4D imaging, we

are able to image fetal

anatomy which is very

helpful to illustrate and explain

the development of the fetus.

6 | healthlines
---
new technology

According to industry analysts,

ultrasound is second in use to X-

ray. In addition, the cost is approximately

one half to one fifth

the cost of other imaging modalities.

Ultrasound and CT Scan

are both non-invasive modalities.

"At Marcus Daly Memorial Hospital

we are committed to improving

patient care," said Dr.

Pysher. "The addition of this advanced

medical technology to our

existing state-of-the-art Radiology

Department will keep us at the

forefront of the medical community

while allowing us to provide

better, more efficient care for our

patients in Ravalli County at lower

costs," Mr. Bartos added.

Above: Marie Watson RT (R) CT,

Marla Holcomb RT (R) CT and

Drew Hayward RT (R) CT.

Technology Training

As medicine and technology continue to

evolve, it is important that healthcare professionals

continue learning. At Marcus Daly

Memorial Hospital, continuing education is

considered a key component of care quality

and a necessity as new equipment continues

to arrive. According to Scott McCormick,

Director of Radiology, "All technologists at

MDMH have attended an approved training

program and have passed national registry

exams, which makes them Registered Radiologic

Technologist – R.T. Each technologist

at Marcus Daly Memorial Hospital is

required to attain 12 continuing education

credits annually to maintain certification."

All disciplines offered at MDMH require certifications:

Ultrasound, MRI, Mammography,

X-Ray and CT. Physician and staff received

GE Site and local training for operation of

the new LightSpeed VCT CT Imaging system,

as well as specialty training for advanced

coronary artery evaluations and other heart

related studies.

EMS

June 2007 marks the fifteenth

month of Marcus Daly's renewed

ambulance service.

In December 2005 the hospital governing

board resolved once again to

provide ambulance service in Ravalli

County. The previous service was

experiencing multiple problems at

that time. Now the service is stable

and the quality of care is improving.

Serving Ravalli County

Dr. Clint Adkins, service Medical Director

and Donna Rennaker, EMTP,

Director of Ambulance Services,

provide invaluable leadership to the

continued improvement of carequality.

Also, the hospital contributes

financial support to the Ravalli

County EMS Council. The Council

sponsors educational offerings

around the county and supplies important

operations feedback to the

hospital.

The Ambulance Service is financially

stable. A continuing challenge

the hospital faces is the replacement

of the ambulance fleet as it

ages. Last month the hospital purchased

a new and a used ambulance

and retired two ambulances

built in 1985.

Our continuing goals include:

• Improving Care-Quality

• Building a Seamless Ambulance Service

• Improving Public and Staff Safety

• Improving Standardization of Operations

• Improving Cooperation with QRU and Fire and

Law Enforcement agencies

summer 2007 | 7
---
Welcome New Clinics!

Bitterroot Valley

Eye Associates

"We perform high

quality surgery

with small town

caring"

This year Bitterroot Valley Eye Associates

(BVEA) was acquired by Marcus Daly Memorial

Hospital and Mark A. Calderwood, MD, PC,

joined other physicians already affiliated with the

hospital. Dr. Calderwood, the only Board Certified

Ophthalmologist in Ravalli County, practices

in the Hamilton and Stevensville locations.

According to Dr. Calderwood, "I asked Marcus

Daly Memorial Hospital to acquire my

practice. Performing cataract surgery is what

I enjoy most about my profession." He continued,

"Surgery continues to advance and offers

tremendous opportunity for achieving

good visual outcomes in the vast majority

of patients. This surgery is a value to

many in our local community. I believe

the partnership between the Hospital

and me furthers our effort and commitment

to providing the very best care possible

here in Hamilton." Today, eye surgery is safe,

faster, and has quicker recovery with better results

than ever before. He continued, "Ravalli

County is lucky to have advanced cataract technology

and we pride ourselves in providing

high quality, reliable and convenient surgery

Ravalli Urology

Matthew Munding, MD, joined the Hamilton

Medical Staff and opened Ravalli Urology

in January of this year. Urology is the field of

medicine that focuses on the urinary tracts of

males and females, and on the reproductive system

of males. The organs covered by urology

include the kidneys, ureters, urinary bladder,

urethra, and the male reproductive organs.

Dr. Munding stated, "Thus far it has been a

wonderful experience; the medical staff, Marcus

Daly Memorial Hospital and the community has

supported my practice

and it is great to be a

part of a growing community

and expanding

1224 West Main Street

(Inside Bitterroot Clinic Building)

Hamilton, MT 59840

406-375-4888

8 | healthlines

medical staff. There

are many patients here

who can benefit from

seeing a urologist and

I'm happy to provide

them care."

Dr. Munding is a Diplomate of the American

Board of Urology and a member of The

American Urological Association. According

to Dr. Munding, "My approach as a physician

is to educate the patient as best as I can, so that

we can make a well informed decision together

for their treatment." Dr. Munding continues,

"My goal for Ravalli Urology is to support the

primary care providers and the hospital in

their care for their patients. Bringing

the surgical subspecialty of urology

to Hamilton will increase the depth

of medical care as well as enhance

it. This is important as the hospital

grows to support the community that

it serves."

Dr. Munding provides a variety of

urology related diagnostic and radiographic

procedures. Call for information

or an appointment today!

with small town caring." The eye surgeries are

performed in Marcus Daly Memorial Hospital's

state-of-the art outpatient surgery center.

Bitterroot Valley Eye Associates offers comprehensive

eye exams, cataract surgery, laser, contact

lenses, diabetic exams, glaucoma care, and a glass

and contact retail outlet, Eagle Eyewear.

For more information, to schedule an appointment

in either Hamilton or Stevensville, and/or

purchase glasses or contacts, contact the location

nearest you.

Bitterroot Valley Eye Associates

300 N. 10 th St., Suite A

Hamilton, MT 59840

(406) 363-5435

Eagle Eyewear

Located inside BVEA – Hamilton

(406) 363-1550

Bitterroot Valley Eye Associates

& Eagle Eyewear

401 Main St., Suite A

Stevensville, MT 59870

(406) 777-3107

"Matt Munding is a great

addition to MDMH!"

- from patient survey card
---
your physicians

medical

clinics

Internal Medicine

& Family medicine

Bitterroot Clinic

Family Medicine & Internal Medicine

John R. Courchesne, MD

Lisa J. Milch, MD

Michael Moran, MD

Gary L. Smith, MD

1224 West Main Street

Hamilton, MT 59840

Phone: 363.1100 Fax: 363.2148

Walk-In Medical Services

Corvallis Family Medicine

Family Medicine & Women's Care

Yvonne Courchesne, MD

Teresa Smith, FNP

1037 Main Street

PO Box 1119 (Mail Here)

Corvallis, MT 59828

Phone: 961.4661 Fax: 961.4260

Family Medicine Center

of the Bitterroot

Family Medicine

Teresa Borino, MD

H. Brett Heath, MD

Randy Stewart, MD

1201 Westwood Drive, Suite A

Hamilton, MT 59840

Phone: 363.3627 Fax: 363.3638

Life Span Family

Medicine Specialists

Kirk Crews, MD

715 Main Street, Suite A

Stevensville, MT 59870

Phone: 777.5522 Fax: 777.1175

Physicians Clinic

Family Medicine & Internal Medicine

Walker J. Ashcraft, MD

John P. Moreland, MD

1170 Westwood Drive, Suite B

Hamilton, MT 59840

Phone: 363.5101 Fax: 363.7652

Walk-Ins Welcome

Ravalli Family Medicine

Lawrence D. Brouwer, MD

Kathleen A. Harder-Brouwer, MD

411 West Main Street

Hamilton, MT 59840

Phone: 363.5104 Fax: 363.2894

Specialties

Bitterroot Cosmetic Surgery

Robert Alexander, MD

715 Main Street, Suite B

Stevensville, MT 59870

Phone: 777.4477 Fax: same

Bitterroot Foot & Ankle Clinic

Chad Dickemore, DPM

299 Fairgrounds Road, Suite 1

Hamilton, MT 59840

Phone: 363.4214

Bitterroot Neurology

Stuart N. Kieran, MD

1019 Main Street

PO Box 2218 (Mail Here)

Hamilton, MT 59840

Phone: 375.9310

Bitterroot Valley

Eye Associates

Mark Calderwood, MD

300 North 10th Street, Suite A

Hamilton, MT 59840

Phone: 363.5434 Fax: 363.5210

Hamilton General Surgery

Luke T. Channer, MD

Frederick Ilgenfritz, MD

1150 Westwood Drive, Suite D

Hamilton, MT 59840

Phone: 363.0345 Fax: 375.4525

Ravalli Orthopedics

& Sports Medicine

Gregory Behm, MD

David Nolan, PA

1150 Westwood Drive, Suite C

Hamilton, MT 59840

Phone: 363.2391 Fax: 375.0966

Ravalli Urology

Matthew Munding, MD

1224 West Main Street

Hamilton, MT 59840

(located inside Bitterroot Clinic)

Phone: 375.4888

Obstetrics & Gynecology

Bitterroot Gynecology

Marshall W. White, MD

1019 West Main Street

PO Box 576 (Mail Here)

Hamilton, MT 59840

Phone: 363.4602 Fax: 363.4604

Hamilton Obstetrics

& Gynecology

J. David Laraway, MD

1150 Westwood Drive, Suite G

Hamilton, MT 59840

Phone: 375.4777 Fax: 375.4778

Urgent Care

Convenient Care Clinic

Carol Calderwood, MD

Amy Knight, FNP

Kathleen Mauer, FNP

Teresa Smith, FNP

1200 Westwood Drive, Suite H

Hamilton, MT 59840

Phone: 363.0597 Fax: 375.4858

Monday - Friday: 11am-6pm

Saturday & Sunday: 10am-3pm

No Appointment Necessary

Emergency Services

Clint Adkins, DO

William L. Doyle, MD

James G. Hansen, MD

Brian M. Kelleher, MD

Robert Naef, MD

1200 Westwood Drive

Hamilton, MT 59840

Phone: 375.4440

summer 2007 | 9
---
healthy living

HEART

DISEASE

Reduce Your Risk.

A

A lot of us don't like thinking about our or our family's risk of heart problems.

However, doing so could save lives. By taking a proactive approach to your health

and detecting potential problems before there are symptoms or a heart attack,

you could stop, even reverse, their effects.

What is heart disease?

One of the most common diseases to

affect the heart is coronary heart disease

(CHD). It's usually caused by atherosclerosis,

a build up of fatty materials within

the walls of the arteries.

Did you know…

Coronary artery disease is the leading cause of

death in the United States.

Coronary artery disease claims more lives than

lung, colon, prostate and breast cancer combined.

45% of all heart attacks occur in people under the

age of 65.

Women are 10 times more likely to die of heart

disease than of breast cancer.

What are

the risk factors?

• High blood pressure

• Diabetes

• Family history of heart disease

• Smoker

• Inactive lifestyle

• Being Overweight

*According to the American Heart Association

Over 33 percent of all Americans who

have a heart attack each year show no

symptoms beforehand.

85% of sudden heart attacks may be prevented

if the conditions that lead to the attack

are diagnosed early enough to prescribe treatment

to correct the problems.

Cigarette smoking has been associated with sudden

cardiac death of all types in both men and women.

Excessive alcohol use increases the risk of high

blood pressure, heart attack, and stroke.

Learn and Live!

It is best to prevent disease and preventing disease

requires information.

It is recommended that you know the risk factors

and consult with your physician.

To obtain the next level of information, diagnostic

screenings are required. The diagnostic screenings

vary depending on the disease but for heart disease

the options at Marcus Daly Memorial Hospital are:

Check cholesterol level, blood pressure and in

some cases your physician may recommend a stress

ECG (treadmill test). In addition, advanced CT

(Computed Tomography) scanning is now available

and it is a simple, safe and a quick way to evaluate

coronary arteries for blockage.

If you believe you are at risk, talk to your doctor

and find out more about heart disease and the different

diagnostic screenings.

10 | healthlines
---
services

Helping Hands

When hair stylist Toni Clark

seriously fractured her

right humerus in an accident on

her new Harley-Davidson motorcycle

on May 23, 2006, the injury

was "devastating for my career

and family," she says. Fortunately,

Clark has recovered from her injury,

thanks in part to the "great

medical care and superior hand

therapy" at Marcus Daly Rehab

Services, she reports.

A certified hand therapist

(CHT) is a therapist who has acquired

advanced training in the

specialty of upper extremity rehabilitation.

Before obtaining

certification, a therapist must acquire

over 4,000 hours of experience

working with patients who

require some type of specialized

therapy for their hands or arms,

and must be recertified every five

years.

Marcus Daly Rehab Services

has the only comprehensive rehabilitation

team in Ravalli County

offering all three disciplines of

physical, occupational and speech

therapies. In 2006, some 881 new

patients were seen in MDMH's

outpatient rehab department and

at the Canyons Sports Rehab facility,

benefiting those diagnosed

with stroke, spinal cord injury,

developmental delays, orthopedic

sports injuries, fibromyalgia,

burns and more. MDMH also

has the county's only CHT, who

specializes in traumatic hand injuries

and arthritic joints, overuse

syndromes, carpal tunnel, tendonitis,

ergonomics and custom

splint fabrication.

Toni Clark's post surgery rehabilitation

program lasted from

June through November 2006.

It was overseen by DJ Wilson,

OTR/L, CHT, at Marcus Daly

Rehab Services, who has worked

in occupational and hand therapy

for 23 years. In the early weeks of

Toni Clark gets a chance

to work on DJ Wilson.

Clark's rehab, Wilson performed

gentle range of motion exercises

and fitted Clark with a custom elbow

splint to help rehabilitate the

"radial nerve palsy" she had sustained

from the injury. Because

of this palsy, Clark initially could

not move her

right wrist, fingers

or thumb.

"I enjoy making

custom

splints, and I'm

most satisfied

when patients

like Toni tell me

they worked,"

Wilson says. "The most important

part of my career is helping

people be independent and

achieve pain-free days." As Clark's

rehab continued, Wilson worked

to rebuild the range of motion

"DJ was amazing," Clark says.

"He gives you hope when you're

having a really hard time."

and muscle strength throughout

her arm. "DJ was amazing," Clark

says. "He gives you hope when

you're having a really hard time."

Clark returned to her hair stylist

job just six weeks after her

injury, which Wilson called "remarkable!"

She wore a wrist support

splint to keep her right wrist

neutralized while she cut hair.

Since the palsy affected Clark's

ability to open scissors after closing

them, her husband cleverly

added a spring to help her complete

the task.

DJ Wilson, OTR/L,

CHT has worked in

occupational and hand

therapy for 23 years.

A custom brace

allowed Clark to

return to work.

Hospital Directory

Marcus Daly

Memorial Hospital.............363.2211

Daly Hospital

Foundation......................375.4764

Services

Cardiology/Cardiac

Rehab Services................375.4665

Dietary Services.................375.4576

Education Services........... 375.4654

Emergency Services..........375.4440

Home Care Services...........363.6503

Home Infusion.................... 363.6503

Home Oxygen......................363.2211

Hospice center...................375.4707

Human Resources..............375.4407

laboratory..........................375.4428

Lactation Services............ 375.4680

Mammography................... 375.4426

Marketing Services...........375.4675

Medical Social Services...375.4436

Pharmacy Service............. 375.4462

Professional Health

Services............................375.4775

Radiology Services............375.4426

Rehab Services.................... 375.4570

Canyons Sports Rehab.... 363.2816

Surgery Center..................375.4688

summer 2007 | 11
---
services

New Life

Handled with Care

OB Services provides extensive

offerings for soon-to-be-moms

and their newborns including:

• Birthing Classes

• Pain Management

• Lactation Training

• Post-partum Follow-up

• Free Car Seat

left: Isabella Kanenwisher at 3 months

above: with her mother Annemarie

Babies receive a hand-knitted beanie

and teddy bear when discharged!

W"We are ready when you are" is part

of the pledge that Marcus Daly Memorial

Hospital's Obstetric Services staff

offers expectant parents in the Bitterroot

Valley. When preparing to welcome

their new bundles of joy, an ever-increasing

number of Valley parents-to-be

are relying on MDMH's caring, highly

trained and dedicated OB Services staff.

In addition, the hospital's convenient location

allows babies to be born within

a few miles of home in a quality setting

with a friendly atmosphere.

Over the past three years, OB Services

has delivered nearly 200 infants per

year. Isabella Kanenwisher, fifth child of

Bitterroot residents Annemarie and Ken

Kanenwisher, was born at MDMH on

March 5, 2007. She is the fourth child

the couple has delivered here. What is

even more amazing is that many of their

children's 20 or so cousins have also

been born at MDMH!

"Having my first baby in Missoula,

I knew the difference between a bigger

hospital and our local hospital," said

Annemarie Kanenwisher. "Bigger is not

always better." While at MDMH, she

added, "I felt I was of top priority. Cindy

Wolverton, the delivery nurse, was very

calm, knowledgeable and nice." Kanenwisher

was also impressed with her OB/

Gyn: "I found Dr. Heath to be very nurturing

and supportive." The greatest

benefit to using the services of MDMH,

she adds, is that your physicians offer

quality care from the time of birth

through adult life.

OB Services Physicians

Get Perfect Scores for

Friendliness, Courtesy and Skill

Press Ganey Associates, Inc., an

Indiana-based health care consulting

firm, recently released the results of a

"Physician Satisfaction Solution" survey

of MDMH's OB Services. The doctors

that deliver babies attained a perfect,

or 100 percent, score in the areas of

"Friendliness/Courtesy of Physician"

and "Skill of Physician." John Bartos,

Hospital Administrator stated, "The

dedication and care provided by

these physicians, to their patients, is

reflected in the patient satisfaction and

the scores they received. Great work!"

• Yvonne Courchesne, MD

• H. Brett Heath, MD

• J. David Laraway, MD

• Marshall W. White, MD

From left: Dr. David Laraway with baby Beau Munson, less than 24 hours after his birth

on May 8, 2007. Cindy Wolverton, RN, BSN, OB Unit Manager, Linda Egglebrecht, RN,

Gary Rodewald, CRNA (Anesthetist). Beau was delivered by Dr. David Laraway.

In addition to four physicians, MDMH

OB Services' Staff includes eight

expert and compassionate RNs, three

committed and caring Anesthetists and

the OB Unit Manager Cindy Wolverton,

RN, BSN.

12 | healthlines
---
in the news

Caring for Women Program Receives Grant

We are proud to announce that the

Susan G. Komen Foundation Grant

in the amount of $44,947 for 2007-

2008 was approved. This is a significant

increase from last years grant.

Through the Marcus Daly Caring

for Women Program funded by the

Susan G. Komen Foundation Grant,

last year 86 women received screening

mammograms, 9 received diagnostic

only, 7 received an additional

ultrasound study and one patient required

needle localization. With the

financial support from The Susan G.

Komen Foundation, Soroptimist International

and First Security Bank,

we continue to make a difference in

the lives of Ravalli County women.

Breast cancer is the most frequently

diagnosed cancer in American

women. If you have not had a mammogram

in the past 12 months, are

under-insured and are low-income,

call Marcus Daly Mammography

Services at 375-4656 to schedule

your mammogram today.

Volunteer Appreciation

Luncheon 2007

Smiles, laughter and few tears were all a

part of the celebration at the 2007 Marcus

Daly Memorial Hospital Volunteer

Appreciation luncheon. The celebration

held during National Volunteer Week

brought together some 85 Marcus Daly

Auxiliary and Hospice volunteers for a

mid-day meal aboard the cruise ship the

"S.S. Marcus Daly." The cruise theme

inspired many flags and splashes of nautical

color to create the festive atmosphere.

The MDMH Dietary staff created a remarkable

feast, from hors d'oeuvres to

delectable desserts and everything in between.

The assembled group of volunteers

selected the ship's King and Queen

for the day, crowning Auxiliary Volunteer

Carroll Dyer, King and Bobbie McCauley,

Queen. All volunteers were presented

with gifts of appreciation.

The MDMH Administration and Staff

greatly appreciate the hospital's wonderful

volunteers and thoroughly enjoy hosting

this annual celebration. The hospital

is honored to have such caring volunteers

who choose to dedicate time and effort to

support and raise money for the hospital.

Hospital volunteers add special charm

and personality and fill much needed positions

throughout the Hospital.

Home Health Keeps

Perfect Record

Marcus Daly Home Care has

received "No Deficiencies" on

their state survey by the Department

of Public Health &

Human Services. The Home

Health Program has had no

deficiencies for 12 years. The

state survey reviews the quality

of care and services provided

in accordance with the Federal

Conditions of Participation

and regulations for a home

health provider. We are very

proud of our excellent record

and the high quality service our

employees provide.

Community Takes Advantage of Lipid Screening

To encourage good health, Marcus Daly Memorial

Hospital recently offered a Free Lipid Profile/Cholesterol

Screening to all community members. Early

Saturday morning, 279 residents from Florence

to Darby came to have their Cholesterol checked.

After fasting for over 8 hours, the participants were

pleased to find fresh fruit, bagels, coffee and juice to

enjoy before leaving.

More than half of the U.S. adult population has

blood cholesterol levels higher than the desirable

range. A Cholesterol/Lipid Screening can help determine

your chances of having a heart attack, especially

if you have other risk factors for heart disease

or symptoms that suggest heart disease is present.

MDMH encourages you to talk to your health care

provider about what your cholesterol levels mean.

Watch for the next cholesterol screening in the fall.

summer 2007 | 13
---
community

Working Together to Build a

Healthier Community

The Daly Hospital Foundation

(DHF) was created to help

Marcus Daly Memorial Hospital

(MDMH) meet the needs of our

community. The Foundation depends

upon gifts from individuals,

families, corporations and foundations,

as well as financial endowments

to ensure the DHF can continue

to help MDMH provide the

best up-to-date patient care.

As the sole hospital for Ravalli

County, Marcus Daly Memorial

Hospital faces constant pressure to

provide effective, fast and affordable

treatment to the growing population.

As the main entry point for many

who need emergent and urgent

healthcare, the Emergency Department

and Ambulance Service both

respond to patients' needs 24/7.

Prizes:

Your support is making a

difference in your community!

It was 32 years ago that Marcus Daly

Memorial Hospital moved into the

current facility. Since then Ravalli

County's population has more than

doubled, to over 40,000 people.

Today, at your local hospital as

well as nationwide, the most pressing

need in health care is improved

emergency service. Emergency departments

across the country receive

more than 100 million patient

visits each year, and this number is

expected to grow as our population

increases and age and health care

costs continue to rise. More than

half of emergency department patients

are admitted to the hospital,

and a high percentage have limited

access to medical care and no health

insurance. Over the past decade,

the practice of using the Emergency

Department for primary care has increased

dramatically.

Educational Raffle

The Daly Hospital Foundation in conjunction with local

banks is selling raffle tickets to raise money for community

health education classes and employee continuing

education. Visit Farmers State Bank, Ravalli County

Federal Credit Union, First Security Bank, First Interstate

Bank and Heritage State Bank, or contact the Daly Hospital

Foundation office at 375-4764 and ASK ABOUT THE SADDLE!

1st - Custom made roping saddle valued at $2500

2nd- Daly Dollars Health Basket $150 value

3rd - $25 gift certificate for services at MDMH

The drawing will take place Sept. 1st at the Ravalli County Fair.

Purchase your raffle tickets today!

The Emergency

Department expansion

project is underway.

Marcus Daly Memorial Hospital is

one of the few rural hospitals expanding

its facility. The new 20,000

sq-ft facility is funded by a $7.4 million

bond approved by the Montana

Facility Finance Authority. The

bond approval depended upon: efficient

operations, strong financials,

quality care, hospital community image,

and growing population. Ravalli

County citizens purchased $2 million

of the Marcus Daly Memorial

Hospital bonds. This strong community

support has been critical to

the outcome of the project.

All gifts, both large and small are

significant and greatly appreciated.

Daly Hospital Foundation

Board of Directors - 2007

Larry Johnson

– President

Brett D. Bender, M.D.

- Vice President

Charles Petty, M.D.

– Secretary

Elizabeth Kehmeier

Jay Milligan

Robert House

Bennielee Horton

14 | healthlines
---
calendar of events

Community Calendar

For All Classes Contact:

Kelly Schrammeck • 375.4654

Childbirth Class

Every Monday

July 9-30, 2007

7-9 pm

First time parents or parents

that are a long time

in-between their last child,

get ready. Learn about preparing

for labor and the

stages of labor and delivery.

Practice breathing

and relaxation exercise that

help you through labor.

Pain-relief options, medical

interventions, feeding

and welcoming baby into

your home will also be

presented, as well as a tour

the MDMH Obstetrics

Department. $60.

Health Care Provider

Jun. 7, 2007 6-10 pm

July 12, 2007 6-10 pm

Aug. 6, 2007 6-10 pm

Sept. 11, 2007 6-10 pm

Basic Life Support for

Health Care Provider-This

class focuses on healthcare

providers who respond to

cardiovascular and respiratory

emergencies. This

class includes the skills

needed for adult, child and

infant cardiopulmonary

resuscitation, how to treat

cardiac arrest with an automated

external defibrillator

(AED), the recognition

and treatment of choking,

and the safety factors in

training and actual rescue.

$30.

Heartsaver First Aid

With CPR and AED

Jun. 25 & Jun. 26, 2007

July 23 & July 25, 2007

Aug. 20 & Aug. 21, 2007

Sept. 24 & Sept. 26, 2007

6-10 pm

The 2007 Heartsaver First

Aid and CPR class provides

a course with the

general principles of first

aid, medical emergencies

and injury emergencies.

This class includes adult,

child and infant CPR and

the AED skills information.

The course provides

critical lifesaving information

on caring for a victim

of an illness or injury until

EMS arrives. $32.

Sports Physicals

Aug. 2 & Aug. 8, 2007

6-8:30 pm

Medical staff at Marcus

Daly Memorial Hospital

are offering sports physicals

for all male and female

valley athletes in high

school and middle school

at Marcus Daly Memorial

Hospital. The physicals

will cost $25 per student.

Payment is due at the time

of the visit. Cash or check

only. All fees collected will

be donated back to the student's

athletic department.

Blood Drive

July 19, 2007 • 12:30-5:30 pm

Marcus Daly Memorial Hospital

Conference Room C

Opportunities

for

Giving

For additional donation options and questions,

call the Marcus Daly Memorial Hospital

Administration at 375-4408.

Hospital and Foundation Funds available:

• Emergency Department Capital Improvement Fund

Donations provide for state-of-the-art equipment and other

improvements to better serve our community.

• Ambulance Fund

Donations are used to operate, update and expand current ambulance service.

• Daly Hospital Foundation Pediatric Rehabilitation Endowment Fund

Donations are invested to support the future of the Pediatric Rehabilitation program.

• Marcus Daly Memorial Hospital Hospice General Fund

Donations help to pay the Hospice Center and program expenses

and insure that no hospice patient goes without treatment.

• Daly Hospital Foundation Hospice Endowment

Donations are invested to ensure the future of the Hospice Center.

• Neighbors Helping Neighbors (Charity Care Program)

Donations are used towards assisting patients with demonstrated financial hardship.

• Marcus Daly Memorial Hospital General Fund

Donations help to defray the day-to-day Hospital operating expenses.

• Daly Hospital Foundation Endowment

Donations are invested to support the future of the Marcus Daly Memorial Hospital.

• Daly Hospital Foundation General Fund

Donations provide general support for the Foundation

and Marcus Daly Memorial Hospital.

Naming opportunities are available to donors interested in making a significant contribution

toward the New Emergency Department, Ambulance Services or to endowments.

Donations can be made through Cash - Stock Transfer - Planned Gift.

Make checks payable to: Daly Hospital Foundation • 1200 Westwood Drive • Hamilton MT 59840.

summer 2007 | 15
---
Here's the future...

in a matter of seconds.

Introducing the most advanced CT system in the world. The LightSpeed ® VCT is

capable of capturing entire organs in a one-second scan, the entire heart and

coronary structures in five seconds, and a whole body vascular scan in ten.

With our broad range of comprehensive healthcare

services, expansive physicians network, and

state-of-the-art technology, you'll be pleasantly

surprised to find the future of healthcare right

here in the Bitterroot Valley.

left: Lance Pysher, MD, Radiologist.

far right: Drew Hayward RT(R) CT, Technologist,

Marcus Daly Radiology Department.

Healthcare Close to Home

1200 Westwood Drive • Hamilton, MT • 406.363.2211 • www.mdmh.org

Marcus Daly Memorial Hospital

1200 Westwood Drive

Hamilton, MT 59840

non-profit ORG

US postage

paid

missoula, mt

permit #569

**ECRWSS**

Postal Customer