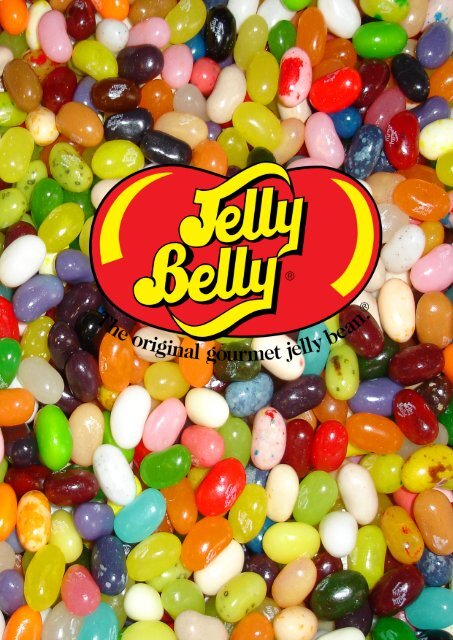 o_19o90csb01n8o19eo13t2tta3kga.pdf
You also want an ePaper? Increase the reach of your titles
YUMPU automatically turns print PDFs into web optimized ePapers that Google loves.
Jelly Belly jelly beans were invented in 1976. They were the first jelly beans to be

sold in single flavours and to come with a menu which showed how, by combining different

flavours you could create even more of your own. The original eight flavours of

Jelly Belly jelly beans introduced in 1976 were: Very Cherry, Root Beer, Cream Soda,

Tangerine, Green Apple, Lemon, Liquorice and Grape.

Jelly Belly was the first jelly bean to blend natural flavours into the heart of the

bean. Traditional jelly beans have no flavouring in the centre. Also, Jelly Belly was the

first to cook up wild flavours. Root Beer and Cream Soda delighted fans because it

was the first time a jelly bean was not fruit flavoured. There were more surprises in

store when Chocolate Pudding and Buttered Popcorn followed. Jelly Belly continues to

surprise the bean eating public by leading the way in incredible flavour development

of "The Original Gourmet Jelly Bean."

There are currently 50 Official flavours of Jelly Belly. New flavours are called

"Rookies" and these are introduced each year and depending on their popularity, enter

the 50 official line up or are dropped to make way for yet more new flavours.

The Jelly Belly Candy Company is family-owned and operated. The family roots can be

traced back to 1869, when two young brothers began making candy

in Belleville, Illinois in the USA. Today, their great-grandchildren are carrying on

the sweet tradition.
---
Bulk 45 Flavour Assorted Jelly Belly beans in a 1 kilogram bag. This

bag containing approximately 900 jelly beans is great for catering

parties and other events, or perhaps to refill your jelly bean dispenser

or simply eat them straight from the bag! Contains a random assortment

of 45 great gourmet flavours ranging from juicy fruits to

frothy coffee. Flavours are:

Berry Blue , Chocolate Pudding , Blueberry, Lemon, Margarita , Pink

Grapefruit ,Strawberry Daiquiri , Tutti-Fruitti, Cantaloupe, Green Apple, Lemon

Drop,Orange, Plum, Strawberry Jam, Vanilla, Bubble Gum, Cappuccino, Island

Punch , Lemon Lime , Orange Soda, Pomegranate, Tangerine, Very

Cherry,Buttered Popcorn, Candy Floss, Cream Soda ,Juicy Pear, Lemon and Lime

Soda, Peach, Sizzling Cinnamon, Toasted Marshmallow, Watermelon, Mixed Berry

Smoothie, Caramel Corn, Crushed Pineapple, Kiwi, Mango, Pina

Colada, Strawberry Cheesecake,Top Banana,Wild Cherry, Coconut, Wild Blackberry

As this is a random assortment, it may not contain every flavour, however

there is generally a pretty good mix!

1 Kg Of The Original Jelly Bean`s 45 Assorted flavours

please note they are original jelly belly beans , but dispatched in food quality

sealed clear ziplock bags, each bean has the Jelly Belly logo on them.With a

BBD of 5 th May 2016 or later.