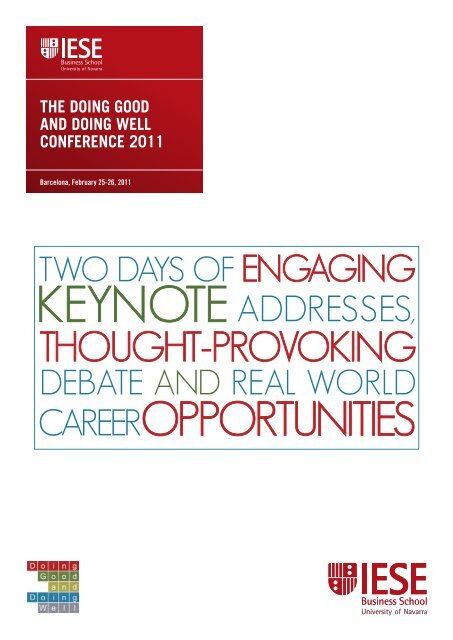 Panel Speakers - IESE Blog Community - IESE Business School
Panel Speakers - IESE Blog Community - IESE Business School
Panel Speakers - IESE Blog Community - IESE Business School
SHOW MORE
SHOW LESS
You also want an ePaper? Increase the reach of your titles
YUMPU automatically turns print PDFs into web optimized ePapers that Google loves.
TWO DAYS OF ENGAGING

KEYNOTE ADDRESSES,

THOUGHT-PROVOKING

The Doing gooD

anD Doing Well

ConferenCe 2011

DEBATE AND REAL WORLD

CAREER OPPORTUNITIES

Barcelona, February 25-26, 2011

TWO DAYS OF ENGAGING

KEYNOTE ADDRESSES,

THOUGHT-PROVOKING

DEBATE AND REAL WORLD

CAREER OPPORTUNITIES
---
Sponsors

We would like to thank our sponsors for their generous contributions. Without their help and commitment, the 8th

Annual Doing Good and Doing Well Conference would not have been possible.

Gold sponsors

Bronze sponsor

Supporting sponsors

In-kind sponsors

2 IESE Business School
---
Welcome letter

Doing good and Doing Well Conference, 25 th and 26 th february 2011

Dear Delegate,

We are proud to welcome you to the 8th edition of Doing Good and Doing Well Conference at IESE Business

School Barcelona, where we have another impressive line-up of events, building on from a memorable conference

last year.

Responsible business – business of being responsible – concerns every individual playing his part of a global

citizen, whether in a corporate, government or non-government organisation. Thus we are all contributing to

"The New Bottom Line," which is the theme of DGDW 2011. An initiative led by IESE students, DGDW has

come a long way in providing a platform for an exchange of ideas to foster learning about responsible business

and development of future responsible leaders. Our goal is to reach out to more people to spread awareness by

building partnerships, and every year we receive more and more support to help us achieve this.

This year, there are interesting keynote speeches by prominent personalities from various sectors including social

entrepreneurship, CSR, sustainability research and non-profit. We are presenting 36 exciting panel discussions

featuring more than 130 speakers in fields ranging from Venture Philanthropy Technological Innovation, Social

Challenges and more. The workshops on social entrepreneurship and clean-tech feature entrepreneur candidates

travelling from all over the world to gain insights from and networking opportunities with renowned mentors and

potential investors. We also have new events including a SEW Case Competition supported by Mckinsey, and a

film and photo exposition sponsored by National Geographic Ventures to add more dimensions to DGDW.

We hope you enjoy this experience and take back with you more ideas towards building a more responsible world

where everyone is doing good and doing well.

Warm Regards,

Richa Pathak Ana Jeronimo

Chairperson – DGDW 2011 Co-Chairperson – DGDW 2011

MBA Class of 2011 MBA class of 2011

IESE Business School IESE Business School

2011 Doing Good and Doing Well

3
---
Table of contents

Table of Contents

DGDW Sponsors .............................................................................................................................. p. 2

Welcome Letter ............................................................................................................................... p. 3

About IESE Business School ............................................................................................................ p. 6

Conference Schedule ....................................................................................................................... p. 7

Panel Tracks .................................................................................................................................... p. 8

Panel Descriptions ........................................................................................................................... p. 11

Keynote Speeches

Panels

Cleantech Venture Seminar .............................................................................................................. p. 33

Social Entrepreneurship Workshop ................................................................................................... p. 36

Career Forum ................................................................................................................................... p. 39

Speaker Biographies ........................................................................................................................ p. 40

Keynote Speakers

Panel Speakers

General Information ........................................................................................................................ p. 109

Transportation and Important Contacts ............................................................................................ p. 111

Universities and Organizations present at DGDW .............................................................................. p. 113

Organizations Present at DGDW........................................................................................................... p. 114

Projects Supported by DGDW 2011 .................................................................................................. p. 115

DGDW Organizing Team ................................................................................................................... p. 116

Campus Map ................................................................................................................................... p. 118

2011 Doing Good and Doing Well

5
---
abouT ieSe buSineSS SChool

6 IESE Business School

About IESE Business School

The Doing Good and Doing Well Conference is hosted by IESE Business School, one of the world's top-ranked

business schools. In 2009 The Economist named IESE's MBA program #1 in the world and in 2011 Financial

Times ranked it #9 worldwide.

With world-class campuses in Barcelona and Madrid, the school offers a full-time MBA, Global Executive MBA,

Executive MBA and Ph.D. in Management degrees, as well as a wide range of executive education programs for

global senior executives and Continuous Education programs for alumni. IESE, which is the graduate business

school of the University of Navarra, also has a center in New York City and offices in Munich and Sao Paulo.

To learn more about the school, please visit www.iese.edu

abouT ieSe'S reSponSible buSineSS Club

Founded in 2001, the IESE Responsible Business Club serves as a conduit for communication and collaboration

between the students, its alumni, and industry professionals interested and active in responsible business, social

entrepreneurship, social investment, and the not-for-profit sector.
---
FRIDAY, FEBRUARY 25

Time activity

Conference Organizing Team

Conference Schedule

8:30 - 9:30 Registration & breakfast

9:30 - 10:30 Key note 1 – Pamela Hartigan

10:30 - 10:45 Break

10:45 - 12:00 Cleantech Venture Seminar – Panel

12:00 - 12:15 Break

1 st panel session

12:15 - 13:30 Cleantech Venture Seminar – Pitches 1

13:30 - 14:30 Lunch

2 nd panel session

14:30 - 15:45 Cleantech Venture Seminar – Pitches 2

15:45 - 16:00 Break

3 rd panel session

16:00 - 17:00 Key note 2 – Lord Michael Hastings

SATURDAY, FEBRUARY 26

Time activity

8:30 - 9:00 Breakfast

9:00 - 10:00 Key note 3 – Juliet Schor

10:00 - 10:15 Break

10:15 - 11:30 Social Entrepreneurship Workshop – Opening Speech

11:30 - 11:45 Break

4 th panel session

11:45 - 13:00 Social Entrepreneurship Workshop – Growth Phase

13:00 - 14:00 Lunch

5 th panel session

14:00 - 15:15 Social Entrepreneurship Workshop – Financing Phase

15:15 - 15:30 Break

6 th panel session

15:30 - 16:15 Key note 5 – Felix Oldenburg

16:15 - 17:00 Key note 6 – Maurice van Sabben

17:00 - 18:00 Photo exposition

2011 Doing Good and Doing Well

7
---
8 IESE Business School

panel Tracks

Track 1 – Corporate Social responsibility and beyond:

The Challenges of the Corporate World

The corporate world has changed: Corporate Social Responsibility (CSR) is the new bottom line. In short, having

sustainable practices and ethical behaviors is the minimum requirement for the large corporations and their

management. But how do these new expectations translate in corporate daily activities? Attending to the topics

of this track you, together with our panelists, will question some of the so called "grey areas": differences in CSR

practices across regions, the definition (if there is any) of what is ethics in business, and the MBA's responsibility

in all these discussions. Participating in the topics of this track you will have access to what experts guess will be

the future of sustainability and you will be able to understand what type of profile companies seek for their CSR

department. Finally, using a more practical approach, we will show you useful examples of corporations answering

to some of society's demands of a better corporate world through the inclusion of people with disabilities and fostering

better work life balance of their employees.

a) The Future of Sustainability

b) The Ultimate Balancing Act: Managing Career, Family and Personal Life

c) How Do the CSR Strategies of Large Corporations Differ Across Regions and Countries?

d) Inclusión Laboral y Social de Personas con Discapacidades (Panel in Spanish)

e) What it means to Pursue a Career in CSR?

f) The Approach of Social Responsibility within Business Schools

Track 2 – The importance of Capital for fostering Development

We all know that capital is the engine that moves markets and businesses. And while financial institutions have

spent most of their time in the news under negative headlines, in this track, we will discuss what kinds of positive

impact these institutions can have on social change. In particular, we will look deeply into the following topics: fostering

savings conscious by micro-deposit; supporting key sectors in emerging economies, using the development

bank model; fostering employment growth in emerging economies by supporting small and medium enterprises.

Beyond these topics, our panelist will guide us through the new language this industry is using, educating us on

Impact Investing, Venture Philanthropy, and Ethical Banking.

a) What are the Challenges of Micro-Savings?

b) Impact Investing - The Panacea for Solving Global Challenges?

c) The Future of Ethical Banking: A Fashionable Trend, or a New, Sustainable Way of Doing Business?

d) Development Banks and Their Role in Promoting Private Sector-Led Growth

e) The Challenge for SMEs in Emerging Economies of Accessing Credit

f) Venture Philanthropy - The Benefits and Challenges of New Ways of Funding in Social Sectors

g) Non-Profit Fundraising in the Credit Crisis Environment: A New Paradigm
---
Track 3 – Social entrepreneurship: empowering Change

Because social enterprises also look for some type of financial return, they cannot be considered part of the social

sector. Social entrepreneurship is not a normal private initiative as well, because the aim of these organizations

is to address some of the world's social and environmental issues. If not even academics reach an agreement of

what is social entrepreneurship, we need to try to understand the success factors of these companies and how

they compete in the market by ourselves. How do they attract talent given salary levels can be a challenge when

profit is not the sole bottom line? How is the old model of the NGO adapting to these new social enterprises? Besides

trying to find an answer to these questions, we will have access to many examples of social enterprises,

whose successes will be discussed under a regional umbrella: Latin America; a sector-focused umbrella: tourism;

and a structural umbrella: the necessity of support institutions, such as Endeavor or TechnoServe to help foster

growth.

a) Success Factors for Social Enterprises: What Difference Do They Make When Competing in the Marketplace?

b) The Role of Entrepreneurship in Creating Sustainable Social Change: Challenges and Success Stories in Latin

America

c) Evaluating the Institutions that Foster Social Entrepreneurship

d) Talent Attraction in the Social Sector

e) Women's Role in Delivering Social Change: Are Women Better Social Entrepreneurs?

f) El modelo Tradicional de ONG y Fundaciones: Qué Ha Cambiado con el Aparecimiento de las Empresas Sociales?

(Panel in Spanish)

g) Responsible Tourism: The Changing Legacy and Consequences of Tourism

Track 4 – innovation and Technology as an answer to

poverty alleviation

Innovation pushes industries beyond their own frontiers of efficiency. But what has been its role in social and environmental

development? Technology is allowing mankind to expand its horizons towards greener energy and shift

away from heavy energy consumption. New innovative products and processes are bringing health care to people

that before had no access to it. Banks and telecommunications companies, thinking beyond traditional service

models, are using technology to substantially increase banking services penetration. Cutting edge innovations in

the construction and transportations sectors are allowing our cities became greener. Our speakers will dive more

deeply into all of these areas to help us understand how technology and innovation is driving social change.

a) Approaching Healthcare Challenges in Developing Countries through Innovative Business Models and Disruptive

Technologies

b) Technology's Role in Increasing Accessibility to Banking Services in Developing Nations

c) Responsible Urbanization: Can New Business Models Save the Urban Landscape?

d) Technological Innovation Driving Reduction in Energy Consumption and Emissions

e) Smart Grid and More: Transforming the Energy Value Chain

2011 Doing Good and Doing Well

9
---
10 IESE Business School

Panel Descriptions

Track 5 – prominent Challenges and opportunities in

Social Development

Hunger, conflicts, poverty, children being denied their basic rights: how is society addressing these long-standing

problems of humanity? While we still haven't been able to completely solve these issues, there has been important

progress in the right direction. In this track we will debate a diverse selection of topics that revolve around this

progress, including sustainable agriculture, economic peace and the challenges faced by an aging society. We will

also discuss topics related to practical examples of initiatives that used to bring a new world of opportunities to unprivileged

people and try to understand what is the role of sports and vocational training to drive social change.

a) Can Investments in Agriculture be Profitable and Ensure Positive Social Impact?

b) Economic Incentives and the Role of the Private Sector: Is it Sufficient for Achieving a Long-term Sustainable

Peace?

c) Football: a Global Sport and a Powerful Tool to Drive Social Change

d) Investment in Large Sport Events: Are There Better Uses of These Enormous Funds that could Guarantee

Longer-term Benefits to Country's Citizens?

e) Is Old the New Young? How to approach the challenge of an elderly society?

f) GDP vs. HDI: the Right Measure of Human Welfare

Track 6 – addressing the Challenges at the bottom of the pyramid

Almost half of the world lives under the poverty line. Depending on the definition that one uses to define poverty

line, this number can reach almost 80% of human population. If this number does not convince corporations and

society to look to the bottom of the pyramid, what will? The fact is that large corporations can no longer deny this

big chunk of the population, and nor can society. In this track will look at how to address current issues being

faced in Africa, how to foster a more equilibrate power relation with fair trade, how to create incentives for doing

research for the cure of the diseases of the BoP and how to design product for the BoP.

a) What Does it Take to Replicate the Asian Economic Miracle in Africa? Doing business on the "Forgotten Continent"

b) How Do Companies Formulate Strategies to Approach Bottom of the Pyramid (BoP)?

c) Neglected Tropical Diseases: an Innovative Business Model to Eradicate Them

d) Fair Trade: A Philanthropic Initiative that is Becoming a Private, Sustainable and Profitable Business

e) Developing Relevant Innovations, Products and Services that Target the Bottom of the Pyramid (BOP), the 4

Billion People Who Live on Less Than $2.5 Dollars/Day
---
Panel panel Descriptions

Keynote Speech 1 – friday, february 25

10 Year Check-point for Social entrepreneurship: What have We learned?

Pamela Hartigan

Director of the Skoll Centre for Social Entrepreneurship at Oxford University's Said Business School and Volans Founding

Partner and Non Executive Director

It has been ten years since social entrepreneurship emerged on the global scene as a systems' changing movement.

Since then, the need to scale for wide impact has been at the top of the agenda in every gathering – large or small - of

social entrepreneurs. And more recently, there is growing excitement about "social investing". Realistically, what can

we expect over the coming 5 years for social entrepreneurship, and where do MBAs fit into this emerging panorama?

Keynote Speech 2 – friday, february 25

a new Capitalism for a new Society. responsible businesses. responsible Citizens.

The end of Myths.

Lord Michael Hastings

KPMG's Global Head of Citizenship and Diversity

Understand the new thinking in corporate life and address the personal challenge implied whilst increasingly demanding

more values based impact from business leaders. It's time to stop bashing business for the economic pressures of

2011. A citizens' partnership is the only way forward. Who is ready to trust?

Keynote Speech 3 – Saturday, february 26

from Consumerism to Creativity: Transitioning to a high Satisfaction, low-impact economy.

Juliet Schor

Professor of Sociology at Boston College and co-founder and co-chair of the Board of the Center for a New American

Dream

In recent years, the US consumer-led economy with has been shown to be ecologically and financially unsustainable.

Furthermore, its collapse has led to widespread unemployment, continued inability to tackle greenhouse gas emissions,

and a rudderless economic policy. In this talk Juliet Schor will outline a new way forward which focuses on reducing

working hours, lightening ecological footprint, supporting small, eco-friendly businesses, and enhancing creativity and

innovation at a local level. She calls this new model Plenitude, to emphasize its ability to create wealth, well-being, and a

sustainable future.

2011 Doing Good and Doing Well

11
---
12 IESE Business School

Panel Descriptions

Keynote Speech 4 – Saturday, february 26

new alliances for Change. The next Step for Social entrepreneurs.

Felix Oldenburg

Europe Leader and Director Germany for Ashoka

New alliances for change. The next step for social entrepreneurs" - Social entrepreneurship has come of age since

Ashoka founded the field 30 years ago, but only recently do we see a landscape emerging beyond the usual set of

anglo-american support organizations, for example in continental Europe. In this landscape, everyone can be a changemaker,

and there are new roles for foundations, investors, corporations, governments ... and MBA graduates.

Keynote Speech 5 – Saturday, february 26

national geographic: an organization Created with environmental awareness as its Core:

More than a Mere Code of Conduct

Maurice van Sabben

President of National Geographic Television International and National Geographic Ventures International

Corporate Social Responsibility is a part of the new bottom line and serious corporations understand it means going

beyond the simple process of ticking the "best CSR practices" box. Long before the "social enterprise" concept was

forged, an organization known as National Geographic was created with environmental awareness as its purpose, not as

a means to an end. How can other organizations take from the "CSR in the blood" example that National Geographic

has set? What does it mean to have a true mission for change as a core fundamental within business practices?
---
Track 1

Panel Descriptions

panels

Corporate Social responsibility and beyond: The Challenges of the Corporate World

Code: 1.a

The future of Sustainability

This panel offers a closer look at how society, corporations, and individuals approach sustainability and citizenship

issues. The panelists will discuss examples of current and future trends related to: (1) consumers

growing more environmentally and socially aware, (2) companies becoming sustainable due to consumer

pressure and cost saving targets, and (3) methods of assessing sustainability (i.e. certifications).

Speakers: Michael Skapinker – Financial Times (Speaker and Moderator)GmbH

Ignasi Cubiñá - Eco Intelligent Growth

Tim Mohin - AMD

Juliet Schor - Boston College

panel coordinators: Raluca Apostoiu (MBA 2011) and Gourav Poddar (MBA 2012)

Code: 1.b

The ultimate balancing act: Managing Career, family and personal life

One of the key challenges we face throughout our professional lives is how to achieve and maintain the

so-called "healthy" balance between our careers, family and personal time. As most of us have already

experienced, our time and energy become increasingly scarce resources that must be allocated wisely in

order to lead happy, healthy lives. To this end, we are sometimes led to make sacrifices and choices which

consequences shape the direction of our lives. Although the answer is not a one-size-fits-all approach,

this continual pursuit of balance is race and gender-blind as it affects all of us as we strive to excel in all

aspects of our lives. The goal of this panel is to discuss the realities of these challenges both on a general

and daily level and how to better address them. Our panelists are well-regarded professionals who have

managed to achieve a balanced life that they are happy with; but not without their share of sacrifices and

trade-offs. They will share their insights with us so that we can learn from their experience and hopefully

emerge with a broader perspective and a practical approach to successfully manage work, family and personal

time.

Moderator: Prof. Nuria Chinchilla – IESE Business School

Speakers: Macarena Cassinello - Fiat

Manuel Torres – Accenture

Tanja zu Waldek – NetMoms

panel coordinators: María Dolores Pérez (MBA 2011) and Rosana Gutiérrez (MBA 2011)

2011 Doing Good and Doing Well

13
---
14 IESE Business School

Panel Descriptions

Code: 1.c

how Do the CSr Strategies of large Corporations Differ across regions and Countries?

We have invited high profile executives from large corporations, well known for their exceptional CSR

practices, to discuss where the line is drawn between quality CSR and green-washing. How did these

companies incorporate sustainability into their firm's DNA at all levels of the corporation? Which challenges

do they still face? And most importantly, how do their CSR strategies vary from one another, taking into

consideration differences in regions and local best practices? Are there differences in best practices across

countries?

Speakers: Charles Castro – ECODES (Speaker and Moderator)

Jack De Bokx - Johnson and Johnson

Neus Martínez - Nestlé

Elia Tarrega - Sustainalytics España

panel coordinators: Katarzyna Zaleska (MBA 2012) and Ana Lucia Jeronimo (MBA 2011)

Code: 1.d

inclusión laboral y Social de personas con Discapacidades (panel in Spanish)

El reto de la inclusión laboral y la creación de oportunidades para personas con discapacidades: la historia

de algunos casos de éxito que demuestran la importancia de integrar a estas personas en el día a día laboral

como una forma de promover el respeto por las diferencias. Este panel discutirá entre otras, algunas

de las iniciativas tomadas recientemente por el gobierno con el fin de promover la inclusión social de estas

personas.

Moderator: Prof. José Antonio Segarra – IESE Business School

Speakers: José María Corbinos - La Fageda

Alberto Durán - Fundación Once

Ramón Giró - Fundación Seeliger & Conde

panel coordinators: Inés Alegre (IESE PhD) and Maria Francisca Ortega (MBA 2012)
---
Code: 1.e

What it means to pursue a Career in CSr

Panel Descriptions

As sustainability in corporations becomes ever more important for employment decisions, people are evaluating

the different challenges and opportunities that it presents. This panel will examine various career

paths available for students and professionals who want to work for sustainable companies. Moreover,

how can this inspire career change and promote growth? We will also focus on how to differentiate greenwashing

from a legitimate commitment to social and environmental awareness.

Moderator: Prof. Joan Fontrodona - IESE Business School

Speakers: David Lehrer - Conatix

Thomas Osburg - Intel GmbH

Giselle Weybrecht - Author, The Sustainable MBA

panel coordinator: Christina Shin (MBA 2012)

Code: 1.f

The approach to Social responsibility within business Schools

Business schools have been criticized for their role in creating a tribe of money hungry and irresponsible

individuals with little regard for Social Responsibility (SR). These feelings have echoed throughout the media,

especially after the financial crisis. Business schools have reacted by implementing Hippocratic oaths

for MBAs, employing more ethics driven courses and investing in PR to show involvement of their students

in various not for profit causes. Are business schools doing enough to ensure that their students internalize

concepts of social responsibility? Is the availability and frequency of ethical classes something that companies

consider before recruiting in MBA programs? Are SR and profitability complementary or mutually

exclusive? Join us in a lively discussion to determine whether business schools should focus more on educating

their students on SR for the benefit of society at large, or whether the media is being too idealistic in

trying to find a home for SR within business schools.

Moderator: Prof. Antonino Vaccaro – IESE Business School

Speakers: Prof. Antonio Argandoña – IESE Business School

Ignasi Faine - AGBAR

Pedro Fernandez - BAT

panel coordinator: Esther Olale (MBA 2012)

2011 Doing Good and Doing Well

15
---
Track 2

16 IESE Business School

Panel Descriptions

The importance of Capital for fostering Development

Code: 2.a

What are the Challenges of Micro-savings?

This panel will discuss the current situation and the future challenges of the micro-savings industry. After

decades of expanding from micro-credits to a more general micro-finance industry, some people believe

that it is time for the micro-savings to step forward. Nevertheless, challenges such as high operational

costs, low population density or local regulation pose formidable barriers to this service, on the other hand

considered basic in advanced economies. Both country and company specific examples, as well as relevant

statistical data, are encouraged.

Speakers: Beatriz Armendariz - Harvard GBS (Speaker and Moderator)

Teshome Dayesso - Buusaa Gonofaa MFI

Guadalupe Mata – EBRD

Jean-Claude Rodriguez Ferrara – CAF

panel coordinators: Lars Tarrach (MBA 2011) and Adele Madonia (MBA 2012)

Code: 2.b

impact investing – The panacea for Solving global Challenges?

Monies dedicated to impact investing are forecast to increase from $50 billion today to over $500 billion

in the next decade (Monitor Institute, 2009) as people look for solutions to social and environmental problems

beyond those that can be provided by traditional philanthropy. Impact investors have captured the

minds and hearts of many given their "triple bottom line" approach of actively placing capital in businesses

whose mission solves particular social and environmental issues while earning a profit. But is this achievable?

What trade-off must an impact investor make to achieve these lofty goals? Can this industry move

from the periphery to the mainstream and what challenges must it overcome to do so?

Speakers: Luciano Balbo - Fondazione Oltre

Sandra Benbeniste - Creas

Felix Oldenburg - Ashoka

Paul Simon - Earth Capital

panel coordinator: Anna-Marie Harling (MBA 2011)
---
Panel Descriptions

Code: 2.c

The future of ethical banking: a fashionable Trend, or a new, Sustainable Way of Doing business?

What is ethical banking? Is it just a warm-and-fuzzy concept, or a holistic, sustainable way of doing business?

Is it merely a fashionable trend that will pass, or a part of a larger societal movement toward more

social and environmental responsibility in the financial sector that is here to stay? Can profitability and

ethical standards coexist? Why did it take financial institutions so long to begin adopting socially and environmentally

responsible standards? Why are they doing it now? What is the government's role in it? The

panel will explore this juvenile industry, including its trends, challenges and opportunities going forward.

It will examine what sets ethical banks apart from conventional banks and the different models that exist

within the ethical banking sector, while assessing their advantages and potential shortcomings.

Speakers: Marc Eguiguren - Triodos Bank, N.V

Tony Greenham - The New Economics Foundation

Malcolm Hayday - Charity Bank

panel coordinator: Jenny Mikhareva (MBA 2011)

Code: 2.d

Development banks and Their role in promoting private Sector-led growth

The World Bank-IFC, the Inter-American Development Bank-IIC, the European Investment Bank and other

International Financial Institutions have realized long ago that development of a dynamic private sector

is crucial to long-term economic growth and a necessary condition for sustained poverty reduction. Each

panel speaker count has extensive development experience and will provide us with first-hand insight into

such questions as: How can International Finance Institutions (World Bank-IFC, IADB-IIC, EIB, EBRD,

ADB, AfDB, etc.) more effectively promote private sector growth? What strategies should they adopt to

enable the private sector to deliver goods and services and create job opportunities in the process? What

corrections have been introduced to preclude crowding out the private sector while intending to support it?

What are the current trends in the sector?

Speakers: Orlando Ferreira - IIC

Prof. Eloy García - IE Business School

André Laude – IFC

Guadalupe de la Mata – Hub Madrid

panel coordinator: Julio Martínez (MBA 2011)

2011 Doing Good and Doing Well

17
---
18 IESE Business School

Cleantech Venture Seminar

Code: 2.e

The Challenge for SMes in emerging economies of accessing Credit

Although Latin America has seen important developments in its financial markets, access to capital is still

mostly being offered to multi-nationals and large enterprises. This panel proposes discussing what has to

be done for small and medium sized enterprises (SMEs) in the region to gain greater access to capital.

Methodology: We would like to share concrete examples of products and initiatives that increase credit accessibility

to companies in this category (SMEs), as well as discuss the developments needed in the private

banking sector to better attend this market.

Speakers: José Francisco de Conrado y Villalonga - MicroBank

Orlando Ferreira - IADB – IIC

Anne Gaboury- DID

Maarten de Jong - BID

panel coordinators: Gonzalo Arenas (MBA 2011) and Enrique Fernández (MBA 2012)

Code: 2.f

Venture philanthropy – The benefits and Challenges of new Ways of funding in Social Sectors

In the past five or ten years, players like venture philanthropists have joined existing social sectors and applied

their private equity / venture capital models for social purpose organizations and companies. The

model includes loans, guarantees, mezzanine finance (also known as quasi-equity), equity and convertible

grants, and this methodology is used across sectors including health services, childcare, education and

housing. But how is venture philanthropy different from existing grant funding and what are the benefits

and challenges associated with it? Investors and social enterprises meet in the panel and discuss these issues

from their experiences.

Moderator: Lisa Hehenberger - EVPA

Speakers: Jo Hill - UnLtd

Oliver Karius - LGT Venture Philanthropy

Jan Lübbering – streetfootballworld, Development through Football

Santhosh Ramdoss - BRAC USA

panel coordinators: Yoshi Tabuchi (MBA 2011) and Stephanie Halphen (MBA 2012)
---
Career Forum / Trade Fair

Code: 2.g

non-profit fundraising in the Credit Crisis environment: a new paradigm

The current crisis has led to increased competition among non-profits for grants funding from foundations

and private donors. Many organizations are struggling with the grim reality of having to reduce the services

they provide, eliminate essential personnel, or both. This panel will examine these difficult decisions and

highlight innovative ways in which non-profits are adapting to the current challenges to fulfill their mission

statements and keep their doors open.

Speakers: Michael Anthony - Allianz MicroInsurance

Jil van Eyle - Teaming Up

Robert Hacker – One Laptop per Child Association

Orni Petruschka - CoriolisWind

Nicolas Reis - Altruja GmbH

panel coordinators: Jill Landefeld (MBA 2012) and Ana Lucia Jeronimo (MBA 2011)

2011 Doing Good and Doing Well

19
---
Track 3

20 IESE Business School

Speaker Biographies Section

Social entrepreneurship: empowering Change

Code: 3.a

Success factors for Social enterprises: What Difference Do They Make When Competing in the Marketplace?

Social Enterprises are proving their potential to become powerful change agents in many environments.

As this concept spreads around the world, creativity flourishes to address social issues through innovative

models. Many of the challenges they face are the same as those of more traditional players but, comparatively,

when do social enterprises carry a burden and when do they have a head start? What are the unique

strengths and weakness of these organizations? Are there social enterprise friendly and non-friendly sectors

and markets? We will learn from successful and failed social ventures in different competitive landscapes.

Speakers: Cliff Prior- UnLtd (Speaker and Moderator)

Tobias Lorenz - Glovico

Dolors Vallespí - AlterCompany

Tim Vang - MYC4

panel coordinator: Fernando Gago (MBA 2011)

Code: 3.b

The role of entrepreneurship in Creating Sustainable Social Change: Challenges and Success

Stories in latin america

Social entrepreneurs are drivers of innovation who, combining their persistence and creativity, attempt to

bring forth ideas that aim to address social problems. Through the expert commentary of social entrepreneurs

as well as organizations with vast experience supporting the operations and financing of social entrepreneurs,

this panel seeks to shed clarity on the challenges that social entrepreneurs face in running their

ventures, and how their success can come hand in hand with sustainability. The discussion, which will

center on real world examples with a specific focus on Latin America, will try to identify whether there are

any common elements that are shared in the stories of successful social entrepreneurs.

Speakers: Alejandro Mashad – Endeavor (Speaker and Moderator)

Ana Estenssoro – Ashoka

Jordi Juanos - AVINA

Jean-Marc Thiebaut - Acting for Life

panel coordinators: Matias Gath (MBA 2011) and Gonzalo Arenas (MBA 2011)
---
Code: 3.c

evaluating the institutions that foster Social entrepreneurship

Interested in social entrepreneurship? Well, this panel is essential for everyone fascinated in learning about

and/or working in social entrepreneurship as well as the challenges for success. The last decade has witnessed

a growing recognition that one of the methods to tackle the world's major development challenges

is through entrepreneurial means. This acknowledgement has given rise to an ever-increasing number

of different institutions dedicated to fostering social entrepreneurship. This panel will dig deep into the effectiveness,

limitations, and future trends within this sector. It will examine the various strategies pursued

through different institutional models as well as the first hand experience of social entrepreneurs across

diverse sectors and geographies.

Speakers: Yuting Lien – Endeavor (Speaker and Moderator)

Ricardo Gravina - Aoka

Juan Carlos Thomas - TechnoServe

Tim Vang - MyC4

panel coordinator: Marisa Schwab (MBA 2011)

Code: 3.d

Talent attraction in the Social Sector

Today, more and more MBAs are looking to apply their business skills to social endeavours and align their

personal values with professional goals to build careers that bring social benefits to a broader community.

At the same time, NGOs, foundations, social entrepreneurs and corporations are increasingly turning to

business-driven approaches to achieve their social impact objectives and MBA skills are seen as valuable

and much needed. This panel will tackle how MBAs can pursue careers that combine business skills and

create social value. Panellists will discuss their motivations for their career paths, the strengths, challenges,

opportunities and major functional areas of their work. They will also provide advice for students seeking to

a career in the sector.

Speakers: Maria Bercetche - P.A.U. Education

Ignasi Carreras - ESADE Business School

Vivian Gee - Schwab Foundation for Social Entrepreneurship

Katja Juvonen - Devex

panel coordinator: Amy Schlein (MBA 2011)

2011 Doing Good and Doing Well

21
---
Code: 3.e

Women's role in Delivering Social Change: are Women better Social entrepreneurs?

This panel will discuss the important role of women in social and economic development and building

sustainable businesses. We discuss how social entrepreneurship open new doors and unexplored paths

for women, and how women's natural abilities provide invaluable assets for sustainable development. The

panel will address the role of gender in policy design and implementation of social policies and explores

ways to create an environment to nurture and support women entrepreneurs in delivering social change.

Moderator: Prof. Magdalene Rosenmöller – IESE Business School

Speakers: Patricia R. Francis - International Trade Centre

Santhosh Ramdoss - BRAC USA

Dana Brice Smith - Trestle Group Foundation

panel coordinator: Mona Vajihollahi (MBA 2011)

Code: 3.f

el modelo Tradicional de ong y fundaciones: Qué ha Cambiado con el aparecimiento

de las empresas Sociales? (panel in Spanish)

Con el desarrollo de las finanzas sociales (capital paciente, empresas filantrópicas e inversión de impacto),

¿existe aún espacio para la beneficencia? ¿Existen problemas sociales que no pueden ser convertidos en

negocios sostenibles y deberán depender eternamente de los donantes? ¿En qué aspectos es mejor el

modelo de negocio social y en qué otros es mejor la beneficencia?

Speakers: Miquel de Paladella - Global Movement for Children (Speaker and Moderator)

Ramón Folch – ISS

Antoni Pérez – Save the Children

Montserrat Tohà – IRES

panel coordinators: Rocío Vergara (MBA 2012) and Ana Lucia Abdulkader Jeronimo (MBA 2011)

22 IESE Business School
---
Code: 3.g

responsible Tourism: The Changing legacy and Consequences of Tourism

While tourism is highly sensitive to economic factors and linked to major industries, tourists are becoming

more conscientious and concerned with how their travel affects the communities and world around them.

This is creating growing pressure for players in the industry to be more socially responsible and have a lower

environmental impact. We will discuss the growing trends of volunteer tourism and social responsibility

as well as issues such as the exploitation of poor communities and tourism as a solution to poverty-stricken

areas.

Speakers: Ricardo Gravina - Aoka

Esther Trujillo - Sol Meliá

panel coordinator: Henley Johnson (MBA 2011)

2011 Doing Good and Doing Well

23
---
Track 4

innovation and Technology as an answer to poverty alleviation

Code: 4.a

approaching healthcare Challenges in Developing Countries through innovative business Models

and Disruptive Technologies

In this day and age, developing economies are showing more and more convergence to the developed

world as regards to the diseases that they are facing. Non-communicable diseases are becoming more

common in the developing world. In response, technology and Healthcare companies are trying to offer solutions,

whether by using new innovative technologies or by using disruptive ones. However, challenges in

developing countries are far different than in developed countries, and because of that, these companies

need to innovate - either on the technology side or the business model side- in order to succeed.

In this panel, we aim to discuss how healthcare companies and entrepreneurs use their different business

models in order to respond to the healthcare problems in developing countries. Be it an innovative or a disruptive

technology, we aim to understand the challenges and difficulties in implementing a technology in

different regions in the world and what have companies done and are doing to overcome these challenges.

Speakers: Sandra Schoenes – Moviu (Speaker and Moderator)

Kenneth Marcus - Karl Storz

Assaad Matuk Safi – Johnson & Johnson, Iberia

panel coordinators: Maria Luisa Peña (MBA 2012) and Jonathan Salomon (MBA 2011)

Code: 4.b

Technology's role in increasing accessibility to banking Services in Developing nations

In hard to reach rural areas, inhabitants' access to banking tends to be extraordinarily costly, insecure

and time consuming. Difficulties such as these are detrimental to economic development. Advances in

technological solutions have made it easier to reach these areas and have positively impacted the lives of

numerous individuals, families and societies.

This panel will highlight the current technologies and methods that have expanded the access to financial

services while drawing attention to the difficulties and challenges faced. It will evaluate several issues, including

if the benefits outweigh the costs and if these services are easily adopted by the customers. It will

also examine alternatives such as: mobile payment, cards, and the internet.

Speakers: Francesc Prior Sanz – IESE (Speaker and Moderator)

Monica Brand – Acción - Frontier Investments

Lauro González - Fundação Getúlio Vargas

Shainoor Khoja – Roshan

panel coordinators: Christine Muller (MBA 2012) and Ana Lucia Jeronimo (MBA 2011)

24 IESE Business School
---
Code: 4.c

responsible urbanization: Can new business Models Save the urban landscape?

As the trend for populations to seek work in cities continues to grow, the risk that urban development becomes

socially and/or environmentally damaging increases. Companies with new business models are now emerging

to address ways of reducing pollution and preserve urban environments. Focusing on population growth, we will

discuss environmentally friendly solutions and ways that cities can become sustainable in the long term.

Moderator: Prof. Mike Rosenberg – IESE Business School

Speakers: Dirk Bogaert - Avancar

Vinay Gupta - Whipcar

César Ramirez i Martinell - IB System Corp

Tom Wright - Whipcar

panel coordinators: Henley Johnson (MBA 2011), Richa Pathak (MBA 2011) and

Yariv Hauer (MBA 2012)

Code: 4.d

Technological innovation Driving reduction in energy Consumption and emissions

Technological innovation is a driving force behind reduction in energy consumption and emissions. With

the continuous focus on renewable energy, the financial crisis has elevated the importance of reducing

energy consumption, a big step towards reducing overall emissions. The panel will explore what actions

are being taken to drive this reduction: what types of technology and processes are involved? Is solar energy

sustainable? What needs to happen to make it feasible? Finally the panel will discuss the role of their

industry overall in driving this reduction.

Moderator: Prof. Charlie Donavan – IESE Business School

Speakers: Miquel Cabré – Alstom

Davide Cannarozzi - Enertika

Joel Feldschuh - Nesher

Todd Onderdonk - ExxonMobil

Matteo Tarchi - GDF Suez

panel coordinators: Jonathan Lipnik (MBA 2012) and José Miguel Novo (MBA 2012)

2011 Doing Good and Doing Well

25
---
Code: 4.e

Smart grid and More: Transforming the energy Value Chain

Smart grid aims to optimize the distribution of energy by using information technology. While many companies

are developing products to transform existing distribution systems into smarter ones, other firms

are exploring ways to exploit values offered by the smart grid. On the other side of the energy value chain,

Electric Vehicles (EVs) aim to enhance energy efficiency in transportation of goods and people. This panel

will focus on the overall picture of the energy value chain and the players involved. Benefits, motivations,

industry collaboration, challenges, as well as realistic solutions will be examined.

Moderator: Prof. Mike Rosenberg – IESE Business School

Speakers: Charles Elazar – GE Energy

Emmanuel Lagarrigue - Schneider Electric

Oscar Márquez Sánchez - Itron

Francisco Javier de Rocafort - Quimera Project

panel coordinators: David Botha (MBA 2012) and Kotaro Kobayashi (MBA 2012)

26 IESE Business School
---
Track 5

prominent Challenges and opportunities in Social Development

Code: 5.a

Can investments in agriculture be profitable and ensure positive Social impact?

With world population projected to reach 9 billion by 2050, food production will need to increase by 70%,

according to FAO estimates. A production increase of this magnitude will require the developing world

alone to invest over $200 billion per year in agriculture till 2050. The idea of this panel is to discuss the

future of investments in agriculture and the problems that we will face in ensuring positive impact of these

investments. Also there is a general impression that investments in agriculture are not profitable enough

to attract attentions of investors, especially in developing countries. However, agriculture has the potential

to be tremendously profitable business and to yield positive impact for such countries. We will also try to

spend some time to shed some light on agricultural investments as a tool for poverty alleviation.

Speakers: Sergio Dedominici - Syngenta

Helena Leurent - World Economic Forum

Alfonso López - Nestlé

José María Mateo - Cargill

panel coordinators: Junichi Kagaya (MBA 2011)

Code: 5.b

economic incentives and the role of the private Sector: is it Sufficient for achieving a

long-term Sustainable peace?

What is economic peace? Different scholars, academics and politicians have claimed that peace in a conflict

zone can be achieved through economic pressure and economic improvement of nations living in

conflict. These thinkers claim that the better the economic situation and the stronger the interdependence

of the groups engaged in conflict, the less incentive they have to engage in war. In this situation both sides

would compromise to achieve a peace agreement amongst themselves. However, once this interdependence

is broken, it is not unlikely that the peace will be kept.

In this panel, we would like to discuss the notion of economic peace and questions that derive by thinking

about such peace; mainly, does the economic status of people in a political conflict matter when the time

comes to negotiate peace? Can economic improvement of both or either sides in a conflict zone result in

a self-sustained, long-term peace between people? Or, is it necessary to have a mutual interest in the economic

offering of one side to the other? Finally, what role does the private sector have in achieving such

peace? Is it only the responsibility of the government to achieve and promote it?

Moderator: Prof. Alberto Ribera MD. PhD. - IESE Business School

Speakers: Maha Atal - Forbes

Shainoor Khoja - Roshan

Prof. María Prandi - Universitat Autónoma de Barcelona (UAB)

Andrea Vigevani - Instituto per la Cooperazione Universitaria (ICU)

panel coordinators: Jonathan Salomon (MBA 2011)

2011 Doing Good and Doing Well

27
---
Code: 5.c

football: a global Sport and a powerful Tool to Drive Social Change

Football is the most popular sport in the world. 270 million people - or four per cent of the world's population

– male and female players, referees and officials are actively involved in the Game, according to FIFA. With its

global appeal, football is much more than a sport. It is a versatile medium to foster communication, unity, social

change and just play. It has become a vital instrument for hundreds of social development programs run by nongovernmental

and community based organizations all around the world. These programs are providing children

and young people with valuable tools that make a difference to their lives and, by addressing the most pressing

issues in each community, they are contributing to positive social change on a global scale. Our panelists will

provide you with a 360-degree view on how one can make a difference with football. Join our panel for an engaging

discussion about successful initiatives inspired by the beautiful game. The message is simple: If we do

not play together, we will not score goals...

Speakers: Carlos Hornstein - Fundación Global Play (Speaker and Moderator)

Todd Beane - Johan Cruyff Institute of Sport Studies

Patrick Klaus Gasser - UEFA – Football and Social Responsibility (FSR) Unit

Jan Lübbering - streetfootballworld, Development through Football

panel coordinators: Emmanouil Xenos (MBA 2011), Donna Crowell (MBA 2011) and

Adelaida Foxá Eymar (MBA 2012)

Code: 5.d

investment in large Sport events: are There better uses of These enormous funds that could

guarantee longer-term benefits to Country's Citizens?

Every couple of years, huge investments are made to host large sporting events around the world. Recent

buzz around hosting the Olympics in China, the World Cup in South Africa and all the uncertainty about

the Olympics in Rio de Janeiro highlights the benefits that these emerging countries receive from the increased

exposure and tourism revenues as a result of these events. But, are these investments well-placed

for long-term sustainability, given many say the infrastructure investments are unusable after the events?

Would they be better invested in other, more long-term initiatives, as vocational programs, infra-structure to

serve the local communities or governmental welfare programs related to sports? Join our panel for interesting

perspectives from all sides of this argument.

Speakers: Prof. Antonio Dávila – IESE Business School (Speaker and Moderator)

Chris Daniels - Lloyds TSB

Carlos Hornstein - Fundació Global Play

Joana Pérez Martorell – Unicef

panel coordinators: Donna Crowell (MBA 2011), Emmanouil Xenos (MBA 2011) and

Adelaida Foxá Eymar (MBA 2012)

28 IESE Business School
---
Code: 5.e

is old the new Young? how to approach the Challenge of an elderly Society?"

Life expectancy is increasing and the age pyramid is changing. Elder people are better informed and healthier

than ever, and willing to remain active. But does our society take that into account? Do we innovate for this "new"

generation? From entertainment to sports, technology to clothes, how can we integrate this new trend? Can our

society provide the infrastructure and organization this demographic needs or expects?

Join a young successful entrepreneur in this sector, an executive from a big corporation with social initiatives in

this field, a newspaper editor who has worked extensively in this field and an economist with insights about the

subject, to discuss and think about this challenge.

Moderator: Prof. Alfredo Pastor – IESE Business School

Speakers: Amaia Cilveti – Fundación La Caixa

Catalina Hoffmann- Vitalia

Pedro Marques - Diário de Notícias

panel coordinator: João Pola (EMBA 2011)

Code: 5.f

gDp vs. hDi: the right Measure of human Welfare

This panel will discuss the challenges of measuring the impact of economic policies and business activity

on development. It is widely accepted that, although there is a strong correlation between GDP and quality

of life, this indicator has some major drawbacks and does not consider aspects such as income distribution,

the value of leisure or natural resource depletion. Nevertheless, to date, no substitute has been found

with the potential to overtake GDP's role as the main indicator of economic wealth at macroeconomic level.

Defining what "human welfare" means and quantifying intangible indicators are only a few examples of

the formidable challenge the measuring of human wealth poses. Measuring the social impact of financial

investments is also a challenge most development banks, philanthropic funds, MFIs and other financial

institutions face when evaluating potential targets for their project financing. Both country and company

specific examples, as well as relevant statistical data, are encouraged.

Speakers: Jeremie Fosse - Eco-Union (Speaker and moderator)

Prof. Antonio Argandoña – IESE Business School

Conal Smith – OECD

panel coordinator: Lars Tarrach (MBA 2011)

2011 Doing Good and Doing Well

29
---
Track 6

addressing the Challenges at the bottom of the pyramid

Code: 6.a

What Does it Take to replicate the asian economic Miracle in africa? Doing business on the "forgotten Continent"

In the last 30 years, Asia, especially China, India and South-East Asia, has experienced strong economic

growth, triggered by sound economic policies, adoption of a fundamentally open economy, investment in

infrastructure, explosion of FDI and a well educated population. Some countries in Africa are trying to replicate

the Asian model to boost economic development, attract FDI and, ultimately, raise its population out

of poverty. Nevertheless, there are fundamental differences between both regions (e.g. social and political

stability, access to natural resources, population) and the successful path to long-term growth might differ

significantly. This panel will discuss these differences and what policy-makers, business managers and investors

should consider when trying to emulate the Asian miracle in the African continent.

Speakers: Mosun Layode - Leap Africa

Peter Materu - World Bank

Amy Mpungwe - TANZANITEONE

panel coordinator: Lars Tarrach (MBA 2011)

Code: 6.b

how Do Companies formulate Strategies to approach bottom of the pyramid (bop)?

The BOP represents a vast, unexploited, multitrillion-dollar marketplace. For companies struggling with

maturing markets, floundering business models, and serious questions about who their customers of the

future will be, the BoP is the important market to crack. On the other hand there are companies who created

with tapping this segment in mind. How do their strategies differ and is one of the approaches more

successful then the other?

In this panel you will be able to hear how companies decide their strategy on approaching BOP. What are

the drivers of the companies that are approaching the lower income segment? What are the major opportunities

and challenges? Is the BoP market a must for multi-nationals? What should companies take into

analysis for a go/no go decision for BOP? Participate in this panel and learn about how companies formulate

their strategy for a market of over 4 billion people and how our experts envision the future for a segment

companies are starting to understand they cannot deny anymore.

Moderator: Prof. Paulo Rocha e Oliveira – IESE Business School

Speakers: César Antúnez de Mayolo - PAD Business School

Teshome Dayesso - Buusaa Gonofaa MFI

James M. Jones – ExxonMobil

Himanshu Sahasrabudhe – Roshan

panel coordinator: Qiao Cheung (MBA 2012)

30 IESE Business School
---
Code: 6.c

neglected Tropical Diseases: an innovative business Model to eradicate Them

The panel will present the Product Development Partnership (PDP) business model, an innovative and

successful public-private R&D initiative that has been adopted by a growing number of organisations from

the early 2000s to develop adequate treatments for the eradication of neglected tropical diseases (NTD).

The panellists will help understand the build up of the model and the role that each of the stakeholders

involved plays: big pharmaceuticals, NGOs, and donors. They will discuss the management challenges inherent

to the model and its translation from a theoretical construct into a tangible reality. Finally, the panel

will elaborate on the future of the PDPs given the challenging economic context.

Moderator: Núria Casamitjna Badía – Barcelona Centre for International Health Research

(CRESIB)

Speakers: George Jagoe – Medicines for Malaria Venture (MMV)

Jean-Pierre Paccaud – Drugs for Neglected Diseases Initiative (DNDi)

Martin Pan – GlaxoSmithKline (GSK)

panel coordinator: Sergio Ostalé (MBA 2011)

Code: 6.d

fair Trade: a philanthropic initiative that is becoming a private, Sustainable and profitable business

In both emerging and developed countries there are farmers and producers marginalized by the complexity

of global markets and imbalances of power in conventional trade, not having the required knowledge to

freely compete. However, hope still remains for these producers as more and more people worldwide became

aware of their situation. Fair trade is a growing trend in direct response to this issue. Same way, big

corporations have started to include fair trade products into their own supply chain. Indeed, an altruistic

view of this movement is not enough; only positive income can make this trend create sustainable businesses

in the long run. Our guest speakers will elaborate on this as well as explain the dynamic value chain

that is at play in this particular type of business model.

Speakers: Meredith Alexander - ActionAid

Ignacio Pons - EcoVeritas SA

Rafael Sanchéz - Intermón Oxfam

panel coordinators: Pepa Vila (MBA 2011) and Borja Muñoz (MBA 2011)

2011 Doing Good and Doing Well

31
---
Code: 6.e

Developing relevant innovations, products and Services that Target the bottom of the pyramid (bop),

the 4 billion people Who live on less Than $2.5 Dollars/Day

"We cannot escape the fundamental question: Whom and what is business for?

The answer once seemed clear, but no longer. The terms of business have changed."

Charles Handy (Irish author/philosopher)

In this panel you will be able to participate in discussions regarding how companies develop innovations,

products and services, and market them to the BOP. How do companies find the right value proposition

for the BOP and translate this to a product mix/service that they are willing to pay? Is price the only factor

in the formula for success, or there are other variables at play? What are the challenges in deploying and

implementing the marketing strategies in the BOP? This panel will present examples of successful implementations

of strategies targeting the BOP, as well discuss failures and why they happened.

Speakers: César Antúnez de Mayolo - PAD Business School

Rafael Borreguero – Consultant, Microinsurance Sector

Laercio Cardoso - Unilever

Himanshu Sahasrabudhe- Roshan

panel coordinator: Qiao Cheung (MBA 2012)

32 IESE Business School
---
WhaT iS CleanTeCh VenTure SeMinar?

Cleantech Venture Seminar

Cleantech Venture Seminar

The IESE Cleantech Venture Seminar is an annual investment forum oriented to generate deal-flow with select earlystage

cleantech entrepreneurs and Europe's finest venture capital firms with an investment focus on clean technologies.

The objective of the seminar is to provide a venue for promising cleantech entrepreneurs to network with and

pitch for funding in front of venture capital firms. Additionally, we aim to introduce attendees to some of the latest trends

in cleantech and to the methodologies of venture capitalists.

Trends in Cleantech and Venture Capital funding Friday, February 25 – 10:45-12:00

Cleantech related businesses have witnessed a dramatic increase in consumer and financial interest during

recent years. However, amidst the global financial downturn and after the failure of Copenhagen, will

this interest remain? How will the cleantech start-up scene change and what elements will drive this transition?

Will financing options remain stable? This panel will access the collective wisdom of European Venture

Capital leaders to describe the latest trends and market developments in cleantech.

Speakers: Arun Jayadev – Principal, Wellington Partners (Speaker and Moderator)

Orni Petruschka – Serial Entrepreneur

Yvette Go – Investment Manager, SET Venture Partners

Bernhard Mohr – Investment Manager, BASF Venture Capital GmbH

panel Coordinator: Francesc Gómez-Landero (MBA 2011)

entrepreneur pitches

The second part of the Cleantech Venture Seminar will feature select cleantech entrepreneurs, who will

pitch for funding in short presentations of 8 minutes followed by Q&A from venture capitalists. We will feature

6 promising firms and 10 investor companies. This year's participating venture capital firms include

some of the finest in European cleantech. The venture capital firms invited this year are Active Venture

Partners, Aster Capital, BASF Venture Capital, Capricorn Venture Partners, DeMeter Partners, Finaves,

SET Venture Partners, SI Capital, Sofinnova Partners and Wellington Partners.

At the conclusion of the entrepreneur presentations, the 10 judges will vote on and select one outstanding

company for the IESE Cleantech Venture Award.

JuDging VC firMS

Active Venture Partners BASF Venture Capital DeMeter Partners SET Venture Partners Sofinnova Partners

Aster Capital Capricorn Venture Partners Finaves SI Capital Wellington Partners

2011 Doing Good and Doing Well

33
---
Session 1

CLEANTECH ENTREPRENEURS BY ORDER OF PRESENTATION

ECO2: ECO2 provides global solutions for Carbon Footprint to measure; reduce and communicate

carbon emissions across the supply chain, as part of their efforts to accelerate the move to a low carbon

economy. It will fill the gap between Businesses (firms) and End-Users (consumers) and develop

a new standard methodology tool for accounting and managing carbon footprint on consumer products

and services.

entrepreneur: Ignacio Cañaveral – Co-Founder & CEO

DEXMA: DEXMA began operating in early 2007, with the support of the Polytechnic University of

Catalonia and the Catalan government ACC10. DEXMA develops Energy Management Solutions for

commercial buildings, public sector and any industry. Based on a Software-as-a-service Web-portal

Manager and TCP/IP gateways (Modbus, Zigbee and other protocols-enabled), the solution acquires

energy consumption information (electricity, water and gas) and ambient parameters (temp, hum

light,..), in real time and remotely.

entrepreneur: Joan Pinyol – Founder & CEO

WEDGE GLOBAL: Created in 2008, the company has developed an innovative solution for generating

electricity from ocean waves. Its first prototype of the wave energy converted has been completed and

is currently under testing. Through the incorporation of a new and advanced power take-off system,

the Wedge solution currently represents an opportunity to improve the effectiveness and cost efficiency

of existing wave energy converters (50% reduction in off-shore maintenance costs- 30% increase

in energy efficiency). Given its easy adaptability and scalability, this solution can be used by power

converters of different types and sizes thereby improving its market potential. As a first step, Wedge

has already signed an agreement with FCC, a leading Spanish industrial company, to deploy up to 15

MW of installed power and 100MW of pipeline by 2015 in Europe/U.S.

entrepreneur: Jaivier Gavela – Acting CEO

PYTHAGORAS SOLAR: Pythagoras Solar was conceived at Precede Technologies, an Israeli incubator,

which teams up scientists, inventors, and entrepreneurs. Dr. Itay Baruchi, an award-winning

physicist, and Gonen Fink, a leader in taking Check Point Software from start-up to a multibillion dollar

company, saw a business opportunity at the intersection of rising demand for Green Buildings and

declining cost of Photovoltaic (PV) solar power. Their innovative product can be simply described as a

solar window. It combines energy efficiency, power generation, and transparency in a standard form

factor that can be easily integrated into conventional building design and construction processes to

make Net Zero Buildings a wider reality.

entrepreneur: Gonan Fink – Co-Founder & CEO

34 IESE Business School

Friday, February 25 – 12:15-13:30
---
Session 2

CLEANTECH ENTREPRENEURS BY ORDER OF PRESENTATION

HIDROFLOT, S.A.: Hidroflot, S.A. is a Spanish engineering company devoted to the design and promotion

of its patented offshore conversion systems. Wave Energy Conversion & Floating Wind Offshore

represents two complementary worlds where the company has innovative and profitable designs.

Under Ocean Electric Inc. directives, the technical team are innovating for new floating wind offshore

devices for high deep waters. It opens for us a great market due the possibility for production areas

on sea deep waters are higher than low deep waters and onshore too. The innovative turbine is de-

signed to work with all kind of manufacturer's machines and is scalable in power.

entrepreneur: Ricard Prats – Founder & CEO

WINFLEX WIND TURBINES: WINFLEX is an innovative wind turbine development and manufacturing

company which currently employs 15 scientists and engineers. During the first decade of operations,

WINFLEX designed, built, tested and successfully connected to the grid for over two years 2 POC turbines:

10 kW & 200 kW. WINFLEX's primary objective is to penetrate the market with a 1 MW turbine.

As a first step, the company is now at the advanced stage of designing a commercial 130 kW unit.

R&D activities are partially supported by the Israeli Ministry of Infrastructure. The WINFLEX technology

is a reliable and cost effective solution for wind turbines at grid parity! The technology is feasible

over a wide spectrum of electrical power outputs ranging from 100 kW up to multi MW scale.

entrepreneurs: Eliezer Kliatzkin – CEO & Dr. Vladimir Kliatzkin – CTO

OSCOMP SYSTEMS: OsComp Systems' (OCS) team of MIT engineers has invented a breakthrough,

patent-pending technology that reduces operating and capital costs of compression by over 30%.

OCS makes marginal gas wells profitable once again, and increases the margins from already profitable

ones. The Stripper Well Consortium awarded OCS a grant and selected it as its #1 project in

2010, validating its importance to the sector.

entrepreneur: Pedro T. Santos – CEO

awards and Keynote: preparing Ventures for a successful exit

Speaker: Alessio Beverina – Partner, Sofinnova Partners

Sponsored by:

Friday, February 25 – 14:30-15:45

organized by: Francesc Gómez-Landero (MBA 2011) and Ana Raquel Rogerio Santos

(MBA 2011).

For more information contact Franc.Gomez-Landero@iese.net or

AnaRaquel.Santos@iese.net

2011 Doing Good and Doing Well

35
---
WhaT iS SoCial enTrepreneurShip WorKShop?

The Social Entrepreneurship Workshop has been created to address the evolving world of social entrepreneurship

– a term that is tweaked in different contexts – essentially covering organizations that exhibit

unique business models, which contribute to profitably solving social or environmental needs not addressed

by traditional business or government activities.

Creative business models demonstrate new ways of doing business that have important implications for the

new generation of business leaders – inclusive, equitable value chains, complex ecosystems of private and

public partnerships and profitable businesses – that solve tenacious social and environmental problems

with multi-faceted approaches. While some may argue this 'niche' has been filled by NGOs and social initiatives

for decades, we argue that now more than ever and in new and different ways, social enterprise is

going 'mass market'.

Join us for some of the most captivating and inspiring stories of how business can change the world. The

goals of the workshop are threefold:

• Create awareness among conference participants on how profitable business can lead social

change through a discussion with fascinating social enterprises and their founders.

• Encourage the social entrepreneurship movement among business school students and conference

attendees by offering a forum for the discussion of ideas and connection to resources.

• Facilitate networking between select entrepreneurs, potential financiers, and other interested

stakeholders such as social enterprise incubators and grant-giving bodies.

idea phase: bringing your Social business idea to fruition

Closed Session Friday, February 25 – 10:45-12:00 / 12:15-13:30

A small group of conference participants, chosen by short application, will meet in a session led by serial

entrepreneur and strategy expert. Participants will discuss the viability of one another's ideas, and explore

the key elements required to turn an idea into an operating business.

Mentors: Filipe Santos – INSEAD Social Entrepreneurship Initiative

participants: Jorge Lazaro – IESE MBA 2011

Rut Turró

Alvaro Marsal – MBA, ESADE Business School

organized by: Inés Alegre (IESE PhD)

36 IESE Business School

Social entrepreneurship Workshop
---
opening Speech of the Social entrepreneurship Workshop

Cliff Prior will be opening the social entrepreneur workshop drawing on his many years of experience in

the sector. He will discuss the exciting developments in the field, highlighting what has most impacted

his experience in the sector. Audience members will leave with the knowledge of what to expect of social

entrepreneurship in the years to come as well as invaluable advice for those contemplating a career in the

sector.

Speaker: Cliff Prior – Chief Executive, UnLtd

growth phase: Successful entrepreneurs Taking Their

businesses to the next level Saturday, February 26 – 11:45-13:00

This session will discuss challenges of selected social entrepreneurs and the proposed solution in the

form of a Case Competition. The entrepreneur will have the opportunity to study the solution of a real business

problem he/she is facing with a team of MBA students from IESE ready to apply their knowledge and

channel their passion on the selected Entrepreneurs' businesses. The final session will be in front of an

ample audience and will provide exposure to the whole DGDW community.

Judges: Cliff Prior – UnLtd

Yuting Lien – Endeavor

Filipe Santos – INSEAD

Gloria Macías-Lizaso – McKinsey&Company

entrepreneurs: Gijsbert Huijink – Som Energia

Rut Turró

Swift Wash

Óscar Sánchez – Escola Emprendedor

David Risher – WorldReader

organized by: Enrico Magnani (MBA 2011) and Marisa Schwab (MBA 2011)

Saturday, February 26 – 10:15-11:30

2011 Doing Good and Doing Well

37
---
financing phase: Connecting with investors and exploring new options

38 IESE Business School

Saturday, February 26 – 14:00-15:15

This session will allow audience members and participants alike to learn about the elements that social

financiers look for in a business and what unique lines of funding are available to social businesses. There

will be a pitch-and-feedback session from the successful applicants to a panel of experts, followed by an

interactive Q&A session among participants and audiences.

Venture philanthropists: Jo Hill – UnLtd

Oliver Karius – LGT Venture Philanthropy

Luciano Balbo – Fondazione Oltre

entrepreneurs: Tobias Lorenz – Glovico

Raül Robert – SostreCívic

Miquel de Paladella with his team, Maria Sarjanovich and Laia Oto Llorens –

1x1 Microcredit

organized by: Yoshi Tabuchi (MBA 2011) and Jill Landefeld (MBA 2012)
---
friday, february 25 – 16:45-19:00

Career Forum

Through the Career Forum, the DGDW Conference gives the opportunity to those interested in developing a career

in responsible business to meet companies involved in the field. The Career Forum offers a great opportunity for

participants to learn about organizations and to meet key players within responsible business. Some companies

will be recruiting candidates during the conference.

However, for many participants, this will be an opportunity to identify which organizations might be a good fit for

them in the future, and to learn about the key skills necessary to work in the sector.

Organizations cover a broad range of areas including renewable energy, social investment, social entrepreneurship,

microfinance, development, sustainability, consulting and CSR to name a few.

Companies that are confirmed to attend the Career Forum to date are:

Accenture

Allianz

Ayuda en Acción

Budgetplaces.com

Clinton Health Access Initiative | CHAI

Development Executive Group | DEVEX

Endeavor Global

European Venture Philanthropy Association | EVPA

Exxon Mobil

FSG Global Impact Advisors

Fundación Iwith.org

Global Play

Incult

Inter-American Development Bank | IADB

Each company will be assigned an individual stand and students are free to visit the companies and organizations

of their choice.

organized by: Rosie Innes (IESE Career Services)

International Committee of the Red Cross | ICRC

Micro Service Consult GmbH

MLINDA

Organization for Economic Co-operation and

Development | OECD

Roshan

Schwab Foundation for Social Entrepreneurship

Streetfootball World

Syngenta

TechnoServe

The Charity Bank

The William J. Clinton Foundation

World Economic Forum

Worldreader

2011 Doing Good and Doing Well

39
---
Keynote Speakers

40 IESE Business School

Speaker biographies

pamela hartigan – Director, Skoll Center for Social entrepreneurship, oxford university's Said business School

Pamela Hartigan is the Director of the Skoll Centre for Social Entrepreneurship at

Oxford University's Said Business School. She is also a Volans Founding Partner and

Non Executive Director. From 2001 to 2008 she was the Managing Director of the

Schwab Foundation for Social Entrepreneurship, a Swiss-based organization focused

on advancing the practice of social entrepreneurship nationally, regionally and globally. The Foundation is the

second organization started by Klaus Schwab, the first being the World Economic Forum. Dr. Hartigan is the

first Managing Director of the Foundation and has been responsible for shaping the strategy and operations

pursued by the Foundation to achieve its mission.

Dr. Hartigan is a graduate of Georgetown University's School of Foreign Service, holds a Masters degree in International

Economics, a Masters in Education and a PhD in Cognitive Psychology. Her new book, entitled The

Power of Unreasonable People: How Entrepreneurs Create Markets that change the World and co-authored

with John Elkington, will be released in February 2008 by Harvard Business Press. She is a frequent lecturer

on social entrepreneurship and innovation at graduate schools of business in the USA, Europe and Asia, and

is an Adjunct Professor at the Columbia School of Business in New York City. She serves on the Board of five

social enterprises and advises many more.

Throughout her career, Dr. Hartigan has held varied leadership positions in multilateral health organizations

and educational institutions as well as in entrepreneurial non-profits. She has been responsible for conceptualizing

and creating new organizations, departments or programs across a variety institutional arrangements

and multi-stakeholder platforms. In the area of health, Pamela headed up the Department of Health Promotion

at the World Health Organization (1999-2001); was Programme Manager and Area Co-ordinator for Applied

Field Research in the Special Programme on Research and Training in Tropical Diseases (TDR) of the

World Bank, WHO, and UNDP (1997-1999). Between 1990 and 1997, she worked in WHO's Regional Office

for the Americas, the Pan American Health Organization (PAHO), as Chief of the Gender, Health and Development

and Manager for Special Initiative in the HIV/AIDS Programme.
---
Keynote Speakers

lord Michael hastings – global head of Citizenship and Diversity, KpMg

Lord Hastings is KPMG's Global Head of Citizenship and Diversity. He was previously

the BBC's first Head of Corporate Social Responsibility. Michael is a non-executive Director

of British Telecom (on the Board for Responsible and Sustainable Business) and

a Trustee of the Vodafone Group Foundation. He represents KPMG International on

the Global Corporate Citizenship International Committee of the World Economic Forum and the World Business

Council on Sustainable Development. In 2009 he became a Member of the World Economic Forum's Global

Council on Diversity and Talent. Michael is Chairman of Millennium Promise UK and sits on the BiTC International

Leadership and the Chatham House 2010 enquiry into the Future Role of the UK in Foreign Affairs.

In January 2003, Michael was awarded an Order of the British Empire, Commander of the Order of the British

Empire ("CBE") in recognition of his services to crime reduction, including 15 years as Chairman of Crime

Concern. He was formerly an adviser to Lord John Stevens QPM (Queen's Police Medal), the former London

Metropolitan Police Commissioner and served on the Commission for Racial Equality.

In 2005, Michael was awarded the honour of an independent peerage to the House of Lords by Her Majesty The

Queen and now Michael serves as a member of the Communications Select Committee. Again in 2005, he received

the UNICEF award for his 'outstanding contribution to understanding and effecting solutions for Africa's children.

Juliet Schor – professor of sociology at boston College, board member & co-founder, Center for a new american Dream

Juliet Schor is Professor of Sociology at Boston College. Before joining Boston College,

she taught at Harvard University for 17 years, in the Department of Economics and the

Committee on Degrees in Women's Studies. Her most recent book is Plenitude: The

New Economics of True Wealth (forthcoming, 2010 by The Penguin Press). She is also

author of the national best-seller, The Overworked American: The Unexpected Decline of Leisure (Basic Books,

1992) and The Overspent American: Why We Want What We Don't Need (Basic Books, 1998). She has written

or edited 13 books and published more than 75 articles and book chapters. Schor has served as a consultant to

the United Nations, at the World Institute for Development Economics Research, and to the United Nations Development

Program. She was Guggenheim Fellow, and in 2006 she received the Leontief Prize from the Global

Development and Economics Institute at Tufts University.

Schor is currently working on issues of environmental sustainability and their relation to lifestyles and the economy.

She is a co-founder and co-chair of the Board of the Center for a New American Dream (newdream.org), a

national sustainability organization. She is a former Trustee of Wesleyan University, an occasional faculty member

at Schumacher College, and a former fellow of the Brookings Institution. Schor has lectured widely throughout

the United States, Europe and Japan to a variety of civic, business, labor and academic groups. She appears frequently

on national and international media, and profiles on her and her work have appeared in scores of magazines

and newspapers, including The New York Times, Wall Street Journal, Newsweek, and People magazine.

2011 Doing Good and Doing Well

41
---
Keynote Speakers

felix oldenburg

Felix Oldenburg serves as Europe Leader and Director Germany for Ashoka, the world's

first and foremost association of leading social entrepreneurs, with 2,700 Ashoka Fellows

in 70 countries. An entrepreneur and expert at the interfaces of the social, business

and political sectors, Felix has launched a number of national and international

programs at Ashoka that accelerate the spread and impact of social innovations. Before joining Ashoka, Felix

started an online business and worked for management consulting firm McKinsey&Company in London. As director

at a political consultancy, he pioneered citizen consultations for governments and foundations, inclunding

the European Citizens' Consultations in 27 countries. He speaks and publishes on social entrepreneurship, citizen

engagement, and corporate social responsibility. Felix studied Philosophy at the universities of Bonn, Tübingen

and Oxford and acquired an Executive Master in Policy Management in Washington DC (Georgetown).

Maurice van Sabban – president, national geographic Television international & president,

national geographic Ventures international

Maurice van Sabben is an international media executive with broad experience in all

aspects of business development, sales, content/rights acquisition, distribution and

licensing. He joined National Geographic as president of National Geographic Television

International (NGTI) in April 2008, with responsibility for overseeing the factual

program sales business.

In May 2010 he was announced as president of National Geographic Ventures International, a new business

entity, designed to support existing National Geographic businesses such as Digital Media, including Nationalgeographic.com;

Home Entertainment; Music; and National Geographic Interactive Platforms, including the

Mobile, Gaming, Interactive Publishing and Maps business groups, increase their operations in the international

marketplace. NGVI will seek to create and manage new opportunities for content distribution as the media

landscape develops and platforms continue to converge.

Van Sabben joined NGTI from SNTV (Sports News Television), part of IMG Media, where he was commercial

director, responsible for worldwide sales and business development. Other posts in his career include senior

commercial manager at Three UK, and a period at Jetix Europe (then Fox Kids Europe), where he was responsible

for the company's business development activities and strategies for interactive TV, online, mobile and

games across 12 countries.

42 IESE Business School
---
Panel Speakers

Meredith Alexander – Head of Trade and Corporates, ActionAid

Meredith Alexander is currently Head of Trade and Corporates at ActionAid. Her

career has been focused on communicating sustainability issues to different audiences

in the UK and abroad. She has helped groups from students to pension fund

members better understand how they can contribute to a more sustainable world.

She has campaigned on issues including hunger, climate change, supply chains and major infrastructure

projects. In addition to her work with a number of nonprofit organisations, she was a board member for

MakePovertyHistory and is chair of the Trade Justice Movement.

Michael Anthony – Head of Global Microhealth Insurance Portfolio, Allianz

Michael Anthony, Head of Microinsurance, is coordinating the global microinsurance

portfolio of Allianz, the world's largest insurer. Allianz has started microinsurance

operations in various countries in Africa, Asia and Latin America over the last

two years, serving households at the bottom of the economic pyramid. Michael was

a former senior advisor to the Allianz Board of Management on climate change and began his career at Allianz

as a spokesperson. Previously, Michael was working as a journalist for different German publications,

reporting mainly from Middle Eastern countries. Michael holds a MA in International Relations from the

University of Bath (UK) and Sciences Po (Paris).

2011 Doing Good and Doing Well

43
---
Panel Speakers

César Antúnez-de-Mayolo F-D. – PAD School of Management

César has different academic degrees: he is an Industrial Engineer from Universidad

de Lima (Peru), MBA from PAD School of Management, Universidad de Piura

(Peru) and Master on Computer Science (AbD) from Pontificia Universidad Católica del Perú (Perú). He

is also member of the American Marketing Association- AMA, since year 2000 (USA), and member of the

North American Case Research Association - NACRA (USA). Received the "Meritorious Award for Marketing

Research Achievements in the Area of Consumer Behavior", by Bowie State University, American Marketing

Association and Students in Free Enterprise (2004). Some of the Research Publications in which he

has had acticles publishes are: Latin American Business Review, International Journal of Selling and Sales

Management , and Greener Management International Journal.

His professional career path includes:

• Adjunct Marketing Professor at PAD School of Management, Universidad de Piura (Peru)

• Senior Commercial Manager at Pandero S.A. EAFC., the largest car dealer in Peru.

• Ex-Controller and Marketing Research & Sales Manager at Maltería Lima (Corporación Backus, a leading

Peruvian Brewer Group).

• Board member of Pro Humtec and Netcomp Training SAC (Peru).

Antonio Argandoña - Professor of Economics and holder of the "la Caixa" Chair of

Corporate Social Responsibility and Corporate Governance, IESE Business School

Antonio Argandoña (Barcelona, 1943) is Professor of Economics and holder of the

"la Caixa" Chair of Corporate Social Responsibility and Corporate Governance at

IESE. He teaches mainly in the areas of macroeconomics, monetary economics and international economics,

and publishes research on business ethics, corporate social responsibility and organizational governance.

An economist by training, Antonio Argandoña received his Ph.D. in Economics and Management (summa

cum laude) from the University of Barcelona in 1969. He is a member of Spain's Royal Academy of Economics

and Finance (1999).

Antonio Argandoña is a member of the Advisory Board of the Catalan Finance Institute (ICF), chairman of

the Professional Standards and Ethics Committee of the Economists Association of Catalonia, member of

44 IESE Business School
---
Panel Speakers

the Commission on Corporate Social Responsibility and Anti-Corruption of the Paris International Chamber

of Commerce, member of the Arbitration Tribunal of Catalonia (TATC), and member of the Ethical Standards

Committee of AENOR. He also serves on the ethics committees of various financial institutions, business

associations and media, as well as on the editorial boards of Journal of Business Ethics, Business Ethics: A

European Review, and Journal of International Business Education, among other scientific publications. In

addition, he is director of IESE Insight and IESE Alumni Magazine.

His research activity was recognized in 2008 by the European Academy of Business in Society (EABIS) and

the Aspen Institute for Business in Society, which granted him the Life Achievement Award for his fruitful

career. He has published numerous books and articles on macroeconomics, monetary economics, the

Spanish and international economy, business ethics and corporate social responsibility.

Beatriz Armendariz – Lecture of Economics, Harvard University & Senior Lecturer, University College

Beatriz Armendáriz is a Lecturer in Economics at Harvard University, and a Senior Lecturer at University

College in London. She is also a research affiliate at the David Rockefeller Centre for Latin American Studies

at Harvard University, a Research Associate at Centre for European Research in Microfinance and a member

of the Board of Directors of Grameen Crédit Agricole Microfinance Foundation. Her research focuses

on economic development, international finance and microfinance. Having published numerous articles on

microfinance, she co-authored The Economics of Microfinance among others.

Maha Rafi Atal – Journalist, Forbes

Maha Rafi Atal is a journalist in New York, covering the nexus of business, political

economy and society. She blogs and contributes regularly to Forbes, and her work

has also appeared in Fortune, BusinessWeek, Newsweek, the Christian Science

Monitor, the New Statesman, the Providence Journal and the Columbia Journalism

Review. She is the Executive Director of the nonprofit Public Business, supporting public interest business

journalism. She holds a B.A. (Hons.) in History and Comparative Literature from Brown University, and an

M.A. in Business and Economics Journalism from Columbia University Graduate School of Journalism.

2011 Doing Good and Doing Well

45
---
Panel Speakers

Richard Atkinson – Founder, Second Mile

Richard is the founder of Second Mile, a provider of management to technology

startups. Second Mile has led spinouts from leading UK universities and partners

with seed-stage technology venture capital firms to bring new technologies to market.

He has 5 years of start-up management experience. He has led start-ups in

the automotive, cleantech, defence communications and software sectors.

He spent 5 years at Ford in product development in the UK and Germany before leaving to complete a solo

sea kayak circumnavigation of Britain and then study an MBA abroad. He is a clear strategic thinking and

disciplined manager with good leadership skills.

Richard holds a degree in Mechanical Engineering from Loughborough University and an MBA at IESE

business school in Spain. Richard is a Sainsbury Management Fellow.

Luciano Balbo – Founder and Chairman, Fundazione Oltre

Luciano Balbo (62) is a well known Italian entrepreneur in the private equity business.

He has built a successful career in over 20 years spent in the financial market

and he is the founder and Chairman of Fondazione Oltre, the first Italian venture

philanthropy foundation, located in Milan. Since 2003, Fondazione Oltre has developed

a thorough knowledge of the social sector in Lombardy (northern Italy), and is now launching the innovative

Social Investment Fund - Oltre Venture. The fund will invest exclusively in social enterprises which

serve the middle and lower classes, and present credible models of self sustainability, aiming to realize long

term investments for the benefit of the entire community.

Luciano Balbo has been a private equity manager since 1983 and is a co-founder of BS Private Equity, a

leading private equity player in the Italian LBO/LBI market since 1988. Balbo served as the Chairman of BS

until 2001.

Prior to creating BS Private Equity, Balbo served as General Manager of Finnova S.p.A., a leading Italian

merchant bank part of SO.PA.F. S.p.A., and before that he had 9 years of industrial management experience

in leading companies in the stainless steel distribution, chemicals and engineering sectors in Italy.

Luciano Balbo holds a degree in Physics and a MBA from Bocconi University in Milan.

46 IESE Business School
---
Panel Speakers

Todd Beane – International Director, Johan Cruyff Institute of Sport Studies

M.A. in Education, Stanford University, USA B.A. in English, Dartmouth College,

USA Rotary Scholar at the University of Sussex, England USISL Professional Soccer

Player, USA United States Soccer Federation "A" Licensed Coach. Areas of

expertise: Leadership Management Principles, Educational Training and Coaching.

Todd Beane is International Director of the Johan Cruyff Institute of Sport Studies. He has vast educational

experience, both as a professor and manager. He was Faculty Director of the Native Vision Program at the

Johns Hopkins University in USA, and served as Director of Cloud Forest School in Costa Rica. He is invited

to perform as keynote speaker at international congresses, such as the conference of the European Association

of Sport Management, the National Congress of Education in the Netherlands and the Global Sport

Forum in Barcelona. He has published various articles on Total Athlete Development and contributes to

books, such as "Contemporary Sports Management", Parks Quarterman Thibault.

Sandra Benveniste – Freelance CSR Consultant

With a degree in Economic Law from the University of Deusto, and a Master's

degree in Environment and Development from the London School of Economics,

Sandra lived in Latin America for five years, working as project officer of the United

Nations Development Program (UNDP) in Mexico and as Director of the Foundation

for Sustainable Development in Guatemala. In Spain she has worked as Programmes Director of the Ecology

and Development Foundation and was the Spanish Representative of the AVINA Foundation. Sandra

currently works as a free-lance Corporate Social Responsibility (CSR) consultant, working mainly for Johnson

& Johnson Iberia, and teaches CSR courses at several business schools and universities. She is also a

board member of Creas.

2011 Doing Good and Doing Well

47
---
Panel Speakers

Maria Bercetche - Strategy Department, P.A.U. Education

Maria is an economist with a Masters Degree in Social Policy. She began her professional

career in a small NGO in Buenos Aires working with micro businesses from

marginalized neighborhoods. She then went on to specialize in the evaluation of

social projects and educational policy. She has worked for IIEP-UNESCO, as well as

the Argentine Ministry of Education and Ministry of Economy. Throughout this time, she has had the opportunity

to participate in social and educational projects in several countries in Latin America including Nicaragua,

Panama and Haiti.

Currently Maria works in the Strategy Department of P.A.U. Education, where she is responsible for the design

and evaluation of diverse educational and social projects. P.A.U. Education creates and implements

participative educational projects for the European Commision as well as diverse private companies across

Spain and Europe.

Alessio Beverina – Partner, Sofinnova Partners

Alessio Beverina is Partner in technology where he focuses in the cleantech field.

Alessio started with Sofinnova Partners in April 2005 as an analyst within the technology

team, focusing on the semiconductor, components, energy, materials and

systems domains. He is now fully dedicated to cleantech. He began his career in

1997 as a researcher at LETI, one of the most important European Labs in the research

field applied to electronics. From 2000 to 2003, he worked in the central

R&D group for STMicroelectronics, in charge of advanced CMOS technologies. Alessio

holds 5 patents and has published several publications. Alessio graduated from Politecnico di Milano,

with a degree in chemical engineering, specialising in the chemistry and physics of solid materials, and with

an MBA from the Ecole Supérieure de Commerce de Paris (ESCP-EAP). Alessio is a Kauffman Fellow. Alessio

currently serves on the boards of McPhy Energy, Revolt and Neosens.

Dirk Bogaert - Director of Operations, Avancar

Dirk Bogaert is an engineer with extensive experience in international project management, principally in

humanitarian projects. Since 2005, he is the Director of Operations for Avancar Carsharing, the first Spanish

carsharing company.

48 IESE Business School
---
Panel Speakers

RAFAEL BORREGUERO FIGOLS - INSURANCE ACTUARY AND I.E.S.E.´MBA

Rafael Borreguero Figols is Insurance Actuary and MBA of IESE with extensive international

experience both in the textile sector as in the insurance sector.

He worked as Exports exports director in many compaies of the Spanish textile sector

as well as coordinated many insurance departments in different companies.

Rafael is currently developing since 2 years ago a micro-insurance project in Philippines with RIMANSI,

Organization for Asia and the Pacific, whose objective is to assist the partner micro finance institutions \

establish their own micro-insurance programs, especially mutual benefit associations that serve millions of

poor households. The first step of such project was the study for the creation of a reinsurance pool whose

objective was to cover the excess losses occurred.

Also collaborates with other international programs in Philippines all related to the improvement of life conditions

and the financial education of the impoverished population of the country. One of them, for example,

consists of give Access to population living in rural areas photovoltaic energy for professional and domestic

uses through the financing of the Micro Finance Institutions.

Monica Brand – Manager, Frontier Investments Group, ACCION

Monica Brand has spent her career in the financial services and social enterprise

sectors, expanding and enhancing the value offered to the majority. Ms. Brand

currently manages ACCION's Frontier Investments Group, whose mandate is to

invest in early stage companies with disruptive business models that catalyze breakthrough

innovation in financial inclusion. Prior to assuming responsibility for managing this fund, Ms. Brand

launched and ran ACCION's Marketing & Product Development Unit, where she oversaw the creation of

new financial services to move the industry beyond microcredit.

Before joining ACCION, Ms. Brand worked with Anthuri Ventures – an early stage equity fund based in Cape

Town, South Africa – and founded Anthuri Catalysts to help prepare potential portfolio companies for investment.

Ms Brand began her career in financial services in California where she worked as a commercial

loan officer of a green fund and separately, helped launch a $50 million multi-bank lending intermediary

to finance small businesses and community facilities. Ms. Brand's professional experience also includes

training and teaching at all levels, including working as a business trainer of female entrepreneurs at the

Women's Initiative for Self-Employment (WISE) and as a case-writer for 2nd year MBAs at Harvard Business

School. Ms Brand currently serves as an Adjunct Professor at the John Hopkins School of Advanced International

Studies (SAIS) teaching a graduate-level course on impact investing.

Ms. Brand received both a M.B.A. and a master's of education from Stanford University and her Bachelor of Arts

degree in economics from Williams College, where she graduated with honors. Ms. Brand serves on numerous

boards including GloboKasNet (an electronic payment system provider), Paralife Holdings (a Swiss micro-insurance

company), and chairs the investment representative committee of Leap Frog, the first ever microinsurance fund.

2011 Doing Good and Doing Well

49
---
Panel Speakers

Miquel Cabré – Wind Business Expansion Director, ALSTOM

Miquel is Electronic Engineer. He has 30 years of experience in wind energy, assuming

responsibilities in diverse fields such as control system design, electrical design,

wind farm engineering and construction, operation and maintenance, sales and business

development. His current job includes M&A and the leadership projects.

Alstom is global player in energy and transport industry. It has a widest portfolio in power generation and

leading technologies.

Davide Cannarozzi - Finance Director, Enertika

Davide Cannarozzi is Finance Director of Enertika, a consulting and engineering company,

specialized in Energy Efficiency via the ESCo business model (developing energy-related

projects, which are financed through the savings generated by the projects

themselves). An industrial engineer from Politecnico di Torino, Italy, Davide also holds

an MBA from ESADE. Davide has 10 years of professional experience in the industrial sector, from business

development to corporate finance. Since 2007, he has participated, both as listener and speaker, in several

conferences and investment forums on Clean Tech, with a focus on the ESCo business model, and incentive

schemes produced by different Energy Performance Contracts (EPC). In 2008, Davide founded CE&E - the

Clean Energy and Environment MBA business club of ESADE - due to his concern for climate change and his

interest in linking new business opportunities with Sustainability and Corporate Social Responsibility. Davide

is currently heading the development of an investment platform, with the aim to inform, educate and promote

new opportunities in energy-friendly projects to the European financial community.

50 IESE Business School
---
Panel Speakers

Laercio Cardoso - Regional Category VP-Laundry, Unilever China

Laercio Cardoso is Regional Category VP-Laundry, based in Shanghai, China. He

joined Unilever in 1986 and has been with Unilever for more than 20 years. He

worked in Unilever Brazil, regional positions in Latin America and also has a diversified

experience in Asia, having lived in Pakistan, India and Indonesia before his

China assignment. He is a veteran in marketing field, working with great management skill in multi-culture

environments. He is married, and has three sons.

Laercio's career path;

1986: Join Unilever in Brazil; Product manager; Marketing manager

1993: Pakistan; Marketing manager

1995: Brazil; Business Unit manager in Marketing; Director

2005: Indonesia: HPC marketing director

2007: China: HPC VP

2010: China: RCVP-Laundry China

Ignasi Carreras - Director of the Institute for Social Innovation, ESADE Business School

Ignasi Carreras Fisas is an Industrial Engineer (UPC) and a graduate in Business Management

and Organization (EAE). He has taken postgraduate courses in executive development

leadership and non-profit management ESADE, Stanford and Harvard Universities.

He is the Director of ESADE's Institute for Social Innovation, which provides training in the

fields of CSR, leadership and management of NGOs and social entrepreneurship. He is also a lecturer in ESADE's

Department of Business Policy, where he specializes in strategy, leadership and management of change in organizations,

and Director of two ESADE's Executive Education programmes: Executive direction of NGOs and Leadership

and Innovation in Civil Society Organizations.

He also does voluntary work for various international organizations, NGOs and foundations (Global Reporting Initiative,

Jaume Bofill Foundation, Cristianisme i Justícia and Casal dels Infants) involved in management and board of

directors roles, and is a member of the advisory council of other civil society organizations ( Foundation Hazlo Posible,

Foundation Príncipe de Girona, Foundation Formación y Trabajo, Programme Consultores Solidarios of Esade

Alumni among others).

He was Director General of Intermón Oxfam (Spain) and a member of the Management Committee of Oxfam International.

Previously (1981-1988), he worked for the Generalitat (Autonomous Government) of Catalonia and for the

Universitat Politècnica de Catalunya (UPC), in charge of the various programmes related to energy saving.

Author of three books (Vivir Solidariamente; Lideres para el cambio social; Transformar con éxito las ONG) and several

publications, Ignasi was born in Barcelona in 1957, is married and has two children.

2011 Doing Good and Doing Well

51
---
Panel Speakers

Núria Casamitjana – Deputy Director and Academic Coordinator, CRESIB

Dr Núria Casamitjana Badia is Deputy Director and Academic Coordinator at the

Barcelona Centre for International Health Research (CRESIB). She holds a BA in

Pharmacy form the University of Barcelona, a Masters in Occupational Health from

the University of Barcelona - University Pompeu Fabra, and a Doctorate from the

University of Barcelona.

Dr Casamitjana has over 25 years experience as a teacher and researcher at the Faculty of Pharmacy, University

of Barcelona; as a BA, MSc and PhD lecturer in Spain and Africa; and as a senior manager at the

University of Barcelona. In 2006 she was responsible, together with Dr Pedro Alonso, for the creation of the

Barcelona Centre for International Health Research (CRESIB), the first research centre for global health in

Spain.

She has held key senior management positions at the University of Barcelona, such as Vice-presidency and

Presidency of the Health Sciences Division, and University Vice-chancellor between 2002 and 2005. She has

undertaken numerous outreach activities in Spain, Latin America and Africa to promote global health among

the scientific community, academia, the Spanish government, the civil society and Spanish foundations.

Macarena Cassinello – Product Vice-President, FIAT Industrial

Mrs. Cassinello has been Product Vice-President at Case New Holland (FIAT Industrial)

for the last four years; she was previously General Manager at Nissan Europe. She earned

her degree in Mechanical Engineering from the Universidad Politécnica de Madrid, and

then completed her education in General Management and Risk Taking at CEDEP (INSEAD) and IESE Business

School.

52 IESE Business School
---
Panel Speakers

Prof. Nuria Chinchilla – Professor, IESE Business School

Doctor Cum Laude in Economics and Business Administration. Obtained her MBA

from IESE (University of Navarra), law degree from the University of Barcelona. She is

currently a Professor at IESE Business School and Director of the International Center

of Work and Family. Prof. Chinchilla is often sought out as advisor by of companies,

governments and the UN, she is also member of several councils and president of NCH & Partners. She developed

the term EFR (Empresa Familiarmente Responsable and developed the Index of Family Responsible

Companies (IFREI). Prof. Chinchilla is a member of the Top Ten Management in Spain and has written several

books, such as "Balancing Work and Family: no matter where you are".

Her areas of specialization are work and family conciliation, coaching and time management, interpersonal

conflicts and leadership in management committees. In the past years, she has received many recognitions

for her work, among those, the prize FEDEPE for the Woman Executive of the Year in 2001 and "Most Valuable

Speaker" by Interban Network in 2008.

In 2008, the University of Stanford published the case study "Nuria Chinchilla: The power to Change Workplaces"

published by Prof. Jeffrey Pfeffer for the course about "Power and Influence"

Amaia Cilveti – Elderly People Social Programs Leader, Fundación La Caixa

Amaia Cilveti works for Fundación "la Caixa" leading social programs addressed to elderly

people.

Fundación "la Caixa" highlights one of its most important areas of action: to promote an

active role within elder people in order to generate social transformation. For the last two years, Amaia Cilveti has led

a solidarity program based on volunteer elderly people that approach new technologies to young people at penitentiary

centers.

2011 Doing Good and Doing Well

53
---
Panel Speakers

Josep Maria Corbinos – Director General, La Fageda

Josep Maria Corbinos (Barcelona 1958) es licenciado en Ciencias Económicas y Actuariales

por la Universidad de Barcelona. Hasta el año 1993, en el grupo asegurador y

financiero suizo Winterthur fue director de Organización, de Marketing Estratégico y de

Planificación. Entre el 93 y el 2003, trabajó en Atlantis Seguros. filial de los grupos mutualistas franceses MAIF y

MACIF y del italiano UNIPOL, empresa aseguradora de la economía social, que opera a través de acuerdos con organizaciones

como ABACUS, Asociaciones de Vecinos, sindicatos, etc. Como Director de Desarrollo, se encargó de

su implantación en España.

Desde el año 2003 es el director general de La Fageda, proyecto empresarial y social dedicado a la integración

laboral de personas con discapacidad psíquica o enfermedad mental crónica de la Comarca de La Garrotxa. Actualmente

con 270 persones y 6 actividades económicas: Vaquería, Planta de producción de postres lácticos, Planta

de producción de Helados, Vivero de planta de reforestación , Artesanía y Jardineria. Desde su fundación en el año

2004 es Consejero de CLADE, primer grupo cooperativo catalán.

Ha hecho compatible sus responsabilidades ejecutivas con la pasión por la formación y la consultoría dirigida a

directivos, especialmente en el sector de la economía social, en el que actualmente asesora a varios centros especiales

de trabajo.

Adelaide Cracco, Manager, Finaves

Adelaide Cracco is Managing Director of Finaves, center at IESE that manages various

seed capital investment funds which provide IESE alumni with financing for their new

business ventures. Adelaide Cracco has developed most of her career in private equity

and corporate finance having worked at the Interamerican Investment Corporation and the Clairfield Partners

Group. More recently she has also participated in the start up of a social entrepreneurship venture focusing on the

development of economic housing in Africa promoted by Renta Corporación, the World Bank and Morgan Stanley.

Adelaide holds an MBA from IESE and a Bachelor's Degree in Economics and International Relations from the Université

de Louvain.

54 IESE Business School
---
Panel Speakers

Ignasi Cubiñá – Founder Member and Director, EcoIntelligentGrowth

Ignasi Cubiñá is a founder member and director of EcoIntelligentGrowth.

A biologist by training, he boasts with fifteen years' experience in the business world,

in the food and pharmaceutical ingredients sector. Restless by nature, Ignasi has decided

to dedicate his time and efforts to developing a new relationship with the natural

environment. He was founder and creator of the gourmet olive oil company Avieno and is a lover of terroir

cuisine.

He's dedicated nowadays, along with EIG's team, to catalize Cradle to Cradle industrial revolution throughout

Western Europe.

He's been lecturer in several Universities & Business schools (UAB, UADE, IESE, Pompeu Fabra, among others)

as well as invited speaker in conferences in Europe and America.

Chris Daniels - Head of London 2012 Activation, Wholesale Division - Lloyds TSB

Chris Daniels is Head of London 2012 Activation for the Wholesale division of Lloyds

Banking Group. This division covers all companies, ranging from sole traders to multinationals,

and also includes the Capital Markets team and trading floor. The role covers

business development, as well as both employee and client engagement.

An Oxford mathematics graduate with an MBA from IESE Business School in Barcelona, Chris was most recently

Head of Financial Institution Sales & Business Development in Bank of Scotland Treasury. Prior to that he spent a

period in Lloyds TSB Corporate Markets Sales and 6 years in Barclays Capital Structured Capital Markets, Corporate

Risk and Derivatives sales, covering the financing and risk management needs of a range of clients.

Prior to joining the Banking industry Chris was an Officer in the Parachute Regiment for 5 years, an Expedition

Leader and Youth development facilitator for the Prince's Trust. His passion for sport and the Olympics is ably demonstrated

in his selection as Athletes Services Manager for the Modern Pentathlon event at the Sydney Olympics

in 2000, his current participation in the UK Over-40's athletics team, his athletics coaching qualifications and his

chairmanship of the Oxford University Cross Country Club alumni organisation. Chris has Full Blues in both athletics

and cross-country, and captained the Oxford University cross-country team in the Centenary Varsity Match year.

He currently runs for Thames Hare and Hounds.

He is married with 2 young boys.

2011 Doing Good and Doing Well

55
---
Panel Speakers

Antonio Dávila – Professor of Entrepreneurship and Accounting & Control – IESE

Antonio Dávila is professor of entrepreneurship and accounting and control. Furthermore,

he is the head of IESE's Department of Entrepreneurship. From 1999 to 2006,

he was part of the faculty at Stanford University's Graduate School of Business, where

he still teaches periodically.

Prof. Dávila earned his Ph.D. from Harvard Business School and his MBA from IESE. His teaching and research

interests focus on management systems in entrepreneurial firms, new product development and innovation

management, and performance measurement.

In 2005, he was awarded IESE's Research Excellence Award. He was also granted the Ramón y Cajal Scholarship

awarded by the Spanish government (2004). Other prizes and awards he has received include the Carlos

Cubillo Valverde Accounting Research Paper Award (2003), the Management Accounting Section of the

American Accounting Association Best Dissertation Runner-Up Award (1999) and the McKinsey Best Paper

Award from the Strategic Management Society (1998).

Prof. Dávila is co-author of Making Innovation Work: How to Manage It, Measure It, and Profit from It (2006)

and Performance Measurement and Management Control Systems to Implement Strategy (2000). He has also

edited a third book, The Creative Enterprise (2007). He has contributed several book chapters and published

various research articles in academic journals including The Accounting Review, Accounting Organizations

and Society, Journal of Accounting and Economics, Research Policy, and Harvard Business Review.

Teshome Dayesso – Founder and CEO, Buusaa Gonofaa MFI

Teshome Dayesso is the founder and CEO of Buusaa Gonofaa MFI in Ethiopia, where

he has spearheaded the designing and implementation of a social performance management

system for which he was awarded the European Microfinance Award in 2008.

Teshome has also worked with rural communities on-the-field and holds a degree in Business Management from

Addis Ababa University.

56 IESE Business School
---
Panel Speakers

Maarten de Jong – Head of Investor Matchmaking Department, Business in Development Network

Maarten de Jong heads the investor matchmaking department of Business in

Development Network. This Dutch organization works with local partners in 17

emerging economies to assist entrepreneurs in starting and growing their small

and medium sized enterprises. Entrepreneurs make themselves visible at an online platform, they receive

constructive feedback on their business plan and they can get individual business coaching. BiD Network's

most qualified entrepreneurs are actively matched to investors. Maarten de Jong built up an international

network of investors specifically targeting these SMEs and he works closely with the local partners in setting

up and running their own investor matchmaking activities.

Miquel de Paladella – Executive Coordinator, Global Movement for Children& Co-Fouder 1x1 Microcredit

Miquel de Paladella, (Barcelona, Spain) is the executive coordinator of the Global

Movement for Children (GMC). Launched by Nelson Mandela and Graça Machel

in 2000, the GMC brings together some of the world's largest child-focused organizations

in an informal and action-oriented partnership to advocate and lobby for

children. Plan International, Save the Children, UNICEF and World Vision among others are leading the

GMC campaigns focused at reducing child mortality, promoting quality education for all or protecting children

affected by AIDS. Previously, Miquel worked for the Society for International Development (SID) based

in Rome, initially as Regional Director for Latin America, and as Director for External Relations and Communications

later on. He was one of the leaders of youth and student movements involved in sustainable

development and social justice. Miquel is an active advocate for social justice and community-led development

and has written extensively on development, civil society, education and citizenship. He is also the cofounder

of an innovative microfinance NGO, 1x1microcredit.org.

2011 Doing Good and Doing Well

57
---
Panel Speakers

Francisco Javier de Rocafort – Chairman, Quimera Project

Mr. Rocafort is currently the Chairman of Quimera Project. He is also Strategic Advisor

at Banque Privée Edmond de Rothschild and CEO of two multi-family offices,

Balmoral Capital Partners and Corporalia Investments. He is also a board member

of different companies. He has broad experience in the wealth management industry, being former Senior

Vice President of Private Banking at Banco Santander, former General Manager of Corporate Advisory

at BNP-Paribas and former A&G Corporate CEO (Banque Cantonale de Vaud). He has worked in several

countries (US, Switzerland, Spain, Andorra and UK).

Jack De Bokx - Senior Director for Europe, Middle East and Africa, Johnson and Johnson

Jack has worked in various large organizations as Environmental, Health and Safety

Manager and worked as a Quality Systems consultant and trainer. He started his

career at Johnson and Johnson in 2000 as Worldwide Unit Manager Environmental

Affairs. In 2004 he became EHS Manager for Europe within the Orthopaedic Business

unit of J&J – and became Worldwide Director EHS for this unit in 2006. In 2008 he joined the corporate

Environmental, Health and Safety organization at Johnson and Johnson as Senior Director for Europe,

Middle East and Africa and combines this role currently with leading the regional EHS and Sustainability activities

in the Pharmaceutical business unit and coordinating the European sustainability activities within the

Consumer business unit. He is also the Global Champion for the Office Environmental, Health and Safety

programs within J&J.

Jack is married with three children and has an MSc in Integrated Total Quality Management from the University

of Bradford (UK) and an MBA from the School of Management in Bradford (UK).

58 IESE Business School
---
Panel Speakers

Alberto Durán López – President, Fundación ONCE

Alberto Durán López, presidente de Fundación ONCE, nació en El Ferrol (La Coruña),

es licenciado en Derecho por la Universidad de Navarra y realizó un Master

en Economía y Dirección de Empresas (MBA) en el IESE. En 1996 comenzó su actividad

en el grupo de empresas de Fundación ONCE (Fundosa) como analista de

nuevos proyectos de participación empresarial y coordinador de los proyectos de consultoría externa.

En 1999 fue nombrado gerente de Empresas Participadas del Grupo Fundosa; en 2002 pasó a ser director

general adjunto de Fundación ONCE, y a finales de ese mismo año asumió la Dirección General. Desde

diciembre de 2003 era vicepresidente primero ejecutivo de Fundación ONCE y del Grupo Fundosa.

Ha sido miembro de la Junta Directiva de 'Workability Europe', red internacional de empresas y entidades

que dan empleo a 400.000 personas con discapacidad en el entorno europeo, y forma parte del Grupo de

Expertos en Responsabilidad Social de la Empresa creado por el Ministerio de Trabajo y Asuntos Sociales.

Marcos Eguiguren - Partner and Board Member, Grupo Empresarial Inmark

Marcos Eguiguren (51), PhD, Partner and Member of the Board of Directors of Grupo

Empresarial Inmark, S.A. international group of consulting and professional services,

specially focused in providing services to the banking industry in Spain and Latin

America. Marcos is also the only Spanish member of the Supervisory Board of Triodos

Bank NV, the world leading bank in sustainable and ethical banking, that was awarded the Financial Times

prize 2009 as the most sustainable bank in the world. He has published articles and books on his areas of expertise.

Marcos is currently professor of Business Administration at Universitat Politècnica de Catalunya.

Bachelor in Economics, Universitat de Barcelona, he also got postgraduate degrees in Business Administration,

Universidad Politécnica de Madrids and IT and Business Management, Universitat Politècnica de Catalunya.

In 2000, Marcos got his PhD in Business Administration, Universitat Politècnica de Catalunya with a Thesis

on the profitability of intangible investments, specially focused in Training and HR investment in large corporations.

He has written many articles and essays in both Spanish and foreign publications on organization, management

and the economy of training and development. He has leaded organizational and financial consulting

international projects for large banks and corporations.

In the past, Marcos had been an executive in international banks and consulting firms both in Spain and

abroad. He had been a professor in organization and finance in several schools such as Les Heures–Universitat

de Barcelona, Idec–Universitat Pompeu Fabra and Escola Superior de Comerç Internacional–Universitat

Pompeu Fabra.

2011 Doing Good and Doing Well

59
---
Panel Speakers

Charles Elazar - Sales Engineer, Manager for Latin America and Manager for South East Asia, GE Energy

Charles attended the Ecole Polytechnique of Montreal, Canada and graduated with a B.S.

Degree in Mechanical Engineering in 1980. He then joined GE's GEDP Program and had

assignments with GE Energy in different departments related to Hydro Turbine. Charles

obtained a diploma in Management from McGill University in Montreal Canada in 1982. From 1980 to 1989, he

worked in Engineering, holding different position from development to design, before moving in 1989 to International

sales.

Charles held positions as Sales Engineer, Manager for Latin America, Manager for South East Asia including an assignment

for 3 years in Asia (Kuala Lumpur – Malaysia) covering North and South Asia.

In 2000, Charles became the E-Business leader for GE Hydro, before moving to Europe in early 2001 for GE Industrial.

In Europe, he managed the International Business. In 2003, he led the Utilities and Key Accounts and in June

2004 he began leading the Industrial Channel (Vertical Markets, Projects) for Consumer & Industrial – Europe. In

2006 he took responsibility for Southern Europe (France, Spain, Portugal, Italy and North Africa), for all industrial

products.

In 2009, he took responsibility for Marketing and Strategic accounts for Europe, Middle East and Africa.

Ana Estenssoro - Social Business Program Coordinator, Ashoka

Currently coordinates Social Business Program for Southern Cone, she is involved

with Ashoka since 5 years ago, articulating key actors and creating critical tools to

develop Social Enterprises. In 2008 she organized the first round Social Inventors'

Round Table in Argentina. Worked launching Hybrid Value Chain concept in Argentina

and had a key person launching this initiative in Brazil. She is Executive Director of Inclusive Business

Center – Torcuato Di Tella University. Transforming ideas into ventures was her passion during 15 years,

when she decided to transfer her experience and knowledge in business to the civil society, first in Fundapaz

and afterwards in HelpArgentina. Formed in Economy in UCA (Universidad Católica Argentina) and

updated her studies at IAE Business School.

60 IESE Business School
---
Panel Speakers

Ignasi Fainé De Garriga – CSR Director, Agbar

Ignasi Fainé De Garriga is 32 years and of Spanish origin. He obtained a Degree in Business Administration

in 2000 and was a Sufficiency researcher at the University of Barcelona 2003. He completed his MBA in

2006 at IESE.

Ignasi has developed his professional career in Agbar: first in a finance position and later in the strategy

area, always in relation with CSR.

Ignasi has been in charge of Agbar´s corporate reputation as the Deputy Director of institutional relations

and corporate reputation. At present, he is the CSR director. He is member of the executive committee of

Global Compact Spanish network and Foro de Reputación Corporativa. He is also member of the CSR committee

of Fundación Carolina, 22@network, Foment del treball, Global ecoforum, Colegio de censores jurados

y cuentas de Cataluña, Asociación Española de empresas de Abastecimiento y Saneamiento (AEAS).

Joel Feldschuh – CEO, Nesher Israel Cement Enterprises

Joel Feldschuh is currently Chief Executive of Nesher Israel Cement Enterprise Limited.

From 2000 to 2003 he was CEO of Ganden Technology. From 1996 to 2000,

CEO of El Al Israeli Airlines. Prior to them, CEO of Champion Motors (VW Group import

ship in Israel).

Pedro Fernandez – Regulatory Affairs Manager, BAT

Pedro Fernandez was born on January 23rd 1975 in Madrid. He studied Business Management & Administration

in ICADE (1998) and has a Master in Marketing and Commercial Management from ESIC (2000).

After graduating from university he joined BP Oil España in a summer internship in 1998. He actively participated

in the coordination of several corporate projects. He managed relationships with insurance companies

and looked after cash optimization and forecast in Finance department. He moved to BP Gas España

in 2000, leading customer management and invoicing set up in the creation of the natural Gas commercialiser

of BP in Spain. He later took care of relations with the network & market operators (REE & OMEL)

related to the pilot power commercialiser created as a complement for the Gas core business.

In 2005 he moved back to BP Oil España as Business Development Manager where he led the bio fuels

implementation for BP in Spain, representing the company in Sector Associations and liaising with EU and

Spanish Governments in the development of National Renewable Energy Plan and related regulation. In

2010 he was appointed Press officer & Regulatory Affairs Manager BP Oil Spain.

In June 2010, he joined British American Tobacco (BAT) as Regulatory Affairs Manager for Iberia, leading

BAT regulatory engagement for Spain, Portugal, Canary Islands and Andorra's tobacco market.

Pedro is married and has three daughters. He loves opera and classical music, is an amateur photographer,

has a passion for airplanes, is a keen scuba diver and enjoys surfing the sky with his telescope.

2011 Doing Good and Doing Well

61
---
Panel Speakers

Orlando Ferreira – Chairman, Committee of Executive Directors, IIC

Mr. Orlando Ferreira manages the corporate strategy, development effectiveness

and information technology areas. He joined the IIC in 2006 from the World Bank,

where he worked as a consultant, and the Inter-American Development Bank,

where he served in a variety of positions including Executive Director and Chairman

of the Committee of Executive Directors of the IIC. He joined the IDB after 17 years of experience in Paraguay's

construction and financial sectors, and 8 as professor of management and capital markets at Universidad

Nacional de Asunción (UNA).

Mr. Ferreira completed his undergraduate studies in economics at UNA. He earned an MA from Universidad

de Santiago de Chile. He holds graduate certificates in Economics and Business and an MS in Finance

from George Washington University in Washington, D.C.

Ramón Folch Soler – Director Responsabilidad Social Corporativa, ISS Facility Services

Ramon has been the director of corporate social responsibility at ISS since April

2007. He is also Director of the Fundación Una Sonrisa Más and Vice President of

the Federation of Special Employment Centers of Ontario. Institutional Representative

Gelim EEC, SA (Six special employment centers in Spain). From 2005 to March

2007 he was Manager of the Major Accounts Division services in Catalonia. From 2003 to December 2004

he was the Manager of the Commercial Cleaning Division in Catalonia. From 2001 to December 2002 he

was Director of Quality, Education & Prevention. From September 1999 to December 2000 he was Manager

of the Division of Hospitals in Catalonia. In June 1999, ISS Group bought Neca. Between January

1996 and June 1999 he represented NECA Group in Catalunya. Between February 1983 and December

1995 he worked as Production Manager responsible for purchasing for the NECA Group. In 1983 Group

NECA, NECA Group, SA a cleaning company was formed, out of two companies: Neca, SA and the Special

Employment Center Gelim, SA. From 1978-1982 Ramon was Technical Director Polígons Company, a

subsidiary of Union Bank(50%) and General Mediterranean Foundation (50%) a company dedicated to the

promotion of residential buildings, housing estates and industrial estates.

62 IESE Business School
---
Panel Speakers

Prof. Joan Fontrodona – IESE Business School

Joan Fontrodona is Associate Professor and Head of the Business Ethics Department

at IESE Business School (Barcelona, Spain) and Academic Director of IESE's

Center for Business in Society. He holds an MBA and a doctorate in Philosophy.

He has been Visiting Professor at Francisco Marroquín University (Guatemala) and

at McCallum Graduate School of Business (Bentley College), Visiting Fellow at Harvard Business School,

and Visiting Scholar at the Center for Business Ethics (Bentley College). He is Chairman of EBEN-Spain (the

Spanish Association of Economic and Management Ethics), Member of the Academic Board of the European

Academy of Business in Society (EABIS), Associate Researcher of the Instituto Empresa y Humanismo

(University of Navarra), Member of Forética, and former Member of the Executive Board of the Spanish Association

of the Global Compact (ASEPAM). His main areas of research and teaching are business ethics,

corporate social responsibility, ethical and anthropological foundations for management, and social and political

trends in management. He is the author and co-author of several books and articles on these topics,

as well as member of editorial boards and reviewer of several specialized journals in the field of business

ethics and corporate social responsibility.

Jeremie Fosse – Co-Founder and Partner, Ecodigma

Jeremie Fosse is president and co-founder of eco-union, an environmental NGO,

and director of the Global Eco Forum, an international multi-stakeholders conference

about environmental sustainability and eco-innovation. He is also researching

and teaching at the Social Innovation Institute of Esade Business School on Business

& Society (Msc) and Global Context of Management (MBA) courses, having published recently the

study "Business Going Green". He is co-founder and partner of Ecodigma, a strategy consulting company

on corporate sustainability.

2011 Doing Good and Doing Well

63
---
Panel Speakers

Patricia R. Francis – Executive Director, International Trade Center

Patricia R. Francis, an award-winning leader and business facilitator, joined the International

Trade Centre as Executive Director in June 2006.

ITC is a joint agency of the United Nations and the World Trade Organization that

enables small business export success in developing countries. It provides, with its

partners, trade development solutions to the private sector, trade support institutions and policymakers.

During her tenure at ITC she has implemented a change management strategy to build common values and

strengthen key management functions. ITC has defined and restructured itself around five new business

lines, and extensive consultation has led to a stronger Strategic Framework.

Ms Francis comes to ITC from Jamaica Trade and Invest, where she served as President since 1995. She

was also a member of Jamaica's Cabinet Committee for Development. During her tenure Jamaica attracted

more than US$ 5 billion in foreign direct investment.

She served twice as President of the World Association of Investment Promotion Agencies. She has chaired

Organization of Economic Cooperation and Development's Caribbean Rim Investment Initiative as well as

the China-Caribbean Business Council.

She has received awards from the Washington D.C. based Caribbean-Central American

Action Council and from the King of Spain for her leadership and support for investment and business advocacy.

Anne Gaboury - President and Chief Executive Officer, Développement international Desjardins (DID)

Anne Gaboury is President and Chief Executive Officer of Développement international

Desjardins (DID).

Founded 40 years ago, DID is a component of the Desjardins Group and provides

support to financial institutions in numerous countries in Africa, Latin America, the

Caribbean, Asia and Eastern and Central Europe. DID specializes in technical support and investment in

the area of community finance. With over 100 employees of which 30 % are posted overseas, DID works

in partnership with the Canadian International Development Agency, Gates Foundation, the Government of

Quebec, the World Bank and other multilateral organizations.

Before her current position as president and CEO, she had been in charge of the development and management

of DID's instrumentation. She has contributed to the documentation of DID's operating methods and to the refining

of the institutional positions of the organization, thus facilitating the sharing of knowledge with DID partners.

Anne Gaboury holds a Master's degree in psychology and a Master's degree in Business Administration

(MBA) degree. Since 2009, she also is a chartered director (administrateur de société certifié).

In addition to her responsibilities as DID's President and CEO, she chairs the Institut québécois des hautes études

internationales of Laval University. She has been a board member of the Canadian Council on Africa (CCAfrica) and

chaired the Development Committee of the International Cooperative and Mutual Insurance Federation (ICMIF) for

the last four years.

64 IESE Business School
---
Panel Speakers

Eloy B. Garcia – Professor of Finance and Strategy, IE Business School

On 2007, Eloy Garcia retired from the Inter-American Development Bank (IDB) in

Washington. His last position there was that of Treasurer of the institution which he

occupied during the last seven years. He joined the IDB on 1971 as an Operations

Officer and assumed different roles during the 26 years he stayed in the institution as Bank's Representative

in UK, Advisor to the Finance Manager and Chief of the Cashier's Division, between others, and in May

2000 he was appointed Treasurer of the IDB.

In addition to his duties at the Inter-American Development Bank, Mr. Garcia taught, and continues to

teach, graduate students for the past 25 years. He is a professor of International Finance Markets and Development

Finance and Banking at American University in Washington, D.C., and of Financial Management

and Fixed Income at the Carey Business School of Johns Hopkins University. He is an occasional professorial

lecturer of Fixed Income Management at the McDonough School of Business at Georgetown University.

He has been a visiting professor at the Instituto de Empresa (IE) Business School in Madrid, Spain since

2006. He is a member of the International Advisory Board of the Cass Business School at the City University

in London from 200 to 2009 and currently is a member of its MBA program Board. He is a member of the

Faculty Board of the Institute for Financial Inclusion of Acción International in Washington, D.C. and one of

the founding members of Financieros Sin Fronteras IE Students Association.

Patrick Klaus Gasser – Head of FSR unit, UEFA

Patrick Gasser heads UEFA's Football and Social Responsibility (FSR) Unit. He

joined UEFA in 1999, when he began working in the National Associations Division,

supporting football development in Eastern Europe.

Before coming to UEFA, Patrick worked for thirteen years at the International Committee

of the Red Cross (ICRC), both in the field and in the Human Resources Department at the headquarters

in Geneva. He worked in areas affected by conflict in Africa, Asia and Europe where he had a broad range

of responsibilities that included directing relief and protection operations and managing media contacts.

Patrick graduated from the School of Economics and Business Administration in Lucerne and later also

earned a post-graduate degree in Human Resources. He obtained a certificate in Human Resources Management

from the University of Geneva and a diploma in Sociology, Politics and Management of Sports from

the University of Lausanne. He just graduated from a course in Advanced Studies in Corporate Social Responsibility

at the University of Geneva, class of 2010. Patrick is married and has two children.

2011 Doing Good and Doing Well

65
---
Panel Speakers

Vivian Gee – Head of Asia, Schwab Foundation for Social Entrepreneurship

Vivian Gee is Head of Asia at the Schwab Foundation for Social Entrepreneurship,

as well as Associate Director at the World Economic Forum. She is responsible

for selecting leading social entrepreneurs in Asia, and identifying opportunities

for them to engage with global decision makers. Vivian's prior work experience

includes product management and product marketing in the technology sector, as well as strategy and IT

consulting. Vivian has also consulted for non-profits, social enterprises, and small/medium enterprises in

South Africa, India, the United States, as well as Indonesia. During her time in Jakarta, Vivian spearheaded

and customized a consulting program for local business owners. Vivian holds an MBA from INSEAD in addition

to Bachelors and Masters degrees in Industrial Engineering and Engineering Management from Stanford

University

Ramon Giró – Director, Fundacion Seeliger y Conde

Licenciado en Historia Contemporánea por la Universidad de Girona. Posgraduado

en Cooperación al Desarrollo por CIDOB y en Resolución de Conflictos por

la Cátedra UNESCO. Ha desarrollado su carrera profesional en el ámbito de la responsabilidad

social corporativa, la inserción laboral y la diversidad. Trabajó en el

departamento de Organización de Campañas en el Secretariado Internacional de Amnistía Internacional en

Londres del 2000 al 2002. En el 2002 se incorporó como responsable de la política de Responsabilidad Social

Corporativa del grupo Manpower, convirtiéndose posteriormente en responsable de su Fundación. En

el 2006 fundó Diversity, empresa especializada en la consultoría estratégica en Diversidad y Discapacidad.

En el 2009 se incorporó como director de la Fundación Seeliger y Conde aportando el proyecto Diversity a

la compañía.

Sobre la Fundación Seeliger y Conde:

Fundación Seeliger y Conde se constituyó en febrero de 2009, con el fin de fomentar la integración laboral

de personas con diversidad funcional promovida por Seeliger y Conde, empresa lider en españa, en

busqueda de directivos y consutoria de recursos humanos. En noviembre del mismo año, se integra a la

Fundación la consultoría Diversity, especializada en el asesoramiento empresarial en temas de discapacidad.

A partir de ese momento, la Fundación desarrolla el programa Diversity, que aglutina todas sus actividades,

con el objetivo de convertirnos en la consultoría de referencia para el mundo empresarial.

66 IESE Business School
---
Panel Speakers

Yvette Go - Investment Manager, SET Venture Partners

Yvette is Investment Manager at SET Venture Partners B.V. Her focus is on companies

in the areas of biomass, biofuels, waste-to-energy, energy efficiency, hydrogen

and fuel cells. She serves on the Boards of O-Flexx Technologies GmbH and Photo-

Solar A/S.

Before joining SET Venture Partners, Yvette was the global Product Portfolio Manager of DSM Powder Coating

Resins. She has worked with DSM, the multinational in Life Sciences and Materials, for over 8 years,

during which she held various positions. As Key Account Manager for the Business Unit DSM Desotech,

active in fiber optic coatings, she managed the commercial and technical customer interface for the Unit's

third largest global account, as well as mid-sized and smaller accounts in the Western European region.

Preceding that, she was responsible for the procurement of a diverse package of chemicals and raw materials,

ranging from bulk to highly specialized chemicals, as Senior Purchasing Officer at DSM's central Purchasing

department.

In 2004, Yvette represented DSM on the Young Managers Team (Future Leaders Team) of the World Business

Council for Sustainable Development. There she led the sub-team that focused on capacity building

for and promotion of Sustainable Business in China.

She started her career at Shell International Chemicals in Louvain-la-Neuve, Belgium, as Research Associate

for flexible polyurethanes. During the final years of her engineering studies, Yvette specialized in biotechnology

and polymer science. During her studies, Yvette was tutor for a subject called "Chemistry and

Society" where she instructed and supervised groups of students in their awareness pursuit of the societal

and environmental implications of chemical industrial activity.

Yvette holds a Masters degree in Business Administration from the Global Executive MBA program at IESE

Business School, Spain and a Masters degree in Chemical Engineering from Delft University of Technology,

The Netherlands.

2011 Doing Good and Doing Well

67
---
Panel Speakers

Prof. Lauro Gonzalez – Head of Center for Microfinance Studies, FGV-EAESP

Lauro Gonzalez is Professor of Finance at FGV-EAESP and head of the Center for

Microfinance Studies at the same institution. He holds a PhD in Economics from

FGV-EESP. He was a Visiting Scholar at Columbia University in 2004. He was also

a fellow of the Microfinance Management Institute (MFMI) in 2005. His main research

areas are Microfinance and Credit Markets.

His recent projects include: Banking and Microfinance in Brazil, Sponsored by the Institute of Money,

Technology and Financial Inclusion at University of California at Irvine (UCI-IMTFI)-2010-2011. Analysis

of Branchless Banking in Brazil, Joint research with CGAP, Sponsored by CGAP/World Bank- 2010. IDRC

Project: "The role of ICT based bank channels in improving microcredit: learning from the Brazilian experience

Impact", Sponsored by the International Development Research Centre-Canada- 2009-2010. Social

capital and microenterprise credit: the case of the Community of Jaguare.

His recent articles are: Challenges for Inclusive Finance Expansion: the case of Crediamigo, a Brazilian

MFI, Academy of Management , 2011. Just accepted to be published at Management International. Sinergy

between microinsurance and microcredit in Brazil. Brazilian Journal of Risk and Insurance

Ricardo Gravina - Co-Founder and Director of Sales and Public Relations, Aoka

Ricardo holds a post-graduate degree in Marketing and has developed his expertise

through extensive sales experience in the for-profit sector. He has a profound love

for travel, which has led him to explore many countries such as Bolivia, France,

Italy, New Zealand, Turkey, the United States, Uruguay, and South Africa. In his

travels, he always sought to understand the local reality and its similarities and differences compared to his

own culture. Ricardo's window into the varied issues and challenges of these places left him restless with an

aspiration to create something that would really make a difference in people's lives. Combined with a strong

inclination for entrepreneurship, he spent many years searching for an ideal and sustainable model that

would calm his unrest. The conception of Aoka was the perfect union of all his wishes: to travel, to engage

and to help.

68 IESE Business School
---
Panel Speakers

Tony Greenham – Head of Finance, New Economic Forum

Tony Greenham is Head of Finance and Business at nef (the new economics foundation)

where he runs the programme of research into financial sector reform and

innovations in sustainable business. He brings to this role his varied experience as

an investment banker, commercial accountant, small business proprietor and sustainability

consultant.

He is a member of the UK Government's Regional Growth Fund Advisory Panel as well as holding non-executive

roles at Transition Network, the grassroots-led community response to climate change and peak oil,

the Finance Lab, a joint finance system reform initiative by the World Wide Fund (WWF) and the Institute of

Chartered Accountants in England and Wales (ICAEW), and at Slow Food International, the global sustainable

food movement.

After qualifying as a Chartered Accountant with PricewaterhouseCoopers, he worked in UK Equity Capital

Markets, first with Barclays Bank and then with Credit Suisse, where he advised household names such

as Sky, GlaxoSmithkline and Debenhams. Prior to joining nef, Tony was working with the Transition Towns

movement.

Vinay Gupta – Founder, Whipcar

Vinay Gupta has been a digital media strategist and consultant working with brands such as Fleming Media,

MySpace, Emap, Vue Entertainment and the Abu Dhabi Media Zone. Vinay holds an MBA from London

Business School and has held senior travel management positions at American Express and AT&T.

2011 Doing Good and Doing Well

69
---
Panel Speakers

Malcolm Hayday – CEO, Charity Bank

Malcolm Hayday, FRSA, is the Chief Executive of The Charity Bank Limited, the

UK's first general charity to be authorized as a bank. He was previously the Director

of Community Finance at CAF (Charities Aid Foundation) and Director of

CAF's social investment loan fund, Investors in Society. He is a Board Member of INAISE, the International

Association of Investors in the Social Economy, a global network of social investment institutions, having

served as its President in 1997-2001. He was a Trustee of The Big Issue Foundation in 2000-2007 and

was elected its Chairman in 2003. From 2002 to 2003 he was a founding Board member of the Community

Development Finance Association (CDFA). He was also a member of the Advisory Group of global foundation

leaders to the World Economic Forum. Malcolm is a member of the International Advisory Committee of

NESsT, the non-profit enterprise and self-sustainability team, and the Advisory Group for NCVO's Sustainable

Funding Project. He is a Fellow of the Royal Society for the Arts. Malcolm has more than 30 years of

experience in business finance. He graduated from Exeter University in 1972 with a BA Hons. in Economics.

After university, he assumed progressively senior positions with City financial institutions. From 1987 he

concentrated on finance for small and medium sized businesses. He joined CAF in 1993 to establish the

loans service for charities. He was a member of the advisory group to the Small is Bankable report from the

Joseph Rowntree Foundation (1998); the advisory group to the Development Trusts Association on asset

based development (1998-9); the SEEDA social capital fund study group (2000); and the working group

on social investment in Scotland which led to the development of Social Investment Scotland. He was also

a member of the Arts Council of England national steering group on new financial instruments.

70 IESE Business School
---
Panel Speakers

Jo Hill – Manager of Advantage Team, UnLtd

Over the last 12 years, Jo has worked on a diversity of social change projects,

managing national and international programmes at Save the Children, the new

economics foundation, One World International and Make Your Mark.

At UnLtd, Jo has worked in the Ventures team for two years, identifying ambitious social entrepreneurs and

providing tailored support to help them develop their social ventures.

Jo has also set up her own business called Open Gym which is a network of outdoor fitness groups and was

a winner of the Open Ventures Challenge 2009.

Catalina Hoffmann – Founder, Vitalia

In 2004 Catalina Hoffmann opened the first Vitalia day centre in Madrid, based on

her professional training and experience of working with the elderly and inspired by

her realization that there was a growing need, in the geriatric sector, for day centres

offering specialized care and treatment to senior citizens.

Vitalia introduced a new system of individualized care and attention for older people, the Hoffmann Method.

Developed by Catalina Hoffmann, the method analyzes the circumstances of each person, and tailors their

needs to an intervention programme. The scientific copyright to the Hoffmann Method has been included

in the Intellectual Property Register. The result is that today Vitalia has more than thirty franchises in Spain

and is in process of internationalization.

Catalina Hoffmann holds an Executive Development Program degree from IESE Business School, University

of Navarra, has studied medicine at University of Navarra and is Occupational Therapist. She is member of

the AMADE (Asociación Madrileña de Atención a la Dependencia), as well as member of the Consejo Editorial

Grupo Senda and belongs to the Top Ten Consejeras Delegadas.

2011 Doing Good and Doing Well

71
---
Panel Speakers

Carlos Hornstein – Founder and Managing Director, Global Play Foundation

Carlos P. Hornstein holds a Master´s Degree in Industrial Engineering (1992 - Universitat

Politècnica de Catalunya, Spain) and a Masters in Business Administration

(2005) from Goizueta Business School (Emory University, Atlanta USA).

He works as Director of Business Development for the Executive Education Division at IESE Business

School (Barcelona, Spain) and is responsible for the Latin American and African regions. He also manages

the delivery of two top executive programs at CEO level and the relationship with the associated schools in

both continents.

Carlos P. Hornstein is Founder, President and Managing Director of the Global Play Foundation, a non-profit

organization dedicated to improve the quality of life of children in developing nations. He is also a Founding

Member of Global Impact, a consulting company which aims primarily to inspire companies to introduce

"corporate responsible" and "sustainable" practices in their organizations. He has worked with state-owned

agencies such as Agencia Española de Cooperación Internacional al Desarrollo (aecid) and Agència Catalana

de Cooperació al Desenvolupament (ACCD) as well as private companies such as "laCaixa", MRW,

Puig, Reale Seguros and Renta Corporación. Thanks to the support of these entities and others and private

individuals the organization has been able to construct four schools in Mali (Africa) giving access to more

than 3,000 kids to a better education.

In the past, he worked for more than ten years for Siemens Power Generation Group (Germany, Malaysia,

USA) and for Lutron Electronics (Spain) as a Sales Director, and travelled to more than 50 countries in all

five continents.

He has extensive sales experience, speaks five languages fluently, and loves photography, sports and travel.

He lives in Barcelona.

Gijsbert Huijink – Som Energía

Gijsbert Huijink started his professional career as an entrepreneur in Romania,

setting up and managing a variety of companies. Currently he is working as a professor

of environmental economics and as a researcher on CSR at Universitat de

Girona, Spain. One year ago he initiated, together with other professors and students,

the set up of Som Energia sccl, the first renewable energy production and consumption cooperative

of Spain.

72 IESE Business School
---
Panel Speakers

George Jagoe – Executive Vice President, MMV

George Jagoe is the Executive Vice President for Global Access at Medicines for

Malaria Venture (MMV), a position he has held since August 2008. In this role, he

is responsible for leading the team that collaborates closely with MMV's partners to

assure that medicines co-developed by MMV can be accessed by and have maximum impact on patients

who need them.

Just before joining MMV, George worked with AstraZeneca Spain for two years in the sales and marketing

of oncology and CNS products. Prior to that, he had been the first country director for the Clinton Foundation's

HIV/AIDS Initiative in Mozambique, where he helped coordinate that organization's support for the

first national scale up of ARV treatment. Before joining CHAI, his work experiences include healthcare consulting

(Chapterhouse), health system management (Kaiser Permanente, Aetna International), and microfinance

development (ACCION International).

He holds an MBA from Kellogg and an undergraduate degree from Harvard University. He organized the

1996 Students for Responsible Conference in Chicago while in his second year at Kellogg.

James M. Jones – Manager of Global Development Program, Exxon Mobil Foundation

Jim Jones is manager of global development programs for the Exxon Mobil Foundation.

In this capacity, he oversees the ExxonMobil Malaria Initiative as well as the

Women's Economic Opportunity Initiative.

He is formerly Senior Vice President at APCO Worldwide's Washington DC headquarters, where he counseled

Fortune 500 companies on corporate citizenship and global health activities.Prior to work in the

private sector, Jim served as Vice President of the Children's Defense Fund in Washington, DC, and as the

founding Executive Vice President of The Vaccine Fund, now known as the GAVI Fund, initiated by the Bill

& Melinda Gates Foundation. GAVI's mission is to immunize all of the children in the world's poorest 75

countries.

For a dozen years, Jim served in various capacities in the U.S. Congress, including director of communications

and policy to Senator John F. Kerry of Massachusetts. During these years in public service, Jim became

known as a strong proponent of increasing federal funding for AIDS, tuberculosis and malaria prevention,

research, treatment and care, and other global health causes.

Jim attended Georgetown University as an undergraduate and he holds graduate degrees from Oxford

University. He was also a Fulbright Scholar at the University of Munich. A native New Yorker, Jim currently

serves on the boards of a number of national and local non-profit organizations.

2011 Doing Good and Doing Well

73
---
Panel Speakers

Jordi Juanós – Founder, Nueva Filantropía

Jordi Juanós collaborates since 1989 in initiatives related to the conservation of the

environment, environmental education, institutional strengthening of non-profits,

promoting sustainable development, networking and social communication on both

national and international platforms, specially focused on Latin-America and Mediterranean riverine countries.

Since 1989 he has worked with the Lliga pera la Defensa del Patrimoni Natural, Fundación Global Nature,

WWF International – Mediterranean Programme, Pangea Consultores S.L., Fundación Paraguaya and

AVINA Foundation. He has been involved with AVINA for the past 10 years. Within AVINA he was deeply involved

in the pursuit of opportunities in Europe for the Latin-American AVINA partners. He is also currently

involved with them through the promotion of businesses in emerging economies and developing countries.

More recently Jordi founded two non-profit social enterprises. The first, SocialWOM, aims to help build a

consistent and effective communication strategy for SMEs and non-profit organizations that have a social

focus. Through the second, Nueva Filantropía, Jordi is bringing BiDNetwork to Spain.

All of these initiatives have been possible due to his accumulated experience as a Social Broker, acting as

an informational hub between individuals and relevant organizations in the public, private and non-profits

sectors.

Oliver Karius – Partner, LGT

Throughout his career, Oliver has focused on sustainable development, science,

business and finance. He has strong connections to the for-profit and non-profit

sustainable investment market in the US, EU, Africa and India. He is a partner at

LGT Venture Philanthropy (www.lgt.com), one of Europe's leading venture philanthropy investment organizations.

He was Head of Research for Forma Futura, an independent asset management company focusing

on contributing to a sustainable quality of life (www.formafutura.com). Before setting-up VPG, Oliver founded

VantagePoint Global (www.vantagep.org) and served as Manager Research Services and Senior Sustainability

Analyst at SAM Research for the Dow Jones Sustainability Index (DJSI).

74 IESE Business School
---
Panel Speakers

Shainoor Khoja – Director of Corporate Affairs, Roshan

Shainoor Khoja, director of corporate affairs at Roshan, has established an award

winning.

Corporate Social Responsibility Department and a multidisciplinary health clinic

in Afghanistan. Roshan's CSR encompasses activities in commerce, health, social welfare and education.

Initiatives include designing and deploying a telemedicine solution to address healthcare shortcomings,

developing women's social enterprise projects and introducing Internet technology for e-learning for women

and children. Shainoor also operates as a Business Consultant for international companies looking to establish

operations in the Middle East and to companies in the area of CSR. Shainoor studied in England and

Canada and holds a Bachelor's of Physiotherapy, a Master's in Health Management and a Postgraduate

Certificate from Cambridge University.

SILVIA M. WYCKOFF (King) – Director of Organizational Controls and Performance

and Assistant to Employee Relations, Southern Company

Silvia is currently Director of Organizational Controls and Performance and Assistant

To the VP Employee Relations at Southern Company (USA). Her responsibilities

include Enterprise Information Governance, SCS Records Management, and

internal consulting in the area of organizational effectiveness, CSR and other, frontier corporate issues. In

addition, Silvia is responsible for integrated business control processes and activities for SCS. Recently, she

also served as Manager, Strategic Finance and Enterprise Risk where her responsibilities included leading

the risk identification and alignment process across Southern Company's operating companies, business

and corporate functions.

Before joining Southern Company, Silvia was Director of Global Strategy Deployment and Operations at Arthur

Andersen and has previously served in several analytical, consulting and corporate planning capacities

in the oil & gas and chemical industries.

Silvia is a Thomas J. Watson Fellow (1987). She received her B.A. (1987) in Economics from Pitzer College,

the Claremont Colleges, and her MBA (1990) from the Tepper School of Management at Carnegie

Mellon University. In 2008, Silvia received the Certificate in Corporate Citizenship Management from the

Boston College Center for Corporate Citizenship.

She is currently an affiliated researcher at the Center for Ethics Business and Economics Catholic University

of Portugal, Lisbon and is also serving on the Board of Trustees of the Insurance and Risk Management

Program at J. Mack Robinson College of Business at Georgia State University in Atlanta, Georgia.

2011 Doing Good and Doing Well

75
---
Panel Speakers

Emmanuel Lagarrigue - Vice-President Corporate Strategy & Development, Schneider Electric

Emmanuel Lagarrigue is the Senior Vice-President Corporate Strategy & Development

of Schneider Electric. Prior to his current assignment, he has spent 17 years

working for Schneider Electric in several countries in Western Europe and in South

America, holding leadership positions in sales, marketing and general management. Emmanuel graduated

from IESE Business School, Barcelona and from ENSEEIHT, Toulouse.

Mosun Layode – Executive Director, LEAP Africa

Mosun Layode serves as the Executive Director of LEAP Africa, a non profit organization

which is committed to developing dynamic, innovative and principled African

leaders. LEAP offers leadership training programmes and executive coaching services

for business owners, social entrepreneurs and youth. It is committed to equipping these critical stakeholders

with the skills, tools and support that they require to serve as change agents.

76 IESE Business School
---
Panel Speakers

David Lehrer – President, Conatix

David Lehrer is President of Conatix, an information provider and consultancy on sustainability finance and

strategy based in Washington DC and Berlin. Conatix publishes research reports on the risks and opportunities

environmental sector trends present for investors, asset managers and companies. Conatix also helps

corporate social responsibility managers, foundations, philanthropists, social investors and others to maximize

the impact of their sustainability investment. In 2011, Conatix was selected by Seedsummit London

as one of the top 20 startups in Europe.

Through Conatix and independently, Mr. Lehrer has advised clients including the Czech energy company

CEZ, the World Bank, UNDP, UBS, Societe Generale, Publicis Groupe, Kaiser Permanente, America Online,

Transparency International, Harvard University and the Prime Minister and Finance Minister of a European

country. Mr. Lehrer has been visiting researcher or fellow of the central bank of Finland, Oxford University

and other institutions, member of the International Institute for Strategic Studies, associate member of the

Club of Rome, and founder of a think tank fostering more effective use of science in policymaking. Mr. Lehrer

perspectives on sustainability and his work on the use of science in business and policy have been featured

in the Wall Street Journal, Morningstar, Global Finance, New York Times, Alliance Magazine, Chronicle

of Higher Education, Foreign Policy and Australian national radio. He has taught courses on foreign aid,

political economy and the philosophy of social science in Oxford and the Humboldt University Berlin. He

completed the MPA, MBA and AB at Harvard.

Steven Levecke, Investment Manager, Capricorn Venture Partners

Steven Levecke is an Investment Manager at the Cleantech Fund of Capricorn

Venuture Partners. Capricorn Venture Partners is a pan-European manager of venture

capital funds seeking to invest in technology based growth companies. Currently

Capricorn Venture Partners is investing out of its Capricorn Cleantech Fund and its Capricorn Healthtech

Fund.

The Cleantech Fund invests in European growth companies developing innovative breakthrough technologies

in the fields of renewable energy and energy efficiency, water purification and re-use, biobased material

conversion and biorefinery platforms, clean air, climate change, green chemistry and advanced materials,

materials recovery and recycling. The investment team of Capricorn is composed of experienced investment

managers with deep technology expertise and a broad industrial experience.

Steven holds masters degrees in Business Economics (Vlekho) and Financial Management (Vlerick). Steven

worked as auditor and executive at PricewaterhouseCoopers' Transaction Services' team before joining Capricorn

in 2007.

2011 Doing Good and Doing Well

77
---
Panel Speakers

Yuting Lien - Talent Program Manager, Endeavor

Yuting manages Talent Programs at Endeavor, helping High-Impact Entrepreneurs

scale their businesses to create jobs and generate revenues in the emerging markets

where they work. Prior to Endeavor, Yuting worked in Johannesburg, South

Africa, on the start-up team that launched African Leadership Academy, a secondary school that draws students

from across the continent. As a Princeton-in-Africa fellow, Yuting was the Academy's first admissions

officer. She developed the recruitment and selection strategy for the school's inaugural class of students,

and coordinated a team of admissions officers based in Kenya, Nigeria, Senegal, and Morocco. Upon returning

to the US, she consulted for Ashoka, a nonprofit organization that supports social entrepreneurs

around the world. Yuting graduated from Princeton University with a B.A. in the Woodrow Wilson School of

Public and International Affairs.

Alfonso Lopez Rodriguez - Coffee and Cocoa Area, Nestlé Spain

Alfonso has developed all his professional career in Nestlé, where he started to

work in temporary employments from the summer of 1967, up to applying for a

permanent job in 1969. The areas he has worked in Nestlé are Customers and

Commercial services, Logistics, Conventional, refrigerated and frozen products distribution, Coffee Factories

Production, Coffee Buyer for Nestle UK, and now he is the Coffee and Cocoa area for Nestle Spain, based

in Esplugues de Llobregat.

78 IESE Business School
---
Panel Speakers

Tobias Lorenz – Founder and Managing Director, Glovico

Tobias Lorenz (29) is founder and managing director of Glovico.org while also

working part-time for the Hamburg Foundation of Business Ethics. Having studied

business administration, linguistics and philosophy in Stuttgart, Bergen and

INSEAD he has gained both the know-how of the social sector and the managing skills necessary to run a

social business. In the course of his dissertation on market-based poverty reduction at the university of Witten/

Herdecke he has built the extensive network into developing countries which is crucial for Glovico. Before

turning to the social business sector he has been with Daimler-Chrysler, a foundation working on digital

inclusion and in technology consultancy. It is his mission to prove that social business can be harnessed to

alleviate poverty.

Jan Lübbering – Partnership Development, streetfootballworld

Jan is passionate about the power of football as a catalyst for change.

At streetfootballworld - a global network of 84 social organizations using football as

a tool for social change - Jan is responsible for partnership development. His previous

responsibilities included "20 Centres for 2010", the Football for Hope Festival and UNITED – the Social

Football Club (www.justunited.com).

Together with relevant actors from the private, public and civic sector, streetfootballworld and its partners

use the power of football to showcase how collaborative action works towards systemic change.

Prior to streetfootballworld, Jan worked for Ashoka and researched in Social Entrepreneurship.

2011 Doing Good and Doing Well

79
---
Panel Speakers

Kenneth Paul Marcus – Chairman, Karl Storz Endoscopy

Kenneth Paul Marcus was born in Cape Town, South Africa. Following an apprenticeship

in Europe, he embarked on a career in the Medical Devices industry and

joined the family owned business, F C Marcus Group of Companies. As Chief Executive

Officer of the company, it grew to one of the leading family businesses in the industry in South Africa.

He is a Past Chairman and Co-Founder of the Aids Foundation of South Africa, a Past President of the Cape

Town Chamber of Commerce & Industry and Founding Chairman of the Cape Town Philharmonic Orchestra.

He is a member of the Board of Business and Arts South Africa.

Kenneth is also a Past Chairman of the Young Presidents Organisation / World Presidents Organisation –

Cape Town Chapter.

Although a non-Rotarian, Kenneth was awarded the Paul Harris Fellowship awarded by the Rotary Foundation

of Rotary International and is a member of The Royal Society of Arts, Manufacturers & Commerce.

He is a Founder Member of the South African Medical Devices Industry Association (SAMED), of which he

is still a member.

Kenneth is currently the Chairman of Karl Storz Endoscopy (South Africa) (Pty) Ltd and the Director of International

Business Development for Sub-Saharan Africa.

Pedro Marques – Editor, Diario de Noticias

Pedro Marques, holds a Master degree in Political Science from the Universidade

Nova in Portugal, and a B.A. in Political Science and International Relations from

the Universidade Nova in Portugal.

During his academic career, he made a thesis about the Portuguese labors union (CGTP - Confederação

Geral dos Trabalhadores Portugueses). Currently Pedro Marques is Editor in Diário de Notícias, the oldest

Portuguese general newspaper. He specializes in social themes such as education, health care, poverty and

new trends of population.

80 IESE Business School
---
Panel Speakers

Oscar Márquez Sánchez – General Manager, Itron

Oscar Márquez is the General Manager of Itron Spain, worldwide leader in Smart

Metering and Smart Grid solutions.

Managing the global business of Itron in Spain, Oscar's team serves the global energy

and water industries, providing intelligent metering, data collection and utility

software solutions, with the main purpose of empowering customers to make informed decisions about the

distribution and use of energy and water.

Oscar´s professional career has always been devoted to energy management and related services. He has

occupied various business development and management roles at Schlumberger Ltd. and Dalkia, among

others.

Oscar graduated as an telecommunications engineer in Barcelona, and earned a degree from the Programa

de Desarrollo Directivo at IESE in 2000.

Neus Martínez Roldán – Corporate Communications and Public Affairs Director, Nestle

Neus joined Nestlé in 1988. During her career in the firm she has managed different

Brands, and been the head of Nestlé's Training Center in Spain and the Corporate

Affairs department. She is currently the Corporate Communications & Public

Affairs Director. Neus hold a degree in Economics and an MBA, both from ESADE.

2011 Doing Good and Doing Well

81
---
Panel Speakers

Alejandro Mashad - Managing Director, Endeavor Argentina

He is the Managing Director of Endeavor Argentina since 2004. Endeavor is a global organization that works

in the transformation of the economies of emerging markets by identifying and supporting high impact entrepreneurs

and developing the entrepreneurial environment. In Argentina Endeavor is one of the most important

organizations of the third sector.

Prior to joining Endeavor, Alejandro was a consultant in The Boston Consulting Group (Buenos Aires). He

was responsible of the execution of projects in different industries in Argentina and Chile. Before that, he

worked in Techint (one of the leading steel and construction companies in the world) as Project Manager in

industrial projects.

He is also an entrepreneur, and has started companies in the real state and apparel industries.

He is invited as key-note speaker in many seminars and workshops related with entrepreneurship, and is a

guest professor in businesses schools and universities.

Alejandro holds a Civil Engineering degree from the Universidad Nacional de Cuyo, and an MBA from IESE.

He is an Eisenhower Fellow.

He is married and has two children

Guadalupe de la Mata - Partner, Hub Madrid

Guadalupe de la Mata is a microfinance expert with more than 13 years of experience. She has been holding

senior management positions in International Development Institutions like the European Investment

Fund, the European Development Bank and the European Bank for Reconstruction and Development and

acted as Board Member of various microfinance banks.

Currently, she is the President of the Madrid Microfinance Club, Member of the Advisory Committee of Agora

Microfinance Fund and co-founder of the CIFF Microfinance Lab. She is also a Partner at Hub Madrid,

an incubator for social entrepreneurs, and lectures in a number of universities and business schools.

José Mª Mateo – Country Representative for Spain, Cargill

José Mª Mateo was born in Tarragona in 1960. He is married and he has 3 children.

He has a degree in Business Administration and MBA from ESADE (Barcelona)

and PDG from IESE (Madrid). José Mª Mateo began to work in Cargill Tarragona in

1986 in the oilseeds business unit.

Since this time he has taken on several positions in diverse areas within the company. He has also worked

in countries such México, the United Kingdom, France and Holland.

In 2007 he was named as Cargill Country Representative for Spain and Portugal, which involves the different

business units which operate in both countries. At the same time, he is the General Manager of Cargill

sweeteners and starches business unit, with head office in Martorell (Barcelona).

82 IESE Business School
---
Panel Speakers

Peter Materu – Lead Educaiton Specialist, World Bank

Peter Materu is a Lead Education Specialist at the World Bank where he has been

since 2000.

He is currently the Program Leader for tertiary education in the Africa Region of the

World Bank and also serves as education Cluster Leader for a group of 15 countries in West Africa. Prior to

joining the World Bank, Mr. Materu pursued an academic career at the University of Dar es Salaam, Tanzania.

He is a Senior Member of the IEEE, Fellow of the Institution of Engineers, Tanzania and author of numerous

publications in education and engineering.

Assad Matuk Safi M.D - General Manager of the Department of Market Access for Spain and Portugal,

Johnson & Johnson Medical

After working as a doctor for several years, Assaad decides to explore the business

field and the sanitary politics. For this reason he decides to travel to Sydney, Australia,

in 1998 and completes his MBA degree which he complements with studies

in Health Management and Health Economy. After the MBA and having worked in Australia in the management

of sanitary services he travels to Latin America to work with Johnson & Johnson Medical, where he

occupies different positions in Sales and Marketing management. He leads the Health services administration

program in the Pontificia Universidad Javeriana in Colombia. In 2007 he starts leading the business expansion

of vascular interventionism in Europe, Middle East and Africa. During the next 3 years, he has the

opportunity to get to know better the needs, synergies and differences of the emerging markets of Middle

East and Africa. In 2010 he starts leading the implementation of the recently created department of Market

Access for Spain and Portugal where he is currently the General Manager.

During all his professional experience in the different continents, Assaad has shown a deep interest in the

Social Responsibility field, leading and participating in J&J's Corporate Social Responsibility projects.

As a complement to his graduate studies, Assaad has carried out graduate studies in Organizational Development

and Leadership in Harvard Business School (2009-2010) and Institutional Relationships and Sanitary

policies in the Instituto de Empresa en Madrid (2010-2011).

Married for 10 years now with Carolina, he has a daughter, Hanna, one and a half year-old, to whom it dedicates

a lot of his time.

He is also a big fan of the physical training dedicating 2 hours to physical training to compete in Marathons

and Triathlons.

2011 Doing Good and Doing Well

83
---
Panel Speakers

Tim Mohin – Director CSR, Advanced Medical Devices

Prior to joining AMD as the Director of Corporate Responsibility in December 2009, Tim Mohin was a Principal

Consultant and Team Leader for EORM's sustainability and corporate social responsibility practice,

where he advised senior executives at Fortune 500 companies. He currently serves on the board of directors

of Net Impact, an international nonprofit organization with a mission to inspire, educate, and equip individuals

to use the power of business to create a more socially and environmentally sustainable world.

Previously, Mr. Mohin led Apple's Supplier Responsibility program, in which role he initiated the company's

world-class social and environmental responsibility program.

He also had a 12-year career with Intel Corporation where he held the positions of Director of Sustainable

Development, Director of Employee Communications, Corporate Environmental Manager, and Government

Affairs Manager. Significant accomplishments include Intel's highly successful design for the environment

program and Project XL (Excellence and Leadership), a program designed to improve the environment with

less bureaucracy.

Before joining Intel, Mr. Mohin worked for ten years in the federal government with both the US Senate and

the Environmental Protection Agency.

Tim Mohin holds a bachelor's degree in environmental biology from the State University of New York and a

masters degree in environmental management from Duke University.

Bernhard Mohr, Investment Manager, BASF Venture Capital

Bernhard Mohr joined the team in September 2006 as an investment manager.

He has worked for BASF Group since 1996. His previous position was head of

global strategic marketing for Performance Chemicals. He has had various roles in

research, controlling and business development.

Bernhard Mohr studied Chemistry at the University of Stuttgart, Germany and the University of Cincinnati,

USA.

84 IESE Business School
---
Panel Speakers

Amy Mpungwe – Ambassador, Tanzania's High Commissioner to the Republic of South Africa, Tanzanite One Ltd

Ambassador Mpungwe became Tanzania's first High Commissioner to the Republic

of South Africa. Prior to that, he had also served as Personal Assistant to the President

of the United Republic of Tanzania, Private Secretary to the Chief Secretary,

Secretary to the Cabinet and Head of the Civil Service and Director of Africa and Middle East in the Tanzanian

Foreign Ministry. In 1999, ambassador Mpungwe joined the private sector where he is largely involved in

mining and tourism investments, through the London AIM listed Tanzanite One Ltd. He seats on a number

of Boards, including: Malawi Sugar Ltd and National Bank of Commerce Ltd, among others. Ambassador

Mpungwe is a holder of the "order of good hope: grand officer", South Africa's highest award granted to foreign

citizens.

Todd W. Onderdonk – Senior Energy Advisor, ExxonMobil

Todd Onderdonk is a Senior Energy Advisor in ExxonMobil's Corporate Planning

Department. In this capacity, he is responsible for assessing economic and energy

trends, emerging energy technologies, and related market and public policy issues

around the world.

He is a principal contributor to ExxonMobil's long-term global energy outlook, including the identification of

potential implications for energy markets and the Corporation's strategic plans. He is also active in communicating

ExxonMobil's view of the energy future -- including underlying fundamentals and related implications

-- to a wide variety of audiences.

Todd has worked in the energy industry for over 30 years in a wide variety of executive management and

advisory positions involving business activities in the United States and around the world. He holds a B.S.

in Industrial Engineering from Iowa State University and a M.B.A. in Finance from Indiana University.

He and his wife have three boys and reside in Texas.

2011 Doing Good and Doing Well

85
---
Panel Speakers

Thomas Osburg – Director Europe Corporate Affairs, Intel Corp

Dr. Thomas Osburg is Director Europe - Corporate Affairs for Intel Corp., responsible for the Strategic Design

and Implementation of Intel's CSR programs in Europe. Thomas and his team are working closely with

National Governments, Ministries, NGO's, NPO´s and the European Union.

Thomas holds a Ph. D. (Dr.rer.pol.) degree in Economics and Business Administration from the Leibniz

University of Hannover (Germany). After his graduation, he held several Management positions in the area

of International Management and Marketing, CSR, Education and Research at Texas Instruments, Autodesk

and Intel, living in France, the U.S. and Germany. Until 2005, Thomas was Director Education at Texas Instruments

for the Pacific Markets and thus managing the expansion of CSR and Educational programs into

China, Korea, Japan, Australia and South America.

In January 2009, Thomas got elected as Speaker for the influential German CSR Organization "UPJ", since

November 2009 he is also Research Fellow of the Center for Corporate Citizenship, lead by Prof. Dr. André

Habisch at the Catholic University of Eichstätt-Ingolstadt. He is engaged in several committees and elected

member of boards, such as foundations and Public Private Partnerships and a reviewer of Scientific Papers,

i.e. for the European Marketing Academy, on Management, Marketing and CSR topics.

Jean-Pierre Paccaud – Business Development, DNDi

Jean-Pierre Paccaud is a member of the executive team of DNDi since 2007. He is

responsible for the business development activities of the foundation, including opportunity

identification, contract structure and negotiations, IP and alliance management.

In 2002, he founded and led Athelas SA, a startup company active in the field of anti-bacterial drug discovery,

until its merger with Merlion Pharmaceuticals in 2006.

Before taking on entrepreneurial challenges in industry, Dr. Paccaud spent more than 18 years in academia,

working in immunology, diabetes, and cell biology, and was tenured at the University of Geneva

School of Medicine.

Trained as a molecular and cellular biologist, Jean-Pierre Paccaud completed his post-doctoral studies at

the University of California at Berkeley, and earned his PhD at the University of Geneva School of Medicine.

86 IESE Business School
---
Panel Speakers

Martin Pan – Discovery Medicine, Glaxo Smith Kline R&D

Martin Pan trained as physician and medical specialist in Clinical Pharmacology in

Spain and has held several positions in Big Pharma in early clinical development

in Denmark, Sweden and the UK, in Neurodegeneration, Psychiatry and Infectious

Diseases, with a special interest in translational science.

Currently is working in non-profit drug development for neglected diseases (malaria, tuberculosis and kinetoplastids)

at Glaxo Smith Kline R&D under public-private partnerships with Medicines for Malaria Venture

(MMV), Global Alliance for TB Drug Development (GATB) and Drugs for Neglected Diseases Initiative

(DNDi).

Of particular note, he is the coordinator of an Innovative Medicine Initiative (IMI) project in Tuberculosis that

offers a unique opportunity to create a European and world-wide strategy to overcome a key bottleneck in

the development of new regimens of anti-TB drugs with the pooling and cross-fertilization of resources and

expertise in the public and private sectors.

Alfredo Pastor – Professor and Banco Sabadell Chair of Emerging Markets, IESE Business School

Professor Alfredo Pastor holds a Ph.D. in Economics from the Massachusetts Institute

of Technology, is D.Sc. Economics from the Universitat Autònoma de Barcelona, and

a B.A. in Economics from the Universidad de Barcelona.

Professor Alfredo Pastor teaches in the Department of Economics and holds the Banco Sabadell Chair of

Emerging Markets at IESE. His areas of specialization include the European Union, Spanish economic policy,

the role of the state in a market economy and the Chinese economy. Currently he is member of the Board of

Sol Melia, Copcisa and Banc Sabadell Inversions.

Prior to joining the faculty he was the Secretary of State for Economic Affairs, Ministry of Finance of Spain, and

held other positions in different organizations, from the World Bank to the Instituto Nacional de Industria.

2011 Doing Good and Doing Well

87
---
Panel Speakers

Joana Pérez Martorell – Regional Head, UNICEF Comité Autonómico de Catalunya

Joana Pérez Martorell heads the operations of UNICEF in Catalonia, based in its

Barcelona office. Since 2006 she has also managed UNICEF´s partnership with

Barcelona Football Club. In this partnership role she holds responsibility for leveraging

synergies between the Club and UNICEF´s interests in funding crucial development projects, awareness-raising

and advocacy. She is also a member of UNICEF global Sports for Development strategic group.

Prior to joining UNICEF, Joana oversaw the creation and subsequent growth of the NGO Enlighten, while

based in Hong Kong. Enlighten focuses on supporting individuals and families affected by epilepsy, through

the implementation of awareness and education campaigns.

Joana has also worked in Latin America-focused policy advisory department of the United Nations Development

Program, principally in New York and also in Guatemala City. She began her career in the advertising

sector with the Bravo Group in New York, the Hispanic market division of the global advertising agency

Young & Rubicam.

Joana graduated from Hong Kong University (Masters, International Relations), Colombia University (BA,

Economics) and Eina School of Design (Degree, Graphic Design)

Orni Petruschka – CoriolisWind

Orni Petruschka is a high-tech and clean-tech entrepreneur, as well as a social entrepreneur

and philanthropist. He was co-founder and CEO of successful Israeli technology

companies in the field of telecom infrastructure, including Chromatis Networks

which was acquired in May 2000 for $4.75 billion. Since 2005 he operates in the alternative energy field, and

co-founded Pythagoras Solar, where he serves as Chairman.

Orni spends most of his time in social activities and philanthropy. He is the co-founder and Chairman of

"Round-up" in Israel, a nonprofit organization which encourages micro-donations, based on rounding up of

credit card transactions. He is also co-Chairman of The Abraham Fund Initiatives, which promotes equality

and co-existence among Israel's Jewish and Arab citizens, and co-founder of "The People's Voice" and "Blue-

White Future", two initiatives which work to end the Israeli-Palestinian conflict based on a two-state solution.

88 IESE Business School
---
Panel Speakers

Ignacio Pons - Marketing Director, Ecoveritas S.A

Ignacio Pons Marketing Director of Ecoveritas, S.A. He holds a Bachelor degree in

law and an MBA from ESADE Business School. He worked for over 8 years as a

lawyer, before he decided to join Ecoveritas in 2004. Currently he is in charge of the

Marketing Department and responsible of spreading the brand identity. Ecoveritas is a chain of supermarkets

leader in the Spanish organic food sector. Among its range of products there are Fair Trade labelled as

well as products from locally farmers traded in an equality base.

Prof. Maria Prandi – Escuela de Cultura de Paz, Universidad Autónoma de Barcelona

Maria Prandi is a researcher and a professor in the Program of Human Rights at the Escuela

de Cultura de Paz of the Universidad Autónoma of Barcelona and responsible for

the Business and Human Rights research line. She is also a research assistant at the

Institute for Social Innovation at ESADE. She has worked in the Human Rights sector through her involvement in

different bodies within the United Nations in Geneva. She has an MS in International Relationships from Universidad

Autónoma of Barcelona and is currently developing her research about the role of the private sector related

to the three axes of work of United Nations: Human Rights, development and peace building. She has written

several books, "Guía práctica de derechos humanos para empresas" (2006), "¿Pueden las empresas contribuir

a los ODM? Claves para comprender y actuar"(2009) and "Practical Handbook on Business and Human Rights

"(2009), to name a few. She is the co-author of the book "Justicia Transicional y Derechos Humanos: gestionando

el pasado" (2010). She colaborates from its first edition with the annual publication "Alerta! Informe sobre

conflictos, derechos humanos y construcción de paz", which is published since 2002.

2011 Doing Good and Doing Well

89
---
Panel Speakers

Cliff Prior - Chief Executive, UnLtd - UK Foundation for Social Entrepreneurs

UnLtd's mission is to reach out and unleash the energies of people who can transform

the world in which they live: we call these people social entrepreneurs. This

year, UnLtd will support 1,300 people with cash, coaching and networking, creating

the world's largest and most diverse group of social entrepreneurs. UnLtd is the creative force behind Un-

LtdWorld.com the online community for social leaders, the Advantage pioneering investment readiness and

brokerage service in the social sector, the SHINE unconference, as well as the groundbreaking Live UnLtd

for young social entrepreneurs. UnLtd has replicated in the Republic of Ireland, India, South Africa, and

Thailand, leading a global movement of grassroots social entrepreneurship.

Cliff is also a member of the UK Government Third Sector Advisory Body, Comic Relief's UK Grants

Committee, the Clore Social Leadership Group, the FYSE young social entrepreneur scheme in Asia, and the

Dept of Health Social Enterprise & Third Sector Taskforce. He has set up several organisations over the years

such as Strutton Housing for people living with HIV in the 1980s through to more recent work on National Voices.

Cliff joined UnLtd from mental health charity Rethink, where he was Chief Executive for over 8 years. Under

his leadership, Rethink grew to become the UK's largest and most influential charity in mental health. Rethink

is both a membership based advocacy organisation and a social enterprise delivering over £40m pa in

health and social care services under contract.

Cliff previously worked in social housing, community care, criminal justice, and health policy and research

fields. His previous non exec roles include the Healthcare Commission, Medicines Commission, NHS Modernisation

Board, and the Long Term Conditions Alliance.

90 IESE Business School
---
Panel Speakers

Prof. Francesc Prior – Professor of Banking and Finance at Universitat Internacional

de Catalunya and Research Associate at IESE Business School

Francesc Prior Sanz has 15 years of international experience both in the financial

services industry and in academia. As a development financial consultant he has

undertaken numerous technical assistance projects for a vast number of donors

worldwide (World Bank, Inter American Development Bank, European Investment

Bank, European Bank for Reconstruction and development, International Finance Corporation, Europe Aid,

MCC, SIDA..), in Latin America, Maghreb, Eastern and Western Europe, Asia and the USA. Previously, as

an executive within the banking industry (BBVA), he had managerial positions in electronic banking and remittances

activities in Spain and Latin America; and a consultant in the financial consulting industry (Arthur

Andersen & Co) in France, Spain, Israel, Portugal and Italy.

In academia, Dr. Prior Sanz has extensive experience as a professor, in the development of Business and

Finance programs and as a researcher. He currently serves as Professor of Banking and Finance at Universitat

Internacional de Catalunya (Barcelona) and as Research Associate at IESE Business School (Barcelona).

From 2005 to 2008, he was Director of the Financial Inclusiveness Program at Florida International University

(Miami). He has also taught banking and finance courses at Universities in various countries of Latin

America, Asia and Africa.

Santhosh Ramdoss - BRAC Uganda & Founder, ThinkChange India

Santhosh Ramdoss currently works with BRAC USA, the US office of BRAC, the

world's largest development organization. In the last 2 years, Santhosh has acted

as a key resource in helping BRAC scale-up its microfinance and micro-franchising

initiatives in Uganda. BRAC Uganda is today the largest microfinance provider and NGO in the country,

touching the lives of more than 1.8 million people.

Santhosh is also one of the co-founders of ThinkChange India, a popular online platform tracking the field

of social entrepreneurship in India. In 2007, Santhosh co-founded Profits for People which won the NYU

Stern Social Venture Competition and today has been spun off as an independent social business, manufacturing

compostable plates in Southern India.

Santhosh holds a MBA from one of the top business schools in India and an MPA from NYU Wagner Graduate

School of Public Service, where he was also a Catherine B. Reynolds Fellow in Social Entrepreneurship.

2011 Doing Good and Doing Well

91
---
Panel Speakers

Nicolas Reis – Founder and CEO, Altruja

Nicolas Reis, is the founder and CEO of Altruja.com. Altruja is focused on making

highly efficient Online Fundraising tools available to Nonprofit Organizations. He

started his first company, an event agency, while in high school. Nicolas studied

at the Technical University of Munich and received his MBA from San Diego State University. Afterwards

he worked in California at The Active Network, one of the most successful providers for online Registration

software in the United States for nearly 3 years. Back in Munich, Germany he helped amiando.com to build

up their Sport Events & Charity Division, before he started Altruja in March 2010.

Arun Renuka Jayadev, Principal, Wellington Partners

Arun is strengthening the cleantech team since November 2008. As a Principal, his

primary task is to source and evaluate new deals and to support the current cleantech

portfolio. An Indian native, Arun has exclusively focused on the cleantech industry

in the last years. He has worked for Spanish S.I. Capital, a private equity firm investing in renewable energies,

where he conducted extensive research on cleantech investments. Prior to this he has worked for a start up

electric motorcycle company and also served as an advisor to an Australian Waste to Energy company. He has

helped organize five clean technology forums across the world, e.g. the first industry-specific seminar in Spain,

which brought together start-up companies, VCs and executives for the first time.

Arun started his career as a consultant with Computer Associates on projects in India, the U.S. and various other

locations. There, he has managed teams of up to 16 people. Arun holds a MBA from IESE Business School,

Barcelona in 2008, where he took also the opportunity to study one term at UCLA Anderson School of Management,

Los Angeles. In 2003, he finished a BE with a focus on computer science with distinction at the Rashtriya

Vidhyalaya College of Engineering, Bangalore.

92 IESE Business School
---
Panel Speakers

Alberto Ribera - Adjunct Professor, IESE Business School & Visiting Professor and Co-Director of

the Executive MBA, Nile University (Cairo)

Ph.D. in Economics, Universitat Internacional de Catalunya - Doctor in Medicine,

Universidad Autónoma de Barcelona - Specialist in Social and Preventive Medicine

(Mental Health), Università di Roma La Sapienza.

He joined IESE in 2003 after a 15-year career in development co-operation especially in Middle East, Africa,

Southeast Asia and Caucasus. From1999 to 2003 he was Director General of the Euro Arab Management

School (Granada), a joint project of the European Commission and the Arab League.

He teaches leadership and self-leadership both at MBA and executive programs, and a course on Geopolitics

for International Careers. He is the author of 9 books, and more than 30 case-studies. His interests are

primarily: personality of managers and character development, the overlapping area between coaching and

therapy, and positive leadership especially regarding the contribution of business to peace in Middle East

and other conflict zones.

He has delivered seminars and conferences in universities and companies of more than 30 different countries.

He is currently a board member of the Istituto per la Cooperazione Universitaria (Rome), Institute for

Interdisciplinary Studies (Zurich), Harambee Foundation (Nairobi) and other not-for-profit institutions.

David Risher, WorldReader

David Risher is the President and Co-Founder of Worldreader.org. Worldreader's mission

is to make digital books available to all in the developing world, enabling millions of

people to improve their lives. The organization identifies schools, trains teachers, works

with communities, and partners with publishers to bring millions of books to underserved children and families

in the developing world. As a General Manager at Microsoft and later Amazon.com's Senior Vice President of US

Retail, David has been at the forefront of technology; as a Professor at the University of Washington's Business

School, President of Benjamin Franklin International School's Board, and member of ESADE Business School's

International Advisory Board, he has been deeply involved in education at all levels. David holds a degree in

Comparative Literature from Princeton University, an MBA from the Harvard Business School, and speaks English,

French, Spanish, and Catalan.

2011 Doing Good and Doing Well

93
---
Panel Speakers

Paulo Rocha e Oliveira – Assistant Professor, IESE Business School

Paulo Rocha e Oliveira is assistant professor in the Marketing Department of IESE

Business School. He holds an A.B. in Mathematics from Princeton University and a

Ph.D. in Management from the Massachusetts Institute of Technology.

His main area of expertise is the management and marketing of services. His latest research focuses on the

management of issues at the marketing and operations interface, which include the management of waiting

time, service quality, customization strategies and dynamic pricing policies.

Prof. Rocha e Oliveira's research has been presented at international conferences such as Frontiers in Services,

INFORMS and Marketing Science and has been accepted for publications in journals such as Manufacturing

and Service Operations Management.

Jean-Claude Rodriguez-Ferrara – Founder and Director, CAF

Jean-Claude Rodriguez-Ferrara is founder and director of CAF, organization that develops

the "Self Financed Communities Model" in Europe. He was chosen social entrepreneur

of Ashoka in 2006 and was the winner of the World's Creative Young Entrepreneur

Award, CYEA, in 2007, as well as the European Best Microfinance Model in 2009.

He studied World Economy and has a PhD in Microfinance and teaches in Universitat Ramon Llull and in several

MBA programs. He has published the book "World Economy and Development".

Prof. Mike Rosenberg – IESE Business School

Mike Rosenberg teaches long-term strategy, scenario planning and analysis of business

problems in IESE's executive education and full-time and Global Executive

MBA programs.

Mr. Rosenberg's research is concerned with how long-term technological and socio-economic trends affect the

business climate and he has a particular interest in the potential of alternative energy sources to change the

competitive dynamics of a number of industries including the automotive sector.

Prior to joining the faculty, Mike Rosenberg worked as a Management Consultant to the international automotive

industry in Heidrick & Struggles, A.T. Kearney and Arthur D. Little.

94 IESE Business School
---
Panel Speakers

Himanshu Sahasrabudhe – Manager, Roshan

Currently on a break, Himanshu will be moving to Haiti in March 2011 as the Head of

Commercial Analysis at Digicel. Prior to this he was with Roshan (Telecom Development

Company Afghanistan) as Manager – Budget, Planning and Control for over one and

half years.

Himanshu spent over a decade in Singapore, first as a student and then as a professional, before moving to

Afghanistan. He worked as a Consultant with Frost & Sullivan, specializing in the Information & Communication

Technologies sector and advising clients in Asia Pacific. In 2007, he spent three months working as a volunteer

in Guatemala on a sabbatical. He started his career as Systems Engineer working on Open Source systems with

a Singaporean startup.

Himanshu has a bachelor's degree in Computer Engineering from Nanyang Technological University (NTU). He

is fluent in English, Hindi, Marathi and Gujarati and understands Spanish. In his spare time, he likes to read,

travel and play squash & badminton. He enjoys international cinema as well.

Óscar Sánchez – Escola Emprendedor

Oscar Sánchez is the founded and manager of Tech Sales Group, a provider of public

relation services to SMEs. He has previous experience as the Managing Director of Lycos

Bertelsmann until 2003, giving a significant contribution to the development of the

internet in Spain. He has a MBA form ESADE and successfully completed management

courses in IESE and Harvard Business School. Currently he works with Escola Emprenedors, a non-profit organization

that promotes entrepreneurship and innovation among young students in Catalonia, Spain.

Rafa Sanchís – Head of Dept of Fair Trade, Intermon Oxfam

Rafa Sanchís is Head of the Department of Fair Trade in Intermón Oxfam. He holds a

Bachelor degree in economics and an MBA from IESE Business School. After working

for over 10 years in the private sector in consumer goods and advertisement, he decided

to join Intermón Oxfam in 1994, starting up the Fair Trade Department. This department currently owns 46

stores with €7,5M revenues, more than 50 employees and 500 volunteers. He is also a member of Oxfam Internacional,

EFTA, WFTO and FLO Spain.

2011 Doing Good and Doing Well

95
---
Panel Speakers

Filipe Santos – INSEAD

Filipe Santos is Associate Professor of Entrepreneurship at INSEAD. He is the director

for the Maag International Centre for Entrepreneurship and the academic director of

the INSEAD Social Entrepreneurship Initiative. His research lies at the intersection of

strategy, organization theory, and entrepreneurship. His current focus is the field of social entrepreneurship and

social innovation. He is particularly interested in understanding the processes through which entrepreneurs construct

new firms and markets. He is also interested in the growth and scaling up processes of new ventures in

order to maximize economic and social impact. A related focus of research is on business model innovation. His

research has been published in the Academy of Management Journal, Academy of Management Review, Organization

Science, Technological Forecasting and Social Change, as well as several book chapters. Professor Santos

teaches courses on entrepreneurship and social entrepreneurship in the INSEAD MBA, EMBA and Executive

Education programmes. He is the Co-Director for INSEAD's Social Entrepreneurship Programme – ISEP - a week

long executive education course for social entrepreneurs offered twice a year in France and Singapore.

A native of Portugal, Professor Santos holds a Ph.D. in Management Science and Engineering from Stanford

University, with a focus on entrepreneurship. He also holds an MSc. Degree in Industrial Strategy and Management

from Lisbon Technical University, and an Economics degree from Lisbon New University. He was

the recipient of the Lieberman Fellowship at Stanford University, an award recognizing outstanding scholarship

and institutional contributions. He also received in 1996 the award for best MSc. student. His doctoral

thesis "Constructing Markets and Shaping Boundaries: Entrepreneurial Action in Nascent Markets" was

finalist for the Heizer 2004 Entrepreneurship Award. He received an Honourable Mention for Best Paper at

the 2006 Strategic Management Society Conference and the 2008 IDEA award for Research Promise from

the Academy of Management Entrepreneurship Division. He also won the 2008 award for Best Teacher in

Elective Courses at the INSEAD GEMBA program. He was the finalist for the same award in 2009 and 2010

and received the Deans' commendation for excellence in MBA teaching in 2010.

96 IESE Business School
---
Panel Speakers

Sandra Schoenes – Founding Partner, Gybe Healthcare S.L.

Prof. José Antonio Segarra – IESE Business School

ybehealthcare

Sandra co-founded Gybe Healthcare S.L. in July 2009. The start-up's main product is Moviu, a web-based application

for remote physical rehabilitation. Together with her brother and business partner Marc, Sandra manages

the young company in all strategic and operational manners. Her specific focus lies on all medical aspects of the

product and the clinical studies, as well as on sales, fund raising and HR.

Sandra is an orthopedic surgeon with work experience in Brazil and Switzerland. After leaving the medical field,

Sandra joined Executive Insight, a boutique Healthcare Consulting firm with a pan-European market focus and

expertise in the areas of commercial strategy, operations and execution. After working a few years full time for

Executive Insight and completing her MBA Sandra continued her collaboration with the company as a freelance

Senior Consultant and executed several sales, marketing and portfolio management projects for multinational

pharmaceutical companies. During summer of 2008, Sandra led the creation of the first emergency operation

unit for Africa's largest contact center. Sandra hold's a medical doctor degree from the university of Zürich and

an MBA degree from IESE University of Navarra.

Ph.D. en Management, del IESE Business School, Universidad de Navarra. Master

en Business Administration del IESE, Universidad de Navarra e Ingeniero Industrial

de la Universidad Politècnica de Catalunya. Sus principales áreas de interés son:

los procesos de restructuración en pequeñas y medianas empresas, el gobierno en la empresa familiar, la

industria de las telecomunicaciones, la orientación al mercado en negocios y organizaciones y el desarrollo

de proyectos aplicados de inteligencia comercial. Actualmente es Profesor de Marketing en el IESE Business

School, Universidad de Navarra.

2011 Doing Good and Doing Well

97
---
Panel Speakers

Marcos Semmler - Venture Partner, Demeter Partners

Marcos Semmler has sixteen years of banking and corporate finance experience,

first in Investment Banking (Westlb and Hill Samuel Bank in London) and then in

Private Equity (GED and Spirit PE). Since 2006, he has been Representative in

Spain of DEMETER Partners, a 105 M€ European fund dedicated to environment and renewable energies

and President of Spirit PE. Prior to DEMETER Partners, Mr Semmler was Managing Partner of GED Private

Equity from 2000 to 2005, International Finance Director of AESA/ASTANO (SEPI Group) from 1997

to 2000, Country Manager for Spain and Portugal of Hill Samuel Bank in London from 1995 to 1997 and

Account Manager at Westlb Madrid office from 1992 to 1995. Mr Semmler holds a BBA from UCB and a

Master degree from IE and a PDG from IESE.

Paul Simon – Special Advisor to Lord Stanley Fink and Partner, Earth Capital Partners

Paul Simon is a Special Adviser to Lord Stanley Fink and in this role focuses on impact

investing and venture philanthropy. He is also a Partner with Earth Capital Partners, a

sustainable asset manager. Paul has 12 years experience in investment banking and

private equity with a particular focus on emerging markets and clean technologies and agriculture.

Paul has been involved in a number of philanthropic climate schemes including managing a multi-year

Gold Standard Voluntary Emission Reduction solar programme in Zambia installing micro photovoltaic

systems in remote rural areas. He is the Executive Director of the Earth Capital Partners Foundation and a

Trustee of the Ashden Awards. Paul has extensive experience from educational programmes in the UK and

is a Governor and deputy chair at Burlington Danes Academy, an ARK academy.

Paul holds a BA Hon in economics and history from Oxford University and an MSc with distinction in political

economy from the London School of Economics.

98 IESE Business School
---
Panel Speakers

Michael Skapinker – Assistant Editor, Financial Times

Michael Skapinker is an assistant editor of the Financial Times, a columnist and

the editor of the FT's special reports. He was born in South Africa in 1955 and was

educated at the University of the Witwatersrand, Johannesburg and Cambridge

University.

He began his journalistic career in Greece, where he worked as a correspondent for CBS Radio News and

Independent Radio News. He joined the FT in London in 1986 and has reported on many industries, including

aerospace, electronics and tourism. From 2000 to 2005, he was the FT's Management Editor. He

was the editor of the Weekend FT from 2005 to 2007.

He was a consultant on the BBC series The Secrets of Leadership, which was broadcast in 2003, and has

addressed audiences on business topics in the US, Japan and Europe.

In 2003, he received the Work Foundation Members' Award for his contribution to the understanding of

working life. He was named Columnist of the Year in the 2008 WorkWorld Media Awards.

His column, on business and society, appears in the FT on Tuesdays.

Dana Brice Smith - Co-Founder and Managing Director, Trestle Group Foundation

Dana Brice Smith is the Co-Founder and Managing Director of Trestle Group Foundation

(TGF). Guided by the belief that entrepreneurship fuels the engine that

drives economic opportunity, growth and social progress, TGF works to empower

women entrepreneurs in emerging economies. Created by a dynamic team of entrepreneurs and international

business professionals, and based upon a new model of philanthropy, TGF bridges the gap between

emerging and developed economies by providing vital "human capital" support to high potential women-led

SMEs.

Prior to joining Trestle Group, Mr. Smith served as a strategic communications professional with 18 years of

experience in political advocacy, public relations/awareness campaigns, governmental and media relations.

Dana has served and worked with government and corporate leaders at the highest levels. He has developed

and implemented award-winning corporate responsibility/citizenship and cause-related marketing

initiatives. Dana has worked on behalf of a broad range of clients including nonprofit organizations, Fortune

100 companies, and industry trade groups. As a Director within the overall Trestle Group, Dana supports

corporate clients in the development and implementation of strategic communication and change management

strategies.

2011 Doing Good and Doing Well

99
---
Panel Speakers

Ricard Söderberg, Partner, Active Venture Partners

Ricard is one of the founding partners of Active Venture Partners since its inception in

2002. He is elemental in solving structural challenges, ensuring solid organisational

stantards and assisting in the financial planning for our portfolio companies. He is

currently on the board of European Telemedicine Clinic, Golden Gekko and Companía General de Inversiones.

Prior to Active Venture Partners, in 1996, Ricard started his career within the fixed income markets for

Credit Suisse in London and New York. He was covering all the main Central Banks globally as clients and

later focused on the Scandinavian markets. In 1998, he was part of setting up the Merrill Lynch office in

Barcelona heading the active portfolio management department and also involved in the fundraising of

private equity funds from Spain and the US. In 2001 he joined the UBS Barcelona office as an Associate

Director until he left to set up Active Venture Partners in 2002.

Ricard was born in Sweden and has lived and worked in Sweden, England, United States, France, Gibraltar

and Spain. He is fluent in Swedish, English, Spanish and French. Ricard graduated from the European

Business School London in 1995.

Matteo Tarchi – Senior Business Developer, GDF SUEZ Energia Italia

Matteo Tarchi is Senior Business Developer at GDFSUEZ Energia Italia SpA. and

head of renewable energies business development. He has been working as business

developer or project director in M&A transaction in Gaz de France/GDFSUEZ

since 2003. Previously he worked as business developer on large natural gas fuelled power plants for Mirant

Inc (US). He is currently CEO or member of BoD of several renewable energy generation companies

belonging to GDFSUEZ. And member of BoD of the National Experimental Research Center for fuels (Stazione

Sperimentale Combustibili)

100 IESE Business School
---
Panel Speakers

Elia Tárrega - Managing Director, Sustainalytics Spain

Elia Tárrega is Managing Director at Sustainalytics Spain. Elia joined the former

Analistas Internacionales en Sostenibilidad, now Sustainalytics Spain in January

2006. She has worked as an external advisor in the

corporate social responsibility (CSR) area on projects for several consulting clients. Elia has also been an

Equity Analyst at Société Générale Group in London, covering companies within the retail sector. Prior to

that, Elia worked as an Associate at Social Accountability International (then called Council on Economic

Priorities) in New York, analysing companies from the S&P 500 index, on social, governance and environmental

issues for its Research Service for Investors. Elia Tárrega graduated with a B.Sc. in Economics and

Business from the University of Navarra and is an MBA graduate from IESE. Elia is a member of the Spanish

Institute of Financial Analysts (IEAF) and has written publications and participated in conferences on

CSR and SRI.

Jean-Marc Thiébaut - Program Manager, Acting for Life

After one year as a street educator in Lima, Peru, with homeless children and teenagers,

Jean-Marc developed an interest for innovative and sustainable models in

the service of development, thanks to an immersion in socially-oriented microcredit

in Chile. In parallel to his M.B.A at the University of Ottawa, Canada, he coordinated a 3-month class on

business communication for 120 students, with the help of 5 Teaching Assistants.

Back in France in 2009, Jean-Marc joined Acting for Life, a French International Solidarity Organization, in

order to co-design and start-up a program dedicated to support social entrepreneurs who put their talent in

the service of the most vulnerable. As a Program Manager, he identified, counselled and monitored social

ventures in Chile, Peru, Mexico and India; strengthened the organizations' sustainability; and helped Red-

Sol, a Mexican rural microinsurance initiative, reach finals at the Forum on Financial Solutions for Development,

Paris, March 2010, hosted by the World Bank, the Bill & Melinda Gates Foundation and the Agence

Française de Développement.

Aged 27, Jean-Marc holds a Master's degree from Audencia Nantes and an M.B.A. from the University of

Ottawa. When not in the field, he plays the piano in Paris.

2011 Doing Good and Doing Well

101
---
Panel Speakers

Juan Carlos Thomas - Country Director, TechnoServe Chile

TechnoServe is a global NGO that empowers people in the developing world to build

businesses that break the cycle of poverty. Juan Carlos Thomas started the Chilean

branch of TechnoServe in 2007, which is developing alliances with the private and

public sector to foster inclusive business and entrepreneurship in low-income communities. Before joining

TechnoServe, Mr. Thomas worked for the corporate finance division of BankBoston in Chile. He has also

lectured in finance and entrepreneurship and is member of the investment committee of the first private

social investment fund in Chile. Mr. Thomas holds a MBA from INSEAD (France & Singapore) and a Business

Administration Engineering degree from Universidad Adolfo Ibáñez with exchange studies at Babson

College (USA).

Montserrat Tohà i Solé – Directora General, Fundació Institut de Reinserció Social

Montserrat Tohà i Solé nace en Isona (Lleida) en 1956. Diplomada en Trabajo Social,

máster en Desarrollo Organizacional y diplomada en Dirección de Empresas,

se vincula desde bien joven con el tercer sector social. Gran parte de su carrera

profesional la desarrolla en la Fundació Institut de Reinserció Social (IReS), donde ejerce de asistente social

entre los años 1981 y 1991. A partir de entonces, ocupó los cargos de coordinadora de programas y directora

técnica, y es directora general desde 1998. Del 2003 al 2009 es presidenta de l'Associació d'Entitats

Catalanes d'Acció Social (ECAS), cargo que compatibiliza con la vicepresidencia de la Taula del tercer sector

social de Catalunya entre los años 2003 y 2007. Durante todo este periodo participa como profesora y

ponente de multiples cursos, conferencias y seminarios, de entre los cuales se destaca la ponencia en el

X Congrés d'Empreses de Qualitat de Barcelona y la moderación y ponencia que realiza en el marco del I

Congrés del Tercer Sector Social de Catalunya. Es profesora de l'Escola Universitària de Treball Social de

Barcelona entre 1984 y 1991, y desde el año 1996 es miembro de la CEP- Conferènce Permanente Européene

de Probation en representación de la Fundación IReS.

102 IESE Business School
---
Panel Speakers

Rut Turró - Rut Turró

Rut Turró started her professional career as a designer in London.She has extensive

experience in the world of fashion and social entrepreneurship in a variety of countries

(e.g., India, Australia, Nicaragua, Mexico, Spain). Currently she works as a

fashion consultant and is involved in two projects, one an Ecological design course on-line, the other involving

specialized clothes for geriatrics and wheelchairs.

Antonino Vaccaro - Assistant Professor of the Business Ethics Department, IESE Business School

Antonino Vaccaro is an Assistant Professor of the Business Ethics Department at

IESE Business School. He received a MSc. in Engineering (Politecnico of Milan), a

Ph.D. in Industrial Engineering and Management (IST, Lisbon) and two Post Doctoral

Research Fellowships respectively in Ethics and Technology Policy (Carnegie Mellon University) and in

Information Ethics (University of Oxford). He is an expert of corporate transparency, corruption and fraud in

organizations. Antonino Vaccaro has worked in consultancy and applied research projects for such companies

as FIAT, Southern Company, Artsana Group, Tecnotre, Alcoa and Volkswagen. He is currently collaborating

with the Portuguese Judiciary Police (Anti money laundering unit) and with the UN Global Compact

on projects related to the prevention and identification of frauds in multinational companies.

2011 Doing Good and Doing Well

103
---
Panel Speakers

Dolors Vallespí - AlterCompany

Dolors has more than 20 years of experience boosting and leading projects and teams

within the service sector in the field of communication with an international scope.

I have trust in people, in communication, in the union of talents and in the potential

of solidarity to improve our society. Challenges stimulate me. This is the reason I decided to join AlterCompany,

where I have the opportunity to put together different objectives: To use my professional skills in order

to create social change.

AlterCompany is the result of a Social Entrepreneur that 11 years ago decided to demonstrate that it's possible

to generate social benefit being a successful and sustainable company. Our aim is to create innovative

projects that benefit all the social stakeholders: Companies, NGO's, public institutions and the whole

society. We believe that a multistakeholder approach is essential to generate effective projects and that the

promotion of social entrepreneurship has to play an essential role in our world economy.

Jil van Eyle – Founder, Teaming.info

Jil van Eyle was assistant coach of Frank Rijkaard, coach of F.C. Barcelona from

2005 to 2008. Prior to F.C. Barcelona, he directed a variety of marketing and commercial

activities. He has published several books such as "Teaming – Trabajar en

equipo para un mundo mejor" (2007) and "40 horas en 90 minutos" (1998).

Tim Vang – Co-Founder, MYC4

Tim Vang simply could not, before October 2004, see "Africa" and "Entrepreneurship"

as a natural element going hand in hand! Upon meeting his Co-founder of

MYC4 Africa has grown tremendously on him and he is now very enthusiastic and

dedicated to provide African entrepreneurs with the foundation to live out their full potential.

Tim has experience from several start-ups. Tim possesses an extensive network and strong knowledge within

Internet, disruptive technologies and international marketing. Tim is highly innovative yet builds realizable

concepts. Tim has a Masters degree in International Marketing & Management and sits in several Boards

104 IESE Business School
---
Panel Speakers

Andrea Vigevani – General Manager, ICU

Andrea graduated from Politecnico di Milano (Italy) in Engineering Management in

2003, following an international exchange program with Ecole Nationale des Ponts

et Chaussées in Paris. He then joined The Boston Consulting Group (BCG) in Paris

(2003-2004) and in Milan (2005), where he worked for clients in the consumer goods, industrial equipments

and finance sectors. In 2006, Andrea joined ICU (Italian NGO based in Rome) and is now its Secretary

General (general manager). The ICU (about 4 M EUR/year turnover) is active in the field of international

cooperation in developing countries (Latin America, Middle East and Sub-Saharan Africa) and focuses

mainly on agricultural development programs, vocational training and health services. It partners with local

players in order to foster sustainability after its projects completion. In conflict or crisis areas ICU projects,

which revolve around the agriculture sector, are aimed to enhance professional competence and business

opportunities as a social mission of promoting reconciliation. Andrea also sits on the Board of Directors of

Limmat Foundation (Zurich, CH).

Sebastian Waldburg - Managing Partner, SI Capital

Was born in 1967 in Germany, he is married and has two children. He holds a

Bachelor of Arts in Politic Sciences, Philosophy and Economy by Oxford University

(UK) and the University of Eichstätt (Germany). He also holds a Master in Social

Anthropology by the University of London and an MBA from IESE.

In 2004 co-founds SI CAPITAL. As CEO, he is respnsable for the development, commercialization and management

of financial products specialised in Renewable Energies. He has also financially analysed and advised,

several projects of: wind farms, hidraulic power stations, photovoltaic and thermoelectric fields, and

biofuel manufacturers.

He has also lead the investments in Solynova Energía S.A. and Enerstar Solar Thermal Project S.A.

He has considerable experience in Corporate and Project Finance and Private Equity, having worked in

these fields for more than 8 years. Currently he is a Member of the Board of Solynova Energía S.A, of Enerstar

Solar Thermal Project S.A. and of Virgin Play SA.; a part from being member of the Spanish Institute of

Financial Analysts. He speaks German, English and Spanish

2011 Doing Good and Doing Well

105
---
Panel Speakers

Swift Wash – Represented by Jean-Marc Thiebaut from Acting for Life

Swift Wash is an economic rehabilitation alternative for members of the commercial

sexual exploitation market in India. The company, run by Arun Pandey, is being

represented by Jean-Marc Thiebaut in the case competition. After one year as

a street educator in Lima, Peru, with homeless children and teenagers, Jean-Marc developed an interest

for innovative and sustainable models in the service of development, thanks to an immersion in sociallyoriented

microcredit in Chile. In parallel to his M.B.A at the University of Ottawa, Canada, he coordinated a

3-month class on business communication for 120 students, with the help of 5 Teaching Assistants.

Back in France in 2009, Jean-Marc joined Acting for Life, a French International Solidarity Organization, in

order to co-design and start-up a program dedicated to support social entrepreneurs who put their talent in

the service of the most vulnerable. As a Program Manager, he identified, counselled and monitored social

ventures in Chile, Peru, Mexico and India; strengthened the organizations' sustainability; and helped Red-

Sol, a Mexican rural microinsurance initiative, reach finals at the Forum on Financial Solutions for Development,

Paris, March 2010, hosted by the World Bank, the Bill & Melinda Gates Foundation and the Agence

Française de Développement.

Aged 27, Jean-Marc holds a Master's degree from Audencia Nantes and an M.B.A. from the University of

Ottawa. When not in the field, he plays the piano in Paris.

Tom Wright – Founder, Whipcar

Tom Wright is an experienced entrepreneur, having developed and launched gurgle.com, a social network

for pregnant women, and bookarmy.com, a book recommendation and review site. Tom has held a number

of senior digital strategy and development roles during his career with companies such as BSkyB and Fleming

Media.

106 IESE Business School
---
Panel Speakers

Tanja zu Waldeck – Founder, Netmoms.de

Tanja zu Waldeck, who has the noble title of Princess and currently lives in Colon,

developed a blog for mothers (www.netmoms.de) that has become one of the most

visited pages by parents in Germany, with 22 million visits per year. She left her job

as a consultant at McKinsey when her first child was born and started researching about the services offered

by North American blogs.

This innovative entrepreneur tries to solve the questions and concerns of mothers, and the blog is designed

to facilitate intercommunication between mothers.

Going forward, Princess Tanja zu Waldeck intends to work towards the improvements of education in

schools.

Antoni Pérez Francés – Delegate, Save the Children Catalunya

Antoni Pérez Francés es Delegado de Save the Children de Catalunya desde junio

del año 2010. Anteriormente ejerció de Asia Regional Emergencies Manager en

Save the Children, en países como Sri Lanka, Thailadia, Filipinas y Myanmar. De

2007 a 2009 fue Coordinador de Programas y, durante un periodo de 7 meses, fue coordinador de Programas

de la parte administrativa y logística, siempre para Save the Children.

Durante dos meses en 2006, con el Erasmus Mundus Research Fellowship, realizó investigación de campo

en ONGs de acción humanitaria en Canadá. Fue voluntario en La Habana, Cuba, produciendo y promocionando

actividades culturales. En 2004 participó en el Forum Universal de Culturas de Barcelona, organizando

workshops con artesanos de India.

En 2002 fue ayudante de coordinación en San Cristóbal de las Casas, Chiapas, con CAPISE, y también en

Chiapas fue voluntario con Global Exchange.

Se licenció en Publicidad y Relaciones Públicas en la Universidad Autónoma de Barcelona (UAB) en 1998.

En 2006 realizó el NOHA European Master en Acción Humanitaria Internacional. Participó en el Erasmus

Postgraduate Programme en Uppsala University de Suecia. Y en 2005 realizó cursos en el Instituto de

Derechos Humanos Pedro Arrupe, en la Universidad de Deusto en Bilbao.

2011 Doing Good and Doing Well

107
---
information and help Desk:

general information

If you need any help during the conference, please come to Registration in front of Aula Magna in North Campus

or talk to any of our conference guides.

Our conference guides are dressed in red conference polo shirts and are happy to answer all your questions.

information hotline: +34 93 253 65 74

If you have any questions during the conference, please contact us and we will be happy to assist you. The number

is only valid during conference hours, Friday 9 a.m. to 8 p.m. and Saturday 9 a.m. to 7 p.m.

Dress Code

The dress code for the entire conference is business casual. You may want to dress more formally if you have interviews.

The dress code for the gala dinner on Friday is business attire.

Computers and internet access

IESE Terminals

There are a number of open computer terminals available for your use around the campus. You can initiate a

session by pressing CTRL+ALT+DEL and by entering Username, Password and Domain. These informations are

found on the plastified instructions distributed to each computer room.

Please log out of the system once you are finished with your session.

Your Personal Laptop or Mobile Device

Alternatively, you can connect to the Internet through your own laptop or mobile device. To establish a session,

simply search and connect to the wireless network named IESEWLAN. Start your internet browser, which should

automatically take you to the IESE Wireless Page. If this is not the case, please manually enter the address:

http://wireless.iese.org

On this page please enter the following information:

Username: WIRELESS

Password: Guest.08

We are ready to assist you if you have any questions or are experiencing difficulties using our systems. Please do

not hesitate to approach any of the conference guides if you encounter any difficulties.

2011 Doing Good and Doing Well

109
---
Vending Machines:

There are several vending machines available in South Campus Student Lounge. You can get coffee, tea, water,

juices and snacks.

aTM/Cash Machine:

In case you need cash, there are two ATMs, one located at North Campus next to Aula Magna and another at

South Campus in front of the library. Please ask our conference guides for the exact location.

food Service:

Coffee breaks, lunches, and breakfast are provided during the conference and included in your conference ticket.

Food will always be served in North Campus. Please refer to your schedule for the exact location and service

hours. Note that food or drinks (water as the only exception) are not allowed in any of the sessions. Please finish

your drinks before you enter any session.

110 IESE Business School
---
Taxis:

• Autotaxi Mercedes Barcelona

Tel: +34 933 070 707

• Radio Taxi 033

Tel: +34 933 033 033

• Servi Taxi

Tel: +34 933 300 300

Exploring Barcelona

Transportation and important Contacts

Taxis can also be hailed on the street. A green light on the roof indicates that they are available for hire. However,

only a few available taxis pass through the area of the IESE campus.

Shuttle bus:

The shuttle bus service will run between IESE and Plaça Catalunya. This is only for those who have registered

online before the conference. If you did not do so and would like to use this service, please go to the registration

desk to check availability. Also, please check your schedule for the departure times. Please be on time and show

your conference pass when you board the bus.

public Transportation:

Bus

The closest bus stop to the IESE campus is at the lower end of Avinguda Pearson, on the intersection with Avinguda

d'Esplugues, as depicted in the map:

2011 Doing Good and Doing Well

111
---
The following bus lines stop at the depicted bus stop:

• Line 22 to Carretera d'Esplugues

• Line 60 to Zona Universitaria

• Line 63 to Sant Just

• Line 64 to Pedralbes

• Line 75 to Les Corts

• Line 78 to Sant Joan Despí

Metro

The nearest metro stop to the IESE campus is Maria Cristina on line 3 (Green line-direction Zona Universitaria).

Once there, take the exit "Capità Arenas" to the right. There is a bus stop across the road. There you can take line

63, 75 or 78 that will take you to the bus stop depicted in the map.

ferrocarril (regional train)

The following lines will take you to the Sarrià station (20-minute walk to the IESE campus).• S1 Terrassa-Rambla

• S1 Terrasa-Rambla

• S2 Sabadell-Rambla

• S5 Rubí

• S55 Universitat Autónoma

Another option is to exit at the reina elisenda station (15-minute walk to the IESE campus) of l6 reina elisenda.

Directions: From both the Sarrià and Reina Elisenda stations, get onto Passeig de la Bonanova; move along that

street westward (outbound of the city) until it turns into Carrer del Bisbe Català; continue on that street until a

3-way intersection with Avinguda de Pedralbes; take the next right: Avinguda Pearson, IESE is at No. 21.

Conference hotline

+34 93 253 65 74

ieSe business School

Avenida Pearson, 21

08034 Barcelona

+34 93 253 42 00 (General Front Desk)

112 IESE Business School
---
universities Who have partnered with DgDW Since its inception

universities

Aalto University, School of Economics

Bocconi University

CEMS, Indian School of Business

Cranfield University

Dalhousie University

École Polytechnique

EDHEC Business School

EOI Business School

ESADE

ESCP-EAP

ESSEC

Hanken School of Economics, Helsinki

HEC

Hult International Business School

IE Business School

IESE Business School

IIIEE

Imperial College London

Indiana University

INSEAD Business School

International Institute for Industrial Environment

Johan Cruyff Institute for Sport Studies

Kampala International University

Kaunas University of Technology, Swedbank

KIIT University and Kalinga Institute of Social Sciences

Kwame Nkrumah University of Science and Technology

London Business School

Lucerne University

Mannheim Business School

Maseno University

New York University

Olin Business School

Pinecrest School

Rotterdam School of Management, Erasmus University

Ruhr University of Bochum

Strathmore Business School

Turku University of Applied Sciences

Universidad de Nebrija

Universitat Autonoma de Barcelona

Universitat Pompeu Fabra

Université de Bamako

University of Birmingham

University of Cambridge

University of Exeter

University of Geneva

University of Ghana

University of Leeds

University of Manchester

University of Mons

University of Oxford

University of Pennsylvania

University of Peshawar

University of South Carolina

University of St. Gallen

University of Texas

UPC Barcelona

VIT University

Vlerick Leuven Gent Management School

Willamette University

2011 Doing Good and Doing Well

113
---
organizations

Acción's Frontier Investments

Acting for Life

ActionAid

AGBAR

Allianz MicroInsurance

AlterCompany

Altruja

AMD

AOKA

Ashoka

Aster Capital

Avancar

AVINA

BASF Venture Capital

BAT

BID

Boston College

BRAC USA

Buusaa Gonofaa MFI

Cargill

Cesar Martinell & Associates

Charity Bank

Conatix

CoriolisWind

Creas

CRESIB

Demeter Partners

Devex

Diario de Noticias

DID

DNDi

Earth Capital

Eco Intelligent Growth

Eco-Union

EcoVeritas SA

Endeavor

Enertika

ESADE

Escola Emprenedors

EVPA

ExxonMobil

Fiat

Financial Times

Fondazione Oltre

Forbes

Fundação Getúlio Vargas

Fundación Global Play

114 IESE Business School

organizations present at DgDW

Fundacion Once

Fundación Seelinger & Conde

Gaz de France

GBSN

GE Energy

Global Movement for Children

Glovico

"GSK

IMI"

Harvard GBS

IADB - IIC

ICU – Istituto per la

Cooperazione Universitaria

IE

INSEAD

Intel

Intermon Oxfam

International Trade Centre

IRES

ISS

Itron

Johan Cruyff Foundation

Johnson & Johnson

Karl Storz

KPMG

La Caixa

La Fageda

Leap Africa

LGT Venture Philanthropy

Foundation

Lloyds TSB

McKinsey

MicroBank, "la Caixa" Social Bank

Moviu

MYC4

National Geographic Ventures

Nesher

Nestlé

Netmoms

OECD

PAD Business School

PAU

Quimera Project

Roshan

Save the Children

Schneider Electric

Schwab Foundation

Second Mile

SET Venture Partners

SI Capital

Skoll Foundation

Sofinnova Partners

Sol Meliá

Som Energía

SostreCivic

Southern Company

Streetfootballworld.org

Sustainalytics

Syngenta

TANZANITEONE

Teaming Up

Tecnoserve

The Hub

The New Economics Foundation

Trestle Group

Triodos Bank

UEFA

Unicef

Unilever

Universidad Autónoma de Barcelona

UnLtd

Vitalia

Wellington Partners

Whipcar

World Bank

World Economic Forum

WorldReader
---
Doing Good and Doing Well 2011 supports the following projects and social enterprises.

futur

The speakers of our conference are invited to a Gala Dinner on Friday at the Cosmo Caixa Science Museum. All

the great food that they will taste is prepared and served by Fundació Futur, a social enterprise whose mission

is the social integration of marginalized people. Check below to see why we have chosen Futur as our catering

provider:

When Futur decided to expand to the catering sector in 2001, they followed the three Futur tenets of ecological

sustainability, fair trade and labor integration. Their catering service is committed to responsible consumption

and is in line with the principles of the Slow Food movement, which emphasizes local food traditions and raises

awareness of the impact of our food choices on the rest of the world. They use locally grown and organic products,

biodegradable supplies and optimal waste management systems. They also adhere to safety and training protocols

for employees as well as customers.

la fageda

During the coffee breaks at our conference you can enjoy the best yogurt in the world (at least that's what we

think!). These products were kindly ceded to us by La Fageda, a local producer. Check below to see why the

DGDW team would like to promote La Fageda and why we suggest that you also support them by buying their

products whenever you are in Cataluña. Further, you can know more about the project by talking to Josep

Corbinos, who is one of the speakers at our conference.

La Fageda is a non for profit social cooperative from Cataluña that was as its main objective to integrate in the

workforce people from the local community (la Garrotxa) that have mental disabilities or severe mental illness.

The cooperative embraces 210 people, including users and professionals. The productive activities are mainly

agriculture and are developed at "la fageda d'en Jordà", a farm and the social headquarter of this beautiful

project. The activities related to the assistance of the users include Occupational Therapy Service, special

apartments for the workers that need assistance and don't have a home, and leisure activities to improve the life

quality of the users.

ireS – institut de reinserció Social

projects Supported by DgDW 2011

In the hall just outside of Aula Magna you will see panels displaying stories of some of the people whose lives IReS

helped transform. There is more information below about this serious social project and if you want to explore

more you can visit their website (http://www.apadrinafuturs.com/) and/or talk to Motserrat Tohà i Solé, also a

speaker at our conference.

IReS is a private foundation, set-up in 1969, that provides social care, psychological and educational facilities to

marginalized groups of people who are at risk of social or economic difficulties including Family Violence, Gender

and Social Inclusion, and Social Action in the judicial system. They study emerging social needs allowing them to

introduce solutions, to assess the impact of new proposals and to contribute to new knowledge creation. Through

their work, they help make visible the problems and social needs of the people they serve.

2011 Doing Good and Doing Well

115
---
116 IESE Business School

DgDW 2011 organizing Team

We would like to thank the following people for their efforts. They have worked tirelessly over many months to ensure

that this is an inspiring event for all participants and without them the 8th Annual Doing Good and Doing Well

Conference would not have been possible.

ieSe business School Conference organizing Team:

Richa Pathak – Chairperson

Ana Lucia Jeronimo – Co-chairperson

Sean Peron – Marketing Team Lead

Filipe Jeronimo – Controller

Amandine Denys – Sponsorship

Imke Stuurman – Logistical Team Lead

Ana Raquel Santos – Cleanteach Seminar Team Lead

Marisa Schwab – Social Entrepreneurship Workshop Team Lead

Srihari Chakrarajan – Registration

With major contributions from:

José Rafael Alarilla

Inés Alegre

Trupthi A Narayan

Raluca Apostoiu

Gonzalo Arenas

Begoña Batlle

Joe Bello

Maria Bercetche

David Botha

Javier Cabeza

Qiao Cheung

Donna Crowell

Michael Dalalla

Joshua Danielson

María Dolores Pérez

Nilli Donner

Tarah Evans

Patricia Fabbro

Enrique Fernández

Jaime Ferrer-Dalmau

Adelaida Foxá Eymar

Maria Francisca Ortega Arango

Fernando Gago

Almudena Gallo Martinez

Natalie García

Matias Gath

Francesc Gomez-Landero

Rosana Gutiérrez

Stephanie Halphen

Anna-Marie Harling

Yariv Hauer

Luis Herrera

Sarah Howell

Szymon Jankowski

Henley Johnson

Katja Juvonen

Junichi Kagaya

Gabriel Kaminsky

Kotaro Kobayashi

Jill Landerfeld

Jonathan Lipnik

Adele Madonia

Enrico Magnani

Julio Martínez

Diego Mate

Devika Mehta

Abraham Meir

Jenny Mikhareva

Ivana Miljan

Marina Moreno

Carlos Moyano

Christine Muller

Borja Muñoz

José Miguel Novo Sánchez

Esther Olale

Sergio Ostalé

Ricard Pages

Miquel de Paladella

Maria Luisa Peña

Gourav Poddar

João Pola

Ana Raquel Santos

Oriol Renart

Patricia Riopel

Anna Sagales

Jonathan Salomon

Monica Scheffler

Amy Schlein

Marisa Schwab

Christina Shin

Hugh Sinclair

Teresa Sisó

Ricardo Soloeta

Ewa Szymankiewicz

Yoshitaka Tabuchi

Nori Tamura

Lars Tarrach

Lauren Thomas

Esther Trujillo Gimenez

Pablo Turletti

Mona Vajihollahi

Scott Van Etten

Rocío Vergara Fernández

Pepa Vila

Zoe Villanueva

Phil Westcott

Florian Wiesinger

Emmanouil Xenos

Katarzyna Zaleska

Pablo Zapalo
---
ieSe business School faculty & Staff:

Jordi Canals

Sophia Kusyk

Mireia Las Heras

Heinrich Leichtenstein

Johanna Mair

Víctor Martínez

Domenec Melé

Connor Neil

Lluís G. Renart

all "on-the-Day" Volunteers!

Javier Santomá

Pedro Videla

Elena Liquette

Rosie Innes

Mónica van der Kroon

Esther Curpian

Ayaka Foraste

Miriam Freixa

Samantha Jabloñska

Thank you to you all!

Carla Vargas

Monika Boegers

Marie Oates

Oriol Rosa Ramoneda

Tomás Crespo

Lluis Feliu

Juana Quesada

Luis Ruiz

2011 Doing Good and Doing Well

117
---
Campus Map
---
pleaSe ViSiT hTTp://DgDW.ieSe.eDu/ Soon for The

announCeMenT of The DaTe of DgDW 2012.

You Can alSo folloW uS on our blog aT

hTTp://DgDWblog.WorDpreSS.CoM/ anD on TWiTTer

aT hTTp://TWiTTer.CoM/ieSeDgDW

Thank you!

gold sponsors:

bronze sponsor:

Supporting sponsors:

Av. Pearson, 21

08034 Barcelona, Spain

Tel.: +34 93 253 42 00

Fax: +34 93 253 43 43

Camino del Cerro del Águila, 3

(Ctra. de Castilla, km 5,180)

28023 Madrid, Spain

165 W. 57 th Street

New York, NY 10019-3211 USA