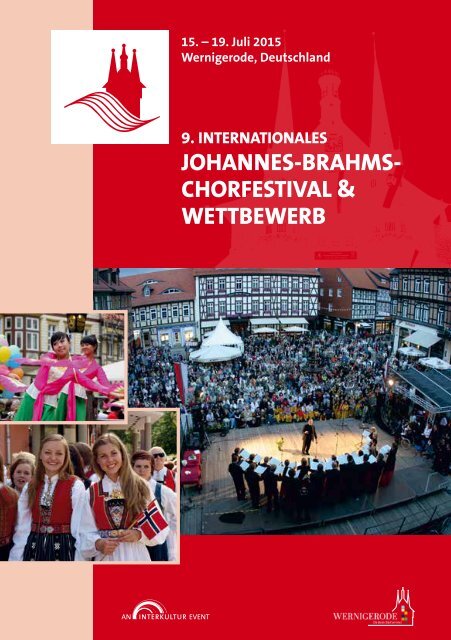 Wernigerode 2015 - Program Book
International Johannes Brahms Choir Festival and Competition July 15 - 19, 2015 | Wernigerode, Germany The man after whom the festival is named for, Johannes Brahms, and the German Romantics of the 19th century, will be a focal point. This event offers interested choirs excellent opportunities to learn together and refine their specialist skills with coaching concerts and rehearsals with recognized international choral experts. We explicitly invite choirs and ensembles of all kinds who prefer not to take part in competition but like to give concerts in Wernigerode and other regional communities. The festival will provide ample opportunities for groups to perform their repertoires to an interested audience, whether they are specialized in choral, orchestral or folk music. Wernigerode is a town with a very special flair. It is a gem of medieval architecture located on the foot of the low mountain range of the Harz. There is hardly any other town with so many magnificent semi-timbered houses – a feast for your eyes. And it is an excellent stage for the parade and opening ceremony and further open air events
International Johannes Brahms Choir Festival and Competition
July 15 - 19, 2015 | Wernigerode, Germany

The man after whom the festival is named for, Johannes Brahms, and the German Romantics of the 19th century, will be a focal point.

This event offers interested choirs excellent opportunities to learn together and refine their specialist skills with coaching concerts and rehearsals with recognized international choral experts. We explicitly invite choirs and ensembles of all kinds who prefer not to take part in competition but like to give concerts in Wernigerode and other regional communities. The festival will provide ample opportunities for groups to perform their repertoires to an interested audience, whether they are specialized in choral, orchestral or folk music.

Wernigerode is a town with a very special flair. It is a gem of medieval architecture located on the foot of the low mountain range of the Harz. There is hardly any other town with so many magnificent semi-timbered houses – a feast for your eyes. And it is an excellent stage for the parade and opening ceremony and further open air events
SHOW MORE
SHOW LESS
You also want an ePaper? Increase the reach of your titles
YUMPU automatically turns print PDFs into web optimized ePapers that Google loves.
15. – 19. Juli <strong>2015</strong><strong>Wernigerode</strong>, Deutschland9. INTERNATIONALESJOHANNES-BRAHMS-CHORFESTIVAL &WETTBEWERBDie Bunte Stadt am Harz
---
19. Internationales Johannes-Brahms-Chorfestival & Wettbewerb9 th International Johannes BrahmsChoir Festival and Competition15. – 19. Juli <strong>2015</strong> · <strong>Wernigerode</strong>, DeutschlandJuly 15 – 19, <strong>2015</strong> · <strong>Wernigerode</strong>, GermanyVeranstalter/OrganizerFörderverein INTERKULTUR e.V.und/andStadt <strong>Wernigerode</strong>Schirmherrschaft/PatronageStephan Dorgerloh, Kultusminister des Landes Sachsen-Anhalt/Minister of Education and Cultural Affairs of the Federal State of Saxony-Anhaltund/andPeter Gaffert, Oberbürgermeister der Stadt <strong>Wernigerode</strong>/Lord Mayor of the city <strong>Wernigerode</strong>Präsident INTERKULTUR/President INTERKULTURGünter Titsch (Deutschland/Germany)Künstlerisches Komitee/Artistic CommitteeProf. Dr. Ralf Eisenbeiß (Deutschland/Germany), Direktor/directorPeter Habermann (Deutschland/Germany)Prof. Dr. Friedrich Krell (Deutschland/Germany)Christian Ljunggren (Schweden/Sweden)Johan Rooze (Niederlande/Netherlands)Fred Sjöberg (Schweden/Sweden)Assoc. Prof. Romāns Vanags (Lettland/Latvia)INTERKULTUR BoardGünter Titsch (Deutschland/Germany)Qin Wang (China)Stefan Bohländer (Deutschland/Germany)Prof. Dr. Ralf Eisenbeiß (Deutschland/Germany)
---
Inhalt / Table of contents3Inhalt / Table of contentsSeite / PageInhalt / Table of contents 3Teilnehmerländer / Participating countries 4Grußworte / Greetings 6• Stephan Dorgerloh, Kultusminister des Landes Sachsen-Anhalt /Minister of Education and Cultural Affairs of the Federal State of Saxony-Anhalt• Peter Gaffert, Oberbürgermeister der Stadt <strong>Wernigerode</strong> /Lord Mayor of the City of <strong>Wernigerode</strong>• Günter Titsch, Präsident INTERKULTUR / President INTERKULTURVeranstalter / Organizer 14• … Brücken der Begegnung / … Connecting Bridges• Die Gastgeberstadt <strong>Wernigerode</strong> / The host town <strong>Wernigerode</strong>• Johannes Brahms (1833 – 1897)Sponsoren / Sponsors 28Künstlerisches Komitee & Jury / Artistic Committee & Jury 32• Friedrich Krell (Germany/Deutschland)• Ralf Eisenbeiß (Germany/Deutschland)• Miguel Felipe (USA)• Peter Habermann (Germany/Deutschland)• Nicol Matt (Germany/Deutschland)• Nico Nebe (Germany/Deutschland)• Henri Pompidor (Frankreich/France)• Johan Rooze (Niederlande/Netherlands)• Angela Stevens (Südafrika/South Africa)• André van der Merwe (Südafrika/South Africa)• Helle Høyer Vedel (Dänemark/Denmark)Ablauf / Schedule 46• Allgemeiner Ablauf / General Schedule• Benefizkonzert / Charity Concert• Eröffnungskonzert / Opening Concert• Freundschaftskonzerte / Friendship ConcertsWettbewerb / Competition 60Teilnehmende Chöre / Participating choirs 74Statistik / Statistics 84Organisation & Impressum / Organizers & Imprint 98Fotonachweise / Photo Credits 103Stadtplan / City Map 105
---
4TeilnehmerländerParticipating countriesChinaRussland /RussiaChinese TaipeiSierra LeoneDeutschland /GermanySüdafrika /South AfricaFinnland /FinlandTschechischeRepublik /Czech RepublicItalien /ItalyVereinigte Staatenvon Amerika / UnitedStates of AmericaNigeriaWeißrussland /BelarusPolen /Poland
---
Kapitelüberschrift_dt / Kapitelüberschrift_gb5
---
7GRUSSWORTEGREETINGS
---
8Stephan DorgerlohKultusminister des Landes Sachsen-Anhalt /Minister of Education and Cultural Affairs ofthe Federal State of Saxony-AnhaltLiebe Sängerinnen und Sänger,liebe Freunde der Chormusik,Gleich zweimal wird Sachsen-Anhalt im Julizum Anziehungs- und Treffpunkt für Chöreaus aller Welt. Rund 80 Chöre mit 3.000Sängerinnen und Sänger erwartet die LandeshauptstadtMagdeburg anlässlich der2. European Choir Games & Grand Prix ofNations, die vom 5. bis 12. Juli erstmals inDeutschland ausgetragen werden.Nur wenige Tage später, vom 15. bis 19. Juli,ist <strong>Wernigerode</strong> erneut Gastgeberin des InternationalenJohannes-Brahms-Chorfestivals& Wettbewerb – und das inzwischenbereits zum neunten Mal. Wieder werdenmehr als 1.000 Sängerinnen und Sängeraus Asien, Afrika, Amerika und mehrereneuropäischen Ländern die Stadt zum Klingenbringen, unterschiedliche Chor- undKulturtraditionen präsentieren und Freundeder Chormusik aus Deutschland unddem Ausland nach Sachsen-Anhalt locken.Johannes Brahms, der Namensgeber desFestivals, hat sich selbst in vielfältigerForm um die Chormusik verdient gemacht:als Komponist, mit seiner ersten festenAnstellung 1857 als Chordirigent und Klavierlehreram Hof des Fürsten Leopold vonLippe-Detmold und ebenso als Chormeisterder Singakademie in Wien. Wenngleich erdiese Funktion bald wieder aufgab, bliebseine Begeisterung für die Chormusik ungebrochen.So leitete er später nicht nurden Wiener Singverein, auch nahmen dieChorwerke in seinem Schaffen neben derKlavier- und Kammermusik sowie seinenOrchesterwerken breiten Raum ein. Dazunutzte er ganz vielfältige Formen – Liederund Kanons, Gesänge für Männer- undFrauenchöre, Motetten bis hin zum großartigenDeutschen Requiem.Aus diesem Grund ist, so meine ich, das traditionsreicheChorfestival in <strong>Wernigerode</strong>ganz im Sinne des Namensgebers Brahms:"Ich denke nur Musik. Ich bin verliebt indie Musik – ich liebe die Musik, ich denkenichts als sie und an anderes nur, wenn esmir Musik schöner macht."Ich wünsche allen Sängerinnen und Sängern,den Gästen, Veranstaltern und allenBeteiligten, dass der Chorgesang in diesenTagen und darüber hinaus einen besonderenPlatz in ihrem Leben einnehmen möge.Stephan DorgerlohKultusminister des Landes Sachsen-Anhalt
---
Grußworte / Greetings9Dear Choristers and Singers,Dear Friends of Choral Music,Even twice this year, in July, Saxony-Anhaltwill be the center of attraction and a greatvenue for choirs from all over the world. Thestate capital of Magdeburg is expecting roundabout 80 choirs with roughly 3,000 choristersto come and meet there on occasion ofthe 2nd European Choir Games & Grand Prixof Nations, marking their debut in Germanyfrom July 5 to 12.Only a few days later, from July 15 to 19, <strong>Wernigerode</strong>will again be the proud host of theInternational Johannes Brahms Choir Festival& Competition – already for the ninth time!And once again, I am sure, the more than1,000 choristers and singers from Asia, Africa,the Americas and several European countrieswill make the city resound with music andsong, present their varied choral and culturaltraditions to the audience, and attract numerouslovers of choral music from Germanyand from abroad to Saxony-Anhalt.Johannes Brahms himself, the name giver ofthe festival, rendered outstanding services tochoral music: as composer, with his permanentappointment as choral director and pianoteacher at the court of Leopold III, Princeof Lippe-Detmold, in 1857, and as choirmasterof the Vienna Singakademie. Although heresigned from this position not long after hisofficial appointment, his passion for choralmusic remained fervent and productive. So,for example, he later became the director ofthe Vienna Singverein, and his pieces of choralmusic occupied a prominent place in hisartistic work that includes piano and chambermusic as well as his famous orchestral works.And as a true master of his art, he made useof a wide range of musical forms – reachingfrom songs, lieder and canons to cantos formale and women's choirs, and from motets tohis great German RequiemThis is why it is my considered opinion thatthe choir festival in <strong>Wernigerode</strong> with its richtradition is in perfect tune with the heartfeltconviction of its name giver, who once said: "Ionly think music. I am in love with music. -I love music, I think of nothing else, and onlyof other things when they make music morebeautiful for me."I wish to all choristers, guests and organizersas well as to everyone involved and sharingin these festivals a wonderful time here inSaxony-Anhalt and hope that choral musicwill take a very special place in your lives – onthese days of music and beyond.Stephan DorgerlohMinister of Education and Cultural Affairs ofthe Federal State of Saxony-Anhalt
---
10Peter GaffertOberbürgermeister der Stadt <strong>Wernigerode</strong> /Lord Mayor of the City of <strong>Wernigerode</strong>Liebe Sängerinnen und Sänger,verehrte Wernigeröderinnen undWernigeröder, geschätzte Gäste,Zum neunten Mal ist <strong>Wernigerode</strong> Mittelpunktder Chormusik im Landkreis Harzund dem Land Sachsen-Anhalt. Wieder heißenwir Chöre aus allen Ländern willkommenum mit Ihnen die Freude am Singenzu teilen, wie es in den vorangegangenenJahren immer Brauch war. Auch in diesemJahr verspricht das Brahms Chorfestival einunvergleichliches Erlebnis zu werden. Dankder Organisation durch die Stadt <strong>Wernigerode</strong>und dem Förderverein Interkultur e.V.Gemeinsam konnte ein vielfältiges <strong>Program</strong>maufgebaut werden, welches mit derbeliebten Chorparade durch <strong>Wernigerode</strong>beginnt und mit der Preisübergabe undVerkündung des Gewinners des Johannes-Brahms-Chorpreises und der anschließendenChorparty auf dem Marktplatz seinenHöhepunkt findet. Doch geht es bei diesemFestival nicht nur um den Wettbewerbund das Gewinnen selbst; vielmehr ist esein Fest der Begegnungen und des freundschaftlichen,fachlichen Austausches. Wiewichtig Begegnungen zwischen Menschenvon unterschiedlichen Kontinenten, aus unterschiedlichenKulturen sind, sehen wir anden aktuellen Konflikten in der Welt. Auchdeshalb ist es wichtig, dass die Sprache derMusik genutzt wird um Verständigung undAustausch zu fördern. <strong>Wernigerode</strong> willhier beispielgebend sein.Mein besonderer Dank gilt den Sponsorendes 9. Internationalen Johannes-Brahms-Chorfestivals und Wettbewerb, die mit ihrerUnterstützung einen großen Anteil ander erfolgreichen Durchführung der Veranstaltunghaben.Zu nennen sind hier vor allem die Stadtwerke<strong>Wernigerode</strong> GmbH, Interkultur e.V., derMedienpartner Volksstimme und das LandSachsen-Anhalt sowie die Lotto-Toto Sachsen-AnhaltGmbH. Auch der Harzsparkasse,der Hasseröder Brauerei, der Harzdruckerei,den HVB, der GWW, dem Volkswagen Autohaus<strong>Wernigerode</strong>, dem Hasseröder Ferienparkund der <strong>Wernigerode</strong> TourismusGmbH und dem Harz-Elbe-Express gilt besonderenDank für ihre Hilfe.Ich wünsche allen Sängerinnen und Sängerneine erfolgreiche Teilnahme und einenangenehmen Aufenthalt in unserer Stadtmit interessanten Begegnungen und schönenErinnerungen. Ebenfalls wünsche ichden Gästen, dass sie sich gut unterhaltenfühlen und die musikalischen Darbietungengenießen können.Ihr Peter GaffertOberbürgermeister
---
Grußworte / Greetings11Dear choristers and singers, dear residents of<strong>Wernigerode</strong>, esteemed guests,This year and already for the ninth time,<strong>Wernigerode</strong> is going to be the center of choralmusic in the Harz region and the state ofSaxony-Anhalt. It is again a great pleasure forus to welcome the numerous choirs from allover the world to this event and to share withthem the joy of music and singing, which hasbecome such a precious tradition here in <strong>Wernigerode</strong>over the last years. This is also whythis year's Brahms Choir Festival promises tobe another fascinating experience second tonone, thanks to the organization undertakenby the City of <strong>Wernigerode</strong> and carried out inclose cooperation with Förderverein Interkulture.V. Together, we have been able to createa multifaceted program of events that beginswith the very popular parade of choirs throughthe streets of <strong>Wernigerode</strong> and that reaches itsclimax in the award presentation ceremonyand the announcement of this years' winnerof the Johannes Brahms Choir Prize, followedby the choir party taking place in the city'smarket square. The festival itself, however, ismeant to be far more than a mere competitionfocused on a contest for the first prize. Atits heart, this festival is an opportunity and agreat feast of encounter and meeting of peoplefrom all over the world, of artistic and professionalcommunication and exchange underthe banner of friendship and understanding. Alook at the many conflicts currently going onin many areas of our world shows how importantpersonal encounters of people from differentcontinents and cultures really are for thepromotion of understanding and friendship.Music as the universal language of all peopleassumes a central role in this endeavor. And<strong>Wernigerode</strong> wants to set a good example insupport of this idea.I would particularly like to thank the sponsorsof this 9 th International Johannes BrahmsChoir Festival and Competition. It is largelythanks to their valuable support that we areable to have this event here and can make ita success.Above all, I would like to express my gratitudeto Stadtwerke <strong>Wernigerode</strong> GmbH, Interkultur,Medienpartner Volksstimme, as well as to theFederal State of Saxony-Anhalt and to Lotto-Toto Sachsen-Anhalt GmbH. Furthermore, Iowe special thanks to Harzsparkasse, HasseröderBrauerei, Harzdruckerei, the HVB, theGWW, as well as to Volkswagen Autohaus<strong>Wernigerode</strong>, Hasseröder Ferienpark, <strong>Wernigerode</strong>Tourismus GmbH and Harz-Elbe-Expressfor their great support.I wish good luck and success to all choristersfor their participation in the event as well as apleasant stay in our city, hopefully going alongwith many inspiring encounters that may staywith you as precious memories of your timehere in <strong>Wernigerode</strong>. Along the same lines, Iwish to all our guests and visitors a most joyfuland entertaining time at the festival, theconcerts and in our city.Cordially yours,Peter GaffertMayor of <strong>Wernigerode</strong>
---
12Günter TitschPräsident INTERKULTUR /President INTERKULTURLiebe Freunde,Ich begrüße Sie herzlich zum 9. InternationalenJohannes-Brahms-Chorfestival &Wettbewerb in <strong>Wernigerode</strong> <strong>2015</strong>.Nach den 2. European Choir Games, die AnfangJuli in der Landeshauptstadt Magdeburgstattgefunden haben, freue ich michganz besonders, Sie nur eine Woche späterin der traditionsreichen Chorstadt <strong>Wernigerode</strong>begrüßen zu können. Traditionsreichist nicht nur die beeindruckende Chortraditionder bunten Stadt am Harz. Von einerschönen Tradition können wir nun bei derneunten Veranstaltung auch bei unseremINTERKULTUR- Festival sprechen.Auch in diesem Jahr können wir mit großerFreude ein spannendes, ereignisreichesund farbenfrohes Festival erwarten, wobeiein eindeutiger Schwerpunkt bei den Chörenaus China liegt, die wirklich ihre Liebezu <strong>Wernigerode</strong> gefunden haben. 35 Chöreund 10 internationale Juroren aus insgesamt16 Ländern haben sich angemeldet.Kompliment und Glückwunsch all den fleißigenOrganisatoren und Helfern der Stadt,den zahlreichen Chorbetreuern und demINTERKULTUR Team, die mit ihrer hervorragendenArbeit diesen Ruf <strong>Wernigerode</strong>s inder Welt begründen.Mein herzlicher Dank gilt unserem langjährigenPartner, der Stadt <strong>Wernigerode</strong>. Darüberhinaus möchte ich mich bei den zahlreichenregionalen und lokalen Sponsorenbedanken, durch deren Hilfe und finanzielleUnterstützung unsere Veranstaltung letztlicherst ermöglicht wurde. Das gemeinsameBekenntnis vieler lokaler Kräfte zu unseremFestival und die enge, erfolgreicheZusammenarbeit mit INTERKULTUR sindeine Leistung, der wir seit Jahren größtenRespekt entgegenbringen.Zurzeit erarbeiten wir interessante neueProjekte, die INTERKULTUR ein Stück weiternach vorn bringen werden. So gibt es nebenden altbewährten Veranstaltungsortenbeispielsweise vier neue Events in den USA,andere in Griechenland und China. Unserganzes Augenmerk richtet sich aber aufdie 9. World Choir Games 2016 in Sotschi(Russland), den größten Chorwettbewerbder Welt, der in der Stadt der OlympischenWinterspiele von 2014 am Schwarzen Meerstattfinden wird. <strong>Wernigerode</strong> wird aberbei allen neuen Aspekten unserer Arbeit einenbeliebten und festen Platz einnehmen,und wir freuen uns schon auf das 10. Jubiläumdes Brahms-Wettbewerbs 2017.Ich darf Sie noch einmal herzlich in <strong>Wernigerode</strong>begrüßen und Ihnen schöne Tageund große künstlerische Erfolge wünschen.Ihr Günter TitschPräsident INTERKULTUR
---
Grußworte / Greetings13Dear friends,I cordially welcome you to the 9 th InternationalJohannes Brahms Choir Festival & Competitionin <strong>Wernigerode</strong> <strong>2015</strong>.After the 2 nd European Choir Games, whichtook place at the beginning of July in the provincialcapital Magdeburg, I am especially gladto welcome you only one week later at the historicchoir city of <strong>Wernigerode</strong>. The impressivechoral tradition of this colourful city in theHarz is not the only thing that has a long tradition:Celebrating now the ninth edition ofour INTERKULTUR festival we can now also callour musical get-together a nice tradition.This year we will again be expecting withgreat joy an exciting and colourful festivalwith one main focus on Chinese choirs whohave really discovered their love for <strong>Wernigerode</strong>.35 choirs and 10 international jurorsfrom 16 countries altogether have registered.Compliments and congratulations to all thecity's hard-working organizers and helpers,the numerous choir assistants and the team ofINTERKULTUR who constitute <strong>Wernigerode</strong>'soutstanding reputation with their excellentwork.My cordial thanks goes to our long-time partner,the city of <strong>Wernigerode</strong>. Moreover I wouldlike to thank all the numerous regional andlocal sponsors whose assistance and financialsupport made our event possible at last. Thismutual commitment of many local forces toour festival and the close and successful cooperationwith INTERKULTUR represent achievementsfor which we are having utmost respectsince years.Currently we are working on new projectswhich will bring INTERKULTUR a good dealforward. Apart from the well-tried events forexample we have four new events in the USAand further more in Greece and China. But ourcomplete focus is on the 9 th World Choir Games2016 in Sochi (Russia), the world's largest choircompetition, which will be held in the city ofthe Winter Olympics 2014 at the Black Sea.But regardless of all new aspects <strong>Wernigerode</strong>will always be favoured and deep-seatedin our daily work and we are already lookingforward to the 10 th anniversary of the Brahmscompetition in 2017.I once again welcome you to <strong>Wernigerode</strong> andwish you wonderful days and outstanding artisticsuccess.Your Günter TitschPresident INTERKULTUR
---
15VERANSTALTERORGANIZER
---
16… Brücken der Begegnung… Connecting BridgesMit dem 1. Internationalen Chorwettbewerb Budapest im Jahre 1988 war der Anfang für eineder größten und erfolgreichsten kulturellen Veranstaltungsreihen in Europa gemacht. DerName dieser neuartigen Chorwettbewerbe und Festivals, INTERKULTUR-Veranstaltungsreihen,ist mittlerweile in der ganzen Welt durch das hohe künstlerische und organisatorische Niveaubekannt. INTERKULTUR ist zu einem Begriff in der Welt der Chorbegeisterten geworden und dieweltweite Gemeinschaft um seine Wettbewerbe wächst.Organisiert werden diese Veranstaltungen vom gemeinnützigen Förderverein INTERKULTUR e. V.,dessen bislang größter Erfolg es war, die Olympische Idee auf die Chormusik zu übertragen.Die Chorolympiade 2000 in Linz (Österreich) war der Beginn einer chorolympischen Bewegung.Ihre Erfolgsgeschichte setzte sich 2002 in Busan (Korea), 2004 in Bremen fort. Und ab 2006als World Choir Games in Xiamen (China), 2008 in Graz (Österreich), 2010 in Shaoxing (China)und 2012 in Cincinnati (USA). Im Juli 2014 fanden die World Choir Games in Riga, Lettland stattund waren mit 27.000 Teilnehmern die bis dato größten in der Geschichte der chorolympischenIdee, der heutigen World Choir Games. Im Jahr 2016 kommen sie in die Olympiastadt Sotschiin Russland.Ein weiterer Meilenstein in der Geschichte von INTERKULTUR war die Einführung der Weltmeisterschaftder Chöre. Die erste Weltmeisterschaft fand 2009 in der Provinz Gyeongnam inSüdkorea statt, im Juli 2011 wurde die Chorweltmeisterschaft der Jugend in Graz (Österreich)ausgetragen. Graz war im Juli 2013 mit den 1. European Choir Games und dem Songs of SpiritFestival noch einmal Austragungsort für eine INTERKULTUR-Veranstaltung. Die zweite Ausgabedieser europäischen Version der World Choir Games fand im Juli <strong>2015</strong> in Magdeburg statt, die3. European Choir Games werden 2017 gemeinsam mit dem "Grand Prix of Nations" im lettischenRiga ausgetragen.Die IdeeINTERKULTUR ist mittlerweile zum Symbol für eine einzigartige künstlerische Idee geworden.Sie besteht in einer neuen Auffassung über die Durchführung von Chorwettbewerben: Währendsich bei den verdienstvollen traditionellen Chorwettbewerben nur Chöre vergleichen, diezur internationalen Spitzenklasse gehören, stehen die INTERKULTUR-Wettbewerbe allen Chören,mit oder ohne Wettbewerbserfahrung offen. Alle Chöre der Welt können sich im Wettbewerbentsprechend ihrem Leistungsstand vergleichen. Für das künstlerische Komitee liegendie Schwerpunkte auf Qualität aber auch auf größter Vielfalt der Chöre in allen Wettbewerben.Diese neue Art der Wettbewerbsorganisation hat in den letzten Jahrzehnten zahlreicheNachahmer gefunden. Mit der Idee der World Choir Games, die alle zwei Jahre stattfinden, hates INTERKULTUR geschafft der nationalen und internationalen Chorszene neue Impulse undPerspektiven zu geben.
---
… Brücken der Begegnung / … Connecting Bridges17Das QualitätssiegelSeit über 20 Jahren ist MUSICA MUNDI® das exklusive Qualitätssiegel aller INTERKULTUR-Wettbewerbe.Seit dem ersten Wettbewerb, den INTERKULTUR 1988 in Budapest veranstaltet hat,besteht ein Bewertungssystem, das als Basis für alle INTERKULTUR-Wettbewerbe dient. DiesesSystem wird regelmäßig überarbeitet und ständig weiter entwickelt. Es garantiert Vergleichbarkeitzwischen allen Wettbewerben und setzt einen Standard in der Welt der Chormusik.Die WettbewerbeEs gibt verschiedene Kategorien für alle Arten und Stufen der Chöre in verschiedenen Schwierigkeitsgraden,mit und ohne Pflichtstück. Sie bieten eine einzigartige Atmosphäre, gute Wettbewerbsbedingungen,intensive künstlerische Kontakte, unterschiedliche Beratungsprogrammeund Workshops, sowie Praxis mit internationalen Künstlern. Mehr als 200 Experten undführende Chordirigenten aus der ganzen Welt gewährleisten ein hohes Maß an Kompetenz inallen INTERKULTUR-Veranstaltungen.Das WertungssystemDie Jury vergibt Goldene, Silberne und Bronzene Diplome in 10 Stufen bei INTERKULTUR-Wettbewerbenund Bronzene, Silberne oder Goldene Medaillen bei den World Choir Games und denWorld Choir Championships nach dem MUSICA MUNDI® Bewertungssystem. In jeder Kategoriegibt es einen Sieger oder Champion, herausragende Leistungen werden mit besonderenPreisen geehrt. In manchen Wettbewerben gibt es zusätzliche Wettbewerbe der Kategoriesiegerum den Großpreis, hier wird dann der Gesamtsieger des Wettbewerbs bestimmt.Das pädagogische KonzeptDie INTERKULTUR-Veranstaltungen sind nicht nur Wettbewerbe und internationale Chortreffen,sondern stehen auch für Kompetenz durch zahlreiche pädagogische Angebote, die füreine nachhaltige Wirkung bei den teilnehmenden Chören sorgen. So können sich Chöre beispielsweisein Beratungsrunden vor dem Wettbewerb und in intensiven Gesprächen mit derinternationalen Jury wertvolle Hinweise zu ihrem derzeitigen Leistungsstand geben lassen,fachkundige pädagogische und künstlerische Hinweise erhalten oder Ratschläge zur Interpretationbekommen. Weitere exklusive Möglichkeiten, dem eigenen Chorsingen neue Impulse zuverleihen, bestehen in Proben mit internationalen Chorfachleuten.Außerdem werden bei vielen INTERKULTUR-Veranstaltungen Fachtagungen, Chorleiterseminare,Komponistenporträts und Fachvorträge angeboten. Freundschaftskonzerte und gemeinsamesSingen verstärken die große emotionale Wirkung der internationalen Chortreffen desFördervereins INTERKULTUR e. V.
---
18Die Wettbewerbs- und FestivalorteDie Veranstaltungen von INTERKULTUR fanden bisher in folgenden Ländern statt: Deutschland,Indonesien, Israel, Italien, Malaysia, Malta, Österreich, Republik Korea, Serbien, Spanien, Schweden,Tschechische Republik, Ungarn, USA, Vietnam und in der Volksrepublik China. Im Herbst<strong>2015</strong> findet erstmalig eine Veranstaltung in Griechenland statt.Die TeilnehmerÜber 7.700 Chöre mit rund 350.000 aktiven Sängerinnen und Sängern aus 100 Ländern nahmenbisher an den INTERKULTUR-Wettbewerben teil. Mehr als die Hälfte der Teilnehmer sindjunge Menschen im Alter bis 25 Jahre.Die FördermöglichkeitenGemäß seiner Satzung unterstützt der Förderverein INTERKULTUR e.V. folgende Aktivitäten:Internationale Musikfestivals und Chorwettbewerbe, die das Ziel verfolgen, Chöre aus unterschiedlichenRegionen der Welt zusammenzubringen und in gegenseitiger Achtung internationaleZusammenarbeit zu pflegen sowie zum Austausch der Kulturen und der Verständigungzwischen den Völkern beizutragen;• Kinder- und Jugendchöre, besonders aus finanzschwachen Ländern;• Laienchöre aus dem In- und Ausland, die eine intensive und nachhaltige Jugendarbeitnachweisen können;• Nachwuchschorleiter, junge Musiker und Sänger (Vergabe von Stipendien);• zweckgebundene Förderprogramme.KulturPreis EuropaDer Förderverein Interkultur e.V. wurde im Jahr 2006 mit dem KulturPreis Europa ausgezeichnet,der vom deutschen Bundesaußenminister a. D. Hans Dietrich Genscher initiiert wurde undvom KulturForum Europa präsentiert wird. In der Begründung zu dieser Ehrung heißt es, INTER-KULTUR gebe den Choren aus aller Welt die Gelegenheit, sich im friedlichen Wettstreit unterdem Motto "Kultur schafft Toleranz – Frieden stiften mit Kultur" zu treffen.***The first INTERKULTUR International Choir Competition in Budapest, held in 1988, was the start ofone of the largest and most successful series of cultural events in Europe. The INTERKULTUR EventSeries has meanwhile become known throughout the world for its high artistic and organizationalstandards and as a concept for the choirs and choir enthusiasts worldwide. These events are organizedby INTERKULTUR, a non-profit organization based in Germany.INTERKULTUR´s biggest success to date was to bring the antique Olympic idea to the choral community.The Choir Olympics 2000 in Linz, Austria was the beginning of a Choir Olympic movement, withsubsequent events in Busan, Republic of Korea in 2002, and Bremen, Germany in 2004. This successcontinued as the "World Choir Games" in Xiamen, China in 2006, Graz, Austria in 2008, Shaoxing,China in 2010, and Cincinnati, USA in 2012. In 2014, the World Choir Games were held in Riga, Latviaand marked the biggest event in the history of the choir Olympic idea attracting 27,000 participants.In 2016, the World Choir Games will come to the Olympic city of Sochi in Russia.
---
… Brücken der Begegnung / … Connecting Bridges19Another milestone in the history of INTERKULTUR was to establish a World Championship for choirs.The first World Choir Championships debuted in 2009 in the Province of Gyeongnam, Republic ofKorea, followed by the World Choir Championships for Youth and Young Adults in July 2011 in Graz,Austria. Graz again was the host city for a INTERKULTUR event, the first European Choir Games andthe "Songs of Spirit Festival" were held in July 2013. The second edition of this European version of theWorld Choir Games was held in Magdeburg, Germany in July <strong>2015</strong>, the 3rd European Choir Gameswill happen in the Latvian capital Riga in 2017 along with the "Grand Prix of Nations".The IdeaINTERKULTUR has become the symbol for a unique artistic idea, consisting of a new interpretationconcerning the execution of choir festivals. In comparison to traditional meritorious choir competitionsthat only invite international elite choirs to take part; the INTERKULTUR competitions are opento all non-professional choirs. Choirs from all over the world, interested in gaining international festivaland competition experience, can compete according to their level of artistic achievement. TheArtistic Committee puts emphasis on the presence of the highest level of choral performers as well ason the presence of the greatest diversity of choirs in all competitions. This new type of competitionhas been copied by numerous organizations in the past two decades. With the idea to organize theWorld Choir Games, formerly known as "Choir Olympics" biennially, INTERKULTUR has opened a doorto new impulses and perspectives for the national and international choral movement.The Quality SealFor more than 20 years, MUSICA MUNDI® has been the exclusive quality seal for all INTERKULTURevents worldwide. The evaluation system on which all INTERKULTUR competitions are based uponsince the first event in Budapest in 1988 have been improved continuously. MUSICA MUNDI® ensurescomparability among all events, a smooth organization and has set standards in the world of choralmusic.The CompetitionsThere are various categories for all types and levels of choirs in different degrees of difficulty, withor without compulsory pieces. The competitions offer good competitive conditions, valuable artisticcontacts, various workshops and seminars, as well as practice opportunities with international performers.More than 200 experts and leading choirmasters from all over the world guarantee a highlevel of expertise in all INTERKULTUR events.Evaluation SystemThe jury awards Bronze, Silver, and Gold Diplomas on 10 levels at INTERKULTUR competitions alongwith Bronze, Silver and Gold Medals at the World Choir Games and World Choir Championships,according to the MUSICA MUNDI® evaluation system. In each category, a winner or champion isdetermined and outstanding achievements are honored with special prizes. In some competitionsthere is a grand prize competition of the category winners which determines the overall winner ofthe competition.
---
20The Pedagogical ConceptINTERKULTUR events are not just competitions and international choir festivals. Choirs are able toreceive feedback from various pedagogical offerings. In evaluation rounds, choirs have the chance towork with international jury members and gain advice on their current level of achievement, receiveproficient pedagogical and artistic information and obtain suggestions as to how to interpret thechosen piece. Choirs may also attend workshops and seminars along with participation in Friendshipand Celebration Concerts which allow international choirs to interact with choirs of the host cityduring INTERKULTUR events.Locations of Festivals and CompetitionsTo date, INTERKULTUR events have taken place in Austria, Czech Republic, Germany, Hungary, Indonesia,Israel, Italy, Malaysia, Malta, People's Republic of China, Republic of Korea, Spain, Sweden, USA,Vietnam and Serbia. In <strong>2015</strong> also Greece will fill a gap on the map of INTERKULTUR events.The ParticipantsIn total, more than 7,700 choirs with roughly 350,000 active singers from 100 countries have takenpart in the INTERKULTUR competitions to date. An interesting note is that more than half of theparticipants have been children and youth up to 25 years of age.Means of SupportIn accordance with its statutes, INTERKULTUR supports the following activities:• International music festivals and choir competitions whose goal is to bring together choirs fromdifferent regions of the world and encourage international collaboration through mutual respect,as well as to contribute to cultural exchange and understanding among nations• Children and youth choirs even from financially challenged countries• Non-professional choirs that focus on the growth of youth development• Young, talented choirmasters, young musicians and singers through the support of scholarshipawards• Specific sponsorship opportunitiesEuropean Culture AwardINTERKULTUR was awarded the 2006 European Culture Award, by former German Minister of ForeignAffairs, Hans Dietrich Genscher and presented by KulturForum Europa, for its activities on behalfof understanding between peoples and furtherance of common European thinking in the field ofculture.
---
Kapitelüberschrift_dt / Kapitelüberschrift_gb21
---
22Die Gastgeberstadt <strong>Wernigerode</strong>The host town <strong>Wernigerode</strong>Am nördlichen Gebirgsrand des wohl schönsten Mittelgebirges Deutschlands liegt eineStadt, die dem Harz seinen ganz besonderen Farbton verleiht und ihm so seinen eigenenCharakter gibt. Diese Stadt ist <strong>Wernigerode</strong>, genannt die "Bunte Stadt am Harz". Die Stadt,erstmals erwähnt im Jahr 1121, fasziniert jeden Besucher mit ihrer wunderbaren Farbpalettean malerischen Fachwerkhäusern und verwinkelten Gassen, historischen Gärten unddem Schloss. Schon Goethe und Löns schätzten die einmalige Atmosphäre des liebenswertenKleinods und erfreuten sich am geschlossenen Stadtensemble.Kommt man nach <strong>Wernigerode</strong>, so erwarten die Besucherinnen und Besucher lückenlosgearbeitete Fachwerkfassaden aller wichtigen Stilepochen vom urtypischen Ständerbauzum hohen gotischen oder barocken Stil. Unvergleichlich ist die Holzarchitektur des"Krummelschen Hauses" sowie die Bauweise des "Schiefen Hauses" in der Klintgasse.Hier in <strong>Wernigerode</strong> nehmen die Begriffe "Tradition und Moderne" einen hohen Stellenwertein. So wird das "Harzer Brauchtum" ebenso gepflegt wie moderne Kunst und Kultur.<strong>Wernigerode</strong> ist seit Jahrzehnten bekannt als eine Hochburg des Chorgesanges und seit1951 Heimat des Rundfunkjugendchores. Generationen von Musikerziehern, Solisten undDirigenten, die heute das nationale und internationale Musikleben mitbestimmen, erhieltenhier am heutigen Landesmusikgymnasium eine solide musikalische Ausbildung.
---
Die Gastgeberstadt <strong>Wernigerode</strong> / The host town <strong>Wernigerode</strong>23Schließlich haben das Philharmonische Kammerorchester und die überregional bekanntenSchlossfestspiele Anteil an dieser Traditionspflege. Mit der sehr erfolgreichen Durchführungder Internationalen Johannes-Brahms-Chorwettbewerbe wurde <strong>Wernigerode</strong>sRuf als "Chorstadt" international Nachdruck verliehen.Aber nicht nur <strong>Wernigerode</strong> allein ist eine Reise wert. Ebenso interessant und abwechslungsreichist die nähere Umgebung. Die wunderschöne Natur des Harzes bietet freienZugang zu Bergwerksmuseen, alten Burgen, Schlössern und Tropfsteinhöhlen. Über dieGrenzen des Harzes hinaus bekannt ist der Hexenspuk in der Walpurgisnacht auf demsagenumwobenen Blocksberg. Ende April eines jeden Jahres wird hier endgültig der Wintervertrieben. Sie sehen: es lohnt sich also, der "Bunten Stadt am Harz" einen Besuchabzustatten.***At the northern edge of the Harz Mountains, arguably the most beautiful of all Iow Mountainranges in Germany, there lies a town that gives the region its own bright, distinctivenote. This is <strong>Wernigerode</strong>, the "colourful town in the Harz". First mentioned in 1121, it isrenowned for its half-timbered houses whose wonderful display of classical shades and freshcolours has long fascinated every visitor – Goethe and Löns in their day valued the uniqueatmosphere of this jewel of a little town and delighted in the whole array of its frontages.
---
24Enthusiasts and connoisseurs alike gather here to warn around the majestic castle, the littlehouses and the winding back alleys. <strong>Wernigerode</strong> boasts impeccably crafted half-timberfacades from all major style epochs, from the original typical Ständerbau to High Gothic orBaroque. The wooden architecture of the "Krummelsches Haus" as well as the constructionof the "Schiefe Haus" in the Klintgasse are without comparison.The words "tradition and modernity" are of utmost importance here in <strong>Wernigerode</strong>. Nowhereelse are the tradition and the contemporary art and culture of the Harz better preserved.<strong>Wernigerode</strong> has been regarded as a stronghold of choral music for decades and has beenthe home of the Radio Youth Choir since 1951. Generations of music teachers, soloists andconductors who are influential on the national and international music scene today receiveda thorough musical education here at the present State Grammar School of Music.The Philharmonic Chamber Orchestra and the Schlossfestspiele, known throughout Germany,also contribute to the aforementioned preservation of tradition. The highly successfulorganization of International Johannes Brahms Choir Competitions further emphasizes<strong>Wernigerode</strong>'s cosmopolitan reputation as a "choral town".But it is not <strong>Wernigerode</strong> alone that rewards the curious traveler. The immediate surroundingsof the township are equally interesting. The beautiful environment of the Harz offerseasy access to mining museums, old castles, palaces and stalactite caves. The legendary activitiesthat take place on Walpurgisnacht or "witches' sabbath" on the Brocken, the fabledBlocksberg, enjoy notoriety well beyond the borders of the Harz. Here, at the end of Aprilevery year, the remnants of winter are finally chased away. As you can see, the "colourfultown in the Harz" is definitely worth a visit!
---
Die Gastgeberstadt <strong>Wernigerode</strong> / The host town <strong>Wernigerode</strong>25
---
26Johannes Brahms (1833 – 1897)Johannes Brahms – geboren am 7. Mai 1833 in Hamburg, gestorben am 3. April 1897 in Wien– zählt zu den herausragenden Komponisten des 19. Jahrhunderts. In einzigartiger Weise gelanges ihm, die kompositorischen Errungenschaften der Vergangenheit, etwa diejenigen Bachsoder Beethovens, in seine eigene romantische Epoche zu überführen. Er schuf dabei ein musikalischesOeuvre, das nicht allein geprägt ist durch einen gänzlich individuellen Stil und höchstekünstlerische Qualität, sondern auch durch eine bemerkenswerte Vielseitigkeit.Mit Ausnahme der Oper hat Brahms sich allen Gattungen der Musik intensiv gewidmet. Sofinden sich in seiner Instrumentalmusik unter anderem je vier Sinfonien und Konzerte sowiezahlreiche Kammermusik-, Klavier- und Orgelwerke.Nicht weniger wichtig war ihm allerdings die Vokalmusik. Hier steht seinen mehr als 200 Sololiederneine große Zahl geistlicher wie auch weltlicher Chorkompositionen gegenüber: Stückefür Frauenchor, für Männerchor, Werke für gemischte Chöre, teils a cappella, teils mit Begleitungdurch wenige Instrumente, mitunter auch durch ein volles Orchester. Und es war ein solchesorchesterbegleitetes Chorwerk, das "Deutsche Requiem" op. 45, mit dem Brahms in denAugen seiner Zeitgenossen endgültig zu einem Komponisten von europäischem Rang aufstieg.Alexander Odefey1853 1874
---
Johannes Brahms (1833 – 1897)271880er Jahre / 1880s 15. Juni 1896 / June 15, 1896Johannes Brahms – born in Hamburg May 7, 1833, died in Vienna April 3, 1897 – is one of thetruly outstanding composers of the nineteenth century.In his own unique way he managed to apply compositional achievements of the past, such asthose found in Bach or Beethoven, to his own romantic epoch. In doing so he created music of thehighest artistic quality, characterized not only by a wholly individual style but also by extraordinaryversatility.With the exception of the field of opera, Brahms devoted himself to every genre. His instrumentalworks include four symphonies, four concerts, a large amount of chamber music, as well as numerousworks for piano and for organ.Not less important for him was vocal music. Along with his the more than 200 "lieder" he composedmany works for both female and male choirs, for mixed choir, some a cappella, and somewith small instrumental accompaniment or with full orchestra. It turned out to be one of thesechoral works with full orchestra, "A German Requiem" op. 45, which caused Brahms' reputation torise in the estimation of his contemporaries to such an extent, that from then on he was regardedunequivocally as one of Europe's foremost composers.Handschrift Brahms' "Es ist das Heil uns kommen her", Motette, op. 29 - Nr. 1 /Brahms' handwriting of "Es ist das Heil uns kommen her", Motette, op. 29 - Nr. 1
---
29SPONSORENSPONSORS
---
30SponsorenSponsorsAls Veranstalter des 9. Internationalen Johannes-Brahms-Chorfestivals & Wettbewerbs istes der Stadt <strong>Wernigerode</strong> und dem Förderverein INTERKULTUR ein Herzensbedürfnis, denSponsoren unseres erfolgreichen Festivals im Namen aller Mitwirkenden für ihre großzügigeUnterstützung zu danken. Ohne die folgenden Firmen und Institutionen wäre die Durchführungdieses herrlichen Treffens von Chören aus 13 Ländern nicht möglich gewesen.As organizers of the 9 th International Johannes Brahms Choir Festival & Competition, the city of<strong>Wernigerode</strong> and INTERKULTUR would like to thank the sponsors of our successful festival fortheir kind support in the name of all participants. Without the help of the following companiesand institutions, this outstanding event with choirs from 13 different countries would not havebeen possible.Unser herzlicher Dank gilt / We would especially like to thank:Stadtwerke <strong>Wernigerode</strong>Hauptsponsor / main sponsorAm Kupferhammer 38, 38855 <strong>Wernigerode</strong>www.stadtwerke-wernigerode.deLand Sachsen-Anhaltwww.sachsen-anhalt.deLotto TotoSachsen-Anhalt GmbHStresemannstraße 18, 39194 Magdeburgwww.lottosachsenanhalt.deHarzsparkasseGustav-Petri-Str. 8, 38855 <strong>Wernigerode</strong>www.harzsparkasse.deHarzer VolksstimmeBreite Straße 48, 38855 <strong>Wernigerode</strong>www.volksstimme.de
---
Sponsoren / Sponsors31Gebäude- und Wohnungsbaugesellschaft mbHPlatz des Friedens 6, 38855 <strong>Wernigerode</strong>www.gww-wr.deAutohaus <strong>Wernigerode</strong> GmbHDornbergsweg 36, 38855 <strong>Wernigerode</strong>www.ah-wernigerode.deTRANSDEV Sachsen-AnhaltMagdeburger Str. 29, 38820 Halberstadtwww.hex-online.deHasseröder Brauerei GmbHAuerhahnring 1, 38855 <strong>Wernigerode</strong>www.hasseroeder.deHasseröder FerienparkNesseltal 11, 38855 <strong>Wernigerode</strong>www.hasseröder-ferienpark.deGlasmanufaktur Harzkristall GmbHIm Freien Felde 5, 38855 Derenburgwww.harzkristall.deHarzdruckerei GmbHMax-Planck-Straße 12, 38855 <strong>Wernigerode</strong>www.harzdruckerei.deDie Bunte Stadt am Harz<strong>Wernigerode</strong> Tourismus GmbHMarktplatz 10, 38855 <strong>Wernigerode</strong>www.wernigerode-tourismus.deHarzer Verkehrsbetriebe GmbHDornbergsweg 7, 38855 <strong>Wernigerode</strong>www.hvb.deNOSA GmbH – Holding der Stadt HalberstadtUnter den Weiden 11/12, 38820 Halberstadtwww.nosa-halberstadt.deLions-Club"Anna zu Stolberg", 38855 <strong>Wernigerode</strong>www.lions.de
---
33KÜNSTLERISCHES KOMITEE & JURYARTISTIC COMMITTEE & JURY
---
34Deutschland / GermanyFriedrich KrellKünstlerisches Komitee & Ehrenmitglied /Artistic Committee & Honorary MemberDr. Friedrich Krell, geboren 1928, studierte von1947 bis 1951 an der Martin-Luther-UniversitätHalle-Wittenberg die Fächer Musik undChemie. 1951 nahm er die Tätigkeit als Lehreran der erweiterten Oberschule <strong>Wernigerode</strong>auf. Hier gründete er sofort einen gemischtenJugendchor, der heute als Rundfunk-Jugendchor<strong>Wernigerode</strong> international bekannt ist.Der praktische Umgang mit Chormusik ausverschiedenen Jahrhunderten veranlasste ihnzur wissenschaftlichen Auseinandersetzungmit Problemen der Rezeption und Interpretationvon Chorwerken insbesondere des 16. Jahrhunderts,deren Ergebnisse in seiner Dissertationvon 1970 zum Ausdruck kommen. 1988gründete er die Wernigeröder Singakademie,1991 wurde er zum Leiter des Landesgymnasiumsfür Musik <strong>Wernigerode</strong> berufen, das ausden von ihm 1963 eingerichteten Spezialklassenfür Musikerziehung hervorgegangen ist.1994 erhielt er vom Landesmusikrat Sachsen-Anhalt den Auftrag, den LandesjugendchorSachsen-Anhalt aufzubauen, der inzwischenebenfalls beachtliche künstlerische Erfolgeerzielen konnte. Friedrich Krell ist als Berater,Dozent bei Chorleiterlehrgängen und als internationaltätiger Juror geschätzt. Für seineVerdienste um die Chorbewegung wurde er2003 mit dem Verdienstkreuz am Bande desVerdienstordens der Bundesrepublik Deutschlandgeehrt.Dr. Friedrich Krell was born in 1928. He studiedmusic and chemistry at the Martin LutherUniversity Halle-Wittenberg between 1947and 1951. He was a teacher at the extendedsecondary school in <strong>Wernigerode</strong> since 1951.Right at the start of his work he founded themixed youth choir. The ensemble, known todayas the <strong>Wernigerode</strong> Radio Youth Choir, enjoysinternational recognition. Friedrich Krell is avoice teacher whose main aim is to achieve aspecial ideal in sound quality. During his scientificwork in the field of choral music he wasprimarily concerned with the problem of perceivingand performing 16th century music, ashe wrote in his dissertation in 1970. In 1988Friedrich Krell founded the "Wernigeröder Singakademie",in 1991 he was appointed to be thedirector of the <strong>Wernigerode</strong> College of Musicthat was built upon his special classes for music.In 1994 the Federal State Music Council ofSachsen-Anhalt charged him with the formationof the Federal State Youth Choir of Sachsen-Anhalt, which has also earned significant artisticrecognition since then. Friedrich Krell is arenowned advisor, lecturer at courses for choralconductors and an internationally acting adjudicatorfor several choral competitions. For hisoutstanding contributions to the choral movementhe was awarded the Federal Cross of Meritof the Federal Republic of Germany in 2003.
---
Künstlerisches Komitee & Jury / Artistic Committee & Jury35Deutschland / GermanyRalf EisenbeißDirektor des Künstlerischen Komitees /Director of the Artistic CommitteeDr. Ralf Eisenbeiß wurde 1952 in Zeulenrodageboren. Nach dem Abitur studierte er an derPädagogischen Hochschule Zwickau Pädagogik,Germanistik und Musikerziehung. Er promovierte1979 zum Dr. phil. Von 1978 – 1981studierte er an der Musikhochschule "FranzLiszt" in Weimar Chor- und Orchesterdirigieren.Als Inhaber des Lehrstuhles Chorleitung undChorgesang an der Pädagogischen Hochschulein Zwickau wurde Ralf Eisenbeiß 1987 zum Professorberufen. Er war Leiter des Chores dieserEinrichtung, der im In- und Ausland bekanntwar und bei nationalen und internationalenWettbewerben zahlreiche Preise gewann.Ralf Eisenbeiß war Dozent beim ZentralenChorleiterseminar in Berlin und leitete selbstzahlreiche Seminare. Er ist häufig Gastdirigentim In- und Ausland, so unter anderem in Vancouver(Kanada) und Shaoxing (China). Er dirigierteverschiedene Orchester in Deutschlandund im Ausland, darunter Österreich, Lettland,Korea, Indonesien und China.Seit mehr als 20 Jahren ist er künstlerischerDirektor von INTERKULTUR. Er gründete denInt. Robert-Schumann-Chorwettbewerb inZwickau und ist Mitbegründer der WorldChoir Games. Bisher war er künstlerisch in derVerantwortung für etwa 120 internationaleWettbewerbe. Ralf Eisenbeiß wurde sehr oftals Juror von nationalen und internationalenChorwettbewerben in der ganzen Welt eingeladen.Dr. Ralf Eisenbeiß was born in 1952 in Zeulenroda.After his German Abitur he studied pedagogy,German philology and musical education.He received his PhD in 1979 at the PedagogicalUniversity of Zwickau. From 1978 to 1981, hestudied choir and orchestra conducting at theFranz Liszt Conservatory in Weimar.Ralf Eisenbeiß was working as the director ofthe choral department at the Pedagogical Universityin Zwickau and appointed professor forchoir conducting and choral singing in 1987.He was conductor of the renowned PedagogicalUniversity Zwickau Choir. Under his directionthe choir won numerous prizes at nationaland international choir competitions.Ralf Eisenbeiß was lecturer at the central seminarfor choral conductors in Berlin and organisednumerous workshops himself. He often appearsas guest conductor at home and abroadso for example in Vancouver (Canada) and Shaoxing(China). He conducted several orchestrasin Germany and abroad, i.a. in Austria, Latvia,Korea, Indonesia and China.Since more than 20 years he has been workingas artistic director of INTERKULTUR. Ralf Eisenbeißis founder of the Int. Robert SchumannChoir Competition in Zwickau and one of thefounders of the World Choir Games. Since 1992he was responsible for over one hundred andtwenty international competitions of INTER-KULTUR worldwide. Ralf Eisenbeiß was veryoften invited as a juror in national and internationalchoir competitions all over the world.
---
36Vereinigte Staaten von Amerika /United States of AmericaMiguel Ángel FelipeJuror / Jury MemberDr. Miguel Ángel Felipe wurde 2011 zum Direktorfür Choraktivitäten an der UniversitätHawaii ernannt. Felipe ist darüber hinaus alsWorkshopleiter und Chorleiter in den USA,Asien, Südamerika und Europa tätig. Kürzlicheund zukünftige Engagements beinhalten dieLeitung von Chören auf den Philippinen, in Japanund Hawaii sowie die Durchführung vonMeisterklassen in Schweden, Shanghai, undKalifornien und die Arbeit als Juror in Indonesien,Deutschland und Singapur.Als treuer Unterstützer neuer Musik und wenigerbekannter Meisterstücke referierte Felipeim Rahmen nationaler Events umfangreichüber die Beziehung zwischen Komponist undChorleiter. Seine Forschungen konzentrierensich auf Neuerungen im Chorbereich in Indonesienund Süd-Ostasien sowie auf Konzeptenüber den Einfluss von Chorgemeinschaften aufdie kulturelle Entwicklung und auf die Zusammenstellungvon Chören.Felipe unterrichtete an den Fakultäten desOberlin College & Konservatoriums, des BostonKonservatoriums, der Brown Universitätsowie Mount Holyoke College. Er leitete Chörean der Harvard Universität (USA), der Universidadede São Paulo, Ribeirão Preto (Brasilien) sowieKirchenchöre. Er war zudem als Präsidentdes hawaiianischen Verbandes der AmericanChoral Directors Association und nationalesVorstandsmitglied der National CollegiateChoral Organization tätig.Dr. Miguel Ángel Felipe was appointed Directorof Choral Activities at the Universityof Hawai'i at Mānoa, Honolulu, Hawai'i, in2011. Felipe is also active as a clinician andconductor in the US, Asia, South America,and Europe. Upcoming and recent engagementsinclude leading choirs in the Philippines,Japan, and Hawai'i; presenting masterclassesin Sweden, Shanghai, and California;and adjudicating choirs in Indonesia, Germany,and Singapore.As devoted supporter of new music and lesserknown masterpieces, Miguel Ángel Felipehas commissioned extensively and spokenat national events about the composer-conductorrelationship. His research focuses onchoral innovations in Indonesia and SoutheastAsia, on concepts of the influence ofchoral societies in cultural development, andon choral programming.Miguel Ángel Felipe has served on the facultiesof Oberlin College & Conservatory, TheBoston Conservatory, Brown University, andMount Holyoke College. He has led choirs atHarvard University (USA); the Universidadede São Paulo, Ribeirão Preto (Brazil); andin churches. He serves as president of theHawai'i Chapter, American Choral DirectorsAssociation and as a national board memberof the National Collegiate Choral Organization.
---
Künstlerisches Komitee & Jury / Artistic Committee & Jury37Deutschland / GermanyPeter HabermannJuror / Jury MemberPeter Habermann erhielt seine erste musikalischeAusbildung als Mitglied des DresdnerKreuzchores. Es schloss sich ein Gesangsstudiumin Dresden an, welches ihn mit dem Prädikat"mit Auszeichnung" zum diplomiertenGesangslehrer führte. Seit 1984 ist er in <strong>Wernigerode</strong>am heutigen Landesgymnasium fürMusik tätig. Sein Arbeitsfeld umfasst sowohlden Bereich der Stimmbildung als auch derchorischen Ausbildung von Schülerinnen undSchülern dieser Einrichtung. So war er vieleJahre stellvertretender künstlerischer Leiterbei Friedrich Krell und dem Rundfunk-Jugendchor<strong>Wernigerode</strong>. Er leitete erfolgreich denKinderchor dieser Einrichtung und übernahmvon 1996 bis zunächst 2004 die künstlerischeLeitung des Rundfunk-Jugendchores, die erseit 2008 nun wiederum inne hat. ZahlreichePreise und Auszeichnungen bei nationalenund internationalen Wettbewerben sowieCD-Produktionen und Konzertreisen ins InundAusland kennzeichnen seine Tätigkeit mitdem international renommierten Ensemble. Ergründete 2003 den Kammerchor <strong>Wernigerode</strong>,einen Projektchor von ehemaligen Mitgliederndes Rundfunk-Jugendchores, mit dem er biszum Jahre 2010 eine äußerst erfolgreiche Entwicklunggestalten konnte. Aber auch dem Laienmusizierenist er verbunden: 10 Jahre leiteteer den Männerchor Drübeck. Als Juror, Sängerund Sprecher ist er weiterhin vielfältig aktiv, sounter anderem bei INTERKULTUR Chorfestivalsund beim Deutschen Chorwettbewerb.Peter Habermann received his first musicaleducation as a member of the Dresden Kreuzchor.This was followed by a course of VocalStudies in Dresden which he passed with aFirst Class Honours degree to be a singingteacher. Since 1984, he has been teaching atthe Landesgymnasium für Musik <strong>Wernigerode</strong>.His scope of work covers both the field ofvocal training and the choral education of thisinstitution's students.For many years, he acted as a Deputy ArtisticDirector of the Rundfunkjugendchor <strong>Wernigerode</strong>with Friedrich Krell. Later, he led theinstitution's Children Choir with great successbefore he became Artistic Director of the Rundfunkjugendchorin 1996, a responsibility thathe held until 2004 and has been holding againfrom 2008 until today.His work with this internationally renownedensemble has been rewarded with numerousprizes, and has resulted in many CD recordingsas well as concert tours both at home and abroad.In 2003, he founded the <strong>Wernigerode</strong> ChamberChoir, a project choir comprising former Rundfunkjugendchormembers which he led until2010. He is also committed to amateur music:for 10 years, he conducted the men's choir ofthe village Drübeck.Peter Habermann is an active singer, speakerand juror for INTERKULTUR events and the GermanChoral Contest.
---
38Deutschland / GermanyNicol MattJuror / Jury MemberNicol Matt, einer der wenigen deutschenNachwuchsdirigenten mit internationalemRenommee, wurde 1970 im Schwarzwald geboren.Er studierte evangelische Kirchenmusik,Dirigieren, Stimmbildung, Partiturspiel, Klavierund Gesang an den Musikhochschulen inStuttgart, Trossingen und Straßburg. Er warder Gründer und Dirigent des EuropäischenKammerchores und des Amadeus-Chores.Bereits knapp 100 CD-Produktionen mit Einspielungenanspruchsvollster Vokal-, Orchester-und Instrumentalwerke dokumentierenseine künstlerische Vielschichtigkeit. Über 8Millionen verkaufte Tonträger zeugen von seinenanspruchsvollen Interpretationen.Nicol Matt erhält regelmäßige Einladungen zuetablierten Konzertreihen wie dem Rheingau-Musikfestival, dem SWR-Festival und demMDR-Musiksommer. Als Produzent entwickelteund initiierte er viele neue Projekte fürinternationale Fernsehproduktionen und dieMusikindustrie um Chöre und a-cappella Gesangzu unterstützen. Nicol Matt pflegt eineaktive Zusammenarbeit mit zeitgenössischenKomponisten aus Deutschland, England undden USA – unter anderem mit Morten Lauridsen,Bob Chilcott, John Rutter, Ola Gjeilo, HansSchanderl und Frank Zabel. Er wird regelmäßigals Seminarleiter und Juror zu internationalenChorwettbewerben, Festivals und Universitäteneingeladen um Workshops und Meisterkursefür Chorleiter und Sänger auf der ganzenWelt zu leiten.Nicol Matt, one of Germany's few new generationconductors enjoying international reputation,was born in 1970 in the Black Forest regionof Germany. He studied Lutheran churchmusic, conducting, vocal coaching, score playing,piano and singing at the music academiesof Stuttgart, Trossingen and Strasbourg.He was the founder and conductor of theChamber Choir of Europe and the Amadeus-Choir. Almost one hundred CDs with recordingsof highly demanding vocal, orchestral and instrumentalworks document his sophisticationas an artist. Worldwide sales of over eight millionCDs testify to the demand for his highlyregardedand awarded interpretations.He regularly receives invitations to perform atestablished concert series such as the RheingauMusic Festival, the SWR Festival, the MDR MusicalSummer in Germany, and in many othercountries. As producer Nicol Matt developedand initiated many new projects for the internationalTV- and music industry, to supportchoirs and a cappella singing worldwide.Nicol Matt has active partnerships with contemporarycomposers from Germany, Englandand the USA – including Morten Lauridsen, BobChilcott, John Rutter, Ola Gjeilo, Hans Schanderland Frank Zabel.As lecturer and judge he is regularly invitedto international choir competitions, festivalsand universities, to teach during workshopsand master-classes for conductors and singersaround the globe.
---
Künstlerisches Komitee & Jury / Artistic Committee & Jury39Deutschland / GermanyNico NebeJuror / Jury MemberNico Nebe besuchte von 1983 – 1987 dieSpezialklassen für Musikerziehung in Zwickau.1989 bis 1995 folgte das Studium Chordirigierenan der Universität Chemnitz-Zwickau.Seitdem wirkt er als freischaffenderMusikerzieher, Dirigent, Komponist undMusikverleger in Zwickau.Er fungiert als langjähriger Dirigent desKammerchores "Belcanto" Zwickau unddes Männerchores "Liederkranz" Zwickau1843. Beide Ensembles konnten unter seinerLeitung zahlreiche Preise und Diplomebei nationalen und internationalen Wettbewerbenerringen. Im Rahmen dieserWettbewerbe wurde Nico Nebe mehrfachmit Dirigentenpreisen ausgezeichnet.Seit 2002 ist er als Präsident des WestsächsischenChorverbandes und Vizepräsidentdes Sächsischen Chorverbandes intensivmit der Chorarbeit in Sachsen verbunden.An der Vereinigung der mehrerer sächsischerChorverbände zum jetzigen SächsischenChorverband mit nahezu 10.000Mitgliedern war er maßgeblich beteiligt.Darüber hinaus ist Nico Nebe als Juror beinationalen und internationalen Chorwettbewerbentätig und leitet Chorleiterworkshopsim Freistaat Sachsen.From 1983 to 1987 Nico Nebe visited thespecial class for music education in Zwickau.He continued his qualifications with studiesof choral conducting at the University ofChemnitz-Zwickau from 1989 to 1995. Sincethen he has been acting as a freelancer inmusic teaching, conducting, arranging andmusic publishing in Zwickau.Since many years Nico Nebe has been conductingthe chamber choir "Belcanto" Zwickauand the male choir "Liederkranz" Zwickau1843.Under his direction both ensembles wonnumerous prices and diploma in nationaland international competitions. In theframework of these competitions, Nico Nebewas repeatedly awarded several conductorprices.As the president of the West Saxony ChoirAssociation and as the vice president of theChoir Association of Saxony Province, he hasa strong connection to the choir movement.He made significant contributions to unifythe several and different Saxony Choir Associationsto the present Choir Association ofSaxony Province with nearly 10.000 members.
---
40Frankreich / FranceHenri PompidorJuror / Jury MemberDr. Henri Pompidor studierte Musik, Orgelund Chorleitung am MusikkonservatoriumToulouse. Nach seinem Staatsexamen inChorleitung besuchte er das Institut für Musikund Musikwissenschaft an der UniversitätParis-Sorbonne, wo er seinen Master-Abschlusserlangte und 1987 promovierte.Nachdem er Musikdirektor mehrerer Chörein Europa war, wurde Pompidor nach Thailandals Leiter der Chorabteilung des RangsitConservatory of Music im Jahr 2004 berufenund lehrte am Mahidol University College ofMusic, einer der wichtigsten Musikfakultätenim Königreich. Daneben arbeitete er dortals Chorleiter, Chordirektor und Dirigent fürdas Thailand Philharmonic Orchestra.Seit Beginn seiner Karriere hat Henri Pompidorverschiedene Choraufführungen mitKinder- und Erwachsenenchören, Amateurenund Profisängern, in Frankreich und aufder ganzen Welt durchgeführt. Unter seinerLeitung wurden viele Kammerchormusikwerkesowie mehrere große Chorwerke zurAufführung gebracht.Henri Pompidor ist Mitglied der FranzösischenChorleitergesellschaft und lehrt derzeitChorgesang und Chorleitung am Konservatoriumvon Paris. Zudem widmet sichPompidor mit zahlreichen Meisterkursenund Workshops auf der ganzen Welt derChormusik und wird als Juror regelmäßig zuinternationalen Festivals und Chorwettbewerbeneingeladen.Dr. Henri Pompidor studied music, organand choral conducting at the Regional MusicConservatory of Toulouse. After his statediploma in choral conducting, he attendedthe Institute of music and musicology at theUniversity of Paris-Sorbonne where he obtainedhis Master's degree and his Doctorate in1987.After being music director of several choirsin Europe, he was appointed to Thailand ashead of the choral department at RangsitConservatory of Music in 2004 and joinedthe Mahidol University College of Music, oneof the most important Music Faculties in theKingdom. Several years, he worked there aschorus master, choral director and permanentchoral conductor for the Thailand PhilharmonicOrchestra.Since the beginning of his career, Dr HenriPompidor has conducted various choral performances:children or adult, amateur, universityor professional, in France and aroundthe world. Under his direction have been performedmany works of chamber choral musicand several major choral works.Dr Henri Pompidor is a member of the Frenchchoral conductors' society and currentlyteaching choral singing and choral conductingat the Conservatory of the city of Paris.He holds master classes and workshopsthroughout the world and has been invitedas adjudicator and clinician to many internationalfestivals and choral competitions.
---
Künstlerisches Komitee & Jury / Artistic Committee & Jury41Niederlande / The NetherlandsJohan RoozeJuror / Jury MemberJohan Rooze studierte Klavier und Chorleitungam Utrecht Konservatorium in den Niederlanden.Später ging er in die USA um sich auf die BereicheJazzpiano, Singen und Arrangieren zu spezialisieren.Er war der Gründer und für 23 JahreMusikalischer Leiter der Vokalgruppe "Dekoor".Sie gewann viele Preise wie das NiederländischeChorfestival, das internationale Vokalgruppenfestival,die "Idols for choir" TV Sendung und "Korenslag"2007 in den Niederlanden. Johan Roozewar außerdem Leiter des "Utrecht Student SymphonicChoir and Orchestra". Mit seinen Chörentourte er durch die ganze Welt. Er gründete das"Dudok"-Ensemble, einen hervorragenden Projektchor,dirigierte die monatlichen Bachkantatenin Utrecht und war Gastdirigent beim NationalenRundfunkchor. Johan Rooze war Professorfür Jazzgesang, Chorleitung und Arrangieren anden Konservatorien in Rotterdam und Alkmaar,ein Mitglied im Ausschuss der Musikalischen Beraterder Niederländischen Royalen ChristlichenMusikgesellschaft und Künstlerischer Direktorbeim Internationalen Chorfestival in den Niederlanden2005. In 2008 zog er nach Südkoreaund unterrichtet seither Chormusik und Jazzpianoan der Yeongnam Universität. Er ist der musikalischeLeiter des Jazzchores "Yaenoeul Jazz Singers"und gründete 2010 den "Daegu StudentsChoir". Häufig ist er Gastdirigent bei anderenChören. Neben seiner Chorarbeit ist er sehr aktivals Jazzpianist und Arrangeur. Er arbeitet alsKünstlerischer Direktor für INTERKULTUR und istein international gefragter Juror, Sprecher undWorkshopleiter.Johan Rooze studied Piano and Conducting atthe Utrecht Conservatory, the Netherlands. Laterhe went to the U.S. to specialize in Jazz Piano,Singing and Arranging.He was founder and 23 years Musical Directorof the Utrecht University Vocal Group "Dekoor".They won many prices, The Dutch Choir Festival,The International Vocal Group Festival and the"Idols for choir" TV show, "Korenslag" 2007 inthe Netherlands. He was Conductor of the UtrechtStudent Symphonic Choir and Orchestra.WWith his choirs he toured all over the world.He founded the "Dudok-Ensemble", an outstandingproject choir, conducted the monthly BachCantatas in Utrecht and was guest conductorwith the National Radio Choir.He was Professor for Vocal Jazz, Conducting andArranging at the Conservatories of Rotterdamand Alkmaar, a member of the board of MusicalAdvisors for the Dutch Royal Christian MusicAssociation and Artistic Director for the InternationalChoir Festival, Netherlands 2005.In 2008 he moved to South Korea and teachesChoral Music and Jazz Piano at the YeongnamUniversity. He is musical director of a new JazzChoir (Yaenoeul Jazz Singers) and in 2010 hefounded the professional Daegu Students Choir.He is a frequent guest conductor with otherchoirs.Besides his choral work he is very active as a JazzPianist and Arranger. He works as Artistic Directorfor "Interkultur" and is a frequently askedadjudicator, speaker and workshop-leader internationally.
---
42Südafrika / South AfricaAngela StevensJurorin / Jury MemberAngela Stevens, eine dynamische Chorleiterin,Lehrerin und Preisrichterin, wurdein Südafrika geboren. Ihre langjährige undabwechslungsreiche internationale Karriereführte sie z.B. in den Oman, wo sie die Stilrichtungenund Techniken arabischer Musikstudierte, bevor sie anschließend nachDeutschland zog, wo sie seit vier Jahren denFachbereich Musik an der InternationalenFriedensschule in Köln leitet.Angela Stevens hat einen Masterabschlussin Musikpädagogik und ist eine innovativeChorleiterin, die eine ethnische und kulturelleVielfalt in ihre zahlreichen Chöre einbringtund gleichzeitig all denen, mit denensie verbunden ist, Liebe zur und Wertschätzungder Musik vermittelt.Als frühere Leiterin des Kearsney CollegeChoir, Südafrika, errang der Chor unter ihrerFührung bei den World Choir Games in Linzund Bremen 2000 und 2004 den Championtitelin der Kategorie Folklore. Neben zahlreichenanderen Auszeichnungen in Europaund Asien wurde Angela Stevens und ihremChor 2004 der renommierte Preis der StadtWien verliehen.Angela Stevens war Vizepräsidentin desKwaZulu Natal Youth Choir und Beraterindes Künstlerischen Leiters. Sie leitete zahlreicheunterschiedliche Chorworkshops unteranderem in Südafrika, Deutschland undder Schweiz. Sie fungiert seit 2007 als Jurymitgliedfür Interkultur.Angela Stevens a dynamic choral conductor,teacher and adjudicator, was born in SouthAfrica. Her long and varied International careertook her to Oman where she masteredstyles and techniques of Arabic music beforemoving to Germany where she has been theHead of Music at the Internationale Friendensschulein Cologne for the past four years.Angela Stevens holds her Masters in MusicEducation and is an innovative conductorwho brings ethnic and cultural diversity toher many choirs while instilling a love andappreciation of music to all those with whomshe is associated.As the former conductor of the Kearsney CollegeChoir, South Africa, she was responsiblefor their being crowned Olympic Championsof Folklore in 2000 and 2004 at the WorldChoir Games in Linz and Bremen respectively.Angela Stevens and her choir were awardedthe prestigious Prize of the City of Vienna in2004, amongst many other accolades both inEurope and Asia.Angela Stevens was the Vice President ofthe KwaZulu Natal Youth Choir and advisorto the Artistic Director. She has led many diversechoral workshops both in South Africa,Germany and Switzerland amongst others.Angela Stevens has been adjudicating for Interkultursince 2007.
---
Künstlerisches Komitee & Jury / Artistic Committee & Jury43Südafrika / South AfricaAndré van der MerweJuror / Jury MemberAndré van der Merwe ist ein Chorleiter undKomponist aus Kapstadt, Südafrika. Er ist eingefragter Gastdirigent, Juror und Seminarleiterauf nationalen und internationalen Veranstaltungenund wird häufig von Universitätenund Unternehmen für Projekte u.a. in den USA,Schweden, China und Portugal eingeladen. Ander Universität Kapstadt studierte er zunächstim Bachelorstudiengang Musikwissenschaftenund wechselte jedoch zum BachelorstudiengangDramaturgie (Regie) an die UniversitätStellenbosch. Er wurde sowohl als Schauspielerals auch als Regisseur mit nationalen Preisenund Auszeichnungen geehrt. André vander Merwe wurde kürzlich u.a. als Juror undWorkshopleiter für das Festival Llangollen InternationalEisteddfod, Wales (Juli 2013) undGastdirigent für das Taipei International ChoralFestival sowie die Taipei Philharmonie (August2013) eingeladen. Seine Arrangementsafrikanischer Musik werden durch den VerlagEarthsongs in den USA veröffentlicht. Momentanleitet er den Stellenbosch University Choir(Nummer 1 der INTERKULTUR Weltrangliste)und den Stellenberg Girls Choir. Von 2005 bis2012 gründete und leitete er den South AfricanYouth Choir. 2012 erhielt André van derMerwe eine amtliche kulturelle Auszeichnung(von der Regierung der Westkap-Provinz) fürseine Arbeit mit Chören und Jugendlichensowie die Ehrenbürgerschaft Kapstadts. Seit2012 ist er für Interkultur im World ChoirCouncil als Repräsentant Südafrikas tätig.André van der Merwe is a conductor and composerfrom Cape Town, South Africa.He is often invited to perform as guest conductor,adjudicator and clinician nationallyand internationally. He has been invited towork with universities and companies in theUSA, Sweden, Germany, China, and Portugalamongst others. André van der Merwe initiallystudied B.Mus at the University of CapeTown, but later changed course and studiedB.Drama (Directing) at the University of Stellenbosch.He received national awards andprizes as actor and director. André van derMerwe was recently invited amongst othersas adjudicator and clinician for the LlangollenInternational Eisteddfod, Wales (July 2013)and guest conductor and lecturer for theTaipei International Choral Festival and theTaipei Philharmonic (August 2013). His arrangementsof African music are published byEarthsongs in the USA. Currently he conductsthe Stellenbosch University Choir (numberone choir on the INTERKULTUR World RankingList) and the The Stellenberg Girls Choir. From2005 – 2012 he has established and conductedthe South African Youth Choir. In 2012André van der Merwe received a ministerialcultural award (Western Cape Government)for his work with choirs and the youth anda civic honorary award from the City of CapeTown. Since 2012 André has been selected asthe South African representative of the WorldChoir Council for Interkultur.
---
44Dänemark / DenmarkHelle Høyer VedelJurorin / Jury MemberHelle Høyer Vedel ist die Chorleiterin desAarhus Girls Choir, der im Juli 2014 Championder World Choir Games in der KategorieFrauenchöre wurde. Sie erhielt ihre Ausbildungan der Musikhochschule in Aarhus.Seit 1981 arbeitet sie als Chorleiterin ander Musikschule in Aarhus. Dort leitet sieKinder- und Jugendchöre und unterrichtetGehörbildung für Instrumentalmusiker.Mehrere Jahre lang leitete Helle Høyer Vedelgemischte Chöre, konzentriert aber seit2006 ihre Energie ausschließlich auf dreiJugendchöre: Den Kinderchor der Musikschulein Aarhus, den Mädchenchor an derMusikhochschule Aarhus und den AarhusGirls Choir.Ebenso war sie gelegentlich als Dozentinzum Thema Leitung von Kinderchören ander Dänischen Pädagogischen Universität,der Aarhus Universität und der Musikhochschulein Aarhus tätig.Helle Høyer Vedel zählt heute zu den erfolgreichstendänischen Chorleitern, diemit gleichstimmigen Jugendchören arbeiten.Dank ihres musikalischen Enthusiasmus'und dem internationalen Erfolg mitdem Aarhus Girls Choir spielt sie eine bedeutendeRolle im Chorwesen Dänemarks.Helle Høyer Vedel is the conductor of theAarhus Girls Choir which was awardedChampion of the World Choir Games in categoryFemale Choirs in July 2014. She trainedat The Royal Academy of Music in Aarhus.Since 1981 she has served as choirmasterof The Aarhus Music School, leading choirsof children and young people as well asteaching instrumental students ear training.For several years Helle Høyer Vedel has conductedmixed choirs, but since 2006 shehas focussed her energy on just three youthchoirs: The Children's Choir of Aarhus MusicSchool, The Girls Choir at the Royal Academyof Music, Aarhus - and Aarhus Girls Choir.Likewise, she has been an occasional lecturerin the conduction of children's choirs at TheDanish School of Education, Aarhus Universityand The Royal Academy of Music, Aarhus.Today Helle Høyer Vedel is one of the mostsuccessful Danish conductors of equal voicedyouth choirs and due to her musical enthusiasmand international success with AarhusGirls Choir, she plays an important role inDanish choral life.
---
45C h e r y lA n d e r s o n( U S A )J a nS c h u m a c h e r( G e r m a n y )
---
47ABLAUFSCHEDULE
---
48Allgemeiner Ablauf / General ScheduleMITTWOCH, 15. JULI <strong>2015</strong> / WEDNESDAY, JULY 15, <strong>2015</strong>Kloster Drübeck / Monastery Drübeck16:00 hFreundschaftskonzert / Friendship ConcertDom zu Halberstadt / Cathedral Halberstadt19:00 hBenefizkonzert / Charity ConcertDONNERSTAG, 16. JULI <strong>2015</strong> / THURSDAY, JULY 16, <strong>2015</strong>Aula Gerhart-Hauptmann-Gymnasium / Auditorium Gerhart-Hauptmann School10:00 – 15:00 hBeratungskonzerte / Evaluation Performances(Keine öffentliche Veranstaltung / not open to the public)Aula Diesterwegschule / Auditorium Diesterweg School10:00 – 13:00 hBeratungskonzerte / Evaluation Performances(Keine öffentliche Veranstaltung / not open to the public)Marktplatz <strong>Wernigerode</strong> / Market Square <strong>Wernigerode</strong>13:00 hFreundschaftskonzert / Friendship ConcertInnenstadt <strong>Wernigerode</strong> / Town Centre <strong>Wernigerode</strong>16:30 hChorparade (Aufstellung 16:15 h) / Choir Parade (Line up at 16:15 h)Marktplatz <strong>Wernigerode</strong> / Market Square <strong>Wernigerode</strong>17:00 hEröffnungsveranstaltung / Opening EventStiftskirche St. Sylvestri <strong>Wernigerode</strong> / Church St. Sylvestri19:30 hEröffnungskonzert / Opening Concert
---
Ablauf / Schedule49FREITAG, 17. JULI <strong>2015</strong> / FRIDAY, JULY 17, <strong>2015</strong>Harzer Kultur- & Kongresszentrum (KIK) / Congress Centre09:30 – 13:00 hWettbewerb in Kategorie G – Kinderchöre & gemischtstimmige Jugendchöre /Competition in category G – Children's Choirs & Mixed Youth ChoirsMarktplatz <strong>Wernigerode</strong> / Market Square <strong>Wernigerode</strong>11:00 h & 14:00 hFreundschaftskonzerte / Friendship ConcertsHarzer Kultur- & Kongresszentrum (KIK) / Congress Centre15:00 – 17:45 hWettbewerb in Kategorie F – Folklore / Competition in category F – FolkloreStiftskirche St. Sylvestri <strong>Wernigerode</strong> / Church St. Sylvestri15:00 – 17:00 hWettbewerb in Kategorie S – Sakrale Chormusik /Competition in category S – Sacred Choir MusicKirche St. Margarethen Minsleben / Church St. Margarethen Minsleben18:00 hFreundschaftskonzert / Friendship ConcertEvangelische Kirchgemeinde Benzingerode / Church Benzingerode18:30 hFreundschaftskonzert / Friendship ConcertStiftskirche St. Sylvestri <strong>Wernigerode</strong> / Church St. Sylvestri19:00 – 20:00 hWettbewerb in Kategorie C2 – Gemischtstimmige Kammerchöre & Vokalensembles /Competition in category C2 – Chamber Choirs & Vocal Ensembles of mixed voices20:10 – 20:40 hWettbewerb in Kategorie A – Gemischte Chöre & Männerchöre mit Pflichtstück /Competition in category A – Mixed & Male Choirs with compulsory pieceMarktplatz <strong>Wernigerode</strong> / Market Square <strong>Wernigerode</strong>19:30 hFolkloreabend / Folklore Night
---
50Aula Gerhart-Hauptmann-Gymnasium /Auditorium Gerhart-Hauptmann School20:00 hGalakonzert "Die Spinnesänger" – "Und immer WI(E)DER Brahms" /Gala concert "Spinnesänger" – "And always again(st) Brahms"SAMSTAG, 18. JULI <strong>2015</strong> / SATURDAY, JULY 18, <strong>2015</strong>Harzer Kultur- & Kongresszentrum (KIK) / Congress Centre09:45 – 11:00 hWettbewerb in Kategorie B – Gemischte Chöre, Männerchöre & Frauenchöre ohnePflichtstück / Competition in category B – Mixed Choirs, Male Choirs & Female Choirswithout compulsory pieceHarzer Kultur- & Kongresszentrum (KIK) / Congress Centre11:15 – 12:15 hWettbewerb in Kategorie P – Pop / Competition in category P – PopMarktplatz <strong>Wernigerode</strong> / Market Square <strong>Wernigerode</strong>11:00 hFreundschaftskonzert / Friendship ConcertGlasmanufaktur "Harzkristall" Derenburg / Glass Factory "Harz Crystall" Derenburg14:00 hFreundschaftskonzert / Friendship ConcertStadtfeldhalle <strong>Wernigerode</strong> / Stadtfeldhalle (Sports Hall) <strong>Wernigerode</strong>16:00 hGroßpreiswettbewerb / Grand Prize CompetitionMarktplatz <strong>Wernigerode</strong> / Market Square <strong>Wernigerode</strong>19:00 hPreisverleihung / Award Ceremonydanach / afterwardsChorparty / Choir PartySONNTAG, 19. JULI <strong>2015</strong> / SUNDAY, JULY 19, <strong>2015</strong>Stadtfeldhalle <strong>Wernigerode</strong> / Stadtfeldhalle (Sports Hall) <strong>Wernigerode</strong>10:00 hAbschlusskonzert / Closing Concert
---
Ablauf / Schedule51
---
52Benefizkonzert / Charity Concertzu Gunsten der Restaurierung der historischen Orgel in der Kirche St. Martini zu Halberstadt /for the benefit of the organ's restoration at St. Martini Church, HalberstadtMITTWOCH, 15. JULI <strong>2015</strong> / WEDNESDAY, JULY 15, <strong>2015</strong>Dom zu Halberstadt / Cathedral Halberstadt19:00 h1 HUIJING EXPERIMENTAL SCHOOL OF GUANGZHOU NO. 47 MIDDLE SCHOOL"NICE" JUNIOR TROUPEGuangzhou, ChinaDirigent / Conductor: Lai Yuanjun2 FEMALE CHOIR CLAVIS CORDIUMMost, Tschechische Republik / Czech RepublicDirigentin / Conductor: Eva Šimková3 THE MÜLLER CHAMBER CHOIRTaipei City, Chinese TaipeiDirigentin / Conductor: Meng-Hsien PengZwischenspiel auf der Orgel von Claus-Erhard Heinrich /Interlude on the organ by Claus-Erhard Heinrich1 32Um Spenden wird gebeten. /Donations are welcome.
---
Ablauf / Schedule53
---
54Eröffnungskonzert / Opening ConcertDONNERSTAG, 16. JULI <strong>2015</strong> / THURSDAY, JULY 16, <strong>2015</strong>WWStiftskirche St. Sylvestri <strong>Wernigerode</strong> / Church St. Sylvestri19:30 h1 CHOIR UNIWERSYTETU EKONOMICZNEGO WE WROCLAWIU "ARS CANTANDI"Wrocław, Polen / PolandDirigentin / Conductor: Anna Grabowska-Borys<strong>Program</strong>m / <strong>Program</strong>:• Johannes Brahms: 5 Gesänge für gemischten Chor, op. 104 - Nr. 3 Letztes Glück• Felix Mendelssohn-Bartholdy: 6 Lieder, op. 48 - Nr. 6 Herbstlied• Vytautas Miškinis: O sacrum convivium• Aleksander Koszyc: Tiło Chrystowe• Arvo Pärt: Bogoróditse Djévo• Anton Tučapsky: Eli, eli• Andrzej Hundziak: Lamentum2 THE MÜLLER CHAMBER CHOIRTaipei City, Chinese TaipeiDirigent / Conductor: Meng-Hsien Peng<strong>Program</strong>m / <strong>Program</strong>:• Thomas Luis de Victoria: Domine non sum dignus• Felix Mendelssohn Bartholdy: Beati mortui• Gioachino Rossini: Preghiera• Zoltán Kodály: Huszt• Krzysztof Penderecki: Benedicamus• Hugo Alfvén: Och jungfrun hon går i ringen• Trad. Chinese Taipei, arr. Jyu Si-Sian: Mu Ge (Pastoral Song)• Trad. Chinese Taipei, arr. Yang Hong-Nian: Ba Jyun Zan (Praise to the horse)3 GNESINS' ENSEMBLE OF CONTEMPORARY MUSIC "ALTRO CORO"Moskau, Russland / RussiaDirigent / Conductor: Aleksandr Ryzhinskiy<strong>Program</strong>m / <strong>Program</strong>:• Johannes Brahms: Drei geistliche Chöre, op. 37 – Nr. 1 O bone JesuNr. 2 Adoramus teNr. 3 Regina coeli• Arvo Pärt: Magnificat• Georgy Sviridov: O vsepetaya Mati (Glorification of the virgin)• Aleksandr Larin: Trubushku trubyat (Blowing the horn)• Alexei Larin: Tschas da po tschasu (Hour upon hour)• Goran Bregović: Dream
---
Eröffnungskonzert / Opening concert55
---
56Freundschaftskonzerte / Friendship ConcertsMITTWOCH, 15. JULI <strong>2015</strong> / WEDNESDAY, JULY 15, <strong>2015</strong>Kloster Drübeck / Monastery Drübeck16:00 h1 MOUNTAIN TOP CHORALENigeriaDirigent / Conductor: Aderayo Oyegbade2 GNESINS' ENSEMBLE OF CONTEMPORARY MUSIC "ALTRO CORO"Russland / RussiaDirigent / Conductor: Aleksandr RyzhinskiyDONNERSTAG, 16. JULI <strong>2015</strong> / THURSDAY, JULY 16, <strong>2015</strong>Marktplatz <strong>Wernigerode</strong> / Market Square <strong>Wernigerode</strong>13:00 h1 GUANGZHOU YUCAI EXPERIMENTAL SCHOOL CHOIRChinaDirigentin / Conductor: Guang Shumei2 OBRAZTSOVIY KHOR MALCHIKOV Y YUNOSHEYWeißrussland / BelarusDirigentin / Conductor: Galina Uryeuskaya-Eusiukova3 WUSHAN "NICE" JUNIOR TROUPEChinaDirigentin / Conductor: Guiyan Chen4 DUANZHOU HAIYUN CHILDREN'S CHOIRChinaDirigentin / Conductor: Wenxia Lei5 SOWETO SWEET MELODIES CHOIRSüdafrika / South AfricaDirigent / Conductor: Lindumuzi Mngoma
---
Freundschaftskonzerte / Friendship Concerts57FREITAG, 17. JULI <strong>2015</strong> / FRIDAY, JULY 17, <strong>2015</strong>Marktplatz <strong>Wernigerode</strong> / Market Square <strong>Wernigerode</strong>11:00 h1 CHOIR OF MIDDLE SCHOOL ATTACHED TO GUANGZHOU UNIVERSITYChinaDirigentin / Conductor: Lei Zhang2 FEMALE CHOIR CLAVIS CORDIUMTschechische Republik / Czech RepublikDirigentin / Conductor: Eva Šimková3 THE MALE CHORUS TROUPE OF YIHAI BRANCH SCHOOL OF BEIJINGNO. 2 EXPERIMENTAL PRIMARY SCHOOLChinaDirigent / Conductor: Dean Chen4 KVAMU KVARTETTFinnland / FinlandDirigent / Conductor: Pekka Nebelung5 CHOIR UNIWERSYTETU EKONOMICZNEGO WE WROCLAWIU "ARS CANTANDI"Polen / PolandDirigentin / Conductor: Anna Grabowska-BorysMarktplatz <strong>Wernigerode</strong> / Market Square <strong>Wernigerode</strong>14:00 h1 JINGCAI CHILDREN'S ART TROUPEChinaDirigent / Conductor: Ming Chen2 THE MALE CHORUS TROUPE OF YIHAI BRANCH SCHOOL OF BEIJINGNO. 2 EXPERIMENTAL PRIMARY SCHOOLChinaDirigent / Conductor: Dean Chen3 CORO DALTROCANTOItalien / ItalyDirigentin / Conductor: Patrizia Bruno4 HANGZHOU ANJILU EXPERIMENTAL SCHOOL CHOIRChinaDirigent / Conductor: Zhang Wei5 PURE LIFE CHOIR GROUPSierra LeoneDirigent / Conductor: Musa Conteh
---
58FREITAG, 17. JULI <strong>2015</strong> / FRIDAY, JULY 17, <strong>2015</strong>Kirche "St. Magarethen Minsleben" / Church St. Margarethen Minsleben18:00 h1 KVAMU KVARTETTFinnland / FinlandDirigent / Conductor: Pekka Nebelung2 LISTEN TO YOUR HEART CHOIRChinaDirigentin / Conductor: Xiao Mei LiEvangelische Kirchgemeinde Benzingerode / Church Benzingerode18:30 h1 MÄNNERGESANGSVEREIN HASSERODE 1865 E.V.Deutschland / GermanyDirigentin / Conductor: Barbara Hoffmann2 GOLDEN SAIL CHOIR OF BEIJING DENG SHI KOU PRIMARY SCHOOLChinaDirigent / Conductor: Qiuxuan Lu3 SINGGEMEINSCHAFT CANORA HASSERODEDeutschland / GermanyDirigentin / Conductor: Heidi AlbrechtMarktplatz <strong>Wernigerode</strong> / Market Square <strong>Wernigerode</strong>19:30 hFOLKLOREABEND / FOLKLORE NIGHT1 HUIJING EXPERIMENTAL SCHOOL OF GUANGZHOU NO. 47 MIDDLE SCHOOL "NICE"JUNIOR TROUPEChinaDirigent / Conductor: Lai Yuanjun2 KHOROVAYA STUDIYA PIONERIARussland / RussiaDirigentin / Conductor: Elena Veremeenko3 MOUNTAIN TOP CHORALENigeriaDirigent / Conductor: Aderayo Oyegbade
---
Freundschaftskonzerte / Friendship Concerts594 CONGHUA NO. 6 MIDDLE SCHOOL CHOIRChinaDirigent / Conductor: Handong Tian5 SOWETO SWEET MELODIES CHOIRSüdafrika / South AfricaDirigent / Conductor: Lindumuzi MngomaSAMSTAG, 18. JULI <strong>2015</strong> / SATURDAY, JULY 18, <strong>2015</strong>Marktplatz <strong>Wernigerode</strong> / Market Square <strong>Wernigerode</strong>11:00 h1 TAIZHOU PHILHARMONIC CHILDREN'S CHOIRChinaDirigent / Conductor: Yanling Liu2 WERNIGERÖDER MÄNNERCHOR 1848 E.V.Deutschland / GermanyDirigent / Conductor: Enno Klump3 MACPHAIL'S SONOMENTOUSADirigent / Conductor: Craig Fields4 ILSENBURGER FRAUENCHORDeutschland / GermanyDirigentin / Conductor: Gisela Glaeser5 LI WAN CHILDREN'S CHOIRChinaDirigentin / Conductor: Li Hui KunGlasmanufaktur "Harzkristall" Derenburg / Glass Factory "Harz Crystall" Derenburg14:00 h1 FEMALE CHOIR CLAVIS CORDIUMTschechische Republik / Czech RepublikDirigentin / Conductor: Eva Šimková2 SANGESFREUNDE KLEEBACHTAL OBERKLEENDeutschland / GermanyDirigent / Conductor: Erich Reusch3 SHENYANG RADIO AND TELEVISION CHILDREN'S CHOIRChinaDirigent / Conductor: Jianping Guo
---
61WETTBEWERBCOMPETITION
---
62WettbewerbCompetitionFREITAG, 17. JULI <strong>2015</strong> / FRIDAY, JULY 17, <strong>2015</strong>Harzer Kultur- & Kongresszentrum / Congress Centre9:30 hKategorie G1 – Kinderchöre bis 16 JahreCategory G1 – Children´s Choirs up to 16 years1 GUANGZHOU YUCAI EXPERIMENTAL SCHOOL CHOIRGuangzhou, ChinaDirigentin / Conductor: Guang Shumei<strong>Program</strong>m / <strong>Program</strong>:• Camille Saint-Saëns: Ave Maria• Jian Qiang Xu: Spring Morning• Masaki Iwamoto: Sa Ku Ra• Ye Liu: Shui mu jiFREITAG / FRIDAY, 17.07.<strong>2015</strong>2 JINGCAI CHILDREN'S ART TROUPEWuhan, Hubei Province, ChinaDirigent / Conductor: Ming Chen<strong>Program</strong>m / <strong>Program</strong>:• Hong Nian Yang: Great Sea, My Sweet Home• Ro Ogura: Hotaru koi• Yui: Fight• Antonio Scandello: The Little White Hen (Ein Hennlein weiß)3 KHOROVAYA STUDIYA PIONERIAZheleznodorozhny, RussiaDirigentin / Conductor: Elena Veremeenko<strong>Program</strong>m / <strong>Program</strong>:• Hector Berlioz: Tantum ergo• Sergej Taneev: Posmotri kakaya mgla• Veljo Tormis: Northern Lights (Severnoe siyanie)• Miroslav Raichl: Moroz
---
Wettbewerb / Competition634 SHENYANG RADIO AND TELEVISION CHILDREN'S CHOIRShenyang, ChinaDirigent / Conductor: Jianping Guo<strong>Program</strong>m / <strong>Program</strong>:• Yida Zhang: Cai Mogu de Xiaoguniang (The little mushroom girl)• Chao Zhang: Spring Arrival• Franz Schubert: Psalm 23 - Gott ist mein Hirt, D 706• Trad. China: Diaohua de maan (Ornaments in horses' saddles)5 LITTLE RAINDROP CHORUSZheng Zhou, ChinaDirigentin / Conductor: Guang Yang<strong>Program</strong>m / <strong>Program</strong>:• Yi Da Zhang: Knitting Basket (Kei chan)• Johannes Brahms: 5 Lieder, op. 49 - Nr. 4 Wiegenlied (Lullaby)• Ying Ju Wu: Toad Flower• Xi Xian Qu: Listening Mother Told Story Before6 GOLDEN SAIL CHOIR OF BEIJING DENG SHI KOU PRIMARY SCHOOLBeijing, ChinaDirigent / Conductor: Qiuxuan Lu<strong>Program</strong>m / <strong>Program</strong>:• Peishan Li: Gee lee gua la• Johannes Brahms: 5 Lieder, op. 49 - Nr. 4 Wiegenlied (Lullaby)• Xi Xian Qu: Looking for Steamed Buns• Trad. China: Little GoatFREITAG / FRIDAY, 17.07.<strong>2015</strong>
---
647 LI WAN CHILDREN'S CHOIRGuangzhou, ChinaDirigentin / Conductor: Li Hui Kun<strong>Program</strong>m / <strong>Program</strong>:• Trad. China: Wo xin ge chang• Javier Busto: Salve Regina• Felix Mendelssohn Bartholdy: Eliah, op. 70 - Nr. 28 Lift Thine Eyes• Cy Coleman, arr. Richard Barnes: The Rhythm of Life8 TAIZHOU PHILHARMONIC CHILDREN'S CHOIRTaizhou, ChinaDirigenten / Conductors: Yanling Liu & Jianxun Zheng<strong>Program</strong>m / <strong>Program</strong>:• Felix Mendelssohn Bartholdy: Laudate pueri• Zoltán Kodály: Ëgyëtem, bëgyëtem• Yi Da Zhang: Guess the Tune• Louis Prima, arr. Philip Kern: Sing Sing Sing9 HANGZHOU ANJILU EXPERIMENTAL SCHOOL CHOIRHangzhou, ChinaDirigent / Conductor: Zhang Wei<strong>Program</strong>m / <strong>Program</strong>:• Ying Hai Li, Dan Ru Gu: Gu Feng (The wind from the valley)• Camille Saint-Saëns: Ave Maria• Zhuo Xian Wu: We Sang the Sound of the World• Trad. Africa, arr. Zhang Wei: SiyahambaFREITAG / FRIDAY, 17.07.<strong>2015</strong>10 LISTEN TO YOUR HEART CHOIRBeijing, ChinaDirigentin / Conductor: Xiao Mei Li<strong>Program</strong>m / <strong>Program</strong>:• Don Besig: Flying Free• John Ordway: Farewell• Zoltán Kodály: Ëgyëtem, bëgyëtem• Orlando di Lasso: O la, o che bon eccho!11 CHOIR OF FOSHAN HUAYING SCHOOLFoshan, ChinaDirigentin / Conductor: Wen Jun Yang<strong>Program</strong>m / <strong>Program</strong>:• Felix Mendelssohn Bartholdy: Drei Motetten op. 39 - Nr.2 Laudate pueri• Jian Qiang Xu: Chun Yuan• Trad. Spiritual, arr. Paul Caldwell: Go Where I Send Thee• Lajos Bárdos: Magos a rutafa
---
Wettbewerb / Competition65Harzer Kultur- & Kongresszentrum / Congress Centre12:45 hKategorie G3 – Gemischtstimmige JugendchöreCategory G3 – Mixed Youth Choirs1 OBRAZTSOVIY KHOR MALCHIKOV Y YUNOSHEYSvetlogorsk, Weißrussland / BelarusDirigentin / Conductor: Galina Uryeuskaya-Eusiukova<strong>Program</strong>m / <strong>Program</strong>:• Nikolai Kedrov: Otshe nash• Trad. Russia, arr. Boris Makeev: Khodyat koni• Trad. Folklore, arr. Vladimir Glushakov: Kupala na Ivana• Trad. Belarus, arr. Aliona Atrashkevich: LiavonikhaHarzer Kultur- & Kongresszentrum / Congress Centre15:00 hKategorie F – FolkloreCategory F – Folklore1 CONGHUA NO. 6 MIDDLE SCHOOL CHOIRConghua, ChinaDirigent / Conductor: Handong Tian<strong>Program</strong>m / <strong>Program</strong>:• Trad. China, arr. Qun Cheng: Zhai cai diaoarr. Yida Zhang: Cai Diao (Guess Tone)arr. Jun Zhang: Hu lu sheng chui xiang le2 THE MÜLLER CHAMBER CHOIRTaipei City, Chinese TaipeDirigentin / Conductor: Meng-Hsien Peng<strong>Program</strong>m / <strong>Program</strong>:• Trad. Chinese Taipei, arr. Jyu Si-Sian: Mu Ge (Pastoral Song)arr. Jyu Si-Sian: Deng Ni Dao Tian Ming (Waiting for you until dawn)arr. Yang Hong-Nian: Ba Jyun Zan (Praise to the horse)arr. Tsai Yu-Shan: Ma pu A su si Ngnal (The hunting song)FREITAG / FRIDAY, 17.07.<strong>2015</strong>
---
663 HUIJING EXPERIMENTAL SCHOOL OF GUANGZHOU NO. 47MIDDLE SCHOOL "NICE" JUNIOR TROUPEGuangzhou, ChinaDirigent / Conductor: Lai Yuanjun<strong>Program</strong>m / <strong>Program</strong>:• Trad. China, arr. Bian Ge: Shangri-LaGan Sheng LingJasminearr. Tian Feng: Sunrise4 CHOIR OF MIDDLE SCHOOL ATTACHED TO GUANGZHOU UNIVERSITYGuangzhou, ChinaDirigentin / Conductor: Lei Zhang<strong>Program</strong>m / <strong>Program</strong>:• Trad. China: Happy Party5 WUSHAN "NICE" JUNIOR TROUPEGuangzhou, ChinaDirigentinnen / Conductors: Guiyan Chen & Jianying Liang<strong>Program</strong>m / <strong>Program</strong>:• Guang Yi Lai: Raining• Yonghua Cheng: Moonlight• Guang Yi Lai: Wa-hahaFREITAG / FRIDAY, 17.07.<strong>2015</strong>6 GUANGZHOU YUCAI EXPERIMENTAL SCHOOL CHOIRGuangzhou, ChinaDirigentin / Conductor: Guang Shumei<strong>Program</strong>m / <strong>Program</strong>:• Trad. China: Shui xiang tong qu7 DUANZHOU HAIYUN CHILDREN'S CHOIRZhaoqing, Guangdong Province, ChinaDirigentin / Conductor: Wenxia Lei<strong>Program</strong>m / <strong>Program</strong>:• Trad. China, arr. Zhang Yida: Spring Rain in Southern China8 LI WAN CHILDREN'S CHOIRGuangzhou, ChinaDirigentin / Conductor: Li Hui Kun<strong>Program</strong>m / <strong>Program</strong>:• Trad. China: The Colorful Land
---
Wettbewerb / Competition679 MASTER YOUTH CHOIRShenzhen, ChinaDirigentin / Conductor: Miaomiao Zhang<strong>Program</strong>m / <strong>Program</strong>:• Trad. China: Midu Folk Song• Haiying Li: Curved Moon• Shu Pu: The Road to Ordinary10 TAIZHOU PHILHARMONIC CHILDREN'S CHOIRTaizhou, ChinaDirigenten / Conductors: Yanling Liu & Jianxun Zheng<strong>Program</strong>m / <strong>Program</strong>:• Trad. China, arr. Yao Ming: Face Make-uparr. Zhu Jianer: Moon Curvearr. Zhang Yida: Dong dong wowStiftskirche St. Sylvestri / Church St. Sylvestri15:00 hKategorie S – Sakrale ChormusikCategory S – Sacred Choir Music1 MACPHAIL'S SONOMENTOMinneapolis, USADirigent / Conductor: Craig Fields<strong>Program</strong>m / <strong>Program</strong>:• Josef Rheinberger: Drei Geistliche Gesänge, op. 69 - Nr. 3 Abendlied• Maurice Duruflé: Quatre Motets, op. 10 - Nr. 1 Ubi caritas• René Clausen: Set Me As a Seal2 CHOIR UNIWERSYTETU EKONOMICZNEGO WE WROCLAWIU"ARS CANTANDI"Wrocław, Polen / PolandDirigentin / Conductor: Anna Grabowska-Borys<strong>Program</strong>m / <strong>Program</strong>:• Felix Mendelssohn Bartholdy: Psalm 43, op. 78 – Nr. 2 Richte mich, Gott• Vytautas Miškinis: O sacrum convivium• Trad. Spiritual, arr. Moses Hogan: Hold On!FREITAG / FRIDAY, 17.07.<strong>2015</strong>
---
683 OBRAZTSOVIY KHOR MALCHIKOV Y YUNOSHEYSvetlogorsk, Weißrussland / BelarusDirigentin / Conductor: Galina Uryeuskaya-Eusiukova<strong>Program</strong>m / <strong>Program</strong>:• Anton Khlebnikov: Nyne otpushchayushi• Karell Berrouz: Blagoslovenie• Felix Mendelssohn Bartholdy: Sechs Lieder im Freien zu singen, op. 59 –Nr. 3 Abschied vom Walde4 FEMALE CHOIR CLAVIS CORDIUMMost, Tschechische Republik / Czech RepublicDirigentin / Conductor: Eva Šimková<strong>Program</strong>m / <strong>Program</strong>:• Rolf Lukowsky: Pater noster• Jan Míšek: Ave Maria• Felix Mendelssohn Bartholdy: Drei Motetten, op. 39 –Nr. 2 Laudate pueri dominum5 KHOROVAYA STUDIYA PIONERIAZheleznodorozhny, Russland / RussiaDirigentin / Conductor: Elena Veremeenko<strong>Program</strong>m / <strong>Program</strong>:• Mily Balakirev: Svishe prorotsi (Prophets from the high)• Artem Kosenkov: Bogoroditse Devo• Felix Mendelssohn Bartholdy: Drei Motetten, op. 39 –Nr. 2 Laudate pueri, Nr. 3 Surrexit pastorFREITAG / FRIDAY, 17.07.<strong>2015</strong>6 THE MÜLLER CHAMBER CHOIRTaipei City, Chinese TaipeiDirigentin / Conductor: Meng-Hsien Peng<strong>Program</strong>m / <strong>Program</strong>:• Pablo Casals: O vos omnes• Krzysztof Penderecki: Benedicamus Domino• John August Pamintuan: Ama namen7 MELODIES CHOIRSoweto, Südafrika / South AfricaDirigent / Conductor: Lindumuzi Mngoma<strong>Program</strong>m / <strong>Program</strong>:• J.K. Bokwe: Vuka, vuka Deborah!• Michael Mosueu Moerane, arr. Lindumuzi Mngoma: Ruri• Mzilikazi James Khumalo: Lala ngokuthula
---
Wettbewerb / Competition69Stiftskirche St. Sylvestri / Church St. Sylvestri19:00 hKategorie C2 – Gemischtstimmige Kammerchöre & VokalensemblesCategory C2 – Chamber Choirs & Vocal Ensembles of Mixed Voices1 MOUNTAIN TOP CHORALELagos, NigeriaDirigent / Conductor: Aderayo Oyegbade<strong>Program</strong>m / <strong>Program</strong>:• Johannes Brahms: 5 Gesänge für gemischten Chor, op. 104 –Nr. 2 Nachtwache II, Nr. 4 Verlorene Jugend• Thomas Tallis: If Ye Love Me• Ayodamope Oluranti: Jesus na Bigi Man• Olaolu Lakial: Gunugun iku lewg• Sam Ojukwu: Teta2 GNESINS' ENSEMBLE OF CONTEMPORARY MUSIC "ALTRO CORO"Moscow, Russland / RussiaDirigent / Conductor: Aleksandr Ryzhinskiy<strong>Program</strong>m / <strong>Program</strong>:• Johannes Brahms: 5 Gesänge für gemischten Chor, op. 104 –Nr. 1 Nachtwache I, Nr. 3 Letztes Glück• Carlo Gesualdo da Venosa: O malnati messaggi• John Tavener: Song for Athene• Alfred Schnittke: Pater noster• Eric Whitacre: Lux aurumque3 MACPHAIL'S SONOMENTOMinneapolis, USADirigent / Conductor: Craig Fields<strong>Program</strong>m / <strong>Program</strong>:• Johannes Brahms: 5 Gesänge für gemischten Chor, op. 104 –Nr. 3 Letztes Glück, Nr. 4 Verlorene Jugend• Hans Leo Hassler: Verbum caro factum est• William Hall: Reflectivity• Trad. Spiritual, arr. Norman Luboff: Deep River• Hall Johnson: Ain't Got Time to DieFREITAG / FRIDAY, 17.07.<strong>2015</strong>
---
70Stiftskirche St. Sylvestri / Church St. Sylvestri20:10 hKategorie A1 – Gemischte Chöre mit PflichtstückCategory A1 – Mixed Choirs with compulsory piece1 CHOIR UNIWERSYTETU EKONOMICZNEGO WE WROCLAWIU"ARS CANTANDI"Wrocław, Polen / PolandDirigentin / Conductor: Anna Grabowska-Borys<strong>Program</strong>m / <strong>Program</strong>:• Johannes Brahms: 5 Gesänge für gemischten Chor, op. 104 - Nr. 3 Letztes Glück• Benjamin Britten: A Hymn to the Virgin• Andrzej Hundziak: Lamentum• Claudio Monteverdi: Zefiro tornaStiftskirche St. Sylvestri / Church St. Sylvestri20:20 hKategorie A2 – Männerchöre mit PflichtstückCategory A2 – Male Choirs with compulsory pieceFREITAG / FRIDAY, 17.07.<strong>2015</strong>1 THE MÜLLER CHAMBER CHOIRTaipei City, Chinese TaipeiDirigentin / Conductor: Meng-Hsien Peng<strong>Program</strong>m / <strong>Program</strong>:• Felix Mendelssohn Bartholdy: Zwei geistliche Chöre, op. 115 –Nr. 1 Beati mortui• Zoltán Kodály: Huszt• Veljo Tormis: Maarjamaa ballaad• Jay Giallombardo: Sure on this Shining Night
---
Wettbewerb / Competition71SAMSTAG, 18. JULI <strong>2015</strong> / SATURDAY, JULY 18,<strong>2015</strong>Harzer Kultur- & Kongresszentrum / Congress Centre09:45 hKategorie B1 – Gemischte Chöre ohne PflichtstückCategory B1 – Mixed Choirs without compulsory piece1 PURE LIFE CHOIR GROUPFreetown, Sierra LeoneDirigent / Conductor: Musa Conteh<strong>Program</strong>m / <strong>Program</strong>:n.n.2 CORO DALTROCANTOSalerno, Italien / ItalyDirigentin / Conductor: Patrizia Bruno<strong>Program</strong>m / <strong>Program</strong>:• Adriano Willaert: Vecchie Letrose• Javier Busto: Esta tierra• Joseph Bovet: La fanfare du printempsHarzer Kultur- & Kongresszentrum / Congress Centre10:15 hKategorie B3 – Frauenchöre ohne PflichtstückCategory B3 – Female Choirs without compulsory piece1 FEMALE CHOIR CLAVIS CORDIUMMost, Tschechische Republik / Czech RepublicDirigentin / Conductor: Eva Šimková<strong>Program</strong>m / <strong>Program</strong>:• Josef Suk: Žal• Dobroslav Lidmila: Honzíčkovi• Zdeněk Lukáš: VěnečekSAMSTAG / SATURDAY, 18.07.<strong>2015</strong>
---
72Harzer Kultur- & Kongresszentrum / Congress Centre10:30 hKategorie B2 – Männerchöre ohne PflichtstückCategory B2 – Male Choirs without compulsory piece1 WERNIGERÖDER MÄNNERCHOR 1848 E.V.<strong>Wernigerode</strong>, Deutschland / GermanyDirigent / Conductor: Enno Klump<strong>Program</strong>m / <strong>Program</strong>:• Trad. Germany, arr. Reinhold Wörz: Das stille Tal• Franz Schubert: Die zwei Tugendwege, D 71• Eduard May, arr. Heinz H. Ehrhard: Ich weiß ein Faß in einem tiefen Keller2 SANGESFREUNDE KLEEBACHTAL OBERKLEENOberkleen (Langgöns), Deutschland / GermanyDirigent / Conductor: Erich Reusch<strong>Program</strong>m / <strong>Program</strong>:• Alfred Koerppen: Schäfer und Edelmann• Trad. Germany, arr. Frank Sittel: Drei Laub auf einer Linden• Trad. Spiritual, arr. William Henry Smith: Ride the ChariotSAMSTAG / SATURDAY, 18.07.<strong>2015</strong>
---
Wettbewerb / Competition73Harzer Kultur- & Kongresszentrum / Congress Centre11:15 hKategorie P – Pop-Show-JazzCategory P – Pop-Show-Jazz1 CHOIR UNIWERSYTETU EKONOMICZNEGO WE WROCLAWIU"ARS CANTANDI"Wrocław, Polen / PolandDirigentin / Conductor: Anna Grabowska-Borys<strong>Program</strong>m / <strong>Program</strong>:• Anders Edenroth: Chili con carne• Trad. Andalusia, arr. Bob Chilcott: En la Macarenita• Ryan Cayabyab: Da coconut nut2 KVAMU KVARTETTKaarina, Finnland / FinlandDirigent / Conductor: Pekka Nebelung<strong>Program</strong>m / <strong>Program</strong>:• Gotye, arr. Tiia Toivanen: Somebody that I Used to Know• Elli Haloo, Leo Hakanen, Rauli Eskolin, arr. Tiia Toivanen: Huudaa!• Guy Berryman, Jonny Buckland, arr. Tiia Toivanen: Paradise3 CORO DALTROCANTOSalerno, Italien / ItalyDirigentin / Conductor: Patrizia Bruno<strong>Program</strong>m / <strong>Program</strong>:• Harry Belafonte , arr. Fabio De Angelis: Zombie jamboree• Chico Buarque de Hollanda, Ivano Fossati: Ah che sarà• Harry Dixon Loes, arr. Patrizia Bruno: This Little Light of MineSAMSTAG / SATURDAY, 18.07.<strong>2015</strong>
---
75TEILNEHMENDE CHÖREPARTICIPATING CHOIRS
---
76CHOIR OF FOSHAN HUAYING SCHOOLFoshan, ChinaGegründet / Founded: 2005G1Dirigentin / Conductor: Wen Jun YangCHOIR OF MIDDLE SCHOOL ATTACHED TO GUANGZHOU UNIVERSITYGuangzhou, ChinaGegründet / Founded: 1965F & ICDirigentin / Conductor: Lei Zhang
---
Teilnehmende Chöre / Participating choirs77CONGHUA NO. 6 MIDDLE SCHOOL CHOIRConghua, ChinaGegründet / Founded: 1997F & EP, ICDirigent / Conductor: Handong TianDUANZHOU HAIYUN CHILDREN'S CHOIRZhaoqing, ChinaGegründet / Founded: 2002G1Dirigentin / Conductor: Wenxia Lei
---
78GOLDEN SAIL CHOIR OF BEIJING DENG SHI KOU PRIMARY SCHOOLBeijing, ChinaGegründet / Founded: 1984G1Dirigent / Conductor: Qiuxuan LuGUANGZHOU YUCAI EXPERIMENTAL SCHOOL CHOIRGuangzhou, ChinaGegründet / Founded: 2003G1, F & ICDirigentin / Conductor: Guang Shumei
---
Teilnehmende Chöre / Participating choirs79HANGZHOU ANJILU EXPERIMENTAL SCHOOL CHOIRHangzhou, ChinaGegründet / Founded: 2000G1 & ICDirigent / Conductor: Zhang WeiHUIJING EXPERIMENTAL SCHOOL OF GUANGZHOUNO. 47 MIDDLE SCHOOL "NICE" JUNIOR TROUPEGuangzhou, ChinaGegründet / Founded: 2004F & EP, ICDirigent / Conductor: Lai Yuanjun
---
80JINGCAI CHILDREN'S ART TROUPEWuhan, Hubei Province, ChinaGegründet / Founded: 2014G1Dirigent / Conductor: Ming ChenLI WAN CHILDREN'S CHOIRGuangzhou, ChinaGegründet / Founded: 1996G1, FDirigentin / Conductor: Li Hui Kun
---
Teilnehmende Chöre / Participating choirs81LISTEN TO YOUR HEART CHOIRBeijing, ChinaGegründet / Founded: 2004G1Dirigentin / Conductor: Xiao Mei LiLITTLE RAINDROP CHORUSZheng Zhou, ChinaGegründet / Founded: 1994G1Dirigentin / Conductor: Guang Yang
---
82MASTER YOUTH CHOIRShenzhen, ChinaGegründet / Founded: 2010F & EP, ICDirigentin / Conductor: Miaomiao ZhangSHENYANG RADIO AND TELEVISION CHILDREN'S CHOIRShenyang, ChinaGegründet / Founded: 2014G1 & EP, ICDirigent / Conductor: Jianping Guo
---
Teilnehmende Chöre / Participating choirs83TAIZHOU PHILHARMONIC CHILDREN'S CHOIRTaizhou, ChinaGegründet / Founded: 2012F, G1 & EP, ICDirigenten / Conductors: Yanling Liu, Jianxun ZhengTHE MALE CHORUS TROUPE OF YIHAI BRANCH SCHOOL OF BEIJING NO. 2EXPERIMENTAL PRIMARY SCHOOLBeijing, ChinaGegründet / Founded: 2010FESTIVALDirigent / Conductor: Dean Chen
---
84WUSHAN "NICE" JUNIOR TROUPEGuangzhou, ChinaGegründet / Founded: 2012F & EP, ICDirigentinnen / Conductors: Guiyan Chen & Jianying LiangTHE MÜLLER CHAMBER CHOIRTaipei City, Chinese TaipeiGegründet / Founded: 1999A2, F, SDirigentin / Conductor: Meng-Hsien Peng
---
Teilnehmende Chöre / Participating choirs85ILSENBURGER FRAUENCHORIlsenburg, Deutschland / GermanyGegründet / Founded: 1993FESTIVALDirigentin / Conductor: Gisela GlaeserMÄNNERGESANGSVEREIN HASSERODE 1865 E.V.<strong>Wernigerode</strong>, Deutschland / GermanyGegründet / Founded: 1865FESTIVALDirigentin / Conductor: Barbara Hoffmann
---
86SANGESFREUNDE KLEEBACHTAL OBERKLEENOberkleen (Langgöns), Deutschland / GermanyGegründet / Founded: 1989B2Dirigent / Conductor: Erich ReuschSINGGEMEINSCHAFT CANORA HASSERODE<strong>Wernigerode</strong>, Deutschland / GermanyGegründet / Founded: 2002FESTIVALDirigentin / Conductor: Heidi Albrecht
---
Teilnehmende Chöre / Participating choirs87SPINNESÄNGERTrautenstein, Deutschland / GermanyFESTIVALDirigent / Conductor: Torsten MichelWERNIGERÖDER MÄNNERCHOR 1848 E.V.<strong>Wernigerode</strong>, Deutschland / GermanyGegründet / Founded: 1848B2Dirigent / Conductor: Enno Klump
---
88KVAMU KVARTETTKaarina, Finnland / FinlandGegründet / Founded: 2014Dirigent / Conductor: Pekka NebelungPCORO DALTROCANTOSalerno, Italien / ItalyGegründet / Founded: 2001B1, P & EPDirigentin / Conductor: Patrizia Bruno
---
Teilnehmende Chöre / Participating choirs89MOUNTAIN TOP CHORALELagos, NigeriaGegründet / Founded: 2013C2 & ICDirigent / Conductor: Aderayo OyegbadeCHOIR UNIWERSYTETU EKONOMICZNEGO WE WROCLAWIU "ARS CANTANDI"Wrocław, Polen / PolandGegründet / Founded: 2004A1, S, PDirigentin / Conductor: Anna Grabowska-Borys
---
90GNESINS' ENSEMBLE OF CONTEMPORARY MUSIC "ALTRO CORO"Moscow, Russland / RussiaGegründet / Founded: 2010C2Dirigent / Conductor: Aleksandr RyzhinskiyKHOROVAYA STUDIYA PIONERIAZheleznodorozhny, Russland / RussiaGegründet / Founded: 1953G1, SDirigentin / Conductor: Elena Veremeenko
---
Teilnehmende Chöre / Participating choirs91PURE LIFE CHOIR GROUPFreetown, Sierra LeoneGegründet / Founded: 2006B1, PDirigent / Conductor: Musa ContehMELODIES CHOIRSoweto, Südafrika / South AfricaGegründet / Founded: 2010Dirigent / Conductor: Lindumuzi MngomaS
---
92FEMALE CHOIR CLAVIS CORDIUMMost, Tschechische Republik / Czech RepublicGegründet / Founded: 1992B3, SDirigentin / Conductor: Eva ŠimkováMACPHAIL'S SONOMENTOMinneapolis, USAGegründet / Founded: 2005C2, SDirigent / Conductor: Craig Fields
---
Teilnehmende Chöre / Participating choirs93OBRAZTSOVIY KHOR MALCHIKOV Y YUNOSHEYSvetlogorsk, Weißrussland / BelarusG3, S & EP, ICDirigentin / Conductor: Galina Uryeuskaya-Eusiukova
---
95STATISTIKSTATISTICS
---
Statistiken / Statistics972011 2013DIOCESAN SCHOOLS CHORAL SOCIETYChina/Hongkong SARENSEMBLE THIOS OMILOSDeutschland / GermanyDirigent / Conductor: Ronnie Kay Yen ChengStatistik / StatisticsJahr/Year Nationen/Nations Chöre/Choirs Diplome/DiplomasGold Silver Bronze1999 14 24 17 2 12001 15 35 21 20 32003 13 34 21 16 22005 13 42 20 12 12007 17 40 20 11 –2009 14 29 16 11 12011 19 43 28 16 22013 13 44 29 18 3World Ranking ListTOP choirs, results andupdated statistics about ourfestivals on our websitewww.interkultur.com
---
99ORGANISATION & IMPRESSUMORGANIZERS & IMPRINT
---
100Organisation & ImpressumOrganizers & ImprintFESTIVALBÜRO, REGISTRATION, INFORMATION /FESTIVAL OFFICE, REGISTRATION, INFORMATIONHarzer Kultur- & Kongresszentrum (KIK) / Congress CentrePfarrstraße 41, 38855 <strong>Wernigerode</strong>Telefon/phone: +49 (0) 3943 941 616Öffnungszeiten / Opening HoursDienstag / Tuesday, 14.07.<strong>2015</strong>Mittwoch / Wednesday, 15.07.<strong>2015</strong>Donnerstag / Thursday, 16.07.<strong>2015</strong>Freitag / Friday, 17.07.<strong>2015</strong>Samstag / Saturday, 18.07.<strong>2015</strong>13:00 – 18:00 h09:00 – 13:00 h14:00 – 18:30 h09:00 – 13:00 h14:00 – 16:30 h09:00 – 13:00 h14:00 – 18:30 h09:00 – 16:00 hWETTBERWERBS- UND VERANSTALTUNGSORTE IN WERNIGERODE /COMPETITION AND EVENT VENUES IN WERNIGERODEHarzer Kultur- & Kongresszentrum (KIK) / Congress CentrePfarrstraße 41, 38855 <strong>Wernigerode</strong>Stiftskirche St. Sylvestri / Church St. SylvestriOberpfarrkirchhof 12, 38855 <strong>Wernigerode</strong>Gerhart-Hauptmann-Gymnasium / Secondary School Gerhart HauptmannWesternstraße 29, 38855 <strong>Wernigerode</strong>Diesterweg-Grundschule / Primary School DiesterwegGustav-Petri-Straße 3, 38855 <strong>Wernigerode</strong>Stadtfeldhalle / Sports HallGroße Dammstraße 26, 38855 <strong>Wernigerode</strong>Marktplatz / Market SquareRathaus / Town HallMarktstraße 1, 38855 <strong>Wernigerode</strong>CHOR-CATERING / CHOIR CATERINGWilhelm-Raabe-Schule / Secondary School Wilhelm RaabeHeltauer Platz 2, 38855 <strong>Wernigerode</strong>
---
Organisation & Impressum / Organizers & Imprint101VERANSTALTER / ORGANIZERSVeranstalter sind der Förderverein INTERKULTUR e.V. (Heinrich Lübke-Ring 4, 35415 Pohlheim,Deutschland – registriert: Vereinsregister Gießen, VR 1806 – Vorsitzender/Präsident: GünterTitsch) und die Stadt <strong>Wernigerode</strong> (Marktplatz 1, 68855 <strong>Wernigerode</strong>, vertreten durch denOberbürgermeister Peter Gaffert).Organizers are the Förderverein INTERKULTUR e.V. (Heinrich Lübke-Ring 4, 35415 Pohlheim,Germany – registered at Vereinsregister Gießen, VR 1806 – Chairman/President: Günter Titsch)and the city of <strong>Wernigerode</strong> (Marktplatz 1, 68855 <strong>Wernigerode</strong>, represented by the Lord MayorPeter Gaffert)TEAM INTERKULTURFestivalbüro / Festival Office: Julia Hoppe, Elisabeth StockmannIT & Ergebnisauswertung / IT & results: Andreas KirdjakinAbwicklung / Stage Management: Nicole Azouaghe, Iris Huting Byrd, Irvinne Redor,Reinhold Schunk, Jonas SiebertJurysekretärin / Jury Secretary: Stefanie SchreiberTEAM WERNIGERODEAmtsleiterin Schule, Kultur & Sport / Head official school, culture & sports: Silvia LisowskiKoordination / Coordination: Claudia Dalichow, Jürgen KipperPressekoordination / Press Coordination: Andreas MelingSocial Media: Petra BotheGrafik / Graphics: Winnie ZagrodnikVerpflegung / Catering: Renate JörnTechnische Durchführung / Festival Handling: Rainer Hochmuth, Tobias Kerkau,Marc-Andre Cajus, Sabrina Dolch und viele fleißige Helfer / ... and many additional helpersIMPRESSUM / IMPRINTRedaktion / Editors: Julia Hoppe, Prof. Dr. Ralf EisenbeißGestaltung / Design: Ina Irmisch, Appelt Mediendesign GmbH, WerdauDruck / Print: Harzdruckerei <strong>Wernigerode</strong>Preis / Prize: 3,- €
---
102
---
Organisation & Impressum / Organizers & Imprint103FotonachweisePhoto CreditsTitelseite/front page: © Stadt <strong>Wernigerode</strong>Grußworte/Greetings:Seite/Page 8/9: © Stadt <strong>Wernigerode</strong> | Seite/Page 10/12/14: Alle Portraits wurden von denentsprechenden Personen privat oder durch deren Dienststellen zur Verfügung gestellt. /All portraits were supplied by the corresponding people either privately or through their officeVeranstalter/Organizer: Seite/Page 16/17: © Stadt <strong>Wernigerode</strong>Seite/Page 24 – 26: © Stadt <strong>Wernigerode</strong> | Seite/Page 25: © Matthias Bein |Seite/Page 28 – 29: © gemeinfreiSponsoren/Sponsors:Seite/Page 30/31: © INTERKULTURKünstlerisches Komitee & Jury/Artistic Committee & Jury:Seite/Page 34/35: © INTERKULTUR | Seite/Page: 36 – 46: Alle Portraits wurden von denentsprechenden Personen privat oder durch deren Dienststellen zur Verfügung gestellt. /All portraits were supplied by the corresponding people either privately or through their officeAblauf/Schedule:Seite/Page 48/49: © Studi43 | Seite/Page 55: © DomschatzverwaltungWettbewerb/Competition:Seite/Page 62/63: © Stadt <strong>Wernigerode</strong> | Seite/Page 65: © Stadt <strong>Wernigerode</strong> |Seite/Page 72: © Clifford Turrell | Seite/Page 74: © Stadt <strong>Wernigerode</strong>Teilnehmende Chöre/Participating choirs:Seite/Page 76/77: © Stadt <strong>Wernigerode</strong> | Seite/Page 78 – 95: Die Chorfotos entstammenaus Privatbeständen der einzelnen Chöre. Alle Portraits wurden von den entsprechendenPersonen privat oder durch deren Dienststellen zur Verfügung gestellt. / The choir photosare from private collections belonging to the choirs themselves. All portraits were supplied bythe corresponding people either privately or through their offices.Statistiken/Statistics:Seite/Page 96/97: © Studi43 | Seite/Page 98 – 99: Die Chorfotos entstammen aus Privatbeständender einzelnen Chöre. Alle Portraits wurden von den entsprechenden Personenprivat oder durch deren Dienststellen zur Verfügung gestellt. / The choir photos are fromprivate collections belonging to the choirs themselves. All portraits were supplied by thecorresponding people either privately or through their offices.Organisation & Impressum / Organizers & Imprint:Seite/Page 100/101: © Martins OttoRückseite/back page: © Stadt <strong>Wernigerode</strong>
---
104July 5 – 9, 2017 · <strong>Wernigerode</strong> · Germany10 th International Johannes BrahmsChoir Festival & CompetitionCelebrate the 10 th anniversary of the Johannes Brahms Choir Festival &Competition with singers from all over the world. Don't miss this greatopportunity to get together with other loyal participants of former<strong>Wernigerode</strong> Festivals and to perform at such a special edition of this event.Photo Credits: left: 1 © Stadt <strong>Wernigerode</strong>, 2 © Stadt <strong>Wernigerode</strong>, 3 © Fotogruppe GleisdorfDie Bunte Stadt am HarzINTERKULTUR, Ruhberg 1, 35463 Fernwald (Frankfurt / Main) Germanyphone: +49 (0) 6404 69749-25, fax: +49 (0) 6404 69749-29e-mail: mail@interkultur.com, wernigerode.interkultur.com
---
Röntgenstr.TriftNesseltalAGDamaschkestr.enlustrgCharlottenlust Veckenstedter WegVeckenstedter Wegurtsteichingeröder Str.Weinbergstr.Schillerstr.hlagumasseKantstr.Unterm RatskopfFriedrichstr.umboldtwegLiebknechtstr.EisenbergHuberstr.Stadtplan / City MapZum EichenholzAm FischerhofAm KöhlerteichAm WiesenhangAn den SiebenTeichenGießerwegMVZHarzblickIlsenburger Str.Karlstr.Lüttgenfeldstr.CharlottenringIm langen SchlageVeckenstedter WegH.-Hoffmann-WegUnternWulfhornHeidebreiteBahnhofsplatzFriedrich-Naumann-Str.SonnenwieseSandbrinkZur AueMönchstiegGalgenbergAlteHeidebreiteGeorgiistr.Bodestr.ZaunwieseAm GalgenbergKantstr.BrauereiHerm-Löns-WegdeDie WindeZum VitiholzPlemnitzstr.Am AuerhahnGoethestr.Friedrichstr.BrockenwegINTERNATKruskastr.An der MalzmühleSägemühlengassemelungswegSalzbergstr.Bibensstr.Im langen SchlageAm SchreiberteichERDGASAlte Poststr.DornbergswegAdoph-DiesterwegGrundschuleden ZindelnUnterKurtsstr.Am KatzenteichReddeberteichGewerbegebietDornbergswegOchsenteichstr.Louis-Braill-Str.Ringstr.Mittelstr.Forckestr.Hilleborchstr.Hornstr.GewerbegebietDornbergsweg SüdGustav-Petri-Str.Heidestr.Westernstr.Hornstr.BirkenwegJohann-WeidenwegMarktGewerbegebietGARTENVERKEHRS-Nord-WestWilhelm-Raabe-SchuleHeltauerPlatz KIKGerhardt-Hauptmann-GymnasiumSylvestriekircheLandesmusikgymnasiumAm Gr. BleekWilh.-Raabe-Str.SeigerhüttenwegHSB244DornbergswegNöschenröder Str.Stadtplan / City MapFeldstr. Feldstr.Bahnhofstr.UnterengengasseLindenbergstr.Deliusstr.PappelwegAlbert-Bartels-Str.BirkenwegRingstr.Marktstr.TulpenwegBlumenwegPfarrstr.Büch- tingenstr.Organistenstr.Oberengen-gasseSebastian-Bach-Str.Johannisstr.ZwölfmorgentalBirkenwegSeigerhüttenwegIm StadtfeldeLigusterwegMettestr.Schamtzfelder Ch.An der HoltemmeBei den Schlehen KarolinengartenKaiserbreiteNicolaiplatzKesselmühlenstr.Bahnhofstr.Gr. Bergstr.Burgstr.Hinter demGaswerkBreite Str.Degenerstr.MauergasseBurgbergGartenstr.Schamtzfelder Str.Kleine Dammstr.Gr. Schenkstr.AmBarrenbachFliederwegVor der MauerGrüne Str.PromenadeAm VorwerkKreuzbergHarburgstr.Schreiberstr.Schäferstr.PromenadeBreitscheidstr.Am LüttgegrabenSchlachthofstr.Karl-Försterling-Str.Minslebener Str.Grubestr.BürgerparkMiniaturenparkHARZ-KLINIKUMBAHN-HOFPLANE-TARIUMWalther-Rathenau-Str.mplLindenalleeLindenalleeHundertmorgenfeldBarrenbach105öffentliche GewerbegebietGebäudeSchmatzfelder Museum ChausseeAm KupferhammerSchreiberstr. Ernst-Pörner-Str.Gerichtsstr.UntermKüchengartenKratzensteinringKratzensteinringFreiheitAm SchloßHallbauerstr.Wegestr.Halberstädter Str.PulvergartenopfHilde-Coppi-Str.Große Dammstr.VeranstaltungsortRathausDenkmalKircheKapelleSportanlageFriedhofFußgängerzoneBadeanlagenTouristinfoHans-Falkenhagen-Str.Paul-Renner-Str.Kohlgartenstr.Auf derBurgbreiteRimbecker Str.HeudeberbergOberecksbergkunstDarlingerodeRichtung IlsenburgAm BraunenWasserDrängetalAn derOrangerieStadtfeldLustgartenAmtsgasseRosenwinkelSchloßchausseeSchlossLossenwegSpitzer BergErnst-Pörner-Str.WeinbergFUNDAMENTEKLOSTERHIMMELPFORTEBurgmühlenstr.Richtung SchierkeREITPLATZEichbergAmtsfeldstr.Mannsbergstr.Rosa-Luxemburg-Str.ErbgrafenwegHans-Falkenhagen-Str.STADTWERKEIm HopfengartenMax-Otto-Str.ZiegenbergLange HeckeSteinbergstr.Am EichbergFrankenfelderstr.HasenwinkelAm EichbergBurgbreiteJUGENDHERBERGEFÜRSTLICHERMARSTALLTriftCarl-Friedrich-Gauß-Str.TriangelLanger StiegElise-Crola-Str.Kollwitz-Str.Kopernikusstr.Großer ChristianentalwegBohlwegHASSERÖDERBRAUEREISCHIESSPLATZFriedrichstr.HasserodeHasseröder Str.KakemiekeSchmiedebergAuerhahnringAuerhahnringGewerStadW E RDr. Jacobs-Str.Am LustgartenNesseltalSchmiedebergAm KupferhammeringMartin-Heinrich-HARZ-AgnesbergKLINIKUMBAUMKUCHEN-HAUSHasseröder Str.Am EichbergWüstenteichenHohe WarteInselNeustadter RingKlapKöhlerStadtfeldhalleKäthe-Angerstr.Bert-Heller-Str.Kopernikusstr.Rudolf-Walther-Grosse-PAmA.-SchweitKarl-Marx-SKastwälVoßberLanger StiegNeustadter RingHeinrich-Heine-Str.HASSERÖDERFERIENPARKNeustadter RingWasserhütteKobald-Karnatzkistr.Darlingeröder Str.KapitelsbergImIlsenbuWeinbergsEisenberRatskopPfälzergHOCHSCHULEHARZCAMPUSWüstenteichenKirchstr.Kurzer StiegLessingst
---
Internationales Johannes-Brahms-Chorfestival & WettbewerbINTERKULTURRuhberg 135463 Fernwald (Frankfurt/Main)GermanyTelefon / Phone: +49 (0)6404 69749-25Fax: +49 (0)6404 69749-29mail@interkultur.comwww.interkultur.com