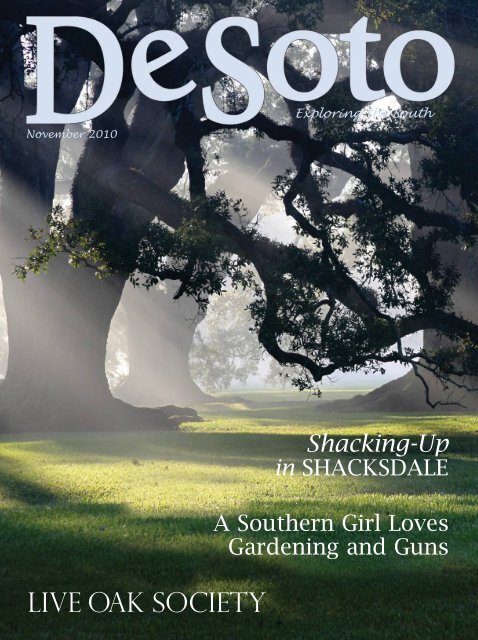 DeSoto Magazine – Southern Girl Afield - Ann Yungmeyer
DeSoto Magazine – Southern Girl Afield - Ann Yungmeyer
DeSoto Magazine – Southern Girl Afield - Ann Yungmeyer
SHOW MORE
SHOW LESS
Create successful ePaper yourself
Turn your PDF publications into a flip-book with our unique Google optimized e-Paper software.
Exploring the South

November 2010

Live Oak society

Shacking-Up

in SHACKSDALE

A Southern Girl Loves

Gardening and Guns
---
November

CONTENTS 2010 • VOLUME 7 • NO. 8

features

20 Quintessential Quilts

North Mississippi Quilters make

quilts, while strengthening their

communities. By Karen Ott Mayer

24 The Southern Girl Afield

Georgie Willson Newell was a

Mississippi maiden who loved

gardens and guns.

By Ann Yungmeyer

28 Gifts Galore!

Holiday giving is a piece of cake

with our helpful gift guide.

38 Live Oak Society

A staple of the South, Live Oak

trees deserve our respect and

demand our attention.

By Rebecca Rolwing

48

departments

10 Dear DeSoto

Letters from our readers.

38

12 Living Well

Using antibiotics wisely. By Dr. John Spencer

16 Habitat

Smart shacks look just like their antiquated cousins

only they are better built. By Karen Ott Mayer

22 About the Arts

Ice sculpting is a chilly job but someone has to do it.

By Karen Ott Mayer

32 Great Destinations

You'll walk in Claude Monet's footsteps when you

visit his inspirational home and garden in Giverny,

France. By Dana Finimore

32

48 Local Flavor

National Junior Auxiliary was born from a single

suggestion and 100 charitable women in Greenville,

Mississippi. By Lindsey Phillips Abernathy

54 Pot Luck

Make it Homemade for the Holidays, pumpkin treats

to bake and share.

58 November Events

Places to go, sights to see, things to do.

60 Reflections

In the information age, how do we decide what is

valuable and what to mentally discard?

By Karen Ott Mayer

DeSoto 5
---
■ editor's note

Here in Mississippi and the South,

we take great pride in our lovely

trees. Many of our artists paint and

sculpt works dedicated to them, and

some trees even have a society all

their own. Read about it on page 38

in Rebecca Rolwing's fascinating

story, "Ancient Oaks in a Society of

Their Own."

Chilly weather will be here soon.

"It's time to change the bed clothes,"

my grandmother used to say. I

treasure her quilts that I keep in an

antique chest. I suppose I will pass

them down to my daughter someday.

Some ladies of North Mississippi

are keeping the art of quilting alive

and well. Check out Karen Ott

Mayer's story, "The Piecing Life," on

page 20.

Mississippi is a great place to live

and work—but sometimes it's fun to

get away and explore new places.

Overflowing with interesting history,

and fabulous scenery, France is a

fascinating destination. For instance,

you can visit Claude Monet's home

and garden in the village of Giverny.

Years ago, it was in ruins until caring

individuals—through hard work and

sacrifice—brought the home and

LOVE AFFAIR

The reasons for my love affair with fall are many. I love the crisp

air of the gradually cooling days, the chance to put on a sweater

and stroll through an outdoor flea market, relaxing by the fire with

a good book, the anticipation of upcoming holidays spent with

family and friends, and, of course, the fiery colors of the trees.

grounds back from the brink. See my

story "His Garden Still Grows" on

page 32.

Back home, area events really

heat up during the fall. In fact,

Hernando's Holiday Open House is

on Sunday, November 14. The shops

in town will be packed with goodies,

specials, and gifts to help you kick-off

the season. You'll want to plan your

shopping using our handy Gift

Guide on page 28.

Well, things around here change

as quickly as the autumn leaves, so

I've got to run.

Happy fall!

Dana Finimore

Editor-in-chief

dana@desotomag.com

Magazine

NOVEMBER 2010 • VOL. 7 NO. 8

PUBLISHER

Richard Finimore

EDITOR IN CHIEF

Dana Finimore

PHOTOGRAPHY

Dana Finimore

Herman King

ART DIRECTOR

Ashley Smith

EDITORIAL CONTRIBUTORS

Lindsey Phillips Abernathy

Dana Finimore

Karen Ott Mayer

Rebecca Rolwing

Dr. John Spencer

ACCOUNT MANAGER

Sonja Broaddus

ACCOUNT EXECUTIVES

Sonja Broaddus

Ashley Herbert

WEB DESIGN

Hill Media Co.

Published by Hill Media Co.

P. O. Box 451,

Nesbit, MS 38651

662.429.4617

FAX 662.449.5813

www.desotomag.com

On the Cover

Live oak trees are colossal elements of

nature that capture our hearts and

demand our attention. The sun

beaming through ancient branches

gives the trees a mystical quality.

Photography by Dana Finimore.

© 2010 Hill Media Co. DeSoto

Magazine must give permission for

any material contained herein to be

reproduced in any manner. Any

advertisements published in DeSoto

Magazine do not constitute an

endorsement of the advertiser's

services or products. DeSoto

Magazine is published monthly by

Hill Media Co. Parties interested in

advertising should email us at

info@desotomag.com or call

662.429.4617. www.desotomag.com
---
■ dear desoto

Dear Readers: We love hearing from you. Drop us a line if you have comments, questions

or suggestions related to our editorial features and/or departments. Our email is

info@desotomag.com or write to: P. O. Box 451, Nesbit MS 38651.

Live Oaks

Live oaks are a southern landmark supporting

individual ecosystems of their own. They range

from Texas through the gulf coast states to the

Carolina's and documented ages are from 100

to 1,200 years old. If only these "trees of life"

could speak and share with us the history that

has occurred beneath their mighty branches.

These giants are imprinted lovingly in the

memory of many children and are treasured by

all. Childhood imaginations are invoked by

passing through, in and on these gentle arbors.

They are our pirate ships, dragon caves, baby

cradles and tree houses...

Charlotte Coats

Grenada

P.S. Charlotte Coats is an artist who sent in the idea for

a story about the ancient live oak trees. Her sculpture

entitled "The Diane Oak," a tribute to the live oak, was

commissioned by Diane Chidlow, also of Grenada, Ms.

Gift Subscriptions

Just a little note to say how much I enjoy your

magazine. I always learn so much from it. I

have a huge family and this year I plan to make

my gift giving easy by giving everyone a

subscription to your lovely magazine. I'm going

to start by giving myself one.

J. C. Cooper

Coldwater

10 DeSoto
---
■ living well

Antibiotics:

Six Ways to Use Them Safely

By Dr. John Spencer M.D.

It's impossible to calculate just how many human lives would have been cut short without

them. Yet, the story of humans and antibiotics is like the story of the child who cried wolf.

We cry-out when we have a bacterial infection and an

antibiotic gets rid of it quickly and efficiently. But we

cry-out for antibiotics too often, sometimes when they

can be of no use, like when we have a viral infection,

such as a cold, or the flu. Antibiotics are powerless

against viruses. They can only fight bacterial infections

like measles or pneumonia. Yet, many misguided,

headstrong people pressurise their doctors into

prescribing antibiotics for ailments unconnected

with bacterial infection. The doctors, who should

know better, are probably too busy to argue. The

misguided patient is just wasting money. But they're

both causing a serious problem for us all.

Taking antibiotics for illnesses that are not bacteriarelated

is more than a waste of money. It's dangerous

and potentially has long-term health consequences.

Many antibiotics cause unpleasant side effects like

rashes, nausea and diarrhoea. Much more seriously,

indiscriminate use of antibiotics causes bacteria to

develop resistance. This means that at best, an

antibiotic's ability to fight particular infections is

impaired, and at worst, it's non-existent. This doesn't

12 DeSoto
---
mean the antibiotic has become weaker.

It means the bacteria has evolved and

become stronger. Regularly reported

examples of this problem are "super

bugs." These bacteria, frequently found

in hospitals, have evolved resistance to

many common antibiotics. An increasing

worry of the medical profession is the

evolution of bacteria for which there is

no effective antibiotic. These are serious

problems for us all and huge challenges

for doctors and scientists. What can the

average person do?

Here are six guidelines everyone can

follow to stay healthier and help address

this problem.

• Never take antibiotics unless they are

prescribed by your GP.

• Take them when and exactly as directed.

Some are intended to be taken with food,

some on an empty stomach.

• Always finish the entire course of

treatment unless your doctor advises

otherwise. Because they feel well, some

people stop taking their antibiotic

medication before the course is

completed. This can cause bacteria that

remain in the body to develop a

resistance and become stronger.

• Destroy any medication left over when

the course has been completed.

• Don't pressurise your GP into

prescribing antibiotics if he or she advises

against them.

• Wash your hands thoroughly, especially

after using the toilet, and before eating or

preparing food.

• Don't be like the little boy who cried

"wolf," when there was no wolf. The

people who rushed to his aid got

annoyed. When the real wolf came, they

thought he was still playacting. Don't

take antibiotics if you don't have a

bacterial infection. When the time comes

and you really do need them, the

antibiotics just might not work.

DeSoto 13
---
14 DeSoto
---
But theirs is a different story, with a young past and a

different group of partners behind them.

In 2009, a group of acquaintances began circling around an

idea that eventually brought them together under the auspices

of the Shacksdale Motel, an enviro-shack development.

16 DeSoto

Shacking Smarter in Clarksdale

Text by Karen Ott Mayer / Photography by Dana Finimore

A new type of shack is dotting the landscape in Clarksdale, Miss., just across

the tracks from the well-known Shack Up Inn at Hopson Plantation, and to the

casual eye, these shacks appear to be just like their antiquated cousins.

Jim Field, Erin Lee, Barry and Sally Thornhill, and John

and Sandi Hughes all had varied connections to the popular

blues destination but shared a common desire to

build...something.

"Barry wanted to do something with the blues, and we
---
started talking about doing a shack with a

dog trot," says Lee.

In the meantime, Field, who had been

a partner in the Shack Up Inn operation,

had already purchased land across the

tracks and had moved an original shack to

the place. Eventually, all the partners

would decide to build guest shacks but

with a completely different slant. Field, an

architect who also lived in Colorado,

introduced the group to the idea of a

highly energy-efficient shack that

appeared old.

"The old shacks are getting harder and

harder to find, and when you can find

them, you have to practically rebuild them.

These shacks look old, but they are tight

buildings," says Field.

The type of construction used is called

Structural Insulated Panels or SIPs, and

Thornhill and Field have handled most of

the construction with the help of

Thornhill's brother, Roy Thornhill. The

panels arrive in one piece and are

assembled on site. The energy efficiency

results from the thermal-performing wall

systems.

"The floor in my 400-square-foot shack

is eight inches thick. Then, we poured

concrete over the entire floor," says Lee.

Energy-efficient windows and new

doors make the construction even smarter.

The Shacksdale group works with a

Mississippi-based company in Grenada

called General Panel that uses a client's

DeSoto 17
---
18 DeSoto

blueprints or can help design a building.

"These shacks appear to be like those

across the street, but they're 66 percent

more efficient than other construction,"

says Thornhill.

The Thornhills' shack will be

complete this month, and they chose to

build a slightly larger version at 600

square feet. As Field points out,

however, even the size of the shacks

represents a more practical, smart way

of living. "Most people live in only one

area of their house, which is about as big

as these shacks."

Each shack has a kitchenette,

bathroom and porches, and the entire

structure is built on concrete piers. In

fact, the Lee and Field shacks are

adjoined via that long-awaited dog trot.

"It's amazing, even in the heat of the

summer, it's cool in these shacks because

of the concrete," says Lee.

Lee says her shack can sleep as many

as six guests.

The interior of the shacks appears

authentic, too. With reclaimed wood,

tin and found objects, the Shacksdale

group has succeeded in recreating the

funky, earthy personality so prevalent in

the area's buildings.

While Field is the only person in the

group who has long ties to Clarksdale,

the other partners express an equal

affection for the music and culture of

the region.

"I was born and raised in Jackson,

Miss., and grew up listening to my older

brother's music like BB King and the

Allman Brothers. I'm a big blues fan

and just a big fan of Mississippi," says

Thornhill.

Thornhill and his wife live in

downtown Memphis and met Lee

through a neighborhood association.

Lee, who maintains a residence in

downtown Memphis, has been visiting

Clarksdale regularly for the last five

years. "I love the culture. The area is

actually very metropolitan because of

the visitors."

Field can't agree more.

"My grandparents lived in

Clarksdale, so I spent summers here

growing up. When I started coming

back here in 1993, it was for stress

relief. It's totally about the people here.

Southern hospitality is the real deal

here," says Field.

Thornhill says the name Shacksdale

just came to him. "We'd been talking

about names, and nobody came up with

one. I just spit out the name one day,

and no one objected, so it stuck."

The group hopes to eventually see

20 shacks built on the property, each

with even more environmentallyfriendly

designs.

"These shacks are meant to educate as

much as they are places to stay.

Eventually, I'd like to use solar

applications and even build a stand-alone

shack that's off the grid," says Field.

Shacksdale has hosted musicians on

the porches where it's not unusual to

find the Shacksdale crew hanging out.

"We call the breezeway a trophy room

because of a deer head given to us by our

friend Scott Fernandez. It's where we

have happy hour every evening and watch

the sunset," says Lee.

www.shacksdale.com ■
---
DeSoto 19
---
The Piecing Life

North Mississippi Quilters Make Quilts, Strengthen Communities

In 1991, a group of women near Teasdale, Miss.

started working on quilts in local churches, and now, in

a community building that the Teasdale Ladies

Auxilary group built specifically for quilting.

"A lady in our group helped buy the land and we

put up a metal building in 1995 and it's used for many

things besides our quilting," says Pat Hickey, who has

been quilting since 1992.

Today, 14 women gather to quilt the tops which

they piece together at home.

"Those who can't sit and quilt due to physical

problems can cut or piece," says Hickey.

Over the years, the group has organized shows in

Enid, Batesville and other local towns where they've

displayed over 400 quilts, half of them belonging to

the group and the other half from local quilters. Their

quilts have sold for as much as $500.

The group favors traditional designs such as log

cabin, the double wedding ring, and different star

designs. While the Teasdale group consists of ladies

who are retired or not working, Hickey encourages

By Karen Ott Mayer

In the corners of Tutwiler homes and in Teasdale, Mississippi, women have

been quietly working, cutting fabrics, piecing quilts, and ultimately, sustaining

a local craft that helps strengthen economic prospects and community ties.

younger women to pursue the craft.

"It's not impossible to do when younger and busier.

It's such a heritage and we often have people who say

they have a quilt from made by their grandmother and

they'd like to have it quilted," says Hickey.

Just west in Tutwiler, another quilting initiative

began in 1988 with a more specific mission led by

Sister Maureen Delaney S.N.J.M., Director of the

Center, and Sr. JoAnn Blomme O.P., Counselor at the

Tutwiler Clinic. As a way to improve the economic

prospects of African American women in the Delta

and to capitalize on a long quilting tradition passed

from grandmothers to daughters, the pair helped

organize the Tutwiler Quilters. Over 20 years later, this

group is still quilting and has gained national

recognition, including coverage by 60 Minutes and

participation in Smithsonian events.

While the Teasdale ladies stick to traditional

patterns, the Tutwiler Quilters stray further.

"They don't do a repeated pattern, but improvise

from traditional patterns," says Delaney.

20 DeSoto
---
The effect is a colorful mixture of

bold patterns and shapes, or as

noted before, a "cacophony" of

color and design.

The Tutwiler Quilters work

differently than the Teasdale ladies in

that they work on the quilts at home

and bring them to the Community

Education Center once a week when

they're ready.

All the quilts are hand quilted and

currently on sale at different outlets

throughout the country.

As originally envisioned, the project

has grown to the point where the

women have created a cottage

industry in a rural area. "We sell about

$65,000 worth of quilt products

during the year and the quilters

receive about 80 percent of the sales,"

says Delaney.

In addition to bedding quilts, the

group produces other quilted products

such as placemats, table runners, bags

and potholders. "This is a way for

these women to make money for their

families," says Delaney.

Even with her original vision and

hopes of creating an economic

opportunity for women in Tutwiler,

Delaney is still surprised. "I'm always

amazed. I didn't realize how big of a

deal this would be. The response to

these products has been wonderful."

The group has participated in the

Juke Joint Festival and other area craft

shows and sells their products through

the mail and at the San Jose Museum

of Quilts and Textiles.

Mississippi quilters like the women

in Teasdale and Tutwiler hold fast to a

local heritage that reflects the

handiwork and values of generations

past. More importantly, these women

strengthen their communities through

real means, fellowship and talent. ■

TO LEARN MORE:

Tutwiler Quilters

contact Sister Maureen Delaney

at 662-345-8393 or visit

tutwilerquilters.org.

The Teasdale Ladies

Pat Hickey

662-647-7297

DeSoto 21
---
■ about the arts

WINKER

FAMILY

CARVES

LEGACY

IN ICE

Text and photography by Karen Ott Mayer

IT'S A COLD JOB BUT SOMEONE HAS TO DO IT.

And in this case of crafting ice into elegant and

delicate sculptures, the task has fallen to the Winker

family of Memphis for over 30 years.

Mac Winker, owner and CEO of The Racquet

Club, built a complimentary career in the ice business,

winning multiple national competitions and serving as

captain of the U.S. Ice Sculpture Team. He has judged

local, regional and national events and co-wrote the

book "Ice Sculpture" in 1989 with his wife Claire.

While the senior Winker has retired and stepped

aside, his son David continues to carry the family's icy

legacy forward.

"I carved my first piece when I was 11," says David

Winker. The piece was a seal sculpture.

Since then, the younger Winker has carved countless

sculptures for weddings, parties, fundraisers and the

pieces are as diverse as the events themselves.

Winker recently carved a 3,000 pound, 15-foot ice

bar for the Blues Ball 2010.

"They literally served wine and champagne from

the bar," says Winker.

Winker estimates he carved about 100 sculptures

during the summer for events in Memphis and the

surrounding areas.

Although it may seem a sculpture wouldn't last for

hours outside a freezer, the opposite is true.

The ice bar was set up at 5pm and was still solid by

1am. "We can transport the sculptures in a truck or

van by placing them in a freezer bag. It would take

about eight hours for a piece to melt.

The Winkers even make their own ice from which

to carve pieces.

"We can control the quality of our ice," says

Winker.

The carving is done with an electric chainsaw.

These days, Winker handles all the carving himself

22 DeSoto
---
and his friend John Hendrix helps

with the transport and installation of

the pieces.

"It took about 10 hours to carve

the ice bar," says Winker.

At the RiverKings opening game

in October, Winker and Hendrix

carried in a 250-pound block of ice

with the RiverKings name and

mascot etched into the ice. Wearing

orange suits designed to prevent

contact with water while dealing with

the electricity, the pair spent about an

hour setting up two sculptures.

As Winker hauled the first one in, he

didn't seem to mind the weight. When

asked if he'd ever dropped a sculpture

during installation, he laughed.

"Oh, yeah."

He said they can fuse them back

together on the job site if there's not

too much damage.

Winker thinks his most

complicated sculpture was a replica

of the Taj Mahal.

When looking back over his father's

career, Winker says his father has

carved over 2,000 ice vases that have

the amazing appearance of a crystal

vase. The vase is just one of many

sculptures his father made. Others

include elaborate swordfish, lovebirds,

baskets, cornocopia, mandolins, ducks,

reindeer, bunnies, company logos and

names and even a ballet dancer

patterned after their daughter Kasha.

The Winkers' talents have graced

many tables over the years, dazzling

people with their icy creations, and no

doubt, many holiday tables will

celebrate their carving legacy in the

coming months.

DeSoto 23
---
Georgie Willson Newell:

The Southern Girl Afield

By Ann N. Yungmeyer

When she was alive, I certainly couldn't picture the striking young woman in her

long skirt and feathered hat with a shotgun over her shoulder – whistling up the

bird dogs, mounting her horse and galloping off through fields of cotton.

Such images and random tales of a bygone era are time Wilkinson wrote an elaborate account of a

the stuff that invite us to contemplate our ties to the

past and awaken us to the present. Or so it seems, as I

pull from my home library collection a very tattered

particular springtime hunt on which he accompanied

Georgie and three friends over plantation fields in

search of bevies of quail.

but cherished issue of Field and Stream from the year Wilkinson details the excursion of two young

1903 and reread an article about a remarkable lady:

the late Georgie Willson Newell from Natchez.

Featured in a story titled, "The Southern Girl

Afield," and undoubtedly seen as avant-garde – at least

by the author, Andrews Wilkinson – Georgie relished

the hunt. She was a good shot to boot.

Born in 1880, she was in her early twenties at the

ladies and three young men who set out from Port

Gibson, the seat of Claiborne County, and poetically

describes their lucky encounters, successes and

frustrations during the daylong hunt. His writing

portrays a not-so-surprising similarity between then

and now with regard to a timeless battle of the sexes

in the following excerpt:

24 DeSoto
---
The May 1903 issue of Field and Stream featured an

article about Miss Georgie Wilson and her friends

as they hunted in the country side in Natchez.

"We intended starting at eight

o'clock sharp but were delayed

nearly an hour by the girls' devoting

more time and material than needed

to the commissary department. Such

relishes as olives and pickles, in their

original glass packages and brittle

drinking goblets and cold rations

enough for an entire cavalry

company cannot be quickly arranged

and compactly portable for a

horseback bird hunt. But in this

instance those things just 'had to go,'

and needless to say they went."

Wilkinson recounts an incident where "Miss

Willson" was unanimously elected to give a particular

bird its coup de grace while the others in their party

remained mounted: "With nerves astrain from the

concentrated attention of so expectant a throng, our

tall and graceful young Diana of the sixteen gauge

stepped forth to the quail's hiding place and tried to

stir him up with her foot. But those tan boots had no

terrors for the concealed fugitive, and he refused to

flush. Then the Gordon was called on. That reliable

brute promptly pointed and actually routed out the

bird from a matted bunch of grass with his nose. The

panic stricken quail sped like a bullet for the forest

sanctuary sheltering his lucky companions, but before

he had flown thirty yards he was cut down in a style so

artistic as to evoke the loud

plaudits of the delighted

spectators."

The hunting party enjoys an

'alfresco' luncheon at the old

Blennerhasset mansion house,

"La Cache," and continues the

hunt until just before sunset,

when, "Miss Willson and one of

the sportsmen had the good luck

to discover another limited snipe

marsh and to bag nine of them

in twelve shots before the last of

their elusive gray forms flitted

away in the twilight. The southern girl afield had at

least two consoling reflections to brighten her

homeward ride under the first starlight. She had stood

the strain of eight hours riding and shooting without

having overtaxed muscles and nerves, and she had

made just exactly the average score of her male

companions in a good general bag of our best game

birds."

In the same year the hunt story was published

(1903), Georgie married Dr. Edward Thomas Newell

(a descendant of the founder of nearby Newellton,

Louisiana) at Trinity Episcopal Church in Natchez,

and the couple moved to Chattanooga, Tennessee.

Georgie did not forget her roots after leaving

Mississippi and later co-authored a book titled

DeSoto 25
---
Natchez and the Pilgrimage with her half

sister, Charlie Cromartie Compton.

Published in 1935, three years after the

famous Pilgrimage home tours began,

the book is prefaced by Ruth Macrae,

who writes that the authors give "a

description of antebellum glory and

charm as we find it

carefully preserved in

its original dignity and

beauty. In making the

Pilgrimage, one steps

unexpectedly out of the

shadow of material

concern into the

radiance and intimacy

of life in the 'deep

south' to be found in its

completeness only in

Natchez, Mississippi."

As the Pilgrimage

tradition approaches its

80th year, broadly

expanded and stronger

than ever, I was curious to read the

book, not only for the architectural

portrayals but also for the context in

which it was written. The book

features the original homes on tour

with illustrations and descriptions of

the varied styles, furnishings and

history of grand manors such as

D'Evereux Hall, Linden, Lansdowne,

Auburn House and Melrose. The

authors include musings on the

mission of the Pilgrimage tours and

bits of Natchez history pre- and post-

Civil War, providing a reflection

of the regional culture and tone

of the 1930s.

I couldn't help but

imagine that, perhaps,

the Natchez ladies

who founded the

Pilgrimage in 1932

introduced one of the

earliest fundraising

concepts of the

modern-day Home

and Garden Tour

as we commonly

know it today.

Throughout

her 88 years,

Georgie continued

to pursue her love of the

outdoors and instilled an appreciation

for nature in those whose lives she

touched. She led annual trips in June

for Garden Clubs and friends to see

the famous Rhododendron Gardens at

Roan Mountain in northeast

Tennessee.

She was prominently associated

with the Girl Guide Brigade and

organized the first Girl Scouts

26 DeSoto
---
Ladies in period costume are

photographed among the iries on the

grounds of Hope Farm, which dates

back to 1775.

program in Chattanooga.

At home in her cottage garden on

Signal Mountain, Tennessee, Georgie

would invite friends and family for

badminton and croquet. The family

spent winter months at their rustic

fishing cabin in Homosassa, Florida,

and at their apartment residence in

downtown Chattanooga, now a

landmark building in the redeveloped

Bluff View Arts District.

Quail and pheasant were featured

at Georgie's Thanksgiving table along

with her signature English trifle and

always a glass of sherry. But unlike

many women of her era known for

their cooking and home skills, Georgie

is remembered for her pioneering ways

that helped promote opportunities for

women, historic preservation efforts and

discovery of the outdoors.

To me, her granddaughter, she is

best remembered relaxing in an

Adirondack chair with a bird dog

sleeping at her feet.■

Ann Newell Yungmeyer is a freelance

writer in Kingsport, Tennessee. Contact her at

ayungmeyer@gmail.com.

DeSoto 27
---
Enhance your home

with fine art from the

Tin Roof Market

(662) 449-5455

The Snoozer Hide-a-bed

in giraffe print from

Groomingdales

(662) 349-9590

Set includes one stainless steel flask,

four shot glasses & funnel at

Southern Thunder Harley Davidson

(662) 349-1099

Keep your wine fresh with

Knob Stoppers found at

Mimi's On Main

(662) 562-8261

Charm bracelets & necklaces

by Pandora available at

Pink Zinnia

(662) 449-5533

Keep on relaxin' with

South Butt at

Keepsakes by Melony

(662) 429-7029

Reversible corduroy jumper

set by Peaches 'n Cream from

Peas & Carrots

(662) 236-5566

Christian Livingston bags with fabric

sling top & attached flower sold at

Rita's Petites

(662) 562-7602
---
Heartstrings embossed

monogram pendants from

The Other Side

(662) 562-7349

Get this Wizard of Oz Ruby

Slipper Water Globe by San

Francisco Music Box Company at

CB Gifts & Collectables

(662) 357-0456

Necklace, bracelet & earring

set by John Medeiros from

Paisley Pineapple

(662) 895-2111
---
Customize your own bracelet

with Kera beads from

Custom Jewelry

(662) 349-9070

Home decor items that are

sure to please from

Magnolia Lighting

Hernando (662) 429-0416

Oxford (662) 236-0025

2010 Limited Edition Christopher

Radko Ornament featuring the

Magnolia State available at

Square Cupboard

(662) 449-2686

Whip up something yummy

with this handmade bowl &

whisk by

Joe Eckles Stoneware

(662) 429-1621

Perfect for the Holidays!

Black dress with gold

halter top by Karlie at

Janie Rose

(662) 298-0047

MST Eqwader Deluxe Quarter

Zip Pullover by Drake from

Nelson Reed's

(662) 562-9444
---
DeSoto 31
---
■ great destinations

32 DeSoto
---
His Garden

Still Grows

Text and Photography by Dana Finimore

"What I need most are flowers,

always flowers,"

— Claude Monet (1840–1926)

The graveled path noisily crunched

underfoot as I entered the lush Eden.

Roses, dahlias, fuchsia, anemone,

asters and a plethora of other autumn

flora immersed me in their palette of

yellow, pink, blue, orange and green

and drowned me with a fragrance that

only Mother Nature could create.

Golden sunflowers towered overhead

and swayed in the crisp September

breeze. Insects of the winged variety

fluttered from bud to blossom and

back again. It was a made-to-order

nirvana, designed to render endless

themes to paint.

Claude Monet's garden and water lily pond in

the French village of Giverny is one of France's

extraordinary attractions, drawing nearly

500,000 art and garden lovers each year.

An artist's home that has survived years of time

and neglect is a venerable anthropologic treasure

trove for those wishing to learn from the clues left

behind. To view the sanctuary where Monet lived,

worked and painted is to gain an invaluable insight

into what inspired him as an artist.

Following Monet's death at his home in

Giverny on December 5, 1926, the once lovely

domicile fell into gradual demise. It was feared

the residence of the world's foremost

impressionistic painter might be lost.

DeSoto 33
---
Above:Visitors can walk the gravel paths between individual flower beds

that were once the inspiration for many of Monet's paintings.

Below:A stone wall behind Monet's home is planted in autumn flowers.

"The buildings were in danger

of collapsing and most of the

wood paneling and parquet floors

were rotten," wrote French art

expert Gerald Van der Kemp,

who lovingly restored Monet's

house and garden.

Michel Monet, the artist's

youngest son, bequeathed the

entire estate, which included the

house, garden and all remaining

paintings, to the Academie des

Beaux Arts, of which Van der

Kemp was a member.

Van der Kemp sought financial

help in order to keep up with the

mountain of restoration costs.

Finally, it was private benefactors

from the United States who

stepped in to help. On June 1,

1980, after three long years of

painstaking research, fund-raising

and hard work, the Monet home

and garden were opened to the

general public.

Little evidence remains of the

overgrown flowerbeds full of

weeds, or the decaying farmhouse.

Head gardener Gilbert Vahe, 59,

tends the pond, still brimming

with water lilies, and the Clos

Normand (flower garden) with a

devoted heart and strong hands.

As witness to the garden's

rebirth, Vahe explained the

process. "We went by the paintings

when we replanted the garden

and laid out the flower beds," he

said. "And we still had the

records for the bulbs, seeds and plants that had

been ordered decades before."

Thirty years earlier, at the beginning of the

revitalization,Vahe helped interview anyone who

may have remembered Monet's garden or who may

have worked there. They researched vintage photos

for hints as to what was planted.

"Monet had a passion for his garden that nearly

surpassed his love of painting," Vahé explains. "He

was very ardent when it came to his garden, just as

he was about his painting. He continuously wanted

to push things further."

Maintenance of the grounds is a year-round job

for ten full-time gardeners. During the cool weather

they are busy replacing shrubs and trees and

preparing plantings for spring and summer.
---
Left: A vintage photo of Claude Monet

himself as he stands proudly in his garden.

Bottom: The famous Japanese bridge that

was the subject of many of Monet's works.

IF YOU GO

Getting there from Paris...

It is an easy day trip from Gare Saint-Lazare

train station. Take the Paris-Rouen line to

Vernon and from there a bus departs

frequently to the Monet house at Giverny.

Monet's house and garden

84 rue Claude Monet

011-33-2-3251 2821

www.fondation-monet.com

www.giverny.org

"In winter the garden sleeps, but the gardener does not,"

Vahé exclaims.

The interior of the house reflects Monet's appreciation for

art as well. The large rooms are simple but not austere and the

buttery colored walls are covered with the hundreds of Japanese

prints that Monet cherished and collected. The kitchen is

furnished with quaint cupboards and a large harvest table.

Large windows provide fabulous views of the gardens.

Today, Monet's garden still grows and is diligently

maintained, just as it was during Monet's lifetime. Visitors can

stroll along the garden paths and prowl the corners of his house,

following in the footsteps of the father of impressionism.■

Musée des impressionnismes Giverny

99, rue Claude Monet

27620 Giverny

phone: 33 (0)2 32 51 94 65

DeSoto 35
---
WHAT ARE YOU

WAITING FOR?

ELEANOR A GILL, D.M.D.

662.895.4737

36 DeSoto
---
DeSoto 37
---
Ancient Oaks in a Society of Their Own

Text by Rebecca Rolwing / Photography by Dana Finimore and Herman King

Some may view them simply as massive structures of nature, perfect for sitting under, while

sipping sweet tea. Others may refer to them as majestic symbols of the south, standing sentry

for centuries over some of our most historic homes. Most will agree that live oak trees are

colossal elements of natural beauty, which capture our hearts and demand our attention.

Coleen Landry, chairman of the Live Oak Society, said live

oak trees are a part of who we are as a southern society.

"I often tell people they have not lived until they have stood

at the base of the trunk of an ancient oak at midnight," she

said. "You can almost hear the tree

speak to you."

As chairman and the only

human allowed admittance into the

society, Landry said she remains

busy keeping records and acting as

a steward to the 6,276 live oak

members scattered throughout 15

states in the U.S.

Founded in 1934 by Dr. Edwin

Lewis Stephens to raise greater

awareness and appreciation for live

oak trees, the society continues serving that purpose today by

promoting, protecting and preserving live oaks.

Landry said her duties also include accepting registrations

of live oaks for membership into the society. Since being

appointed as chairman by the Louisiana Garden Club

Federation in 2001, Landry has registered some 2,509 live

oaks. In order to apply for membership, the society requires

each live oak to hold a girth (waistline) of at least eight feet.

The shape and size, Landry

said, is what makes a live oak so

unique. She said a live oak will not

reach its full beauty until it is at

least 50 years old, and it can live up

to 2,000 years. The residing

president of the society, "Seven

Sisters Oak," located in Lewisburg,

La., has a circumference of over 38

feet and is estimated by foresters to

be 1,200 years old.

"It [a live oak tree] has a way of

spreading its branches and curves and sometimes even looks as

though it is embracing the earth," Landry said. "Some of the

trees branches resemble open arms, just waiting to cradle you

and listen to all of your troubles."

DeSoto 39
---
Landry said protecting the trees has

become increasingly difficult over the past

50 years due to the work of contractors and

power companies clearing land without

considering the consequences of their

destruction. Shortly after becoming

chairman, Landry learned of an ancient

live oak in jeopardy due to the extension of

a highway by the Louisiana Department of

Transportation.

"I went personally to the governor of

Louisiana, then Mike Foster, and pleaded

the case," she said. "He immediately

ordered the department to reroute the

road."

While protecting trees is an important

aspect of her work, promoting them is also

a key element in the preservation of live oaks. Landry said that

promoting with a united front is vital for furthering the

education of individuals on live oaks.

Spreading awareness and educating others is exactly the

purpose of the "Diane Oak" sculpture created by Grenada

resident and artist Charlotte Coats. She was first approached

by Diane Chidlow, owner of Orleans Bistro restaurant in

Grenada, in mid-March to create a sculpture symbolizing a

live oak. Coats wished to incorporate the state of Mississippi

into the sculpture and decided to do so by modeling it after the

"Friendship Oak" in Long Beach. After presenting a mock-up

of the sculpture to Chidlow, which included lit columns, three

mirrors and inscribed Native American symbols, Coats

received the commission.

She began work in April and completed the 20-by-10-foot

massive steel sculpture in July. Coats said it was her love of the

South and of live oaks that was the driving force behind the

completion of the sculpture. The "Diane Oak" is currently on

display in Orleans Bistro.

Coats said the purpose of the sculpture was to inform all

individuals of the endangerment facing live oaks.

"I would like for this to help educate the public as to the

plight of the massive oaks," she said. "They've been here for

centuries, and they should be able to remain

here for many, many more."

While manmade destruction is considered

preventable, the massive oaks also face the

threat of natural destruction.

Landry said live oaks are also known as "the

hurricane trees."

"Its squat, rounded shape buffers hurricane

winds and carries the wind over a structure," she

said. "It spreads its roots wide and does not

topple over very easily."

However, as large and strong as the ancient

oaks may be, some were no match for the high

winds and flooding that accompanied

Hurricane Katrina.

Public affairs manager for Biloxi, Vincent

Creel, said the aftermath of Katrina left

everything along the coastline colored

brown. The live oaks were dying from overexposure

to salty winds and water.

After receiving approval from the

Mississippi Department of Transportation,

Creel, along with Biloxi Mayor A.J.

Holloway, contacted Mississippi "chainsaw

artist" Dayton Scoggins to sculpt marine

figures of the remaining dead trees. They

hired Scoggins to do five sculptures for

$7,000.

With the success of Scoggins' work, Fort

Walton Beach, Fla., sculptor, Marlin Miller,

volunteered to sculpt another standing dead

oak in the center median of U.S. 90 in

Biloxi. Miller donated his work as

repayment to Biloxi residents who offered

relief to Fort Walton Beach after Hurricane

Ivan. He completed a total of 15 aquatic-figure sculptures

along U.S. 90.

"These trees were dead and have been given a new life,"

Creel said. "They stand as such stoic sentinels today. With

everything they've been through, the trees demonstrate the

resilience and strength of our community."

Landry said the society plans to continue the fight to

promote, protect and preserve live oaks in the future.

"The oaks in the South are part of who we are," she said.

"I consider them to be a staple of the South." ■

40 DeSoto
---
DeSoto 41
---
42 DeSoto
---
42 DeSoto
---
44 DeSoto
---
DeSoto 45
---
46 DeSoto
---
46 DeSoto
---
■ local flavor

National Association of Junior Auxiliaries:

A LEGACY OF CARING

By Lindsey Phillips Abernathy

It took a case of the flu, a physician and

100 charitable women to create the

National Association of Junior Auxiliaries

(NAJA) in Greenville, Miss., nearly 70

years ago.

Like many great organizations, the NAJA was born

out of a single suggestion. In 1941, Dr. Cameron

Montgomery treated Louise Crump, who would soon

become the organization's first president, for influenza.

More importantly, the doctor planted in her mind the

idea for organizing a group to help physicians care for

underprivileged children. Crump took the suggestion

to heart and soon after 100 women from 10 towns in

Mississippi and Arkansas met in Greenville for the first

meeting of NAJA.

"The association was formed so that women already

providing assistance to poverty-stricken families in their

communities could gain support from each other," says

Merrill Greenlee, executive director of NAJA, which is

headquartered in Greenville. "NAJA continues to be

the support arm to the chapter and its members

through manuals, advisory personnel, a resource center

and many educational opportunities."

Since 1941, NAJA has expanded to include more

than 14,000 members and 101 chapters. Since its

creation, all Junior Auxiliary groups share a mission: to

assist those in their communities, with a particular

emphasis on children. And while NAJA has spread to

eight states in the South, its roots remain strong in

Mississippi, with chapters located from the Gulf Coast

to DeSoto County. To ensure quality service, members

undergo at least a six-month training period and

actively serve in JA for a minimum of five years,

Greenlee says.

This year, the local chapter of JA, which includes 77

active members, is celebrating 10 years of chartered

community service and continues to add programs

tailored to DeSoto County. From its ongoing programs

like providing support to House of Grace, a refuge for

abused women and children, to the newly implemented

School Aide, which sends JA members into Title I

elementary schools to lend a helping hand in light of

48 DeSoto
---
the recent budget cuts, Junior Auxiliary

of DeSoto County targets areas of

need specific to the county and works

to remedy them. Among a number of

other service projects, DeSoto County

JA also awards 10 DeSoto County area

teachers $500 mini-grants each spring.

"It's important to help others that

are less fortunate, especially in this

economic time," says Jennifer Kuehn,

president of the DeSoto County

chapter and former school counselor.

"I've worked with the kids and the

families, and I see the impact it makes

on them. They deserve a chance.

Those are our children."

Junior Auxiliary's "Care Today -

Character Tomorrow" mission was

adopted in 1950, and while some

things have changed with the times—

JA chapters provide multiple meeting

times, both day and evening, to

accommodate women working outside

of the home—those core beliefs

remain concrete.

"Junior Auxiliary Chapters all

over the South develop projects to

meet the needs found in their

respective communities," Greenlee

says. "Our members embody these

words from the JA Prayer—they keep

their 'hands quick to help others in

need.' I am so proud to be part of an

organization that does so much good

for so many people."

Projects abound in all chapters, from

the Junior Auxiliary of Greenville's

Taylor House service program, through

which members mentor and interact

with teenage girls who have been

removed from their homes due to abuse

or other circumstances, to the Tupelo

Clothes Closet, an all-members project

that provides in-need students, as

determined by school counselors, with

school supplies, shoes and clothes.

"The experiences are too

rewarding to say," says Pam Smith,

president of Tupelo Junior Auxiliary.

"It's so rewarding when you can send

off a child from the Clothes Closet

with two bags of clothes and school

supplies, and they give you a hug."

On a national level, NAJA has

given out more than a million dollars

worth of graduate scholarships since

DeSoto 49
---
the program's inception an estimated 50 years ago, Greenlee says.

JA chapters are also known in their communities for their annual fundraising

events, particularly their cookbooks. Since 1956, when the Louisville, Miss.,

chapter put out the first collection of JA recipes on file at NAJA, select chapters

have produced books of their own to fund their community work. While not all

chapters compile these cookbooks, Silver Spoons, Blueberry Afternoons, the first

NAJA cookbook, came out in 2008 and features recipes from chapters across the

South. The cookbooks are wildly popular, and with good reason. The recipes are

delicious, and the proceeds benefit a cause so timeless it has bridged the nearly

70-year gap between NAJA's first 100 members and the thousands of

hardworking women affiliated with JA chapters today.

"We do work tirelessly because there are so many people in need in this

community," says Lea Margaret Hamilton, president of the Greenville chapter.

"If we can just make a difference in a handful of people's lives, I think we have

done a great service,"

For more information on the National Association of Junior Auxiliaries or to

purchase the cookbooks, visit www.najanet.org. To learn how to set up a chapter

in your area, contact Vickie Tidwell at 870-219-6224.

Junior Auxiliary of Starkville

Pumpkin Butterscotch Muffins

from Southern Generations cookbook

1 3/4 cups sifted flour

1/2 cup firmly packed brown sugar

1/2 cup sugar

1/2 tsp ground ginger*

1 tsp cinnamon*

1/8 teaspoon ground cloves*

1 teaspoon baking soda

1/4 teaspoon baking powder

1/4 teaspoon salt

2 large eggs

1 cup canned pumpkin

50 DeSoto
---
1/2 cup butter, softened

1 cup butterscotch chips

Mix dry ingredients. Create a well in

the middle of mixture. Whisk together

eggs, pumpkin, and butter in another

bowl. Stir in butterscotch chips and

pour int the well of dry ingredients.

Fold together until dry ingredients are

moistened. Do not over mix. Spoon

evenly into greased muffin tins. Bake

at 350° for 20 to 25 minutes or 12 to

15 minutes for miniature muffins.

Over cooking makes muffins too

crunchy.

* Can use Pumpkin Spice in place of

these ingredients if you do not have

them.

Better than Eggnog

from Bully's Best Bites

3 large eggs

1 quart orange juice

1/4 cup lemon juice

2 tablespoons sugar

1/4 teaspoon ground cinnamon

1/8 teaspoon ground ginger

dash ground cloves

2 quarts vanilla ice cream

1 quart ginger ale

Ground nutmeg

Whisk eggs in large bowl until frothy.

Mix in orange juice and lemon juice,

sugar, cinnamon, ginger, and cloves.

Spoon ice cream into large punch

bowl. Stir in the egg mixture until

combined. Refrigerate if not serving

immediately. Before serving, pour in

ginger ale. Sprinkle top with nutmeg.

Yields 18 6oz servings.

Junior Auxiliary of Vicksburg

Southern Pecan Pie

from Vintage Vicksburg

3 eggs, slightly beaten

1 cup sugar

1/2 cup light or dark corn syrup

2 tablespoons melted butter

1/8 teaspoon salt

1 teaspoon vanilla extract

1 cup pecan, coarsely broken

1 unbaked pie shell (9-inch)

DeSoto 51
---
Mix together eggs, sugar, corn syrup,

butter, salt, and vanilla. Stir to blend.

Fold in pecans. Pour into unbaked pie

shell. Cook in preheated oven at 375 o

for 45 minutes or until set.

Junior Auxiliary of Biloxi-Ocean Springs

Crème De Menthe Brownies

from Cooking With Style

1/4 cup butter, softened

1/2 teaspoon salt

1 cup sugar

1 can (16-ounce) chocolate syrup

4 eggs

1 cup all-purpose flour

1 teaspoon vanilla extract

Cream butter with sugar until light

and fluffy. Add eggs, beating well.

Combine flour and salt. Add to above,

alternating with syrup. Begin and end

with flour. Stir in vanilla. Bake at 350°

for 25 to 30 minutes in a 9 x 13-inch

greased and floured pan. Cool well.

1st Topping:

1/4 cup butter

2 tablespoons crème de menthe

2 cups confectioners' sugar

Cream butter, sugar, and crème de

menthe.Mix well and spread over

brownies. Chill well.

2nd Topping:

1/4 cup butter

1 package (6-ounce) semi-sweet

chocolate morsels

Combine chocolate and butter in

double boiler. Melt and spread over

brownies. Then chill before cutting

into 1-inch squares.

Junior Auxiliary of Tupelo

Strawberry Pretzel Salad

Crust:

1 cup crushed pretzels

1 cup chopped pecans

3 tablespoons sugar

1 stick butter, melted

52 DeSoto
---
Combine butter and sugar. Add

pretzels and pecans. Press into 9 x

13-inch glass pan. Bake 8 to 10

minutes at 350°. Cool.

Topping:

1 package (8 ounce) cream cheese

1 cup confectioner's sugar

1 carton (8 ounce) Cool Whip

1 package (6 ounce) strawberry Jell-O

1 cup boiling water

1 package (16 ounce) frozen

strawberries, thawed

Combine cream cheese and

confectioner's sugar. Add Cool Whip.

Spread over pretzel mixture. Place in

refrigerator for 30 minutes.Dissolve

Jell-O in boiling water. Add thawed

strawberries. Pour over cream cheese

mixture. Refrigerate.

Junior Auxiliary of DeSoto County

Fall Surprise Cake

1 can pumpkin

12 oz can Pet milk

1 cup sugar

1 teaspoon cinnamon

1 box yellow cake mix

chopped pecans

2 sticks of butter

1 small tub cool whip

8 oz. cream cheese

1 1/4 cups powder sugar

Line bottom of 9 x 13-inch cake pan

with wax paper. Mix pumpkin, pet

milk, sugar, and cinnamon together in

a bowl. Pour in bottom of pan.

Sprinkle 1 pkg. dry cake mix on top.

Sprinkle 1 or 2 cups pecans on top of

cake mix. Pour 2 sticks melted butter

over pecans. Bake in oven at 350° for

30-40 mins. (follow cake mix

directions on time) Let cake cool

completely and flip over.

Topping:

Blend cool whip, cream cheese and

powdered sugar and spread on top.

Cake is ready to serve.

DeSoto 53
---
■ pot luck

HOMEMADE HOLIDAYS

Pumpkin Treats to Bake and Share

It's time once again to start baking some

holiday cheer to share with friends and

neighbors. These recipes make plenty of

sweet treats to go around — and they're so

good you just may want to keep some for

yourself.

Make the holidays special by giving something

fresh, homemade and from the heart. For more recipes

you can bake and share, visit VeryBestBaking.com.

Pumpkin Cranberry Bread

Makes two, 9 x 5-inch loaves

3 cups all-purpose flour

1 tablespoon plus 2 teaspoons pumpkin pie spice

2 teaspoons baking soda

1 1/2 teaspoons salt

3 cups granulated sugar

1 can (15 ounces) Libby's 100% Pure Pumpkin

4 large eggs

1 cup vegetable oil

1/2 cup orange juice or water

1 cup sweetened dried, fresh or frozen cranberries

PREHEAT oven to 350°. Grease and flour two 9 x 5-

inch loaf pans.

COMBINE flour, pumpkin pie spice, baking soda and

salt in large bowl. Combine sugar, pumpkin, eggs, oil

and juice in large mixer bowl; beat until just blended.

Add pumpkin mixture to flour mixture; stir just until

moistened. Fold in cranberries. Spoon batter into

prepared loaf pans.

BAKE for 60 to 65 minutes or until wooden pick

inserted in center comes out clean. Cool in pans on

wire racks for 10 minutes; remove to wire racks to cool

completely.

For three 8 x 4-inch loaf pans:

Prepare as above. Bake for 55 to 60 minutes.

For five or six 5 x 3-inch mini loaf pans:

Prepare as above. Bake for 50 to 55 minutes.

Mini Pumpkin Muffin Mix

3 cups all-purpose flour

4 teaspoons baking powder

1 1/2 teaspoons salt

1 cup granulated sugar

1 teaspoon ground cinnamon

1 teaspoon ground nutmeg

1 cup raisins, sweetened dried cranberries, or chopped

nuts (optional)

54 DeSoto
---
1 can (15 ounces) Libby's 100% Pure

Pumpkin

COMBINE all ingredients, except

pumpkin, in large bowl. Pour into 1-

quart resealable plastic bag; seal.

Wrap muffin mix and can of pumpkin

in fabric; tie with ribbon or twine.

Recipe to attach:

Pour muffin mix into large bowl. Cut

in 1/2 cup vegetable shortening with

pastry blender until mixture is fine.

Add 1 cup Libby's 100% Pure

Pumpkin, 1 cup milk and 2 large eggs;

mix until just moistened. Spoon into

greased or paper-lined mini-muffin

pans, filling 2/3 full. Bake in

preheated 400° oven for 15 minutes;

remove to wire racks. Sprinkle with

powdered sugar, if desired. Makes

about 5 dozen mini muffins.

Pumpkin Carrot Swirl Bars

Makes 4 dozen

2 cups all-purpose flour

2 1/4 teaspoons pumpkin pie spice

2 teaspoons baking powder

1 teaspoon baking soda

1 cup granulated sugar

1/3 cup butter or margarine, softened

1/2 cup firmly packed brown sugar

2 large eggs

2 large egg whites

1 can (15 ounces) Libby's 100% Pure

Pumpkin

1 cup finely shredded carrot Cream

Cheese Topping

PREHEAT oven to 350°. Grease 15 x

10-inch jelly-roll pan.

COMBINE flour, pumpkin pie spice,

baking powder and baking soda in

small bowl. Beat granulated sugar,

butter and brown sugar in large mixer

bowl until crumbly. Add eggs, egg

whites, pumpkin and carrot; beat until

well blended. Add flour mixture; mix

well. Spread into prepared pan. Drop

teaspoonfuls of Cream Cheese

Topping over batter; swirl mixture

with spoon.

BAKE for 25 to 30 minutes or until

wooden pick inserted in center comes

out clean. Cool completely in pan on

wire rack. Store in covered container

in refrigerator.

DeSoto 55
---
For Cream Cheese Topping:

COMBINE 4 ounces softened light

cream cheese (Neufchâtel), 1/4 cup

granulated sugar and 1 tablespoon

milk in small mixer bowl until

thoroughly blended.

Spiced Pumpkin Fudge

Makes about 3 pounds

2 cups granulated sugar

1 cup packed light brown sugar

3/4 cup butter or margarine

2/3 cup (5 fluid-ounce can) Nestlé

Carnation Evaporated Milk

1/2 cup Libby's 100% Pure Pumpkin

2 teaspoons pumpkin pie spice

2 cups (12-ounce package) Nestlé Toll

House Premier White Morsels

1 jar (7 ounces) marshmallow crème

1 cup chopped pecans

1 1/2 teaspoons vanilla extract

LINE 13 x 9-inch baking pan with foil.

COMBINE sugar, brown sugar,

butter, evaporated milk, pumpkin and

spice in medium, heavy-duty

saucepan. Bring to a full rolling boil

over medium heat, stirring constantly.

Boil, stirring constantly, for 10 to 12

minutes or until candy thermometer

reaches 234° to 240° (soft-ball stage).

QUICKLY STIR in morsels,

marshmallow crème, nuts and vanilla

extract. Stir vigorously for 1 minute or

until morsels are melted. Immediately

pour into prepared pan. Let stand on

wire rack for 2 hours or until

completely cooled. Refrigerate tightly

covered. To cut, lift from pan; remove

foil. Cut into 1-inch pieces. Makes 48

servings, 2 pieces each.

56 DeSoto
---
DeSoto 57
---
■ november events

58 DeSoto
---
DeSoto 59
---
■ reflections

The Snippet

Society

By Karen Ott Mayer

While listening to the endless political drone during

this election season, something dawned on me.

Somewhere between the broadcast about Republican

Senate candidate Christine O'Donnell's confusion

about constitutional amendments and an

announcement that the reality TV star, Snookie will

soon release a book, I felt like diving under my bed.

It's amazing.

Even without a television in my house or a smart

phone that can bake bread, do my taxes and ring my

mother, I am overwhelmed by the endless stream of

information "snippets."

Technology has fast-forwarded our ability to share

information and stories beyond warp speed and is

redefining what we all view as "valuable" information.

We've become snippet addicts, spewing out bits of

news at regular intervals like Old Faithful and then

acting like highly reactionary people who judge based

on a word or sentence about a person.

And we've become downright ungracious.

As I sat across from my mother the other day at

lunch, I found myself staring at the top of her head

while she was bent over her phone. As if reading my

thoughts, she said (without looking up), "I'm listening."

Just because I still have a sassy streak in my old

bones, I replied, "That's not the point. I can't talk to

you when you're doing that."

Who or what was so urgent that she needed to

communicate a snippet of information at that time?

But back to the news – or lack of it.

In journalism, there is always an element of who

cares? When writing about anything, every writer has

to answer that question. If there's nothing in the story

to care about, the reader just moves on.

What amazes me now is that these "snippets" of

text have slowly become what many deem to be

valuable information. I've yet to be with anyone who

has received a text and said the following: "Gotta run.

They kidnapped Mom and want ransom."

Instead, what little I do read on social media sites

fails to interest me because of the inane nature of the

news, which reads like the following:

"Hey, I'm in the bread aisle at the grocery store.

Off to the hairdressers in ten minutes. Playing tennis

tonight. Don't like my new tennis shoes."

Who cares? is usually my response.

But somebody must care because we're not only

using the technology, we're now watching movies

about the technology.

I recently read a description of the entire social

media generation that struck a chord even in my hard

head. We've amassed our groups of intimate strangers.

We all want thousands of friends, but what are we

going to do with all those relationships and all the

information? At the end of the day, this person

reflected that people still may have only one or two

truly good friends to call during an emergency.

Our addiction to fast news has invaded our sense of

ego and importance, our privacy, our pocketbooks,

and even perhaps our judgment. People jump at the

sound of a bell, beep or vibration coming from their

purses or pockets like they've just been snake bit.

At what point does information simply become

uninformative? At what point does information simply

become counterproductive?

No doubt, the technology is fun and engaging. It's

progressive, efficient, and, yes, amazing to me.

However, call me slow in more ways than one, but for

now, I'm still clinging to something else, a different

pace, a need to know something different. ■

60 DeSoto